McCarthy wants 'massive' cup result to be a catalyst for Everton's league form
by

37 Comments [Jump to last]
| 13/03/2016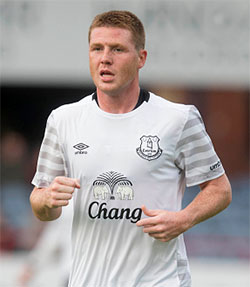 James McCarthy says that Everton must use the momentum from yesterday's impressive cup win over Chelsea to spur them on in the Premier League over the next few weeks.
The Blues will find out their opponents in the semi-finals of the FA Cup when the draw takes place tomorrow evening but with six weeks to go until that date at Wembley, the focus returns to the bread and butter of the League where Roberto Martinez's side continue to struggle for consistency.
Everton are next in action on Saturday when they take on an Arsenal side who are in danger being turfed out of two cup competitions in the space of a few days when they face the Herculean task of overcoming a 2-0 deficit to Barcelona in the Nou Camp.
A win over the perennial top-four finishers to add to Everton's victory over Chelsea yesterday would go a long way towards restoring morale in the camp and could spur the Blues to a strong finish over the final quarter of the campaign.
"There was real disappointment in the changing room [after the West Ham defeat] but on Saturday night there was a real buzz about the place," McCarthy told the Liverpool Echo of the atmosphere after the 2-0 triumph over Guus Hiddink's men. "It was one of the best atmospheres I've ever experienced at Goodison. The derby is always special and you get that buzz but Saturday night was right up there, it was a real livewire atmosphere and it's how we want it to be every week when we play here."
"It was really intense, we took it to them and after a couple of half chances we got a good goal at the right time and the second finishes the game off.
"We're looking forward to the semi-final but, for now, most important is the league and making sure we kick on. We know the home form hasn't been good enough. [W]e know the talent we've got in the squad. We've been conceding poor goals but now it's all about finishing strongly and kicking on."
There had been suggestions in the lead-up to the game in a couple of press reports that some of the senior players in Martinez's squad had been questioning the manager's methods but there was no sign of disharmony as Everton put on one of their best team displays of the season to eliminate Chelsea thanks to two fine goals by Romelu Lukaku.
And McCarthy was adamant in rejecting the notion of unrest among the players.
"I don't know where that is coming from," the Irish international continued. "Each and everyone of us is in it together and we've got a good squad here and good management looking after us.
"The chairman and, now, Farhad Moshiri...it's exciting. Hopefully we can keep our big assets and we want to finish the season as strong as we can and get a good end to the season."
---
Reader Comments (37)
Note: the following content is not moderated or vetted by the site owners at the time of submission. Comments are the responsibility of the poster. Disclaimer
Harry Wallace
1
Posted 13/03/2016 at 19:45:06
We'll no doubt get the worst draw tonorrow. Always do.
Ged Simpson
2
Posted 13/03/2016 at 19:48:21
I would like to avoid West Ham Utd but rest are well beatable.
Brian Denton
3
Posted 13/03/2016 at 19:51:01
Harry – I disagree that we 'always do'. In 1980 the semi-finalists were us, Shite, Arse and 2nd Division West Ham. We drew the 2nd Division club. Hurrah!
But being Everton.....
David Hallwood
4
Posted 13/03/2016 at 19:54:38
Don't fear anyone, let's face it Ged (#2) we 'beat' West Ham with 10 men last week. It would be interesting what odds Betfair was offering on a WHU win with 15 mins to go.
Mark Frere
5
Posted 13/03/2016 at 20:00:43
I really don't give a shit what McCarthy says. We've had players and the manager (in particular) talking the talk but not walking the walk all season.
The League campaign was blown along time ago. We are now just playing for pride and a bit of extra dosh for finishing that little bit higher. We've suffered due to bad tactics and the players being a bunch of characterless weaklings for the most part.
Winning the FA Cup is the only way for redemption.
Kevin Johnson
6
Posted 13/03/2016 at 20:15:08
Don't care who we face, I fancy us now to win it.

All the remaining teams will fear us more than us them.
Mike Gwyer
7
Posted 13/03/2016 at 20:15:33
Harry Wallace.
We are the worst draw mate, none of the remaining teams will want to meet Everton in a Wembley semi-final.
David Hallwood
8
Posted 13/03/2016 at 20:17:41
BTW Mike (#7) the bookies have made us 5/2 fav.
Don Alexander
9
Posted 13/03/2016 at 20:19:12
I know Bobby has media obligations by contract, and maybe Jags does too but like Mark Frere I have heard/read several players this season and last banging on about "must use this a catalyst to do better". It's worn well thin with me too Mark.
That said, they know that if they don't comply with the idiotic tactics that Martinez resorts to time and again, then they pay the penalty. Eto'o and Distin, at their age, had little to lose by speaking up. The rest of the squad have a future in the game and many, like McCarthy, may have realised that their own career is likely going downwards as and when Martinez marks their card, requiring them to seek pastures new at lesser clubs.
If McCarthy, Jags, Seamus, Bainsey, Rom and Gazza all spoke en masse at Finch Farm, in the way all of them have done this season on the above "catalyst" mantra, then maybe we wouldn't be in the bottom half of the league. Just maybe we'd have been battling for a CL place.
The buck stops with our man with a newly tightened arsehole. Si senor?
Darren Hind
10
Posted 13/03/2016 at 20:22:40
I'd prefer Man United, I think we would be too strong for them,
Palace and Watford will play with a happy-to-be-here abandonment and represent huge Banana skins.
Brian Harrison
11
Posted 13/03/2016 at 20:30:00
Well getting to two finals and winning one didn't stop FSG sacking Dalglish. They were also asked if he had won both cups would he have survived and their answer was no.
I don't think you can gloss over the poor performances over the past 18 months, just because we have progressed to a cup semi final. While there was a lot of effort expanded the other night, there was very little between the teams.
Lukaku's brilliant solo effort also begs the question who will score the goals if he gets injured for the semi? I wouldn't fancy us with Kone or Niasse up front, so we will have to hope that Lukaku doesn't pick up an injury that would keep him out of the semi.
Alan Bodell
12
Posted 13/03/2016 at 21:20:59
1966, we never conceded a goal until the final....., we haven't yet this year, '66 my first ever final and the dream is starting again.
Gary Carter
13
Posted 13/03/2016 at 22:17:27
Made up we're in the semis, would be awesome if we win the whole thing. My fear is this will paper over the cracks that is Martinez, last season the Europa League did it while we were woeful in the league.
We've been woeful in the league this season but cup runs divert attention away from the fact Martinez is not the man to take this club where we want it to be.
Colin Glassar
14
Posted 13/03/2016 at 22:19:16
I wish the players would just do their talking on the pitch. Every time they come out with these statements of intent, we seem to suffer even more.
Jim Bennings
15
Posted 13/03/2016 at 22:45:17
Without sounding cocky or overconfident, we will not ever get a better chance to win a trophy than this.
Mike Green
16
Posted 13/03/2016 at 22:58:51
The thing about football though, Jim, is I expect most Arsenal fans were saying exactly the same thing at about 1pm today. The draw will be intriguing.....
Andy Meighan
18
Posted 13/03/2016 at 23:01:32
Absolutely desperate for us to win it. But it still won't gloss over whats been a desperately disappointing season especially this shocking home record.

I'll never go into any game confident under this manager because we've threw too many games away in calamitous fashion. That said, if we approach the rest of the games this season the way we approached last night, pressing high up and harrying the ball, we won't go far wrong.
Ernie Baywood
19
Posted 13/03/2016 at 23:26:40
It will. But I'm not sure there's any draw I'll prefer over any other.
We know full well that this side is capable of beating what is left in the comp. The bookies know it too. Feels like it will now be our approach that decides it, rather than the opposition.
Which Everton side turns up in the semis? Can we show the same intensity when we know we're the better footballing team? The answer to that this season has been a mixed bag.
Anthony Dwyer
20
Posted 13/03/2016 at 23:34:27
FFS, sick of hearing about these catalyst for league form, the league is done an dusted.
Sorry for the negative talk but come on.
Andrew James
21
Posted 13/03/2016 at 23:56:46
To win the Cup you have to beat one good team at least. We just beat the Champions.
I am perfectly happy for WHU to remain favourites because the pressure will build on them and I don't think that they're all that. They're too reliant on a couple of tricks (set pieces).
WE CAN DO THIS!
We have the best striker, the best defence (when they don't mess about) and the best creative midfielder in the shape of Barkley.
Brian Porter
22
Posted 13/03/2016 at 00:21:23
I've waited 24 hours before commenting to allow my euphoria to settle after last night's dramatic finish. Like others, I too am a little fed up with players and our manager saying such things. No matter how many times it's been said, our league form simply hasn't improved has it? The league is virtually over for us, we're not going to qualify for Europe and even if we manage to scrape into the lower reaches of the top ten it can't be taken as any form of success in what has been a second successive abysmal league campaign.

I'm with Brian #11 and,Gary #13. Even if we win the cup and I hope we do, it doesn't change my opinion that RM is not the man to take us forward into another season of poor league performances, lots of promise, but no final delivery. It would be too easy to get carried away and say all is forgiven after last night but one good result does not excuse all the poor ones that have gone before, the inept in game management, totally stupid substitutions, sometimes no subs at all, and the constant rhetoric about us being far better than we are.

The one thing RM has failed to deliver is consistency, and he has shown his inability to mould a set of talented players into a TEAM in the real sense of the word. I'm sorry Roberto, but to use an old phrase, one swallow doesn't make a summer and even if we win the cup, recall you did that with Wigan and look where they ended up. I'm not being negative, but I think I'm beng realistic. If we are to challenge for a top four or even a top six of lace next season we need a new, strong manager who will help our players become the team they should be, rather than an extension of Roberto's experimental philosophy, which has failed dismally over not one, but two consecutive seasons of frustrating under-achievement.

Alan Bodell #12, I too was at the 66 final, my first too. Be nice to see history repeat itself.
Tony J Williams
23
Posted 14/03/2016 at 09:20:00
Watford in the Final and get Southall and Gray to come out of retirement.
Jakob Herd
24
Posted 14/03/2016 at 12:38:57
Wouldn't you love Watford in the final... Beat Palace in the semi and face Watford again. Maybe today we wouldn't get away with singing a certain song about Sir Elton as we did then: 'He's bald he's bent' .... Best not continue... Happy times hopefully.
Steve Cotton
25
Posted 14/03/2016 at 12:57:25
I think it will come down to the Ref we get...
If we get one of the Atkinson, Clattenburg, Mason, Moss or Marriner, then we are as likely to go out to a string of poor decisions...
Brian Denton
26
Posted 14/03/2016 at 13:26:25
Jakob, our younger viewers would not appreciate the second line of that couplet for sure!
Shane Corcoran
27
Posted 14/03/2016 at 15:04:05
Anthony #20, exactly.
I know I don't need to read these articles but it seems after every defeat "there's a determination to turn things around" and after every victory the players "hope that they can kick on".
It's real page filler stuff.
Niall McIlhone
28
Posted 14/03/2016 at 15:07:24
Now that Gareth Barry is suspended for the Arsenal game, I want to see Jimmy Mac step up to the plate and take charge the way Barry does. McCarthy is adept at breaking up play, but he still has a tendency to drift out of games, which Barry never does, he is always in the opposition's face, playing well or badly.

Hopefully, Mo Besic will be in on Saturday for Barry, it should be interesting. I don't have any problem with these soundbytes, the players are obliged to communicate through the media. All clubs do it, I can just to without some of the more nonsensical stuff the manager comes out with.
Dave Abrahams
29
Posted 14/03/2016 at 15:44:32
Alan (#12) and Brian (#22) your – first final was in 1966? So was mine, but to be honest is there any one on here who went to the 1933 final, that was the one before 1966.
Brian Denton
30
Posted 14/03/2016 at 16:03:38
Dave 29, doing the math as our US cousins would say, I think it extremely unlikely. Even assuming a *lad as young as 10 would be allowed to go, *he would now be 92/93 years old.
*Okay, for political correctness' sake 'girl' and 'she'
Dave Abrahams
31
Posted 14/03/2016 at 16:15:52
Brian (30) true, it would be great to hear from some one who did go, but very unlikely as you say.
Mark Gardiner
32
Posted 14/03/2016 at 16:54:34
This comment by McCarthy really drives me mad.
We shouldn't need to win a cup game in March to kickstart our league form. Shouldn't the kickstart be at the beginning of the season or early on after some poor form??? We have heard this all season long from players and the manager. Every time win a game or two in a row then suddenly we are ready to kick on and climb the table.
The problem is that it never happens and hasn't all season long. The league season is over apart from us trying to climb a couple of places for prize money and for Roberto to possibly save his job with a slightly higher league finish.
Charles Brewer
33
Posted 14/03/2016 at 18:00:55
They say that if you don't know who the mug is at the poker table, it's you.
The FA Cup appears to be the other way round this year. I can't see anyone to fear.
And Everton is way ahead in the Betfair FA Cup market.
James Marshall
34
Posted 14/03/2016 at 18:07:15
I see Diego Costa has been charged with improper conduct for the Barry incident and also gesturing to our fans on Saturday. Poor lamb.
Frank Wade
35
Posted 14/03/2016 at 19:01:56
I agree that we have heard this type of comment before. What exactly would those criticising McCarthy here suggest he say when responding to journalist questions in an interview. He admits we haven't been good enough, dressing room is disappointed and focused on trying to put things right. What else should he say?
At least we can understand the points that James is making without reading the content over and over.
I have just heard FSW commenting on how impressed he was with the quality on display at the Newcastle training sessions. What else would one expect him to say, apart from preface quote with FACT?
Paul Conway
36
Posted 15/03/2016 at 10:30:05
How many times this season after a good performance, have we been told that we are kicking on? Cup result or cup defeat, the time for change has come, even before the end of the season.
I know this is going to sound mercenary, but anyway, let's hope Martinez wins the cup for us; after all, he owes it to us, to compensate for his (up until now), questionble management.
Let's hope our success in the cup (if any!), can attract other big managers with the knowledge and knowhow to lead us into Champions League positions. We are a great club and we deserve it! COYB
Harold Matthews
37
Posted 15/03/2016 at 18:14:05
A huge stroke of luck that Mr Moshiri and the real McCarthy both decided to turn up on the same day.
Frank Crewe
38
Posted 20/03/2016 at 19:41:45
As far as I'm concerned McCarthy can do one. An old school midfield bruiser who never scores, barely gets over the halfway line, and never passes forward when sideways is easier.
He's one of the reasons we're not getting anywhere. A skilless. guileless, clodhopper who keeps getting picked because apparently he runs a lot. Well I think we can do a lot better than him.
£13,000,000 waste of space.
Add Your Comments
In order to post a comment, you need to be logged in as a registered user of the site.
Or Sign up as a ToffeeWeb Member — it's free, takes just a few minutes and will allow you to post your comments on articles and Talking Points submissions across the site.
© ToffeeWeb