Jagielka: We can't let league season peter out
by

47 Comments [Jump to last]
| 21/03/2016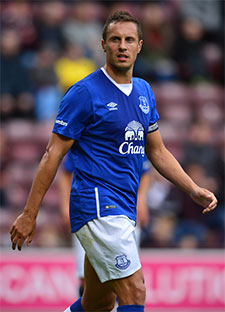 Phil Jagielka is as mystified as his manager about the team's poor home form but insists that Everton can't allow next month's FA Cup semi-final be the only focus for the rest of the season.
The Blues' trip to Wembley to face either West Ham or Manchester United has now taken on huge importance in the context of their season following yet another home defeat this past weekend.
With a top-six finish in the Premier League effectively beyond Roberto Martinez's men, ending the club's 21-year trophy drought is the only way Everton can find any redemption from another massively disappointing season.
There are still nine more other games to play, however – and millions of pounds in prize money at stake – not to mention the issues of pride and the need to repay supporters' faith, something Jagielka acknowledges even if he tacitly admits little can be done to salvage the Premier League campaign.
"I hope the semi-final doesn't dominate people's thoughts," the captain said in the Liverpool Echo.
"But the league form is slowly but surely drifting away from a position where even with a good run of results together it wouldn't matter.
"We can't let that happen. We need to find momentum, confidence and consistency between now and the end of the season."
With Saturday's awful performance and defeat against Arsenal having effectively ended the Blues' league season two months early, Jagielka's comments feel a little like shutting the barn door after the horse has bolted but he insists it's up to the players to make amends.
And he echoes Roberto Martinez's suggestion that under-performing players can't be guaranteed a starting role in the side.
"We have been trying to find a reason and fathom what goes on but unfortunately it has just not happened," the defender continued.
"There is only us that can sort that out and make sure people aren't thinking about the semi-final. We need to put some good performances in; to keep your place in the team, you need to perform well."
---
Reader Comments (47)
Note: the following content is not moderated or vetted by the site owners at the time of submission. Comments are the responsibility of the poster. Disclaimer
Antony Matthews
1
Posted 21/03/2016 at 07:02:30
The reason is the manager, tactics, desire and motivation Jags. As Captain. you are partly responsible in the motivation side of things. If you gave more people earache maybe you could comment!
Mark Siddons
2
Posted 21/03/2016 at 07:06:43
It's no mystery Jags. Lack of leadership on and off the field. Tactical naïvety, lack of effort and commitment from many of your teammates.
I've supported Everton since 1968 and can't recall being so despondent for so long. Time for a huge clearout of deadwood... management and players.
I really hope Mr Moshiri is the guy to sort things out or we are gone... Wigan, Villa, Leeds etc...
Denis Richardson
3
Posted 21/03/2016 at 07:18:11
Another Monday morning and another player making statements about things not being good enough, we have to improve etc etc. Groundhog Day.
Barry, Baines, Lukaku, Deulofeu, Jagielka (again), Coleman.....just to name a few who've come out with the same inane crap over the last weeks and months.
The fans have long stopped listening. Main change needed is a new manager but we also need a proper captain. Jagielka, good player that he is, simply is not (and never was) captain material.
Wholesale changes needed in the summer. New owner is a good start, let's start making some more changes please.
Jim Bennings
4
Posted 21/03/2016 at 07:38:20
Jags, you have been a solid player over the years for us but I'm sorry, most of us have felt the season petered out before Christmas.
Only the crazy optimists amongst us seriously wanted to believe this team could mount a challenge for European football next season, but the logical amongst us knew we we barely capable of stringing two wins on the spin together let alone a winning run...
Our win ratio is woeful and has been since the Spring time of Martinez's first season here.
Face it, the season is being kept alive by the FA Cup, and the Semi is a game we dare not lose.
Colin Glassar
6
Posted 21/03/2016 at 07:48:35
Great player Jags, but poor captain. Shows no intensity or leadership on and off the field, like our manager, he's all smiles and wants to be loved, appreciated and popular. If only we had a Roy Keane type captain.
Paul Conway
7
Posted 21/03/2016 at 08:35:51
It's almost like each player draws a straw and the shortest gets the job to serve up some bullshit, about this that and the other, and how we are going to kick on from here (into a brick wall), or how we must examine our souls, etc, etc.
Remember the "final third"? The gears we were promised we would find? Our season has Peter, Paul and Maryed out a long time ago!
Brian Mahoney
8
Posted 21/03/2016 at 08:41:33
Jageilka never will be captain material. We need a leader on the pitch, someone who will constantly be in the referee's ear contesting decisions.
I've said on a previous post the likes of Gerrard, Terry etc. would always be harrying the ref. Like people have said, great player but too nice – not a leader.
Christopher Dover
9
Posted 21/03/2016 at 08:43:04
If the manager and captain do not know why they are playing rubbish, then how are they the ones to sort it?
If I have a problem or project I do not know how to do I go to the professionals and pay them to sort it, so it should be the same here.
Martinez does not know why or how to get it right then time to get rid and pay a proper professional to come in and get it sorted, the sooner they start the quicker they start to get it right.
Gerard Carey
10
Posted 21/03/2016 at 09:07:21
Another Monday, another excuse. Pitiful really,
Ray Hughes
11
Posted 21/03/2016 at 09:20:32
The only thing that needs to be allowed to peter out is Martinez's managerial career... NOW! Poor performances by players, useless tactics, mystifying substitutions, persevering with out-of-touch, out-of-form players – Howard a classic example. Using players in the past such as Alcaraz and although a better player, not much, Kone...
If the argument is "You can't sack him, he got us to the semi-final and Wembley." Okay; if he's responsible for that and deserves to stay, he's also responsible for a appalling season in the Premier League and absolutely has to be held to account and sacked. No Premier League club would have stuck with him; plenty of sackings this season for managers nowhere near as bad.
The man's bullshit before and after games is embarrassing and insulting to fans. Surely us amateurs can't see stuff so clearly this imbecile can't, it's his very well paid job. Can you imagine any club offering him another job? – That was the case before he came to us?!
Christopher Dover
12
Posted 21/03/2016 at 09:20:50
Just heard on Talksport Danny Murphy say, "Everton would love to win the cup and sure they would forgive Martinez if they did."
NO, no, no, he must go. Please tell us he is off so I do not buy a season ticket with him still in charge next season.
Martin Nicholls
13
Posted 21/03/2016 at 09:52:42
As many have said above, Jags is not captain material. Many qualities were missing on Saturday but if in his role as captain Jags had ensured his team mates showed one of the most important ie fight, the others might have followed.
Jags and Martinez have both given interviews highlighting what is required for players to keep their place in the team. Neither seem to place the same or indeed any importance on the need to repay long-suffering fans. Shameful self-preservation.
Tony Abrahams
14
Posted 21/03/2016 at 10:02:18
I really can't believe that sentence off our captain.
"We have been trying to find a reason, and fathom what goes on, but unfortunately it hasn't happened"?
Get to fuck, with that one Phil, it would be an insult to a blind man, never mind people who pay good money, to see with their own eyes.
I honestly think Jagielka, is starting to take the piss out of Martinez, with his uttering's to the press, because that's the only way, you could explain him coming out with such shite.
Jim Bennings
15
Posted 21/03/2016 at 10:17:09
The game on Saturday was crying out for a leader on the pitch to just do something basic like put in a seriously hard but fair tackle or to have a 5-minute spell of fist pumping to team-mates and go running around the pitch pressing the Arsenal player's on the ball, but not once did the Captain try to galvanize the team.
Look at the best teams over the years, or at least teams that have not just collapsed and accepted defeat, they have all had leaders of men.
Wayne Rooney was a leader at the age of 18 for Christ sake.
As much as I hate to admit it so was Steven Gerrard.
Look at others like Roy Keane, Tony Adams, Neville Southall, Dave Watson.
We haven't got one anymore.
Dave Ganley
16
Posted 21/03/2016 at 10:17:51
Too little too late. Season is already dead and buried. Pathetic.
Phil Davies
17
Posted 21/03/2016 at 10:18:54
So, He as well as Martinez don't know what's going wrong with the team this season? Well, allow me to summarize...
Certain players i.e Coleman, Baines, McCarthy, Howard, Stones, Mirallas, Kone have all been completely woeful.
The "Diamond" of English football Ross Barkley doesn't have a clue what to do within 30 yards of the opposition goal.
The football being played is so slow, it's defended easily and broke on quickly.
There isn't any leadership being shown from either the Manager or Club Captain.
It's not just been this season, Last season was the same.
Ian Burns
18
Posted 21/03/2016 at 10:32:46
Jags let me help you. The team's performance mirrors the manager's personality.
You can see from the far too many utterances of this manager that he hasn't got a clue and that reflects in the player's performance.
You Jags – as good a player as you are – are a captain in the manager's own image. No Peter Reid type personality anywhere in the side; nobody to drive the team forward because the manager hasn't got the personality to do it and hasn't got the guts to find a player who can.
Johan Elmgren
19
Posted 21/03/2016 at 10:37:55
Phil #17
Think you are beeing a bit harsh on Barkley, "doesn't have a clue what to do within 30 yards of the opposition goal"
He has 12 goals and 10 assists so far this season, and has been our best attacking player along with Rom, so slating him for our poor season is very harsh. Also he's only 22, so one can't expect world-class performances from him every game...
Put the blame where it really lies. Our manager don't know how to set up the team defensively, that's where the main problem is. Our attacking play has been good, our defence has stunk the place out, and it's all Martinez responsabiliity. Our defensive players aren't bad, but they've been made to look bad because of our non-existent defensive set-up.
Laurie Hartley
20
Posted 21/03/2016 at 10:39:09
One thing you can always guarantee with Phil Jagielka is that once he crosses the White line is that he will give 100% for the shirt. No doubt about it in my mind. He is a model professional – same as Gareth Barry, Aaron Lennon, and Leighton Baines.
As far as the captaincy is concerned I have never been convinced Phil Jagielka is cut out for it – I think he is a very good "second in command".
I have posted before that what this team needs is a player on the pitch who they not only respect but are a little wary of getting on the wrong side of. We haven't got anyone like that.
Christopher # 9 has hit the nail on the head – none of them know what to do. That being the case nothing is going to change.
Perhaps we could hire Roy Keane as a motivational coach for the rest of the season. Lock him up in the dressing room with them for an hour before and an hour after each game – he'd help them figure it out.
Patrick Murphy
21
Posted 21/03/2016 at 10:42:55
Christopher (12) I'm pretty sure that Danny Murphy would be saying a completely different thing if his beloved reds were heading for one of their worst home campaigns ever and cup or no cup he would be advocating the removal of the manager.
Because he is a red and therefore has little or no time for the fortunes of Everton FC he will be hoping that Roberto stays at Goodison for as long as possible. He also doesn't watch us every single week and can't possibly realise how dire our home performances and results have been. I don't know a club in the country who would find it acceptable to have such a terrible home record and stick with the manager, but we are Everton and we appear to do things very differently to every other club.

Laurie Hartley
22
Posted 21/03/2016 at 10:44:30
Jim # 15 - My post crossed with yours and al that followed. Obviously I agree with what you said.
Barry Pearce
23
Posted 21/03/2016 at 10:47:53
IMHO if it wasn't for Rom and Barry, this season. We would be in a relegation battle.
Martinez needs to be shown the door ASAP. Otherwise relegation in the future will become a realality.
Alan Bodell
24
Posted 21/03/2016 at 10:52:00
Only Coleman, Jagielka and Lennon put a shift in Saturday and Lukaku is blameless due to total lack of service, but it's bewildering that a team like Arsenal above any other in the PL was given so much time and space to rip us to pieces and we got off light there at 0-2, it even got Martinez a little upset.
Colin Hughes
25
Posted 21/03/2016 at 11:10:32
Such is the embarrassment of our season is that, with still a quarter of it remaining, we mathematically cannot finish above Leicester – yes Leicester.... those big spending perennial Champions League regulars. It's over with only more pain to come probably in the FA Cup.
Jim Bennings
26
Posted 21/03/2016 at 11:11:11
It's probably an argument we are starting in an empty room really because we know we don't possess a leader in our ranks that's willing to step up and galvanise the team. It's not going to change is it?
Barry is about the best at trying to shake up the team.
A lot of people mention Besic but I think he's more loose cannon madness in the Tommy Gravesen mould rather than responsible outright team leader. Gravesen had men around him keeping his insanity under control, men like David Weir, Nigel Martyn, Alan Stubbs and twin lookalike Lee Carsley.
James McCarthy is too timid, it takes too much and too infrequently to wind up Macca, unless it's an old grudge like the Payet one.
Ross Barkley is a luxury player that in games where digging in is needed we can ill afford. He seriously lacks the fire in his belly that Rooney had when he burst on the scene. You never see Barkley even bother challenging for headers or tackles 90% of the time, for a physical lad it's a bit embarrassing and frustrating at times. He's certainly no vocal leader.
The rest just don't possess the vocal skills or leadership characteristics, the likes of Baines who's too nice, Funes Mori too quiet, Coleman just read McCarthy.
Jamie Barlow
27
Posted 21/03/2016 at 11:57:13
Same bollocks after every defeat. If our players and manager put as much effort into playing on the field than they do talking off it, we'd be alright. Fuckin' gobshites!!
Derek Thomas
28
Posted 21/03/2016 at 12:15:28
Our season started petering out vs Bournemouth at the end of November, continuing on down from there.
Barry Pearce
29
Posted 21/03/2016 at 12:37:36
Jim (#26) – absolutely agree with you about Barkley.
Steve McAdam
30
Posted 21/03/2016 at 14:44:42
Jags, please be quiet and say nothing. Also, please ask all the other players to be quiet and say nothing. Words are useless at the moment, especially when we have heard them all before so many times. Only actions matter now.
Something blindingly obvious occurred to me on Saturday. This is not the best squad we have had over the last 20 years, as we have all been believing. Most of the players are not as good as we thought they were and not as good as they think they are.
It is now clear that Mr Martinez must leave his position at the end of the season, even if we win the FA Cup. His inability to coach the team defensively has been starkly exposed and the supporters have seen enough, in my view.
Steavey Buckley
31
Posted 21/03/2016 at 14:44:49
The under-performing players can't be guaranteed a starting place? What's Martinez going to do, draft the Under-21s into the 1st team squad?
David Connor
32
Posted 21/03/2016 at 16:29:17
Can't let our season peter out... Bloody right they can't, the bunch of no-marks. Pull your fuckin' fingers out, you owe the fans that much at least. We have followed you through thick and thin. Mostly thin....
Adam Wareing
33
Posted 21/03/2016 at 16:47:45
I really like Jags, but he's a rubbish captain on the pitch.
He might be great lad in the dressing room and around Finch Farm, but when does he ever try to influence referees? When does he bark orders or fire up the team?
This might not be everyone's cup of tea, but we could do a lot worse than bring back Rooney as Rom's replacement next season and give him the armband.
Barry Jones
34
Posted 21/03/2016 at 17:28:35
So that's what the captain's job is. To mindlessly repeat the dross that the manager spouted a couple of days ago to reinforce it from a "players point of view".
Silly me, I thought it was to inspire and lead the team and give them some heart and drag the players through the insipid performances that we have seen of late by their balls (if they indeed have any).
If I want to see a puppet show I will tune in to the muppets and have a laugh at the same time. Keano, you are riddled with faults, but we desperately need you to send us some cloning material.
Allan Board
36
Posted 21/03/2016 at 17:59:29
Oh just shut the bugger up, Phil – and do your talking on the pitch. You know, where really good players do it!
Roger Helm
38
Posted 21/03/2016 at 20:02:46
We are where we are in the league because we deserve to be. As well as having a useless manager, our players, Lukaku and Lennon excepted, are just not very good.
Robles is a decent second- choice keeper; Baines and Coleman are good full backs but small and don't stop crosses; our CBs are not dominant physically or mentally; McCarthy cost £13m but can't pass forward or score; Barkley attacks well but can't defend and goes AWOL for a lot of time; Delofeu is lazy; Barry can't have more than a season left; the rest is dead wood, too old and/or always injured, or youngsters who can't break through.
I think Mr Moshiri is going to have to spend a lot on new players as well as the stadium.
Ajay Timothy
39
Posted 21/03/2016 at 20:34:17
I can't imagine what the hysteria on ToffeeWeb is going to be if we lose the semi-final...
Get real people. If we win the FA Cup, all will be forgiven and Martinez WILL get another season. If we lose the semi, he is gone at the end of the season and not before.
Anthony Dwyer
40
Posted 21/03/2016 at 23:02:17
I love Jags, he's a true blue legend, but he seems to be talking some bollocks of late.
How can he talk about the league season petering out when it's been totally finished since January.
We're shite week-in & week-out, but yet for some reason players keep talking like we can salvage something; it's clear we can't, we are 12th in the league with Jack-all to play for.
Things have to change now before it gets any worse. Roberto has destroyed us, he has lost more games at home this season than Moyes lost in three full seasons, and people claim Moyes is a poor manager.
We have a decent side, new owners ready to give us the much needed investment, we have loyal fans, and it's all ready to go boom... the only thing that stands in our way of progression is Martinez.
Kenwright too is a concern though, it's like he's not man enough to admit that he made a bad decision taking Martinez on, and it's clear that Martinez is not willing to walk away. Why would he be? The deluded fuck thinks he's doing well.
We need to write this season off league-wise, look for a new manager, and put someone in charge to see if that person is able to win us the much needed silverware.
Ian Riley
42
Posted 21/03/2016 at 23:54:34
Peter, what out? Sadly, this is a continuation of last season. No improvement has been made. Martinez introduced no significant changes to our style and results reflect this. The league table position is a disgrace. Teams like West Brom have a manager who will get the best out of what he has.
Hard work and leaders on the pitch are lacking. The players and management have let the fans down again. Only one outcome, Martinez get your coat.
Christine Foster
44
Posted 22/03/2016 at 06:25:02
Don't want to hear it, just want to see it.
James Marshall
45
Posted 22/03/2016 at 11:25:03
Nevermind Peter out, what about Martinez out?
Eddie Dunn
47
Posted 22/03/2016 at 13:16:58
Danny Murphy is insulting all Evertonians in his defence of Martinez. He has spent time with him talking football and likes him – big deal!
I was on the train going to Cardiff on Saturday and a Swans fan told me what a nice guy Martinez was, and that he always had time for the fans at various events. Whether he is a lovely individual, or not is immaterial. This overriding decency that stems from Bill Kenwright down to Martinez, and our introvert captain, just will not bring success.
Football is an ugly business, where nice guys win nothing. The pathetic performance against Arsenal is typical of so many half-hearted efforts over the tenancy of Roberto. Even in his first season, when we had a sniff of the top 4, we managed to have a poor run-in and allowed Arsenal to get away from us, even after beating them in a crunch game at Goodison.
The manager is too slow to spot the weaknesses, dropping poor players long after most of us have given up on them. Alcaraz, Howard, Kone all spring to mind. He has lost the dressing room. We can't believe the crap he spouts anymore.
Was Baines out due to his ankle? He is playing again now! Or was Baines opposed to his methods?
Now we are being told that Stones is re-energised for the run-in. This team is far from the best squad in years. We still have lots of deadwood on board, alongside quite a few players who will never be anything more than ordinary. I really can't see our team winning the semi-final, and if we do, I fear the direct running of Palace or Watford would be too much for our porous defence.
We will have to wait for the season to end, but I really hope that the new man up top demands a new manager as I can't stand another season with this bullshitter.
Nick Armitage
48
Posted 22/03/2016 at 13:26:32
Jagielka: "We can't let league season peter out."
Don't remember the season petering in.
Phil Walling
49
Posted 22/03/2016 at 13:34:43
One of my kids trained at Carnegie College with former England Rugby Head Coach, Stuart Lancaster. He always tells me the World Cup flop was the nicest guy on the course. Says it all, really.
Steavey Buckley
50
Posted 22/03/2016 at 16:26:29
"Jagielka: We can't let league season peter out." Does he contemplate a possible relegation battle, because any hopes of challenging for a top premier position ended when Everton could not hold on to 2 goal leads and not win matches at home.
Wes Carmichael
51
Posted 22/03/2016 at 20:14:31
We need a proper captain. A captain who drives the team forward. Someone with passion. Someone with a personality. Jags has none of this. In his interviews he looks like he can't be bothered. He's the captain of Everton and he doesn't look like he's arsed.
Brian Porter
52
Posted 23/03/2016 at 06:45:46
Johan #17, totally agree with your point regarding our defenders. They are neither bad players nor bad defenders but have been badly let down by a manager who has no interest in defending and who therefore has failed to coach them in any kind of defensive system that would see them operating as a cohesive defensive unit. Playing the ball out of defence seems to be his only mantra for our defenders.

Funes Mori is now a first choice Argentine international, not exactly a poor or second rate international side, Jags, Stones, Baines and Coleman are all internationals too and such players don't become bad players overnight. But, importantly, unless they are coached to play as a team within a team, they are being set up to fail.

Remember the old days when the Arsenal back four would step forward almost instinctively in one single fluid movement to catch the opposition offside? Does anyone think they did that all by themselves? Of course not. They were coached in that tactic until it became instinctive and by god, how it frustrated the opposition. Not pretty to see, but pretty effective. That's just one example of good defensive coaching and unless Martinez gets a grip on the team's defensive side we will no doubt end up as relegation fodder.

We all know he won't do that and he will continue to demoralise good defenders until they DO become poor defenders, leaderless and without any idea what to do in various defensive situations. Bet he's never ever held a defensive session based on 'situational awareness', something my coach taught us when I was playing as a goalkeeper at a reasonable level 40-odd years ago. What held good then holds good today and we didn't have the benefits of the various visual aids/video replay systems etc he has at his disposal today. If you are not aware of what is going on all around you, how the hell can you anticipate the opposition's intent and take counter measures before they do it? Simple basic rules of good defending really, but quite beyond our manager I think.

Martinez must go, sooner rather than later!
William Cartwright
53
Posted 23/03/2016 at 14:44:28
Jags it seems by popular opinion is not captain material. Perhaps so. However, I am not so sure we know what we are talking about. He is an absolutely committed, traditional centre-half with exactly the right set of skills and values to represent Everton on the pitch in his natural position.
He was appointed as captain by Martinez probably because of his experience of the Club as well as his overall sense of presence, international status and (I am sure) respect from the players.
Also, there were no other more suitable candidates in the team. Other than perhaps Barry who was new to the group, and who does seem to be of the quiet type as well.
All I know is I am heartily sick to death of hearing all this bloody nonsense that the team should pester and bully the referee like spoiled brats. Stuff that. Keep behaving professionally and focus on the quality of the play and the teamwork. That is the most professional and will be the most successful in the long run.
Are there 'better' or more effective captains around that Jags? Probably yes. Perhaps Roberto (or preferably his successor) will import one at great expense.
Meanwhile, we should support Jags at every opportunity, except when he mouths off to the media. He should do his talking on the pitch, in more ways than one.
Add Your Comments
In order to post a comment, you need to be logged in as a registered user of the site.
Or Sign up as a ToffeeWeb Member — it's free, takes just a few minutes and will allow you to post your comments on articles and Talking Points submissions across the site.
© ToffeeWeb