Opinion
We'll Play With the Smell in the Second Half!
Lyndon Lloyd
21/03/2017

35 Comments
[Jump to last]
Share: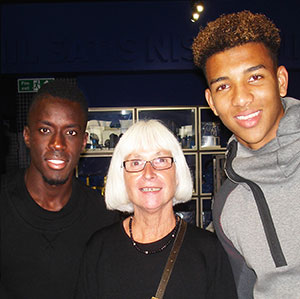 In conversation with Elizabeth France
Behind every old Evertonian is a woman – rolling her eyes! That was the claim made by Elizabeth France at her husband's book launch and farewell dinner at Liverpool Cathedral in late-September. Six months later, I had the privilege to chat with her again and solicit an independent insight into the goings on at Toffeeopolis. Brace yourselves.
LL: Is the good doctor still under the weather? How is he?
EF: Despite Everton's improved results, the patient is more crotchety than usual. David has been wrestling with illness for more than a decade yet continues to act like an enthusiastic teenager suffering from his first dose of Evertonitis. In recent months, he's been in and out of hospital. I blame his decline on his devotion to all things blue. Or perhaps the defending of Ashley Williams. Nowadays, it takes 26 hours for him to reach Goodison from the high desert of Arizona and he's yet to recover from the most recent of half-dozen trips made to the old country last year. His Phoenix specialist has insisted that he curtail his travels. That's why he missed the Hall of Fame dinner and Alex's funeral. Of course, he's received lots of wishes for a speedy recovery from fellow Blues including Bill Kenwright. They had a good natter in December – mostly about the glory days and mortality.
LL: So the good doctor has lost his two heroes – Leonard Cohen and Alex Young - within a period of six months. Tell me more about Alex. Was he really the most skillful British footballer? Was he a Goodison god?
EF: Didn't Oscar Wilde write that to lose one hero is unfortunate, to lose two is careless? As you know, his life-long heroes were the god of entertaining angst and the god of entertaining football. I've been brainwashed about Lenny and Alex. They shared something in common; few men have ever performed with such grace and artistry or established such indestructible bonds with their fiercely loyal followers.
We've been friends with Alex and Nancy for a couple of decades. They are a lovely couple – part of a lovely family. Everyone deserves friends like them. How good was Alex? I never saw him play but have been brainwashed by hundreds who did. I remember Jim Emery – the Everton scout in Belfast – telling me that Alex was a football virtuoso who was better than Best. I understand from Alex that Willie Morgan, the right winger of Man United and Scotland during Best's heyday, echoed those words.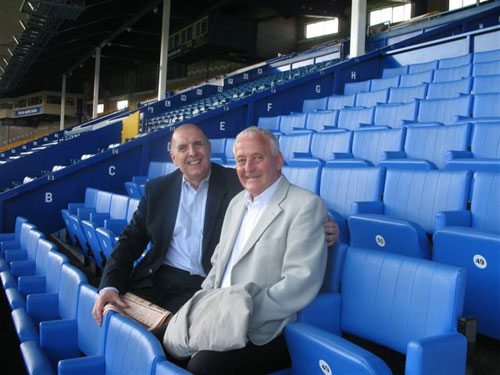 However, I did witness a demonstration of his skills. It occurred during dinner at a Grasmere restaurant. Because I suffer from vertigo, we were chatting about balance. Nancy teased Alex so much that he rose from his seat to display how best to transfer weight from one foot to the other. During the exercise he dropped his shoulder. Hands on heart, two passing waiters were so mesmerized that they collided like a couple of hapless defenders – dropping their trays.
They no longer make footballers like Alex. As a part-timer at Hearts, he worked at the pit in the morning before playing in front of 120,000 at Hampden in the afternoon. Can you image Romelu Lukaku or any of his team-mates – except possibly Seamus, Leighton and Idrissa - doing that? Also he reached the top despite suffering from deafness and blisters – massive ones which covered the soles of his feet. Nancy has kept the hundreds of letters from Evertonians offering cures. Even the one from an Army Sergeant who suggested he soak his feet in his own urine.
Did you know that he served in Army alongside his nemesis Ron Yeats? Or that after he broke the Old Firm's grip on Scottish silverware, he was hailed as 'The Blonde Bombshell' north of the border? Or that he had signed for Preston in 1960 shortly before joining Everton? Apparently, the deal fell through because the Deepdale board wouldn't endorse the signing on fee and ripped up the agreement allowing him to negotiate with Johnny Carey. Or that his relationship with Harry Catterick was so dysfunctional that Alex submitted a transfer request? And because the manager didn't want to be haunted by The Golden Vision playing for a club in Scotland or England, he negotiated his move to a new club as far away as possible – the New York Generals.
LL: Were you shocked by Alex's passing? It did seem that during his visit to Goodison last year to watch David's film that he was more infirm than before.
EF: Yes and no. David visited Scotland four times last year and witnessed the onset of dementia. It's a cruel illness. That's why he accelerated the screening of his 'Alex the Great' film. Though unfinished, he invited Alex to his spiritual home to watch the preview and bid farewell to his fellow Evertonians and vice versa. Football fans seem to pay their respects to a fallen hero and a good cause every matchday. We both thought Alex deserved to hear those tributes for himself.
Despite the efforts of Ken Loach and his trail-blazing 'The Golden Vision' film, Alex had never received the national fame that his talents warranted and remained a Merseyside secret for decades. The new film was intended to remedy that situation. However – in David's eyes - the fusion of dramatic music with stirring narrative doesn't do justice to Alex's genius. In truth, the film-makers were handicapped by Catterick's distrust of television cameras and the dearth of video evidence of his skills. The feedback from the previews in Liverpool and London was enthusiastic and constructive: add more action footage, upgrade the piano music and delete Ian St John. At this time, the film remains unfinished.
LL: I survived my first Hall of Fame dinner. I gather it wasn't quite as rambunctious as previous events likened to Nuremberg Rallies - probably for the best, I would say - and I thought it was another wonderful evening spent with the Everton family.
EF: Congratulations. I'm a veteran and have been to more Hall of Fame dinners than is good for the soul. Back in 1999, in the absence of silverware, they were conceived as celebrations of who we are - loyal Evertonians part of an extra-special Everton family. And 18 years on, still in the absence of silverware, they remain celebrations of who we are and, increasingly, provide a link to our glorious past. One part of its attraction is that it's the Everton fans' Hall of Fame and members are elected by them.
It was impossible to replicate the 11 Adelphi celebrations with only 350 attendees but the relaunch was well-received. Great venue. Great food. Great souvenirs. Great content. Great company. Plus Big Tony, Big Nev, Big Bob and Z Cars played on the bag-pipes. As always, a comedian was hired but not employed. The Hilton do was the first to be held on a Friday evening. As a consequence, it was the first time that the Everton manager didn't attend. May be next year? The event is organized by hard-working volunteers. It required a team effort starring Dave Cockram (Former- Players' Foundation) and Richie Gillham (Heritage Society) as well as Darren Griffiths, Alan Myers, Becky Tallentire and Crawford Miles. No-one takes a penny and the net-proceeds are split between these two good causes.
If you're read Everton Crazy, you'll be aware of one of author's deepest held beliefs: 'Our Everton family is one of life's masterpieces, the type of community that people advocate but rarely experience. We radiate collective warmth that puts more conventional families to shame.' And that there is much more to Everton Football Club than the long list of players, coaches, managers and directors. They come and go - some more quickly, others more slowly that we would like – but supporting Everton is a lifetime commitment. For years, he talked about including a Hall of Fame of Everton Fans and introduced 'The Everton Proud Awards' at the 2017 dinner to recognize exceptional contributions to the royal blue cause. The selection process involved part guidelines, part precedent and, of course, part mystery.
The initial recipients were Liverpool City Council – Joe Anderson, the Everton Collection charity – Lord John Grantchester, the Everton in the Community charity – Richard Kenyon and the Health Through Sport charity – Ronny Goodlass. Plus Tony Bellew for being a royal blue champion and, of course, ToffeeWeb for being a champion of the royal blue cause. On behalf of fellow ToffeeWebbers across the globe, sincere congratulations on your award.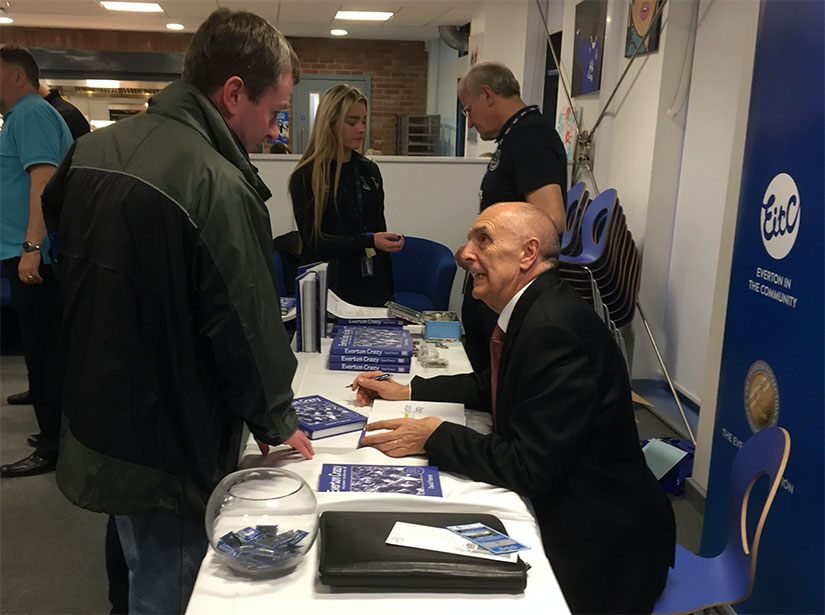 David signing copies of Everton Crazy during its initial launch last September
LL: Have the books sold out? They have proved very popular since the first publication last September.
EF: Yes, both Everton Crazy and Everton Proud vanished off the shelves within a couple of weeks. I put it down to robust advertising rather than stimulating content! Just kidding. Now I gather that there's a demand for a re-issue of 'Gwladys Street's Holy Trinity' co-authored with Becky Tallentire way back in 2001 – to coincide with the unveiling of the new statue. It's been out of print since then and likely to stay that way.
David's memoir has raised his profile. The UK media appeared more interested in his roaches-to-riches journey whereas the US soccer media was intrigued by his 'EPL fanaticism'. Then it got strange. A California-based documentary-maker wanted to film him, as an Everton crazy fan, supporting Liverpool Football Club every weekend morning until the end of the current season – like a diehard Red via cable television. Even though the financial offer was substantial, David wasn't interested. Not for all the tea in China. Not even after I asked him to imagine his unbridled joy in reacting to the Reds being knocked out of League and FA Cups. Not for all the gold in Fort Knox. So tell me, how much would someone have to pay you to discard Everton and support Liverpool for five months? Not for all the treasures in the Everton Collection?
Thankfully, the reaction to his Saturday Live interview with 'the lovely Kate Silverton' on Radio 4 was less bizarre. Certainly, he enjoyed jousting with Adrian Chiles. Unfortunately, David's best quip was made during the BBC news break. In response to the question: 'Who should Everton sign in the winter transfer window?' He suggested: 'Wayne Rooney and Mark Clattenburg.' The uncontrolled giggling continued into the live broadcast.
I don't expect he'll be embarking on any more trips to Goodison this season. It'll give him time to recuperate and finish 'Dr Everton's Toffeemen'. This tome currently consists of 5 volumes and over 2,000 pages. In parallel, I'll toy with the idea of writing my own Everton book - or a country & western song - about the embarrassing tales that my other half didn't include in his recent books. Now that would be a page-turner!
LL: What are your thoughts on the current state of Evertonia and where the club is heading? With the new manager having found his feet and the prospect of a new stadium on the horizon, things certainly see to be looking up.
EF: The arrival of Mr Moshiri has been a signal of renewed ambition. The Old Lady looks radiant after the application of a bit of lippy and the naming rights deal for USM Finch Farm is so bold that it should be followed by something as lucrative at Goodison during its twilight years. And let's not forget the ongoing developments at Finch Farm. It's a tremendous club initiative – good enough for the world's finest players and their very expensive cars. Then there's the anticipation of additional Russian funds and unfounded speculation of Chinese investment in the longer term. Who knows? But I suspect the other shoe - or two - has yet to drop. It's early days and we must remain patient.
Most Blues appear excited by the move to a new stadium in the city of our birth. However, Bramley-Moore isn't a perfect site (unlike the Kings Dock) and the neighbourhood will require massive regeneration. I understand that construction will be challenging and very expensive. It's a spectacularly ambitious initiative by an ambitious owner and will make Kopites wail about council favouritism, traffic congestion, heritage protection, etc., etc. It's going to take some creative financing and I won't be surprised if club became a tenant rather than an owner. Also I anticipate that the negotiations with Peel Holdings will be as frustrating as those with Lukaku's agent. Of course, the vendors need us as much as we seek a prestigious site. A top-class stadium offers them an anchor for their ambitious development of the Mersey waterfront and camouflage for the existing wastewater treatment works. I've visited the site on a couple of occasions and noted a fragrance unique to sewage. I bet that in five or so years' time, after winning the coin toss, the Everton captain will proclaim: 'We'll play with the smell in the second-half.'
Off the pitch, there's much work to do. I'm fascinated by the organizational changes at Anfield. Their new recruit – namely Peter Moore - is a rock star with world-class business development experience. I fear that he'll recruit similar results-oriented professionals who will launch LFC into a new stratosphere and exploit the Red brand on Mars and, more than likely, we'll trail even farther behind in their wake. As with our playing squad, we must continually upgrade our admin squad. We need more rock-stars. All successful organizations cull under-performers to create more innovative workplace to provide opportunities for bright youngsters. However to add the best people for the job, we need to improve the work-place at Goodison. The facilities are cramped and don't compare with those at Finch Farm, the new home of the senior management. Surely it's time to embrace my other half's idea of an Everton Centre or at least rent attractive office space in city centre for our admin team. Then possibly, we can convert the vacated space into a long-awaited world-class museum at Goodison. Now there's a thought?
Some people associated with the club claim that the manager is arrogant and a 'cold fish', David – who met him for all of five minutes – detected that he's not as affable as Martinez, Moyes, Royle or Kendall, But doesn't care as long as he's lucky. In fact, he is impressed by his professional aura as well as the diligence shown in identifying the under- performers, discovering his preferred formations and assigning roles to his key players. He took his time to evaluate the resources available to him – with one anomaly. The Niasse situation could have been handled with more finesse. As for the departures to Sunderland, I'll never forget the sight of Oviedo on Distin's shoulders at Old Trafford and will try to forget the embarrassment associated with Gibson's hit-and-run.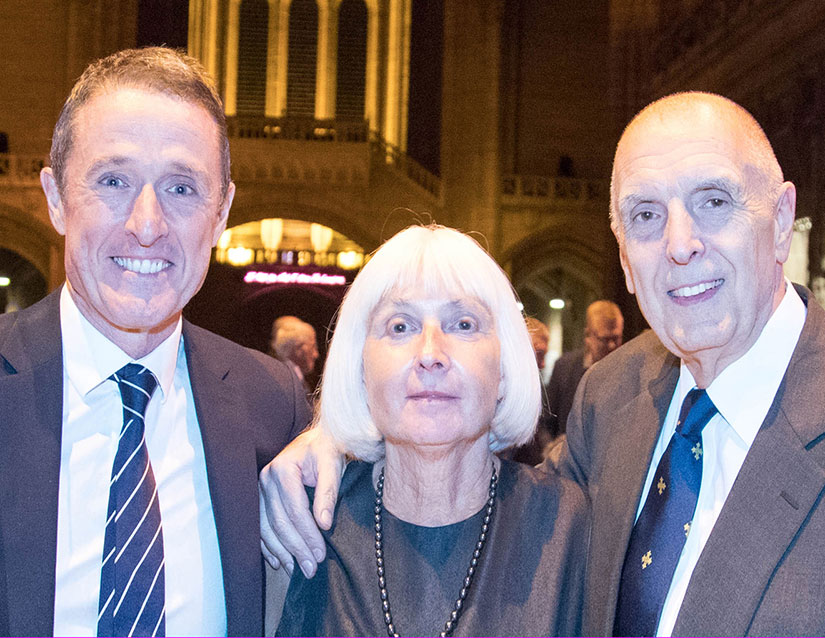 LL: We're on a very good run at the moment. Do you think there's a chance the Blues could sneak into the top six this season?
EF: Some performances have been good, other not so good. Just think of where we would be in the table if we had avoided the losses at Bournemouth, Burnley and Watford and triumphed in the winnable home games against Palace and Swansea? Those 7 additional points would've launched us into in Top 4. As it stands, I'll settle for a jammy last- minute win at Anfield on April Fools' Day and a Top 7 finish at the end of the season. It must be 20 years – definitely in the last century - since Campbell scored, Jeffers slapped Westerveld and Gerrard was sent off for GBH on our match-winner. Surely, it's now or never. We must not be bullied. We must avoid giving away penalties or receiving red cards and, more than anything, we must not sit back. We must attack them from the off! If Lukaku wants to be remembered fondly, the ideal opportunity awaits him at Anfield as well as Old Trafford and the Emirates. While we may struggle without Schneiderlin – his arrival coupled with the loss of Bolasie coincided with our fine form. If we finish in the Top 6 - we'll curse our shocking form in October and November.
As for my top Blue of the season? It must be David Unsworth. And best of all, he's one of us. In late-November, my other half watched an Under-23 game at Haig Avenue to check out Tom Davies who was head and shoulders better than anyone else on the pitch. More important, he was impressed by the enthusiasm of Rhino and his pups. They played with great flair and a genuine appetite for the game – such as Browning, Calvert-Lewin and Walsh. It'll be interesting to see if Unsworth is lured away to some manager's hot-seat at one of the Lancashire clubs such as Blackburn and Wigan during the summer. In addition, I think that specialty goalkeeping coach (Paddy Lodewijks) has done a fine job with Joel. Maybe we should recruit a specialty coach like Dave Watson to sort out our defenders or even better a centre-half like Dave Watson. I've been disappointed by the sloppiness of some defenders, specifically our most recent recruit. He's not the impenetrable centre-half, vocal leader and bit of a nark I had expected.
LL: Romelu Lukaku's contract situation is clearly one of the more pressing issues on the minds of Evertonians. What are your thoughts on the ambitious Belgian and his value to the team?
EF: Ah, the saga of Romelu Menama Lukaku! He's a monster on occasions, seemingly disinterested on others. His technical skills have improved under Koeman but, like many EPL stars, he's a tad over-rated. I find his contract on- going negotiations rather tedious. His star has never been brighter, his value never higher. I don't blame him wanting to play in the Champions League but thought his job was to elevate our beloved club to that level. You'll recall – how can you forget - that if he hadn't wasted two decent chances and a penalty at Wembley, it's more than likely we would be in Europe this season.
Lukaku reminds me of Latchford. Just like Big Bob in the Seventies, we're too dependent on Big Rom. The fuss about him equaling Duncan's Premier League tally was inappropriate. The Big Yin was a charismatic footballer but hardly a prolific marksman or a yardstick for one. We've a long list of top centre-forwards to measure Lukaku's achievements against. Check out the stats of Fred Pickering. As for a parting of ways, such defections are to be expected. He would've defected in the summer if he'd impressed at the Euros. The best players – certainly those grasping Golden Boot trophies - will seek to maximize their fame and fortune elsewhere. It's always been that way. All players are replaceable – except for the red-haired lad from Farnworth.
I say good luck to him. Like Alan Ball, we'll have doubled our money and benefited from his years of service. Nevertheless, I expect him to continue to do his best for the remainder of the season. To be honest, I'm more concerned about losing Ross – who is an extra-ordinary talent and, I must add, one of us. I fear that he'll follow the path of Wayne Rooney.
Again, congratulations to you and Michael on your 'Everton Proud Award 2017'. Now tell me, how much would someone have to pay you to discard Everton and support our noisy neighbours for five months?
---
Reader Comments (35)
Note: the following content is not moderated or vetted by the site owners at the time of submission. Comments are the responsibility of the poster. Disclaimer
Martin Nicholls
2
Posted 21/03/2017 at 10:12:23
Fantastic interview and good health to the good doctor!
James Reed
3
Posted 21/03/2017 at 10:18:30
A brilliant read, insightful and heartwarming. Everything that sets ToffeeWeb apart from the rest. You cannot help but come away smiling on the inside and outside once read. Spot on about Rhino too.
Brent Stephens
4
Posted 21/03/2017 at 10:36:38
Good read. Though it makes me worry about wastewater treatment works...
"I've visited the site on a couple of occasions and noted a fragrance unique to sewage. I bet that in five or so years' time, after winning the coin toss, the Everton captain will proclaim: 'We'll play with the smell in the second-half.'"
My seat pick might be based on that more than anything!
Don Alexander
5
Posted 21/03/2017 at 11:21:51
Best wishes to the Frances and every other Blue whose not enjoying the best of health. Arizona is a fantastic state to visit by the way. They have everything from desert to snow capped mountains and redefine the term "laid-back". It takes most of them 5 seconds to pronounce the word "egg"!
Dave Brierley
6
Posted 21/03/2017 at 11:44:01
Great interview, Lyndon. Find it hard to disagree with any of Elizabeth's views.
Hope Dr Everton recovers to full fitness very soon.
Dennis Stevens
7
Posted 21/03/2017 at 11:47:10
MArvellous stuff! All the best to Dr Everton & Mrs Everton.
The more I hear about the new site, the more I'd rather redevelop Goodison Park. However, I appreciate the relocation works on a number of levels, not least the symbolism of moving out from under the shadow cast by our luvable neighbours!
Bobby Thomas
8
Posted 21/03/2017 at 11:54:10
Brilliant interview with some extremely salient points made about progressing the club with talented people to drive it forward commercially, Lukaku equalling Ferguson's goal tally, and Ashley Williams.
Kev Wood
9
Posted 21/03/2017 at 12:24:24
Some great insight, straight talking and downright good sense from Elizabeth France. 'Everton Crazy' and the swift subsequent update in 'Everton Proud' made fantastic reading and I was able to get both my own copy and 'Everton Proud' (which was bought as a sixtieth birthday present for a true blue mate) signed by a most gracious Dr France.

The piece caused me to reflect on a trip to the USA in 1993 during which the only place to get any World Service reception for the home derby was by standing on the toilet seat in my San Francisco hotel room. Just watched our 2-0 victory (50th of all time against them) on YouTube. Well worth a visit:-
https://www.youtube.com/watch?v=jjrRudw8KC4
David Booth
10
Posted 21/03/2017 at 13:20:22
She knows her stuff does Mrs France, doesn't she?
Very insightful. Very knowledgeable. And clearly very passionate.
An Evertonian of the first order and one who makes me proud to be one too!
Alexander Murphy
11
Posted 21/03/2017 at 14:19:02
Lyndon, thank you so much for this article. Where do I begin?
Firstly, Dr Everton, get well soon and please take good care of yourself!
Elizabeth France is just astounding! Each time that I read anything she has to say, I ALWAYS feel the same way and conclude "I wish by the holy trinity that Elizabeth was at the head of the boardroom at Goodison Park!"
I'll DEFINITELY be rereading this time and time again. Belting stuff.
Mike Gaynes
12
Posted 21/03/2017 at 17:09:54
Fantastic interview, Lyndon. I love Lady France's piquant observations. And I share her affection for that special memory at OT, brought on by that ecstatic Oviedo goal.
I'm deeply sorry to hear that David has become so ill. Is it really only three years since you introduced me to him before the Juventus game in San Francisco? He was certainly a vigorous presence then. Seems like a lifetime ago.
I'm currently working my way through Everton Crazy (and it is work -- the typeface is uncomfortably small for older eyes like mine) in preparation for my own debut visit to the Old Lady next month. David continues to serve his first best purpose in this world, to be a gateway drug for our lifetime Everton addictions. May he and his magnificent missus continue to spread that passion as only they can.
Again, thanks for a superb article.
Alexander Murphy
13
Posted 21/03/2017 at 19:45:08
Mike, you are planning your Goodison Park debut!!!
Oh lucky, lucky you! I could overwhelm you with "Do this and, Do that's", to ensure that you remember it well.
But most importantly there is the hat trick:
Touch William Ralph's ball and just say "Thanks Billy".
Walk completely around "Our Grand Old Lady".
Visit St. Rupert's Tower (and bunk over the railings for a photo).
Many may say otherwise, but you'll never, ever regret your hat trick !
Goodison Park.
Oh Mike, I just can not express my envy.
There just is no feeling like the very first time that you enter
God's Acre
It's Royal Blue Baptism!
Wesley Coles
14
Posted 21/03/2017 at 20:11:36
A terrific read, she's open and honest and informed! We need a regular column!
Becky Tallentire
15
Posted 21/03/2017 at 22:11:15
I love Elizabeth's interviews, she's insightful, knowledgeable and funny. I'm sure I'm not alone wishing David France a million best wishes for his recovery.
He has to be the greatest living Evertonian who has done incredible work for our former players and has touched the lives of so many.
Get well soon, David — we're all pulling for you. X
Jim Lynch
16
Posted 21/03/2017 at 22:32:53
I had the pleasure of meeting David for the first time at the ESCLA showing of Alex the Great last November. He was a real gentleman and his love of Everton shone through.
Please wish the greatest living Evertonian a speedy recovery.
Brendan Connolly
17
Posted 21/03/2017 at 23:15:47
Another great article. Well done Lyndon and Elizabeth.
So sorry that David is having a tough time again, although to speak to him, you wouldn't know. I've never known him once to complain about his health, ever. David's energy and commitment to the Blue cause would be amazing at the best of times. Factor in that he has been fighting with his health for ten years or so, whilst achieving so much, takes it to a different plane.

On behalf of us all the EFC Heritage Society, our thoughts, love and prayers are with you both.

Take care.
Rob Culbertson
18
Posted 21/03/2017 at 23:19:39
This was a great read and you can understand why these two have been together a good while, in an age of failed partnerships... at times I wasn't sure if it was her speaking or David interjecting from around the corner! Peas in a pod, you could say.
Wishing the good Doctor and his Mrs all the best! I know he's been trading blows with illness off and on since I was first made aware of him around a decade ago so I'm forever confident that he's got some more uppercuts and right hooks left in him!
David's only about an hour away from me and on match days I'm always wondering if, like me, he's shouting at the TV and scaring early morning deer amidst the relative quiet of his adopted home. Perhaps, some might even say most likely, all surrounding wildlife come marching in some strange dream-like version of the Pied Piper as he plays out Z-Cars on a blue kazoo from his back porch before the match starts. You laugh, but I've witnessed stranger things on the Goodison pitch in my 24 years of following the blues.
Get well, Sir!
Mike Gaynes
19
Posted 22/03/2017 at 06:11:18
Alexander, your post just made me even more thrilled about my impending Goodison pilgrimage, and I didn't know that was possible.
Thanks very much for the primer on the proper approach to entering The Old Lady for the first time. I'm sure the TWers who will be welcoming me will have even more obligations to add to your Hat Trick list, and I intend to fulfill each and every one with the proper reverence.
Cheers!
Steve Kirkwood
20
Posted 22/03/2017 at 08:02:02
The lady's a proper knowledgeable Evertonian. Good on her. May her knowledgeable other half get well soon and make a speedy recovery!
Wayne Hughes
21
Posted 22/03/2017 at 09:28:18
All the best to the Dr and his good wife. As Evertonians we owe so much to David – in preserving our history, he has done so much for us all.
He is a fantastic Evertonian, a one off, his spot on Radio 4 brightened up a grey morning, was unmissable radio and was a unexpected treat.
Mike Royden
22
Posted 22/03/2017 at 15:55:24
Brilliant article. So much sense, would love to see Elizabeth on the board! Get well soon David, and I'm loving the Everton Crazy book. You have given me so many personal great memories on the Hall of Fame nights and most especially when my son Lewis was the mascot on stage handing the award to Alex Young (among many others that night).

All down to you of course and I will be eternally grateful. (Lewis (now 25) still says the greatest moment of his life). Hope you will be well enough to travel again and we can meet up at Goodison.
Steve Carter
23
Posted 23/03/2017 at 03:33:35
"Their new recruit – namely Peter Moore – is a rock star with world-class business development experience. I fear that he'll recruit similar results-oriented professionals who will launch LFC into a new stratosphere and exploit the Red brand on Mars and, more than likely, we'll trail even farther behind in their wake."
Whaaat? Just when I thought... we might just...
Damian Wilde
24
Posted 23/03/2017 at 11:05:07
Fantastic interview, thanks Lyndon. Wow, Elizabeth knows her onions! She speaks so eloquently too. I agree with her on Ashley Williams, I'm not totally convinced by him. And that the Lukaku transfer saga is 'tedious'.
And that David is writing yet another book is amazing dedication to the Everton cause!
Are some of his books still available for purchase? I'm soon to purchase and read my friend, Simon's book 'Here We Go', but will be looking to read further things Everton.
Mike, which will be your first Everton game? Hope it's a good one for you!
I wonder if it's frustrating for David being so far away from Gooidson? It's a trek from Arizona!!
Aw, reading articles like this make me feel warm inside about what our club has been and is all about, what it represents and means to so many, the Everton family 😊
Jay Harris
25
Posted 23/03/2017 at 14:56:55
Great post and good to read how eloquent and knowledgable "our" First lady is.
Enjoy the trip, Mike, and don't forget to visit the Pier head, Everton 2 Liverpool One and a few of the real beer hostelries that abound in the old city.
Gerard McKean
26
Posted 23/03/2017 at 19:01:33
Elizabeth France has a laser-like ability to identify the strengths and weaknesses of Everton Football Club. Like everybody else on TW, I am desperate to see the rise of another great Everton team gracing the field of play but this will not happen until we also get the right team in place OFF the pitch.
Mrs France's comments about the need for more "rock stars" to manage the club (not the team) resonate particularly well with me. Once again, LFC have shown a hard-headed understanding of what it is that creates a winning mentality by going out and recruiting "results-oriented professionals". This contrasts with the nepotism and cronyism which characterise much of Everton's recruitment policy, and an atmosphere of "just keep your head down" that stifles challenge and encourages sycophancy.
Let's hope that Mr Moshiri's representatives are as good as Mrs France at seeing what needs to be done. There is no room here for complacency, sentimentality or too much power invested in one person.
Tony Draper
27
Posted 23/03/2017 at 20:17:26
Mike @19.
I'd really like to "bump into you" for your baptism. Really I would. And I'll try my very best.
I'm really unreliable I'm afraid, it's a work and family thing. Sometimes I only just scrape in to hear "Johnny Todd".
But, I'd love to hook up, there's something that I'd like for you to see and another that you really should have.
Dave Abrahams
28
Posted 24/03/2017 at 14:12:40
Write that book, Elizabeth, I can listen to you all day.... In fact, you've got a better feel of Everton than the man, lover and husband who you learned it off.
Sean Randles
29
Posted 25/03/2017 at 11:14:08
All joking apart, are we sure we want to be next door to a sewage plant on the banks of the Royal Brown Mersey, as one Koppite has already taunted me with?
James Newcombe
30
Posted 26/03/2017 at 10:46:54
I'm with you, Sean, that seems terrible to me. Surely there's something that can be done about it? I'd rather stay at Goodison than somewhere that smells of RedShite.
Steve Jones
31
Posted 26/03/2017 at 11:01:02
Royal Brown Mersey? Sounds like it was a kopite taunting you... someone who's never been to Liverpool or knows nothing about the place otherwise. The river is the cleanest it's been in living memory!
As for the sewage farm, clearly it's not a surprise to anyone and we're still progressing with the deal so it's in the planning. Sat next to Stanley Park, famous only for the amounts of dogshit spread about it, the kopites can hardly talk anyway.
Gary Russell
32
Posted 26/03/2017 at 11:09:02
Sean, James, think how bad blue cheese smells and sometimes blueberries, tis the natural order of things. But if it really is that bad, I am sure Mr Moshiri will be 'on it.' So far, he's proved to be a very capable individual, if his bank balance wasn't already enough.
https://phys.org/news/2014-08-odor-wastewater-bacteria.html
Len Hawkins
33
Posted 26/03/2017 at 11:14:35
If there is a smell of treated sewage, the RedShite will feel at home when they visit. And as the stadium will have unrestricted views, can the planners not include some hydraulically operated girders which can be raised in front of the rednecks with the 20 tickets they receive.
Chris Leyland
34
Posted 27/03/2017 at 22:18:44
Sean – when the Koppites try to wind us up with stuff like this about our new stadium, it is because they are scared.
Scared that we are actually making progress with a ground; scared that we will have a brand new state-of-the-art stadium on one of the most famous waterfronts in the world; scared that their old ground will look stale and out-dated in comparison; and scared that we might become a major force once again.
Take it as a sign of our strength and their weakness.
Dick Fearon
35
Posted 28/03/2017 at 09:18:52
There used to be a Knackers yard in the vicinity. Horses hooves were boiled and by god the stench was unbelievable.
Phil Parker
36
Posted 29/03/2017 at 23:34:28
Just completed reading your latest book, Dr France, a brilliant Everton read, laced with humour, humanity, legendary tales and stark Blue truths. Hopefully our club and your health are improving together.
Here's to happier times on and off the pitch, and I hope we are all there to see it. All the best to two of the best Evertonians, and best people, I have ever met. David and Elizabeth France.
---
Add Your Comments
In order to post a comment, you need to be logged in as a registered user of the site.
Or Sign up as a ToffeeWeb Member — it's free, takes just a few minutes and will allow you to post your comments on articles and Talking Points submissions across the site.
© ToffeeWeb