Everton History
'The Things We Do For Love' – Janet Royle
Becky Tallentire
10/06/2017

9 Comments
[Jump to last]
Share:
Real Footballers' Wives — Janet Royle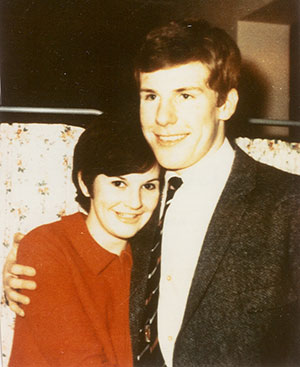 The house on Fowler Street was a huge three-story Victorian terrace just off Breck Road and nearer to Anfield than Goodison Park It belonged to my grandparents, who'd lived there throughout the war and it was always full of people and cousins and noise. The cellar had been the bombshelter during the blitz and there was a big grid over the front step so you could escape if the house was hit. My mum was one of eight so at one time there were 11 of us living there. It was great fun.
I'd stayed another year at school to learn shorthand typing and book-keeping. I could have stayed on and learned more but I didn't want to go to night school again because I had other things on my mind. I really wanted to travel. My best friend, Mo, and I would talk about it all the time and couldn't wait until we were 18 because we were going to join the Harrison Agency and then go to New York and become nannies. In the meantime we had a holiday booked to Italy with another friend. We'd been paying it off for ages and hadn't even told our parents about it because we knew they wouldn't let us go.
By the time I was seventeen I was already on my second job, working in the office at Ogden's Imperial Tobacco. I had a huge big ledger and would write off to the Liverpool Trade Protection Society to do a search on all the new customers, and a wonderful lady called Lily was teaching me my new trade. The tobacco leaves were hung out to dry a bit further down from the offices and the whole building and everything in it smelled. It wasn't a horrible smell, it was rich and unusual but it was strong and it penetrated everything.
Lily became ill and was off work so all the girls from the office had gone to her house to visit, and that was where I first met Joe. She lived over the road from him, was good friends with his mum and had sons of the same age, so he was in and out of her house all the time.
Joe was an only child so it was like his second home; every time I went to see Lily, he seemed to be there. He was 17, too, and just breaking into the team, although he had played one game a year earlier, against Blackpool. It was the day Harry Catterick had left Alex Young out of the side and it caused a big commotion.
We were both going out with other people at that time. I'd met a guy who was really quite awful to me; he hardly ever turned up when he said he would, and had gone away hitch-hiking around Europe to play his guitar. I didn't miss him very much.
Joe was much more attentive and one day he turned up at our house. We were on our way to the hospital to visit Lily and he called to say she'd been sent home, to save us the journey. He'd just got a new car and was so proud of it. He'd borrowed the deposit from his gran and was paying it off. His wages were £12 a week, so he would give £3 to his mum, the car cost him a fiver and the rest was his. It was a dark-blue Vauxhall 101 and he asked me if I would like to go out for a run. We had a laugh and got on really well and I suppose that was where it all began because from that day on we started spending more time together.
On one of our first dates we drove to Chester to have a look around the shops. He was still paying off the car and couldn't afford anything really good to eat so we had a meat pie and a cup of tea. He promised that the next time we went he'd treat me to something really special and he kept to his word. We went into a little café and ordered prawn cocktail and ham salad. It was the first prawn cocktail I'd ever had and he said:
"You see? I told you I'd buy you something nice".
Right from the start he was lovely to me and we always had a great time. I remember he bought me a pair of earrings a couple of weeks after we started going out and I thought it was so kind. He was incredibly generous and thoughtful and if ever he saw something he thought I would like he would get it for me as a little surprise.
The holiday in Italy had cost £40 for two weeks' full board. We took £20 each spending money and before I left, Joe gave me another fiver towards my spends. We were so excited and just couldn't wait to go. We landed in Switzerland and travelled overnight on a coach into Italy. I didn't even go to bed; the first thing I did was go to the shops and spend the fiver on a lovely Italian-knit jumper for him. Mo couldn't believe it and neither could I. I hadn't expected to miss him so much and I was totally shocked when I realised that I couldn't possibly go abroad and leave him. I only ever went on holiday with the girls once more and the following year we got engaged.
I was worried he would be bored the first time he came to our house. My mum and dad were in the front room with the telly and my grandparents were in the back. They had a piano in there and some times they would have a sing-a-long, other times gran would read. Grandad used to love horse racing and would get the Timeform every day and study it within an inch of its life, but this particular night he was playing patience. Gran had just had her hair permed, so from then on Gran was 'Curly' and Grandad was 'Ace'. They got on great together because they talked about horses. Joe loved the horses and he still does, and they would sit for hours discussing form and jockeys and races. They got on like a house on fire.
After a while he asked if I would like to go to the match, but he wanted me to go with his mum and dad and I was shy because I'd never met them. I asked Mo to go and we took my little cousin Ronnie because it was his birthday. He was only about five but he was a big Evertonian. I paid for everyone and we sat up in the stand. Joe scored two goals that day. Walking down the road after the game all we could hear was "That Royle's too good for the reserves", and everybody was talking about him. Mo came with me to the next home game and we started going quite regularly.
Some days he would ring me at work to say he would meet me at lunchtime and we would go to Laus, a Chinese restaurant in Kensington where we would get a 2/6 (13p) 'businessmans lunch'. All the office staff at Ogden's wore these blue overalls and they reeked of tobacco. You could spot an Ogden's employee a mile away in those overalls, but you could always smell when someone worked there even if they didn't have them on.
When we were courting we would go out on a Saturday night to the Beachcomber, but for a few years on a Sunday we had a thing where we would go to the pictures and then the Berni Inn in Old Hall St for a steak and an ice cream and coffee.
We used to love going house-hunting and were desperate to live in Formby but houses were about £6,000 then. We eventually found a two-bedroomed house in Ormskirk that cost £4,500, and it was such a big difference. We were painting and decorating it for ages and we couldn't wait to move in.
My biggest shock about being a footballers' wife was New Year; it had always been the biggest night of the year when I was growing up. It was fantastic in Liverpool; there was a big open square near Breck Road and everyone would congregate and you'd hear all the ships' horns going off on the Mersey - but footballers have to play the next day so New Years Eve is an early night for them. If it was an away game and he'd gone away, I could go out, but when he was in I felt a bit mean leaving him even though he'd have gone to bed early and I'd just be sitting there on my own.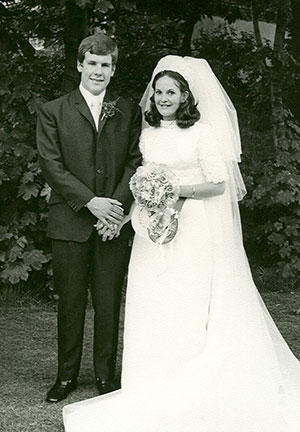 The date of the wedding had to be changed to June 1970 because Joe was on the reserve list for the World Cup in Mexico and we didn't know if he would get called up. Brian Labone, Alan Ball and Tommy Wright were away so their wives came instead. We had a white wedding at St Mary's in West Derby Village. Mo was a milliner and she'd designed all the hats, and was my bridesmaid along with Marge, one of the girls I worked with, and my cousin Joy. We had our reception in the Grafton Ballroom, which was lovely. I've been back there since and it's lost a bit of its glamour but it was beautiful then.
We spent our honeymoon in Majorca: Rose and John Hurst ended up coming with us and stayed down the road in another hotel. We'd had a few little breaks together and been saying that we must go away on a proper holiday. We met another couple there; Roy
McFarland of Derby County and his wife Linda, so the six of us all went around together.
All three of our children were born in March, which means they were conceived in June — the close season. Lee was born in Ormskirk Hospital in 1971; which turned out to be a really bad week for Evertonians. They were playing Panathinaikos in the European Cup quarter-final in Athens, it ended up 0-0 but it was enough to knock them out. Joe went away on the Tuesday and Lee was born the next day, the day of the game. They were coming back and going straight to a hotel because they had a FA Cup semi-final against Liverpool on the Saturday. He wasn't really supposed to come and see me but they were staying in a hotel in Lymm, Cheshire, and the kit was coming through to Goodison to be washed, so he hitched a lift on the coach so he could see the baby. The driver dropped him off and then picked him up again on the way back.  I didn't see him again until after they'd got beat on the Saturday at Old Trafford.
Joe was always doing something in his spare time he would never be idle. His friend had a bookies shop so sometimes he would go in there and help him - he knew how everything worked and how to calculate the odds. Another friend had a garage so he might be there tinkering with cars; he would occasionally go to the auctions and buy a car to do it up and sell. A few of the players bought cars from him.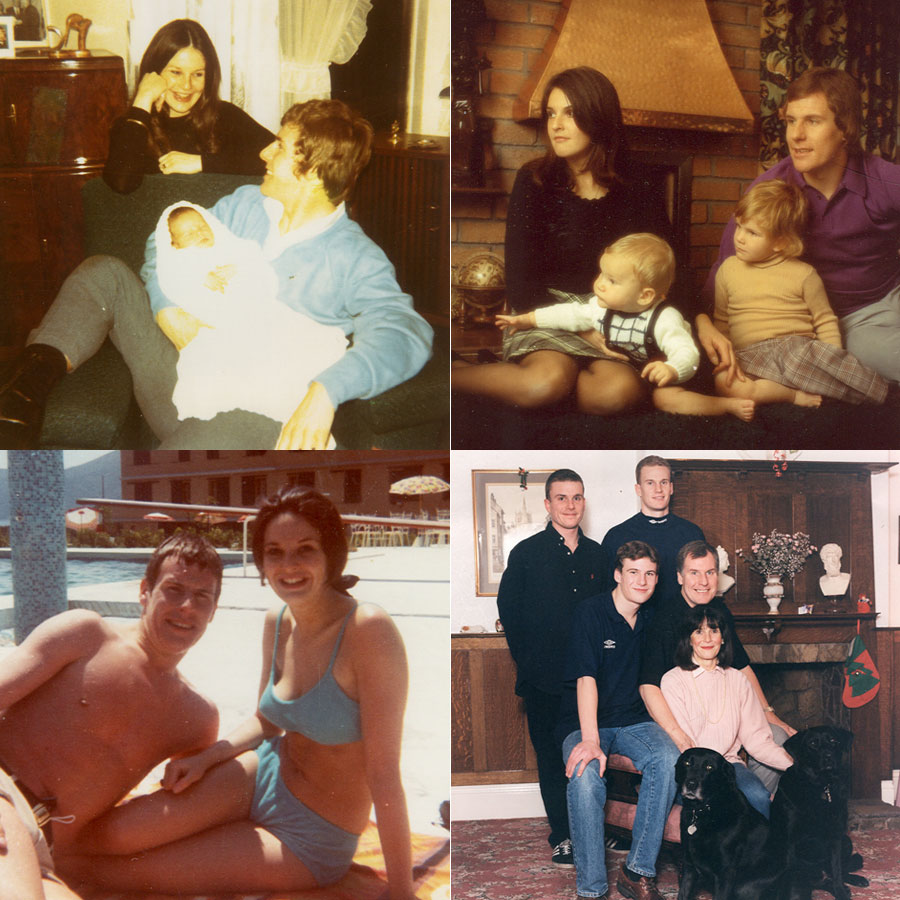 Clockwise from top: Joe and Jan with Lee in 1971; family portrait with Lee and Darren in 1973; the Royle family circa 1996; Joe and Jan on their first holiday
He had a terrible shoulder injury once. He'd gone up for the ball and the guy in front had bent over and Joe went right over the top of him and landed on his shoulder. It was awful to see him in such pain. Another time he slipped some discs and we had a dreadful time then. Lee was only about nine months old; it was his first Christmas and the worst Christmas I ever had in my life. He'd had one disc done and came out of hospital but he'd haemorrhaged and we didn't know. We had to bring the bed downstairs and he went from being a 22 year old, fit, healthy footballer to being bed-ridden, in agony and unable to move. I remember Gordon West, Brian Labone and John Hurst came to see him and he was in a really bad way.
I've always loved Morcambe and Wise since that day because on Christmas night Joe was in the next room and I sat down to watch the telly. It had been a terrible day and I thought I would never smile again. I ended up laughing my head off and I always loved them after that.
The doctor was with Joe all over Christmas. We took him back into hospital eventually and they did another disc while he was there. I didn't know if he was ever going to play again and he'd just made his debut for England when it happened so that set him right back. He came out of it looking very ill; he lost an awful lot of weight but he made his recovery and got back in training.
I'd booked into Park House nursing home in Waterloo to have my second baby. In theory I was going in for a rest because Ormskirk was a big old-fashioned ward with 40 babies waking up during the night all wanting feeding, so you didn't get much sleep.
I started with the pains and had to phone Joe at training but he didn't come until after they'd finished. He got stopped for speeding on the way, but when we explained what was happening they gave us a police escort and took us through red lights and saw we got there safely. By the time we finally arrived I only had to wait 10 minutes and Darren was born.
We stopped going out on a Saturday night when we had the kids and went out on a Sunday instead. He would be worn out and sore after a game too, so he was just glad to get home and put his feet up and living in Ormskirk was a bit awkward. If you drove in to Liverpool you couldn't have a drink and it was a nightmare trying to get a taxi.
Lee would come with us to the game and we'd drop Darren off at my mum's because she was only five minutes from the ground. We'd pick him up on the way home, get the kids packed off to bed and open a bottle of wine. We used to do these skillet meals and thought they were wonderful; you would mix it with mincemeat and pasta and we thought they were really sophisticated and exotic. Joe would always go to bed early on a Saturday but he never really slept well.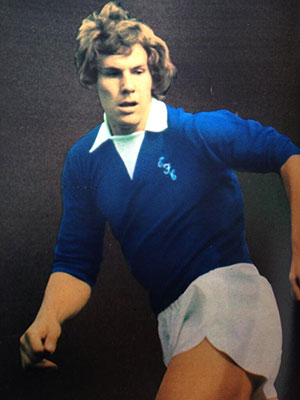 I got used to him having injuries and cuts and bruises. The sheets would always be covered in blood from his feet or his legs or some other wound. He would shout out in his sleep; he asked me what position I played in one night. I don't think any footballers sleep very well because they're physically worn out after a game and they come out of the ground all hyped up then they suddenly fall flat. For years he would be up at 5 in the morning and taking the dog out running. As the dog got older it used to see him coming and cower in the corner.
Our big night out became Sunday and I never cooked a Sunday dinner for years. Joe's mum or mine would come up and babysit and we'd drive out in the country and eat in nice little restaurants with our friends, John and Pat Kelly. We did that every week for about seven years. It was lovely because it was quieter, you got left alone, it was better service and you could easily get a taxi home.
The thing that was hard to cope with was the attention Joe got from other women. Certain women are attracted to success and they can't seem to help themselves but I didn't like it at all. Some of them were completely shameless in their attempts, but I don't know if men notice it as much as we do.
In May 1973 they went off to Singapore, Kuala Lumpur and Hong Kong and Darren was about six weeks old so Lee would be three. I went to stay with one of the other wives so I had to tell them at playgroup that Lee wouldn't be in. They took it for granted I was going to Kuala Lumpur because when I went back they asked if I'd had a nice time. I didn't know what they meant; I'd only been to Bebington on the Wirral!
I lost stones that week with all the running around; I never had a minute to sit down and used to live on boiled eggs and toast. The night before he went away he'd taken me out to Tommy Smith's club — the Castle Gate in town. Joe had a Ford Capri at the time and we came out of the club to find it had been stolen. We were walking along to the police station to report it and one of our neighbours drove by and gave us a lift home. The next day I drove him to Goodison where they were leaving from for the airport. I was going to my mum's for Sunday dinner with the kids but on the way there the exhaust fell off my car, so I had two cars and couldn't use either of them all the time he was away.  I would put the baby in the pram with the little one on the top and run down to playgroup then back again. They found the car a while later but it had been smashed up and was a write-off and I got my exhaust fixed, eventually.
Everton would take them away an awful lot on a Friday night and we'd hardly see them at all over Christmas. On Christmas day they would go to Alder Hey children's hospital in the morning to hand out presents to the kids then straight into training before they could come home for dinner. They'd take them away on Christmas night regardless of whether they were playing at home or away. I was totally dedicated to the kids because I knew somebody had to be here for them and I felt it was my place. Joe was the provider and I kept it all running smoothly behind the scenes.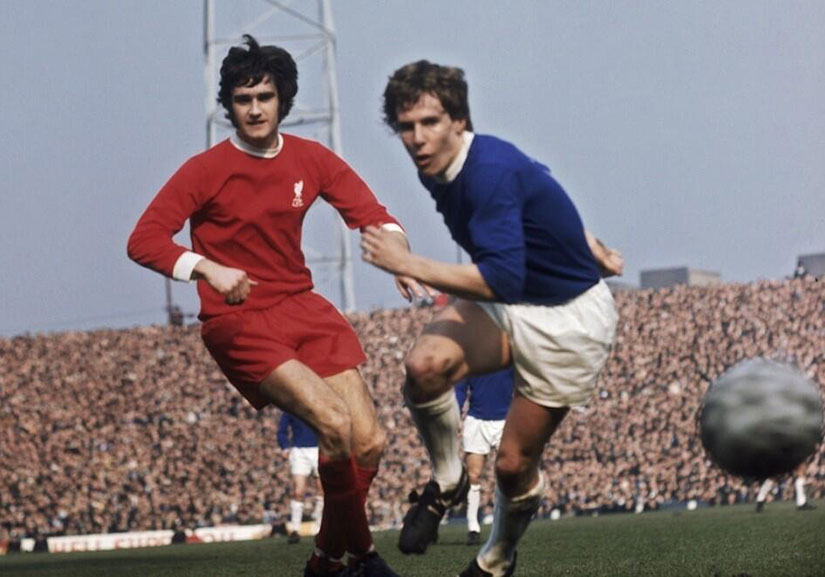 The transfer to Man City had been on the cards for a while and nothing had happened. Our boys had measles, they were terribly ill and it was coming up to Christmas. I'd put toys away in a shop in Ormskirk that I'd been paying off week by week. I was going to pick them up on Christmas Eve after Joe got back from training. He rang me and said he had to go over to Manchester City and all I could think about was the toys. I couldn't leave the boys because they were so ill so Joe's mum and dad had to come over while I went to collect them from the shop or they'd have had no presents. He signed for City on Christmas Eve and they got hammered by Liverpool on Boxing Day.
We were still in our two-bedroomed house at that time. My Dad had died and Mum used to come and stay a lot so we desperately needed another room. It wasn't that far to Manchester so Joe could easily commute, but we started looking around. They'd built a cul-de-sac in the grounds of a big old house in Ormskirk so we bought a piece of land, which is actually in the next road to where we are now. Mum loaned us some money to put towards the deposit. The plot had been a man-made ornamental lake so we had to drain it first then we started building. In the meantime we sold our place and had to move in with Joe's parents in their two bedroomed flat. In our room were Joe and I, the two boys and our dog. We were there for about two months.
Man City won the League Cup that year so we had to go to Wembley. All my clothes were in storage; Joes mum used to work in the Post Office in Maghull and the lady had let us store all our things in the flat above. I remember clambering over all these boxes to dig out my fur coat to wear down to London; it wasn't quite as glamorous as it may have seemed. Joe met Willie Donachie around then and he's worked with him ever since. They're managing Ipswich Town now and they share a house down there.
The day I found out I was having Mark, Joe got transferred to Norwich and had to move down there straight away. I had to stay to sell the house and pack things up, so he would be in Norwich all week then drive back up after the match. He would stay for one or two nights and then leave really early on Monday morning to go back for training. The things you do for love.
So I was seven months, pregnant when I arrived in Norwich, I didn't know a single soul and once again the four of us and the dog were living in a hotel room because our house wasn't ready. They used to let me use the hotel laundry for the boys' clothes. That was a lonely time; I was on my own for ages. I left all the buying for the baby to do when I arrived because I knew I would be on my own for hours and hours on end. I would be walking round Debenhams with my really big stomach and I often used to think the security people would be saying "Look, there's that woman again". I spread it out so I would have something to do every day. Lee was 10 and Darren was 7 the month Mark was born.
The thirteen years we spent at Oldham were the best times of our lives. We lived up in the hills above the town and I always had to have a Jeep because we would get snowed in. The club had no money and what Joe achieved there was unthinkable. Some years the fans called it the 'pinch-me' season.
When we got promoted it was just brilliant. We were friends with the entire board of directors and we all became so close and such good friends; we still see them now. Everybody really appreciated what was happening and the whole town was alive and buzzing with the smell of success. It was wonderful. It wasn't a huge club and what they did was so unexpected.
At playgroup they would cover the tables with newspapers when the kids were painting. I went to pick Mark up one day and they were all laughing because there was a picture of Joe in there and Mark was completely oblivious. They were waiting for him to say something but he just thought everybody's dad was in the paper. I never think of Joe as a legend he's just my husband and the boys' dad. I do know that we were very lucky to get the chance to do all this. Some people work really hard all their lives and they don't get any kind of recognition so it's really nice to be acknowledged, but at the same time if the team are doing badly, you soon get to know about that too.
All our boys have been good at football but not good enough. They've got to be really extraordinary now and I think when you're a footballer's son you've got to be even better than that. Darren still plays for Ashton United; he's played for a few clubs and I think the best he ever did was play for Altrincham, a Conference side. Lee played for the school and pub teams. Mark played football and rugby at school and for a local pub team but Darren is the most dedicated. They all love their football and they're all Evertonians.
The only part of being a footballer's wife that I didn't especially like was the time we had to spend apart. It does make life interesting and when I think of the places I've lived, I realise I probably never would have even gone there. Bristol, Norwich and Oldham were just fantastic.
The worst times were when the kids were little and he would go away and it was difficult. Something always went wrong, like one would get ill or the car would break down. It was a drag that you could only ever go away in June too. They still had Wakes Week in Oldham when they would traditionally shut down the mills for two weeks in June so we were okay then, but the summer holidays would start in July and Joe would go back training literally the same week as the kids broke up for six weeks. So you had to do everything with them on your own and that was tough because I'd have loved him to be with us.
I didn't really trust anybody else to look after the children other than my own or Joe's mum, I liked to know what they were up to and I really enjoyed being a mother.  Sometimes I was desperate to do things a little bit different but I think you turn around and realise everything has changed and you've become a wife and a mother instead of what you used to be. I found some photographs not long ago and I remembered that once upon a time, I used to be a girl. I never resented it and my family were always there when I needed them, but it was a bit lonely at times.
I lost Mo to cancer the week before Princess Diana died. She was my dearest friend and we'd known each other since we were 11. Not a day goes by when I don't think about her and miss her.
I liked being a footballer's wife in the 60s and 70s. I think it was the best time. We felt we were so privileged because we had nice houses and lived in interesting places but I don't envy the attention they get now; it's so intrusive and they're into every aspect of their lives.
The older you get the more you value your friends and we've made some of the greatest friends you could wish for. They become more and more precious with time. It's so easy to make friends because everybody wants to be with you when you're doing well, but it's the ones that stick around when the party's over that matter to us.
We've always had the same values — we loved our home, the dogs, the family and the kids and they're the things that have shaped who we are. There have been bad times when Joe's career hasn't gone according to plan and it teaches you that when things are going well, you should really enjoy it and we did just that, we're still having a fantastic time. I wouldn't have changed it for the world.
Taken from Real Footballers' Wives — the First Ladies of Everton, still available for purchase in book or Kindle form
© Becky Tallentire 2004
---
Reader Comments (9)
Note: the following content is not moderated or vetted by the site owners at the time of submission. Comments are the responsibility of the poster. Disclaimer
Tony Hill
1
Posted 10/06/2017 at 22:36:42
Thanks for this latest in an excellent series. Mrs Royle comes across very well, like most of the women interviewed and I find her/their words touching.
One of my favourites, Joe. A good, bright, balanced man. It's wonderful that he's still active in the club he loves.
Steve Hogan
2
Posted 10/06/2017 at 23:08:52
A truly warming story from a loving family. I tend not to get nostalgic these days, but I do question the values that go to make up a 'modern' day footballer now, where just two years salary can set you up for life.
The game might be technically better, but it seems light years away from being "the people's game" anymore.
Paul Kossoff
3
Posted 11/06/2017 at 06:57:37
I remember my dad had a sweets and tobacconist unit at the Pier Head, and I as a young lad was serving behind the counter with who serving next to me? Blue boy Tommy Wright! I was awe struck. Colin Harvey and one or two others would drop in now and then, all ordinary young lads, all polite, not like the cash-obsessed footballers today.
John Hughes
4
Posted 11/06/2017 at 07:19:55
I think I'm about 8 years younger than Joe and was brought up very close to where he lived in Norris Green. My mates and I, along with many others would often knock on his door for an autograph; looking back we must have been a real pain in the backside.
Nonetheless, we were always accommodated by Joe and he would usually go about it with a smile on his face. On the odd occasion he didn't his Mum would have a quiet word in his ear! Mrs Royle was a lovely lady.
Over the years have come across Joe at games and although never had the opportunity to converse with him properly, have always been impressed by the way he acknowledges fellow blues with that engaging smile of his.
An absolute gentleman and a genuine Everton legend as far as I'm concerned. Well done, Janet Royle, for an interesting insight in to family life for a footballer back in the seventies.
Chris Williams
5
Posted 11/06/2017 at 09:00:47
Stepping back in time again, reminding us of how things were in the times before Sky reinvented football in its own image as a tawdry money grubbing exercise in neoliberalism.
Having got that off my chest , this is another lovely piece of writing about the human aspects of being a legend by the person who knew him best. An insight into the humility and love and the family values of people who are, well, normal.
Becky needs to get this book republished, maybe updated with what happened next. I doubt such a book could ever be published about today's players and WAGS.
Ray Griffin
6
Posted 12/06/2017 at 23:39:47
What a great article, captures exactly what star football players & their families lives were like back then – still on the same level as the fans & you could bump into them in the street & have a chat.
David Ellis
7
Posted 13/06/2017 at 03:17:30
Brilliant article – that 1973 photo, was it by Paul Yaffe? He is/was a photographer in Southport and was the choice du jour for professional family photos – I have one around the same time (probably 1976) – and he did my sister's wedding in in 1984. The style is the same. Also love the fake copper chimney – we had one of those as well!!
Steve Ferns
8
Posted 13/06/2017 at 17:06:13
It was a nice read.
I wouldn't write off all the modern footballers wives. The new Mrs Schneiderlin is very popular at the moment, even if she is bucking the trend. And I'm pretty sure I saw Idrissa Gueye's wife and family (massive entourage of French speaking Africans) at the game and they seemed very nice.
Paul McGinty
9
Posted 21/06/2017 at 09:58:40
Joe's Dad, Joe Snr, was a piano player..have a carton of the band featuring him and my father, when they were resident at the Melody Inn in Wallasey. Joe Royle a true centre forward not blessed with a lot of pace, but formed a great combination with John Morrisey.
I had heard from my Dad, that Joe Jnr was a well balanced individual, not a big shot... this article reflects that. Thanks for posting it.

---
Add Your Comments
In order to post a comment, you need to be logged in as a registered user of the site.
Or Sign up as a ToffeeWeb Member — it's free, takes just a few minutes and will allow you to post your comments on articles and Talking Points submissions across the site.
© ToffeeWeb