Report
Superb Everton grab three vital points
By Michael Kenrick
20/08/2016

192 Comments [Jump to last]
Share: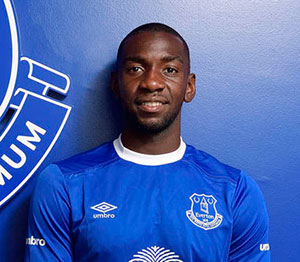 Yannick Bolasie came off the bench and set up three brilliant chances for Barkley and Lukaku.
West Bromwich Albion 1 - 2 Everton
Everton had to dig deep in this one, with Ronald Koeman making a series of key substitutions as the game progressed after an early goal was given up from a corner. But a superb response from the entire team saw Mirallas equalize crucially on the break, and Barry headed in a nice opportunity at the far post to give them a lead to defend.
Romelu Lukaku was not sufficiently ready to face his old loan hosts West Brom at The Hawthorns in Everton's first away game of the new campaign; however, he started on the bench, with new signings Bolasie and Williams, and would come on as a first-half sub.
The side Ronald Koeman started with was the same lineup that faced Spurs, with an attack consisting of Mirallas, Barkley and Deulofeu, with Coleman still out injured.
Everton kicked of with the clear intent of controlling proceedings and getting the ball forward, with Deulofeu playing in Barkley who appeared to be tripped but Yacob got the ball. Barkely was then hit on the thigh but recovered quickly.
Barry took more command, winning the ball strongly, and play developed through Deulofeu on the wing but Barry's shot off the low return cross was too weak and straight at Foster.
Rondon got the better of Funes Mori but Stekelenburg was out very quickly to save brilliantly. Ft from the corner, a far post header and a goal with Stekelenburg clearly impeded, McAuley powering through Mirallas's vain attempt to clear the ball off the line.
Everton were stunned but tried to press a solid wall of West Brom defenders and could do little to penetrate, while the Baggies came forward and won another corner that was defended better. The next Blues attack broke down on a loose pass from Mirallas as Everton had their work cut out to keep it tight and hold possession, while trying to break through an impenetrable defence.
Everton possession was at times painfully deliberate, and far too slow in developing, with The Baggies easily able to stem their progress, forcing Barry to play long balls hopefully over the top for Deulofeu, but McAuley was far too strong for him. Barry came in strongly on him in response.
A freekick from Barkley didn't quite work like last week, that man McAuley heading it away. Berahino was carded for a nasty late challenge on Barry. The ineffective attacks continued until West Brom won another corner but this time took it short and it was defended away.
With little more than half-an-hour played and Everton showing nothing meaningful in attack, Koeman took action: Lukaku was stripped and readied for action, with James McCarthy the one to be pulled. Everton won a corner before he came on, but could not trouble Foster.
A good strong run from Holgate was too easily blocked, but he got forward again and this time Yacob was called for the foul, in a dangerous area, with Baines, Barkley and Mirallas sizing it up, but Baines fired it rather poorly well over the bar, with Lukaku yet to have a touch.
It took until the 44th minute, however, before Everton constructed anything approaching a penetrative attack, Deulofeu doing well from the right this time to hook a ball back from the byeline, but to nobody. Everton kept pressing up to the whistle, and an excellent sequnce of slick first-time passing through the middle involving Mirallas, Barry and Barkley saw Mirallas power in and fire beyond Foster, an excellent goal to put the Blues back in it. Fair reward for an astounding 69% possession statistic in the first half.
Stekelenburg pulled off another fantastic save shortly after the break, when lax passing inside the Everton box set up Fletcher for what seemed a certain goal. At the other end, Holgate powered in on goal off an exchange with Lukaku and won a corner that Deulofeu beyond the far post almost converted, possibly hitting the post. The second corner for Mirallas was superbly delivered but no big heads were where they were needed to be to convert it.
But West Brom got forward again and Fletcher took a shot with Jagielka trying to block it and catching him fractionally late. The free-kick was in a dangerous position, Gardner curling it a couple of feet wide with Stekelenburg stranded.
Everton's controlled possession looked to be creating more penetration until Deulofeu overran his dribble and lost the ball, leading shortly to his replacement by Bolasie after Olson was booked for taking out Mirallas. His free kick was superb to Funes Mori who fashioned a tremendous header that Foster parried away with a tremendous stretching save. From the corner, Holgate volleyed in but somehow the ball bounced up nicely for Barry to head in smartly at the far post, making it a superb turnaround by they yellow-shirted Blues.
Brilliantly, Everton continued to attack with raucous backing from the noisy Blues contingent in the crowd, with Pulis forced to making a double switch. But the visitors continued to take the game to their hosts, with Bolasie now playing an important part in building the attacks down the Everton right.
Bolasie beat Evans with ease and delivered a fantastic ball for Barkley to head in for 3-1... only it went 6 inches the wrong side of the post! — a terrible miss really on a free header. And West Brom were quickly up the other end and another wicked corner causing havoc in the Everton defence, McAuley coming close again.
Bolaise tried to drive through but was thwarted, Lukaku picking up behind him and giving Bolasie the chance to fire, but high and wide. Ricky Lambert came on to a suitable welcome from the Blues fans as he almost scored with his first touch, denied by a fantastic block from Funes Mori, as the unrelenting pace of the game continued with little sign of Everton tiring as they had done last week. Ashley Williams replaced Mirallas for the last 10 minutes as Koeman looked to batten down the hatches and see out the match.
Everton continued to control proceedings with increasing confidence but at no stage could it have been called 'easy', with West Brom providing feisty and physical opposition at every turn. Some fantastic defending by Holgate at the expense of a corner saw a couple more threatening chances determinedly repelled by the Everton defence.
Bolasie again showed excellent end-product, picking out Lukaku, but he was blocked, then Barkley releasing him, and again he picked out Lukaku but the Big Man could not beat Foster and another fearsome attack was waged in response by the The Baggies, with more tremendous Everton defending and another corner repelled as 4 minutes of added time were shown.
Holgate got called for a soft handball as the ball bobbled up, the free-kick fired in by McClean, but straight at the two-man wall, the ball falling to Foster wo add advanced to the Everton area, firing inches wide, as the last gasp, signalling an excellent win for the much fitter, much brighter, much more determined Everton side. The reception at the final whistle from the masse throng of Everton fans was simply marvellous as they showed their appreciation for a superb display and three vital points to push Everton up to 5th in the nascent Premier League table.
West Bromwich Albion: Foster, Dawson, Olsson [Y:59'], McAuley, Evans [Y:90+3'], Fletcher (c), Yacob, Phillips (Leko, 64), Gardner (McClean, 64), Berahino [Y:26'] (Lambert, 78) Rondon.
Subs not used: Myhill, Morrison, Field, Wilson.
Everton: Stekelenburg, Holgate, Jagielka, Funes Mori, McCarthy (37' Lukaku), Barry, Gueye, Baines, Mirallas, Barkley, Deulofeu (61' Bolasie).
Subs: Robles, Williams, Oviedo, Cleverley, Lennon.
Referee: Neil Swarbrick

Attendance: 23,654
---
Reader Comments (192)
Note: the following content is not moderated or vetted by the site owners at the time of submission. Comments are the responsibility of the poster. Disclaimer
Michael Lynch
1
Posted 20/08/2016 at 14:23:20
The fact that Oviedo and Cleverley can still make the bench is a reminder of how far we are from having a squad that can challenge for the top four. I was hoping Bolasie, Luka and Williams would start, but I'm beginning to regret sticking a fiver on us to win. Might be just a point for us today.
John Atkins
2
Posted 20/08/2016 at 14:26:02
Yes but, Michael, also having them just on the bench shows how far we have come from when RM was in charge cos I can tell you no, if he was still in charge, they'd both still be playing and Kone would be up front!!!
Nigel Munford
3
Posted 20/08/2016 at 14:34:08
Plus the team RK has put out is unbeaten.
Anthony Jones
4
Posted 20/08/2016 at 14:36:22
Looks to me like Koeman is flexible. What a relief after Moyes and Martinez. Play your best players in a formation that suits them. Very encouraging.
Barry Williams
5
Posted 20/08/2016 at 14:43:43
Michael, if Bolsie and Williams manage to come on, within 2 league games we have had 5 debutantes, is that not quite a lot!!??
Anyways folks, whatever happens, early days, still players to come in. To be honest with you, I may be one of the few who thinks we have conducted business quite quickly given the circumstances. Getting the right players in over time is better than getting the wrong players in quickly. To me it looks like the management team have made their minds up on certain players very swiftly and have made sure that the initial recruits are ready to go fairly soon as they all have premier league experience.
Andy Meighan
7
Posted 20/08/2016 at 14:49:41
Lukaku has only got a little gash on his foot. What's wrong with footballers these days? Two weeks and still not ready. And Bolasie on the bench... Tough place to go with that side.
Michael Lynch
8
Posted 20/08/2016 at 14:52:21
Yes, didn't mean to sound overly critical – I'm feeling tons more optimistic than I would have if Bobby was still in charge, and I'm happy with our signings so far. I'm just saying... we ain't there yet.
Michael Polley
9
Posted 20/08/2016 at 14:54:11
West Brom will be difficult to break down, but we can get a result. The bench is strong. Lukaku and Boliase can cause havoc if they come on. COYB
Scott Hamilton
10
Posted 20/08/2016 at 15:00:00
Bolasie and Lukaku to come on in the 2nd half and grab a goal each.
You heard it here first 😉
Eugene Kearney
11
Posted 20/08/2016 at 15:11:28
I hope so Scott - we're 1 down
Neil Cremin
12
Posted 20/08/2016 at 15:25:38
Del Boy having a stinker.

Ciarán McGlone
13
Posted 20/08/2016 at 15:27:05
This is awful. Ponderous, wasteful and unbalanced.
Neil Cremin
14
Posted 20/08/2016 at 15:33:45
Ciaràn
I agree. Passing backward, misplaced passes. As soon as West Brom get the ball they are much quicker and crisper in passing. Much more urgency.
We look as if we have played 80 minutes of football and are tired.
Kris Boner
15
Posted 20/08/2016 at 15:38:11
Against a team like this it's very clear that we need a focal point in attack.
Lukaku being on his game off the bench could be the difference here...
Colin Hughes
16
Posted 20/08/2016 at 15:41:25
Best we'll get here now is another draw, this twat Pulis always has his defences well drilled.
Neil Cremin
17
Posted 20/08/2016 at 15:48:22
Mirallas was playing too deep and facing the wrong way.
As I write, what a superb goal.
Phil Jeffries
18
Posted 20/08/2016 at 15:52:21
Great team goal from the mighty blues. Baines, Barkley, Barry and finally Mirallas with a great finish. Came from nowhere but we'll take 1-1 into half time with all the momentum. COYB!
Also, I have to congratulate Koeman swapping formation after 35 minutes. Refreshing change to see tactics changing so soon that aren't working!
Jay Harris
19
Posted 20/08/2016 at 15:58:41
Superb goal. Just at the right time.
Quick decision-making by the manager a refreshing change. Shows he won't mess about or tolerate sub-standard performances. Holgate and Gueye looking good. Funes Mori a bit shaky.
Simon Bates
20
Posted 20/08/2016 at 16:06:19
Liking Koeman's decisiveness, it would have taken Dithering Dave 87 mins and Martinez till we were 2-down to make that change.
Ron clearly has a Plan B and we'll hopefully see his Plan C, to kick on and win this.
Trevor Lynes
21
Posted 20/08/2016 at 16:07:45
I hope that both Williams and Bolasie come on at some stage in the game. It will lift the team and fans to see Bolasie running at the West Brom defence.
Lets see Lukaku get off the mark!!
Alec Smith
22
Posted 20/08/2016 at 16:20:29
Clive Rogers
23
Posted 20/08/2016 at 16:31:56
Not surprised McCarthy was taken off. He has no idea how to go forward.
Eugene Kearney
24
Posted 20/08/2016 at 16:40:08
Doing a lot better now. Steady up there, lads... 3 - 1 please!!
COYB.
Ciarán McGlone
25
Posted 20/08/2016 at 17:01:04
Much better in the second half when Koeman decided to play people in positions they are familiar with.
Good debut from Bolassie although he kept drifting off the right wing leaving Holgate exposed. If he favours the left then play him there.
Lukaku is out the door already. We may not be able to replace his goals, but we can certainly get a striker who offers more on and off the ball.
Plenty of work to do before 1st September.
Thomas Surgenor
26
Posted 20/08/2016 at 17:02:05
Excellent and prompt subs. Also credit where credit is due, big RK showed faith in youth (Holgate) and hooked the underperforming senior pro (McCarthy).
Stekelenburg was superb again. Could probably be blamed for their goal a little but overall he saved us more than he cost us.
Phil Sammon
27
Posted 20/08/2016 at 17:03:54
Koeman referenced Bolasie's dubious stats.
Today he put two on an absotule silver platter for Rom & Ross. Still no assists.
Ernie Baywood
28
Posted 20/08/2016 at 17:04:21
Can't argue with a win and some really bright signs too. Thought Bolasie did well and brought the pacy, direct running we need. Loves rolling the ball under his foot that boy.
Mirallas excellent second half. I'd love to see him play to his potential this season.
Holgate and Gana were the standouts for me. Holgate just looked classy; reading and intercepting and simply effective on the ball. Gana is this year's Kante... feels like we've got 12 on the pitch. 13 if you count our brilliant away support.
Thomas Surgenor
29
Posted 20/08/2016 at 17:04:52
Ciaran #25
I only watched it on tv today so I can't really comment on what Lukaku offered off the ball. But we scored twice after he came on despite him not "looking involved".
Someone from in the stadium might be able to tell us if he dragged their defenders out of way etc. He seemed to offer very little but we played a lot better with him on. Perhaps it was just down to the change in shape?
David Morgan
30
Posted 20/08/2016 at 17:05:15
3 points get in!!! Holgate impressed throughout, good pace and likes to get forward too, we do not need cover for Coleman while we have him. Gueye and Barry good in midfield again. Mirallas great goal and perked up when Lukaku came on. Bolasie also looked a handful in the last 20. Stekelenburg was immense again and fouled for their goal.
On the other side, I wasn't convinced with Funes Mori and Deulofeu found it hard against Pulis's horrible defending. I would like to see Williams replace Funes Mori in a back four.
And yet again we need to train more on defending set pieces; it felt like they would score on every cross again, like last season. But Koeman made all the correct decisions with his game management. Well played, Everton!!!
Karl Parsons
31
Posted 20/08/2016 at 17:07:40
RK changed the entire game. And he didn't sit on his hands doing it. Holgate grew into the game and is showing great promise (Stones who?)
Missed the easier chances but with a sharper front line we could have walked it. Nasty place to go but we toughed it out.
Onwards Evertonians...
Mike Hughes
33
Posted 20/08/2016 at 17:08:29
Pretty decent start to the season.
Green shoots and all that.
Singing the Blues tonight with the red shoit getting stuffed (ha!)
How come both Merseyside teams were away from home? Can't remember when that last happened on a Saturday.

Thomas Surgenor
34
Posted 20/08/2016 at 17:09:41
Mike #33
The RS stadium isn't ready. So they reversed the fixture.
Nigel Gregson
35
Posted 20/08/2016 at 17:15:05
I'd change the title of this article. There was no stealing involved, we thumped them. The scoreline flatters the Baggies, we should have won 4-1.
Take that, Pulis (god I hate his brand of football). Bolasie and Lukaku will be a real handful this season. Gana looks great and so does Holgate. Let's keep winning please.
Darren Dennett
36
Posted 20/08/2016 at 17:16:20
Ohhh wot a day, fucking fantastic...
What a player that Idrissa is... wow, he gives us something I've never seen before. He is such a machine and I think we need to tie this lad down for many, many years... superb footballer, goes about his business with pure dedication, I absolutely love this lad. What a bargain at £7 mill. Buy of the season for me.
Mike Hughes
37
Posted 20/08/2016 at 17:16:22
Ah .. Thanks Thomas.
Nice to see us in 5th place, even if it is early days. Might watch MotD tonight now.
Jim Potter
38
Posted 20/08/2016 at 17:17:36
Difficult place to go - especially when 1-0 down. Good subs by Ronald. Stek, Holgate, Barry and Gueye all stood out for me.
Well in lads!!!
Joseph Terrence
39
Posted 20/08/2016 at 17:19:22
A few thoughts: it was nice seeing Korman swallow his pride and making the sub when it became apparent the XI needed changing. Last season we would have been lucky to see that sub made in the 70th minute, if at all.
Holgate is certainly good enough, and Gana is a steal at ٥m. It's hard to put too much stock into two games from a keeper, but Stek also looks like a #1.
Lastly, Mirallas has bought into Koeman's style, and it was a joy seeing his appreciation for the fans both when he was subbed and when the game finished. My MotM.
Mike Powell
40
Posted 20/08/2016 at 17:19:44
First half was poor. What a second half – it should off been 4-1 in the end Bolasie will cause havoc this season. Get in, Blue Boys... such a breath off fresh air compared to last season. COYBS
Tony Hill
41
Posted 20/08/2016 at 17:22:33
The big difference was managing and securing our advantage for 30 plus minutes. Holgate is very encouraging indeed and Stekelenburg seems to have the happy knack of making very good stops at critical times. Could be said he's saved us 3 points already. Great win.
Ian Bennett
43
Posted 20/08/2016 at 17:25:17
Holgate is my man of the match. Brilliant display.
Stekelenburg looked good, whilst Gueye put in a great performance. Mirallas looked super motivated too.
Not perfect, but good to see Bolassie and Williams get on. Will be interesting on who gets left out now - fight for your shirt!
Ray Roche
44
Posted 20/08/2016 at 17:28:34
Super display, Holgate MotM, just ahead of Mirallas and Gana. I think RK will go for a back three with covering wing backs from now on, depending possibly on who we play. Funes Mori looked a bit suspect I thought but it's just one game.
Steve Brown
45
Posted 20/08/2016 at 17:34:12
Rom staying, confirmed!
Steve Brown
46
Posted 20/08/2016 at 17:34:41
Barry MoTM for me.
Darren Hind
47
Posted 20/08/2016 at 17:36:25
Agree Ciaran
Lukaku offered very little and missed his now customary sitter
I have to agree with Thomas@ 29 too though. We certainly looked better with Lukaku than without him. No doubt his mere presence gives defenders something to think about.
Those who scoffed at my pre-season prediction that Holgate will replace the lamentable Funes Mori... watch this space. Won't be long now
John O'Neill
48
Posted 20/08/2016 at 17:36:40
Hello to everyone. Barry was my Man of the Match. I think the guy is brilliant.
John Raftery
49
Posted 20/08/2016 at 17:40:15
It was an obvious foul on Stekelenburg for the Albion score. I was amazed when the referee allowed the goal and can only presume he was unsighted. Bolasie actually came on immediately after our second goal and on this evidence he appears the ideal man to drag defences back into their own half.
Lukaku looked less than 70% fit but even so we looked a better team with him on the pitch. Most pleasing were the manager's use of substitutes and his changes to the formation during the game. Ironically we ended up with four centre halves on the pitch, thus giving Pulis a taste of his own medicine.
Ged Simpson
50
Posted 20/08/2016 at 17:44:04
I thought the crosses from Bolasie looked good. Whoever our striker is should benefit.
Christopher Wallace
51
Posted 20/08/2016 at 17:49:44
Barry and Gana had us in control, from start to finish. Even though we created nothing first half until the goal, those 2 boys looked dominant.
Julian Wait
52
Posted 20/08/2016 at 17:51:58
I think we will see 5-3-1-1 away from home, changing to 4-4-2 when we're behind, and using 5-4-1 to close out a lead (like today). At home we'll see 4-3-3, 4-4-2 or 5-3-1-1 depending on the opposition and players we have available, and then switch around based on the flow of the game.
What's encouraging more than any individual performance is the willingness and ability to adapt in a meaningful way and at the right time. So refreshing.
Mick Davies
53
Posted 20/08/2016 at 17:53:25
David @ 30, Funes Mori made a crucial block to save an almost certain goal, plus, he's the best ball playing defender we have now Stones has gone. We need a ball player in a back 3 as Jags and Williams are older, power players; they won't be coming away with the ball,
Holgate is young and inexperienced so will probably be held back after deputising for Seamus and I don't think RK wants all 3 hoofing the ball upfield.
Julian Wait
54
Posted 20/08/2016 at 17:53:48
Not convinced RK was admitting a mistake when he subbed Lukaku on - I just think that Lukaku was not going to last 90 minutes and that McCarthy was having a mare. If he thought Lukaku might last 90 minutes he perhaps would have started him. And Bolassie was never going to start this one.
Kevin Rowlands
55
Posted 20/08/2016 at 17:53:56
Enjoyed both games so far this season, you can see a big difference in the players' attitude.
I haven't seen his name mentioned but I thought Ross was very good today, Holgate and Gueye excellent, but my MotM has to be Gareth Barry, – oh how I wish he was 10 years younger, I honestly never realized how good a footballer he is until he signed for us.
Also, for the posters on the Bolasie thread who claimed he was 'average'... not a fucking chance, he's going to be a superb signing.
Only negative for me today, my favorite player Lukaku, he has now gone 15 games for Everton with a grand total of ZERO goals, I thought he was supposed to be this prolific goalscorer? He said he's now staying so I hope Koeman can turn him into the world class striker that he himself thinks he is.
Paul Thompson
56
Posted 20/08/2016 at 17:53:58
I won't say I wasn't nervous towards the end, but Koeman knows how to see out a game. 69% possession and should have been 4-1. I missed last week as I was on holiday, but loved watching Gana, particularly in the second half.
For those (predictably) having a go at Rom – the match changed after he came on. I'm delighted he's staying and my feeling is that the link with Bolasie (a good debut) will pay off big time. Onwards and upwards, Blues.
David Price
57
Posted 20/08/2016 at 17:58:20
Very flexible team but at the top is just one centre forward to rely on whatever formation we change to. Tame first 20 minutes, totally different from the Spurs start.
Great response from the manager and the team, Plenty to be positive about, Two wingers is great to see.
Excellent from Everton, the best is still to come.
Sam Hoare
58
Posted 20/08/2016 at 18:00:47
Great result against an effective West Brom team. Much cause for optimism and may be even more after this week in the transfer market.
Paul Tran
59
Posted 20/08/2016 at 18:03:09
You could be right there, Darren. I'm wondering whether Koeman looked at Holgate pre-season and thought he'd take the money for Stones?
Lukaku gave the attack a focal point when he came on. Had one chance and missed it, or was it a good save? I hope he stays, he'll score plenty. Regardless I think the goals will be spread a bit more this season.
Awful first half, good second half. Should have won by more. A good three points and good to see us last 90 minutes and keep concentration.
Darren Hind
60
Posted 20/08/2016 at 18:03:28
Mick Davies.
If you think Funes Mori is a better "ball playing defender" than Holgate, you must be watching the wrong players.
Holgate is all composure and class. Funes Mori... err, isn't.
Dave Abrahams
61
Posted 20/08/2016 at 18:04:17
Never saw the game, read the game on live forum, most were discussing sauces, until we equalised, then a few got sensible and talked about the match.
Very happy with the result; we will get better with more players to come in, and we are getting fitter. I've said it before but we will have a good season and maybe a very good season, not because of the result today but because we have a manager who knows and understands football.
Dave Lynch
62
Posted 20/08/2016 at 18:05:49
It was totally different to the Spurs game Dave because they are a different team, industrial, nasty and direct.
Spurs are a passing, ball playing team.
RK adapted the team and tactics to great effect and we got the 3 points.
No complaints except Lukaku still can't control a football and is still a lazy bastard.
David Ellis
63
Posted 20/08/2016 at 18:08:21
The key was the change in formation after half an hour. McCarthy wasn't hooked because he was doing badly, it was because Koeman switched from a back 5 to a back 4.
Lukaku in the middle allowed Deulofeu and Mirallas to move to the flanks and they were transformed. Neither of them can hold the line up front. Holgate also looked much more comfortable as a right back than as part of a central trio.
I thought Barkley looked a fantastic player today. Bolasie set up two assists on a platter for Barkley and Lukaku, he made a difference. Good to see Mirallas working so hard for the full 90 and actually crossing the ball eventually. Gana had a great game as did Jags. Stekeleburg made one great save and was clearly fouled for their goal.
Great to see a manager with a Plan B and using it. Very encouraging but we need cover for Lukaku sharpish
Brian Hennessy
64
Posted 20/08/2016 at 18:09:52
BBC now confirming Lukaku is staying
http://www.bbc.com/sport/football/37145067
Jeff Armstrong
65
Posted 20/08/2016 at 18:10:20
Funes Mori, a ball-playing centre back, please, it's the weakest part of his game. Great in the air and last ditch stuff, but his passing is awful. He always looks to me like he's got those Aladdin pantomime boots on, the ones with the curled up front bit!
Jeff Armstrong
66
Posted 20/08/2016 at 18:14:04
Lukaku staying is a positive, but we still need two more forwards and a creative midfielder. Personally I think we are well sorted defensively and out wide, even the keeper position is fine, but we need an alternative to Ross and decent backup or help for Lukaku.
Jim Knightley
67
Posted 20/08/2016 at 18:19:21
That tactical change by Koeman is the difference between him and Martinez.
And it's the difference between dropped points and a win.
David Price
68
Posted 20/08/2016 at 18:19:52
Good shout, Dave (#62), spot on.
David Barks
69
Posted 20/08/2016 at 18:21:45
Great to see the manager make the change when it needed making, not waiting until halftime. Having Lukaku up top immediately created more space for Mirallas and Barkley to operate. And Holgate looked much more comfortable getting forward from right back.
Great to see us going to a win and attacking. I think we could see some really good attacking play with Lukaku, Bolasie, Mirallas and Barkley. Deulofeu is probably going to have to settle for being an impact sub, being an attacking threat when the defense is tiring.

Bill Gall
70
Posted 20/08/2016 at 18:28:40
Good win against a difficult team on their own ground with one of the pleasing aspects being the increasing fitness levels beginning to show.
Martin Mason
72
Posted 20/08/2016 at 18:30:15
We stepped up a gear when Lukaku came on, he's a class act and the addition of Bolasie is going to help him big time. Very good performance today and I happily admit to being wrong about the wisdom of buying Gueye from Villa, what a great little player.
Patrick Murphy
73
Posted 20/08/2016 at 18:34:46
Martin (72) I'd agree that Rom coming on meant we had a target man to distract their defenders and for our players to aim for, however, I think I'd stop short of calling him a class act. Gueye and Holgate look class acts - but as long as Rom continues to score more than he misses, I can live with that. However, his miss could have been costly as could have Barkley's header.
Tim O'Connell
74
Posted 20/08/2016 at 18:36:17
Encouraging signs overall. First 20 was a bit worrying as their defence was too physical for Del Boy but that changed significantly with the substitution and going to a 4-4-2. Good that RK made the change quickly.
As many have commented Holgate was very good. (I was with my cousin who is a Baggie and he said he looks really good.) Barry and Gana were also very good and I think the latter will be the buy of the season.
Mirallas looks a new player again and Bolaisie is going to really excite this season. Although Williams only had a cameo, you could immediately see his leadership qualities and that bodes well!
Concerns are still we need a proper back up for Rom in case he gets injured and Macca is very limited.
Mark Frere
75
Posted 20/08/2016 at 18:37:49
Big credit to RK for showing flexibility by changing things because we were dreadful first half. Barry, Gana, Barkley and Holgate were the pick of the bunch today. I think Holgate will make a fantastic right-back and is capable of playing in a back 3; I don't think he's tall enough to play as a centre-back in a back 4 though.
Great news about Lukaku staying, the guy scores goals and his mere presence (although he didn't play well) made a massive difference for the team. Just need another striker to add competition and keep Rom on his toes. Remi would be my choice.
Christy Ring
76
Posted 20/08/2016 at 18:44:07
Big 3 pts, and so refreshing to see a manager, who knows what he's doing. No messing about, changes formation after 30 mins, bringing on Lukaku for McCarthy, who is not a wing back, and deservedly win the match.
Jay Harris
77
Posted 20/08/2016 at 18:51:48
It says a lot about the manager when you have so many MotM contenders: Holgate, Barry, Gana, Ross, Super Kev and even Stekelenburg. The energy and commitment shown today was superb to see. Despite the scoreline, there was only one team in it. Happy days.
Mick Davies
78
Posted 20/08/2016 at 18:58:17
Darren @ 60, if you took the time to read my post I said Holgate is inexperienced and probably Koeman will not rely on him yet. I know every season you need a victim to slaughter but I prefer to back our players.
Holgate's inexperience showed today with a handball just outside our area but that is part of the learning curve and, although I'm not going overboard with praise, like some did with Stones, I predict a bright future for the young man; and hope it's with Everton.
Ciarán McGlone
79
Posted 20/08/2016 at 19:04:42
Even with Lukaku now staying we still need another top striker.
A Van Persie type would fit nicely into our new style of play.
Dear Santa...
Jay Wood
80
Posted 20/08/2016 at 19:05:42
For the second week running I'll repeat: "I'm happy with that."
In a reverse of the Spurs game, the 2nd half was better than the 1st. The players are clearly benefitting from the training at FF and getting another game in their legs. Their stamina, strength and levels of concentration markedly improved in 7 days, never mind compared to last season.
All 5 new boys (I include Holgate plus the incoming transfers) again contributed to a good team performance and another positive result. All 5 have an edge, a character trait sadly absent in many a blue player in recent years.
Bolasie, based on this cameo, has the confidence and cheekiness to be the maverick who could turn tight games from possible losses or draws into wins.
In one stroke, in one game, RK has exorcised a number of ghosts: in his 1st away game, he has stopped the rot of woeful away form the team slumbered through in RM's final weeks, was proactive with a positive sub in the 1st half and won the game from a losing position. We went more than a calender year between RM's 2nd and 3rd season's without achieving the latter.
Again, nobody played badly. Once the new signings are bedded in, things could get very interesting.
Now Romelu has comitted to us, let's get in another quality striker to support (and challenge) him.
Pete Edwards
81
Posted 20/08/2016 at 19:18:24
Mick, I don't think you can put Holgate's handball down to inexperience. Those things happen week-in & week-out with older more experienced players. Naturally as a player you are going to lean to the ball to stop the attacker nicking it away, the ball bounced where it did and was handball, no complaints on that but at the pace and momentum and the need/desire to win or keep the ball it will happen to every type of player young and old(er).
Tony Hill
82
Posted 20/08/2016 at 19:22:36
Yes, Jay, a very important point about winning after going behind. I'm afraid that as soon as we conceded I lost faith and said to my son that we were doomed. It's that sort of psychological strengthening, so that we can deal with adversity and pressure, that Koeman will bring, I hope.
Christopher Nicholls
83
Posted 20/08/2016 at 19:31:30
Hugely enjoyable game, especially second half. Fantastic contributions from almost all areas of the field. Bolasie and Lukaku looks like a promising relationship and Ross started to liven up once he had better outlets. Congrats to Kev, great goal and great to seem him flourishing. Holgate was immense in second half. Stones who?
Loving the intensity.
Christy Ring
84
Posted 20/08/2016 at 19:33:22
I'm delighted Lukaku is staying, and Koeman will make him put in a decent shift. We still need to buy another top striker, but it's great to see the difference in the players attitude, and the pressing game that RK has imposed.
Some of the comments about McCarthy are a bit unfair. He's not a wing back, he's a defensive midfielder, and worth keeping, as cover for Gueye.
Damian Wilde
85
Posted 20/08/2016 at 19:46:26
Fantastic three points. Nervous towards the end though; why Did Rom shoot, rather than take it into the corner?
After a poor start the game changed when Rom came on, much better tempo. Mirallas excellent. Barry great, Holgate decent, though does occasionally get caught out. Barkley better, held the ball up well, was poor second half last week.
Four points is a good start, though Man City, Chelsea, Man Utd et al are flying.
Please buy two strikers, Ron!
Very happy having Ron as manager.
Now let's go and win more games, Blue boys!!!
Paul Conway
86
Posted 20/08/2016 at 19:47:05
Christopher Nicholls (#83),
Sound comments. Holgate looks a great prospect. He is still a learner and will have no better Master to learn from than the a great Ronald Koeman. He will hone and shape him and hopefully make sure he doesn't take up bad habits, à la Stones, who in mind walked before he crept.
Great also to see Mirallas having a great day. I personally am probably his worst critic. But in these cases, it's great to be proved wrong; keep on doing it, Kev.
We are shaping up to be a great side. And I think we are starting to get our Saturday nights back.
There was a lot of talk on the forum today about food tonight. I cooked Pizzas for the kids; they said... "Thank you Mr Koeman"!!
COYB!!
Joel Lueck
87
Posted 20/08/2016 at 19:55:36
RK's move to bring on Ashley Williams for Deulofeu to close out the game exemplifies why we are in so much better hands with him than Martinez. Martinez would have taken off a defender and brought on a forward (probably Niasse) and then said after losing 3-2 that we deserved to win.
So thankful that dead weight is gone! RK is looking good!
Darren Hind
88
Posted 20/08/2016 at 19:57:17
Mick Davies,
I obviously took more time to read your post than you did to think about it. Your back tracking wont wash.
You claim very clearly that Holgate will be held back because RK won't want three "hoofing it". You then go on to say (staggeringly) that Funes Mori is the best ball playing defender at the club.
You clearly know nothing about Holgate, so why have a dig? The boy does not "hoof it".
Peter Mills
89
Posted 20/08/2016 at 19:58:49
This business of scoring goals from set pieces seems quite a good idea.
Nicholas Ryan
90
Posted 20/08/2016 at 20:08:30
If Stekelenburg is a 'has-been No 2' ,I'd hate to see what a shiny No 1 looks like!
Paul Smith
91
Posted 20/08/2016 at 20:21:03
Looks like the tweets concerning Rom staying have been deleted by Everton.
Make of it what you will.
Marcus Leigh
92
Posted 20/08/2016 at 20:22:06
Is it just me, or are we actually beginning to look, sound and act like a serious club that knows what it's doing in every department, both on and off the pitch? No effing about. No sentimentality. Just a cold, hard-nosed desire to put in place a vision for the future that will work and succeed.
Finally, finally there seems to be a plan that everyone at the club either buys into, or you're history. After half a century of supporting this club, I can't remember being so optimistic about the future. (Well, not since 1985.)
Raymond Fox
93
Posted 20/08/2016 at 20:37:33
Any victory away is a good one.
As already reported Lukaku is staying for at least a season says Koeman.
He has his faults I know but he would be very hard to replace, I fancy Koeman will be giving him plenty kicks up the backside as the season progresses!
Jay Griffiths
94
Posted 20/08/2016 at 20:37:35
Lukaku is too dramatic and too lazy. When he missed his one-on-one, WBA smashed up to our penalty area, Rom was still gesticulating and moaning while our lads were defending. A load of lads by us made their feelings loud and clear.
Gana is a revelation. McCarthy runs a lot, but runs in the wrong areas and regularly runs right past the man with the ball. Gana seems more disciplined and has thus released Barry from constantly firefighting. Pair of them class today.
Holgate could be a tank. Very cool kid. Travelling there today felt like going to the clap clinc. Coming home felt like getting the all clear.
ps: Of course I have no empathy with my analogy. (Missus might read this!!!)
Dave Pritchard
95
Posted 20/08/2016 at 20:42:44
Good team performance today in the second half. Have to say that Bolasie looked so much more convincing than Deulofeu when he came on. Very hopeful that he will prove to be a good signing and think he should start next week with Gerard consigned to the bench.
Holgate looked very comfortable as a right back when we went to a back four and was excellent going forward.
Tony Hill
96
Posted 20/08/2016 at 20:42:50
Paul (91), I did have some doubts and still do because the confirmation of him staying all seemed a bit informal and the Lukaku camp is chaotic. I wonder if this was Ronald trying to force the issue? I am relaxed either way because the coming week has to bring finality and we know Koeman has a Plan B.
Bolasie seemed to hint pretty strongly that Rom would stay but I suppose that means nothing.
Tony Hill
97
Posted 20/08/2016 at 21:00:30
ps: I am sure that the club doesn't actually need /want the money from any sale of Lukaku, does it?
Martin Mason
98
Posted 20/08/2016 at 21:16:58
One thing that today showed was that we really need a player like Lukaku to be a focal point for the attack. I'm sorry to say but I don't believe that Deulofeu is good enough now and would be a losing choice between him and Mirallas.
Bolasie seems to have been a great buy, I'd normally say that the price we paid for him was stupid but I can see now that he could bring a new dimension to our game. Today really was a good win when you consider what a transition we're undergoing at the club. Barry and Gueye were just superb and Holgate makes that 㿛.5M for Stones look like good business especially when you consider that we have defenders of the quality of Galloway, Browning and Kenny in reserve. I'm sorry that Davies doesn't make the starting line up though.
Chelsea, Man City and Man Utd have all really upped their game after poor seasons last year and the competition for the places after them is really hotting up with even Liverpool and Spurs struggling. If we can get into the top 6 this year I'd say we have done brilliantly but the big picture is not only team and league position but Stadium and future sustainable business model.
If I had to stick my neck out I'd say that Man City will win the EPL but if the odds were good like Leicester last year I'd put money on Everton as a dark horse. We're stringing results together and getting better every game.
Paul Smith
99
Posted 20/08/2016 at 21:19:38
Tony
Not arsed either way mate. We need a replacement though.
Well done to the lads today, tried watching on a moody stream so looking forward to MotD.
Fans were immense again.
Iain Davies
100
Posted 20/08/2016 at 21:30:18
They where singing this on the coach home
His name is Ronald Koeman, he chose the Royal Blue
He didn't come for the money
His love for us is true
He played for Barcelona, a Holland legend too
And when he wins us trophies, we'll sing this song to you
Another scouse classic
Eric Owen
101
Posted 20/08/2016 at 21:34:40
I noticed it took 23 posts before someone said how much better the Blues play without McCarthy on the pitch. I now believe Koeman, by making an early first-half tactical substitution, has indeed torn up RM's rules and regulations. It was said last week the team was only 70% fit. I don't think they would acquire the extra 30% in one week, so just wait and see them when they do.
Andy Boyer
102
Posted 20/08/2016 at 21:37:10
The signing of Maarten Stekelenburg is proving to be one of the best decisions for many years, he's been fantastic and he's far and away superior to Robles and Howard.
James Watts
103
Posted 20/08/2016 at 21:44:17
Lukaku must be staying. Why? Because RK has told us what happened with their conversation. If that hadn't happened and RK made it up, he looks pretty foolish and an outright fibber pants. Which I don't believe he is either of those.
On to the game, we now know we don't need cover at right back with Holgate coming on leaps and bounds. Assuming we get Kone that is as we should still make room for Holgate somewhere.
Impressed with the boys all over the park today and what a breath of fresh air our manager is. Long may it continue.
Special mention to Yannick today, I was dead against his signing but if he continues like this, I'm more than happy to say I was wrong.
Onwards and upwards :)
Tony Hill
104
Posted 20/08/2016 at 21:47:11
James, I think you're probably right but Lukaku has said nothing, nor have his mad dad or agent. Anyway, let's just enjoy today.
Jamie Crowley
105
Posted 20/08/2016 at 22:24:56
Christy Ring at 84:
Two really good points made by you and I'd echo them.
1. I'm delighted Lukaku is staying, and Koeman will make him put in a decent shift.
2. Some of the comments about McCarthy are a bit unfair. He's not a wing back, he's a defensive midfielder, and worth keeping, as cover for Gueye.
Absolutely!
Patrick Murphy
106
Posted 20/08/2016 at 22:26:44
Doubtless the conversation took place, doubtless the player stated he wants to stay for at least another season (very good of him to honour his contract in that way) and doubtless a new contract on better money will be offered to him. But, this new offer may not be acceptable and therefore could still end up with Rom plying his trade with another club before the window closes.
I read somewhere that one of the main reasons for purchasing Bolassie was that he is a very good mate of Rom's and this is in part the reason that Everton were so keen to secure his signature at almost any price. If that is true then we should have Rom for at least another season and hopefully the happy, free-playing goalscoring player will be on show at Goodison, the one that we all saw in his first 18 months at the club and not the disinterested sulky Rom of more recent times, that many of us can't be doing with.
But his value was indeed shown today, mostly in the 35 minutes he wasn't on the pitch, we need a target man and like it or not Rom fits the bill at the minute, if he and Bolassie can form a partnership early on it might be fun to watch Everton this season and who knows it may even prove successful.
James Watts
107
Posted 20/08/2016 at 22:28:59
There is a lot of sense being talked on here tonight. Too much for my liking so
BRING BACK MARTINEZ, 2-1 away win, surrrrrrre. But where was the 'beautiful' 50 pass football we've been accustomed too?? Gana looks crap as passes forward, getting McCarthy back in there ASAP! Yannick should never play again!! He ran with the ball, I mean ran with it, and more than once. Pass man, for gods sake, PASS! Oh forget it, just get McGeady on. NOW!
Brent Stephens
108
Posted 20/08/2016 at 22:32:46
RK already has some players putting in more than we've seen under previous manager(s). Ross is challenging for balls in the air more and getting more of a foot in. Kevin is getting stuck in like nothing before. Augurs well for improvements in Rom.
Barry - well again a great performance, and he didn't need RK to bring that out of him. His awareness of what is around him is impressive.
Frank Thomas
109
Posted 20/08/2016 at 22:56:13
I think as fans we need to build team spirit and player confidence by stop posting 'players X had a 'stinker today' because RK has shown with his discussion with Niasse and others that if he thinks they are good they will stay otherwise they are gone.
Today RK played fast forwards to try and tire WBAs defence and once we unexpectedly went behind he needed to advance his own timetable.
I am sure RK will buy a midfielder and another striker to create competition for Rom. This will make Rom improve his accuracy and work rate.
At that point the Manager will be in total charge and independent of any 'away' requests or swoops from other teams.
Eric Holland
110
Posted 20/08/2016 at 22:56:51
Mick#78
You will always find someone on here that likes to slaughter one of our own.
Strange that, don't you think?
Bill Gienapp
111
Posted 20/08/2016 at 23:30:02
You know, I stuck with Martinez to the bitter end, but Koeman's really making me appreciate what a nincompoop he actually was. You just know he would have stood there for at least 70 minutes, arms folded, befuddled expression on his face, before he finally bothered to make a move. We would have invariably lost 1-0 and he would have lamented to the media how we deserved "so much more" because of our possession percentage.
Bolasie had some jitters (understandable – I'm sure he was keen to make a positive impression), but looked like an absolute beast out there. He served up that header for Ross on a silver platter.
Will be interesting to see how the Joe Hart saga plays out, as Stekelenburg has looked tremendous so far.
Our upcoming schedule looks pretty favorable. If we can continue to bank points while bringing in new players, sorting out the squad and getting our fitness levels where they need to be, we should be in good shape when it comes time to face the league's heavy hitters. Exciting times!
Andy Crooks
113
Posted 20/08/2016 at 23:49:13
Darren, Funes Mori is not lamentable. He is different from the Stones type that we admire. Holgate is something special but he is a different type from Funes Mori. We have a top class Argentinian defender and, much as you would like it, we cannot afford two Bobby Moores.
Keith Glazzard
114
Posted 20/08/2016 at 23:57:56
A draw against Spurs, and a win against a team we "should" beat – except that it's a Pulis team – has to be a good start to the season. And lots of pluses too, we all know who they are.
But as every man and his dog know, today's star was RK, changing it round at 30 minutes. The game was transformed, their bus didn't know which way it was going with Geri and Kevin pulling them apart, the spaces appeared and we ran into them. If Barcelona had scored our first goal
The foul 'score' was 16/10 today (plus three yellows to zero). And I thought the ref was being kind to them. Barry is running out of the area with the ball, their forward takes him out from behind. End of breakaway. Free kick for us very deep in our own half, the bus has been parked. This must come from Pulis, and beating him is part of the pleasure.
Thanks lads, thanks boss.
Patrick Murphy
115
Posted 21/08/2016 at 00:07:26
Keith (114) The best part of today, for me, was in Ron's interview after the game where the interviewer asked him if he was pleased with his decision to alter the line-up, Ron said of course he was pleased but then again he should also ask himself if he made the wrong choice in the first place.
I firmly believe that this guy is the right manager for Everton FC and that he knows what he wants from his players and I also think he is on the same wavelength as most of the supporters, which can only be a good thing in the long-run.
Stephen Ashton
116
Posted 21/08/2016 at 00:23:35
Lukaku was crap at 3:00pm today. He is still crap at at 5:00pm and he tried his hardest to demonstrate exactly why he is crap. Hands on hips pointing, missing a one-on-one which fortunately didn't cost us. Overall contribution: zero. A waste of human skin.
We brought in Bolasie because he is good friends with Rom... give me a break. My family has a horse which was lonely so we got it a donkey. Never heard of getting a horse for a donkey.
Dave Pritchard
118
Posted 21/08/2016 at 00:47:57
Stephen, would you prefer to keep playing Deleufeo at centre forward instead of Rom? I wouldn't.
Damian Wilde
119
Posted 21/08/2016 at 00:52:59
Iain, loving the Ron song! And Patrick, the guy talks sense, I'm very pleased he's here.
On the new guys; Stekelneburg – brilliant, some great saves and he's 'commanding', so much better than Howard.
Gana – superb. Oozes calmness. Definitely better without JM.
Bolasie looked decent, occasionally overuns it as he's gangly, but looks a great addition. We could give the RS defence a push!
I see Burnley had 19% and SD said he didn't care about possession stats, him and Bobby should have a pint!!!
Stephen Ashton
120
Posted 21/08/2016 at 00:55:11
Dave, on the evidence of what I have seen since last March - yes.
Patrick Murphy
121
Posted 21/08/2016 at 00:55:22
Stephen (116) I said I read it, but that doesn't mean I agree with it anyway you can judge for yourself here' s the link.
Perhaps the Donkey did bring the horse as you say: As according to NSNO New signing Yannick Bolasie has revealed that Romelu Lukaku had been pushing him to join Everton for quite some time. The winger was speaking during his presentation to the media on Thursday afternoon after completing a £25m move from Crystal Palace earlier in the week. Bolasie is known to be good friends with 23-year-old Lukaku, with the pair sharing Congolese heritage and Bolasie knowing one of the striker's cousins on a friendly basis. And when asked if Lukaku had played any part in his decision to eventually move to Merseyside, Bolasie stated that the Belgium international had been on at him for a long time.
He said: "I know Rom from ages ago – he's been wanting me to come here for ages but I've always told him that I was kind of settled where I was!" "Now I've taken the step and I'm looking forward to it."
Stephen Ashton
122
Posted 21/08/2016 at 01:06:35
Sorry Patrick, wasn't criticising you for providing the info, just can't believe that it could possibly be a consideration.
Dan Davies
124
Posted 21/08/2016 at 01:07:18
@116, a waste of human skin? Really? Ok. Just football mate.
Stephen Ashton
125
Posted 21/08/2016 at 01:08:58
Absolutely Dan.
David Price
126
Posted 21/08/2016 at 01:11:57
Lukaku's problem is whats going on between his ears half the time. The boss will sort that out. Lukaku will win everyone over again. He will be devastating once it all clicks into place for him.
The manager will make him a great centre forward for Everton but only if Rom wants it. If not then the boss will find someone else to take up the mantle.
Koeman is perfect for us, no touchline sprints, no diving into the crowd, no stupid piggy backs for a goal scorers, just proper football savvy. Destiny awaits for him and our club.
Dan Davies
127
Posted 21/08/2016 at 01:14:34
Long day for me, goodnight Stephen.
John Mckay
129
Posted 21/08/2016 at 01:37:47
Phenomenal performance!
Wait I'm a year late!
Good to come from behind, was disappointed when they went 1-0 up, think last season has taken all our confidence away when we lose a goal, especially from a set piece. Hope we get that Kone in from Sunderland he looks decent.
We have been shocking from corners and set plays for a while now, need to stop the rot!
Great win, Gana looks very tidy indeed. Bolasie looks decent too just consistently with him I think.
Gordon Crawford
130
Posted 21/08/2016 at 02:58:19
Great win today. So far so good. :)
<
Sean McCarthy
131
Posted 21/08/2016 at 03:15:43
Good job that "waste of human skin" scored 25 times last season despite being "crap" or we'd be visiting the likes of Rotherham Brighton and QPR this season!!!
He's not as good as he thinks he is but equally he's not as "crap" as some on here seem to think he is. He's only "crap" coz he keeps mouthing off when he's away on international duty. Feel free to criticise him for that but let's not talk out of your arse about his ability. Without him last season and with mythenez in charge we'd have been relegated!!
Christopher Wallace
132
Posted 21/08/2016 at 04:02:57
Stephen 120
I get as pissed off and frustrated with Rom as you clearly do.
However, to say that we would be better off with Deulofeu up front, particularly after what we witnessed this afternoon, is just plain ridiculous!
I would easily have had a greater impact than Del Boy today - he was awful, and most definitely NOT a striker. He'll be lucky to still be at the club 1st Sept after that showing...
Jay Harris
133
Posted 21/08/2016 at 05:18:45
I am probably Rom's biggest critic but you have to make allowances today.
The lad was clearly not fit or he would have played from the off and no one can deny his presence in place of a hapless Deulofeu turned the game for us. Yes he missed a sitter and did not hold the ball up well but, if Ronald thinks he can do something with him, I am happy to back his judgement.
The only thing I would say is we definitely need another forward to replace Kone & Niasse.
Peter Lee
135
Posted 21/08/2016 at 09:02:21
First 20 minutes was as bad as anything we saw last season. During that time Deulofeu was miserable, don't blame him he is not a centre forward. See next sentence. Mirallas did little apart from participate in the first goal. If Deulofeu can build up his stamina he'd be my choice as a wide player.
Barkley stunk. Any midfield player who goes through a season with so few bookings, easy if you never make a tackle, isn't worth a place. There were so many occasions in the game yesterday where he did no more than hang out a foot and there were others where he had the opportunity to take the ball and follow through on the man. He still plays with his head down and even after the shortest of runs he has to check and look up to make a pass. Play through him generally stalls. Even when he has space and time he rarely makes a first time pass, because he doesn't know where anyone is. His involvement in the first goal was an exception. Improve his game, difficult when he lacks vision, or drop him.
Positives; more organised, as we were last week, Gueye, Holgate, Bolassie (although always had him as a "mood" player so let's see).
As others have said, a run of less testing fixtures ahead before we play City in September. Points on the board early can make all the difference.
David Ellis
136
Posted 21/08/2016 at 09:28:45
Peter Lee - 135 - sorry I thought Barkley looked a class act today, at least once the formation changed and even more so once Bolasie came on. He was always taking responsibility looking for the ball and you can see the opposition has to load up on him because he is so dangerous. Unlucky not to score a fabulous goal from that Bolas cross - of course he really should have scored but he at least made the kind of lung bursting run that we expect of him now.
A few others have said that Chelsea and the two Manc clubs have started well. Well on the basis of MOTD I would say that Chelsea were hugely lucky to get a win against Watford...and two matches running Costa scored the winner after committing red card offenses. I am not intimidated by them at all.
Agree with others that we don't need a back up to Coleman - Holgate is an excellent right back. Needs to bulk up to be a CB, I thought Funes Mori was a bit off today and if we play a back 4 then he will lose his place to Williams. His distribution was poor on too many occasions.
Dave Pritchard
137
Posted 21/08/2016 at 11:19:15
Stephen 120, I disagree with Del over Rom at centre forward. Del shouldn't even start on the wing in my opinion as he is too lightweight and always over-complicates things. Compare Bolasie's performance yesterday to Del's. Bolasie on the wing and Rom through the middle next Saturday I hope.
Damian Wilde
138
Posted 21/08/2016 at 11:39:48
David (126):
"Koeman is perfect for us, no touchline sprints, no diving into the crowd, no stupid piggy backs for a goal scorers, just proper football savvy. Destiny awaits for him and our club."
Referring to Klopp?! What a prick he is. Agree. Very happy with how Koeman conducts himself, love his honesty too.
The criticism of Deulofeu is unfair, he isn't a centre forward. Mirallas I thought was superb.
Apart from holding it up well later in the game, Barkley did little. Second half against Spurs he was a disgrace. Bench for me. And yes, shocking miss from the header.
Tom Bowers
140
Posted 21/08/2016 at 12:46:46
It certainly looked like a case of deja vu early on in this game with Everton looking decidedly Martinezish but a stroke of genius turned the game on it's head. Offensively Everton looked like a force again and they now have the flair coming from midfield.
Did anyone feel Coleman's absence? Holgate was terrific as was Gueye. Albion are tough nuts particularly at set pieces but that's the Pulis style. Pity Everton missed two certs at the end.
Daniel A Johnson
141
Posted 21/08/2016 at 13:35:24
You can argue there are always going to be matches where its 2 steps forward 1 step back.
But match by match we should get better. With improved fitness and more cohesive training our confidence will grow. Upwards and onwards and lets bury the Martinez era for good.
Eugene Ruane
143
Posted 21/08/2016 at 14:22:52
Delighted as I was with the result and the performances of the majority of our players, I think 'superb Everton' is pushing it a bit.
Our 'final' balls in the first half were shocking and apart from the equaliser, at least 46 mins of the first half looked (to me) like text-book getting-nowhere-fast Everton huff and puff.
The most encouraging thing for me was it really seemed like one of our biggest problems - completely switching off - was being addressed.
For our second, Barry got onto a ball that last season (imo) would have flashed harmlessly past their post.
Their defender was switched off, our man wasn't - 2-1.
We also seemed to have more belief and I'm hoping when Williams is a proper part of the side, we'll have even more.
We know the league is tough and we know on any given day, anyone can beat anyone, so the difference between winning and losing is often down to basics - keeping the ball, concentrating, not being outworked or out-muscled.
If we can improve all these things a little, I've no doubt we'll become a more difficult proposition for other teams.
The plusses for me were that we didn't run out of puff this week and appeared to get stonger and have more belief as the game went on.
Thought Holgate and Gueye were terrific again (Holgate got a gob on him too - great!) and though Barkley missed that header, he does look improved (the ball he slid through for the other feller was fantastic).
Oh and though very early days, Bolasie looks like he could be an asset.
Up the Toffees!
PS: Everton winning any game makes me happy, but when the opposition manager is a middle-age man dressed like one of 'The Crocky Crew', even better
Eddie Dunn
145
Posted 21/08/2016 at 14:44:06
A promising display once Bolasie came on. He pulled the ir defence out wide and opened space for Barkley and Lukaku to exploit. Holgate is looking great and Williams will surely improve our rearguard.
The new coaching team has notably improved us at defending set-pieces and at taking them. Good to see Baines taking free kicks (even though he messed on up!)
The calm assurance of the keeper is helping the whole team. We are showing signs of improvement already.
Stan Schofield
146
Posted 21/08/2016 at 14:47:18
Well, since getting rid of the previous manager (who's name I can't remember), we've got 7 points from 3 Premier League games, with 6 goals scored and 2 conceded. Not bad, it's a start. We looked very good in the 2nd half yesterday, solid, and some neat and quick passing (generally forwards). We could have won 4-1, particularly not bad given that we're a work in progress under RK.
Tony Pulis on MotD basically said we're at a different level from them, which is nice to hear. Even the MotD 'pundits' made very positive comments, particularly about Holgate. I know we don't really give a monkeys what the pundits say, but nevertheless, again, it's nice to hear.
John Harrop
147
Posted 21/08/2016 at 15:29:17
Spot on Andy (113). Ramiro Funes Mori plays as a central defender for Argentina and the last time I checked they were number one in the world rankings. They only conceded a couple of goals throughout the Copa America, and more than one writer in the Guardian had Funes Mori in their team of the tournament. Of course, he does need to work on some aspects of his game to adapt to the EPL, but to describe him as lamentable is quite simply ridiculous.
Darren Hind
148
Posted 21/08/2016 at 16:38:43
Mick Davies
No spin needed. I just quoted you.
Peter Lee
149
Posted 21/08/2016 at 17:37:12
David Ellis, I know that this is all a matter of opinion, I thought Ross Barkeley was poor yesterday and I don't rate his attributes. Leave opinion to one side.
In 116 appearances he has made 11 assists. 11. His shooting accuracy is 28%. 28%. He has played 39 through balls, one every three games.
So he is not a great attacking threat then.
He has made 113 tackles, less than 1 a game.
So much for defence.
What does he contribute?

Keith Harrison
150
Posted 21/08/2016 at 17:51:17
In the wars again Darren? I'm with you on this, Funes Mori is not a 'ball-playing' defender. And he was turned very easily on the wrong side by Rondon for the chance that led to their corner, then goal.
Although for the goal, Stekelenberg was impeded imo.
Holgate looks to the manor born this early, and I hope we don't overburden another great prospect with expectations.
We still need three players this week though, and ship on Oviedo, Gibbo, Kone, McGeady and Niasse.
John Daley
151
Posted 21/08/2016 at 18:12:59
Hitting 'whoscored' to hammer a player is a piece of piss but it doesn't paint the full picture.
Yesterday, Barkley played a perfectly weighted through ball to set Bolasie away before he released it to Lukaku, yet 'whoscored' doesn't register it. It can't have been a phantom pass because we all witnessed it.
Is a through ball only a 'through ball' if the player receiving it is the one who takes the shot? If Lukaku finished it off like he probably should then Bolasie would be the only one credited with an assist, but the chance only came about due to Barkley's crucial pass taking defenders out of the game. He slips little balls like that in between opposition players often. Certainly many times more than 'once every three games' or 39 times in his career.
Eddie Dunn
152
Posted 21/08/2016 at 20:15:08
I agree with John, Barkley does see the space and play beautifully weighted balls in the right place at the right time. He has the ability and in my opinion, he played well yesterday. Statistics can be used to argue many things- it doesn't mean that the argument is one way or the other, as anyone listening to "More or less" on Radio 4 will testify.
Be patient folks and wait and see if he flourishes under the new set-up.
Martin Mason
153
Posted 21/08/2016 at 20:26:34
I think that this churlish criticism of Ross Barkley from our own fans is shameful. Remember this lad cost nothing, is an England International and is a first choice for Koemans who knows vastly more about football than the people who make these criticisms. What standards do we judge Ross by? Our ridiculous expectations or footballing reality? He had a great game yesterday and should be given the assist for our first goal. His distribution into space from central midfield was fantastic, he has very few peers in length or weight of pass in the EPL and his best may yet be to come. He isn't a £50 MM player yet but he is a talented lad and we should be proud of him.
Damian Wilde
154
Posted 21/08/2016 at 21:27:53
Martin, he has been poor for a long time. Are we not allowed an opinion? Most matches he has a song sung about him - shows we are proud of him. But just 'cause he is a scouser, does that mean we can't point out his very poor (and quite frankly lazy) displays?
Dan Davies
155
Posted 21/08/2016 at 23:07:06
Agree Martin, let's watch him grow, he might not be a Messi but he's talented. Leave him be! A local lad done good. I hope he shines under Koeman.
Laurie Hartley
156
Posted 21/08/2016 at 23:37:44
In a pre season interview after one of the friendlies Ronald Koeman said - "Ross is a great player". That will do me.
I hope we see many more of the "through balls" from Ross to Yala (that John Daley mentioned @ 151) this season. If we do, it's going to be happy days are here again.
Bernard Yeo
157
Posted 22/08/2016 at 03:24:14
I actually thought Ross did better than last season. He tracks back, he even went for a tackle. He doesn't have to win it. Just for the nuisance factor is better than what he did last season where he'll just let the running man go.
Anto Byrne
158
Posted 22/08/2016 at 03:53:16
Lukaku is so crap that other clubs are prepared to pay 50 million for him.
Once his fitness improves and with it the confidence it brings we will see a different player.
Get off his back and enjoy this guy.
In a year he will be worth even more.
Peter Lee
159
Posted 22/08/2016 at 08:38:56
The stats are from OPTA. They might miss some but they don't underestimate by factors of 2, 4 or 10.
No matter who counts, poor shots on target ratios are what they are, as are tackles made. I agree that you don't have to make a tackle to have some impact, you overwhelmingly do if you want to win the ball for your team. The alternative is rapid pressing forcing mistakes. Ross is poor at this.
An assist is what it is, a pass that directly leads to a goal. In his best season Leighton Baines had more than Ross has in his career.
We need someone better in his position. That's the point. He isn't good enough.
David Ellis
160
Posted 22/08/2016 at 09:40:49
Peter Lee
The stats don't capture Ross' part in the build up to the first goal - lovely one touch pass.
He also slid in Bolasie beautifully who then set up Lukaku beautifully near the end (who hit it at the keeper). He did a lung busting run to get on to the end of Bolasie's cross - he didn't score so the stats ignore this.
These are exactly the contributions that you expect from a central midfielder.
He was also always coming back looking for the ball, taking responsibility - again exactly what you would expect. His lack of tackling is balanced by the two defensive mids alongside him - its about balance in the team. He is creative and we didn't have a problem scoring goals last season, we were among the highest.
The stats measure what they measure...but they don't measure Ross' contribution that I saw on Saturday.
But lets play the stats game and compare apples with apples on last seasons stats
Barkley: 8 goals and 8 assists in the PL (12 and 11 in all comps).
Hazard: 3 goals and 4 assists in the PL (8 and 7 in all comps) -
Juan Mata : 6 goals and 5 assists in the PL (11 and 9 in all comps).
Barkley had better stats than both of them and they are two of the best in the business playing for teams that finished above us in the league - are they "not good enough" either????????
Peter Lee
161
Posted 22/08/2016 at 10:22:44
David, your comparator's underline the paucity of your argument. Hazard stunk the house out last season and Mata could hardly get a game.
Brian Furey
162
Posted 22/08/2016 at 10:48:14
How do people think Geri is coming along this season? I've not watched him enough to make a fair assessment but I worry he doesn't work hard enough or give his all. I know he's been played in a tough position but despite his obvious skill levels, he seems to lack that killer instinct in front of goal. I think KM has upped his game more than Geri has. I wonder will Bolaise play on the right or left wing?
Brent Stephens
163
Posted 22/08/2016 at 11:12:24
Brian, I agree that Kevin has upped his game more than Geri so far this season. On Saturday Kevin impressed me with his sheer energy in trying to win the ball. I think Geri, though, has upped his effort slightly, as has Ross for sure. "The accumulation of small margins".
David Ellis
164
Posted 22/08/2016 at 12:07:43
Peter Lee #161 - Mata started in 24 premier league games last season and many on ToffeeWeb were delighted to be linked with him.
We have NO CHANCE of getting a player like Hazard...how are these two outstanding players poor comparators? I just don't know what you are expecting.
Who else should we compare him to?
Deli Ali in a team that finished third - scored 10 and assisted 9 in the PL? Ok marginally better than Ross but he was considered the new Messiah by the media (and in a team that were turning people over and playing tica takka slow build up).
Coutinho at Mordor scored 8 and had 5 assists in the PL last season - worse than Ross Barkley. Again a team that finished comfortably above us.
There is zero chance of us attracting players of this quality to come to Everton at the moment but we would be delighted to have them. The stats just don't support your case.
Ross frustrates because he is so talented. But he's does deliver at an acceptable level compared to other great players - the stats prove it.
Joe Clitherow
165
Posted 22/08/2016 at 13:12:24
Genuine football knowledge, which is what I learned from going to watch matches as a kid, and which is based on watching players and their contribution in a match, seems to have been replaced by knowledge of OPTA stats. They are not the same thing at all. The last fella had an encyclopaedic knowledge of, and obsession with, stats (mostly pass completion, the most pointless stat) whilst simultaneously knowing feck all about how the game is actually played (and more importantly won). We seem to have a lot of posters of the same mindset. There are lies, damned lies and statistics.
As an example, Bolasie had zero assists on Saturday, which makes him a crap winger on stats. To anyone who watched and actually understood he was terrific when he came on and put two on a plate without conversion. The only stat that matters is goals.
I bet Niasse has terrific OPTA stats, which is probably why we're saddled with the useless muppet.
Peter Lee
166
Posted 22/08/2016 at 15:38:28
Joe, the trouble with genuine football knowledge, which I reckon I have from watching for over 50 years and playing, often at a good standard for over 40, though others might disagree, is that it is subjective.
Stats didn't measure Ross idling up and down the pitch in an inside left channel for most games last season without closing down or chasing back. That is my subjective assessment others may disagree. The only objective measures would be tackling stats, and I don't care how you view those, one a game is one a game.
David, on the basis of their performances last season none of those you mention are good enough, in my view. They pale by comparison with the likes of Gerrard and Lampard, for example. It may be that we can't attract the top players in those positions but better is out there under the radar. That's what Steve Walsh has been appointed for. Proof of the pudding - Idrissa Gueye, whose performance in the past two games was outstanding in every aspect of what he is played for.
Eugene Ruane
167
Posted 22/08/2016 at 16:28:49
I remember seeing Phil Neville's (dry-heaves) 'stats' once and almost had an attack of the vapours when I saw his pass completion was something like 97%.
And...it was.
Basically 97 pointless Chuckle Brothers passes ('t'me, t'you') between him and whoever was no further than a yard-and-a-half away, then three long balls to players who had made really good runs.
They were the passes that mattered...but ended up leaving both corner flags in splinters and almost taking a support pillar down in the St End (upper!).
Stats me hole.
Mark Tanton
168
Posted 22/08/2016 at 16:41:05
Short passing is massively under rated by some football supporters. I'll never understand why. Lee Carsley was utterly indispensable in his time with us.
Tackle hard, win it back, give it someone who knows what to do with it - isn't that an over simplistic but accurate job description for Gana?
Steven Jones
169
Posted 22/08/2016 at 16:42:02
One of the things about Ross ... particularly when the hype was at its max - he would attract 2-3 people around him every time ... he is always either a main part of the oppositions manager team talk or at least gets a mention - in and around the box
With that extra pressure and the way he is still developing makes for a promising future ...
and his close control and in your face movement around the box finding clever angles is on top of that. I love that part of his game ... when the big dream of getting regular European football comes then he will be in his element
Being able to receive and keep hold of the ball when under pressure is one of the big things we hear that we in England lack ... Ross has got it in droves
The goal in pre-season had RK purring ... Ross is a Rolls Royce of a player - we are very very lucky to have his likes coming through at EFC.
Peter Lee
170
Posted 22/08/2016 at 16:46:02
There are, arguably, seven holes in your body Eugene, which one are you talking out of today.
The question is whether or not Ross Barkeley is good enough going forward as a club. Nobody seems to be saying "Yes".
Steven Jones
171
Posted 22/08/2016 at 16:47:35
In addition - looking forward this season with the tactics around pressing and winning the ball higher up and getting more transition ball in space in the oppositions half Ross, Rom and Bolassie with perming Geri and Kev in there we are going to destroy several sides this year
How many may determine how good a season it is but we are in for some very good matches and wins ahead -- and with RK's record away against the top teams last year they could be memorable.
Phil Bellis
172
Posted 22/08/2016 at 17:11:38
From what I see, although it might well be I'm myopic, Ross is the first player his team-mates look to pass to when they're in possession
David Ellis
173
Posted 22/08/2016 at 17:33:37
Peter Lee - Lampard and Gerard ...well let's aside the point that they were completely different types of player to Barkley --- yes they both scored a lot of goals...but they did not have anything like the same amount of skill and I don't recall Lampard dropping deep to start moves off. But these two are considered all time greats by the clubs they played for.
If you are saying that none of Coutinho, Deli Ali, Hazard or Juan Mata are good enough as playmaking midfielders to play for Everton and your "acceptable" standard is the best player to ever have played in that position in the history of Everton then yes...probably by that standard Ross is not good enough either. But the "standard" you are using is totally unrealistic. What next...Alex Young was not good enough?
I suggest you start supporting Real Madrid to avoid future disappointment!
Tony Hill
174
Posted 22/08/2016 at 17:51:58
Barkley is massively talented but needs inspiring management which he conspicuously did not receive either from Martinez or Hodgson. To write him off just as he begins his career under Koeman's management is surely premature.
Martin Mason
175
Posted 22/08/2016 at 18:01:54
Steven@169, couldn't agree more.
It's unfair to judge Ross by the unrealistic expectations some had of him and which he may yet achieve. For a lad who is the centre of Everton's game his mistakes will be amplified. What is disgraceful is that there are some who seem to want him to fail .
Jamie Barlow
176
Posted 22/08/2016 at 18:35:15
"What is disgraceful is that there are some who seem to want him to fail"
I don't think so.
Eugene Ruane
177
Posted 22/08/2016 at 18:37:16
Peter 'statto' Lee (170) -
'There are, arguably, seven holes in your body Eugene, which one are you talking out of today.'
'Arguably'!?
How strange, you appear 100% sure of your Ross Barkley stat-based drivel, yet only about 50% sure of the number of openings there are in the human body.
I would therefore suggest, before questioning me and my opinion, you concentrate on your own very obvious problems and undertake the following two tasks.
1) First read back your paragraph - 'The question is whether or not Ross Barkeley is good enough going forward as a club. Nobody seems to be saying "Yes" - then let us know the stats for how many times you've fucked up the spelling of his name worse than that effort.
eg: Barkally 23%. Barcaly 43%. Sqifgpoggy 11%... (etc)
2) Each night for the next year, get your kit off and count the 'holes' in your body (or better still, get a reliable friend or family member to do it - someone who can be trusted to remember the number).
Then in a year's time, you'll be able to look at your stats and (like the rest of us) be sure of how many there are.
Pot-herb!

(ps: apologies if for some reason you were born without a ring-piece or only have one big nostril..which I'm guessing isn't out of the question)

Peter Lee
178
Posted 22/08/2016 at 19:07:25
Ooh I do seem to have upset you Eugene. After a lie down with a cold compress perhaps you can give some thought to answering the questions; is he good enough or not and which hole are you talking through?
Keith Harrison
179
Posted 22/08/2016 at 19:52:01
Peter Lee. Apologies for not reading all the posts, but you seem to be a self-acclaimed football expert. Harking back to 166, it appears you have watched football for 50 years. You have also played (at a decent standard) for 40.
Please could you answer me the following then mate:
1) Are you 90 years old?
2) Were you in actual fact a fast bowler for Lancashire in tandem with Peter Lever, and senility has kicked in?
3) Are you in truth actually a market town in County Durham?
Barkley, in tandem with a number of professionals over the last 2 years, has been badly coached by OFM, made worse by smoke being blown up his arse by the self-same RM.
RK will have our lads purring in the near future, and I personally can't wait to see improved all round games from Ross and Romlak.
Give the current crop a chance, then by all means do the "I told you so" if there's no gradual improvement by Xmas.
Eugene Ruane
180
Posted 22/08/2016 at 20:16:30
Peter (178) -
'Ooh I do seem to have upset you Eugene. After a lie down with a cold compress perhaps you can give some thought to answering the questions; is he good enough or not and which hole are you talking through?'
You're right you did upset me - to be honest I was raging (and will now have to replace a large wall mirror).
To be honest I was going respond with something a little childish, but I took your advice and walked away for a bit and after I'd calmed down, had a look at your stats on Ross.
On the face of it, I have to admit they make some sense, but I did a little research myself and believe this graph provides a fairly decent counter-argument.
Jim Knightley
181
Posted 22/08/2016 at 20:34:52
Peter - I personally think that Barkley is overrated and I do not see him as a creator. I think he would be best in a midfield three where he would have the room to run from deep and a minimal need for defensive work. Ramsey shares that problem. He is a wonderful goal scorer but cant operate in a central midfield role because he goes missing defensively, so he has been shoved outwide by Wenger in an attempt to shoehorn him into the side.
But, Barkley is a goal threat, and I think he could be an essential part of our squad with the ability to become a very good player. Irrespective of the opinions on him, your manipulation of stats are absurd. Plenty of top players have poor stats at the beginning of their career – it is a product of many sub appearances, of being marginalised in certain sides as a result of their inconsistency, and because they are still improving. Ross might be 22, but 22 is still young for a footballer, and he lost a crucial year of development through injury. I think taking a look at his recent stats makes far more sense, as they better represent the player he is now, rather than the player he was several years ago.
So, I will try a different statistical approach.
In 36 starts last year (2 subs) Barkley scored 8 goals and assisted 8. In 2 starts this season, Barkley has scored and assisted one goal. So he has 9 goals and 9 assists from his last 38 starts. Last season he had 95 goal attempts and 28 of those were on target. His shot accuracy of 29.5 whilst not fantastic, is not a measure of goal scoring ability, and is not particularly horrendous. Tadic, Ramsey, Cazorla, Shaqiri, Coutinho, Pedro, Silva's and Khazri's all had a lower shot accuracy percentage (I've selected these because they are well rated and respected midfielders). His 8 assists were joint 11th best in the division, and of midfielders, he was also the joint 11th highest scorer.
Again, I think Barkley has limitations. He slows things down too much – his passing is too irregular and lacks incision and I think his defensive game is poor. I see him as a bit of square peg in a round hole and I think a 433 or a 3-5-2 would be best for him. Hopefully we will see the best of him in Koeman's 3-5-2. But Peter, your use of stats, is straw man. Try again.

Jim Knightley
182
Posted 22/08/2016 at 20:34:52
Peter - I personally think that Barkley is overrated and I do not see him as a creator. I think he would be best in a midfield three where he would have the room to run from deep and a minimal need for defensive work. Ramsey shares that problem. He is a wonderful goal scorer but cant operate in a central midfield role because he goes missing defensively, so he has been shoved outwide by Wenger in an attempt to shoehorn him into the side.
But, Barkley is a goal threat, and I think he could be an essential part of our squad with the ability to become a very good player. Irrespective of the opinions on him, your manipulation of stats are absurd. Plenty of top players have poor stats at the beginning of their career – it is a product of many sub appearances, of being marginalised in certain sides as a result of their inconsistency, and because they are still improving. Ross might be 22, but 22 is still young for a footballer, and he lost a crucial year of development through injury. I think taking a look at his recent stats makes far more sense, as they better represent the player he is now, rather than the player he was several years ago.
So, I will try a different statistical approach.
In 36 starts last year (2 subs) Barkley scored 8 goals and assisted 8. In 2 starts this season, Barkley has scored and assisted one goal. So he has 9 goals and 9 assists from his last 38 starts. Last season he had 95 goal attempts and 28 of those were on target. His shot accuracy of 29.5 whilst not fantastic, is not a measure of goal scoring ability, and is not particularly horrendous. Tadic, Ramsey, Cazorla, Shaqiri, Coutinho, Pedro, Silva's and Khazri's all had a lower shot accuracy percentage (I've selected these because they are well rated and respected midfielders). His 8 assists were joint 11th best in the division, and of midfielders, he was also the joint 11th highest scorer.
Again, I think Barkley has limitations. He slows things down too much – his passing is too irregular and lacks incision and I think his defensive game is poor. I see him as a bit of square peg in a round hole and I think a 433 or a 3-5-2 would be best for him. Hopefully we will see the best of him in Koeman's 3-5-2. But Peter, your use of stats, is straw man. Try again.

Keith Harrison
183
Posted 22/08/2016 at 20:49:00
Christ, Jim. Not only did you post War and Peace - you did it twice. I need a lie down now!
Brent Stephens
184
Posted 22/08/2016 at 20:54:53
Keith, War and Peace?! This thread is starting to sound like War on and Peace off.
Martin Mason
185
Posted 22/08/2016 at 21:02:01
Jim, overrated compared to what, what quantifiable standards do you judge him overrated by?
Overrated compared to what he cost Everton? Overrated as an International in his early 20's, overrated as a first choice in the Everton team?
Surely we haven't become so stupid that we use subjective stats as metrics for how players perform? I know we follow America in the stupid factor but dear me we are football fans, Everton fans, we used to understand the game and yet a minority of our fan base plainly doesn't now.
RK and his staff have worked very hard to get Lukaku to stay at the club and the reason for this was clear on Saturday against West Brom when his presence on the pitch won us a very difficult game. That minority of our fan base that sees him as nothing but a lazy n****r must have a knowledge of the game that exceeds that of the total expertise at the club?
Get real guys, in Lukaku and Barkley we have two diamonds and I for one am really glad that we have them. Rom has struggled with goals recently and Ross with setting them up but with Mirallas and Bolasie wide and Ross behind him I see Rom scoring a lot of goals as he did early doors last season. Only a striker of the ultimate quality could have scored the Chelsea cup goal and many others that he has scored.
Ciarán McGlone
186
Posted 22/08/2016 at 21:02:24
I'm slowly coming to the conclusion that Barkley doesn't has the brainpower to be a top footballer..
Sometimes it's almost as if I can hear the cogs turning and birds tweeting.
I'm not sure there's any chance of coaching this.
Peter Lee
187
Posted 22/08/2016 at 21:17:37
Jim, thanks, the comparison with Ramsey is fair and the comment about his being shoe-horned into the Arsenal team is how I felt about Ross Berkeley last season. I'm puzzled by Koeman's persistence with him though. Clearly he thinks there's a proper player in there somewhere. Let's hope he's right.
Ciaran, sadly I agree with you so I wait in hope rather than expectation.
Eugene, there's hope for you yet. A reasoned response about a player, no insults for once although you still can't resist starting your posts with someone else's words in inverted commas but there was an absence of your own shouty emphases. Well done.
Couldn't get the link to work, crap phone.
Phil Bellis
188
Posted 22/08/2016 at 21:24:24
Not applying this particularly to Ross but are there any stats for how often players get you out of your seats? The Golden Ghost / Kanchelskis factor
Keith Harrison
189
Posted 22/08/2016 at 21:29:43
Brent - is that out of Karate kid? War ON, Peace OFF.
Brent Stephens
190
Posted 22/08/2016 at 21:39:34
Keith, very possibly.
Peter Lee
191
Posted 22/08/2016 at 21:48:39
Phil, don't know of any stats that do that (distant sound of Eugene falling off chair) but, a purely subjective view from me would put Alan Ball at the top of the pile, probably followed by Gary Lineker, with honourable mentions for Colin Harvey, Gordon West, Duncan Ferguson and Tim Cahill.
Neil Sagar
192
Posted 22/08/2016 at 21:54:22
Lukaku is a top four player and will get better for us. When he does leave it will be definitely for more than £65 million. Barkley on the hand will get found out and fade away. Koeman will get frustrated and eventually drop him with possibly one of the new players we are being linked to. Our new manager is no mug.
Keith Harrison
193
Posted 22/08/2016 at 22:06:06
Peter, I knew I'd missed one in (179).
4) Did you have a hit single called "Welcome Home"?
Peter Lee
194
Posted 22/08/2016 at 23:23:44
Nah, mixed feelings about that. Would have liked the money but the bloke was blind so happy to let it pass. Mind you being blind would be an advantage if you were ever in the presence of that smarmy Hughie Green.
Watched them once on Opportunity Knocks and one of the lads who had achieved an altered state of consciousness said of the girl half "She's slipped up, she could have gotten away with being ugly and he'd never know"
Come again Billy?
Peter Lee
195
Posted 22/08/2016 at 23:44:47
Sorry Keith, hadn't read your initial post, so didn't reply to all. The key to your 90 year old conundrum is that it is possible to do both, concurrently. Mind you I did play with some lads who were spectators at one and the same time.
Not claiming to be an expert, that was a response to another poster who claimed insight because he'd been watching the game for years. Many people on here have done that, many have differing views.
Not a market town in County Durham either, but then neither is Peterlee. It's a new town of it's era named after a miners' leader I think.
As for cricket, I wish. I used to be able to bowl a reasonable leg break. It surprised the batsmen first ball but after a look at the second they battered the third and subsequent balls out of the ground, and me out of the attack. Although I use the word "attack" very loosely in my case.
Joe Clitherow
196
Posted 22/08/2016 at 00:14:50
Peter
Thanks for the biggest laugh of the night in congratulating Eugene for his reasoned response and then stating you couldn't see the link. If that was really your attempt at irony (I'm sure you'll claim it anyway) then I congratulate you on your sarcasm, sir!
But much in the same vein of completely missing the point (as above), since it was me you referred to as claiming to be an expert purely on the basis of watching for years, and pointing out that it was all subjective, let me just spell out for you exactly how you missed the points. I was objecting to the creeping use of statistics as a replacement for reading the game itself. Even more specifically ("lies, damned lies and statistics") the use of stats to actually try and prove subjective opinion, viz your "Barkley stank" pronouncement followed by your rollout of OPTAs just to prove exactly how correct you were.
I've just come out of three years having some idiot continuously tell me that a pig with lipstick slapped on its face was really Megan Fox and here are the stats to prove it, I thought that had gone away.
Stephen Ashton
197
Posted 23/08/2016 at 00:44:12
Martin# 185 please don't get me started again on Lukaku. His goals against Chelsea were great. His misses in his last 12 games cost us dearly. If you think that the staff had to do anything to make him stay you are deluded. Simple fact is no body wanted him.
Neil (#192) he will never be worth 㿭m. By the end of this season he will have 2 years left on his contract and he will have devalued, especially if he continues his current run. He hasn't scored for almost one third of a season.
Barkley, Bolasie, Mirallas and Deulofeu can create all the chances in the world if he doesn't put them away then we are in real trouble. If we think he is going to sign a new contract we are dreaming.
Dave Abrahams
198
Posted 23/08/2016 at 01:10:42
Mark (#168), Lee Carsley was utterly indispensable in his time with us, really? Lee Carsley?
Do you honestly believe he is on the same level as Gueye? Each to his own, I suppose.
Jim Knightley
199
Posted 23/08/2016 at 01:49:28
Martin - I think Barkley is over-rated by the media, and by a contingent of our fan base. This is not to do with statistics, because as you can easily read my posts demonstrate that Barkley's recent stats are good. But I think Barkley creates a problem for us, because he has customary functioned behind the striker but not brought the creativity or that we need from that position (because we lack a wide creative mid - Deulofeu is the nearest but he slows the play down too). I think our team would be improved by using someone who can dictate the play and move the ball on quickly. Barkley is not that player - he is, as my post contends, a third central midfield player.
I think Barkley is a good player but he is not a great player. As my posts on here have demonstrated for several years, I am a big fan of Lukaku. I do not share the same optimism about Barkley. If we want to become a top 4 or even 6 team, the success of the influential midfielder, customary operating behind, the striker is essential. Arsenal have Ozil, who dictates the game and is one of the world's best playmakers (as well as Cazorla). City have Kevin De Bruyne and Silva, who add goals and who are fantastic playmakers. Silva, in particular, dictates play and can change the pace of the game. Spurs have Eriksen, and Alli. Whilst Alli is also confined in a way Eriksen is not, I think he more effectively played that second striker role than Barkley has so far for us. Chelski have Hazard. United? Mata and they have signed Mkhitaryan, who was incredible for Dortmund. Liverpool have Firmino and Coutinho. Even Swansea have Sigurddson and Southampton Tadic. And West Ham have Payet. Palace have Cabaye.
Now of those mentioned, how many would we claim Barkley is better than? Perhaps Tadic, who blew a little hot and cold, but still managed 7 goals and 12 assists. And even his inconsistent period was shorter than Ross'. Cabaye perhaps, who is a different kind of player, and doesn't offer Barkley's level of goal threat. But in reality, can we say that Barkley is better than any of those players?
We have money now and we have ambition. Barkley is a good player who should be around the first team, and he could yet grow into a top top player. But personally, I see Deulofeu as having more potential, and I think replacing Barkley with someone like Mata would bring about a significant improvement to the midfield unit. I think this is Barkley's big year. If he does not perform consistently, I could see him marginalised for a playmaker. In that respect, the Brahimi whispers suggest Koeman might be considering his options now.
As I have said, I think Barkley is a good player. A very good player maybe. But he is not a great player, and I am not sure that he has what it takes to become one.
Finally, Ciaràn point is interesting. I'd also widen it to English football in general. It seems to me that the failings of the England national team often come down to a lack of intelligence, and a failure to adapt tactically. We've seen it time and time again with various players, and Ross is probably an example of that too.
Paul Ferry
200
Posted 23/08/2016 at 03:41:41
Ciaràn McGlone (#186) – 'I'm slowly coming to the conclusion that Barkley doesn't has the brainpower to be a top footballer'.
You couldn't make it up!!
I have it on excellent authority that Barkley has the brainpower to get his tenses right.
Barkley's stats from last season suggest that he is a 'top footballer'; his stats so far this season – albeit merely two in – have him in the top six midfielders in the league (that's the Premier League stats).
Why not celebrate this and enjoy and watch this Wavertree star burn brighter in seasons to come?
What were you doing at age 22, Ciaràn?
Steven Jones
201
Posted 23/08/2016 at 04:54:56
I think you are all mad. Barkley laid on the one-touch pass to get the equaliser at WBA – changed the game. He drifts into a really good position, sees the first-time ball and plays it perfectly. He is also a goal threat making runs and taking shots. If that header had gone in, it would be a goal a game start and not bad really.
When Koeman gets him running more off the ball, watch the difference in terms of impact, defense and recognition. He is still young and missed a lot of football with his double fracture. This will be a big leap forward for Barkley this season and, along with an improvement in fitness, will put this petty carping out of the forum..
Paul Johnson
202
Posted 23/08/2016 at 08:56:21
Steven Jones – nail on the head. I don't know if anyone remembers the sublime drag back and pass to Bolasie for the Lukaku miss, this is not the touch and vision of a journeyman.
I know this has been said many times but give the lad a break. He looks fitter than ever before and now he is getting advice of one of the finest footballers Europe ever produced, a big step up from a second-tier centre half and a journeyman Spaniard who played for Motherwell.
Ross is without doubt a lad who needs to be wanted so let's support him and let RK coach him to play the game as it should be.
Paul Hay
203
Posted 23/08/2016 at 10:06:47
Tend to think that Ross will develop under Mr Koeman to be honest. Long way to go but confident that under this boss Ross will be a more rounded and forceful player.
Holgate is a real prospect. Some other thread had him being touted for loaning out ...MAD. The lad is in the side on merit and deserves his place. Can only progress under Mr Koeman and his brother.
Glad to see Kevin M getting stuck in and delivering. Good start lads overall.
Keep the faith.
Peter Lee
204
Posted 23/08/2016 at 14:03:18
Jim, I have always tended to make my mind up on what I've seen at the game. I agree that statistics are not the whole picture. My big issue with Ross is a lack of nouse and vision. I have also questioned his physical commitment to the cause.
I came across the stats by accident but I was surprised at how poor they were. They suggested that my judgement wasn't far out but you could call that confirming my prejudices.
---
Add Your Comments
In order to post a comment, you need to be logged in as a registered user of the site.
Or Sign up as a ToffeeWeb Member — it's free, takes just a few minutes and will allow you to post your comments on articles and Talking Points submissions across the site.
© ToffeeWeb