Report
Blues poor in defeat on the south coast.
By Michael Kenrick
24/09/2016

218 Comments [Jump to last]
Share: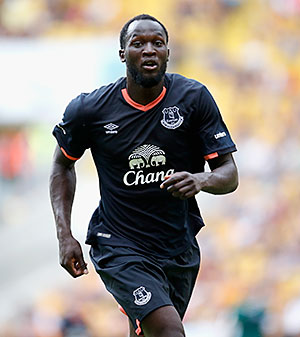 Romelu Lukaku was declared fit to play after recovering from a toe injury
AFC Bournemouth 1 - 0 Everton
Bryan Oviedo got a start replacing Leighton Baines at left-back while Ross Barkley retained his place and Romelu Lukaku returned after missing Wednesday's defeat to Norwich with a toe injury.
Baines missed the game due to a hamstring injury, while Gareth Barry was also carrying a knock, but declared fit enough to play. Oveiedo started in preference to Funes Mori as the more accomplished left back, with the Argentine international looking out of place in that position against Norwich.
Jack Wilshere kicked off for the home side and they applied some good pressure when Barkley failed to hold the ball, a good ball in flashing across the Everton goal. At the other end, Bolasie swung in what seemed to be a perfect cross to the feet of Ross Barkley who seemed well shocked by the quality of it!
Some good pressing play from Everton followed but without the quick enough ball into the danger area, and the Cherries eventually repelled the swarming blue shirts, with Eddie Howe's side snapping in to deny Everton space and time on the ball.
Stanislas got around Jagielka but Stekelenburg was out sharply to claim the ball. Everton won a free-kick in midfield that Barkley placed in perfectly on Lukaku's head, and a super header looked goalbound but Boruc pulled off a magnificent save down low to deny him and the parried ball was driven wide.
Barkley smacked a brave first-time shot well, well wide off a good lay off from Lukaku. The ball was then straight up the other end were Williams was rather easily beaten by Wilson and a shot from Wilshere needed to be deflected onto the bar. From the corner, Ibe drove in and almost created a goal with his driven cross. Everton looked less then solid as the ball pinged around their area.
Sustained homeside possession won another corner, and Arter powered in a shot that grazed the far post after he brushed off Barkley's weak challenge. Everton really needed to get a grip of this game before the home side became too comfortable. Adam Smith rolled around in agony off the ball, some time after Mirallas had caught him inadvertently.
The goal had been coming and Sanislas was given masses of space to power an unstoppable shot from outside the area. Shocking defending from the Blues.
The Blues, stung, looked to respond but Bolasie could not beat his man, then Geyue needlessly lost the ball in midfield. Blues pressing was ineffective and Bournemouth looked to almost be toying with them, such was their dominance. Francis decided to have a crack from wide right.
In a better move, Bolaise to Coleman, back in to Geuye who fed Barry, his shot was good but parried over for an Everton corner. Some better pressure on the ball in the Cherries area but nothing came of it as Coleman could not keep it in.
Bolasie did well to get in a cross but it was away from Lukaku, as Everton failed to get enough bodies moving around the opposition area. Barry was a little too heavy on Wilshere, giving away a free-kick. Also Gueye who had stepped on Arter's foot in his challenge: yellow card. Barkley swung in another good set-piece but the ball was not attacked effectively and Bournemouth were straight up the other end, winning a corner that Jagielka gifted to Daniels, who could only head wide, thankfully.
Bolasie was double-teamed off the ball as he failed to cross, and they ganged up on him again to good effect, easily dispossessing the Everton star and winning a free-kick in the process. The Blues continued to labour at their task, looking slow and indecisive in all areas, and nearly getting into trouble with some ridiculous pass-the-parcel nonsense on the edge of the Blues penalty area.
Bolasie got free and was cut down by Daniels, who was booked, giving Everton a better chance for a set piece wide right, slid back too hard by Barkley to Mirallas whose shot was deflected behind but the Everton corner came to nothing.
Apart from the Lukaku chance, Everton had been shockingly poor in all departments, Barry apparently off his game, Barkley unable to get on the ball, other than at set-pieces, and Gueye uncharacteristically unable to influence proceedings. A real test for Koeman to turn things around after the break...
No changes at the restart, Barkley kicking off after some bizarre delay (The ref forgot his whistle!) with Blues needing to up their game by an order of magnitude. But forward movement was painfully slow until Mirallas's heels were clipped; Barkley's floated ball was easily repelled.
Gueye gave away a poor free-kick for holding back Smith. Not too smart when already on a yellow! But the Bournemouth attack came to nought. However, Everton could not play out of their half and were soon under pressure again, Arter trying to power through a shot that Jagielka blocked and cleared.
A promising move failed when Gueye took his eye off a ball nicely rolled into him from Oviedo, and the Blues resorted to chasing shadows. Barkley picked out Mirallas twice but the build-up was slow until the cross form Coleman picked out Barkley whose header was inches the wrong side of the post. Cleverley came on for Barry after 55 mins.
A slightly better forward move came after Gueye won possession deep in Everton's half but Barkley was slow on the ball and the defence was well set to stop it. Oviedo was then carded for a late tackle that led to a corner but little else. Mirallas, who had done nothing, was replaced by Deulofeu on the hour.
Deulofeu was quickly closed down wide right and was denied a corner. On the other side, Bolasie was easily dispossessed but Barkley did well and Everton pressed to win the corner, taken by Deulofeu but headed away, then crossed in superbly and batted away by Boruc. Some better pressure ensued until Bournemouth somehow broke out, with more space in Everton's half, and the ball coming back.
Bolasie finally got a chance to run down the left wing but his cross was woeful, and the impetus remained firmly with Bournemouth who were disinclined to surrender their lead. Deulofeu had space to run in the channel but his pass through to Lukaku was just too heavy, and wasted. Barkley got into a good position but could only dig out a mishit shot-cross that went behind.
The Blues looked to play down the right but Cleverley then Deulofeu were denied space and took the ball all the way back, trying this time down the left through Bolasie with the same result. Blues possession but it was all too slow and predictable, with no sign of penetrating the Bournemouth defence. Cleverley and Bolasie finally combining but Bolasie's strike off Lukaku's clever lay-back was just over the angle. Former Everton player Dan Gosling replaced Wilshere for the home side.
The Blues had a slightly better spell, playing high up the field, but the ball wasn't really running for them, and Bournemouth eventually regained control with the minutes ticking away, into the final 10, and the Blues still struggling to fashion a real chance to save this game. Gueye was withdrawn with Valencia on for the final push.
Oviedo tried to run the ball but was easily blocked. Then Jagielka was clipped horribly and it was a yellow for Surman. Bolaise again was too clever for his own good, trying in vain to trick his way in, as the Blues showed no sign of scoring an equalizer, Bolasie again surrendering the ball with consummate ease.
Coleman got space to run and cross but it too was repelled until Bolasie, swapping sides with Deulofeu, whipped in a tremendous cross for Valencia but he was incapable of converting the golden opportunity.
Smith got a bad cut when he got Williams's elbow in his face.
The Blues huffed and puffed in the final added 5 minutes but it was clearly just not going to happen for them as Everton under Ronald Koeman fell to their first Premier League defeat, their second game in succession after an awful week that is best forgotten.
AFC Bournemouth: Boruc, A Smith, S Cook, Francis, Daniels [Y:42'], Stanislas, Arter, Wilshere (76' Gosling), Surman [Y:84'], Ibe (71' Gradel), C Wilson (90' Afobe).
Subs not Usded: Ake, B Smith, Federici, Mousset.
Everton: Stekelenburg, Oviedo [Y:57'], Jagielka (c), Williams, Coleman, Gueye [Y:34'] (81' Valencia), Barry (55' Cleverley), Bolasie, Barkley, Mirallas (60' Deulofeu), Lukaku.
Subs not Used: Robles, Lennon, Funes Mori, Holgate.
Referee: Robert Madley
---
Reader Comments (218)
Note: the following content is not moderated or vetted by the site owners at the time of submission. Comments are the responsibility of the poster. Disclaimer
Simon Harris
2
Posted 24/09/2016 at 14:13:13
Decision not to start with a recognised left back on Tuesday night appears even more daft now, as it would have given Oviedo some much needed game time.
We should still have enough for these though, and what better way to bounce back than 3 points.
Frank Crewe
4
Posted 24/09/2016 at 14:35:55
Maybe Koeman, having lost Baines, didn't want to risk Oviedo to injury as he needed him for today's game.
Jay Harris
5
Posted 24/09/2016 at 14:54:49
Good point, Frank. I was thinking maybe he was trying Funes Mori out as another option.
Let's hope we can return to form today and get a valuable 3 points.
Ciarán McGlone
6
Posted 24/09/2016 at 15:02:26
Barkley's first touch... he gives it away.
I think this is a game he needs to play well in.
Ken Skint
7
Posted 24/09/2016 at 15:19:06
We have not started well at all...
Colin Hughes
8
Posted 24/09/2016 at 15:24:23
Getting played off the park by a team that is being touted for a relegation scrap shows we are nowhere near top six material.

Ernie Baywood
9
Posted 24/09/2016 at 15:24:41
We've been terrible for the first 25. Can't deny Bournemouth deserve their lead.
Ciarán McGlone
10
Posted 24/09/2016 at 15:28:13
Awful football. Our closing down is non existent. After the first five minutes we've been awful. Williams looks ponderous and our entire midfield look out of their depth.
Jay Harris
11
Posted 24/09/2016 at 15:55:20
We look totally disorganized and lethargic.
Where was the closing down for their goal.
We are being bullied into submission by a bottom side.
Koeman needs to show his steel at half time.
Paul Smith
12
Posted 24/09/2016 at 15:57:45
Awful, no midfield what so ever, where's Barry & Gana gone? It keeps going out wide and Bolasie is??? Sat in the crowd and the mood is of shock. Better 2nd half please.
Tony Marsh
13
Posted 24/09/2016 at 16:02:25
Barkley is worse than Koeman thinks. Total liability not good enough for this level.
Mick Davies
14
Posted 24/09/2016 at 16:08:29
I know he's not popular amongst Evertonians but this is just the type of game that McCarthy would stamp his name on. They wouldn't be dominating midfield like they are, and we have too many luxury players waiting for someone else to do something.
Barry can't be expected to perform at the top level every game at his age.
Peter Cummings
15
Posted 24/09/2016 at 16:09:15
Signs are getting ominous, we are being outplayed everywhere, lucky not to be at least two down at the break. GET A GRIP!!!
Steve Hartwell
17
Posted 24/09/2016 at 16:18:15
Oh dear...
Mark Andrews
18
Posted 24/09/2016 at 16:24:35
Honeymoon over? I was concerned over the comments from Koeman after the poor performance against Norwich, they were Bobbyesque. I'm even more concerned by this lethargic non-performance.
Again, too many players haven't bothered turning up. It shows the worrying lack of depth in the squad. I don't think Ross has a footballing brain either, that's worrying. Bolasie is having a shocker and intent on showing everyone how "tricky" he is. No service to Lukaku. Barry looks injured.
It's poor.
Ciarán McGlone
19
Posted 24/09/2016 at 16:25:05
Get Bolasie off... And put lassie on. He's a tube.
Steve Hartwell
20
Posted 24/09/2016 at 16:28:15
No way, Barkley off now
Michael Coury
21
Posted 24/09/2016 at 16:35:12
Poor. Same Old Everton? Sigh
Frank Crewe
22
Posted 24/09/2016 at 16:40:12
This is what happens when you make multiple changes for the league cup. Lost the game against Norwich and lost all momentum.
Managers, including Ronald Koeman, never learn. The more you win the more you want to win. Confidence is everything.
Steve Hartwell
23
Posted 24/09/2016 at 16:48:15
Well there you have it... Everton are shite, pure shite. Absolutely shite
Paul Conway
24
Posted 24/09/2016 at 16:51:37
Two words sums it up... Dross Barkley!
George Cumiskey
25
Posted 24/09/2016 at 16:56:41
Managers have off days the same as players and Ronald Koeman had a mare today. Starting Barkley was a big mistake; keeping him on was a bigger mistake, and bringing on Cleverley who brings nothing to the team was also a mistake. It proves again what a poor squad we have!
Jimmy Sørheim
26
Posted 24/09/2016 at 16:56:45
Before the start of the season, we expected to be poor, we barely escaped Spurs with a point, and we have dropped off since the Sunderland game in my view.
The bubble has burst, too bad. I still think this is a fitness issue as all the players look off the pace today.
Stamina is dropping, the pre-season was poorly planned, and we are still not 100 percent which is a huge concern given we are several games into the season.
Mark Andrews
27
Posted 24/09/2016 at 16:57:23
How soon the air of confidence disappears! We got what we deserved today: nothing. The best team by a mile won.
So many poor performances throughout the team and some absolute stinkers!

Oviedo? Oh my!
Bolasie? Too much showboat, no product.
Lukaku? Was he playing?
Deulofeu? What a shocker!
Barkley has no football brain.
On the plus side, we have a walk in the park to come at the Etihad. Cricket score anyone? What a shallow squad we have. It seems the nay sayers were right. Our league position was very, very false. If Koeman comes out with a weak press interview, excusing that pile of poo, I'll go mad! Did Martinez really leave?
Well done Bournemouth, you deserved your easy win today.
Max Murphy
28
Posted 24/09/2016 at 16:58:39
Normal service resumed. Let's concentrate now on a good mid-table finish,
Clive Rogers
29
Posted 24/09/2016 at 17:00:10
Mirallas has been terrible the last three games.
Kevin Gillen
30
Posted 24/09/2016 at 17:01:02
Beaten by Norwich and Bournemouth in the same week, the players need to take a long look at themselves.
James Byrne
31
Posted 24/09/2016 at 17:01:07
Very average Everton today and a piss poor performance.
Barkley, Bolasie, Deulofeu all poor – shape them up or ship them ourt, Ron.
Dave Pritchard
32
Posted 24/09/2016 at 17:01:07
League Cup changes irrelevant. Poor, poor performances from virtually the whole team. Hardly a chance created and outfought. Massive reality check.
Brian Williams
33
Posted 24/09/2016 at 17:01:57
That's as bad a performance as I can remember in a long time. There's not more than two or three Everton players that can walk off that pitch today having given 100%.
Barkley must need his head examining if he doesn't realize he's on borrowed time and then plays like that.
Bolasie... clueless.
Deulofeu... clueless.
Mirallas... did he play?
Shocking.
If we get beat by a good side after giving everything we can then okay, not happy but can understand it, but that today was totally unacceptable.
Lethargic, lacklustre, fucking LAME!!
Tony Twist
34
Posted 24/09/2016 at 17:02:10
Very poor today against a side we should be beating. RK should have the promising youth players on the bench so they can come on and at least show enthusiasm, energy and play with no fear.
RK comes across as a bit of a Moyes and wants to self promote his image as a quality manager, hence the strongman approach with Niasse after the Martinez style press conference after the defeat against Norwich reserves.
Manager and players need to raise their game after this performance.
Ciarán McGlone
35
Posted 24/09/2016 at 17:02:35
The only player who had an average game was Jags.
Williams looked like a donkey, Bolasie is one trick pony with that drag/roll of the ball, Deloufeu can't pass, Barry aged overnight, Gana was awful, Barkley is never going to be any better than Joey Barton and Mirallas is a big-arsed buffoon.
If anybody needs any further evidence that the transfer window was not a success... then this is it.
Truly, fucking, awful.
Darren Hind
36
Posted 24/09/2016 at 17:04:14
The excuse factory will go into overdrive tonight.
I still wince every time somebody says we had an excellent transfer window... Bolaise £28m ?
If Lukaku hadn't missed such a sitter, I wouldn't have known he was playing
Ciarán McGlone
37
Posted 24/09/2016 at 17:07:01
Oh and come the derby.. we will get fucking trounched.
Mark Morrissey
38
Posted 24/09/2016 at 17:07:35
Exactly what Frank Crewe has posted. Maybe we'll rest 6 players from this game?!? Well they did look tired.
Shows exactly what resting and changing a winning team can do for you. Did they look invigorated? did they bollocks. Madness and nonsense resting players 6 games in having already had an international break. It's what I'd have expected from Martinez or Moyes.
Our season could well be formed from how we react to this defeat. We simply need to go again. I'd reckoned on a 4-0 win. How wrong was I!!! C'mon Mr Koeman, shake em up, please!
Patrick Murphy
39
Posted 24/09/2016 at 17:08:55
The answer as to whether or not Ross is a diamond was posed on another thread and I've changed my mind: on the balance of probabilities, the answer is NO.
Mind you he isn't the only player to under-perform when the chips are down: Mirallas, Lukaku and Deulofeu from the old contingent and we can add Bolasie to the equation too, although at least he did provide a couple of balls into the box during the game.
If there was ever a war-chest, it's a pity we didn't spend any of it, as the best eleven have to be on form for a full 90 minutes to win football matches regularly and that is a very rare occurrence. We can blame the manager, the tactics, the subs etc, but the bottom line is we have nowhere near a Champions League challenging squad or team and right now. I'll settle for top ten.
Only during the last 25 minutes or so did we look capable of 'salvaging' a draw and like it or not, Bournemouth is a place we should be looking to take 3 points from, if we want to be considered the real deal.
Of course the save from their keeper altered the dynamic of the match, but truthfully, we were a well beaten side and spent most of the afternoon chasing shadows and unnecessarily running the ball out play or picking the wrong option.
Another bad day at the office, I hope we can pick our collective heads up and that the manager can somehow make the most of what he has available until the window re-opens.
Anto Byrne
40
Posted 24/09/2016 at 17:09:01
They were too open and the same lazy players doing what they did last season. Made to look second rate, Bolasie, Mirallas and Deulofeu predictable, Barkley ponderous and lazy.
We had two very clear cut chances and at this level there is no excuse. The first 45 minutes should have been containment and counterattacking but we played like the home side.
We have so much pace in the side they just sat back had one shot on goal and shut up shop. Six games in and the wheels are falling off. Utter, utter crap.
Michael Polley
41
Posted 24/09/2016 at 17:09:29
Very disappointed. I hope the wheels haven't come off already. A week to forget.
Mark Frere
42
Posted 24/09/2016 at 17:09:31
Absolutely appalling display! Our final ball was truly shocking in the final third of the pitch. Bolassie had a real stinker, Mirallas completely anonymous, Barry was obviously carrying a knock, Barkley not releasing the ball quick enough again! Gana not his usual self. Deulofeu gave the ball away time and time again - a real nightmare of a performance from him. Lukaku didn't get any service at all.
I could go on for ever! Let's just hope this was a bad day at the office for all of our players because there isn't one player that can come away with any credit from that performance!
Dave Ganley
43
Posted 24/09/2016 at 17:12:03
Well there we go to all those who persisted in saying the result on Tuesday didn't matter, all about the league blah blah blah... well any result matters. It's called building momentum.
Tuesday was a very sloppy game and we have managed to bring that sloppiness into today. If we have any pretension about challenging the top clubs (which on this week's showing is debatable) then we have to.put the maximum effort into every game we play -- not just the ones we feel like.
We're just not good enough to pick and choose which games we can perform in and which we can coast through. It's why, apart from Stones, nobody came in for our players in the summer... the attitude is all wrong. Koeman has a hell of a job to rectify these problems.
Martinez has a lot to answer to also. I feel like we have been ridiculously assaulted by Martinez leaving his god awful slovenly legacy and us being forced to pay £10 million for the pleasure of that legacy too. And who says football is barmy!!!
George Cumiskey
44
Posted 24/09/2016 at 17:13:37
Barkley will not get by on ability alone, you have got to be brave and determined as well, all of which Ross isn't. And, as I have said before, I don't think you can teach that to someone.
Peter Murray
46
Posted 24/09/2016 at 17:14:03
Plus ça change.
Gary Mortimer
47
Posted 24/09/2016 at 17:18:29
That was just a rubbish match with very little actual quality. What stands out was that our passing was shocking and we didn't create many real chances.
They had 2 shots on target. One went in, one was deflected onto the bar. Stekelenburg had no chance with the goal again – a distinct lack of closing down going on.
As stated above Jags is the only one who "put a shift in".
Our flair players are suffering at the moment – how much did we pay for Bolasie? Talk about one-trick pony. What is it with that roll over thing – is it in his contract that he has to do it every time he got the ball? He makes McGeady look like Messi when he plays like that.
When Deulofeu came on, he was just as bad. Ross wasn't great again. Mirallas was quiet again. Lukaku just didn't get himself into the game after his headed chance.
Barry was apparently carrying an injury and it showed. Gana wasn't up to the high standard that he has set himself. The full backs both had stinkers too.
We could have sneaked a draw though Valencia putting wide from 5 yards, the one decent cross that Bolasie put in all match.
Some serious work to do – we appear to be a confidence team and that has been damaged by the Norwich defeat. Time for big Ron to earn his corn.
Simon Smith
48
Posted 24/09/2016 at 17:20:57
Come on this is our first league defeat. We will come good again. Don't get so deflated so quickly.
If we'd lost previous games and won today you would all be positive.
Bad week at the office, that's all!
Kevin Rowlands
49
Posted 24/09/2016 at 17:23:38
That was as bad if not worse than anything we witnessed under Martinez. Barry was clearly unfit and should not have played.
My expectations have sunk dramatically this past week, if Norwich can knock us out the cup and Bournemouth plays us off the park, what's going to happen when we come up against the top teams? It's a frightening thought.
Also I'm finally coming to the sad realization that Barkley is nowhere near as good as we had hoped he would be, Deulofeu is fucking crap and Lukaku, I've promised no comment on him.
A very depressing week to be a blue when you come down to earth with a huge bang and realize we're not that good.
Colin Hughes
50
Posted 24/09/2016 at 17:24:05
Back-to-back defeats now without scoring to poor opposition who we should be beating with the perennial bogie side at Goodison on Friday.
At least last season we managed to stay in both cups despite being shite in the league. The jury is still out on Koeman and his new players I have to say, where was the so-called backlash and response after that debacle at home to Norwich?
William Cartwright
51
Posted 24/09/2016 at 17:25:52
That really was a shocker! To make it worse, the pub was full of Liverpool fans and of course they were on the big screen. All I could do was watch the drivel served up by the team in Blue, while the sycophantic commentary of adulation for "the Reds" was at top volume! Some times don't you just hate being an Evertonian, but that's life....
On an objective note, I thought Jordan Ibe gave Coleman the run around in the 1st half and Everton were 2nd to every loose ball. I'm not one for hyperbole but that was the most awful match I can remember watching for years, what on earth was that all about?
Jeff Armstrong
52
Posted 24/09/2016 at 17:26:18
Got to say that Koeman has had a terrible week, "resting" players on Tuesday has, as someone has already alluded to, had a completely opposite effect than what was intended.
He should have only changed what had to be changed, Lukaku & Baines, both carrying knocks, leave the rest as is.. Hindsight, eh? Well, not really – more about experience and playing the percentage game. If we had still have lost both games, then fair enough, time for changing things around, but never in the middle of a winning streak.
Koeman has fucked up big time this week, his team selections and his shutting the door on Niasse, who he has now told the world is worth the root sum of fuck all!

George Cumiskey
53
Posted 24/09/2016 at 17:27:01
We can't come out with any hard luck stories today about missing chances bad refs or injuries. We were well beaten by a better side, it was a poor performance from the manager down. I wonder if the war chest is still available?
Gordon Crawford
54
Posted 24/09/2016 at 17:28:01
Ronald Koeman... over to you. Now we will see what type of manager you are.
Too many first team players are slackers; I would give them until January to pick up their ideas or ship them out.
Eddie Dunn
55
Posted 24/09/2016 at 17:29:02
We are still missing the creative midfielder and a back-up striker that could come on and influence the game.Not enough nous, and the squad is looking very ordinary.
Too much reliance on players who think that they have to try and beat a man instead of playing a first time ball. Space is not created and movement becomes slow and predictable. The biggest culprits are Barkley, Deulofeu, Mirallas and now Bolasie has joined in the fun.

Get Davies in the middle and we might improve.

Roll on January.
Julian Exshaw
58
Posted 24/09/2016 at 17:29:42
I have seen all of our games, albeit on TV, this season and to be honest, I felt we have been rather lucky to have accumulated as many points as we have. We were hanging on a bit against Stoke and in the Middlesbro' and Sunderland games we had two good halves.
The performance today though was poor. My main worry is not about Koeman, who like all managers needs time, but the squad itself. Having being linked with all sorts in the summer we all felt, this is it, good times are coming. In the end though we were left disappointed.
Nothing against the lad Valencia, but really? A player who couldn't get a regular start at West Ham? Koeman has to work with these players until January now. I hesitate to use the term 'dead wood' but this is what today looked like, a lot of dead wood. Hoping for better under the lights at Goodison next week.
Patrick Murphy
59
Posted 24/09/2016 at 17:32:25
Simon (#48),
I hope you are spot-on, but I seriously doubt this is a just a blip in form, it's a mind-set which has permeated the club for so long, I can't even remember when it first set in.
If Lukaku, scores from his only opportunity, the game may well have turned out differently, however, we were outfought in most of the individual battles all over the pitch, we didn't show enough of the quality play to open them up and a draw would have been the most we could expect on today's performance.
We had a little luck at Sunderland and West Brom which gleaned six points, but today we didn't do enough to earn that luck and frankly, most of the games in the last 12 months or so have been like that, particularly away from Goodison. I'd be tempted to play with no wingers, put two players up top in the hope that we can be successful more often away from home.
It's true that it's still early days in the season but the manager has a job to do, which most of us realised from day one. Thankfully at least the points won so far keeps the pressure off for a little while, but we won't be worrying any of the Premier League 'elite' based on this week's evidence.

Les Martin
60
Posted 24/09/2016 at 17:34:00
Man for man we should be light years ahead of Bournemouth, so it just shows to their... credit how well they played, but also how bad we were.
Early season wake-up call. Maybe it's a blessing as it gives Ronald plenty to work on, and we are still in the early days of his tenureship
Kieran Kinsella
61
Posted 24/09/2016 at 17:35:44
So pretty much in TW world we have two performance types: brilliant or terrible. Despite all the hyperbole on here, today wasn't that bad. The players competed pretty well chasing loose balls making tackles etc. Passing and movement was okay.
The end product was sub par but that's because we have okay wingers – not brilliant ones. Okay wingers can be good on their day but their days are intermittent. Brilliant ones are usually good. Today was an off day for Mirallas, Bolasie and Deulofeu. But realistically these guys at best only average a good performance every four or five games. Koeman is not going to change that over night.
As for Barkley he reminds me of Jodi Morris. When Chelsea were shit, he was the promising youngster. Once they got really quality players, he was shipped off to the lower leagues having never fulfilled his potential.
So anyway, my point is that today wasn't great but it wasn't terrible considering the mediocre caliber of our players.
Christy Ring
62
Posted 24/09/2016 at 17:38:50
An absolute shambles against one of the relegation favourites. Our midfield were completely overrun. If Barry was carrying a knock, why did he even start?
Hopefully McCarthy is on the bench next week as Cleverley cannot tackle. Hopefully a one-off, everyone so poor.

Kieran Kinsella
63
Posted 24/09/2016 at 17:39:34
Kevin Rowlands...
Worse than under Martinez? Get a grip!
Paul Tran
66
Posted 24/09/2016 at 17:42:09
Now, that was a reality check!
Lukaku, one chance, keeper made a good save.
Mirallas, anonymous. Again.
Barkley anonymous. He'll be promising in five years time, somewhere else.
Deufelou. Fur coat no knickers. Again.
Bolasie. A few good crosses. A worrying lack of conviction.
Barry. Not fit. Shouldn't have played. Worrying decision from Koeman.
Full backs. Poor.
Gueye. Poor. I'll take one poor game in seven from anyone.
Cleverley. Nice young man. Ineffectual footballer.
Team. Lively for 10 minutes. Created one good chance that was well saved. From then on, out-pressed, out-fought, out-passed, out-thought.
We won't know until Christmas whether this is a typical or one-off performance. We strengthened the team in the transfer window. We missed that extra good striker and genuinely creative midfielder we need.
Chatting with someone in the week, I said I'd be interested to see how we respond to the inevitable setbacks. Next Friday's going to be interesting.
Joe Foster
67
Posted 24/09/2016 at 17:43:26
Like everyone, I wanted Barkley to be a star but I don't think he has it. If he doesn't play another game for us, I would not care.
Craig Walker
68
Posted 24/09/2016 at 17:45:19
I said all last season that Ross will not be the player we want him to be. Chooses the wrong option every time.
Deulofeu is hopeless on one-v-ones and too often does the hard work then messes up when it matters.
People talking of the title need to get real. Lennon, Oviedo, Cleverley, and Kone are not good.
David Connor
69
Posted 24/09/2016 at 17:47:12
Piss-poor on Tuesday.... even worse today. Koeman knows, as well as we do, that the majority of our squad are slightly above Championship level. This is largely Martinez's squad and we won't see the real Koeman team till maybe next season, so we have to dig in till January at least.
I think 6 or 7 squad members need to be shipped out ASAP and I include Deulofeu and Mirallas in that 7. Not enough effort from the team today which was very disappointing. Well and truly back down to earth in 5 days.
Palace up this Friday. We need to vastly improve on today's half-hearted attempt at football if we are to beat a really good counter attacking team. We live in hope...
ps: I hope Koeman gave each and everyone of them today one almighty kick up the arse because that's what they deserve.
Andy Meighan
70
Posted 24/09/2016 at 17:47:14
Simon (#48) – if my auntie had balls, she'd be my uncle. And for all of those blaming the changes in midweek, Norwich made 10 and it didn't affect them today.
The truth of the matter is we lack real strength in depth. Koeman had plenty of time to assess the squad in the summer and must've known the likes of Oviedo, Barkley, Deulofeu, Lennon, Cleverley, Besic, Funes Mori, Gibson, Kone etc are just not up to it and we should have tried to ship at least 6 of them out. But no, hes persevered with Barkley, Deulofeu and to an extent Mirallas, and they've under-performed.
Why is Koeman still persisting with Barkley? Let's be fair, we would all love him to be the great he was meant to be... but it's not going to happen, is it? The lad is unaware of what's going on around him and his decision-making and passing are atrocious I've defended him to the hilt in the past but I just can't any more.
This result and performance today only proves to me why I never got carried away by the previous 5 games. Unless Koeman makes 3 major signings in January [unlikely ], then I'm afraid we ll be lucky to finish in the top 10.
Next up: Palace... 2 wins out of 2 and 7 goals in the process And a good recent record at the Old Lady. A tough game... and not one I'm looking forward to.
Andy Osborne
71
Posted 24/09/2016 at 17:48:54
Agree with pretty much everything said above, but if someone had offered me at the start of the season a 4-1-1 start with 13 points after 6 games, I would have bitten their hand off.
I think we all know that Koeman will need at least one more transfer window to put his stamp on this team. But a good start so far. I just hope the first five games, are typical of Koeman's Everton, and not this one.
Kevin Rowlands
72
Posted 24/09/2016 at 17:49:10
Kieran, we were out-played, out-thought and out muscled by a team that was just annihilated by Ma City and you tell us it wasn't that bad? If that's true I would really be frightened to see what bad is!
Ciarán McGlone
73
Posted 24/09/2016 at 17:50:38
"Today wasn't that bad."

And there we have it.
Peter Murray
74
Posted 24/09/2016 at 17:50:54
After the home defeat against Norwich this game was always going to be a test of our psychological preparation.Tactically, ability-wise we look good but what about our mental resilience? Today... zero.
This can only mean poor team morale. Why?I think Koeman is after a 2- to 3-year quick fix (Good position in the Premier League, and a possible decent performance in the Europa League) and then away. Maybe this has seeped through to some of the key players.
James Hughes
76
Posted 24/09/2016 at 17:53:10
I would rather have the dodgy game or two now than in the final few weeks when results really matter. We lost a game we played shit, that is not acceptable or palatable.
Kevin Rowlands
78
Posted 24/09/2016 at 17:57:32
Kieran, yes that performance today was as bad as anything we witnessed under Martinez; no, we weren't that bad, as you claim, we were fucking terrible!
Last season at this ground we scored 3 goals, we're easily the better team but fucked up defensively.
Nigel Gregson
79
Posted 24/09/2016 at 18:00:52
This was more out of Moyes's playbook. Totally lacklustre, lack of any inspiration or creativity, over reliance on one-trick ponies like Bolasie, whose one trick (as good as it is) was effectively blocked out. No change in formation or actual tactics, just a couple of like-for-like subs hoping something will stick.
Is this some kind of grand expectation management scheme? Comes right out of some pretty poor comments about how we can't win the league. Also is Niasse really poorer than Valencia? Gosh, he must be missing a leg or something.
Chris Williams
80
Posted 24/09/2016 at 18:01:07
It is amazing how we have gone from the best squad since the 80s to the reality that we actually lack quality and depth. Now that is a reality check. That is reality.
We bought good experienced Premier League players in the window and added some leadership qualities that were badly needed, which was an improvement too, but Merson was right in his comment that we have 12 or 13 good players and not much else.
We've got fitter and better organised and that is also an improvement. And probably we've gained points this season we may well have lost last season.
However, we still seem to start slowly and concede first goals and we have players who seem to have little appetite for a scrap. You need to contrast Ross's attitude with that of Delli Ali for example. And the decision making and sloppy loss of possession in the final third is still there, from the usual suspects.
We will probably see some performances and results like today a few times, until Koeman gets into people's heads a bit more and he drills the players in better habits.
I also hope we learned lessons from the last window and that Walsh is planning and setting up his targets for January, using the time that he didn't get the last time to deliver them efficiently and early.
It is an interesting time to be an Evertonian and I retain optimism but not blind optimism.
William Cartwright
81
Posted 24/09/2016 at 18:01:30
Keiran that is a really accurate but infuriating post. We were extremely poor today, and it brings home the reality of what is wrong with the club and the support (myself included). We think Everton are much better than they actually are. They are not, they are probably, no, certainly, a hell of a lot worse.
Our player of the season thus far is a toss up between veteran Gareth Barry and Idrissa Gueye (an under-the-radar bargain from a relegated club) who has, up to today, out-performed everyone in the squad so far by a mile! Both had poor games today, their first poor games of the season, in fairness.
But the remainder just don't seem to have any collective spirit? I don't know what it is, but the Norwich game and then this...? I think the blue tinted spectacles go back in the drawer tonight and we take a hard look at the reality.
I suppose the disappointment factor is compounded by the recent build-up of confidence, and perhaps the media were right by ignoring us as they understood we were in a completely false position.
Looking back, a struggle for the point against Spurs, in the first game of the season which really is a lottery, and Stek did save the day.
The game against West Brom was a come from behind effort. Credit for that.
The win against Stoke was not convincing.
The win against Sunderland was a 45-minute nightmare followed by a 45-minute wet dream.
The game against Middlesbrough was another come from behind effort followed by a 45 minute kick about. Noteably there was no killer instinct in the 2nd half.
The game against Norwich was embarrassing, and it wasn't even Norwich's first 11 by a long way.
Today's game was utter, utter shite. No fucking heart, passion, and no-one with the balls on the pitch to get into the face of anyone not performing. (Captain's role I think?) To be outplayed, not merely beaten, but outplayed and outfought by Bournemouth? It beggars belief. One thing I think we do miss is the in-your-face attitude of Funes Mori who wears his heart on his sleeve at time but you get the real impression he 'feels the passion' especially when we lose!
So where does that leave us? Slipping down the league with the tough games to come and only the FA Cup to think about and the mediocre caliber of our players to contemplate.
Christy Ring
83
Posted 24/09/2016 at 18:02:55
I would have kept Galloway, and let Oviedo go.
Ciarán McGlone
84
Posted 24/09/2016 at 18:03:01
I find the suggestion that any Everton fan is happy when we play shit and lose, simply so they can whinge about it... As the most shameful, risible and asinine pile of bollocks that is oft posted on this site.
Steavey Buckley
85
Posted 24/09/2016 at 18:03:45
It's a pity there is not one Everton player who can score from long range, because Everton today could not even look like scoring from close range.
Today, there was no bite and urgency from Everton as players appeared to be enjoying the autumn sun. Although not enjoyable for Everton fans who had to withstand a frustrating afternoon.
Everton are light in midfield because Barry had to play when clearly not fit. Although I was disappointed not see Tom Davies not even amongst the substitutes.
Deulofeu will never be a winger, he goes down a blind alley and returns without the ball. Barkley was better than Everton fans give him credit, when those in front of him, Bolasie, Lukaku and Mirallas, were very poor today. Yet, Valencia did not offer much when he came on.
So a bad day at the seaside for blues young and old.
Brent Stephens
86
Posted 24/09/2016 at 18:05:21
Paul (#66) – a very fair summary to slate pretty much the whole team rather than pick on one's pet hate(s). Good shout.
George Cumiskey
87
Posted 24/09/2016 at 18:06:59
Nigel, like I said earlier, a poor performance from the manager down . From team selection to the substitutions; let's hope he's big enough to learn from his mistakes.
Oliver Molloy
90
Posted 24/09/2016 at 18:07:47
Simon, I do not agree...
We should be beating the likes of Norwich and Bournemouth so it's not just a bad week at the office.
It's not Man City, Man Utd, Chelsea, Arsenal, or Klopp's crowd we have been up against.
If we are ever to move forward, we simply have to be beating these type of sides (with respect to them).

I predicted a draw today, I just didn't think we would win because I'm not convinced our points tally is truly reflective of the games we have played, and Bournemouth have been unlucky in a few games.
They wanted this more than us today, and when we meet teams like that, we are always found wanting. Why?
Well, I believe a big problem with Everton is we really have no true game changers nor leaders in the team or on the bench. In defence of the new manager, this is not his team and he can only play the players we currently have, but he will know this is a step up from his last club in terms of expectations. He didn't have any answers today or on Tuesday night.
Moshiri needs to put his hand in his pocket, and I hope he has deep pockets, for a lot of this current squad are not good enough to get us challenging for Champions League, in my opinion.
Loko Sanchez
91
Posted 24/09/2016 at 18:13:33
Should have kept his mouth shut about Niasse, huh... I guess humiliating a player in public is not good for team morale.
Damian Wilde
92
Posted 24/09/2016 at 18:15:52
Koeman has messed up big style here. We were on a winning run and he changed six players from a club that is desperate for a trophy. Subsequent loss and the momentum and confidence gone – hence defeat today.
Coleman was the worst player on the pitch. Bolasie dreadful. Deulofeu beyond bad. And Barkley should not even make the squad, he's finished (I'm just waiting for people to tell me about his potential and that he's one of us... blah, blah).
Koeman, you cocked up,; have the balls to admit it.
And our owners, where is the striker? Valencia is a joke.
Kunal Desai
93
Posted 24/09/2016 at 18:15:54
The lack of strength in depth is clear to see, even if the first 45 minutes aren't going quite right, there is nothing really of note to change a game from the bench.
I suspect that Koeman doesn't fancy half-a-dozen of these players which he views under his long terms plans, sadly he's lumbered with players who aren't prepared to give there maximum and can only realistically change things next summer. The January window will be difficult to bring in and sell players.
Rebuild that midfield around Gana with a further two quality midfielders and some creativity in there. Barry to become a squad player and Cleverley and Barkley moved on.
Paul Thompson
94
Posted 24/09/2016 at 18:15:54
'Six games in and the wheels are falling off' (#40). Last week, it was five games in and we are top 4 contenders! This is going to be an even longer season if the mood swings are this extreme.
And before anyone says 'complacency' or 'happy with the result', I'm not in any way. It was really poor, though we still created three clear cut chances to their two.
Just asking for some sense of proportion that's all. I'm sure that Koeman now knows the weaknesses and has a plan to correct them.
John Daley
95
Posted 24/09/2016 at 18:16:15
A poor performance that rounds off a bad week at the office for Koeman, but I wouldn't be reading much more into it than that at the moment. I don't think an all-round below par display today was due to some residual fall out from the Norwich match, nor do I think it indicates that, months from now, we're going to get "fucking trounched" (?) in the derby.
The one thing it does demonstrate is that the manager still has a lot of work on his hands if he's going to drag consistent results out of what largely remains Roberto Martinez's squad.
Those who believed he walked in like a more lethal John Wick, able to eliminate a shitload of problems in the blink of an eye and were already proclaiming him 'one of the best managers in the world', on the back of four wins, might be a bit taken aback, but surely everyone else must have known it wouldn't all be plain sailing and would require both time and patience?
We all witnessed how bad we were throughout most of last season, how many in this team allow their heads to drop too easily, how they can struggle to break down determined opposition who are prepared to dig in and fight.
We got off to a good start this time around, but that didn't mean the same problems weren't leftover, loitering under the surface, waiting to stick their head out at any given moment like that boggly eyed, green, trampy bastard from Sesame Street who lived in a bin.
At the moment, games and results like today, whilst hard to take, are going to be greatly instructive to a new manager still assessing the size of the task ahead. At least with Koeman you get the feeling it will all register and he will actually act on what he's seen, rather than simply letting things slide like the last guy.
George Cumiskey
96
Posted 24/09/2016 at 18:16:34
Oliver, the old "£100 mil war chest" chestnut?
Lee Gray
97
Posted 24/09/2016 at 18:17:15
Normal service resumed... another false dawn... paying the price for not doing your business early. Simple as!
Mike Allen
98
Posted 24/09/2016 at 18:17:46
First thing to remember: players don't pick themselves.
Disregard today's result but what am I missing with Barkley? The lad has been hyped beyond belief. "Big Sam" has seen through the hype and gets castigated for not picking him for England. Game after game, he jogs round for a bit, absolutely no attempt to challenge or close down... And as for Deulofeu couple of passes a season and that's your lot.
Yes, have a go at the players but the manager(s) must share the blame for picking them, these players have been out of their depth for some time but, as I say, they don't pick themselves.
Mike Allison
99
Posted 24/09/2016 at 18:20:59
No Ciaran, the constant repetitive whinging at any possible opportunity (and sometimes where there is none) that leads people to form such an impression of those fans is at least as shameful, risible and asinine.
Bad performance, shit. Let's hope it's better next time, not 'lets announce that the negative opinion we held all along is now confirmed as true after all despite the four consecutive wins'. There's your shameful, risible, asinine bollocks.
Tommy Coleman
100
Posted 24/09/2016 at 18:21:36
A continuation from the cup game. Players making bad decisions, particularly Mirallas, Bolasie, Deulofeu and Barkley. They've been listening to their own hype.
Oliver Molloy
101
Posted 24/09/2016 at 18:22:28
Yes, George, time to show us all he means what's he says, don't you think?
I'm not encouraging silly signings, just ones that will make the difference to us.
Darren Hind
102
Posted 24/09/2016 at 18:22:59
Ciaran (#84)
Is right.
You have to wonder what goes on in these people's heads.
John Keating
103
Posted 24/09/2016 at 18:29:29
Abysmal.
Nothing from front to back, nothing from those on the field and off.<;p>We are not entitled to win every game but we are entitled to expect 100% effort and commitment from players and management.
I am afraid what we got served up today was a long way short.
Kieran Kinsella
104
Posted 24/09/2016 at 18:29:50
Kevin
You act like they wiped the floor with us. It was 1-0, 53 percent possession to 47, 12 shots to 13, 5 corners to 3. Not much in it. Also, what relevance is there to Man City? We are not close to their level so it's a meaningless comparison.
Patrick Murphy
105
Posted 24/09/2016 at 18:30:50
"It wasn't that bad!" seems the guys at Echo don't agree!
George Cumiskey
106
Posted 24/09/2016 at 18:30:59
Oliver, yep, deffo put your money where your mouth is. And there's a hell of a lot players we have to move on, if they will leave their nice fat contracts; I know I wouldn't...
John Keating
107
Posted 24/09/2016 at 18:33:42
Sorry, Kieran, the stats do not reflect the actual game. They did wipe the floor with us. They were quicker, fitter, more organised and very unlucky not to score a shed load more than the one!
Martinez used stats to try and justify results – don't go down that route.
Kieran Kinsella
108
Posted 24/09/2016 at 18:34:01
Patrick
Cause the Echo is always accurate?
Darren Hind
109
Posted 24/09/2016 at 18:35:29
Not always, Kieran
They were exceptionally generous with Lukaku and Cleverly.
Patrick Murphy
110
Posted 24/09/2016 at 18:37:50
Kieran (108) Probably not, however, they are not known for knee-jerk reactions and have more of a vested financial interest in keeping on the good side of the club than most of us on here, so I'll take their views along with the evidence of my own eyes as being pretty accurate.
Kieran Kinsella
111
Posted 24/09/2016 at 18:37:53
I don't know what game you saw but I saw a fairly dull game between two mediocre teams that was frustrating to watch but not a one sided affair. It was just a bog average Premier League game between two teams who aren't brilliant.
Jim Hardin
112
Posted 24/09/2016 at 18:38:22
Calm down folks,
Changing the manager wasn't going to miraculously make the team world beaters. However, letting the manager change the team will. Give him time to transform the payers he has to his system and expectations and to replace the ones he cannot use.
Give him time to correct the weaknesses we have after three years of a poor system. Closing down players, high pressing, helping back on defense, defending, passing and creating. These are the things he must change, and if he is the manager that many seem to think, he will change. It just won't happen overnight or likely for half a season or more.
Of course, I could just start chanting for Koeman to drop Ross as he is our Rooney and look what that change did for Man Utd today!
George Cumiskey
113
Posted 24/09/2016 at 18:38:57
Cleverly 7 from the Echo – what match were they at?
Oliver Molloy
114
Posted 24/09/2016 at 18:42:03
Koeman reckons we need to start games like we play in the second half.
He also reckons that Bournemouth are a REALLY good team who will not fight relegation. I'd say he's wrong on both counts.
George Cumiskey
116
Posted 24/09/2016 at 18:45:47
Oliver, why can't managers just admit they made a mistake in team selection and substitutions? We would all think better of them for it.
Kieran Kinsella
117
Posted 24/09/2016 at 18:49:07
George,
What line-up or subs would have made a difference?
Kevin Rowlands
118
Posted 24/09/2016 at 18:49:55
Kieran, what... you count the corners, like that fucking means anything? They were easily the better side and put far more effort into the game than we did.
The Man City reference is because we play them the game after next, that prospect worries me because they hammered an average side that beat us easily today.
I know you think we weren't that bad; I disagree. After the Norwich game, we should have had a positive reaction and at least seen them giving 100% effort – that didn't happen.
Paul Smith
119
Posted 24/09/2016 at 18:52:06
I was at the game and could not believe how lazy Bolasie is. He gives the impression that he does not give a fuck about chasing back... 㿅 million? God help us.
Ross tried, he never gave up, and out of camera shot you can see that he really loves playing for Everton, unlike Bolasie.
All-in-all, we had no midfield, it kept going out wide and the crosses either hit the first man or there was no-one in the box, Deulofeu, Mirallas, Coleman all shocking, struggling to find any positives today.
Kieran Kinsella
120
Posted 24/09/2016 at 18:52:50
Kevin, all I'm saying is that our frustration is amplified by unrealistic expectations. Am I happy with the game? Of course not... but it wasn't that surprising to me and I have seen worse.
Dave Williams
121
Posted 24/09/2016 at 18:52:53
Very disappointing after such a good start.
This is not the start of a decline again one would hope but, looking at the players, I agree with Tony (#34) that we need some young promising players on the bench at least. We play too many flair players who are inconsistent. Mirralas, Ross, Geri, Bolasie, Rom are all cast in that mould and it leaves us undermanned when faced with a team playing at high tempo – a worry with the RS looming in a few weeks!
Our bench is currently staffed with players who are not good enough. Cleverly, Lennon, Kone, Valencia, Gibson,Oviedo- all are as good as they are going to get and will not turn a game. Ok Ron sees the lads in training but surely Tom Davies, Dowell, Walsh could be given game time to see how they do- Tom certainly has looked ready when given a chance and surely it is better to give the lads a go rather than play Lennon, Cleverly etc who are not going to change the game when they come on.
Our blend in midfield is not right and Gueye for McCarthy is not enough to rectify it. Kev for me flatters to deceive, Geri seems unable to kick the ball cleanly and we are playing too many individuals who on their day are great to watch but are too likely to be harried by the opposition and will then disappear.
No crisis at this stage but Ron will have learned more about his squad this week than in the 10 weeks or so that he has been in post.
Time for him to show what he can really do!
George Cumiskey
122
Posted 24/09/2016 at 18:55:55
Kieran, he started with Barkley – mistake; he kept him on – mistake; and he brought on Cleverly – who has never influenced a match in his career.
Tom Bowers
123
Posted 24/09/2016 at 19:05:02
Big K lookin' more like KFC this week. This was unbelievable after Bournemouth had a hard game against Preston and lost during the week.
Why were the Blues so poor from the off? Maybe Koeman has about as much charisma as Martinez? These are questions we need answering.
After the Boro game, we could be forgiven for thinking the corner was being turned. How wrong we were. Most of us will turn back to opinions about certain players and the manager's decisions but he has to act now and make changes. Barkley and Mirallas are just doing anything of note so move them to the bench!
Is it no surprise that the result at Bournemouth last season proved things were not right and didn't the same player (Stanislas) do them in? This is the time for Koeman to prove he has what it takes.
Kieran Kinsella
124
Posted 24/09/2016 at 19:05:50
George
So who should've started instead of Barkley or come on for the unfit Barry? I get they were shit but what other options did we have that weren't used? Kone? Lennon? Davies who's is very young and has some good and some terrible performances?
Kevin Rowlands
125
Posted 24/09/2016 at 19:05:51
Kieran, I haven't seen one post by anyone on this thread regarding unrealistic expectations. I believe most of us are realistic and know it will take time and patience, but saying that, you were the one that started the debate stating that we weren't that bad.
Most Evertonians expect 100% effort every time a blue shirt is put on, even in a losing effort – in that department today, we were very, very bad.
John Daley
126
Posted 24/09/2016 at 19:06:32
"a worry with the RS looming in a few weeks!"
As you're the second to mention them, am I missing something? I thought the derby wasn't until mid December?
Ciarán McGlone
127
Posted 24/09/2016 at 19:07:37
Mike,
As you appear to be a fan of empiricism Show me one shred of evidence (just one) that Evertonians are happy when we get beat in the terms you set out above.
Perhaps you'd be better served offering your opinion on the manner of the defeat, as you so graciously and eventually did - rather than throwing around half baked nonsense.
Kieran Kinsella
128
Posted 24/09/2016 at 19:10:18
Kevin
I'd say the 100 percent is unrealistic as, even when a team does well, there are typically one or two coasters.
Patrick Murphy
129
Posted 24/09/2016 at 19:11:19
John (126) Some Evertonians – only a few mind – measure the success or failure of Everton FC, by how it performs in the 'derby' game and I get the impression from a very small proportion of the fan-base that they would happily see a victory against the old enemy, regardless of how we get on against the rest of the Premier League.
This started somewhere in the middle of the 1990s and it's one of the reasons we have become known as a little club in some quarters.
Oliver Molloy
130
Posted 24/09/2016 at 19:13:11
Paul @ 119,
Wasn't there a strong rumour in football circles that Bolassie was bought not only for his football but also because he is big buddies with Lukaku??
Ian Riley
131
Posted 24/09/2016 at 19:14:12
Koeman has hit the nail on the head. Start the games with more energy and purpose. Too many players having a bad day. Reality check needed? No. You don't play well, you deserve nothing.
George Cumiskey
132
Posted 24/09/2016 at 19:15:02
Kieran, I don't know about Barry, but as for Ross, anybody who has a bit of fighting spirit or heart about them.
Oliver Molloy
133
Posted 24/09/2016 at 19:17:41
Ian, so the buck stops with Koeman?
George Cumiskey
134
Posted 24/09/2016 at 19:26:35
Ciaran, what the hell does 'empiricism' mean? Am I an ignoramus?
Nigel Gregson
135
Posted 24/09/2016 at 19:30:14
Kieren: Unrealistic expectations? This is Bornemouth we are talking about here. We had NEVER lost to them before this. Yes even under the last fella.
Dont believe me? Check this out: link
Is it so unrealistic to expect to win against these or at least come away with a draw? I hate these inter-era comparisons, but since others are already doing it, so let's see: we scored 3 times in that game last year and we showed fight even in extra time, and that team didn't have Gana, Bolasie, Stekelenburg or Williams (here's the report: link).
Today, we looked like we couldn't score even if we played for 3 hours. Man for man, our second string should be expected to beat these. Yet, they out-ran, out-fought and out-passed us. Their manager had his tactics right on the money. I really hope that I'm over-reacting and that this is a one-off.
Kevin Rowlands
136
Posted 24/09/2016 at 19:35:25
On another note, Deulofeu is really piss poor, isn't he, all hype and very little substance. I really hope Steve Walsh is earning his corn, we really need fresh faces in January. The fact that you have to play an injured 36-year-old because your options are so limited says it all.
Dave Williams
137
Posted 24/09/2016 at 19:35:38
John (#126) – okay, more than just a few weeks but the prospect of playing them (and others) with what I see as an unbalanced midfield stocked with flair players worries me.
Patrick (#129) I would gladly lose twice to them and finish Top 4. Our progress overall and performances week-in and week-out are more important than how we play against the RS but does the thought of another humiliation by them bother me? Yes, it does. Hopefully Ronald will sort us out a bit before we come up against them and the other "big teams".
I am sure he will have learned more about our players today and it is not possible to turn us around in the space of a couple of months – it will take a couple of years in my view to see signs of permanent change for the better.
Jack Convery
138
Posted 24/09/2016 at 19:38:23
If it's not a one-off we are well and truly screwed. This whole week has had a bad smell about it. We didn't play well v Norwich and Koeman's post match views were at odds with what went on in that match, Then his pre-match press conference for this game he appeared to me to be in a bit of a strop and was quite curt with some of the press.
Then today's performance with just Oviedo as the only change stunk the place out. His subs in both games made no difference at all which is a far cry from WBA and Sunderalnd, when his management and tactics turned both games.
Something is not right once more at Goodison. Is it ever thus? Thats twice in a row the players have appeared not to give a jot for the shirt / fans or their manager. Very worrying in my opinion. Just read Koeman got annoyed in his post match interview. Is he waking up to what its really like to be involved with EFC – bloody frustrating.
Dave Lynch
139
Posted 24/09/2016 at 19:38:48
Koeman has nothing to prove.
Not as a player or a manager, he has won trophies at the highest level of both.
The board have to prove they will back him and if they do the results will follow.
Anyone who thought we where top 4,5... where kidding themselves, a bit like those who think Barkley will be a "great" player.
Stabilise this season, and next season, the results should follow.
Gordon Roberts
140
Posted 24/09/2016 at 19:41:49
Stay calm, fellow Evertonians, the Ron project will take two years.
On the suggestion that we didn't see enough incoming transfers this summer, it's unrealistic in my opinion to introduce more than 4 or 5 players into a squad in a single transfer window.
The January window is notoriously difficult in attracting quality and value for money and I'm hoping that Walsh and his scouting team are actively planning for next summer's transfer activity.
In the meantime, we do have James McCarthy to come back soon; let's hope that talk of his demise by some posters on here was premature.
Patrick Murphy
141
Posted 24/09/2016 at 19:43:25
Fair enough, Dave (#137) but games like today's fixture are those we have to do well in if we are to have any chance of achieving European football via the league placings, if we win at the likes of Bournemouth and lose to the 'elite' clubs it doesn't hurt us so much; lose and play like we did today, and facing any Premier League team becomes fraught with concerns.
Dave (#139), The most worrying thing I saw today at the 'Vitality' stadium was when the cameras showed Mr Kenwright and Mr Esltone in the directors box in deep conversation, a new dawn indeed?
Kieran Kinsella
142
Posted 24/09/2016 at 19:45:48
Nigel
"We'd never lost to them" – wow, what a stat... considering we've almost always been top flight while they've been a second- or third-tier team. We don't have a divine right to beat a team just because we have in the past.
Clive Rogers
143
Posted 24/09/2016 at 19:46:42
Mirallas has had three stinkers in a row.
Dave Williams
144
Posted 24/09/2016 at 19:48:11
Couldn't agree more with that Patrick. Realistic aim this season has to be top 7 with fingers crossed we make Europe and as you say if we don't do so well against the top 5 or 6 but beat most of the others we won't be far away. Today should have been a win in anyone's expectations so doubly disappointing that we lose and play poorly.
Kieran Kinsella
145
Posted 24/09/2016 at 19:49:22
George,
That's my point, though; you're saying he got the team wrong but have no explanation for how he could have got it right other than saying "someone with heart." So, on that basis, if we'd played you, we'd have been better?
Heart's great... but you could put out a team of pensioners with lots of love for Everton and they'd be shit.
Amit Vithlani
146
Posted 24/09/2016 at 19:54:29
My... that was shite. And the shiteness permeated so much of the team. And that is the problem. If Barkley, Deulofeu & Mirallas are benched, and Barry given a week off to recover, we will probably have to change formation in our next game. That is a risk in itself.
It is galling that Martinez spunked £20m on Kone and Niasse and neither is of any use in this situation.
I would like to see Koeman blood some youngsters. Give Davies and Dowell a run in the team in place of Barry (if injured) and Barkley.
Mike Dolan
147
Posted 24/09/2016 at 19:55:17
My take on this game is that we played horribly in the first half but still had enough chances to at least tie the game. It's not like our defense crumbled or anything.
We didn't take any of our chances they scored a beauty. Barry should not have played and Baines was injured; distribution from defense suffered.
I was expecting to go the whole season without losing but there were no white flags today and we played right to the end at least and this against a tightly packed defense. As long as we compete in every game, we'll win a lot more than we lose, that's all we can ask for just now.
Oliver Molloy
148
Posted 24/09/2016 at 20:00:45
Koeman has started his Everton Premier League career with exactly the same results as when he took control at Southampton: 4 wins, 1 draw, 1 defeat – and Southampton finished 7th.
Dave Lynch @139
Koeman has nothing to prove – maybe not to you, but for me he has everything to prove with Everton and I hope he does.

Nigel Gregson
149
Posted 24/09/2016 at 20:01:28
Kieran, no we don't have a divine right to anything, including a spot in the Premier League. But all things being equal to last year, we should expect to beat a team that was placed 5 spots below us.
And all things aren't equal, we've spent a lot of money and got a new manager to improve on last year.
Paul Hewitt
150
Posted 24/09/2016 at 20:02:54
That's 1 league defeat in 6. Not bad I would say.
Sam Hoare
151
Posted 24/09/2016 at 20:14:21
We aren't close to top 4. Sadly the likes of Man City, Man Utd, Arsenal and even 'them' simply have better teams.
6th-7th would be reasonable progress on last season and a good platform to build on.
If we play like we did today then we will be heading for 12th-15th so it's up to Koeman to work out where it went wrong and fix it.
John Malone
152
Posted 24/09/2016 at 20:18:04
I'm not going to beat around the bush because there is no point!
Barkley is shite and if he wasn't a blue who came up through the ranks he would've been out the team a long time ago!
Bolasie is a bigger faster McGeady! Unpredictable inconsistent show pony! Shite!
Deulofeu is an impact sub who struggles to make an impact!
The sooner the transfer window opens and we can sign some proven attacking quality in the same vein as we have done with Williams and Gueye in the defensive mould, the better!
I reckon it's going to be really difficult period between now and Christmas and Koeman really needs to work hard on and to find the right style of play to win games!!
Gordon Roberts
155
Posted 24/09/2016 at 20:36:01
What do people think of Koeman's approach in being critical of his team in public. Is it an attempt to be the polar opposite of Martinez or are these his methods/traits? Successful managers over the years (Ferguson and Wenger) rarely criticised their teams in this way.
Stan Schofield
156
Posted 24/09/2016 at 20:37:52
Sam @151: Yes, but, if we're comparing with those teams, 'they' were shite in the 2-0 defeat to Burnley, and Arsenal were shite against 'them'. Man Utd lost 3 games last week, but won the last two.
There's only Man City who look outstanding; the rest, including us, seem to be on a par from what I can see so far.
Oliver Molloy
157
Posted 24/09/2016 at 20:40:32
"I was not surprised by Bournemouth – I know they can be strong and we knew the way they play. It's always about preparing yourself in football and they started much better than we did. That was disappointing after 45 minutes."
This sounds a bit stupid in my opinion – welcome to Everton, Koeman.
Raymond Fox
158
Posted 24/09/2016 at 20:43:18
How much evidence do we need that our squad is not good enough or strong enough! You can have whoever you want as manager but ,if most of your players don't have sufficient quality, you will fail.
Goalkeepers. Okay but not top class.
Full-backs. Coleman one of our better players. Baines not the player he was.
Centre-backs. All decent and reliable enough.
Midfield. Gueye was a good buy. Barry, decent on his day but will need replacing soon. Bolasie, the jury's out. The rest are average and that includes Barkley. Creative player a priority.
Forwards. Lukaku our best player but blows hot and cold. The rest are not good enough.
As a squad, we are not a top 6 side, we have allegedly money to spend but our trouble is getting the real top players to come here. How you overcome that difficulty, I don't know.
Patrick Murphy
159
Posted 24/09/2016 at 20:44:50
Stan (156) According to someone on here earlier this week they may have lost at Burnley but they had 20 odd shots on target; that sometimes happens.
What happened today and on Tuesday isn't what's expected from any Everton team, in transition or not. Not the results per se, but the abject performances.
Looking at the table after six games last season, this season, the teams in the top six have more points, so that means it will in all probability take a lot of victories to be in that position at the end of the season. Too many games like today's will result in another wasted season, although there may be a larger gap between the top ten and the bottom ten at the end of the campaign.
Paul Hewitt
160
Posted 24/09/2016 at 20:46:21
All teams will lose games they supposedly shouldn't. Come on, it's one game. Lets get a grip, lads.
Clive Lewis
161
Posted 24/09/2016 at 20:47:42
We were terrible, Bournemouth oufought us. Never gave us a moment to settle. Though the ref was poor, seem to allow them a lot of the play. They played like their lives depended on it.
Bolasie, Oveido, Mirallas, Deulofeu, Valencia all not good enough at this level. Never consistent and just don't do enough. Ross has talent but his decision-making on the ball is too precise.
Koeman – interesting that he criticised the players when two of the worst performers were down to his purchases.
Where is Davies, truly baffling.

Matthew Clarke
162
Posted 24/09/2016 at 20:47:49
This is my first post to Toffee Web, avid reader so please be gentle.
Like many Toffee's this afternoon I feel the disappointment of a poor 1-0 defeat to a team we all believe we should be beating and, judging by many pre-match posts, be beating handsomely but nothing is a gimme in this league as today proved.
I do feel that we are still a team very much in transition in playing style. Now this is where a few eyebrows will be raised and I've checked my life insurance and believe that I'm covered for what I'm about to say. I'm going to use that lot based at Castle Grey Skull across the park as the example.
Before Klopp arrived, they played the same style of football under Brenda (with the amazingly white teeth and orange tan), they passed it aimlessly around for no apparent gain. Klopp arrives and introduces the high pressing style and initially their results were mixed, performances from key players variable as they adapted, Europa League Final as the perfect example but, grudgingly over time they have improved.
We at Everton are on a similar journey, our results are going to be mixed, inconsistent and frustratingly so... but the early signs (apart from today) are promising. Last week we were over the moon and Europe bound, I believe we still are.
I think what I'm trying to say is, it takes time and a little patience from us the supporters as we adjust to the new demands. Rome wasn't built in day and neither will the new Everton. Koeman eluded to the fact that it will take two season's to mold the team he wants.
This coming transfer window is imperative that we get our act together and Steve Walsh starts to earn his corn but, at the same time not to the detriment of the youth that are coming through. Buy wisely and use the likes of Mason Holgate and Tom Davies who appears to be the nearest to the first team squad out of those who started against Norwich last May, to me this will be the true test of Koeman's coaching credentials.
With regards to the enigma that is Ross Barkley, I do believe that there is still a player there but now would be a good time to remove him from the firing line. I read the excellent Here We Go by Simon Hart and in it was a piece about how when Dave Watson first came, Waggy was out for a little bit and the advice given to him when sat in the stands was to watch how Everton defended and used the zonal system to pass players over when the opposition was on the attack.
I also read a piece on Idrissa Gana when he was starting out at Lille, he started out as No 10 but didn't quite cut it and studied Matar on how to play the central role and it seems to have worked for him. So maybe a similar approach is needed for Ross and some intensive coaching from Koeman at Finch Farm to unscramble the Bobby Brown Shoes philosophy and rebuild confidence and purpose in his play.
I also feel that this should be the chance to play Cleverley in the No 10 position, it's what is meant to be his preferred role so let's see how he goes, if he's as average, as we all suspect, then it's time to ship him out.
One last final thought, at least the muppets on the Sunday Supplement won't be touting Koeman for the Arsenal job this weekend!

Sam Hoare
163
Posted 24/09/2016 at 20:54:51
Stan 156, I'm basing the comparison on players rather than results. Perhaps we could do a Leicester but we do not have squads to compare to those teams.
Stan Schofield
164
Posted 24/09/2016 at 21:00:52
Patrick @159: OK, I can see that. But I had another look at the reports of the Burnley game, and Liverpool were shite, never looked liked winning, and abject in defence. Arsenal supporters were up in arms after the game against Liverpool. And Man Utd have been very inconsistent, despite the cash they've splashed. Chelsea have also been inconsistent, very bad against Liverpool.
I just watched Koeman's post-match interview, and he said we didn't press enough, but Bournemouth did. He's always been emphasising the need to press, and we have been doing, and doing it well. Apart from this week.
All I'm saying is, it's early days, we've got 13 points from 6 games, way better than many thought we'd have before the season started, and we don't look much different from the others, apart from Man City, who look fantastic.
Stan Schofield
165
Posted 24/09/2016 at 21:05:42
Sam @163: Yes, we don't have a big strong squad I agree. Unlikely to win the league. But since you mention Leicester, they also didn't have a strong squad, and were always in fear of injuries. Turned out they didn't have many injuries, lucky for them, or good physio, or whatever.
Patrick Murphy
166
Posted 24/09/2016 at 21:06:39
Stan (#164) What can I say, I had no idea how the other lot played and if truth be told I don't have an interest, but just shows that there are people who visit this site who deliberately misinform us when it comes to matters of our neighbours – that I find very interesting.
Neil Sagar
167
Posted 24/09/2016 at 21:08:27
A pressing masterclass from Bournemouth that this team is incapable of dealing with and more concerning being able to match.
It completely nullified us and other teams will take note. Koeman needs to find a way to counter it and pronto!
Ciarán McGlone
168
Posted 24/09/2016 at 21:14:47
Patrick,
Just to keep you up to date.. our neighbours are playing fantastic football.
Their first half against chelsea was the best football I've seen from any team this season... City included.
Galling.
"We don't care what the red shite say"... Yer aul bollocks.
Patrick Murphy
169
Posted 24/09/2016 at 21:18:06
Thanks for that Ciaràn, you wouldn't happen to have a DVD of it I could borrow?
Stan Schofield
170
Posted 24/09/2016 at 21:18:09
Patrick @166: I've been looking more closely at Liverpool since Klopp took over, just out of interest because I was impressed with Klopp's reign at Dortmund. He's not found it easy at Liverpool, things still settling down, and he's really done his nut about some of Liverpool's performances. He's getting there, but it's taking time to get them into his style.
Koeman is very similar to Klopp, without all the dramatics of course. Koeman no doubt has to deal with politics at Everton, but same for Klopp at Liverpool. It's the same for every club. As I say, it's only Man City who look really outstanding so far.
Patrick Murphy
171
Posted 24/09/2016 at 21:20:51
Yet again, thanks for that Stan! Agreed that City are looking likely Champions however, the same could be said at this stage last season, so hopefully LFC won't do an LCFC, but I'll be out there celebrating with them, if they do!
Peter Cummings
172
Posted 24/09/2016 at 21:28:02
Yet again our fantastic away support have been grossly insulted by having to watch another chapter of 'the garbage gang' with more episodes to come, onward and down to our real level.
Ciarán McGlone
173
Posted 24/09/2016 at 21:29:18
Sorry Patrick..
The only DVD I have is 'off to a flyer'
Patrick Carty
174
Posted 24/09/2016 at 21:33:32
Back down to reality I suppose.
Tom Davies must be given a run in the team at the expense of Ross Barkley who was shocking.
How can a professional footballer not be able to head a football?
Kevin Rowlands
175
Posted 24/09/2016 at 21:36:36
Not sure why the RS are in the conversation on this thread but anyway back to Everton, McGeady is/was better than Deulofeu, at least he only gave the ball away some of the time not most of the time and as for Geri's pathetic attempts at making a tackle? The lad needs to be moved on, show pony at best.
Don Alexander
176
Posted 24/09/2016 at 21:54:58
Today sadly exemplified what Koeman has inherited off Martinez.
He's said it'll take him two full seasons to get a squad and style he calls his own but, unlike his naff predecessor, he's won leagues and cups as manager.
Our start to the season perfectly reflects what he achieved in his first six league games at Southampton and they finished 7th that season, qualifying for the Europa League, despite the departure before he got there of several of the club's best players.
We've held on to our best players, who unlike Southampton's, never seemed to interest those clubs with Champions League aspirations, but in all probability some of even their days are numbered unless they get with what he requires, and soon.
I see departures from the dressing room way before Mr Moshiri abandons the manager he pulled his tripe out to get.
Maybe they all think there's better pay and prospects elsewhere for only the same or less effort. Or maybe they need to correct the obvious shortcomings all too apparent today by working harder at Finch Farm. It's the least they can do as professionals but when they've given their all it may just be that some of them are found out to be lacking in terms of what the new owner requires.
The question for all of them is do they have the courage or care to even try?
Colin Malone
177
Posted 24/09/2016 at 22:01:53
We have a great defence under Koeman. Problem: we cannot defend from the front.
Barkley = crap. Bolasie = crap. Mirallas = crap. Lukaku = crap. As Koeman says, no aggression up top. Even doing their own jobs = crap.
Answer? Draught non-contracted players till January. Example: Klose and quick-feet Ossie instead of Rom and Ross.

Stan Schofield
178
Posted 24/09/2016 at 22:03:54
Don @176: I agree, there will no doubt be departures. Koeman has already said he wants to bring more in. Apart from this week though, I thought we had been looking better as a team, better work ethic, more supporting each other, more solid in defence and midfield. This week has been rubbish, but that doesn't stop the progress continuing in the way it has.
Kevin @175: The RS came into the conversation because one or two posts thought that we weren't doing as well as the likes of them, Man Utd, Arsenal, etc., so the discussion was to put this into context. Not because we love the RS!
Kevin Rowlands
179
Posted 24/09/2016 at 22:11:42
Okay, Stan, never read all the posts. I suppose a plus point out of all the negative of the last week, including myself btw because I thought we were awful today, is that we're on the same amount of points as them and they're going to win the league, apparently. Need to improve on today though.
Damian Wilde
180
Posted 24/09/2016 at 22:26:35
Dave Lynch (#139),
"Koeman has nothing to prove. Not as a player or a manager, he has won trophies at the highest level of both."
What has he won at Everton, Dave? Nothing. He made sure that will probably stay the same with his stupid line-up on Tuesday.
He has EVERYTHING to prove.
Stan Schofield
181
Posted 24/09/2016 at 22:28:20
Kevin, you mean Liverpool?! Man City maybe. Liverpool's attack looks good, but they're still very shaky in defence, a problem Klopp hasn't managed to sort since they sacked Rodgers. I don't really want to talk about them, but some of the posts are comparing us to them. The grass is greener, etc.
Bill Gienapp
182
Posted 24/09/2016 at 22:32:05
Oh boy, here we go... people got far too worked up when we won four in a row and now they're getting far too worked up over a bad week. I find English pessimism as charming as the next guy, but many of these posts represent "prisoner of the moment" sports hysteria at its worst.
I predicted at the start of the season we'd finish 8th and have seen little either way to make me budge from that stance. Aside from the presumptive top six (Man City, Man Utd, Arsenal, Chelsea, Liverpool and Tottenham) – and keeping Leicester penciled in at 7th even though they've been pretty lousy – please name a single other club that appears poised to outperform us over a 38-match season.
And before anyone comments, no – I'm not content with finishing 8th. But I do think that would represent a realistic show of improvement after the past two seasons, and a validation of the club's direction under the new regime. So can we all please get a grip?
Meanwhile, a lot of this so-called squad analysis leaves a lot to be desired. You realize that if you demand Barkley and Mirallas be dropped, while literally slagging every realistic alternative in the same breath, you're not actually arguing for anything, you're just blowing a lot of useless hot air, right? And Bolasie has done nothing but impress since his arrival – one subpar performance and he's suddenly McGeady 2.0? Christ, put a cork in it. I'm honestly embarrassed to read some of this stuff.
Raymond Fox
183
Posted 24/09/2016 at 22:35:23
Don, one day you will make a post without mentioning Martinez....
Who, by the way, without Gueye, Williams, Bolasie and Stekelenburg, got a draw in the corresponding fixture – plus got to the semi of the League Cup we've also exited!
Stan Schofield
184
Posted 24/09/2016 at 22:38:01
Bill @182: Spot on. I just read another thread on TW, 'What we need to do', and judging from that we could all be doomed.
Kevin Rowlands
185
Posted 24/09/2016 at 22:44:46
Bill, your post is embarrassing. It's a forum where fans posts their opinions; doesn't mean they're right or wrong – it's an opinion, that's all. All Everton fans are entitled to that, right?
Why do you think you have all the answers and your predictions and analysis are spot on?
Paul Setter
186
Posted 24/09/2016 at 22:47:08
Junk. I was hoping these pathetic performances that have regularly haunted us for years – especially the last 2½ years – were behind us. I can take defeats if we lost to the better side but losing without busting a nut grinds my gears.
Barkley needs dropping; he offers absolutely nothing – just a younger more overrated version of Cleverley...
I'm a big fan of Mirallas but I'm struggling to defend him on recent performances. Sort it out.,
Stan Schofield
187
Posted 24/09/2016 at 22:52:53
Kevin @185: You're right about TW being a forum where fans post their opinions. That's what Bill did, he posted his opinion. It just happened to be an opinion about other opinions. Can't see why it's embarrassing.
Mark Wilson
188
Posted 24/09/2016 at 22:58:41
Kieran (#117), much of the dire performance at Bournemouth comes down to your short, well-made point. Just what difference was there from the bench?
On Tuesday, the lack of quality beyond the best 12 or 13 was cruelly exposed. Other than the big loss of a resurgent Baines, that was pretty much our strongest team. Wasn't it?
I think all managers need time, but the reality is that Martinez being granted 18 months too much of it leaves Koeman under pressure even in Year 1. He's one of the highest paid managers in Europe. Being "new" shouldn't protect him from reasonable criticism.
I think he's had a really disappointing week but he's just finding out how much of a mess the club made of the last few days of that transfer window. It is beyond my understanding that on Tuesday's match discussion thread someone seriously described the window as "fantastic". Really? Bizarre is all I can say... just bizarre.
Tony Dove
189
Posted 24/09/2016 at 23:03:46
The wheels haven't come off but we have had a puncture and need to get back to the pits asap. What we do when we get there, I'm not sure... but I do think Davies needs to start and that Bolasie could be a 㿈 million disaster.
Don Alexander
190
Posted 24/09/2016 at 23:17:55
Raymond at 183, I just believe the habits Martinez allowed to fester will take a good old while to be eradicated, he having pissed me off to some tune. Several of his signings will surely know they'll never be better off than they are now but, as pros, I expect them to knuckle down and work their bollocks off for the glory of our club and our entertainment as fans.
That draw away at Bournemouth was shite and failing in the semi's of any cup is not something I look back on fondly. If it turns out after three years that Koeman has done no better, I'll be saying so – unless I get red carded.
Mike Oates
191
Posted 24/09/2016 at 23:18:39
We have too many players who if they start well, gain confidence and grow into the game and make an effect – but can also be bloody awful if things go wrong early on. The culprits are Barkley, Lukaku, Mirallias, Bolasie, Deulofeu and to some extent Coleman. The lot above had shockers today and with Barry also clearly not match fit, the midfield were totally non-existent. It was far too much for Gana to cope with.
Williams and Oviedo looked as though they'd only just met, the number of times Callum Wilson drove into the channel or gulf between them and caused them so many problems.
I fear for Barkley as he moves flits from dynamic, effective to absolute dross; there is no middle ground. The bottom line is you can't have a Premier League future if you keep giving the ball away, particularly close to your own box. He can't tackle, he can't defensively position himself, he just doesn't give cover, and most glaringly takes too long to move the ball. Koeman has to take him off the frontline for his own sake as we are only a game away from the crowd destroying him completely.
The problem Koeman has is that there is little in reserve: Gibson, Besic are never available, Cleverley can't change a game, and I don't think Davies, Dowell, Walsh etc are ready.
Tough few weeks ahead as the team will either pick up and stabilise themselves as a 7-10th team or will implode and drop even further. God help us when we play Man City, Liverpool, and Arsenal, they are years ahead of us.
Colin Hughes
192
Posted 24/09/2016 at 23:28:40
Watching Palace on MotD now with the way they counter with numbers and pace... I can only see more woe coming our way next week; they have always had a habit of winning up here, even before the Martinez disaster seasons.
Jack Convery
193
Posted 24/09/2016 at 23:37:35
I do hope we are not being taken for mugs yet again. I cannot get my head around what EFC have been up to this week but, whatever is going on, it's not good.
Too many players did things today that were not in their make up or so I thought. Williams got out muscled early on – not what you would expect. Gueye gave the ball away more times than he has all season – something I never thought he could do. Coleman took a roasting off Ibe who has been substituted by Howe for being ineffective.
Other players did what they usually do more often then not. Mirallas went missing. Bolasie arsed around to much. Barkley was naff Barkley, not good Barkley. I could go on but to end my view, the EFC I have seen today and last Tuesday was like chalk and cheese to whats gone before this season. WHY???
Dave Older
194
Posted 24/09/2016 at 23:38:17
No 1, why are we talking about the red shite on TW??? Seriously?? Do any of us give a toss how good or how bad they are????
No 2, yes we were shit today, so shit in fact that I can't bring myself to watch the "highlights" on MotD. However, let's just remember we are still 5th in the league and before today's dross filled pile of horse crap not anybody on here was complaining about our team or our squad.
I don't believe the team has become rubbish in one week. I think today, for some reason, nobody was up for it. Why, I have no idea, but I know Koeman won't put up with it for long.
Let's not hit the panic button just yet after one league defeat. If we play as shit again against Palace then maybe we have cause for concern. Personally, I reckon Koeman will fire them up and Palace will be crushed by the mighty Blues. NSNO!!
Ernie Baywood
195
Posted 24/09/2016 at 23:42:38
For all the high standards and hard-line approach of Koeman he showed something different there. I've not been as wound up by an individual performance since Fellaini walked away from a contest with his hands in the air. Moyes dragged him that day but Bolasie was somehow allowed to remain on the pitch.
Today he played for himself. Trying out his football freestyling instead of playing for the team. Rolling the ball under his foot or trying drag-backs instead of playing the way he was facing.
Kieran, I think the balance of chances says we were slightly unfortunate today, but we were still awful. Passing and movement was non-existent. Two wingers relaxing in Row A isn't what this formation should be about – and every time we got the ball there was no-one in a position to receive a pass.
Mind you, I've played in games were your mates won't pay the simple, early pass. Subconsciously it affects your movement. You stop making the opportunities that they keep passing up on. It felt like that today. They just stopped bothering.
As a result, no-one played well. There was no team within which someone could play well. Even Gueye struggled to get in the game without giving away free kicks (he was lucky to stay on as Bournemouth finally didn't dive and roll when he committed another foul). Both Gueye and Barry got sucked out wide covering for the team's deficiencies. I was glad to see Jags losing his shit at the players ahead of him.
Criticism will fall on Barkley, and it was frustrating how he got caught dozing in possession and allowed Arter to walk past him. But he also did far more than most today. I'll cope with players making mistakes far better than twats who are just here to fuck around at the expense of the team.
Brian Wilkinson
196
Posted 24/09/2016 at 23:44:57
Never change a winning team, keep the momentum, yes Norwich won today with changes, however players that stank Goodison out Tuesday either started or were on the bench today.
If needed, stick the likes of Davies, Dowell, Calvert, into the mix.
That's two games running now Deulofeu, Barkley & Bolasie have been really poor; I'm guessing all three will start or still be on the bench next Friday.
James Watts
197
Posted 24/09/2016 at 23:49:35
The word of the day = FUCKING PATHETIC! Ok, the two words of the day but ...
How Ross gets anywhere near the starting XI at the moment, is fucking pathetic. It's starting to reek of the same stuff of when Tim was in goal and shithouse Martinez wouldn't drop him.
I was against the Yannick signing, today showed why I was so against it. He has proved me wrong up until this morning so hopefully he isn't reverting to type.
RK started the season well, but the last two games show what he is in store for. The honeymoon period is well and truly over.

Jay Harris
198
Posted 24/09/2016 at 23:52:39
I agree with Jack (#192) – something seems to have happened to really upset the team spirit this week.
The last 2 games do not seem like the Koeman we know.
Chris Perry
199
Posted 24/09/2016 at 23:59:56
Not actually sure what Ross brings to the team. We are very short, very limited and very slow in midfield!
James Watts
200
Posted 24/09/2016 at 00:02:19
I've liked most things Big Ron has said to date, except I disagreed with him on Tuesday but understood why he said what he said, players morale, etc.
But jjust reading his post match comments. The most disturbing quote of all "I was very happy with what Tom Cleverley showed on Tuesday".
What. The. Fuck. Was. He. Watching!!!!!!
Chris Gould
201
Posted 24/09/2016 at 00:03:32
Bill at 182.
Well said. Couldn't agree more.
Kevin Rowlands
202
Posted 25/09/2016 at 00:09:44
Stan, because he said everyone else's opinion was embarrassing before I guess they chopped it out.
Barry Jones
203
Posted 25/09/2016 at 00:19:58
Yes it was a poor display, but I disagree with some posters here. Tom Cleverley played very well after he was introduced. In fact, he didn't put a foot wrong. He was the only player to atone for himself.
David Edwards
204
Posted 25/09/2016 at 00:39:07
Utter crap! The players have the ultimate responsibility- – and I have no need to highlight the lack of effort or skill from some.
Regarding Koeman – don't start with the Martinez crap – you were not top form today and your after-game interview was not as honest as we expect at Everton!
I do not expect us to do much this season, hopefully top half and a re-build on last season, and Koeman realising where we have class, and where we have crap in abundance. The honeymoon is over, Ronald! Time for action!
Brian Porter
205
Posted 25/09/2016 at 00:51:27
Sheer unadulterated rubbish today, without a doubt. Koeman brought a lot of this on us with his massive team changes on Tuesday. He changed a confident winning team, resulting in a humiliating defeat, and where success breeds success, we were left demoralised by Tuesday's abject capitulation. Result... today saw the knock-on effect.
The team has, overnight lost the self-belief that was growing until the Norwich game. Koeman broke the cardinal rule of football... never change a winning team.
Today's subs also saw a lack of imagination. Williams for once was having a poor game. Why didn't he sub him for Funes Mori who would also have given us a missing aerial threat at set-pieces? Ramiro also plays with his heart on his sleeve and would have injected some passion into the second half.
I'd have been tempted to leave Bolasie on and switched him to the other wing and brought Deulofeu on to play behind Tom who had a stinker to be honest, back to the old disinterested Romelu.
For the first time, Koeman was asked questions by Bournemouth for which he just didn't have the right answers. Let's hope he can repair the damage he has sadly brought on himself by Friday or the game with Palace could prove to be very damaging, not just for us, but for Koeman's fledgling reputation and standing with the fans, many of whom are rightly withholding judgement on our new team boss until he proves himself worthy of being Everton manager.
Jon Cox
206
Posted 24/09/2016 at 00:51:45
So we lost.
Fuck it.
I love the question though. To beat that slimey squirmy shite across the park or, qualify for the Champions League?
It's a no-brainer really.
Like most megalomaniacs I don't see what the argument is.
I'll take both please and that's every day of the foreseeable future,
If you don't mind
Ernie Baywood
207
Posted 25/09/2016 at 01:26:00
Barry Jones #203. I agree Cleverley did ok. He did the basics... run into space, want the ball etc. That's about the best and worst you can expect from him, yet he stood out for it today.
Gordon Crawford
208
Posted 25/09/2016 at 01:39:57
No heart and no fight, which is very worrying. Roll on Palace to put this right.
Kevin Rowlands
209
Posted 25/09/2016 at 02:19:30
Barry, I also agree, Tom Cleverley did well when he came on unlike wavy arms Deulofeu who was fucking garbage and imho needs to be shipped out of the club as soon as possible. Terrible Billy big time attitude for someone who 95% of the time is awful.
Paul Ferry
210
Posted 25/09/2016 at 02:28:38
Frank Crewe 22: 'This is what happens when you make multiple changes for the league cup'.
Mark Morrissey 38:Â 'Exactly what Frank Crewe has posted'.
Norwich had a good win today lads. Bit of a canter I heard. Three good goals.
Can I also add that the sheer garbage on here about Bolasie on the basis of one game, coz he did very nicely indeed thanks in the last couple of games – is well fucking ridiculous.
Kieran Kinsella
211
Posted 25/09/2016 at 02:33:48
Kevin Rowland's
I concur on Cleverley. He's a water carrier and he did his job. Deulofeu, Mirallas, Lennon and Bolasie remind me of the miserable days when we thought Beagrie, Ian Wilson, Warzycha and Preki could adequately replace Sheedy and Steven.
Kevin Rowlands
212
Posted 25/09/2016 at 02:45:39
Agree Kieran, although I think Bolasie will turn out to be a good signing, Lennon isn't good enough and Mirallas and the often wrong spelled one have fucking awful attitudes for two players who rarely produce. They need to be moved on. Steve Walsh, do the job that we are paying you millions to do please.
Charlie Lynam
213
Posted 25/09/2016 at 02:49:22
Emperor's New Clothes.
Mick Davies
214
Posted 25/09/2016 at 02:56:05
I can remember the first team I watched from the boys pen: West, Wright, Wilson, Kendall, Labone, Harvey, Husband, Ball, Royle, Hurst and Morrisey.
Have I got a great memory? No, it's terrible, the reason I remember this successful side is because it hardly ever changed. I think we can all roll off the '80s side too, and how successful were they?
My point is, these players managed to play 50/60 games a season, on pitches that would cause a postponement today, yet they didn't want to be out of the side.
These tossers today, earning twenty times more and having 3 subs available, look like they don't want to be on the pitch sometimes. Koeman should have played a full strength side against Norwich, and if the Bournemouth result was the same, we could have forgiven them for a hiccup, but still been in with a chance of silverware.
The key word is momentum and changing the side because some of these young 'men' might scuff their multicoloured Nikes is a disgrace; they're paid a King's ransom to play their hearts out, but what I witnessed there was at least 4 players hoping someone else would do the work for them.
Many on here have slagged McCarthy for his hesitation to go forward, but to me, he's always been an essential part when things are going right for us: we have all these flair players reverting to type, but what we haven't got is the power to stop the opposition playing.
If Barry is injured/not playing well, without Macca, we are like subbuteo players with no protection for the defence. In my opinion, his return can't come quick enough, and with him in the side, it could pave the way for Davies to come in for the ineffectual Barkley.... Rant over. COYB
Paul Conway
215
Posted 25/09/2016 at 03:31:04
Question: What do you get if you play Ross Barkley and Kevin Mirallas and substitute either for Deulofeu? Answer: absolutely nothing,
Question: What do you get if you substitute any one of these players for either of these players? Answer: Nothing!
What do you get if you spend 㿅 million on a player who stated he once beat Hosein Bolt in a race?

Peter Barry
216
Posted 25/09/2016 at 03:58:11
Normal service has been resumed. The comment I made earlier this week about our mostly MEDIOCRE performances against very inferior teams has been proved to be true. As has my warning to some supporters not to live in cloud cuckoo land easily fooled by that run of EXPECTED results.
Darren Hind
217
Posted 25/09/2016 at 06:58:03
Bill Gienapp
The most embarrassing post on this thread is yours.
I'm not interested in minor improvements, Martinez was one of the worst managers we have had and his mere sacking meant we were entitled to EXPECT some improvement. I'm not interested in your predictions either, you will never mention them again if you are proved wrong.
What you and the rest of the so called "positive" people seem unable to understand is that these after-match threads are about the game that has just taken place... previous results are no excuse for two utterly lamentable performances.
You whine that these supporters "embarrass" you. Really?
If you were not hurt, embarrassed and angry by the last two performances, you really do forfeit the right to call other fans "embarrassing".
Accept shite and they will serve it to you by the bucket.
Frank Crewe
218
Posted 25/09/2016 at 12:23:50
We want a side that is good enough for Champions League football. Well that means we need a side that is capable of playing two games a week.
If we had been playing a Champions League game in midweek instead of the League Cup, we would have put out the strongest side we possibly could, regardless of who we were playing at the weekend. There would have been no "resting" players. No "looking at" different players. No "experimenting" with different tactics.
We have got to get away from this idea that Everton players are incapable, for whatever reason, of playing more than one game a week.
We were going great guns but risked, and subsequently were, eliminated from a cup competition that offered European football simply because the manager decided to faff about with team selection.
Now, we lose to a Bournemouth side we should have beaten because we lost momentum in midweek. So once more we have to start all over again. Talk about self-inflicted wounds.
Anto Byrne
219
Posted 25/09/2016 at 15:17:28
Cleverley is a good player and has an eye for a pass. He is honest and workmanlike and had Barkley put the same effort in as Tom we wouldn't be slagging him off.

Ross has to chase and tackle and stay with his man when defending. All too often guilty of ball watching and to the onlooker meandering around the midfield waiting to lay off a short square pass.

He should be in the thick of the action, winning the ball back and setting up the next movement forward. Someone has to give him an almighty kick up the backside.
Dean Adams
220
Posted 25/09/2016 at 15:35:39
Did anyone notice that Manchester United lost 3 in a row, but I guess some would say they have a shit team and manager. It takes time and patience to produce a good team.
Paul Kossoff
221
Posted 25/09/2016 at 15:41:26
Darren (#217), well said.
Not good enough, where is this motivating manager that replaced Martinez? I thought this is the man the players wanted?
We were unacceptably poor against a very average team... hang on, we were unacceptably poor against a Championship reserve side, at home in a cup match – what happens if this team doesn't turn up against Palace?
We put the Norwich game down as a blip and believed that Bournemouth would be easy; we were out-fought, out-thought, out-played by a side that had lost the last two games. What the tactics were supposed to be against Bournemouth and why they weren't changed when it was obvious they weren't working, I don't know.
Koeman will have earned his wage if we beat Palace on Friday. Let's hope the kick up the arse those players got was a big one.
Trevor Peers
222
Posted 25/09/2016 at 16:27:58
Koeman has an almighty task on his hands trying to motivate our three attacking midfielders, plainly we need to replace at least two of them and maybe that's the problem. Knowing the manager doesn't fancy the way you play can lead to apathy and complacency.
We need leader's and goalscorers in those positions at present there are none. Bringing young Davies on for a spell might be the answer, the youngster will at least add some enthusiasm. If Koeman can't get the required response, we're in trouble.
David Booth
223
Posted 25/09/2016 at 16:35:28
Quite apart from the stupidity of making so many changes and disrupting momentum and morale on Tuesday and the amazing lack of vim and vigour yesterday (which Tuesday was supposed to guarantee), has anyone noticed any tangible difference in the way we're playing?
Some of the faces may have changed, but in every game so far this season, it could have been Martinez on the touchline?
Most new managers put their stamp on the team and even if results don't necessarily improve, you can see their influence.
Am I alone in thinking there is virtually no difference?
Dave Speed
224
Posted 25/09/2016 at 18:27:33
Koeman teams have aberrations now and again, and also some stunning games. We played badly as a team on Saturday but the main problem for me was the engine room. With Barry carrying a knock he wasn't fully able to protect the back four. This meant an extra workload on Gana and he can't carry the team, as good as he is.
Barkley did what Barkley does – runs into blind alleys or misplaces his passes when he decides to pass, and powder puff in the tackle. So no protection for the back line, the defence bombarded and hence not much going forward.
I agree that Davies needs to be brought in for his combination of energy, flair and tenacity, 3 things we were lacking on Saturday and against Norwich. The good news is we won't have to face Bolasie on Friday! He's ripped us to bits over the last few years.
Dave Speed
225
Posted 25/09/2016 at 18:48:41
Also, the criticism of Lukaku is unfair. He spent most of the game not getting passed to, and when he did get the ball, it stuck to him better than it used to.
The unbalanced amount of wingers just didn't get the ball in the box enough. When Bolassie decided to cross it with pace (once) we nearly scored. But for a great save (again) Lukaku would have had his goal and the game I reckon would have been completely different.
We should show the wingers footage of Peter Beagrie to see what they are doing wrong – basically exactly what he did! Like Beagrie, they all want to show off and beat 3 men instead of getting the ball across when opponents' central defenders are running back to their goal, and Lukaku is running in to get the power on the header.
Also, someone should tell Coleman to look ahead. He ran into the advertising hoardings or into 2 or 3 defenders time after time.
Patrick Carty
226
Posted 25/09/2016 at 19:43:08
We should not get carried away from one loss, I suppose. Man Utd lost three in a row and there was uproar.
We are still in a good position and a win against Palace will put us right again. Tom Davies to come in for Barkley is a must for me.
Neil Wood
227
Posted 25/09/2016 at 21:39:59
Tom Davies in. Barkley out. Sorry but that's the stark reality.
Chris Gould
228
Posted 25/09/2016 at 22:29:41
David 223, you are alone. At least, you should definitely be alone.
Of course there's a difference. When did we win 4 league games on the bounce last season?
After 6 league games we've scored 10 and only conceded 4. Only Tottenham have conceded less. Look at the goals against column last season and then tell me if you see a difference.
Making us more organised and solid at the back is the start. The man's only just started the job! Get a grip!

David Booth
229
Posted 26/09/2016 at 00:31:57
Chris, thanks for the closing 'advice'. Got it on pink vinyl: always my favourite Stranglers song.
I fear you're missing my point however.
Statistically, yes, we are better off, but are we playing any differently? That was my question?
Personally, after six games, the shape, style and strategy look frighteningly similar to me.
All I wanted to ascertain was if I was alone in my thinking.
If so, something better change...
Paul Conway
230
Posted 25/09/2016 at 01:42:08
How can so many people put so much faith in the ability (or lack thereof) of Barkley, Mirallas and Deulofeu, yet condemn the performance of the team when we lose? After a shit performance by these players.

According to some of his supporters, Barkley can walk on water, or will eventually if he only gets bit of TLC and comfort from RK. By the look on RK's face on the touchline, as the pathetic scenario unfolded before him was a look of disgust and embarrassment. I fail to see how he is going to find the time to mollycoddle Ross, when he has a whole mess to sort out.

We got dumped out by Norwich.Beaten by Bournemouth. We were in 2nd place, now we are starting to free fall. And the most pathetic thing about it is the same people will still call for Ross to start again.

Chris Gould
231
Posted 26/09/2016 at 07:17:11
David, the shape and formation seem to be the same, but that's the same formation that many successful teams play with. It wasn't the problem with Martinez.
The fact that we no longer leak goals is testament to the positive influence Koeman has had. The problem we have is that most of the starting 11 have been training and playing the Martinez way for 3 years and it will take a while to get it out of their system.
I personally think we need 3 new players to walk into the first 11. I think we have to accept that Deulofeu, Mirallas, Barkley, and Bolasie are all inconsistent. If they all have an off game together then we're screwed.
We need players that have the odd absolute blinder of a game, and for the games when they aren't at their best, we need them to score a respectable 7 out of 10. The four I mentioned to often score about a 5. We can't carry that many inconsistent players and expect to challenge the top 4.
Koeman needs a couple more transfer windows.
Paul Smith
232
Posted 26/09/2016 at 07:49:03
Paul Conway we're hardly in free fall. We've lost once in the league, admittedly it was an awful week but put in to context of the previous 4 -5 games, we set the bar high.
As for Ross, he infuriates, as do all of our flair players. I'm one of his biggest supporters and, if he doesn't start on Friday, I'm okay with it. Ron has his work cut out.
Paul Conway
233
Posted 26/09/2016 at 08:49:52
Paul Smith (#232),
My comment regarding us in free fall is only my opinion. But it is based on the dreadful performance by so-called 'flair players' who have not faced (with thee exception of Spurs) any top-of-the-table Clubs.

Brian Furey
234
Posted 26/09/2016 at 11:28:39
I think there is no doubt that defensively we're a lot better so far this year. The goal we conceded was a screamer and it's only the 4th goal conceded in the league this year.
However, having watched the 20 mins highlights from the official website I think this was our worst performance so far. Too many players had poor games and with Barry & Gueye looking off colour we had no foundation for our attacking players to build from.
Like Chris Gould @231, I feel Mirallas, Barkley, Deulofeu and Bolasie are all too "lightweight" and not strong enough to take a game by the scruff of the neck. Bolasie might show a bit more fight I think.
Away from home, sometimes you get performances like that but hopefully the manager can get a reaction from his players. Mirallas has really fallen away since his good start and it annoys me that he doesn't even seem to work hard for the team and just goes missing.
---
Add Your Comments
In order to post a comment, you need to be logged in as a registered user of the site.
Or Sign up as a ToffeeWeb Member — it's free, takes just a few minutes and will allow you to post your comments on articles and Talking Points submissions across the site.
© ToffeeWeb