Report
Barkley more confident in vital Blues win
By Michael Kenrick
30/10/2016

136 Comments [Jump to last]
Share: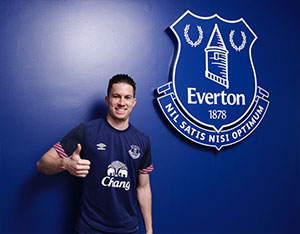 With Baines out injured, Oviedo did exceptionally well at left back
Everton 2 - 0 West Ham Utd
Everton finally shook off some of the lethargy that had not seen them win all month, with Bolasie's energy creating a simple and customary goal for Lukaku against his favourite opposition. Barkley, after being denied by Adrian, then started and finished a fine move in which Lukaku picked him out with a pinpoint cross from the byeline.
Everton were back at Goodison Park for a Sunday lunchtime kick-off after successive away games that yielded just one point since the 1-1 draw with Crystal Palace at the end of last month.
Ramiro Funes Mori returns to the defence in place of captain Phil Jagielka, who is on the bench. Joel Robles also gets a start in goal, with Maarten Stekelenburg sidelined with a foot injury. Some surprises on the bench with goalkeeper Mateus Hewelt and Dominic Clavert-Lewin elevated from the table-topping Under-23 squad. On loan Enner Valencia is ineligible to face his parent club.
Everton held possession and moved the ball around well enough until it was turned over, Funes Mori into action, with a good block out wide. West Ham's first attack came to nought but Everton's building from the back was painfully slow but, as applause rang out in memory of the death of Howard Kendall one year ago, Wet Ham almost scored but for the timely intervention of Coleman.
A free kick for a foul on Bolasie was wasted with more sloppy play as the Blues were slow to get going but Adrian gifted a clearance to Mirallas; however, he made nothing of it, and the meaningless football continued through the 10-minute mark, when what looked like a lively move down the left channel ended abruptly when Bolasie fell over the ball. That saw Fernades up the other end put in a good cross that was headed away. But Antonio and then Payet had good opportunities to score, winning the first corner.
Everton were simply not at the races, the Hammers getting a second corner from which Lukaku broke well down the left but his dreadful cutback evaded most, Barry coming back to lay it off for Bolasie whose shot was closed down by an arm.
Payet continued to cause Everton problems but Coleman did very well to track Antonio and dispossess him. Everton won another free-kick with Ebola hustling Lukaku. There was finally some pressure from Everton in the Hammers area, Bolasie firing in but Lukaku could not dig out the shot.
Lanzini danced into the area but messed up his cross/shot as the pace and tempo of the game improved, but the passing didn't, Lukaku maddeningly playing the ball straight to a West Ham defender. But there was more movement and a slightly better effort in attack, Barry's through-ball too much for Lukaku. But Barkley did very well to feed Lukaku whose shot was deflected behind for a corner by Mirallas that Adrian caught easily
Much better play from Everton saw Oviedo cross in superbly for Barkley who seemed certain to score but Adrian made an instinctive save as the shot was slightly deflected, to deny the Everton goal. A West Ham free-kick was shipped in by Payet but nothing came of it as Everton's defending looked solid.
But the Blues resorted to nonsense pass-the-parcel stuff at the back, Gueye getting caught and very lucky not to see red as he blocked Kouyate from a certain run in on goal. Dreadfully amateur stuff from Everton. The free kick was driven into the wall by Payet and defended away. At the other end, Bolasie won a corner that Mirallas took well and Barkley's shot was deflected over, with nothing coming from the ensuing corner.
Much better play saw Mirallas firing in a clever shot from a tight angle that Adrian touched behind, Mirallas shooting again but with insufficient power. But the Blues were moving the ball a lot better, finally, winning another corner swung in by Mirallas, headed well wide by Funes Mori.
Better movement and faster passing looked to make something for Barkley but three defenders were on him in a flash. There was more competition for the ball in a crowded midfield but Bolasie did well to fire in a cross but too close to Adrian. Half-time approached as Payet scampered away but was well blocked by Coleman before he could unleash on Robles. Barkley looked to break but could not find Lukaku and the half ended goalless.
The visitors showed more intent from the restart, winning an early corner. Everton proceeded to build at snail's pace, with more pass-the-parcel until possession was lost. Oviedo won a corner for Everton, that went straight to Adrian.
Barkley laid off to Coleman who did very well to make space and shoot low. Adrian parried but Bolasie was in like a terrier to clip the ball over him into the middle of the goal area where Lukaku had a simple header for his customary goal against the Hammers.
Barkley found some space and went for goal but his shot was disappointingly high. Bolasie did well to get wide only to stupidly showboat with a cross-kick that went well wrong. Not impressive at all. At the other end, Oviedo was forced into a foul on the edge of the area that Payet tried to put under the wall and failed. Bolasie tried to break but lost the ball.
Another free kick, given away by Gueye, saw a superb ball headed behind by Barry for another corner that proved no danger. Really sloppy stuff from Barry let Antonio in; Williams looked to cover but missed it and Antonio had a one-on-one with Robles that the Everton keeper did very well to block.
Antonio then played in Ayew who looked set to score when Oviedo clipped it off his toe brilliantly. A good break saw Mirallas overhit his cross to Lukaku. Noble fired in a beautiful strike that Robles saw all the way and pawed behind, a splendid save. West Ham applied some pressure, prompting Koeman to switch Mirallas for Cleverley.
Oviedo could not keep pace with Ayew and fouled him, drawing a card and giving away a free-kick that saw more West Ham pressure applied without real danger and it was Barkley who sealed the points, playing a lovely ball to get Lukaku away and from the byeline he picked out Barkley at the far post, where he had to control the shot well to bury it past Adrian.
West Ham kept pressing as the game entered its last 10 minutes, the Blues having to defend resolutely. Lukaku and Gueye combined to feed Barkley but his shot was deflected behind. Barkley took the corner but Williams was penalized for a push.
Barkley played a nice ball forward for Lukaku but he rather lazily played it to the defender. Bolasie was withdrawn for Phil Jagielka as Oviedo continued to do great things in defence and Lukaku broke with Coleman but the return ball from the fullback was overhit.
A fantastic series of first-time passes, Lukaku, Coleman, Cleverley ended with Lukaku firing sharply but straight at Adrian, what a fabulous goal that would have been to end the game!
Lukaku tried to set up Cleverley, who could not beat Adrian as wide spaces opened up in the West defence, GGuyee running in and getting chopped by Ogbonna, a penalty all day long — but not given by referee Taylor, who brought the game to an end with Everton finally securing a win.
---
Reader Comments (136)
Note: the following content is not moderated or vetted by the site owners at the time of submission. Comments are the responsibility of the poster. Disclaimer
Ajay Gopal
1
Posted 30/10/2016 at 13:06:43
The bench does not look very inspiring at all. Only Lennon, Deulofeu and the new unknown Calvert-Lewin are attacking options. If only we knew what went on with Niasse, we would have had one more option.
Terence Tyler
2
Posted 30/10/2016 at 13:17:00
Stek, foot injury, Jags rested
John Graham
3
Posted 30/10/2016 at 13:42:11
Well looks like it's going to be an interesting afternoon. Need a few people to step up to the plate. I'm trying to stay optimistic: 6-0 would be good. But I would be scared of waking up.
COYB
Paul Setter
4
Posted 30/10/2016 at 14:03:28
We are not very good on the eye; I think we try to bore the opposition.
Peter Cummings
5
Posted 30/10/2016 at 14:06:49
I don't have a very good feeling about this line-up but hope I'm wrong. So far, nothing to shout about and the crowd seems apprehensive and not very noisy.
Ajay (#2) I hear Hewelt is the sub 'keeper.
Colin Glassar
6
Posted 30/10/2016 at 14:19:03
Slow build-up, unforced errors, poor decision making etc... Nothing much has changed since last season, has it?
Mark Morrissey
7
Posted 30/10/2016 at 14:27:32
Watching on TV today. I'm thinking Ross has been very dithery and indecisive and Jamie Redknapp says he's been our best player???
John Graham
8
Posted 30/10/2016 at 14:30:08
For me I would prefer a back three with Jags replacing Oviedo. Then use Coleman and Bolasie as our wing backs. Much more of a treat going forward then and more solid at the back. We are letting them control the game. Let's hope for a better second half.
Colin Glassar
9
Posted 30/10/2016 at 14:31:15
Mark, beauty is in the eye of the beholder. Ross has been our best player, so far.
Joe McMahon
10
Posted 30/10/2016 at 14:31:36
Colin (#6). IMO, there is so much crap and ageing players in our squad, I don't think much will change. We need 7 quality new faces (at least), but the transfer policy of the club over the Kenwright years has left us stranded.
Koeman will be off, not too far into the future. Moyes is on the verge of getting sacked again, he was with us 11 bloody years. The football we see is the result of years of Kenwright.
Terry Underwood
11
Posted 30/10/2016 at 15:20:39
Looks as if the penny may just have dropped for Ross. He may just be starting to get back to what we all know he was and still could be...
Not the prettiest game but sometimes you need to win ugly.
Colin Glassar
12
Posted 30/10/2016 at 15:25:40
Joe, I agree. There is a mentality problem in our DNA. A good three points but it should've been more and, far easier.
Mads Kamp
13
Posted 30/10/2016 at 15:31:29
Barry MotM!
Jay Wood
14
Posted 30/10/2016 at 15:36:16
Dodgy opening 20-25 minutes when der Hammers bossed it.
Finished strongly before the break, started strongly after it. Nice build-up to the opening goal. Great determination by Bolasie to give Romelu a nod in.
Continued to dominate, but stepped off them a little which gave them a wee spell, but nothing too threatening.
Top, top interplay between Ross and Rom for the second and from there on in we totally bossed it and could have had a couple more.
How can the ref not give a penalty for the foul on Gueye at the death?
Ross bossed it and was clear MotM which might have gone to Lukaku on another day.
Cemented top 6, clean sheet and win against a side running into form, whilst on a dodgy run ourselves.
That'll do me...
Dave Pritchard
15
Posted 30/10/2016 at 15:37:30
Barry, Oviedo and Barkley all played well. Lukaku seemed to wake up in the 2nd half after we went ahead.
Have to give Robles a mention as well because he made a couple of decent saves at 1-0 and never looked troubled. Nobody had a bad game really.
Tougher test next week but nice to get a win again.
Ernie Baywood
16
Posted 30/10/2016 at 15:39:22
Great to see that from Ross. Showed his ability but that performance was far more about effort – he went end to end today. Really earned his goal. Clear MotM for me.
Some really good performances throughout the team. Coleman, Oviedo and Barry were all excellent. Lukaku had a great second half after a quiet first.
Ref probably the worst performer of the day. Terrible decisions throughout and that penalty claim in the last minute... could it have been any clearer?
Peter Norris
17
Posted 30/10/2016 at 15:40:38
Colin (#6). Negative comments. We now know how to close a game out and not throw 2-goal leads away. For goodness sake, let's recognise there's been a bit of improvement from last season.
Colin Glassar
18
Posted 30/10/2016 at 15:53:32
Defensively, yes Peter (even though we were nervy early on) but our passing, pressing and poor decision making could've cost us.
I'm chuffed to bits with the three points but we can do better. A bad ref didn't help either.
Ed Fitzgerald
19
Posted 30/10/2016 at 15:58:00
FFS Mark
What do you want/Evertonians want? From Barkley, if that isn't a MotM performance, what is?
Made one goal, started and finished the move for the second, always showed for the ball. The only true creative player we have and he gets slated on here!
Jamie Barlow
20
Posted 30/10/2016 at 16:00:53
After a shite first 20 minutes, I thought we played okay and Robles was untroubled for most of the game. We looked far better at dealing with crosses and defending altogether with Funes Mori in the side.
Oviedo and Barkley both had their best games this season and Lukaku came alive in the second half but Ross gets my MotM. I swear he put a few challenges in too.
A good second half to watch, spoilt slightly by Taylor. The standard of referees in this league is shocking. How Gana wasn't awarded a penalty was incredible.
Colin Glassar
21
Posted 30/10/2016 at 16:03:13
Ross was clearly MotM but Gana was excellent as well. What a bargain that lad has been.
Denis Richardson
22
Posted 30/10/2016 at 16:05:01
All about points and building up confidence at this point so a 2-0 home win is just what the doctor ordered. No injuries and the team can look forward to the next game.
Not arsed about the performance at this stage. One step closer to January as well, when we can hopefully bring in a face or two and get rid of a face or two.
Geoff Evans
23
Posted 30/10/2016 at 16:06:29
A long way to go but improvement was there for people to see. We pressed the game well and Barkley put himself about. A welcome win and a clean sheet. Good team performance.

Loko Sanchez
24
Posted 30/10/2016 at 16:07:31
Funes Mori had a good game. He should maintain his place in the next game.
I wish Lennon would get more playing time. I think he is hungrier then Mirallas at the moment.
Bolaise did some showboating after the 1st goal, hope Koeman sorts him out.
Robbles looked good.
Williams almost made a mess of things, (if it was Funes Mori, I'm sure the fans would be up in arms saying his not good enough, but since it's Williams, they will probably let it slide).
All's well the ends well.
Mike Powell
25
Posted 30/10/2016 at 16:16:11
Barkley and Lukaku were outstanding today.
The ref was a joke – how was that not a penalty??? I bet he would've given it at the other end. We should put a complaint in...
Jay Wood
26
Posted 30/10/2016 at 16:20:24
Over the season Gueye and Barry have been excellent, but - especially in the 1st half - I thought they were very much part of the problem why we weren't in the game. Both of them showed poor passing and ball retention, way below their normal standards. There was little relief from the (albeit powder puff) ascendency the visitors had.
That was in part to how WHU set up. Their 3 at the back and 5 in midfield outnumbered and strangled our own formation, not helped by us standing off them. Only Ross's ability to turn and run at them with the ball was breaking that stranglehold in the 1st half.
In the second half we pressed them more tightly, with Oviedo and Coleman supporting and getting beyond Mirallas and Bolasie more often down either flank.
Bilic blinked first in making subs and re-jigging his line up to no avail.
In the final reckoning, a good winning performance all round, from manager to players.
David Barks
27
Posted 30/10/2016 at 16:22:56
We probably used the overlapping runs of the fullbacks more today than in the previous four matches combined. It kept the ball moving in the attacking third and made their defense have to react more. Much better, especially in the second half.
Oviedo has come in and grown with each performance. He plays with a chip on his shoulder it seems and it feels like he takes his defensive challenges personally. Funes Mori did quite well also. I've always liked him since he came here.
But watching Lukaku just take the game over in the second half, the guy is class. Once he starts to get some space, he's always a threat. His game has improved every single season he's been with us. This year his touch and hold-up play is much improved. And he easily could have had three assists today.
Ajay Gopal
28
Posted 30/10/2016 at 16:28:12
Not a pretty performance, but the desire of the players to win was clear to see. As mentioned before, nobody had a bad game.
I was worried about Robles and Funes Mori both being thrown in together in place of Stekelenburg and Jagielka, but both did very well indeed and nice to have another clean sheet.
Special mention to Barkley and Oviedo. Both were outstanding today, I thought. Lukaku grew in confidence after the goal, and he was back to his bullying best.
I think I heard the commentator mentioning that Gueye will sit out the Chelsea game having picked up 5 yellows. That will make a tough job even tougher.
Geoff Evans
29
Posted 30/10/2016 at 16:29:28
Lukaku is benefitting from the new manager.

John Graham
30
Posted 30/10/2016 at 16:31:16
That's my boy. I knew if Barkley turned up we would get the win. It was a bit sticky first half but we seemed to gel a bit in the second half.
A mention for Robles and Oviedo too, not my favourite players but well done to both of you.
COYB
Timothy Blanshard
32
Posted 30/10/2016 at 16:40:34
I have no nails left because of how nervous we were today.
David Barks
33
Posted 30/10/2016 at 16:40:53
I could see us going with three at the back against Chelsea with Gana out.
Mark Morrissey
34
Posted 30/10/2016 at 16:49:10
E @ 19. I suggest you have a cup of tea, beer perhaps or do some deep breathing.
I have read all the posts and nobody is slating Ross. My post made at half-time was suggesting that IMO Ross looked nervy, dithering and yet Jamie Redknapp reckoned he was our best player. What do I know?
In the second half, he was a revelation and was looking confident well before his goal. If I make a comment that upsets you, just ignore me. I'm merely a spectator. Nobody else nor me was really slating him. Trust me when I say, nobody was ever happier than I was to see him grow in confidence.
I thought the team tried hard and played well and I felt dropping Jags was a good move. He's been off form but please don't bust a blood vessel over that comment. I expect many will disagree with me on that but I was pleased to see him benched.
Brian Williams
35
Posted 30/10/2016 at 16:49:31
Good day today. A good game to watch, I thought. Ross improved greatly and that goal gave him some of the confidence he's been missing.
I do wish we had more songs to sing, and sung them, as the WHU fans are the third bunch to sing "Is this a library" with some justification at times.
Have to admit I've sold out on that side of things to enjoy the view that only the top balcony can offer. I'd have a go but would just get looked at like I had three heads... and I only have two.
Tony Hill
36
Posted 30/10/2016 at 16:55:56
Very pleasing. We had a couple of dicey moments but it was wonderful to see Barkley growing in confidence as the game went on and the team did the same. I also thought Lukaku's all-round game was very good and Coleman had a strong match.
Some of the stuff we played was really promising and what a shame we couldn't finish off a couple of great moves.
It's one game, but it was the sort of performance we needed.
Darren Hind
37
Posted 30/10/2016 at 17:04:51
We put ourselves under unnecessary pressure for the first quarter with sloppy passing, but gradually started to find some sort of fluency.
I was worried about Funes Mori coming in, but accept that he suffered as much as anybody under Martinez; a solid if unspectacular job from him, hopefully more to come. Jags had to be rested.
Barkley playing a big part – deep joy. Let's hope that performance lifts him from his depression. EFC needs Ross Barkley playing at the top of his game, we don't have anybody else who can offer that difference.
Made my day seeing him sparkle today. Strange reaction from the fans concerning Ross, he gets more stick than anyone when he's struggling, but gets more support and encouragement than anyone when he's doing well. Sometimes I think the crowds desperation for him to be great is a little too much of a burden for him.
Jay Harris
38
Posted 30/10/2016 at 17:07:26
Good result.
Very poor opening 20 minutes and worrying erratic passing all game.
I thought Oviedo, Robles, Barkley and Lukaku stood out. Williams and Gueye guilty of some amateur mistakes.
Dean Adams
39
Posted 30/10/2016 at 17:11:36
Hopefully we can beat another crappy London club next week!!
Brian Wilkinson
40
Posted 30/10/2016 at 17:14:03
Would not be ToffeeWeb if Barkley was not blasted before a ball has been kicked.
Good performance today, Ross, and well earned goal, good on you. But unless you play like Messi every week, expect flak from the usual, there again makes no difference, you will still be blamed for something.
Keep it up Blues, three points in the bag, onwards and upwards.
John Graham
41
Posted 30/10/2016 at 17:16:49
Barkley has always been our next boy wonder in the making. Let's hope Koeman can give him the confidence to get the best out of him.
Think we are getting there slowly. Just need to improve our attacking options.
Dave Abrahams
42
Posted 30/10/2016 at 17:17:36
It was great to see Barkley at last playing for 90 minutes or until he was subbed and going off to a deserved ovation. He started well and had a real nuisance value making the WHU players play the ball back, he carried on like this and late in the game was putting real tackles in and winning them.
His work with the ball was a lot better today as well, scored a goal, had a hand in the other goal so well done. After all that I wouldn't begrudge him the MotM award but I would give it to another much criticised player: Oviedo.
I thought he was outstanding with his movement – something a lot of the other players might copy. A hard fought win but you can see a definite improvement in the team.
Gerard Carey
43
Posted 30/10/2016 at 17:20:14
Glad for Barkley and Oviedo. Let's hope Barkley can go on from this, makes a big difference to the team when he is on song.
Oviedo too; it was going to take him a few games to get up to speed, he has improved with every game.

Conor McGregor
44
Posted 30/10/2016 at 17:20:51
Good result today blues, but Iwasn't happy at all with the first-half performance. It was like a Martinez team in first half, nothing has changed that much since Mr Koeman took over.
Coleman was my MotM. Only for Seamus's brilliant last-ditch tackles on Payet and Antonio in the first half, it could've been a loss today.
We have Bolasie, Mirallas, and Barkley who don't work hard enough. I don't think any of them would get in any of the top 4 or 5 in the league cause they're too lazy.
I would like to Mr Walsh to do his job and bring in a star or two, no more panic-buys please.
Ian Bennett
45
Posted 30/10/2016 at 17:30:59
I am pleased Ross scored and hope his confidence grows. He could of scored a couple more, and over the course of the game he imporoved.
I just wish he'd cut out dithering on the ball and play the ball quicker. It is hard to figure out this is killing the movement, or whether his team mates are just statues.
John Hammond
46
Posted 30/10/2016 at 17:42:14
We were fortunate at times with a few players making silly mistakes but, while WHU could've had a couple, we could have had 4 plus the stonewall penalty at the end.
First 20 minutes, I thought it was going to be one those days. Ross seems fitter, pressed more and was making tackles in the left and right back positions.
Speaking of left-backs, Oviedo was great today. He's taken a lot of stick but, after playing a few games in a row, he seems to be improving. Seeing Rom running at defenders is always a joy to behold.
Peter Jansson
47
Posted 30/10/2016 at 17:50:08
I lilked what I saw today in terms of fighting spirit. Mirallas was looking more into it and showed some emotions, that's great.
Barkley showed some good fighting spirit as well, and I think this was his best match in a long time. He looked less static and mixed his game up great. Power salutation at the goal. Hope he is on the right track now, great stuff!
Lukaku brilliant in the 2nd half!
Derek Cowell
48
Posted 30/10/2016 at 17:56:09
Ian at 45:
His team mates are statues! Dixie's effigy moves more than Lukaku!
Colin Glassar
49
Posted 30/10/2016 at 17:57:01
Oviedo is a player who needs a few games to get up to steam . And then gets injured. I've always rated Bryan so hopefully he can continue to play, and improve, and make Bainesy fight for his place.
Jeff Armstrong
50
Posted 30/10/2016 at 17:57:09
Good 3 points to stop a bad run... Gana, worst game so far, Oviedo good but made a couple of rash challenges,Bollasie as inconsistent as ever, Mori solid but passing needs to improve,second half Ross and Rom looked well up for it, can we have a 90 minute performance soon ,please.
Tony Hill
51
Posted 30/10/2016 at 17:59:29
Bolasie may still be trying to find his best form but his effort for the first goal was excellent and crucial for our victory. He seems to have the knack of being involved in and contributing to goals. Very encouraging, and his slightly erratic style is fine if he produces significant and pivotal moments in matches.
Paul Thompson
52
Posted 30/10/2016 at 18:02:16
As Koeman said afterwards, the first 20 mins reflected our lack of confidence following the winless streak.
The second half was very good and that wasn't only after the goal. The difference was raising the tempo and getting at Payet and Co, getting Barkley and Bolasie closer to Lukaku and the full backs higher up the pitch.
I also don't think we are competitive enough with both Mirallas and Bolasie on the pitch against most teams. Koeman, however, is (generally) smart enough to see problems and make changes.
Dave Lynch
53
Posted 30/10/2016 at 18:02:17
I'd like to give a special mention to Robles.
Assured and competent, it can't be easy for the lad to be out for long periods and come into the side.
MotM for me? Difficult but I'd give it to Barry, just ahead of Barkley.
Great 3 points with a difficult month ahead of us.
Tony Abrahams
54
Posted 30/10/2016 at 18:04:13
Just heard what Koeman said, at half time, and although it made complete sense, I feel we are still a long way off just now. He said the team needed to press more, and the defence needed to keep a much higher line.
I felt we were better when all eleven players folded back to the half-way line, but felt when we tried to press higher up the pitch, we failed to do it as a unit, which enabled West Ham to find little pockets of space.
I didn't think Lukaku was doing enough to make other players want to join in with him, and I think his second-half performance actually proved this.
A very big three points though, and a very big performance from Barkley, they are the very big positives, and I actually thought Robles looked a lot more assured today than I've ever seen him look before.
Sometimes the result is so much more important than the overall performance; I think today was one of those days!
Don Alexander
55
Posted 30/10/2016 at 18:06:18
Maybe somebody at Finch Farm has been swayed by recent TW criticism? Today was a much needed improvement in terms of attack and, in the second half at least, application and effort. Let's hope the upward curve continues until we deserve the description "consistently effective". Well done, lads!
Damian Wilde
56
Posted 30/10/2016 at 18:25:48
I was at the game and boy did we need a win, so that's a big plus point.
The previous bad run was the fault of Koeman imo. The Norwich line-up and loss hit our confidence. You could see early on how low our confidence was. Early in the season we were an average-good side with confidence, lately an average side with confidence.
The first half we were poor. West Ham could have gone in two up. We were better second half, but not great. The goal gave us some confidence, but I thought our best spell was the last 10 minutes. Lukaku was on fire, sensational.
Barkley, baffles me the people saying he had a great game. Great to see him score, but besides that he was poor. He is so so slow in releasing the ball when he gets it; every time he dances left, dances right and a long time later passes two yards sideways. Anyone who thought he had a great game must have been watching a different game. His only contribution was a five-yard tap in.
Bolasie was terrible at times as was Coleman. Why does Koeman always bring Cleverley on first! Moyes with Neville, Martinez with McCarthy, now this, it's like to get the job you have to promise to play shite players.
A better team would have beaten us today. We got a bit lucky. I hope this gives us confidence and we can pick up. We have a bad lack of strikers though. Without Rom, we'd be way down lower half for sure. Disgrace that we got Valencia on-loan.
The other worrying aspect, we did not seem to have much of a pattern of play. The tubby Dutchman needs to seriously pull his finger out and start showing his style, rather than bang on about 'pressing' in his interview (he uses this word as often as Martinez used 'phenomenal').
Be great if we can do Chelsea, but we need to continue to improve. To be fair though RK said as much in his post-match interview (and that we were poor early on).
As I have been gallivanting in the States, I forgot about next week... any spares?
COYB.
Dave Williams
57
Posted 30/10/2016 at 18:30:22
Robles, Oviedo and Coleman were excellent and for me Ross was very quiet for half an hour, then he and Rom were excellent. Gana had a mixed game for me but Barry was superb.
Our problem is still an inconsistency with our wide players. We did much better in the second half going wide but that was because the full backs moved twenty yards further forward.
Kev does not add anything in his current form and I would play Lennon or young Tom next week whilst I should think Ron will play Tom in place of Gana.
Entertaining game, great result, and nicely placed in the table.
Graham Mockford
58
Posted 30/10/2016 at 18:34:47
Damian Wilde,
I've been meaning to say this for a while but you don't half talk some shite!
The 'tubby Dutchman '. Deary deary me.
Damian Wilde
59
Posted 30/10/2016 at 18:36:56
Good points, Dave. I agree Oviedo did well and Barry played well.
Baffles me how Davies does not play. And Lennon never gets a sniff, it's not like the others are on fire is it?
Dan Davies
60
Posted 30/10/2016 at 18:39:15
Good three points today. Sixth in the league. Ten games gone, I think Koeman has done a decent job so far. Anyone disagree?
Andy Crooks
61
Posted 30/10/2016 at 18:49:01
John Hammond, you are spot on about Oviedo improving by having games. It is a blight on the Premier League that few young players get a run in the side.
Sometimes I think that a massive injury crisis would be the making of our club. We have some good young players who need a run in the side. They will not get it because immediate results are a priority. Moyes got 11 years at Everton; if he got 11 years at Sunderland, they would be better off than they will be when they sack him.
I am honestly starting to feel a bit sorry for him. Well... maybe not. A hat-trick of sackings? Everton was as good as it ever could get for him.

Peter Mills
62
Posted 30/10/2016 at 18:52:49
An imperfect performance which was sometimes ramshackle, sometimes thrilling. An entertaining game, Payet putting 3 corners out for a goal-kick, a clean sheet and 3 points. Happy to take that.
Tim Wardrop
63
Posted 30/10/2016 at 19:06:18
Funes Mori is class in the air and good in the tackle, but he dives in and runs out of position too much. Look at the first half effort where Obiang hits it over the bar.
Ross, Rom, Coleman and Oviedo played well today. Thought Gueye was pretty poor.
Oliver Molloy
64
Posted 30/10/2016 at 19:06:55
Laughed my bollocks when Robles came and punched a corner clear and threw Bolasie on his arse at the same time. If that's what it takes then keep it up.
Very pleased for Barkley today and I hope this win (and his goal) gives him and the team a lift in confidence, because that is everything.
Guy Hastings
65
Posted 30/10/2016 at 19:12:01
I'd keep Cleverley to push Barry around on a trolley when his legs finally give out. Barry will still be the best player on the park. Certainly the most intelligent.
Martin Nicholls
66
Posted 30/10/2016 at 19:12:09
Brian (#35) – after many years in Top Balcony, I "relocated" to Upper Gwladys this season for that very reason!
Martin Mason
67
Posted 30/10/2016 at 19:19:06
What an excellent win in a very entertaining game and hopefully the first step in an improved run. Losing Gana for the Chelsea game was bad but seeing Barkley in such great form makes up for it. He and Lukaku were very good today.
Les Martin
68
Posted 30/10/2016 at 19:29:47
I think we offer much more danger when Oviedo and Coleman overlap upfront, of course its picking the right time to do it so we are not over exposed.
Great tactics again from Ronald, and Cleverley played centre, rather than on the left, looked better too.

Roman Sidey
69
Posted 30/10/2016 at 19:30:03
I thought Coleman started diabolically with some serious slip ups, but then realised it must have been the turf cos players were falling over all afternoon. He really made a difference going forward and defended like a champ.
One thing that is very encouraging is the amount of crosses the wide men are getting in. You put enough in and you're going to get goals, and both of ours (kind of) were scored from crosses.
Chris Corn
70
Posted 30/10/2016 at 19:41:57
Have to agree with Graham Mockford. Damien Wilde, you're talking rubbish mate. Why is it whenever we win, it's all "We've not played anyone' or 'We were lucky'?!
We played a team in form and got the job done reasonably comfortably in the end. Sixth in the league and within touching distance of the teams above us, yet apparently we are shit.
By all means have an opinion, but you have ripped pretty much every positive about today apart, Damien, so I wonder what game you were actually at.

Peter Morris
71
Posted 30/10/2016 at 19:43:55
The match aside, wasn't it crazily balmy for the day the clocks go back? Supporters were turning up in shorts. Global warming, I suppose. Someone should have told Bryan Oviedo – he came out wearing gloves FFS!
Robert Elliott
72
Posted 30/10/2016 at 19:48:50
Damian (56) you were definitely at a different game to me. At the game I was at, Ross was outstanding.
Clive Rogers
73
Posted 30/10/2016 at 19:58:57
I thought our best performers were Barkley, Lukaku and Williams today. The worst was Mirallas, IMO, who did virtually nothing.
Mike Berry
74
Posted 30/10/2016 at 20:00:59
Ross Boy MotM all day long. Are West Ham RADA in disguise? The ref idiotically not booking them for feigning injury.
John Malone
75
Posted 30/10/2016 at 20:03:04
Firstly great result, great performances from Lukaku, Barry and Ross Barkley so pleased for him!
On a different note, I'm posting to highlight and ask the question is there anything we can do to address the lack of singing at Goodison? It is verging on embarrassing now!
Under Martinez, you could understand it being quiet as the football was sideways, boring and repetitive but under Koeman it is a lot more attacking and cut and thrust but still, no singing!!
Even after going one nil up today, nothing??
The Goodison roar has gone and I can't understand why?? We really do need to get it back as you can see how much the players love it and respond to it and how much more enjoyable the game is when the songs are flowing and the ground is rocking!!
I seriously think the club should address it by speaking to supporters clubs and having a standing/singing section in the Gwladys Street!
Colin Malone
76
Posted 30/10/2016 at 20:10:26
Great to see Ross score today. The lad is CLASS, Everton through and through, who needed the discipline, given to him by Ronald Koeman.
Again, it was nice to see Rom running at defences instead of being a stagnant centre-forward.

Ian Jones
77
Posted 30/10/2016 at 20:16:56
Damian, if it's any consolation, I can see the validity of most of your points.
I can also see why people want to criticise your views.
Isn't ToffeeWeb great. Throws up so many different views.
Tony Hill
78
Posted 30/10/2016 at 20:20:09
There was singing in the corner of the Park End where I sit, John, next to their fans. The WHU fans, like all away support, trot out the same old crap at high volume but so what?
In truth, the team only started to produce good, more exciting stuff in the last 25 minutes or so and the crowd seemed to respond. I do agree, though, that the Street End could do with cranking things ups bit.
Dave Ganley
79
Posted 30/10/2016 at 20:24:07
We really needed that win after the run we've been on and the Chavs next week. Slow start and a lot of fucking around at the back but we grew nicely into that game. If Lukaku could have scored near the end with such a great build up of play that could well have been a goal of the season contender, excellent play by us. Stonewall penalty at the end could and should have put a more convincing outlook on the scoreline, but in the end I'm happy with the game in general.
Barkley finally produced a performance that we know he can give, he just needs the confidence to do it consistently now. Still not convinced by Oviedo as he just doesn't have the pace to live with good wingers, got skinned a few times today. Robles stood in for Stek very well today. We shall miss Gana terribly best week.
Onwards and upwards, let's hope we can go and give the Chavs a game next week, they looked pretty good down at Southampton this afternoon.
COYB
George Cumiskey
80
Posted 30/10/2016 at 20:29:03
If he plays Cleverley in place of Gana next week, then I fear we are in trouble. He came on today and done absolutely nothing!
Max Murphy
81
Posted 30/10/2016 at 20:33:26
Some dreadfully sloppy play – would have been punished by better teams. Great to see Ross put in a performance, and I thought Robles was outstanding and should be given an extended run in the team.
Sadly I cannot see us getting anything against Chelsea next weekend.
Ron Sear
82
Posted 30/10/2016 at 20:35:11
Can't help noticing that at the halfway mark everybody around me was moaning bitterly about the performance up to that point. The number of missed passes, slipping overs and outright errors seemed to make everybody pretty glum. Not then a surprise at Goodison being taunted as a library once again.
I wouldn't mind betting that a draw or narrow defeat was looming in a lot of minds. Saying all that, the players did finally step up to the mark and got the ground going again with some pretty good football.
John (#75) is right about organising a singing area, the atmosphere with our supporters on away matches is infinitely more uplifting and it does have an affect on the players. Sitting around the half-way line, I would say that the Park End is much noisier than the Gwladys Street at the moment but others can argue that out.
Oh, and when will ToffeeWeb invest in an English (UK) spell check? So irritating when it demands a 'z' instead of 's' and rejects the English dictionary version of words.
Andy Williams
83
Posted 30/10/2016 at 20:35:45
I had an argument with the fella next to me and one in front today. Both were slagging off Ross and claiming he needed to be hauled off. One of them, who admittedly has only just turned against him, claimed that he has had 4 years and has gone backwards.
As I said, 3 of those have been under a manger who wanted his players to play anti-instinctive football and shattered his confidence; that is why he often dithers. Now the supporters of the club are finishing his confidence off.
Both accepted that I had a point and Ross came out and played the best 45 minutes for a long while. Can any of the Ross detractors name any player that improved under Martinez?
Anthony Dwyer
84
Posted 30/10/2016 at 20:41:18
The blues got a good result, Rom and Ross both in the goals and Bolasie another assist, a clean sheet, Robles impressive, a game for Funes Mori, and Oviedo (who I've criticised) looking better.
What more can we ask for, lads?
As for the lack of atmosphere, I think that's the same at almost ever early kick off I've ever been to.
5 points off the top with 10 games played, I'd have taken that all day long, and there's still plenty of room for improvement.
Damian Wilde
85
Posted 30/10/2016 at 20:47:43
Andy, you're spot on using the word 'dithering' to describe Ross's play.
For the people describing his play as 'outstanding' could you explain his oustanding contribution?
He scored, which is obviously a key contribution. What else?
There was only one 'outstanding' player on that pitch – Lukaku.
Decent win. At present we look off the pace compared to the teams above us, but this could change with new signings
Andy Williams
86
Posted 30/10/2016 at 20:59:42
I think you are missing my point, Damian. There were times when he was not as instinctive as he should have been but there were much better moments and the second goal was not only scored by him but made by him. He played well and I have no argument with anyone stating that he was MotM.

Dave Abrahams
87
Posted 30/10/2016 at 20:59:57
Regarding the number of times the players were slipping.
I came into the ground at around ten past one and the pitch was getting watered then, God knows how long the water had been on for. It is like this every game. One game the rain was pouring down and they still had the water streamers on. Is this the reason the players are slipping all over the place?
Tony Sullivan
88
Posted 30/10/2016 at 21:00:33
Damian Wilde (56): 'a better team would have beaten us today'
We played West Ham and won, that was the task today. Cut out the nonsense statements, and live in the real world.
Victor Jones
89
Posted 30/10/2016 at 21:01:40
Good three points today. That's all that really matters – three points. Start winning a few football matches , and confidence along with hopefully better football will follow. But right now, with a few of our squad not performing, I will take any sort of a win.
Hopefully Koeman can find a way to get all eleven players on the pitch to fire all at the same time. Better football might just get the crowd singing. You don't usually sing at a morgue, although to be honest some of our players would look at home in a morgue.
Last comments, off topic but be honest people, how many of you would have liked to have seen Wayne Rooney in that Everton team today, instead of Mirallas? Or even on the bench to add his experience to the game second half. I would... All pie in the sky I know, but I hope that the powers that be can find a way to make it happen.
Rooney lining up with Barkley... and Lukaku. And just think how some of our younger players would benefit with training with Rooney.
Anyhow, that win today has just about put Everton back on track. Clean sheet and three points. No squandering of leads. And no team has really stuffed us so far this season. We are not capitulating. So I do think that are are becoming harder to beat. Just get the attacking side right and we have a team.
As mentioned, test the resolve of United over Rooney. And how about a wee tickle for Charlie Austin? Get Deulofeu and Mirallas off the payroll...
And we have to play three at the back next week. Williams, Jags, Mori with two wing backs, in my opinion.
John Malone
90
Posted 30/10/2016 at 21:12:40
Damian (#85), I have agree – Lukaku was the outstanding performer today!
Us as fans do get carried away with a goal and a win a bit like we do when we get beat and it's the end of the world! But I have to say Barkley is definitely adding something to his game under Koeman. He is grafting a lot harder off the ball; I saw it at home against Palace before he got brought off – he never stopped pressing and when he got to his man he never stopped either tackling straight through him, and I saw the same in the second half today!
I really do hope like all blues that the penny drops with Barkley but I do fear that his biggest problem is in his head, he seems to really lack self-belief and confidence which is amazing considering the talent and ability he has!
Ed Fitzgerald
91
Posted 30/10/2016 at 21:16:33
Damian
You are talking shite pal. There are no creative players at the club with the exception of Barkley who get any meaningful game time. In terms of English players only Dele Alli or Milner (who takes penalties for the RS) have had a better 12 months – it's 10 goals and 9 assists btw for Ross. That includes the so-called prodigal son (sic), Rooney. Considering Barkley is supposed to be shite to most on TW, they are pretty good statistics.
Yes, let's haul him out of the team and have a midfield of Barry, Gueye, and McCarthy and see what they provide offensively. Unlike some of his midfield colleagues, he does actually try to hurt the opposition not just stop them.
I can't believe this is the club that once had fans that idolised Alex Young and Duncan McKenziie. Christ knows what today's crowd at Goodison would make of them.
Kieran Kinsella
92
Posted 30/10/2016 at 21:25:21
Oviedo was better today and I'm thinking it's cause he had Funes Mori inside him. In other words, a left-footer who's pretty quick versus an old fellow.
I'm not going to argue that Funes Mori is better than Jags but I will argue that Oviedo is poorer than Baines. Today he had the right kind of back-up alongside him and it helped because he wasn't caught leaving holes constantly.
When Baines is back, I imagine we will revert to the usual back line.
Brian Harrison
93
Posted 30/10/2016 at 21:27:20
Funny game today, started slow and sluggish and could easily have gone a goal behind. Second half was much better, but still struggling to put in a consistent 90 minutes.
I think Lukaku's overall play is starting to improve; he held the ball up well and found his teammates with some neat passing.
I, like all fans, was pleased that Barkley scored and played a lot better in the second half. He is a real enigma who can do the most exciting things and then follow it up with poor sections of play. He really lacks confidence the difference when he scored was quite an improvement. But he is an England international... surely he can draw on that for his confidence.
Mark Daley
94
Posted 30/10/2016 at 21:38:30
The singing is pretty woeful. Last season, I saw a game at Lech Poznan – now
those
supporters know how to make a noise. Could the club do something to encourage storage of banners? Or look at the Kop – all those red flags, the bastards.
We won today and a win's a win and you can only beat the opposition blah blah, but that performance won't dent the RS the week before Christmas; we'll be 2-0 down after half an hour if that's all we can manage then.
Andy Finigan
95
Posted 30/10/2016 at 21:52:27
Have you anything nice to say about today, Mark?
Jack Convery
96
Posted 30/10/2016 at 22:21:11
I reckon Koeman will do an Etihad at Stamford Bridge next week. It will be defence all week in training, with Bolasie and Lukaku on breakaway duty. It's a pity Gueye won't be playing and it will be interesting to see if he keeps Ross in the team as he left him out at the Etihad.
I would go with Lennon on the left if Baines is still out. Lennon has a great work ethic and, although Oviedo is doing okay, he'll need support. Cleverley will come in for Gueye and it will be his big chance to show Koeman he wants a future at Goodison.
Another big decision is whether to recall the rested Jags. I personally would. Whatever happens, Koeman will set our stall out to hold Chelsea at bay and try and pinch 3 points, as we nearly did at Man City.
Tim Greeley
98
Posted 30/10/2016 at 22:30:33
OK finally. I felt we played quite well and was happy with the effort. Rock on Blues. Happy customer for one week. Let's go get that win at Chelsea stolen from us last year.
Also, that arrogant ass Taylor not giving that penalty at the end needs to be looked at. On a weekly basis we see multiple penalties called for infractions that aren't even close to being that obvious and that fuck waved it off. No mas baldy, go screw. So annoying.
Shane Corcoran
99
Posted 30/10/2016 at 22:33:25
Barkley was far from great but did do a few very good things.
In the first half, on a number of occasions, he delayed things too much. Nobody has mentioned one of these times, on the edge of West Ham's box where Ross decided to have another dive. Embarrassing. I hope the plaudits he got today bring him on as there's no doubt there's a huge talent hidden away there.
I thought Gueye was poor enough, Mirallas anonymous and the rest pretty good overall.
Lukaku had a very good second half and was my MotM.
A welcome victory that I wasn't expecting.
Teddy Bertin
100
Posted 30/10/2016 at 22:33:40
Andy what are you talking about about? Are you saying that Barkley's first season under Martinez wasn't an improvement from his previous two seasons under Moyes?
Loads of players improved under Martinez: Stones, Barkley, Oviedo, Lennon, Garbutt, McCarthy...
That last season, he lost the plot, the players turned on him, the crowd turned on him and yes, a lot of players lost their confidence, but to say no-one improved under him at all is unfair and ignorant.
We achieved our highest ever Premier League total and played some wonderful football in Martinez's first season. He's proven that he's not the kind of manager that can get a team to grind out results, win back abusive fans or even win over confused players but the one thing Martinez did show was that, if things were going well, he could improve the confidence in a young player and help them express themselves.
Martinez deserves a lot of credit for Stones's and Barkley's improvements and first team opportunities. Give the guy a break. Most of the time, football is a hell of a lot more complicated than one man being to blame for everything that is wrong with a football club. We'be been pretty poor at points this season too.
Brent Stephens
101
Posted 30/10/2016 at 22:44:51
Well played, Ross. Comparisons with Rodwell crazy. But it seems some don't want to hear that.
Ray Roche
102
Posted 30/10/2016 at 22:54:03
Teddy, people often point to the "record points tally" under Martinez in his first season, yet forget to mention that last season we had our worst home record in the club's history. That was not progress.
Damian Wilde
103
Posted 30/10/2016 at 23:44:24
Brent, the Rodwell comparison is fair game imo. I think he'll be at a Sunderland or West Brom in a few years.
People perceive him to be better than he is as he's a local lad. Had we signed him three years ago and he was say, French, would the positive opinions be as strong?
Steven Jones
104
Posted 30/10/2016 at 23:52:32
Barkley – total class today... that's why MotD2 were all over him.
His touch – the way he finds space and is so so calm on the ball is amazing – the admiration from Ruud et al – great to feel the love.
He was brilliant today... his chasing, his interceptions, control in tight situations grabbed space for us and allowed runners to go on.
That shimmy and shot first half was beautiful... only the deflection allowed the outstretched arm to stop it.
We love you, Ross!
Brian Wilkinson
105
Posted 30/10/2016 at 00:04:36
Damian@103,
Jamie Redknapp nailed it on in regards to Ross, had Ross not been a local lad, he would get more time and patience, I've seen it before over and over, as soon as Ross makes a mistake the crowd are on his back like a pack of hounds.
Is he playing to his true potential? No, but a bit of encouragement just might give the lad the confidence needed. It's time the fans got behind Ross, accept a mistake and instead of howling, give the lad a bit of encouragement.
Andy Williams
106
Posted 31/10/2016 at 00:18:36
Teddy, you think Martinez improved Stones? He very nearly destroyed one of the most talented footballers this country has produced.
Not one of those players played as well last season as they did in his first season. In fact not one of those players played as well in his second season as they did in his first when there was still some of Moyes's discipline evident.
Barkley was never given a chance by Moyes – he was bound to show promise when given a chance. Before you start calling people ignorant have some facts to back your argument up with. The man asked players to do things that were totally against their footballing instincts and, without Lukaku's goals he would have taken us down to the Championship.
Don Alexander
107
Posted 31/10/2016 at 00:24:25
Teddy Bertin, with respect, BBS in his first season with us only started to tweak the Moyes playing system towards the end of it, when we failed to win a top four finish from a very good place to do so with four games left. The following season was, erm, underwhelming to say the least and last season was just awful despite two semi's (and nobody I know is impressed with an occasional semi).
Just how Citteh currently justify what they paid for Stones is a mystery to me. I cannot believe he wouldn't be way better had he had three seasons of Koeman rather than the Catalan Clown.
Martinez contaminated our players with lassitude and losing tactics. I remain very confident that our Ron will knock such shite out of them pdq and even maintain what he's already achieved, if not improve on it, well before we implore him to sign another contract.
Liam Reilly
108
Posted 31/10/2016 at 00:37:02
"A good three points but it should've been more."
Seriously, what can the boys do with that???
I haven't been to Goodison in a while, so I thoroughly enjoyed today.
Ross, great game, son.
Steavey Buckley
109
Posted 31/10/2016 at 00:41:32
Everton were quite disjointed with passes going astray, except for the brilliance of Barry, Barkley and Lukaku, my MotM, who were able to do something with the ball once it was in their control.
But the game could have been a lot different if West Ham had been more effective in Everton's last third, and their goal-keeper Adrian could have done better for Everton's both goals, even though he pulled off a couple of great saves in the first half.
Mick Davies
110
Posted 31/10/2016 at 01:26:55
Teddy @ 100,
Loads of players improved under Martinez: Stones, Barkley, Oviedo, Lennon, Garbutt, McCarthy.
How can you say Garbutt improved? He only played 5 games then disappeared on loan.
McCarthy came with Martinez, played well first season, then went off the boil and suffered injuries.
Lennon was great on loan, but went downhill after being signed and hasn't been an automatic choice since.
I thought Williams had his worst game for us today, but the defence looked more capable with Funes Mori; and Robles never did anything wrong, even making two good saves. Coleman recovered from a slippery start to look like the swashbuckling wingback we love; Gana failed to impress as he usually does, but Barkley produced his best stuff for a long time; he just needs consistency now, not sitting back on his laurels.
Barry improved after a lousy first 20 mins and Oviedo is getting better with every game, but special mention to Lukaku. He played like a 㿞m striker today and held the ball up, brought others into the game, set up Barkley majestically and worked his arse off.
One criticism is our pathetic corner taking: surely there must be someone better than Mirallas? He just lumps it into the goalies arms – no zip, no direction and no use
Mark Wilson
111
Posted 31/10/2016 at 01:32:51
Damien Wilde, hashtag loads of stuff. What on earth are you going on about with this "Barkley was poor" stuff ? He lost one ball in a very iffy position but, that apart, he had his best game, for, well, a long time. He's got a full season of needed improvement ahead of him, I think, so this one decent performance doesn't change much, but it was a very decent performance, and helped secure a hugely needed win.
It could all unravel at Chelsea next week, they are playing very well and getting better with each win. We still have some serious problems with too few players scoring goals, and despite what looks like a really good defensive record so far, we give away daft goals at times and there's a lot of work to do to stop that
But let's just celebrate a deserved win, some very good individual performances from Rom, Ross, Oviedo, Bolasie and Barry.
Ernie Baywood
112
Posted 31/10/2016 at 01:47:50
Win celebrated... the next 4 fixtures are going to tell us a lot about what's in store for this season. Need to stay close to that top 5.
Keep working, Ross, it shouldn't be a surprise that you got rewarded in the game – you clearly worked harder than I've seen before.
Darren Hind
113
Posted 31/10/2016 at 03:01:04
Damian Wilde
You start by announcing you were at the game – congratulations – but you then go on to tell us how bad Barkley was.
Which game was it you were at? And which Barkley were you watching?
Les Martin
114
Posted 31/10/2016 at 09:04:57
A good platform for Ross to re assert himself. He needs to continue in this vein as we know and add some real aggression, tackling and fight to his game, as he has resembled the traits of a gracious choirboy in the past. Time to man up and show other midfielders that he is boss and out fight the man in possession.

John Mckay
115
Posted 31/10/2016 at 10:39:41
Good win against a decent side, they ripped us apart last season after we went 2-0 up.
Anyone else notice we got rid of the hoodoo of not being able to win 2-0 btw? Has it really been almost 2 years since we shut out a game at 2-0?
Should have been 3-0 tho – that penalty was nailed on, ref is a pleb.
Craig Walker
116
Posted 31/10/2016 at 13:58:47
I agree with Shane @99. Barkley had a better game and took his goal well. He still frustrates the hell out of me though. He's too slow in possession.
What summed him up for me was when he took that ball down in the second half, turned and ran with it. Superb stuff but then he goes and loses it. He'd done the hard part. It was a great save from Adrian in the first half but a player with more guile would have scored instead of just putting his laces through it.
Thierry Henry spoke after the Boro game about how he played with Dennis Bergkamp and how the Dutchman would never pick the wrong option. He showed the clip from the Boro game where Ross got to the byline and instead of pulling it back to Gueye (I think it was) he tried to thread it through 4 Boro players' legs and wins a corner. Better players in that position would have just set up a goal.
Ray Roche
117
Posted 31/10/2016 at 14:08:42
Craig, regarding the Barkley effort that Adrian saved, I thought that took a deflection that allowed Adrian to make the save. Barkley did exceptionally well in creating enough space to get any sort of shot in. There was very little else Ross could do in that situation. He should be applauded for that effort, not criticised.
Joe O'Brien
118
Posted 31/10/2016 at 15:28:13
Great to be back to winning ways yesterday. Delighted for Barkley, he played well... MotM contender, but, yes, still was slow in the build-up play. That's not a criticism by any means, just shows what potential he has.
Wasn't a great match and still was very good, if you get me? The deflection kept out that goal – otherwise, it was in the net.
I don't know what match Damian was watching either, and Terry, are you for real? Martinez didn't make any player better. That has to be the most bizarre post I've ever seen on this site.
Craig Walker
119
Posted 31/10/2016 at 17:43:46
Ray. Okay maybe not the best example but time and again he gets in great positions and chooses the wrong option. When he should shoot he holds onto it, when he should keep it low, he balloons it over etc.
Like I said, he had a better game but he frustrates the hell out of me because he should be running games and bossing the midfield. I want Ross to succeed at Everton but I just don't see it happening...
I hope I'm wrong. At least he seems to have reacted well to being dropped but he needs to start dominating games regularly.
Ray Roche
120
Posted 31/10/2016 at 18:28:43
Craig, I agree, Ross can be just SO frustrating, not picking what we can see is the obvious option, instead, he (sometimes) goes for the option which leaves us with our head in our hands and the opposition with the ball.
In my opinion, he is at his best when either he can run at teams and then have a shot, or he has no time to think, and act instinctively to play a wonder pass or hit a great shot.
If people (and that is "fans" who've never been able to kick their way out of a wet paper bag, never mind compete on the big stage) just get off his case for a while and let the lad relax, we may yet see the best of him – and in a blue shirt.
Dan Davies
121
Posted 31/10/2016 at 23:06:58
I thought Barkley answered his critics, being honest.
Damian Wilde
122
Posted 31/10/2016 at 23:18:40
Craig (#116), spot on. Can people please comment on all the times Barkley had the ball, turned left, turned right and after his brain dries up, passes it two yards sideways and slows play right down? He did this several times, hardly outstanding.
To say he looks 'class' is just ludicrous. If someone said he played 'quite well' fair enough, but 'class'? The only class player we have plays upfront.
Don Alexander
123
Posted 31/10/2016 at 00:22:59
Every Evertonian surely wants more from Ross BUT the story surrounding him is that he played little or no football until he was 10 (very strange if true), was then signed up by us one year later with unbelievable skills visible off either foot (strange), was then dismissed by an anonymous ex Everton player as "having no footballing brain" (worrying), was then continually praised by Martinez (farcical and damaging) because he was proving more and more that Mr Anon may just have had a point, and is only now, please, just about to start becoming the consistently exciting threat that every other team should dread facing.
Jury's still out on him for most but he's not in the dock and he needs to understand that. Instead, he's in a win-win situation if he develops what he at least started to show in the second half, a real appetite to compete when we don't have the ball, because that will buy him some licence if/when he cocks up in possession. It ain't rocket science, Ross.
Phil Lewis
124
Posted 01/11/2016 at 09:31:40
I agree entirely with Damian Wilde's assessment of Ross Barkley's performance. Yes, there was improvement and, please God, may it continue, as I believe it will take heavenly intervention for Barkley to consistently attain the level that many people think he is capable of!
I am pleased for the lad that he scored and was involved a little more than usual, but it was hardly worthy of the 'class act' platitudes, that many are so keen to bestow upon him.The truth is, that he continues to fall short.
There was one point in the game for me, which glaringly illustrated his lack of vision and dullness of thought. He played Bolasie (surrounded by 3 West Ham players) out to the right, with a neat pass and then just stood motionless, expecting what? For Bolasie to take three players on and deliver a cross?
A class player, when making the initial pass, would have been instinctively running into space, screaming for the return, or at least running to Bolasie to help him out. The result was that Bollasie lost the ball and predictably, the move broke down. Just a small point perhaps, but for me it spoke volumes about Ross Barkley, the player.
As I have said several times on ToffeeWeb, I want Barkley to be the real deal, as much as the next person; I just cannot see it ever happening. To reiterate, I would exchange him for an ageing Wayne Rooney in a heartbeat. Evertonians would then be treated, even at this stage of his career, to a real class act.
Damian Wilde
125
Posted 01/11/2016 at 09:56:23
I agree, Phil, people are desperate for him to be class and as soon as he does something well, it's 'Ross was outstanding, is class, was MotM, what a player.'
Derek Cowell
126
Posted 01/11/2016 at 11:50:35
Damian at #122.
I agree that Barkley is not a 'class' player but he did have a good game on Sunday.
I do not agree though with your point that we have a 'class' player up front. Lukaku is far too lazy to be a 'class' player. In the first half he just wandered about aimlessly for most of the time. Yes, he looks dangerous when running at defences but his general centre forward play is poor.

He doesn't press the ball, he makes no effort to make runs in the box and certainly never across the defender or to the front post. He is scared of heading the ball as evidenced by his constantly half-hearted attempts to challenge any centre half to a high ball from the keeper. Just watch him! He must be the easiest to play against for high-ball challenges for any Premier League centre-half (he's no Duncan Ferguson).

Yes he scored with a header on Sunday but that one was like heading a balloon over the line from a yard out. I have never seen a centre forward to be less interested in jumping for corners to try and head a goal. Some one needs to show him film of Latchford, Royle, Gray and Sharpe (and that's just our centre forwards). Look at the work off the ball done by the likes of Costa, Aguero and Sanchez and the runs they make into the box and still tell me that Lukaku is 'class'.

This is why no really big clubs wanted him in the summer. He is only 'class' in his own head and those of his agent and his dad. I still hope that he proves me wrong and ups his game because, if he could (and I doubt he can), he would be really 'class'. He can score maybe 15 to 20 goals a season but if he really improved his lazy all round game he could score 25 league goals. Just for the record he also looks to be selfish and not a team player as he only really looks interested when he has the ball.

There, that should upset a lot of TWers or do I watch a totally different player to others? He did have a better second half on Sunday but that would not have been too difficult after his pathetic first-half efforts. I want him to be 'class' but I hate to see a lazy (and possibly overweight) player ambling through games looking disinterested for most of the time when, in a team like ours, everyone has to give their all for the whole game. None of our previous captains would have put up with his attitude and I hope the manager can improve it now.
Dave Abrahams
127
Posted 01/11/2016 at 12:14:19
Derek (#126) – of course you see a different Lukaku to lots of other fans on ToffeeWeb but not to me and quite a few more on this site. Your description of his play is the way I see him.
Where you say, "He was a lot better in the second half on Saturday" – if he could play more consistently like that, he would get very few complaints and clubs would be lining up to give him his craved-for move away from Goodison Park.
John Daley
129
Posted 01/11/2016 at 14:21:22
"
Anyone who thought he had a great game must have been watching a different game. His only contribution was a five-yard tap in."
"People are desperate for him to be class and as soon as he does something well, it's 'Ross was outstanding, is class, was MotM, what a player.'"
As usual, you've got things arse about face. Some people are so desperate to be proved right in their predictions of failure, that even when they state before the game that 'Barkley better not start', 'I'll go absolutely ape shit if Barkley plays'...
He then goes on to make them look a hollering hoople-head by proving instrumental in a win, scoring a great goal, being involved in almost everything of merit we produce going forward, visibly growing in confidence and influence as the game progresses and is ultimately rewarded by being given man of the match, they don't even have the good grace or humility to admit that they were maybe a little bit hasty in this instance, nor the common sense to at least keep it shut and leave off fucking hammering him for a week. 
Regardless, any opinion you in particular may hold about Ross's performance is automatically rendered null and void by the fact you've previously declared on here that you 'detest him', 'really can't stand him' and 'once superglued a picture of his face to a sock that I then slipped over a bog brush and used to battle a stubborn turd bobbing up and down in the basin, whilst shouting "Go on then Barkley, sink or swim lad. Sink or swim. Yeah, that's what I thought. Drowning like a bitch. Choke on it. Get your head right under that rim  and give it some welly you lazy wanker", before removing the sodden shit-covered contraption, letting out an audible gasp, sinking to my knees and sobbing,  "At last, God has deemed me worthy to gaze upon your true face. Behold, the real Ross Barkley everybody!"
 
It's like the ToffeeWeb version of some twat banging the Birdie Song on repeat. We get it. You don't like him and don't rate him. Fine. You don't have to obsessively harp on about it, endlessly, like Dr Loomis detailing the precise nature of the evil dwelling within Michael Myers, to anyone within earshot, even when he's just waiting to see the cock doctor or stood at the fish counter in Morrisons.
Brent Stephens
130
Posted 01/11/2016 at 17:46:20
Well said, John. I think that's all that needs to be said.
Damian Wilde
131
Posted 01/11/2016 at 22:11:58
John, why are you making things up that I said? To suit your argument? Use facts, lad. Also your attempted insults made me laugh tbh. 😃
Could it also be that 'cause you love Ross, that your opinion has been well over-exaggerated?
I think your analysis was way OTT. What about when he, countless amounts of times, had the ball, danced left, danced right, and eventually, when he didn't know what to do, passed it two yards sideways and in the comparison completely slowed play down? Ross has one okay game (and has been poor on and off for 18 months) and people are acting like he's Xavi. Certain other clubs are known for overhyping players, let's not be one if them.
Derek (who was able to articulate his thoughts without having a hissy fit, like John),
I agree with a lot of your points and I have said them on here.
I thought he was superb towards the end, but he is nowhere near consistent enough. Scoring goals though. Better than Ross, though... way better. 😃
Stan Schofield
132
Posted 01/11/2016 at 22:15:59
Brent, I must add a bit more, a bit duller than John's. I'm repeatedly gobsmacked by ToffeeWeb. There seems to be a dislike, by quite a few on here, of what we might call 'ball players', or 'flair players', and a preference for workhorses. It gobsmackd me because we're Evertonians and, as an Evertonian since 1961, I've always naturally thought of us as a stylish team, the team with Young, Ball, Harvey, Morrisey, Whittle, Kendall, Reid, McKenzie, and other talented ball players who make football worth watching. Barkley is such a player.
I can't believe the stick he gets. Not only is he a fantastic player, he can't be accused of being arrogant or a prima donna; he seems a genuine bloke as well, yet that doesn't stop the constant criticism. Can't we cut the guy some slack, particularly given the management shit he's played under in the recent past? Maybe give him less scrutiny and more chance to breathe in this 'new era' of ours?
Damian Wilde
133
Posted 01/11/2016 at 22:44:27
Barkley is up there with Ball? 😮
Brent Stephens
134
Posted 01/11/2016 at 23:04:37
Yes, Stan, as you say, Barkley is a talented ball player who can make football worth watching – similar, as you say, to those other players you mention. That is clearly not to say that Ross is as big as those others or shares all of their talents, nor that all of those others were as good as each other, because they all brought a different sum of qualities to the table – but one of those qualities (ONE of those qualities, as you say) is a talent that can be attractive to watch.
People have simply stated that Ross had a very good game. Some have mistakenly taken that to imply that Ross is consistently a good player. I don't know a single person on TW who believes that or has said that.
Let's leave the last word to Damian "I thought he was superb towards the end". Well said.

Stan Schofield
135
Posted 01/11/2016 at 23:07:25
Damien, I didn't say that, but perhaps you think it?
John Daley
136
Posted 02/11/2016 at 00:35:04
"John, why are you making things up that I said? To suit your argument?"
Which of the following was I making up?
1) that you said you 'detest' Barkley?
2) that you said 'I actually can't stand him' in relation to Ross?
3) that you said you constructed a Bog Bross (tm) to drown down your crapper?
Deny the first two and you're lying, because they were on here for all to see.
Denying the third would be a redundant rejection on your part because I was clearly either (a) taking the piss, not seriously suggesting you made such a statement, or (b) making a deductive leap based on the damning evidence of the first two statements [I'll leave it to others to determine which].
"I think your analyis was way ott"
Analysis? Where did I offer any? If you're referring to the sentence summing up Barkley's performance, let's break it down, compare it to your own and see which is OTT:
Me:Â 
"Instrumental in a win": clearly he was
You:
"he was poor": bollocks 
Me:
"Scored a great goal": started the move in the middle of the pitch by turning away from his marker before spraying an inch perfect ball out to Lukaku, heading into the box and hitting the return, first time, down low and hard past the keeper. A technically difficult strike pulled off to perfection.
You:
he scored "a five-yard tap in": bollocks
Me:
"involved in nearly everything good we produced going forward": He created a chance for Lukaku to get a shot away early on.  Came close to opening the scoring himself by wrong footing two defenders on the edge of the box and making room to get a shot off only to be denied by a deflection and a damn fine save. Had another shot that was deflected over the bar. Played a part in the build up immediately preceding the first goal by setting up Coleman for the effort that was pushed aside by the keeper into the area where Bolasie would Roadrunner his arse. Had another shot that sailed over the bar. Scored the second goal. Had another shot that was deflected wide. 
You:
The goal was "His only contribution.": bollocks
Me:Â 
"rewarded by being given man of the match": well, was he named MotM or wasn't he?
You:Â 
"Anyone who thought he had a great game must have been watching a different game":
Phil Lewis
139
Posted 02/11/2016 at 01:45:46
Whether it is an attempt to bring Rooney back (who could play both roles) or the signing of a striker and a creative attacking midfield player come January, Mr Koeman must venture into the transfer market. The loss of Lukaku for whatever reason at present, would render us totally toothless up front.
Although I make no apology in my criticism of Barkley, the signing of a seasoned, proven Number 10, or to use the old fashioned term, 'schemer' (Rooney perhaps), could possibly bring the best out in Ross. Through no fault of his own, to be completely fair to the lad, he has never had an old head to learn his craft from, in his designated position.
It could be argued that the manager and coaching staff should be ironing out any shortcomings, but it is on the park, in the heat of Premier League matches, that the learning curve is at its sharpest.
Ernie Baywood
140
Posted 02/11/2016 at 02:14:29
Maybe that's what Koeman is trying to tell Ross with his words about Rooney? Sobering seemed to get a reaction out of him.
Looking forward to seeing Ross this week. If he works as hard as on Sunday then maybe the penny has finally dropped.
Brent Stephens
141
Posted 02/11/2016 at 11:54:46
#136 - one of the funniest links ever!
---
Add Your Comments
In order to post a comment, you need to be logged in as a registered user of the site.
Or Sign up as a ToffeeWeb Member — it's free, takes just a few minutes and will allow you to post your comments on articles and Talking Points submissions across the site.
© ToffeeWeb