Report
Blues leave it late to save a point
By Michael Kenrick
19/11/2016

219 Comments [Jump to last]
Share: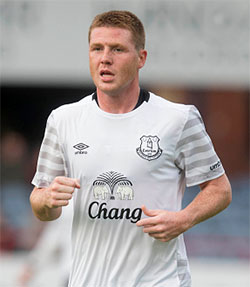 Though many favour giving Tom Davies the nod, James McCarthy is the likely replacement for the suspended Gareth Barry
Everton 1 - 1 Swansea City
Everton needed a reaction to their heavy defeat at Chelsea as Swansea City came to Merseyside with crisis looming over new manager Bob Bradley. Baines displaced Funes Mori, with McCarthy and Lennon also starting.
There was some good forward momentum from Everton in the early forays until backward play ended up putting unneeded pressure on the defence. Barkley played a good ball in to Lukaku's feet and the big man made space to fire at Fabianski.
Williams gave away a soft corner, Baines deflecting the shot behind for a second corner that was defended away but Swansea continued to press the Blues back. Jagielka and Coleman took each other out defending a lofted ball and finally Baines got the ball forward to Bolasie but it broke down when Gueye lost the ball.
Lukaku failed to hold up an easy ball played up to him, then Bolasie lost possession as the home side showed little sign of playing any better than they had in the dreadful defeat to Chelsea, allowing Swansea to pass the ball around at will until LeRoy Fer fired high over the bar.
Williams fouled and stayed down injured, giving away a poor free kick in a dangerous spot, right in front of goal, well set up for Sigurdsson; Stekelnburg did well to turn his set-piece shot behind, despite a slight deflection off the kick, Swansea heading over from the corner. Then Barrow and Sigurdsson almost combined to threaten the Everton goal, with the Blues defence all at sea.
Gueye tried the clever ball wide to Coleman but inexcusably overhit it out for a goalkick. Bolasie got a chance to run and cross but it was straight to a Swans defender and they were on the attack again.
Barkley did very well to beat four players and get the ball out to Bolasie who crossed hard, a perfect delivery for Lukaku to convert at the far post but it was a much harder cross than the big man could handle at an awkward height; however, a top striker really would have scored.
Much better play from Barkley and Bolasie and a superb turn by Barkley but he scuffed his shot agonizingly wide when he looked certain to score, and flung himself down in a mad fit of pique with himself at the lost opportunity.
Swansea were building with confident and accurate passing that got them through Everton midfield with far too much ease. But Lennon got forward and won Everton their first corner for Baines to deliver high into the arms of Fabianski. Gueye did well to poke the ball off Naughton and prevent danger from developing.
Barkley again tried to create space but passed out wide rather than driving forward. Everton pressure eventually won a free-kick for a high boot and Barkley curled it around the wall but not past Fabianski
Swansea got forward, and Jagielka put in a clumsy half-challenge from behind and a simple call for Atkinson: Penalty, smashed home by Sigurrdsson, with Jagielka booked.
A free kick wide left after a Naughton foul was very poorly delivered in by Barkley. Some brilliant passing released Bolasie who took and extra touch and Fibianski was out sharply to narrow all the angles.
A really maddening half from a Blues side that struggled for long periods but showed three moments of magic that should have produced three goals. Instead they went in a goal down to a round of groans from some frustrated Blues fans.
Lukaku's pace won a corner early in the second half but Williams could only head Barkley's delivery behind. The scrappy midfield play continued until Everton put together a better passing move that ended with a blocked header off Bolasie. More sweeping football and a good quick cross from Colman was cut out before it reached Lukaku.
Lukaku pressed Fernandez, forcing another corner but Fabianski saw Barkley's high delivery all the way, as the more determined play finally roused the Goodison faithful. Better pressure drew another corner and this time Baines played on outswinger but it was not clever enough.
Smart play involving some good touches from McCarthy ended with a looping cross to Lukaku that was too high and picked off by Fabianski. Lukaku was fouled near the dee and it was a chance for Baines to drill it into the wall. Lennon was like a terrier driving into the Swansea area but it was more like pinball off the defenders than cultured passing as the Blues scraped and scrapped to make scoring opportunities even half as good as the ones they had squandered in the first half.
At least the pace of the game was far better than the first half but it looked that Swansea had weathered the barrage and Baines was booked or a mistimed lunge. Swansea came very close to scoring a second off a superb delivery.
Lukaku was again denied a good ball in and McCarthy drove a distant shot wide before Lennon was withdrawn in favour of Deulofeu. Most of the play was still in the Swansea half but they were holding their shape well enough to prevent Everton from getting close enough to test Fabianski. Deulofeu's first corner was defended away but he had brought some new life with Mirallas the next change, replacing McCarthy.
Everton continued to press from the flanks but Barkley was booked for dissent after he was called for a ridiculous collision with Sigurdsson.
Deulofeu was taking far too long to get his crosses in, and when he did, they were poorly directed. Deulofeu saw a chance to shoot but sliced it wide of the goal. Deulofeu then tried to beat Fabianski to a high bouncing ball but the keeper was out sharply to control it. Taylor gave up another corner, that Baines took off Deulofeu but it was straight into Fabianski's arms at the second attempt.
Into the final 10 minutes, and for all their vim and vigour, there was nothing to show for it. The final throw of the dice from a frustrated Koeman was to pull Jagielka and put on yet another attacker in the shape of Enner Valencia.
Cork and Sigurdsson almost conjoured up a second for the visitors as it appeared that the plethora of strikers were doing little more than get in each others way but a ball looped in by Bolasie and headed out was then nodded into the top corner by Coleman, much to the relief of a hugely frustrated Goodison crowd.
Into 4 minutes of added time and Deulofeu was booked. Bolasie tried a clever volley but smacked it over. Deulofeu crossed in but Fabianski took it easily as Everton went all out for a winner, but could only rue those tremendous missed opportunities in front of their lowest crowd of the season so far.
---
Reader Comments (219)
Note: the following content is not moderated or vetted by the site owners at the time of submission. Comments are the responsibility of the poster. Disclaimer
Thomas Surgenor
1
Posted 19/11/2016 at 14:37:28
I would've had Davies (in place of Valencia) on the bench in case McCarthy can't last the 90.
Brian Wilkinson
2
Posted 19/11/2016 at 14:55:49
I cannot fault that starting eleven, regardless of the result, it would have been my strongest starting 11. McCarthy has his knockers on here but he will do a job for us and happy to see him starting.
Jay Harris
3
Posted 19/11/2016 at 14:56:30
Like Thomas, I'm very surprised Davies is not even on the bench.
I would also have had Robles in goal after Stekelenburg's recent clangers.
Brian Wilkinson
4
Posted 19/11/2016 at 14:57:40
He's done right leaving Stekelenburg in, a chance to redeem himself. The last thing we need is a player shattered of confidence. Robles's chance will come again.
John Wilson
5
Posted 19/11/2016 at 15:09:34
Does anyone know what radio station this Everton match is being broadcast on? Normally, it's Radio Merseyside but instead today for some reason, it's broadcasting Liverpool's match against Southampton. I don't want to listen to Liverpool.... grrr.

Colin Hughes
6
Posted 19/11/2016 at 15:16:02
John (#5) Everton are on DAB radio; RedShite on FM.
Phil Greenough
7
Posted 19/11/2016 at 15:31:12
Here is the link that I'm watching it on, if anyone wants it.
http://www.vipbox.mobi/football/430443/1/huachipato-vs-Everton-live-stream-online.html
Loko Sanchez
8
Posted 19/11/2016 at 15:58:58
Another penalty..sigh
Mark Andrews
9
Posted 19/11/2016 at 16:01:27
Awful stuff in the first half. Yet again, Koeman gets his tactics wrong. I wish he was as good as he thinks he is. The lustre is quickly disappearing off Ronald.
Colin Hughes
10
Posted 19/11/2016 at 16:06:56
Atmosphere and whole ground is flat as fuck, what happened to the word 'support'? Players won't give a damn if they think the fans don't care either.
Winston Williamson
11
Posted 19/11/2016 at 16:25:44
Colin, you're entitled to your opinion, but in my opinion that's nonsense.
Never before have I felt as little as I do for an EFC team, as the majority of our players play and have the demeanour of not giving a shit... the commitment levels of our squad as a whole are embarrassing.
Wonder what the excuse will be this week?
Mark Andrews
12
Posted 19/11/2016 at 16:31:35
Colin (#5). The job of these overpaid prima donnass is to entertain and inspire the crowd; we pay to be entertained. With this dour dross, it's difficult to get exited. Koeman is stealing from us.
Mark Andrews
13
Posted 19/11/2016 at 16:35:53
Well, what a wonderful reaction to the drubbing at Chelsea this is! Insipid unintelligent fare from an uninspiring manager.
Ronald, you can talk the Charlie 'big potatoes' guff in the press only if you're performing on the field. You're not.
Too many times this season he's got it dreadfully wrong in the first half and he's not learning.
Dean Williams
14
Posted 19/11/2016 at 16:50:33
I'm not feeling Ronald Koeman for Everton. Seems very dour, no inspiration to the players. Needs to do a lot more for me to get us up to the top end of the league.

Peter Barry
15
Posted 19/11/2016 at 16:59:01
Well, well, well... seems I was right again with my comments before the match for which I drew much unwarranted criticism. This Everton team is rotten from top to bottom and this new manager is not the one to fix it.
Christy Ring
16
Posted 19/11/2016 at 17:01:46
Can we have Anichebe back.
Jamie Barlow
17
Posted 19/11/2016 at 17:03:41
Coming on after the match and bragging because Everton didn't win. What a fuckin bellend!
And you didn't get it right. You said we'd get beat. Idiot.
Ian McDowell
19
Posted 19/11/2016 at 17:06:21
Peter, I was a little worried your comments may have come true and they very nearly did. Today was abject. A late equaliser only papers over the cracks. I think we need to give Koeman time to fix it though.
I'd start by letting him get stuck right in to this current crop. So what if he loses some of them. I couldn't care less about this squad of players. Many don't have the mentality or ability to play for Everton FC.
Andrew Presly
20
Posted 19/11/2016 at 17:08:12
This lot end up making a point at home to Swansea look like a good result. I just have to shake my head really, it's very sad.
Barkley is so infuriating, takes so many touches of the ball, kills all momentum. No football brain or even heart?! A tin man.
Jags is too fat & finished, Baines a non-entity these days and can't even take a corner. McCarthy not up to it, they always miss Granddad Barry, we should have spent the Bolasie money on a schemer / #10 like Sigurdsson as we have enough inconsistent wingers as it is.
Deulofeu looked bright when he came on, made things happen. Gueye simply better than all this & good on Coleman for having the chops to rescue a complete disaster.
Think that's everything. Get scouting Europe, Walshie!

Jay Wood
21
Posted 19/11/2016 at 17:08:41
THIS was not the promised reaction from the team that both the manager and players spoke of.
Relieved to earn an (unmerited) late, late home draw against the league's bottom side?
Yippee ...
Tony Twist
22
Posted 19/11/2016 at 17:09:42
Koeman is just living off past glories, he likes the sound of his own voice and just hoping that our first teamers come good. He basically put his excuses in early about everyone off on international duty early which is just embarrassing.
Instead of doing interviews he should have been doing double training sessions with our youngsters bringing them up to Premier League standard.
It is the lack of desire to bring the young players through which will ultimately fail Everton when clubs ask a king's ransom for ordinary players. The attitude of manager matches the attitude of the majority of the players and that is "can't be bothered". Utterly disgraceful.
Colin Hughes
23
Posted 19/11/2016 at 17:11:36
5 top players needed in January or we will finish 11th or lower again.
Daniel Joseph
24
Posted 19/11/2016 at 17:12:42
Inept.
Paul Smith
25
Posted 19/11/2016 at 17:15:08
Koeman – Everton are woeful at the moment.
Mark Andrews
26
Posted 19/11/2016 at 17:15:49
Ronald Koeman.
I hope he keeps his big gob shut this week.
I'm tired of him already.
John Wilson
27
Posted 19/11/2016 at 17:16:53
Look, we never lost despite it being a goal in the final minutes, which is at least some consolation. We have to do better obviously. It's going to take us some time to get where we need to be. Even Lukaku had an off-day..
Max Murphy
28
Posted 19/11/2016 at 17:19:42
Everton FC have become a joke.
Swansea deserved the victory — we deserved Jack-Shit.
John Parker
29
Posted 19/11/2016 at 17:19:44
With the exception of Gueye, everyone else stunk the place out.
Jamie Barlow
30
Posted 19/11/2016 at 17:24:40
How did they deserve the victory, Max? More possession? More shots? More corners? What's the reason they deserved the victory today?
Daniel Joseph
31
Posted 19/11/2016 at 17:25:18
Has Fabianski ever had an easier day catching balls?
Have the defenders ever had an easier day being the first man at corners?
Not one decent corner.
Jon Cox
32
Posted 19/11/2016 at 17:25:34
Can you imagine playing like that against the Red Shite. What a horror story in the making. David Cronennberg to ref and we may have an interesting game.
Jags is a liability now; he needs some bench time. Funes Mori can't be any worse than that. Major clear out come January.
Play the kids if we have to. This shit cannot be allowed to continue.

John Wilson
33
Posted 19/11/2016 at 17:30:29
Clear out, you say? We need players to clear players. This 5-0 defeat by Chelsea has destroyed Everton's confidence, putting too much pressure on them to beat a last in the league team, Swansea.
Swansea are obviously fighting because of where they are. Everton are confidence players – they can't seem to take a defeat and get over it. The international duties also stops the momentum.
John Wilson
34
Posted 19/11/2016 at 17:32:10
Jags shouldn't have been played so soon after his international duty.
Jon Cox
35
Posted 19/11/2016 at 17:32:34
And what momentum would that be?
Geoff Evans
36
Posted 19/11/2016 at 17:35:40
Who asked the question, "How do you motivate millionaires?"
Passionless, couldn't give a shit, woeful mercenaries.

Kevin Rowlands
37
Posted 19/11/2016 at 17:37:29
Let's be honest – we've been bog average for the last two seasons plus, and that's what Koeman inherited. I doubt very much that January will fix that but hopefully it will be the start of a massive overhaul which is what is sorely needed.
Out of this current group only Gueye, Coleman, Williams and maybe a couple of others are worth keeping. As for Jags, he is fast becoming this seasons Tim Howard, he's done at this level.
I dread Everton games at the moment, that's how bad it's become for me.
Ian McDowell
38
Posted 19/11/2016 at 17:38:11
John putting to much pressure on them to beat a team last in the league? Well if they can't handle that, then they will never ever win anything or even come close.
Jack Convery
39
Posted 19/11/2016 at 17:39:49
We are going to have to scrap for points til January as this team is not a team. It's made up of teo teams - the newbies and the old guard. Same thing happened when Harvey brought in a new lot of players – Cottee, Nevin etc. It never gelled and we went downhill quickly.
The old guard need to go asap as they obviously don't like Koeman at all. Get Kone in from Sunderland and send Jags in opposite direction. After his display today and every time I see him on TV I'd get Sigurdsson from Swansea as our No 10.
Walsh should keep an eye on Fer as he was excellent today. Bring Galloway back from WBA. Once we are safe Koeman can give the kids game time. Right now the squad atmosphere appears toxic to me so keep the kids away from it. This week they should concentrate on crossing and corners until their feet bleed.
Gordon Crawford
40
Posted 19/11/2016 at 17:43:34
What a gutless embarrassing team we support. Koeman, you need to get your finger out and earn your money. Don't care what Lineker or any other football pundit says, I see no improvement.
Clive Lewis
41
Posted 19/11/2016 at 17:43:52
Barkley needs to be replaced – too slow and ponderous need energy in that role. Coleman, apart from the goal, is a shadow of his previous self. Romelu has gone again, Bolasie was poor.. centre defence – Jags and Williams – need to stop hoofing.
Jay Harris
42
Posted 19/11/2016 at 17:46:26
Max I know you're disappointed as we all are (except for Peter) but to say Swansea deserved to win is insane.
If we had the players who can score that we've been lacking for the last couple of years, it would have been a landslide.
David Milner
43
Posted 19/11/2016 at 17:46:30
John @34
Jags should not be playing at all. Legs have gone. He makes mistake after mistake and still gets selected. Mason Holgate MUST be promoted to a starting place.
This seasons Captain Pip... and remember how bad that was. The words 'senior player' should be banned. If we have to play a 5man defence it should be Funes Mori and not Jags slotted in.
David Connor
44
Posted 19/11/2016 at 17:48:26
Just got back from the game and have to say, if that's the reaction we get after getting twated by Chelsky then we are well and truly fucked. NO FIGHT NO PRESSURE AND NO FUCKING IDEA. If that's Koeman putting the fear of god into that bunch of useless bastards, then god help us.
Southampton, Man Utd., Arsenal and the fuckin Red Shite coming up – I expect no points with that team, they are one of the worst teams I have seen in 40 something years of watching Everton.
To say I am disgusted with the attitude of this bunch of useless fuckers would be an understatement..Come on, Ron, one striker at home to Swansea. What the fuck are you thinking of??? Show some ambition, for Christ's fake fella.
Michael Lynch
45
Posted 19/11/2016 at 17:49:17
International break, low confidence, desperate opposition – there's no excuse for scraping a draw at home to the bottom club. Of course it's too soon to judge Koeman but, despite our relatively high league position, I'm sure every Evertonian is disappointed by our performances so far this season.
The worrying thing is there are no signs of any improvement coming until we have a massive clear-out. That's not happening in January, so let's just hope there is the odd flash of excitement this season, cos the immediate future is generally looking fucking bleak.
Clive Lewis
46
Posted 19/11/2016 at 17:53:19
Unsworth in as assistant.
Crossing was abysmal. Davies not a look in, should have been Davies instead of Valencia.
Ralph Basnett
47
Posted 19/11/2016 at 17:54:09
Same shoite, different manager!!!!!!
Charles Brewer
48
Posted 19/11/2016 at 17:55:38
As I see it, we need a manager with the inspiring attitude of a Season 1 Martinez, the coaching abilities of a mid-period Moyes, and the tactical intelligence of Kendall Mk1.
Unfortunately, we seem to have got a manager with the PR skills of Gordon Lee, the tactical intelligence of Walter Smith and the coaching abilities of Martinez Season 3.
It's going to be a tight race to the door between Koeman and Mourinho this year.
David Booth
49
Posted 19/11/2016 at 17:55:46
Why does it take a whole half, or conceding a goal, for us to put some urgency into our game? When is Koeman going to get this bunch of strangers playing like a team? And more importantly, not like one still managed by Martinez.
In every game we have either been saved, or managed to scrape a win, due only to a flash of inspiration, or flukey good fortune from one particular player. We have not pressed, played consistently as a team, or looked like we even have a plan for 90 minutes.
Not once so far – with a third of the season gone – have we imposed ourselves on any team we have played.
We are currently the easiest team to play against in the entire division: slow out of the blocks, thoroughly predictable tactics, and players who leave their teammates to just run with the ball without supporting them, taking up good positions, or even having the foresight to move around.
Predictable. Abject. Hit-and-hope. Incoherent from start to finish. Lucky to get away with it. Rubbish.
Hands up anyone who was surprised by yet another abject performance today...
Gavin Johnson
50
Posted 19/11/2016 at 17:55:58
It wasn't an enjoyable game. It felt very reminiscent of some of the games under Martinez in his last 2 seasons. We had the lion share of possession but looked pretty toothless.
I think the fact that it was defender that got us back into the game says it all. I felt like some of our attacking players we afraid to take responsibility and all too often went for a safe pass.
We missed Barry today. His years are catching up with him but he's the only defensive minded midfielder that can thread an unexpected ball through the middle.
We were very predictable constantly going for crosses and Bolasie's deliveries were very hit and miss to put it kindly. Swansea were set up to nullify us and were unlucky not to go away with 3 points.
We need the likes of Strootman, Depay and a quality striker, not sure about the fella from Napoli. We need an out-and-out centre forward, not another striker come winger like Mirallas.
Trevor Peers
51
Posted 19/11/2016 at 18:00:15
Swansea deserved the draw, their goalkeeper hardly had a shot to save throughout the whole game, and – unless Koeman signs a special player in the dreaded January transfer window – we're doomed to a season of total mediocrity.
Good luck with that one, Ron, because our squad is no better than Swansea's and they're rock bottom, the outlook is chilling!
Anto Byrne
52
Posted 19/11/2016 at 18:01:24
Look on the bright side – we are still the right end of the table. Another soft penalty but we got a point. Better than a 5-0 loss feels... like a win.
Trevor Roberts
53
Posted 19/11/2016 at 18:08:36
This lot will not get a win before Christmas.
We are in the shit big time.
Eddie Dunn
54
Posted 19/11/2016 at 18:10:18
Prior to the game, I said that Swansea were no mugs, and an early goal would be what we need to go on and win 2-0. We didn't get that early goal and had to watch yet another crazy scramble to get a point.
Mark Lawrenson said on Radio 5 that Walcott (for Arsenal) was able to play football but had no understanding of it, and thus hadn't improved. Our play reminded me of his comment. This is their profession and many of them don't seem to have a grasp of how to play as a team.
The corners were poor and our crossing in general was utter shite.
Paul Burns
55
Posted 19/11/2016 at 18:11:39
I don't think it's too soon to judge Koeman, he's an overrated phony and he's been found out big time.
His team is like him, all mouth, characterless and overweight. He is the gloom hanging over Goodison made human and the only sense he makes is the drivel he talks before games to bring down expectations because he knows we are shite-
He needs to go in the much needed clear-out of deadwood.
Dave Williams
56
Posted 19/11/2016 at 18:14:11
Four of the back five over 30 and Jags clearly out of form if not out of legs. I am starting to think this guy is not the right man to manage us – the players we are linked with are not top class and could just be another bunch of mercenaries.
We need a manager who will work with youth not one who will buy second rate foreigners who won't give a stuff for the club.
Why does Ron continue to ignore our promising young players? Okay, they can't be all blooded at once but Holgate and Davies look ready to me and they will go stale if he continues to ignore them.
Personally I would prefer to watch some of the youngsters try to make it than a bunch of has-beens and never-have-beens who don't have the passion or guts to fight for our club.
Andy Crooks
57
Posted 19/11/2016 at 18:15:42
I believe Koeman will get it right but I won't even try to defend that utter shite. We can't clear out players on contracts but I think it is time for the coach to use the only sanction available to him. Drop them.
There is a lack of urgency throughout the team and we need new faces to install it. Why Holgate does not start is beyond me. Same for Davies. We have players who do not fear being booted out of the side. It is time they did. They are poor and worse than that, shameless.

Anthony Hughes
58
Posted 19/11/2016 at 18:16:58
"Swansea are no mugs" — they're bottom of the fucking table.

Mark Morrissey
59
Posted 19/11/2016 at 18:17:06
David @ 43, It's sad but true. Jags has had it. If he was a horse he'd have been shot or put out to pasture. It's a shame.
Ian McDowell
60
Posted 19/11/2016 at 18:18:58
Eddie @ 54. Good point. I too heard Lawro talking about Walcott and immediately thought of Barkley. He has all the physical attributes to be a top player but decision making and final ball/finish is lacking. He has missed so many chances this season and another one today.
Compared to Cahill he has far more ability but will never ever be as effective. Timmy could finish and knew how to be effective and make a nuisance of himself.
Jon Cox
61
Posted 19/11/2016 at 18:19:06
Well said, Andy Crooks!
John Pierce
62
Posted 19/11/2016 at 18:19:11
How can a team, regardless of talent or ability, repeatedly start games like they were shot with Ketamine 20 mins prior to kick off?
Answer: They are all donkeys. Scandalous insipid performance, all that mouthing of Koeman lad and the words that count, to your team clearly failed you.
The crux is Koeman is forcing players into a system of play they are not good enough to execute. If he cannot adapt until he gets the players he wants then it is his failing. None of our attacking players, Bolaise excepted, are capable of sustaining a pressing game. So change it!!!!

Anthony Hughes
63
Posted 19/11/2016 at 18:21:17
Okay... slag Jagielka off – but who keeps picking him?
Ian Bennett
64
Posted 19/11/2016 at 18:22:19
Very poor again. Jags continues to make mistakes, which makes his international selection even more baffling. Williams looked like he was slow and had a mistake in him too. At some point Koeman's got to bite the bullet and put Holgate in. Experience is great, but not when the legs are going and mistakes toting up.
Up top, it's shuffling the same tired deck. You perm any of them, but it's still the same inconsistent answer. You'd expect Mirallas etc to be shown the door over the next 12 months.
Following them has to be McCarthy. Gueye is twice the player, and James's crab like tendencies is no replacement for Gareth Barry.
Darryl Ritchie
65
Posted 19/11/2016 at 18:22:56
At the moment, our final third is woeful. Our crosses are pitiful. For all the good the corners do us, we should take them short all the time.
But then again, we suck trying to play through the middle, so who knows. We're a club searching for a philosophy.
Chris Williams
66
Posted 19/11/2016 at 18:23:12
Just back from the game. Nothing positive to say except Gana was immense.
Totally dispirited.
Too many players letting the team down. The same players let down Martinez and Moyes.
Get rid.
Anthony Millington
67
Posted 19/11/2016 at 18:26:42
Realistically Koeman has inherited a squad which requires lots of improvement. We have ageing players who need replacing such as Jagielka, Barry and Baines who have all been very good players for us.
It's going to take time to build a team with a strong solid spine which is needed. People can't expect Koeman to work wonders this season. A top 8 finish would be a very good season for us to get back on track before we can then have another summer to invest and improve the squad.
Phil Walling
68
Posted 19/11/2016 at 18:28:19
Hey, Michael at 45, weren't you one of those proclaiming last season's squad as the best in Premier League and only lacking a decent manager 'to take us to the stars'?
Well we got the new manager and after a decent 'take off', we are again plummeting to earth. But, at least, he's famed for telling it like it is... so we might be in line to hear him say these 'stars' are just little sparklers and he'll have to get some real fireworks if we want to get this lot off the ground.
Jon Cox
69
Posted 19/11/2016 at 18:28:40
Tim Cahill could head a ball better than Barkley, could finish better than Barkley, could be in the box at the right time and place. His general link-up play across and forward where light years from what Barkley does.
And lastly his his final execution and overall decision making were far superior than anything that Barkley has demonstrated over the past two/three seasons.
So this "Compared to Cahill, he has far more ability" completely mystifies me.
Ciarán McGlone
70
Posted 19/11/2016 at 18:36:43
Koeman has been shit so far... Just being honest, you know, the new Everton virtue.
Judge him in his own way. Shit and overpaid.
Peter Mills
71
Posted 19/11/2016 at 18:38:10
Eddie (#54), my thoughts exactly during the game, lamenting the lack of football intelligence in our team. It's as if some of them don't know the essence of football, don't understand about moving off the ball, or what to do with it when they have it.
In added time, we had to witness Bolasie's crazy shot, and the plain daft tackle/foul by Mirallas. And how many corners can a team drop into the hands of the goalkeeper?
I have been pleading for patience and optimism. I still am. But I've had shingles all week, and it's been a barrel of laughs compared to watching that rubbish this afternoon.
Jack Cross
72
Posted 19/11/2016 at 18:41:12
Usually when a new manager comes in, in the first season the players play like world beaters as they want to stay and push on. But I don't see any signs of this under Koeman. Even Martinez, had a terrific first season. Even if part of it was down to Moyes's defence.
Week after week it seems to get worse. There is no improvement whats so ever that I can see. I think we should leave the January window well alone. Because who is going to want to join a team as bad as ours. As someone said above their like a bunch of strangers.
We'll finish maybe 10th, have a really good look at what we have and clear the dross out, at the end of season. And their are several not good enough.
All I can see in the January window is panic buys. It's far too soon to make a call on Koeman. I just think he thought he inherited a far better squad. But in the summer lets hope he is given the funds, to put his team together and then in the second season we can really judge Koeman.
The players need to look at themselves. But I think were seeing the true them – a bunch of very average players.
Alan Bodell
73
Posted 19/11/2016 at 18:41:24
It's painfully obvious we have no creativity, zero, zilch and as for set piece takers? Ross (played okay today) is not the answer as Fabianski was just enjoying the catching practice.
I didn't think any lobbed header would beat Cleverley's last year at Newcastle but thankfully Seamus's (make him captain) did.
John Malone
74
Posted 19/11/2016 at 18:46:23
It's early day's under Koeman but I'm struggling to see what he has brought to this squad apart from more fitness and a poorly executed direct style of play!
We need to break the bank for Virgil van Djiik or someone of his ilk as said above Jag's is on the wane Williams looks the more solid!
I'm sorry but I've said it before a couple of season's ago and I'll say it again Barkley is not and never will be a number 10! He is invisible in that position and carries absolutely zero threat! For me, he should model his game on Lampard spraying balls wide switching play then arriving late!
The lack of passing ability in the whole team really sticks out for me we are so poor in possession; there is no quick passing and understanding between the player's there is only Baines and Gueye who look comfortable on the ball!
On a final point, why does it take us 45 minutes to get into the game?? Today was a re-run of games last year under Martinez we started slow the opposition went ahead and we laboured to score a goal! Worrying to say the least!!
Koeman really has got to do more with what he has got!
Kieran Kinsella
75
Posted 19/11/2016 at 18:54:37
What I see:
Two aged center halves who are okay in the six-yard box doing blocks, headers and tackles but are a liability when they run or face any pace or skill.
An inconsistent right-back and a left-back who is old and doesn't seem to have had a clearly defined role since Pienaar left.
Two hatchet men midfielders who can break up but not create plays.
A midfielder who seems a bit dim and slow witted.
Wife men who just aren't that good. We've all had days where we look like superstars cause we get lucky but good players have more good days than bad.
A striker who is decent but has a terrible first touch. The first half cross he allowed to canon of his thigh into the crowd was embarrassing. Imagine Cruyff or Messi getting that ball. They'd control and score not swing a leg out and hope for the best.
We've a manager who is a bit of an unknown quantity. He's had some real highs and lows. He moves clubs so much it's tough to know if he's actually good or if he cashes in his chips before he gets found out.
Overall we are disjointed, lack cohesion, pace and skill. We aren't very good.
Alan Bodell
76
Posted 19/11/2016 at 18:59:23
Cheer up, people, because today showed just what we are lacking. The transfer window is looming and we are awash with wonga so give Koeman a chance to get in what he must realise we need and at the same time unloading some that will do okay in the Championship.
Andrew Wayne
77
Posted 19/11/2016 at 19:00:35
We didn't deserve a draw today and if we had played a better team we would have conceded more than a single goal. Liverpool, Arsenal and even Man Utd will stick two or three (or more) past us in December on this (and other) showings.
We don't have anything like the quality to compete and changing managers isn't going to change that position. We actually aren't very good. There wasn't much difference from the performance today than under Martinez and, unless we strengthen, we are mid-table at best. Drop all the points, as we could, over December and we will be in the mix towards the bottom.
Denver Daniels
78
Posted 19/11/2016 at 19:09:23
I'm willing to give Koeman at least a full season but he's been thoroughly underwhelming. In terms of value for money he may be an improvement on Roberto, but only just.
I hope he's not just another average cheque book coach. We have a good enough squad to be much better than this.
Paul Conway
79
Posted 19/11/2016 at 19:10:39
Why is almost everybody so surprised and gloomy that we nearly got beat by Swansea? After the Chelsea match I said there will be more hidings on the way. We were Lucky that we were only playing Swansea! Had we been playing any of the top teams a walloping would have been on the cards.
It's not Koemans fault. He has inherited the dross. He could play any formation you like, 3-4-3, 4-4-2, etc, etc. He could even field 16 against eleven and still not get the required result with this lot.
He had a falling out with the fans for saying it like it is. He can't say it like it is that the whole team is shit for fear of offending players in mass, or causing a mutiny... Until this team is purged of every so-called potential star player, we will be swallowing hard every match day!
Mick Davies
80
Posted 19/11/2016 at 19:13:20
Andrew @77,
We don't have anything like the quality to compete.
I disagree; almost all of these players are internationals, even World Cup players, and a lot of them finished 5th only 3 years ago with our record points haul.
It's not that the individual players don't possess the quality, they need rebuilding into a team.
Mike Allen
81
Posted 19/11/2016 at 19:13:51
Very poor, to say the least, and, if we are honest, we've been less than average all season; we've not put a 90-minute display in yet.
I suppose everyone will be putting forward their shopping list for January but for what? We don't have any kind of system that says this is how we can improve...
What's changed? Slow sideways passes across the back four, little or no movement up front... is theere a difference from last season?
Another home game with two holding midfield players against a bottom three side... no, not for me. Not only is there no light at the end of the tunnel – there's no tunnel!

Denver Daniels
82
Posted 19/11/2016 at 19:15:10
Why are people saying the squad needs a massive clear out when one of the reason's Roberto was sacked was because it was said that last season we had the best squad in years and that he was underachieving with the team???
We actually have a better squad this season as we only lost Stones.
Andrew Wayne
83
Posted 19/11/2016 at 19:33:17
Mick you may be right but I cannot see it. Some of them have got older in the past three years perhaps past the tipping point of the skill and energy levels to compete in the Premier League. I don't think we aren't very good, or perhaps it is the majority of the players aren't very good.
If anyone thinks that Chelsea is our last spanking then, in my view, they are in for a shock. I cannot stand the RS but they could tank us based not just on today's half-arsed performance but several others this season. The energy level, passion, commitment, competitive edge, anger is missing game after game.
It is not only ability but desire and I cannot see it in this team. I cannot see the Dave Hickson "I would die for Everton".
Julian Exshaw
84
Posted 19/11/2016 at 19:33:49
I watched the interview RK gave to Gary Lineker the other night. He comes across as a nice guy who loves his football; so did Martinez though. Try as hard as I do, I just don't see him as an Everton man... yet! This is not a personal attack on him and he did well at Southampton.
I don't think he helps matters by referring to us as 'Everton' rather than 'we' but this may be a language/cultural issue. We need to see passion from him. We want to see that he loves Everton almost as much as we do.
A last- minute winner against the redshite in the derby in a few weeks with Koeman doing a Mourinhoesque slide pitchside at Goodison would stir our joint passion once more and kickstart what is, at best, a lacklustre first third of the season.
Joe O'Brien
85
Posted 19/11/2016 at 19:38:56
Very poor display. Does anyone know why Davies wasn't in the squad today? Was he injured or just not picked? To have Cleverly on the bench instead of him is a joke.
Jags looks like his days are numbered. Cleverley too, Mirallas and Deulofeu massively disappointing...
All-in-all, a big clear-out needed. We Need 5 new players in January.
Mike Powell
86
Posted 19/11/2016 at 19:39:04
This squad is nowhere good enough to challenge for Europe. We need a complete over haul. Five or six players are needed in January but I wouldn't count on it.
As for the match... it's not worth talking about. I would just be repeating myself about how poor we are.
Ian Riley
87
Posted 19/11/2016 at 20:05:33
Let's face it – we need more quality players. Mid-table is all we can expect at present. Two transfer windows then judge Koeman. We don't have the players to implement the style Koeman wants.
Sadly, the past two years are showing on the pitch. Dig deep Mr chairman. It's in your hands.
Paul Smith
88
Posted 19/11/2016 at 20:18:43
I don't believe we don't have the players to work with Koeman. What about Southampton? Did they wait a couple of transfer windows before playing as a team and making the best of their limited assets?
No, for me the team can't be arsed; something stinks. A total lack of effort. If players think they're being up to be replaced, it can go one way or another: they dig in and earn their place of think "Bollocks what's the point?"
Feels like it's the latter at the moment.
Damian Wilde
90
Posted 19/11/2016 at 20:27:15
Doesn't get any worse than that. Another waste of an afternoon.
No pattern of play/style at all. Before Norwich we looked half decent. Koeman cocked and since we have been utter dross.
Okay there aint much there (so many poor players), but Koeman has to do more. Fella is a joke.
Baines & Jags – finished. Barkley – average at best (please don't tell me he's going to be a great). Deulofeu – poor. They're pretty much all crap. Bolasie & Lukaku were a joke today.
Face it — we're shite. Fuming.
Oh well, I'm off to enjoy my Saturday night. Feck off, Everton.
Chris Butler
91
Posted 19/11/2016 at 20:42:48
The reason for the bad atmosphere at Goodison is due to high ticket prices, and the fact vocal supporters can't get together in the ground. The atmosphere won't get any better particularly the way we're playing.
I think a lot of Everton fans just go the match as a chore now, hence why not many people want to sing.
My personal belief is that Koeman won't change anything, he failed to bring in a top quality keeper, failed to bring in a right back, left back, attacking midfielder or at least one striker.
Darren Hind
92
Posted 19/11/2016 at 20:44:25
Koeman will never be the answer,
Lets not pretend he inherited all these problems. Five of those who saw this game out were his signings. He also has alternatives to the out of form oldies, but he doesn't have the guts to play youngsters unless he has no other option.
This is not knee-jerk, it is based on what I have heard and what I have seen. He doesn't have what it takes to fire up a team.
In recent weeks we have been humbled by Burnley, humped by Bournemouth, Held by two of the favourites for relegation and humiliated by Chelsea.
This really has a groundhog day feel to it, we have a manager who is hopelessly out of his depth and all I can hear is "Give him time... I`m sure he will get it right". Well I`m certain he wont.
Mark my words; Give "Honest Ronnie" time and he will find himself reliving his the nightmare he endured at Valencia.
Just do one, Ron, Ron... just do one, Ron
Raymond Fox
93
Posted 19/11/2016 at 20:45:15
Nothing will change until the owners spend at a conservative estimate 𧶀m, and that's rising all the time!
No creation in midfield and, if Lukaku gets injured, who's going to score???
If we don't get reinforcements in January, we will do well to finish 11th!

Ian Riley
94
Posted 19/11/2016 at 20:53:01
Paul (#88). Our work rate has been lacking since Moyes left. Do we have the players to put in a shift? Even with fitness levels to up our work rate to win games is seriously lacking.
Brian Wilkinson
95
Posted 19/11/2016 at 21:07:19
Said it last season and will say it again, we should never have let Naismith go. He gave us an option in attack, sadly other than Lukaku, we have no one.
John Pierce
96
Posted 19/11/2016 at 21:12:02
Still way too many quoting 'give him time', 'wait for reinforcements' Koman has to show he can find a way to adapt to what resources he has in front of him or what the fuck we paying him for?
Everton have a distinguished history to dignify, whilst prior teams may not have had the talent or resources, there was a compete level.
If Koeman doesn't find a solution quickly, December will unravel and those 'targets' he wants will drift away. What will Koeman do then? IMO... walk.
David Peate
97
Posted 19/11/2016 at 21:15:24
The furious demand for the dismissal of Ronald Koeman brought to mind a story of a few years back and a warning from the past. It could not have been worse for the club.
Everton 0 Coventry City 0.
This dreary match was played around the Christmas of 1983. Do you remember? The Everton faithful were screaming for the dismissal of the manager. The swell of frustration had been building up for some time and he had to go. Yes, I was one of those who backed the measure though not vociferously.
However, the Board stuck by their managerial choice. Oh, by the way, in case you may have failed to recall, the manager's name, it was Howard Kendall! Just look what happened over the next few years.
Gerard Carey
98
Posted 19/11/2016 at 21:17:09
Is it just a case that our players are not good enough? Under Martinez, they were not able to adapt to a passing and possession game. Now, under Koeman, they are not able to master a quicker pressing game. More or less the same panel.
We definitely need a clear-out in the next number of windows, because we have too many losers in that team. I think the fans would respond to a team that had a fighting spirit, a never-say-die attitude. Sadly, what we get to watch is a bunch of losers.
Trevor Powell
99
Posted 19/11/2016 at 21:19:33
Is it an age thing as I am 64 and remember my first game at Goodison Park against Ipswich in 1961?
I have seen so many false dawns that I no longer giving a shit about my team anymore. We were far from convincing in the first few games of the season but at least got some results. Since losing to Norwich in the League Cup, our form is equivalent to Sunderland's!
I thought new managers gave a club a buzz and high, well where is the personality in Koeman shining through??? Mourinho has already shown that he is finished, Guardiola is adjusting to the Premier League and Klopp has given the red half a real lift on and off the pitch while we get worse!
Time for me to stop following a passionless team and get on a gardening course to occupy my weekends!
Rick Tarleton
100
Posted 19/11/2016 at 21:23:20
My first live game this season, old age and the cost make the 300 mile round trip difficult, I have been in every season since we were promoted in 53-4 and saw them once in the old second division.
Today reminded me of the awful teams in the late fifties, before Carey and Bobby Collins. They were woeful. My 7-year-old grandson is trying to be an Evertonian but days like today make it difficult, a crap view from the back of the Lower Bullens, poor atmosphere and an atrociously poor game.
We had four wingers on the field today. Bolasie is poor as he cannot cross, Lennon was simply off the pace and cannot cross, Mirallas doesn't even try to cross and Deulofeu beats his man beautifully, but cannot ever find a man in a blue shirt.
Every corner Baines took was caught without any pressure by the Swansea keeper. Barkley stood in midfield waiting for someone to make a run, they never did. So he passed sideways or backwards.
Is Koeman really any different to Martinez in that his team, like Martinez's team, passes very well in their own half and across the pitch, but hasn't a clue how to penetrate a packed defence. I felt my walking football team would have held Everton today.
Chris Leyland
101
Posted 19/11/2016 at 21:29:36
Calling for the manager to be sacked after 12 league games in charge is a little premature in my view. We are 7th in the league, not bottom.
Yes, some results and performances have not been anywhere near good enough this season but they are in a very large part a direct result of two seasons of utter mess that Koeman inherited.
How he can be expected to have turned it round that quickly is beyond me. Judge him when he has had more time to make it his side With more of his signings.
Andy Crooks
102
Posted 19/11/2016 at 21:33:56
Darren, I think that is a harsh judgement made far too early.
I will not attempt to defend what was served up today, nor will I try to defend the team selection. Holgate and Davies are better than those who shamed the shirt today.
However, I believe that Koeman is giving a chance to the established players and it would be wrong if he did not. It now seems to me that they have had their chance and would hope that the coach has seen enough. I expect changes and I hope that new blood will receive the same tolerance and patience that the old guard have. For now, I am prepared to accept that Koeman is still seeking the right formula. I am confident he will succeed but I think it is now time to see something positive.
Anyway, Darren, you know as well as me he is going nowhere so save yourself some anguish and keep your fingers crossed.
John Pierce
103
Posted 19/11/2016 at 21:37:39
Chris L. There are no excuses for Norwich, Burnley, Bournemouth & today. Whether Koeman has been here 5 minutes or 20 years.
Those performances have been spineless. Martinez's influence does not extend that far. Implying Koeman's message is less influential than Roberto's. That is nonsense. Both the players and by extension the manager have been awful to date this season. Sack him? No. But he, the straight-talking Koeman, merits an equally blunt assessment.
Not good enough, and by some margin too.
Michael Lynch
104
Posted 19/11/2016 at 21:39:37
Phil @68 - no, I didn't even post on here last season. You must be confusing me with someone else.
Sean Patton
105
Posted 19/11/2016 at 21:48:54
I fail to understand why every manager keeps picking the previous guy's players. Martinez did it with Howard and now we have the same thing with Koeman and Jagielka.
How can he make a judgement on Niasse after one training session yet still pick the captain who is god damn awful week after week?
Mike Dolan
106
Posted 19/11/2016 at 21:54:25
The gist running through today's posts that the players are lazy, or were not trying, because they are millionaires is total nonsense IMHO. I saw great effort by all of the players to win the ball. Does it not ever cross your minds though that some of the players we have simply cannot be coached to buzz around like Alan Ball?
Oh and we tied the game by playing hard for 94 minutes which is something we never saw last season. This would lead one to think that we are being trained well.
In Lukaku we have just one goalscorer – stop him and you stop Everton. Good teams get their goals from all over the pitch. Moyes and Martinez left us with so many one-dimensional players. It is going to be a construction job for a while guys but we will get there.
Even today if we played exactly the same way but popped a couple of goals the tone of this thread would be quite different. I thought Barkley was really good as was Coleman, Gana, Baines, Deulofeu and Williams.
Chris Williams
107
Posted 19/11/2016 at 22:03:11
A squad full of serial losers under two other managers. The best players under those managers now ageing and past their best. A transfer window bungled by a combination of the dead hand of Bill and a new regime with insufficient time.
And it's Koeman's fault? Do me a favour.
Change the manager tomorrow and you still have Mirallas, Barkley, Lennon, Cleverley, Kone, Niasse and more. And you still have 10 games to get through before you can change anything. Jags, Baines & Barry will get older and will need to feature. McCarthy, Deulofeu & Funes Mori will still be there.
Who signed these players? Koeman has to do his best with this collection of dross and he needs all the support we can give him.
Underachieving, my arse. Many of these have been letting us down for a number of seasons; age and injury has diminished a few others and it's about time we got real and saw the truth.
I went this afternoon, and came away with the view that the cupboard is pretty bare. Koeman has tried pretty well the whole squad in many permutations. He's got them fitter and has managed to shore up a porous defence to some degree.
But what I saw today left me dispirited because a lot of this lot are so far gone they can't come back. Probably don't want to.
This manager needs all the support he can get.

Brent Stephens
109
Posted 19/11/2016 at 22:16:11
Static in attack. No movement. So nobody to hit an incisive pass to. Statuesque.
I've seen more movement in those "living statue" street artists – I was tempted to toss them a coin today.
Andrew Wayne
110
Posted 19/11/2016 at 22:24:04
Chris (#107) – I have to agree. In my seat at GP today, I watched another abject passionless performance that wasn't just lacking in talent but any sort of desire.
I am more pissed off tonight than I was after Chelsea, a team that put in a brilliant performance, as opposed to a workmanlike Swansea that a decent Everton should have put to bed well before the fortuitous leveller from Coleman.
We are going to get our pants well and truly pulled down against the Red Shite and the rest in December unless there is some sort of changing room epiphany. Jam tomorrow is an Everton perennial perspective and, to be honest, I can't be doing with being lectured on what, as a supporter for some 50 years, I should and shouldn't think.
Chris Leyland
111
Posted 19/11/2016 at 22:24:43
John Pierce – I agree that there is no excuse for some of the games you highlight and more beside those. However, the serial under-achievers that infest the squad have had several years of smoke being blown up their arse by Roberto and that culture that has permeated through them can't be changed overnight.
John Pierce
112
Posted 19/11/2016 at 22:28:49
Patience is not a requirement to support a football team. Patience has been the last 20 years of nothing.
Patience is over-rated at this point in our Everton journey where significant funds are available, and a manager who is paid ٤m per year cannot find a way to improvement his lot, despite already having bought four first-team starters, and spent hours on a training field.
So those impatient people aren't going anywhere, they will demand better from a team, board and manager who are patently not giving anything near value for the coin they are earning.
Stop excusing the inexcusable.
Nicholas Ryan
113
Posted 19/11/2016 at 22:34:15
David Peate (#97)... I remember that Everton v Coventry match as though it were yesterday! There is one big difference between then and now. I looked up the stats for that game, and the crowd was ... 13,000!!
Kunal Desai
114
Posted 19/11/2016 at 23:02:49
Stuck 2½ hours on the M6, might as well have been stuck a further 2½ hours after watching that fucking garbage.
It's clear to see a fair few of these players just simply aren't interested. What exactly is McCarthy's position and what is he meant do? He just ran around like a headless chicken, offers nothing whatsoever. As for Jagielka this guy has been done for quite some time. He should not have been in the starting line-up today. Add Lennon and Barkley to the dross.
The buildup from the back to midfield is ever so slow, the midfield is pedestrian, no-one really is willing to put a foot in and fight for any 50/50 balls with the exception of Gana who was excellent; the rest of that midfield can fuck right off. There simply is no fight, urgency or tempo in this side.
Lukaku seems little interested and again today didn't absolutely move one bit, he may as well have been sitting with the fans. Thoroughly disappointing against an extremely poor side.
Tony Dove
115
Posted 19/11/2016 at 23:14:04
Davies not even on the bench today and Jags ahead of Holgate. Nothing more needs be said except we have spent 㿙 million and are probably worse than last season. We don't expect overnight miracles but, until you can do something meaningful, give the young players a chance.

Jon Cox
116
Posted 20/11/2016 at 00:15:56
Five major player sackings needed at our club in January
Name them...
Kevin Rowlands
117
Posted 20/11/2016 at 00:21:53
Ok, my ripping Lukaku hiatus is over... please FFS, Koeman, get rid of him. I can honestly say in my over 50 years now of supporting Everton I have never seen a player who receives the ball to feet give it away to the opposition repeatedly so much.
This is not tennis, snooker, golf or darts, it's a team game and he is not a team player in anyway shape or form – it's all about 'me' with him.
I know some will argue vehemently but I believe the club and, more importantly, the team will be far better off when him, Mirallas and Deulofeu are shown the door.
Jon Cox
118
Posted 20/11/2016 at 00:53:16
Kev, 117,
100% mate. This rubbish "lump" I think is THE bad apple in the changing room. It's all me, me, me. The chance today in the six-yard box sez it all. The Yak would have buried that whilst reading the Beano.
Note to the guy who should have been sent off against "SSHH you know who"... Koeman, get rid of this guy whose job it is to score goals, and make it clear to the rest that, unless they start to score goals, like every other fuckin team in the world, then they'll end up with Steevy fuckin G at MK feckin Dons.
Rant .. On pause.
Damian Wilde
119
Posted 20/11/2016 at 01:07:09
Kieran (#75) – very well articulated, spot on.
Kevin Rowlands
120
Posted 20/11/2016 at 01:17:27
JC, agree mate. Notice who scored 2 for Sunderland today and was described as unplayable in the press. Yes our own maligned big Vic, who imho is better when fit than the supposedly World Class bag of shite up front for us. Go and play Champions League asap please, Rom.
John Pierce
121
Posted 20/11/2016 at 01:59:45
I have mused that Ron mouthed off about Rom to get him sold because of his attitude, but more simply he wrecks the team with any touch outside the box. I cannot see a time were the lad would fit into Koeman's preferred style of play.
I would get rid, in January if PSG etc come calling. Not as if we are on contention for anything, based on half the chat here, Koeman gets a pass on this season.
Wake the fuck up, people – we need to win now not next season or in January. People bleat about football not being like any other business. It's not, it is a business, and as soon as Europe is no longer attainable, the manager whoever he is should be removed. Without it the chance of bridging the gap is done.
I don't care how he gets us there, play Baines up front, but get us there or woe betide you, fella.
Phew. All done.
Peter Barry
122
Posted 20/11/2016 at 02:36:52
Okay... this is now beyond a 'blip' and beyond a joke. This team is just not good enough and this manager is not either.
Paul Birmingham
123
Posted 20/11/2016 at 02:46:26
Performance is motivation x ability. I agree with Chris @ 107, that to transition for this team will take time, and proofs, but is needed the sooner the better, as increasingly it's become predictably bad, and is expected.
Today we never really had the end product and Gana aside no midfield. It's painful and chronic for the soul but let's hope this form will mean the powder keg of investment will turn our fortune.
Fact is, this season is gonna be painful but, all things considered, we are in a position that is increasingly miraculous. Our December fixtures, will test our resolve. Let's start next week with the same as last season at Southampton.
David Barks
124
Posted 20/11/2016 at 03:04:57
Holy shit, Kevin Rowland's just said Anichibe is better than Lukaku. That should be forever pinned to every single opinion he provides going forward.
Oh my god – I needed that laugh, thank you. Some of you lot really do never fail to amaze.
Alan J Thompson
125
Posted 20/11/2016 at 03:42:43
David (#97); I think they also gave him Colin Harvey as assistant which saw the start of the turnaround.
James Watts
126
Posted 20/11/2016 at 03:43:11
I got slated on here when we signed Bolaise as I had seen him play quite a few times. To be fair he had surprised me a few times after signing him but today's showing is EXACTLY why I thought 㿊 mill for him was ridiculous. Surely for a winger, after speed, his crossing should be his next best thing?!?! Fucking useless. But the worse thing about it all, he is probably still our best winger!!!
Absolutely gob smacked at how bad the team and manager actually are, and I really expected something to change after Chelsea, but reality is really hitting home.
"No passion, no brains, no effort, easy money" Should be our club motto now. Anyone know enough Latin to translate?!
Derek Thomas
127
Posted 20/11/2016 at 03:46:28
David @124; Given the number of times Lukaku has played exactly like 'a very expensive Anichebe'. The statement is correct in it's gist maybe not in actual fact though given the stats... close enough in a many a true word spoken in jest" sense.
Maybe Big Vic has been around the track a few times – and sometimes they've been some pretty grimy tracks – and matured a bit. He could be the quintessential late developer. There was, I think always a player in there some where. Could be it's starting to come out... time will tell.
Steve Brown
128
Posted 20/11/2016 at 03:59:49
Anichebe is 28 and has scored 38 career goals. Lukaku is 23 and has 126 career goals. So it's not correct in gist, fact or jest!
Steve Brown
129
Posted 20/11/2016 at 04:00:35
Though Lukaku was awful yesterday.
Fran Mitchell
130
Posted 20/11/2016 at 04:26:53
We are officially a poor team, and it will take much more than management changes or tactical tweaks to change this.
Davies and Holgate need to be brought into the team, while Dowell and maybe one or two others need to be introduced to the squad.
Mirallas, Lennon, Jagielka, McCarthy, Cleverley and more are not up to it and should be moved on. No room for sentiment. Barkley and Deulofeu* seem to have fallen into a rut. Natural talent is there, but for far too long they are just ineffective. Why is this? The coaching needs to be questioned.
* This time last year we were worried Barca may want to buy Deulofeu back on the cheap; now we'd gladly get rid. How has he declined so much?
What worries is that there is little evidence of any adoption of the 'pressing' game that was on show vs Spurs on the opening day. If this style of play was being implemented and results were a bit iffy (like Klopp last season), then that would be understandable. However, we just look crap.
Either Koeman is failing to implement the style he wants, or he is not trying to and has simply adopted a slightly more solid defensively, good to get mid to upper mid table style of football that David Moyes did for so long.
We need serious investment into the team, with a clear-out also in need.
Kevin Rowlands
131
Posted 20/11/2016 at 04:51:48
Woof, woof... where did I say Anichebe was better than Lukaku, David? Making things up, as per usual.
I will say, and have said before, Lukaku is the most overrated player to ever wear an Everton shirt. I honestly believe Koeman was bigging him up during the week because he wants him out and is trying to get the best possible price.
Who would you rather next to you in a brawl, Anichebe or Lukaku? Big Vic for me every time. I knew I would get slated but I don't care, I want that gobshite and his mouthy mate out of the club asap, it can't come quick enough for me.
James Kirrane
132
Posted 20/11/2016 at 04:58:55
I totally agree, Tony. When Holgate started at right back at the beginning of the season, he looked the real deal. Strong, quick, agile and motivated. Put him in the centre with Williams to guide him through. I am sure he is a much better option than Jags at the moment.
Tom Davies has looked very good when he has played for Everton, albeit fleetingly. Why put McCarthy straight in after his injury woes? He looked completely off the pace. Surely Davies could not have done any worse and probably a whole lot better.
Let's try a few young, hungry players and see how things go.
David Barks
134
Posted 20/11/2016 at 05:02:51
Kevin,
Your words above: "Yes our own maligned big Vic, who imho is better when fit than the supposedly World Class bag of shite up front for us, go and play Champions League asap please Rom."
You clearly said, in your honest opinion, Vic is better than Lukaku. Shouldn't be surprised coming from you, but that one does just about take the cake. The guy has 7 goals and 3 assists in 11 league matches, and you'd have Vic over him. I love it.
Alan J Thompson
135
Posted 20/11/2016 at 05:05:09
James (#132); Not just to see how they go but to see if their energy is infectious.
Kevin Rowlands
136
Posted 20/11/2016 at 05:18:13
Btw, I did say 'when fit' regarding Anichebe, David. Unfortunately that has rarely been the case where he is concerned, and yes, when fit, fully focused and up for it, Anichebe is more of a handful for defenders than Lukaku. I stand by that.
You can laud Lukaku all you want but the last 2 years he has been a big part of the average shite we have watched on a weekly basis. You and others will bang on about his goals, my granny could have scored the last one, but his overall play and attitude is fucking awful. We will be a better team when he is long gone.
Paul Kelly
137
Posted 20/11/2016 at 05:45:10
I watched the penalty incident a million and one times, absolute joke of a decision. Official
Amit Vithlani
138
Posted 20/11/2016 at 06:08:44
This is a results business first and foremost and our results have been very poor.
However I think Koeman can turn it around. He is Moshiri's man and will be given time and money to rebuild. He has Walsh to bring in the talent and I fully expect a huge squad turnover in January and July.
In the meantime, what he needs to consider is picking a settled line up and formation. Fucking about with the line-up and tactics will not work with a side suffering from a lack of confidence. I was pleasantly surprised by our start to the season, given how appalling we were at the back end of last season.
These dreadful starts are now all too predictable. Whether its the pre-match team talk, routines, drills, whatever – something has to change.
The only changes I would make to yesterday's team are I would like to see Holgate at right-back and Seamus pushed further up. Barry to come back in for McCarthy.
Jags is having an absolute nightmare but until January he is the better option than Funes Mori. The latter was dreadful for Argentina and consistently lost his man against West Ham. I'm not too sure I would feel to happy with him in the back line.
Tough months ahead. Koeman needs a consistent team selection and some hard graft until the next two windows.

Peter Barry
139
Posted 20/11/2016 at 06:15:40
Amit (#138) Vardy, Walsh's wonder man at Leicester, is having a tough time this season – he has been found out. So is that the sort of guy you envisage Walsh bringing to us in the next transfer window?
Callum Lea
140
Posted 20/11/2016 at 06:56:21
I am bitterly disappointed at the appalling 1-1 draw against a poor Swansea City side. There was a lack of tactics, chemistry and basic football at some key times in the game.
Certain individuals are seriously damaging Everton's style of play: Ross Barkley is supposed to be one of the brightest prospects in English football... he is lazy and inconsistent; I am surprised that Koeman has not spotted he is the player who slows down the game.
Another player is Romelu Lukaku, this world class striker is supposedly worth a whopping 㿭m which is a huge amount of money for a player who has zero work rate and is very lazy. Don't get me wrong, he has many qualities, he can score goals, but can we please get a striker who is hard-working and puts in the goals we are crying out for?
Another significant part of the team in difficulties is the heart of the defence. I warn Jagielka now that he is easily replaceable after the penalties conceded and several errors. But not all the blame can be put on Jagielka. Williams has been appalling... what we have done is swap John Stones for a clueless, slow and old central defender. That is clearly bonkers.
We are crying out for new players and maybe Barkley and Lukaku are not our best players...
Mike Green
141
Posted 20/11/2016 at 07:57:25
Kevin (#117) – you promised!!!! Oh well, if you're giving up I am too.
I think Lukaku may well be a big part of the issue; does nothing for half a dozen games then bangs three or four in and makes you think you can't live without him. It's a bit like having a girlfriend who makes you miserable but is a bit of a looker and all of your mates tell you you'll never get any better so you don't dump her for fear of being left on the shelf.
It's great when he's banging them in but the points we drop when he goes all 'international break' are too damaging and I think the accolades he gets in return for such little all round contribution does probably affect team morale.
The problem is he thinks he's too good for us – he doesn't perform for us, he performs for him – and if you had a missus like that there's only one way it's going to end.
Koeman needs to get a top striker in as a priority to give him some control over the situation, until then our sulky, apparently out-of-our-league centre-forward has got him, us, and the team, well and truly by the balls.
David Peate
142
Posted 20/11/2016 at 08:33:56
Nicholas. The poor turn-out for that Coventry game was indicative of the way the Goodison crowd felt about Kendall compared to the expectations of today with Koeman. If I recall correctly, there was another game under Kendall where the crowd was only 9,000.
The point being that I was comparing the attitude of supporters to Kendall and Koeman. Kendall was given time and achieved almost all that I and others could have hoped for. Just allow Koeman the same courtesy.
Andy Walker
143
Posted 20/11/2016 at 08:37:21
Lukaku no better then Anichebe. No effort from any of them. Sack the manager. I told you so (even when he didn't). Quite embarrassing reading a lot of this stuff. Not one mention of the elephant in the room.
Exactly what was Koeman supposed to be doing over the past 10 days when his players weren't actually there? How was he going to influence their mental state, or work on the set up of the team? Does anyone think he should have been able to correct all of the failings seen at Chelsea, in just the 24 hours he had with the players on the Friday before yesterday's match?
The international break is a leveller, teams like ours where the whole of the first team are away around the world will struggle.
John Malone
144
Posted 20/11/2016 at 08:49:51
I honestly can't believe some of the criticism for Lukaku yesterday – he did everything a striker should do but score!
He never had one decent cross to attack all afternoon, the one Bolasie cross that got to him was fired at his midriff!
I have been Lukaku's biggest critic in the past but I can definitely see a massive improvement in his all-round game he drops deep and links the play, he makes runs in behind, he runs the channels, he created chances for other people. The only thing missing from yesterday's game was a quality delivery for Rom to attack. Our crossing is shocking!!!
Paul Burns
145
Posted 20/11/2016 at 09:07:04
On a tangent, why can't footballers be sacked? We keep hearing about how they hold all the cards with their contracts but I've had work contracts and still been told to fuck off and not show my gob around here any more on numerous occasions.
And I was better at (some of) my jobs than the present tossers pretending to be footballers at Everton will ever be.
Dave Abrahams
146
Posted 20/11/2016 at 09:14:18
John (#144),
If you thought Lukaku had a good game yesterday, then I wouldn't like to see one of his off-days... he never gambled once in the six-yard area to try and anticipate where the ball would go, he resembled a statue for minutes on end, but he wasn't the only one.
I was very disappointed with McCarthy, he never really set out to prove he has a future at Everton – just let the game pass him by.
As others have been saying in the past few weeks, there is something wrong within the club; certain players have given up as though they know they have no future under Koeman. I still think this manager will get it right but not with four or five of these players.
Matt Traynor
147
Posted 20/11/2016 at 09:53:36
Paul (#145), in a nutshell, they can, but it's rare. Usually for breach of contract – usually for something they are likely to be incarcerated for, or drug use, which will lead to a ban.
You may recall Chelsea spunked over 㾹m on Adrian Mutu during the Special One's first Chelsea gig. Within a year, he was banned for gak/charlie/beak, and Chelsea sacked him. There then began a protracted legal battle for Chelsea to recover damages – transfer fee, wages/bonus paid, and even costs towards replacing him. Mutu was found liable and fined over €17M – which he never had. More appeals / dismissals followed and eventually the clubs in Italy that signed him afterwards – Juventus and Livorno, were also found jointly liable. More appeals, eventually last year and it was over-turned so basically Chelsea never got anything back.
Point being where hefty transfer fees are involved, clubs will only sack a player as a last resort. Unless you're Joey Barton.
I mean you could never imagine Everton throwing away 㾹.5m could you!!?!? How is Niasse these days?
Paul Burns
148
Posted 20/11/2016 at 09:53:47
There's a serious discussion to be had, probably in a separate thread, of the way footballers go about fulfilling their contractual obligations to the clubs who employ them.
The ability to carry out their work to a desired standard has to be taken more seriously by clubs when the wording of contracts is drawn up. Clubs can afford to hire the world's best legal advice yet football appears to be one of the last places where performance by what are basically employees has been allowed to be ignored.
Doctors, surgeons, politicians, film directors and actors – everyone it seems but sports people – can all be dismissed and replaced if their performances are not up to required standards. they can have their cake and eat it, underperforming constantly while sitting on fat contracts and laughing all the way to the bank.
The point I am making is, if there was a way to remove bad players the way bad bricklayers or joiners can be got rid of, clubs wouldn't be stuck with duds like Niasse etc sucking the life out of them and the clubs could then move on quicker and not be so reliant on transfer windows over half a decade in order to change the squad and remove the over-the-hill and waste-of-time players clogging up clubs like Everton.
Brent Stephens
149
Posted 20/11/2016 at 10:05:48
You could never define required footballing performance standards (in terms of how well somebody should play) into a contract. The lawyers would be the winners.
Kim Vivian
150
Posted 20/11/2016 at 10:16:36
A snapshot question. Not withstanding if you love him or hate him - who on here thinks that if Moyes was in charge (with the exact same squad) we would have fewer or more points right now?
Ian McDowell
151
Posted 20/11/2016 at 10:22:50
Kim @ 150. I think we'd probably be on the same amount points or if anything maybe 3 points better off.
Stephen Brown
152
Posted 20/11/2016 at 10:25:44
Paul Burns (#148),
I could not agree more! In any form of employment you are subject to some sort of performance management and if you are not hitting your targets then some form of capability assessment is put in place. Footballers should not be exempt from this particularly if the deficiencies are linked to possible lacking attitude!
Brent Stephens
153
Posted 20/11/2016 at 10:32:40
Stephen, I'd love to see examples of the performance standards that would be written into contracts for footballers.
Number of goals they should score?
Number of assists they should provide?
Number of yards they should run?
Number of completed passes they should make?
etc?

Derek Thomas
154
Posted 20/11/2016 at 11:04:39
Kim; doesn't bear thinking about - even less since he started believing his own publicity. If Koeman can't kick them up the arse, I doubt they'll roll over for Davy...nor will he OR Koeman be able to wind back the clock on the not so golden oldies.
Until proved other wise we have at minimum, over half a squad of pigs ears, not many silk purses...and even - early days yet mind, a possible pig in a poke of a coach.
Jon Cox
155
Posted 20/11/2016 at 11:27:34
It has to be about knowing that ones time is up. Four or five of those players know their time is up. They just don't care, hence the performances.
We should be looking at introducing at least two or maybe even three of the youngsters into the team who just might shake things up and add vigor and energy.
We know Koeman's hands are tied until January and July but he has to change things now because this style of football is doing my crust in!
Damian Wilde
156
Posted 20/11/2016 at 11:45:44
Andy (143) right, I get it now, we were shit and have been shit for months due to the international break (Everton being the only club in the league with
international players). Thanks for clearing that up.
Absolute shite.
John (144), are you taking the piss? Lukaku was dreadful. His control is a disgrace. Talking nonsense.
Jack Cross
157
Posted 20/11/2016 at 12:16:45
Jon Cox (#155).
I agree with you, mate. If they're aware that they will be going at end of season, then they won't really give a shit were the team end up.
You would like to think that the fact they're getting paid to do a job would be enough. But then you have to care don't you?
Yes Jon, get some of the young lads in, as the seniors have had their chance. Might shake them up as you say.
As for the Lukaku bashers (and I have called him in the past), well there are parts of his game that need improving but sell him? Sheer madness... and replace him with who?
We should be adding to him. Jermain Defoe scored his 150th goal yesterday. I've always rated Defoe... now he's a class act. But I've said this many times on different threads.
Let's hope Walsh, waves his magic wand at some point.
Frank Crewe
158
Posted 20/11/2016 at 12:22:53
Until we get more creativity in midfield, we won't get anywhere. Two DMs are simply stifling our play. Maybe we should just play Gueye as our one DM and move Barkley back next to him. Either that or bring in a more creative AM come January.
Dave Ganley
159
Posted 20/11/2016 at 12:33:29
The worst thing for me is the players commitment or lack thereof. With some of these players, it wouldn't matter who the manager is, they would still churn out the same shit. There is no professional pride in their play.
Why should it be necessary to tell Barkley, Lukaku et al to close down the defence? Why should it be necessary to drill the players that we need to start the game on the front foot and not only start to play in the 2nd half when a goal down? Why should it be necessary to kick players arses after a drubbing? Why should it be necessary to ask players to put their bodies on the line to defend and not concede soft goals? All of these things should be a given, especially true of players playing in the so-called elite league in England.
Most of the current first team squad are just not good enough. They don't seem to possess any of the qualities listed above. They go through the motions and occasionally have the odd good day on the park which they assume satisfies the fans for a few weeks. Talent alone just does not do it. Will to win has to come from within and very few of our players have it.
Barkley's pathetic tearful episode at half time in the semi final last season just typifies why he is not a winner. Instead of telling himself that he will prove the fans wrong, he had to get Jags to consol him, ffs. Lukaku is just not a team player and probably disrupts the team more than anybody. There is no selfless runs from him, drawing away the defence down the channels to open space for others, just a lot of gesticulating when the balls in don't go exactly where he wants them. Mirallas is too busy looking for the free kick; Deloufeu is too busy trying to be Ronaldo – very badly, Lennon has running in him but little else, McCarthy likewise.
We could probably put the kids in there but will it make much of a difference? Maybe. The effort would certainly be there but they are not like the United kids of 92, they won't put us in the top 6 I don't think. Only Tom Davis is probably ready for first team action. Mason Holgate is/will be a good player and should be given a run at centre half, his proper position not full back. If we had proper support from our front men then maybe Baines and Coleman would start to look like the players we know they can be. The dead wood is up front. Laziest bunch of fuckers that I've seen for years. No first line of defence, no creativity, no team work, need replacing as soon as.
Blaming Koeman for piss poor attitudes that seems incurable is about as accurate as blaming the fans for the teams current malaise. There is no professional pride in some players and no amount of coaching can instill that in players – it's down to the players themselves and if they can't provide it then it's time to get others who do have pride in themselves and the shirt they wear.
Paul Conway
160
Posted 20/11/2016 at 12:47:13
IMO we have three players of calibre... Coleman, Gueye and Lukaku. The rest, apart from Ramiro Funes Mori would find it hard to get into a top six team.
They would be dispersed between mid to bottom table, including the Championship! We need to have a whopping big car boot sale in January!
Dave Pritchard
161
Posted 20/11/2016 at 12:54:37
With regards to Anichebe, I know what the reaction would have been if we had re-signed him in August. Just because he's scored three in two games doesn't make him the answer.
However, his strike partner Defoe would have been worth signing before he went off to Canada I think it was, and even when he returned from there.
Overall, I am prepared to give Koeman a chance to get it right but many of the current squad need to be let go over the next few transfer windows.
Kevin Tully
162
Posted 20/11/2016 at 13:44:59
I understand the frustration with our results, but anyone who wants the manager sacked after 12 games either doesn't understand football or just post for a reaction.
There isn't one Man Utd fan calling for Mourinho's head after spending hundreds of millions and they are on the same number of points. Does anybody really think ANY manager can turn this current squad into a Champions League side? If you do, put down the whisky.
Koeman will be given the funds in due course to have us challenging for the Champions League places, then we can judge him when he has his team and his players. I've a feeling a few of our players who are quite comfortable in 6th or 7th will be quietly let go. There will be a massive change in expectations right throughout the whole club, but it won't happen overnight.
As far as some people mentioning Moyes and Anichebe, I'm off to open bottle of whisky. Fuck me.
Andy Walker
164
Posted 20/11/2016 at 13:53:04
Apologies, Damian @156. Is there anyway I can run my posts by you before they go live in future, just so I don't post absolute shite again? I know you know everything and I can only aspire to your cogent arguments.
I also am sure you know how many Swansea players were away on international duty during the weeks prior to yesterday's match. It's also clearly ludicrous to suggest that the influence of a manager is in anyway reduced by not being with his players.
Don Alexander
165
Posted 20/11/2016 at 14:00:18
As ever, Dave Ganley at 159 says it like it truly is. The so-called creative players seem to have no idea or interest in what they're supposed to do during the 98% of the time they personally are not in possession of the ball. Factor that in to their disappointing input during the 2% and you don't need to be even moderately bright to figure out why there's so much discontent amongst the fans.
Sadly, most of the "creatives" seem not to possess moderate brightness, or just don't give a toss.
Soren Moyer
166
Posted 20/11/2016 at 14:02:05
Oh dear! We still haven't played the likes of Hull, Watford, etc either! Never mind the big boys.
Soren Moyer
167
Posted 20/11/2016 at 14:03:14
Also, we need someone like Connor Wickham up front.
Brent Stephens
168
Posted 20/11/2016 at 14:03:38
Andy — "It's also clearly ludicrous to suggest that the influence of a manager is in anyway reduced by not being with his players".
Of course, it can be argued that that applies to all managers who have significant numbers of players away on international duty. But I agree with you because it's relevant where you have a manager who is new to the club and therefore is yet to find his best combinations of players and tactics for different situations.
Wenger, Klopp, the Pooch at Spurs, for example, have the advantage over Koeman in that respect. And, apart from them, the others above us in the league have far better players, in greater numbers, to call on.
Kim Vivian
169
Posted 20/11/2016 at 14:03:46
I am just watching Leeds v Newcastle live. Two things strike me.
1... The entertainment factor is higher than most Premier League games I have watched recently; and
2... Neither team at Goodison Park yesterday looked better than Championship quality.
Ray Roche
170
Posted 20/11/2016 at 14:05:37
Kim (#150),
Moyes's win percentage at Man Utd is second only to Ferguson since the war and third best in their history... maybe they got shut of him too soon? Their performances are certainly no better, nor is the football, despite the tens of millions more spent on players since his departure.
And yes, if Moyes hadn't left and we hadn't had the Martinez experience I believe we'd be a better side than we are now.
Just sayin'...
Charles Brewer
171
Posted 20/11/2016 at 14:18:37
Ray, so your counterfactual would be Moyes at Goodison, but with money and a non-luvvie chairman?
It's an interesting idea, but I fear it might be more of an Howard Kendall Mk 2 than a glorious return. I'm pushed to think of any returning managers who have achieved anything like the same in their second stay at a club. Interesting though...
David Greenwood
172
Posted 20/11/2016 at 14:20:29
Dave @159 and Kev @162 are bang on the money.
Alan J Thompson
173
Posted 20/11/2016 at 15:13:57
Kevin (#162);
Could it be that Man Utd fans did it to their two previous managers until they got who they thought they wanted?
That said, Koeman seems to require more time and, unless we suddenly find ourselves as a relegation possibility, he should indeed be given that time, if for no other reason than to determine if it is him or the players who are not up to it.
Andy Walker
174
Posted 20/11/2016 at 15:31:23
Thank you Brent, you appreciate my point. We were hammered 5-0 before the international break, damage to confidence was done, working on anything new was impossible as Koeman had only 1 day to try and put things right.
Again, as you pointed out, teams with a well established manager who knows his players inside out and vice versa, are going to cope more easily with international breaks.
Swansea's manager is only 4 games into his job, but he didn't loose as many players and this point, plus the reality that both managers' abilities to influence their teams' preparation was levelled off as neither of them were actually with their players in the 2 weeks leading up to the game (other than the day before); that shouldn't be ignored in my opinion.
Amit Vithlani
175
Posted 20/11/2016 at 17:09:47
Peter @ 139. Vardy cost what, a million quid? Did more than was expected from him? Agreed. He is having a tougher time this season, true, but, as he showed for England, he can still find the net.
So, yes, if Walsh can unearth someone similar for a million quid who can bang a few in, why not? A good foil for Lukaku in a 4-4-2 formation.
This doubled-barrelled kid who cost ٟm from Sheff Utd in our U23s could yet be that foil. Seems to have promise.
Ray Roche
176
Posted 20/11/2016 at 17:20:07
Charles Brewer (#171).
Charles, no, not Moyes coming back, the thought that if Moyes had never left, so, not a glorious return but a continuation of his previous tenure, but with the advantage of the new regime.
Now, I KNOW I'll take loads for saying this but we'd started to play some decent stuff before he showed his snake-like properties and slithered off down the East Lancs, indeed I think Matinez's first seasons relative success was down to Moyes groundwork and that is something that's been discussed on here before.
But as a hypothetical scenario I DO think that we would be in a better place if Moyes had had the advantage of continuity WITH Moshiri's backing and without Kenwright's meddling.
Of course, this would only have been a possibility if old Sly Boots hadn't buggered off to Old Toilet. Shitbag.
Ciarán McGlone
178
Posted 20/11/2016 at 17:54:37
Boro have just given Chelsea a decent game.
The same Chelsea some people on here were saying we had no right to compete with.
David Barks
179
Posted 20/11/2016 at 18:04:35
Ciaran,
You need to remember that Everton is small, a squad full of terrible players. It's going to take at least 3 more transfer windows to make us competitive. We should all be grateful for our masterful manager who has greatly improved our defense and "tells it like it is".
Darren Hind
180
Posted 20/11/2016 at 18:07:23
"Anyone calling for the manager to be sacked after 12 games either doesn't understand football or just posts for a reaction."
We had a sizeable number who apologised for Martinez for about two and a half seasons. When others could see the writing on the wall, some couldn't even see the wall... it's happening again. Once again, we have chosen the wrong guy, and if alarm bells are not ringing in your head, perhaps you should apply for Quasimodo's gig at Notre Dame.
How long do you think it took the Red Shite to know Woy was wrong? How long did it take the Manc's to see TGT was wrong?
What drives me nuts is this "I'm pretty sure he will get it right" garbage. ON WHAT GROUNDS? What signs of encouragement are you guys seeing? We are getting worse!
I have not seen anyone call for Koeman to be sacked. We are stuck with him. it cost (including compo) around 㿏m to get him here. He has spunked 㿔m on a show pony and a centre-half who was no better than what we had. It would cost probable another 㿀m to get a new manager (and probably more compo).
Koeman wants to give a few home truths while he's here. He's going to have to learn to accept a few. By getting tonked at Bournemouth and Burnley, losing at home to Norwich and failing to beat Palace and Swansea at home, he has even taken away the money argument the excuse factory are always so willing to produce.
He's been here five months, No one has a clue what he is trying to do – certainly not the players.
I'm expecting more hard-line honesty tomorrow. More of that blindingly obvious nonsense we keep getting told is the unpalatable truth.
"Guyshh, We are playing again next week. I know it's not what you want to hear... but somebody hash to be brave enough to shay it."
Ray Roche
181
Posted 20/11/2016 at 18:09:31
Is that the same Middlesbrough Everton beat at a canter in September?
David Barks
182
Posted 20/11/2016 at 18:11:21
Yeah Ray. So seems like Boro have gotten better since September while Everton continue to get worse.
Ray Roche
183
Posted 20/11/2016 at 18:26:16
You can say that again. Wonder how we'd get on against them now...
Soren Moyer
184
Posted 20/11/2016 at 18:34:43
I'm afraid we're stuck with this one for at least 2-3 more years. Unless he brings in the type of players he needs ASAP, as he did twice when he was at Southampton, I cannot see our fotune turned to better with the current squad.

And I also think it was a mistake to bring in Bolasie, Wiliams and the Ecuadorian chap.
David Barks
185
Posted 20/11/2016 at 18:42:31
Soren,
Koeman is on record as saying he has and wants nothing to do with transfers. He's said his job is to manage the players he is given. He didn't build the Southampton squad.
Paul Tran
186
Posted 20/11/2016 at 18:44:13
Darren, you're doing it again. I can't argue with any of it, except the five months, which is three.
At least before Martinez unravelled, he had the decency of giving us one very good season. I really don't know what Koeman is doing right now. Whatever it is, the players don't look happy with it.
I hope an unexpectedly good surprise is coming, that's as positive as I can be at the moment.
Peter Laing
187
Posted 20/11/2016 at 18:54:21
Darren, your analysis of the current situation borders on the melodramatic. It's getting close to Christmas and you remind me of the child in the toy shop crying and stomping his feet because he can't get what he wants right here, right now. To suggest Everton were tonked at Burnley is pretty myopic, the game could have gone either way and was settled by a goalkeeping mistake for the first goal and a lucky ricochet from the bar for the second.
Okay, we failed to beat Swansea and Palace at home, two sides that we also failed to beat at home last season. We are in a state of transition in every aspect, both on the pitch and off it. We can't compete with the top 6 due to a lack of quality and strength in depth and Koeman needs to be given both time and money to implement his plans.
Thankfully, Farhad Moshiri broke his silence a couple of weeks ago in the interview with Jim White and patience is seriously required in the weeks and months that lie ahead.
Soren Moyer
188
Posted 20/11/2016 at 19:06:42
David, whoever brought in them players while he was there, the squad in his disposal did what he asked them to do. The likes of Pelle, Mane, van Dyke, Long, etc.
Its obvious we do not have the personnel to do the pressing game he wants so, either he gets the type of players needed for the type of philosophy he brings with him or, we are in for a frustrating 3 years and we should be happy with just staying in the Premier League.
Jay Harris
189
Posted 20/11/2016 at 19:42:41
After years of team spirit, organization and hard work followed by Championship-level management which unravelled everything Moyes had painstakenly built it will certainly take more than a few months to rectify an aging, confused and unmotivated squad that are still currently on the same points as Man Utd in 6th place.
Any supporter asking for Koeman to be sacked now is totally insane. As we witnessed with Martinez, it takes around 12 months for a manager to really make his mark.
Man Utd have changed managers 3 times in as many years and spent over 200 million. are they any better off with the supposed "Best manager in the world".
Let's have a sense of perspective here lads. The Moshiri/Koeman ticket is only just taking root and like any plan takes time and patience to implement effectively.
Darren Hind
190
Posted 20/11/2016 at 19:52:58
Peter Laing,
Your analysis of the situation borders on docile. I'm guessing when you finally wake up, you won't be able to find the coffee.
You are not crying that you are not getting what you want for Christmas, because you have been told Santa will bring it to you and you have bought in big time.
Find that coffee fella . . and give it a good sniff.
Paul Tran,
Thank goodness for Dickie Johnson.
Paul Smith
191
Posted 20/11/2016 at 20:05:44
Well said, Darren Hind, we are shit – seventh or not. It's been garbage.
After the new manager bounce, came Norwich; the more astute members on these boards slated the team selection and how it might undermine our good start. I wasn't convinced... I am now!
I've seen and heard nothing to give me hope that Koeman is the right man for the job, in the next transfer window or the one after... or his clever psychological tactics to empower our vulnerable and sensitive front man come good and add to his sell-on value. Sometimes you can't stop the rot, look at Villa & Newcastle, hope to God I'm totally overreacting.
Mike Gwyer
192
Posted 20/11/2016 at 20:15:30
Jay.
Patience and playing the waiting game is great for bird watching but this is the Premier League which is the most expensive football league on this planet, played with power, passion and pace.
So let me say that I'm getting pig sick of watching the dross that seems to be getting served up most weekends. We don't get cheaper seats at Goodison for the bollox that Koeman calls football and I'm totally fucking sure that our players are not paid the minimum wage for turning up.
Our players rarely tackle for the ball and more laughable, certain players think that jogging is some form of sprinting. But what really fucks me off is that shower of shite are coming over in about 3 weeks and for almost 㿔, I'm probably going watch them give us a right fucking slap.
Patrick Murphy
193
Posted 20/11/2016 at 20:28:57
It looked as if our players are mostly working to rule; they didn't do much in 80 minutes and – save a short burst of energy in the last few minutes – most of them wouldn't have needed a shower at the end of the game.
The players don't look comfortable or happy with their lot at the moment but then again they haven't for most of the last 2 and half years. If I was the manager I would shake them all up by not including most of them in my squad this side of Christmas and put half a dozen youngsters in the team. What could we possibly lose? After all, the same insipid performances from the last few games if replicated will likely lead to a few defeats in the next half-a-dozen fixtures.
Jags has gone and is unlikely to recover his previous good form; Koeman needs a new captain and he might be wise to give it to Seamus. The forward line, as somebody else on TW said, are a pretty work-shy bunch of prima donnas, who don't seem to have any professional pride whatsoever and are certainly not helping Koeman and his staff.
Barkley should be loaned out to a European club for 12 months as he is getting more and more frustrated and some time away from Goodison may help him to rediscover his mojo.
If we get the return of points which we expect in the next few fixtures, the pressure will be on and the consequences could be devastating for the manager the team and the club. The time has come for everybody connected with the first team to ask themselves if they are giving 100% to the cause, and if they don't feel that they are, ask themselves why this should be the case and what can they do to change things.
This latest run of games without a victory is concerning because it's not necessarily the results in isolation that have been poor but the lack of intent, belief, attacking flair or sheer bloody mindedness which is the sort of thing you would expect from a relegation threatened team and not one aiming for Europe. Only a couple of players have shown anything like the form they are capable of and, more worryingly, those that have failed to show their true form are not prepared to work hard in order to regain that form.
Ricardo Gimpardsle
194
Posted 20/11/2016 at 20:30:07
Oh boy, even a stopped clock is right twice a day. Same old shit, different manager. Why do some even pretend to be supporters?
The "I can see the demise" routine is so old hat and boring. Why not actually get behind the team. The crowd at Goodison yesterday had its moments when it tried to get the players to up the tempo, but like the players themselves, they are not consistent.
Dean Adams
195
Posted 20/11/2016 at 20:35:33
I don't think we have played well this season but we are where we are and, after 12 games, 19 points is reasonable. If we continue at this rate, we will be close to the Europa League spots and that is surely the target this season.
Trevor Peers
196
Posted 20/11/2016 at 20:40:50
The only crumb of comfort I take from this season is that we don't capitulate at home like we did last season, there must be a bit more steel or organization defensively.
Offensively we're about the same... hopeless.
Andy Crooks
197
Posted 20/11/2016 at 20:52:56
Darren, no-one is happy with performances of late. It has been shite, no doubt. However, just how long should a coach get? What were your expectations for this season?
Our players are not that good and I believe that Koeman is a conservative coach who will first of all do his reputation no harm. Progress will be slow but it will happen. I hope that he has seen enough and that change will happen.
I expect Holgate to get a run in the side because Koeman, I believe, has given enough time to the old guard. I am convinced that Koeman is ruthless enough to make changes and I expect a settled, and different line up by Christmas.
What exactly, if you were Moshiri, would you do? Support your man, I would guess.

Tony Abrahams
198
Posted 20/11/2016 at 20:56:44
I stayed away from all things Everton, on purpose, because they are doing very little to inspire me, but loads to frustrate the life out of us at the minute.
Apologies to anyone who might have said it already, but I have just gone to the end of the thread after reading Patrick in the little smallprint.
Some players are hiding, whilst some players look like they have already threw in the towel. I liked James McCarthy, but where has the kid's fight gone? Okay, he's been out a while, but now he hasn't got Martinez to tell him how good he his, it's like he believes Koeman doesn't fancy him and, instead of trying to prove the man wrong, there just seems to be a general acceptance, which is a disgusting attitude really.
Jagielka is also playing with the body language that he's playing for a manager who isn't quite sure of him, and is using none of his experience to try and turn things round.
With the lack of creativity being shown by our midfielders at the minute, and the lack of numbers we get into the oppositions box, then I think we need to start playing 4-4-2 sometimes, especially at Goodison against the weaker teams.
Damian Wilde
199
Posted 20/11/2016 at 21:41:30
Andy Walker, is the general shit play of the last few months all down to the recent international break? Maybe the other international breaks too? Poor Ron without his professional players. Poor fucker was at a greasy spoon down County Road with Jimmy Martin and then getting lashed all arvo in the spoon's:
"Listen Ron, you can't do fuck all, son, our stars are away on international footy; write the Swans game off as those Welsh lads are top notch. After that we'll do some head tennis and a team night out at a Chinese and we'll be fuckin' mint, son."
"Okay Jimmy, fair enough; another bevy r mucker?"
How can you hang on this international break factor? I genuinely despair. 🙄
Darren – spot on. All this "we've got to give him time" shite. Fella is stinking the joint out. Simply not good enough.
Very funny post btw (#190) 😃😃
Paul Conway
200
Posted 20/11/2016 at 22:19:55
Ray Roche (#87),
Certainly food for thought!
Jon Cox
202
Posted 20/11/2016 at 22:35:35
Dean, "If we continue at this rate, we will be close to the Europa League spots and that is surely the target this year."
I think you'll find, Dean, the word TREND really makes your sentence irrelevant.
Brent Stephens
203
Posted 20/11/2016 at 22:36:40
We don't have a choice in giving Koeman time. He will have time. So we wait and see what happens.
Dave Lynch
204
Posted 20/11/2016 at 23:03:16
Koeman will need time. The reason being that the vast majority of the players are just not good enough.
They where bought by managers who preferred workhorses, work rate over skill. This is not the Koeman way, those players are being asked to do things they are incapable of.
McCarthy is one in question, he is no ball player by any stretch of the imagination. Baines and Jags are in the twilight and surely wont be around for another season; Mirallas is sugar or shite and Deulofeu...
The one thing I did notice yesterday was how quickly Barkley was releasing the ball when he received it, he's obviously been listening to the manager with regards dallying on the ball.
Dan Davies
205
Posted 20/11/2016 at 23:29:11
Darren (all posts!) — I can see your arguments, and fair play, you do entertain... you could very well be right in what you're saying.
We all now know your viewpoint, there's no need to keep banging your drum.
My question to you is: What's your solution to all of this?
Darren Hind
206
Posted 21/11/2016 at 05:27:40
Dan (#205),
My solution? ... Not sure if it's possible to have a 'solution' (not one that can be proven) on a website. I can only offer an opinion.
Look, when asked about his public criticism of Barkley (justified BTW) Koeman replied "Why not ?".. He told a startled Gary Lineker that he believes criticism is a big motivator. He surely didn't just get that belief?
I saw a lot of Koeman as a player. He had a good range of passing, but, contrary to what now seems popular belief, he did not possess the silky skills associated with many of his Dutch or Barca teammates. He was though, a fierce, fierce competitor. This is a guy who in a major final was able to shrug off screams that "He shouldn't even be on the fucking pitch" to hammer home the winner.
Managing is a world away from playing. Suddenly, the buck stops with you, but in my experience a "fuck you" attitude transcends every profession.
Our last manager thought he was a genius,. He clearly thought he was destined for the top. Why? Because he was told he was everywhere he went. "Destined for the very top" – Dave Whelan. "The next Barca manager" – countless Evertonians. "A wonderful new innovator" – The media.
He had so much smoke blown up his arse, the poor fucker thought he was a chimney stack... it's bollocks, it's unhealthy bollocks. Why as fans are we so ready to proclaim our managers as "top class" before they have done anything?
These people who are saying "I KNOW he will get it right..." "Get behind your man" ... "be positive" are killing this club.
"Be positive?" is there anything more negative than defending the shite we have witnessed this past couple of months?
If we are to get the performances we hope for from this manager, we at least need to speak the same language. If his tactics have been shite, then say so. If he makes a poor substitution, then say so... and if his team are performing at an unacceptable level then YOU, as an Evertonian, have an obligation to say so.
Let's at least learn from OUR mistakes. Praising and "standing by" a manager when he is clearly going in the wrong direction gets you exactly nowhere... which is exactly where we are right now
Patrick Murphy
207
Posted 21/11/2016 at 09:59:56
Ricardo (#194),
You wrote "The crowd at Goodison yesterday had its moments when it tried to get the players to up the tempo, but like the players themselves, they are not consistent. "
Have you noticed that Goodison has been sold out for every Premier League match so far this season? Do you not think that good enough?
We haven't seen a convincing victory at home against a decent club side for ages in the Premier League, in fact even the games we have managed to win, the team has been far from convincing. How are we as fans supposed to get enthused when we don't have much belief in the team, and that team doesn't contain a natural folk-hero who the crowd can rally around?
It is only the fact that the players wear our famous blue shirts that makes them identifiable as Everton players, as they don't have too many of the other attributes that would usually define them as an Everton team. In fact, this team has become an anonymous bunch of players who seem to have been thrown together without any sort of plan and without any sort of belief or pride in the club they are representing – Coleman and a couple of other players aside.
As Ken Buckley wrote in his match report, the crowd at Goodison will always respond if the team give it something to respond to. Does a good comedian expect the audience to start laughing the moment he/she walks on stage or does he/she have to tell a few funny jokes first?

Kevin Tully
208
Posted 21/11/2016 at 12:42:53
Darren – you do make me laugh, I'll give you that.
If this post doesn't state explicitly you want Koeman sacked, then my understanding of the English language is non-existent.
Koeman will never be the answer. Let's not pretend he inherited all these problems. Five of those who saw this game out were his signings. He also has alternatives to the out of form oldies, but he doesn't have the guts to play youngsters unless he has no other option.
This is not knee-jerk, it is based on what I have heard and what I have seen. He doesn't have what it takes to fire up a team.
In recent weeks we have been humbled by Burnley, humped by Bournemouth, held by two of the favourites for relegation and humiliated by Chelsea.
This really has a groundhog day feel to it, we have a manager who is hopelessly out of his depth and all I can hear is "Give him time... I'm sure he will get it right". Well I'm certain he won't.
Mark my words; Give "Honest Ronnie" time and he will find himself reliving his the nightmare he endured at Valencia.
Just do one, Ron, Ron... just do one, Ron

Anto Byrne
209
Posted 21/11/2016 at 13:07:26
Klopp took time to turn the Red Shite around... let's at least afford Koeman the same amount of time to do the same.
We are pretty solid at the back but still making stupid mistakes. There is a distinct lack of guile in midfield. An Arteta and Cahill in their prime would be good.
Time for a clear-out if you ask me.
Stan Schofield
210
Posted 21/11/2016 at 14:01:45
Darren @206:
Agreed, but I don't think people are being positive about shite being served up. All that's being said is, give Koeman time. How much time? For me, I expect to see improvements as this season progresses, and further improvement through to next season and beyond. I'm not sure what more I could expect or demand.
I could demand instant success, but it wouldn't do any good. At this stage I'm not demanding a new manager. Even if I were, I wouldn't be confident about a replacement sorting things out any quicker given the state we were in last season.
I'm used to disappointment as an Evertonian, but it doesn't mean I'll put up with it in the future. I'm used to Everton building us up and then letting us down. I'm just hoping that this time will be different. But if it isn't, and it turns out to be false promises, I can see myself effectively voting with my feet, by way of just losing interest.
For example, if I'm of the opinion that, a year from now, Everton players don't give a shit, and can't be arsed to put effort in, then I won't make any further effort either. Can't see what else a supporter can do, other than continue to endure disappointments, with protest or without.
John Pierce
211
Posted 21/11/2016 at 15:02:48
Stan,
Personally, I want to see material progress. I will not accept the we have a shit squad argument as to the lack their of said progress. He is supposed to be a good manager, but worrying he is showing signs of archaic inflexibility.
At Southampton the pressing game was instilled with a changing squad which was much younger than ours. So why the persistence in a game plan which cannot be sustained? That stinks of a one trick pony to me.
Showing me he understands the squads limitations and plays a way that suits them until he can change the personnel would show me hes good. He ain't; to date we've had three games were he's got his selections and tactics incorrect. This has forced substitutions before half time, a worrying pattern.
We have singularly failed to play well for the majority of any game to date; we have no idea how to break down sides which sit in – ironic given we are quite rubbish ourselves.
I'd even give him credit if he realised the older players cannot adapt to pressing so I'll play three younger players instead. Manifestly hes trusts the younger crop not one bit. If in five months we cannot see any form of progress then what hope is there when he gets better players?
The stark reality is, if we are not in contention for a European spot come January, we are unlikely to get the players we need to secure that spot. As we slide further down the greasy Premier League pole, even with money, players won't come.
My bar is clear. Europe or bust for Koeman.
Stan Schofield
212
Posted 21/11/2016 at 15:53:47
John,
I can't disagree with any of that. In particular, I cannot fathom why some of our younger players aren't being used, as in the final game of last season, and especially why Holgate was dropped.
My patience isn't infinite, even after 55 years of supporting.
Darren Hind
213
Posted 21/11/2016 at 19:24:33
Kevin,
I think you still feel slightly embarrassed that you supported Martinez for so long (well into his third season) and in desperation you are spouting the same crap in the hope that you will be proved right this time around. You won't, You have nailed your colours to another rotten mast.
I know you thought you were being clever and that you had trapped me with your latest offering, but I'm afraid you have missed your target again. You are grasping at thin air – again.
You see there is a very definite difference between wanting somebody gone and wanting them sacked. We have already lined one failures pockets to the tune of ten million quid this year, sacking Koeman would cost even more. then there's the 㿔m he has spunked on players like Bolasie and Williams.
aAs ALREADY explained if we sacked Koeman tomorrow we would have to employ somebody else, that would probably cost another 㿀m. In other words we'd have spent around 𧴜m quid in six months to be exactly where we where. ... Squandering that sort of money in that sort of time will not enhance our chances of a water front stadium.
I do NOT want Koeman to be given 㾾m compo for doing a seriously crap job. I do not want him rewarded for being sacked.
Make no mistake, I want him gone, but I would rather somebody tempted him away with a better offer (like that will happen) or if Honest Ronnie walked out saying "this is a bigger task than I thought" ... but, we all know that wont happen either.
Let me spell this out: I am sick to death of second-class managers taking the piss out of Evertonians with half witted promises then riding out with full saddle bags after making a pigs ear of a job. I do not want this fella to do the same.
It's funny your understanding of the English language doesn't seem "non-existent" when you are penning your articles calling for support of your latest knight in shining armour.
Dan Davies
214
Posted 21/11/2016 at 19:54:24
Fair enough, Darren, you've made your point well.
Personally I'm tending to take the view of let's give him at least one decent transfer window before we start ripping at him like a pack of hyenas!
Stan Schofield
215
Posted 21/11/2016 at 19:59:29
Darren, I'm still not sure what we as supporters can do about any of that, other than vote with our feet. I gave up being a season ticket holder yonks ago, for this very reason, not wanting to be taken for a fool.
As I got older, I increasingly treated EFC like I treat private pension funds, i.e. not to be trusted with too much investment. I'm just hoping, with our new era, that Everton is not like Equitable Life, taking people for a ride whilst others get rich.
Oliver Molloy
216
Posted 21/11/2016 at 20:26:03
You would think that Everton will have learned from the Martinez pay-out, Darren. Hopefully there will be clause in Koeman's contract that would protect the club in the event of early termination.
We must remember this is not his team (that's what I keep telling myself in hope), when it does seem a bit déjà vu with Koeman's management of the team. Unless it goes totally belly up, I think it's only fair he has this season at least to show us all what he is made of.
Another big test for Koeman this weekend!
James Marshall
217
Posted 21/11/2016 at 20:55:09
Koeman has taken a lower mid table side, and in the space of a few months, turned them into an upper mid table side.
Baby steps.
Patrick Murphy
218
Posted 21/11/2016 at 21:07:49
Five years ago, Everton defeated Wolves 2-1 at Goodison Park, thanks to a penalty from Leighton Baines late in the second period. Stephen Hunt had converted a first-half penalty to give Wolves the lead, but Phil Jagielka equalised on the stroke of half-time. Everton ended the day on 13 points – a whopping 21 points behind league leaders Manchester City and a dozen points behind fourth placed Newcastle United.
Four years ago Everton had lost to Reading away 1-2. Steven Naismith had given Everton the lead but Le Fondre equalised early in the 2nd half and the same player converted a penalty late in the game. Everton had 20 points from a dozen league games, 3 points behind WBA in fourth place and 8 points behind the league leaders Man City. We had scored 22 and conceded 16 goals.
Three years ago, Everton shared six goals with their local rivals which meant that the other lot stayed 3 points ahead of seventh placed Everton but four points behind leaders Arsenal. Man City occupied fourth place with a one point lead over Everton.
Two years ago Everton beat West Ham 2-1 at Goodison Park, Romelu Lukaku gave Everton the lead midway through the first half but Zarate eqaulised for the Hammers early in the second period Samuel Eto'o was given an assist as Leon Osman bagged the winner. Everton had 17 points from the dozen games played and had scored 22 but conceded 19. The Blues were 2 points behind fourth placed Man United and a massive 15 points behind league leaders Chelsea.
Last season, Everton returned from Upton Park with a point Manuel Lanzini had given the home team the lead after half an hour but Romelu Lukaku equalised shortly before the break, the point meant that Everton's tally was 17 points whilst they had scored 20 and conceded 16 goals. Manchester United were sat in fourth place seven points ahead of the Toffees whilst Manchester City were nine points ahead of the Blues in top spot.
Today we lie 9 points behind Chelsea in top spot and 6 points off fourth placed Arsenal. Given our past few season, we are probably about where we could reasonably expect to be. Doubtless the aims are higher from the fans today than they have been in the past but unfortunately the performances of the current players seems to have stood still for the last three seasons.
Kevin Tully
219
Posted 21/11/2016 at 21:28:48
Darren, no doubt we'd have a good bit of craic over a few pints. But your position is ridiculous (as per.)
You don't want to see Koeman given any more time, but you don't want him sacked because of any financial compo. You were caught out calling for his head after 12 League games, and probably felt a little embarrassed.
It's OK – we understand your frustration. But don't make daft excuses as you just have for wanting to see the back of Koeman after 12 League games... stick to your guns mate.
.
Ian Bennett
220
Posted 21/11/2016 at 21:40:52
I don't know if it was true, but the phone-in tonight claimed McCarthy didn't make one forward pass all game. My mind just boggles, how does that happen and continue to happen? An experienced international who has zero creativity. Not even a water carrier...
Does McCarthy, the manager, the captain etc think this is acceptable? Does this not get picked up at half-time, or by any if the analysts that watch the game, or any other analyst that watch prior games.
I've picked one issue here, but you could carry on with set pieces, midfielders getting ahead of Lukaku etc etc etc. What the hell do they do in training at Finch Farm???
I don't expect Koeman to turn around two seasons of going backwards into miracles, but I do expect the vast clique to have some semblance of professional pride and spark. Bar Coleman and Gueye, the rest cheated another living... again.
Darren Hind
221
Posted 22/11/2016 at 04:58:19
No embarrassment felt here, Kevin.
It's pretty clear what I am saying (the clue is in the last sentence of post 92). Your latest straw man argument is there for all to see.
Sacking managers is more than just an expensive business, especially for a club like us who pay top dollar without receiving anywhere near the revenue to support it. Do it often enough and It could ruin the club.
To be a sacking club, you have to either have so much money, you can just brush it off (Chelsea, Man City, Man Utd, The Red Shite) or you hire the best you can for reasonable wages. We are the club which falls between these two stools.
Unfortunately Moshiri has made our bed and whether we like it or not, we are going to have to lie in it. Everton's tradition of hiring managers who will simply keep the status quo is as prevalent as it ever was.
If you were to take away the dream/promise/hint that we will end up in a super stadium on the banks of the Mersey, I suspect the hope we all cling on to of rising back to the top would just about have disappeared by now.
On a brighter note... I must admit, it is quite amusing to be told by you that my position is ridiculous, especially given your track record for supporting buffoonery
And yes, I too believe we'd have a good bit of craic over a few Dons.
Damian Wilde
222
Posted 22/11/2016 at 18:22:46
Koeman has done a poor-average job so far, with the side currently looking very poor and on an alarming side. We couldn't beat the side bottom of the league at home, doesn't get much worse, eh?
I'll give him a bit longer, but if it doesn't inprove, 'Koeman Out' banners will start to be put together.
Andy Crooks
223
Posted 22/11/2016 at 20:55:43
Damian, we are not Leeds Utd. Keep the "Koeman Out!" banners till after the derby!!
Jack Convery
224
Posted 22/11/2016 at 22:38:42
I don't think you can judge a manager until its his team on the pitch. Koeman's players are the ones who have stood out and been crap in equal measure apart from Gueye who has been magnificent. Bolasie has scored and assisted he's also been awful, as today. Stek was brilliant at Man City dreadful at Burnley and Chelsea – though who wasn't at Chelsea? Williams has been steady apart from Chelsea.
However, the players he inherited have been inconsistent and that's putting it mildly. Coleman is no way near where he was 3 years ago but he still gives 100%. Jags is goosed and I reckon finds it difficult to play alongside Williams. Baines's injuries and the departure of Pienaar have done for him. McCarthy is not up to it and I believe he's wanted out for a while now. Cleverley is a midtable squad player at best.
Barkley mystifies me and his manager too. Mirallas is all for himself and always has been. Lennon looks like he's resigned to leaving soon, what happened to the hardworking / scoring Lennon we took on loan – oh yes we gave him a contract. Lukaku scores the goals that keep us above the relegation dross and that's why Koeman plays him. I personally believe Koemans' way of playing would not include Lukaku but for now he needs his goals.
Other players such as Kone, Gibson and Oviedo are not first team players. That leaves us with Barry who is class but unfortunately too bloody old, though how he keeps putting in the performances he does, deserves our praise.
Perhaps Koeman should get more out of them and I reckon one or two will up their game when they see who leaves in January.
I expect Moyes to come in for Jagielka, who will grab the chance with both hands. Whether Kone comes in the other direction we will have to wait and see. I would let one of Mirallas, Deulofeu or Lennon go too In January. Lennon maybe the obvious one given we are looking at the Leeds left back and Lennon started there, so a swap deal and cash could be on the cards. Kone should go but who would take him. Oviedo could go as we are getting Galloway back from WBA.
I would like us to go in for Siggurdsson from Swansea as we desperately need someone with a football brain in the final third of the pitch.
Only when Koeman has the players who can play the way he wants will we be able to judge him. I for one will give him the time he needs and I reckon Moshiri will too.
I see Spurs fans are after Pochettino, after Spurs went out of the C/League tonight – unbelievable.
Damian Wilde
225
Posted 23/11/2016 at 08:52:43
Andy, if we beat Liverpool and pick up other points, my old bed sheet and paint tin may stay in the cupboard. 😃😃
Damian Wilde
226
Posted 23/11/2016 at 08:53:23
I think Darren is organising the plane fly-over though 😃😃
---
Add Your Comments
In order to post a comment, you need to be logged in as a registered user of the site.
Or Sign up as a ToffeeWeb Member — it's free, takes just a few minutes and will allow you to post your comments on articles and Talking Points submissions across the site.
© ToffeeWeb