Report
Fine effort to beat Gunners under the lights
By Michael Kenrick
13/12/2016

186 Comments [Jump to last]
Share: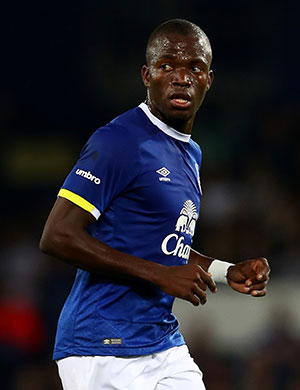 Enner Valencia makes his first league start since joining on loan from West Ham
Everton 2 - 1 Arsenal
Enner Valencia made his first Premier League start, two-and-a-half months after joining, while Phil Jagielka and Ross Barkley were recalled to the starting XI.

James McCarthy came in for Gareth Barry who can no longer play three games in the space of nine days, while Aaron Lennon replaced Gerard Deulofeu. Kevin Mirallas dropped back to the bench to accommodate Valencia while Dominic Calvert-Lewin is named among the subs again.

Everton made the slowest and most tentative start imaginable, backing off their illustrious guests, ceding position, playing the ball backwards rather than forwards, taking no risks, doing everything possible to prevent the home side from getting sight of goal.

They held out for barely 18 minutes, and the first real Arsenal attack which was ended early when Jagielka fouled Coquelin and earned a yellow card. The Sanchez free-kick spun off Williams in the wall and Stekelenburg could not readjust to get all of his hand in the way to prevent it ending up in the Gwladys Street net.

In an advanced position down the right, Barkley and Valencia contrived to play pass-the-parcel rather than risk a cross into the crowded Arsenal area, and ended up turning possession over cheaply with no end product.

Coleman got forward but could only hit a defender and earn another corner, this one better from Barkley, headed well over by Valencia. A moment of better possession around the Arsenal area was spoilt by a lousy reverse ball from McCarthy and any impetus was lost.

Barkley needlessly passed to an Arsenal player but Lennon picked up the ball and ran forward, much to the approval of the increasingly frustrated crowd, only to scoop his cross behind. The Blues were now trying their best but the play simply wasn't good enough to create even a half-chance.

Barkley tried to play in Valencia at the far post but the ball spun away off the slick Goodison turf. Lukaku got the ball to feet from McCarthy but lashed his shot early, high and wide. But at least the Blues were taking the game forward, into Arsenal's half...

Barkley launched in a free-kick that Arsenal fumbled, Lennon snatching at the bouncing ball, which flew wide. At the other end, it was ping-pong in the Everton area from an Arsenal corner, and Everton were attacking again, but McCarthy stupidly stamped on and ankle after he was not awarded a free-kick for a nothing previous tumble, a yellow card from pure fume. Then, a quality cross from Baines, Coleman up like a swan, and a lovely glancing header down into the bottom corner to draw level, a nice simple, clever skillful goal from the full-backs, showing perhaps they are good enough!

Everton struggled a little after the break, and were lucky when Coleman gave the ball away and Ozil seemed to have a simple job to convert a fine cut-back but he stroked it over. At the other end, a fine run through the middle was ended abruptly and illegally. Baines and Barkley played the dummy, Barkley hitting the jumping Arsenal wall when more guile was required.

Stekelenburg was out smartly to cut out danger and collided heavily with Baines. Robles was immediately summoned from the bench, but his damaged knee seemed to recover after application of the magic sponge.

From the restart, Barkley took a shot across Cech's goal and inches wide. The Blues were making something of a game of it, Valencia trying to pick out Lukaku, who had positioned himself well enough but a defender intervened. At the other end, some strong defending was needed as the tempo of the game increased, a clearance to Lukaku controlled with all the skill of an injured elephant. Pressure was building on the Blues, and finally Mirallas was called on for Lennon.

The Blues did a bit of attacking without threatening before the Arsenal pressure resumed, Williams tackling well, and Lukaku getting released and running in from the half-way line but his shot deflected into the side netting, good effort from the big man.

Barkley danced past his marker and fired in a fine low, cross, but Lukaku had his back to goal and could not find a blue shirt with his lay-off. An Arsenal mistake and Mirallas broke free, to Lukaku, but they were just not quick enough to make a real chance of it, yet the Force was now with the Blues who were making a real game of it.

Arsenal got behind the Blues but Iwobi could only fluff it into the side netting. Meanwhile, a stunning move by Koeman, a debut for U23 star Dominic Calvert-Lewin, 19 years old, given all of 10 minutes plus to get a taste of the bright lights... on in place of Valencia.

The home side were attacking but perhaps flagging in energy and somewhat bereft of fresh ideas, as crosses were too easily anticipated by the Gunners defence. But Gueye looked to run in the channel off a throw-in, only for the ball to go through lamely to Cecch. McCarthy was cut down by Koscielny, the free-kick curled in by Baines superbly, and headed behind by Calvert-Lewin off a defender. From the corner, Jagielka lashed a snapshot goalwards only for Cech to pull off a miraculous save.

Another corner for Everton, swung in superbly by Barkley and headed down smartly at the far post by Williams, the ball bouncing up past Cech into the Arsenal net, much to the collective delight of the raucous Blues.

A tremendous atmosphere now beneath the Goodison lights, Stekenburg tested, with a looped in ball, then Funes Mori on for McCarthy to hold the fort for 4 added minutes.

Barkley broke into the area and fired at Cech, winning a corner, taken short and then back all the way to Stekelenburg. But Arsenal got the ball and attacked, Coleman had to head behind, and a corner needed defending, then Jagielka holding Perez, earned a second yellow card and red in the last minute of added time.

From the free-kick, a fine punch by Stekelenburg, then another brave punch, followed by and TWO desperate last-ditch clearances off the Everton line, then Mirallas appearing to foul in the area but Clattenburg could see he got the ball, as it broke for the Blues with Cech stranded, having come up for the corner. Fast-forward to the other end and Barkley set to score, then Mirallas, waiting too long for the ball to come to him, but neither could finish what should have been a goal on a plate.

A tremendous, frenetic finish, and it should really have been 3-1 after that madness, but it mattered not a jot, as the Blues notched up an excellent win over high-flying Arsenal (only their second defeat of the season... their first away from The Emirates in NINE MONTHS!), to maintain their unbeaten record this season at Goodison Park.
---
Reader Comments (186)
Note: the following content is not moderated or vetted by the site owners at the time of submission. Comments are the responsibility of the poster. Disclaimer
Stephen Brown
1
Posted 13/12/2016 at 18:58:42
Interesting!!!
Although I do think Geri was our best player on Saturday!
Mike Allen
2
Posted 13/12/2016 at 19:06:54
Just don't get it if Koeman wanted Jags back for this one why for Funes Mori? Williams has been poor for weeks. Was Funes Mori that bad on Saturday to warrant being the fall guy? You can argue all day about team selection but this one is baffling to me.
Ray Smith
3
Posted 13/12/2016 at 19:06:56
Not sure about Lennon and Jags!
Valencia might just surprise. He can't do any worse than what we have witnessed lately.
McCarthy wants out, however, if there was a queue waiting to leave, he would be nowhere near the front of it.
I'll take a point now!
Paul Conway
4
Posted 13/12/2016 at 19:13:55
This is a win-win situation.

With us playing tonight and then next Monday, we can't have our weekend ruined!
John Malone
5
Posted 13/12/2016 at 19:18:35
Koeman obviously doesn't know his squad or take notice of the opposition!!
This team should've been the one to play Watford not to a very good team like Arsenal!!
We've had joy against Arsenal at home playing 4-5-1 filling the space and counter attacking!!
4-4-2 is very brave against a flying Arsenal in fact in my opinion it's plain stupid it smack's of deperation but I honestly really hope I am proved wrong and it all comes together but my gut feeling is it could be another demoralising beating right before the derby!!
Ciarán McGlone
6
Posted 13/12/2016 at 19:19:51
Why has Funes Mori been dropped. If anyone deserved dropped it was Williams.
Also don't understand the renewed inclusions of Barkley and Lennon.
3 centre midfielders and a winger. Hardly balanced.
Should've been Barkley, Gueye, Deulofeu and Mirallas.
I really can't make any sense of Koeman's team selections.
Michael Lynch
7
Posted 13/12/2016 at 19:26:49
Not sure why Jags is back, but I don't particularly rate Funes Mori so I'm not really fussed. I like the look of the rest of the line-up though. I mean, we might get absolutely hammered but at least he's trying Valencia alongside Lukaku. And Mirallas and Deulofeu haven't set the world on fire so they don't really deserve a place.
I'd like to see Calvert-Lewin get 20 minutes from the bench but I won't hold my breath.
Bill Gienapp
8
Posted 13/12/2016 at 19:27:31
I'd have stuck with Deulofeu over Lennon, but given his always dubious fitness levels, I'm guessing it was deemed safer to bring him off the bench after he went the full 90 against Watford.
Brian Cleveland
9
Posted 13/12/2016 at 19:30:01
Does anyone know how to delay the website commentary by a few seconds? Today's commentary for me will only be the crappy South Amerian ESPN commentators who spend the whole game talking about Messi and his life instead of concentrating on the game at hand, so if I could sync the website commentary with my TV pic it would be nice.
Andy Crooks
10
Posted 13/12/2016 at 19:33:00
A more positive team in my view. Let us give it all but not be unlucky losers. We will win.
Jack Convery
11
Posted 13/12/2016 at 19:35:51
Ron's run of bad results with Southampton came to an end against Arsenal Embarrassing & humiliating, that's Everton. The biggest Joke-Team in the Premier League. Here's hoping, with everything, I mean everything crossed.
Tom Bowers
12
Posted 13/12/2016 at 19:40:24
Just a case of shuffling the pack. What really matters is determination and intensity right from the off. Let's have no early jitters and conceding soft goals.
I would love to see Barkley and Lennon really shine for once.
Max Murphy
13
Posted 13/12/2016 at 19:44:21
Dutch Dickhead! Dropping Deulofeu – the only player who'd showed a bit of enterprise on Saturday. He should persist with Gerry and Mirallas – given enough time they'll create and score goals.
It's Williams that should have been dropped.
Prediction: 4-1 to Arsenal.
Brian Porter
14
Posted 13/12/2016 at 19:49:09
No way should Jags replace Funes Mori. Williams has been useless lately. Just can't understand Koeman's thinking. No real confidence in this one.
Ciarán McGlone
16
Posted 13/12/2016 at 19:51:14
This is not a 4-4-2. This is a forward playing in from the wing.
Ciarán McGlone
17
Posted 13/12/2016 at 19:57:01
Typical Lukaku there. Passes it directly to an Arsenal player when we had a good chance... and then flings his arms about as though it's somebody else's fault.
Ciarán McGlone
18
Posted 13/12/2016 at 20:08:33
This is comical now... Williams's tackle on Gueye was a red card, and then he ballet dances the ball into the net.
This is bad, bad stuff.
Paul Setter
19
Posted 13/12/2016 at 20:09:35
We are on for a long season of utter tripe. Best squad in years... yeah right – try the worst since Mike Walker was picking the side.
Our manager is out of his depth... completely clueless with this starting 11, tactics... Sooner he goes, the better.
Mark Morrissey
20
Posted 13/12/2016 at 20:17:08
Williams gets a game because Koeman signed him, Jags replaces Funes Mori??
Stek is the worst goalie I have ever seen play for Everton and he's another player who only gets a game because Koeman signed him and he won't drop him because he thinks he'll lose face. Utter tripe.
I've finally lost my faith in the man. I am bewildered by him. Utter nonsense. It's no wonder the team don't know their arse from their elbow.
Ciarán McGlone
22
Posted 13/12/2016 at 20:36:56
I'm in dire danger of eating my hat here..
Good stuff in the last 20 mins. More urgency, movement, closing down.
Valencia has been great. Lukaku has been gash. I'd replace him with Deloufeu.
John Graham
24
Posted 13/12/2016 at 20:47:54
Well, well, well... who expected that we actually deserved that goal? Come on, let's carry on the improvement in the second half.
COYB
David Morgan
25
Posted 13/12/2016 at 20:48:54
3 Tackles in midfield and everything changes. Got to have more of that in the second half. Scuffling down the tunnel is a good sign. If we don't get someone sent off we can win here. Fingers crossed.
Dave Williams
26
Posted 13/12/2016 at 20:53:31
He's picked a team which will work hard and contain. Had to pop out after their goal and couldn't believe we'd equalised.
Surely we can't win??
Christy Ring
27
Posted 13/12/2016 at 20:59:56
A lot more bite in midfield, hope the yellow cards are not costly. Lukaku needs to put in a shift, and put pressure on, when not in possession.
Tom Flower
28
Posted 13/12/2016 at 21:20:09
Is McMannaman wearing tight undies or have his bollocks yet to drop? He is squawking like a parrot.
Mark Morrissey
29
Posted 13/12/2016 at 21:30:11
I could talk but I'm currently eating my hat...
Ciarán McGlone
30
Posted 13/12/2016 at 21:35:19
Anybody who says these players are crap, has had that reasoning put to bed tonight.
Long periods of dominance. Great crowd. Good football.
Weak link for me is Lukaku. Everybody else (I'm absolving Williams if his earlier sins for obvious reasons) had a good/great game.
Hopefully we've crossed the Rubicon.
Mark Daley
31
Posted 13/12/2016 at 21:38:50
Yeeeeeesssssssssss!!!!!!!!!!!!!!!!!!!!!
Paul Conway
32
Posted 13/12/2016 at 21:41:19
Famous Seamus, another striker's goal.
This could be the catalyst!!!
John Hammond
33
Posted 13/12/2016 at 21:42:57
Didn't see that coming – now let's keep on playing like that! Barkley still totally infuriating.
Craig Walker
34
Posted 13/12/2016 at 21:43:13
Fully deserved. More of the same next Monday please!
Dave Lynch
36
Posted 13/12/2016 at 21:45:59
Ya beauty.
Lost a fiver, happy days...
Neil Sagar
37
Posted 13/12/2016 at 21:46:22
Told yez... 4 points from these two games.
Could this be our Neville-on-Ronaldo moment?
Julian Exshaw
38
Posted 13/12/2016 at 21:47:21
As you say, Michael... under lights! Is there a better place to be than Goodison on nights like this?
Tim O'Connell
39
Posted 13/12/2016 at 21:47:39
That's my boys – dreadful first 20 but from there was my Everton – hope no-one wants me to talk tomorrow; I have no voice left!
Andy Crooks
40
Posted 13/12/2016 at 21:49:31
Great stuff. No time for hat eating, just a happy night.
Also, Darren Hind, you posted a cracker tonight that I cannot trace. It was a real good post on whatever thread, but it confirmed for me that I should have a bet on Everton that would not be a fucking scud. A great night.
Chris Williams
41
Posted 13/12/2016 at 21:52:03
Ciaran,
Great result and well deserved but where were these great players in the last ten games?
Honest words must have been spoken by the look of it and some players clearly responded.
It's like lancing a boil for me.
Feel amazingly relieved and delighted.
Mark Daley
42
Posted 13/12/2016 at 21:53:14
You disengage emotionally and write off the season, you can't bear to think about the derby, and now the custards do this to us! Bring on the fucking RS!!!
And on Thursday my squash match is against Arsenal season ticket holder Mark Robson. Who'd be a blue? Come on!!!!!!!
Mike Hughes
43
Posted 13/12/2016 at 21:53:50
Never doubted it for a minute.
Arsenal should know not to mess with the big boys.Now to turn the RS over.

Ian Riley
44
Posted 13/12/2016 at 21:54:01
Working hard paid off.
Thank you lads!!

Laura Round
45
Posted 13/12/2016 at 21:54:07
Bring on the 'pool!
Christopher Wallace
46
Posted 13/12/2016 at 21:55:44
Gana – most tackles and interceptions – no surprise! Man of the Match as usual.
Bainesy -– awesome cross and even better goal-line clearance at end!
Lennon – 100% pass accuracy! lol
Loved Valencia.

Every player was great, apart from Lukaku.
Paul Burns
47
Posted 13/12/2016 at 22:02:33
That performance is the least that is required every game.
Kunal Desai
48
Posted 13/12/2016 at 22:04:51
That's what I want from Everton, Passion, desire, effort and commitment. Superb display now do it against every side in the league and not the so called top four sides.
Well done to Koeman for also changing it and playing Valenica alongside Lukaku.
Dave Williams
49
Posted 13/12/2016 at 22:08:41
Can't believe that! Effort, passion, fight – all there tonight... so where has it been the last ten games?
Valencia made a huge difference and showed he is useful. Baines much more his old self and Gana absolutely brilliant.
Oh, and what support!!!
Dave Older
50
Posted 13/12/2016 at 22:09:59
Woah, what a result!! I think Koeman deserves a bit of credit tonight, and so do the players. I don't think any of us expected to win this game after the dross we have served up for the last 3 months.
Well done lads, and keep this spirit up!! Bring on those Reds next week and we'll do them too!!!! COYB NSNO!!!!!
Liam Reilly
52
Posted 13/12/2016 at 22:14:21
Can't understand any negative comments on Ross tonight. I thought he was excellent, as was Gueye.
Interesting comments from Howard Webb on BT saying Goodison is the best place in the league when the atmosphere gets up to tonight's level.
Matt Ferris
53
Posted 13/12/2016 at 22:15:59
The turning point in the game for me was around the 25th minute where Rom put a shift in chasing down the ball then kicking off at the rest of the boys for sitting too deep! The crowd got involved and the boys upped their game and work rate.
It was good to see that it meant something to them tonight. Hopefully we kick in again from here with the big one looming.
Gavin Johnson
54
Posted 13/12/2016 at 22:16:14
Look what you can do lads when you try, lads... Well done!
I didn't give us a hope of even getting a point this evening. True to form Everton were consistent in being unpredictable. We were awesome in the 2nd half.
Koeman seems to have taken heed of some of the criticism. He played Valencia from the start. Not sure we should shell out 㾺m but he's looking a decent loan. He's an upgrade on Kone and could yet, be our Shane Long.
The manager also blooded Calvert-Lewin. I hope we see more of him. He didn't do much, but he worked his socks off running around. You could tell how much it meant to the lad. He gives us height and might do some of the work Lukaku should be doing more of – pressing up top.
Gana was the clear man of the match, he covered every blade of grass and epitomised the team spirit tonight.
Special mention for Barkley. He was back to his best tonight. He worked hard and put in some very good diagonal and through ball passes.
Brian Cleveland
55
Posted 13/12/2016 at 22:16:52
Dare I hope the real Everton just stood up?
Jay Wood
56
Posted 13/12/2016 at 22:17:42
... and breath!
Cracking result.
These are NOT crap players and Koeman is NOT a crap manager.
Joe Clitherow
57
Posted 13/12/2016 at 22:18:37
Sorry but slagging off Lukaku is out of order tonight. You cannot see the off-the-ball work from your armchair watching the television. He put in a shift tonight and was unlucky not to get a reward.
As was Enner Valencia for the first 60-70 mins. He was terrific as was pretty much everyone else. Gueye and Valencia led by example for me and after a really shaky 20 mins I thought Ross was excellent too.
They scored and we started playing and most importantly we started working hard which gets its reward in due course. Arsenal are a quality side and we bossed them around tonight, especially second half.
Andy Crooks
58
Posted 13/12/2016 at 22:20:32
And THAT, Jay, was a spot on post.
There will be some heartache to come but I really believe this is a turning point.
Chris Williams
59
Posted 13/12/2016 at 22:22:09
Euphoria abounds!
Finally Everton players understand what is required.
Great, loving it and fully deserved . By far the better team in the second half. fight, passion, energy, determination, everything that was missing in the last several games
Anyone calling for Koeman's head tonight?
So on to Monday and the the next bounce on the see saw.
Get beat and it's Koeman out again presumably. And despair everywhere.
Enjoy it but please some balance.on Monday. Might even win again. 2 on the trot. Fantastic
Colin Glassar
60
Posted 13/12/2016 at 22:23:05
Thank you, Everton, thank you for restoring some of my faith which I had lost recently. All I wanted was too see some effort and pride in the shirt and you gave it tonight. Thanks lads.
Geoff Evans
61
Posted 13/12/2016 at 22:23:25
Pride and passion... that's what we wanted and that's what we got.
The staff, team and crowd, brilliant.

Mike Crawford
62
Posted 13/12/2016 at 22:24:33
Just when you're ready to give up... What other team, eh!
Ray Jacques
63
Posted 13/12/2016 at 22:25:18
Didn't see that coming. Hopefully the same team next week with exception of Jagielka.
Don't bring in Barry. He is leggy and easily turned, resulting in cheap free kicks. Both full backs better tonight as recently have both been poor in defence and link up play going forward.
Dan Davies
64
Posted 13/12/2016 at 22:26:53
Well done to both Koeman and the players tonight. Three points bagged against the second best team in the league. Turning point!
Derby next. Bring it on. COYBB.
Paul Hewitt
65
Posted 13/12/2016 at 22:29:41
Now we need to play like that EVERY match. We wont win every game, but we will win most.
Christy Ring
66
Posted 13/12/2016 at 22:30:08
A huge win, and a massive confidence boost ahead of Monday's derby. The team put in a great shift tonight, with a lot more bite.
I was delighted Koeman played McCarthy in his proper position beside Gueye, with Barkley more forward. Barry has been a great servant, but his legs are gone.
Goodison was rocking tonight, and we looked a totally different team.
Joe O'Brien
67
Posted 13/12/2016 at 22:30:40
Unbelievable match. Great result and as Colin said that's all we want a bit of fight and passion... and when we show that with the players we have we'll beat teams. Don't change the formation for the derby, Ronald, for god's sake. Woke the three kids for the goals and at FT... wife wasn't happy.
Chris Williams
68
Posted 13/12/2016 at 22:31:23
Maybe some plain speaking has occurred in their behind-doors discussions we have read about. If so, let's have a bloody sight more of it.
I feel like a weight has been lifted.... Pathetic for a man of my advanced years.
Gavin Johnson
69
Posted 13/12/2016 at 22:31:56
Joe #57
I'm a massive fan of Lukaku, I debated many times with posters last season, who said he isn't worth 㿊m, let alone 㿨m. As a goal scorer he's 2nd to none, but if he's ever to become a player as good as a Diego Costa or Aguero, he needs to become a better player and not just a goal scorer.
As for tonight, he worked harder than Saturday and he did make runs, but it could still be better. Coleman was shouting at him to get moving more at one point in the 2nd half.
It was a great team performance and a massive lift in confidence to take into the game against the RS. I'm going to be more pessimistic this season. I'm not going to get too carried away with one performance. I did that last season...beating City at home springs to mind. That all said, It's definitely restored some of the belief I had lost over the last couple of months.
Andrew Clare
70
Posted 13/12/2016 at 22:32:06
Fantastic! Well done everyone. Just the tonic.
James Byrne
71
Posted 13/12/2016 at 22:35:00
Just back from the ground. Tonight was something we've all been waiting for a while. Like already mentioned a bit more passion and fight in us.
What a difference having Valencia on with Lukaku.
I thought the entire team played well, my MotM goes to Gana Gueye.
Danny Broderick
72
Posted 13/12/2016 at 22:35:39
Fine effort indeed. It seems like Koeman got inside the players' heads tonight and they put in a right shift. If they can repeat that on Monday night, we'll all be happy with that...
Raymond Fox
73
Posted 13/12/2016 at 22:36:38
Gana was fantastic, ٥m what a bargain, a good spot by someone at the club. Valencia had a blinder only Gana better. Baines showed the old Leighton, Coleman back to his best again. I thought Lennon and McCarthy put in a shift too.
After first 20 mins I thought "Here we go again..." but someone threw a switch and we were a different team, they played aggressive and went for it, big difference.
That puts our reputation as a club back in the ring again, they need to show that work ethic when they're away from home too.
A very good night for all in royal blue, makes for a much more positive attitude.
Jay Harris
74
Posted 13/12/2016 at 22:37:30
Couldnt criticise anyone tonight.
Great spirit shown by the players, Good motivation and organisation by the manager who was typically blunt and honest in his post match interview and magnificent support from the crowd.
Let's just hope we can build on that.
Special mention for Lennon, Gueye, Seamus and Valencia who all worked their tripes off all night.
Tony Hill
75
Posted 13/12/2016 at 22:37:57
The best atmosphere at Goodison in a very long time and a performance to match. Everything we have been craving was there tonight. Wonderful effort and guts and if we have those then everything is possible.
Barkley was majestic I thought, Gueye is one of our best ever and Baines was also rejuvenated tonight. Special mention to Valencia who worked his socks off and made a big difference. But they were all fantastic.
I hereby withdraw my suggestion that Ronald should be sacked. I'm sure he'll be relieved.
Chris Gould
76
Posted 13/12/2016 at 22:37:58
Fantastic effort and result. I feel awesome tonight. My support for Koeman hasn't wavered, regardless of the previous performances. I really hope we push on now and the fans unite behind him.
We need more atmospheres like tonight. There's no doubt that the crowd responded to the effort and the players responded to the crowd.
Tom Flower
77
Posted 13/12/2016 at 22:38:07
Did anyone else find the coverage on BT annoying? What was with McManamans falsetto?
Eddie Dunn
78
Posted 13/12/2016 at 22:40:46
I mentioned earlier we would win 2-0. I hoped this could be our big turning point, and it feels like it is. The crowd applauding, and Koeman clapping the crowd.
This is the night he became one of us... the lads responded to the crowd, and the whole of us together made things happen.
Now let's consolidate and not lose to Them on Monday!
I am having a very large Scotch, cheers all!
Darren Hind
79
Posted 13/12/2016 at 22:41:24
A few points
Ciaran @30
I know what you mean, but I was in the family enclosure with grandson and grand daughter and, although Lukaku did try to come back and help a couple of times I could hear the entire management team screaming at him to stay where he was – obviously worried that if Lukaku dropped backed Arsenal would have been able to just march on to us. In fairness he was prepared to do it.
A lot of us have been on Koemans case recently saying he didn't have the balls for the job, well he didn't just roll the dice tonight, by bringing on Calvert-Lewin, he made sure they stayed rolled. If we are going to murder him when he gets it wrong (and we have) then we have a moral obligation to praise him when he gets it right.
Koeman went through the mill tonight, I spent as much time watching him as I did watching the match. Mr Misery was dancing around like a daft twat when Williams scored. I think Evertonia gained a new member tonight.
Made up for Koeman, made up for you lot and as the Red Breast I was saving for Chrimbo has just been cracked open, I'm proper made up for me.
We don't half suffer, but on nights like tonight, being Blue feels like being royalty.
Tony Hill
80
Posted 13/12/2016 at 22:42:06
Chris (76), you are right about the dynamics between the crowd and team. It was perfect and you should have seen all those Arsenal faces – Feed The Scousers indeed.
Mike Oates
81
Posted 13/12/2016 at 22:42:45
I thought McCarthy and Gueye were excellent, worked together well, won tackles, interceptions and generally they got the crowd going.
Barkley was near back to his best, but Valencia was a real star, worked his socks off and took a load of a Lukaku.
Even if we'd had drawn, I still was thankful by the performance.
Joe O'Brien
82
Posted 13/12/2016 at 22:43:00
People go on about the 12th man... what a difference it makes with your home ground rocking behind you. When you're dead on your feet the crowd gives you that extra 10 per cent..
Well done to all who were there. Who to give the armband to? I wouldn't change the formation, bring in Funes Mori and give it to Coleman.
John G Davies
83
Posted 13/12/2016 at 22:43:09
Koeman asked them for more effort and commitment.
Fight more... run more... he ordered. They listened... 3 points.
Like the old bear pit days at Goodison tonight.
Freddy Maldonado
84
Posted 13/12/2016 at 22:43:15
Roger Bennett: John Stones has transformed Manchester City into an expensive Everton. Hilariously lovely.
Brian Denton
85
Posted 13/12/2016 at 22:44:36
On Saturday night we were in a relegation fight ('Make No Mistake'), now we're looking up the table
That's Everton that.
Mike T Jones
86
Posted 13/12/2016 at 22:45:23
I don't post often, but when I have I support Koeman. See my post on the live forum re: Koeman and Klopp. You Evertonians need to wait and see. Change doesnt happen in 10 months of having an investor and new manager etc.
Peter Jansson
87
Posted 13/12/2016 at 22:45:47
Valencia was great! Great speed and good effort. Let the man start more often!! He won duels, snapped the ball, ran like hell. Brilliant!
Chris Gould
88
Posted 13/12/2016 at 22:46:22
Fucking Wenger bleating on about the corner which led to the goal. Reckons he could see it wasn't a corner from where he sat. Bollocks could he.
About time we had a little luck, but I'm a great believer in earning your luck, and we did that tonight.
I think next week will be tougher but I now feel we have a real chance. Beat them and confidence will skyrocket.
Peter Norris
89
Posted 13/12/2016 at 22:47:58
Great description, Michael. Coleman a Swan and Lukaku an elephant. Must make Gana the tiger and McCarthy the crocodile always snapping away.
James Byrne
90
Posted 13/12/2016 at 22:48:02
Darren #79 ..
Spot on, I thought the crowd were unreal tonight and the noise, passion, fight etc will have got under the skin of Koeman and some of the players.
There is no ground like Goodison when we win like that, it's a special place.
Andrew Wayne
91
Posted 13/12/2016 at 22:48:13
Just got in – what a game, what an atmosphere. At last some real passion and heart from an Everton team at home. Goodison Park absolutely rocking and I can't think of a single player in a Blue shirt who didn't put a shift in.
Took my daughter to the match who is over from Oz and probably now thinks every game is like this...
Ian Bennett
92
Posted 13/12/2016 at 22:49:47
After 20 minutes, it was like "Here we go again. .."
Upped the work rate and the old lady rocked under the lights, I just love games like these. It's funny the number of teams we have beaten under the lights when the place rocks. A sleepy Sunday lunch time and I wouldn't have fancied us, but under the lights, it's special.
Good shift from Ross, Valencia, McCarthy, Gueye, and the full backs. Now keep the tempo like that please!
Mick Davies
93
Posted 13/12/2016 at 22:49:55
I think Jagielka should be stripped of the captaincy, and it should go to Seamus; his shouting and goading, plus his spat with Ozil at HT, sticking up for his team mate, is something we've lacked for years.
The lad loves our club and he already has experience with Ireland's armband; a no-brainer for me for the derby
Gary Willock
94
Posted 13/12/2016 at 22:50:42
My daughter was the Toffee Girl today; I got to meet Sharpie back stage and it's my dear departed Nan's birthday. A true blue, she was looking down today and giving it beans like the rest of us.
What a day! What a night! Sometimes all the crap is just simply worth it for little moments in life like today.
COYB! Onwards and upwards kiddas!! 👍
Michael Lynch
95
Posted 13/12/2016 at 22:50:54
I don't who is more annoying – Wenger with his bollocks about bad decisions, or the divs who come on here after a win going "Call yerself Evertonians" to anyone who's ever had a complaint about the players or manager.
But neither of them will stop me feeling on top of the world tonight. COYB!
David Donnellan
96
Posted 13/12/2016 at 22:50:56
Wow! Well deserved win!
Arsenal in my opinion have been better than the shite this season, so there is no reason we can't do more of the same to them.
Such a great result that I have only just remembered that Jags was sent off! Onwards & upwards! COYB!
John Malone
97
Posted 13/12/2016 at 22:53:07
Ciaran McGlone had to laugh at you post's mate!!
It's funny what football does to us so low to so high in 90 mins!!
Glad he played the 4-5-1 as I feared he was playing 4-4-2 when I seen the team. Hat's off to Koeman and the player's and especially Jimmy Mac and Coleman who played with fire!
Coleman MOM for me the man's attitude is second to none I loved him screaming at Lukaku when he switched off near the end of the game!
Colin Hughes
98
Posted 13/12/2016 at 22:53:10
Just got in myself, thats the type of crowd that wins you home games. Something clicked with the players and fans about 5 minutes after Arsenal scored that just united the whole stadium. Need again next monday against the Nivea darlings and they will go the same way as Arsenal.
Jay Wood
99
Posted 13/12/2016 at 22:53:14
Gary @ 94
Perfect alignment! Made up for you, your lass and your Nan.
Laura Round
100
Posted 13/12/2016 at 22:53:38
Feel like we just won the league, 😂
Much needed. Long may it continue. 💙
John G Davies
101
Posted 13/12/2016 at 22:53:51
Darren (#79).
Hallelujah brother
An Evertonians life summed up in 2 minutes.
Santosh Benjamin
102
Posted 13/12/2016 at 22:53:55
Arsene Wenger, after all these years has not learnt the art of being gracious in defeat.
1. Everton were very PHYSICAL – bloody hell, when I last checked football was a physical game. I don't remember Coquelin pulling out of too many tackles.
2. It was like a CUP game for them – don't get ahead of yourself, Arsene. We have been terrible of late and needed to show some passion. We would have needed the same passion even if we were playing Sunderland.
About our team and players – I was not convinced by the starting line-up as I felt McCarthy shouldn't have started. Defense was still quite shaky and I would prefer Holgate partnering Williams rather than Funes Mori for the Derby. Gana was immense and we need to tie him down to a long term deal and put in an insane release clause like £100M! Barkley was much better and pressed hard even when not on the ball.
Valencia was good but got tired as we went on. Lukaku was better but still has a terrible first touch and doesn't look up to see where his team-mates are – would have had a 3rd easily when Cech went walkabout at the end.
Overall, it was great to wake up at 1:15 am and feel good at 3:15 when the game ended. This will keep me buzzing till the derby... COYB
One final note about Coleman – I haven't seen a more humble and grounded player with passion for the club like him. He is always so vocal on the pitch and wears his heart on his sleeve... CAPTAIN!
Tony Draper
103
Posted 13/12/2016 at 22:55:38
James McCarthy, you cheeky rascal, you twatted an Arsenal player for clobbering you.
Very well done.
Eddie Dunn
104
Posted 13/12/2016 at 22:58:40
Macca and Coleman were being watched by friend of the club Mr Roy Keane.
Wonder if he will be joining Ron for a glass of wine?
John Raftery
105
Posted 13/12/2016 at 22:59:13
It was probably a good night to play Arsenal but this was a good, battling team performance from front to back.
Just a word for McCarthy who had a very good game alongside Gueye. His physical presence was vital in midfield. The performance had nothing to do with tactics or formation but everything to do with effort and determination.
In some ways, the biggest games are the easiest to play and certainly the easiest for the crowd if they can see the team trying their best. That was by some distance the best performance and result in the league in this calendar year. The question now is whether or not they can maintain that level of effort for two consecutive matches. Let's hope they can.
Why was an Arsenal player not booked for the foul on Baines when he was running towards the Street End penalty area in the second half?
Henrik Lyngsie
106
Posted 13/12/2016 at 22:59:54
Although Barry has been one of our better players again this season, I said after the Watford game that it might be the time to give him a rest. We needed more speed and intensity in central midfield and Barry would be too slow for Arsenal.
I am happy that Koeman read my mind. (And glad he did not read that part of my mind who would have benched Coleman as well after the watford game).
Awful first 20 minutes but a fantastic effort to turn everything around. Fight, passion, crowd support etc. For me it was almost like a Neville tackle Ronaldo moment when both Barkley and Lukaku put in a shift to chase the Arsenal players and the crowd applauded them. It looked to me that we got it going through the hard work.
I was supposed to have been at Goodison for the match. It was scheduled for Wednesday and I have an air ticket tomorrow morning. Unfortunately the match was moved back to Tuesday so now I have a ticket Copenhagen - Manchester tomorrow morning that I won't use. Anyway still going for the weekend and look forward to being on Goodison for the derby. Hope we will have the same atmosphere on Monday.
Andy Crooks
107
Posted 13/12/2016 at 23:00:01
Darren, your post sums it up. We might differ on overall strategy but fans are entitled to berate the defeats and what we see as look lack of effort and ineptitude, but, when it is good, we can celebrate, fuck work in the morning, let's pour another. When it's good it is special.
Gary Willock
108
Posted 13/12/2016 at 23:00:26
Cheers Jay! Just hope we see more like that this year. COYB! ;)
Dan Davies
109
Posted 13/12/2016 at 23:00:30
I'm feeling good tonight!
Joe O'Brien
110
Posted 13/12/2016 at 23:00:35
In fairness, Michael, Koeman looked like he wouldn't change anything prior to this match. Wouldn't change the players or formation.
Him leaving bang on time after every training session and not watching the youths at all added to the lack of belief in him as a manager. I think tonight he was forced to change and he reaped the benefits.
I think he has got to know what we are all about tonight
Colin Glassar
111
Posted 13/12/2016 at 23:02:29
Goodison under the lights on a cold winter's night is a magical place. I wonder if Ronald now gets us? I think he does.
Jim Potter
112
Posted 13/12/2016 at 23:05:18
My Mrs is more relieved than me. Tired of my miserable gob on recent match days.
Hallelujah!
Kim Vivian
113
Posted 13/12/2016 at 23:05:27
I think Coleman would be good, and should be captain against the shite. As a matter of interest because I didn't notice, who took the armband when Jags went off?
Steve Hartwell
114
Posted 13/12/2016 at 23:07:52
Thing I enjoyed the most was the players reaction to winning, most running about hugging each other after the final whistle like it actually matters!
Brian Denton
115
Posted 13/12/2016 at 23:09:44
One thing occurred to me earlier – is it just me, or is Koeman's English not particularly good for a Dutchman? Normally they are virtually bilingual, whereas he seems to struggle a bit.
Colin Glassar
116
Posted 13/12/2016 at 23:10:37
Williams, I think, Kim. That was great to see, Steve. Showed a lot of unity. Groundsman telling them to get a move on was good as well.
Darren Hind
117
Posted 13/12/2016 at 23:16:03
What's that about the groundsman, Colin?
Tony Hill
118
Posted 13/12/2016 at 23:16:47
McCarthy (I think it was) put in a huge tackle which was a big factor in the change of mood. Thought he was back to what he used to look like too. Let's hope it wasn't a shop window job because I'm a real fan of this fella.
Chris Gould
119
Posted 13/12/2016 at 23:16:53
Koeman: "3 times I have beaten Arsenal at home. 3 times Wenger has blamed the referee."
Show Wenger for what he is – classless.
Koeman seemed feisty tonight. Not going to take nonsense from anyone. Really pleased for him. I hope he shows the same passion next week.
Tom Bowers
120
Posted 13/12/2016 at 23:17:34
A great result just at the right time before the RS game. Some periods of the game looked like the normal scenario of this season but all credit for the other periods when they showed fighting quality against a top side.
Barkley had a fine game and one hopes they all are ready for Monday's battle. The RS must have been licking their lips after the first 20 minutes display but may be more than a little nervous now.
I still see some poor defensive covering by certain players but hope Koeman has identified this after the game. The defensive covering and closing down has been the major problem this season and has cost them badly.
I am afraid Jags. is a shadow of his former self and at 34 should only be used sparingly like John Terry. Having said that, Williams isn't much younger and Holgate should be getting his chance soon.
Coleman is the ace in the pack in the penalty area and it's a pity he cannot pop up there more often. Like everyone else, I was hoping today would be a turning point and, if it is to be, then I cannot wait for the next match.
Geoff Williams
121
Posted 13/12/2016 at 23:17:50
Did anyone else notice Williams puking up in the centre circle in the second half while we took a corner?
Eugene Ruane
122
Posted 13/12/2016 at 23:18:23
Just in.
Enjoyed that.
Always great to win but we abso-fucking-needed that.
And if we can show that effort, will, sweat, desire in EVERY game (and we should!) we'll all be able to relax... a bit.
That's it really.
Well done all and up the Toffees!
Kim Vivian
123
Posted 13/12/2016 at 23:21:16
The 12th, or actually maybe the 13th man tonight, for those of you lucky enough to be at the match, was the combined mental willpower of the ToffeeWeb Live Forum who got behind the lads and used mental superpowers to will the win. Very little moaning and whingeing on there tonight.
Ernie Baywood
125
Posted 13/12/2016 at 23:24:14
Brilliant win but just highlights the issues many of us have been banging on about. What an amazing coincidence that when you get players working around Rom that we suddenly look more like a team? It doesn't need to be 4-4-2 to support the striker.
What Koeman did against Watford was absolute amateur stuff. It couldn't work and it didn't in spectacular fashion. Tonight he rectified it. Simple stuff – we weren't great and didn't exactly create much but you give yourself a chance if you setup to have a go. It's the minimum standard!
So onto the derby on a bit of a high. I didn't see that coming. Come on you Blues!
Anthony Dwyer
126
Posted 13/12/2016 at 23:27:38
It doesn't seem like rocket science to me this game, we went behind because we sat there waiting for it, we got back into it because we showed passion, we tackled, passed a bit faster and went forward. Rom ran, Ross picked a few passes, and all of a sudden the Goodison faithful were behind the boys.
Most of us know what we are, and what we are not.
Arsenal have much better players, there a much better team, were in fine form, but they don't like teams who get stuck in and get in there faces.
We are pretty average in comparison, we don't have any world class players, we are on an awful run, and our fans are rightly groaning and moaning.
But if our team give us that effort,they will get our support, and that support can make the difference, we can give the team that extra 10-20%.
Message to Ronny, practice what you preach and the fans will back you. You tell everyone we play a high pressing game, we don't, but if we do from now on the fans will back you all the way.
Now for the Red Shite! 👊
Mick Davies
127
Posted 13/12/2016 at 23:31:08
For the first time in about 18 months, we had a fit McCarthy, who looks better than Barry alongside the immense Gana. Baines and Coleman were allowed to turn back the clock with those two Duracell powered machines looking after the flanks, and playing someone near to Lukaku was always going to help, allowing Ross to float around worrying their backline.
After they scored, something just clicked, and for me, the two DMs and Seamus seemed to drive the side on, knocking Arsenal out of their stride. If Koeman doesn't tinker too much for the derby (just Funes Mori for the suspended Jagielka), then I really believe we could get a result – unthinkable only a day ago
Mark Wilson
128
Posted 13/12/2016 at 23:38:26
Just want the players to watch that game back and see what happens when everyone gets stuck in and fights like crazy for the fans and each other. Inspiring, you bet. So so different a feeling than at the weekend and very typically Everton somehow.
I can dream now about the week when we beat Arse and the shite under the lights at the Old Lady... dreams can come true, can't they?
Peter Laing
129
Posted 13/12/2016 at 23:44:18
Exactly what we needed a spirited, no nonsense performance. The Old Lady was rocking – players and fans in unison. Gana Gueye once again immense, Coleman – Captain material, Barkley confident – who seen that coming and McCarthy – shouldn't be written of just yet. Bring on the RS! 💥
Patrick Murphy
130
Posted 13/12/2016 at 23:44:23
That's our Everton – the one we have been waiting to see for so long. Yes, we lack some qualities but the crowd will forgive that if they put the effort in. The catalyst was the lad Enner Valencia, he gave Arsenal plenty to think about and had a good game to boot.
The three or four tackles midway through the frst half set the tone for the rest of the game. The only point in the game that we looked as if we might lose was around the 70-75 minute mark when the lads had to take a breather but they regrouped and should really have sewn it up in the last 10 minutes.
That was a fully deserved victory and special mentions for Williams who recovered after an iffy start and Barkley who looked the player we all want him to be particularly in the second half. How great it was to hear the ground getting right behind the team – that's how it should always be and we can expect similar next time out.
Christopher Wallace
131
Posted 13/12/2016 at 23:44:29
Joe (#57),
Actually, I think tonight shows exactly why Lukaku deserves criticism.
As happy as I am after what I witnessed tonight, it begs the obvious question:
Why can't these highly paid pros show that fight and determination (which undoubtedly won us the game) every fucking game?!
I didn't see fight and determination from Rom, or the quality which gets the so-called luxury attackers a bye-ball when they're not putting a shift in.
His poor "cross" in the first half when he was in typifies him – he immediately wanted to blame the 3 guys who took up great positions, when his ball was beyond shite!
There is so much more he can give us with easy improvements in basic areas. The way he turned and ran his man so easily 2nd half is just a glimpse of what we should be seeing.
I don't think I'm asking much – he's well compensated for the lack of effort we see.
Colin Glassar
132
Posted 13/12/2016 at 23:45:00
Darren, I'm not a lip reader but it looked like the arl feller was saying "gerroff the pitch will yaz"
Darren Hind
133
Posted 13/12/2016 at 23:50:04
Nice one, Colin.
And rightly so!
Christopher Wallace
134
Posted 13/12/2016 at 23:52:54
Re: Jagielka
1st booking wasn't his fault but saved a goal.
2nd he got himself into trouble but HAD to make foul so, er... fair play!
Koeman was still buzzing in interview – couldn't stand still!
Wish we could play the shite tomorrow night, but a Monday night is so much better than a Saturday morning – particularly after what the fans and players gave each other tonight (while United fans boo their own player).
Well done Blue Boys – close MotM, behind Gana of course!
Adam Luszniak
135
Posted 13/12/2016 at 23:56:18
Thought that was a fantastic game. Rom in particular had the kind of game were the ball sticks to him rather than bouncing off. Interesting to wonder how much of the improvement can be ascribed to replacing Barry with McCarthy, and how much we will miss Jags against RS.
Brian Hennessy
136
Posted 13/12/2016 at 23:56:50
Just brilliant, pride restored. Seamus Coleman just has to be named permanent Everton captain starting with Monday night, the way he drove us on tonight was fantastic.
Though Baines had his best game for quite a while, and Valencia worked his socks off. We looked so much better with him supporting Lukaku.
Finally, hats off to every one of those Everton fans who were at Goodison tonight, you were incredible – just loved Ian Wright's comment on BT "How can it be fair when we were playing against 12 men with that crowd?" – priceless.
Kevin Tully
137
Posted 13/12/2016 at 23:57:48
Sorry lads (and any lasses) but why is every single performance about the manager and his methods? If you've ever stepped foot on a pitch, it's the players who put the tackles and make the passes. Of course the manager can motivate and put 11 men out there, but this site is fucking obsessed with the man on the sidelines.
Nearly every single thread is about Ronald Koeman and what he's doing at Finch Farm. Far too simplistic for my liking. Anyone asked why James McCarthy has just performed once in 18 months?
Does every player need to be slated before they perform for 90 mins on a match day? Just all a bit strange on here lately. Good players don't need motivating. Great players can play anywhere.
Peter Mills
138
Posted 13/12/2016 at 23:59:51
Gary (#94), that sounds like a brilliant family occasion, no doubt your late Nan played her part, really pleased for you.
Just home after a couple of pints, having moaned this week about not enjoying going to the match anymore, that was a really entertaining game. There's nothing better than a snarling Goodison under the lights. And for a few players, and the manager and his brother, that's the first time they have tasted it.
My verdict on Ronald was undecided before the match, and still is. He is a man of huge experience, a football winner, but his performance to date has been very peculiar. How much was tonight's victory down to his tactics, and how much was it down to the chemistry of players and crowd? Not the time for over-analysis now, let's just enjoy the result and in particular those mad last few minutes.
Christopher Wallace
139
Posted 13/12/2016 at 00:04:28
Kevin,
Dunno if it was manager or fans, but something kick-started us tonight... I was dreading watching for the first time in a long time.
Tactics aren't always intricate – a simple "get about them, close them down, rough them up, and it forward quickly and accurately" and be very effective – as we've seen.
Both teams were out to WIN that game and there was no chance it would end 1-1... I'm sure neutrals enjoyed it but nowhere near as much as us!
Dave Abrahams
140
Posted 13/12/2016 at 00:05:55
What a difference a day makes, from Saturday to tonight. Happy to see another special night game at The Old Lady, when the team plays together like that then we are all happy. The result was great, so was the performance. Will sleep well tonight.
Christopher Wallace
141
Posted 14/12/2016 at 00:06:39
Koeman: "3 times I've beaten Wenger in last 3 seasons, and 3 times he's blamed referee!"
Priceless – hahaha!!!
Joe Clitherow
142
Posted 13/12/2016 at 00:22:08
Christopher
Sorry I can't take your posts seriously when you contradict yourself in the same post. You didn't see anything from Lukaku but then you lament that we should be seeing more of some great play that he did in the second half (which presumably you saw?). Make your mind up will you?
The only thing I'm sure of is that you have decided you want to criticise him. Fair enough, your prerogative.
But asking why footballers can't always be brilliant 100% of the time in every game is a ridiculous question. It doesn't work that way.
The team is, in my opinion, largely still Martinez's and is in a transition. It took him 3/4 of his first season to shake off the discipline and teamwork he had inherited and replace some good habits (strong work ethic and teamwork) with his own abhorrent brand of lazy, complacent, deluded, casual attitude with misplaced self belief (my words and my opinion).
People expecting an instant fix of that poor attitude are deluded in my opinion as it is more difficult to shake off bad habits than good ones. I think tonight was a down payment towards where we want to be over the next 12 months.
I also don't think it is a coincidence that players leading by example tonight (peer pressure being a powerful motivator) were players brought in by Koeman in Gueye and Valencia, ably assisted by Baines and Coleman, who clearly have a great deal of personal pride also. Players like Ross who I think lacks some self confidence will clearly feed off that in a virtuous circle. The only real disappointment for me tonight was Mirallas.
Pride and self belief are what we need now, that's what sets aside winners from losers.
Roger Helm
143
Posted 14/12/2016 at 00:22:51
Just got back home...
After the first 20 minutes, we were by far the better team and deserved the win. All the players did well especially Gana and Williams. Did Stekelenburg have to make a save? Maybe this is a turning point!
Let's hope Koeman doesn't tinker and plays the same starting eleven with the same motivation on Monday (minus Jags of course). I agree we seem faster without Barry – he's so slow, he keeps mistiming tackles and ceding possession.
Mike T Jones
144
Posted 13/12/2016 at 00:36:18
I think Clattenberg said no to the last seconds' penalty appeal because of history.
Christopher Wallace
145
Posted 14/12/2016 at 00:36:23
Er... Joe,
Lukaku showed one glimpse of good play (then fluffed it at the end of said play).
Are you happy for our 𧴜k (or whatever) talisman to beat his man ONCE in a game, horribly slice EVERY shot he attempted, fluff EVERY cross he attempted, and show very little effort elsewhere in the game – he was shown up by the other guys.
Didn't bother reading the rest of of your post. I was his biggest fan/apologist for a long time, but I've definitely had enough of his shite!
For the record – I think we're crying out for a luxury creative player who can produce quality in the final 3rd and can be excused the off-the-ball exertions required of the other 9. Lukaku's lack of effort, awareness, passing ability, shooting ability, crossing ability, control, teamwork, etc, just make him tedious at best. Frustrating, more appropriate, as he's capable of so much better than he's showing us.
Andrew Presly
146
Posted 14/12/2016 at 00:45:31
That's a few of them – including the manager – who now know what it means to represent Everton. Better late than never.

Christopher Wallace
147
Posted 14/12/2016 at 00:49:14
Ok, having read your second paragraph:
I don't expect 100% brilliance, I DEMAND 100% fight, effort and determination... and so should you.
Out-playing quality opposition every week is never going to happen.
However, guys that are paid millions every year, to train all week and play the game we love for the club we love, should be fit and motivated enough to show the fight we seen tonight, EVERY game.
When was the last time you witnessed that kind of commitment from Rom??
Steve Hogan
148
Posted 14/12/2016 at 00:55:07
For the record, I thought Lukaku was immense tonight, when ALL the Everton players put a real shift in.
He ran his socks off, the whole game including an immense 50-yard run in the second half, (but he's lazy the critics say), in which he looked like the Polar Express on speed. I thought when he did receive the ball, his hold up play and distribution was superb.
More of the same please Rom.
Christopher Wallace
149
Posted 14/12/2016 at 01:01:29
Steve
Great 50-yard run, albeit poor end product.
Can you specify and great passes or great link-ups?
Also, Rom used to have a hammer of a left foot. Is it just me, or do all his attempted power shots end up in keepers arms or Row Z these days? When was the last time he smashed one in from 20 yards?
Not trying to be downer on a magnificent night, but he needs to give us more.
I do want him to succeed with us – what you're reading is my frustration... bring back the dreadlocks!! Lol
Christopher Wallace
150
Posted 14/12/2016 at 01:05:34
And for all our corners/crosses that don't beat defender at near post – why doesn't Lukaku ever get across/in front of that first defender?? Alan Shearer done it at least 3 times every game...
Daniel Lim
151
Posted 14/12/2016 at 01:16:14
Just checked BBC website.
They are quite generous and impartial for once.
Paul Ferry
152
Posted 14/12/2016 at 02:20:10
Max Murphy (#13)
Dutch Dickhead! Dropping Deulofeu - the only player who'd showed a bit of enterprise on Saturday. He should persist with Gerry and Mirallas - given enough time they'll create and score goals.
It's Williams that should have been dropped.
Prediction: 4-1 to Arsenal.
Very surprising that you did not come back on, Max, to discuss your prediction and insulting comments about Koeman. Very surprising indeed! But then I remembered that you never ever say anything constructive or positive on here.
I suspect that you and others who surprisingly are not on this post-match thread but as night follows day will pop on when we lose will be quiet for a few days now.
But don't worry – there's always the Monday derby, lad, and who knows... we might end up losing that and you can get those knives sharpened and let loose like a goodun.
Keith Glazzard
153
Posted 14/12/2016 at 03:04:28
Thanks lads, what a bloody game! My pick? Baines running at them through the middle only to be stopped by a cynical foul. It kind of summed the whole thing up.
Team for the derby? Ramiro won't let us down. He may make mistakes, but the current Argentina CB is a scrapper and there may be one or two RS players who would rather face an English opponent. Tonight's midfield? Barry on the bench? RK will have to work that one out.
Valencia and probably Lennon too staked their claims, very successfully. And much will be expected of Ross, who I think is now bound to start.
John Pierce
154
Posted 14/12/2016 at 03:08:28
We were better, energised and showed the aggression we have been missing all season. Were we good? Like the curates egg, in parts.
The work rate covered the deficiencies we've carried to date. We didn't create much but did take our chances, we rode our luck too. But these are all ingredients to grow our confidence.
Dreadful for the first 20 minutes, Arsenal became too passive and we crept back into the game. A nice feeling to win a big game for sure. New yellow bobble hat feels lucky too.
Yet I still want to chide Lukaku, lorded today as having played his best game this season. I spent the game lamenting his rotten touch, I will cede some balls did stick, but too often he wasted our out ball and put us back under the pump. Our best moments didn't include Rom and at one point with Koeman being bold I thought he might pull the big lad. How lazy was his pass at the death with Cech absconded?
Sadly we glimpsed what things look like without Barry. His shadow of professionalism and consistency has cast how poor other midfielders are for 3 years. Hopefully his excellence can be used in other ways but he should take a back seat. Indeed my Villa connections say he will leave in January to rejoin the Villa. It seems a fitting end to a very good player?
I hope Koeman sticks with the plan, albeit not the personnel. He has still to convince me he his up to the job. And I think the winless run was largely his doing. He himself was the most animated he has been on the touch line, nodding in both headers himself.
I hope both the Man Utd and the performance tonight aren't just pride kicking in with the players and they can reproduce that intensity against Leicester and Hull for starters.
Relief.
Philip Yensen
155
Posted 14/12/2016 at 06:02:09
Brilliant 70-minute display of what our blues should be doing in every game. At the end of the match you can see the emotion etched on the players faces. Lukaku is getting stick again, it took Koschelny, if that's how you spell it, to have one of his best games to halt his goal tally improving.
Rom has had to endure ball after ball hacked up the middle, all in the air. No, he isn't the most gifted controller of a football, but has power and pace and an evil eye for a goal. All this is wasted by making run after run into space and not receiving that first-time pass.
A commentator made a remark "Look at Lukaku, he's not even attacking the 6-yard box" the central defenders are looking for him therefore taking their attention from other players. Rom is not a problem, as we used to chant "feed the Yak and he will score" for Yakubu; same goes for him.
Everyone put in a good shift tonight still a lot of casual, sloppy passing. My only gripe is Barkley, he has no sense of awareness. He is constantly picking the wrong pass, 1 in 10 is hitting his target. He will not improve at Goodison, he needs to move on for his sake and Everton's.
Alan Stubbs made a comment on the Arsenal goal, add that the errors leading up to the free-kick were the ultimate cause for the calamity that followed.
My view in many cases is that there always seem to be culpability. A player losing the ball and not chasing back, a casual pass and not trying to retrieve the ball, players not tracking back, players arm waving and pointing, when the situation has past, bollock the player who has not put that effort in.
For an hour Goodison rocked – there is no better place to be in football – she is a volcano if our team become the molten lava. Give us that fire, Everton, give us that fire.
Dave Speed
156
Posted 14/12/2016 at 06:18:26
Some harsh criticism of Lukaku here tonight. Apart from once when he "trapped the ball further than I can kick it" (Sir Alex), he got stuck in a bit more, probably broke the 3 km mark (ouch!) and held the ball up well, chesting passes a la Big Bob Latch and Big Dunc, and what a run down the wing!
I think that run in particular galvanised some of the others when they might have been feeling the pace. The players were up for it tonight, albeit after a slow start, and even ref Clatterbridge had a decent game!
Paul Ferry
157
Posted 14/12/2016 at 06:30:36
Philip Yensen (#155) –
Everyone put in a good shift tonight still a lot of casual, sloppy passing. My only gripe is Barkley, he has no sense of awareness. He is constantly picking the wrong pass, 1 in 10 is hitting his target. He will not improve at Goodison, he needs to move on for his sake and Everton's.
Sorry, Philip with respect utterly ridiculous. 'Constantly picking the wrong pass, 1 in 10 hitting his target'.
There's no word for this travesty of Ross's performance. Small hint, lad – watch the entire game, look at Ross's passes, I think it's near 9 in 10 completed.
He needs to move 'for our sake'. Completely ridiculous!
The way you people pick on Ross to the extent of misrepresenting / lying about his performance to suit your needs beggars belief.
This utter jewel needs encouragement from us yet you go out of your way to damn him in one of his best games this season.
Nice one lad. That really helps him and us and we move on and get better.
Charles Brewer
158
Posted 14/12/2016 at 06:48:44
The last 70 minutes were wonderful! If I was to speculate on what happened last night it would actually involve a terrible strategic error by Arsenal, they decided that a few nasty and deliberate fouls would crush a mentally weak losing Everton team. The one on Jagielka was for me the turning point.
After that every tackle, every confrontation was an opportunity to hurt and intimidate an Arsenal player and was taken (with one large and expensive exception).
I think last night we saw that the team needs a gobby and aggressive Irishman as captain instead of a decent and gentlemanly Englishman (albeit one with a Polish name). Jagielka reminds me a bit of Brian Labone in attitude, a Corinthian in approach (okay, the odd bit of shirt pulling doesn't help my argument), and when he does collect cards it's far more likely to be mistiming than malice. Seamus Coleman, on the other hand brings some seriously demented Irish passion and unthinking positivity along with the occasional tendency to get stuck right in.
This Everton team is not composed of 11 Peles and Cruyffs, and we saw tonight that a fighting approach was enough to intimidate and beat a very good Arsenal side.
Seamus for captain!
Paul Kelly
159
Posted 14/12/2016 at 07:18:04
Don't underestimate Stek's involvement by taking it off the two Arse players' heads near the end. I reckon they'd of scored if he had stayed rooted, and the double block straight after... Wow!
Mike Green
160
Posted 14/12/2016 at 07:29:28
Great result – just what the Doctor ordered.
The atmosphere around Finch Farm should have a real buzz around it this week now, let's see the boys enjoying their football and building a bit of team spirit. All we want is for them to have a proper go at teams, do that and this is of the sort of reward you get. Now let's double that effort on Monday night, eh, lads...
A swallow does not a summer make but fingers crossed this is a turning point in our season and Koeman's tenure.
Superb.
John Parker
161
Posted 14/12/2016 at 07:33:23
I thought everyone stood up tonight, even Lukaku, and once he learns how to control a ball with his foot instead of his shin, he'll improve even more. Special mention to both McCarthy and Valencia.
Dave Ganley
162
Posted 14/12/2016 at 07:53:33
Excellent result that I didn't see coming after 20 minutes. I have been one of Lukaku's biggest critics but fair play to him, he played really unselfishly for a change. His hold up play and link play was excellent. McCarthy after that tackle was also excellent, best I have seen him play in a long while. He must of covered every blade of grass along with Gana.
Guess we all see games differently but I didn't see the amazing game that Barkley supposedly had. For me he is still a passenger. Game just bypasses him and he takes the wrong option too many times. McCarthy was constantly ahead of him doing the pressing on the Arsenal defence because Barkley wouldn't.
Great atmosphere at the game and this was the kind of game we definitely needed ahead of the RS next week. As others have said, at last a bit of fight and passion. Coleman and Baines were also excellent and Iwould give Coleman the captains armband for the derby. Loved the way he got in Arsenal's faces at half time. He has the fight and passion we need.
This had to be the yardstick now from which every performance is measured. Fall below these standards and it should rightly be judged a failure. Hopefully this is the turning point to our season. Hope springs eternal.

Sam Hoare
163
Posted 14/12/2016 at 08:05:04
Great stuff. For me the performance was more important than the result as this team belatedly showed us that they can play with heart and passion. That must be how they continue to play, with energy and calculated aggression.
Don't stand off teams and wait for their best players to pick a pass but get in their face and press them into mistakes.
Gueye was epic again. Gonna miss him a lot when he goes to AFCON.
Geoff Williams
164
Posted 14/12/2016 at 08:57:30
I thought it was a good performance after a really poor start to the game.
Thought Williams was poor throughout but his goal gave us the win.
Dave... Barkley DID have a good game!
Anthony Dwyer
165
Posted 14/12/2016 at 09:31:48
Geoff, I agree mate, Ross did have a good game, I think some of our fans believe the hype that he's Gazza, Gerrard and Lampard rolled into one.
He's Ross Barkley, he's 23, he's better than 90% of our squad and he's the only central player who can pick a pass and run at defences, he can also whack a shot with either foot.
He didn't hit a hat-trick, but he claimed an assist and he played a decent part in our win, can't we be happy with that.
Just a side thought, how did Villa go down with Gana in there side, he's like 3 players!
Dave Ganley
166
Posted 14/12/2016 at 10:02:26
Just an opinion fellas, I give credit where it's due and sorry, in my opinion Barkley was a passenger again.
There's just a big hole in the centre of midfield where he is supposed to play where he isn't. Never closes down and wastes a lor of possession. I suppose technically he had an assist for a goal by taking a corner but how many of his corners last night failed to beat the first man?
I really do want him to succeed but ignoring his deficiencies and making him out to be something he is not won't do him any favours. Martinez did that for 3 years and look what happened.
Colin Glassar
167
Posted 14/12/2016 at 10:18:34
Last night the AFC tweets were brilliant. They went from "this is going to be soooooo easy" to "oops" through to "typical Arsenal" only to finish with "Wenger out" and "will someone push Ozil's eyes back into his sockets"
We fans can be soooooooo fickle at times.
Joe Clitherow
168
Posted 14/12/2016 at 10:18:55
I don't think anyone is ignoring deficiencies, Dave, just seeing the whole picture.
I was incensed with Barkley in the first 20 mins yesterday, screaming at him to switch on. He gave away possession a few times about 20 yards in front of me in the Paddock which led directly to breakaway attacks. He did this purely because, in my opinion, he was not properly concentrating and didn't have a proper "game head" on – it was like a training ground exercise mentality. He wasn't putting the correct weight on easy passes which were given away.
But then he did seem to switch on and his game transformed. I thought he was very good for the last 65-70 mins. He made a real difference to our attack. His tracking back I think has improved a lot. I think he had a free pass under Martinez and was told not to bother about defending (in fact the whole team had this message, including the "defence").
But I don't think – thankfully – that he has this free pass anymore and he is improving. It won't happen overnight. Concentration and application throughout 90+ mins is what is required from the team and changing the mindset is the most difficult thing, because we still have a tendency to switch off as a team and, when we do, we get punished.
Tony Waring
169
Posted 14/12/2016 at 10:28:47
Time to start a petition to the Premier League bosses along the lines of: Please transfer all Everton home games to evening kick-offs. Brilliant night.
Dave Pritchard
170
Posted 14/12/2016 at 10:39:45
Magnificent Everton display just as many, certainly me, were writing off our season. Expectations raised massively now for Monday so let's hope we can maintain it.
Ralph Basnett
171
Posted 14/12/2016 at 10:41:35
It is just nice to not have to read all of the moaning (from me as well) and savour a hard fought but well deserved victory.
Yes it was Clattenburg so was not expecting anything different, but once again it shows that referees should be held to account more so by publishing after match reports. Whilst the game was not particularly rough Arsenal did get the rub of the green on many more incidents than us.
All-in-all an excellent game overall in which we managed them for the first 20, albeit conceding a goal but after that where excellent.
More of this on Monday knowing this is 2 weekends that will not be ruined.
Paul Tran
172
Posted 14/12/2016 at 12:04:37
Joe (#168), great point re mindset. Average players rarely have it, good players have it now and again, really successful players and people have it at least 95% of the time.
This bunch of players have proved they have the right mindset at times. Gana has it all the time. Think of the difference Reid and Gray made to a half decent team in the 1980s, the difference they made to the young players around them. See how the crowd reacted to McCarthy and Lennon buzzing around the pitch. That's how effective the right mindset can be. Prof Carol Dweck's work on mindset is very interesting if you're curious.
I think he'll have to bring more of this mindset into the club in January or the summer. Hope the players recognise it in what they did last night.
Colin Malone
173
Posted 14/12/2016 at 12:09:37
Ronald Koeman in his post-match press conference said everything that I and most Evertonians had to say.
Well done, Jimmy Mac. Hope the penny has dropped.

Damian Wilde
174
Posted 14/12/2016 at 12:11:05
Finally, I enjoyed going to the match. The team showed fight. I think we still lack quality, but we showed spirit. The crowd picked up on this and the noise and atmosphere was great. Goodison woke up!! So different from when they came out of the tunnel when there was a tiny clap... everyone felt despondent.
But much better. I thought Gueye was great, everywhere. We still need more from Rom. People praised him, but I thought McCarthy was a bit anonymous at times. Coleman has a fantastic attitude and played well, but his crossing needs to improve.
Did people see the argy-bargy at half-time just before the tunnel ? Anyone know what it was about?
You know what else was pleasing to see? Koeman celebrating like mad, great to see.
Set up nicely for the derby... surely we'll make a ton of noise? It really helped last night I think. And after the win confidence will be higher.
It feels strange not feeling pissed off!
COYB.
Come on the Boro.
Paul Tran
175
Posted 14/12/2016 at 12:27:07
Brian Denton (#115), Koeman isn't the most articulate when he speaks Dutch either, so it'll be accentuated in another language. His body language in pressers says to me he'd rather be doing anything else. It's part of the job but doesn't mean he likes it.
The Dutch learn English in school from the age of 5 and they grow up watching UK/US telly, etc, so they generally speak it well.
Being articulate is different to speaking for native speakers, never mind the rest of us!
As long as he gets his messages across to the players, fine by me.
Jay Harris
176
Posted 14/12/2016 at 13:26:53
Damian,
Coquelin (who was more deserving of 2 yellows than Jags IMO) was having a go at McCarthy for the tackle and McCarthy just shoved him away so Coquelin got mad then Seamus intervened and held Coquelin back and basically told him to grow up.
Matthew Williams
177
Posted 14/12/2016 at 13:38:10
It just had to be a Williams to bag the winner!
I gotta feeling we might just repeat the same trick next Monday night!!
3 points verses the RS will give us long-suffering Blues much Chrimbo cheer.
Play to our strengths, Ron, and we might just surprise a few, be brave... WE'RE EVERTON!!!
Gary Edwards
178
Posted 14/12/2016 at 13:48:25
Dave (#156) ... I think the issue most have with Lukaku is that we know what he is truly capable of... Last night was nowhere near his best; your post captures most of what he did.
Conversely, if you listen to the match commentary (Steve Mac) one moment near the end stands out in particular... one of our lads (Valencia?) was in possession to the left side of Arsenal's box surrounded by Arsenal players... Lukaku is walking somewhere near where Arsenal's right-back would line-up at kick-of, when he should be busting a gut to get into the box. That's what I find annoying about him.
Sure 'that' run was impressive but how many did he make ? he should be doing that at every opportunity in every game. Niasse may be shit but his work rate in the ressies is multiples that of Lukaku.
I'd like to see a comparison of distance covered between Ibra and Lukaku.
If you were blessed with Lukaku's talent and power and had the opportunity to wear the Everton shirt, wouldn't you, as a bare minimum, work a lot harder than he does ?
Given Kone is never going to play for us again I think Koeman should rip the #9 shirt of his back, hand it to Lukaku and tell him "Do this famous shirt proud".
Gary Mortimer
179
Posted 14/12/2016 at 14:05:25
Dave (#166).
I couldn't disagree with you more.
"There's just a big hole in the centre of midfield where he is supposed to play" – As far as I could see from my spot level with the half way line in the Top Balcony, he was playing a lot further up the pitch behind Lukaku.
"I suppose technically he had an assist for a goal by taking a corner but how many of his corners last night failed to beat the first man" – So you're not giving him any credit for Williams goal because his other corners didn't produce goals?
"Making him out to be something he is not won't do him any favours. Martinez did that for 3 years and look what happened" – From your comments about his lack of pressing and wasting possession, it seems you are trying to turn him into another McCarthy who runs around a lot and will always choose a nice safe backwards pass instead of a far more difficult defence splitting pass which could lead to a goal.
Ross was far from a passenger last night; he had a good game, after a shaky start and he is the only one who is prepared to take the ball on the half turn and drive at the opposition.
It's only opinions, but I fail to see why his faults are always pounced upon and any positives are ignored, or even discounted as per your comment above.
Only Lukaku gets the same level of coverage, and his faults are (in my opinion) worse than Barkley – he has all the physical attributes but not the mental strength. He thinks he's already made it – compare Diego Costa's recent performances for how a top level striker never switches off.

John Pierce
180
Posted 14/12/2016 at 14:16:28
Gary (#178),
I couldn't agree more re Lukaku its the high standards he can set against not getting anywhere near that level in games which attracts my critical eye.
I said last night, a couple of decent runs aside, and the odd lay off (for a change) he was a passenger. Sure he occupied his defender.
He was mostly on his heels, failed emphatically to hold the ball up when we were under pressure especially in the opening 15 mins of the 2nd half.
Was often static, when generally yesterday we were much closer to him than we've been in weeks.
The victory last night was achieved by carrying him. The icing on the cake was the pathetic poke after Cech was awol to Barkley. It was slow, behind him and ruined what should of been a third goal.
Despite a very good performance as a team, Rom has a long way to go to win many over. I personally think we don't need him. The key is of he doesn't score what does he do? Little in my opinion.
Cue 2 goals next Monday Rom lad.
Joe Clitherow
181
Posted 14/12/2016 at 14:38:44
Apart from scoring goals, the roads, the viaducts, and making the streets safe at night, what has Lukaku ever done for us?
Sorry, but people talk about scoring goals like it is the easiest thing in the world to do. We have even had, in the last few days, posters on here claiming, without any apparent sense of irony, that they could do just as well. And apparently believing it.
Scoring goals in the Premiership isn't – demonstrably – that easy because a) that's why consistent goalscorers cost the most amount of money and b) hardly anyone else in this current team scores regularly.
Despite the myth of Martinez creating an attacking team, we haven't created very many chances consistently for some time now. In the main I think this is because we have had huge gaps between a slow and hesitant midfield and the lone forward. That fault seemed to be addressed and we looked much more cohesive when we finally started to play and press last night.
Mainly I think this was due to Gueye giving an excellent display of box to box midfield play plus Valencia cutting in from the right side of midfield into a supporting forward role at every opportunity. Once they pressed, both Barkley and McCarthy could also join in higher up the field (although McCarthy still drives me mad passing either backwards or sideways and destroying momentum of an attack instead of trying to play forward at pace).
Joined up midfield and attack eh? Seems like garlic bread, it's the future.
Roger Helm
182
Posted 14/12/2016 at 15:19:14
A clarification – I may have inadvertently given the impression in previous posts that I think our players are a bunch of useless wasters and that our manager is incompetent and out of his depth, and that we will probably be relegated this season.
Of course what I was trying to say was that our boys are in fact brilliant players, fully committed to the cause and Koeman is actually a genius tactician and motivator, and we will probably be in Europe next season.
I hope that clears up any misunderstanding. Thank you.
Mark Daley
183
Posted 14/12/2016 at 15:34:04
Spoken for most of us, Roger. I just wish EFC would stop giving me hope now and then.
Don Alexander
184
Posted 14/12/2016 at 16:16:13
Oh to be a fly on the wall today at Finch Farm! Once again I think the entire staff could benefit from reading what's said on here and, despite the victory, with regard to where and how these players can improve for the next match.
Liverpool have fast mobile forwards, therefore losing Jags may be good for us. Personally I'd opt for Holgate rather than Funes Mori to partner Williams. I'd make Seamus the skipper too, permanently.
The rest have earned the right to keep their shirts. Like others I've given up on Lukaku even wanting to add to his game but the deficiency of scorers makes him safe.
Ross is, well, Ross. Unlike Lukaku, I think he would like to improve but defensively he seems to labour under some sort of trauma from his serious injury years ago, hence next to no effort to tackle of get near to tackling. Offensively he can make a contribution but the frustration he causes when not selecting what to spectators is the screamingly obvious option will no doubt persist too.
Maybe we'll all have to settle for him remaining just a reasonably good player rather than what we all believe the sum of his parts should amount too – the Scouse Zidane.
Alex Bonnar
185
Posted 14/12/2016 at 17:15:34
Good report, Michael – felt like I was there.
I think the criticism of Jags is very unfair – he has been a top notch professional for the past eight years, performing brilliantly and gaining the most England caps ever by an Everton player.
Yes, he has probably had his worst run of form ever recently but Koeman knows and sees his overall contribution to the team and I trust the judgement of a very successful international player and manager against weekly watching supporters. Jags will be back, I'm sure.

Christopher Wallace
186
Posted 14/12/2016 at 19:05:12
Gary 179 –Totally agree.
Joe – Have you ever wondered what Lukaku would be if he actually put effort in? I'm not exaggerating much by saying he puts as much effort in throwing his arms in the air, or mouthing off to team-mates when he does something wrong, than he does actually fighting for the cause!!
Diego Costa shout is a great one – absolute nightmare for opposing defenders. He wasn't prolific at Atletico, but his various strike partners banged them in, off the back of his industry.
Drogba anyone?? That's what Lukaku should be – he has the attributes.
Joe Clitherow
187
Posted 14/12/2016 at 21:36:56
Christopher
Have you ever considered that the sole factor in football that is of any value whatsoever is to score more goals than the opposition and that all the analysis during a game is just a means to that final end, however it is achieved? Over-analysing what isn't done whilst totally ignoring what actually is, is pretty much a waste of time. Lukaku has lots of faults as a footballer, we all know this, I'm not saying otherwise, but for all these faults he seems to be the one player who regularly finds the net. Many on here, like yourself, seem to want to pick on him and Ross for some reason unknown to me, except that they seem to be two of our best players who aren't allegedly performing to some arbitrary mark that has been set in some people's heads.
Since you want to apparently make comparisons with players you have decided are the paradigm of aspiration, do you actually watch football enough to know how absolutely shite your idol Costa was last season when he was bereft of support and service from his teammates? Let me tell you that his gesticulations around this frustration extended to a lot more than waving his arms and pointing. He wasn't playing out of his skin as a shining example week in week out while his team was going through a bad patch for your information.
I'm sure i'm doing you a disservice but let me tell you how you come over to me with your posts: you seem for all the world like a parent whose son comes home from school with a 90% exam mark and who then proceeds to spend all his time chastising him around the 10% he missed out on.
Lukaku is far from a perfect footballer but whilst he is doing his main job in the team scoring goals then the focus for criticism should be on those not doing what they should be as a minimum. Once they hit their minimum mark then collectively we try to 'Make the Boat Go Faster'. Football is a team game and the team is a work in progress.
Dave Abrahams
188
Posted 14/12/2016 at 22:03:32
Joe, have a look at your very last line, doesn't that tell you anything about Lukaku? It really should tell you everything about him.
Peter Gorman
189
Posted 14/12/2016 at 22:18:27
"Many on here, like yourself, seem to want to pick on him and Ross for some reason unknown to me, except that they seem to be two of our best players who aren't allegedly performing to some arbitrary mark that has been set in some people's heads."
Joe, I think that Lukaku and Ross get most stick because their respective games are not so much characterised by their goals and assists but by the litanies of errors they consistently show. It is not some arbitrary mark but based on an objective count of what they do right or wrong in each match.
Obviously for others it is just as valid to conclude that one good deed washes out all other sins but personally I hold both players to my own 'arbitrary' high standard because I believe they both have more talent than they are showing.
Andy Crooks
190
Posted 14/12/2016 at 23:51:20
We take different views of the game and having an open mind is often difficult. I thought Ross Barkley had a fine game and I am surprised at some of the criticism of him. I suppose what counts is what the coach thinks.
Brent Stephens
191
Posted 15/12/2016 at 19:23:57
Agree, Andy. Ross has sublime skills and showed them many times last night. Keep it going, Ross.
Philip Yensen
192
Posted 16/12/2016 at 10:37:38
Paul Ferry, rose tinted glasses or another blind Barkley fan. Obviously you love the guy to be calling him "Ross".
He has been dropped from England and Everton so if he is our best player (potentially) where is his commanding dominance? He's good for keeping the pitch watered with his constant spitting.
By the way, Paul, his pass rate may be 9 out of 10 but I don't count tip-tap short get-you-nowhere passes, certainly not from a number 10. Actually it's fans like you that accept a mediocre display that piss me off. If that was his best game, it's only took half the season to show it. I think you are in the minority where "Ross" is concerned
---
Add Your Comments
In order to post a comment, you need to be logged in as a registered user of the site.
Or Sign up as a ToffeeWeb Member — it's free, takes just a few minutes and will allow you to post your comments on articles and Talking Points submissions across the site.
© ToffeeWeb