Report
Last ditch disaster for defeated Blues
By Michael Kenrick
19/12/2016

198 Comments [Jump to last]
Share: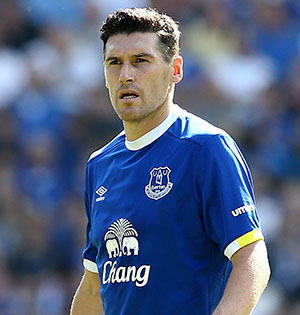 Gareth Barry was on the bench as Ronald Koeman made one change
Everton 0 - 1 Liverpool
Ronald Koeman makes one changes to the side that started against Arsenal, bringing Ramiro Funes Mori in to replace the suspended Phil Jagielka.
The skipper is sidelined as he serves a one-match ban for picking up two yellow cards last Tuesday while Gareth Barry remains on the bench.
The bench includes two U23 players in the form of Dominic Calvert-Lewin and Jonjoe Kenny, as well as Mason Holgate.
The game kicked off in an electric atmosphere with the Goodison crowd in fine voice, hoping to elevate the tempoo of the Blues game, inviting them to press Liverpool high up the field, and it was gritty, scrappy stuff as a result. Coleman got in good run and not one but two fair crosses, headed away.
Lukaku was next to get down the right and put in a fine cross... only he needed to be on the other end of it, where there was no-one. Mane and Baines fought for the ball and Everton's up-and-at-em start was doing enough to put the Reds well off their stride. Barkley should have done better to release Lukaku but the big man was too close to him. But much of the early going was in Liverpool's half, which was just what the crowd wanted to see.
Some great competitive play saw Valencia win a dangerous free-kick after it seemed Barkley might have had a chance with a ball that came to him very quickly. Valencia powered the free-kick poorly into the wall. Coleman was in sharply with the tackle as the Blues needed to maintain the high-speed pressing all across the field.
Barkley tried a clever ball for Lukaku that did not come off as the Blues were perhaps a little to frenetic in building their attacks. Lukaku trapped a high ball form Stekelenburg well but seemed to be fouled'; Mike Dean, however, was letting the game 'flow' -- hardly the right word, and it favoured Liverpool who tried to mount their first attack, stopped by Gana staying close to Mane.
Barkley set Coleman off down the right but could not control the great return ball in to him. Coleman then tried a long ball down the line for Valencia to chase. There was decent period of sustained pressure until Valencia tried and failed to buy a free-kick.
The best move so far saw Lennon spin wide left and play it in low for Lukaku but Klavan had the measure of him and deflected the ball away from the Everton striker. Barkley took a shot that was drilled wide.
Valencia was altogether way too hyped up for his own good, giving the ball away and allowing Liverpool to mount a rare forward move down the Everton left, and a another with Lallana down the right, then Wijnaldum fired well over.
Liverpool were getting more of the play now after 25 minutes of Everton dominance with no real strike on goal. Baines gave away a free-kick wide left, that Milner took but Dean blew immediately for a Liverpool foul. Williams was called for a high foot on Origi.
Liverpool put together a threatening move that cut through the middle of the Everton defence but fortunately there was no shot on goal... a warning, however. Lukaku in the middle passed straight to a red shirt, and another Liverpool attack had to be halted by Funes Mori. Lukaku did the same with the next ball forward and Liverpool looked to probe with more effect. Plenty of fouls being called now in favour of the Reds.
Finally, the Blues broke out, Coleman chasing a ball down and Henderson handling the cross off his hip but outside the area and not called, However a real threat then at the other end, a low cross into Origi under pressure from Williams and screwed wide.
Coleman put in a good cross but Lukaau could not flick it past Mignolet. James McCarthy went down, clutching his hamstring and a long break followed, with Barry out and warming up. The game finally restarted and Lukaku again could not hold the ball up, Liverpool on the attack again, until Mane played in behind for a goal-kick.
Valencia's determination won Everton's first corner delivered superbly by Barkley, an outswinger, headed wide by Funes Mori. Barkley tracked Origi, pulling his shirt before he tackled the striker rather clumsily and gave away a free-kick near the corner flag. Milner's clever ball was punched away from a throw by Stekelenburg. And that was it for a rather poor game in terms of any real football, but plenty of spirit and desire shown by the Blues.
Barry replaced McCarthy as the battle resumed after the break, with Liverpool showing greater control but Gana breaks it down and plays it up to Lukaku only for him to lose it yest again under the superior pressure of Klavan. Liverpool won their first corner and Everton needed to be solid at the back, Firmino somehow got behind the Blues defence off a loped ball from the half-way line and seemed set to fire past Stekelenburg but the keeper was out fast and parried it away.
Liverpool had raised their game since the break and kept pressing with Everton unable to break or hold possession. Valencia gave the ball away at the Everton area and it needed Gana to rescue things and try to break. Barry swung in a superb cross inviting Lukaku to head home but it bounced harmlessley off the top of his head, in the vague direction of goal.
Everton looked to break, Lovren blocking Lukaku and taking a yellow card. Barkley tried to get Valencia into the Reds area,but the ball wasn't rally going Everton's way. A bit of a mix-up as Mane came in on Stekelenburg, Baines in smarty to stop the striker with a tremendous challenge while taking out his goalkeeper. After a lot of treatment, Stekelenburg insisted on playing on, with Williams taking the goalkick. However, Robles was finally brought on, with Calvert-Lewin, who had been set to come on, being sent back to the bench.
Sharp tackles were going in without Mike Dean being too concerned, and Everton looked to get forward through Valencia and Gana but Lukaku was out by the sideline and lost the ball. Barkley caught Henderson late and that led to some handbags, Coleman And Lalana setting to it. It looked pretty bad from Barkely, no doubt much to the enthusiasm of fans who want to see the young Blue putting more bite into his game. This one a little foolhardy though... possibly worth a straight red, it was very reminiscent of a typical Liverpool dirty tackle of old.
Mane fell heavily into Barry, before Dominic Calvert-Lewin came on for Enner Valencia, Koeman's final change. DCL's first touch was poor and that sets up a Liverpool attack that was thwarted. Everton then attacked but a weak header was caught by Mignolet. At the other end Liverpool came close again. Firmino tried a spectacular overhead kick that was well wayward.
Most of the play was now coming from Liverpool, as it had been all half, with Everton on the back foot. Liverpool won a corner as Sturridge and Can were readied to come on. Firmino volleyed goalward and Robles got down superbly to palm it away.
Barkley was looking to get himsekf sent off, it seemed with more silliness, but Mike Dean restrained himself. Gana then went in on Mane and got himself a yellow card as Everton seemed more desperate to stop Liverpool scoring as the game entered the final 5 mins. Liverpool kept pushing forward but Can made a right fool of himself with a shot that sliced more than 90 degrees to go out at the half-way line.
Gana tripped Mane again, and Liverpool attacked again, a corner applying more pressure into the 90th minute. Williams clearing the headed ball away from danger as 8 minutes of time were added on, with Everton hardly mounting an attack worthy of the name in a poor second half were they were forced to defend.
Everton won a soft free-kick in midfield and it was played for Barkley to cross in but he got right underneath it, a horrible mess. Lukaku somehow git free and looked to run at the Liverpool goal but three defenders crowded him out. And at the other Sturridge fired past Robles who seemed to misjudge and scrambled toward it, hit the post and it bounced back for Mane to score with ease.
Firmino seemed certain to get a second but Coleman incredibly scooped it off the line, an amazing last ditch save as the game went into the 10th minute of added time, and the first home defeat of the season, a real sickener.
---
Reader Comments (198)
Note: the following content is not moderated or vetted by the site owners at the time of submission. Comments are the responsibility of the poster. Disclaimer
Chris Gould
1
Posted 19/12/2016 at 19:37:21
Well done, Ronald. Stick with a winning team.
No complaints with that.
Michael Kenrick
2
Posted 19/12/2016 at 19:39:31
Good to see more U23 players getting the call!
Gerard Carey
3
Posted 19/12/2016 at 19:43:30
Now let's win. Don't care if its a scabby goal after about ten ricochets. I want to savour a win against this shower.
Geoff Evans
4
Posted 19/12/2016 at 19:45:32
Barkley... I fear the worse!
Iain Jones
5
Posted 19/12/2016 at 19:46:51
Subs will be vital! Barry could be very important.
Jimmy Salt
6
Posted 19/12/2016 at 19:51:57
Really Geoff?

Phil Sammon
7
Posted 19/12/2016 at 19:52:52
It's the right team after the last game. Let's hope we can pick up where we left off.
No Deulofeu – not even on the bench. The lad is in danger of his career fizzling out. Anyway, that's for another day. Come on, Everton!
Peter Roberts
8
Posted 19/12/2016 at 19:55:07
Barkley... I see goals.
Paul Gallagher
10
Posted 19/12/2016 at 19:59:51
1-1 for me tonight. Dean will send Funes Mori off. I have that feeling.
Geoff Evans
11
Posted 19/12/2016 at 20:02:19
Hope you're right, Peter.

Ciarán McGlone
12
Posted 19/12/2016 at 20:39:20
Barkley is like a child lost in a supermarket. Give Mirallas a go in there.
Chris Williams
14
Posted 19/12/2016 at 21:00:22
Pretty much everything that frustrates you about Barkley is there for all to see tonight.
Very fast frenetic game bypassing him or looking for too much time. I only hope when th game opens up later on that he is able to show something, but you fear the worst.
Peter Roberts
15
Posted 19/12/2016 at 21:01:48
Great first 20... impressive work throughout. Lukaku doing well in the air and Valencia working their back line well.
Bring Mirallas on for Valencia in the last 20....
Ciarán McGlone
16
Posted 19/12/2016 at 21:16:37
Gareth Barry on has changed the whole dynamic of the game. This now has an inevitable feel to it.
Ciarán McGlone
17
Posted 19/12/2016 at 21:54:20
That second half was as poor half as we've had all season. Utterly shambolic and utterly embarrassing performance.
Special shout to Barry, Lukaku and Barkley. Awful.
I feel for Calvert-Lewin. Supposed to be a striker, spends most of his time covering right back.
Poor choices from Koeman.
Paul Setter
18
Posted 19/12/2016 at 21:55:01
Every fucking season... 😡😡😡😡😡
Peter Hughes
19
Posted 19/12/2016 at 21:58:58
Truly woeful, the RS could have took the field without a keeper!
Ernie Baywood
21
Posted 19/12/2016 at 22:00:56
I'm no fan of Koeman. I think he's a worse conman than the last guy. But we saw tonight where we're at and what he has to work with. We got the effort, but we lack quality.
At 0-0, I was embarrassed by how bad we were. We had absolutely nothing to offer the game.
Mark Andrews
22
Posted 19/12/2016 at 22:00:58
Got what we deserved. Awful second-half performance.
Mike Oates
23
Posted 19/12/2016 at 22:01:28
Only Gana, Coleman and Lukaku (when he's supported) worth keeping; the rest are not good enough.
Chris Williams
24
Posted 19/12/2016 at 22:04:46
The loss of McCarthy changed Everton's whole shape and energy. Shame, and once he was subbed and then Stekelenburg, No real options to change things.
Fair result on the night with not much quality in evidence.
Another hamstring injury for McCarthy by the look of it. That could be him gone then possibly.
Gary Reeves
25
Posted 19/12/2016 at 22:04:54
C'mon now, Ross Barkley...
I mean seriously, WTF, Ross Barkley?
What's going on there? What's he doing?
Phil Davies
26
Posted 19/12/2016 at 22:05:30
I'd be happy if Barkley and Barry never play for us again. Not a knee-jerk reaction, Barry is well past it now, the game passes him by because of his age (obvious from that shocking 2nd half), whereas Barkley, the game passes him by because he's not good enough. That free kick with 10 mins left, an under hit pass to put Coleman in down the right, immediately followed by over hit cross into the box.
I like that Koeman is looking at the youth, but Calvert-Lewin clearly isn't up to this standard yet, Mirallas was clearly the better option with 20 mins to go.
Bjoern Haall
27
Posted 19/12/2016 at 22:06:24
Klopp looked like he had intercourse with the fourth official. First for getting 8 minuters of add time and after the fuckers scored he blowed him to blow the game off. I hate it.
Mike Doyle
28
Posted 19/12/2016 at 22:06:32
General lack of quality. No serious attempts on goal. As the second half wore on, only one side looking likely to score. Sturridge on and we knew what to expect – and sure enough...
Geoff Evans
29
Posted 19/12/2016 at 22:06:50
Anybody who rates that fucking waste of space, piece of shite Barkley fucking deserves him.

Every time this shister plays, we're a man down to start with, get rid and quick.
Paul Conway
30
Posted 19/12/2016 at 22:06:51
Well, what did you expect! So many people on TW are still supporting Barkley after every once-in-a blue-moon good game...thinking he can come good. He is pure shite end of.
IMO, Koeman was too hasty getting rid of Osman. He probably didn't realise how shite Barkley was. He was fairly pissed off at his wastefulness tonight.
It was a reverse role of the Arsenal match... White for 20 minutes good for 70. And vice versa.
In actual fact, we were lucky to come away losing 0-1.
Fuck off, Barkley!
Jay Wood
31
Posted 19/12/2016 at 22:07:28
Gutting... but deserved on the balance of play in the 2nd half. Barry on for McCarthy left us critically without the energy or speed to close off their attacking lines. Their evolution is well in advance of ours.
A more switched on centre-back pairing would have gambled on the ball coming back off the keeper or the post and reacted quicker to prevent their winner...
Christmas joy cancelled. Bah! Humbug!
Simon McCann
32
Posted 19/12/2016 at 22:07:52
Another shite result. God you get sick of these!
Craig Fletcher
33
Posted 19/12/2016 at 22:08:06
Didn't watch the game, but by the sounds of it we've gone back to Moyes c 2004. Long-ball attack, plenty of heart and endeavor, but little quality. Fair assessment?
Chris Gould
34
Posted 19/12/2016 at 22:08:47
The two forced substitutions through injuries stifled our options.
Barry was way off the pace. Barkley and Lukaku worked hard but nobody got the ball down and made a telling pass in the second half. A lot of hard work but very little quality.
I can't see the point in playing Calvert-Lewin instead of Mirallas. Fair enough if you play him in his natural position, but he quite clearly isn't a right midfielder.
We were outplayed in the second half. Their fitness is far superior to ours.
Mike Rees
35
Posted 19/12/2016 at 22:10:40
Yet another defeat against Liverpool!!
When will we ever beat them again???
So so frustrating!!;
Peter Gorman
36
Posted 19/12/2016 at 22:11:44
Craig, not a fair assessment; plenty of heart and endeavor for 25 minutes and then back to the worst of meek surrenders we've come to know oh so well.
Disgusted with this team at the moment. To paraphrase Chris Waddle: "We never, ever, ever, ever learn".
Amit Vithlani
37
Posted 19/12/2016 at 22:11:49
Koeman needs to stand up now and take responsibility for putting all his eggs in Lukaku's basket. Centre-forward has to be the priority. Rom had players next to him all game and,as he consistently failed to find a blue shirt, we had no choice but to drop back.
A terrible performance from the big man and he continues to under perform when he is needed to hold the ball up and take pressure off.
Funes Mori should be sold off as soon as we can secure a decent centre-half. An erratic, unpredictable individual who strikes fear in the heart of his own team mates.
Barry cannot play in high tempo games. Too slow to get near players.
Barkley – wild and erratic.
32% possession, dreadful performance and a simply unacceptable lack of fight.
Koeman faces an uphill job from here. He needs a strong January window. This team is not fit for purpose.
Ernie Baywood
38
Posted 19/12/2016 at 22:11:59
Craig, pretty close... except I don't think we even managed to play long ball. In the second half, we offered – quite literally – nothing.
John Audsley
39
Posted 19/12/2016 at 22:12:00
Not watching a derby again ever.
Patrick Murphy
40
Posted 19/12/2016 at 22:12:21
Everton FC yet again beaten by the badge and not the team, who decided it was okay to let them have the ball for most of the second period? Did we manage to get into their box in the second-half from open play? Did we manage two or more consecutive passes in the second period?
I know McCarthy's enforced substitution altered things but surely not to such an extent? I don't like losing to them at any time, but I absolutely hate it when we surrender ground to them for no reason at all.
I spent most of the second half counting down the seconds and minutes, hoping beyond hope that we could somehow hold out for an undeserved point or better, but I should have realised that was never going to happen.
They ain't all that but, if clubs like Everton continue to treat them with so much respect, they will find it easier than most to pick up 3 points from Premier League matches.
We have got a huge inferiority complex when it comes to playing the other lot and it has to stop soon, or else it might be another twenty games before we beat them.

Mark Hughes
41
Posted 19/12/2016 at 22:13:36
Barkley is the worst player to ever pull on an Everton shirt.
Geoff Evans
42
Posted 19/12/2016 at 22:15:28
A club that wants to win things against a club who have no idea how to.
Only one team ever going to win this and they did.

Gordon Crawford
43
Posted 19/12/2016 at 22:15:56
Barkley, Lukaku, Valencia, Barry, Funes Mori, Baines – all liabilities tonight. We need a whole new attack.
We got what we deserved. I'm totally sickened.
We need a massive clear-out.
David Morgan
44
Posted 19/12/2016 at 22:16:50
We have no attack!!! Barkley had one of the worst games I have seen him play. Lukaku lost the ball so much and didn't hold it up once – we need to cash in on him this January.
McCarthy going off showed how important energetic midfielders can be, but he is unreliable. Gueye and Coleman stood out again while others including Lennon worked hard.
But it was like we didn't have an attacking threat and as the game wore on the energy drained and they picked us off.
Big January needed. I feel sorry for the Everton fans (myself included). Great support in the ground but we always end up on the losing side.
Colin Hughes
45
Posted 19/12/2016 at 22:17:22
We will never beat them ever again in my opinion.
Paul Conway
46
Posted 19/12/2016 at 22:18:00
Anybody calling us a mid-table outfit should hold back the bouquets.
Never mind, we will consolidate that coveted 11th spot after the Xmas period fixtures.
Mark Hughes
47
Posted 19/12/2016 at 22:18:01
Davies for Barkley and we would've won!
George Cumiskey
48
Posted 19/12/2016 at 22:18:24
Let's hope and pray that some idiots come in with bids for Barkley and Lukaku – they were both absolutely garbage.
Barry and Baines are finished as top flight footballers. Our defense doesn't seem able to head the ball clear – they kept giving it back to them!!
Mike Allen
49
Posted 19/12/2016 at 22:19:17
Injuries didn't help, but nothing to offer. Plenty of effort except up front. No outlet when under pressure. Once again, a false dawn... pretty poor, really.
Peter Gorman
50
Posted 19/12/2016 at 22:20:27
The Arsenal game was a false dawn it appears. So many players frankly not fit to wear the shirt. Utterly weak – and that includes Williams who shows no discernible signs of leadership.
Idrissa had a bad game by his standards which didn't help matters. His timings were so off.
Liverpool had nothing for 25 mins and then the usual complacency sunk in and we stood off them until the final whistle. Needless to say, they dominated. Any leader worth their salt would have intervened and reminded the players what they should do. The crowd tried their best but players just lack the spine.
We badly need to sign a leader in January. I'll go one further than John Audsley and in addition limit myself to watching the youngsters until the end of the transfer window.

John Pierce
51
Posted 19/12/2016 at 22:20:29
Easy out to say McCarthy was the reason we lost. We lost because we barely strung two passes together, played the ball in the air almost from beginning to end, making it a fight which unlike Arsenal Liverpool matched.
Frame everything in its context. The last two games were a free swing with no pressure on us to win. It still leaves us in a reasonable position massively down on quality players in key areas.
Lukaku and Koeman was again at the crux of the issue for me. Employing tactics to a centre forward who consistently cannot bring others into play means the ball comes back continually.
As a contrast both DCL & Valencia held the ball up better than a feted 㿞m+ Lukaku.
As for Ross can't be having anyone defending the lad. Red all day long.
Still feel the situation hasn't changed. 2 wins in 12/13 games isn't good enough. Perhaps the size of the last 2 games has helped pump the players.
Sure Koeman ain't going anywhere but he is fortunate to see a second transfer window.
Disappointed, no; expected, yes. Koeman? Not for me.
Trevor Peers
52
Posted 19/12/2016 at 22:23:34
Awful game> Koeman knows he has to solve our attacking options, which are zero in most games, or face the sack.
The 1st half was a story of wasted possession, no creativity, and only 2 shots at goal.
We didn't muster a single shot in the second half which is an absolute disgrace. We did show a bit of fight, that was the only plus. Kids are not the answer, we need to spend big, on proven professionals or perish.
Chris Williams
53
Posted 19/12/2016 at 22:23:35
Tonight we were the alehouse team. Awful. We got what we deserved.
Danny Broderick
55
Posted 19/12/2016 at 22:23:56
Lukaku would be a lower league player if he didn't score so many goals. He honestly couldn't trap a bag of cement. He never took the pressure off the back 4 by controlling the ball and winning us possession up the field.
The team worked their socks off, even Barkley put in a shift. But it makes it so much harder when you can't get hold of the ball up front.
Phil Walling
56
Posted 19/12/2016 at 22:26:17
Can we stay top half until season's end? I won't bet on it because this manager is shaping up like a loser. He has no discernible style other than long ball.
Everton are back in pre-Moyes days, I'm afraid.

Dean Adams
57
Posted 19/12/2016 at 22:27:15
When McCarthy went off, we surrendered the midfield. Barry was not at the races.
Ian Riley
58
Posted 19/12/2016 at 22:27:38
No complaint's. Not one shot on target. We are poor. At least five players in January required. How can we expect Lukaku to stay with the lack of service. Love Barkley to be successful but not good enough. Simply poor. How the hell are we in the top ten in the league?
Only positive is the first half. More energy but things must change.
Laurie Hartley
59
Posted 19/12/2016 at 22:27:58
Deliberately avoided the live results pages her in Oz. Just logged on now. My heart goes out to the fans at Goodison – they don't deserve this year in year out.
Colin (#44) – you could be right... how are the mighty fallen.
Tuning out now. Fed up.
Jay Griffiths
61
Posted 19/12/2016 at 22:28:53
Just back from game. Emotional, so I'll be brief.
Stekelenburg is a bottle merchant, Baines is way too weak and is exposed too often for headers and tackling. If he's not hurting the opposition in their half then he's not fit for purpose.
Ross? 㿏mil? Spurs? I'll piggy back him there. The amount of 50/50's he backed out of tonight when a winning tackle could of drove us on was embarrassing. The lad is straight out of the Wizard of Oz. In fact he's a bit of all three characters, no brain, no heart, no courage.
On to Leicester. I need a break.
Mark Daley
62
Posted 19/12/2016 at 22:29:39
It was coming all the second half. Just like the Bourne theme:
"Then it fell apart, it fell apart, Oh babe, oh babe, like it always does."
Damian Wilde
63
Posted 19/12/2016 at 22:29:56
Tony Draper, if anyone wants Barkley gone, are they still 'not an Evertonian'?
Koeman shite. Barkley woeful.
Paul Olsen
64
Posted 19/12/2016 at 22:30:06
Awful performance after the first 20. We never even tried to play football, and during the second half we never had a glimpse of the ball. Whenever it came close to anyone in a blue shirt it was hoofed towards Lukaku, who could win it with noo-ne to pass to since everyone was blowing out of their ass throughout that second half.
The by far better team won, and we deserved nothing. McCarthy easily our best player. I don't think Lukaku was all that awful, but he has NEVER had less support.
Barkley played an absolute stinker, and should have been sent off. Our wingers offered nothing offensively after the huff-puff opening.
Gana had by his standards a poor game, mostly went about chasing shadows. The withdrawal of McCarthy sent us spiralling towards an inevitable defeat.
McCarthy, Funes Mori, Williams, Coleman, Robles and Stekelenburg get passes from me today, the rest were poor.
Geoff Evans
65
Posted 19/12/2016 at 22:30:53
Love to know what the Barkley fan club thought of another fine display from their golden boy.
"Top player my a...''

Mark Fitzgerald
66
Posted 19/12/2016 at 22:31:12
Blatantly obvious now (if it wasn't already) that we sorely lack quality to compete at the top of the table. Really hard to pick out many from that starting eleven that I would retain if given a blank cheque book.
Stekelenburg: No – A back up keeper.
Baines – No A former fav' of mine, but past his best.
Williams: Maybe – Disappointing so far for a player I really rated.
Funes Mori: No – Always nervous watching him.
Coleman: Yes – Fully committed, defensively & in attack.
Lennon: No – Auxiliary fullback in this formation. Limited.
McCarthy: No – Inconsistent. Limited. Injuries.
Gueye – Yes, player of the season so far and won't be challenged.
Barkley: Maybe – Will never be the player I hope for. So frustrating.
Valencia: No – Unconvinced. better options, return to London.
Lukaku: Yes – Infuriating at times. But will score if we supported.
As for the squad; the likes of Mirallas, Deulofeu, Cleverly, etc. Again, not overly convinced by any of them.
Also think Koeman needs to clarify his tactics. Tonight he asked for full blooded commitment and, in fairness, I think he got it. But what the hell was the game plan when in possession? It appeared to be "Lump the ball forward... and hopefully we'll get a lucky free kick or corner."/p>
Lack of quality players and lack of an offensive game plan for me. Very, very disappointing.
Darren Hind
67
Posted 19/12/2016 at 22:31:36
Why the fuck did he revert to one up top in the second half? That tactic has brought nothing but grief... yet he still does it.
How many were surprised when they scored?
Sick to fucking death of cowardice. If the manager doesn't have the required courage, it's an absolute certainty that his team won't.
Sick to fucking death of being sick to fucking death.
Tom Flower
68
Posted 19/12/2016 at 22:32:03
How frustrating. We will never win a game until we have shots on target. I did not count any serious efforts in the second half.
What a difference someone like Mane would make to our team. Let's hope Koeman can pick someone up in January.
This team, so often elevated beyond their true skill level by Martinez, look miles off from being successful.
Lukaku was isolated all game and did not get a sniff. Funes Mori looks like an accident waiting to happen every time the ball comes near him and Barkley had another night to forget.
Gavin Johnson
69
Posted 19/12/2016 at 22:33:29
Same old story. It was a thoroughly entertaining game in the 1st half when we took the game to them. Something that has been absent for many years in derby games.
We really missed the legs and energy of McCarthy in the 2nd half. It's a shame Koeman wasn't brave enough to bring on Tom Davies, who would have been a better option to maintain the high pressing tempo. Sadly, he wasn't even on the bench. Gareth Barry was the wrong option for me.
George Cumiskey
70
Posted 19/12/2016 at 22:33:54
Barkley put in a shift? If that is what constitutes a shift in an Everton shirt we are in shit Street.
We need at least six new players to go straight into the first team!
John Daley
71
Posted 19/12/2016 at 22:35:08
"But we saw tonight where we're at and what he has to work with. We got the effort, but we lack quality."
How is any quality supposed to shine through when the sum total of the manager's tactics seem to be "move toward the opposition a bit and when we get it just absolutely fucking muller it"?
True, there was effort there from every player, but beyond asking for that as a bare minimum, what else is Koeman actually looking for them to bring to the table? Whatever he's wanting, he's wasting everybody's time if he just continually upends the fucker and shouts "C'mon!! Fight".
We play, seemingly at managerial instruction, like the worst sort of pub team. Lukaku, Valencia and Lennon, the three furthest forward and we're launching aimless high balls toward them? From first whistle to last, even though no success was forthcoming from it?
Why opt for hoofball at all times when we have no players vaguely suited to that sort of game? Lukaku might seem a physical fit for that sort of shit at first glance, but we all know killing the ball, holding it up and laying it off, isn't his strong suit (nb: Anyone who tries to claim he was a lazy bastard on the evidence of today's game are talking out of their arse because he fought for everything, even though we were getting no joy from it).
When Calvert-Lewin was set to come on, I presumed Koeman was at least looking to double the targets his defenders were aiming their sling shots at. Instead he hangs him out to dry by slapping him out on the right?
Why not move Barkley out there or, at a push, Lukaku who has at least had some success in the past performing that role? It was a thankless task for the lad and a waste of the only substitution the manager had to make a decision on.
Moyes era, PE teacher, foot in a fuckin mitten, meffery of the highest order.
Ian McDowell
72
Posted 19/12/2016 at 22:37:34
No idea why the young lad Calvert-lLewin was brought on. Also, what's this with flares being thrown on the pitch?
Mike Hughes
73
Posted 19/12/2016 at 22:39:15
Absolutely no creativity or potency. Home team and not a shot on target. That makes the January transfer window simple - if not easy - to approach.
Transition season now. Mid table expectations and not a lot to get excited about. FA Cup? More hope than optimism but let's at least have a go.
Kieran Kinsella
74
Posted 19/12/2016 at 22:39:33
I thought it wasn't that bad. In fact we competed a lot better than lately. We don't have any creativity but I don't think the effort was lacking. Changing goalies never helps.
Michael Lynch
75
Posted 19/12/2016 at 22:40:15
I loved Ross Barkley when he broke into the team, but it's not working and it doesn't look like it's going to start working any time soon. The club should do us and the lad himself a favour and let him try somewhere else. He could still be a decent footballer, but not here it seems.
Very poor performance from a decent RS side tonight, but we looked miles off their standard.
Ernie Baywood
76
Posted 19/12/2016 at 22:42:40
John (#71), completely agree. As I said in the same post you quoted, I think he's a conman. Not excusing him, but as well as lacking any sort of tactical plan, we also don't particularly have high quality players.
And where we do have some quality, we misuse or isolate it.
Mike Green
77
Posted 19/12/2016 at 22:45:36
I can't fault the players' attitude or effort tonight but it was clear that, after that first half, we were going to get picked off by Liverpool sooner or later.
The fact that one of our own defenders took out our keeper, which killed one of our substitutions when we needed fresh legs, seems so inevitable. You never know – Stek might have tipped that Sturridge shot around the post, and I'm sure they would have still got 4 mins injury time without the injury but again it just feels like the Gods are always against us when we play them.
However, we had them pinned down for large parts of the first half and I'm not sure we registered a shot on target. We do not have the guile or quality to find the killer pass and much of this unfortunately lies at Ross's door, he consistently proves he isn't good enough to do it. Barry is finished and Rom proved again what his limitations are but we don't do enough as a team to play to his strengths or have other options available to take the pressure off him.
Gueye was great again, Coleman and McCarthy had good games and I was really pleased with the role Valencia played but we are still desperately in need of a creative spark and quality going forward so we can turn the screw with the greatest weapon of them all – goals.
We must have broken a very big mirror a long time ago but we lost the game tonight on not being able to score, we should've had this one put to bed after half an hour but just don't have it going forward.
If there is a silver lining to this result is it compounds that fact even further and I'm pretty certain Koeman will bring in at least two new faces in January to try and put it right. The current lot have had their chances... and that probably includes Lukaku; as deadly as he is on his day, his day comes around all too infrequently.
Colin Hughes
78
Posted 19/12/2016 at 22:45:40
Like somebody said on the way out of the ground "That was the worst second half performance I have ever seen at Goodison by an Everton side in any game".
We didn't put a single move together worthy of a professional football team never mind test the Red Shites dodgy defence. Their Ladies side would have got a result at Goodison tonight.
Colin Glassar
79
Posted 19/12/2016 at 22:46:18
Mike Hughes, not only a lack of creativity and potency. What we don't have is composure. It's get rid of, ASAP.
It's like the Catterick and Bingham teams of the early '70s, ie, kick and rush. It's horrible to watch and nerve-wracking.
Charles McCann
80
Posted 19/12/2016 at 22:46:50
Gareth Barry is such a liability to our team. McCarthy was having a great game before the hamstring went. This was the significant turning point in the match.
I hink it's unfair to single out Barkley for criticism. Yes things didn't work out for him tonight but he put a lot of effort in and there were a lot of below par performances like Valencia and Lukaku also. Total sickener altogether.
Steavey Buckley
81
Posted 19/12/2016 at 22:47:01
Everton went from 10 men competing for the ball in the first half to 9 men in the second when Barry came on. Yet, Barry has just been given a 18-month contract. Tom Davies must play in the next match if McCarthy is not fit.
Barkley for all his promise is one of the most careless footballers I have ever seen. Must be frustrating playing alongside him.
Gordon Crawford
82
Posted 19/12/2016 at 22:49:25
Barkley did put in a shift, but it was purely horrific from first minute to last minute. If he doesn't improve, then he needs to be sold at the end of the season.
Lukaku must go in January or end of season. He is such a liability, I would rather have Shane Long.
Peter Roberts
83
Posted 19/12/2016 at 22:49:30
Baines should never have let Sturridge advance so far across on his favoured foot, where was the tackle?!
McCarthy going off was the critical point how on earth where we going to retrieve the countless balls back that Lukaku conceded... and before anyone pipes up it's not isolation or support. He literally can't hold on to the thing. He can not be carried in this team – he is a finisher and that's it. A bloody awful footballer who allows the opposition to pick his pockets time after time.
Ashley Williams would have defended that rebound at the end wearing a Wales shirt... he wasn't switched on.
Liverpool never had any prolific goalscorers on the pitch but penned us in because they have forwards who can look after the ball.
Cash in on Lukaku, get what we can and buy two ball playing, high energy attackers. Sick of talking about him now... if Wood and Co want to debate this fact then let's do it. He put in a shift tonight, which is something, bit his lack of quality on the ball is a liability. The midfield and defence were under constant attack.
Patrick Murphy
84
Posted 19/12/2016 at 22:51:37
Kieran (#74) I sort of understand where you're coming from but that was a typical David Moyes type call to arms, with no thought for what happens when the ball eventually gets into their half and what we are supposed to do with it.
As it happens, the ball kept coming back into our half as the other lot thought it was a training session.
They didn't have to make a single las-ditch tackle their keeper could have joined the stewards on the edge of the playing area and he needn't have worried about conceding a goal. I might be wrong but I think we had one corner in the first half but I certainly don't remember getting one in the second half.
I don't care whether Everton are playing Rhyl or Real Madrid, we have to attack with purpose and at least threaten to score, holding onto to a point via stoic defending usually ends up in defeat for Everton and that's exactly what happened tonight.
Gary Willock
85
Posted 19/12/2016 at 22:56:12
I love the guy, and he deserves our respect, but whoever renewed Barry needs to explain the decision and own up. The lack of speed and energy is so telling in the centre of the park.
No excuses now, throw Davies in if McCarthy is out, and unless we find another Gana in Jan, keep him in whilst Gana is out.
Fair play to them, snidey little horrible bastards are are half decent team – we've still got hope, but we need to stop panicking and start being professional.
Paul Birmingham
86
Posted 19/12/2016 at 22:59:26
Typical and predictable lifetime scenario, etched out again by another overwhelmed no-game-management plan by a scared and under fit EFC team. So obvious the manner of this pan out by two poor sides, but the RS, wanted to win more than we did.
So far for the last 3 seasons we haven't done a full performance over 90 minutes. What and who trains the first team at Finch Farm? Sheeds and Unsworth respectively doing well, this first team is on a par with the worst of the Walter Smith days.
The lack of presence, awareness, history, game plan, urgency and battle plan is in my view further gauge for a survival epic this season. January will see the dregs of another ill-fated season flounder into the dregs of a wretched campaign.
Very tough days and sadly the Ross foul, adding on many minutes, tonight, has been the the fatal flaw. Of all the games in this current climate, this was Ross's, chance to put his name on the game. I fear very sadly bar a miracle.

It won't happen at all and certainly now, bar a miracle and an incredible 2nd half of this season, it will be game over for Ross, and many of our hopes for the near future. Tough times and we must stick together, via blind hope, at the moment. Ground Hog Day Again at the Derby!
Bobby Thomas
87
Posted 19/12/2016 at 23:00:44
We didn't create when on top and playing well and that's what did us really. I felt we played with real tempo and purpose first half-hour but the problem with the tactics is they are basic, limited, and after about half-an-hour teams catch on and we run out of ideas. The same happened against Man Utd.
That second half though, was very poor. Barry was way off it and was the reason Liverpool found it so much easier to play through us 2nd half. That, and it's difficult to maintain the pace we played at in the 1st half for 90 minutes. I was worried about how much we put into the 1st half and we did run out of gas as the ball was constantly coming back as we couldn't get anything going up top.
I wasn't surprised when they scored. It was coming, there was a sense of inevitability to it and, to be honest, it was deserved.
On Rom and Ross, after however long they have been playing together now, I think it's fair to say they just don't click as a partnership. They are, in fact, extremely ineffective. I also think, and it's not just on tonight as I've never been totally convinced, that it would be better for both Ross Barkley and Everton if we took the 㿊 million or whatever Spurs may be offering.
Maybe with a striker like Kane ahead of him making decent runs and, let's face it, better players, he may prove me wrong, but I really don't see this prodigious ability people keep talking about. I just see someone overhyped and talked about partly because there aren't actually that many English players anymore. He just doesn't produce.

David Connor
88
Posted 19/12/2016 at 23:06:03
£35 million for Barkley... £25 million too much... Take the money all day long.
We are a bunch of fucking yard dogs. We'll be lucky to finish top half this season. Massive year next year for Mr Koeman. Is he the answer for us? Only time will tell.
One things for sure. The vast majority of this squad aren't up to Premier League standard. We are a very poor team indeed. Just surprised it wasn't 3-0 or 4-0 tonight.
Ernie Baywood
89
Posted 19/12/2016 at 23:12:19
By all means criticise Ross and Rom but they are what they are. Rom can't control a ball and Ross can't dictate a game. That's not exactly news to any of us, is it?
Both have strengths but if we're not going to play to them or can't afford the luxury then get rid. Neither are the player we want or need them to be.
Tough call with both. My feeling is that the money we can get for them will benefit the rebuild more than their presence will.
Tony Hill
90
Posted 19/12/2016 at 23:13:49
As long as the effort is there, I can live with a result like this, horrible though it was. They were much better than us in the second half but we did fine in the first. We need four or five high quality additions, we all know that.
It's true that our tactics were rather bewildering but the Shite are a good side and they are better drilled and performing at a higher level at the moment. We still need to work on stamina and fitness, we visibly wilted.
We have winnable fixtures coming up and I expect two, maybe three new players in January – if Schneiderlin and Depay come in then we will be strengthened. Top half and a good cup run will be okay but I agree with those who want to see a braver approach.
As a Barkley fan, I cannot defend his performance tonight and I was very disappointed. I hoped he would kick on after Arsenal. Such a shame. Lukaku was also at his floppy worst. But for some strange reason I don't feel anything like as deflated as I normally do after a derby defeat; don't know why really. Onwards.
Colin Glassar
91
Posted 19/12/2016 at 23:14:35
Shane Long? Shane effing Long? The same Shane Long who can't even get into the Southampton team?
This is what's wrong with a lot of supporters that they want triers, blood, sweat and tears types. Screw ability, screw intelligence, screw technique, we want players with the stamina of a Grand National horse but with the ability of a dead crow.
We need a new team. This one isn't good enough. I'd keep Coleman, Baines, Gana, Ross (yes him, the most derided player on TW) and Lukaku. The rest can go. Just not good enough.
Klopp has had 18 months to build his squad with his players. Ronald has inherited a poor Martinez team with some veterans from the Ginger era. The two goalies, Jagielka, Williams, Funes Mori, McCarthy, Gibson, Kone, Cleverley, Valencia, Lennon, Mirallas, Bolasie, Oviedo etc... just aren't good enough.
I'd keep the likes of Galloway, Deulofeu and Holgate but the above mentioned need to be moved on. No composure on the ball, no stamina, no balls.
Dean Adams
92
Posted 19/12/2016 at 23:14:36
We need someone to create, Ross needs help in the squad. A real playmaker, or at worst, Rooney to show some heart, desire and ability!!
Trevor Peers
93
Posted 19/12/2016 at 23:14:57
I agree George (#70),
If all our hopes lay with Barkley producing some sparkling form in the next 3 years, we will end up like Villa, with Steve Bruce as manager and in the fucking championship.
The lie, that he is a great player in the making, is dragging us down. He looked out of his depth tonight as usual, when we were looking for a big performance from him. At least he hasn't been offered a new contract yet.
He's not even as good as Rodwell, who had a semblance of control.
Mike Price
94
Posted 19/12/2016 at 23:15:01
What we think is great, just isn't. Running around a lot with a few hectic tackles is basic. Bournemouth played football against them and won, why don't we try that because this basic approach never works?
We were 3 to 1 to win at home we're in the same fucking league as them but the bookies consider us a Conference team because of our approach to this game.
Contract extensions to Barry and Baines is a big worry too. I thought we may have changed from the unprofessional outfit we have been for decades and been rightly ruthless in moving players on, but we're still a soft touch and give emotional contracts to players not fit for purpose.
Dean Adams
95
Posted 19/12/2016 at 23:17:34
Davies would have been a better option than Barry, the man is past it and Davies has heart.
Dave Williams
96
Posted 19/12/2016 at 23:17:43
We so badly need an injection of two or three top quality ,battle hardened players in their mid-twenties with the personality to get a game by the throat and dictate play. They will then change the mentality of the rest just like Gray and Reid did in 1984.
Problem is, who are they and could we afford them? And would they come to us?
Absolutely sick to the stomach of constantly failing against this horrible arrogant shower and no bright spots to hold on to tonight.
Ste Traverse
97
Posted 19/12/2016 at 23:20:48
Just in and my opinion is they got well on top in the second half and the change that wasn't needed was bringing the young kid on in such a game when we had Mirallas and Deulofeu on the bench.
Absolutely fuck-all stuck to Lukaku, but he really was isolated and surrounded by 2 or 3 of their players everytime the ball went near him.
They are a good team but it's hardly a vintage reds side. We showed some fight but showed them far too much respect in the second half and Ross was a passenger.
Their keeper, and he is dodgy, was simply a spectator. He could have put his feet up had a brew and read the paper most of the game. He was put under no pressure whatsoever.
Damian Wilde
98
Posted 19/12/2016 at 23:21:38
Sell the whole side. Would we get £10 mill for Ross? Rom so lazy.
Ernie Baywood
99
Posted 19/12/2016 at 23:22:33
Tony, I kind of agree. I don't know that I can really blame anyone. It was just what we currently are. Shite.
I'm usually terrified of derbies but I fully expected we would disappoint in this one. To be fair, I thought Koeman would restore Barry (and hence that huge gap up to a striker incapable of dealing with balls played up to him).
The first 20 minutes surprised me. Imagine that? Pleasantly surprised that your manager didn't completely fuck up his selection and that the players actually put in a bit of effort?
Of course we still ended up with that same problem in the second half.
Dave Long
100
Posted 19/12/2016 at 23:24:48
Football of today requires superb fast athletes who can control the ball perfectly. How many do we have? Gueye, Coleman... that's about it. We are weak both technically and physically throughout the team. We were pub team level tonight.
Patrick Murphy
101
Posted 19/12/2016 at 23:25:09
Mike (#94) That's what frustrates me the most, about this modern Everton. How can a team such as Bournemouth be 3-1 down to the other lot but somehow manage to end up as winners on the day, with decent thoughtful football, when Everton don't seem to be able to stay the 90 minutes with them never mind stage an unlikely comeback.
Whether we like it or not, Everton FC under the careful leadership of the esteemed best blue in the world, has become a small, ordinary club who are no longer feared by others and worse still are fearful of many of our former traditional rivals.
I can't agree with those saying that the other lot are a decent team, they looked pretty ordinary to me, but unfortunately Everton tonight looked pitiful. Back to the more mundane fixtures of Leicester, Hull and Southampton where once more we'll wait to see what the management and players will serve up. Not much, I would wager, on tonight's evidence, but we all live in hope.

Dave Williams
102
Posted 19/12/2016 at 23:26:40
Calvert-Lewin was a strange one Ste. I am keen to see the kids given a chance but not out of position in a Derby match when we are under the cosh!
I don't think Geri was on the bench but Kev would have been a more sensible choice under the circumstances.
Some strange decisions this week: new deals for Barry and Baines who are so clearly way past their best and now this strange substitution – maybe Ron is feeling the pressure?
Colin Glassar
103
Posted 19/12/2016 at 23:28:00
I don't get all the grief Bainesy is getting tonight. He was one of our best players tonight and, compared to those two donkeys next to him in central defence, he is like Roberto Carlos in his heyday.
Ciarán McGlone
104
Posted 19/12/2016 at 23:30:19
Don't think Baines did much wrong.
Dave Williams
105
Posted 19/12/2016 at 23:33:34
Baines was better than some tonight – I just don't see a new contract as warranted by his performances over the last couple of years. We have too many players past 30 and too many who are less than physically robust.
David Donnellan
106
Posted 19/12/2016 at 23:33:57
1st half was better, but we couldn't make our dominance tell.
We were out of steam & ideas in that 2nd half, we never looked like scoring!
I have to say, they were fucking jammy at the end there.

Colin Malone
107
Posted 19/12/2016 at 23:34:10
As soon as we get rid of the myth called Lukaku, we ain't going anywhere.
Andrew Presly
108
Posted 19/12/2016 at 23:34:25
A character-building night for the lads...
Paul Swan
109
Posted 19/12/2016 at 23:34:58
He was not the only reason we lost tonight but what I can't accept from Barkley was on two occasions he shat out of 2 challenges – not even 5050s. Then when there was no chance of getting hurt he throws in a shithouse's challenge on a player running past him and gets a yellow card.
Tactically we were all over the place second half and our fraud of a manager needs to take the blame again for that. It was clear we were running on empty second half and were clearly not fit. Wonder what excuse the fraud will use for that since at the start of the season he was blaming Martinez.
Will we ever get a 90-minute performance out of this lot this season?
Andy Crooks
110
Posted 19/12/2016 at 23:35:08
The second half was poor. The injury to McCarthy did, in my view, have a profound effect on the game. However, they are better than us. We simply do not have the players to play the high tempo pressing game.
Also, I would love a young Arteta in this team. He has never been replaced.
Mike Hughes
111
Posted 19/12/2016 at 23:37:41
Tony (#90),
Lots of Evertonians are going on about Schneiderlin and Depay. Personally I think they could be lazy signings.
They will hardly be bargains and I doubt – being ex-Man Utd – will be the hungry ambitious types we need. They might improve us for a while (hardly a difficult task with our current lot) but could be simply expensive stop-gaps. If they are loans only - fair enough.
I'd prefer to see Walsh unearth a few hidden gems at bargain prices. Hungry, ambitious players with careers on an upward trajectory rather than tired career-plateau players who come with their own level of risk.
I can't tell you who these new players are – but Walsh gets paid more than me, you and anyone else on here (bar MK and LL) – to do just that.
Surely there are a few of the younger lads knocking at the door now? If not, I suppose ex-Man Utd players might add some spice to the bland offerings of this evening.

Dean Adams
112
Posted 19/12/2016 at 23:37:57
Patrick, looks like all your hope is lost!! Keep the faith fella, we will come good and soon enough we will see the fruits of the Moshiri millions!!
Gavin Johnson
113
Posted 19/12/2016 at 23:37:59
Don't understand why people are crying out for Shane Long. We've already got Enner Valencia who is similar in terms of pace, work rate, stature and goal ratio.
I didn't read the story about the contract extensions for Barry, Baines and Holgate the other day. I hope Barry only got a year extension, because a back-on-form McCarthy's shown that Barry being overrun is one reason why we've been struggling.
The lack of pace also explains why Rom looks so isolated at times. I thought Lukaku worked hard tonight.
Paul Conway
114
Posted 19/12/2016 at 23:38:24
Colin Glassar (#91)
Keeping Ross, Galloway, Deulofeu. Are you serious? Apart from Galloway (who is not even good enough for WBA), Barkley and Deulofeu wouldn't get a sniff in a top six team.
How Barkley is touted at £30million is beyond me... Take the money and run.

Dave Abrahams
115
Posted 19/12/2016 at 23:39:53
I thought we might have got away with a draw we didn't deserve but, if you don't create ANY chances, it's impossible to win.
Koeman has a a very hard job on his hands and not much to work with... see what January brings.
It was a match that, after 25 minutes, we had seen it all before and most of us could have written the script and how it would end.
Colin Hughes
116
Posted 19/12/2016 at 23:42:00
How many times is that this season that we have conceded the first goal at Goodison? Middlesbrough, Norwich, Swansea, Man Utd, Liverpool all taken the lead here, if it wasn't for a few last minute equalisers, our home record would read shite.
Mike Green
117
Posted 19/12/2016 at 23:42:56
BBC says we didn't register a shot on target until the 75th minute. That's all you need to know to see where our problems lie.
And David (#106) – you're right, as ineffective as we were to lose to a rebound off the post in the 94th minute is nothing short of taking the piss, but so predictable it's not true.
Someone, somewhere, is having some serious giggles at our expense. I can't even get that het up about it that much anymore though, I'm so bored of it.
John Hughes
118
Posted 19/12/2016 at 23:46:09
This stuff about Barkley's form really irritates me. It's not a matter of form; he simply isn't good enough at this level.
He's 23 for goodness sake. He does not have spatial awareness like the really good players have: Ball, Steven, Rooney to name some past Blues players but the thing is, this cannot be coached in to players.
Add to the fact that he does not have a natural athlete's body shape means Ross will always struggle in today's modern game. I remember murmurings before he made the first team that there were serious doubts regarding his ability to read the game and his decision-making. Seems to me that he hasn't improved in these areas.
Like many others, it gives me no pleasure at all to criticise the lad but you have to be realistic.
Ciarán McGlone
119
Posted 19/12/2016 at 23:46:49
Nobody mentioned Barkleys red card yet either – he should've been off.
Clear petulance in his game tonight.
Bobby Thomas
120
Posted 19/12/2016 at 23:48:30
On Baines, there aren't many full backs who are as good as they used to be when they are 32. But that will happen when you give a 29-year-old full back a 4 year deal. We've seen the best of Bainesy, no doubt, but he is still a more than decent full back. Thought he played quite well tonight.
But, we do need a quality young left back we can phase in. I said on another thread Bainesy should only be given a 1 year deal. I'm okay with 2 years, it's nowhere near Hibbert or Gibbo territory, nowhere near and if he stays fit will be effective as we blood the future, when signed.
I think one of the main problems for Baines, injuries aside, is that there has been nothing settled in front of him on the left side and he hasn't had an opportunity to build an understanding with anyone.
Gordon Crawford
121
Posted 19/12/2016 at 23:49:00
When I said I would rather have Shane Long, it was with tongue firmly in my cheek. What I'm really saying is that Rom is absolutely crap at holding the ball up, making runs into space, and pressing from the front.
Brent Stephens
122
Posted 19/12/2016 at 23:51:07
Just back from the game. Gutted. A spirited first half with no real chances. A second half where the RS came more into it – and still few chances for us.
And we were lucky to be playing with 11. Ross should have had a red for that tackle. When you want him to tackle, he doesn't and then he comes out with that. We'd be screaming blue murder if that was against one of our guys.
I thought their defence was poor in the air – you can see why they concede goals. But we had nobody feeding off the headers that Lukaku won. Valencia and then Dom were really playing a deeper role on the right.
Funes Mori again slower to react to the ball that came of the post. It's all about anticipation.
John Daley
123
Posted 19/12/2016 at 23:57:08
Didn't Barkley put in the sort of performance a section of blues never tire of shouting for? Effort, fight, getting stuck in, tackling (poorly), challenging for headers? "Get some sweat on your brow you lazy bastard and all else can be forgiven?" Clearly not.
Shove any creative player you want into his position tonight and see what they would have plucked out their bag of magic tricks when the ball is being twatted back and forth over their head and they're being asked to battle for scraps in lieu of being fed. Same for Lukaku tonight as well.
We do have players in this squad with some talent on the ball but the team is bafflingly set up in such a way as to counteract it as much as it might the opposition.
What we don't have is the personnel to play Koeman's preferred punt/press/PANIC and pick up enough points along the way to make it worthwhile persisting with.
We can talk wishfully of upcoming transfer windows and the manager bringing in quality reinforcements capable of playing his way but, as Evertonians, we all know how they often play out in reality: like dreaming of mounting Rihanna one minute, but then slowly realising you'll have to make do with slipping it to one of those 'tight tush' torch things Ann Summers turn out for the more surreptitious spanker, who thinks being caught with his nob shoved in a portable light source will somehow be easier to explain away than a disembodied rubber arsehole.
In the short term, the manager needs to be looking at the strengths of the squad currently at his disposal and adjusting his tactics to suit, not shrugging his shoulders and suggesting future spending is the only possible way to sort it.
Paul Johnson
124
Posted 19/12/2016 at 00:03:32
Just back from the game. Gutted we got done so late but really the writing was on the wall second half. Bizarre substitution with Calvert-Lewin coming on (did he touch the ball?) and surely that's Barkley's last chance with Koeman.

It was like playing with 10 men and should have been after that 'tackle'. A real low point in the season for me; over to the board to dig deep in January as we desperately need a lift.
Pat Kennedy
125
Posted 19/12/2016 at 00:08:31
Just back in after another desperate performance. After an encouraging 25 minutes, it just seemed to gradually fade. I watched the second half through my fingers!
If anyone thinks we should get all excited about the effort put in the first half then we really need to look at what we should expect from our team. Yes we 'got stuck in' -– but what did we actually create- how many saves did their keeper make?
The longer the game went on, the difference in class and technique grew. Hard to say (and to see) but we were literally hanging on by our fingertips at times.
It's always tough to lose to a late goal but was anybody unduly surprised? I'm just glad it wasn't worse. Imagine if they'd had Coutinho playing – what I'd give to see the likes of him in a blue shirt!
Koeman talked utter shite after the game to Sky – sounded a touch desperate and diversionary – especially going on about Lovren not getting a 2nd yellow. His tactics were basic and not what we should be expecting from a so called top manager.
My grandson asked me if we will ever beat them. He's only 10 and has NEVER seen a blues victory over them. What can I say – keep the faith? I've been saying it to his Dad since 1995.
I think we are going to have a long and difficult season and patience will be essential. This is not a quick fix gained by another set of Man Utd rejects – Depay FFS?
One last thing – Barkley? Garbage and out of his depth- that wasn't a tackle on Henderson – it was a fucking disgrace? RS captain or not – that could have broken his leg and is indefensible. Two very lucky players. One only got a yellow card the other avoided a trip to A & E.
If Spurs want him, don't delay – take the money and run
Brent Stephens
126
Posted 20/12/2016 at 00:08:49
"Barkley... I see goals" somebody said earlier. What?! I want the lad to succeed but again he was running into cul-de-sacs. Not creating nor scoring goals. I fear he might be on the way out ere long.

John Charles
127
Posted 19/12/2016 at 00:11:22
Not long back from the game, a lot of anger on the way out. Make no mistake, this is a bang average RS side who played us off the park second half.
Losing McCarthy was a major blow as Barry has suddenly aged 10 years. However the substitution of Valencia for Calvert-Lewin was unfathomable and did the youngster no favours at all.
Barkley was atrocious but those banking on Lukaku to pull us into a game or out of trouble are misguided, he is quite simply poor. Isolated or not, you must be able to control a football and pass it to a man in blue.
I am not sure what, if any, tactics we have other than hoof it up to Rom, who fails to control it thus giving away possession and defending nervously – and start again!
A poor man's Moyes.
Mike T Jones
129
Posted 20/12/2016 at 00:14:50
Barkley is shite. End of
Michael Long
130
Posted 19/12/2016 at 00:16:54
Yellow bellies, cowards, shithouses, losers and bottlers.
We put this on our fucking selves tonight by the usual mentality scare vs Liverpool.
I've backed Koeman (still do) however bringing a 19 year old striker on and putting him fucking right wing to track back just shows the negativity around this shithole we call a club.
As far as I'm concerned I couldn't give two fucks about Leicester or Hull because after this performance, it just sums up the shite and cowards we have at this club.
Starting with above. It is proved tonight and last couple of games, Gareth Barry is finished, done and shattered, yet this spineless fucking club give him another contract. Let him hang out to dry with the likes of Gibson, Kone, Osman, Pienaar and Bryan fucking Oviedo.
We are a fucking laughing stock, so the longer Kenwright is in charge the longer to expect failure and spineless activities by the players and them clowns we called a board.
So far behind teams right now it's unbelievable Like seriously, why are we scared of these bastards. It just shows how shite we are. Okay they're second now, however am not just talking about tonight am talking last 6 fucking years. We are a shithouse of a club.
Stekelenburg – shite
Barkley – only local scouser in both starting XI's, yet bottles it the most
Barry – finished
Lukaku – big ego and it's proved he is not capable of playing for Juve or Bayern.
Barkley has one good game and we think he is fucking Gerrard or Lampard when in reality he can't pass a ball to save his life. Should have walked tonight big time (the only slide tackle I've seen him do in the past 3 years.
Like at this rate we are a mid table at best. Nothing more and nothing loss. Stop being nice and fuck these deadwood and shit out because clearly some of then couldn't give a fuck.
Right now, the more I watch Gana the more I feel sorry because he is the only player that tries, shows effort and gets stuck in. The reset if them as faint as am concerned can go.
Tonight, first half we got in their faces, stuck in and pressing. However traditional and annual bottle it came into that last 53 minutes. We allowed them in the game without making an effort or desire driving forward. Instead they just took it like a gang of cowards.
Seriously,if we don't sort this out then expect that second-half performance tonight into every other game.

Trevor Peers
131
Posted 20/12/2016 at 00:17:14
Koeman will buy his own players, and mould them into a team, then we can judge him.
That's what will happen anyway, he will be given at least 2 years barring a relegation battle. I'm sure most of our present attacking and creative options will have been replaced by then.

Anthony Dwyer
132
Posted 20/12/2016 at 00:21:19
Very worrying performance, no ability, very little desire, nothing on the bench and no change of plan from the manager. I worry Ronny is clueless, he doesn't seem to have any idea, we look tactically unaware of what were supposed to do, and he still doesn't know his best side.
I can only hope that he is learning as he goes, and he will change us over the next few windows. The only good thing we have learned is McCarthy and Gana can play together, they allow us to press higher up the park.
We also learned that our bench is weak and Mirallas must be sold if Calvert-Lewin is above him in the pecking order. That's not a dig at young Dominic, it's just Bolasie is first choice, then Lennon, Valencia, Calvert-Lewin then maybe Deulofeu or Mirallas.
Liverpool were shit and still beat us, we didn't ever look like scoring, we don't look like we're in the same bracket as the shite.
The gulf in options they have compared to what we have is huge.
Mike T Jones
133
Posted 20/12/2016 at 00:21:47
I said enough in the live forum. So I won't repeat it, except to say judge Koeman in 2 years time. This team he inherited is shite.
Colin Gee
134
Posted 20/12/2016 at 00:23:00
Another hard luck derby defeat, is there another team that has so much bad luck in games against their biggest rivals?
As for those slagging Barkley off for his tackle, pity he didn't break Henderson's leg.
Have we all forgotten the 'tackles' by Jimmy Shithouse Case on Geoff Nulty? Or Steve McMahon on John Ebbrell? Or Steven Gerrard on Gary Naysmith, Davie Weir and Steven Pienarr? Or Dirk Kuyt on Phil Neville? Or Suarez on Kevin Mirallas and Sylvain Distin?
Mike T Jones
135
Posted 20/12/2016 at 00:25:05
Can't go around hurting people, Colin. Not the answer.
Anthony Dwyer
136
Posted 20/12/2016 at 00:25:47
Another thing we can look at is we thought our billionaire was about to back us big time, yet we took off Valencia the loanee for Calvert-Lewin who's a kid we bought from Sheffield Utd only a few months ago for a pittance.
The squad is poor, although it doesn't excuse the poor management etc. A lot of people are to blame for this shambles.
Roger Helm
137
Posted 20/12/2016 at 00:26:29
Just back from the match – gutted because I thought we might hang on for a totally undeserved point. Still, perhaps the lack of quality on show tonight might encourage the club to get more reinforcements in January who can actually play football.
I thought the defence was solid enough – I like Funes Mori, at least he wins the headers – but the midfield and attack? There is no one who can control or pass the ball. We have so much dead wood it is unbelievable – I can't remember a poorer squad in my time. Who other than Gueye and Lukaku would get in another top half team? Valencia for me is a negative contribution – all he did tonight was lose the ball in dangerous places – I think I'd prefer Niasse. Barry is just too slow for the modern EPL.
Poor Ross is having a nightmare – he can't do anything right. He really needs to move on. Check out his statistics on the comparative sites – not a good read.
Liverpool were a class above us tonight, I was amazed they took so long to score. Let's hope Walsh and Koeman have some idea about who to bring in. 200 miles drive to watch that garbage! Bring back Moyes!
Brent Stephens
138
Posted 20/12/2016 at 00:26:53
I feel sorry for the lads that the first half guts couldn't be converted into at least a draw. It would have provided some impetus to add to the positivity coming out of the Arsenal game.
I am so frustrated that, against a defence as suspect as theirs (look at the number of headers Lukaku won – almost every one), we didn't get others into supporting positions to feed off those headers.
I think Koeman played it too cautiously. Valencia, and then Dom, were largely played in defensively-minded wide positions just ahead of our fullbacks.
Brian Denton
139
Posted 20/12/2016 at 00:26:56
I've just got back after the latest disappointment.
They say 'the form book goes out of the window in derbies' but it's not true. They are usually above us and they usually fucking win! When I started going the match we were slightly ahead of RS in derby wins; it went level in about 1971 and now they're about thirty ahead (cba checking the figures).
We had to capitalise on the spell in the first half when we were on top. We didn't, and the inevitable happened. No positives to take from that performance; we are still miles behind them, and nobody stood up to be counted.
Barry was alas a bystander, and I think we now need to wind the clock down on him. McCarthy looked okay but even before his injury seemed to be blowing a bit. Ross (déjà vu) did a couple of good things then ran down blind alleys.
Happy Christmas one and all.
Rob Dolby
140
Posted 19/12/2016 at 00:28:37
We didn't deserve to get beat tonight. Showed some great desire but not enough quality in the final third. Sturridge was always going to shoot we just didn't close him down, mind you it was a massive scuff but what do you expect against that shower.
All of our subs made us weaker. Barry was miles off the pace, no idea why he is putting the young lad on at right mid when he looks like he has never played there before.
The paragraphs above could probably be added to nearly all of the derby matches I have witnessed over the past 40 years. Is it too much to ask for just the mearest hint of luck going our way?
Shaun Lyon
141
Posted 20/12/2016 at 00:29:25
Argh ...yet another defeat at their smug-bastard, self-ordained-superior hands.
What happened in the second half? We were edging it and then – presumably coming from the manager – they're better than us, let's hang on for a point. We allowed them to press on while we soaked it up. And the inevitable happened.
For anyone at the game on Tuesday, hard to see how some players could be so transformed. Seamus – fantastic, MotM – plays with his heart – and don't think Leighton did too much wrong either.
Barkley... shocking (didn't think he was great vs Arsenal either) and Lukaku – where was the stint he put in midweek? Barry is gone. Just sick of it. I'm nearly 50 and about time things went the other way. Sick of the smug bastards.
Tony Twist
142
Posted 20/12/2016 at 00:31:21
As Everton supporters, we are cursed. Not sure what we have done in previous lives but it must be pretty bad.
Goal given away in injury time just to really knock the wind out of us. Too many players, well really almost a whole team excluding Gana keeping themselves in the first team on previous fleeting moments of averageness.
That's all it takes to keep your place in the Everton first team. The youth must be wondering why they are being overlooked when the first team is shambollic.
That leads me to the car crash that is our manager, Koeman who is blind to the youth. As a coach he has shown us nothing, he is out of his depth and praying for reinforcements to improve things. I can't see a solution with the players we have and a coach who hasn't a clue.
Douglas McClenaghan
143
Posted 20/12/2016 at 00:32:45
At least it wasn't 4-0. I expected the loss but am gutted that yet again they arse a fluke goal. We may not have deserved to win but bloody hell, do the football gods look kindly on them.
Don Alexander
144
Posted 20/12/2016 at 00:33:32
Is anyone surprised by the result and performance? The squad is all but devoid of winning characters with the exceptions most of us agree on, counted on the fingers of one hand.
Koeman cannot be expected to turn this lot into winners against Liverpool or any of the Sky babes. They've never looked like being winners under him, Martinez or Moyes.
I doubt there's another Premier League team going back years with such an abject record as ours in matches against the top teams. We need new players cut from a different cloth to join the likes of the very few worthy of a place in our squad.
I forgive Koeman his silly post-match comments. Seems to me he's only saying what he said in the hope that amongst his fellow managers there's some daft bugger or ten willing to stump up megabucks to sign our "stars" in January. Here's hoping he's right.
Peter Roberts
145
Posted 20/12/2016 at 00:33:55
Yes Brent (#126)... I thought Ross would play well and he didn't. I also thought Lukaku would do a job and whilst he won a few headers he relinquished possession of the ball so frequently that we were penned into our half most the second half. When we thought we would get some relief from pressure he would lose it time and time again.
At one stage the ball was pushed out to him on the right... Coleman overlapped and Lukaku lost it. Coleman ran back, recovered it and played it to Lukaku again; he lost it again and off Liverpool went down their left flank with Coleman swearing his head off.
If we had 10 players who could carry him then fine... But we don't. We need to sell him asap before the footballing world watches more games like tonight.
Btw, Williams was more at fault than Fumes Mori and Baines should have thrown in a tackle on Sturridge.
Steve Barr
146
Posted 20/12/2016 at 00:35:22
We're just crap.
Brent Stephens
147
Posted 20/12/2016 at 00:35:35
Gana. We thank you, even in defeat. Never a lost cause. We want more of your likes.
Mark Daley
148
Posted 20/12/2016 at 00:40:05
Q. What's the difference between our team and a Toxteth girl?
A. They're both guaranteed to go down, but at least you enjoy it when the Toxteth girl does.
Brent Stephens
149
Posted 20/12/2016 at 00:42:38
"I thought Ross would play well and he didn't"
Quite. I fear his time has come. So sad for one of our own. The only thing I can say in his defence tonight was that I think Koeman had him trying to sit on Henderson. Giving Ross a defensive role (and Koeman before has said he wants Ross to stay upfield) just detracts from Ross's positive qualities – to the extent he has any that led to chances tonight.
James Byrne
150
Posted 20/12/2016 at 00:49:26
The game changer was starting the second half without McCarthy.
Without going through a pointless player assessment, let's just single out Lukaku! Has there ever been a worst forward at the club in our history; I'm talking about a forward who is supposed to be "world class", or at least in his own mind.
As a striker,he is supposed to have many components to his game, scoring is just one of them. He can't control a simple ball and has no strength or initiative to hold the ball up and take the pressure off the team in other areas. If anything, he does the fucking opposite and puts us under so much pressure by losing the ball repeatedly.
It's no point slagging off Barkley or Baines or even Barry; our final third of the pitch is pathetic.
Andrew Keatley
151
Posted 20/12/2016 at 00:49:32
This is a serious rebuilding job for Koeman. There aren't many players beyond Coleman and Gana that are making much of a case for being retained. It'll be interesting to see which players are at the club next September 1st.
I don't think Lukaku or Barkley are worth holding onto beyond the end of this season. Lukaku will always be agitating for a move to a bigger club anyway. He stayed to see what the Moshiri / Koeman restructuring might bring, and it's no discernible improvement – so let's face it, he's leaving; just hope we get a decent fee. Hopefully losing Lukaku might allow Koeman to build a team with a better balance.
The penny just will not drop for Barkley. He gets in the way of other players; he even gets in his own way. His decision-making is poor, his execution is often wayward and only occasionally excellent, and he regularly makes the sort of simple errors that should not be seen anywhere in the Premier League. Maybe the penny will finally drop one day – but it seems increasingly like the time might be right to move him on; not just for the club, but for Barkley himself.
Christy Ring
152
Posted 20/12/2016 at 01:00:53
When McCarthy went off, we were a different team. Barry was totally lost. We sat back, absolutely a shambles.
James Byrne
153
Posted 20/12/2016 at 01:04:04
I can understand a lot of people slagging off Barkley and most of the time I get it. But the previous manager has killed this lad before his career could take off. Koeman is just carrying on this suicide mission.
Koeman needs to take a look at Barkley and remodel the lad into a different player by changing his position. Barkley has ability, I have no doubt in that, but he can't deliver as an attacking midfielder. He's just not intelligent enough.
In the second half, Henderson demonstrated a masterclass in a deeper midfield role and he made it impossible for us to attack their defence, but he also supplied vision and calmness to their game.
Koeman has a big decision to make with Barkley, either we sell the lad or change his duties at the club as part of a rebuilding plan.
Mick Davies
154
Posted 20/12/2016 at 01:05:17
Barkley proved tonight what most of us have known for years: he is nowhere near good enough for a regular place in a Premier League side.
He was the most local guy on the pitch, but instead of raising his game against 'the enemy, he just shows his frustration at his lack of a footballers brain, by trying to get us down to 10 players – how he stayed on after that tackle only the officials know.
I thought Valencia worked his arse off but why let him take a free kick, which looked our best chance of a shot on target? Baines baffles me; he's got the armband, so should have taken it himself, or give it to Rom, or even Seamus: we've seen no evidence that Enner knows where the goal is up to now.
And when the Macca/Gueye partnership was broken up, the last person you'd expect to be able to replace the energetic McCarthy would be the Anthony Gormley creation, Gareth Barry; he's finished as a midfield force and Koeman should know this, and have someone like Davies on the bench.
God help us when Gana goes to the African Cup.
Shaun Lyon
155
Posted 20/12/2016 at 01:08:41
Rob at (#140), I can't agree with you mate – do you think we did enough to earn a point tonight?
If it was based on the first half performance then yeah, I'm with you all the way, perhaps even all three. But second half they simply battered us. We were clinging on for forty-five minutes in the hope of a 0-0 with zero attacking intent.
What did we create in the second half? To me Koeman's tactics suggested a deep lack of faith in the players he has and a potentially worrying negativity.
Why were things not mixed up – I realise the injuries to Stek and McCarthy had a massive impact but - as has been said already - why bring a young lad on when you have other more experienced players on the bench?
I'm struggling to match up the performance I saw on Tuesday night with tonight's...
Darren Dennett
157
Posted 20/12/2016 at 01:12:41
Roger (#137), 200 miles to watch a derby! I respect.
Gana has been brilliant since he signed for us and our best player by a country mile.
For me, Lukaku offers absolutely nothing other than his goals, but he can't score goals if the midfield is shite. His first touch is horrendous, hes' got no work ethic or commitment.
Valencia doesn't offer a great deal either but he's nuisance value – he takes players away from Rom, opening gaps which Rom should be taking advange of...,but he can't do it or he can't be arsed.
It's not just Rom – at least eight of that first team squad need binning. I'm sick of hearing "Barkley is this and that" – he offers fuck all
We need to move on Mirallas, Deulofeu, McCarthy, Lennon, Oviedo, Gibson, Besic, Jagielka, Barry – they are not good enough to play for Everton... Barry maybe 10 years ago, but they all need shipping out.
There is no sentiment in my eyes, paying £600 a year to watch shite, week-in & week-out. I still have faith in Koeman and I think he's a really good manager. I'd take the £65M for Rom and £35M for Ross all day long...
Gavin Johnson
158
Posted 20/12/2016 at 01:12:50
"Barkley proved tonight what most of us have known for years: he is nowhere near good enough for a regular place in a Premier League side."
Mick, I can understand your disappointment but you're frankly talking rubbish with that comment.
Kevin Dyer
159
Posted 20/12/2016 at 01:21:33
Gutted to lose so late on. It looked like the kind of game that would be decided by a bit of magic or fluke. It was the latter.
I can't say they didn't deserve it as we were poor second half. We started exactly how Koeman wanted and they couldn't get into the game for 30 mins, then we tired a bit. McCarthy's loss was huge as we dropped back an extra 5-10 yards deeper when Barry came on.
Those blaming Barkley are, quite frankly retarded. He put a shift in, even tackled (okay, fouled) Henderson. What be tried didn't come off but let's face it, offensively nothing did for anyone. Our front 4 (minus Lukaku) pressed effectively but it's almost impossible to play that way for 90 mins unless you can keep the ball.
Gana and McCarthy win the battle in midfield the first half, after that Liverpool dominated. We badly need more energy and combativeness at CM, especially if McCarthy is injured again. If he can't go then give Davies a shot ahead of Barry or Cleverley. I don't get how Koeman doesn't think he's ready yet throws the willing but raw Calvert-Lewin in. Odd.
Anthony Murphy
160
Posted 20/12/2016 at 01:27:28
We psychologically cannot handle that lot anymore... the inevitable shitting of pants. Unfortunately, they seem in a different league – and yet, they're nothing special.
After a relitevly poor season, Coleman has started to show what he can do and has played well the last few games... a coincidence that the transfer window opens soon? Just a thought!
Kieran Kinsella
161
Posted 20/12/2016 at 01:30:00
Liverpool have better players. We can try and play them at their own game, a la Martinez, or battle as in tonight. Either way, better teams usually win. In the end it was the wild card Mane who got the winner. Despite our inadequacies, I could just have easily seen our own maverick Bolasie mocking a winner were he fit.
That apart. Ross Barkley, some say he's crap others say he's suffering cause of bad coaching from Martinez, Roy, Moyes, Koeman, Warnock... Either way, we all seem to agree he's not performing. That's a big problem as he's our only creative central midfielder.
A leaser issue is the DMs. Barry is getting hammered tonight while McCarthy is a hero. A few weeks back it was the opposite. Truth is they're both fairly consistent but not as good as Gana at this point in their careers. Had we a better creative midfielder, their shortcomings would be less obvious as they'd have less cleaning up to do.
Goalies. Go back 30 years and any flat bloke who could pull of the occasional save and boss the defenders was world class. These days we hammer these poor goalies if they're less than perfect in every game. Yeah, Stekelenburg and Robles make the odd error but Hart, Courtois, the new Man City fellow, Mignolet and probably 17 other keepers get hammered week after week. De Gea and Lloris are the only ones people give any respect and even they get some stick. I'm not sure why we as fans hold goalies to a golden standard but it's a bit unrealistic in my view.
Clearly we need better wide men. We need another striker with an eye for goal as opposed to hard workers like Valencia, Squillachi, Kone. We need a CB to replace Jags. But all of this will take time and money. So for now we need to temper our expectations and be patient.
Sean McCarthy
162
Posted 20/12/2016 at 01:36:11
Another Derby disaster. You could see it coming all 2nd half and we had neither the ability or nous to do anything about it. Too many of our first team squad are at best bang average, mid-table team standard, so I guess we shouldn't be too surprised to see us languishing in, well, mid-table. A massive clear out is required for any improvement to be tangible and it needs doing at the earliest opportunity not over the 3 or 4 "Windows".
Realistically who out of our 1st choice 16 or 17 players would interest anyone better than ourselves?? Lukaku? Maybe. But only thanks to his goals cos his overall play is at times woeful.
Barkley? Don't make me laugh!! I listened to pundits on TalkSport this evening "bigging" him up saying they could see him thriving in a Man City or Spurs side. He wouldn't get in Manchester City's ladies team!! He has absolutely no brain, football or otherwise, and that ultimately will be the reason he gets no better than he already is. Someone said earlier he was the Wizard of Oz characters rolled into one. No heart, no courage, no brain. That's him in a nutshell!! Sunderland, Stoke or WBA beckons!!
As for the rest, our goalkeepers were previously the 2nd choice at Fulham and 2nd choice/cup goalie at Wigan!! That might be a clue as to their limitations. We need to spend some money and bring a proven top class keeper in next month. Joe Hart??
Funes Mori is a car crash waiting to happen. Ashley Williams looks past his sell-by date. Swansea did well getting 㾶m out of us for him. Lennon is lightweight runs about a lot but offers very little either defensively or more importantly for a so called winger going forward.
Baines is clearly not the player he was and is less and less effective with each passing game. Barry is a model professional. He's also 36, slow, and a liability. The fact he plays nearly every game same as much about the weakness of the squad as it does about the player who has been a credit to his profession but time waits for no-one.
Mirallas barely looks interested. Deulofeu even less so. Jags tho missing tonight looks like he's running in treacle half the time and is clearly past his best. Valencia was a West Ham reserve for a reason and the idea of forking out 㾺m for him at the end of his loan brings me out in a cold sweat!!
That doesn't leave us with too many players good enough to see us through this season and onto the next few. People on here bang on about the likes of Davies, Kenny, Dowell etc. These are the same people screaming for Conor McAleny and Luke Garbutt a couple of years ago. Where are they now?? Certainly not pulling up too many trees in the championship and league one!! A sprinkling of kids might work so long as they're alongside players of far greater quality than we currently possess.
2016 has been a truly forgettable year for many many things away from football. Sad to say not even Everton can provide us with some much needed light relief. They merely add to the pain.
Kevin Tully
163
Posted 20/12/2016 at 01:58:58
I find this Everton totally bizarre. How can you play a game of wingers and not have a soul in the box for crosses? Every attack became "schoolboy football" of runners but no fucker attacking the opposition penalty box. Is it the players who are dumb? Or the manager?
I actually can't fault the effort, just the professional ridiculousness of where every blue shirt found themselves on the field of play. Space, find it – that's what good players do. Do we have good players? Did their 'keeper have a save to make?
I've been out for an extremely long weekend, and I can see the fault in our positioning. It's just fucking strange. Loose ball, run outside. Get behind the defence and cross. Not a player in the opposition box all night?
What's the fucking plan?

Gary Heywood
164
Posted 20/12/2016 at 02:21:27
Everton played well and were the better team for most of the first half. McCarthy's enforced substitution is when we lost all momentum and lost the game.
Poor decision by Koeman, he should have played Davies to keep the midfield competitive. If McCarthy had stayed on I think we would have out fought them and won the game.
Playing, well past it, Barry was like playing with 10 men. We lost our energy and bite and forward drive. Liverpool then owned the ball and we had to defend desperately for the entire second half. We defended pretty well but it was a shockingly negative surrender of a game that we could have won.
Liverpool should of won comfortably in the end rather than relying on an extremely late and fortuitous single late goal. I don't think they have any chance of winning the league and I think it'll be a battle between them and Spurs for 4th place.
David Barks
165
Posted 20/12/2016 at 02:51:29
21 years without a trophy, 2 wins in 12 matches, every derby is either a home draw or a loss. They demand to challenge for trophies, we accept top half league finishes as "progress".
We're a sick joke and a sad reflection of what Everton once was and should be. But hey, people keep getting excited about having a new stadium in which to watch us lose to them, such ambition.
John Pierce
166
Posted 20/12/2016 at 02:58:30
Koeman looks what he is. A limited coach unable to improve on an existing playing staff which granted are ageing, and lacking in real quality. His record is not only appalling by the standards I expect, it is no improvement on the previous 3 years.
Have you seen any development in the existing playing squad under Koeman? Nope.
Now since we need to make several steps to reach the newly ambitious Moshiri's goals that will require a season or two of over-achievement with players less able than the stated ambition. Because chicken and egg dictates, we cannot attract truly better players until we finish high enough.
This can only be achieved through rinsing the absolute most out of the existing playing squad. Koeman cannot do that.
He is also a safe, conservative coach who relies too much on physicality to win the game. Brawn may earn you the 'right' to play in a game but you need the brains and a rapier to close it out.
For our brains see Barkley based on his position in the team, he has neither the guile or the wit. Our rapier is Lukaku, essentially a battering ram with little finesse to kill off opponents.
We play Luddite footy under a Luddite coach. We are going backwards fast under Koeman.
Time to cut the guy loose and start over.
John Daley
168
Posted 20/12/2016 at 04:23:32
Sean @162,
Whilst I'm sure many will agree Everton are currently weighed down by their fair share of deadwood, truth is: they're never going to get the chop en masse like you seem to be calling for. Nor should they.
It would be like prescribing Seppuku for a particularly bad case of the squirts. Overkill and footballing suicide in one fell swoop.
You name Lukaku, Barkley, Lennon, Valencia, Mirallas, Deulofeu, Barry, Williams, Funes Mori, Jagielka, Baines, Stekelenburg and Robles as players not good enough and who need to be dispensed with? Not only that, but "it needs doing at the earliest opportunity not over the 3 or 4 Windows"?
So, are you seriously saying you would ship 13 players out in January (where to, nobody knows) and kick on with a core of Coleman, Holgate, Gueye, Besic, McCarthy, Gibson, Oviedo and Kone et al? Something leads me to believe that even Baldrick might hear the faint sound of a few alarm bells ringing at the back of his mind if he pulled his hand from his arse to find that particular 'cunning plan' crapped into his palm.
Then what? Magic up 𧶲m or so to splash out on higher quality replacements for your squad of scattered rejects, because... y'know... we found frittering it away so fucking easy in the summer? So much so that Moshiri was basically re-enacting Brewsters Millions, minus the baseball bollocks and a reanimated Richard Pryor (although, to give him props, Koeman can sure do a mean John Candy), only pausing for breath on his relentless spending spree when that pesky clock on Sky Sports called a halt to proceedings?
Not the way I remember it all. Despite the rumoured 'riches' for Ron to run riot with, we seemed to have great difficulty getting actual deals over the line and convincing players we were chasing to stop pissing about like Duncan Norvelle and put inky pen to pesky paper.
"They're all shite. Bin 'em off!" is an easy, reactionary, shout to make, but sometimes you need to take a step back and consider, rationally, what sort of picture is likely to remain after you've rounded everyone up and shoved them all out of a wide open door:
Kunal Desai
169
Posted 20/12/2016 at 06:24:20
This fixture twice every season reminds me of a young skinny whimp trying to pick a fight with boy twice the size in the playground. Every time he picks the fight he gets slapped down. Just fucking forfeit the 6 points every season rather than putting ourselves under this torture every year.
Will Mabon
170
Posted 20/12/2016 at 06:33:51
I'm gonna be in a minority here but I thought we fared much better than I expected. We carried into the game many of the improvements shown in the victory over Arsenal. We lost by a tatty goal to a current form team. For thirty minutes, Liverpool were pulled all over the place and barely got near us.
The last couple of months 'til the Gooners match have been woeful, as bad in some ways as I've seen from an Everton team. There was more spirit and endeavour in that first half performance last night than in the ten games previous to Arsenal.
I won't go through all the individual performances but I feel that the tone is a little more pessimistic than warranted, based on what I watched. The players have finally found some of their belief in the last week: where it's been or why it's been absent, I don't know for certain but I have my suspicions.
The missing elements for now, are improved fitness if possible - but most desperately, some tactics and a game "plan" that don't look like they came from the early/mid '70s. That second half harked back to the days of Kenyon, Hurst, Lyons et al, with Ross playing the role of Mick Bernard with that welly on Henderson. You could almost hear the half time team talk.
We will win few honours with the current squad as is, but we do not need a wholesale clear out. We have some capable players - they are not the problem.
Mike Green
171
Posted 20/12/2016 at 08:19:42
Amazingly every Red I spoke to yesterday said they weren't looking forward to the game; no such thing as an easy derby game, were nervous, hated these fixtures etc.
What?!?
If I was them I'd have the champagne on ice, feet up and cigar at the ready – we make it a veritable bi-annual treat for them every year nowadays.
Maybe it's just the thought of seeing them lose to us that gives them the willies – most of them know someone who's seen it happen and apparently it depressed them for weeks
Mike Green
172
Posted 20/12/2016 at 08:52:33
Also, I no longer go into these games thinking
if
we'll lose, I go into them wondering
how
we'll lose; 4-0 thrashing (usually the feeling when playing away), soft penalty decision, backs against the wall after going down to 10 men but not holding out, insipid performance but ultimately losing out to the worst Liverpool team in decades, 94th minute rebound of the post – that sort of thing.
When it happened last night I had more of an "Aaah... that's how they did it this time..." than a wailing and gnashing of teeth. That probably makes me as bad as the club and the players of the last few years but the sense that we simply don't win these games anymore is totally ingrained in me now, to the extent that a big part of me no longer cares.
Dave Abrahams
173
Posted 20/12/2016 at 09:08:25
John (#166) – Lukaku is a battering ram ? If he is, he is a cotton wool one!!!
Dave Ganley
174
Posted 20/12/2016 at 09:25:26
We are simply not good enough. The effort was there last night but the quality wasn't. I thought the atmosphere was excellent, if you can't do it in that cauldron then you shouldn't be playing.
I have to admit I thought Lukaku did okay last night. He won almost every header up to him, held the ball up okay and tried to run at RS with little support. Nobody ran off his headers and nobody offered an outlet when he got the ball.
Those also slating Baines were obviously watching a different game to me. I thought he marshalled that left side okay with no too much support especially when Lennon tired in the 2nd half.
McCarthy going off did change the dynamic of our performance in the 2nd half but there's no getting away from the fact that we are just not fit enough and we don't create nearly enough chances against decent opposition.
Ross certainly put the effort in but he just doesn't have the composure or know how to unlock defences. Playing in that No 10 role you have to be the playmaker and he just isn't that. People may point to him providing more assists than anyone else but that's because nobody else really does and the fact that he plays in that important role he should have created goals. It's just not enough, not nearly enough.
Whether there is a case for him to play deeper alongside Gana is open to debate but he is not and never will be a No 10. All top midfielders in his position need to be able to create and defend and at the moment he doesn't do either very much.
The shape of the side just isn't right. Obviously Koeman doesn't trust Mirallas or Deulofeu so we desperately need another winger. Bolasie's injury is a blow. Lennon is all puff and no quality. Barry is just too slow for top quality football.
Goalkeeper, centre-back, No 10 and winger should be top of the shopping list. Whether that will transpire is another matter. In the meantime, it's putting up with those smug bastards yet again for another few months. FFS, just get sick of disappointment.
Stan Schofield
175
Posted 20/12/2016 at 09:35:43
Liverpool are, like last season, an ordinary-looking and workmanlike side. But we are even more ordinary and workmanlike at the moment, and we make ordinary teams look good. The standard in the Premier League looks fairly mediocre overall. The plus side of this for us is, I believe, that it won't take much to get us to a point where we do compete at top-6 level consistently.
Player-for-player, there's little difference between Liverpool and us, and indeed I'd say we have the more talented players overall. But our organisation and tactics, and deployment of players, looks way off the mark. In fact, many of the suggestions on TW look better than the team selections and tactics put out by Koeman at present.
He just seems to harp on about more pressing, without addressing organisation and tactical issues properly. Not impressive, despite the win over Arsenal last week.
Colin Malone
176
Posted 20/12/2016 at 10:13:38
We worked hard in the first half but, as soon as we got the ball up top, Zilch.
Rom and Ross have been playing together for, is it three seasons? but every game you would think it was the first time they have played together.
What a difference Rooney would make as our Number 10. Then go for a centre forward who does not want it on a plate. Javier Hernandez.
Colin Malone
177
Posted 20/12/2016 at 10:39:52
I cannot understand the criticism of Ronald Koeman. He wanted the players to press, face up to the opponent and to put a shift in, which they did, so the mentality of the players is changing to the Koeman way which is positive.
We would have got battered under Martinez.
Geoff Evans
178
Posted 20/12/2016 at 10:47:20
A Premier League club with a Championship mentality full of, at best, average Championship players. I say 'at best' because some aren't even that good.
I am seriously starting to believe that there is a hidden agenda at this club. We just seem to want to invest in mediocrity or maybe that is all we can attract.
Paul Conway
179
Posted 20/12/2016 at 11:15:08
It must be horrendous to be a young kid, or adolescent supporting Everton nowadays. There are simply no heroes.
My personal boyhood hero was Joe Royle.
That could be a song... Whatever happened to those heroes? No more heroes anymore. :-)

Nathan Rooney
180
Posted 20/12/2016 at 12:30:10
Gary (#164) – nail on head.
The injury to Macca killed us. Before he went off, we had controlled aggression, pressing and the in-your-face attitude needed in midfield, as the basic starting point for any decent performance, never mind in the derby.
You can understand our chase of Schneiderlin, if rumours are true. (oh for Mo Besic last night – get well soon mate!). Valencia tiring and needing to be subbed, also disrupted our play.
At least we gave them a contest (of sorts), as opposed to the standard capitulation that Señor Bullshit continually delivered.
In the first half last night, they couldn't live with us, and were shown up for the preening, shady shitehawks they are.
Henderson, that prick Lallana, Milner to name but three, started to referee the game with their constant bitching and moaning, aided and abetted by Dean, the complete and utter incompetent coward!

Yes, Barkley should have seen Red for the late tackle, but can somebody please explain how, when Coleman is booked (rightly so IMO), Lovren walks away scott free, when already on a yellow!?
Their bench were going apeshit trying to get the big dope to back away from the ref, and guess what, it worked. Both linesmen were atrociously biased as well, for me.
For all Barry's qualities, that was not the game he should have been brought on for – he simply doesn't have the legs any more, and for me wouldn't get on the pitch against the majority of the top-half-of-the-table sides, or any side that has plenty of legs and movement in the midfield.
That is my one main issue with Koeman – the choices he is making for subs/bench and the reluctance to use some of the U23s – Davies has shown enough to warrant playing time, as does Holgate, plus others. The likes of Cleverley appearing on the bench do not make for happy thoughts.
The argument is that he is working with the tools he has got, and this is not yet his team, it's mostly Martinez's bunch of shithouses and frauds – but could there be other, better, more progressive ways of going about things (youth players/tactics) that we should be expecting from a manager on six million quid a year??

I am not totally convinced by Koeman, but also I am more hopeful then I have been for a long time, due to the last two performances. Who knows, a few decent transfer windows and we may see a real Koeman team take shape.

Pat Kennedy
181
Posted 20/12/2016 at 12:34:55
Stan Schofield (#175)
Hate to disagree with a fellow blue but saying "We have the more talented players overall" is simply kidding yourself.
I can think of at least 4 of their players I'd take in a heartbeat -- Coutinho, Mane, Lallana and Henderson -- who would vastly improve on the current squad.
It's always the way on ToffeeWeb to slag off Liverpool even when the evidence is hitting you between the eyes -- they are simply a better team than us and wishing it was not so, is just delusion.
I want to beat them as much as anybody on here (God knows it's been long enough) but playing like we did is never going to do it. Hate to say this but, unlike Arsenal, they have some fit nasty bastards who can dish it out. Once we ran out of steam, they simply pressed us to death.

Kim Vivian
182
Posted 20/12/2016 at 12:50:01
Why is it we cannot have Rom and AN Other marauding in the penalty area and balls getting put into them, on the ground, in the air, over the top – whatever.
At one point yesterday (2nd half) Rom was doing a decent job on the wing and I thought to myself ..."How is he going to put a cross in and then get in the middle to meet it?" No-one was putting themselves in the picture and the box was like a bloody desert island.
Can somebody tell me what precisely Ross is good at? He can, on occasion leather a good shot on target but usually scuffs it. His ball control seems okay but bang on average for a Premier League player, he always seems to take one too many touches (but then so do most of our lads), he seems most of the time to be just timid on the ball and will not take the bull by the horns and just go at the opposition.
I have not been a serial knocker of Ross and have so much wanted him to prosper, and have seen glimpses of what he is potentially capable of, but I think this is a bud which is never going to truly blossom. As for that Pantomime of a free kick at the end which ended up halfway up the Gwladys Street, I was speechless.
I was gutted last night after Tuesday – had high hopes – and if there is any sort of silver lining, it was that we were not intimidated by them. On the contrary they looked pretty unsettled from the start while we did not let them play their game.
2nd half of course was what a different story. They turned the tables by not letting us play or even get much of the ball tbh, and at the end of the day we lost a football match to the better team.
Fact that it was Liverpool? Fuck it, it's football, and they are just another team. We simply were not good enough on the night and I refuse to make my suffering any worse just because it was them, and take comfort from watching the likes of Bournemouth stick 4 past them.
What the short- and mid-term prospects are for Everton I cannot predict. We are not a particularly attractive prospect for 'flagship' signings, we seem to be lacking fire and spirit but will grind out the odd good result whilst also spunking points on 'bankers'.
Is it the coaching? I do not know but sometimes I think we are are own worst enemy. I am not joining the Koeman Out brigade but do wonder if we might have had a tilt at Howe.
Sorry for this slightly disjointed post but that is how I am feeling today.
Frank Crewe
184
Posted 20/12/2016 at 13:02:14
We can't complain that they didn't put in the effort. I think we just don't have enough skill.
Koeman had hard luck having to make two enforced changes. But really he should not have sent on Barry. He's too old for the high energy pressing game that Koeman wants to play. We lost all our impetus and they got on top. Barry is the prime example of being unable to teach an old dog new tricks. He's been around the block too many times to change the way he plays. Maybe 10 years ago he could have played a high energy pressing game but not now.
I still say 4-4-2 would be best for us. Lukaku is completely ineffective ploughing his lone furrow up front. He's almost useless with his back to goal and last night he kept floating out wide. He needs help up front.
I thought Robles played well. I don't think he's any worse than Stekelenburg and considering his age (26) maybe he should be first choice.
Let's talk about Koeman's buys. Look at the players he brought in at Southampton. Tadic, Bertrand, Pelle and Alderweireld. All these players were in their twenties, fit and strong and they were all successful buys. What do we get?
34-year-old Stekelenburg. An average keeper at best.
32-year-old Williams. Decent enough CB but hardly a world beater.
Bolasie. The right age but inconsistent. Now he's crocked and probably finished at Everton. No player who relies on pace can be out for a year and expect to be the player they were.
Finally Gueye. The one Koeman buy of the right age and quality that Everton require and the one player we can say has been a real success.
Liverpool, Spurs, Man Utd, Arsenal, Southampton are putting out sides with an average age of 25. Our average age is 29 and yet we keep extending contracts of players that are already over 30. Last night we started with 3 players over 30 and ended up with 4 when Barry came on. It would have been 5 if Jags had not been suspended. Liverpool only had one 30-year-old in Milner on the park.
Koeman cannot play a high pressing game with such an ageing squad. He has to bring the age profile down by at least 4 years. What I find most frustrating is that we already have decent young players at the club yet they never see the light of day. If it was up to me Galloway, Deulofeu, Davies, Holgate, Calvert-Lewin would all be in.
Jim Knightley
185
Posted 20/12/2016 at 13:02:57
We need talented technical footballers – Liverpool have a midfield of them, and our midfield is bereft of guile and passing ability. Barkley isn't that, and those who think he is need to stop watching Match of the Day and start watching entire games.
We need passers not runners. Barkley must be replaced by a playmaker, and we could do with a deep lying one to to orchestrate the play from the centre. We have to be able to pass a ball – the Arteta and Pienaar of old would transform this team.
We have a striker capable of 20 goals, a wonderful DM, a superb right back who is part of a generally decent defence lacking a goal keeper and a youthful CB. Most of the rest of the team is sub-par. Lennon is an average Premier League player at best. Barkley too. McCarthy is a pure defensive midfielder but we have one of them in Gueye, and we can't play both every match. Barry does not have the energy anymore in games against better teams.
Deulofeu has so much potential but is not playing enough. Valencia is not good enough. Mirallas is below par at the moment but at least he has some creativity and goals in him.
We need January to come quickly, and we do not need Brahimi but a player/players who will dictate the tempo. Until then, we should reinstall Deulofeu and give him the license to attack. He is the most incisive passer in our team and we need someone to pass a ball. Winnable games are coming and we need victories and a cup run.
Geoff Evans
186
Posted 20/12/2016 at 13:11:31
Jim (#185): Don't pin your hopes on anything in January. I think the business has already been done. Baines and Barry with new contracts and an 㿼M loan.
More of the same, lots of big promises and nothing else.

George Cumiskey
187
Posted 20/12/2016 at 13:15:04
Mike Long @130, I agree with everything you said.
The club has got the stench of fear running through it from top to bottom, and has had all the time Kenwright has been at the helm. I can't see anything changing while he is still calling the shots; it's time for him to move on.
People are saying that Baines had a good game – I didn't see it. The only two I'd keep are Gana and Coleman – the rest should go. But I'm not sure Koeman is up to the job!
Matthew Williams
188
Posted 20/12/2016 at 14:02:48
Forget the January window, no decent player will sign. (do you trust Koeman's choices?)
Firstly, bring back ALL our loan signings add a few youngster's and fringe player's... and fucking start again. Just tell 'em to get to 40 points as fast as possible and write off this season.
In the summer, keep who performed well in the 2nd half of the season and fuck off the rest.
Forget a good Cup run too, btw Barry should go... NOW!
Stan Schofield
189
Posted 20/12/2016 at 14:04:36
Pat @181: I don't think I'm kidding myself. For example, a year ago Barkley was playing well, whilst Coutinho (and Firmino) wasn't, and you would have chosen Barkley over Coutinho then. But now it's the other way round.
Klopp has got them better organised, and Koeman needs to do the same with us. Klopp has got his players used to the pressing style, but it's taken him time, and he said it would. I think it's similar for us. Better pressing, as Koeman keeps saying.
But of course, pressing is only one half of the story. The other half is better organisation, tactics, using players to best effect. I think that's where we need to improve, over and above the pressing.
And I think we have the right players, we just need to use them better. I've seen them perform well in the past, and see no reason why they can't do so again. It's not really blue-tinted specs!
Ray Jacques
190
Posted 20/12/2016 at 14:07:44
Merry Christmas from all the players and coaching staff at Everton to our loyal fans.
Sarcasim is the lowest form of wit so they say. Well I am getting to the stage where, after 45 years of support, I can't be arsed anymore.
Geoff Evans
191
Posted 20/12/2016 at 14:24:23
Stan: With respect, mate, the only question that Barkley is the answer to is:
"Whose that big, useless twat in the blue shirt".
On second thoughts, maybe that doesn't narrow it down enough.
Declan Campbell
192
Posted 20/12/2016 at 14:44:59
Anthony Murphy, bollocks complete shite. Coleman always tries his hardest, someone has a few good games accused of only doing it to get a move, pure crap.
Jay Griffiths
193
Posted 20/12/2016 at 14:55:55
Pressing, pressing, pressing! I keep hearing the word 'pressing'. That's forcing the opposition to concede possession. What's our MO when we do have the ball and the pressing is done. Pressing? Depressing.
Mike Doyle
194
Posted 20/12/2016 at 15:07:57
Mixed opinions on the various threads post-match.
We need Ken Buckley and his 'Room of Nonsense' friends to summarise.
Ken... where are you?
Jay Harris
195
Posted 20/12/2016 at 15:32:02
Frank,
I agree with a lot that you say.
The game definitely turned against us when McCarthy went off and Barry's lack of pace was very noticeable with their high pressing game.
I also agree with the point about an ageing squad but it will take time to bring about the changes we need. You can't just throw young inexperienced players in to the Premier League, they need careful nurturing.
Barkley has been ruined for me – something Moyes would never had done. Galloway has regressed from the player we saw to the extent he can't even get in West Brom's first team in place of Nyom, who is pretty poor.
Matthew Williams
196
Posted 20/12/2016 at 16:01:16
Anthony Dwyer nailed it for me; many people are at fault for this mess we're in.
Our football is so bad, always depressing to watch... Do neutral footy fans watch our games??? (Doubtful)
We just need one man to say... enough... THIS SHIT ENDS NOW!
Frank Crewe
197
Posted 20/12/2016 at 16:16:51
Jay, as I pointed out, a lot of clubs are putting out sides with an average age of 25. Man Utd are among them and that is with the 35-year-old Ibrahimovic in the side so imagine how young the rest of them must be.
At what point does a young player cease to be a young player? In life outside of Premier League football 30 is not old but in Premier League football it is verging on old. So players almost have to be first-team picks by the time they reach their early twenties or they can just forget it.
Odd run outs as subs here and there isn't going to improve them at all and loaning them out just makes them feel insecure and unwanted. Either use them or lose them and buy some other clubs young players instead and play them.
But to continue with "experienced" players who have spent the last 10 years letting us down just because the young players lack said "experience" seems ridiculous to me.
Remember Barkley is 23. He's a third of the way through his career yet he looks no better than he did when he was 19. Is he still a young player?
Ciarán McGlone
198
Posted 20/12/2016 at 16:54:02
Apparently Barkley is only 20... As he had a couple of years out injured...
Rodwell is a better footballer.
Frank Crewe
199
Posted 20/12/2016 at 17:11:13
Actually Barkley is in the same boat Rodwell was. They both lack consistency. We can't figure out their best position. Rodwell failed to reach his potential and Barkley looks like he will do the same.
This seems to have been a problem with Everton's young players for years.
Stephen Brown
200
Posted 20/12/2016 at 17:20:42
Maybe expectations need to be reviewed with regard to Ross Barkley. He's clearly not as bad as some suggest on here but also clearly not as good as we hoped he would be by now!
He needs to be retained as an impact sub/squad player covering central and attacking midfield but his place as a regular starter has to be one of the main areas to improve in January with a player with more consistency and most importantly someone with guile and a football brain!
Or is it best for his best interests to leave the goldfish bowl and resurrect his career elsewhere?
Roger Helm
201
Posted 20/12/2016 at 17:44:26
I took my wife yesterday, for her second ever football match – the first was the Man Utd game. She knows almost nothing about football but she found the atmosphere brilliant.
I asked her what she thought of the players. She said Barkley seemed slower than the others and often not knowing what to do. I explained that because he is a local lad the fans like him. She said our best player was Gana – very keen and very mobile, she thought.
From the mouth of babes I'm actually a bit concerned she might become a fan and have to go through what I go through most weeks.
Andy Crooks
202
Posted 20/12/2016 at 21:45:31
I often post some hysterical stuff after a gutting defeat but there have been some comments on here about Ross Barkley that are deranged.
Also, I do not think there was a lack of effort and I did not see "cowards" or "shithouses", perhaps some players who are not of the standard we need to advance, but that's a bit different.
Damian Wilde
203
Posted 20/12/2016 at 00:01:08
Andy, Ross needs to leave, he's shit.
Sean McCarthy
204
Posted 21/12/2016 at 01:31:37
John Daly - I'm well aware that we are not about to ship out the 10+ players who we need to all in one window. What we need is to bring better players in and move the deadwood on as soon as we can.
And if you seriously think I see Everton futures for the likes of Gibson, Besic, Oviedo etc then all I can think of is that all that wanking you've been doing over your Ross Barkley posters is having a detrimental effect on you. Maybe next season you can buy a WBA or Stoke shirt with his name on the back and you can still pretend to be him when you're allowed to play in the park.
In the meantime fuck off and don't put words in my mouth.
Happy Christmas
Anto Byrne
205
Posted 20/12/2016 at 03:06:40
FFS, we have to start from somewhere and we have a coach that has demonstrated he can play fluid football.
We really are an average team relying on player's like Barry and McCarthy and the ineffective Barkley who needs better players around him and a very strong captain on the pitch.
Neither Robles or Stekelenburg are good enough. Baines should be sold along with Coleman while we can get a decent price. Cleverley and Mirallas offer very little and should be allowed to leave. Barry should be coaching. I'd like to keep the younger players under 27.
Rom is not a traditional target man so play to his strengths. There have been signs of the football we are capable of but there is no consistency. Perhaps it's a good run in the FA Cup that can get us going, a la Kendall '84. Anyway, keep the faith and have a very Blue Xmas.
John Daley
206
Posted 21/12/2016 at 04:19:51
"
John Daly – I'm well aware that we are not about to ship out the 10+ players who we need to all in one window.
"
Well, that just makes it worse.
If you're even vaguely aware that such a vicious mass cull is never going to be on the cards, then why would you go through the bother of expressly advocating such action ("A massive clear out is required for any improvement to be tangible and it needs doing at the earliest opportunity not over the 3 or 4 windows"), before following up by trotting out the names of the thirteen players you believe should be told to piss off forthwith? Bizarrely pointless bit of prattling on if you already know beforehand that you're pissing in the wind.
"if you seriously think I see Everton futures for the likes of Gibson, Besic, Oviedo ...fuck off and don't put words in my mouth."
Let's take it slowly and see if it starts to sink in.< You offered up the names of thirteen squad members that need to be shipped out "at the earliest opportunity".  I merely pointed out the players that would remain after you pulled off a move clearly cribbed from 'My First Master Plan: For Meffs'. 
How hard is it to grasp?
By not including Gibson, Besic and co on your lengthy 'Kill/Cull/Clown' list, you are indeed saying they have some sort of an Everton future: a lengthier Everton future than those you state need to be turfed out on their arse "at the earliest opportunity ".
As for the 'you've totally got Barkley tied up in your basement for Bukkake target practice, you have' bit? Which person is the more likely to be pondering pulling off such perverted mopery? The bloke who never even mentioned him in his post, or the other fella who has just shown a propensity for 'I've not really thought this shit through' plotting Hannibal Smith would piss his kecks at and who chose, without prompting, to posit a scenario where posters of Everton players are turned into 'stickers' through fist-pumping splash-back?
Damian Wilde
207
Posted 21/12/2016 at 08:57:47
John Daley are you Eugene in disguise?
Links, statements in bold and occasionally strange posts... adds up!
---
Add Your Comments
In order to post a comment, you need to be logged in as a registered user of the site.
Or Sign up as a ToffeeWeb Member — it's free, takes just a few minutes and will allow you to post your comments on articles and Talking Points submissions across the site.
© ToffeeWeb