Report
Bellew spirit sadly lacking at the Lane
By Michael Kenrick
05/03/2017

224 Comments [Jump to last]
Share: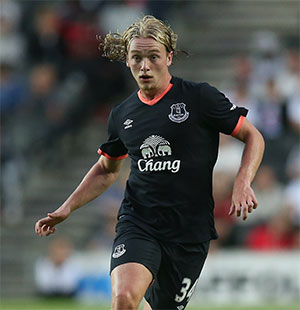 Some magic needed from the Everton youngster who starts agaiin.
Tottenham Hotspur 3 - 2 Everton
Ronald Koeman brought back Gareth Barry to take on Tottenham Hotspur in Sunday's early afternoon game. Romelu Lukaku was supported by Ross Barkley and Tom Davies in attack, with Ademola Lookman on the bench.

Proceedings commenced in bright sunshine, with the home side kicking off but Everton getting forward early, the ball evading Davies. Things were rather scrappy in midfield, Barry clipping Dele Alli's ankle for a threatening free-kick that Eriksen powered off the Blue wall.

Baines and Walker had a fine tussle, Walker throwing himself down but only getting a corner. Spurs were a little more aggressive into the ball than Everton, Barry needing to block a shot from Ben Davies.

Tom Davies had a chance to run onto a nice pass but Eric Dier was live to it. Everton, however, were looking better and moving the ball quicker through the tight midfield but Barkley's turn was blocked. Robles launched a massive hoof for Lukaku to chase that bounced on the Spurs 18-yard line.

Schneiderlin gave away a needless free-kick for minor pressure on Alli but Barkley headed the danger away. Out of nothing, though, a rocket from Kane opened the scoring, the ball somehow evading Robles completely despite him having it seemingly well covered.

Kane then powered in and almost got a second as Everton could not contain him, the Blues rocking back on that shocker of a give-up goal. Barkley tried to set up Lukaku but Baines could not wrap his foot around the shot and Spurs attacked again down their right, this time Robles gathering Kane's narrow-angle shot.

Eriksen got free but hooked his shot wide as the game became more open. But the Blues were rattled and Funes Mori was lucky not to get a yellow card, the ball fired in well by Eriksen, Kane claiming a drag by Williams. Everton were all at sea as Wanyama hit the post but Kane was offside as the rain swept in. Gana was called for a foul on Ben Davies and he saw yellow after a series of Everton players had not been punished.

The Blues were given zero time on the ball, every contact a challenge, but Tom Davies got them forward and Barkley's cross was palmed away by Lloris. Davies was brilliant dispossessing Spurs and breaking up another attack but Spurs were in buoyant mood. Finally, Everton strung a few passes together and finally got a foul called in their favour. Barkley, however, was hesitant each time he needed to be decisive, as Lukaku almost got his foot to a good ball in over the top from Barry.

Everton won a corner that Barkley drove in low and Funes Mori got a clip on it but it was defended away. Everton were able to take the bite out of Spurs play, slowing things down in the 5 minutes before half-time, Tom Davies called for a very marginal offside decision.

No changes at the break, his Everton side with a daunting task to turn things around... not with the pointless hoof that started the second half, conceded possession and saw Spurs attacking. Coleman and Ben Davies collided heavily and Spurs rough stuff on Barkley was spotted by Michael Oliver. But Everton still struggled to play their passing game against the close attention. But Lukaku back heel got Gana overlapping and he put in a good cross that Barkley could not get good contact on.

Off a Spurs corner, Alli got a header on target but it was saved by Robles. But Everton could not break out and Vertonghen ran in, Robles well-positioned to bat it behind. More pressure, Wanyama heading over. Tom Davies failed to release Lukaku. A really stupid bit of defending gifted Kane his second, Robles rolling the ball to Schneiderlin who was immediately pressed and the rest was pathetically predictable.

If the task had seemed difficult, it was now impossible, two soft goals given up far too easily. Lukaku did cross in well to Barkley but he needed too much time and was closed down.

Barry overhit his cross after some better Blues play but Koeman decided on a double switch, Mirallas and McCarthy in for Davies and Barry. Vertonghen ran in again and needed a good block from Funes Mori. Mirallas got the ball but could not dig out the shot. They won a free-kick wide right but Vertonghen headed away Barkley's effort. Coleman overlapped well but his cross was horribly overhit.

Another good run by Coleman ended up with a foul and a yellow card for Dembele. Barkley cut the ball back behind Mirallas and he was immediately closed down. At the other end, Kane was keen to get his third successive hat-trick off a series of Spurs corners.

Everton's first decent chance came when the ball was finally played to Lukaku's feet, Vertonghen slipped and the big man did brilliantly to draw Lloris and fire past him into the corner. At the other end, Kane got free again and tried to chip it past Robles, who was not having that. But Everton were finally showing some intent to get forward, Barkley weaving and twisting before firing in a good cross to win a corner, but Lloris punched it clear and Everton were on the back foot again.

A bouncing ball almost saw Lukaku force the ball beyond the advancing Lloris, but he had no luck with the rebound as Kane went off. Williams was fooled by Janssen, giving away a free-kick that was cheekily buried by Alli running through everyone. Game over.

Or not. A brilliant free-kick was swept home by Valencia but it would make no real difference. A very poor result for Everton, ending their unbeaten streak and showing they are sadly no match for the top sides just yet.

Tottenham Hotspur: Lloris, Walker, Dier, Alderweireld, Vertonghen, B Davies, Wanyama, Dembele [Y:76'] (78' Winks), Eriksen (87' Sissoko), Dele, Kane (90' Janssen).
Subs not Used: Vorm, Trippier, Wimmer, Son.

Everton: Robles, Coleman, Williams [Y: 90+4'], Funes Mori, Baines, Gana [Y:29'] (82' Valencia), Schneiderlin, Barry (64' McCarthy), Barkley, Lukaku, T Davies (64' Mirallas).
Subs not used: Stekelenburg, Jagielka, Holgate, Lookman.

Referee: Michael Oliver
---
Reader Comments (224)
Note: the following content is not moderated or vetted by the site owners at the time of submission. Comments are the responsibility of the poster. Disclaimer
Jim Bennings
1
Posted 05/03/2017 at 11:07:22
People have the attitude that we are "not equipped to go there and win" but were Swansea equipped to win at Anfield??
Were Watford equipped to go and win at Arsenal last month??
For Christ's sake, it's that negative small club mentality that has held us back for years, we are 7th with umpteen international players in the team...
Joe O'Brien
2
Posted 05/03/2017 at 12:55:02
No Lookman and Barry starting... I hope Koeman knows what he's doing because I'm not sure that Barry will have the legs for this match. On the flipside, the bench looks very strong. I would have preferred McCarthy to Barry, though...
John Pierce
3
Posted 05/03/2017 at 13:13:17
Jim Bennings, totally agree. This is free swing at a club further down the road to us.
His selection smacks of bending to Spurs rather than trying to play to our strengths.
Midfield looks cluttered, Rom already isolated. Concern writ large across my brow.
Ciarán McGlone
4
Posted 05/03/2017 at 13:23:22
Fairly negative approach with Barry starting. We'll play very deep and invite them on. Can't see us getting much from this.
Marc Sansum
5
Posted 05/03/2017 at 13:24:51
So you'd rather go toe and toe and potentially get smashed?
Mike Powell
6
Posted 05/03/2017 at 13:26:29
Keep the Faith COYB and well in, Tony Bellew.
Christy Ring
7
Posted 05/03/2017 at 13:27:48
I don't think Barry has the pace anymore, I would have started McCarthy.
Stan Schofield
8
Posted 05/03/2017 at 13:43:20
I can't imagine that Barry will be on for the full 90 mins. Looks like taking Spurs on through the centre, but depending on how things go I can see Holgate coming on later, having 3 at the back, and taking the attack wider.
Ernie Baywood
9
Posted 05/03/2017 at 13:52:29
Just as I'm thinking that Kane has hardly touched it... he turns and runs towards Barry... who turns and runs the other way.
Colin Hughes
10
Posted 05/03/2017 at 13:57:07
You simply can't go behind at these top grounds and expect to get anything from them. We never stamp our authority on a game like this and make an impact early on. I expect us to lose all three of these hard away games with the mentality we have in them.
Paul Conway
11
Posted 05/03/2017 at 14:00:22
Men getting well and truly sorted out from the boys.
Haul Barry off now!
Paul Setter
12
Posted 05/03/2017 at 14:02:49
Poor! Not enough service to Lukaku, midfield far too packed... constant passing mistakes seem to be happening; we need a bit of width.
John Graham
13
Posted 05/03/2017 at 14:14:02
Slowly getting into the game more. Good solid midfield to counter Spurs. I expect Lookman will get his chance second half when there will some tired legs and more space. Very strong bench with lots of options.
COYB
Ernie Baywood
14
Posted 05/03/2017 at 14:19:57
Tottenham playing a high line should suit us but we're too happy just to be competitive. Need more runners getting forward. Spurs will be pretty happy that we haven't bothered playing with any attacking wide players.
Patrick Murphy
15
Posted 05/03/2017 at 14:30:30
Having two defensive midfielders isn't enough for Everton, no let's go for three and have no shape or idea what to do when we have the ball. Usual start, look decent for five minutes and then start the self-destruct hoofing it up the park routine to nobody in particular.
Everton are lucky that it's only one-nil at half-time. I know Spurs are a very decent side but do we have to have this continuance of Moyes, Martinez approach at these elite grounds? It hasn't worked for years, if not decades, yet we persist in thinking we can keep it tight and nick one. Keeping it tight is okay but, with no attacking intent or idea, it just plays into the hands of the opponents.
I should know better than to think that Everton can actually play football at clubs they believe are light years ahead of them.
Colin Hughes
16
Posted 05/03/2017 at 14:43:12
Patrick (#15), this is the type of performance and game which makes you realise Lukaku isn't going to stick around, he would have scored had he been in a Tottenham shirt today and playing in the Champions League next season. 2-0 now game over!
John Parker
17
Posted 05/03/2017 at 15:24:12
I said before the game, drop Lookman and Davies for McCarthy and Mirallas. Too much expectation on them, both dipped in form recently.
There was a slight improvement when they both came on; overall most were poor today, but Joel Robles, Funes Mori and Ashley Williams are shocking most of the time and at least two if not all three need replacing.
John Pierce
18
Posted 05/03/2017 at 15:25:18
The scoreline, a distraction to the fact Koeman set it up wrong, we played with the handbrake on. Poor poor performance.
Dave Abrahams
19
Posted 05/03/2017 at 15:26:37
The 3-2 scoreline massively flattered Everton. I think the least said the better but hard to pick an Everton player who had a decent game.
Peter Fearon
20
Posted 05/03/2017 at 15:26:47
Ashley Williams is a stupid lumbering bastard and he comes off like he's like that off the field as well as on. I would sooner see Jags back with all his faults than Ashley Williams. He and Robles between them cost us that game today.

Tony Hill
21
Posted 05/03/2017 at 15:27:32
A flattering scoreline. As usual, we shit ourselves when there is anything at stake – basic technique, game management and focus were all lacking. You cannot start to play with 20 minutes to go.
Koeman must take much of the blame: the initial selection of Barry was incomprehensible against a midfield as powerful and mobile as Tottenham's.
That game was indeed a marker and we're a million miles away. The result was secondary, what was so depressing was the underlying, gutless mentality. I expect no different next season because we will be unable to attract the necessary quality and the likes of Lukaku will, rightly, be off.
This season is now officially over as far as I'm concerned.
Ian Bennett
22
Posted 05/03/2017 at 15:29:02
Ron got it wrong picking Barry, and Joel let himself down with 2 clangers.
Missed Holgate at the back for me with the centre-backs looking weak. Just mark Kane and Alli, for god's sake!
Joe McMahon
23
Posted 05/03/2017 at 15:31:14
We are still way off the quality required. We really need a new stadium asap, to somehow attract (the better) players to us rather than all the teams above us. Baines is at least 2 years past his sell-by date, and Barry shouldn't be starting any Premier League games.
We've had to be patient for decades, us Evertonians; sadly we are gonna have to for a while longer.
John Pierce
24
Posted 05/03/2017 at 15:31:15
This is at least the 4th or 5th time he's got it tactically wrong with his selection. That said, Ross tried his bollocks off today. I thought taking Davies off was a reflection off Koeman's own iffy set up.
Playing Barry neutered Gana, and Schneiderlin. Williams and Funes Mori were exposed, players (except Robles, culpable for the first 2) maybe get a pass today from me as that one's on Koeman.
Ernie Baywood
25
Posted 05/03/2017 at 15:31:33
Forget the scoreline, it flattered us immensely.
4 centre midfielders, no width, everyone on top of each other. Gana had a shocker but was playing a very odd role somewhere on the right. Can't blame a guy for failing when you set him up to fail.
Fair enough, you got it fairly obviously wrong, Ronald, but then watching it happen for 70 minutes without doing anything was pathetic.
Sad seeing Baines so, so finished. Others just had bad days. I watched Funes Mori for 90 minutes and couldn't figure out which is his weaker foot. Williams's brain let him down – he's dumb beyond dumb. Unnecessary risks in distribution from Robles. Seamus was isolated in defence but terrible in attack.
Barkley the only bright spark. Took responsibility and tried to make things happen despite the lack of width around him.
George McKane
26
Posted 05/03/2017 at 15:33:12
Always saying it: Everton's Biggest problem... Everton. Just seem to freeze for large parts of games, we seem nervous on the ball but there were individual errors today all over the pitch. No good slagging individuals off, just really need to get things right for next season.
No More Excuses!

Charles Barrow
27
Posted 05/03/2017 at 15:35:10
Very poor and very predictable performance with that line-up – Koeman needs his head examining – was he not at the Chelsea game? Well I was, and this was exactly the same tactics with exactly the same consequences – why didn't he have an outlet for the attack? Why have Lukaku so isolated? These tactics will drive Lukaku out.
Paul Birmingham
28
Posted 05/03/2017 at 15:35:43
The result flatters, they should have been out of sight in the first half.
Nothing against Barry, but he was off the pace today and the fact Kane stuck in two... both goals shouldn't have happened. Poor goalkeeping and lack of defence being aware, and the third gift to Alli, who couldn't believe his luck, with the defence going to sleep.
How many times over the years have we gifted Spurs, and this shows this team, mentally and tactically, has a long way to go.
Start with a Jimmy Mc the next two games as they will both be tough slugging matches. Shame we don't have Bellews spirit, but at least they stuck in the two chances they had.
Reality check but for me new two new centre-backs for next season, and a goalkeeper, and let's hope they learn the art of communication in this defence. Dissappointing... and so now for the next game.

Roman Sidey
29
Posted 05/03/2017 at 15:35:54
Agreed, Ernie. I've said it a few times in the past year or so, but it keeps applying; that was Baines's worst game I've seen him play. He's done. We desperately need a new left back.
Jim Bennings
30
Posted 05/03/2017 at 15:37:03
Will the penny ever drop that you can score goals and give teams something to worry about if you actually go for it early on???
We start playing too late and commiting men when the game is beyond us. We were totally outplayed today fitness wise and technically and to me the losing mentality in these types of games still exists..
Swansea can go to Anfield and win 3-2, who in their right mind could say we will go to Anfield and produce anything other than the dross we have witnessed there for nearly 20 years!?? Watford win 2-1 at Arsenal last month!!
I suggest this club looks soon into appointing a sports psychologist to address the ongoing inferiority complex that seems to have dogged us for many many years in these types of fixtures. Nothing changes, we never get the unexpected surprise..
Football and sport is unpredictable, it brings about great surprises, but sadly it's always the same supporting Everton..
Each year you can bet your life on no Merseyside derby win and us to fail in the same away games, year-in & year out.
Ricardo Gimpardsle
31
Posted 05/03/2017 at 15:38:12
We lost to a team who have now won nine Premier League games in a row at home, who are playing very well and had a full first team on the pitch. Why do we have to see so many reactionary comments about how bad certain players are in the eyes of such wise experts?
We lost, grow up. The team and the manager will learn from this and hopefully we will not witness this starting eleven again. No width from Koeman and we paid the price. Roll up your sleeves lads and win the next five games, all will be forgiven.
Ernie Baywood
32
Posted 05/03/2017 at 15:38:30
Well Barry can have a rest until we go to Anfield now.
Tony Twist
33
Posted 05/03/2017 at 15:39:31
Why change the side? We seemed cursed having managers who feel the need to change things around. Bringing in Barry, which is crazy, he is just too slow to keep up with play.
Very disappointing but expected result. We need more fire power to scare the opposition and get them worried about defending – not ripping us apart.
Ralph Basnett
34
Posted 05/03/2017 at 15:39:37
Fucking gutless. Whole back four an embarrassment. Why is that, when we play the Red Shite and Spurs,we always look like we are scared?
If we where ever going to do Spurs at WHL this was it, but how many times have we said that prior to playing the RedShote?
Every Everton manager when playing one of the top teams tries (and fails) to combat what they are going to do by changing what we have been doing successfully, this not only knocks us off our stride but plays into the opposition's hands.
Why would you change a winning formula? Because you are an Everton manager – that's why!!!!!!
All back four need replacing and the manager needs to know what his best midfield is and play them long enough to build a working/playing relationship.
Pissed off, gripe over, and onwards to next week.
Ernie Baywood
36
Posted 05/03/2017 at 15:40:38
Koeman says we had good organisation at 1-0... I think that's exactly what we lacked. There was no shape to that team at all.
Roman Sidey
37
Posted 05/03/2017 at 15:41:32
Ricardo, did you watch the match? The reaction is because we played like absolute garbage.
Colin Gee
38
Posted 05/03/2017 at 15:41:42
Has Koeman brought back Martinez as a defensive coach?
It was like going back to the last three seasons.
Clive Rogers
39
Posted 05/03/2017 at 15:42:25
For the last goal, neither of the centre-backs were in the middle.
Jeff Armstrong
40
Posted 05/03/2017 at 15:43:00
I predicted this performance last week; Koeman is Moyes Mk 2.We won't be languishing in the bottom half but we'll never annoy the top 4 either, he's not got that attacking "go for it" instinct.
Away to Spurs and we played exactly as I thought we would: pack the midfield, hope for a breakaway, go 2-0 down before tactics and personnel were changed and ultimately lose... it was all so depressing.
Barry, Baines and even Coleman are not good enough for top 4 ambitions.
Ciarán McGlone
41
Posted 05/03/2017 at 15:43:42
Koeman is responsible for that. Felt sorry for Gana. A good player made to look crappier on the basis of management instruction.
But at least we can be thankful it's not as bad as last season... or is it?
Jeff Armstrong
42
Posted 05/03/2017 at 15:44:58
Oh and Williams, Funes Mori and Robles not good enough either.
Patrick Murphy
43
Posted 05/03/2017 at 15:46:38
Ricardo, we lost – which is not the end of the world – but the way the club continues to lose these types of games is a serious concern. It matters not the set-up, the manager, the owner, the weather or any other variable you care to mention; it is a deep-rooted mindset that undermines any ambition that the club or the fans may have and it needs some sort of act of god to remove it.
Compare our neighbours attitude to these type of games or indeed any of the six clubs above us, they often eek out positive results even when they haven't necessarily deserved them.
Until the Luvvies at the club realise that it's unnacceptable for Evertonians to abjectly accept defeat at the 'big' venues, we are doomed to endure more displays like today's utterly predictable events that eat away at the core of the club and undermine much of the hope and hype that sometimes consumes us.
Nobody is expecting miracles but, as we all age a little more, there is no sign that the club is geared to winning important matches and that is more than a little annoying.
David Price
44
Posted 05/03/2017 at 15:47:34
Baines was playing deep to offset Walker. Job done because Walker did nothing.
The problem lies in the team selection. Tom wasn't sure of his role; Mirallas or Lookman should've started. Barry is cover for Morgan and not a partner. Centre-backs very poor. Holgate and a new signing is the way to go.
If we'd lost 3-2 having a go, fair enough, but this negative mindset is something Koeman has to change when playing the sides above us. Bad day for Koeman today. Hopefully lesson learnt for the away games to come.
Andy Meighan
45
Posted 05/03/2017 at 15:48:16
I couldn't agree more with Patrick's post As far as I'm concerned, it's no better or worse than what it was under Moyes and the other gobshite We wet ourselves when we go to the big grounds. Anyone thinking we will get anything from Anfield, The Emirates or Old Trafford are seriously deluding themselves.
A shocking decision to play Barry and I couldn't see what the shape of the side was. As others have said, the scoreline flattered us. A terrible performance but only what we've come to expect when we go anywhere near the top 6 sides away.
Paul Tran
46
Posted 05/03/2017 at 15:48:51
Please, please, Holgate in a back three. We're more balanced and have more attacking intent. That game plan was stuffed the minute we went one down.
Mistakes for all three goals. Rom isolated again – one chance, one goal. Poor selection with Barry now too slow for a game against a pacy, incisive midfield
This game shows the gap between us and top six, shows us what we need. Bad day's work from manager and players. At least we've tightened our grip on seventh with one better goal difference!
Brian Harrison
47
Posted 05/03/2017 at 15:49:55
Well, at the finish there may have only been 1 goal difference but the gulf in ability was there for all to see. The managers and players may have changed over the years but we always start with a defensive setup. He brought in Barry but in truth we never got on the ball or asked any questions of Spurs back 4, practically the whole first half was played in our half.
There is no doubt that Lukaku looks isolated and he does seem to find more space when Valencia has come on in recent games. We definitely need to be more offensive in these games, Spurs dominated from beginning to end and the score line flattered us.
Many said before the game a draw would be a great result but we didn't ever look like getting anything from the game – too negative by half. Yes, there were individual mistakes but we need to learn and learn fast that you need to be more proactive in games. Especially as we have more top 6 teams still to play away.
Tony Hill
48
Posted 05/03/2017 at 15:49:58
Jim (#30), you're absolutely right. Tottenham looked like giants against us today, we were just brushed off – and your point about fitness is important. We just don't look strong or quick enough when it counts.
Much of it is indeed in the mind; if Moshiri is serious about turning us into winners then he must ensure we toughen up to an absolutely massive extent.
I am afraid that the selection today was so bizarre that it causes me to wonder again about the manager's capacity to do what is required. And I do not care if I am told that this is knee-jerk stuff. We were utterly appalling.

Dean Rolstone
49
Posted 05/03/2017 at 15:51:00
Today reminded of the Chelsea game, we held out well for 20 minutes, then a long range shot which should've been saved goes in, then the game plan goes out of the window and we're up against it.
Unfortunately a number of players were off their game today: Schneiderlin, Gana, Davies, Williams... If one has a poor game, we can maybe cover them but, when a number of players have a poor game all at the same time, any team would be struggling.
Today's defeat, although disappointing, is not all doom and gloom as some will make out; we have shown improvements in the last 2 months and we're streets ahead of were we where last season, so we'll go again next weekend against WBA and show that Goodison Park is a fortress once again.
John Pierce
50
Posted 05/03/2017 at 15:54:52
Ricardo, reactionary? This formation and Koeman's tendency to tinker too far has been evident all season, win lose or draw.
A good run of late shouldn't hide the fact our centre-backs are poor and suit a back three based on their skillsets. The evidence was all to see against Bournemouth for example.
You should never chalk a bad performance down to "Oh well... they, Spurs are a good team" because that leads to another and another.
It was very poor today and Ronnie needs to step up and say so.
Steavey Buckley
51
Posted 05/03/2017 at 15:55:26
There are mistakes in this Everton side clearly noticed when Everton play better sides.
But Nistake No 1 must go to Koeman – playing Barry instead of McCarthy. So Everton were bound to play deep in the Everton half, especially as Barry can't run that far.
Mistake No 2 – Gueye for some unknown reason stopped running with Harry Kane, and allowed him all the space and time in the world to score.
Mistake No 3 – The Everton defence switched off, so when Robles passed to Schneiderlin, he was also switched off to the dangers around him, that allowed Harry Kane to score again.
Mistake No 4 – The Everton defence switched off again and allowed Alli in acres of space to clip the ball passed Robles from a free kick.
Jay Wood
52
Posted 05/03/2017 at 16:00:49
Painful as the result is, I'm sure Koeman and his coaching team learnt a lot from that game. Until the opening goal, we were matching them. From then on, until half time, Spurs were all over us.
Spurs, in the 3rd season under Pochettino, are clearly ahead of us in their development and evolution. As Koeman mentioned in his presser during the week, Spurs plays as he wants Everton to play. If he can achieve that, count me in.
Their pressing game is cleaner, and more efficient and effective than our pressing game. Similarly, their own ability to retain and pass the ball when pressed themselves is also more effective.
For their three goals, we switched off and ballsed up. The second goal in particular was probably the very worst goal we have conceded all season.
After that, switching in Mirallas and McCarthy really gave us a lift. As poorly as we played for the majority of the game, we still weren't far off salvaging something from it.
As for performances, Robles had his poorest game of the season to date (but should not be dropped on the back of it). Coleman was dreadful, as poor a performance as I can recall from him. Barry not a great pick for this game. Schneiderlin and Gana not much better. Williams had some good moments, but also some awful ones. His two lazy fouls close to our box deep into injury time, which he laughed and smiled at, one led to the 3rd goal, the other bought Spurs time to run down the clock at 3-2.
Compare what we currently have at the club at centre back to Vertonghen's performance. THAT is the type of central defender we should look to recruit to move forward. Not some oik like Shawcross at Stoke.
Dave Abrahams above wrote it is hard to pick an Everton player who had a decent game. He is wrong. Ross Barkley was outstanding. Everton needed to play more through him and get him on the ball more. Because, even with Kane's 2 goals, Ross was as good as anyone on both teams today.
'Season now officially over' for you Tony Hill? Bye then! I'll continue watching and believing, ta verily.
John Pierce
53
Posted 05/03/2017 at 16:03:05
Stevie, agree with the emphasis on the errors made by Everton today, I think though Robles needs to be brought to account. I thought positioning for the first, albeit decent strike, was poor.
I also thought his roll out was kami-kazi for the second. For me, the defining factors in those goals.
Darren Hind
54
Posted 05/03/2017 at 16:03:47
I hope this puts all the premature coronations back where they belong – in he heads of the wishful thinkers.
Not for the first time this season, Koeman showed himself to be a complete Frankie. His selection and formation laid bare all those claims of incredible "improvement".
It's one thing putting six past a Bournemouth side which was offering ten, but a completely different proposition to follow it up with a similar formation against a team who had something about them. If Koeman believes there has been massive improvement, why did he not stick with what has brought about the much vaunted "Improvement"?
I won't knock Barry, he has been a fantastic pro, but somebody please explain the fucking logic of putting him in against a high-energy Spurs team except to adopt the foetus position?
On the rare occasions we had a go, Spurs showed they were vulnerable, but the game was lost before a ball was kicked. Too much deference afforded by the boss.
Open your eyes. Frankies win nothing in this game.

David Morgan
55
Posted 05/03/2017 at 16:06:52
Tactics completely wrong, Funes Mori was total crap and some below par performances from the likes of Coleman and Baines. Barry was not needed in today's selection and Davies didn't have any impact.
I thought we looked better with natural width when Mirallas came on but at 2-0 it was far too late... we could have made a sub at 25 mins and took Barry off, whose backing off of Kane for his goal was shocking. Ridiculous throw-out and a sleeping defence for the second... and where the hell were the two centre-backs for their third?
Ross Barkley tried his hardest and was let down by his teammates today. Lukaku lethal again with next to no service.
Tony Hill
56
Posted 05/03/2017 at 16:06:53
Good for you, Jay. I'm sure you will be rewarded.
Darren Hind
57
Posted 05/03/2017 at 16:07:02
Btw; How bad do Williams and Funes Mori Have to get before people realise they are not up to it? It's really painful watching those two when they are pressured.
Colin Hughes
58
Posted 05/03/2017 at 16:08:01
First signing in the summer should be a sports psychologist to see if he can root out why Everton are the only club that cannot spring a surprise result at one of the big grounds.
Swansea win at Anfield against the odds, Watford at Arsenal against the odds, last season Bournemouth and Southampton win at Chelsea and relegated Newcastle win twice at Spurs (League Cup and Premier League), yet year in year out we fail to register a single victory at the same venues.
It doesn't matter who is our manager it just seems in our blueprint that we can't rock the boat. The Anfield derby in April is the most pointless match in the Premier League calendar as the outcome is already known.
John Pierce
59
Posted 05/03/2017 at 16:09:20
Jay, Ross was good today. A shining light in a sea of shit seems apt. First time in ages I've seen him demand the ball, never hid and had some excellent moments undone by his colleages.
The ball in the first half, outside boot to Rom, sweet.
Pull down in the box in the second half. Class, but no support.
Forced a corner in the first half out of nothing.
I for one would happily point out his flaws and he has deserved that criticism, but there's definitely a more resolute player there.
Steavey Buckley
60
Posted 05/03/2017 at 16:13:02
John, Everton can't expect to keep clean sheets if they are not aware of the dangers around them. All 3 goals against Everton came about when players just switched off. Is that because the players did not get a good night's sleep that night before?
Andy Codling
61
Posted 05/03/2017 at 16:13:25
MotM for me was Barkley, always looking for the ball, never hid and looked visibly frustrated at some of his team mates at times.
Funes Mori just doesn't cut it for me; a summer priority is a centre-back and a left-back.
Gordon Crawford
62
Posted 05/03/2017 at 16:17:59
Well said, Andy. Ross was good today. Even a blind man could see his effort and how he was on his own.
Ronald should take massive blame for a back four. As I have already said, Holgate should have played with Schneiderlin in front of a back three. Rom should have had a partner.
Barry should not have played, period. Great servant, but now a carthorse. Not his fault though.
John Pierce
63
Posted 05/03/2017 at 16:18:20
Ste,
I am in complete agreement there, just thought that actually Robles played a bigger part in the mistakes for goals 1 & 2?
Gordon Crawford
64
Posted 05/03/2017 at 16:19:57
Also, Baines should be told if he cuts inside one more time, he will be dropped. And he should be taking the free kicks.
Peter Laing
65
Posted 05/03/2017 at 16:21:17
There are 3 things in life that are certain death, taxes and Everton ruining your weekend. Poor performance; as others have said, the 3-2 score line on paper flatters Everton. The blame lies squarely on the shoulders of Koeman, selecting Barry and having no width done for us early on.
Dreadful again from Williams and Funes Mori, Robles indicating with his two errors that a goalkeeper is a priority; Baines totally switched off from the free kick and let Alli in to score. Gueye and Schneiderlin looked poor with Barry taking up the holding position in midfield and Lukaku starved of chances for long periods.
The summer should be spent scouring the globe for two able centre-halves and a decent keeper.
Barry Jones
66
Posted 05/03/2017 at 16:23:40
Ricardo, I agree with you, the reaction is over the top.
Jay, I would concur with your assesment of the game. We started poorly and they over-ran us, but you can expect that from a Spurs team, they do it every week. However, we were still in the game right to the end.
Unfortunately, I think Koeman got it wrong with his starting team selection. He tried to stifle them through the middle, but it failed. Barry is past it and we needed some pace to stretch the field to counter their high pressing game. We looked better after the substitutions and we started to pose some problems.
The normally effective Seamus had one of those days when his end product offered very little. On the other hand, Ross is starting to look really good under Koeman and is definitely maturing as a player, taking on more responsibility.
Two of the goals were very poor (the second and third). The second was down to a very poor decision by Robles and for the third, we were sleeping and no-one picked up Dele Alli.
So, not a great day at the office but not disaster. We just got it a bit wrong on the day. I have confidence that we can finish the season well and maybe Koeman may have learnt something from this somewhat negative team selection.
Dave Abrahams
67
Posted 05/03/2017 at 16:24:16
Jay (#52) Ross Barkley was Everton's best player, agreed... but outstanding?
John Pierce
68
Posted 05/03/2017 at 16:24:22
If the ball was a BBQ chicken perhaps Funes Mori might play better?
So if Koeman persists with a back 4, I suspect he will then why not play Holgate? The lad needs the minutes, the campaign is all but over is in no way inferior to Funes Mori.
Does Funes Mori get in on balance, ie, having a left foot?
My thoughts are now Koeman has a midfield he wants, he thinks a back 4 can be protected. Pre Schneiderlin, a back 5 help it stay solid?
We will in all probability win the next two and end up posting the same grumbles post-match at Mordor...
Damian Wilde
69
Posted 05/03/2017 at 16:25:36
Poor overall. I thought Ross did 'okay'. To say he was 'outstanding' and as good as anyone on the pitch is, in reality, ludicrous. If anyone can find any neutral reports that say this, fair enough, but good luck finding one.
We never matched Spurs, they were light years in front of us. Much quicker, sharper, far, far better.
At half-time, it was clear to anyone that it wasn't working. So the new Barca manager decides to... not change it! Showed his poor side again today, did Koeman.
This side will beat the likes of Sunderland and Bournemouth but will struggle against sides such as Chelsea & Spurs and as we have seen, get comfortably beaten. Seventh is our natural spot, which is okay as it will likely get us Europe.
Baines is Mr Average at best. Also, how often does he pass it back, rather than forwards? So often. Kept doing it today and does it frequently at Goodison Park. We need a new left back.
Funes Mori & Williams... dumb & dumber? Both cannot pass and are only average at defending. Overall, that equals two players not good enough. Both need to leave.
Robles has been good. But probably a backup? He was shit today.
Barry shouldn't start unless we have injuries.
What annoyed me today is that Rom was isolated and, like against Chelsea away, we packed the midfield and were trying to scab a draw. But every time we went forward, it pinged back as there was hardly anyone forward, – another Koeman mistake.
Barca manager...??? 😃😃😃
Brian Williams
70
Posted 05/03/2017 at 16:26:28
As a team, we were poor today and there were also too many individual poor performances.
All their goals came from our own making. Not closing down Kane for the first, suicide ball from Robles for the second, and the defence being asleep and unprepared for the third.
They outplayed us for most of the game but the scoreline shows how every result in the Premier League is down to "small margins". Spurs are a good side with the majority of their players being big, imposing, athletic, pacey players.
I'd say we're four players minimum away from being close to them.Summer window should see us look for two "footballing" centrebacks of the type Spurs have, a playmaker, and another striker.
Nev Renshaw
71
Posted 05/03/2017 at 16:26:47
What a shambles our defence was for all 3 Spurs goals. Schoolboy marking.
Patrick Murphy
73
Posted 05/03/2017 at 16:32:47
I've just read all of the comments before Ricardo posted his, and I can't see any 'over the top' reactions or statements, only mostly what many Evertonian would say after a defeat, albeit at a good team's ground.
Being wildly inaccurate or abusing players in a post would be over the top but what on earth is over the top about posters giving their heartfelt views on what they have just witnessed? Some of the comments included today's game as a reflection of what we as Blues have had to witness for nearly two decades, which is fair enough, isn't it?

Roman Sidey
74
Posted 05/03/2017 at 16:32:50
While I agree that Everton need to shake the inferiority complex of playing away against the big clubs, bringing up the Swansea and Watford results against Liverpool and Arsenal aren't as apt as most of you are making out. Everton are miles ahead of clubs like Swansea and Watford (them beating us aside), but the difference is the bigger clubs are sometimes guilty of taking them too lightly and coming undone.
No team takes Everton lightly, which is why we don't get many easy wins and bugger all return for our travels to the big clubs.
Jamie Barlow
75
Posted 05/03/2017 at 16:33:43
No player today should be described as outstanding.
Steavey Buckley
76
Posted 05/03/2017 at 16:35:05
John, Everton do play 3 at the back with Schneiderlin as an extra centre-half, so Coleman and Baines can push up.
Mike Connolly
77
Posted 05/03/2017 at 16:36:19
For people who say if we sign Rooney where will he play? Look at today's game and the answer is plain to see….ANYWHERE he wants in that team!!!
Sean Roberts
78
Posted 05/03/2017 at 16:38:32
Have to say a lot on here slating Barry for Kane's first goal. For me, Gana let Kane pass him far too easily then made what can only be described as a feeble attempt at getting back to stop the shot!!! That said, Joel should never have been beaten at the near post from that distance.
As usual, we never started playing until the game had gone. Oh to be a blue. On a plus side, we are all disappointed at losing at the lane because it has ended our good run. Well, c'mon blues let's just go and get on another good run.
Danny O'Neill
79
Posted 05/03/2017 at 16:39:30
Trying to apply perspective (for sake of personal sanity rather than disagreeing with anyone!!), we lost against a very good side who are on form and haven't been beaten at home since last April. No particular shame there. However...
I went into today fairly relaxed about the result. Not that I didn't want to win; that's a given. However, I was also intrigued in using today as a real measure of our recent progress. Like many, the outcome is that we are still headbutting the proverbial glass ceiling.
I agree with the comments above; Barry starting was a mistake and played into their hands. Too slow for their dynamic midfield and he is notorious for giving away stupid free-kicks; not what you want at the best of times – let alone to a team that are deadly from them.
Baines was poor and really looked like a shadow of the player he was. We have a past-his-best Williams who was never that great anyway and Funes Mori continues to flatter to deceive.
The lack of defensive investment through the Martinez years is biting us and is what we clearly need to address as a priority, in my opinion.
Paul Conway
80
Posted 05/03/2017 at 16:43:00
Brian @ 17,
Can that striker be somebody who can shoot with both feet from outside the box? Preferably on target. We don't have anyone capable at the moment.
John Pierce
81
Posted 05/03/2017 at 16:44:27
Roman, cannot agre with that.
Every team above Everton in the last 3 decades has taken us lightly.
Today, we were shown no respect, nor should we be. Spurs looked at that line-up, pressured us in front of our 18-yard box, and punished us for picking Barry, a clearly targeted player.
Those teams attack us from the start, bulldoze us and then canter to a finish. That's not respect. That's winning; we should step up and do the same.
Martinez for all his faults, countless, in many ways at least had a go against the big boys.
In a match today that mattered little if we lost it, Koeman should have been more assertive – what did we have to lose?
It will be the same at Man Utd and at Bigstand FC, but one suspects Koeman will be just as conservative with similar outcomes.
Paul Smith
82
Posted 05/03/2017 at 16:46:29
On my way back from the game. Away fans were edgy from the off & they had every right to be. Shocking from Funes Mori, not excusing Baines either but playing with Funes Mori must be heart-stopping.
Some were getting carried away about our midfield after the Sunderland game and suggested this game would be a better barometer. Not terrible... but much room for improvement.
Peter Cummings
83
Posted 05/03/2017 at 16:46:44
Said it yesterday, if we let them play like they did v Stoke we were in trouble, and we did just that, and the result was inevitable. While their first goal was possibly preventable the next two were down to suicidal 'defending', Robles rolled the ball to 2 blue shirts with no-one near them, so the blame lies with them – not the 'keeper who made two point-blank saves to keep us from further humiliation. Their winner came as the defence stood still from the free kick.
So, to be honest, we were literally played off the field until the subs were made. Williams was a disaster along with Barry; Funes Mori was asking for trouble with his tackling, but Davies and Lukaku never gave up and Mirallas made a difference.
I don't think any of us expected to come away with anything today but to make a gift of the points as we did was an insult.
Kenny Smith
84
Posted 05/03/2017 at 16:48:15
To play with 3 defensive midfielders, especially Barry, was a mistake that was clear to see after 20 minutes or so.
We set up for a draw and could've got one but for basic errors. Not the end of the world, though.
Overall, we got what we deserved: zilch.
Paul Hewitt
85
Posted 05/03/2017 at 16:50:31
We lose our first game in 10, against a VERY GOOD Spurs side. I do worry what some people expect.
Jim Bennings
86
Posted 05/03/2017 at 16:51:10
On to next week anyway and we simply need to beat West Brom to finally put finishing 7th to bed; maybe if we can beat Hull at home (forget the Derby it's pointless) then perhaps we can just put that game at Old Trafford in a position of being a six-pointer for a 6th place finish ahead of the Mancs.
Failure to win both these upcoming home games however will mean 7th it is, which is obviously better than the last two debacles but there still needs to be extensive work in the summer to shake up the top clubs and match Moshiri's ambitions.
I still think there's a big exodus in summer: Kone, Barry, Cleverley, Lennon, Jagielka, and probably a few we don't expect out the door, like Funes Mori even, he's not good enough, Williams needs a better man next to him or simply just replace him.
Baines too – I think the search for a younger left-back needs to start soon; great servant he's been but he's just not firing at the level he could in his pomp.
Lot of work still needs doing.
Roman Sidey
87
Posted 05/03/2017 at 16:52:14
Sorry, John, but that is exactly what my point meant. If teams attack us from the start, they aren't taking the game lightly. Spurs today made it look easy but that is partly down to the fact that we were asleep for most of the match.

David Barks
88
Posted 05/03/2017 at 16:53:01
Next time Koeman should just line all 11 players up on our goal line for 90 minutes. If we're not going to enter a match and actually try to attack, just forfeit the damn thing.
I'm sick to death of going up against the likes of Spurs with a packed midfield sent out to just try to break up the opposition's constant attacks. What a shock that when we actually sent another player up top he was the one who played a ball to ROM's feet and we got a goal, on our first shot of the match. Pathetic.
Tommy Coleman
89
Posted 05/03/2017 at 16:54:20
Koeman got his tactics wrong today. Played with 5 center midfielders.
John Pierce
90
Posted 05/03/2017 at 16:56:11
Ste,
It's a nominal back 5. Splitting the centre-backs is all well and good. It forces the team back as the midfielder needs to pick the ball up often with his back to goal. It encourages a press, lots of small passes especially.
I'd agree it should push Baines and Coleman up but nowhere near as far as in a conventional back 3 set-up.
This means the two alongside Rom have to funnel back, isolation for the big man ensues.
For me, it's neither one thing or the other. With a regular back 3 spreading the play is a more natural side-effect, passes less risky, full-backs are forced upfield. The team is further up the pitch. We can press more without having to cover bigger distances. Rom less isolated.
Until we get better centre-backs, conventional back 3 for me.

John Malone
91
Posted 05/03/2017 at 17:00:46
Against top-class opposition, the weaknesses are clearly shown!
Goaile out; two centre-halves out; Barry finished; midfield still very unbalanced; Gana great at tackling and pressing... poor going forward.
The only width we have of late is Coleman, whose crossing is poor, to say the least. We definitely need a quality wide man who can put dangerous balls into the box as well as put in a shift!
Hopefully Lukaku will stay and we can build around him we are not too far off a decent team!
Jay Harris
92
Posted 05/03/2017 at 17:01:29
Some poor performances and the baffling choice of Barry aside I Thought the big difference between the 2 sides was Kane and Alli who were always hunting the ball down as opposed to Barkley and Lukaku who were always "waiting" for the ball. I know what a great finisher Lukaku is and how good Ross is on the ball but when we are not in possession they are a weakness.
I also think Ashley Williams needs to join Barry and Jags on the veterans bench. His thinking and legs are both too slow for any top team.
I also said before the game that we should have Holgate and Seamus overloading the right as Davies was their weak link but we went with a flat back 4 and sat back instead and that for me was poor.
So no kudos to Koeman today.
Gordon Crawford
93
Posted 05/03/2017 at 17:01:44
The one thing we can all agree on is that Koeman got it wrong. For me, he bottled it today with his team selection. We should have played two up front: 3-5-2.
Tony Hill
94
Posted 05/03/2017 at 17:02:22
I'll be at Goodison for the next game as I have been doing for six decades, but I am increasingly minded to adopt the view of people like Raymond Fox and Phil Walling on here.
That is to say: accept that, short of something startling occurring, we will do what we have been doing now for 20 or 30 years and finish somewhere in the second tier of the Premier League with the odd cup run. I do not think that is going to change in truth. There is no sign of the serious investment or mental strength needed to haul ourselves higher.
No shame in that but not very thrilling either. Some peace of mind in resigning oneself to it though.
Alan J Thompson
95
Posted 05/03/2017 at 17:02:25
As generally said, the first mistake was the team selection. The Manager was gutless trying not to lose by too much rather than trying to win.
Barry was awful, closely followed by Schneiderlin and Baines while Davies had an off day. Barkley was lost in that he was not given a strict role. How much better did we play when he was moved back into midfield and actually ran it while the rest just fiddled.
Blaming Robles for the goals is just plain silly. Any goalkeeper should expect to be given better cover. Kane from 30-35 yards out could have put it where he did or in the top far corner. Gana let him go, others didn't pick him up and Barry, as he did on other occasions, turned his back on him and put a leg in the air, and that's a professional?
It cried out for a wide man up front to force Spurs into deploying an additional defender, not just the two and occasionally three that they had for most of the game, but also to reduce their numerical superiority going forward and to stretch them and allow Lukaku more room.
Not many come out with much, if any, credit but the biggest problem today may have more to do with those not on the pitch than those who were.
Christy Ring
96
Posted 05/03/2017 at 17:12:02
I expected a lot more today, very disappointing. Starting Barry, who is too slow, upset the balance of the team, and Koeman made a big blunder. McCarthy and Mirallas should have been on after halftime.
I'd also try Jagielka and Holgate because I'm not convinced with Williams & Funes Mori. The 3 goals could have been avoided.
What's happening with Garbutt, isn't he back at the club? Baines is past it and needs to be dropped.
Kevin Rowlands
97
Posted 05/03/2017 at 17:29:08
Jay (#52), I know we had previous disagreements but I totally agree with you about Barkley, he was excellent, especially in the 2nd half. I know they're a decent team but let's not forget Ghent knocked them out of the Europa League. Koeman showed them way too much respect with his team selection; it was no coincidence that we improved after Barry went off.
I really hope we don't set up like this again this season, the best form of defence is attack, Ronald;, please remember that when we go to Anfield!
David Graves
98
Posted 05/03/2017 at 17:31:02
Some surprisingly disappointing performances but I can't say that I was surprised at how poor Ashley Williams was. He is too small, too slow and I'm yet to see evidence of the impressive leadership qualities that he supposedly possesses.

Added to those failings, his distribution is as poor as I've seen from any other Premier League centre half this season.
Stan Schofield
99
Posted 05/03/2017 at 17:36:36
Tactical error by Koeman, although he'll probably say we should have 'pressed' better. Looking on the bright side, at least it wasn't 5-0.
Fraser Auld
100
Posted 05/03/2017 at 17:39:34
Koeman really screwed that, too conservative and tried to shoehorn players into positions they aren't comfortable in.
Davies looked lost playing that far forward, don't like that Koeman has started playing him as the most advanced midfielder recently, not his game.
Barry's inclusion as everyone has mentioned was a mistake.
Criticism of Funes Mori and Williams; I'm not a fan of Funes Mori but the 2nd and 3rd goals were both squarely down to really poor play from Morgan Schniederlin, he was sleeping.
Barkley the standout player.
Jim Bennings
101
Posted 05/03/2017 at 17:44:03
I was surprised Koeman went with Barry ahead of McCarthy who offers far more energy.
It was obvious in our last Premier League defeat in the Liverpool game before Christmas when Barry replaced the injured McCarthy at half-time that the energy had totally dissolved from our performance and the pendulum swung the way of Liverpool as the game passed Barry by.
It seems we haven't learned.
Geoff Williams
102
Posted 05/03/2017 at 17:46:54
The centre-backs were poor and don't inspire confidence. Barry was slow and Davies was anonymous. What was more worrying was the lack of energy in the team as a whole, so lethargic.
Gavin Johnson
103
Posted 05/03/2017 at 17:49:16
As noted by others we showed them too much respect. Putting Barry in the team serves no purpose these days. He's far too slow. He should be given a free transfer at the end of the season. He's blocking the chance of Besic and Walsh getting a game. It would have been better to play James McCarthy in that formation.
I think Holgate needs to come back into the side. We need to go back to a defensive 3.
Paul Conway
104
Posted 05/03/2017 at 17:52:25
I have to say I am very disappointed with Funes Mori. He has become very dubious. In fact, IMHO, none of our back four would get into that Spurs team. We were beaten in all positions today.

Except, I have to say I thought Lukaku's goal was worth 2 of Kane's (gifted!) goals.

Barkley had a decent game, given the non-commitment of a lot of his teammates.
Oliver Molloy
105
Posted 05/03/2017 at 17:54:45
Baines just stood and watched Dele Alli run in and score...unbelievable! I was watching on the telly and I could see what was going to happen.
Robles made a big mistake putting Schneiderlin under pressure; in saying that, Schneiderlin should have been aware he was being closed down, the ball should have been given back to Robles.
Regards Kane's first goal, he could have been closed down quicker but no keeper would have stopped that rocket, in my opinion.
The manager's selection of Barry did us no favours on the day and, although I described his team selection as cautious in an earlier post, other than what others had been saying that it was negative, I would now agree it was indeed a negative team selection.
Lots of work to be done on the recruiting front if we are to seriously ever challenge for the Champions League places. Too many players under par today and we got what we deserved.
Gordon Crawford
106
Posted 05/03/2017 at 17:58:18
Hopefully, Ronald will stay at the end of the season and we can build on his project. Some you win; some you lose. Even Unsy got it badly wrong against Man City for the Under-23s. But there are signs that we are getting better. Roll on the next game.
Dermot Byrne
107
Posted 05/03/2017 at 17:58:48
As I said in the game, we slow to Barry's pace when he plays. God love him. I hate to say it but our aspiration is to play like them... without diving!

Patrick Murphy
108
Posted 05/03/2017 at 18:08:37
Barry would struggle to get into most starting line-ups in the Premier League, so why do we have to endure him in ours?
How come it is always the way with Everton? It used to be Neville that was our aged experienced player who would be chosen all the time even when he stunk the gaff out. Now unfortunately it's Barry who has done well for the club but is way past his sell by date.
Also, what a smack in the face for McCarthy who possibly expects to be on the bench when Idrissa and Morgan are fit but to be behind Barry?
The result may have been the same regardless of which eleven were chosen but why on earth do we have to almost tie a bow on it when playing at the Lane or other such venues?
I suppose Phil Kirkbride has it about right when he says:

Forget the grandstand finish when Everton belatedly decided to have a go. The brutal truth, and the real narrative, of this five-goal encounter at White Hart Lane was not a valiant defeat but that, for an hour or maybe more, it was undeniably one-sided.
For a tortuously long amount of time, the Blues were being taught a lesson – one they may well have feared was coming here – and though they mounted a late rally, they were never really in with a shout.
The scoreline may say that in the end, Everton scored twice against the meanest defence in the Premier League and that only one goal separated the sides at full-time but, in reality, there was a gulf in class on show. And however much progress this side have made under Ronald Koeman – and it's plenty – today was a timely reminder that there remains significant work still to do if they are to join Spurs as an elite side in this division.

Long Way To Go
Martin Mason
109
Posted 05/03/2017 at 18:21:49
Can't add much to what's been said only to give Ross a pat on the back for playing well when all around him weren't.
Haven't seen a defender play as well as Vertonghen for a long time. Massive in defence and good running forward. Our defenders were poor in comparison. Watched Citeh just and Stones looked brilliant, I'd love to have seen him and Holgate at Everton rather than our current donkeys.
John Daley
110
Posted 05/03/2017 at 18:24:49
"
Too slow for their dynamic midfield and is notorious for giving away stupid free kicks.
"
Gareth Barry getting a bit of a hammering, but the above statement could apply equally to Schneiderlin on today's performance. He looked like he was struggling to run through raptor spunk from 20 minutes on. The older player represents a bit of an easy target, yet his younger, vastly more expensive, midfield partner, looked every bit as immobile (apart from one solitary sprint toward the half-way line late on).
He should also be apportioned his share of the blame for the second goal instead of it all falling on the shoulders of Robles. He moved back toward the keeper for the thrown ball out, only to panic upon receiving it when he realised he didn't have time to turn.
"I Thought the big difference between the 2 sides was Kane and Alli who were always hunting the ball down as opposed to Barkley and Lukaku who were always "waiting" for the ball."
There was one moment where Ross 'hunted the ball down' about 3 times in 20 seconds deep in the Spurs half and won a corner out of nothing. He was on the move (both forwards and backwards) and looking to get on the ball every time Everton had possession. Lukaku was also chasing everything he could, as best he could, with two alert centre-halves double-teaming him.
I don't think the difference lay in the quality or work-rate of those two players in comparison to Kane and Dele Alli. The Spurs duo had plentiful support throughout the whole game, with team-mates in close proximity and pushing forward at every opportunity, whereas Barkley and Lukaku were often the only blue shirts in the opposition half. Gana and Davies (to give them their due) at least tried to get up in support on occasion but could barely hold onto the ball for more than a couple of seconds.
Paul Smith
111
Posted 05/03/2017 at 18:28:55
Btw, I forgot to add it looked like we were playing for the draw from the off – disappointing. My Spurs mate agreed.
Colin Malone
112
Posted 05/03/2017 at 18:29:36
Jags has got to come back. No balance in midfield. I said after the Sunderland game, Gana and Schneiderlin do the same job and get in each other's way, which causes the imbalance.

Ross was top class and improving with every game.
Christy Ring
113
Posted 05/03/2017 at 18:35:38
Jim (#101),
Totally agree. I said it when the team was announced: Barry is too slow and brings nothing to the team.As you rightly point out, the turning point against Liverpool was when he replaced Macca. I still can't understand what Koeman was thinking.
Pochettino must have been smiling when he saw Barry starting because he's a big admirer of McCarthy.
John Malone
114
Posted 05/03/2017 at 18:37:18
If Koeman wanted pressing and defensive solidity, Jimmy Mac is a must away from home; you need the legs and the tenacity when you haven't got the ball!
I'm still not sure on Gana as in I can clearly see he get's about, does a lot of good graft but does he offer more than Jimmy Mac with the ball?? I'm not so sure; Kante is a much better passer than Gueye and I think his constant pressing all over the pitch leaves the midfield unbalanced. I don't know who he compliment's in the middle??
I'm looking forward to seeing what Koeman does with Besic and if he can find the right blend with being able to defend and attack.
On a side note, I still think we are too nice to play against!
Gordon Crawford
115
Posted 05/03/2017 at 18:42:43
John Daley,
Barkley was not "waiting for the ball" as you have put it. He was the only one who tried to make things happen. Apart from his goal what did Alli do? I wasn't impressed by his constant falling over. The GB Diving team should maybe take a look at him.
We had nothing to fear today, or any day, for that matter. But we seem to play with fear in too many of these big games.
John Daley
116
Posted 05/03/2017 at 18:45:54
"John Daley, Barkley was not 'waiting for the ball' as you have put it"
Not how I put it at all. Maybe read it again, Gordon, seeing as though I was arguing against that very statement.
Stephen Brown
117
Posted 05/03/2017 at 18:47:14
Williams and Funes Mori both play much better in a 3 at the back. We should have played 3-5-1-1 today as then we would have actually had some width too!
Instead, we effectively had 5 central midfield players getting in each other's way. Shambles!
Saying that, put it down to experience and move on!
David Johnson
118
Posted 05/03/2017 at 18:52:40
Is it any wonder the defence and goalkeeper looked poor having to defend for 90 minutes? Koeman got it all wrong playing three defensive midfielders. Spurs had nothing to worry about and could commit men forward.
I actually thought Williams did okay under the circumstances. The defence has looked decent when the team have been set up properly. Koeman got it drastically wrong.
John Raftery
119
Posted 05/03/2017 at 18:54:22
Too many midfield cooks spoiled the broth. The team looked unbalanced before the game. It looked unbalanced during it. Playing five central midfielders and only one attacker was an open invitation to Spurs to throw men forward through the middle and down both flanks.
Mirallas should have been in the starting eleven to give Spurs something to think about in defence. That should have been the only change from last week. Hopefully Koeman will not repeat today's errors in selection and tactics for our next away game against opponents who play in a similar style and with the same levels of energy.
Gordon Crawford
120
Posted 05/03/2017 at 18:54:40
John, I apologise, pal. I somehow read that wrong. Sleep deprivation is my excuse. :(
Jay Harris
121
Posted 05/03/2017 at 18:59:58
Good point, John, but the difference for me is Alli and Kane are in the faces of defenders and put them under real pressure whereas our two just jog alongside.
You may have a point about support because Spurs play a very high line and get more players forward in support whereas Ronald seems to have no faith in some of our players and does not play the risk game.
Stan Schofield
123
Posted 05/03/2017 at 19:11:09
I think the idea that we're nowhere near the level of Spurs is a bit overstated. The fact is our tactics were crap. When I saw the starting line-up, I thought to myself, Koeman's taking the piss (yes, I know he isn't really).
He goes on about the need to press, but that's unlikely to work much if you've got the wrong formation. Why was Barry in? Why wasn't Holgate in?
Clive Mitchell
124
Posted 05/03/2017 at 19:22:13
Just seen Koeman's interview. It wasn't a description of the game, so – as I don't think he's an idiot – I'm guessing he knows he got it wrong and wants to get the players back on the front foot mentally. None of which explains what exactly Ashley Wiliams has to do to get dropped.
Frank Crewe
125
Posted 05/03/2017 at 19:32:21
I remember all those years ago when Kendall played a containing side against Arsenal at Highbury. We got hammered 5-0. Even Charlie Adam scored.
Koeman handed the initiative to Spurs the moment he picked that side. Having two DM's is bad enough but THREE! Especially when one of them is Barry. Potchettino must have been dancing in the dressing room the moment he was handed our team sheet.
What is this idea that managers have about persisting with these antique players? Moyes did it with Neville until he made one mistake too many. Now Koeman is doing it with Barry. Maybe today's performance will make him see that Barry is over the hill.
We have to play to our strengths and not try to accommodate the opposition's. A more attacking side could have gotten a result there today. But our tactics left Lukaku totally isolated and, as soon as we went behind, it was over.
Koeman fell into the same trap as OFM's. Not having enough faith in his players. It's performances like today that will make up Lukaku's mind about where he should be next season and I doubt he'll think it will be Everton.
Chris Watts
126
Posted 05/03/2017 at 19:37:15
I think everyone agrees on here for once. It's no coincidence that this performance was the worst since the last time Barry played. He clearly dissolves confidence from the rest of the team and offers nothing now.
To bring him back after a 9-game undefeated streak was madness – especially against Spurs, with their energetic midfield. Koeman bottled it.
However, there is clearly something deeper in the psychology of the team. Numerous times over the last few years we've come to a big game with it all to play for on the back of a good run and played awful with no energy – I can't explain it. Bitterly disappointing day.
Patrick Murphy
127
Posted 05/03/2017 at 19:39:23
Frank, I agree with your sentiments but I think your memory may be playing tricks: Kendall never led an Everton team to a five-nil reverse at Highbury. He did lead a team to a four-nil defeat in the 97-98 season when Tony Adams scored, and not Charlie Adam, who was probably playing with his mates in the park.
The difference being, for that encounter, we were in a relegation battle and Arsenal were about to be crowned Champions; therefore, Howard's tactics, although wrong, were perhaps understandable. Today's tactics were not!
Christine Foster
128
Posted 05/03/2017 at 19:40:31
That was as poor a performance I have seen all season. Flattered with the scoreline too, we were never in it. Where to start: selection of Barry was wrong, he clearly hasn't got the legs for the game we now play and I would be surprised if we use him again this season.
Robles, until the ridiculous roll out that dissected Williams and Schneiderlin and neither reacted quickly enough to a bad keeper error. He dropped them in it bigtime.
Coleman, I have to say this was by far the worst game I have seen Coleman play for a long time, error strewn and poor positioning, poor crosses.. he just didn't get his act together.
Baines, a lack of awareness and not paying attention to the free kick cost us the Ali goal. He was looking elsewhere the replay clearly shows it.
Williams, oh please he just about had me shouting at the TV... slow, so very slow... looked as though he wasn't bothered at all, laughing? So infurating.
Five across the middle... only Barkley showed up... Barry sadly history... Schneiderlin looked lost and no support, Gana running and tackling everything that moved, Davies was a boy among men today.
Lukaku on his own virtually all day until the last 15 mins when changes were made... what a difference they made the urgency and desire returned. But by far too late.
When on song, Everton are a joy to watch; when asked to play a game a certain way they just don't have the ability to do so. Koeman got it wrong in the set up, he should have changed it at half-time... everyone could see it wasn't working.
It's a long time since I found myself shouting at the telly... so angry at that performance.
Colin Glassar
129
Posted 05/03/2017 at 19:44:37
Just got home from watching that shambles. Ronald is to blame for the team selection, tactics, preparation etc... so the buck stops with him.
It was a shame to see Bainsey and Barry struggle so badly as they've both been great servants to the club. Funes Mori proved to me, once again, that he doesn't have the skill or temperament to be an Everton player.
The only bright spot was Ross who looks like he's now prepared to step up and carry the team. He even gave Bainsey a bollicking for yet another shite pass and gave an earful to one or two others.
I wasn't surprised by the result but the effort was woeful. I hope Ronald has it sorted by the next game.
Stan Schofield
130
Posted 05/03/2017 at 19:45:09
Chris @126: I'm not convinced there is much wrong with the psychology of the team. It's always difficult when you've got the tactics and team selection wrong for the opposition, and especially difficult if you do it against Spurs at the moment.
The fault lies fairly and squarely at Koeman's door. If this was a one-off error, fine, but it's happened before. It's almost as if he has no memory.
Kp Li
131
Posted 05/03/2017 at 19:46:45
Sadly today showed how big a gap there is between us and Spurs. I just hope we have a good transfer window this summer.
Barkley is frustrating, needs to pass the ball a lot quicker, think he had an okay game but there were a few moves where he kept the ball and did not pass the ball out wide to Baines, we lost momentum and the ball went back to the defence. It happens too many times; we need to play a bit more direct when attacking and stop turning back and playing back to defence.
Also, anyone think we are not crossing balls often enough? All I see is we are trying to always play it from side to side, in and around the box.
Paul Goodchild
132
Posted 05/03/2017 at 19:50:45
I do think a major revamp of the defence is required. Imagine how much better we would be with Vertonghen and Alderweireld at the back. The second Spurs goal aside, I thought Robles had a decent game.
I would have started with McCarthy and Mirallas instead of Barry and Davies respectively. Barkley was our best player today. Concerned about what Redknapp has been spouting today about him leaving at the end of the season.
Patrick Murphy
134
Posted 05/03/2017 at 19:56:54
Paul (#132),
Redknapp is a former red and doesn't have much time for Everton FC, he says he 'believes' that Ross won't sign a new contract and will leave the club – some people believe in Santa Claus and various other stuff – it doesn't mean they are right. Of course Redknapp wouldn't have an agenda would he? Like hoping that Ross moves to White Hart Lane?

John Hammond
135
Posted 05/03/2017 at 19:59:18
Surprised Mirallas didn't start. He at least presses and has the pace for their high back line. Lineup and tactics wrong today and mistakes happen – at least we know that Koeman can learn from them.
Damian Wilde
136
Posted 05/03/2017 at 20:02:44
Stan, surely tatics are part of it all? Spurs are far far ahead of us.
Rick Tarleton
137
Posted 05/03/2017 at 20:02:50
There were essentially four defensive midfielders in our starting line-up, Davies, Gueye, Barry and Schneiderlin, leaving Barkley as our "attacking" midfielder and Lukaku as the front line. No wide players, unless our full backs had the time and space to get forward.
That strikes me as a defensive mind set that hopes to hold on for a nil-nil or get a goal from a dead ball or a counter-attack. Once we went one down, we were chasing the game without the attacking players to support the attack.
Davies is a young, talented player, but a box-to-box player he is not. Negative tactics and we paid the price, Spurs were two goals better on the day and the result flattered us.
Andy Crooks
138
Posted 05/03/2017 at 20:17:42
Abject performance from the coach. Barkley aside, the team were very poor. We could have got a proper hammering today. We are a distance short of being Champions League quality. The lack of guile in midfield and the lack of composure at the back is lamentable.
Lenny Kingman
139
Posted 05/03/2017 at 20:21:03
The lunatic that sanctioned a 㾸 million fee for Williams should be committed to an asylum. In fact, he shouldn't have been let out in the first place.
John G Davies
140
Posted 05/03/2017 at 20:22:01
A poor display today. We were not at the races at all. We need some star quality signings in the summer. A goalscoring midfielder is becoming more important by the day. We don't score enough goals from midfield.
Teams who have a scorer in there win more games. Look at the trophies Utd won with Paul Scholes. Look how many trophies Frankie Lampard won. Along with two top centre-halves to enable us to take the next step.
Alex Moore
141
Posted 05/03/2017 at 20:27:41
For the love of god, I love Seamus but his crosses are absolute garbage.
And please put a replacement for Funes Mori near the top of our shopping list.
Colin Glassar
142
Posted 05/03/2017 at 20:30:58
Apart from Funes Mori, who seems to be a nice boy but a useless player, I won't criticise too much the lads.
Why was Gana and Davies pushed so far forward in the first half leaving HMS Barry and Schneiderlin isolated? Has Bainsey been told not to pass the halfway line?
What goes on in Seamus's head? Why the fuck was Williams smiling after giving away a free-kick from which they scored? Answers Ronald, answers.
Too many shit performances from most of them to get too angry about.
Paul Goodchild
143
Posted 05/03/2017 at 20:32:37
139 Lenny
I think we do need two new centre-halves next season but nearly everyone on this site was happy in August when we signed Williams and we have been far more secure at the back this season than last. I appreciate he has his limitations as a defender but he has qualities also.
Mike Dolan
144
Posted 05/03/2017 at 20:34:55
Barry has been good in most of his games; today he was found lacking and that coupled with the lack of width did us in. For next season the priority has got to be a boss centre-half.
It struck me that if Rooney is going to be available then Man Utd would probably let him go to get rid of his massive salary so the fee would probably very little. Would a player's salary affect us adversely under FFP?

Duncan Allan
145
Posted 05/03/2017 at 20:38:40
I have been saying for a long time now, Barry is finished; today proved it.
9 games unbeaten with Barry a bit-part player... he comes back in and we play for an hour like we did under Martinez. He goes off and we play half-decent.

Barry Williams
146
Posted 05/03/2017 at 20:42:48
I haven't read the comments yet, will do that tomorrow when slightly more sober (past 2pm here in Sri Lanka).
I have been supportive of Koeman, but I think he got it well wrong today and showed too much respect to Spurs at the detriment of our own game! Why play both Barry and Schneiderlin? Surely 3 across the back at the expense of Barry would have been more effective?
We had no real outlets and I was perplexed as to why we waited so long for changes! Spurs scored 3 goals that were the result of mistake and our own ineptitude, our 2 goals were pretty good clean strikes! Saying that, they were the much better team and I thought the score flattered us!
Anyways, 1 loss in 10... hey ho!
Dave Williams
147
Posted 05/03/2017 at 20:43:41
A lot of very disappointing performances and I can't recall the last time I saw so many misplaced passes and players running the ball out of play. Spurs were much sharper to the ball and had class players at centre-back who did not give the ball away like our two did throughout the game.
We had three players over 30 who all looked it too – the sooner we can do without them, the better. Much as it pains me to say that about Baines but he can no longer run past an opponent and the days of him putting decent crosses into the box are long gone.
Robles shouldn't be blamed – the first goal was eeerily like some that Tim used to concede when the flight of the ball seems to be lost when poised to save it but Joel made a number of good saves too.
Ross was good and kept going well but Gana was out of position and should have been alongside Morgan in CM.
Hopefully Ronald sees how he got it wrong and will be better able to plan for another team who know how to press and who are quicker in their play albeit less physically strong. If we get a win at the RS then this defeat will have been worthwhile.
Stephen Brown
148
Posted 05/03/2017 at 20:48:32
A little perspective needed here I think! Defence were all pretty poor today but our defensive record this season is much improved! Something must be going right.
6 very achievable points in next two games with 2 clean sheets puts us back on track! I'm not ready to write the defence off quite yet!
Gary Edwards
149
Posted 05/03/2017 at 20:51:34
Koeman's tactics didn't work, too many DCM's / CM's, no width . compounded by poor showings from Barry and Schneiderlin. Baines too had a poor game, offering very little going forward and defensively a liability. The substitutions gave us a better structure and more width, we should have started with that set-up.
Tony Dove
150
Posted 05/03/2017 at 20:52:40
Dreadful team selection and dreadful performance apart from Ross who was the best player on the pitch. We were as much off the pace as Liverpool were against Leicester, and actually as we were against Sunderland.
A lot of players are just swanning around at the moment and Schneiderlin is a prime culprit. We obviously are not now going to avoid the dreaded Europa League next season so that will be bye bye to the top four yet again.
Daniel Joseph
151
Posted 05/03/2017 at 21:02:11
"Best of the rest" shall be our motto for the rest of the season.
Looking critically at today's team, prior to kick-off, who would get a starting place in a Chelsea or Man City team? If we are honest, there is one – Lukaku. The youngsters, Davies in this case, have the world at his feet but would not get into a "top team" – yet. The rest? Even at the top of their game would struggle for a place on the bench.
Work in progress...
Colin Glassar
152
Posted 05/03/2017 at 21:42:36
We are where we are because we are what we are. A top centre-back, creative midfield player and a decent centre-forward are a must for the summer. Plus the introduction of players like Pennington, Galloway, Dowell and Kenny etc to start rejuvenating the defence.
Mark Morrissey
153
Posted 05/03/2017 at 21:49:35
Why on earth did Gana just hang off Kane for the first goal. He is stood next to Kane as Kane collects the ball and then ambles alongside him and watches as Kane starts to up the pace. Gana then decides not to even attempt to tackle Kane as he starts to pull the trigger and then Gana gets his camera out to watch Kane slot the ball goal wards from about 40 metres out. Every other defender stands and watches with amazement. The rest then follows.
The commentator then says Gana has made more tackles blah blah stats. Worse than that, Robles has now given Koeman a reason to drop him and replace him with an inferior goalie in Stekelenburg. Then we will start to leak goals again. Just wait and see who is in goal next game...
Paul Conway
155
Posted 05/03/2017 at 21:56:17
Colin @ 142.
Totally agree with that comment regarding Williams. He absolutely infuriated me when I saw him smiling after he had messed up. He is a pure average defender and was found out by the guile of Kane and Alli.
He was bought on the back of a top Euros performance for Wales. I seem to remember Jeff Hendrick and Shane Long doing it for ROI, but managers seem to forget that these performances over 2 or 3 weeks don't mirror consistency over a Premier League season.
You can turn defences inside out, or score goals for pleasure over a three-week period in international tournaments, but can you do it for 9 months?

Andy Meighan
156
Posted 05/03/2017 at 22:06:19
Stephen (#148), you're right: two winnable games against West Brom and Hull. Then guess what? Go over the park and wet ourselves like we do away against any half-decent side Losing mentality right throughout the club – it's cancerous.
We are okay beating the likes of Sunderland, Bournemouth, Palace etc. Come up against anyone above us away and we get shown up for what we are. A bang average side.
I'm sick of it and while we have managers and boards who think it's okay to tread water in the Premier League, this mentality will prevail. Koeman has changed nothing and I doubt he will. His team selection today stunk. No shape, no pattern... fuck all.
And we started playing with 15 minutes left and yet he comes out and says we showed great character? Like fuck we did. It was awful and the result flattered us. I'll bet I'm not the only Evertonian dreading the derby because I know exactly what will happen...
Terry Underwood
158
Posted 05/03/2017 at 22:10:33
The last paragraph of the report says it all..."Everton are in no position to challenge the top sides just yet" the last two words "just yet" says a lot. There can be no doubt that we have progressed from the Mad Bob era, but it is a work in progress and there is still plenty to do. Let's just give the boss time to do it
Mike Gwyer
159
Posted 05/03/2017 at 22:45:53
You just wanted the players to turn up... Nah, fuck it, you actually expected the players to turn up, show their metal and prove to Sky that yeah, Everton really are here to play a game of football. Nope, we got our arses well and truly spanked. Red fucking raw to be exact. Sad.
A few days ago, I read Koeman's article about ambition and if you don't have it, well, just stop life. Good read, except it was all total fucking bollox; any ambition he had went straight out the window at about 12:30 when he handed in the team sheet.
Also, for those questioning why Williams was having a giggling fit, well you will also notice Barry attempting to back track and help out. Shocking really, any professional athlete would piss themselves watching that.

Jay Wood
160
Posted 05/03/2017 at 23:07:00
First defeat in 10 games, and that against the team comfortably in 2nd place, on their patch, where they have the best home record in the league, today's win making it 9 consecutive home league wins for them.
Yes, for a large portion of the game we were 2nd best. Overall, the team and many individual performances were poor... and yet, we were still in the game at the death and came close to salvaging something.
We are clearly a work in progress. So unlike many, I'm not quite ready to throw myself under a bus or off a cliff in despondency.
And for those who asked, yes! Ross had an outstanding game. If you did not see how he played and what he did, you will never 'get' or truly acknowledge what Ross Barkley offers.
As Colin Glassar mentions also, he really barked his annoyance at the senior pro and captain, Leighton Baines, for a poor pass.
I've never seen Ross do that before. For me, it is another sign he is 'growing up' and into the role Koeman demands of him: to be a 'player' – possibly even 'the' player – for Everton.
"Get 㾻 million for him while we can, 'cos he is destined to see his career out at WBA or Sunderland."
Yeah, right...
They'll be no shortage of top clubs willing to cough up serious cash if his contract with us isn't extended, I've no doubts.
Eddie Dunn
161
Posted 05/03/2017 at 23:08:55
I have been happy with our progress, but today Koeman got his selection wrong. He is the kind of guy who does learn from these mistakes, so therefore I don't expect to see Gareth Barry start another game this season.
The things that cost us the game were a lack of concentration, and certain players' inability to play a properly weighted pass, or pass at all. If Funes Mori is so poor at passing the ball then it beggars belief that he is earning his living from this sport.
Williams is unfortunately becoming a liability. The defence sit too deep because he is too slow on the turn, we have to play Schneiderlin in front of the centre-backs to protect them, and our wing backs are letting us down.
Baines, is doing his best, but now rarely gets to the bye line to put in crosses. Coleman is a great trier, but makes positional errors and his passing and particularly his crossing are wayward.
Little mistakes lead to missing goal scoring opportunities (over-hit or under-hit passes) and lack of pace (Barry, Williams and now Baines) lead to free kicks and missed tackles. Williams was wrestling with all and sundry, a strict ref could have given an early penalty and later he smiled after he gave a silly free kick away near the end, which negated our very late surge. He had also given the needless free kick away, from which Alli scored.
Vertonghen and an Alderweireld carrying a knock, are a tier up from our centre backs. We will need a good summer to bring in more quality.
Christy Ring
162
Posted 05/03/2017 at 23:31:27
Looking at the game again tonight, how did he start Barry? Totally lost... and Gueye played completely out of position. I don't know why he didn't go there with a more positive attitude.
If he had started McCarthy and Mirallas it could have been so different. He also has to drop Baines, who was so poor today, and Williams.
Ernie Baywood
163
Posted 05/03/2017 at 23:31:42
So, with nearly a third of the season still to go we need to make a few changes:
Centre Backs – we have some options.
Midfield – we have options centrally and out wide. They may not be great but at least Ron can play with the dynamic.
Goalkeeper – Robles will do. This was a bad game for him but he's shown better.
Right Back – Seamus is better than today. Not a pressing concern this season, more for the summer.
Left Back – change needs to happen immediately. It's not nice watching this version of Leighton Baines. He's lost his pace to the extent that he can't get around the outside and now won't even try to. Every time you know he's coming inside or backwards and defensively he's a sitting duck when even average players run at him. Simply, he's offering nothing right now.
Have we got any left-back option to put Leighton out of his misery?
Damian Wilde
164
Posted 05/03/2017 at 23:40:55
Agree, Christy. It was a negative set up.
Damian Wilde
165
Posted 05/03/2017 at 23:46:08
Yes, okay, Jay, if you say so. If Ross was so 'outstanding' (though you're the only one who thinks so) why was Rom so isolated? Ross was supposed to be supporting him, even the radio commented on this.
At present, Barkley would not start for a single club above us. Ross can have a 7/10 game and suddenly he's the best player in the world. Bit of perspective needed.
Gordon Crawford
166
Posted 05/03/2017 at 00:16:45
Playing three at the back would help Baines and Coleman as they both can't defend. But Baines has lost the ability to go outside. And Seamus just can't cross a ball.

Joe O'Brien
167
Posted 06/03/2017 at 00:42:53
Disappointing... I wanted a win but it showed us how far we've got to go. I think we've got to replace 3 of the back 4. Coleman stays (needs to get his crosses sorted!)... that's where the summer spending has to be done, and a striker.
Other than that we're good. Middle is solid... that 2nd all important goal that we gifted them was maddening. With all that hard work we put in... I'm raging to be honest.
James Marshall
168
Posted 06/03/2017 at 00:50:28
The over reaction to defeats from supporters baffles me – the manager and players can't get it right every match, and we've just gone unbeaten in 9 games which is a good run. Spurs have won all but 2 games at home this season, and the other 2 were draws, yet everyone goes mental and lays into the manager for it.
We're still building, and patience is required. If anyone thought we were going to go to WHL and play them off the park, you were sorely deluded – nobody has done that to them this season, not once.
I thought we were good at times today – we weathered the storm, and only conceded from a long range effort, and a goalkeeping error in rolling the ball out. Aside from that we were competitive against one of the best sides in the division – they're not second for nothing.
Koeman isn't going to get it right every week, no manager does. Have some patience, and some perspective – we're where we are in the Premier League because that's where we deserve to be, and given where we've come from since last season, I honestly think we're doing really well this season.
Remember where we've come from in a short space of time.
Mike Moore
169
Posted 06/03/2017 at 01:02:22
James (#168).
I take your point; however, I think this match has been a reality check. In all honesty, how many of the Everton side today would have got a place in the Spurs line-up? To be quite honest I don't think any...
We have had a really good run and without doubt, we are improving, but we are still a long way from challenging. I think that's been made obvious today.
I worry greatly when we play teams from the top six away from home and seeing as we have the Liverpool, Arsenal and Man Utd to come, that's ominous.
The mindset has to change when we play these sides, that's down to Koeman and his coaching staff. From minute one today, you could see what was coming, installing belief is one of Koemans biggest tasks.
James Marshall
170
Posted 06/03/2017 at 01:08:36
So you agree with me, then say we need a reality check? Personally, I thought the game today played out pretty much exactly as I expected it to – a lot of people appear surprised, and rarely seem to take into account the opposition and where we are currently in the pecking order.
Changing the mindset is absolutely right, but again, that takes time – it also takes an injection of new players – which again, takes time.
You can't expect Koeman and the coaches to suddenly change the way players play, or the way they think given the previous regime. That's just not realistic.
Ernie Baywood
171
Posted 06/03/2017 at 01:10:29
It's definitely a reality check. Spurs have been good this season but this wasn't vintage stuff. They never really got out of first gear and still had more than enough for us... we had the handbrake on.
I absolutely get that it's unrealistic to expect us to go into the big games and dominate, but that's not what people here are asking for.
We're operating in this perverse situation where, when we go up against the best teams, we set up to offer little. How can that be logical? We're throwing games to avoid being badly beaten.
And we're doing it when we have a 'free swing'. We haven't got a team within 4 points of us. There's only one team in the league with a more secure position (Chelsea). Maybe if we'd had a go we would be looking at that top 6 now. As it is we are as 7th placed as 7th placed can be. It didn't really matter how we lost did it.
Derek Thomas
172
Posted 06/03/2017 at 01:17:36
Koeman, like Moyes before him, sent us out to play KITAP1 as a poor Plan 'A' and like Moyes before him, he also had no Plan 'B'.
It cried out to be changed at half time... where was the guy who changed it after 30 mins early in the season?
I wrote on the Live Forum 'If he doesn't change this soon we'll concede again' – and we did.
Lukaku Vs Kane; On the face of it only one winner, but if they swapped shirts???
In the midfield we lost the battle collectively and individually, Barkley looked the best of a bad bunch – which then put the Defenders under pressure.
When the Midfield is narrow that leaves acres of space in front of Baines – a recipe for disaster. They have space to run at him if he sits back. If he pushes up a bit, they pass it round him. If he pushes up too far it's in behind or over the top, or both.
Coleman, when used properly, 'bullies' the opposition, but today, Alli (the worst kind of Premier League snide and diver; would fit in well with the RedShite) and Ben Davies doubled up on him. They were just a bit too big and too strong and too fast for him, when he did get past on the outside the crosses were hurried and poor...why didn't he cut in more – Poor Plan A – No Plan B.
Robles; unsighted a bit for the 1st and exposed for the 3rd and probably the 2nd too... on my feed Peter Schmeichel more or less exonerates him... I have to agree (I'm sure he's pleased I do) With the missing Mid Field putting pressure on the defence *shrugs – whatcha gonna do?
Banks and Shilton regularly got stuffed in the League while Tommy Lawrence aka The Flying Pig, set all sorts of records behind a tight defence.
Our 2 Goals; The simplistic view is – Once Koeman changed it we scored. Nah, once Spurs changed their midfield by taking off Dembele – Then we scored.
Down to you Ron – Poor Plan A and no Plan B... until it was too late. This isn't the first 'Dutch Moyes' Impression he's given either.
Mike Moore
173
Posted 06/03/2017 at 01:22:50
James, I said I took your point that doesn't necessarily mean I agree with you.
This "inferiority complex" if you like isn't something new when we play the better sides away from home, it's been deep routed for an age, that's what I mean when I say about breaking mindsets, that has got to be down to the coaching staff surely?
How many times have we played matches such as this over the years and we look like we are beaten in the opening salvos; why can't anyone see this? Our record in these games is embarrassing!
Anto Byrne
174
Posted 06/03/2017 at 01:23:46
I don't think that the season is over. Spurs haven't given up on chasing Chelsea down. One game at a time still 30 points to play for. We should be looking at some major scalps in the run in.
I thought Brendan Galloway was a decent prospect in central defence and a couple of other kids looked promising, eg, Pennington. Where is Dowell?

Gordon Crawford
175
Posted 06/03/2017 at 01:26:53
Arsenal are now making Koeman Number One target in the summer... lol. What a good day!
James Marshall
176
Posted 06/03/2017 at 01:32:40
Mike, I agree – the mindset has to change, but like I said, it can't and won't happen in one season. It's something that will change over several years as we improve the club from the ground up.
We're back where we belong in the current pecking order which is 7th – that's where we are right now, and where we deserve to be given what's gone before.
I don't think it's realistic to expect Koeman or his coaches to change things as quickly as people want them to – it's going to take time and patience, and those are things I wish supporters would take on board rather than simply laying into the manager when we lose a game.
Ernie Baywood
177
Posted 06/03/2017 at 01:40:13
Derek, that second goal could be blamed on a number of players. Morgan should never have asked for it, Joel should never have given it. He does have a tendency to act quickly with his distribution instead of weighing it up if the first ball isn't on.
The chief culprits for me though were the centre-backs. I've no idea where Funes Mori was and Williams was brainlessly ambling a metre or so from Morgan. I can only think that Williams had just stopped paying attention which is unforgivable. It wasn't the first or last time in the game either.
For the poor decisions that went before, if a defender is just paying attention, then Morgan plays a simple pass and the goal is spared.
Mike Moore
178
Posted 06/03/2017 at 01:41:21
Thanks, James.
Anyway, Everton, being the perverse team that they are, will now go and beat the Red Shite, Man Utd, and Arsenal and I'll look a bigger idiot than normal! I shall look forward to tucking in to copious portions of humble pie in that case!
James Flynn
179
Posted 05/03/2017 at 01:41:35
We played Spurs, at their place a fortress, and got a lesson in intensity; which they've dealt to almost every club that went there.
I agree, we made mistakes that led to their goals. It was their 90 minutes of intensity forced it. Our lads couldn't keep up.
Koeman's fault? Barry's fault? After-the-Game-Expert talk.
I read every thread. In the build-up, we had that rare ToffeeWeb agreement; it was going to be tough to get anything from this game. So it proved.
Spurs are better than us right now. Anyone surprised? No-one is.
We lost 1 point to Man Utd and none to Arsenal. We're still in the hunt; while in a major transition.
Sucked losing the way we did, but here comes West Brom and here we go.
Gary Hughes
180
Posted 06/03/2017 at 01:43:55
Same old, same old. After a decent spell of results, we come up against our first real test away from home and duly oblige. Moyes himself could not have done worse. When will it sink in that, if you go to the home of one of the top teams looking good for a draw, you inevitably come away with a defeat?

Anyone looking for a win at Anfield should watch this spineless surrender to see exactly what will happen when we turn up there. Playing Barry pushed Gana and Davies way too far up the pitch so it seemed that they were playing with their backs to goal just so a pedestrian crab could be accommodated. If Barcelona want Koeman they're welcome to him as far as I'm concerned.
Bob Parrington
181
Posted 06/03/2017 at 01:54:26
James (#168). I imagine it is not the loss but the manner of the loss that pisses off so many of us. We were very ordinary today and it wasn't because they played well because, actually, they didn't. However, we lost the game through immensely bad, sloppy defending.
The starting lineup was a backward step and as many have said on this thread, there seemed to be no Plan B. I hope we don't go out at Anfield with the same defensively minded thought pattern.
As stated previously, on occasions, we should apply pressure from the get-go to these teams.
Tamhas Woods
182
Posted 06/03/2017 at 02:33:01
I'm not thrilled with the performance or the result. But compared to the defeats at Hull and Soton over xmas 2014, that was like watching Barca.
We never gave up.
Michael Long
183
Posted 06/03/2017 at 02:53:54
Yesterday was not good enough. Tottenham were magnificent today, top top players. Dembele is so underrated it's unreal.
But we shot ourselves in the foot today big time. Barry proved 100% today that he is finished. Like Jagielka, he has done well for us but it's time to move them on.
I am not overreacting heavily because it is our first defeat of the year in the league. And against a top side. But worrying signs were there.
Funes Mori – can not pass a ball to save his life and really does remind me of Sakho. Positioning also awful.
Williams – too hit and miss. Is it a case of he dosen't feel confident with Funes Mori. Or just getting on.
Back three worked well, we need to go back to that system, otherwise more goals like today will be conceded.
Robles – I like him, he has done well. But what the fuck is he doing for them 2 goals. Pure bone idol.
God help us in our next away game. We need to win the next two bigtime!
Alan J Thompson
184
Posted 06/03/2017 at 04:12:10
I posted my thoughts immediately after the game (#95) but this morning reading through other postings I'm surprised at the, to my mind, overly critical assessments of Williams and Funes Mori.
Both frequently had to go wide to cover for Coleman and Baines who had stinkers and got no help from four defensive midfielders who did anything but defend. In the second half, Coleman was pushed forward playing more in a wing position with Williams going to right back and Schneiderlin moving to central defence.
I don't see that Robles was at that much fault for the goals. It could be said that he could have been closer to his near post but he also had to be positioned if Kane crossed to the far post. The fault for that goal lies with Gana and Barry.
As for rolling it out to Schneiderlin, I wasn't sure if Schneiderlin called for it but he had two options. Put his foot on the ball as the Spurs player was behind him or return it to Robles. Instead he played a suicide two-yard ball to Williams who had a Spurs player on him and then two with Schneiderlin's man.
Someone else asked if we expected to go to WHL and outplay Spurs. Maybe not... but I did expect to see a team named and playing as though they wanted to.
David Ellis
185
Posted 06/03/2017 at 04:30:40
I was as disappointed as anyone by the general performance. Spurs are clearly better than we are in every department and it was a sobering reality check. We could have stolen something if we had not gifted them a couple of the goals. But we are not on the same level.
Having said that, like others, I thought Barkley had a good game and is a very different player to Dele Alli who I found narky and irritating.
I think Barry is done (as a starter). I think 3 of the back 4 need replacing (and Seamus needs to practice his crossing).
But we will finish 7th this year and get into the Europa League. This is progress and will hopefully allow us to add a couple more of the pieces in the jigsaw over the summer.
Dave Ganley
186
Posted 06/03/2017 at 08:06:36
As others have said, I'm very disappointed at the manner of defeat yesterday. It's no shame going to a decent Spurs side and getting beat. What is shameful is going there not to get beat.
I finally thought that we were in a position to actually give it a go down there. You don't need to be kamikaze about going forward but you have to show intent and not just when you're 2-0 down.
Having effectively 4 DMs is taking a massive step backwards. I know Davies and Schneiderlin can get forward but essentially they are primarily DMs. I am massively disappointed.
If you don't give yourself a chance then we are never going to overtake the so called top 6. The side was just not balanced. Thought we had finally overcome putting square pegs into round holes, evidently not.
Koeman really needs to take lessons from this and make sure he learns those lessons. To go with that formation and to get beat like that just shows we are not ready to be mentioned in the same breath as the top 6. Very poor.
Kevin Moorcroft
187
Posted 06/03/2017 at 08:44:13
I'm afraid as usual the negativity of people on ToffeeWeb is just untrue. Give this man a chance. He's telling us all it will take time to get the right strength squad.

He's not been here a year and, with so many changes still happening at the club, it will only happen given time.
James Marshall
188
Posted 06/03/2017 at 10:49:30
Bob – Plan B was bringing on McCarthy and Mirallas – did you miss that bit? ;)
Spurs didn't play well? Is that why they're unbeaten at home all season, and second in the league?
Come off it, mate!
James Marshall
189
Posted 06/03/2017 at 10:51:28
Also, the other people bemoaning the fact we're too defensive – the manager's first job this season was to make us hard to beat, which is why we have so many defensive players, and play a bit too safe for everyone's liking at times – especially against the top teams.
You could always go against them man-for-man, a la Stoke, and get done 4-0, I suppose.
We were shit last season, and too open – Koeman has addressed that and rightly so. Now be patient!
Brian Furey
190
Posted 06/03/2017 at 11:46:49
Chelsea have won 12 home league games and only lost 1. They hammered us 5-0. Spurs have 11 home wins, 2 draws and now have won their last 9 games.
We have the 5th best home record just below Arsenal and Burnley. I was amazed at the amount of people who thought we could have won on Sunday and that's not me being negative for the sake of it.
I just felt looking at our results lately that, yes, we are playing very well at home but away from home we have struggled quite with teams in the top half of the table.
I think we did very well to get two goals back and maybe the score flattered us a bit but it did highlight again how our back 4 struggle when teams with pace run at us.
Up until yesterday, Spurs had only conceded 5 goals at WHL and so despite our defensive set up we ended up scoring 2.
West Brom at home is a big game that we need to win and not just draw. Them losing at home to Palace was a huge boost to us on Sat as it gives us some breathing space.
By the way, should we qualify for the Europa League in 7th place, we will have a knot of early summer qualifying matches.
Tom Bowers
191
Posted 06/03/2017 at 11:50:01
Everton have had bad days at the office a few times this season and still gotten the result but against teams like Spurs you will be punished for errors. The whole defence backed off for the first goal. What were they thinking, Harry Kane can't shoot?.
Then of course the real clincher, Robles made a bad decision and Morgan compounded it after really being put in a bad position. Koeman can put these things right and one hopes soon so that the team can get back to good results.
Barry Rathbone
192
Posted 06/03/2017 at 12:03:59
Slightly worrying the reversion to page 1 of the Premier League Manager's handbook:"In the face of 'better' teams, go defensive".
The excuses for this "temporary" state of evolution tend to still be going a decade later – Anfield will tell.
Mike Green
193
Posted 06/03/2017 at 12:07:47
Brian (#150),
From the way they played I'm not sure the team thought they could win on Sunday, there was no real spark in what could have been a defining game in our season.
We've got 6 home games left, all of which we will be favorites for (WBA, Hull, Burnley, Leicester and Watford) bar Chelsea. So we could get 15 points there.
Our away games are going to be a bit of a nightmare (Liverpool, Man Utd, West Ham, Swansea and Arsenal) especially given we don't really seem to have an effective game plan away from home. So - I reckon, all in, we'll be lucky to get 20 points from our remaining games.
If we've got any Top 6 aspirations we've got to do what we've failed to do for decades, which is beat the Top 6 in their own back yard. We had an opportunity to do that on Sunday and reverted to type, and will have a few more opportunities coming up which I doubt we'll take either and that's what separates us from the best.
WBA have got a torrid remaining schedule, of which I think they might be lucky to get 15 points, which also makes this weekend's game huge.
Win that and I think we're nailed on for 7th, the strong possibility of Europa League football and hopefully new faces coming into the club that could turn us into Top 4 contenders next season, which is a mammoth task.
For that reason alone, Europa League qualification is probably a must just in view of making us a more attractive proposition to players who could be on our recruitment list. That and keeping hold of Lukaku, which for me, is now a must.
Colin Malone
194
Posted 06/03/2017 at 12:59:19
I wouldn't write off Barry just yet. It was not so long back that he was our best midfielder. He was in a midfield on Sunday of square pegs in round holes, very unbalanced. Schneiderlin and Gueye are top class but, in my opinion, there is only room for one of them.
Stan Schofield
195
Posted 06/03/2017 at 13:34:39
Brian @190: As you say we're not doing too badly to say the least. However, what happened yesterday looked to me avoidable.
It was a tactical error that wasn't isolated, it's happened before. I hope it's not repeated again, otherwise I will be concerned about Koeman's tactical nouse (I know, I'm only a punter, whilst he's a millionaire manager who was a great player, but that doesn't mean he doesn't get things wrong). If it were an isolated mistake, that would be fine, but it wasn't. That's my issue, and makes the defeat frustrating.
I believe we need to approach every game to win, regardless of the opposition. We do have the players to defeat the likes of Spurs at WHL, but we need to get the tactics right. If we don't take this attitude, then I don't believe we'll challenge for anything. Yesterday did not show a winning mentality.
Anto Byrne
196
Posted 06/03/2017 at 14:07:04
The job of the defensive midfielders is to at least provide some opposition to players attacking through the midfield. Kane cut in and Barry backed off him and, as he took the shot, made a half-arsed effort to block it, in fact made no effort to get in front and make the block.
Barry looks good on the ball and still offers something but generally his defending is abysmal, either giving away cheap fouls in dangerous areas, or finding a way to add to his considerable tally of bookings.
Dave Abrahams
197
Posted 06/03/2017 at 14:11:53
Brian (#190), I understand your post and agree with some of it, but we didn't score our two goals with a defensive set-up; we scored the goals when we had a more attacking eleven on the field, after Mirallis, McCarthy, and Valencia joined the fight.
I'm not saying we would have won the game with the line-up that finished the game but I'm sure we would have given Spurs a tougher game. Lukaku's goal was the first real shot on target.
Patrick Murphy
198
Posted 06/03/2017 at 14:50:46
During the last six seasons, Everton's away record against the six clubs above us is lamentable to say the least. 14 points taken from the last 33 visits to those elite venues made up of a single victory at Old Trafford and 11 draws, with 21 defeats.
Norwich City also have a return of 14 points but from only 24 games. Villa, Newcastle, West Ham and Swansea have a better return against the elite away from home than Everton in this period.
West Brom and Southampton have the best records outside of the top six on those grounds with both sides amassing 21 points, the Saints from only 27 trips.
It comes as no surprise to see that the clubs with the best records at those away grounds include, Chelsea, Man City, Liverpool and Man Utd with each of those clubs taking 34 points or more. Surprisingly Spurs have only taken 18 points away from home against the elite.
It could be argued as some have said that the big teams don't take Everton as lightly as some of their other visitors or it could be argued that smaller clubs than Everton do not have an inbuilt inferiority complex.
Whatever the reason, it is Everton's lack of points taken at those venues and more importantly the abject performances that usually accompany those results that makes it easier for the pundits and media to dismiss Everton when they are discussing the merits of each of the European contenders.
At home, we are a match for most teams but our away form in general, and particularly at the richer clubs, is our undoing. I'm not going to pretend that there is an easy solution but surely we could expect to see the team compete every now and again when they travel to those places?
Jay Harris
199
Posted 06/03/2017 at 15:04:11
I think criticism of Baines and Coleman is way over the top. They have been two of our best players for some time.
The problem yesterday was there was no-one in front of them and they were obviously instructed to be defensive-minded, nullifying their main strength which is going forward.
I was hoping for a 3-5-2 with Holgate and Coleman pushing high on Ben Davies, who imo is their weakest link in the absence of Danny Rose, but instead, we allowed Davies and Walker to push forward and keep us pinned back.
Despite the superiority of Spurs, I was most concerned with the sloppiness for their goals – all of which could have been prevented.
John Pierce
201
Posted 06/03/2017 at 16:34:27
Patrick, interesting post that. Sent several waves of thought through my addled brain.
Stan (#195), I'm in agreement possibly with an stronger point of view.
Koeman's selections and formations have been a repeat feature of his tenure. He has himself admitted this by having to act upon it early in games, WBA and Bournemouth noteable examples. Seen as both a strength, to change things is good and a weakness, why get it so wrong in the first place?
Whilst tactical flexibility is something we've desperately needed in our manager, that doesn't stem to getting it so wrong it is the root of the performance. I have little patience for such big errors.
He has admittedly given us a glimpse of a better team but then the bar was fairly low.
I wonder if the big, powerful midfield he's assembled is to Band-Aid the obvious weakness at the back. Now if thats the case then okay, but its clear surgery is required. But it been said that the players look more comfortable and I think we look more exciting as a 3-5-2?
What concerns me the most is a back 4, the root of most of his folly, exposes each one to their weaknesses. I now reluctantly have to include the full backs, I've been a little sentimental towards them.
Baines is done; even in a 5 he stuggles. Coleman could survive in a 5 but in a 4 is continually exposed for lack of awareness. Fuck I wouldn't cross a road with the lad!
I have to say even on games we've won the evidence is there, the opponent hasn't been good enough to exploit it. Even when they did, Bournemouth home, it was swept away with the euphoria of hitting 6.
So is Koeman experimenting with 7th very close to being sewn up? You'd think if so then Holgate gets a go in a 4 surely?
I truly don't know with this fella, a stellar career in a hugely attacking side, a goalscorer supreme and 'snidey' defender. Didn't he play sweeper formost of his career? Am I wrong to expect more by now?
Jury's still out for me.
Peter Gorman
202
Posted 06/03/2017 at 16:47:47
Apologies if this has been talked to death already but whoever has been saying Koeman got it very wrong at Spurs, I would agree with.
Not the game for Barry at all, against a very mobile Spurs midfield and worse still, it pushed our best defensive midfielder, Gana, too far up the pitch. This was really a mistake, the goals obviously came about through some classic clowning around reminiscent of the Martinez days but Spurs deserved more. Surely a mobile McCarthy higher up and an effective Gana further back would have made more sense?
Also I am finally coming round to the stance of those who say Lukaku is absolutely vital to Everton. I've not been a massive fan of his agent over the years but he really is one of the few things we have going for us.
As much as it annoys me how reliant we are on his goals, the fact remains we simply are. I've no idea who could replace him.
But yeah, as has been said; Koeman really ballsed this one up which is a concern.
Stan Schofield
203
Posted 06/03/2017 at 16:49:36
John, jury is still out for me too. Thing about yesterday is, it was so predictable. When I saw the team sheet, I thought to myself that Koeman was having a laugh (I know he wasn't), and thought (and said on TW) that Barry would be taken off and Holgate put on, etc. It was just so defensive and containing, a set-up from a mid-table mentality, not a supposed winning mentality challenging for top-6, top-4, and Europe.
We may not be as good as Spurs, but there's not much in it, and Koeman won't help matters if he chooses, time and again, a formation of fear and containment away from home, especially against the 'top' sides.
Brian Williams
204
Posted 06/03/2017 at 17:21:11
Nobody was more disappointed in yesterday's result than me and I know the result will have ruined others' weekends as it did mine.
Something struck me today though and that was: Should we condemn ourselves so much on the basis of one result? A lot of points have been made about how we're well short of being at Spurs level etc etc...
So did Man City say that they're well short of being at Everton's level when we battered them four nil at Goodison? Spurs were a lot better than us yesterday but I have to say that we were woeful and a number of individual mistakes "gifted" them all three goals.
Had we played anywhere near the level we're well able to play at we could have come away with something from WHL. We just happened to pick THAT particular day to suffer from a poor team selection initially, and then a number of unforced, sloppy mistakes against a team who are on a great run playing at their home ground which has been their very own fortress this season.
I've said it before and I'll say it again, "small margins"...
Dermot Byrne
205
Posted 06/03/2017 at 17:34:06
True Brian 204. Some on TW want the manger sacked and owners hung EVERY time we lose. Childish reactions.
Stan Schofield
206
Posted 06/03/2017 at 17:39:46
Brian @204: No, we shouldn't condemn ourselves, we're doing broadly fine, and as you say, the margins are small.
Dermot @205: I don't think many on TW want him sacked, and most reactions seem very reasonable to me. Koeman made a mistake, that's all, but it wasn't an isolated mistake, it was a repeat mistake, fairly predictable, and in many folks' opinion, avoidable. So it's entirely fair to raise this as an issue. Our manager isn't perfect.
Stephen Brown
207
Posted 06/03/2017 at 17:47:37
I think Koeman was guilty of trying to please too many midfielders yesterday!
Barry was good at start of year and has x amount of games – better start him;
Schneiderlin cost £25m – better start him;
Gana, Player of the season So far – better start him;
Davies, young and fans' favourite – better start him too!!!
This resulted in a non-formation with no width and players getting in each other's way!
Steve Jones
208
Posted 06/03/2017 at 17:52:02
Koeman was at fault there. If Barry was meant to shore up the middle, our manager massively underestimated the flood that was going to come in.
Barca coming in for him 'because he is one of theirs'? Yeah, right – they said the same thing about Martinez. Koeman has a lot of learning to do and we'll have more days like yesterday while he learns.
The positives from yesterday? and they are not ones we can't answer. We can play to the level Spurs did yesterday and that is title challenging stuff. We just need to wait while the manager learns his lessons and do some more filtering out of the lamer elements in the squad.
Time to dig in and grit it out again; the Baggies game is a must-win now; we clearly have to show the resilience to bounce back from a bad game and put some daylight between us and those following.
David Graves
209
Posted 06/03/2017 at 18:08:52
Dermot @ 205 – see Stan @ 206.
Not many saying the manager should be sacked... just pointing out that he made a few fundamental mistakes. Let's face it, he had all week to put together a plan to get something from Spurs yesterday, a plan that – if any of us had known what it was before kick-off, would have said, "Don't think that will work" – and that's not relying on hindsight.
Brian Furey
210
Posted 06/03/2017 at 18:11:24
We beat Man CIty 4-0 at home which was a great result. Would people not say we played a very defensive game that day?
Looking at Sky Sports website here's the team line-up and marks
Everton: Robles (7), Holgate (7), Williams (7), Funes Mori (7), Coleman (7), Davies (9), Barry (8), Baines (7), Barkley (6), Mirallas (7), Lukaku (8).
BTW, anyone know how I can get tickets to the Juventus v Milan match this coming Friday?
Mike Dolan
211
Posted 06/03/2017 at 18:19:34
I wouldn't be surprised if either Jags or Pennington start the next game. Koeman doesn't put up with sloppy performances. That's why Lookman wasn't playing. Nothing is bigger than the team and Sunday there was just no zip in those Blue Shirts.

Patrick Murphy
212
Posted 06/03/2017 at 18:46:44
Brian (#210)
It was primarily a defensive performance against Man City at Goodison Park; however, notice that alongside Barry there was only Davies as the other defensive midfielder, plus Mirallas was up top with Lukaku and at the back we had Holgate who has pace and is a good reader of the game. Similar tactics perhaps but not very similar performances or outcomes.
The Man City game gave our attacking play some options, the Spurs game did not. There were too many people trying to man the same position and that led to a lot of uncertainty and confusion which cost Everton the game.
Peter Gorman
213
Posted 06/03/2017 at 19:23:28
Which, Patrick, is precisely the point many people have been making so I'm a bit surprised it went over Brian's head.
Patrick Murphy
214
Posted 06/03/2017 at 19:25:46
To be fair, Peter, Brian's point was probably more in relation to Gareth Barry and his very good performance at home to Man City, which could have swayed Koeman's decision to pick him yesterday, but the game-plan wasn't the same at all.

Jay Harris
215
Posted 06/03/2017 at 19:33:16
The game yesterday wasn't small margins at all. Spurs blew us away.
I am a firm believer in the manager but he got it badly wrong yesterday, supplemented by three horrific errors for their goals – all of which were down to a lack of concentration and application.
Back to Finch Farm for a refresher course this week.
Brian Williams
216
Posted 06/03/2017 at 20:17:03
If ALL the goals were down to "horrific errors which were down to a lack of concentration and application," which I agree with, the fact that all those errors were self-inflicted and unenforced contradicts the fact that Spurs "blew us away."
Had all the goals been due to outstanding play which we couldn't live with or have any chance of preventing then it could be classed as us being "blown away".
They weren't, and we weren't. We shot ourselves in the foot three times. Make one unenforced error less and it's two all.Small margins.
John Pierce
217
Posted 06/03/2017 at 20:47:24
There are better times ahead, the oil tanker that is Everton is slowly stopping and thinking about turning.
The Dutchman has been too pragmatic, and too defensive. Koeman has several times picked terrible formations which fail the players more than the other way around. That needs to change quickly if we are to continue a progression which has been there but erratic. Our back 4 are all shot, and as previously posted I'm certainly sad about the full backs.
Lots of recognition on the site that we need new blood at centre back. Little talk of new full backs and good suggestions at that. Normally I'm full of thoughts but have to say I'm stumped.
Suggestions what type of team we want given the way Koeman sets up?
Colin Glassar
218
Posted 06/03/2017 at 21:01:45
I just watched the (recorded) match and we were even worse than watching it live. One thing struck me, and I know, I should be used to it by now, is how much the commentators/pundits hold us in contempt.
The disdain, dislike, utter contempt they feel towards us just oozes out of every sentence as though we don't even deserve to be mentioned in the same breath as their elected top 6.
One last thing: It's even clearer on the telly that Funes Mori not only doesn't have a football brain, he's a lazy sod who could've at least tried to get back to intercept their second goal.
Stan Schofield
219
Posted 06/03/2017 at 21:09:14
Colin, football pundits are part of the news media, which is largely shite. They also seem to be dopes, and I find it better to turn the sound off when watching MotD so I don't have to listen to their drivel.
John Pierce
220
Posted 06/03/2017 at 21:09:27
Colin, I watched that goal over and over again.
Preoccupied by the calamity that created it, I was eventually, like you, perplexed at the jogging Funes Mori 'shepherding' the ball into the goal.
Somewhat clinging to the small skillset he has, when he plays in a three, he just looks more secure. That goes for the rest of the defence.
No I just can't do it. He's terrible, I'd pick Krøldrup over him.
Chris Jones
221
Posted 06/03/2017 at 21:29:57
Spurs played like we should play and, I believe, how Koeman wants us to. We're not there in two aspects yet – first, we don't have the players – and, second, the manager's just got them starting to press more, but it's still inconsistent.
Spurs pressed brilliantly, both as individuals (Eriksen!!) and in packs. We tried, but more often than not as individuals. They move the ball and themselves too quickly for one-man pressing to work. they've had two and a half years to get where they are, we've had since the summer.
As for the goals, one point of view is that they were down to unforced errors: not closing Kane down quickly, stupid roll-out, and poor concentration. In the context of the game, perhaps those errors weren't all that unforced.
The press Spurs put on us had our players rattled in possession and when that happens you make poor decisions. Not sure who was putting the high press on Koeman though when he selected Barry ahead of McCarthy.
Shakes head... moves on.
Raymond Fox
222
Posted 06/03/2017 at 21:30:24
My take on the game is that we just stood off them and let them do what they wanted.
First goal was due to no pressure whatsoever on the ball, Kane had all day to pick his spot.
The second – what can you say, bad decision by Robles, compounded by our players being half asleep.
That's two goals start, their third goal was a well worked goal, I've no complaints about that one.
We only started to play and get on the front foot when the game was virtually over.
Oliver Molloy
223
Posted 06/03/2017 at 23:15:55
Raymond,
You have no complaints over their third goal?
I suggest you watch it again and explain what Baines was doing???

Colin Metcalfe
224
Posted 06/03/2017 at 23:17:08
I watched the highlights again and for the second goal it looks as though Schneiderlin made the call to receive it. Anyone else notice this?
Mike Dolan
225
Posted 06/03/2017 at 00:00:04
And the best analysis goes to Chris Jones (#221). You nailed it, mate.

Colin Glassar
226
Posted 07/03/2017 at 08:39:04
John (#220), didn't Funes Mori do the same for one of the Chelsea goals in that thrashing? He seems to have little spatial awareness and a lack of urgency in his thinking. But you are right, he does seem better in a back three.
Another thing is, he is quite good with long passes but awful when passing short. Weird skill.
Matthew Williams
227
Posted 07/03/2017 at 09:54:15
Thank fuck there isn't a column in the League table for mental strength... we all know where we'd be!
Unless we can win away at the big boys gaffs on a regular basis,we won't win nowt... sadly.
Raymond Fox
228
Posted 07/03/2017 at 14:33:17
Oliver (#223), Baines along with others is trying to hold an offside line. If a player can time his run perfectly, it's nigh-on impossible to defend against.
Our second goal was a similar goal. Having said that, Baines did seem in dreamland and he's never impressed in a defenceive capacity, in my book.
Mick Davies
229
Posted 07/03/2017 at 20:59:42
People on here saying they expected us to get beat at Spurs? Well we were on a long unbeaten run, and a very poor Liverpool side had just wellied Spurs.
I expect Everton to try and win every game, but when Koeman spouts about pressing and intensity, then brings in Barry away at one of our strongest rivals, I can understand the pessimissm. If he wants intensity, then the best exponent at the club is McCarthy, who leaves everything on the pitch.
Barry would struggle to press a doorbell if it was more then three feet away. Play him at home against the Burnleys and Sunderlands, but away at Spurs?
And Christine @ 128. Robles, until the ridiculous roll out that dissected Williams and Schneiderlin
Have you watched it? The ball went to Schneids and Williams was busy looking up the pitch; the ball had just kept coming back at us, so Robles, wisely, tried to keep possession, but in a carbon copy of the Howard/Osman cock up against Sunderland, Morgan (a professional footballer) failed to control and pass a simple ball played right to him.
Dave Abrahams
230
Posted 07/03/2017 at 21:36:44
Stan Schofield (219), I'm with you on football pundits. I don't watch Sky TV much but I just watched Ian Dowie and Phil Thompson tonight... what a pair of demented people they are.
Do they ever watch themselves on playbacks? If they do, they must cringe with embarrassment. God bless us... utterly inane.
Paul Tran
231
Posted 08/03/2017 at 11:34:00
They pressed better, their movement was better. Their technique was far, far better and at the higher levels at pace, that makes the most difference.
Better players or better coaching? I'd say both, but more the players. Very few of ours would get in that Spurs side.
---
Add Your Comments
In order to post a comment, you need to be logged in as a registered user of the site.
Or Sign up as a ToffeeWeb Member — it's free, takes just a few minutes and will allow you to post your comments on articles and Talking Points submissions across the site.
© ToffeeWeb