Report
Blues put Champions to the sword
By Michael Kenrick
09/04/2017

124 Comments [Jump to last]
Share: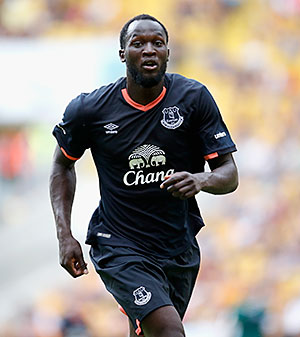 Romelu Lukaku surges ahead as the Premier League's top scorer with 23 goals this season
Everton 4 - 2 Leicester City
A crazy goalfest in the first half at Goodison Park began inside the first minute as Everton took the game to the reigning Premier League Champions.
Morgan Schneiderlin was back in the starting XI after recovering from a calf strain while Matthew Pennington started at centre-half in place of Ashley Williams who was suspended after picking up a red card in the final minute at Old Trafford. Kevin Mirallas also started.
The visitors kicked off but from a deep throw-in, Mirallas scampered up the field and the ball ran to Tom Davies as Mirallas was fouled on the edge of the area and Davies beat two defenders and Schmeichel to bury it inside 31 seconds. Brilliant! – and very good advantage played by referee Robert Madley.
Mirallas was next to come close but the attack broke down and the Foxes tore through the entire Everton midfield and defense, Slimania in acres of space with time to slide it through Robles and into the Gwladys Street net. Crazy defending!
Everton continued to press, undaunted by the vim and vigour of their opponents who were keen to deny them much space, Pennington getting himself into trouble against Vardy, and giving up a free-kick that was converted brilliantly by Albrighton. A cross perhaps mis-hit, and definitely misread by Robles.
Everton won a corner taken by Mirallas that pinged all round the Leicester box, Davies's shot blocked and Mirallas's cross over-hit... like Gana's awful forward ball. At the other end, Robles had to save from Gray with his feet and the Blues reverted to slower, more considered build-up that came to nought.
Dreadfully laboured possession football ensued that went precisely nowhere, Lukaku finishing it by passing the ball behind for a goal kick. But it was much crisper with the next attack, Barkley swinging in an absolute peach from the touchline and it was simple for Lukaku to convert, nodding past Schmeichel.
Davies was so alert, knew exactly where he was playing the ball before it was passed to him — a contrast to Barkley's occasional hesitations. Mirallas and Huth had a set-to, for what looked like an attempted stamp, both earning yellows.
The home side tried to play through the middle with intricate passing that was destined to break down. They reverted to the wing, where Holgate was fouled by Slimani as he set to cross. Barkley cut it back from the byeline with a low drive but it was intercepted.
The Foxes won a corner at the other end that Mirallas hoofed up field but of course all 11 blue shirts were in their own penalty area; advantage lost. Barkley tried for once to shoot from outside the area but gave his marker too much sight of the ball. Lukaku then beat Chilwell but spooned his shot well over.
Barkley set up Gueye for a shot that was deflected wide for a corner that was cleared but came straight back for Barkley who had the easiest of jobs to go around Schmeichel and slot home — only for a desperate outstretched arm from the keeper that he failed to anticipate as it was pushed past the post. But the corner was delivered superbly with pace and swing and accuracy from Mirallas and headed home brilliantly by Jagielka, skipping around to position himself perfectly for it at the far post.
Baines was a little too aggressive again and gave up a dangerous free-kick while picking up a yellow card, leading to another Leicester corner that Lukaku cleared before the break.
The game restarted and Lukaku played a nice back-heel that Barkley looked to profit from but he was closed down before he could shoot. Slimani got forward on the break, his shot deflected into the side netting, Huth then handling the corner.
Holgate was a little too keen to hoof the ball forward aimlessly, which did not help matters as they looked too open on the turnovers. It was lively stuff in midfield, however; both sides keen not to surrender the sixth goal. Would that be influenced by the introduction of Riyad Marhez? Not before Mirallas won a smart corner, driven home at the far post by Romelu Lukaku, now on 23 goals!
Barkley tried to pick out Lukaku with a good forward ball but Schmeichel was out too quickly. Madley was playing advantage again, letting a poor foul by King on Gueye seemingly go before he did finally show him the yellow card when there was a break in play, but the crime had been committed for many unforgiving Blues fans.
Barkley and Lukaku looked to combine well into the Foxes area but Chilwell was in smartly to challenge. The Blues were controlling the game as Barry replaced Schneiderlin, who had brought exceptional solidity to the middle of the park.
Everton were conceding possession to the visitors, who nevertheless were having little success getting into the Everton penalty area. Musa won a corner before Ulloa came on for Albrighton. Mahrez delivered a superb corner that Ulloa headed straight at Gueye and away. But Barkley fouled Mahrez rather poorly, setting up another chance for the visitors, who kept probing away.
But Everton had been comfortably in control since Lukaku's second goal and were determined to play the rest of the game out without further incident. But it needed a brilliant goal-line clearance from Jagielka to prevent Musa from scoring after Robles had blocked a point-blank header from Ulloa.
It ended in a fine victory by the Blues over the reigning Champions, and the first loss for their new manager, Craig Shakespeare.
Scorers: Davies (1'), Lukaku (23', 58'), Jagielka (45'); Slimami (4'), Albrighton (10').
Everton: Robles, Holgate, Pennington, Jagielka, Baines [Y:45'], Schneiderlin (73' Barry), Gueye, Davies, Barkley, Mirallas [Y:28'], Lukaku.
Subs: Stekelenburg, Kenny, J Williams, Lookman, Valencia, Calvert-Lewin.
Leicester City: Schmeichel; Amartey, Benalouane, Huth [Y:28'], Chilwell; Albrighton (78' Ulloa), King [Y:64'], Drinkwater, Gray (61' Mahrez); Slimani, Vardy (61' Musa).
Subs not Used: Zieler, Kupustka, Simpson, Wasilewski.
Referee: Robert Madley
Attendance: 39,572
---
Reader Comments (124)
Note: the following content is not moderated or vetted by the site owners at the time of submission. Comments are the responsibility of the poster. Disclaimer
Paul Kossoff
1
Posted 09/04/2017 at 15:43:15
Two home games that we can win, and with Man utd beating Sunderland today, we have to get maximum points from them.
Mark Morrissey
2
Posted 09/04/2017 at 16:14:23
2 very young defenders with very little big match experience. I hope the occasion doesn't become too much for them
Colin Hughes
3
Posted 09/04/2017 at 16:42:43
4-4 this, we will concede at least once more and they don't look too clever at the back.
Ciarán McGlone
4
Posted 09/04/2017 at 16:48:41
Despite some keeping and defensive frailties, that was the best half of football we've played this year.
Enjoyable.
Mark Morrissey
5
Posted 09/04/2017 at 16:55:02
I'd second that Ciaran and I think Pennington and Holgate are coping well. Robles, what were you doing ? other than that, a great first half. Ross to Rom, a better cross you'll never see. Sublime
Chris Williams
6
Posted 09/04/2017 at 16:58:13
These are dangerous on the break and from set pieces and they will probably look to play in exactly the same way second half, sitting and breaking.
We need to score the next goal and then pick them off.
A word for Mirallas. Playing well and really fired up to show RK just how good he can be. He just might be the man today.

Michael Kenrick
Editorial Team
7
Posted 09/04/2017 at 18:03:10
Well played, Blues.
I make that three assists for Kevin Mirallas. His corners were excellent, especially for Jagielka's well-earned header! He's been unlucky not to score for nearly a month!
John James
8
Posted 09/04/2017 at 18:07:35
Fortress Goodison
Dean Adams
9
Posted 09/04/2017 at 18:09:23
Mirallas is a quality player who should get far more game time than he has at Everton. Did you hear his scouse accent on that Tom Davies clip in the changing room!!
George Cumiskey
10
Posted 09/04/2017 at 18:11:00
Can't believe they gave Ross MotM. Jagielka, Davis, Lukaku and Mirallas were head and shoulders above him. One great cross and not much more. Shaking my head in amazement!
David Barks
11
Posted 09/04/2017 at 18:12:51
Quality win, solid performance all around. Davies did very well before tiring toward the end. Schneiderlin is quite the player. Pennington started poorly but grew a lot as the game went on.
Barkley was orchestrating the attacks and did very well. Mirallas was superb, we look so much better when he's in the pitch. Lukaku, just keeps scoring. Jags was very solid.
Great to come back and win 4-2 after being sucker punched to go down 1-2. Solid all around, happy Sunday.
Tony Heron
12
Posted 09/04/2017 at 18:17:06
I thought Jagielka was finished earlier in the season, but what do I know? Today I thought he was absolutely outstanding. Winning challenges, nursing the two young lads through the game, goal-line clearances, and of course scoring. A real captain's performance, well played skip.
Gordon Crawford
13
Posted 09/04/2017 at 18:18:20
Well done blues. A great win. Let's keep it up. And what a fanstastic player we have in Ross Barkley. :) Coyb
Ciarán McGlone
14
Posted 09/04/2017 at 18:19:02
Gana... MotM for me. He was outstanding.
David Morgan
15
Posted 09/04/2017 at 18:22:08
Looked good again today, Jagielka played well and we attacked really well.
But, I have to say Pennington was a joke in the first half, to add to poor performances against Liverpool and Man Utd, and last years 3-0's v Leicester and Sunderland. It's early days I know, but I have seen enough to worry every time the ball goes anywhere near him.
How can we keep players like Lukaku when we have Pennington at the back? Two new centre-backs needed in the summer. If we had Spurs' two centre-backs, we would be top 4 in my opinion.
Matthew Williams
16
Posted 09/04/2017 at 18:24:44
All the young lads did well, but Jags was a fucking warrior again when it mattered!
Jay Harris
17
Posted 09/04/2017 at 18:26:22
Quite a few MotM candidates today.
I thought Mirallas, Baines, Schneiderlin could have all been awarded it but for me Jags gave a perfect captain's performance today and deserves to be MotM.
I have to say the difference between Koeman's Everton and the Martinez experiment is now night and day.
Very optimistic about the future, I hope all Blues are.
John Pierce
18
Posted 09/04/2017 at 18:26:56
Offensively very good today. Defensively held together by Jagielka. Nerves and naivety of youth evident but importantly both Holgate and Pennington got better and that's the main point.
Schneiderlin was well managed by Koeman, his presence just opens thing up for Gans to go hunting and Davies, who for me was Man of the Match. We played a tempo that suits us, quick.
A little but of noise for him to be rested but he superb, a 70-yard run with acceleration in the first 30 seconds, and the poise to slot home.
His first time passes are controlled, accurately played and rarely under-hit. Both Rom 'n' Ross take note. Always looking for the forward pass. Very good for an 18-year-old.
Overall, a performance which emphasises both our strengths and weaknesses.
Dan Davies
19
Posted 09/04/2017 at 18:34:41
I'd second Jags as MotM, Jay, thought he was very good today. An all round good performance.
Gana plays football exactly the same way my little Jack Russell chases the ball in the garden – an aggressive nuisance!
Barry Pearce
20
Posted 09/04/2017 at 18:34:54
Jags, Man of the Match.
Andrew Clare
21
Posted 09/04/2017 at 18:37:00
Well done Everton – a first class performance.
It looks as if Lukaku is going for sure and now I am not so sure about Barkley staying with us. I should be really optimistic about next season but, with two of our best players about to depart, I just don't know...
Martin Mason
22
Posted 09/04/2017 at 18:39:21
Very good win in the end and good winning experience for the younger players. Pennington struggled again but did get better as the game went on. I hope I'm wrong but he doesn't look top drawer to me. I'm sure that I can be corrected on that by people who've actually seen him play in the U23s.
My picks for Men of the match were Mirallas (great game), Davies and Lukaku but only one for the Mars bar and that was the superb Ross Barkley.
Redknap and Neville were really extolling his virtues on Sky and I agree with them. We must do whatever it takes as club and fans to make sure that he signs his future to the club. My own feeling is that both he and Rom will go and it will be the worst thing I've seen happen at the club since we sold Bally.
We are a good side with great promise for the future if our youngsters come through and we can add some more quality down the spine of the side in the summer window.
Sue Brown
23
Posted 09/04/2017 at 18:45:35
Difficult call for MotM today, a great team performance.
Jags, solid and classy at the back and a great goal.
Tom Davies never stopped, always looking for the ball, deserved MotM.
Schneiderlin proved his importance to the team, very solid and opens up the game for the rest of the midfield.
Great game, Blues!
Mike Dolan
24
Posted 09/04/2017 at 18:47:20
Great game today – all the lads played well. I thought Mirallas had one of his best games ever.
I thought Jags was brilliant he wound back the clock today and guided Pennington who really picked his game up after a jittery start.
Barkley is really looking like a quality midfielder he is really aggressive nowadays , his cross to set up the last goal was world class.
Davies's goal I thought was brilliantly taken. Well done lads, great game today.

Damian Wilde
25
Posted 09/04/2017 at 18:58:51
Good win. I thought Geuye was superb. Davies did well. Jags very good. Rom scored as he often does, good game from him.
Now whilst it was a fantastic cross from Ross for Rom's header, the rest of the game, I thought he was frustrating. How many times did he have the ball and just not know what to do with him? It's like the lad has no brain. And what a miss!!!
For me, and I've said it for a long time, he's not good enough: sell him. If we had bought him from a Russian team two years ago, he'd get slated far more. Cause he's one of our own, people refuse to see his poor side and make out he us much better than he is. I lost count of the amount of times he lost the ball against Liverpool, it was embarrassing (oh sorry, but he tried hard, eh!).
Jay Wood
26
Posted 09/04/2017 at 19:00:55
3, 4, 6, 2, 3, 4, 4 - the sequence of goals scored in the 7 consecutive home wins in the Premier League .
26 goals in total. 5 clean sheets. 5 goals conceded in total, the 2 today plus the 3 in the single match vs Bournemouth.
And that when not always playing very well.
Now, start to take just a wee bit of that form on the road, and we're on to something.
Many solid performances throughout the team today. Holgate, cool and durable. Pennington, at fault for being caught napping and dwelling on the ball to concede the free kick from which they scored from; didn't let it affect him and he grew into the game. Pleased for him.
Baines, crisper and more accurate in his passing than of late. Jags, outstanding in both penalty areas and he (for the 2nd match running) gets my MotM nomination. Really nicely taken goal for his header.
Two more goals from corners, 4 in 3 games. I'll have more of the same, any time, any game.
Schneiderlin replicated Gueye's and Davies's errors of last week and went to ground too early in the proceedings in the move that led to their equalising goal, but otherwise played well.
The awareness and stamina Davies displayed in going with Mirallas for the opening goal, and the tidy way he controlled and shifted the ball a tad before scoring was mightily impressive. Great 1st half, not so influential in the 2nd, but still good.
Mirallas, Barkley and Lukaku carried plenty of threat. The Barkley cross for Lukaku's 1st, too sublime for words. Great run by Kev in the opening 30 seconds. Nice to see him still on the pitch at 90 minutes and still going hard at it.
Good ref, too. Allowed good advantage and went back to sort out the offender once the ball went dead.
Another thoroughly enjoyable game.
We're doing just fine.
Colin Glassar
27
Posted 09/04/2017 at 19:01:49
Hats off to Jags. He was immense today. Not my MotM but still a great performance.
Steve Hogan
28
Posted 09/04/2017 at 19:05:29
Barkley bashers strangely quiet today, at least their consistent.
Colin Glassar
29
Posted 09/04/2017 at 19:10:53
As per usual, Steve.
Steven Jones
30
Posted 09/04/2017 at 19:16:26
Damian, he is the top chance creator of any Englishman in the Premier League – go figure – he added another assist today which was apparently sublime – so please see reality and the great player he is at only 23. It is not potential, it is clear delivery at the top level.
If you can compare the amount of times "Mr Dele Frustrating" loses the ball versus Ross, you may have some credibility – but do not talk one of our own down in the face of facts and stats.
Placing hyperbole and exaggerating observations are not credible on here any more. He was declared MotM today – so some professional disagrees with you even in the subjective side of your deranged concept .
Ciaran O'Brien
31
Posted 09/04/2017 at 19:16:27
Brilliant performance, the best since City. Davies, Gana and Schneiderlin ran the midfield. Schneiderlin really makes us so much better on the ball. Lukaku took his goals well but still doesn't against the top teams. Barkley's cross was one of the best I've seen although his miss was an absolute sitter.
Pennington was dodgy but he grew into the game while Jags was back to his reliable best. Baines kept it simple too.
Robles still showed that he is not the future Number 1. He made a couple of good saves from Leicester's corners but Albrighton's fluke free-kick goal should never have gone in and he seems to be poor at that side of the goal.
Apart from that, a great win; hopefully get some momentum and finish the season strongly.
Brian Wilkinson
32
Posted 09/04/2017 at 19:19:10
Jags was great today; quite a few could have got MotM. Mirallas for me should be starting more games but then it's a case of who do you drop.
Big plus today was Schneiderlin, he bossed and tidied up everywhere and allowed Gana support.
Lukaku put a shift in today, chased everything, I get frustrated when he downs tools in certain games but cannot fault the big guy today.
Good result and vast improvement from last week's game.
Keep Mirallas in the team and let's finish the season strong and hope we can get through these last remaining games without further injuries.
Jim Bailey
33
Posted 09/04/2017 at 19:21:58
Seen on this thread that Baines or Barkley have both been nominated for the man of the match. I'm sure I must exist on a parallel universe at times. Yes, obviously I'm chuffed that we came out on top, but guys, come on...
For what it's worth, Leighton has been a great servant but I don't see him as a long-term left-back any more. He doesn't have the pace, or sometimes more importantly the ability to close down crosses. Barkley will always flatter to deceive; he doesn't have the skills to be consistent. I think we would be better off without him.
Somebody on another thread said that he has always been labelled as "young" Ross Barkley, he's 23 and is light years behind the likes of Dele Alli (20) at Spurs. I don't care where the players from my team were born, I want them to be good enough to be able to take Everton to the next level. For me, Barkley doesn't cut it.
I'm looking forward to the next season without Barkley, Lukaku and others.... I know, I know, but it's all about opinions at the end of the day.
Tony Hill
34
Posted 09/04/2017 at 19:32:26
Yes, lovely work from Ross today. Let's see how Pennington goes, it takes courage to recover himself as he did in this game and I thought he did well in the end.
Holgate makes me very happy.
Mike Gaynes
35
Posted 09/04/2017 at 19:34:10
Might just have been the greatest day I've ever had.
Cried when I walked into the place for the first time. And a few more times as the afternoon went on.
Waited 32 years to see a match at Goodison, and Tom scores in 32 seconds. If that isn't poetic...
What a miracle my TW mates hath wrought... two brilliant guides in Rob Halligan and Keith Harrison... a pre-game Guinness at the legendary Winslow with Patrick Murphy and David Greenwood and Kev Tully...
And, most remarkable of all, a few delirious steps on the actual Goodison pitch after the game, courtesy of Kev Johnson.
And what a cracking win.
I will write all this up into an article following the Burnley game... with photos... but every dream I ever had about this pilgrimage has already been surpassed.
Thanks one and all.
Day of days.
Martin Mason
36
Posted 09/04/2017 at 19:46:03
Very glad for you, Mike, like to give us some background?
Dermot Byrne
37
Posted 09/04/2017 at 19:47:51
Mike...Win or lose, that is what we are about. So so pleased we won though. Be happy.
Ian Bennett
38
Posted 09/04/2017 at 19:50:11
Motm Phil Jagielka. Thought he's been brilliant lately.
Andrew Presly
39
Posted 09/04/2017 at 19:52:27
That is wonderful Mike, look forward to the full write up.
It would be typical, typical, typical Everton to sell Lukaku right when he's going big time. Needs to be kept for another season whether or not he extends, it's worth the hit to see what we can do next season with a big summer of additions.
Ross signing up would be great too of course, how have we not sorted that sooner, but you don't let goalscorers go and progress. Simple as that.
The 1987 title season is the exception to the rule & we all know how things went from there anyway!
Nice win, on to the next one.
Mike Gaynes
40
Posted 09/04/2017 at 19:53:10
Martin #36, here's the background:
http://ToffeeWeb.com/season/16-17/comment/general/34342.html
John Daley
41
Posted 09/04/2017 at 19:58:09
"
How many times did he [Barkey] have the ball and just not know what to do with him, it's like the lad has no brain. And what a miss"
Presuming, by "not know what to do with him", you actually mean "not know what to do with it [the ball]", then not very often.
He retained possession well all day, constantly manoeuvred himself into space, spread it out wide whenever there was a willing runner, whipped in an absolutely fantastic first time cross, linked up well with Lukaku on the edge of the box on occasion and almost put another on a plate for the big fella with a fine through ball. 
As for the "miss", it's all very well accusing him of being a shimmying simpleton on par with that slack-jawed Scarecrow* who used to hang out with Dorothy, Toto, the Tin Man and hirsute Emile Heskey with a tail, but I'm pretty sure Ross can at least recognise a fucking hand when it's stuck out in front of him. Unlike some, it seems. 
--------
*The Scarecrow was one of only three recipients ever to be awarded an honorary diploma from 'the Universita Committeeatum E Pluribus Unum' by the Wizard Of Oz himself:
Scarecrow diploma:Â Th.D (Doctor of Thinkology)
Barkley diploma: M.o.M (Man of the Match)
Damian diploma: Th.ck (Figure it out)
Dave Abrahams
42
Posted 09/04/2017 at 20:00:01
Mike (#35) – made up you enjoyed your long wait to see a game at Goodison Park. You also saw a very good game of football, end to end, although we went off the boil once the fourth goal went in.
I hope the rest of your stay in England and Scotland is as enjoyable as today especially next Saturday when a repeat of today will go down well if we beat Burnley.
Best of luck with the weather while you are over here.
Michael Kenrick
43
Posted 09/04/2017 at 20:00:43
Brian, on the preview thread, you said:
"We need to start the game quicker than past matches, Leicester will not want a high tempo game with next week's European game coming up, so let's hit them hard and fast and put the game to bed early doors."
I thought we'd done that with Tom's excellent piece of opportunism inside the first 30 seconds, but Robles had other ideas and took a while to get on script. Still... not quite what you'd imagined in terms of putting the game to bed early doors.
Although you could say in hindsight that, after Jags had scored, the game was indeed won.
Colin Glassar
44
Posted 09/04/2017 at 20:01:09
Motm - Mike Gaynes.
Mike, tbh after they went into the lead a few of us on the live forum blamed you for jinxing us. Glad you enjoyed the Goodison experience. It's a bit special isn't it?
Brent Stephens
45
Posted 09/04/2017 at 20:01:14
Mike Gaynes. Made up for you! Brilliant day. You're a lucky mascot for us. Don't come back until we get to Wembley!
Peter Gorman
46
Posted 09/04/2017 at 20:01:52
Congrats Mike Gaynes, glad we won on your first visit. Hope it becomes the first of many.
Steven Jones
47
Posted 09/04/2017 at 20:05:31
Lets get this straight. Ross is 5th top assists in Premier League and 4th best chances created. No player in the league is ahead of him on both lists.
These are facts – and given MotM by Sky TV today.
What really do people want? Where could we get a player of his output – his stats are leading in every way? Could we prize away anyone anywhere near him without Champions League football?
Brent Stephens
48
Posted 09/04/2017 at 20:09:58
Great advert for the game today. They were dogged opposition (no, I don't mean it that way) and we did them by a margin of 2 goals. And excellent goals we did score.
I can't pick a MotM, so many contenders. As pleased as anything else that Pennington grew into the game after a shaky start and shaky game-time before today – well done, lad.
Alexander Murphy
49
Posted 09/04/2017 at 20:11:10
I'm still rerunning Barkley's cross for Lukaku's powerhouse header through my head. My seat gave me a perfect view of this supreme piece of football. From the moment Ross drew back his foot, it was crystal clear that we would score.
Mike Gaynes, bloody delighted for you! You really got Everton all summed up in a single game. They surprise, they delight, they confound, but THAT is why we adore. And then, they delight some more.
Pete Edwards
50
Posted 09/04/2017 at 20:12:05
Please don't say Barkley's 'miss' was a sitter!! Tell me it was great goalkeeping – that's more like it!!
I'd like Schmeichel at Goodison between the sticks next season.
Colin Glassar
51
Posted 09/04/2017 at 20:20:30
It WAS a brilliant, fingertip save, Pete. I've been saying for a while that Schmeichel would be a great signing. As would Forster, Pickford, Hart, Butland etc. I like Joel but I don't think he's what we need going forward.
Joe Hurst
52
Posted 09/04/2017 at 20:24:04
As Peter said above, may other visits add to what has been experienced today. Original and best team of this great city, there has always ever been only one true footballing faith.
Tony Draper
53
Posted 09/04/2017 at 20:24:08
Steve @47.
Really good post that. Barkley is head and shoulders better than this time last year. He really can change matches.
A measure of his danger was the number of times Leicester upended him. They were doing so deliberately.
John Daley
54
Posted 09/04/2017 at 20:27:35
Mike,
Glad to hear the occasion surpassed the looooong build-up (and impressed to hell you can still type after supping with that lot). Hats off to those who took you under their wing and made you feel so at home.
Sam Hoare
55
Posted 09/04/2017 at 20:32:17
What a shame we didn't have Schneiderlin (and Coleman) for the last 2 matches.
This team looks capable of challenging for top 4 with 2-3 first team additions but losing our star striker may mean we take 2 steps back before we can move forward.
Damian Wilde
56
Posted 09/04/2017 at 20:45:55
John Daley, thanks for your crass post, clearly can't handle a different opinion.
Diploma of thick, me? Doctor of Clinical Psychology, thanks.
Keep writing your weird drivel if you must.
Mike G, delighted you had a great day! 😊 What took you so long? 😃 Fantastic you saw four goals! COYB.
Paul Tran
57
Posted 09/04/2017 at 21:11:29
I'm generally a critic of Barkley's and I thought he had a cracking game today. Sublime ball for Lukaku the highlight. Keep it going Ross, give us that consistency!
Tony Hill
58
Posted 09/04/2017 at 21:16:06
Tom Davies tired later on, but his work for the first 60 minutes or so was very encouraging indeed. We know he's been great this season but you can see him building strength on the ball, and tactical awareness, all the time. he's been outdone physically in the last few games (unsurprisingly) but his toughness was there to be seen today against a hard Leicester side.
I would have rested him for this game which shows what I know. What a wonderful prospect he is at 18.
Colin Williams
59
Posted 09/04/2017 at 21:17:20
Damian... (#25), absolutely shocking comment about Ross, the lad was top draw!
Also Pennington performed really well; yes, he gave the free-kick, but our goalkeeper's positional play and decision-making was very poor! All the young lad done was give a fecking free kick away!
Many good performances today but Ross was special.
Keith Monaghan
60
Posted 09/04/2017 at 21:21:14
John Daley - I tend to agree with you re Ross.
It was a great cross for Rom's goal, but apart from one bit of quick exchange of passes between them in the 2nd half, I didn't see much from Ross. He slows the play down much too often and ends up passing backwards far too much, taking momentum out of our attacks. And he should have scored - took too long to get the shot away.
Like many, I thought Jags played very well after the first 15 mins - he was at fault for 1st goal backing off far too much into his own pen area. Pennington also started badly, but got better & better - keep him in so we can see if he's good enough to save us a signing in the summer - we'll need to bring in at least one quality central defended anyway. Also, a creative midfield player to take Ross's place, and a keeper.
My MoM was Schneiderlin, but Davies, Rom, Mirallas, & Gueye also very good contributions. Holgate looks as though he's ready to make a significant contribution too. The summer will be very important - we should keep Rom to his contract for another season, possibly unless crazy money (£100M+) is offered. With good additions in the summer, his 20+ goals next season will be crucial to getting us where we hope to be.
James Marshall
61
Posted 09/04/2017 at 21:25:57
The obvious thing to note is the return of Schneiderlin – he's the gel that binds this team, without question.
Great game to watch as well – pure entertainment first half, and well contained in the second half.
They all tired as the game went on, which is always going to happen.
Mike Gaynes
62
Posted 09/04/2017 at 21:26:27
Dave, Brent, Peter, John and Alexander... thanks, it was a magnificent day.
Colin (#44), appreciate the honor. I could feel the pressure from you lads on the forum... but honestly I never doubted the outcome, our domination was so obvious to my eyes even at 1-2.
And also Colin, I was telling Keith right before the game that Schmeichel was the most fundamentally solid keeper in the Premier League but never made the great saves because he lacked the athleticism... and then he pulled that blinder on Ross. Shows what I know.
John Daley
63
Posted 09/04/2017 at 21:30:48
Dr Damian Wilde: Clinical Psychologist:Â 
Professional opinion: "it's like the lad has no brain".
Fat lot of fucking good you are.

I can't help but wonder what unconscious issues insight-oriented therapy might bring to the attention of an individual who spends every single post on ToffeeWeb mercilessly berating one particular player, irrespective of how that player has just performed, even going so far as to openly state "I actually can't stand him" on more than occasion?
Tony Abrahams
65
Posted 09/04/2017 at 21:34:00
I'm glad you have had a great day Mike and I was actually thinking about you whilst I watched the match at home. I ended up watching it on the telly, and I was thinking how much more there is to appreciate about the game of football, when you watch it from inside the stadium, rather than on the television?
Thought Everton, played as well as they have done all season, for most of today's game, and it was pleasing to see us play with much more purpose and energy, which can only bode well for the future? The fact that people are picking different MotM's, shows that we are gradually starting to improve. Also If Mirallas, can keep up this style of play then he would be like a new signing, because we definitely break quicker, when he's in the mood to play?
Barkley, is improving and Davies is inspiring, Gueye might not be the best player in possession, but he's the best at regaining it, and Morgan Schniedrlen, keeps everyone calm, and helps everyone else to get on with their jobs, and thanks to the close up on the telly, I'm sure he played a very big hand in helping Jagielka score his goal aswell! "Out team is definitely getting better."
Tony Hill
66
Posted 09/04/2017 at 21:36:11
James Marshall – I agree entirely; Schneiderlin is a fantastic buy and I cannot see a better captain for next season.
That said, as one of Jagielka's bigger critics, I think the present captain has been superb over recent games and looks reborn. I'd still promote Morgan though.
Jamie Sweet
67
Posted 09/04/2017 at 21:39:10
How frickin' unlucky were we to lose Morgan for our two previous games? Table could have a different look to it I think.
Mike Gaynes, couldn't be happier for you mate!
James Marshall
68
Posted 09/04/2017 at 21:41:41
I've always been a big fan of Jags – yeah he has had his moments, but when you play a lot of games at centre half you're going to make mistakes from time to time – he's been a great servant to Everton and I don't have a bad word to say about the bloke.
All-round great effort from them today – loads of energetic performances which really paid off.
John Malone
69
Posted 09/04/2017 at 21:46:32
I have been on of Ross's biggest critics but I thought he played well today!
I can see were people are coming from with the slowing the play down comments but some of the stuff Ross does with the ball in tight positions is really top draw!
The way he receives a ball playing between the lines with a man on his back an swivels either way while assessing his option's is a real skill!
Very few player's have the ability and the strength to take a ball with their back to goal and be able to create triangles to create chances!
My only criticism of Ross of late he doesn't compete enough for second balls and that he overdoes it at times and tries too hard to do it by himself instead of just passing the ball and letting the ball do the work!
I'd give Barkley tapes of Lampard and tell him to simplify his game as use his range of passing to create the space!!
Tony Abrahams
70
Posted 09/04/2017 at 21:57:13
Honestly think Koeman, shocked our squad with his honesty, when he first came through the doors Tony 66, and now that they have got to see what working with a winner really means, then performances of certain individuals has started to improve.
People want to see more of Mirallas, but this present manager would say, but only if he his working as hard as he has done in his last two games? Hopefully the penny is really starting to drop, and I was especially made-up for Jagielka today, because it's a long time since I've seen him so dominant, and committed to the cause?
Kevin Rowlands
71
Posted 09/04/2017 at 22:06:47
Damian, you claim that Ross doesn't get criticism from most posters because he's one of our own... absolute rubbish. He was heavily criticized on here after the derby as well as Lukaku and rightly so, they were both very poor in that game.
Today he was excellent and for the most part has been all season, good team performance today from everyone. Special mention for Schneiderlin though, he is pure class, how the fuck he didn't get a proper chance at Man Utd I'll never know, anyway I'm very excited to see what the next several years brings for us.
Pete Edwards
72
Posted 09/04/2017 at 22:16:12
I can't believe people still knock Barkley... his stats show a different player to the one being slated and labelled not good enough!!
The lad keeps the ball moving more often than not, creates chances and has started to put his foot in!
Colin Malone
73
Posted 09/04/2017 at 22:23:37
Jagielka should have never been dropped. A decision Koeman got wrong. Is Kone from Sunderland any better? No fucking way...
I take no notice from these TV pundits, who have never managed or been sacked from football clubs. I have said it on many threads... Jags for England!
Regarding Lukaku... don't get me started. Not an Everton Football club player by far.
Brent Stephens
74
Posted 09/04/2017 at 22:31:13
Mike Gaynes (#62) – you don't have time to get to Southport, do you? A stone's throw from Liverpool and a nice wee seaside resort, famous for Lord Street with it's listed Victorian buildings; Napoleon III once lived here; a pier; great gold courses; and a lawnmower museum!!
Worth a day trip. Would be glad to show you round.
Brian Denton
75
Posted 09/04/2017 at 22:44:31
Ross played well, and looked very comfortable on the ball. He's never going to be a world-beater (I think we have to accept that now) but he's certainly worth his place in any Everton side we are likely to be able to put together in the next couple of years.
Brian Wilkinson
76
Posted 09/04/2017 at 22:47:31
Mike @43, even I was not expecting to hit them so quick.
I thought we played as a team today, every player chasing and getting stuck in. Jags had a great game, big improvement with Schneiderlin back in the team along with Mirallas.
That is the Everton we all like to see. Yes, I get frustrated when players stroll round the pitch or don't close down... emotions get the better of me when I think someone is not pulling their weight or taking the piss out of our club.
Today, the players got stuck in, put in a performance. Like most others posters have said, a number could have won the Man of the Match award. Personally I think it was more of a team award today; more of the same please, Everton.

Eugene Ruane
77
Posted 09/04/2017 at 22:53:10
Mike # 40, very pleased your day was all you'd hoped for and as others have stated, well done to those who helped make it so.
As for the game, was impressed with how all the younger lads played and how they didn't let their heads go down when we went 2-1 down.
Mirallas has looked very 'up for it' recently (which is good) and it was (for me anyway) very comforting to see Schneiderlin back.
We're still far too quiet and I would love us to either a) sign a fucking big mad loud bastard or b) have shouting MAN ON!!! practise last half hour of training on a Friday. Gana almost got robbed of a ball and none of his watching team-mates thought to inform him there was a large grock 'up his arse' (basic stuff).
Despite what our 'Doctor of Clinical Psychology' (and alehouse law) thinks, Barkley was terrific, he worked hard and was constantly looking to make openings and make things happen.
Davies did (understandably) tire and I felt it wouldn't have been a bad idea to have substituted him after 60/70 mins but not going to argue with big Ron.
Up the Toffees!
Mark McParlan
78
Posted 09/04/2017 at 22:55:29
I already wrote my ratings elsewhere so I might as well throw them here...
Robles - 6, could he have saved the 2nd goal? Distribution was not amazing, otherwise fine.
Baines - 7, was too high up the pitch for their first goal, and we were caught on the counter on his side of the pitch. Played well though.
Jagielka - 9, Incredible, class captains performance. A rock at the heart of the defence, and he guided young Pennington excellently. Great header to win the game. Distribution upfield great as well.
Pennington - 6.5. He lost the ball + gave away the free kick for their 2nd goal, but after the first 20 minutes he played great. He is 22 however, which is too old for him to make the grade.
Holgate 6.5 - Not at fault for conceding, seemed fine at the back. Not quite Seamus attacking though. Still only 20, so a great prospect.
Gueye - 7. Passing a bit sloppy at times but still did well.
Schneiderlin - 7, a tad quiet but returning from injury. Always calm and collected, always plays the right pass and never loses it.
Davies - 8. Fantastic to see him net another, it's such a relief to have a young midfielder driving forward always at opposition defences. Tell me how many other 18 year old's play week in week out in the Premier League! I can't think of any.
Barkley - 7.5, outrageously good cross for the Lukaku goal. Always a threat going forward.
Mirallas - 7.5. Made the 1st goal with his run. Good corner for the 4th.
Lukaku - 7. You can't argue with 2 goals, but a human pinball machine otherwise.
Danny Broderick
79
Posted 09/04/2017 at 23:05:50
Lots of positives today. I'm glad Holgate and Pennington got more game time. Certainly in the 2nd half, they looked the part. That game will do them good.
Barkley spoke very well with Lukaku on Sky after the game. He seems to have matured a bit, he spoke very well about criticism after the Derby. I just wish we could get him playing 2 touch football a bit more. I don't want him thinking too much on the pitch. When he gets the ball out of his feet and plays a through ball, we have a player there. When he twists and turns and then plays a 5 yard pass sideways, that just slows is down.
Today, he got better as the game wore on, he was brilliant from the 2nd goal onwards once his confidence was up. What an assist that was, by the way.
Our usual steady eddies did well for us today – Jags, Baines, Gana, Schneiderlin. Mirallas, Davies and Lukaku had their moments. I can't help thinking that we need a new keeper though. Robles does some things really well, but every now and again a goal goes in that just doesn't look right.
Their second goal – I'm sure a good goalkeeper would have tipped it over the bar. Maybe I'm being harsh, but following some previous blunders, I would love us to get a nice steady keeper that is a consistent 7/8 out of 10 every week, rather than Robles who has a good run with the occasional 5 out of 10.
Overall, that was a good win though.
Rob Halligan
80
Posted 09/04/2017 at 23:06:10
So glad you enjoyed your day, Mike, along with a great result to go with it. I can understand you getting emotional upon entering Goodison for the first time, something which most of us take for granted. Even after nearly 50 years of attending Goodison,
Z-Cars
still sends a tingle down my spine, and the hairs on the back of the neck rise, so God knows how you must have felt today?
As a side note, does anybody else think Leicester's second goal should not have stood? The free kick was obstruction, which should be an indirect free kick, yet the kick went straight in, and therefore should not have stood. Unless I'm mistaken.
Anyway, back to Mike. Enjoy your trip to Scotland, and your night next Friday being shown around the lakes with Keith, and will see you next Saturday morning.
Terry Underwood
81
Posted 09/04/2017 at 23:11:07
When Tom Davies scored against City, he was fouled, the ball ran lose and he picked himself up and scored. Today, instead of appealing for a foul on Mirallas, he just got on with it and, again, scored. Maybe a lesson to be learned? this was one of those games when all the team just click and it looks good.
Mike G, so pleased for you, a memory to carry with you for ever.
Brent Stephens
82
Posted 09/04/2017 at 23:22:18
Terry, I also commented at the time that Davies didn't panic and hit the ball as soon as it came to him. He had the confidence to take it further left before putting it in. Old head on young shoulders.
Dan Davies
83
Posted 09/04/2017 at 23:33:41
The pundits on MotD reckon Davies covered over 12 kilometres during the game, more than any other player. No wonder he looked shagged in the last 20 minutes. Fair play to the boy.
Oliver Molloy
84
Posted 09/04/2017 at 23:44:25
Steve @ 28 and Colin 29
I have said loads of times on here that I do not see the player that others do in Ross Barkley.
Has Ross been inconsistent , has he made bad decisions , is he still making bad decisions , has he improved this season after the manager called him on his game management etc – the answer to all is of course yes.
Can he get better, I think the answer is also yes.
Ross Barkley played well today as did lots of the team.
I can't believe any Everton fan would want one of their own to have a bad game, so I don't get it with your comments.
Julian Wait
85
Posted 09/04/2017 at 00:01:17
I'd give Jags MotM as well. He deservedly took some flack after a couple of dodgy performances, but he's kept his head and stepped back up when needed. If that had been John Terry and not Phil Jagielka, everyone would be crooning all over MotD about captain whatever .
Dave Ganley
86
Posted 10/04/2017 at 00:41:43
Mike #35 great that you finally stepped into Goodison today. Good game and a good win for you to see. I still get tingles down my spine when I go to the game, it never leaves you especially when
Z-Cars
comes on.
As for the game today, very impressed with Jags, he is doing his best Lazarus impression at the moment, dead and buried and then comes back to roll back the years and give another commanding performance. Young Pennington settled down after a first shaky 20 mins and did okay for the rest of the game. Thought Mirallas was MotM for me, he was at the heart of most things good for us and showed real desire and hunger to play. The square off with Huth quite funny, if ever there was a mismatch .
Disappointed with the Barkley debate going on again. He did okay today, have to take him game by game really. He is neither brilliant as some would have us believe or rubbish as others would say. Let's see if he can mature into a player who can take important games by the scruff of the neck in the next season or two.
Glad Schneiderlin is back, he just makes everything tick. Doubt he could have done much with the debacle across the park but at least he would have made a difference. Just quality.
Good day all round, entertaining game against a decent Leicester side who were always a threat on the break.
James Flynn
87
Posted 10/04/2017 at 01:43:05
Ross has improved.
When he first got significant playing time under Martinez, Ross would simply take the ball and charge into 2 or 3 defenders. He did this ALL the time. He was STILL doing this last season. No improvement.
Now, he does these twists and turns that sometimes DO slow down play, but he retains possession of the ball. That's the big difference in Ross's play I see. He's actually being coached in the right and wrong of being a professional.
I'd argue that if Koeman had taken the reins instead of OFM, Ross would be much further along in his development. And he IS developing.
Mike Green
88
Posted 10/04/2017 at 01:43:35
Mike Gaynes – life, as they say, is all about timing. Glad you had such a great day, and hats off to the TW's that helped steer it on it way.
James Flynn
89
Posted 10/04/2017 at 01:48:08
Agree the main business this next window is improving the backline.
This kid Holgate, though, really looks the business. Just turned 20-years old or not, I see an athletic, cool, calm professional.
Mick Davies
90
Posted 10/04/2017 at 02:25:41
Mike Gaynes, I'm also pleased you had a great day, and hope the Burnley game will give us another 3 points for you to enjoy. - By the way Mike, what part of the ground where you in?
As for Barkley, he is better doing things instinctively, just like that magnificent run and goal at Newcastle, and the whipped in cross today for Rom's 1st. When he looks around, holding up play, you just know he will be closed down and/or robbed of possession. A great player, but one who needs to get more confidence in his game.
I watched the 2nd Leicester goal and instinctively blamed Joel for stepping forward towards his near post, seconds before the free kick was taken. I now (after the heat of the game has subsided) realise how good (or lucky) that free kick was; it would have been difficult for any keeper to get to that.
But what I will say, is that Joel, or Jags, should have put someone on the near post so the keeper only had half the goal to protect. He made one decent reaction save later on and has been crucial in lots of games since he came back, so he can be forgiven in my eyes for the odd miscalculation.
Barry Jones
91
Posted 10/04/2017 at 02:27:12
I thought that Lukaku was also excellent today. He put in a really good shift for the team. He hit some stray passes in the first half, but what the hell. No-one means to hit a poor pass. He was showing for the ball and moving well, which is all I ask for.
Alexander Murphy
92
Posted 10/04/2017 at 04:17:50
Mike @88.
That's a great point.
Well done to all the TW's who "Baptised" Mike Gaynes. Sounds like the baptism was VERY deep.
You were "Born Blue" Mike. Chosen.
And your reaction to entering the worlds very first purpose built football ground, put a bloody big lump in my throat. Took me back to my own baptism. I'm almost jealous.
This, Mike Gaynes, is for you.
Link
Bill Gienapp
93
Posted 10/04/2017 at 04:23:48
I'll admit, I thought Jags was done and was more than content to see him play out the season on the bench before quietly moving on in the summer... but he's been immense these past few matches. If this is, indeed, the end of his Everton tenure, he's leaving everything he has on the pitch.
Bagging goals is nice, of course, but it's his veteran awareness that most impresses. Pouncing on the ball and clearing it before Musa could put the rebound in following Joel's reaction save was a perfect example.
Alexander Murphy
94
Posted 10/04/2017 at 04:39:45
Bill I've watched and rewatched MotD2 about five times earlier. Joel's save was just breathtaking. Yet, Captain Courageous Jags subsequent clearance completed the work.
I feel a shade disappointed with myself and others who may have given up on him. Then, as dignified as can be, he pulls on "The Royal Blue Jersey" again and in his own understated style, he reminds us again.
Lest we forget, Jags scored THAT scorching Derby match equaliser ?
He's never been a clogger, his strategy has always been that playing involves not being suspended.
Mike Gaynes
95
Posted 10/04/2017 at 06:15:00
Rob (#80), thanks for everything mate. See you Saturday.
Dave (#86), I had the same reaction to the "Z-Cars" player entry that you and Rob do... definite electricity through the nervous system. Quite a feeling.
Brent (#74), I'm off to Scotland for a few days, but thanks mate for the invite.
Darren Hind
96
Posted 10/04/2017 at 06:20:03
That first half was as good as we have played this season. Attacking with purpose and swagger. This is all I've ever wanted.
It usually takes two teams to make a good game, but I cant give Leicester any credit at all. They are a horrible team to watch, long punts forward into the percentage areas, wasting time (in the first half !), long throw in's. nasty little bastards leaving their foot in. They are masters of the dark arts... All the affection I felt for them last season has gradually evaporated each time I have watched them.
Anyway back to us. We were a joy, The movement, The swagger, The belief... It was good overcoming evil and having held Koeman responsible for the two points lost on Tuesday, I feel its only right to give him all the credit for this performance. It would have been easy to let the players feel sorry for themselves after the beating at Anfield and what felt like a defeat at Old Trafford, but he somehow picked them up again.
Only one minor complaint; I do wish we hadn't took our foot off the pedal. That ugly percentage shite Leicester have perfected deserves to be battered into the ground.
Rob/ Keith,
Hope you passed the hat around. If this is the effect Mike's going to have, we need to make sure he can afford to get across for every game.
Darren Hind
97
Posted 10/04/2017 at 06:29:26
BTW, were my eyes deceiving me or did Lukaku actually try to wrench Huth's head from his shoulders?
I haven't had the chance to see it on the telly yet, but I have to say, if my initial impression is proved accurate, The big fella will have gone up in my estimation. Not known for being violent, he was still prepared to defend a team mate.
Maybe that dressing room divide isn't as wide as it's been made out to be.

David Barks
98
Posted 10/04/2017 at 06:42:16
Yes, Huth's demeanor changed quite quickly when Lukaku yanked him away and saw who he was up against. But honestly, Mirallas wasn't having any of it regardless. He was looking him straight in the eyes and ready to have a go, I loved it. The talk of locker room divide has only been pure speculation on this site, never been any evidence of any sort. When he scores the team surrounds him to celebrate. When others score he's jumping on their shoulders to celebrate.
Today's match was thuroughly enjoyable and a great team effort all around. Loved watching us take it to the long ball merchants and seeing Vardy be completely useless even when up against a teenager.
Brian Porter
99
Posted 10/04/2017 at 06:51:00
Rob Halligan (#80), thanks for seeing what I did for their 2nd goal. The ref clearly signalled an indirect free kick, for obstruction and then allowed the goal to stand when it flew into the net.
Overall, one of the most entertaining games I have seen at Goodison in many a year. A great team performance and I can't believe that some of us are still looking for ways to knock some of our own players instead of being happy that we are beginning to rebuild 'fortress Goodison' again.
In my 65th year now, 58 of them as a supporter of Everton FC and after the last couple of soul destroying seasons under Martinez, I can at last see potential light at the end of the tunnel. Every time I see him, Tom Davies reminds me more and more of his uncle.
Those who remember Alan Whittle will know what I mean. I only hope we don't do anything stupid as we did all those years ago when we sold Whittle to Crystal Palace for 𧴜k.
Big money back then, but typical of Everton who sold a similarly swashbuckling entertaining crowd pleaser, who went on to become something of a cult figure with Palace. Glad we got Tom signed to a new contract. Hope he stays with us for many exciting years.
All in all a great day today. Well done, Everton, a superb Team performance!
Paul Ward
100
Posted 10/04/2017 at 07:26:28
James Flynn @87.
I completely agree with your assessment of Ross Barkley. He is an enigma that has divided the fans to distraction. Like you I think he has improved with the Koeman coaching and the deserved criticism he received.
Unfortunately some fans on TW choose to like or dislike a player and refuse to change their opinion whatever happens on the pitch.
I saw Ross in the Martinez era as an over rated lazy, inconsistent slacker with the potential to maybe unleash his skills when it suited him. It also annoyed me to see him first on Martinez's team sheet every game irrespective of how bad he had played the game prior.
The second half of this season, he is a much better player. He is busier, tackles a bit and generally a better team player. He still makes mistakes like any other player but he contributes a lot more at present.
He still makes mistakes
Oliver Molloy
101
Posted 10/04/2017 at 08:48:01
I think if you looked at it again David, you will see that Huth decided himself to let go and move away, Lukaku being aggressive, you are having a laugh I hope!
John G Davies
102
Posted 10/04/2017 at 11:03:11
Thought Pennington did well after a nervous first 10 minutes, he could develop into a good defender.
Martin Keown said on Match of the Day he thought Maguire was the best English centre-half in the Premier League.
James Flynn
103
Posted 10/04/2017 at 11:44:27
Oliver – YOU are having a laugh I hope!
Lukaku went straight for him, wrapped a big arm around his neck and yanked Huth out of there. Hard!
Dave Abrahams
105
Posted 10/04/2017 at 12:43:54
Rob Halligan (#80), I never noticed that the free kick for Leicester should have been an indirect one, but walking home a mate of mine was stressing that the free kick was given for obstruction, which is an indirect free kick.
My mate wasn't sure if the referee indicated if it was an indirect free kick, but you seem to think he did, so it it possible the goal shouldn't have stood.
It made no difference in the end but could have done with a different score line.
Peter Lee
106
Posted 10/04/2017 at 13:48:56
Two points about two players who divide opinion.
Jags always plays much better on the right of the two. Too often he has had to play left but he never gives less than 100%.
The hotter potato is Barkley.
After recovering from a bad double break like Oviedo and now Coleman he has been around the first team for 4/5 years. Tom Davies currently is of a similar age and experience as when Ross first broke through.
Any honest assessment is that Davies is far and away more involved and influential in the game than Ross was from his debut and indeed up until this January the same would be true.
Since then, having lost a lot of weight and having been moved deeper from the number 10 role in behind Lukaku, Ross has improved greatly in terms of his impact on the game.
Even his strongest promoters point out that he is best when he plays quick ball the way he faces. Once he slows down, yes, even to make those wonderful turns, he hasn't much idea of where anyone else in a blue shirt is. Yes, he has quick, tricky feet but that's where he is looking. He rarely runs with his head up.
He has improved greatly this half-season; stats, as I'm often told, are not the whole picture though. Against Sunderland away he started more of their attacks whilst he was on the pitch than they did for themselves in the rest of the game.
For me, great midfield players have great industry, awareness and vision. You can encourage and improve the first of those, I have doubts about whether the last two can be improved.
If Davies improves as we might anticipate over the next 3 years, he has those three attributes in spades by the way, we will be privileged to see someone really special. Whisper it, Alan Ball rather than Alan Whittle perhaps?
Paul Tran
107
Posted 10/04/2017 at 14:14:01
Great entertaining performance against an excellent in-form team.
Interesting still I've just seen on Twitter from BBC, showing that Lukaku has scored more goals against the top six than Kane, Sanchez, Costa and Ibrahimovic.
Paul Kelly
108
Posted 10/04/2017 at 14:31:46
Paul Tran, keep that stat to yourself! It might sway an arguement on here.
Funny why the Big Bellend Corporation (nothing to do with manhood) would post that stat, never big up our strikers unless they're vying for a move. Oh wait... shit!
Si Cooper
109
Posted 10/04/2017 at 14:35:47
Dave and Rob, I don't think indirect kicks have been used for a few years now. As far as I am aware any free-kick is now direct.
Paul Kelly
110
Posted 10/04/2017 at 14:40:40
Just to add, the ref never raised his arm ,which would indicate an indirect free kick, been ages since I can remember one though.
Oliver Molloy
111
Posted 10/04/2017 at 14:55:23
"Yanked Huth out of there hard " did he?
I will have to go back and watch it again.

Geoff Williams
112
Posted 10/04/2017 at 15:01:27
I still find the continued criticism of Barkley ridiculous. I wish there was some way contributors to TW had to indicate if they actually attend matches. Too many rely on TV coverage and the biased views of idiots such as Sourness, sorry I mean Souness.
As for Jagielka he is head and shoulders better than any other centre back we have. Koeman has to decide who should partner him. It has to be Pennington or Holgate but not Williams.

Peter Lee
114
Posted 10/04/2017 at 16:27:01
Geoff, I like Ross Barkley, I really do, I just wish he was a better player.
What part of my assessment of him do you find ridiculous?
Since you ask, I have been a season ticket holder for over 50 years and I have attended a lot of our away games during that time, including the Sunderland game I referred to. Most of the rest I have watched on TV. I don't think that necessarily makes my judgement sounder but it has some foundation I'd argue.
Simon Smith
115
Posted 10/04/2017 at 16:29:20
Had a quick browse on the Leicester fans forum (I live in Leicestershire) – a few of them were slating Ross Barkley.
Ross is by far one of our top players, I think the problem is (as with all good up and coming English players) he was overhyped and put it the national side too early.
Now he suffers from the opposite problem: unless he is scoring or setting up goals in every game he is critiscised and also finds himself unable to get on the pitch for England!
Keep going Ross, the majority of us love ya!!
Brent Stephens
116
Posted 10/04/2017 at 16:40:34
Si #109 - Indirect free kicks -Law 13.
Link
Alexander Murphy
117
Posted 10/04/2017 at 16:43:16
On behalf of my longstanding mate who I've been going to the match with for almost forty years. He'd never post here or anywhere else come to that.
Last season he described Leicester as playing relegation style football. On Sunday past they were again full of their horrible anti football chicanery again with the ref continually turning his blind eye.
Seeing Mr Punch the Sunday league diver who never got a sniff substituted was most warmly received. As for that pig Huth what a sad replacement for a footballer not fit to be on the same pitch as Jagielka.
Had the ref and those two dopey assistants shown any spine then I reckon we could have put eight past them.
On the indirect free kick issue I've never understood why any free kick can not be scored from. Although as I recollect the ref has to raise his arm as he blows the whistle to allow the free kick to be taken this indicates that the kick is indirect. If Baines or Mirallas had scored that I would have been delighted.
Brent Stephens
118
Posted 10/04/2017 at 16:43:36
Paul (#107) – as Paul (#108) says, you might want to keep quiet about that stat about Lukaku goals against the top six!
Darren Hind
119
Posted 10/04/2017 at 18:31:29
Sorry Oliver
Watched it a few minutes ago. David's account is bang on.
Lukaku definitely alters Huth's attitude which was one of real aggression towards Mirallas.
I knew Mirallas had stood his ground, but I focused on him as he was dragged away to our bench. I thought I got a glimpse out of the corner of my eye of the big fella stepping in with force.
Don't mind that one little bit. We have allowed ourselves to be bullied for too long.
Imagine what a player you would have if you could get Lukaku angry and keep him angry ? Grrrrrrrrrrr
John G Davies
120
Posted 10/04/2017 at 18:53:56
You would have a player that is unplayable, Darren. The only thing he lacks is aggression.
At his current rate of scoring he may end up with 26/27 goals. An unbelievable record for the season and the best since Lineker(?)
Oliver Molloy
121
Posted 10/04/2017 at 19:19:54
Darren, I agree with you with re our big striker, if he showed more of that he would scare the life out of defenders.
However, like you I just watched it again and Lukaku getting involved with Huth thus moving him I disagree.
Huth, in my opinion decided he would move away from the handbags himself, not at all because our man showed a little bit on camaraderie and all.
No, it's six of one as the saying goes. Actually reminded me of Ferguson all those years ago!
Damian Wilde
122
Posted 10/04/2017 at 23:03:34
Geoff, I have a ST and go to a few fair away, in your opinion great match going God, am I allowed an 'opinion' about Sir Ross?
Ray Robinson
123
Posted 10/04/2017 at 23:25:55
Of course it was correct for Leicester's second goal to stand. Indirect free kicks for obstruction were done away with years ago. I'm glad certain ToffeeWebbers aren't referees!
Mick Davies
124
Posted 11/04/2017 at 00:49:31
Brian @ 99, I don't think you heard about the stories surrounding Tom's uncle, but apparently he had to leave Merseyside after some nefarious antics concerning young girls.
Oliver, Huth was still giving it the John Wayne when Lukaku grabbed him by the scruff, then he walked away.
Oliver Molloy
125
Posted 11/04/2017 at 18:54:45
Exactly Mick, he walked away on his own accord, nothing to do with Lukaku.
He didn't budge when Lukaku tried to make him move did he!
Brent Stephens
126
Posted 11/04/2017 at 19:04:44
Ray #123 "Indirect free kicks for obstruction were done away with years ago".
The FA site shows the following re indirect free kicks
Link
Paul Tran
127
Posted 11/04/2017 at 19:16:50
Paul #108, Brent #118
It has to be said. The BBC put out the stats in response to their own experts saying Lukaku doesn't do it against big teams.
He's clearly not alone.
Never let the facts get in the way of a good story.
---
Add Your Comments
In order to post a comment, you need to be logged in as a registered user of the site.
Or Sign up as a ToffeeWeb Member — it's free, takes just a few minutes and will allow you to post your comments on articles and Talking Points submissions across the site.
© ToffeeWeb