Walsh and Koeman plot transfer moves

38 Comments [Jump to last]
26 July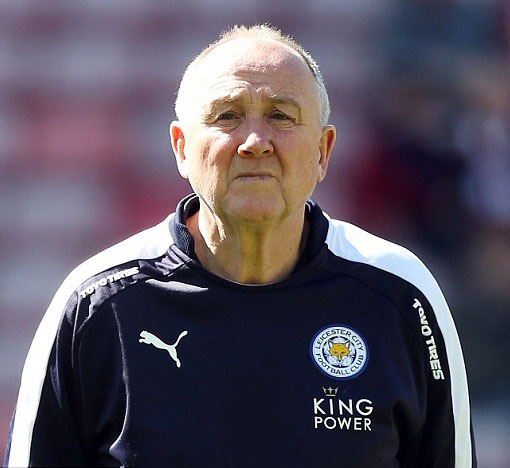 Steve Walsh has held discussions with Ronald Koeman regarding potential signings over the remainder of the transfer window.
The Liverpool Echo say that the duo have made another goalkeeper, the midfield and attack reported priorities as a deal for Axel Witsel remains problematic.
Walsh became Everton's first Director of Football last Thursday when he left Leicester City and signed on for four seasons with the Blues.
Everton have been linked with a slew of names over the course of the summer, with Stoke City's Marko Arnautović the latest to be mentioned, but to date only Maarten Stekelenburg has been added to a squad that has lost four players already and could be depleted further in number by the departure of Oumar Niasse.
Reports from Turkey from a number of different media outlets claim that a loan deal with a possible option to purchase the Senegalese striker is close to being completed. This while the Echo report that Niasse has now accepted that his Goodison adventure is over just a few months after he signed on transfer deadline day in February.
---
Reader Comments (38)
Note: the following content is not moderated or vetted by the site owners at the time of submission. Comments are the responsibility of the poster. Disclaimer
Colin Glassar
1
Posted 26/07/2016 at 07:58:54
Once the Pogba saga is completed there will be a domino effect throughout European football as dozens of clubs will start making their moves.
Keith Hippy
2
Posted 26/07/2016 at 08:02:19
I think Niasse should be given a chance. He was boss in Russia.
Tony Abrahams
3
Posted 26/07/2016 at 08:09:29
Pogba and Lukaku, seem very close Colin, so I wonder if he goes to United, it might help to keep big rom, in the north west!
Sam Hoare
4
Posted 26/07/2016 at 08:21:22
Seems to me like we've made quite a few bids/enquiries already and have been waiting for players who are probably holding out for 'bigger' clubs.
I'm happy to wait till the end of the window if it means getting the right players.
Something like:
Arnoutovic
Witsel/Carvalho
Ziyech/Haller
Butland/Leno/Begovic
Koulibaly/Rugani/Tah/Van Dijk
And then I'd be pretty happy/excited!

David Ellis
5
Posted 26/07/2016 at 08:23:33
More non-news from the Echo - It would be amazing if Walsh and Koeman had not had a discussion about transfers. It's a bit like saying "New tea lady puts kettle on"...imagine our surprise.
Peter Fitzpatrick
6
Posted 26/07/2016 at 08:26:29
Sorry to deviate from the main point of the report, but what an absolute farce the Niasse transfer was. How could this have happened and who sanctioned it? Roberto? Kevin Reeves? If Bill was the main negotiator then surely he must ask for some sort of information over what we're signing?
Tony Abrahams
7
Posted 26/07/2016 at 08:35:19
Peter, very murky waters, especially the timing, with the invisible man, just about to depart our club.
Ben Mackenzie
8
Posted 26/07/2016 at 08:41:09
It's unbelievable to think we effectively swapped Nessie for Niasse. Shocking.
Douglas McClenaghan
9
Posted 26/07/2016 at 08:41:30
I'm not sure that Niasse's departure will actually"deplete" our squad.
Rob Coles
10
Posted 26/07/2016 at 08:45:42
David Ellis @ 5.....best response from a post I've seen in some time....still smiling.
David Pearl
11
Posted 26/07/2016 at 08:50:28
Where's the tea Bill??
James Moraran
12
Posted 26/07/2016 at 08:53:59
Some here should remember Lukaku goalscoring figures are for a 22 year old. He got there faster tham Michael Owen Wayne Rooney and Christiano Ronaldo.
So lets not denegrate the young lad, just because he is built like a brick shit house at a young age.
Tony Abrahams
13
Posted 26/07/2016 at 08:55:29
Someone posted on another thread that Robbie Brady, is 5/6 to join Everton. I wonder if this is the start of the Koeman and Walsh era, because this is one player who knows how to graft, when he hasn't got the ball.
Phillip Mark
14
Posted 26/07/2016 at 09:01:36
Perhaps the Niasse farce is exactly why we have made this change in management structure. Let the experts do their job rather than Bill Kenwright trying to be all things to all people!
Erik Dols
15
Posted 26/07/2016 at 09:46:21
David (both #5 and 11) almost spilled my drink reading that! Great stuff.
Gareth Clark
16
Posted 26/07/2016 at 10:14:13
Sam #4 -
Completely agree with you!
First choices would be:
Butland
Ziyech
Van Dijk
Of the rest, I'd be happ with any one of them joining.
As for Robbie Brady, again I would be very happy with him! Great attitude, and can play in a variety of positions – plus he can add a lot of the bench.
Michael Polley
17
Posted 26/07/2016 at 10:19:51
What a waste of money Niasse was...
Clive Rogers
18
Posted 26/07/2016 at 10:23:16
Peter (#6),
Everything has been a complete shambles under Kenwright. Its not just the Niasse debacle. What about Mattioni who we paid 㾻k a week all last season and never played a game. It was obvious from his record he was never going to be fit. Hibbo started 6 games in 4 seasons yet got 2 contract extensions in that period.
When Paul Gregg left, he told us Kenwright hadn't got a clue how to run a football club and so it proved.
Helen Mallon
19
Posted 26/07/2016 at 10:58:56
Niasse = money laundering maybe?
Joe O'Brien
20
Posted 26/07/2016 at 11:01:56
That all makes sense, Clive, all stupid decisions but I think Martinez has to take the blame for a lot of them as well. Isn't it that the chairman backs the manager, not the other way round?
Either way, the goings on in the background at Everton were very very shady with Green and Earl and Kenwright... and Kenwright takes a lot of that blame.
Steve Fletcher
21
Posted 26/07/2016 at 11:06:32
Dave @5.....hat doffed, made me laugh. The papers really do fill up space with utter bilge at times.
Ian McPherson
23
Posted 26/07/2016 at 11:19:47
Looks like Robbie Brady in-coming!
Ray Roche
24
Posted 26/07/2016 at 11:38:24
Clive#18.
The figure I saw reported (don't ask me where..) was much less than £15k a week. He was only on extended trial here to help him get fit if possible, with a view to a possible deal.
Andrew Ellams
25
Posted 26/07/2016 at 11:42:06
Would the signing of Robbie Brady mean the end of Cleverley?
Clive Rogers
26
Posted 26/07/2016 at 11:49:14
Ray,
I just looked it up again, it was £12k/wk, sorry. Memory!
Vijay Nair
27
Posted 26/07/2016 at 13:26:06
Not sure why we would be in for Brady when we already have Oviedo who plays in exactly the same positions (DL and ML).
Ognjen Mojovic
28
Posted 26/07/2016 at 14:02:45
I think that Koeman shouldn't look for another goalkeeper, but to try and improve Robles.
Paul Newton
29
Posted 26/07/2016 at 17:45:37
So the priorities are 'a goalkeeper, the midfield and attack'.
Does this mean John Stones is staying?
Tony Draper
30
Posted 26/07/2016 at 19:33:07
Dave @5.
Allow me to join the ever growing band who appreciate your comment for it's comic genius and complete accuracy.
Colin Glassar
31
Posted 26/07/2016 at 19:36:50
Andrew, I think Cleverley is the end of Cleverley.
Gerry Quinn
32
Posted 26/07/2016 at 19:39:41
God help us - talk of another Kone inbound.
We'll be able to start an ice cream shop soon
Kevin Walker
33
Posted 26/07/2016 at 19:48:24
I'd like to see us go for -
1.) Leno - excellent keeper
2.) Van Dijk - great player, knows the prem
3.) Vilhena - great player, can do it all. Sure he was linked with Southampton will Ron was there.
4.) Ziyech - class
5.) Haller - young, relatively cheap striker
6.) D.Propper - good all round central midfielder
A couple of players I really like too are a lad at Feyenoord called Bilal Basacikoglu and a lad at PSV called Gaston Pereiro. Both very promising young midfielders with a lot of talent but still very raw...need to snap them up now
Is it obvious I watch a lot of dutch football?....Hehe
Steven Kendrew
34
Posted 26/07/2016 at 20:12:38
Re: Goalkeepers. I like David Marshall, although he is knocking on a bit and currently injured. I see Hull City are interested at present despite this. He was superb in the Premier League.
Northern Ireland's Michael McGovern could also be an option. But, I would take Butland if available. :-)
John Louis Jones
35
Posted 26/07/2016 at 20:41:12
Colin #32 Brilliant spat out my tea
Mick Davies
36
Posted 26/07/2016 at 21:49:55
"Everton's new Director of Football has held discussions with Ronald Koeman regarding potential signings" = slow news week.
Getting sick of people making shedloads of money for making up shit stories – they should all be forced to reveal their sources or get sacked.
Anthony Hughes
37
Posted 26/07/2016 at 22:42:48
If we're serious about top 4 contention then we need to be looking at better players than Robbie Brady, no disrespect to the lad.
Danny Broderick
38
Posted 26/07/2016 at 23:17:48
Stekelenberg impressed me tonight. He is no mug, having played 50 odd games for Holland and 250+ for Ajax.
Young Tom Davies was another who impressed tonight, he is a good prospect and might be able to fill a midfield position this year.
Some of the prices being quoted for players are frightening. I'd suggest that our main priority now is a striker. No Niasse or Koné again tonight, we are currently playing Del Boy up front, and Lukaku is still on his holidays. We are looking like being short up front at the start of the season. I'm hoping Koeman can bring in an upcoming gem from Holland or somewhere, a prospect who can challenge Lukaku, or play with him, when required.

Conor Skelly
39
Posted 26/07/2016 at 23:48:08
Agree Anthony. Ive seen a lot of Brady for Ireland. Been relegated twice. A decent player but we should be aiming higher.
---
Add Your Comments
In order to post a comment, you need to be logged in as a registered user of the site.
Or Sign up as a ToffeeWeb Member — it's free, takes just a few minutes and will allow you to post your comments on articles and Talking Points submissions across the site.
© ToffeeWeb