Di Matteo resigned to losing midfielder to Everton

34 Comments [Jump to last]
29 July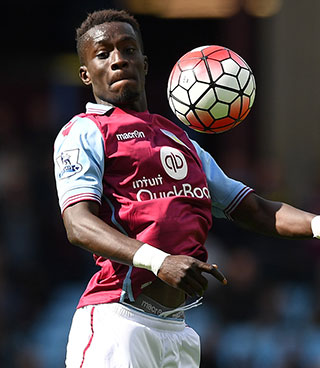 Idrissa Gueye could be on the verge of signing after the Aston Villa boss admitted he expects him to join Everton.
Speaking in an interview today, Roberto di Matteo confirmed that the Blues have triggered the player's release clause and that he "expects" Gueye to move to Goodison Park given that, to date, that's the only firm offer on the table.
Reports emerged earlier this week that Everton had indeed activated a clause in the Senegalese's contract that would allow him to leave Villa Park for a relatively cut-price £7.1m following the Midlands club's relegation from the Premier League.
Gueye was reportedly a target of Ronald Koeman's last year but the 26-year-old ended up joining Villa instead.
"It's public Everton have triggered his clause and he's going to leave," Di Matteo said. "There's no news so far but the expectation is, once personal terms are agreed and a medical [is done], he's going to go.
"There are other clubs interested, that's right, but the only official bid so far has been from Everton."
---
Reader Comments (34)
Note: the following content is not moderated or vetted by the site owners at the time of submission. Comments are the responsibility of the poster. Disclaimer
Terence Tyler
1
Posted 29/07/2016 at 16:27:26
Here we go: "other clubs interested...."
Alan Humphreys
2
Posted 29/07/2016 at 16:35:29
Just get it over the line. Same ol' Everton. Ever thought all this dithering could lie with the CEO... that's one transfer our new benefactor could make.
James Stewart
3
Posted 29/07/2016 at 16:39:56
Stockpiling defensive mids now. Thats Barry, Besic, McCarthy, Gibson, Cleverley, Davies, Gueye all vying for 2 spots.
In a balanced squad you would only keep 4 out of that 7. Gueye, Davies, Besic and Barry as experience from the bench for me, with Gibson, Cleverley and McCarthy moved on.
John Daley
4
Posted 29/07/2016 at 16:43:50
Or it could just be that the players themselves want to take plentiful time to mull the move over and make sure they're reaching the right decision? Can't really blame anyone for that. Particularly in Gueye's case after he dropped a right clanger by opting for Villa the last time he had a career choice to make.
David Ellis
5
Posted 29/07/2016 at 16:58:46
It's in Villa's interest to hawk him around. Hopefully this is tied up quickly because this looks a sensible signing.
James (#3), I think most top clubs would have more than 4 players covering two positions, and consider that Davies is so young and Barry so "old" – I can see us keeping them all with perhaps Besic or Cleverley missing out. McCarthy is better than these two, but I think Koeman will start with Gueye and Gibson.
Terence Tyler
6
Posted 29/07/2016 at 17:01:16
John. Most of them don't care where they go, just which club will put the most money in the bank for them.
Simon McCann
8
Posted 29/07/2016 at 17:14:32
Hopefully he's better than the last Gueye we bought anyway.
Jeff Armstrong
9
Posted 29/07/2016 at 17:18:03
I think at this stage we just need to bring alternatives in. The squad will then develop and Koeman will begin to find his best 11 as the season progresses. It will be at least next January before we can say this is our first choice defensive midfield partnership, or maybe just play with one in a diamond, etc.
Let's just move on from the stagnation of Barry, McCarthy or An Other in EVERY single fuckin game, wether it was West Brom at home or Arsenal away.I hate the idea that the starting point for midfield is two defensive players every time.
Teddy Bertin
10
Posted 29/07/2016 at 17:34:28
Gueye and Besic could be a serious Def Mid partnership. Both hard working, both hard in the tackle and both can pick a pass forward.
Doesn't look good for Gibson and McCarthy IMO
Cleverley could still have a role to play coming in as part of a 3 in midfield depending on the opposition.
Decent signing if it happens...
Anthony Dwyer
11
Posted 29/07/2016 at 17:35:35
James Stewart 3
I agree, but id keep McCarthy and off Barry.
Ray Roche
12
Posted 29/07/2016 at 17:37:29
This might drag on for a few days yet, the "other clubs" will want to make their play for him and his agent will wait until the last one has made his bid before allowing the deal to go through. Whether it's with us remains to be seen.
James Stewart
15
Posted 29/07/2016 at 17:58:15
@5 Davies is more than ready. Koeman knows this hence his involvement in every pre season game so far. Personally I would rate Besic a lot higher than McCarthy who seems to get worse with every season. He was even getting hauled off for championship players at the euros!
Gibson won't be involved at all, the guy has barely in 2 years and is finished.
Brian Williams
18
Posted 29/07/2016 at 18:16:50
Ok Kames, don't go on!
Mike Allison
19
Posted 29/07/2016 at 18:18:23
Of the list in James' post (3) I would argue that Cleverley is a much more attacking player than those others and doesn't really belong there. I can see him being used the way Steven Davis was used by Koeman at Southampton. Harold Matthews was always adamant that Gibson was an attacking player as well.
The Gibson new contract is still a very strange one, given that it happened before Koeman or Walsh were appointed. My assumption is that Koeman was involved in the decision somehow.
Dave Pritchard
20
Posted 29/07/2016 at 18:19:33
Besic has yet to show me that he is worthy of a starting place. There is still time of course but he needs to make the most of the opportunutiies he gets this coming season.
Colin Glassar
21
Posted 29/07/2016 at 18:24:26
James, your first post (15) was brilliant, the following two (16-17) were a bit insipid and uninspiring tbh.
Eugene Ruane
22
Posted 29/07/2016 at 18:41:50
Re 'dithering', I sense there are many TWers gutted at the lack of alliterative opportunities provided by the surnames Koeman and/or Moshiri.
Gary Carter
23
Posted 29/07/2016 at 18:42:34
I just don't understand what people see in Besic. At best he's enthusiastic, plays to the fans and puts in the odd Hollywood tackle. In reality he's always injured, very average at best and looks like he could get sent off at any minute!
He's not better than Cleverley, McCarthy, Barry or Davies and is only on a par with Gibson because he is twice as injury-prone as Besic. On the other hand, Gibson is ten times the footballer Besic will ever be!
Paul Smith
25
Posted 29/07/2016 at 18:50:30
Exactly Gary.
I think because he shows a bit of fight and desire people see past his lack of ability.
Never been a big fan of Mo.
Neil Cox
26
Posted 29/07/2016 at 18:57:20
Eugene @22. Reticent Ronald perhaps?
Barry Williams
27
Posted 29/07/2016 at 19:08:21
Everyone seems to be dismissing Gibson, but he seems to be getting quite a lot of pre-season game time! Why listen to the facts if it doesn't fit your point of view?
Who knows who will come and go and what role Koeman has for players? We couldn't have predicted that Deulofeu would be used as a centre forward!!! Let's just wait and see. Speculation is just that... speculation!
Now, just take a wee moment and think over the years who Everton have been linked to and who has actually signed!
See!
Peter Mills
28
Posted 29/07/2016 at 19:51:51
I suspect, and certainly hope for, a "Kunning Koeman" and a "Me, I'm in charge here, things are going to be done my way, Moshiri".
Snappy, isn't it?
Christy Ring
30
Posted 29/07/2016 at 20:52:32
James (#15), You don't like McCarthy.
The reason he was hauled off at the Euros was because he was knackered. You mustn't have watched him against Italy and France, where he was outstanding as our defensive midfielder. He'd be in my starting 11.
Gibson is a playmaker, can't tackle; Besic ,too inconsistent.
Andy Meighan
31
Posted 29/07/2016 at 22:09:33
I couldn't agree more with Gary 23. I just don't get it with Besic at all...
Teddy Bertin
32
Posted 29/07/2016 at 00:05:06
Gary (#23), people like him because he has shown moments of great potential. He played more killer forward passes in a few cameos than McCarthy did all season; he's also shown some reasonable fight and passion and some great tackling ability.
The problem is he's not shown any of these things consistently whereas McCarthy has been very consistent in his work rate and performances.
He has a lot of potential but equally a couple of his performances were woeful last season. He's certainly not the finished article yet.
Gary, "very average at best" is hugely unfair on a lad who at his best looks top draw. Was he "average at best" when he completely man-marked Messi out of that game in the World Cup?
He may never become a great player in the Premier League but if you think that he's never shown anything worth getting excited about, then you've been watching a different player to me.
Colin Glassar
33
Posted 30/07/2016 at 08:33:30
Ssn are now saying Villa want more money!! I've always wondered about these so-called buy out clauses, are they legally binding? Unless you take a club to court how can you really make them honour these types of clauses?
Terence Tyler
34
Posted 30/07/2016 at 10:27:19
Besic was another one of Martinez's mistakes. A good passer of the ball but offers very little else. He is a liability in the Premier League with his rash and poorly timed tackles. He is Championship level at best, I would put him in this list. Traore, Atsu, Alcaraz, Kone, Mattioni, Niasse, McGeady... not to mention extended contracts for Howard, Osman, and Hibbert (X2).
Nathan Snell
35
Posted 30/07/2016 at 19:38:24
Trying keep patient on the transfer front but it's starting to get frustrating. If we haven't signed anyone by the end of next week then I will genuinely be concerned about the new season - and I'm a glass half full man (well normally).

My head tells me that we wont see an improvement on last season league position - until year 2 of Ronals rein. My heart is telling me that we'll get into the top 4. Don't you just love being an Everton fan!!!
Si Cooper
36
Posted 31/07/2016 at 03:43:20
The midfielder I was most disappointed with last season was Cleverley, simply because he generally just appears to be a bang average player; little pace, physicality or creativity apart from the odd decent ball. I think he is as threatened by a player like Gueye as much as anyone.
He may have been more consistent than Besic and McCarthy, but they seem to offer much more than he can (although in different ways) when they are really on form.
Can Koeman bring out their best more often, or add more depth to Cleverley's mediocre 'Jack of All Trades' output?
Phil Malone Jnr
37
Posted 31/07/2016 at 23:57:11
Next season's tabloid 4-3-3:
Begovic
Baines
Fonte
Kouilbaly
Coleman
Carvalho
Strootman
Gueye
Witsel
Mata
Sissoko
Slimani
Bench: Schmeichel, Williams, Martins-Indi, Sigurdsson, Sneijder, Haller
Michael Kenrick
38
Posted 01/08/2016 at 00:51:29
Good... I think 2 out of the 18 actually are on Everton's books. (I see now why they call it Fantasy Football...)
Although 4-3-3 with 11 outfield players will probably raise a few eyebrows.
James Watts
39
Posted 01/08/2016 at 14:18:29
Just reading West Ham have launched a bid for him shocker!
I have this vision of a hamster running on his wheel thinking nearly there, nearly there but then realises he has gone nowhere ... seems like our transfer policy. Bill the Hamster from now on I think.
Ian McDowell
40
Posted 01/08/2016 at 14:52:10
Does anyone have any idea whats going on with this? Nearly a week now since I first read about us activating his release clause.
Colin Glassar
41
Posted 01/08/2016 at 14:56:46
All we know, Ian, is that we know nothing. I'm thinking of changing my name to John Snow.
---
Add Your Comments
In order to post a comment, you need to be logged in as a registered user of the site.
Or Sign up as a ToffeeWeb Member — it's free, takes just a few minutes and will allow you to post your comments on articles and Talking Points submissions across the site.
© ToffeeWeb