Everton vs Tottenham Hotspur

97 Comments [Jump to last]
12 August
Match Preview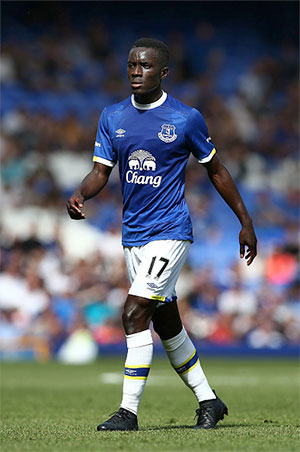 Idrissa Gueye is in line to make his competitive debut
For one reason or another — often financial — it's been rare that Everton have gone into a new season feeling fully prepared and, once again, the Blues approach a kick-off to the campaign with a degree of apprehension in the air.
Where the team has looked "under cooked" in previous seasons because of World Cup hangovers or just generally disjointed pre-season programmes under Roberto Martinez, this time the club is behind schedule due to the managerial changes that have seen Ronald Koeman and Steve Walsh come in to replace the Catalan's failed regime, and what the new boss blames on a late start to pre-season.
Koeman hasn't been reticent when it comes to highlighting the shortfall in fitness of his new charges and even bringing forward the start of pre-season training hasn't provided him with enough time to address what was a noticeable problem under his predecessor last season.
And even though he was earmarked early, Koeman wasn't unveiled as the new Everton gaffer until mid-June, while Walsh's appointment wasn't confirmed until five weeks later. So there has been a lag when it comes to putting squad-building plans in place once the Dutchman had had a chance to fully assess what he inherited in terms of players.
Koeman's latest comments suggest, however, that he had expected to have landed more signings than the three he has managed to date, the club having pursued their targets but becoming frustrated in their attempts to get deals over the line.
The upshot is that Everton won't begin 2016-17 or their challenging assignment against what was an impressive Tottenham Hotspur outfit last term in as strong a position as anyone at the club would have hoped. Fitness doubts over Seamus Coleman and Romelu Lukaku, two players without equal in their respective roles among the current Everton squad, and the fact that new defensive acquisition, Ashley Williams, won't be ready have further complicated the situation.
Still, as ToffeeWeb's more in-depth preview of the new season concludes, even if he begins his first season at Goodison in less-than-ideal circumstances, Koeman still has plenty of talent to work with. The club's sequence of warm-up games in which they failed to win any of their last four friendlies may have thrown up concerns that the old habits of the Martinez era will die hard but they are inherently poor indicators of how things will go when the real business gets underway this weekend.
While much of the side will pick itself, two factors will be important in determining how Koeman sets his side up tomorrow. Firstly, whether he opts for a back three or a more conventional flat back four; and, secondly, whether Lukaku will have recovered sufficiently from the gash he sustained to his heel in last weekend's friendly against Espanyol to start.
Ordinarily, Williams's unavailability would surely make a back four, with Phil Jagielka, fit again following a hamstring injury, lining up alongside Ramiro Funes Mori, the most likely solution. If Coleman misses out, however, Koeman could be looking at a choice between two inexperienced players — either Mason Holgate in a three-man unit or Tom Davies as an emergency fullback.
Lukaku's availability will be an equally important factor in how the Blues line up from an attacking standpoint. The Belgian is expected to play, which should pave the way for Kevin Mirallas and Gerard Deulofeu to play alongside him as the wide attackers in front of Ross Barkley, Gareth Barry and expected debutant Idrissa Gueye.
If Lukaku can't play, then it would seem, based on his pre-season form, that Deulofeu would be best deployed in the No 9 role where his pace and mobility can be used to unsettle Spurs' back line, with Mirallas and Barkley pushing on in supporting roles.
Like Everton, Tottenham have been relatively quiet in the transfer market this summer but making targeted additions up front, in the form of Vincent Janssen and in midfield with the purchase of Victor Wanyama from Koeman's old club, Southampton. Mauricio Pochettino is no stranger to playing with two strikers and, with Moussa Dembele suspended, both of those two new signings could make their debuts tomorrow.
Overall, the Argentine may feel that the most pressing area of concern in his squad after last season is psychology, with Spurs having looked at one point as though they might be able to pip Leicester to the title before they faded badly at the last and dropped to third on the final day of the campaign. Certainly, Tottenham looked formidable in many respects last term and until that final-day hammering at the hands of Newcastle, they had the best record away from home in the top flight.
That will make for a stern test as Koeman makes his Goodison bow but the optimism of a new season coupled with a raucously expectant crowd and the unpredictability of opening-day fixtures could stand Everton in good stead. It goes without saying that a victory to kick off the new campaign over a top-four contender would transform the mood among Evertonians, particularly with the promise of more signings to come before the deadline.
Kick-off: 3pm
Referee: Martin Atkinson
Last Season: Everton 1 - 1 Tottenham Hotspur
Predicted Line-up: Stekelenburg, Coleman, Jagielka, Funes Mori, Baines, Barry, Gueye, Barkley, Deulofeu, Mirallas, Lukaku
Full details: ToffeeWeb match page
---
Reader Comments (97)
Note: the following content is not moderated or vetted by the site owners at the time of submission. Comments are the responsibility of the poster. Disclaimer
Kevin Day
1
Posted 12/08/2016 at 21:27:14
Minus the Gk, this is the team that supposedly under achieved last season, plenty of talent in there, on their day will beat most.
I predict 2-1 to the blues.
Mark Morrissey
2
Posted 12/08/2016 at 21:29:53
1-0 to the boys. Baines penalty
Dave Pritchard
3
Posted 12/08/2016 at 21:32:07
A Baines penalty would be nice to see.
Ian Burns
4
Posted 12/08/2016 at 21:34:43
I'll go with 2-1 and if Seamus is not fit then I really would like to see Davies step up to the plate. If Lukaku doesn't make it, I would like to see Geri given another run up top.
I just wonder how Robles will feel back on the bench?
Mike T Jones
5
Posted 12/08/2016 at 21:36:36
Spurs win. Everton league win. Pity it's not west brom in game two and Chelsea away in game three on a Friday night on the television. And Kevin Richardson playing
Edward Wallis
6
Posted 12/08/2016 at 21:46:57
Really really looking forward to the game. Love to see both Davies & Holgate in from the start. Its going to be a hard game but I hope the crowd get behind the team. It may push us over the line. 1 nil to blues for me... a Del boy free kick for me.
Darryl Ritchie
7
Posted 12/08/2016 at 22:24:08
I've been looking forward to the start of the season with a mix of anticipation and trepidation. Spurs at Goodison is usually a cracker of a game, but when you throw in all the well documented variables and uncertainties surrounding this version of the Toffees, the final outcome will be anybodies guess.
I'll be cheering with crossed fingers. 1-0 Blues
Alex Bennett
8
Posted 12/08/2016 at 22:28:39
Score draw for me; we rarely win the opening game of the season.

Raymond Fox
9
Posted 12/08/2016 at 22:45:21
Draw will be a good result for me, Tottenham are favs at 6/4.
Denis Richardson
11
Posted 12/08/2016 at 23:02:14
Hope Barry is not in the starting line up. He's not going to be able to play the pressing game that Koeman normally plays. Also Spurs have some quick midfielders.
Still, I'm hopeful of a result tomorrow. Business finally starts again tomorrow.
Kunal Desai
12
Posted 12/08/2016 at 23:03:51
Nailed on draw. 1-1.
Jay Harris
13
Posted 12/08/2016 at 23:06:46
We drew both games with Spurs last season so no reason to suspect we could win this even though we are not fully prepared.
I expect to see a lot of commitment from both sides which should raise the crowd.
Cant see us keeping a clean sheet yet so I'll go 2-1 to the Blues.
Oliver Molloy
14
Posted 12/08/2016 at 23:07:24
No matter which names are on the team sheet , let's get behind the players picked and scare the fuck out of Spurs and their support.
A bear pit of an atmosphere rubbing it up them and the referee every chance we get.
Who knows if Koeman is the man, but let's show him what it is to be the manager of a Everton FC, this is his first real experience and test as our new manager.
It appears he is going to take no crap from anyone so I would expect the players will be up for a big performance against a very good Spurs side – a top result could set the tone for the season.
COYB.
Ciaran Duff
15
Posted 12/08/2016 at 23:07:28
I'd take a draw at this stage.
Eric Holland
16
Posted 12/08/2016 at 23:44:33
Spurds will still be on a downer from last season's bottling of the Premier League title. They have always been the nearly men and always fold when the going gets anything like tough.
3-1 to the Blues.
David Pearl
17
Posted 12/08/2016 at 00:01:52
I really wish people would stop writing off Gareth Barry. Why is that?
We haven't looked that great in preseason (again) but here's hoping for a great start. 1-0 Mirallas penalty...
Jamie Crowley
18
Posted 12/08/2016 at 00:04:17
I'm pleased to see so many positive predictions.
I just can't share the sentiment. I don't feel we're ready on opening day. Throw in our rather abysmal opening day recent record - and hell it might be a positive, winning record for all I know, I just can't get past the scars of that Arsenal opener (Lescott douche-fest) - and I frankly fear the worst.
Spurs look dangerous to me. And we just... I dunno I don't have a warm-fuzzy about this one.
Colin Williams
19
Posted 12/08/2016 at 00:04:39
I don't feel confident; too many players who have constantly let us down will be playing. I would put Davies, Holgate and Galloway straight in the eleven.
How the feck can you play Jags (45 mins pre-season) although great excuse by Jag lovers to shout out "He's been injured all pre-season"! Also, play Gerry central and high.
Again, how can anyone think that Mirallas deserves a jersey? He's done feck all for 18 months, and the same goes for that useless twat people call a centre-forward. These two could play blinders all season, I wouldn't give a feck – they still don't do enough for the team consistently... fecking waste of a jersey!
Please don't come back with Lukaku and his goals, he's missed twice as much has he scored. Also, his overall game is fecking shite! When will we ever learn! Clean slate, get rid!!
Ian Riley
20
Posted 13/08/2016 at 00:27:09
I can see spurs scoring at least 2 goals. Have we got three goals in us. Tottenham are my outsider for the league. Settled team, top manager and under the radar this summer.
Our preparation again is poor. Players going or could be going. Manager sends the excuses early. Not fit. Might take a month to get going with new players.
I would love to be wrong, 1-3 score!!!!!
David Booth
21
Posted 13/08/2016 at 00:37:17
Softly, softly… or same old, same old?
Here we are, as ill-prepared as ever for the start of a new season.
All the anticipation, talk of budgets in excess of £100m, daily links with the sort of player we can evidently still only dream about, new owner, new manager, new director of football: yet hopes are hanging in tatters with just over 12 hours until kick-off in the first game.
Once again, we have to resign ourselves to the soul-destroying deja-vu of what looks another season of anti-climax, unrealised potential, un-rectified squad deficiencies, silence from the powers-that-be and what still looks very much like a firmly-entrenched 'sell-to-buy' modus operandi.
For whilst we have all been remarkably patient with Ronald Koeman and quite rightly given him and Steve Walsh the requisite time to 'settle and assess', we are worse off than we were at the start of last season, the year before and certainly the year before that?
After weeks, nay months, of constant speculation about the likes of Witsel, Milik, Mata, Koulibaly, Arnautovic, Carvalho, Wijnaldum, Indi, Hart, Forster and Schmeichel, we've ended up with Fulham's downwardly-mobile keeper, another defensive midfielder from the worst Premier League team for years and a 32-year old centre half, who isn't even fit!
As is the Everton way nowadays, we have discovered a belated hunger for the scraps left on the transfer table – but not who we really hoped for and certainly not at the ludicrous prices being quoted.
Opinion on our latest apparent targets seems divided, although it has been fascinating to read some of the panic-inspired, talk-them-up psychology on ToffeeWeb, as Evertonians try to reassure themselves that Kone (who cost a rumoured £5m in January and now is valued at £18m after just 15 games for Sunderland) and Bolasie at a staggering £25/30m, are just what we need.
Most worryingly of all however is that this beyond-the-eleventh-hour flurry of activity only began to happen after John Stones was sold. Clearly, it would appear, Everton are still very much a sell-to-buy club.
It seems clear that in reality, nothing has changed in that department. One really could be forgiven for asking 'where's the money Mr Moshiri?'
I am sure that I am not the only one now dreading taking my seat tomorrow. Key players missing, new ones not bedded-in (or unfit), and a poor pre-season of Martinez-like performances.
In short, not a lot to get excited about against one of last season's worthy front runners and I can see us getting whipped tomorrow. That's not pessimism by the way, just resigned realism.
But if you know your history, there may be a ray of hope: the last time we opened with Spurs at home, followed by West Bromwich Albion away, we lost 1-4 and 2-1 respectively – and went on to win the league by 13 points in 1985!
So I guess if we do lose tomorrow, there's no reason to get too depressed…
Carl Sanderson
24
Posted 13/08/2016 at 01:29:24
" ... whilst we have all been remarkably patient with Ronald Koeman ... "
... who has been in charge for a grand total of no league matches.
I despair.
Lee Hind
25
Posted 13/08/2016 at 01:39:55
Unnecessarily negative David - even for this site, which practically encourages it on sign up!!
FFP says we can't spend like fools before we sell – that's not a failing of the club, it's adhering to the rules as they stand.
Idrissa Gueye has better passing stats than N'Golo Kante and almost matched him for tackles and interceptions – I don't care where he played before, I just want players of that ilk in the Royal Blue.
To write Ashley Williams off as an unfit 32-year-old is ridiculous... he's a vastly experienced defender, better than Stones at this moment in time and is likely only just on his way down from cloud 9 after a spectacular effort in the Euros.
We may lose tomorrow (God knows our opening day performances are usually off the boil) but this will be a better season than last and if we are honest with ourselves, that's what we want every year!!
Jonathon Laws
27
Posted 13/08/2016 at 02:00:06
David@21 - Failing to solve every one of those well reasoned concerns couldn't possibly be worse than a stadium full of fans of equal negativity.
Tony Draper
28
Posted 13/08/2016 at 02:34:05
Frustrated as I have been, and indeed still feel, I have to concede that possibly this is how things just had to be this close season.
The Martinez disposal could have been executed earlier. It could. Would that have allowed Everton to have secured Ronald a moment earlier?
Surely having Ronald and Co in earlier must have made certain that we weren't faced with an unfit, incomplete squad at seasons start. No.
We HAD to wait until the season was well and truly finished, over and into "downtime" to snare Ronald and Co. To catch them away from work, when they were more pliable, open to persuasion, OK simply off guard.
Without the right man at the helm, the plan is only a plan. So, we waited. Predatorially, and then enacted the plan.
It wasn't ideal that the Euros were being played out, but Everton aren't the only club with a player or two involved, are we?
The PL season commences today, but doesn't complete until all 20 clubs have played 38 fixtures.
Under ideal circumstances we would already be better equipped, but then, under ideal circumstances we wouldn't be entering a new season with a new manager, replacing a disfunctional squad, would we ?
This, is EVERTON !
COYB !

Tony Draper
29
Posted 13/08/2016 at 03:02:03
Score ?
3-1 Everton.
Deulofeu, Mirallas & Barkley.
Jay Harris
30
Posted 13/08/2016 at 03:56:58
David,
How the hell are we worse off than last season.
We have got rid of Martinez and his 4th division backroom staff.
We have replaced him and his cronies with one of the most highly rated management teams in the Prem.
We have got rid of a brooding player "with potential" who cost us big time last season and brought in one of the defensive stalwarts of the Euros and very experienced and highly thought of Premiership defender.
We have brought in a DM whose performance stats last season put him on a par with Kante and we have brought in a very experienced keeper and GK coach.
Michael Farrelly
31
Posted 13/08/2016 at 05:28:39
The man we must fear most and certainly Tottenham's most lethal attacking weapon ..Martin Atkinson!
Mike Dolan
32
Posted 13/08/2016 at 05:51:44
I have a good feeling about tomorrow and the new season. While the new manager states quite openly that we are at the moment only 70% of the fitness levels that he would expect you just have to imagine that we are actually quite a bit fitter than we were at any time in the last few seasons. In that starkly shocking indictment of Roberto Martinez's modus operandi we should be seeing a huge difference in our ability to be more effective on the pitch late in games and late in the season.
We do have a talented if enigmatic group of players and the impressive way Koeman has gone straight to the core of our defense replacing a weak defender in Stones with a strong defender in Williams.
If the goalkeeping problem is not totally solved we can at least say we are 100% better in this crucial position than we were going into last years disastrous season.
Defensive Midfield will be much improved with the acquisition of Gueye who will not only help stiffen the entire defense but allow the full backs to get forward which is something that has been missing the last couple of seasons.
We are nowhere near the finished product but hopefully we have started to build a sound base. This is as much as we could reasonably expect given the shocking total surrender of the last two seasons.
2-1 Everton, Del Boy scores 2 and plays 90 minutes and Spurs will look very frustrated.
Jim Potter
33
Posted 13/08/2016 at 06:13:32
Feel slightly negative about this one - so a nailed on victory is assured.
Spurs are a fine team, but if we get in their soft southern faces from the first whistle and have a bit of luck - then we can win.
Let's have a cauldron of an atmosphere!
Gareth Clark
34
Posted 13/08/2016 at 06:34:56
Steklenburg
Holgate Jagielka Funes Mori Baines
Idrissa Barry/Davies
Lennon Barkley Mirallas
Deulofeu

George McKane
35
Posted 13/08/2016 at 07:05:23
Yahoooooooooooooooooooooooooooooooooooooooooooooooooooooooooooooooooooooooooooooooooooooooooooooooooooooo.
Paul Tran
37
Posted 13/08/2016 at 08:30:38
Reading The Times this morning, Cascarino predicts Koeman 'not lasting the year' and an 'unsettled' Everton finishing 16th, two of his colleagues have us as the 'surprise package'. Add Didi Hamann's Racing Post advice of backing us for a top six finish and it's clear that opinion is divided everywhere, not just this site.
I make no apology for my optimism. A better manager with proper focus on a strong spine, fitness and effort allied with skill can only have us going in the right direction.
Every year, fabulous players and managers enter this league and they often get caught out by it. We've got an experienced one and the fact he's going for PL players tells me he's learnt quickly.
For our existing players, this season could be the last chance saloon, so surely we'll see some improvement?
Onwards and upwards - COYB!
Sam Morrison
38
Posted 13/08/2016 at 08:42:23
Carl @24 - precisely.
Steven Jones
39
Posted 13/08/2016 at 08:42:34
This will be a difficult day at the office for us blues.
Spurs are a well honed outfit with two added class players. They press and are together as a team and pass well and break well.
Idrissa and Holgate are big plusses and I am looking for improvement and impact from Ross and Del boy.
Looking for Idrissa to intercept a few today and launch Rom, Del and Barks on powerful forays!
Fingers crossed today and completion of three signings this week and upwards and onwards.
COYBB's
Jon Gorman
40
Posted 13/08/2016 at 08:45:33
Very disappointed in the sluggishness in our transfer business. Going into the new season with the kind of lineup that Gareth (34) has predicted is depressing.
Steve Pickering
41
Posted 13/08/2016 at 08:49:08
Looking forward to a revitalised team today. I think Koeman is playing mind games about fitness.
Kick ass, boys. COYB.
1-0 in stoppage time will do me!
Brent Stephens
42
Posted 13/08/2016 at 08:58:35
" ... whilst we have all been remarkably patient with Ronald Koeman ... "
Today is yer last chance, Koeman. Lose today and yer out.
No idea what today holds. Don't know what team we or they will put out so wouldn't like to predict. OK, 2-2.
Our fitness level at 70% of what Koeman wants is probably 10% fitter than under the Spanish manager.
Mark Murphy
43
Posted 13/08/2016 at 09:05:57
"Remarkably patient with Ronald Koeman "????
Did I log in to the Leeds Utd board by mistake?
2-1 to the Blues, scrappy, nervous game but the start of a new era
Come on you Blues!!!
Geoff Williams
44
Posted 13/08/2016 at 09:16:31
I must be the only one who sees nothing in Deulofeu. I wouldn't have him anywhere near the first XI. He's an impact player nothing else.
Trevor Peers
45
Posted 13/08/2016 at 09:16:56
Home advantage should hopefully ensure we get a result against Spurs, our problems lay mostly in creative midfield.
Deulofeu, Mirallas & Barkley. They don't work hard, create enough chances or score enough goals. We need to replace at least two of these players to improve as a team. They are luxury player's, you can maybe afford to carry one but not three !
In saying we're a bit too nice, RK seems to have identified this weakness and is trying to buy the type of quality player that's required to rectify this long standing problem.
Dave Abrahams
46
Posted 13/08/2016 at 09:19:17
We not win today's game but I know I am going to enjoy this season more than any of the last fifteen seasons except for Martinez's first season here.
Regards to the lack of signings, you can't pressgang players into coming to Everton, knock them out and carry them to Goodison, signings take time, they will come before the end of August. Koeman is a very good manager but he can't produce miracles, especially after a few weeks in charge of the job. Patience and more patience is needed.
James Morgan
47
Posted 13/08/2016 at 09:20:50
Any sort of win will do, a draw would be reluctantly acceptable. I'm interested to see the new laws in place and how the refs use them, particularly the one regarding hounding the officials.
Dave Abrahams
48
Posted 13/08/2016 at 09:24:33
(46) above. Sorry that should have started "we may not win"
Anton Holmes
49
Posted 13/08/2016 at 09:32:48
Pressure on Spurs after last season. All the big guns, Gunners aside, have added big-name managers and signings for their need to win, but I think our new leader and the plain expectations he has mean a win for us, if not pretty.
Let's get behind them and be the best 12th man that we can!!!
David Pearl
50
Posted 13/08/2016 at 09:35:50
35, George
My thoughts precisely.
Brin Williams
51
Posted 13/08/2016 at 09:37:25
First match of the Season and one that I have to miss. Still plenty more to enjoy with the Season Ticket which has cost less than ever.
COYB.
Dave Pritchard
52
Posted 13/08/2016 at 09:39:22
Whatever the result today it will not define our season. A 3-0 win will not mean we're going to win the league and a reverse of that result will not mean Koeman is garbage and we're going down. I think we need to wait for at least 10 games before making an initial judgement on how things are shaping up. I hope to see a better organised and fitter team and tactics that change both from match to match and during a game if necessary.
Peter Mills
53
Posted 13/08/2016 at 09:41:28
I've no idea what to expect this afternoon, but am confident our performances and results will improve markedly this season under the new regime. It may take time, but Koeman is a winner and will expect a similar mentality from all his players.
James Hughes
55
Posted 13/08/2016 at 09:43:22
Something here for that very patient man .
http://www.liverpoolecho.co.uk/sport/football/football-news/Everton-transfers-ronald-koeman-frustrated-11741383
David Pearl
56
Posted 13/08/2016 at 09:46:34
Interesting season ahead.
What affect with Mourihno have and how long before we get Mata?
Will Pep and his Martinez style tactics really work in the premiership? And how long before we get Joe Hart?
Why didn't Arsenal strengthen properly again?
Are Spurs really any good?
Can Chelsea really turn it around with the addition of only 1 real first team player?
Will the red-shite go down this year? Will Leicester go down this year?
I'd better turn on sky sports... That Paul Merson will have all the answers!
Peter Lee
57
Posted 13/08/2016 at 09:49:11
Last time we started the season at home against Spurs; we lost 4-1. The following game was West Brom away. That was the start of the 1984-5 season. Spooky!!!!
Don't expect similar outcomes today or this year but today for all fans should represent excitement and hope if not expectation. We will be a better team this year. We will be more difficult to beat. We will sign another 3/4 players before the deadline. We will finish in the Euro spots, perhaps via the cups.
Stuck in Italy today so can't get to the game. Anyone know any decent streams we can tap into? Also got MOBDRO on the phone, is it being shown on any of those channels?
COYMB
Denis Richardson
58
Posted 13/08/2016 at 09:49:14
I'll lay my hat down ..3-2 win for the blues with a bit of squeeky bum time, based on nothing.
Mirallas and Deulofeu on the scoresheet.
Joe Digney
59
Posted 13/08/2016 at 10:01:44
Anyone got a stream link?
COYB
Mark Cooper
60
Posted 13/08/2016 at 10:04:09
Can't call today's result, won't even try.
We have to remember this is still early days for this, (mostly) new regime, so let's leave some of the judgement calls on ice for a couple of months eh!
I can totally understand if RK decides not to start Williams today, as a centre half he wants to give him time to train with his new team mates, that makes sense to me. He will play next week.
I think the 70% fitness he is talking about is in equation to how fit HE wants them to be, not their ability to perform today,(I hope).
If we get to September and RK hasn't got the players he wants in, or held onto those he wants also, then I will begin to have questions about what is going on transfer wise.
So for now, let's just get behind them for what will possibly be a difficult August and whatever the results, try to give them some confidence to build on for the future.
Ray Roche
61
Posted 13/08/2016 at 10:04:14
Peter#57, Firstrowsports usually have a stream but the links below might help,
Good luck.
http://worldsoccertalk.com/2016/08/12/find-Everton-vs-spurs-us-tv-streaming/?
http://www.livesoccertv.com/match/1980427/Everton-vs-tottenham-hotspur/
Jon Withey
62
Posted 13/08/2016 at 10:05:21
Can't see us scoring at the moment but I'm hoping we will be harder to beat under Koeman.
Tottenham have one of the most cohesive squads but we are at home - which I hope starts to mean something again.
0-0
As long as Moshiri genuinely wants to invest then we will be fine - but business so far has been fairly typical of the last ten years.
I guess we'll know where we are at come the end of the transfer window.
Brian Furey
63
Posted 13/08/2016 at 10:13:14
Was watching the sky review of the 2014-15 season last night. RK had Southampton sitting in 4th for a number of months that year.
What ever happened to Charlie Austin? We all wanted him at one stage. I think Ronny will try to make us hard to break down defensively. He knows Del is a weakness on the right wing.
Tony Abrahams
64
Posted 13/08/2016 at 10:14:35
Don't think we have beat them since we came from behind at Goodison, when Jelavic, got the goal, this will be a very hard game.
Will definately have the crowd behind us today, so hope we are pragmatic enough to stay in the game, and then hopefully the fans will push us on, and help us win the game.
Dale Rose
65
Posted 13/08/2016 at 10:19:44
Great article Lyndon. We have a good side and a good manager. So it's wait and see. I think we will do alright there's a new era at the club. COYB.
Bill Griffiths
66
Posted 13/08/2016 at 10:23:30
Disappointing that none of the youngsters are in the squad today.
Peter Lee
67
Posted 13/08/2016 at 10:27:07
Thanks Ray
Martin Nicholls
68
Posted 13/08/2016 at 10:30:55
David (#21) – "firmly entrenched sell-to-buy modus operandi". In the past, maybe; in the present, possible... but would you and others who post a similar message on this site please check the FFP rules before doing so? Lyndon (and others) have taken the trouble to explain them on TW – why not take the trouble to read their explanations?
ps: I can let you have the number of the Samaritans if you are as suicidal as you sound.
COYB
Pete Edwards
69
Posted 13/08/2016 at 10:39:54
David please hide all sharp objects, keep away from high ledges and don't wander by any busy roads! Oh and make sure the cat isn't within kicking distance!!
Kim Vivian
70
Posted 13/08/2016 at 11:11:20
Bit too early in the season to see any major improvement I believe, so not too confident about this one tbh. Got a small wager as usual with my boss (Spud) but think I may be £5 lighter tonight. Be happy with a draw and a decent competitive performance from the lads today.
Alan Bodell
71
Posted 13/08/2016 at 11:17:52
I hope for Ross's sake he has a good game because this season really has to be a good one for him (and us) or he will slip into obscurity like many before, he is not a kid anymore and it's time to deliver.
Ed Fitzgerald
72
Posted 13/08/2016 at 11:24:39
That will know sage Ray Parliour was musing on talksport yesterday how Koeman wild have been his choice as manager for Arsenal however he did follow it up by saying he didn't think his teams were not particularly attractive to watch and the could also be problem. I suspect for most Blues that would be good enough. I can't get excited by the signings or the loss of Stones who for all his frailties is a great footballer and is going to get better. I grew up getting excited by players like Kendall, Harvey Ball, Latchford, Thomas, McKenzie I hope all the haters will get off the back of Barkley he is the one player who could belong in the company listed above.
Darren Hind
73
Posted 13/08/2016 at 11:32:00
70% fit ? ha ha what did he measure that with ?. . .and are they all at the same level ?
We've just got rid of one daft twat, please don't let this fella start talking bollocks.
Just concentrate on getting them where they need to be.
We have to be positive today, The crowd will be up for it. I'm expecting a win
David Hallwood
74
Posted 13/08/2016 at 11:36:04
Good article as ever Lyndon. What short memories everyone has because last season the world and his mother thought that we were top four going forward and relegation in defence. IMHO 70% of the problem was fitness levels in the last 20mins we would be blowin for tugs and tired bodies = tired minds.
Koeman hasn't highlighted fitness as a concern and by bringing in Williams has gone a long way to sorting out the defensive anarchy that we witnessed with Booby.
A word to my namesake David(#21)-keep calm and watch the game
Phil Walling
75
Posted 13/08/2016 at 11:41:16
I have resolved to lay off all criticism of Koeman until the transfer window closes.
Undertaking null and void if Kone A gets a start today or the manager comes out with Martinesque excuses if we lose.
Not confident enough to bet on a home victory and expecting 0-3 !
Paul Tran
76
Posted 13/08/2016 at 11:41:32
The way I took it, Darren, is that he thinks they're collectively 70% of what he wants them to be. The Dutch tend to tell it like it is, so is it honesty or mind games, who knows?
I've made it 1-1 in the Super 6. Hope you're right.
Eugene Ruane
77
Posted 13/08/2016 at 11:54:32
In 1966, when I was 7, my (late) dad took me and my mate ('Whammo') to Goodison for the first time.
Everton V Utd, 0-0 (a night game) and the effect was..lasting.
In a few minutes I will be jumping on the 81 and heading there to watch our opening game of the 2016/17 season.
That's..50 seasons.
50 seasons of pain, frustration and (some) joy.
(did I mention pain?).
It's also (more or less) 1000 portions of curry and chips*, 17,000,000 Bensons, 5 trillion frustrated cries of 'Oh for fuck's sake Everton!' and 700 shouts of 'Moyes/Bingham/Lee/Walker out!' (each)
(* that one's accurate but doesn't include cup games).
Up the Toffees!

Kim Vivian
78
Posted 13/08/2016 at 12:20:52
Hi Guys (or just Michael and Lyndon if this doesn't get posted) - Totally off topic but does anyone have trouble with the stability of the T'web site. I am not a computer geek but use my laptop everyday for work and personal use but mainly work related, and I find ToffeeWeb the most unstable site I visit. Is there something chugging away in the background which can be disabled? or do you think it might be to do with the blanket of pop up ads that proliferate the site?
Aww snap...! is a regular occurrence and often the site simply won't refresh.
Like I say - no geek but any help or advice welcomed.
David Booth
79
Posted 13/08/2016 at 12:24:01
Thank you everyone for your responses. They are what I expected and although I still have reservations, they are only MY views and no more valid than yours.
I should also make it very clear I think we have a fabulous manager in Koeman. I particularly love his calm, good humoured, but assured and authoritative approach.
I have no doubt whatsoever that he will, given the right support and resources, put us back where we belong.
But I still maintain that we are far from where we should - and need to - be on the first day of the season.
I'm just a bit disappointed as a fervent Evertonian. Not depressed or moaning for the sake of it. I want the best and believe that at the time of writing, we are far from ready.
But come 3.00pm, I'll be roaring our team on with the rest of you.
So irrespective of my concerns, COYB!
James Marshall
81
Posted 13/08/2016 at 12:27:49
Kim@78 - install Adblock and you won't see any ads or pop-ups at all.
Dick Fearon
82
Posted 13/08/2016 at 12:28:13
Last year kept my vow to wait ten games before voicing an opinion on Martinez and will do the same on Koeman.
Amit Vithlani
83
Posted 13/08/2016 at 12:46:11
3-5-2 I suspect if Coleman not fit. If Rom does not make it, Geri starting upfront should mean the Spurs backline don't push up as he and Mirallas have pace to burn versus the Spurs backline.
Martinez' legacy includes a whole host of negatives, but securing Geri for a second spell was a big tick against his name. Yes the Spanish speedster is inconsistent and infuriating, but without his electric pace and dribbling ability we would face an opposition today ready to push up. I noticed that team's became more confident of holding a higher line against Lukaku as they felt more confident of one on ones, but not so with Geri where they would drop deep to nullify him. We could not take advantage as we lack aerial prowess in the attacking areas, or indeed a goal scoring midfielder who could come late from deep - someone like Cahill.
Our recent record vs the Lilywhites is patchy so a draw would be a fair result.
David Hallwood
84
Posted 13/08/2016 at 12:46:18
Dick(#82) et al this sums up what's wrong with the modern game. 10 games!! FFS. A manager needs at least a season and half to get their players in and instil their philosophy.
I hope the Sunderland model isn't the future of Everton.
Amit Vithlani
85
Posted 13/08/2016 at 12:51:33
David 84 spot on.
Paul Conway
86
Posted 13/08/2016 at 12:52:28
Just have to play each game with the limited personell as a cup game and hope we can go on a good (cup) run, until we can stabilise with the required players we buy. Let's hope at that time they can hit the ground running.
From here until Christmas, he should have more than a good perspective into the players he inherited, before possibly dipping into the January window. So, for the short term, we are in for an interesting ride.
Terry Underwood
87
Posted 13/08/2016 at 12:57:40
Oliver at 14 totally agree with you, the fans have a huge impact. I have been there when it was a real cauldron and, sadly, also when you could hear a pin drop. I cannot get to games now but our fans should treat every game like it's a 6th round FA cup match, do that and the players will respond. If we go a goal down, raise the volume, drown the away support out, go for it.
COYMB
Kim Vivian
88
Posted 13/08/2016 at 12:59:55
Thanks James. I've done that (not paid anything?? Free trial or something?) and seems to be blocking huge numbers if the count in the info bar is anything to go by. Only just done it but the site doesn't seem quite so wobbly now either.
Cheers
Edward Wallis
89
Posted 13/08/2016 at 13:03:02
Fair play Dave 79

Mike Powell
90
Posted 13/08/2016 at 13:05:32
Not a big fan of Deulofeu, he gives the ball away too much... well, he does on the wing. I hope he is a better player leading the line.
James Marshall
91
Posted 13/08/2016 at 13:08:56
Adblock is free as far as I'm aware - I've never paid anything for it anyway :)
Helen Mallon
92
Posted 13/08/2016 at 13:09:34
Once again, your line up has no new youngsters in it.
Guy Hastings
93
Posted 13/08/2016 at 13:26:11
Spurs absolutely bottled it against Chelsea when I think they'd have won the title if they'd taken three points. Their performance against Newcastle was pathetic when they could have finished above Arsenal. If I was a Spurs fan I'd be disgusted by them. As for the individual Spurs players for England...
In a nutshell, self-absorbed, overrated bottlers - have been since the early Sixties. That rant alone should guarantee them three points today - sorry about that.
Kim Vivian
94
Posted 13/08/2016 at 13:29:52
Good James. All good so far. Not an ad in sight. I feel emancipated.
But back to topical issues. Been champing at the bit for today to come around and Just hope this kick off to the season doesn't become an anti climax. A win today would be more than I expect but would be a hell of a start and what a message it would be.
COYBB

Raymond Fox
95
Posted 13/08/2016 at 13:33:31
David 79, looking at your previous post I cant really disagree with any of your points, we are at sixes and sevens for todays match.
Pity we are playing Spurs today instead of an middle of the table sort of team.
The positives are a new manager, plus the first game of the season, so Goodison should be rocking, especially if we can get off to a good start.
All in all I'd take a point now though.
Steve Breed
96
Posted 13/08/2016 at 13:51:09
New member here, just joined today though I've been following this site for at least 10 years, just been a lurker here that's all.
I'm in Koh Samui, Thailand on holiday and found a bar showing our match. 9pm our time, so excited for the new season.
Long shot here but don't suppose anyone's out here in Chaweng, Koh Samui and fancies some COYB?
Steavey Buckley
97
Posted 13/08/2016 at 13:53:45
I don't want the other Kone anywhere near the team sheet. Barkley upfront if Lukaku fails a fitness test.
Kieran Kinsella
98
Posted 13/08/2016 at 14:00:23
Hope I'm wrong but I think we will lose 1-3. Before I get slated as a negative ToffeeWeber I'm saying that based on pre season form. I think Koeman can turn it around but we need reinforcements. Also I remember in 87 we got well beaten by Spurs West Ham and Arsenal so it's important to remember it's just one game. I think we will hit our stride in October but anything more is a very welcome bonus.
David Milner
99
Posted 13/08/2016 at 14:04:37
Think with the odd injury we have will go 1-5-2-2-1
Stekelenburg
Davies Holgate Jags Funes Baines
Gueye Barry
Barkley Mirallas
Deulofeu
Tom Bowers
100
Posted 13/08/2016 at 14:06:37
Would have liked one or two new faces already settled in for this game, stlll however they can beat Spurs who do have some weaknesses also.
Just digressing but does anyone agree that Mike Dean is one the poorest referees if not the most gutless after not penalising Fuchs of Leicester just now?
Ian McDowell
101
Posted 13/08/2016 at 14:07:39
Confirmed team
Stekelenburg
Holgate
Jagielka
Funes Mori
Baines
McCarthy
Gueye
Barry
Deulofeu
Mirallas
Barkley
John Daley
104
Posted 13/08/2016 at 14:13:18
"Once again, your line up has no new youngsters in it."
Once again? It's his first game in charge. What a whinge arse comment. Made even worse by the fact Holgate gets a start.
Maybe should have waited for the guy to actually name the side before having a go at him over his team selection?
Tom Bowers
105
Posted 13/08/2016 at 14:13:51
Looks like the offensive side of things will see a lot of groundwork but the height and strength of Rom. may be missed.
Hopefully the speed of Delboy and Mirallas with Barks in support can produce the goals.
Kim Vivian
106
Posted 13/08/2016 at 14:33:02
Kev leading the line the? Hope so - I rate him in that role. Tricksy.
Add Your Comments
In order to post a comment, you need to be logged in as a registered user of the site.
Or Sign up as a ToffeeWeb Member — it's free, takes just a few minutes and will allow you to post your comments on articles and Talking Points submissions across the site.
© ToffeeWeb