Bolasie signs in at Everton

122 Comments [Jump to last]
15 August
Julian Finney/Getty Images
Everton have announced their fourth signing of the summer after a 5-year deal worth a reported £22.5m was completed for Crystal Palace winger Yannick Bolasie.
The two clubs had come to agreement over a fee for Bolasie a little under a week ago but Palace didn't give the DR Congo international permission to undergo a medical until yesterday.
He made one last substitute's appearance for the London side against West Bromwich Albion on Saturday before his physical examination with Everton was completed yesterday. The completion of his transfer means that he could face the same opposition on Saturday when the Blues travel to the Hawthorns.
Though the fee is officially undisclosed, various reports suggest that once appearance-related clauses are taken into account, Bolasie could eventually equal Everton's most expensive ever signing, matching the £28m paid to Chelsea for Romelu Lukaku.
The 27-year-old's move from Selhurst Park brings to an end a four-year spell with Palace, during which time he has emerged as one of the most feared wingers in the Premier League on his day. He will wear the No. 14 jersey last worn by Steven Naismith and Oumar Niasse.
Manager Ronald expressed his satisfaction at the signing, one which he tried to get done when he was at Southampton.
"Yannick is a player who has been a long time on my radar because he's the type of winger I like — fast, strong and he can play different positions in the forward line. He's a really good signing for the club," Koeman said.
"At 27, he's a good age and he has experience in the Premier League. He will give strength to the team and I'm very pleased to have Yannick as part of what we are trying to build here at Everton."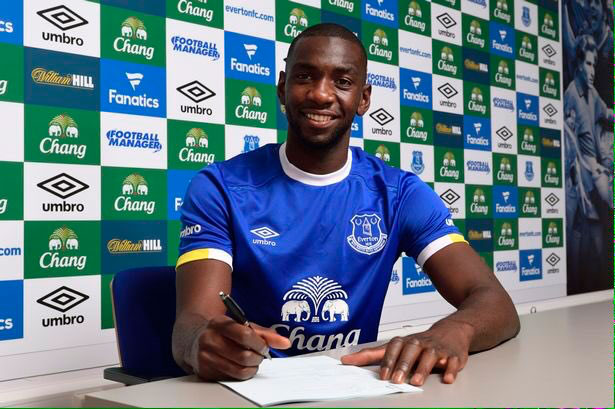 Bolasie wrapped up a deal worth an initial £22.5m by signing a five-year deal with Everton. [Everton FC]
Though born in Lyon, France, Bolasie's career has, with the exception of a year in Malta with Floriana, been spent in England after he joined Rushden & Diamonds' youth setup at the age of 16.
He returned from his Maltese adventure when he was offered a trial by Plymouth Argyle where he spent three seasons before joining Barnet on loan for the 2009-10 season. He returned to Plymouth after scoring five goals in 42 games for the London side before Bristol City snapped him up on a two-year deal in 2011.
While he would be named that club's Young Player of the Year, Bolasie handed in a transfer request at the end of his first season because he wanted to return to London and he got his wish when Palace picked him up for an undisclosed fee.
His performances there were enough to earn him an international call-up to the Congolese national side, although he initially turned down the chance to represent them in the 2013 Africa Cup of Nations because he wanted to concentrate on his club form.
While noted for his tendency to be inconsistent, he also came to be regarded as one of the Premier League's most technically gifted players, attributes that when combined with his pace and power make him a feared opponent.
A reported target of Tottenham Hotspur last year, it seemed unlikely that Bolasie would move outside of the southeast given his love for London but a fresh opportunity at Everton beckons where Koeman will now look to harness his abilities so that he can deliver on a consistent basis in his new team.
---
Reader Comments (122)
Note: the following content is not moderated or vetted by the site owners at the time of submission. Comments are the responsibility of the poster. Disclaimer
Amit Vithlani
1
Posted 15/08/2016 at 13:53:06
Welcome Yannick.
Look forward to you donning the blue jersey.
Jack Convery
2
Posted 15/08/2016 at 14:17:00
Competition for places – just what we needed.
Welcome Mr Bolasie to EFC, the greatest team the world has ever seen!
Coleman will sleep a lot better now!
Craig Walker
3
Posted 15/08/2016 at 14:21:21
Bolasie has signed. He'll wear No 14. Think he'll be good for us. He destroyed the RS at Anfield last season.
Fran Mitchell
4
Posted 15/08/2016 at 14:34:20
Koeman "Yannick is a player who has been a long time on my radar because he's the type of winger I like – fast, strong and he can play different positions in the forward line. He's a really good signing for the club."
What I find interesting is when he says 'he can play in different positions in the forward line'. This idea of players having more than one position seems to be more and more common, and is considered a requirement by Klopp and Pochettino.
Considering how Koeman has put McCarthy and Davies as wing backs, Deulofeu and Mirallas in the middle and let's see what he does with Barkley and a few others, this appears to be something in Koeman's thinking as well. This flexibility seems an important issue in teams that aim to implement a pressing style, as well as the need to run, run and run for the whole game.
Here, Bolasie definitely fits with Koeman's desired style. I just hope he improves his final ball.
James Morgan
5
Posted 15/08/2016 at 14:35:26
It's 㿂.5m up front, potentially up to 㿈m, no doubt the incentives will be based on our league position. So the higher we get the more we pay, but then he's paid that back if his performances help get us up there. Good deal for me.
James Marshall
6
Posted 15/08/2016 at 14:37:55
Great news, great signing - the kid will shine at Everton with better attacking players around him. Pacey, aggressive, powerful, and a real handful as we've all seen firsthand when he's torn us apart in the past.
Stekelenburg, Gana, Williams and now Bolasie coupled with our display against Spurs with a depleted side and we have many reasons to be cheerful and look forward to this season.
Now for a striker
Steve Bell
7
Posted 15/08/2016 at 14:38:15
Excellent news. Welcome Yannick!
Anthony Dwyer
8
Posted 15/08/2016 at 14:40:06
Bolasieeeeeeee 👌
Jonathan Miller
9
Posted 15/08/2016 at 14:40:23
Top player at least he won't be tearing us apart when we play Palace!
Squad getting stronger by the day.
Cant wait to see who else jumps on board!
Paul Lye
10
Posted 15/08/2016 at 14:41:55
Onwards and upwards Blues! Striker next please!
James Watts
11
Posted 15/08/2016 at 14:42:18
So it's done. Not a great signing for me but time to put those feelings aside and get behind him. Welcome Yannick lad!
Sam Hoare
12
Posted 15/08/2016 at 14:42:42
Feed the Yan.
Barry Jones
13
Posted 15/08/2016 at 14:44:21
A very good signing. I am impressed with everything Koeman has done so far and concur with virtually every name mentioned as a potential target. What a difference from the last few years. My stress levels are diminishing as I feel a strong sense of trust in the new regime.
With Martinez, it was like leaving your teenage kids in charge of the house while you go on holiday, wondering whether the place would be wrecked or burnt to the ground on your return home.
Steve Cotton
14
Posted 15/08/2016 at 14:53:13
V funny Sam (12)... made me chuckle
James Stewart
15
Posted 15/08/2016 at 14:53:47
The fee is high but given our complete lack of attacking options from the bench on Saturday he is much needed. Kone was simply embarrassing and not fit to wear the shirt. Bolasie brings genuine pace to the side which will make teams set up a lot differently against us.
Kevin Tully
16
Posted 15/08/2016 at 14:53:55
Safe to say this was a Koeman signing then. Could be a world beater if he could just show a little more consistency. Bolasie will no doubt have the crowd on the edge of their seat with his dribbling skills - something we all love at Goodison.
One of those players who will probably have one great game in three, but if that helps us improve in the long term, he'll prove to be good value. I would say he's an upgrade on Deulofeu & Mirallas on their current form & consistency levels.
Gareth Clark
17
Posted 15/08/2016 at 14:53:56
Just what we need - he has what we don't have in the squad at the moment!
Hart/Butland
Kone
Ziyech
Bony
And I'll be very very happy with this transfer window!
Richard Reeves
18
Posted 15/08/2016 at 14:55:02
Good news; hopefully in time the fee will prove to be a very wise investment. I know when we signed Fellaini and Lukaku I thought we paid well over the odds but they both turned out to be good deals. We still need another top quality striker to partner or challenge Lukaku.
Mark Whyment
19
Posted 15/08/2016 at 14:55:57
Welcome Yannick,
Looks like we're assembling a good squad that are intent on playing the type of football we blues like to watch. Things are looking up – can't wait.

Dan Davies
20
Posted 15/08/2016 at 14:57:21
Welcome Mr Bolasie. Welcome competition for our current players, much needed.
John Hammond
21
Posted 15/08/2016 at 14:59:20
Good signing, should be coming into his prime too.
Wonder if this is the start of a trend of wingers/attacking mids becoming forwards in an interchangeable forward line rather than a striker as the focal point? Liverpool did it against Arsenal, Aguero was playing on the right wing at times against Sunderland swapping with Sterling. Redmond for Southampton also played in a central position at times. Maybe the success of Griezmann at Atletico last season has started it all?
Mark Whyment
22
Posted 15/08/2016 at 14:59:44
Bony isn't coming – I don't think his work ethic fits in with what Koeman demands.
Ziyech looks really good – even though it's all in a lesser league. I would love to see him down the right channel.
Matthew Williams
23
Posted 15/08/2016 at 15:02:30
A signing that will make us stronger in the final third as our attacking treat seems way too limited at the moment.
Striker next please, Mr Koeman!
Keith Conchie
24
Posted 15/08/2016 at 15:02:40
Very happy with this signing. I think he'll link up well with Delefou and Barkley, providing back up and service to our new strikers.
When we sign them ...
Come on Koeman, just the front (striker) and the back (goalkeeper) to sort out now, you've got the middle sorted
Al Reddish
25
Posted 15/08/2016 at 15:03:40
When you consider we lost Howard Hibbert Pienaar Osman and Stones and replaced them with Steklenburg Williams Gueye and now Bolasie, the future is looking very bright indeed. Also we have signed all these players using less than what we received for Stones so we haven't started to dip into this years 'substantial' transfer kitty yet!!
Mike Gaynes
26
Posted 15/08/2016 at 15:05:09
I've wanted this lad on our side ever since I first saw him, and that was before he ripped us to shreds on several occasions. Great addition and immediately our paciest player, even faster than Rom. Hail Koeman!
Amit Vithlani
27
Posted 15/08/2016 at 15:07:09
Net of Barnsley's cut, we netted around GBP 40m from the sale of Stones.
Gana, Williams, Stek and the upfront amount for Bolasie fit within that amount.
Whilst the departure of Stones hurt, trading him for 2 players who did really well on Saturday and another 2 who, on paper at least, are good additions considerably softens the blow.
Hope we get a few more in, using the considerable kitty which is hopefully still at Ron/Walsh's disposal.
Still not enamoured by the links to Hart as I think he is low on confidence. Also a little nervous on Ziyech, Ghezzal and Abdennour. Yes their Youtube clips and stats look great but the EPL has made a habit of making good players from other leagues look ordinary. In this transition phase, tried and tested talent such as the 4 we bought in so far is the best for me. On that basis I still vote for Kone and Bony.
Perhaps next season, with a settled squad, we can afford to bring in good but untried talent.
Shaun Wilson
28
Posted 15/08/2016 at 15:08:42
I totally agree with Gareth #17 except for Hart. Maybe even Charlie Austin. Surprised nobody picked him up until RK did at the start of the year after his previous season's exploits with QPR.
Delighted to have got Bolasie, I hope RK can make more of a finished article out of him, and to be honest he's a lot better than the majority of our midfielders. Good stuff Blues, keep that cheque book waving!
(Did Austin and Remy ever play together at QPR? Interesting front two if Lukaku goes...)
Michael Polley
29
Posted 15/08/2016 at 15:09:10
The team that is getting stronger
Brian Furey
30
Posted 15/08/2016 at 15:11:47
From reading what the Palace fans said earlier I think we have another exciting fast winger/forward who will bring moments of great excitement but like so many wingers also frustration. As a few said already he will probably be a step up from Pienaar, Mirallas and Del and hopefully RK can coach him to produce more goals and crosses.
I'd really love to see us get Slimani now or someone else as a top European striker. I'd rather we went for someone who might cost a bit more than us buying another CH which I don't think we really need now and going for a lesser striker.
Charlie Austin or Berahino would be good for striker No 3. Cleverly and Gibson will struggle to get game time this year unless we have injuries.
Tim Sharpe
31
Posted 15/08/2016 at 15:12:16
Butland is injured again I think, same ankle he broke on international duty.
Hart on loan? he has a point to prove after dodgy Euros, and he is a top drawer keeper.
Kone - think this one may be dead in the water now, new contract offered and wrist slapped. Hopeful, but doubtful for me on this one
Bony - Only if we can get him cheapish, maybe another loan to buy?
Ziyech - Don't know enough about him to really judge
I think there is going to be a rabbit in the Dutchmans hat yet, a last minute cracking signing which no-one saw coming
Tony Draper
32
Posted 15/08/2016 at 15:15:01
Yannick, welcome to Everton!
Wait until you pull that Royal Blue Jersey on!
Wait until you hear the rattle of the snare drums as Z-Cars begins!
Wait until you score your first at "The Grand Old Lady"!
Wait until you score against "The other lot"!
Welcome to the finest club, welcome home, Yannick!
Jamie Crowley
33
Posted 15/08/2016 at 15:19:06
Very happy with this signing I love this kid. He has more talent in his pinky than most mortals have in their whole being.
Koeman will get the best out of him.
Someone said on another thread, and I loved the comment, Harold Matthews would have given this signing two thumbs up.
Brent Stephens
34
Posted 15/08/2016 at 15:23:38
Not sure about this one- he's one of those who wear gloves!
OK, I like it. I'm getting a wee bit more excited as the weeks go on. Expect us to "Nick" one or two with this guy.

Phil Jeffries
35
Posted 15/08/2016 at 15:24:57
Can't wait to see him play, espeially away from home bombing forward. Koeman/Walsh may just have a signing up their sleeve that takes the media by surprise. Either way, the future is bright. Let's just pick up 3 points against WBA and build momentum. COYB & Welcome to the Yan!
Mark Tanton
36
Posted 15/08/2016 at 15:25:18
Power, aggression and pace. I am delighted. Next!
Gary Creaney
37
Posted 15/08/2016 at 15:25:48
Whether you think it's a good signing and you are just happy to see some money spent or a bad signing for too much money matters not one jot. The deal is done. Let's give the lad a chance.
What I would say though is Koeman has looked at our current squad and believes it is better suited to counter attacking (assuming of course the defence is capable of handling extra pressure – he appears to be trying to sort that).
Deulofeu, Mirallas, Barkley and now Bolasie, these lads have pace and ball carrying pace at that.
Lukaku has to be one of the worst strikers I've ever seen with his back to goal, but is there many strikers better in the league than him when charging forward as part of a counter attack?
It all seems to be trying to play towards the teams/players strengths rather than Martinez idea of forcing a style of play that suited no-one.

Peter Fearon
38
Posted 15/08/2016 at 15:26:09
Bolassie is a great ball player and very entertaining but 㿅M and a five year deal seems excessive. Hopefully Lukaku will stay and Bolassie will be able to provide service and draw some defensive pressure off him. However, the bulk of his experience is outside the Premier League.
He has very little end product to his game which is why no major club came in for him when he was available two years ago. It is also why neither England nor France secured his services at international level. We will also likely lose him for six weeks in mid-season while he risks injury playing for Congo DR.
If Bolassie is supposedly worth this much, we should be holding out for three times that for Lukaku.
Danny O'Neill
39
Posted 15/08/2016 at 15:28:07
Interesting indeed Fran (@4). It does resonate with the continental approach and Dutch in particular. From my own coaching days, I read up a lot on their system and they don't like to fix young players to positions or areas of the pitch until late on, so they continuously rotate them up until the age of 16 to gain experience in different positions.
The theory is that young Jonny aged 10 (for example) who was the quickest, trickiest player on the pitch aged 10 so plays best on the wing, has a growth spurt at 15 and is more suited to playing centre back won't be able to adapt if he's never been used to playing there. In my experience, we tend to fix players in certain positions early on based on physique / desire to win the Fazakerley U12s league (prioritised over development) or where a kids dad thinks he should play.
Clearly this versatility and adaptability is carried on into their senior coaching (albeit narrowed down to certain areas of the pitch).
Like he's done with Deulofeu and Mirallas, I think we'll see Bolasie switched between the wide positions and up front / number 10. It will depend on the opposition.
On McCarthy as RWB, I kind of get it as an emergency option. Might not give us much going forward but great engine and can tackle and anyone who has played that position in a 3-5-2 (I have!!) will testify you need the lungs!!!
Nathan Snell
40
Posted 15/08/2016 at 15:30:18
Koeman appears to know what and who he wants and, based on those he has recruited thus far, gives me the confidence to trust his judgement. I have to say that I feared the worst against Spurs for all the talk about the lack of fitness and last season's poor showing, but definitely signs of improvement – and long may that continue.
Good times ahead, I feel, and I'm optimistic about there future for Everton. Now let's get Lukaku somewhere tied up in a dark room until the window is shut and get a new striker to put pressure on him and a playmaker behind them to pull the strings. COYBs!
Peter Barry
41
Posted 15/08/2016 at 15:32:11
With all these wingers Lukaku is not going to have any excuses left.
David Ellis
42
Posted 15/08/2016 at 15:32:32
Good news in that it gives us some momentum – like others I am not totally 100% convinced... but I want to be convinced, and now he's one of us he gets my full support.
He's a player that other teams will need to sit up and take notice of, and have to worry about how to deal with.
William Cartwright
43
Posted 15/08/2016 at 15:39:43
Good news. I've been impressed with him since the Palace victory at Goodison in Roberto's first season, and the way he demolished the Redshites. COYB . . . .!
Dave Abrahams
44
Posted 15/08/2016 at 15:46:06
Peter (41) if Everton sign two of three more players it is likely that Lukaku will move out.
James Morgan
45
Posted 15/08/2016 at 15:46:10
Peter Fearon, Jesus, talk about being positive. I was happy but I think I'll go and sit in a dark room for a while now.
Ged Simpson
47
Posted 15/08/2016 at 16:02:56
Thinking about our new pressing and fast, interchanging attack, and solid defence, and intelligent boss... and money still in bank for future, how can you not look forward with optimism?
Kristian Boyce
48
Posted 15/08/2016 at 16:07:42
I remember when he first went to Palace it was like watching Bambi on Ice, but he's bulked up a bit since then. Over the last couple of years, when he's on his game, he's unstoppable. He tore both us and the RS apart over the last few seasons and is immensely fun to watch. Having him and Del on either wing is going to be a frightening proposition and is going to scare many full backs this season.
Colin Hughes
49
Posted 15/08/2016 at 16:08:13
Good signing but I still think we need to sign a player who is technically gifted and not just direct like Delafeou and Mirallas. The shite have got Coutinho to unlock defences in the middle and Lallana behind the striker, we have pie arses like Barry and Mccarthy.
Joe Digney
50
Posted 15/08/2016 at 16:23:12
Great signing and saying all the right things. Will certainly get us off our seats with excitement. Also,he mentioned playing under Koeman, Williams said the same thing; it's looking like Koeman is providing a good pull for players looking at us.
A Number 10 and a striker next please and either a CB or GK towards the end of the window.
COYB.
Tony Draper
51
Posted 15/08/2016 at 16:39:11
Jamie @33.
Well done for mentioning Harold.
Always talked sense, greatly missed.
Never got around to buying him that matchday pint, to my eternal chagrin.
Stewart Lowe
53
Posted 15/08/2016 at 16:44:35
Stats don't look good at all for a £25m player, and inconsistent too. But I am willing to give him a chance
Can we now go for Islam Slimani, Javier Hernandez, Hakim Ziyech and Rachid Ghezzal?
Please
Timothy Blanshard
54
Posted 15/08/2016 at 16:47:18
I'm very happy with this signing, for one thing it might put a bit of pressure on other players who could take their place in the team for granted. RK knows exactly what he is doing, he has a totally different perspective than RM because he played in top teams so he knows what it takes to create a winning mentality. There is no way he's going to be best mates with any of the playing staff, perform well you're in, go missing you'll be gone missing for good, sold. Welcome Yannick.
Terence Tyler
55
Posted 15/08/2016 at 16:48:57
Fantastic business. Bolasie, Gueye, Williams. All for the cost of Stones. Not a penny spent, stand by for more action in the the transfer market soon.
Terence Tyler
56
Posted 15/08/2016 at 16:59:55
Jamie @33 Tony@ 51. Seen a Nice tribute to Harold on Saturday, from some of the our ToffeeWebers in particular, Keith, Rob, and Patrick. Nice touch lads
Steve Brown
57
Posted 15/08/2016 at 17:02:28
We needed 6-8 premiership quality players - look at the bench on Saturday - and we're getting them. All as Terence said for the Stones money, great transfer business for Bolasie, Gueye and Williams.
I am stoked as theoretically we still have a big transfer kitty to add real depth. We need a forward, attacking midfielder and a right back.
Paul Conway
58
Posted 15/08/2016 at 17:10:55
Now can we now dig deep and get that very nice chap from Lyon... Alexandre Lacazette. Could land him for a mere £35m, cheap by today's standards! Seen as we saved dosh on the previous signings... Swings and roundabouts 'n all that!
It would be awesome to see him and Bolasie causing severe trauma among defences. Failing Lacazatte, (who incidentally knocked in a hat-trick at the weekend!), somebody similar will do nicely!
Tom Bowers
59
Posted 15/08/2016 at 17:15:18
How can one compare attacking midfielders Lallana and Coutinho to defensive midfielders Barry and McCarthy ?
Dan Aspinall
60
Posted 15/08/2016 at 17:20:43
@2 exactly my thoughts. Coleman looks terrified playing against him like no other player.
David Chait
61
Posted 15/08/2016 at 17:21:14
Well if nothing else he won't be able to torment us again! He seemed to like coming up against us!
Good luck to him and welcome...
Think most of us were expecting and are still hoping some exotic European players but we're going for EPL pros. No harm in that but it isn't overly exciting yet..
Derek Knox
62
Posted 15/08/2016 at 17:30:23
Excellent and welcome signing, still don't understand why McGeady couldn't have been involved in a swap deal with Palace.
All we need now is Ziyech, Haller and Slimani and another Centre Back, I am very impressed with Stek, who was supposed to be temporary cover, but Joe Hart on loan, maybe worth consideration. I trust he will bring his own Head and Shoulders!
Geoff Evans
63
Posted 15/08/2016 at 17:42:48
Every defender fears pace.

Mark Morrissey
64
Posted 15/08/2016 at 17:44:11
Moshiri says he is anxious...perhaps something big is about to happen.....Messi ?
Zahir Jaffer
65
Posted 15/08/2016 at 17:47:44
Excellent work. Hats off to Koeman and Walsh on getting this done and not waiting until deadline day. Koeman stated he's been a big admirer of Bolasie, and he's gotten his man. No fucking about.
Also take in mind, it's Koemans first season and he needed time to adjust and figure out what he needed. Then we had to wait on Walsh to come through. Obviously I would have preferred us to have brought in these players a few weeks before the season started but we've gotten who we wanted. Or in this situation, since comments are split evenly on having him, who Koeman wanted.
There is no reason to be pessimistic. Especially after our last game. Both of Koemans signings were MoTM evenly. If that's any indication to go by then we should be in for a treat.
Christopher Nicholls
66
Posted 15/08/2016 at 17:50:13
High tempo pressing, fast, tricky wingers and a big No9! Add to that a smart, no-nonsense manager and Goodison should be rocking again.
Thumbs up.
In terms of positional interchangeability, it's an essential part of a modern player. Supports a variety of tactical set ups on the field without making uneccessary substitutions. Its been a part of Dutch thinking since Cruyff and now more widely expected. A static set up is team that's easy to mark up, see last years drivel.
Christopher Nicholls
67
Posted 15/08/2016 at 17:51:24
To be clear the big No9 is Lukaku, not the current incumbent of the actual shirt.
:-)
Julian Exshaw
68
Posted 15/08/2016 at 17:52:29
They're coming on board bit by bit. I'd still like a creative central midfielder and a centre forward; a number 9 as Jimmy Hill used to say. Not sure about Hart and he'd cost a fortune in wages ( or maybe we don't have to worry about this aspect anymore).
Jon Withey
69
Posted 15/08/2016 at 17:54:27
Good player.
We could really do with another striker though !
Colin Glassar
70
Posted 15/08/2016 at 17:58:30
Welcome aboard Bola - prove me wrong.
Hart, Kone, Ziyech and Slimani next and we will be a real threat this season.
Joe Foster
71
Posted 15/08/2016 at 17:58:58
Pardews not happy about it – that'll do for me.
Mark Frere
72
Posted 15/08/2016 at 18:02:54
Really not impressed with this signing... but the lad will get my full support and he starts here with a clean slate.
James Watts
73
Posted 15/08/2016 at 18:18:45
Mark (64). Where did that Moshiri thing come from? Was it a quote somewhere?
Mark Tanton
74
Posted 15/08/2016 at 18:22:41
I was desperate to know that too!
Eddie Dunn
75
Posted 15/08/2016 at 18:26:09
This is good news- things are looking up!

Danny O'Neill
76
Posted 15/08/2016 at 18:34:22
Interesting (and unusual) statement from Moshiri.
Mark Morrissey
78
Posted 15/08/2016 at 18:35:15
Jim White the transfer king keeps blurting it our on Sky Sports. Says Moshiri has been speaking to Sky and says he is anxious to give the chairman the clout in the transfer market. Says he and RK are anxious to help. Not sure if he is trying to blame Blue Bill for the slow pace. Have a listen and see what you think
Brent Stephens
79
Posted 15/08/2016 at 18:42:15
Mark, to me the quote on Sky sounds like nothing but support for Bill.
Danny O'Neill
80
Posted 15/08/2016 at 18:43:47
"We are very pleased about today's signing [Bolasie] but remain anxious to further strengthen the squad," he said.
"The chairman Bill Kenwright is relentlessly pushing things forward with my total support for him, for [director of football] Steve Walsh and for Ronald Koeman."
Come on Mark, I think he's just emphasising that everyone is keen to add more to the squad. It's generally been a slow transfer market with things happening late. We don't have to turn everything into a blame / defend Bill debate.
Steve Woods
83
Posted 15/08/2016 at 18:50:14
I've got the quotes (above) from Moshiri too, it's via the Everton app where someone took a photo of the TV screen of SKY Sports showing the twitter/facebook quote.
Paul Conway
84
Posted 15/08/2016 at 19:00:21
Great buy and no sign of panic, since Koeman already had him on his radar. And there's still 2 weeks left for shopping. It's great, we got a fantastic return on the sale of Stones, without having to dip into the kitty.
We still have a lot of deadwood, the three stooges Kone, Niasse and McGeady, for example. They have absolutely no sell-on value, so we can't recoup to re-buy. Alas, we are stuck with them for the moment. In fact, I'm beginning to think that, if you left them on a beach, the tide wouldn't even take them!!
Mark Morrissey
85
Posted 15/08/2016 at 19:03:53
No,I'm no Bill hater, quite the opposite. I felt it odd to say he's supporting the chairman etc. I was under the impression that Bill was ill of late and I thought it would have been more of a joint effort. I only wanted others opinions. Not blaming anyone. I thought perhaps because Moshiri had spoken with Sky it had hidden meaning because he had been so quiet up to now. Perhaps it's just a hidden apology to all of us that it's been slow. Perhaps he's about to unveil his marquee signing ? just looking for others opinions, no agenda from me
Mark Morrissey
86
Posted 15/08/2016 at 19:05:56
I'd say it was support too Brent / Danny. I'm actually relieved to hear anything at all from Farhad
Stan Schofield
87
Posted 15/08/2016 at 19:07:29
Mark @85: I myself can't read anything into Moshiri's statement other than what it says on the can, that the management are keen to strengthen the squad with new signings. It all seems very simple to me.
Peter Cummings
88
Posted 15/08/2016 at 19:07:37
'Tendency to be inconsistent, loves living in London', don't think this instills a lot of confidence for the future, very few Londoners adapt well to northern climes and the lure of 'the big smoke' is always there, I can relate to the feeling having been in Canada since 1980 I have never lost my Scouse accent or my dedication to all things Everton, or my birthplace, and never will.
Colin Glassar
89
Posted 15/08/2016 at 19:10:21
It just means 3-4 more players are, hopefully, coming in Mark.
Brent Stephens
90
Posted 15/08/2016 at 19:12:48
Cheers, Mark.
Soren Moyer
91
Posted 15/08/2016 at 19:17:32
Now get rid of deadwood (Kone, Gibbo, even Besic). We also need another LB, CF and a goalie.
Mark Halliwell
93
Posted 15/08/2016 at 19:21:45
Great signing. Think he will become a favourite. Not so long since people were questioning Gueye who has turned a lot of heads after one game. I think Hart would be a great acquisition in a defence which will become much more solid.
I think Ghezzal is worth a punt for the money; although thought of as a winger, he has good vision and passing and scores... why not the creative midfielder we need?
We need another striker most definitely, and we need to keep Lukaku another season at least. Hopefully Walsh can identify a good foil for him. Slimani sounds good but I'm not sure he'd sit on the bench, or that we would play two upfront.
Nick Page
94
Posted 15/08/2016 at 19:28:17
Level headed lad
https://www.theguardian.com/football/2014/oct/11/crystal-palace-yanick-bolassie-grime-winger?CMP=share_btn_tw
COYB
Lenny Kingman
95
Posted 15/08/2016 at 19:30:50
If he lasts 5 years I will pay for his transfer fee. Hardly a marquee signing though the price indicates such.
As Peter Cummings our Canadian correspondent indicated ( no relation to Burton are you?) the boy will return to London once he realises he feels uncomfortable out of his comfort zone. Maybe I'll be proved wrong but I don't think I will.
Mind you anyone who can rip up the hated reds, as related earlier, is more than welcome to the fold as far as I am concerned. If he repeats the dose in a blue shirt he will have undying legendary status. Bit like another London boy, Andrew Johnson, who didn't last long up north.
James Watts
96
Posted 15/08/2016 at 19:33:17
Yep, I would say this is a message to us fans.
Reading between the lines I would say he knows we've been slow bringing in transfers, but there is money to spend and we'll have more new additions soon.
Nothing sinister or veiled criticism at anyone. That's my opinion anyway!
James Watts
97
Posted 15/08/2016 at 19:34:14
Nice (94). He comes across much better than I thought he would. Definitely warming to him a bit more.
Les Martin
98
Posted 15/08/2016 at 19:37:25
A top signing in my book and a real handful for the opposition.
Ronald obviously knows what he wants, strong skillful players with pace who work hard, this lad tracks back too !
Yan will be the Man ! very excited to have him at Everton.
Mark Morrissey
99
Posted 15/08/2016 at 19:52:56
Moshiri is toying with Jim White. Jim was nearly pulling his pud talking about the " billionaire" contacting Sky. I reckon Farhad is going to threaten to pull an absolutely massive rabbit out of the hat on Transfer deadline day and Jim White is going wet himself on air with excitement. You'd think he'd called Jim White personally and referred to him as Jimbo
Jimmy Salt
100
Posted 15/08/2016 at 19:53:58
Havn't read all the posts above,, but that's not a wrist injury is it !!!!!!!!!!!!!!!!!!!!!!
Christy Ring
101
Posted 15/08/2016 at 19:54:32
Will give us a lot more pace and strength on the left, where we were completely lacking. Will help Baines, who I thought was poor on Saturday. He doesn't get tight enough, to stop crosses coming in, and that's how Spurs got their goal on Saturday.
Raymond Fox
102
Posted 15/08/2016 at 19:58:21
A good signing but with a few doubts, his stats are not very thrilling.
We are certainly better with him in the squad than not, lets put it that way.
We still need a midfield playmaker of the highest class as a priority, with of equal importance two top strikers, one if Lukaku stays.
I'm satisfied with the two goalies we have but a third is needed in case of injuries.
Kase Chow
103
Posted 15/08/2016 at 20:17:41
Great signing - well pleased!
Julian Exshaw
104
Posted 15/08/2016 at 20:27:58
I'd rather big money be spent now on an 'Arteta' type player than another goalie. Badly need some creativity in midfield.
Karl Weaver
105
Posted 15/08/2016 at 20:44:02
Looks like Lukaku to Chelsea could be a done deal. Hes just been on twitter and instagram and changed both his account names from names with 10 to names with 9 e.g. His twitter name is now @RomeluLukaku9. Chelsea don't have a player assigned number 9 so call me paranoid but that sounds like the deal will be announced soon. If so, good ridance, good finisher but didn't do enough for the team as a whole and better to get this resolved now than transfer deadline day.
Olalekan Taofik
106
Posted 15/08/2016 at 20:47:36
Yannick is a good signing for us. And a good option in midfield/forward lines.
Let Mata & Hart follow suit
Damian Wilde
107
Posted 15/08/2016 at 20:50:34
Any new songs for him?
Now we need two strikers.
Dave Pritchard
108
Posted 15/08/2016 at 20:50:55
Karl, what is your view if he stays?
Peter McHugh
109
Posted 15/08/2016 at 20:54:07
Christy - totally agree neither of our full backs get anywhere right enough when opposing team in a crossing position. Hopefully will be rectified in time
Colin Glassar
110
Posted 15/08/2016 at 20:55:40
Maybe he has been promised the number 9 shirt by Ronald, Karl. Anyway, twitter and instagram accounts are easily hacked and falsified.
Mark Tanton
111
Posted 15/08/2016 at 21:00:40
That is a fairly large smoking gun there to be honest, Karl. I think there might be something in that.
Karl Weaver
112
Posted 15/08/2016 at 21:01:57
Dont think it'll happen. Why would he change his username from one that has his squad number to another typical (and available) strikers squad number unless he knows the agreement is in place. If he doesnt get his moveI dread to think what sort of shift he'll put in. He was lazy enough when he was supposed to be motivated! I'd like us to go out and get Javier Hernandes
Jon Cox
114
Posted 15/08/2016 at 22:03:46
Amit,
"Whilst the departure of Stones hurt, trading him for 2 players who did really well on Saturday and another 2 who, on paper at least, are good additions considerably softens the blow."
Commonly known as,
The new Stadium ...
Danny Halsall
115
Posted 15/08/2016 at 22:06:01
On a little side note has anyone seen what Danny Gabbidon has been tweeting? Don't know if he is ITK at all but sounds very exciting and interesting, even if it does turn out to be BS!
Jon Cox
116
Posted 15/08/2016 at 22:09:24
Karl Weaver
117
Posted 15/08/2016 at 22:26:59
I don't really need to prove it. Take a look on twitter for yourself
Jon Cox
118
Posted 15/08/2016 at 22:31:00
Danny Scarisbrick, tell us all what you
mean or get back to you tube "scottish pepper pig" or "cockney star trek"
Either way say what you mean or go away in short jerky movements!
Ha Ha Ha (echo receding and diminishing into the background like a good Hammer Horror with Patrick Mower and his dad Peter Cushing
I will one day control all of the Empire of ToffeeeWobe and that bloke who sounds like a newspaper called Something Daley...
Hee Hee...
Ha what a load of bollox, back to normal, we'll finish in the top 4 this year,
COYB
Jose Walsh
119
Posted 15/08/2016 at 22:45:19
Danny, 115 - ok, I bit and read Gabbidon's Twitter feed and it has me intrigued but curious how he would know and it hasn't been leaked already whoever it is?!
So it looks like Lukaku is off given he may have changed his Twitter address (if that is anything to go by?!) so we need a statement of intent to keep us from getting restless.
I cannot think of many world class strikers out there that are available that would placate us? Except to say our doe eyed chairman would love a theatrical finale so I'm going to stick my neck out there and say Rooney (Wayne not Mickey please Bill!)
Brendan Fox
120
Posted 15/08/2016 at 22:59:42
Welcome Yannick you'll hopefully know what it feels to score like being a home player at the grand old lady!
Christy Ring
121
Posted 15/08/2016 at 23:01:43
I see Charlie Austin is now being linked. He'd be a good addition, but not as a replacement for Lukaku.
Benny Snow
122
Posted 16/08/2016 at 01:44:43
The lad has some skills:
https://www.instagram.com/p/BI29YatB9eS/?taken-by=yannickbolasie&hl=en
Terry Underwood
123
Posted 16/08/2016 at 09:46:38
"We all agree Yannick Bolassie is magic"
"You're not fit to wear the shirt"
DELETE AS APPLICABLE
Gerry Quinn
124
Posted 16/08/2016 at 11:13:55
…and we'll all sing together...
...for our Bo lassie, Bo…
Grant Jones
125
Posted 16/08/2016 at 11:46:33
Great signing,
I predict 2 more signings Possibly Ziyech and maybe a pricey striker you never know. I also fancy Abdennour coming in. Maybe get an exciting young player.
I think we should sell the players we don't need but I am happy with the team so far
COYB!
Brian Furey
126
Posted 16/08/2016 at 15:00:20
What about Ighalo as a No 2 striker? I'd really like to see us go ALL OUT to bring in Slimani as we did for Lukaku a few years back. Many questioned back then was he worth it and he's too lazy etc. If we are to challenge the top 4-6 we need a regular scoring forward.
I'd say Chelsea know it's only a matter of time before the deal happens and so when we get our replacement lined up then off he goes. It sounds to me like RK has been avoiding Rom as much as possible as he knows he doesn't want to stay or work hard for the team.
Lenny Kingman
127
Posted 16/08/2016 at 19:52:57
The road to Goodison Park.
Rushden and Diamonds
Malta
Plymouth Argyle
Barnet
Bristol City
Crystal Palace
£28,000,000
Everton
Am I missing something here?

Tommy Webber
128
Posted 17/08/2016 at 05:57:10
The Reds will Pannick when we bring on Yannick!!!
Ian Riley
129
Posted 17/08/2016 at 14:44:12
We need a striker to replace Lukaku.
---
Add Your Comments
In order to post a comment, you need to be logged in as a registered user of the site.
Or Sign up as a ToffeeWeb Member — it's free, takes just a few minutes and will allow you to post your comments on articles and Talking Points submissions across the site.
© ToffeeWeb