Everton vs Yeovil Town
22 August

37 Comments [Jump to last]
EFL Cup 2nd Round Preview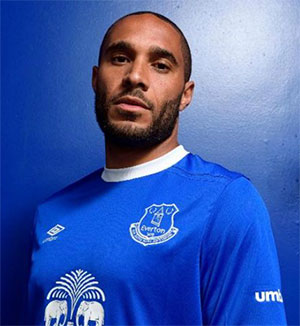 Ashley Williams is in line to make his full Everton debut alongside Yannick Bolasie
With a new manager at the helm, Everton embark on the 2016-17 edition of their quest to land the one piece of major domestic silverware that has eluded the club since its inception 56 years ago.
The Blues face Yeovil Town in the second round of the League Cup — after being sponsored by Capital One for two seasons, it has now been rebranded as the EFL Cup — after being handed a home tie in the draw earlier this month.
While mindful of the ever-present threat of a banana skin tie, Ronald Koeman is likely to use the game against the League Two side as an opportunity to give some playing time to some players who haven't yet featured for the first team in the first two Premier League games, while offering the likes of Ashley Williams and Romelu Lukaku another run-out to boost their fitness.
Both players came on as substitutes at West Brom and, along with new signing Yannick Bolasie, himself a second-half introduction on Saturday, are set to start on Tuesday evening for the visit of the Glovers. It would give Goodison Park its first look at the new arrivals, both of whom are likely to key players for the Blues this season.
"For them it's really important to have game time," Koeman said of the trio in an interview with evertontv. "In the case of Ashley, he didn't even play a friendly [over the summer] so this is a good game for him to start playing. Bolasie also is a new player; he will start tomorrow.
"And it's the same situation for Romelu because he didn't play a lot before. He played the friendly against Espanyol but after that he was out of training for 10 days and he needs game time to get into his best shape.
The likes of Tom Davies and Kieran Dowell, meanwhile, will be hoping to feature after impressing the new boss in pre-season. Both players have been selected by David Unsworth for the U23s since the start of the season but will feel that a cup tie against lower-division opposition would give them another opportunity to shine in the senior side again.
Joel Robles, meanwhile, could be in line for his first start of the campaign if Koeman elects to go the well-trodden "cup keeper" route that was so familiar to the Spaniard until he finally made the first-choice goalie spot his own last season under Roberto Martinez.
Robles has found himself back on the bench again so far this season, with Koeman favouring his compatriot Maarten Stekelenburg and the former Southampton and Fulham stopper has vindicated that faith from the manager with some fine saves in the opening two games.
Having finished last season in 19th in 2015-16, Yeovil come to Merseyside on the back of a three-game sequence without a win since they began 2016-17 with successive victories in the League over Notts County and in the EFL Cup over Walsall.
It will be their first ever competitive match against Everton in their 121-year history but ties between the two clubs have been strengthened in recent years with loan arrangements that have seen players like John Lundstram, Shane Duffy and Liam Walsh enjoy spells at Huish Park.
With respect to the League Two side, Koeman will be expecting a routine run-out and an opportunity to further build his side's fitness with the visit of Stoke on the horizon in the Premier League this coming weekend.
Kick-off: 7.45pm
Referee: Chris Kavanagh

Predicted Line-up: Robles, Holgate, Jagielka, Williams, Baines, Davies, McCarthy, Barkley, Bolasie, Dowell, Lukaku
Update
Both Tom Davies and Kieran Dowell were selected for the U23s' Premier League 2 fixture this evening, making their participation against Yeovil unlikely
.
Quotes sourced from ToffeeWeb match page
---
Reader Comments (37)
Note: the following content is not moderated or vetted by the site owners at the time of submission. Comments are the responsibility of the poster. Disclaimer
Terence Tyler
1
Posted 22/08/2016 at 17:58:50
Would rest Barkley, Baines, and Jags tomorrow. Also give Oviedo a run out.
Victor Jones
2
Posted 22/08/2016 at 18:08:03
Your predicted line up looks strong. Give a few youngsters a game. And also play Lukaku. Hopefully get him back scoring goals. And also get Williams another game closer to full match fitness. Let's put this game to bed early doors. Let's progress in this cup. It's about time that we actually won it. Surely our defence can keep a clean sheet and surely we can score a few goals. I'm going to have a wee bet on a 5 nil win. Yeovil won't trouble us. Up The Toffees...
Bill Griffiths
3
Posted 22/08/2016 at 18:37:30
I like the predicted line up. Gives game time to Davies & Howell and also Jags & Williams who both are probably a bit behind the others in fitness.
Garry Corgan
4
Posted 22/08/2016 at 18:44:42
It'd be handy if, when these match previews are posted early, if the date was stated on the article. I couldn't remember if it was Tuesday or Wednesday or if it had been moved to tonight for TV!
Brent Stephens
5
Posted 22/08/2016 at 18:49:55
Need to give Lukaku game time I suggest. And continue to give Holgate time as part of his development. Davies and Dowell likewise.
Rest Barry - can't do without him in the Prem.
Williams and Bolasie surely start?
Brent Stephens
6
Posted 22/08/2016 at 19:02:11
Ah, just seen that Davies and Dowell are in the U23s tonight. That suggests Koeman at the moment doesn't see either as 1st team material? There is something aout Davies I like but he does seem a yard off the pace when on the defensive. But a young lad still. It will come, I hope.
Jay Harris
7
Posted 22/08/2016 at 19:09:58
Like your line up Lyndon, very similar to my thinking but Brent has a point unless Davies and/or Dowell are pulled from tonights game.
Otherwise give Lennon and Delofeu a run out.
Mick Quirke
8
Posted 22/08/2016 at 19:11:19
Robles
Holgate Williams Mori Oviedo
Lennon McCarthy Cleverley Bolassie
Barkley
Lukaku
Gordon Roberts
9
Posted 22/08/2016 at 19:39:18
Stek
Holgate Williams Mori Baines
Macarthy Gana
Bolasie Barkley Mirallas
Rom
The manager will make minimal. Balance continuity with introducing game time for future first choice players
Frank Crewe
10
Posted 22/08/2016 at 19:43:03
You might want to bear in mind that RK said he wouldn't make more than 3 changes from the side that played on Saturday. I'm with RK on this one. No need for fringe players and multiple changes. We need to build momentum and start gelling the side. That being the case.
Stek
Holgate Williams Jags Baines
Bolasie Gana McCarthy Mirallas
Barkley
Lukaku
Subs Robles, Mori, Cleverly, Kone, Oviedo.
Graham Saunders
11
Posted 22/08/2016 at 20:00:18
Robles, holgate, Williams, jagielka, lennon, McCarthy, cleverley, Oviedo , deulofeu, lukaku, Bolasie
Robert Leigh
12
Posted 22/08/2016 at 21:16:51
Robles;
Holgate, Williams (c), Funes Mori, Oviedo;
Lennon, McCarthy, Cleverley, Bolasie;
Kone, Lukaku.
Subs: Stekelenburg, Jagielka, Baines, Gana, Mirallas, Deulofeu, McAleny
Thoughts being, if Kone and McCarthy aren't up to it against Yeovil, RK will definitely get rid of them. I would say the same for Oviedo but, now Galloway's gone out on loan, we need him now. McAleny should have a run out the same reason as Kone.

Gareth Clark
13
Posted 22/08/2016 at 21:47:55
I would like to see Lennon in the RWB position... Surely a better option than McCarthy?!
If we play 3-4-3:
Steklenberg
Holgate Williams Funes Mori
Lennon McCarthy Cleverley Oviedo
Deulofeu Lukaku Bolasie
If we play 4 at the back:
Steklenberg
Holgate Williams FunesMori Oviedo
McCarthy Cleverley
Deulofeu Tarashaj Bolasie
Lukaku
With Davies, Dowell & Lennon off the bench.
(Not sure where Tarashaj has disappeared to... But thought he was decent in preseason)
Ian McDowell
14
Posted 22/08/2016 at 21:52:10
There is no need for massive changes here. I want to win a cup and we haven't got any european fixtures so no need to rotate. The LC has often been the first cup win for managers like Mourinho, Pellegrini before going on to achieve better things. Play a strong team and get the job done. We can then make changes if we are 3-0 up with half an hour to go.
Peter Mills
15
Posted 22/08/2016 at 22:18:47
I'm looking forward to a night under the floodlights, and seeing how Mr Koeman plays the evening. I will be very surprised if he messes around too much, I believe and hope he will focus on winning the match with a view to winning the cup.
Andrew James
16
Posted 23/08/2016 at 00:37:52
Last season was the first for a while we actually looked like we could win this flipping thing.
I won't think we can win this trophy until we are 10-nil up at Wembley. Then I might believe.
Matthew Williams
17
Posted 23/08/2016 at 00:38:22
56 years & counting... time we won this pot methinks!
Mike Gaynes
18
Posted 23/08/2016 at 03:22:51
Will the game be televised on the website?
Thomas Surgenor
19
Posted 23/08/2016 at 08:45:09
Is this being shown on TV anywhere in the world?
Keith Conchie
20
Posted 23/08/2016 at 09:03:40
Anyone know if there's any global tv coverage for this game?
Neil Quinn
21
Posted 23/08/2016 at 09:18:36
There are very few streams for the early league cup games.
Unfortunately the Shite are on Sky Sports 1 so our pub will be full of the tellyclappers.
Shane Corcoran
23
Posted 23/08/2016 at 11:28:13
Lads, I just had a look at the injuries section of the official site and Gibson isn't on it. He's not making the bench. Is he just out of favour do you think?
John Austin
24
Posted 23/08/2016 at 11:50:15
Andrew@16 - Knowing Everton, I'd only be happy being 10-0 up with less than 5 minutes to go!
Colin Hughes
25
Posted 23/08/2016 at 15:10:07
No surprise that the RS are being screened live on Sky tonight after all they weren't on last Saturday at Burnley and it's too much for them to take not being able to go the pub two games running.
Jay Harris
26
Posted 23/08/2016 at 16:13:39
Guess the best we can hope for is the audio commentary as it doesn't appear to be televised anywhere so even the live streams will not cover it.
Brent Stephens
27
Posted 23/08/2016 at 16:22:20
Colin #25, do they have pubs in Norway?
Kim Vivian
28
Posted 23/08/2016 at 16:40:06
Shane - I've seen a rumour that Gibson may be off to Hull?
Jan Erik Lloyd
29
Posted 23/08/2016 at 16:42:19
Yes, Brent (#27), we do – in my town, Skien in the south part of Norway, we have The Blind Dog. English pub with soccer on the telly, Guinness in the glass and Dixie Dean on the wall.
Gordon White
30
Posted 23/08/2016 at 17:11:10
Hi Jan #29
The Blind Dog eh! Sounds like a good hostelry to me. Do they serve real ale?
Is there a log fire in the corner?

Shane Corcoran
31
Posted 23/08/2016 at 17:15:17
Kim, where'd you hear that?
George Bethell
32
Posted 23/08/2016 at 18:12:09
Have a look on YouTube I noticed a few streams for the game don,t know how reliable.
Jan Erik Lloyd
33
Posted 23/08/2016 at 18:24:30
No fireplace I'm afraid but real ale combined with local brew of different kinds. In one of the viewing corners there is a picture of Dixie Dean heading home a goal, with important stats from his record breaking season. Tried to get the owners to sell it, but no chance...
Chris Watts
34
Posted 23/08/2016 at 18:26:20
Slightly off topic but... Seeing David Moyes comments about Sunderland I'm so glad he's not our manager. There's playing down expectations and then there being totally pessimistic and bringing the place down. He's only been there 5 minutes and telling the fans to expect a relation battle, saying it going to take time for him to turn things around, implying the club has no stability etc
Surely this sort of talk didn't get him the job in the first place. If I was on the Board I'll tell him to lighten up or get out.
Mark Tanton
35
Posted 23/08/2016 at 18:28:03
It will be interesting to see if Moyes can perform the same turn around as he did here - I'm not sure the problems are the same though, who are the Gazzas and Ginolas at Sunderland?
I'm not sure he has inherited half the mess he did at Goodison.
Chris Watts
36
Posted 23/08/2016 at 18:31:45
He only got dour here in the 2nd half of his reign saying we can't complete etc. He started off with the people's club stuff.
He's taken 5 minutes at Sunderland. Wonder what their fans think
Gordon White
37
Posted 23/08/2016 at 18:40:52
To be fair to Mr Moyes, look at the situation he has taken on. I think he is simply trying to manage the fans expectations and possibly send a message to the board. It will be a different story on the training ground and before the matches. Good luck to him.
Gordon White
38
Posted 23/08/2016 at 18:46:53
I've made a note Jan. If I'm ever lucky enough to be riding my bike in your beautiful country near Skien, I will make a point of dropping into the Blind Dog. Cheers mate!
---
Add Your Comments
In order to post a comment, you need to be logged in as a registered user of the site.
Or Sign up as a ToffeeWeb Member — it's free, takes just a few minutes and will allow you to post your comments on articles and Talking Points submissions across the site.
© ToffeeWeb