Everton vs Stoke City

48 Comments [Jump to last]
26 August
Match Preview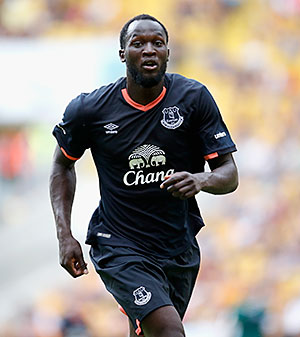 Romelu Lukaku is in line for his first Premier League start of the season
You wait three months for the Premier League to return and just as it's getting some momentum, the international break arrives after just three games to disrupt the rhythm.
For many supporters, particularly those for whom club trumps country, it's a largely unwelcome distraction but the days off can often provide an opportunity for the team to attain full fitness and shake off any rust that was evident in the early days in the campaign.
Roberto Martinez certainly seemed to find them beneficial, not least in 2013 when he signed three players on transfer deadline day and the following year when, just like his successor did this summer, he received players back in stages from international tournament duty and used the fortnight's interval to bed them back in.
With Koeman suggesting that some of his players are still shy of 100% fitness, this upcoming break could be just as useful, particularly if he too makes some more additions by the deadline, but his immediate focus is on the visit of Stoke City this weekend.
The Potters come to Goodison Park looking for their first Premier League win of the fledgeling season having drawn at newly-promoted Middlesbrough on the opening day and then suffered a 4-1 drubbing at the hands of Manchester City last weekend.
In their two games against them last season, Everton saw both sides of Mark Hughes's team — the talent that exists in their ranks with the likes of Xherdan Shaqiri, who scored his first Stoke goals at Goodison, and Marco Arnautovic on the one hand, and their propensity to ship goals, particularly against a team able to move the ball quickly, on the other.
The Blues' 3-0 win at the Britannia Stadium was, the FA Cup win over Chelsea aside, arguably the last stirring performance under Martinez but it was also a completely different affair to the reverse fixture earlier in the season which was more symptomatic of the defensive ills that would eventually bring about Martinez's demise.
3-2 to the good and with their tails up, Everton were 19 minutes away from what would have been an important victory given how they'd lost to Leicester in their previous home game but two late goals, including a press-the-self-destruct-button from John Stones gifted Stoke a sickening victory.
You get the sense that such late collapses through indiscipline, lack of focus and an inability to see out a game will be few and far between under Koeman but the Dutchman is still very much proving himself to Evertonians.
So far so good, however, with a creditable point gained against Tottenham and last weekend's come-from-behind win at West Bromwich Albion which presents the Toffees with the chance to be nicely placed in the top six going into the transfer deadline and the enforced break beyond it if they can pick up a second successive victory.
Koeman has been boosted by the fact that only Seamus Coleman and Muhamed Besic are definitely ruled out through injury, with the Irishman now pencilled in to return from his ankle problem for the Sunderland game on 12 September.
Tom Cleverley, James McCarthy and Darron Gibson were described by the manager as being "slight" doubts but only McCarthy's absence is likely to have any significant bearing on the starting XI, given that he has started all three games so far.
It's the selection conundrums in attacking midfield and central defence that could ultimately determine the formation and starting XI that Koeman goes with. Seeing as Romelu Lukaku will almost certainly start and Stoke's defence is similar in size and physicality to that of West Brom, it's possible he will forego the "back three" he started with last Saturday and go straight to a more orthodox four-man back line.
That would see the precocious talents of Mason Holgate continue at fullback, Idrissa Gueye pair back up with Gareth Barry in defensive midfield, and leave Koeman with decisions to make over which two out of Gerard Deulofeu, Kevin Mirallas and Yannick Bolasie start in attacking midfield.
With Ashley Williams now ready, however, the could be tempted to deploy him in a three with Ramiro Funes Mori and Phil Jagielka, use Holgate as the wing back and have one fewer winger to support Lukaku up front.
Either way, Koeman has already shown a pleasing willingness to make early adjustments if things aren't working so there will be a measure of comfort among the home faithful regardless of what the starting XI ends up being.
In the aforementioned Shaqiri and Arnautovic, plus enterprising midfielder Bojan, Stoke have match-winning quality in their ranks but they lack a reliable goalscoring striker and sophistication at the back. With Everton a more robust side than they were last term under Martinez and superior on paper, they should prevail in this one if they play to their strengths and keep things tight at the back.
Kick-off: 3pm
Referee: Michael Oliver
Last Season: Everton 3 - 4 Stoke City
Predicted Line-up: Stekelenburg, Holgate, Williams, Jagielka, Baines, Gueye, Barry, Barkley, Bolasie, Mirallas, Lukaku
---
Reader Comments (48)
Note: the following content is not moderated or vetted by the site owners at the time of submission. Comments are the responsibility of the poster. Disclaimer
John Mckay
1
Posted 26/08/2016 at 01:26:08
Tough game, you just don't know what you're going to get with Stoke these days. Sometimes they play like yard dogs and other times good football.
Hopefully we can get all 3 points. Clean sheet would be nice.
Darren Hind
2
Posted 26/08/2016 at 02:43:33
So was Macca withdrawn so early last week because of injury? I thought it was tactical.
I suspect Funes Mori will make way for Williams. The wild swipe which allowed Fletcher in and the ease with which he was brushed aside by Rondon would have alarmed Koeman.
Stoke won't make it easy, but this is a golden chance to get early points on the board. We need to take it...
James Watts
3
Posted 26/08/2016 at 02:46:41
I fancy us here. Stoke are a funny team but we are much stronger than last year, better drilled defence and Gana being the main two reasons, where they don't seem to be - on paper anyway.
3-0 to the blues.
Jay Harris
4
Posted 26/08/2016 at 04:10:08
Stoke have a very porous defence unusually so I think we need to get at them.
If we go about it the right way, I see a convincing victory here.
Darryl Ritchie
5
Posted 26/08/2016 at 06:30:56
In theory, we have a squad that should pound the Potters, but theory is just that, until proven.
The biggest question for me is; will this be the match that Lukaku remembers how to score a goal? His touch around the goal midweek, was terrible. We need you to put the ball in the net, big guy.
Still, I think we should handle them. 2-0 First clean sheet in a while.
Peter Lee
6
Posted 26/08/2016 at 06:36:57
I know it was only Yeovil but I thought that Aaron Lennon's performance was typical of what we saw of him last season. He showed lots of energy and selfless running so, given that the manager has said that he wants more of that from the other two candidates, he must be in with a shout.
Paul Kernot
7
Posted 26/08/2016 at 06:43:32
Shawcross won't have learnt his lesson yet. Guaranteed pen for Leighton to put us 1 up.
Tony Hill
8
Posted 26/08/2016 at 06:54:14
Peter (6), I agree. Lennon is a real success and has scored quite a few goals as well as the qualities you mention.
David Ellis
9
Posted 26/08/2016 at 07:53:24
I think it will be flat back four with Williams coming for Funes Mori and Holdgate at right back. Mirallas and Bolasie will start on the flanks. Bench will include Geri, McCarthy. Funes Mori and Kone
Laurie Hartley
10
Posted 26/08/2016 at 08:02:44
I like your team Lyndon but have to ask who plays in the left centre back position?
How times have changed - the bench will include Lennon, Deulofeu, and Funes Mori.
I fancy us in this one - I think we will have too much fire power up front for them and Gueye will make a big difference in midfield.
David Hallwood
11
Posted 26/08/2016 at 08:04:53
Great write up Lyndon, but thanks for reminding us of the bad dream that was last season's defeat, which was only eclipsed by the West Ham game as an object lesson in snatching defeat from the jaws of victory (with honourable mentions to Bournemouth & Chelsea away).
I think we have more than enough to beat Stoke, so a win by 2 clear goals and a clean sheet would be nice.
Phil Sammon
12
Posted 26/08/2016 at 08:24:54
Laurie 10
Jagielka probably. He's done it for club and country many times. Personally I've never seen the need to have one left-footed centre back. Most of the great partnerships over the years have been two right-footers. It doesn't make a difference to me. Harold Matthews thought otherwise though, so you're in good company.
I hope we ditch the three-at-the-back. It's never worked well in the Premier League. In fact, save for a few years in 90's Italy...it's been a pretty useless tactic entirely.
That said, Koeman has me relatively relaxed for this one. He's shown that he can accept his own mistakes and act upon them. Now that really is 'phenomenal' after the last three years of stubbornness.
The only real issue to sort out is the wingers. Deulofeu has looked out of sorts. I'm a big fan of the guy and he seems a very likeable young man, but if I were Koeman I'd be telling him he has to work so much harder. He also has to stop throwing his arms in the air in frustration. He did it after a Tom Davies pass went astray in pre-season. Totally over the top reaction from a player who has his own fair share of exasperating moments.
Mirallas is nailed on. Get him starting.
Then it's a toss up between Bolasie and Lennon on the other flank. Bolasie is clearly the more exciting player...but Lennon is wonderfully effective. I'm also mindful that Bolasie from the bench is perhaps the best weapon we have if we go behind. Difficult one for RK.
Lastly...is Kone back in with a shout of an Everton career?
Much like the hapless Martinez, I didn't want to give up on the Ivorian. Towards the end of last season I relented. He was truly hopeless.
However! A full pre-season behind him and two goals (more than Lukaku) in midweek, perhaps he still has a part to play.
Lyndon Lloyd
13
Posted 26/08/2016 at 08:35:07
Laurie (10), usually my predicted team isn't necessarily the one I would choose but in this case it is. (In any case, it's still early days in getting a feel for Koeman's mind and methods.)
Jagielka moved to left centre back to accommodate Stones so I imagine it would be him if Williams plays and not Funes Mori.
Laurie Hartley
14
Posted 26/08/2016 at 08:54:48
Fair enough Lyndon and Phil - the main reason I asked was because one if them will be looking after Holgate.
Phil, in fairness and on "form" both Lennon and Kone deserve to come in to calculations.
New owner, new manager, new mindset, new era.
Up the Blues.
Tony Hill
15
Posted 26/08/2016 at 09:05:53
I wonder if he'll persist with Holgate who looked a bit tired against Yeovil. With Stoke, he may go for experience.
John Raftery
17
Posted 26/08/2016 at 11:16:41
I thought Lennon did more than enough on Tuesday to merit a place in the starting eleven. Based on his form in the first two games Mirallas must return. That would leave Bolasie and Deulofeu on the bench. The former is still settling in at the club and looked tired towards the end against Yeovil. Deulofeu is still capable of pieces of magic but seems to have lost the knack of putting the ball in the net.
As for the defence if as seems likely the manager opts for a back four I am not so sure Funes Mori will be the one to make way for Williams. Jags had a curtailed pre-season and may still be feeling his way back to full fitness while Mori delivers more of a goal threat at set pieces.
Mark Lewis
18
Posted 26/08/2016 at 11:22:47
If we can get Lukaku to remember where the back of the net is I predict a comfortable win.
On a side note, I'm just glad to have got all my enthusiasm back and actually looking forward to matches.
Kevin Tully
19
Posted 26/08/2016 at 11:23:43
I think Stoke will park the bus for this one, seeing as they have got off to a relatively poor start. I'm sure they would settle for point, if offered to them. Set plays will be key for them, so we need to avoid any stupid mistakes in our own penalty area. An early goal for us would ensure they have to throw caution to the wind, but if they manage to hold us off for 60 min's, we could struggle to break them down (cue a 5-3 game)
I can see the RS losing to Spurs in the early kick-off, so with the old 'let you down again Everton' that would usually signal a 1-0 Stoke victory. Let's hope this 'new, improved Everton' can sign off for the international break with the mighty Blues sitting pretty in the C.L. spots. Looking forward to it.
Gareth Clark
20
Posted 26/08/2016 at 11:51:35
Steklenberg
Holgate Williams Jags
Lennon (RWB) Idrissa Barry Baines(LWB)
Barkley Bolasie
Lukaku
Or
Steklenberg
Holgate Williams Jags Baines
Idrissa Barry
Mirallas Barkley Bolasie
Lukaku
Bring on Deulofeu for at least 30 mins though, brings so much creativity!
Hopefully Davies comes on too in the second half, for Barry.
Brian Furey
21
Posted 26/08/2016 at 11:53:03
I wonder will the arrival of Bolasie see Lennon up his efforts even more and score more goals as he sees that as something he has over Bolasie. I fear Deulofeu will struggle this season as he gets frustrated too easily. Hopefully KM can keep up the good form and not get injured or suspended. If we win this weekend it will have been a great start to the season with a lot of us having low expectations going into the first week.
Bill Gienapp
22
Posted 26/08/2016 at 12:05:01
Lol. I still say that wasn't a penalty in last season's Stoke debacle. On the other hand, Stones probably should have been flagged in added time during the Man City game two weeks later, so I suppose it all evened out.
Colin Williams
23
Posted 26/08/2016 at 12:47:28
It doesn't make sense dropping Funes Mori; if anything, depending on shape, I would drop Jags. He is definitely the weak link. Some think Jags is a cert to play... not me – he is a massive liability ( 'too many mistakes that people don't want to see') – always has been.
Williams, Funes Mori and Holgate in a three; if two in the middle... Williams and Funes Mori at present – without doubt more suitable and more balanced.
Dave Ganley
25
Posted 26/08/2016 at 15:08:44
That's pretty much the line up I would go with too Lyndon. Whilst Lennon was energetic as always on Tuesday he just doesn't have that quality that necessitates inclusion on a regular basis for me. Bolasie excites me far more and Mirallas has started the season well so he's a shoe in. Kone found his level against Yeovil and that's why we desperately need another striker brought in before the window closes. It's amazing how quickly people forget how poor Kone was against Spurs when he came on. Scoring goals and playing well is all well and good against rubbish opposition but he just can't hack it against anybody half decent.
I fancy us for a win tomorrow. It's actually nice being positive and confident before a game at Goodison after the rancour of the Martinez era.
Robert Leigh
26
Posted 26/08/2016 at 15:40:52
I think this will be a real test for Holgate, and what we've seen of him so far is very exciting. Hughes will have Arnautovic pumped for this having turned us down, so extra protection for Holgate is in order I believe. Jags and Williams to marshal the back line too as their goals are coming from set-plays at the moment.
Stekelenburg
Holgate Jagielka Williams Baines
Barry
Lennon Barkley Gana Mirallas
Lukaku
Lennon will protect Holgate then, on 60 mins when Arnautovic has thrown his toys out the pram, we can chuck on Del Boy and Bolasie, with a chomping Kone ready to come on if Rom isn't doing it up top again.
COYB!!
Ian Bennett
28
Posted 26/08/2016 at 17:12:41
I agree with your team Lyndon, but I suspect he will give Funes Mori another chance. Williams to come in for the last 10 minutes to close the game out?
Stekelenburg
Baines
Jagielka
Funes Mori
Holgate
Gueye
Barry
Mirallas
Barkley
Bolasie
Lukaku
Impact subs in Deulofeu and Lennon to keep the supporting 3 on their toes, and Williams to close the game out. Cleverley and McCarthy look on from the bench...

Dan Egerton
29
Posted 26/08/2016 at 17:17:14
I like that line up Gareth Clark.

Stekelenburg
Holgate Williams Jagielka
Lennon (RWB) Idrissa Barry Baines (LWB)
Barkley Bolasie
Lukaku
Jay Harris
30
Posted 26/08/2016 at 17:30:11
Colin,
You must have been watching a different game than me.
Funes Mori is not a patch on Jags who hasn't put a foot wrong this season whereas Funes Mori is always just one error away from conceding.
I like Funes Mori but he makes at least one serious error per game. Look at the way Rondon lost him totally last week.
Mark Morrissey
31
Posted 26/08/2016 at 19:35:52
3-1 at least one penalty from Shawcross on Bolasie. Lukaku to get a brace.
Sandra Bowen
32
Posted 26/08/2016 at 20:55:22
Ashley Williams has pretty much always played as the left centre back, one of the main reasons he was bought in my opinion. Funes Mori always worries me a bit. I like him but he's always prone to a cock up once a game.
Jags and Williams every day for me. Spot on with the team I reckon Lyndon
Colin Williams
33
Posted 26/08/2016 at 22:45:36
Jay, I must have been watching another game! Yes!...Firstly, the centre half that scored the Baggies' goal was being marked by Jags. Jags was totally dominated by the lad! (nothing was said about that!). Also his distribution at times was shocking within that game, which could have cost us.
Also, the Spurs goal the week before was started by Jags who was in possession of the ball under no real pressure and just panicked and cleared the ball forward without any pressure applied to him.
Within the next phase, the ball goes wide, then schoolboy defending by Baines and McCarthy who between them failed to stop the cross which was scored in the centre of our goal. Comedy of errors, yes, which did not include Funes Mori. Or are you blaming him for the Spurs goal too?
John Austin
34
Posted 26/08/2016 at 22:58:50
I'd settle for that team tomorrow Lyndon. Jags and Williams for me any day too.
Matthew Williams
35
Posted 27/08/2016 at 00:25:33
I see another slow start to this one... with the Blues coming out on top 3-1.
Richard Leeming-McHale
36
Posted 27/08/2016 at 09:43:42
I have an uneasy feeling about this one. Parking bus (as said earlier) could result in massive frustration - especially for our Belgium boys. A real test for RK on handling such a situation.
Martin Nicholls
37
Posted 27/08/2016 at 09:53:41
No seats in pubs for pre-match drinks today guys. Red shite armchair supporters will be out in force by 11am for their 12:30 kick off!
Michael Polley
38
Posted 27/08/2016 at 11:36:46
2-0 to the Toffees.Hopefully !
David Greenwood
39
Posted 27/08/2016 at 11:41:06
4-1. Let's do this.
Frank Crewe
40
Posted 27/08/2016 at 13:01:42
I'd go 4-4-1-1
Stekelenburg
Holgate Jagielka Williams Baines
Mirallas Barry Gueye Bolasie
Barkley
Lukaku
I think that's our strongest 11 (outside of Coleman for Holgate if he was fit).
Mark Tanton
41
Posted 27/08/2016 at 13:05:50
Just realised we have gone back to white nets – must have completely missed that from Spurs and Yeovil.
Do we prefer them to the blue?
Brian Wilkinson
42
Posted 27/08/2016 at 13:31:01
Win this and gives us a great chance of tempting players to come, before the window closes.
Personally speaking, I am happy with the squad we have at the moment, I would prefer to wait if the right players are not available, than buy for buying sake, give Ronnie time, we will have a blip or two along the way, but things are looking great for Evertonians.
Last but not least, judge the match on 90 mins and not the first 15 mins, first moaner gets a yellow card.
Frank Crewe
43
Posted 27/08/2016 at 13:45:23
@Mark Tanton
Maybe white nets show up better on TV.
Eric Holland
44
Posted 27/08/2016 at 13:47:26
Is there no Live forum today??

Jon Cox
45
Posted 27/08/2016 at 13:56:49
Mark, white nets,
all the better to shoot at. Over the course of a season it'll be interesting to keep an eye on.
Mark Tanton
47
Posted 27/08/2016 at 14:05:08
I never liked the blue - I liked the old blue from the eighties, but in the new style of goal it didn't work and just looked black.
Lev Vellene
48
Posted 27/08/2016 at 14:06:57
Starting XI - Everton: Stekelenburg, Jagielka, Holgate, Williams, Bolasie, Gueye, Barry, Baines, Mirallas, Lukaku, Barkley
Kevin Rowlands
49
Posted 27/08/2016 at 14:10:04
Looks like our best eleven to start, no Gibson, McCarthy or Cleverley on the bench either? I'll be suprised if them three are still Everton players this time next week, COYB!
Mark Tanton
50
Posted 27/08/2016 at 14:15:09
That is a strong looking side - four new signings, all making a difference to last season's starting side. Very promising.
Paul Kossoff
51
Posted 27/08/2016 at 14:43:58
Spurs 1 RedShite 1 😇
Paul Kossoff
52
Posted 27/08/2016 at 14:46:22
Still need a clever centre mid, will we get one?
Add Your Comments
In order to post a comment, you need to be logged in as a registered user of the site.
Or Sign up as a ToffeeWeb Member — it's free, takes just a few minutes and will allow you to post your comments on articles and Talking Points submissions across the site.
© ToffeeWeb