Keane suggests McCarthy will need surgery

17 Comments [Jump to last]
2 September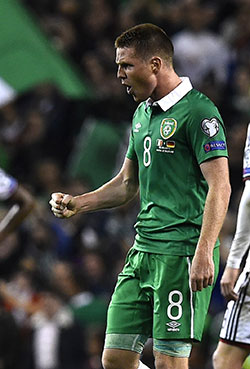 Updated 2 September
James McCarthy has returned to Finch Farm after he was ruled out of the Republic of Ireland's World Cup qualifier against Serbia and faces surgery according to reports.
Martin O'Neill's men take on the Serbs in Group D on Monday but while Seamus Coleman has a chance of being involved as he recovers from an ankle problem, his Everton team-mate McCarthy will play no part because of a groin injury.
The 26-year-old missed last weekend's win over Stoke with the complaint and was it was thought that he would undergo a scan at Finch Farm before leaving for international duty to determine whether he would need to undergo surgery but the club haven't yet released details.
Ireland's assistant coach, Roy Keane, told reporters on Friday, however, that McCarthy had returned to Everton to have an operation, one that is likely to sideline him for at least a month.
If true, it would deprive Ronald Koeman of a second central midfielder after Muhamed Besic succumbed to an anterior cruciate ligament injury in pre-season and had to have corrective surgery himself which will keep him out until February at the earliest.
---
Reader Comments (17)
Note: the following content is not moderated or vetted by the site owners at the time of submission. Comments are the responsibility of the poster. Disclaimer
Mick Davies
1
Posted 01/09/2016 at 00:01:41
On SSN, 'Moshiri says club pulled out of (Sissoko) deal to keep James McCarthy'.
Moshiri: "We don't turn our backs on our own. Keeping James McCarthy was a priority, ultimately we could not proceed with a deal that would jeopardise McCarthy's place at Everton."
I knew, with him starting the first few games that he was in RK's plans, and all that rubbish about him going was just rumour mongering.
To all those who treat him as the new whipping boy; his stats are superior to Sissoko's, and he was less than half the price. I'd go as far as saying, 2 players saved us from a relegation battle over the last 2 seasons: Lukaku and McCarthy.
When Arsenal were interested, did he ask for a transfer? I'm glad this club is rewarding loyalty; a fully fit Macca with the new regime's coaching could turn out to be a real asset.
Dave Southword
2
Posted 02/09/2016 at 00:07:27
I like him and I think he'll look better in a team playing with a bit more of a mixture and tempo. It will also help that he's not the only player on the pitch that presses anymore.
I can't help thinking that Bill nicked Moshiri's phone and sent that message to Jim White though.
Brian Porter
3
Posted 02/09/2016 at 06:48:33
I still don't believe Moshiri made that ridiculous statement. It's like him saying, "We won't be making an approach for Lionel Messi who has been offered to us, as we're a family and I wouldn't want to jeopardize Romelu Lukaku's place in the team."
Right, so we no longer look to improve our squad in case it upsets someone? Sounds more like a Kenwrightism to me.
Glad we avoided the bullet in signing Sissoko though,lazy bugger, not worth 㿊m. More fool Spurs!
Liam Reilly
4
Posted 02/09/2016 at 09:42:28
His confidence is shot from playing consistently last year without being fully fit.
Strongly believe under the right manager he can get back to where he was in his first season with us; he just needs to believe more in himself.
Alan J Thompson
5
Posted 02/09/2016 at 12:49:44
I, too, find it difficult to believe that Mr Moshiri would mock his Manager or DoF with a remark like that. What would be the point of it? The window is closed, there's nowhere to go.
Paul Holmes
8
Posted 02/09/2016 at 15:42:46
The James McCarthy that played in Martinez's first season in charge, I would keep; the one that has developed into a sideways and back passes player and is always injured, I would sell.
Pity he got injured again when the transfer window was open, the jury is out until the next window in January.
Dennis Stevens
9
Posted 03/09/2016 at 07:55:40
Under Koeman, McCarthy will be a great asset to the team, once he's fit.
Peter Murray
10
Posted 03/09/2016 at 07:58:12
We were gazumped by Spurs for Sissoko, just after, in our concern for McCarthy, we had raised our bid to 㿊 million.
John Raftery
11
Posted 03/09/2016 at 09:27:24
McCarthy has not been fully fit since last November. I suspect he has played a lot of games including those in the Euros when he could not possibly have done himself justice.
Whether or not he has an operation, we need him to get fully fit before returning to action. His absence certainly reduces our options in centre-midfield but that may open up further opportunities for Tom Davies to show us he can fulfil his potential as a top class Premier League player.
Eddie Dunn
12
Posted 03/09/2016 at 09:38:57
I think you're right John ,11. He looks like he has been carrying that problem for ages and should have missed the Euros to have it sorted-out. There is so much pressure to keep on going and as you said his workload for us under Roberto was too great. Barry often ran out of gas and Mac had to put in a shift.
Hopefully he will return to provide options at a later date. Now I see why Gibson is still on the books!
Anthony Dwyer
13
Posted 03/09/2016 at 12:45:45
I agree with those who think McCarthy could improve dramatically under Koeman.
McCarthy has only ever played under Martinez, and he's been used to simply recycle the ball by winning it and keeping it, mostly passing backwards to simply keep the ball.
Koeman seems a lot more positive, this may bring something out of McCarthy that we haven't seen enough of.
Hopefully a speedy recovery us in hand and we will see a new man from last season.
John Wells
14
Posted 03/09/2016 at 13:45:17
Good comments lads, he's staying and he can be hugely effective when used properly and I think we have a manager that will do this. He has a great engine too when fit.
We need to get over the window, learn from it and gear up for next one, let Koeman settle in and keep grinding out results. Lukaku can go on a run... please let him be in the starting blocks!!
Frank Mullin
15
Posted 03/09/2016 at 15:06:34
I gather this is not a groin problem at all. Macca is going under the knife as a last ditch attempt to de-Martinezise him.
Mo Besic was the first to undergo this surgical procedure recently and should come back much the better for it. There may be several more guinea pigs on the way before the season's out.
Paul Conway
16
Posted 03/09/2016 at 22:21:47
Funny old game! It takes a new thread on McCarthy to realise the positives.
McCarthy's name on another thread could provoke negative comments in abundance. I am definitely bought on this thread and wish him a speedy recovery.
Eivind Nyhus
17
Posted 04/09/2016 at 14:39:00
McCarthy will come good again under Koeman. I'm sure of it.
William Cartwright
18
Posted 05/09/2016 at 15:50:32
Frank (15)
This anti-Martinez rhetoric, even in jest, has to stop soon. To suggest surgery is too much and very unreasonable.
To complete an exorcism type ritual is recommended followed by a reassessment training course to include some, if not all of the following:-
1. Reverse hypnosis (as I am sure he used traditional hypnosis in the first place)

2. A range of less traumatic psych-analytical treatments including but not necessarily limited to electric shock therapy, cold water immersion, isolation (especially on the pitch on match days), sleep deprivation during the afternoons at Finch Farm, anger management, psycho-analysis - again the reverse kind.

3. Formal chemistry training with multiple sessions carried out wearing a straight jacket to ensure they listen to some straight talking without wandering off.

4. Role reversal training with defenders playing as defenders and attackers playing as defenders just to make sure they get the hang of it...

5. Special part-time study sessions on free-kicks and corners alternating with refereeing role playing to really understand the push and shove approach in the box.

6. Double sessions across the board for Jimmy Mac because of his over-exposure to the Roberto influence.
Thinking about it, surgery is probably easier...

Sajid Patel
19
Posted 05/09/2016 at 15:54:15
Looks like Lakaku talking him self up again
http://skysports.tv/JsRqxj
This guy needs to shut up and score goals!!
Add Your Comments
In order to post a comment, you need to be logged in as a registered user of the site.
Or Sign up as a ToffeeWeb Member — it's free, takes just a few minutes and will allow you to post your comments on articles and Talking Points submissions across the site.
© ToffeeWeb