Stones talks about his struggles under Martinez
3 September

144 Comments [Jump to last]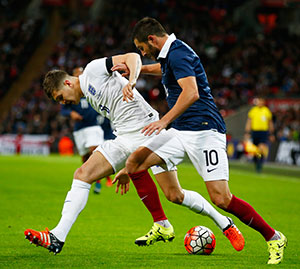 John Stones has been opening up to the media about how his relationship with ex-Everton manager Roberto Martinez deteriorated last season and led to his departure for Manchester City this summer, despite the arrival of a new manager in Ronald Koeman.
Martinez was sacked in May following a worsening run of results in which many of the Blues' key players struggled for form and confidence and Stones was no different.
The defender, who left for the Etihad Stadium last month in what was a club record £47.5m fee for an outgoing player, was often played out of position or dropped for poor performances and he explained that the Catalan didn't explain why he wasn't picking him.
"It was a tough period because I was doing everything right," Stones said. "I was being professional, I was carrying myself well. I wanted to do everything right, try to get in the team, how everyone should and fight my place.
"I felt I was doing everything I could and deserved to play and still wasn't. That's when I found it hard. It's probably a question you should have asked him at the time because he wasn't telling me."
Stones describes how Martinez departed from his possession-based football philosophy in an attempt to arrest Everton's slide in the second half of last season but as his methods failed, morale plummeted with the obvious impact on results.
That prompted him to begin thinking about leaving Everton again three years after he arrived as an unknown teenager from Barnsley. He had put in a transfer request last year when Chelsea mounted a concerted effort to sign him but Martinez and the Blues' hierarchy rejected it and refused to sell him so close to the 2015 transfer deadline.
"Roberto had his style of play and kind of changed that towards the end of his career at Everton," Stones continued. "He changed the whole style of the team and things weren't working out at that time so you could say it wasn't the best decision.
"As you know, the gaffer got sacked. It wasn't enjoyable. We weren't winning games. When we don't do that a few games on the trot, it starts to eat away at you, no matter who you are. It was a good test for me. I learned a lot about my football, about myself."
The theory that part of Everton's problem under Martinez had become a lack of attention to defending was one that had taken root in his third season in charge as the more pragmatic and defensively-minded David Moyes regime receded into the distance.
Stones was asked if he thought he had been getting the right coaching from the Catalan and his coaching staff and replied: "Maybe not. Maybe things weren't just working out either, but I definitely believe that change is good. I felt it was the right time to move on and go and further different ambitions in my career and it was an opportunity that I couldn't turn down.
"Roberto had his style of play and kind of changed that towards the end of his career at Everton. He changed the whole style of the team and things weren't working out at that time, so you could say it wasn't the best decision.
"But that's football, he is the manager and he makes tough decisions. I felt it was right to move on to work under the best manager (Pep Guardiola) in my eyes.
"We can all regroup from putting it in row Z sometimes," said Stones. "From last season to the start of this season I'm realising when to do it. That's where I believe I have come on quite a lot as a player.
"I was doing things before and then afterwards I would think, 'Why have I done that? Why haven't I just put it out in row Z?' Already I can see a difference in my decision-making."
---
Reader Comments (144)
Note: the following content is not moderated or vetted by the site owners at the time of submission. Comments are the responsibility of the poster. Disclaimer
Stephen Brown
1
Posted 03/09/2016 at 10:49:01
John Stones has got a lot to say for himself today!!
Terence Beresford
2
Posted 03/09/2016 at 12:25:49
I've just seen John Stones saying Pep has taught me Row Z. What a gobshite, weren't the Park End telling him that a few months ago and being told to calm down. Prick!!
Jay Wood
3
Posted 03/09/2016 at 13:40:49
Very interesting stuff from a player I wish was still plying his trade at Everton.
It confirms to a degree that something was rotten in the state of Goodison last season. A tellingly long pause when he was asked whether his previous manager gave him the same amount of advice as his current one. He is diplomatic in his answer, but also states whatever he was doing wrong (when dropped by Martinez) the manager never spoke to him about what it was.
He also mentions the pleasure he got recently from simply belting the ball into row Z so the team could regroup and that, as primarily a defender, his decision making has much improved already under Pep, whereas at Everton he says: "I was doing things before and then I would think: 'Why have I done that? Why haven't I just put it out in Row Z?"
Kieran Kinsella
4
Posted 03/09/2016 at 13:44:04
Clearly Martinez lost the team. Lukaku said that, Stones is implying that, Osman said he deserved to be sacked.
Stephen Brown
5
Posted 03/09/2016 at 14:03:13
Whilst accepting Martinez was a bit of a disaster, he did stick by Stones through thick and thin!
Him now saying he knows when to kick the ball into Row Z is a bit rich too! I'm sure the Park End we're trying to educate him on that last season!
Brian Williams
6
Posted 03/09/2016 at 15:24:55
Stones seems to be doing what all new players to a club do, which is big up the new club and big up themselves while they're at it.
Stones may be a really nice lad, or he may be a complete self-obsessed, self-centred, selfish arsehole like a lot of the overpaid preening ponies of the Premier League.
My lad's sixteen and he doesn't need a grown up to tell him when to put it in Row Z, he makes his own mind up because he learns as he goes along, by his mistakes if you like. Couldn't Stones, at 22, do that?
These footballers should play football and shut the fuck up.
Michael Coville
7
Posted 03/09/2016 at 16:02:51
He never mentioned Koeman who he never gave a chance. The reason he left Everton was money and the chance to win trophies. No blame in that but he should have said that and kept his opinions to himself. Hope we give City a roasting when we play them.
Ary Lima de Moraes neto
8
Posted 03/09/2016 at 16:07:47
As much as I wanted Martinez to go (and he should've gone much earlier), Stones has NO right to go against him. He kept him in the team even though he made mistake after mistake, never doing what he should (properly defending).
Plus, I believe Koeman would be a much better role model to a defender than overrated Guardiola (he's good but he isn't THAT good). However, it might suit Stones's style to learn from Guardiola.
He should apologize to Martinez who kept him in the team even though he made mistake after mistake.
Alan Humphreys
9
Posted 03/09/2016 at 16:17:19
As Michael says.
If Martinez was still here the comments would have credence however there is a whole new set up which he fails to mention it would seem.
I remember when Duncan Ferguson went to Newcastle, presser was the first time I heard him utter a word. The next and last time was at his testimonial.
Might be worth remembering that when deciding his future; Stones signed for Moyes not Martinez at the time too.
Phil Walling
10
Posted 03/09/2016 at 16:17:35
Who gives a stuff. He's gone now!
Peter Gorman
11
Posted 03/09/2016 at 16:22:13
Top lad – conveniently forgets he deserved to be dropped after some shocking form and that be had previously handed in a transfer request.
What a gobshite.
Alex Bennett
12
Posted 03/09/2016 at 16:25:49
I thought, at the time when he got dropped, it was because Martinez was taking him out of the firing line for a while. He'd made quite a few mistakes and was, in somewhat typical Everton fashion, hitting the self-destruct button all by himself.
Pundits were on his back, as were we, the crowd, and rightly so, for some of the things he was doing. I don't think he really needed an explanation as it was fairly obvious why he wasn't playing.
Eivind Nyhus
13
Posted 03/09/2016 at 16:31:10
What a dumbdumb. He can tell the papers whatever he wants, but nobody watching Everton last season questioned why Martinez dropped him. He was playing like utter shit, and costed us a lot of backwards goals for a mentionable period. Martinez didn't drop him quick enough, in my eyes.
I'm sorry, John, but playing shit doesn't get you into a team – being a footballer, this shouldn't surprise you.
Jon Withey
15
Posted 03/09/2016 at 16:37:08
Who gives a monkey's!
Tony Burke
16
Posted 03/09/2016 at 16:39:43
This kind of arrogant nonsense brings the worst out in me. I find myself thinking and feeling things which I would feel ashamed of outside the weird world of football.
Put simply, this character thought he was far too good for us. That alone makes me wish that he, professionally, falls flat on his face, turning out for any one of the moneybags clubs he would have preferred to play for.
The one thing that gives me any pleasure is that we got a decent fee for him. As we saw against West Ham, when they scored on Sunday, when a high ball came into the box, he was absent. He doesn't fancy aerial challenges.
Anyone who has played in defence at any level knows that you've got to be fearless, knowing that you could get someone's head or elbow in your gob at any time. He's not the kind of centre half we need and, it seems, Koeman recognises this.
We need a commanding figure who is good in the air. Stones is not that kind of player and never will be. He's a good player but, as a defender, vastly overrated.
David Donnellan
17
Posted 03/09/2016 at 16:44:04
"I felt I was doing everything I could and deserved to play"
Really???
One word, Anfield.
Daniel Lim
18
Posted 03/09/2016 at 16:47:40
His first comments when he signed up at his new club made me vomit for a couple of minutes. This time for a good 5 minutes.
Ian Jones
19
Posted 03/09/2016 at 16:48:53
Well. It would be good if he said he had enjoyed the chance to play at a club like Everton and to thank the club for giving him the opportunity in the first place.
I imagine the last one to two years at the club has soured his memories, which is a shame as it would be better for him if he had more positive ones.
But hey ho. We have Matty Foulds and Mason Holgate and a few other promising youngsters.
Phil Davies
20
Posted 03/09/2016 at 16:56:01
There was a run of roughly 10 games where he was making at least 1 mistake a game which led to a goal scoring chance for the opponent... And he thought he deserved to play every game?
He doesn't read the game well enough to be a truly top defender. Pundits suggesting he's going to be the next Pique could be right, but Pique wouldn't do so well in England either.
Surely it's easier to play for Barcelona where no-one presses defenders; I think Pep will find that out this quickly this year.
Terry Underwood
21
Posted 03/09/2016 at 16:57:40
Forget him, not here long enough to be considered an Evertonian.
Ships in the night. Move on.
Brian Williams
22
Posted 03/09/2016 at 17:01:52
"It was a tough period because I was doing everything right," Stones said. "I was being professional, I was carrying myself well. I wanted to do everything right, try to get in the team, how everyone should and fight my place."
Right backpasses, right losing possession in dangerous areas, right watching your marker breeze past you to head home, and right bottling it at Anfield .
A right tosser!
Frank Crewe
23
Posted 03/09/2016 at 17:03:23
The praise went to his head. All this ball playing CB next England captain rubbish. The numerous times he'd try to play out from the back and get dispossessed or pass to the opposition in the process? When all he had to do was lump it.
All we wanted was a CB who could defend and score the odd goal. What we got was a guy who thought he was Bobby Beckenbauer and fancied the pants off himself.
Well now we have Holgate and Williams. Both of them better than he is. Our defense looks a lot more solid and they won't get caught dicking around with the ball right in front of goal. And they both look like they'll score the odd goal or two. Holgate is a much better RB as well.
Daniel Lim
24
Posted 03/09/2016 at 17:04:18
With this and the Sissoko nonsense, I think the team will have extra motivation to win the 3 matches against these 2 teams.
I'm eagerly looking forward to the next 3 matches.

Eddie Dunn
25
Posted 03/09/2016 at 17:14:01
This guy is deluded and can't lay the blame on Martinez for both the possession football, and the more direct style, which probably kept us up. Stones was making mistakes during both styles.
At the moment, the press are loving him, an Englishman at Man City. He should watch his back, as when he inevitably fucks-up, he will be toasted by these same journos.
Anyone would look better with top class players around them, but it is very early days for him at City, and some tougher tests await him than Sunderland, Steua (twice), Stoke and West Ham. Let's see how clever he is after playing Man Utd on Sept 10th.
Eivind Nyhus
26
Posted 03/09/2016 at 17:15:49
Even though Stones is a bit of a turd, I do wish him the best in his career. It's going to be fun watching him struggle against our attacking players, though.
City will not surf through with Stones defending.
Laura Round
27
Posted 03/09/2016 at 17:22:35
Holgate. That is all.
Roy Johnstone
28
Posted 03/09/2016 at 17:36:57
I'm not a Martinez apologist John, but you were crap last season. You got your move, now shut the fuck up.
Steve Guy
29
Posted 03/09/2016 at 17:54:10
Move on. The kid's talking bollocks. A footballer's proclivity for self-delusion never ceases to amaze.
Ian Burns
30
Posted 03/09/2016 at 17:54:16
Going against the grain here but I for one wish him well and it seems to me that he didn't get the coaching he deserved from that prat of a manager Martinez, whom I didn't want from day one.
I hope he goes on and fulfills the potential everybody can see – except for a number of EFC fans that is!
Obviously there were bad times, especially at Anfield, but he is hardly going to bring that up in an interview. Like Ian Jones (#19), I think he owes EFC a huge vote of thanks for giving him the opportunity despite the 3 years he had to operate under Martinez.
Martin Nicholls
31
Posted 03/09/2016 at 18:00:07
Stones should be asking himself where he would be now if he had moved direct to Man City from Barnsley – probably playing in the Championship.
The ungrateful git should remember and acknowledge what EFC did for his career.
Nicholas Ryan
32
Posted 03/09/2016 at 18:13:42
Stones: 'I think Martinez messed up my coaching. I need to be coached by the greatest ball-playing centre-back of all time.'
Pep: 'That would be Ronald Koeman '
Stones: 'Dooooh...!!'
Dave Pritchard
33
Posted 03/09/2016 at 18:26:47
Stones has done OK at Man City early on but he's not yet been put under too much pressure. It will be interesting to see how he gets on against Ibrahimovich next weekend.
Sam Hoare
34
Posted 03/09/2016 at 18:33:35
He's a good ball player but a mediocre defender. So far. Let's see how he does against well-matched teams.
Kevin Rowlands
35
Posted 03/09/2016 at 18:35:42
DP 34, I was thinking exactly the same myself mate, I've watched them a couple of times this season and whilst he looks good when they're on the front foot attacking, he still looks really suspect defending.
I think he'll struggle against the top teams defensively and be found out. It'll also be interesting to see how he does against Barcelona... I fear for him in them games.
Liam Reilly
36
Posted 03/09/2016 at 18:38:21
He should shut his mouth. He was playing shite and didn't deserve his place in the team and whatever happened with Martinez should be kept in the dressing room.
Everton made him a very rich young man and he should show a little gratitude.
Mark Morrissey
37
Posted 03/09/2016 at 18:41:46
I always thought he was a sullen, miserable twat and I always felt his heart was not at Everton. Row Z? What a melt. "Pep taught me". What a pathetic, sycophantic comment to make. He knew where Row Z was cos we told him enough times.
He always thought he was bertie big bollocks and as far as I'm concerned Man City are welcome to him. We did well out of his sale but we earned that by employing him and improving him. He's now at the right club in his tiny mind.
Well I for one am glad he's gone. I'd have Ashley Williams any day over Stones. Good riddance. He may well be a good player but he's a first-rate miserable prick
Craig Walker
38
Posted 03/09/2016 at 18:55:33
Fuck off, Stones. If there's one thing Martinez was, it is that he was too supportive of underperforming players like your good self. Good riddance!
Les Martin
39
Posted 03/09/2016 at 19:09:10
Alex (#12), Spot on comments.
I still think Stones will get found out when the ball is in flight, as he fails to track and clear sufficiently well enough.
Maybe in time he will learn, but I think when Man City have to deal with direct balls into their box, they will find out whether Stones is really a defender worth the money.
The jury is still out for me and I'm glad of the £47.5m in the bank from that deal.
Ian Cowhig
40
Posted 03/09/2016 at 19:09:11
He must have seen Paul Merson's rant saying he was a liability and that his positional sense was shocking. Also watching the recording of the game, as any professional should, would have shown him why.
Just Kissing Pep's arse. And I thought he was better than that.
Colin Glassar
41
Posted 03/09/2016 at 19:11:33
So Baines, Garbutt, Ossie etc we're lauded for some very weak and indirect comments on how the team was performing but Stones is to be crucified?
Not to worry, John, you've gone now and a new target will be found to blame for any mishap. I wonder who it will be?
Stephen Brown
42
Posted 03/09/2016 at 19:32:45
Brian (#22),
That will unfortunately be my lasting memory of Stones. Playing at Anfield really up against it, Funes Mori sent off and all possible other centre halves injured and he trudged off with a 'bad belly' – absolutely gutless in my mind!
I'm sure most, if not all ToffeeWeb readers would have given anything to be out there in his place! I think we were left with Besic and McCarthy at the back?!
Tony Hill
43
Posted 03/09/2016 at 19:36:10
A fine young player with much to learn. Koeman was, of course, a far better player than Guardiola and certainly could have taught John far more about the defensive arts.
Never mind, he's gone now.
Mike Green
44
Posted 03/09/2016 at 19:41:11
Sounds like he's regressing; from silky ball playing centre half to hoof merchant, next he'll be nutting people and room sharing with Ryan Shawcross.
Developing nicely under Pep 'can players who've known me for less than two minutes kiss my arse any harder' Guardiola – aka 'Mr Row Z'.
Robert Workman
45
Posted 03/09/2016 at 19:42:27
Read the whole article this morning in The Guardian. The guy is deluded. I am starting to really dislike him. Maybe he should have gone to Chelski after all and not lost Everton points last season.
Jon Davies
46
Posted 03/09/2016 at 19:47:58
Absolute rubbish Mr Stones, you're talking crap... you're not as good as you think you are. Don't blame other people for not getting into the team, you simply weren't not good enough to be a first-team regular.
You've made your decision to leave this great club, very few players leave this club and go on to do better things.
Bill Gienapp
47
Posted 03/09/2016 at 20:00:22
Stones isn't telling us anything we didn't already know about Martinez, but I do take issue with him playing up his "consummate professionalism" last season. You know, since he basically asked out of the Anfield derby with a tummy ache.
Dan Davies
48
Posted 03/09/2016 at 20:04:02
I hope Lukaku rips him a new one at Goodison and Everton put in a perfect defensive performance.
Rob Dolby
49
Posted 03/09/2016 at 20:09:28
Not sure what else to expect out of the interview... maybe he could have thanked Jags for making him look like a £50m player as he tidied up most of his mistakes.
Stones has the potential to be the best ball-playing centre back since Ferdinand; he will never be the best defender but you don't need to be when you play for a team like City.
Good luck to the lad... besides when he plays against us.
Brian Wilkinson
50
Posted 03/09/2016 at 20:29:53
Easy scapegoat, blame Martinez and come up smelling of roses. Cheap shot, thanks for the memories. You had a chance to stay under new leadership so don't blame Martinez for you leaving Everton.
Jay Harris
51
Posted 03/09/2016 at 20:34:23
I thought the John Stones of 2 years ago was a good player with great potential but watching him recently when under pressure you realise he has very poor awareness which will be ruthlessly exposed when he comes up against the likes of Costa.
Kevin Rowlands
52
Posted 03/09/2016 at 20:46:29
John needs to do what Mourinho once told Lukaku to do – shut the fuck up and do your talking on the pitch.
I rate him but I have my doubts he will be as good as some believe. To be a world class defender, you have to... err, defend, that's something he struggles with – especially in the air.
Another thing: if he thinks Evertonians were tough on him, wait till he has a run of bad games like he did with us – them Mancs will turn on him in a heartbeat.
Andy Crooks
53
Posted 03/09/2016 at 20:47:20
Exactly, Tony #43. We did well from Stones. Good profit, good player, gone, irrelevant. I hope he does well but he is no more than a former hired hand to me.
James Flynn
54
Posted 03/09/2016 at 20:47:23
Colin (41) - Not a post before yours ripped on him for mentioning how bad OFM managed last season.
Tony Hill
55
Posted 03/09/2016 at 20:54:43
That's one of the reasons I'm sad he left us, Jay; he would have ironed out his obvious youthful problems under one of the great defenders of all time and, in my view, the greatest defender of the type to which Stones should aspire.
Stones's positional awareness, his heading, his physical power and his goal threat all need work and I'm baffled that he thought he would do better under Guardiola with any of those aspects of his game than he would have done with Ronald.
Oh well, I agree with Laura Round...
John Daley
56
Posted 03/09/2016 at 21:07:37
Personally, I thought he held back from putting the boot in on his former boss. "Maybe not. Maybe things just weren't working out either ", isn't exactly letting him have it both barrels.
The train of thought I prescribed to when Stones was here was that he was a young player getting by on pure, natural talent but without a firm hand to guide him when to temper the finer stuff with the simple nitty gritty. When he started to struggle he was left to his own devices to find a way of reversing his downturn in form.
When your manager publicly states he wants you to carry on exactly as you are and not alter the way you play the game, but then drops you anyway and declines to tell you why, then I think you're entitled to be a little confused as to what the fuck it is he wants from you exactly.
Paul Conway
57
Posted 03/09/2016 at 21:14:16
We can't complain about Stones leaving. It was a good thing for him and a good thing for us.
We bought him for fish 'n chips and sold him to fund the purchase of three or four players who can change our fortunes. Slick business!
People can look at the TDD as a disaster, but in hindsight we done very well, overall. Stones can blame Martinez, who was a disaster. But personally I feel that Stones was becoming moody and problematic.
Put it like this... would the Blues who did not want to see Stones leave, prefer that we buy him back for £30m (if we were offered)? Making a hefty profit of £20m in the process, but losing the four players that we bought with his sale!
A hypothetical question, I know, but one to make us consider our more than good fortune! The glass is quite definitely half-full, imo!
Robert Workman
58
Posted 03/09/2016 at 21:24:26
I agree with a lot of comments here. He has no right to blame Martinez for his poor performances.
He knows that he could have stayed at Everton and been coached by Koeman, an outstanding player.
What is so great about Guardiola? He achieved less at Bayern Munich than many of his immediate predecessors.
Colin Grierson
59
Posted 03/09/2016 at 21:27:15
Loaded questions are difficult to answer.
Michael Burke
60
Posted 03/09/2016 at 21:28:51
I lost all respect for him after that. I thought he was a well rounded individual based on previous interviews.
A flipping 10-year-old doesn't need telling when to boot it out, so why does an adult earning 㿞k plus a week need to?
Stan Schofield
61
Posted 03/09/2016 at 21:33:48
All seems rather irrelevant and late in the day now. It might have been more meaningful if he'd said what needed to be said at the time. In particular, he could have backed up Leighton Baines when problems of lack of squad chemistry were pointed out.
It's very easy for him to say all this now, so it's not worth saying or taking seriously.
Frank Wade
63
Posted 03/09/2016 at 21:50:19
As I am a slow learner, I am still reaching for old father YouTube, when we make a new signing. So this morning, I was watching the skills and thrills of Enner Valencia and who popped up, but Row Z merchant, John Stones, being turned and left on his sorry arse as our new No 19 planted one in the back of our net. Let's hope Pep tells John that's the kind of defending that can get one dropped as he, like me, is a slow learner.
According to a report on the Man City v West Ham game "It was thought that Stones had an eye injury but afterwards Guardiola remarked that the 22 year old was not playing to the required standard. "I saw him tired, I saw him with problems" said the Manchester City manager."
Who'd have thought, the Park End at the cutting edge of football coaching, 10 months ahead of the legend that is Pep Guardiola.
Stan Schofield
64
Posted 03/09/2016 at 22:03:08
Perhaps Pepsi Coca Cola can mentor some maturity into him as RK no doubt would have done. The kind of maturity that tells you not only when you should use Row Z, but also when you should speak up and when you should shut up.
James Hill
65
Posted 03/09/2016 at 22:25:15
Funny how his new club are shipping the same type of goals that Everton did last year and that Pep dragged him for a sore eye. Funny that. How long before he is warming the bench.
Peter Mills
66
Posted 03/09/2016 at 23:23:50
I enjoyed watching John Stones's style of play, and believe he will go on to become an excellent, successful footballer.However, it was dreadful to see him last season, when he most certainly was not doing everything right and was also poorly managed.
He has gone now, I suspect our needs over the next couple of seasons will be better served by the no-nonsense Jags/Williams style of defending.
Laura Round
67
Posted 03/09/2016 at 23:44:22
Yes Tony 55! Class act, so calm. Love him. If he carries on and keeps his ego in check he'll be a favourite for sure.
When he took on Ibrahimovic at his Old Trafford debut he was very impressive and has been consistently since. John who?
Ernie Baywood
68
Posted 04/09/2016 at 00:38:39
It's pretty irrelevant from an Everton standpoint... Stones doesn't play for us and the guy he's talking about doesn't manage us.
But purely from an ethical view, I'd be pretty disappointed if I was Roberto. He supported Stones and allowed him to make mistakes in search of an improved ability to make decisions. He let him learn in the first team... a huge opportunity and show of faith. We didn't like it but the one person who should have appreciated it seems to be the one who doesn't. I always found John to be quite an impressive young man but this doesn't feel great from him.
Really didn't see myself posting something in support of Martinez this season!!!
Ian Riley
69
Posted 04/09/2016 at 01:01:55
Did Martinez let Stones make mistakes? Yes, he did... and did Sstones learn from them? No. Martinez is a poor manager to allow Stones to make basic defensive mistakes. Control the ball in your own area under pressure and not step up in line to catch players offside. Whatever Martinez was telling Stones was not basic defensive play.
Martinez was making us all look stupid in the stands. His comments after games made me feel I needed to see an optician because I was seeing things he wasn't. Stones has to take responsibility. He was not 16 or 17. He is a intelligent guy when it comes to defending. Martinez failed to kick him up the arse and drop him after poor performances.
John better learn quickly or Pep will tell him what he thinks.
Brian Wilkinson
70
Posted 04/09/2016 at 01:16:22
Agree 100% Ernie, for once I am in the Martinez corner, he might have deserved all the flack for the past season or so, but he stood by Stones, and this is the thanks he gets.
Denis Richardson
71
Posted 03/09/2016 at 01:23:03
I'd rather the club had Williams, Gana and Bolasie than John Stones, so ta very much.
Next topic, Sunderland away...
Mick Davies
72
Posted 04/09/2016 at 01:52:49
Stones made too many errors under Martinez and I suspect the only reason he stayed in the team was we had so few fit defenders at times.
Man City is a completely different animal, with all their riches and recent success, I can't see him in the first team long if he doesn't cut out the big-time Charlie stuff
Phil Sammon
73
Posted 04/09/2016 at 01:57:30
Ernie 68 is spot on.
The chances Stones has been given in the Everton First Team would not have been afforded to many. Especially after a transfer request.
Perhaps Martinez wasn't the best person to coach Stones defensively. But he really encouraged the lad to express himself. I think it's disrespectful from Stones not to acknowledge that.
I remember watching a few interviews with Stones before he made it into Everton's First Team. He honestly came across as a lovely lad, completely unaffected. I don't think he's turned into an arrogant prick overnight. Maybe he just has a bit of growing up to do.
Nigel Gregson
74
Posted 04/09/2016 at 04:18:20
Seems like Stonsey has been a ToffeeWeb regular all along.
Darren Hind
76
Posted 03/09/2016 at 04:53:09
Some utter garbage being spouted about the game at Anfield.
The guy had the wildies. The reason the rest of the players had to wait for Stones to come out at the start of the second half, was because he was on the Anfield away dressing room bog squirting the liquid stuff.
He had to come off... Think about the alternative before you start spouting such err... shite.
Imagine the Kopites if one of our players did, quite literally shit himself on their pitch?
Alan J Thompson
77
Posted 04/09/2016 at 05:27:02
Just proves the old adage:
"To err is human, to blame it on someone else is even more human."
Still, for 㿛½ mill, let him have his say.
Brian Cleveland
78
Posted 04/09/2016 at 05:33:59
John who?
Phil Sammon
79
Posted 04/09/2016 at 06:13:11
Stones, Brian.
Brian Porter
80
Posted 04/09/2016 at 06:25:19
Stones should keep it shut until he's really achieved something in the game.
He thinks he's in Nirvana now he's with Guardiola, but, and I'm being brutally honest here, Pep was a great defensive midfielder for Barcelona under Crutff, but didn't set the world alight when he left them for Bescia, later Roma and ended up playing for a couple of lesser clubs in Qatar and Mexico. He was lucky to then be made coach of a team of superstars at Barcelona and could hardly fail but then went to Bayern where he did okay but not stellar.
I've always thought his reputation as a coach is based more on his reputation as a player than as a coach and let Stones remember that Pep loves the old tippy tappy crap that caused him so many problems under Martinez.
How will he cope with Guardiola's ruthless ambition? The guy won't think twice about dropping him if he feels Stones isn't performing as he demands, no matter how well he conducts himself as he's trying to make out he did at Everton?
Stones has a lot to learn. Remember, not many players have left us for Man City and gone on to greatness.
Chris James
81
Posted 04/09/2016 at 06:56:38
I do wonder how much of the attitude change relates to England selection. I personally despise the way our under-performing internationals are clearly treated like world-beating talents and pandered to in the England camp.
You can see it to an extent with Barkley too, pre-England I felt he was more raw and fearless running at the opposition and doing some tracking back. Since then, he seems to have developed what I call the England trot, where he canters about the pitch looking like a thoroughbred but often safely away from the action.
Appreciate this could be going a bit far and seeing things that aren't there but I do believe the England set-up is in some ways toxic and seems to turn the head of young players, making them think they have somehow made it and are special... Obviously contrary to performances on the pitch.
It can't be a total coincidence that the likes of Sterling, Stones, Hart and others seem to turn from raw talents into Bertie Big Bollocks overnight?
Be interesting to see if Big Sam can change things – his initial selection is pretty underwhelming.
Andrew Clare
82
Posted 04/09/2016 at 07:35:10
Once I knew he wanted to leave us, I didn't care. I have no interest in players who want to leave our great club.
He will disappear into Man City reserves eventually. Young English players are over-hyped and rarely realise their potential. He will join that list. Good footballer but a poor defender.
Andy Codling
83
Posted 04/09/2016 at 07:36:01
First time I've seen a footballer wanting off the pitch with a stomach ache. Shithouse.
Anton Walsh
84
Posted 04/09/2016 at 08:22:02
If it wasn't for his ball playing out of defence and not sticking it in Row Z he would never have been noticed. Also, if it wasn't for the frequent mistakes, we would've doubled the asking price.
Pete Edwards
85
Posted 04/09/2016 at 08:45:59
He's been asked the question but should have just said something along the lines of "Everton gave me the chance that I'm grateful for but I'm looking forward to my new challenge."
He doesn't have to rip his ex manager who he performed just as shit as. What a cheeky little prick!
Paul Tran
86
Posted 04/09/2016 at 09:23:57
Errrr, back in the real world, I'm reading about a talented young player who has moved to a trophy-winning club, with one of the best regarded coaches in the world, with better players around him, playing in the Champions League.
He's being asked questions and is giving similar opinions to those spouted on here for the last two years. And the problem is...?
He's moved on, so should we.
Eddie Dunn
87
Posted 04/09/2016 at 09:37:33
Diocalm. This would have put a bung in his leak.
Joseph Mullarkey
88
Posted 04/09/2016 at 09:41:55
Vastly overrated, overhyped and overpaid.
We have seen it over and over with Raheem Sterling being the latest example.
I hope that he is a little more restrained with his opinions in future, the media will have him on a plate if things go badly for him.
Now being a starter for England and Man City means he will have the spotlight on him to a much greater degree than in the past two years at media-shunned Everton.
The row Z thing is bollocks we all know that, He is just trying to paint over his past inadequacies by blaming Martinez for them.
The team won't miss him; his 'calm down' gesture to us left me seething and I have disliked him ever since.
£47.5 million, good money for a liability.

Keith Harrison
89
Posted 04/09/2016 at 09:50:56
The best manager in the world(?) has told him to boot it out.
He couldn't have learned the self-same thing from one of the best footballing defenders the world has seen?
'Once Joe Hart spoke to me, I had to leave for City?' Done Joe Hart a lot of good hasn't it!
Young John is simply showing at every turn how naïve/immature he still is.
Very good footballer. Average defender. Good business for Everton.
Mike Green
90
Posted 04/09/2016 at 09:54:51
Darren #76 - as tempting as it is to ridicule Stones for the tummy ache incident, you are absolutely right. I was caught short in Aisle 4 of Morrison's once and that was bad enough; never mind playing away in a Merseyside derby with 45,000 Reds looking on. Well said.
Joseph Mullarkey
91
Posted 04/09/2016 at 10:04:46
Nobody remember Gary Lineker sharting himself while playing for England vs Ireland?
Wiped his arse on the grass and carried on.
Don't believe me?
https://m.youtube.com/watch?v=2R1QABw5v_w

Geoff Evans
93
Posted 04/09/2016 at 10:32:48
If Stones had't spent all last season trying to manoeuvre a move away and concentrated on doing what was right for his then employers, Everton, things may have been different.
IMO he was just another over-hyped mercenary who dedicated a whole season trying to manufacture a move away to one of our rivals.
Having achieved this he should now concentrate his efforts on changing the word 'potential', that is still the most associated with his name and trying to justify a silly fee.
Ste Traverse
95
Posted 04/09/2016 at 13:04:58
Stones is one arrogant prick to blame Martinez for all of his failings last season.
We are well rid of this overrated gobshite and I wish him all the very worst for his career down the M62.
He'll be mostly remembered for cowardly bailing out of a derby with a fucking stomach upset when we were having a nightmare and had no other defenders.

Stan Schofield
96
Posted 04/09/2016 at 13:24:54
As a side note, I am amused by the constant references to Pep Guadiola being the 'best manager in the world'. I can't really see any evidence for this. He strikes me as over-hyped by the media, in a similar way to Klopp.
I suspect we now have one of the best managers in the world, who hopefully turns out to be the best. This season will be very interesting.
Charles Barrow
97
Posted 04/09/2016 at 13:48:28
I'm sorry he's gone. I think he will be world class in a few years. But agree with others who say he should have acknowledged that Everton gave him his chance. Surprised and disappointed about that.
Damian Wilde
99
Posted 04/09/2016 at 14:20:06
Why would he need to be told why he was benched? He was making mistake after mistake. Clearly no self-awareness at all.
Arrogant little boy, delighted he's gone, we're better than him.
Tom Bowers
100
Posted 04/09/2016 at 14:25:11
Many different opinions on this matter and most are valid. He is wrong to pin blame on anyone but himself.
He was starting many games and it was his own shortcomings that affected his teammates and the fans. He has an air of overconfidence that is dangerous for a central defender and until he eradicates that he will occasionally be a liability.
From an England standpoint I hope he becomes a lot better than he already is but I am also glad he has moved on.
Darren Hind
101
Posted 04/09/2016 at 15:14:24
Stones played at Anfield because he had proper balls for the fight. He was clearly unfit to play but still took to the field.
Our other centre-back completely bottled it, making a tackle right in front of the referee which he knew would get him a red ... now that is a shithouse.
I'm staggered by the ignorance on here "first time a player has been taken off with an upset stomach" You could not make that up.
Most wont even start if they've got the wildies... ask big bad Dunc.
Peter Gorman
102
Posted 04/09/2016 at 15:22:36
I'm staggered by your own garbage Darren – 'proper balls', eh? Either sit it out or take some imodium. Better still, jog off the pitch for a tactical excretion and then jog back on again – that has been done before.
But he was subbed because he was shite; the dodgy tummy was his manager attempting to deflect attention away from his (and Everton's) appalling form.
He has repaid said manager with the nonsense quoted in the above article. Now that does take 'proper balls'.

Darren Hind
103
Posted 04/09/2016 at 15:32:00
Peter, why don't you stick to what you know instead of making this shite up?
He gave it a go because we had no centre-halves. He was ill before the game, he was late out for the second half because he was in the shithouse, and it was him who signalled to Martinez that he was unfit to continue.
Clearly he didn't just need one crap: "Jog off for tactical excretion then jog back on again." Yeah, that'll sort it.
Peter Gorman
104
Posted 04/09/2016 at 15:37:59
Oh ok Darren, I'll defer to you since you obviously must know what you are talking about.
Garbage as before - you know about as much as I do regarding that humiliating match but fact remains he was awful before and after so put your spin on that.
Darren Hind
105
Posted 04/09/2016 at 15:45:38
Peter
45,000 people saw him come out late for the second half so did Millions of viewers; they also saw him signal that he wasn't able to continue. I clearly do know more than you about that match.
I don't need to put a spin on it. Just ask the top two managers in Europe, both were prepared to pay more than anybody has ever paid for an Everton player. so I guess you are right... He must be shite.
Colin Glassar
106
Posted 04/09/2016 at 15:47:24
Darren and Peter, you are both talking shite. I thought this was a football forum but it appears to be a gastroenterologist live chat.
Brent Stephens
107
Posted 04/09/2016 at 15:50:17
Huggies and make up, Darren and Peter.
Peter Gorman
108
Posted 04/09/2016 at 15:52:04
Colin we only moved onto talking shite after talking balls.
Back to that Darren, since that is my objection with your post; calling his appearance at Anfield 'proper balls'. That is proper balls. And shite. And whatever choice analogy we move onto subject to Colin's approval.
Colin Glassar
109
Posted 04/09/2016 at 16:20:06
Well Peter, if my semi-professional opinion is needed I do seem to remember that Stonesy had a bad case of Montezuma's revenge before the game and was only 50-50. He didn't do a Puncheon but he looked close to it.
Darren Hind
110
Posted 04/09/2016 at 16:31:24
Look, Peter, you made up shite. You got pulled up for it.
It takes balls to go out in front of millions of viewers knowing your arse is hanging out.
Anto Byrne
111
Posted 04/09/2016 at 16:50:24
Can anyone confirm the lad is on £160 grand a week? Yes, I'm sure with that kind of money, no fucker – not even Koeman is going to keep him at Everton.
For what it's worth, he is a better defensive midfielder than a central defender. Maybe Pep can coach him to jump and win headers. I can't wait to see Rom and Bol tearing strips off him.
Peter Gorman
112
Posted 04/09/2016 at 17:00:21
This is becoming nauseating but I'll persist through it (unlike Stones).
Darren, you've pulled me up on precisely nothing. I still think your assertion the lad showed 'proper balls' is garbage. If he did, I'd rather he hadn't given how awful he was that night. And then to come off at his own behest; yeah, proper ballsy that.
That match was the absolute nadir in my time as a fan – worse than the same result a couple of years before. There wasn't a player from that team who emerged with any glory but you want to attribute some to that want-away stain? That is the essence of making up shite, as if you fondly imagine he was all blood and thunder, telling Bobby to just try and stop him so help him God.
Is it too much to ask, if you are going to be a hero, at least act heroic? Awful performance on the night. I'd wager he was told to play but wouldn't want to be accused of making up shite obviously.
Horses for courses I would say, Darren. I sadly suppose your incredibly meagre expectations of what constitutes 'proper balls for the fight' is a result of seeing so little of it from the players over the last few years.
Peter Cummings
113
Posted 04/09/2016 at 17:08:05
I watched him last week vs West Ham and wasn't impressed when the Hammers upped their game in the second half and he was subbed.
I think what annoyed most of us was him not giving Koeman the chance to improve his obvious talents by insisting on his move to Man City, à la Sterling.
I will be giving him the once over again today for England to see how he copes with the Slav hard men who don't take prisoners. I see big Sam has snubbed Jags for the game... surprise, surprise.
Darren Hind
114
Posted 04/09/2016 at 17:12:58
Peter, stop digging lad. You claimed he was dragged off – you made that up. The whole team were crap that night but you want to point the finger at the only guy who had a legitimate excuse.
Says everything really
Colin Metcalfe
115
Posted 04/09/2016 at 17:41:31
To be honest I am still gutted we lost him. I have a good mate who is a mad Man City fan and he reckons they got a bargain.
He has a lot to learn but he is the best young player to leave Everton since Rooney and we all know what a mistake that was!
To the people stating they would rather have Williams, all I can say is, unlike Stones, he wasn't even playing in the Premier League when he was 21/22 years old, it takes times to become a top central defender, which Williams is now; however, Stones is clearly well ahead of the learning curve.
I can't see him turning out like Rodwell. Barring injury, Stones will go on to have a great career for club and country and, in my opinion, has the potential to become one of the top 5 players in the world – he really is that good!
Colin Glassar
116
Posted 04/09/2016 at 17:44:45
Just watching him now for England, Colin. What a shame he felt the need to go. Watching England is painful but watching Stonesy is always a joy.
Peter Gorman
117
Posted 04/09/2016 at 17:47:29
Darren don't be weak. I'm pointing my finger at the whole team as my post above said. You care to justify your claim he 'had proper balls for the fight'?
Thought not.
Darren Hind
118
Posted 04/09/2016 at 18:04:27
Don't be stupid, Peter, its customary to wait for an answer when you ask the question.
I've already told you why I think he showed balls for the fight – he knew we were struggling for central defenders; he also knew he was in no fit state to play, but he stood up to be counted.
Anybody in their right mind would rather take a chance of playing with a knock than playing with a severe case of the wildies. You spouted off without knowing what you were talking about and now you are trying to justify it.
I've seen people refusing about leaving the house when they were shitting through the eye of a needle. Would you have stepped up in front of 45,000 under those circumstances?
Of course you would. Talk – as you have clearly demonstrated here – is very cheap.
Peter Gorman
119
Posted 04/09/2016 at 18:29:53
Aye Darren, a lot of spouting off going about. I admitted neither of us know what really happened that match in my second post but you still beg to differ. Darren knows best and can recognise proper balls when he sees them.
And in light of that infamous game (where I clearly stated there wasn't a player from that team who emerged with any glory and you took it to mean I wished to point the finger at the only guy who had a legitimate excuse – utter drivel but I won't bang on about it, eh Darren) – the claim that Stones showed 'proper balls for the fight' is possibly the stupidest thing I've ever read on TW.
But credit where it is due, it takes proper balls to maintain your position. We can probably agree on that.
David Hallwood
120
Posted 04/09/2016 at 19:05:26
For me, the fact the Koeman never once came out and said anything along the lines of "we have one of the great CBs" speaks volumes – especially from a player who WAS a great football playing CB.
I've posted many (many) times but I'll sit down with any Evertonian and watch the last two seasons'... erm, erm... highlights, and concentrate on the 100+ goals conceded and the numerous examples of total chaos at the back.
And just see the amount of times Stones was out of position or not picking men up or not reading a situation. Everyone concentrates on Stones overplaying, but IMO it was his positioning that was woeful – oh and zero organisational skills, still he's only a youg'un, so that can only get better can't it??
Darren Hind
121
Posted 04/09/2016 at 19:10:49
The stupidest things posted on TW Peter, are always made up shite. Do you really think people were born yesterday?
You completely fabricated the claim that Martinez pulled off his one remaining centre-back... we all saw the game, lad.
You have admitted you don't know what happened, don't assume the rest of us weren't watching.
Laura Round
122
Posted 04/09/2016 at 19:14:16
David (#120), I'd agree with you there. Watching him tonight – same problem. All over the place. I think he wants to play midfield.
Dave Abrahams
123
Posted 04/09/2016 at 19:27:51
Colin. (115) we never lost Stones, he wanted to go. He is a very good player now and I think he will become a great player.
As for Williams, most Evertonians think he is a better option now as a defensive centre-back than John Stones who is still making mistakes that he shouldn't – the important word here is 'now'. Williams will do me for the next two or three seasons rather than Stones, but good luck to John.
He will (or should) have a great career, and we did well out of him and bought three good players with the money we got for him.
Peter Gorman
124
Posted 04/09/2016 at 19:58:08
The mind continues to boggle with you, Darren. Your fixation on my supposed 'completely fabricated claim' is a piss-poor attempt to avoid your truly ridiculous comment that Stones showed (and I'm bored of typing this) 'proper balls'.
And frankly 'made up shite' isn't nearly as stupid as some opinions or I would have pulled you up on your own 'completely fabricated claim' that our other centre-half bottled the occasion to get deliberately shown a red. Like I said, you know about as much as I do regarding this.
It is clear you are an ardent fan but Stones displayed nothing approaching balls that night even if he did make it onto the pitch (until the 3rd goal).
Peace and love as always though.
Stephen Brown
125
Posted 04/09/2016 at 20:06:55
Stones should have had some sense and said something along the lines of:
"I really enjoyed my time at Everton and am really grateful for taking the chance on me! Unfortunately my form dipped under Roberto towards the end, like a lot of the players, so a move to City was a great opportunity to restart my career. Although I wish Everton well!"
Then it would be a non-story!!! Even if he didn't mean it, it wouldn't have killed him and would have been a bit more classy and respectful!
Phil Bellis
126
Posted 04/09/2016 at 20:58:19
Bloody 'ell... He's an ex-Everton player who didn't want to play for us. Not "one of our own" like Rooney. Not one who came to love the club, a true Blue like Jimmy Gabriel, Bally, Cahill, Andy King et al.
A top class player looking out for number one; have a good career, young man.
Let it go! No further interest this end.
Brent Stephens
127
Posted 04/09/2016 at 21:30:27
Amen to that, Phil.
Colin Metcalfe
128
Posted 04/09/2016 at 23:06:58
Dave (#115), fair point, mate, and we seem to be buying players who are at the top of their game instead of in the past young players with bags of potential. Let's hope it brings us some silverware sometime soon!
Darren Hind
129
Posted 05/09/2016 at 05:13:34
Peter,
I pulled you up on your fabrication BEFORE, I praised Stones for having the balls to give it a go... not sure how even you can think it was an attempt to deflect.
If the other centre-half thought he would get away with that tackle just in front of the referee, then he would be stupid enough to think everyone else was born yesterday... remind you of anyone?
Sleight of hand isn't your thing mate. If you didn't see something, give it a wide berth, because there will always be people on here who did.

Dan Egerton
130
Posted 05/09/2016 at 07:00:01
The fact that Stones was the worst defender for letting in goals due to his own stupid mistakes, of course has nothing to do with it!
Yeah, right, John.
Brian Williams
131
Posted 05/09/2016 at 08:37:22
I think the editorial team should move on now from this particular ex player. After all, the "story" is an ex-player slagging an ex-manager. Let's concentrate on Everton players on ToffeeWeb.
Having said that I'm going to contradict myself just this once and say to Colin Glasser, I know you enjoy watching him play, Col, and there were a few instances in the England game where he carried the ball out well, better than some of the midfielders tbh... but! there were three instances where he failed in his primary duty (defending) which could, and would, have been punished had we been playing against a decent side.
There was one where he was dragged way out of position for a low hard cross/shot that England narrowly escaped from conceding.
There was another towards the wing where he lost it in the air and let it bounce and had to foul the attacker and concede a free kick in a very dangerous position.
The other one was where he did what he did a lot at Everton, which was be unaware of "his" runner into the box and watch an inferior player breeze past him as he was caught flat footed and napping. Better players will punish him for that.
Super critical? Maybe.
Done with talking about him now? Definitely.
Peter Gorman
132
Posted 05/09/2016 at 13:20:57
Morning Darren. You are a good lad and I was in a particularly sour mood yesterday so apologies for the sheer volume of invective. I hope you are finding it as amusing as I have to try and have the final word.
But pulling me up on the fabrication. BEFORE? (both guilty if you want to call it that) Saying I'm attempting 'sleight if hand' mate? Well, I'll leave it to the good readers of TW to decide which post came first; 101 and 102 (hint, hint; I reference your post in my very first line).
But hey, the lad is history and I am back at work. But it's been fun.
Brian Williams
133
Posted 05/09/2016 at 15:53:59
And Peter... you've had the last word, so far.
Sajid Patel
134
Posted 05/09/2016 at 15:55:24
http://skysports.tv/JsRqxj
Lakaku talking about Everton showing him respect and letting him leave when a big club want him.
Brian Williams
135
Posted 05/09/2016 at 16:56:59
Just read it. Why doesn't he just shut the fuck up.
Respect? How about respecting your contract, a contract offered to you when nobody else came in for you.
Juventus? Bollocks, I say. He's here because there were NO suitable offers. Yeh they may have wanted him and offered 㾶m for all we know.
The more he talks, the more I think he's a knobhead!
Craig Walker
136
Posted 05/09/2016 at 17:17:54
David @120. Precisely! Spot on.
David Chait
137
Posted 05/09/2016 at 17:44:56
Colin #116... Press I'm reading only say how brilliant he was... I would love to be watching his progress but,considering I'm boycotting England until Barkley is brought back, that's going to be tough.
Jags was never going to play..
Colin Glassar
138
Posted 05/09/2016 at 17:59:53
He's a Rolls Royce, David. Pity he didn't see his future with us as he's going to be a great, great player.
Jim Hardin
139
Posted 06/09/2016 at 02:16:16
Colin,
Funny, I thought he was a Triumph. Looks sporty but leaks a lot and breaks down often and never reaches the performance level that one would hope for.
Jim Harrison
140
Posted 06/09/2016 at 04:18:47
I read something a bit different into this. To me it says Martinez didn't manage the situation effectively. He didn't communicate to Stones what he expected or wanted working on. Most of us thought he deserved dropping, but Bobby kept on telling everyone that Stones was in a phenomenal moment etc. Bit misleading: "You're great, you are... but you're also dropped." Further evidence exactly how muddled OFM had become.
Regards the Row Z approach, it's all very well the crowd telling him, but if the manager is saying "Play the ball out, don't boot it out," he would be doing the right thing. Following the instructions his boss gave him.
Imagine, a dodgy ball comes in, he just smashes it out, we cheer. He gets back in to the changing room and gets a dressing down: "That's not the way we play, son".
Not defending his comments, but he is a 22-year-old lad, and I know I spouted all kinds of nonsense at his age.
Barry Jones
141
Posted 06/09/2016 at 07:26:34
Brilliant player. His comments appear to be accurate and quite restrained if anything. Martinez was on course to wreck his career and that of several others. Too much water went under the bridge, despite a change of manager.
He was offered a great opportunity and took it. Why should we begrudge that? We were well recompensed. Good luck to the boy, he has a great future ahead of him.
Tony Kost
142
Posted 06/09/2016 at 11:45:56
As a previous poster said – a Rolls-Royce going forward but only a flimsy shutter when it came to defending when what we needed was a barn door – like Robert Huth!
His comments come across as arrogant – he won't get the time or molly-coddling Martinez approach at Man City – he will have to produce (and keep on producing from day one).
Glad he's gone, and for a good price too; he was bad for morale. Shame Lukaku didn't go too. (Another morale booster... NOT!)

Darren Hind
143
Posted 06/09/2016 at 19:17:53
Peter,
My comment was an opinion, one born out of knowing the facts. Yours was mindless criticism born but of dislike for the player; by you own admission, you don't know what happened.
My response to you was made AFTER your personal attack on me. I have never heard of you before that.
I (as somebody who saw the incident) gave my opinion. I don't care whether you agree with it. You have since admitted that you don't know what happened. The fact that Stones told a few home truths about Martinez seems to have irked you. Your attempts to portray Martinez as a victim are pathetic.
Stones showed courage to go out for that second half. Only a rare form of stupid could know the facts and still deny it.
Last word? be my guest; I've posted mine.
Ian Jones
144
Posted 06/09/2016 at 19:32:21
It was an odd interview/report with Stones. I always thought he was quite measured and honest in previous interviews, although to be fair, he didn't give too many whilst under the Martinez regime. So we never got to hear how he felt.
I guess we can all read into it what we want but I don't see Stones as being bad for morale. Of course, I don't know this for certain. Just a gut feeling. Appreciate that he was angling for a move at the beginning of last season and seemed to be getting more frustrated the longer last season went on. Can't blame him for that and wanting a move away.
Whilst I am pleased he's gone as I feel we need a more no-nonsense defender at the moment it saddens me that he doesn't seem to want to acknowledge his time at Everton in a more positive light.
I guess he was the 'right kind of player' for us, the type of player/person who could play what we perceive to be the Everton way. But at the club at the wrong time. Had he come through the ranks and on the verge of our first team now under Koeman, things could have been different.
So let's get behind Holgate and the other youngsters and give them reasons not to want to leave..ever... :)
I also hope that Stones gets a warm reception when he returns to the club and then gets taken off after having made 3 mistakes!
Ian Jones
145
Posted 06/09/2016 at 19:39:31
As for Peter and Darren. Can you guys just agree to disagree and give up trying to have the last word. However, it has been entertaining.
Peter Gorman
146
Posted 06/09/2016 at 22:18:20
Haha Ian, as Darren continues to ignore chronology (BEFORE/AFTER - mere semantics) and insists on inferring all manner of nonsense from what I write (portraying Martinez as a victim wow), if it draws a line under this ridiculousness I am more than happy for him to have the last word.
Oh wait...
Ray Jacques
147
Posted 07/09/2016 at 13:32:08
Stones is history to me; however, I am looking forward to see how he deals with Ibrahimovic on Saturday!!!
Peter Roberts
148
Posted 08/09/2016 at 15:56:57
Why do people think he's going to be so good?
First off, the great centre halves were top defensive players first and foremost – this lad isn't. He can look the part when his composed elegance comes off but he looks an idiot when it doesn't. Great centre halves didn't need a manager to tell them when to hoof it.
He played it well staying quiet for so long but he's ruined it now. Is he now trying to say that the Everton fans were right to tell him to get rid in the 90th minute against Spurs? If so, why did he tell us to calm down?
I look forward to watching him cost Man City points, and see how cocky he is then,
Ernie Baywood
149
Posted 11/09/2016 at 09:19:56
Didn't do a bad job against Ibrahimovich... struggled with Bravo though.
City were incredibly lucky not to concede at least three as a result of their tactics and players against United. Does it just not work in England?
Alan J Thompson
150
Posted 11/09/2016 at 13:27:13
Ernie (#149); Didn't have to worry too much about Ibrahimovich's movement, it was almost non-existent.
---
Add Your Comments
In order to post a comment, you need to be logged in as a registered user of the site.
Or Sign up as a ToffeeWeb Member — it's free, takes just a few minutes and will allow you to post your comments on articles and Talking Points submissions across the site.
© ToffeeWeb