Sunderland vs Everton

131 Comments [Jump to last]
9 September
Match Preview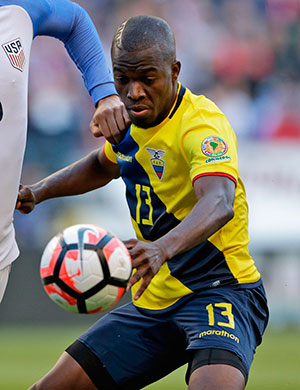 New loan signing Enner Valencia is likely to be named on the bench for first game since arriving from West Ham
Jason Redmond/AFP/Getty Images
There's a weird paradox between the feeling with each passing year that time flies by ever faster and yet the international breaks seem to drag by even more slowly these days. Perhaps it's because, having moved on from the increasingly worrisome Roberto Martinez era and witnessed a strong start to 2016-17, Evertonians are just anxious for the team to get on the field to see what's next now that the distraction of the transfer window is out the way.
Regardless, thanks to broadcast scheduling by Sky Sports, Blues fans have an extra two days to wait for a Monday night kick-off in Sunderland to face another former boss in the shape of David Moyes. Like Ronald Koeman, the Scot will be in charge of his fourth Premier League fixture at his new club but there is quite a contrast in the outlooks of the respective managers for the campaign.
Moyes was in a mode very familiar to Everton supporters the other week when he openly admitted that Sunderland were facing another battle against relegation this season. Koeman, meanwhile, was talking in terms of Europe at his pre-match press conference on Thursday.
The lack of Champions League football has been cited as a significant factor in the challenge the Blues faced over the summer in trying to attract top talent to Goodison Park and with the strength of the Premier League's established four power-houses — the two Manchester clubs, Arsenal and Chelsea — having been largely backed up by their own performance in the transfer market and early results this season, a top-four finish might be a tall order again this time around.
Still, as Leicester (no one should count out their top-four prospects either) proved last season, anything is possible and Everton are currently quoted at around 7/1 to finish in the Champions League places come May. You can get 100/1 on the Blues pulling off the same feat as the Foxes and winning the title! My Betting Bonus has an array of promotions if you fancy a flutter on Everton's chances, either on Monday's game or the season as a whole, but a return to the Europa League would be a great first step and there will be confidence in the Finch Farm camp that that is a more than realistic aim.
"I had the same experience at Southampton," Koeman told the media on Thursday with regard to the difficulty in attracting the best players without having the carrot of Champions League footnball. "You like to show to [the players] that they can develop, that the club is growing and it likes to win titles. That's not done in one year, that needs time.
"It's all up to this season, how we perform because if we reach Europe, which is our challenge, then it'll be easier to get these kinds of players."
With Koeman's and Steve Walsh's first-choice targets of striking support for Romelu Lukaku proving beyond reach, the onus for firing the Blues into Europe will fall on the shoulders of the Belgian and new loan signing Enner Valencia. The Ecuadorian arrives at Goodison with the chance to relaunch a career that had stalled at West Ham two years after he arrived in East London fresh from his goalscoring exploits at the World Cup in Brazil.
It's an opportunity that Slaven Bilic has admitted could be good for all parties and Koeman certainly feels that the 26-year-old can provide much-needed competition and versatility to his forward line.
"He will bring that competition that all players need," the Dutchman said in the Liverpool Echo. "He has pace, he's physical, he can play in different positions across the front, and he can press."
Lukaku will continue to be the main man, though, and he will take to the field at the Stadium of Light looking to end an uncharacteristic run of 13 league games without a goal.
The player himself said recently that he fully expects the goals to flow now that he is getting back to 100% fitness after his protracted break following Euro2016 and both club staff and fans alike will be hoping that the brace he scored for Belgium this past week can be the catalyst that reignites his club form. He is 4/1 to score either the first or last goal on Monday and 13/10 to score any time.
"I expect a lot from [Romelu] because he's a very good player," Koeman explained yesterday. "He's still 23 and he knows that he can improve and that he needs to develop himself.
"The technical staff is support for the boy to make him a better player and, of course, he's an important player because he's normally the top scorer in the team.
"I hope he will score next [goal] next Monday. Strikers need goals to have total confidence but don't forget he had a difficult pre-season. He came in late and I think he is now close to his best [levels] to perform."
While Koeman's forward line already has a settled look to it, with Kevin Mirallas, Yannick Bolasie and Ross Barkley rounding out the likely starters in that area of the pitch, the manager has his first selection headaches in defence now that Ashley Williams is fully fit and Seamus Coleman is available again.
The duo captained their respective nations in World Cup qualifying this past week and are strong candidates to be in the Blues' starting XI against Sunderland but Mason Holgate's form in the Irishman's absence means that Koeman faces a very difficult decision when it comes to the right fullback/wingback position.
There were some question marks over whether Coleman was rushed back into action by Martin O'Neill for the match in Serbia last Monday but Koeman has confirmed that he is fit to start. It remains to be seen whether Holgate is demoted despite his impressive displays thus far or whether the boss accommodates him in a three-man defence.
Sunderland may have begun 2016-17 with just one point from their first three games but with the benefit of a fortnight's break, Moyes will have had more time to instill in his new charges his defensive ethos and his plans to make the Black Cats difficult to beat.
As such, he will plan to make life as difficult for the Blues as possible and it could be a contest that shapes up in a similar way to the game at West Brom three weeks ago, with the home side happy to cede possession and daring Everton to break them down while hoping to cause problems of their own at set-pieces, as they did under Sam Allardyce in Martinez's last match in May.
In ex-Evertonians like Jack Rodwell and the talented, but ageing, Steven Pienaar, plus Adnan Januzaj and Duncan Watmore, Sunderland do have players in their ranks who can cause Koeman's side problems but in the absence of the injured Fabio Borini and the removal from the equation of the inevitable goal against his former team from Victor Anichebe, it's veteran Jermaine Defoe who will pose the biggest threat.
Able to conjure a goal from very little, the 33-year-old was the Black Cats' top scorer last season and leads their team again with two already for the season. Preventing service to him will hopefully be uppermost in the minds of the Everton coaching staff in preparation for this one but there will be confidence in the likes of Phil Jagielka and Williams that he can be effectively shackled on the night.
Though the table means very little at this early stage of the season, the confidence that comes from winning games and being among the pace-setters can be a big boost, particularly if the Blues can pick up another win and capitalise on the points that will inevitably be dropped in tomorrow's Manchester derby.
A victory would also demonstrate that Everton are making the most of a relatively favourable run of league fixtures, something they repeatedly failed to do in each of the last two seasons. Tougher challenges loom, particularly at the start of October and November and for much of December but for now the key will be to keep grinding out results.
Kick-off: Monday, 8pm
Referee: Mike Jones
Last time: Sunderland 3 - 0 Everton
Predicted Line-up: Stekelenburg, Holgate, Jagielka, Williams, Baines, Gueye, Barry, Barkley, Mirallas, Bolasie, Lukaku
Full details: ToffeeWeb match page
---
Reader Comments (131)
Note: the following content is not moderated or vetted by the site owners at the time of submission. Comments are the responsibility of the poster. Disclaimer
Clive Rogers
1
Posted 09/09/2016 at 20:00:00
I think he may play both Holgate and Coleman at the expense of Mirallas.
Lev Vellene
2
Posted 09/09/2016 at 20:21:53
The first paragraph sums it all up for me, Lyndon!
"... Evertonians are just anxious for the team to get on the field to see what's next now..."
I so love this weird feeling of 'anticipation' that has infected me this season. I'm no longer begging for blessed mediocrity to replace our old avoiding-relegation-struggles, I'm expecting(!) progression from my team. I'm not 'hoping they feel inspired' to progress, I'm expecting it!
Ian Bennett
3
Posted 09/09/2016 at 20:23:21
KITAP1

And yep to that line up!
John Mckay
4
Posted 09/09/2016 at 20:28:53
Coleman will probably be on the bench; I can't see him changing a winning side too much.
I expect a tough game. Sunderland won't be an easy place to go and get points under Moyes I wouldn't imagine. Need to keep Defoe quiet and we'll do well.
Still expect us to win this one though but we need to get at them right from the off, none of this skipping the first half and only putting in an effort when we got 1 or 2 down.
Steavey Buckley
5
Posted 09/09/2016 at 20:45:38
If the Everton defence is solid, a 1:0 victory will be easily achieved.
Mark Morrissey
6
Posted 09/09/2016 at 20:54:12
Everton stun ex Blues Boss with 4 goal volley from a rejuvenated Toffees side. Lukaku hits the ground running and new boys Valencia and Bolasie get on the scoresheet. Lamela Kone has a nightmare against the team he joins in the January window.
Moyes left fuming as Ronald Koeman says "I was a better player than you and I'm going to bring more trophies to Goodison than you ever did". I'm slightly over-excited. 0-4 Lukaku brace. I see an easy win and top of the table in 3 games time.
Tony Kost
7
Posted 09/09/2016 at 20:57:31
I like Jermaine Defoe – he's been an excellent pro at Sunderland. He's been unlucky that his England career ended sooner than he deserved.
He missed the last two Euros and World cup. Treated shabbily by the two England managers before Fat Sam.
Definitely needs marking carefully.
Moyesie will make sure they're up for it. Everton to win though 3-1.
Gordon Roberts
8
Posted 09/09/2016 at 20:57:44
Agree with the line up.
Subs:
Robles
Coleman
Funes Mori
Deulofeu
Davies
Kone
Cleverley
Richard Leeming-McHale
9
Posted 09/09/2016 at 21:02:57
We have to have Coleman back in – what sense in leaving him on the bench??
Gareth Clark
10
Posted 09/09/2016 at 21:18:03
4-2-3-1:
Stekelenburg
Holgate Williams Funes Mori Baines
Idrissa Barry
Deulofeu Barkley Bolasie
Lukaku
Coleman off the bench...
Or a 3-4-2-1
Stekelenburg
Williams Jagielka Funes Mori
Coleman Idrissa Barry Baines
Bolasie Barkley
Lukaku
Funes Mori suits three at the back, I'd be tempted to drop Jags to the bench and start Holgate, moving Williams to the middle. But that's not likely.
Eugene Kearney
11
Posted 09/09/2016 at 21:28:18
2 - 0 to Everton.
Brian Cleveland
12
Posted 09/09/2016 at 21:37:41
To be honest, I thought Defoe could be a decent back up option for us on a few occasions. Great pro, knows where the net is and would still push Lukaku for a starting spot at the moment. Wouldn't have cost the earth either... still reckon he should be in the England set up too.
Gordon White
13
Posted 09/09/2016 at 21:53:49
Monday night seems a long way away. Hope and expectation return.
Tim Locke
14
Posted 09/09/2016 at 22:20:38
Anxious – not really. We have nearly more point in our opening 3 games than all 9 under the 3 seasons Bobby brown shoes was in charge.
Clive Mitchell
15
Posted 09/09/2016 at 22:29:54
Mark 6, hope you've got your pyjamas on when you wake up. KITAP2 for me.
Steve Hartwell
16
Posted 09/09/2016 at 22:30:33
Very nervous, not trying to be melodramatic but I feel this game may just make or break our first half of the season. If we lose, I fear momentum will be lost and the next two games will be a nervous affair; if we win, it'll give us a boost and we'd easily win the next two league games to keep us firmly in the top four before we start meeting some tricky opponents.
Barry Jones
17
Posted 09/09/2016 at 22:45:21
They are all tough games, including this one. The difference is that this season we are equipped, mentally and physically, to handle them. My optimism is higher than it has been for a decade.
Kevin Rowlands
18
Posted 09/09/2016 at 22:48:59
Unlike last season I'm looking forward to games again, have nothing against the ex blues there but really want to stick it to that twat Moyes who fucked us around again in the window with the L Kone situation.
Not sure why the twat hates us so much, we made him a multi-millionaire, built up his reputation and helped get him his dream job, wasn't our fault he fucked it up, twat.
Peter Cummings
19
Posted 09/09/2016 at 22:50:23
Great way to install confidence in a team telling the media he expects a relegation fight, looks to me that Moyes is trying to fool us with a cunning plan, a la Tony Robinson's Baldrick.
It could backfire on him if the Black Cats take his comments seriously and play like they believe him but I think they will give us a game to prove him wrong, therefore a win is not guaranteed by any means.
Brent Stephens
20
Posted 09/09/2016 at 22:59:56
Mark #6. Posts like hat I like!
Long drive up to, and back from, Sunderland on Monday. Hope it's worth it.
Eddie Dunn
21
Posted 09/09/2016 at 23:28:25
I am optimistic for the season as a whole, but don't forget that we have looked shit in the early stages of a couple of games, and have only showed glimpses of improved form. We need to dominate this game and put the Makems to the sword, as that bugger Defoe can sniff a goal out of me Granddad's handkerchief.
The sentimental old fool in me feels sorry for Rodwell and Pienaar, but I hope we bang a few nails into Moyes's coffin with a good win up there.
Alex Parr
22
Posted 09/09/2016 at 23:33:29
Jermaine Defoe ALWAYS seems to score against us. Someone with the facts will probably shoot me down, but he seems from memory to have a good record against us.
I would absolutely have taken him when he went to Sunderland, and I still would. I think hes a great player, and bizarrely on someone who relies on a bit of pace, hasn't dropped off into his early thirties. Which either shows great professionalism with regards to his fitness, or very good movement and positioning, I think hes a great player and echo the earlier thoughts of him being still worthy of an England call up... for what that's worth...
COYB
James Watts
23
Posted 09/09/2016 at 23:34:40
I hope we smash 'em so that miserable ginger-gray haired two-faced prick has his mardier than normal mardie face on after the game.
4-0 to us.
Laurie Hartley
24
Posted 09/09/2016 at 23:46:37
I do hope Lukaku finds some goal scoring form for this one. It will be interesting to see how the contest between him and Kone goes.
The defence will have to be on its toes – Defoe and Watmore are sharp.
But when you look at that line-up of Lyndon's and the bench it looks to me that once again we have got just too much fire power for them.
Tony Hill
25
Posted 09/09/2016 at 23:48:55
We'll win. We have to dispel our default jitteriness ahead of every game – a crippling part of the Everton constitution. That's part of what Koeman is trying to do, I am sure, and I am confident that we will be difficult to score against in every match this season. 3-0.
Patrick Carty
26
Posted 09/09/2016 at 00:00:23
Great summary, spot-on line-up.
Everton to win one-nil with Lukaku the scorer.
Peter Collins
27
Posted 09/09/2016 at 00:05:47
Kevin @18
Go away and check your facts. That we made Moyes a multi-millionaire. Yes, we did. But how much did he make for Everton FC. The answer is 100's of millions. And when he left us the valuation of the players for insurance purposes was nearly 𧶀 million. Also from 2003 to 2013 pound for point he was the best manager in the Premier League. Those are the Premier League's figures and not mine.
Again, when he left us, he handed over a top 6 team that was in Europe and had finished above Liverpool for the 2nd consecutive season, for the first time since 1937. You should be having a pop at Martinez who destroyed everything that Moyes built and was possibly the worst manager in the history of our great club.
So, Kevin, the next time you want to slag Moyes off remember this: in his last 8 seasons he finished in the top 6 on a a net spend of 𧿘k.
Andrew Presly
28
Posted 10/09/2016 at 02:40:55
Sunderland away? That's a win.
William Cartwright
29
Posted 10/09/2016 at 06:51:54
Love the love fest here for Jermaine Defoe... He deserves it. He is the best killer-instinct finisher since Jimmy Greaves (seriously) and his treatment by the English hierarchy has been so wasteful. He would have been a very shrewd buy for this season. I just hope he waits for the next game after our match before doing the business!!
Kevin Rowlands
30
Posted 10/09/2016 at 07:53:22
William Cartwright, I agree, Defoe is one of the most underrated players to ever play in the EPL. I would have loved him at Everton in his prime, he'd be a cult hero now and not a forgotten has-been by them twats at Spurs. Hope he's feeling his age on Monday.
Jon Withey
31
Posted 10/09/2016 at 09:49:47
Defoe should have been and England goal-scoring great.
I should imagine this will be a close battle with them difficult to break down and us still a little cagey on set pieces.
Obviously I'm praying it all starts to come together and Lukaku nails them with 2.
Ian Cowhig
32
Posted 10/09/2016 at 09:53:44
Notice that no-one has mentioned Valencia in the squad. Thought he would be, if he is meant to be our back-up striker.
One thought about Niasse. If Championship teams can still take loan players(?) ... would it not be good to get him playing somewhere / anywhere?
Ernie Baywood
33
Posted 10/09/2016 at 11:37:04
I'm a pessimist, but I can't see past a comfortable win. If ever a game was made for Lukaku, it's Sunderland at their place.
Tony Kost
34
Posted 10/09/2016 at 11:39:06
Niasse – Championship loan team? I think chance would be a fine thing.
It would be to everyone's advantage if he went... but I am not convinced that he could cope in the Championship.
Damian Wilde
35
Posted 10/09/2016 at 12:35:29
Kevin:
"Unlike last season I'm looking forward to games again."
Exactly how I feel. Looking forward to this one. I think we'll win.
William Cartwright
36
Posted 10/09/2016 at 12:58:44
Ian, a very good idea to loan, and seriously is he that bad.. ?
I mean come on. For £13 million (plus salary etc...) there must be something positive in all of this.
I spent some time re-watching the YouTube clips and the impression of Bambi on Ice kept coming to mind. But seriously, he did seem to have the uncanny knack of bamboozling people in his immediate vicinity, including players on his own team; just when they were expecting a return pass, suddenly it is a miss-kick and a richochet and in the back of the net!
I think a loan is a great idea.
Barry McNally
38
Posted 10/09/2016 at 13:42:58
I notice Niasse didn't even make the bench for Senegal last weekend – is he injured? Does he even train these days?
Dave Abrahams
39
Posted 10/09/2016 at 13:57:07
Barry. (38) not sure if he is injured, I have seen many worse players than Niasse play for Everton, I'm not saying he is great but he is worth putting in the squad, it looks to me like he has an attitude problem, there is no reason why he can't play if he is not injured, maybe he will move in the coming weeks, if he is interested!!!!!!
Ernie Baywood
40
Posted 10/09/2016 at 14:34:43
Like who, Dave? Brett Angell could at least be of use as a target man. I've not seen a player so obviously leagues out of his depth as Niasse.
Barry McNally
41
Posted 10/09/2016 at 14:56:17
I'd give Dunc a squad number ahead of Niasse! Brutal player, bad attitude – has he anything going for him. More likely to hit his partner than the back of the net – pay him off.
Dave Abrahams
42
Posted 10/09/2016 at 15:24:01
Ernie (40), how often have you seen him? Enough to make a judgement? Against, I think Bournemouth, He wasn't great but he wasn't as hopeless as he is portrayed on here. In one instance, he beat a man, gave a good pass to Lukaku, and ran straight away into a good position for the return but Lukaku messed it up.
Obviously we paid a ridiculous fee for him, he didn't make the price and I wish we hadn't signed him but he is here now for the foreseeable future so let's make the most of a poor deal. The people who brought him here need castigating a lot more than Niasse.
Ernie Baywood
43
Posted 10/09/2016 at 15:46:00
I don't know Dave, generally you won't see too much of a player that poor. In his first game he attempted a pass and I couldn't believe how poorly he struck the ball. It wasn't a mis-kick, just an odd way to strike a ball. That set some alarm bells off.
I'm not sure about him having a bad attitude, as some are saying on here, but we've seen enough of him to know he has no technique. Against Jablonec he stood on the ball and fell over while shooting – I don't think I've seen a pro do that before.
Agree that the blame isn't with him, but I wouldn't be bothering trying to make anything of him. No loan, either sell him or give him away.
Chris Watson
44
Posted 10/09/2016 at 16:59:12
Ginger will be desperate to do well. That said, if it's a situation where the best team wins, then it's 3 points for us. I'm going 2.0. Bolaisse & Kone – no, not that one – an OG by our soon to be centre-half...
Les Martin
47
Posted 10/09/2016 at 17:47:40
I thoroughly expect an Everton win against Dour Davie's team, and at around even money from the bookies, I would put your last pair of undies on it!
Richard Dodd
49
Posted 10/09/2016 at 19:47:18
Those of you who have been around a good while will recall that in days gone by I was Davey Moyes's No 1 fan. I literally worshipped the ground he walked on. But that ground was Goodison Park – not the Stadium of Light... so things are different now.
The misguided appointment of Roberto Martinez only served to show how right Moyes was for our club and those who forever focus on the manner of his leaving may well look a little more kindly on him after the news of the pay-off afforded his successor!
But Dour Davey is no longer ours so I hope that our present manager (OPM, anybody?) beats him 6-0 on Monday and thus the spell he held over me will be exorcised for ever.
Paul Setter
50
Posted 10/09/2016 at 20:05:29
No games are gimmes anymore. Burnley raping the muck is proof of that, and Sunderland bent us over and went in dry last season. However, under Koeman we are different and I'm quietly confident of a comfortable win 0-2 and watching Moyes squirm on TV.
Jimmy Sørheim
51
Posted 10/09/2016 at 20:46:47
I like the way Kone made Lukaku look like an unfit twat during that cup game, and he came off the bench so I think he deserves a start ahead of Lukaku since his condescending attitude stinks to high heaven!!!!
I would even prefer Valencia before Lukaku to start the game, but Lukaku should stay on the bench to learn some manners.
Andy Meighan
52
Posted 10/09/2016 at 22:00:03
I can't understand anyone on here predicting 3-0 and 4-0 wins or it being a comfortable night. It'll be a really tight game. Let's be honest, though; I'm delighted with the points tally from the first three games – it could have been a different story.
Spurs could have ran out winners only for Stekelenburg... and Stoke should have pinched an equaliser when Arnautovic misplaced a pass... but, that said, they didn't. As for the West Brom game, we should have scored 4 in the end but obviously made it tough for ourselves.
No, I'm expecting a tough game on Monday and personally think a draw... But obviously I hope it is 3-1 or 4-1. One thing's certain: we won't play as bad as the last time we played there... I hope!
Stan Schofield
53
Posted 10/09/2016 at 22:09:30
4-0, Rom to get 2.
Stan Schofield
54
Posted 10/09/2016 at 22:10:37
He also 'gets' 2.
Dave Abrahams
55
Posted 10/09/2016 at 22:19:54
Ernie. (43) you might be right, I wouldn't press my argument too much, but getting rid of him might be harder than you think, given the wages he he is entitled to, for the next four years. It might be better to try and make him earn the reputed £60,000 per week he is getting.
Jon Cox
56
Posted 10/09/2016 at 23:23:23
"Sunderland away? That's a win"
Hope you're right, Andrew, but right now, knowing footy the way I do, I just hope that statement isn't filed under the FAMOUS LAST WORDS file.
Ernie Baywood
57
Posted 10/09/2016 at 23:29:36
True Dave, I wonder what he's like at putting up cladding?
Dave Abrahams
58
Posted 10/09/2016 at 23:45:33
Ernie, well that would be 𧺬 or 𧼐 a week off the bill, can you think of anything else, we are getting there!!!
Kevin Rowlands
59
Posted 10/09/2016 at 23:56:16
PC (#27), why don't you go away with your Moyes blow up doll, he dissed our club after all the reasons I stated. I can't stand the twat, that okay with you?
Tom Bowers
60
Posted 10/09/2016 at 23:56:58
Barring anything stupid like conceding very early or bad officiating (which has already been so evident in so many games this season), the Blues should win this one.
I see it as somewhat of a defining moment in their progress under Koeman which has been slow but nonetheless there to see.
They have too much talent to be upset by this bunch of rejects and, as I said, only stupidity would cost them
Jim Hardin
61
Posted 11/09/2016 at 01:17:17
Kevin,
More venom in your comments towards Moyes than the sum total of any reported or rumoured "dissing" of Everton from Moyes. Guess he and Rom must have run over your dog or cat somewhere in the past.
He was our manager. He is not our manager any longer. His contract ran down and he left. The club was in good shape when he did leave, having increased its points total in his last season over the season before.
He held onto a player they needed at Sunderland who was under contract. He didn't say anything about Everton that was disrespectful in doing so.
Blow up dolls and other such nonsense aside. LET IT GO, MAN!
Eric Myles
62
Posted 11/09/2016 at 01:24:28
If we win this we'll go second in the table ...but they always find a way to leave me disappointed.
Won't stop me from getting up at 1:30 to watch it though.
Kevin Rowlands
63
Posted 11/09/2016 at 01:38:51
No, I will not let it go, Jim. Make up whatever stories you want, that last game of the season he was given a standing ovation and everyone wished him well.
His actions and words after that towards our club were disgraceful, and btw that is well documented. If you want to suck his arse, go ahead, the man's a first class prick imho.

Jamie Crowley
64
Posted 11/09/2016 at 03:02:48
Jim Hardin -
I have all day long for your comments Jim, fellow 'Merican. Your insights cut to the chase, and frankly I actually get a bit "proud" of you when you post as it's very, very nice to see an American with an excellent knowledge of footy. Flies in the face of a silent stereotype of us Americans... ;0) We clearly know nothing about the game of soccer Jim!
Whereas I personally thought Tim Howard should move on, your defense of him on these pages last Spring made more sense than many sensationalist contributors would "allow".
But this Moysie thing...
David Moyes should be thought of favorably by Evertonians in my opinion... IF ONLY
He was a solid manager, although none too flashy. He did the Club well, and when he moved on it was time to do so.
But he tarnished his "legacy" with his attitude when he ascended to the summit of the football manager world at Man Utd. His condescending and arrogant comments about Everton – and especially the way he handled the Fellaini / Baines offers and dealings – ruined for me all the warmth and love he should be remembered by.
He got really cocky and condescending. And God / Buddah / Deity Almighty gave him one hell of a humility lesson in the end.
One he deserved. And one Evertonians are right to smugly enjoy.
Leave a Club with class, and don't shit on the doormat on the way out. If you do, you won't be welcome back.
It's natural, and justified, to harbor some resentment towards the man.
I think you can appreciate this... Roger Clemens joins the Yankees... Brett Favre joins the Vikings,... David Moyes talks utter shit and thumbs his nose at Everton after twelve years...
It just doesn't sit well. Like a burrito with a shit ton of hot sauce – tastes good while eating, but ends bad.
I blame no one for not letting it go. I blame no one for harboring resentment and near hatred for the way he left.
Surely you can understand this resentment?
Roman Sidey
65
Posted 11/09/2016 at 04:28:30
Yeah, can't see a Moyes trained defence letting in a handful of goals but it is extra incentive to win when he's in the dugout.
It's a real hoot watching people blow up at others regarding their OPINION of Moyes.
Tim Greeley
66
Posted 11/09/2016 at 04:57:45
David Moyes is a strange character. He was manager for all of my formative Everton years and I really backed the fighting spirit and to be honest the last two seasons we played some real attractive ACTUAL futbol.

But then he peaced out with zero class and burned them bridges and now I want Rock Hard Ron to bring him to painful DUTCH JUSTICE!
Ernie Baywood
67
Posted 11/09/2016 at 05:25:18
For those who need reminding, these were the comments from our former manager.
Asked on Friday if he had sympathy for Martinez, Moyes said: 'I definitely do. But I also know that if I was the Everton manager and Sir Alex had come asking for Baines and Fellaini, I would have found it very difficult to keep them.

'I always felt the right thing to do was what was right for the players.

'All we can do is our job here. Roberto is in a new job and I am sure he will get to understand how Everton work. I know exactly how Everton work. I signed every player at Everton.

'I respect Everton greatly and I don't want to do anything that would in turn affect them.

'Of course, taking their players would affect them but I am certainly only doing what I have to do in my job.'

The bid was probably, from our point of view, a private thing and I guess when we make a new offer we will keep that confidential as well,' he said.

'I speak to (Everton chairman) Bill Kenwright most weeks. I get on with him. So there is no disrespect. This is just a case of making an offer.

'The transfer window is open and you can say yes or no, it's as simple as that.'
No, I've never understood the vitriol towards him. He was the Man Utd manager trying to snare a bargain for Man Utd, on the back of his understanding of his former employer.
During his time with us he achieved progress for a few years then went stale. I wanted him out and didn't like the farewell he was afforded. It felt small time. But once he's gone, he's gone. I'd assess his time with us as a relative success, and his time after us as an irrelevance.
Daniel Lawrence
68
Posted 11/09/2016 at 07:26:06
It was nothing to do with the derisory bid, it was the fact he said that he wouldn't be able to stand in the way of the players leaving if Ferguson had come knocking when he was our manager.
Two-faced classless overrated nobody who has been found out big time since he left the comfort of no pressure to perform with us.
Jamie Crowley
69
Posted 11/09/2016 at 12:37:41
Ernie -
When he said - I am sure he will get to understand how Everton work.
That particular part of the comment was the real dig. It was condescending and arrogant as hell and showed no class whatsoever. It was like, "I've moved on to better things, but I'm sure Mr. Bobby Brown Shoes will figure out how things work at that 'not as well endowed' Club soon enough."
Total and complete dick comment and to not recognize it as a total jackass comment is either disingenuous or ... well I'm trying to think of a word Ernie and nothing springs to mind that wouldn't ruffle feathers and you're not the person who deserves any ruffling so... you get the point.
Mike Gwyer
71
Posted 11/09/2016 at 12:45:17
Ernie Baywood.
People will say what they want you to hear. When Moyes was manager of Everton he fought tooth and nail to keep Lescott from going to City. IMO, he did not give a fuck about what Lescott wanted, so your comment where Moyes states "I always felt the right thing to do was what was right for the players" looks a bit loose to me.
Going forward, Moyes did not want Kone to come to Goodison and with him being the manager of Sunderland, well, that was his decision. So do you think that Moyes gave a second thought as to what Kone wanted??
Personally, I felt that Moyes handled his move to United with all the dignity of a total twat and if you are told by all and sundry that you are good, as Moyes was, then I suppose you start believing it yourself. Well, Moyes found out that he was really just bang average.
We have the players to beat Sunderland and Moyes knows it, so let's go up there and do it.
Jamie Crowley
72
Posted 11/09/2016 at 12:45:29
Greeley -
Moyes is a strange character! I, like you, knew no other.
It's like your father, when you turn 12, starts flicking cigarette butts at you and leaves your Mom to go fuck the neighbor.
But the 12 years prior he actually did good by you...
Well, I'm with the Jersey style of retribution - Rock Hard Ron is gonna implement Dutch justice and I'm going to love every second of it. I'd like us to thrash these fuckers 7-0 and laugh at Heat-Mizer-Gingy-fucked-up-accent-former-manager with evil satisfaction and spiteful enjoyment!
Talk shit on your way out the door... classless douche.

Michael Polley
73
Posted 11/09/2016 at 16:38:43
Went to this fixture last Season filled with dread and the result matched my feelings.This time feeling upbeat and confident of getting a result COYB
Mick Davies
74
Posted 11/09/2016 at 18:15:26
After all the millions of pounds he earned (without winning a single trophy), Moyes refused to sign a new contract, thereby denying our club of much needed compo from mega-rich Man Utd.
Then he comes back within a month or so of being applauded by the fans, and insults our club, by doing exactly what he criticised Man City for doing over Lescott. Self-serving tool who has been embarrassed at OT and in Spain. Hope we snot them and the fans turn on him.
Steve Cotton
75
Posted 11/09/2016 at 19:12:55
Lukaku hat-trick 3-1 mark my words… (3rd one a pen)
Dave Abrahams
76
Posted 11/09/2016 at 19:16:25
Steve (75) I hope your prediction is correct, let me be the first to say that I don't think Lukaku will be taking the penalty, if we get one!!!!!!!
Mike Hughes
77
Posted 11/09/2016 at 19:38:03
Working in Dublin so will probably watch the match in The Grand Central over a couple of pints of Smithwicks Pale Ale (made in Heaven by God Himself).
1-4 to The Mighty Blues with a post match comment from DM along the lines of 'knife to a gunfight' against the big boys.

(Currently having my pre-match meal and hydrating at the airport.)
David Edwards
78
Posted 11/09/2016 at 19:45:50
To state the bleedin' obvious, as Basil would say, if we win tomorrow we go 3rd!!! If we give it a real go against an inferior team, we might even go 2nd! Our obstacle? OFM! Is this potentially the easiest motivational team talk Ronald has to give this season? COYBs!
Tony Abrahams
79
Posted 11/09/2016 at 20:11:32
Moyes, the two-faced bastard, certainly got tooooo big for his boots, before he had ever really achieved anything.
Some people like him and respect him for the job he done at Everton, and it's fair to say his net spend over his tenure was very good and kept Kenwright at the helm. BUT, that was always my problem, with Moyes and his relationship with the chairman. (He kept him sweet, got rewarded, and had way to much power for such an ordinary manager).
Moyes, the cheeky bastard, said I know how Everton, work? He only ever worked for one Chairman, during his time at Everton, so surely his comment should have been more personal, and directed at Kenwright rather than Everton Football Club.
Let's face it, no way would any manager ever have been allowed 11 years in the job at Everton without getting us a few cups, before Kenwright came along. Fucking no chance... None whatsoever.

Brian Harrison
80
Posted 11/09/2016 at 20:33:45
I can't remember us having an easier start to a season for a long time, surely 3 points tomorrow. Then Middlesboro at home followed by games against Bournemouth and Crystal Palace. I could see us being in the top four at the very least after this run of games..
Time to put an end to years of negativity, time to look forward and start believing that the good times are on the way back.
Victor Jones
81
Posted 11/09/2016 at 20:45:43
I know that the season is only early doors but we have started OK. This game tomorrow is a chance for Everton to get right in the mix. I would rather that we poach as many points now as we can. I would rather that we are looking down the league at teams. Rather than playing catch up. So again, this match against Sunderland is the perfect chance to get right in the mix. How many times , over the years have we all thought that and how many times did our management and players fail to deliver? A must-win game was always a game too far for Everton. Let's hope that the Koeman regime can deliver. Just do a job on a poor Sunderland team. Stifle Defoe. Take the points. No nonsense. I think that they we can win this game.And its time that Lukaku started scoring. 2-0 to the Toffees COYBs.
Joe O'Brien
82
Posted 11/09/2016 at 21:11:26
Hoping for a payback 3 nil win, which if we start fast I think is achievable. That'll send us up to 2nd. With the next 4 seriously winnable, we could be on a nice run before we meet Man City away. First things first. Got to win tomorrow night...
Tony Kost
83
Posted 11/09/2016 at 21:16:39
All I can say is on paper it might look easy – and I know this team are better – but we've been known to cock up the easy games on a too regular basis over the last couple of seasons.
Hope I am not coming over as negative – but you can't take anything for granted in this Premier League.
Oliver Molloy
84
Posted 11/09/2016 at 21:31:28
Moyes is talking more about our players than his own whatever that's all about.
Joe O'Brien
85
Posted 11/09/2016 at 22:10:18
And for me Holgate has got to keep his place. I've got heart time for Seamus but he's got to play his way back into the team, earn his place. Holgate has been brilliant for us since he's slotted in and deserves to keep his place.
We need players hungry to keep and to get back their place in the starting 11. It all points to an on-form starting 11 and a chomping-at-the-bit bench.
Terry White
86
Posted 11/09/2016 at 22:19:32
Richard (#39) you seem to think Coleman is the 2nd coming of Carlos Alberto – he is not. And he is nowhere near as good as Alex Parker, Tommy Wright or Gary Stevens. Holgate is doing well, let's leave well alone and Coleman on the bench.
Raymond Fox
87
Posted 11/09/2016 at 22:30:31
Backing short priced favourites is definitely a quick way to the workhouse, so don't get too confident boys!
They will play defensive and hope Defoe can poach a goal given half a chance.
There's no easy away games, especially with home town refs.
Conor Skelly
88
Posted 11/09/2016 at 23:04:16
Mike Hughes @77 - If you are in Dublin call in to the Mercantile on Dame Street, it's where the Goodison Blues Supporters club watch the games. Discounted ale and free finger food for Blues while the match is on and some lovely welcoming people.
As for the match I think it will be a hard fought victory by the odd goal with Rom to bag a brace. 2 - 1 Everton.
On the Moyes issue my own personal opinion is he did a fantastic professional job while at Everton on very limited resources. He gave us 10 years and left us for the biggest job in world football at the time.
Mike Hughes
89
Posted 11/09/2016 at 23:12:35
Thanks Conor. I might well do that.
Fellow Blues would be welcome after my delayed Aer L flight.
Just arrived at hotel.
Several rs on the plane - must be a connecting flight to Oslo.
Conor Skelly
90
Posted 11/09/2016 at 23:50:13
Mike, unfortunately there are as many RS fans in Dublin as there are in Oslo. There has always been a strong connection between the two cities.
However, this also means we've got a disproportionate number of Evertonians over here too when compared to say Spurs or even Arsenal. RS and Utd make up about 40% and 30% of football fans respectively. (Figures pulled directly out of My Arse)
From my estimations the order of most supported clubs in Dublin would be,
1) RS
2) Man U
3) Villa, Everton, Arsenal
4) The Rest
Anyway call into the Mercantile and ask for me by all means, I'll happily introduce you to the gang and get you talking about all things Everton. Lots of the members are regular match going season ticket holders that take a Ryanair flight every other week.
We are the best fans in the world - all over the world.

Mike Hughes
91
Posted 12/09/2016 at 00:15:37
Conor, I'm surprised you don't mention Chelsea. A fair proportion of taxi drivers in Dublin seem to be Chelsea fans for some strange reason. Unless I've just been unlucky the past couple of years I've been coming here. Or it's been the same bloke and I haven't noticed.
Joe O'Brien
92
Posted 12/09/2016 at 00:16:12
Down in Cork it's 1. RS; 2. Man Utd; 3. Chelsea, Arsenal; 4. Everton... the rest mainly Man City & Aston Villa. If you're ever down in Cork city, Mike, it's the Market Tavern. Full-on mental die-hard and salt-of-the-earth Everton supporters.
Conor Skelly
93
Posted 12/09/2016 at 00:38:07
No I don't think Chelsea really factor. You get the odd one here and there that started following during the Zola days but by and large I don't think they have a history of support here.
We have fans that go way back to the days of Tommy Eglington and the likes that were huge stars both here and in England. Actually I forgot to mention Leeds. They have a solid fan base here.
Dubliners overwhelmingly follow Northern teams. In part due to family connections. Giving myself as a primary example, my Dads from Scotland road and all my family on his side live in the Norris Green / Croxteth area to this day. Going to the match and to see my family has always been a case of two birds with one stone.
Those without family ties usually followed the teams that were winning titles, which for large swathes of the last 50 years has been RS & Utd.
Ireland is full of Glory hunters. Fair weather fans who really couldn't care less either way. If I ask someone who they support and they say either of those two teams, I immediately discredit them and talk about something else.
Oh and by the way, most Taxi Drivers in Dublin are Nigerian and they, to a man, support Arsenal. Go figure.
Joe O'Brien
94
Posted 12/09/2016 at 00:49:11
I have to disagree there Conor, my dad didn't follow any team and my two older brothers supported arsenal..I've been supporting Everton since I was 10. Started supporting them because I liked the colour or their jersey,then we beat Watford in the FA Cup Final and have been through a lot of barren years since 95. To this day, my two older brothers don't know how they couldn't make me follow Arsenal and not Everton.
Conor Skelly
95
Posted 12/09/2016 at 01:13:49
Of course, Joe. It's in your soul. The difference is that you had one to begin with. Followers of Liverpool and Utd and more recently City and Chelsea are, in my humble opinion, not supporters - they are followers. I actually like Arsenal fans. I think they get it.
Ernie Baywood
96
Posted 12/09/2016 at 01:28:34
I'm not too bothered why people started to 'follow'. I emigrated to Australia and if people here didn't choose due to an expat family past, then they were left to options such as who was the most successful, who had an Aussie player, whose shirt matches their AFL/NRL etc team...
Plenty of reds here are due to Kewell or Johnston just as many blues are due to Cahill. The thing is, you come across plenty of supporters who couldn't tell you much about their club or who they are playing that weekend, but the Evertonians are different.
I remember meeting a young lad who loved talking with me about our history. Aussie born and barely out of his teens and he knew the lot. I had a good Singaporean friend who was one of the most obsessed blues I ever met.
Don't think I've ever met a 'casual follower' Evertonian.
Joe O'Brien
97
Posted 12/09/2016 at 01:44:56
Totally agree Conor and Ernie. It would be hard to meet a fair weather Everton supporter. Any Everton supporter you would meet is a proper supporter. We're the lucky ones to be following such a great team.
Eugene Ruane
98
Posted 12/09/2016 at 02:02:51
My favourite British comedian of all time is Tony Hancock and earlier I was watching a load of egg commercials he made in 1965 (with Patricia Hayes as Mrs Cravat).
The idea that the egg marketing board chose a character so rude, miserable and bad-tempered to present their product is an indication of how well-loved he was.
Anyway at exactly 8 mins 36 secs, you clearly see a rather intriguing Everton-related headline on the back of a newspaper.
Question - anyone know what the headline is referring to?
At 8.36 - Link
Jamie Crowley
99
Posted 12/09/2016 at 03:40:03
Everton in Spain Uproar?
The fact the paper was ripped, then popped up whole again with that headline... does that have any symbolic meaning?
Someone needs to enlighten those of us adoptees who clearly don't know their 'istory well enough...

Derek Thomas
100
Posted 12/09/2016 at 03:40:56
Eugene; you mention 1965, it could be that they were made over a few months or more. One, then another one as success grew (and they were very successful, the tag lines...go to work on an egg, happiness is egg shaped, will still resonate with the more mature reader) a few more.
Unless they were all on the piss in Spain in the summer of 65, the only connection I can see is the away game Vs R. Zaragoza in the ECWC in Nov 66.I seem to remember it was all a bit dodgey over there with Reffs and other carryings on.
Ernie Baywood
101
Posted 12/09/2016 at 04:20:47
Derek, that game is long before my time but it looks like the likely candidate for the headline...
http://www.linguasport.com/futbol/internacional/clubes/c2/C2_67gds.htm
Morrissey sent off during a mass brawl. I reckon that would qualify as uproar.
Paul Kelly
102
Posted 12/09/2016 at 04:46:26
Lot of confidence flying around, expected to win, so – in true Everton fashion – we'll blow it.
Phil Sammon
103
Posted 12/09/2016 at 05:58:30
Those lazy Sunday afternoons. Sitting in your underpants Googling egg adverts. We've all done it.
Ernie Baywood
104
Posted 12/09/2016 at 06:46:33
Well SAM doesn't think we'll win.
SAM's verdict
Most probable score: 1-1 Probability of draw: 27.9%
Probability of home win: 40.8% Probability of away win: 31.4%
SAM (Sports Analytics Machine) is a super-computer created by @ProfIanMcHale at the University of Salford that is used to predict the outcome of football matches.
John Daley
105
Posted 12/09/2016 at 06:48:50
I see David Moyes reckons he could have won the Premier League for us if he was allowed to sign a striker while he was here.
I actually read that about six hours ago, but have only just stopped laughing long enough to type it out (I'm probably going to be like Mr Burns pissing himself for an entire month after he remembered mangling a fairground workers leg with a dodgem car when he was a kid).
Pretty sure he also mumbled something about the Ark Of The Covenant being in a museum at this very moment if he'd been given the chance to go after it instead of Indiana Jones, but I'd kind of lost interest by then.
Tony Abrahams
106
Posted 12/09/2016 at 08:46:08
I couldn't laugh at that John, even if the man is great at painting different pictures.
I actually enjoyed the last season that Moyes was in-charge, and we were definitely getting better, but for someone to make such a comment is usually because they are full of their own importance.
The fact was the squad never really had enough depth, and for a team that was getting closer, then to spend the Lescott money the way he did, shows you how the conversations in the mirror must go when he's home alone, with just him and his ego!
Liam Reilly
107
Posted 12/09/2016 at 08:53:03
Where did you read that John; miserable Monday here in Dublin so I could do with a laugh?
Nathan Snell
108
Posted 12/09/2016 at 09:02:30
Liam/ Conor stuck on the M50. I moved to NI about two years ago and I commute and work in Dublin. Have yet to bump into a fellow toffee within that time. Good to know where the toffee bar is in Dublin. Welcome to Dublin Mike!
Barry Williams
109
Posted 12/09/2016 at 09:15:23
I think Coleman will be picked, which is no reflection on Holgate, otherwise in complete agreement with the predicted line-up.
What I do find interesting is the mix of players and the managers that bought them, especially with my own predicted line-up..
Stekelenburg, Williams, Gueye, Bolasie = Koeman
Barry, Lukaku = Martinez
Coleman, Baines, Jagielka, Mirallas, Barkley = Moyes
Me thinks that tells a story!
Paul Kelly
110
Posted 12/09/2016 at 09:26:11
Oh and we're unbeaten, they haven't won. All the signs are there.
Brian Furey
111
Posted 12/09/2016 at 09:34:26
Are there many people here based in Dublin? Do you go to watch the games in town with the Goodison Toffees supporters club?

Laurie Hartley
112
Posted 12/09/2016 at 09:35:48
Ernie (#104) – I think Sam needs his software updating.
Surely there is something horribly wrong with those percentages if the most like result is a draw?
Mathematicians and data analysts step forward.
Liam Reilly
113
Posted 12/09/2016 at 09:53:00
See our Rom has been mouthing off again on international duty; apparently because the club wouldn't pay for their portion of a private jet for him and Mirallas.
http://www.football365.com/news/lukaku-unhappy-with-everton-relationship-strained#fb-comments
Fully support the clubs stance on that; there's no way they should be paying for that.
Phil Sammon
114
Posted 12/09/2016 at 09:54:33
Liam 113
Come on fella. Don't believe everything you read.
Brian Furey
115
Posted 12/09/2016 at 10:38:54
I presume this story came from the fact that some of the other Belgian premier league players clubs probably organised a private jet such as Man City and Man Utd so they could have their players back asap for the big game on Sat. Then Liverpool and Burnley agreed to use the same flight. I would imagine the club already had them booked on a commercial flight the following day and so deemed it unnecessary.
At least Rom tweeted that it was BS and so he dealt with it well.
Liam Reilly
116
Posted 12/09/2016 at 10:57:34
You're right Phil; I'm far too cynical lately with all things Everton.
Need to get the glass half-full again, starting with payback tonight.
Dave Pritchard
117
Posted 12/09/2016 at 11:05:15
Rom haters are going to have a field day with this private plane report. Please remember people - the story is in the Mirror.
Stan Schofield
118
Posted 12/09/2016 at 11:15:19
Dave @117: Yes, I thought, oh no, cue another tedious stream of invective against him. It's all got a bit boring, I wish folks could just focus on the positives, and us winning.
John Critchley
119
Posted 12/09/2016 at 11:35:47
BBC online reporting that Lukaku's twitter account says it's all bollocks about the plane, good on you Lukaku.
Dan Davies
120
Posted 12/09/2016 at 11:57:13
Three points tonight please. Then these so called Journo's can have something proper to write about, instead of making shite up!
Brian Furey
121
Posted 12/09/2016 at 12:11:24
I realise you have to be careful reading some newspaper articles but my God the more you dig about Niasse the more you worry how the hell did he make it into our club.
It sounds like his initial big break came about because his Sengalese team mate Ibrahima Sonko told his Turkish club manager to take a chance on him and he paid for this flight himself.
No doubt the lad had amazing pace when younger and that can help you score lots of goals against poor defenders but it sounds the lad has managed to fool a lot of people to big money moves and it sounds like Loko Moscow got him voted best player in Russia to help secure a big move away.
Whilst some might feel sorry for the guy as it sounds he's been found out to be a bit of a fraud or maybe has some other problems, the fact remains that he seems happy to stay and take a large salary as this is probably his nest egg for life.
Sounds like his brother Baye Ibrahima Niasse also has a hard time settling down into a club if you google him.
John Malone
122
Posted 12/09/2016 at 12:51:15
Hope Deulofeu gets some game time tonight – his direct running and crossing ability should be taken advantage of against tall heavy defenders such as Kone!
Steve Hartwell
123
Posted 12/09/2016 at 12:57:58
Aaaaarghhhhh, the wait is killing me, 7 hours to go.

Eugene Ruane
124
Posted 12/09/2016 at 13:25:06
Need a little time-killing pre-game viewing?
From 23:45, a very enjoyable interview with Joe Royle - Link
As ever, Joe is engaging, informative, articulate and intelligent.
And him talking about Alan Ball just reinforces why Ball is (still) my all-time Everton hero.
(What I wouldn't give now for a player who could be described as 'the worst loser ever'.)
Winston Williamson
125
Posted 12/09/2016 at 13:37:07
Just been reading a Sunderland fansite.
They're uninspired by Moyes; think their transfer dealings are shoddy and believe their owner is ripping them off.
Depressing reading.
Hopefully three points to us will make them even more depressed.
Frank Thomas
126
Posted 12/09/2016 at 13:49:02
Moyes will undoubtedly go for a 4-5-1 formation as there was never a Plan B. We however have to fill a gap where McCarthy normally plays or they will attack that area.
I agree with many others, Holgate should stay; remember when Baines came straight back in from injury against Man Utd and we were a complete defensive shambles because he was not 100%? The old adage 'If it is not broke, don't fix (or fiddle) with it" comes to mind.
We could play Davies or Colman in McCarthy's position. I would also bring Bolasie on in the last 40 minutes when Sunderland's defenders are very tired and it would give us more chance of fast incisive play with increased chances of a penalty.
Dave Pritchard
127
Posted 12/09/2016 at 13:58:31
Laurie (#112). There are lies, damn lies and statistics.
It could be that the computer (SAM) gave a percentage to all the possible scores and the most likely score was 1 - 1. "Why then is the probability of a home win greater than this?" I hear you ask.
Here's an example. Let's say the computer predicts that it will be any one of these scores (and no others):
1-0 20%,
2-0 15%,
3-0 12%,
0-0 10%,
1-1 28%
0-1 15%
Then the probability of a home win is 47%, draw 38%, away win 15%. The most likely score though is 1-1 at 28%.
[If you're still reading this post, you are as sad as me.]

Donncha Lynch
128
Posted 12/09/2016 at 14:08:29
Hi, currently on holidays in the Basque Country... Any idea what TV channel might show the match or an internet link? Thanks
Stan Schofield
129
Posted 12/09/2016 at 14:42:08
Eugene @124: I remember arguing with a red circa 1969, and at one point he said to me "The trouble with you is you think Alan Ball's a god". I said to him, "That's because he is".
Dave Abrahams
130
Posted 12/09/2016 at 15:12:13
Stan (129) Bally was brilliant on and off the pitch, never short of an answer, again, on and off the pitch.
I was in Tom McCardle's, a club in Temple Court off Dale Street. Bally was having a good craike with a gang of supporters, Reds and Blues, one of the red fans said to Alan "Smithie will have you in his pocket on Saturday." The derby game was that weekend. Alan turned round and pointed to his arse and said. "That's all Smithie will see of me on Saturday." That's all he did see as well.
Eugene Ruane
131
Posted 12/09/2016 at 15:24:45
Stan (129) -
"The trouble with you is you think Alan Ball's a god". I said to him, "That's because he is".
Coincidentally, that's my main problem with God, she seems to think she's Alan Ball!
Oliver Molloy
132
Posted 12/09/2016 at 15:27:17
Probably the wrong thread for this, but what is all this private jet rubbish all about and Everton's apparent refusal to pay ٤,500 each for Lukaku and Mirallas!
The Belgian FA should pay it, I would have thought.

Shane Corcoran
133
Posted 12/09/2016 at 15:30:27
Oliver, cold you elaborate on your question?
Oliver Molloy
134
Posted 12/09/2016 at 15:33:34
Shane.
Apparently it is reported that a private jet was hired to bring the Belgian players based in Manchester and Liverpool. Everton refused to pay while the other clubs paid the ٤,500 for their players.
Shane Corcoran
135
Posted 12/09/2016 at 16:15:55
To bring them to Belgium for their international game last week?
Kevin Elliott
136
Posted 12/09/2016 at 19:12:05
Is there a live forum tonight.?
Add Your Comments
In order to post a comment, you need to be logged in as a registered user of the site.
Or Sign up as a ToffeeWeb Member — it's free, takes just a few minutes and will allow you to post your comments on articles and Talking Points submissions across the site.