Moyes's bold claim on the eve of Everton reunion

111 Comments [Jump to last]
12 September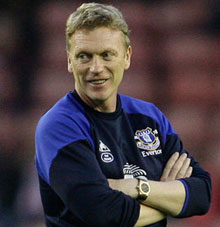 David Moyes says that his Everton side were merely a striker short of being able to challenge for the title before he left for Manchester United.
The Scot spent 11 years at Goodison Park and steered the Blues to a Premier League high of fourth place in 2005, as well as a series of top-eight finishes but was unable to break the "glass ceiling" and qualify for the Champions League group stages.
He took the helm of the reigning Champions in May 2013 but was sacked by United the following April, coincidentally following a 2-0 defeat to Everton, with his new club struggling to qualify for the Europa League.
An unsuccessful spell at Real Sociedad followed before he returned to management in England with today's opponents Sunderland following the departure of Sam Allardyce.
No stranger to tight purse strings and comparatively limited resources, Moyes has been quick to set expectations for this season low for Black Cats fans and he has harked back to the periods of austerity he faced with Everton with his latest comments.
"We had a great team at Goodison but we were missing a centre-forward. We couldn't get the finances to buy one in my last couple of years," he claimed. "I might be exaggerating but I think, with a top centre-forward, we would have been close to winning the league; we were that good.
"I have to be fair. Bill Kenwright was always trying to help me and every penny he had he gave me. I don't have any complaints. It was also a brilliant education.
"It's good to have a bit of money but it's also sometimes good to realise you've got to get out on to the training ground and teach players, build them into a team."
---
Reader Comments (111)
Note: the following content is not moderated or vetted by the site owners at the time of submission. Comments are the responsibility of the poster. Disclaimer
George Stuart
1
Posted 12/09/2016 at 07:53:41
A striker short of a Premier League title?
Yeah, Maradona at his best.
Sam Morrison
2
Posted 12/09/2016 at 07:55:54
Jesus H. I used to respect this guy. Now he talks about himself in the third person and takes the concept of revisionism to new heights – or lows.
Steve Guy
3
Posted 12/09/2016 at 07:58:57
Deluded. We were also a manager short too.
Mike Green
4
Posted 12/09/2016 at 08:00:29
...and a gun.
Robert Elliott
5
Posted 12/09/2016 at 08:01:20
Wow. Just ..wow
Tony McNulty
6
Posted 12/09/2016 at 08:07:23
What a manager!
Adam Gough
7
Posted 12/09/2016 at 08:09:05
Ha. A striker short of the title is the perfect description of this deluded guy! Or a burger short of a happy meal!
Tim Sharpe
8
Posted 12/09/2016 at 08:09:20
If that striker were of a high quality, 20+ a season. Then maybe this claim could have been more slightly more believable, also if this quality striker were actually a 12th man on the pitch.
Then I would buy into this claim.
Brian Williams
9
Posted 12/09/2016 at 08:13:46
He's a sandwich short of a picnic ffs.
Damian Wilde
10
Posted 12/09/2016 at 08:14:37
If he's said 'striker short of challenging for the top 4, fair enough (though he'd have still bottled it) but this is ridiculous.
After two sackings, the wee man is trying to rebuild his battered reputation. Let's make it a hat-trick for the fella.
Nick Armitage
11
Posted 12/09/2016 at 08:15:16
If you look at some of the football played in the run-up to him leaving, we were a striker away from being a team able to beat anyone. I doubt this was enough for a tilt at the title though and if we had have got that striker, what would he have done with it?
Peter Carpenter
12
Posted 12/09/2016 at 08:18:03
What bollocks! Every striker he got his hands on scored freely to begin with, then, once they had benefited from a season of his coaching, they stopped scoring – Johnson, Yakubu.
Mike Corcoran
13
Posted 12/09/2016 at 08:18:17
We were always a striker short cos he ruined them on the training ground.
Steve Hopkins
14
Posted 12/09/2016 at 08:22:39
Didn't he have that striker in Yakubu a few years back in arguably a better team and yet we still didn't win the league?
Kevin Rowlands
15
Posted 12/09/2016 at 08:29:58
Away league games vs Utd, Arse, Chelsea and the RS in his 11 year tenure, Forty Four games, ZERO wins, but hey we could have won the league with a decent striker? The man is a delusional fool, he'll take them down and then say at the end of the season that he did warn them, I hope we fucking batter them tonight, can't stand the man.
Paul Tran
16
Posted 12/09/2016 at 08:30:23
Hahahaha hahahaha!
John Malone
17
Posted 12/09/2016 at 08:30:39
Yakubu scored 20... then he got told as well as score goals you've got to track back, tackle and press all in the same game!
Then the goal's dried up!
Steve Woods
18
Posted 12/09/2016 at 08:32:49
Wry amusement during my cornflakes reading that. Oh, and speaking of flakes...
Anthony Dwyer
19
Posted 12/09/2016 at 08:35:28
I don't think we were only a top striker short of winning the league, but I've always said we were a top striker short of top 4.
We finished 4th with a Championship striker up top, Marcus Bent, plus we finished 5th a number of times with Anichebe, Vellios, Beatie, and Stracqualursi up top.
Swap any of these for a Suarez or Torres from the Red Shite's side (a 㿀m striker), and surely we would be 10-20 points better off.
We wouldn't have won the league, but would that not be challenging?
Paul Tran
20
Posted 12/09/2016 at 08:45:33
Broke our transfer record twice for strikers, three times if you count the battering ram called Fellaini.
Maybe he could have spent the Beattie and Davies money on a decent striker?
Surely his marvellous thorough scouting network could have found a good up and coming striker as others' have?
Was unlucky with Yakubu's injury, though.
Still, all grist to the mill in his latest 'I would have been great but for lack of money' nonsense that is unfortunately pedalled by too many on here.
Steve Hopkins
21
Posted 12/09/2016 at 08:51:33
These days he sounds like a desperate man who's lost the plot and is desperately clinging onto his most successful time which was at Everton, what with this nonsense striker talk and comparing Sunderland to us.
Having said that, I will always be grateful for what he did, his arrival was a breath of fresh air that blew away the cobwebs of the Walter Smith and Kendall Mk 3 eras and saved us from potential oblivion. Shame that he seemed to let it all go to his head
Paul Mackie
22
Posted 12/09/2016 at 08:56:45
Take off your Moyes hating glasses for a minute and he almost has a point. IF we'd had someone with the ability of Rooney at his peak AND a manager who actually knew how to get the best out of strikers then yeah, we could perhaps have been a force to be reckoned with.
Not a chance with Moyes in charge though, He literally ruined every single forward who played for him (except Saha who was already broken when he arrived).
Dave Abrahams
23
Posted 12/09/2016 at 09:03:46
The money he has earned from football, he is without a shadow of doubt the luckiest manager ever. So much money from so little talent.
John Daley
24
Posted 12/09/2016 at 09:06:12
I'm still wheezing like that old guy in the wheelchair out of Breaking Bad after Moyesie's declaration. (Except I don't have a bell to 'Ding Ding Ding' for help and the wife's away for the day, so I'm relying on one of you lot to make sure I'm not dead. Say, a pre and post match post from somebody asking what shade of purple I am?)

Paul Tran
25
Posted 12/09/2016 at 09:06:44
Got nothing to do with 'hating' Moyes, Paul. Your last paragraph smacks the nail firmly on the head.
A good manager with limitations. Exposed the moment there were any expectations here and exposed when he had a big budget and genuine expectations at Man Utd.
I can't hate a man who delivered me a four-figure sum!
Kevin Rowlands
26
Posted 12/09/2016 at 09:07:21
Shit like this makes me so thankful Moshiri came along, you just know him and Luvvie have had this conversation before. No doubt in my mind that he would be our manager today if Kenwright was calling the shots.
Richard Dodd
27
Posted 12/09/2016 at 09:11:37
Already a multi-millionaire, he should have given up 'chasing the money' and settled with winning a title for Celtic, his first love!
Peter Carpenter
28
Posted 12/09/2016 at 09:17:39
David Moyes & Tony Blair – masters of delusion.
Kevin Rowlands
29
Posted 12/09/2016 at 09:25:40
Maybe he has a point come to think of it, I mean how can it be possible that any team with that supreme footballing talent Phil 'wavy fists' Neville as your captain and leader not win the EPL?
Okay, Ginge, I'm on board – it must have been the lack of a striker!

Derek Turner
30
Posted 12/09/2016 at 09:28:40
Dave 23, we are good with lucky managers, I think OFM's £10 mil payout is up there with OFFM's 10-year pay deal! Next, we should hire Scholari!
Eddie Dunn
31
Posted 12/09/2016 at 09:34:06
He had to say Kenwright was great to him, as Bill let him fuck our club over, running his contract down and getting a Goodison send off. Too chummy by far, and he might still be thinking of his next job in football!
Teddy Bertin
32
Posted 12/09/2016 at 09:43:08
We'll never know whether Moyes's philosophy destroyed the careers of strikers or whether those strikers came to Everton for a pay day and never fully invested themselves in the club.
Regardless of what the truth is, Moyes is right that 25 goals from a top striker would have put us right up there in some of his seasons in charge. Whether Aguero or Suarez would have been able to get 25 goals in a Moyes team at that point is a different story.
Liam Reilly
33
Posted 12/09/2016 at 09:45:40
Sweet Jesus; can he be serious with these comments?
The only thing we were ever close to with Moyes in charge was a dammed good thrashing every now and again.
Peter Roberts
34
Posted 12/09/2016 at 09:57:43
Moyes saying he was a striker short of winning the league is like a Greek man moaning that he hasn't got a plate to eat his dinner off – after spending the night smashing all the ones in the cupboard.
You can tell Moyes was a centre-half because he hates strikers – he inherited a title winning front line at Man Utd and made them look like yard dogs.
He's coming across as a very bitter man who realised like many that after Everton it just doesn't get any better.
He's starting to sound like Carl Froch with his 80,000 fans at Wembley nonsense.
Barry Sherlock
35
Posted 12/09/2016 at 10:06:12
We didn't need to win the league you soft prick!
A cup would have done! Any cup. The League Cup, FFS, for the first time in our history – would have people on here defending you all day long!
11 years. Not a thing.
3-0 at home to Wigan. I will NEVER forgive you for that.
You're a bottler. A choker who will only ever compare to Fat Sam and the likes. You love a ground out draw. A nil-nil and you're dancing down the tunnel.
Rant over.
Kevin Rowlands
36
Posted 12/09/2016 at 10:13:28
Oh boy do I remember that Barry, one of our rare chances to actually win something under him and he gets outsmarted and out coached by the footballing genius that is Roberto Martinez. And as for that sublime pass by our on-field leader for Wigan's second goal, don't get me started!
Steve Hartwell
37
Posted 12/09/2016 at 10:14:22
Oh dear, oh dear, oh dear. Davie boy, you sound crazy.
Stan Schofield
38
Posted 12/09/2016 at 10:15:24
Considering he doesn't manage us now, he talks about us a lot.
Steve Jones
39
Posted 12/09/2016 at 10:19:27
Give him his due the 08/09 team before Yakubu nearly had his career ended and before Lescott was tapped up was a side that could play good football and give anyone a game.
Thing that makes his statement unfathomable twaddle though was what actually happened. We had no depth. We lost Jags, Arteta and then Yak and had nothing in reserve to backfill. We needed a damnsight more than just a top drawer striker as history actually demonstrated.
Andrew Ellams
40
Posted 12/09/2016 at 10:23:32
And this coming from the man who left us to manage the reigning Premier League Champions and led them to 7th place.
Ryan Payne
41
Posted 12/09/2016 at 10:23:57
Got to say, I can understand where Moyes is coming from. Maybe not Champions, granted, but I would say top 4.
As another comment on here says, imagine a Torres upfront with the squad we had, or even a Lewandowski when he was earmarked for a move to Blackburn before the Icelandic ash clouds put paid to the move. This site doesn't give Moyes the credit he deserves. It took a season and a half for one man to undo all of Moyes's 10 years of work, yet the fans are so ready to lambast him.
I feel as if people have forgotten what the 1990s and early 2000s looked like for Everton. Football is all ifs and buts, but you've got to acknowledge the context of this comment, coming just four months after a Leicester side, no more talented than a Moyes Everton team, won the league.
Give the guy a break, I see on here enough about the 'Everton way' and manner of business, and this bitterness towards David Moyes certainly isn't attractive or beneficial. Good luck at Sunderland, after tonight that is.
Eugene Ruane
42
Posted 12/09/2016 at 10:31:13
He's certainly popular up there, was in Sunderland a week ago and saw a feller with a tattoo of Moyes wearing a Sunderland top.
Craig Walker
43
Posted 12/09/2016 at 10:31:29
We weren't even one striker short of winning the cup final in 2009.
I was one date away from marrying Charlize Theron back in 2005.
Eugene Ruane
44
Posted 12/09/2016 at 10:33:25
Still feel bad about that Craig but I didn't force her to choose me.
Steve Hogan
45
Posted 12/09/2016 at 10:44:53
Oh you lucky lucky man, around 13 years managing in top flight football at home and abroad must have amassed him around £25m (including his payoff from United).
It's bad enough suffering at the hands of one delusional fool (a la Roberto) but to have two recent managers in charge of affairs at Goodison makes me wonder did we run over twenty black cats?
He stabilised us at a time we needed it, and made us hard to beat on a number of occasions, but Jesus, he comes out with some shit.
If you were a Sunderland fan, you could find yourself in a very deep depression very soon.
Where's the inspiration Davie?
Drew O'Neall
46
Posted 12/09/2016 at 10:55:11
I think he's talking about the team in his final year. I always thought we were a striker short of a top four team; however, it wasn't beyond the wit of man to get one. If he had shipped out some dead wood like Heitinga and Co, or sold a valuable asset like Fellaini and brought in Lukaku on loan like Martinez did then it would have been a different story.
But the guy – and to be fair to him, the 'visionaries' upstairs – collectively weren't positive or imaginative enough to do what was required. In that sense, Martinez was a breath of fresh air when he joined.
Drew O'Neall
47
Posted 12/09/2016 at 10:57:27
John Raftery
48
Posted 12/09/2016 at 11:03:38
Predictably this thread has brought the anti Moyes brigade out in force. The words in the article were 'being able to challenge for the title' not actually win the title. I believe if we had had a top striker instead of the injury prone, inconsistent forwards such as Saha and Anichebe we would have been challenging for the title.
People forget we finished 5th in 2008-09 with 63 points despite Yakubu being unavailable from November onwards, Anichebe being unavailable from February onwards, and Saha constantly having to be managed through his various niggling injuries. We only scored 55 goals that season. Another 10 or 15 would certainly have had us in contention.
In the final 7 seasons of the Moyes era, our average finishing position was between 6th and 7th despite only once reaching 60 goals in a season. A top quality striker would have given us the edge in some of the many matches which were drawn – 66 in the final 5 seasons under Moyes.
Steve Hopkins
49
Posted 12/09/2016 at 11:28:43
John @48 – this is going to sound childish but... he started it. Why is he still talking about us? 3 seasons and 3 teams later (with 2 sackings for good measure) and he still wants to talk about his one success story and even that story ended without any silverware.
It smacks of a guy whose career has gone drastically backwards.
Eugene Ruane
50
Posted 12/09/2016 at 11:33:20
John (48) - '
Predictably this thread has brought the anti Moyes brigade out in force.'
When I saw the content of the thread, my concern was a little different.
I thought 'Hmm, I don't like the look of this, there's a good chance this thread could attract those who, Daily Mail-style, lazily add 'brigade' to describe two or more posters who won't see things the way they do.'
Maybe I'm sensitive because as a member of the PC brigade, I was told by my brigade leader that I couldn't be in the Moyes out brigade at the same time.
Personally, I can't stand those who demand we pay for a service to extinguish large blazes and rescue cats from trees - bloody fire brigade..brigade.
Paul Tran
51
Posted 12/09/2016 at 11:41:49
This 'hater' stuff is getting on my nerves.
Moyes has made a statement saying if we'd had a decent striker, we'd have been challenging for the league. I completely agree with him.
Who was the manager at the time? Who spent (at the time) big money for three strikers? Who could have shipped out players he rarely played to make room for a better striker?
It's nothing to do with hate, it's about pointing a few inconvenient things out.
I don't hate him, I just think he was extremely over-rated and benefited from what went before him and a lack of ambition within the club and fanbase.
Good luck to him after tonight.

Alex Mullan
52
Posted 12/09/2016 at 11:46:31
This is just getting annoying now. It's like going your separate ways with a girlfriend when you were 17 and finding out she's talking about you 10 years later. There's Something About Mary level of creepy stalkerness.
I'd be mortified if everything Koeman said had some sort of reference to his 'glory days' at Southampton. I bet every story Moyes ever says now begins with... "This one time, at Everton..."
Peter Roberts
53
Posted 12/09/2016 at 11:51:30
IMPORTANT NOTE:-
For those of you who think he has a valid point... that he did just need a top striker and he could have "challenged" – it would have made absolutely no difference.
The man had a footballing philosophy that made strikers "sacrificial" for the greater good of the team.
This is why it made no difference if Marcus Bent or Wayne Rooney played up front for him. All he wanted from a striker was to create space for the likes of Tim Cahill or Fellaini. One season we had a decent return from a striker under him and that was Yaks first one where he actually used Johnson as a foil.
Good strikers were wasted on him, it would be like buying a Ferrari for someone who used his car to tow a caravan.

Scott Hamilton
54
Posted 12/09/2016 at 12:18:00
Reminds me of "Don't You Want Me?" by The Human League. The Moyes remix:
"You were struggling at the bottom of the Premier League
When I met you
I picked you out, I shook you up
And turned you around
Turned you into something new
Now three years later on you've got the world at your feet
Success is on the horizon for you
But don't forget it's me who put you where you are now
And I can put you back down too.

Don't. Don't you want me?
You know I can't believe it when I hear that you won't see me
Don't. Don't you want me?
You know I don't believe you when you say that you don't need me"
Etc.

David Nicholls
55
Posted 12/09/2016 at 12:20:59
I think he has a point. I would have enjoyed seeing the side from Moyes's final season plus Barry and Lukaku. That said, I don't think Moyes would have had the silver tongue to persuade Lukaku to join.
Instead of telling him that he's "a phenomenal Belgian Diamond in the embryonic stages of world class career with the ability to demonstrate his personality out on the pitch"
It'd have been:
"Right son If you work hard, hit the sand dunes, put a shift in the right wing for 6 months to prove yourself, ye can have Vic's place up front."
Back to West Brom he goes!

James Hughes
56
Posted 12/09/2016 at 12:23:52
Never mind a striker short, he is a sandwich short of a picnic.
Eugene Ruane
57
Posted 12/09/2016 at 12:25:15
Ranieri and Leicester winning the league says his finances 'point' is bollocks.
I admitted I was dead wrong, Link he apparently can't.
Ste Traverse
58
Posted 12/09/2016 at 12:40:34
He is one deluded prick. What I hate about him is his false confidence like pitching up at Sunderland saying he has 'nothing to prove' when he was quickly sacked from his two previous jobs, saying he 'didn't fail' at Man Utd because he 'wasn't given enough time to succeed or fail' and claiming he has the 'best transfer record' of any manager in the Premier League era. (Simon Davies, Per Krøldrup, anyone?)
I believe his confidence has been smashed by his utter failures at his last 2 jobs and he's putting on this false front, and having had a look at one or two of the Sunderland forums, some their fans are already pissed off with his constant negative comments and his damping down of expectations.
Paul Bromley
59
Posted 12/09/2016 at 12:40:37
We weren't 'one good striker' short, more like 'one good manager'.
Kevin Rowlands
60
Posted 12/09/2016 at 12:59:57
Predictably posters like you come out as well John R, Moyes and posters that defend him are like the delusional gambler who goes into the bookies and loses his arse each week, then comes out and tells anyone that'll listen if only I'd have bet the other horse, if only it had run faster, if only the jockey hadn't of fucked up.
You know kind of like if only I had a top striker, if only they gave me more money, if only Man Utd gave me more time, if only Sociaded had Messi and Suarez... always a built-in excuse and blame something or someone else for failure.
Want a dose of reality? Go to his Wiki page and scroll down to his honours to see what his teams have actually won as a manager AND player, you could write it on the back of a fucking postage stamp and still have plenty of room left, but hey, if only eh!
Tony Marsh
61
Posted 12/09/2016 at 13:03:54
I remember a few years back now myself and others getting slaughtered on here for having the audacity to slag off David Moyes. I knew very quickly he was a one-trick dour yard dog. Certain people just wouldn't have it.
Now, it's fair to say that Moyes has been well and truly exposed. Didn't Moyes get sacked by the wealthiest club on the planet? They had strikers surely?
Get the penknife out, Davey, the AK-47s are in town tonight.
Craig Walker
62
Posted 12/09/2016 at 13:06:32
David Hallwood
63
Posted 12/09/2016 at 13:14:17
Give the ginger/grey one his due. He could organise a defence and I thought we were onto something when Donovan was playing and we had Bainaar in it's prime.
But hey oh yet another false alarm...
John Daley
64
Posted 12/09/2016 at 13:16:17
In little over a year he spent £20m on Andy Johnson and Yakubu. Eighteen months before he spent £6.5m on James Bigtitties.
He spent £24m on Bilyaletdinov and Fellaini, two players who didn't even know their proper position, never mind Moyes having the foggiest.
He spent £7.5m on Jelavic, christened him his 'silent assassin' and said he was Davor Sukor reincarnated, just with the face of Dobby the House Elf and a six month expiry date.
He had money to buy a decent striker. He just never did. 
Some he opted for were nowhere near good enough to start with, some flattered to deceive, others were misused whilst here. Whatever the reason, all are right there in the Bad Buys Brigade after failing to rip shit up.
Sam Barrett
65
Posted 12/09/2016 at 13:18:08
Moyesie, you had one, mate.... Rooney. But you let Bill sell him to the Mancs
Steve Ferns
66
Posted 12/09/2016 at 13:22:13
Roberto came in and took Moyes's team and built upon it, without spending any real cash (loans in the style of Moyes) and bettered any season Moyes did by 7 points. It was our fourth highest points total of all time (yes I know 2 for a win and all that, but still).
Hopefully Koeman can be even better than a marrying of the two extremes, overly dour Davie, and overly positive Roberto, and produce a season like that first transitional one of Roberto's.
When you look at the 70-point side, the team we have now are all better than what we had then (bar Baines who had a poor season that year , Oveido baby, and Barry who was only just past his prime back then).
I'd take the keepers now over then, Coleman should be hitting his prime now, Young Stones is akin to Holgate; Jags, Williams and Funes Mori are better than Ditsin, Jagielka and Alcaraz; midfield is better, Barkley is better, the wings have more, and Lukaku is better.
Only flip side is I think everyone else in this money rich league is better than they were back then.
Frank Banterwaite
67
Posted 12/09/2016 at 14:06:51
Steve @49 he is talking about us because he was asked a question by a journalist about his time at Goodison and whether he felt things could have been different had he had the money to spend that Martinez spent on Lukaku.
I remember the 90s with Kendall Mk 2 and 3, Mike Walker and Walter Smith and I will be eternally grateful for what Moyes did in not only stopping the decline, but turning us back round and establishing us as a top 6 side.
Zac Farbrother
68
Posted 12/09/2016 at 14:11:58
@John Daley 24 - Love the Breaking Bad reference! What shade of purple are you currently at?
Les Martin
69
Posted 12/09/2016 at 14:13:41
There is no denying that he turned us around from being possible relegation fodder to a well organised hard to beat team, therefore we should thank him for that.
The problem with Moyes is that he was always too frightened of losing games rather than winning them, hence so many draws.
Kristian Boyce
70
Posted 12/09/2016 at 14:27:07
This sounds more of a dig at the leadership of the club, that they didn't give him the money to be successful. While being partly true, the two following managers have done pretty well following the sell-to-buy model.
The fact is the Lukaku money was generated from the sale of Fellani to Moyes's Man Utd. Martinez used that money to invest in a quality player. Moyes had that opportunity in the past with the Lescott sale, as well as spending big on Yakubu and Johnson.
Out of the 11 years with us, the one season with Yakubu banging them in was the best he got from a forward player. The reality is that he had spent millions on trying to find a top quality striker and failed.
Also, how he set his teams up didn't focus on a main striking outlet, with the one forward player he used being directed to hold up the play or 'run the channels'. He could have had the best striker in the world but how he sets teams up doesn't focus on their goalscoring threat. Did any of his Man Utd or Real Sociedad players score 20+ goals in his tenure there?
Peter Roberts
71
Posted 12/09/2016 at 14:50:45
Rooney 19 in 40 games - closest.
Kevin Tully
72
Posted 12/09/2016 at 15:16:21
The day 30,000 or so Blues clapped & cheered an Everton manager who hadn't won a solitary pot on his way out to a rich Man Utd sickened me to be honest.
It seemed some were so accepting of our mediocrity they actually revelled in it. Some supporters don't realise, but 6th is viewed as mid-table by Champions League clubs and I wholeheartedly agree. Ask one Neville Southall what he thinks of a 6th place finish?
This post has nothing to do with Ginge really, the fact some of our fans still celebrate the fact BK & Moyes "steadied" one of the biggest clubs in English football is vomit-inducing.
Frank Banterwaite
73
Posted 12/09/2016 at 15:26:36
@Kevin Tully,
Finishing 6th out of 20 clubs can in no way be viewed as mid-table finish no matter how you try to spin it (unless your maths is very bad). Also ask Neville Southall what he would have given for a 6th-place finish anytime between 1991 and 1998 and he would have bitten your hand off for it.
Nathan Rooney
74
Posted 12/09/2016 at 15:36:35
Gollum – to put this in terminology that you may understand – "Yer bums oot the windae!"
Obviously the northeast smog is getting to him – jog on, Ginge, and stop talking nonsense for a second.
He stabilised us, nothing more, and eventually held us back from kicking on, aided and abetted by Chairman Bill and Bob the Bungler.
Beside the fact that he destroyed every striker that he ever had, he never had any belief in the team or what we should be aspiring for as a club, and as soon as Uncle Alex rattled the nuts at OT, the liar shot off like a rocket down the East Lancs, conveniently sans contract at Everton
"Och, Soorry Billy pal, I dinnae ken sign that contract, ma wee little poodle called Knifey, ate it. Oooopppppssssyyyy. I'm ooota here, gota see ma auld mate whiskey face aboot a bit of work goin in Trafford!"
The man is a complete shithouse (both in a football & moral sense), and the sooner he stops talking about Everton playing like fuckin Barca when he managed us, the better.

Kevin Rowlands
75
Posted 12/09/2016 at 15:41:11
Frank, seeing you mentioned his name maybe you should ask Big Nev of his opinion on Moyes. And while your at it, go and have a word with Kev Sheedy and see what he thinks of him, I think you will find the answer from both of them would be a complete and utter twat.
Frank Banterwaite
76
Posted 12/09/2016 at 15:49:47
And everyone is entitled to have their own opinion Kevin, doesn't mean they are right (or wrong) - there would be as many or more ex players that defend Moyes as there are those that attack him.
Kevin Rowlands
77
Posted 12/09/2016 at 15:58:24
Frank, do you think it was ok for him to shun our greatest manager ever and never bother with him in his whole time at Everton? In fact, it was Martinez that made Kendall welcome back at Finch Farm, that is well documented.
Mal Smith
78
Posted 12/09/2016 at 16:06:37
Moyes was a great manager for us and will be for Sunderland and if he says that was what he needed to win the title I accept he was right.

I would agree that we would have been a Champions League team if he had the money. If Koeman does as well as Moyes then he will do well.

A lot of my fellow Blues have very short memories and sometimes make me feel ashamed. I wish Moyes well I know he will do well at Sunderland but not tonight.
Frank Banterwaite
79
Posted 12/09/2016 at 16:18:15
I think that is totally irrelevant in terms of this conversation but, judging on how Martinez did in comparison to Moyes, then maybe he would have been better off 'shunning' him as well.
Peter Laing
80
Posted 12/09/2016 at 16:26:52
11 long years, turned Everton from perennial relegation candidates into a team that was capable of securing a top half finish and the odd European adventure. Moyes lieutenant Pip Neville revealed the modus operandi of the Club when he astoundingly revealed that finishing 10th was an achievement for Everton. Reaching 40 points appeared to be the target and anything more I would guess was seen as a success by many within the Club.
Moyes and Kenwright where good for each other, a bit like Arkwright and Granville. It's refreshing to see that Everton are moving forward and hopefully Kenwright will sell up the remainder of his shares and we can move on from the parochial, corner shop and low expectations of previous years.
Dave Pritchard
81
Posted 12/09/2016 at 16:28:27
Kevin 77, glad you've reminded us of that very good move by Martinez re Kendall. Shows that – in spite of the abuse Martinez now gets on here – he was not all bad.
It always puzzles me when as soon as someone leaves the club they tend to come in for extreme levels of abuse from some posters. This doesn't mean I think Martinez and Moyes were both fantastic managers for us, just that it is not the case that they contributed nothing to the club.
Paul Tran
82
Posted 12/09/2016 at 16:28:45
Frank, you could argue that Martinez 'had the money to spend on Lukaku' because the club got close more than that amount for Fellaini and Anichebe. What stopped Moyes doing that?
Don Alexander
83
Posted 12/09/2016 at 16:42:47
Dave Pritchard (#81), Martinez contributed to Everton in the same way Mussolini contributed to Italy by improving the Italian railway system.
Andrew Clare
84
Posted 12/09/2016 at 17:18:58
I agree 100% Kevin. To me, Moyes was a symbol of the fall of Everton from being one of the biggest clubs in England to mid-table mediocrity. A very badly run club for nigh on 25 years. Terrible managers just prior to Moyes flirting with relegation and then 11 years of mid-table obscurity. We are still looked at as a mid-table club now mainly because we have become one.
I feel Koeman means business but I know there will be hiccups along the way – hopefully not tonight. It's going to take a lot of hard work to get us back to the top. Everton are a huge huge club and, as Ronald has said, anything is possible with Everton.
Moyes is just a small time manager who was lucky to be under a small time chairman. I hope we illustrate that tonight on the pitch.
Kevin Rowlands
85
Posted 12/09/2016 at 17:19:40
Oh and btw Frank, whilst I agree Nev Southall was definitely unhappy with bottom half finishes, I will guarantee you if you asked him would he trade for sixth he'd laugh in your face, the man was a winner and only believed in coming 1st or winning trophies.
John Otway
86
Posted 12/09/2016 at 19:13:51
Kevin 85. How can you guarantee what Nev would say? That's up there with "I literally laughed my head off"!!
Frank Banterwaite
87
Posted 12/09/2016 at 19:14:57
Andrew Clare - I take it you didn't follow Everton pre Moyes time at the club if he is 'a symbol of the fall of Everton'?
Everton's finishes prior to Moyes:
12th, 13th, 17th, 15th, 6th, 15th, 17th, 14th, 13th, 16th, 15th
Everton's finishes with Moyes:
7th, 17th, 4th, 11th, 6th, 5th, 5th, 8th, 7th, 7th, 6th
How you can say that was a symbol of the fall of Everton under Moyes is completely ridiculous.
Kevin Rowlands
88
Posted 12/09/2016 at 19:27:52
John Otway, first of all, have your seen any interviews with him and read his blogs? Secondly I actually went to the same school as him in Llandudno, Ysgol John Brights, I was about 3 years behind him. I personally don't know him but knew his younger brothers Steven and Boo.
One of my good friend's sisters was married to him for many years. My best mate at home – who is a massive Evertonian and whose son plays for Wrexham so he is heavily involved in North Wales soccer – knows him personally so yes I do have connections that know Neville so I have been told certain things over the years.
And I can guarantee that no chance would he have been happy finishing 6th on a regular basis, you still laughing, pal?
Damian Wilde
89
Posted 12/09/2016 at 19:29:53
More Moyes soundbites:
"Sunderland manager David Moyes: "I see something similar between the clubs, but I don't want to be banging the drum every day saying 'Everton this, Everton that'.
"I'm only using it as an example to say if we can follow that route, we will not be far away. That will come from getting the recruitment right, and getting an understanding of the players we need to bring to the club.
"I'm hoping we can get that over the coming windows."
Maybe he's been learning from, Bobby. Incredible quotes there.
Dave Pritchard
90
Posted 12/09/2016 at 19:36:48
Kevin, ysgol John Brights eh? I was at Friars in Bangor. My old man worked with Nev's at Hotpoint in Llandudno Junction. Remember Nev playing for Llandudno Swifts and very briefly for Bangor City who I followed as a kid.
John Daley
91
Posted 12/09/2016 at 19:40:14
Zac (@68),
Not yet turned lilac but seem to have lost all vision in my left eye, jaw is permanently locked open and my arse is long gone:
It'll be like seeing the game through fucking Jeff Stelling's eyes tonight.

Kevin Rowlands
92
Posted 12/09/2016 at 19:47:39
Yep Dave, I'm from Conwy, live in the States now, have done for 30 years but the rest of my family still live in Deganwy, Llandudno, Chester and Manchester. In fact not only do I have some connections who know Nev but one of my pals is married to Eddie Neidzweiki's sister.
I also went to Catholic primary and middle school with him and my old man and his were drinking pals in the British Legion in Conwy. I think I remember going to Friars to play rugby when I was in Loretto in Llandudno. Are you still living in North Wales, mate?
Darren Hind
93
Posted 12/09/2016 at 19:50:25
An awful lot of those saying how right they were about Moyes were on here shouting down anyone and everyone who saw right through Martinez. Pair of Jokers. with Moyes marginally less funny.
Evertonians are always too quick to offer their undying devotion to the guy who gets paid a fortune to bring us success. It's already happening with Koeman before he's got his coat off.
I'm cautiously hopeful about Koeman, but if he bounces out of the traps, he will only be doing what the last two did.
Let's get behind the team. We can always praise the hired hand who picks the team if he wins something, but please, not before.
Bobby Thomas
94
Posted 12/09/2016 at 21:01:24
We were a top-class striker short of having a proper go for the top 4. I think that's fair. Title is clearly nonsense, we had no depth.
As for Yakubu, that was a cracking side and was shaping up nicely for a dart at the top 4, then Yak did his achillies after one season. Arteta did his knee, so did Jags. Kick in the bollocks.
Roman Sidey
95
Posted 12/09/2016 at 22:04:49
If Moyes couldn't challenge for the title with his ٟm secret weapon Gueye, he's never gonna win anything.
Fitting that, after Moyes makes this claim, a world class striker tears his side apart with a hat-trick.
Max Fine
96
Posted 12/09/2016 at 23:57:22
I guess this is the kind of tripe he's going to have to churn out now he doesn't have his friends in the media blowing bubbles up his arse for the magnificent achievement of finishing seventh every season with lowly Everton. He was taking credit for spotting John Stones to anyone and everyone who would listen a few months ago.
We may have had a crack at the top four with someone like Lukaku whilst he was manager it's true. But what he fails to acknowledge is that his dire brand of football ensured no established 20-goal-a-season striker would ever have joined us to run the channels when he was in charge.
Jonathan Miller
97
Posted 12/09/2016 at 23:58:34
One player short – Ronaldo...
Mick Davies
98
Posted 13/09/2016 at 02:29:34
He took over a side that had just won the title and fucked it up
Anto Byrne
99
Posted 13/09/2016 at 03:46:18
What's that song? Oh yeah...

"Dreamer... your nuthin but a dreamer."

Lol
John Graham
100
Posted 13/09/2016 at 19:25:33
Well if you look at the strikers we had during his time, I would have to partially agree with him. Our midfield often matched that of the opposition and the defence was usually quite solid but we rarely scored enough to win games consistently.
I think during his time Fellaini was his biggest transfer at £15 million. Maybe he would have needed two or maybe three quality attacking players, but it was still up to him to find them.
If you look at the attacking players around now, like Vardy, Mahrez, Mane, Payet, it shows there are players out there who don't cost the earth who sometimes are worth taking a chance on.
Jim Hardin
101
Posted 13/09/2016 at 22:30:32
Dammit! I came back to this article and what do I see? A post by Darren Hind that not only can I not disagree with but actually completely agree with.
Please stop this right now, Darren. The whole thing makes me uncomfortable.
Barry Jones
102
Posted 14/09/2016 at 03:44:34
Dave Pritchard, Kevin Rowlands, I played against both Llandudno Swifts and Bangor City for Mold Alex and Holywell Town many years ago. I also played briefly with Llandudno, alongside Eddie Neidzweiki. We used to pick him up in Conway or Llandudno junction as far as I can recall.
I also toured Germany (Rhine valley area) with North Wales U19's and Eddie Neidzweiki was my roommate. I am also abroad now in Canada. When I return to Wales I stay at my old school friend's hotel in Criccieth. His name is Ian Edwards, who played for WBA, Palace, Wrexham and Chester. He tells me that he still sees Eddie at Chester races each year.
Dan Egerton
103
Posted 14/09/2016 at 04:51:20
"The day 30,000 or so Blues clapped & cheered an Everton manager who hadn't won a solitary pot on his way out to a rich Man Utd sickened me to be honest."
100% Agree.
"It seemed some were so accepting of our mediocrity they actually revelled in it ... This post has nothing to do with Ginge really, the fact some of our fans still celebrate the fact BK & Moyes "steadied" one of the biggest clubs in English football is vomit-inducing."
It was a cringe-fest, that day. Never forget it. IMHO Moyes was good for 3 years and should have been dumped after that, and definitely when we failed to win the FA Cup vs Chelsea.
Andrew Clare
104
Posted 14/09/2016 at 07:09:23
Frank (#87),
I have been an Evertonian since the early sixties. I am aware that we flirted with relegation prior to Moyes taking over – a disgrace for a big club like Everton – because of a series of poor managerial appointments by a clueless board. We should be challenging for trophies.
Then Moyes is appointed and does a good job for 3 or 4 years. After that, he is retained for too long, showing the complete lack of ambition from our Board. The media hype him up in the same way as the do with our young players, insinuating that they would do better at a big club. He buys it. Believes the hype and moves to Man Utd where he is found out to be very limited.
It wasn't Moyes's fault, it was our Board's fault that in my opinion he became the symbol of the fall of Everton. Although the seasons that preceded Moyes had been worse, we had by then accepted under Moyes that the best we could do was achieve a 6th- or 7th-place finish which is just not good enough for a club like Everton, as far as I am concerned.
Paul Kelly
105
Posted 14/09/2016 at 07:36:56
Agreed Kevin Tully.
Glad to see him fail, and ain't ashamed to admit it.
David Donnellan
106
Posted 14/09/2016 at 08:05:04
I will be grateful for the job he did in pulling us back up from a very dark period in our history, before he arrived we had become a joke & it looked only a matter of time before the trapdoor would open up on us. So credit where credit is due on that & no I ain't a hater.
However, he probably stayed on a little too long. Without a doubt he was limited, he was more concerned about what the opposition were doing than what we were going to do in a game and as has been mentioned many times on these pages over the years, he bottled the big games & left us all feeling pig sick.
The moment he decided that Man Utd were better than Everton (personally I think that was the job he always wanted) was the moment I lost respect for him. He couldn't get out of Everton quick enough & we applauded him on his way to join a rival. We all know how he behaved towards Everton after he got to the glory hunters team.
Watching the game Monday & seeing how Sunderland set up & played against us, reminded me of watching ourselves playing against the likes of Man Utd away durng Moyes's reign. We are in a better place without him now. IKWT.
Someone above pointed out that if you look at his Wiki page, you will see he has won next to nothing in his career, which is spot on. He really has been hyped up by the media from his tenure with us. After his last 2 jobs his reputation has taken a bit of a knock, if he fails at Sunderland I don't see where he goes after that.
Kevin Rowlands
108
Posted 14/09/2016 at 12:21:01
Alright, Barry, sounds like you played at a pretty high standard of footy yourself! I was thinking about some of the great talent that has come out of North Wales, especially around our age, with the likes of Joey Jones. Ratcliffe, Nev, Eddie N, Rush, Hughes, Speed, Mickey Thomas even ickle Mikey or is he from Chester.
Out of interest, did you ever play against Ian Rush as Flint and Holywell/Mold are so near ? I love going back to North Wales whenever possible, it's such a lovely place. Getting home sick now!
Gary Reeves
109
Posted 14/09/2016 at 13:34:06
Dan (#103),
Agree with all your points there, mate, except you saying "after failing" to beat Chelsea in The Final. My point would be that we were "never going" to beat Chelsea,in that game – not even with a goal start. Moyes just never installed that belief and daring into his teams. And he never will.
Barry Jones
110
Posted 14/09/2016 at 17:30:59
Kevin, I never played against Ian Rush as he was a couple of years younger than me but I played against his brother's, Stef and Gerald (aka 'Popsy"). I have been fortunate to play with and against some very good players over the years. I only quite a few years ago as I needed a hip replacement.
My friend Ian Edwards played with Rushie at Chester when he was just coming through the ranks. We bumped into him at the bar of Northop Golf club a few years ago and had a chat.
Ian also sees Kevin Ratcliffe from time to time. I went out drinking a few times with Joey when he played at Wrexham with Ian. Joey is an absolute nutcase!
I was back in July and played golf at Porthmadog a few times. I agree with you, the scenery is stunning. I never tire of driving around North Wales.
Kevin Rowlands
111
Posted 14/09/2016 at 18:31:23
Yep, Barry, some people there moan about the place but it's not until you leave and go back you realize how beautiful it is there.
Funny you should mention Joey, he was several years older than me but his younger brother, Frank, was in my brother's class in Catholic school and him and my older brother were very good friends. Actually Frank was an excellent footballer and could have made it big but injuries stalled his career.
It really is a small world isn't it mate. Where do you live in Canada? I live in Tampa and work at the airport.
Barry Jones
112
Posted 15/09/2016 at 01:04:09
Kevin, I am in Ottawa. I work for the federal government in the Health Department. I love Tampa. I played against the Tampa Bay Rowdies years ago. I used to live in Bermuda and played in the premier league there. We toured Florida one year and the Rowdies gave us a bit of a pasting as far as I can recall.
Add Your Comments
In order to post a comment, you need to be logged in as a registered user of the site.
Or Sign up as a ToffeeWeb Member — it's free, takes just a few minutes and will allow you to post your comments on articles and Talking Points submissions across the site.