Koeman: Barkley must prove his worth to England

23 Comments [Jump to last]
12 September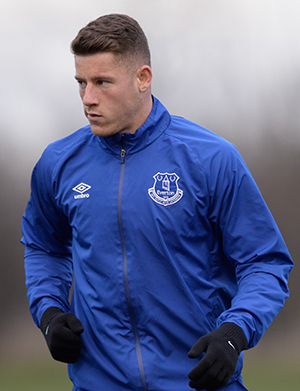 Ronald Koeman says that Ross Barkley has to look at himself for the reasons why he was omitted by Sam Allardyce for this month's international fixtures and that he has to prove he is worthy of a recall by his country.
The 22-year-old was said to be devastated when he was overlooked by Allardyce when the ex-Sunderland manager's first England squad was announced at the end of last month and he has gone public with his dismay at not being played at all by Roy Hodgson at Euro2016.
Koeman, though, appears to want Barkley to do his talking on the pitch and to fulfil his potential with Everton, believing that a return to the national setup will follow.
"I don't like [it] when a player blames others,' Koeman is quoted as saying by MailOnline. "First, you have to look at yourself. Every manager will select the best players and the best team.
"And if you show that, then you will be selected. Maybe Ross didn't play his best match against Stoke when Sam Allardyce was in the stadium. But also what Sam mentioned is that Ross is on his list.
"You can't point your finger at somebody else. You have to ask yourself what you can do better, what you need to improve to be selected. That's how I think about football."
Barkley has made a solid start to the season at the heart of Everton's midfield and he is likely to get another chance to impress in the "No 10" role when the Blues visit Sunderland for this evening's televised clash with former manager David Moyes's new team.
---
Reader Comments (23)
Note: the following content is not moderated or vetted by the site owners at the time of submission. Comments are the responsibility of the poster. Disclaimer
Phil Sammon
1
Posted 12/09/2016 at 08:23:03
He does talk an awful lot of sense, doesn't he.
Trevor Peers
2
Posted 12/09/2016 at 08:32:43
Hopefully Ross responds in the right way tonight, to some good advice from his manager. The days of him just being a good prospect are over.
Roberto did him no favours with some of his ridiculous, over-hyped, comments about his ability. Koeman seems to be issuing Ross a warning, deliver or be replaced, let's hope he delivers!
Trevor Peers
3
Posted 12/09/2016 at 08:32:43
Hopefully Ross responds in the right way tonight,to some good advice from his manager. The days of him just being a good prospect are over.
Roberto did him no favours with some of his ridiculous, over hyped, comments about his ability. Koeman seems to be issuing Ross a warning, deliver or be replaced, let's hope he delivers !
Liam Reilly
4
Posted 12/09/2016 at 08:56:58
No ego massaging from this guy; message is clear.
I suspect the playing of 'favourites' even if out of form, are over.
Thomas Surgenor
5
Posted 12/09/2016 at 09:05:40
Liam, tonight will be the litmus test of that theory. Coleman or Holgate?
Martin Mason
6
Posted 12/09/2016 at 09:21:40
I don't see the "improve or be replaced" message but it is good advice from RK. He's just phenomenal
Peter Roberts
7
Posted 12/09/2016 at 09:41:19
In terms of the ability to make something out of nothing – this lad has it in abundance.
I think for too long he has spent matches looking for those opportunities – for me he needs to be a tempo setter first and foremost, he has the passing range to do that. He should watch Scholes tapes, perfect example. The moments of inspiration will come.
Tony Hill
8
Posted 12/09/2016 at 10:19:00
Hoddle (who I think is a fan of Barkley) had a good piece on Ross recently in which he suggested that the way to go was to do the simple things first and then the flair and invention can follow from that platform. He said players like Barkley, as the creative hub of teams, often pile pressure on themselves and become paralysed by overthinking.
All the difficulties are in Ross's mind and if anyone is going to get the best out of him then I believe it will be Koeman. I stand by my view that if the lad can release the handbrake on his natural gifts then we will see something very special indeed.
Brian Hennessy
9
Posted 12/09/2016 at 10:43:56
Personally I think the key to Ross reaching his full potential is how he performs in the defensive half of the pitch in future. >He can be excellent in the attacking half but he needs to work harder, closing players down, tackling and in the air, in our own half to become a complete midfielder.
I'm not knocking Ross and he has improved again so far this season. I think Koeman could be just the manager to get the most out of him and I wouldn't be surprised to see him back in an England shirt within a year.
Stan Schofield
10
Posted 12/09/2016 at 11:10:01
Tony @8: To me, you've hit the nail on the head referring to Hoddle's comment. Koeman is very logical and systematic, no doubt able to 'deconstruct' Ross's approach, and get him to focus on the simple things, that can be thought through more quickly (important for Ross given that sometimes there's a delay before he decides what to do), on the basis of which his natural flair and creativity will come through without any need for over-thinking.
Drew O'Neall
11
Posted 12/09/2016 at 11:10:24
Martinez wouldn't have made that statement in a million years, good on him.
Good that Barkley's confidence is high enough now that he expects to be picked and therefore can be criticised whereas the opinion a year or so ago was he was too fragile.
Step up young man. You're our Zlatan. Realise it.
Chris Gould
12
Posted 12/09/2016 at 11:33:52
In all fairness to Ross, he seems to be working harder than ever before. He looks exhausted at the end of matches and is winning headers that he wouldn't even have competed for in previous seasons.
He needs a game where he totally dominates to really get his confidence up and season moving. But it's been a solid start.
Peter Roberts
13
Posted 12/09/2016 at 11:58:13
Well here's one for starters – he needed to lose weight and I still think he has 4 or 5 kilos to go, much of it muscle. He looks the part, great physique – but its about being a footballer not looking good at Ocean Beach when having a selfie with Wayne Linker.
Muscle uses oxygen – he has too much of it. I think along with Rom, Gerry and a couple of others we will see the pounds fall off and his work rate should benefit.
Too often he is blowing after one of his runs, he has pace but it takes a few strides to get going. Less weigh = more acceleration.
Don Alexander
14
Posted 12/09/2016 at 13:03:47
Koeman has already shown he can turn "who-are-they players" into consistently good performers in the Premier League and here's hoping the penny drops with Ross. Unfortunately, though, I think the lad just doesn't have the vision to match his sublime skill with the ball, and I can't remember any other players with that particular idiosyncrasy. It's really weird.
Les Martin
15
Posted 12/09/2016 at 14:09:15
Tony (#8), Peter (#13), Spot on and my thoughts exactly. Ross does try to over complicate sometimes and it's down to his decision-making.
I think he should be more greedy and confident to shoot rather than trying to find the slide rule sometimes impossible pass, not that I wish to tame his natural flair.
And yes, he is carrying too much muscle. I am sure all these things are evident to Ronald and I think he will work on these things to get Ross where we think he could be.
Ray Roche
16
Posted 12/09/2016 at 15:12:46
Sickeningly, no doubt as a result of this, Spurs and Man Utd are "joining the race" to sign our unsettled player who is refusing to sign a new contract. Lazy, bone idle, let's make a story up to sell a paper journos, pricks who by now must have wrestled the mantle of Most Unpopular Shitbag Of The Year from an Estate Agent. ANY Estate Agent...
Just give me one punch at those twats, just one... preferably with two big blokes on either side of him.
Trevor Peers
17
Posted 12/09/2016 at 15:25:46
Martin (#6).
Of course Koeman is aware Ross might have to be replaced, he was in for Sigurdsson in the summer, but the Icelander chose not come. He would've been a instant replacement for Barkley if he had chosen to join the Blues.
Damian Wilde
18
Posted 12/09/2016 at 19:30:37
Barkley needs to prove himself to Everton, let alone England.
James Welford
19
Posted 12/09/2016 at 22:08:14
He was terrible tonight!!!! The forward line was 2 x better without him. Shame for the lad, I just don't think he's got the nous or the drive for his No 10 position.
Eric Owen
20
Posted 12/09/2016 at 00:26:38
After the way Barkley played today. I think his first job is to prove he's eligible to play in Everton's 1st eleven, never mind for England.
Derek Thomas
21
Posted 13/09/2016 at 08:33:59
Can't run or won't run. Can't think or won't think. Koeman has laid it out for him in words of one syllable. It could be if he can't do it instinctively he can't do it at all.
The well of potential is nearly dry and we're getting into Yoda territory now... "Try not. Do or Do not. There is no try."
He maybe a late developer or he might go down the Rodwell / Huddleston road. He has all the physical stuff but he hasn't got much of a 'Football Brain'.
If he doesn't buck his ideas up, he might not be here to be a late developer.
Gerard Wood
22
Posted 13/09/2016 at 21:59:11
I can't believe how much some Everton fans on here are hammering him – he is 23, maybe not going to be world class, but he's a local lad and should be supported; it's not like he's not trying,
Ian Riley
23
Posted 14/09/2016 at 18:34:58
Koeman is the perfect manager for him. Barkley needs to start doing the basics right. Keep it simple. Trying to much. On Monday trying one-twos and giving the ball away was not good enough. He offered no width with his passing. Not releasing the ball early enough.
Our overall attacking in the first-half was poor and sadly Barkley paid the price. Koeman is not here to tell everyone how brilliant our players are. If you don't play well, you will be off. Barkley must learn from Koeman and quickly because younger players may step up to step in.
Add Your Comments
In order to post a comment, you need to be logged in as a registered user of the site.
Or Sign up as a ToffeeWeb Member — it's free, takes just a few minutes and will allow you to post your comments on articles and Talking Points submissions across the site.