Valencia: Everton represented a great opportunity

76 Comments [Jump to last]
14 September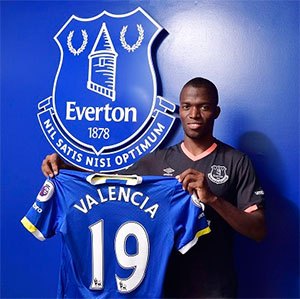 © Everton FC
Enner Valencia says that he jumped at the chance to join Everton once it emerged that Ronald Koeman was interested in signing him on transfer deadline day at the end of last month.
The forward was acquired on a season-long loan from West Ham late on 31 August after the Blues beat off reported competition from Swansea City for his signature and he is now looking forward to a fresh challenge in England at Goodison Park.
Due to his comparatively late arrival back from international duty in South America and his need to settle in at Finch Farm, Valencia wasn't included in the match day squad for Sunderland on Monday but he has been getting acquainted with his new surroundings and has been enjoying his first training sessions.
"I'm very happy to be here," he told evertontv in his first interview for the club's official video channel. "It's a great club with excellent fans and now I want to get onto the pitch with my new teammates.
"I'm enjoying training [so far]. It's different than with my last team — it's a little bit harder but the coach and manager here are great and I am trying to learn about them.
"I had some other options but when I heard about Everton [but] with the quality of the players, no one can say that it's not a great opportunity to come here. For me, it's an excellent opportunity to have a great year in the Premier League.
"When I heard about it, it was on the final day of the transfer window and I was very happy with that news because while my manager was talking with other teams, but for me the best option was Everton.
Some eyebrows were raised when Everton moved for Valencia in the final hours of deadline day after seeing proposed moves for Lucas Perez and Manolo Gabbiadini fall through because of the Ecuadorian international's comparatively low strike-rate since coming to England in 2014.
The 26-year-old explained, however, that he was deployed out of position in a wider role for much of last season by Slaven Bilic.
"My best role in the Premier League is as a striker. In the past year I played at West Ham more as a winger which was difficult for me because it's a position in which I do so well."
---
Reader Comments (76)
Note: the following content is not moderated or vetted by the site owners at the time of submission. Comments are the responsibility of the poster. Disclaimer
Brian Williams
1
Posted 14/09/2016 at 18:17:20
Clean slate. Make a name for yourself. Welcome to Everton.
Kevin Rowlands
2
Posted 14/09/2016 at 18:21:43
Good luck to the lad, if he can produce the same form he showed in the last World Cup, this could be a good signing, fingers crossed.
James Morgan
3
Posted 14/09/2016 at 18:27:34
He says the training is harder so hopefully that pays off to help us finish above the likes of West Ham. Not Koeman's first choice but he may prove his worth in time.
James Watts
4
Posted 14/09/2016 at 18:33:52
If you go on to make half the impact Gana has, you'll get yourself a permanent deal for sure. When I first heard of this signing, I thought it was a joke, but hopefully Koeman brings him on and he has the chance of being an excellent addition. Guess his career hangs on this move... good luck, fella!
James Stewart
5
Posted 14/09/2016 at 18:36:54
Actually think he will do quite well under Koeman. Very similar in style to Shane Long who Koeman got the best out of at Southampton. Plus he spells the end of Kone coming off the bench, a charity substitution which will can ill afford.
West Ham's transfer policy is utterly bizarre, I would take Valencia any day over the hapless Zaza and Carroll.
Mark Morrissey
6
Posted 14/09/2016 at 18:36:56
"Dear Jim - we are going to be playing Valencia as a striker alongside Rom, just to mix it up now and again, just thought I'd keep you in the know, love Farhad." – what on earth is that all about?
Welcome to Everton, Enner. If you're as good as the other signings, we'll be doing just fine.
Paul Conway
7
Posted 14/09/2016 at 18:38:00
I have a good feeling that this lad is going to hit the ground running. There's a buzz about EFC at the moment and everything seems just fine. I think it will be infectious and hopefully rub off on Valencia.

We had so much shite in the past. And if the shite evens itself out, which it usually does, then we aren't due any for a long time.
Ian McDowell
8
Posted 14/09/2016 at 18:42:18
One thing I like so far is we are getting players in that are proven in the EPL. Look at our back 4 on Monday night, how many league games between them? Bolasie and Valencia both also know what the league is all about.
I'm a big fan of Shane Long and would have loved to have got him, but I'm confident that Valencia can be a good bit of business.
Everton Wint
9
Posted 14/09/2016 at 18:59:24
Welcome Enner.
One look at his international scoring record tells me he's a lethal striker when utilised correctly. Pace to burn, eye for a goal, something to prove and wanted to come to Everton. Koeman knows the types that fit what he wants.
Every player including our hat-trick hero knows, drop your level below what is expected and Koeman will replace you pronto, cos winning is what he does in a professional manner with no remorse. I think Valencia will shock a few at just how lethal he can be just like Gana!!! COYB
Paul Holmes
11
Posted 14/09/2016 at 19:11:48
He said in his interview that he plays centre forward, but the Hammers played him on the wing to accomodate that big donkey Andy Carroll. So there is a chance he might turn out decent up front.

Would Lukaku be any good as a winger? Exactly, so he could be good played in his right position.
Matt Garen
12
Posted 14/09/2016 at 19:26:59
Judging by the signings made so far, I think this one will have to have a bit of slack cut, which is an alien concept to many ToffeeWebbers.
Ian McDowell
13
Posted 14/09/2016 at 19:43:27
Most successful strikers require the team to play to their strengths unless they are genuinely world class.
Carroll is unplayable on his day with wingers putting good crosses in. Benteke went to Palace and scored on his debut, why? because he has wingers in Zaha and Townsend now putting crosses in. Lukaku thrives on crosses and through balls to run on to. Hopefully Bolasie can provide the crosses and Barkley, Mirallas and Deulofeu provide the through balls.
Bill Gienapp
14
Posted 14/09/2016 at 19:48:07
Now that the general negativity of deadline day has simmered down, I hope people are willing to recognize the low-risk, high-reward potential of this move.
Valencia's international record speaks for itself, it's clear that he was largely misused at West Ham and I'm confident Koeman can bring out the best in him. I was actually pretty jealous when West Ham originally signed him following the World Cup.
Les Martin
15
Posted 14/09/2016 at 20:00:06
Ronald likes getting the ball forward early, this lad has pace to burn and can score. The Manager knows exactly what he is doing and why Valencia was bought.
Aidy Dews
16
Posted 14/09/2016 at 20:06:12
Hope to be proved wrong with this one but from what I have seen of Valencia at West Ham, which is a lot due to my missus being an Hammer, wether it's on TV, Kodi, live at Upton Park or their new stadium, he's never impressed me. Always looked lightweight, backs out of challenges, doesn't really work hard. But tbf he has been played wide a lot over his West Ham career but towards the end of last season and some games this season he was played down the middle up top and he still didn't do much.
He does have a fair bit of pace and a decent shot on him so he could be a decent impact sub for starters but I genuinely hope he comes here and proves me wrong and does well. Like any other player that puts on the Everton shirt, I'll always support and back them from the off and give them every chance.
Charlie Burnett
17
Posted 14/09/2016 at 20:38:13
For years we have always had a midfield who hardly score. I think the midfield players we have in this squad are going to get goals this season.
Clive Rogers
18
Posted 14/09/2016 at 20:52:58
Mirallas has been subdued and ineffective the last two games, so he'd better take a look over his shoulder from now on. Koeman doesn't mess about if he thinks he can improve the team and he's first in the line of fire.
Peter McHugh
19
Posted 14/09/2016 at 21:07:29
Hi Clive I thought he was really good on Monday (didn't see his performance before). He took up good varied positions, had a good shot which looked like going in first half but defender stuck his foot out, second half there was a chance that arguably would have been better Lukaku playing him through and he also played that through ball for Rom's third.
He also seems to work hard for the team. My biggest criticism of him in past is his selfish play, whilst you have to have a little of that in you when as direct as him I think he could pick his head up more and play people in. Fingers crossed Koeman improves this aspect as well as his consistency over 90 mins.
Marcus Leigh
20
Posted 14/09/2016 at 21:14:44
Every last thing that Koeman has said and done so far makes me think that here is a man who absolutely knows what he wants and how to get it. No bullshit. No pussy-footing about. Actions speak louder than words, and all that.
So if he reckons that Enner is worth a punt and he can get the best out of the lad, that'll do for me. Welcome to a club with an incredible future before it, Mr Valencia. I hope you thrive here.
Colin Metcalfe
21
Posted 14/09/2016 at 21:19:39
I have seen Valencia play for Ecuador against Colombia twice!
Pants!!!
Mike Gaynes
22
Posted 14/09/2016 at 21:26:31
My Hammer mate says Valencia dazzled the fans there with his pace, trickery on the ball and quick shot. But he lost confidence and quit trying. My buddy says that if Koeman can keep this kid confident, we've got a winner here.
Bob Hannigan
23
Posted 14/09/2016 at 21:40:46
Welcome aboard, wish you the best this season.
Lev Vellene
24
Posted 14/09/2016 at 22:22:15
An Everton signing, so I'll give him the benefit of doubt, for about two games... Well, too short, but he really needs to do well at his first game(s) to get further chances within the current team!
Happy days!!!
Colin Glassar
25
Posted 14/09/2016 at 22:31:00
Gardner, Senderos, Atsu, Traore etc – all last-minute crap loan signings. I hope this one is better.
Vijay Nair
26
Posted 14/09/2016 at 22:53:14
Colin (25), you forgot Jo!
But seriously though, none of those were Koeman signings. Let's have a bit of faith.
Lev Vellene
27
Posted 14/09/2016 at 22:53:58
Colin #25. The silver lining with this loan deal is that for once we don't really pin any hopes on the deal! He can prove himself good enough if he gets a look-in, or not.
Let's hope he sometimes runs circles around Lukaku in training, and even if that is all that's needed to keep the Lukaku firing in the actual games, that's enough for me!
Mike Allison
28
Posted 14/09/2016 at 22:58:31
Traore (which autocorrects as Traitor) got a vital assist for the CSKA equaliser at Leverkusen tonight.
It seems that whether or not Valencia does well, we had a cracking transfer window. We got our business done early, had four starting players in before the last-minute panic, and even made a profit, selling a player who probably wouldn't get in our current team, or would weaken it if he did.
Do the people whinging and moaning on TDD feel a bit silly now? Especially the guy who said 'Why oh why can't we get our business done early?' – apparently forgetting the four excellent players in key positions we'd already bought.
John Grace
29
Posted 14/09/2016 at 23:38:42
I love how our expectations have been raised of late. We used to get old pros with a couple of years left. I am very excited by our start this season. Harder to beat was the main issue and a full 90 mins of fitness... Done. This lad is welcome too.
I'm a long-term watcher of TW but only a recent poster. I think it's time to move on... and get our old big-time mentality back.
Rome wasn't built in a day... but we already have the old BLUE-prints...
COYB
Joe O'Brien
30
Posted 14/09/2016 at 23:49:45
I think he'll do very well. Welcome to Everton, Enner. It's a loan deal with a option to make it permanent next summer.
Have West Ham an option to take him back next summer, even if we want to make it permanent – does anyone know? I would hate for him to have a stormer of a season as a central striker with us only for West Ham to take him back to play in that role for them...
James Watts
31
Posted 14/09/2016 at 23:52:27
Paul (#11) "Would Lukaku be any good as a winger?"
I remember Roberto doing just that several times. Only once did it work, against Arsenal when Monreal was playing, if I'm not mistaken. The rest of the time he did it... well, enough said. ;)
Brian Wilkinson
32
Posted 14/09/2016 at 00:04:59
I remember Naismith being played out of position, but put him out in attack and he could sniff a half-chance out before it even came.
With the signings we have brought in, it will not be long before Ronnie unleashes another gem.
Kevin Rowlands
33
Posted 15/09/2016 at 00:16:52
Aidy, I've read quite a few comments on him from West Ham fans myself and it's not very encouraging so we'll have to see...
Anyway, my real question to you: If you have been, is that stadium as shit as being reported or mentioned? And is it completely devoid of any proper football atmosphere?
Mick Davies
34
Posted 15/09/2016 at 00:25:57
Off topic a bit, but did anyone see Apostolos Vellios's goal for Forest tonight? Absolute beauty, never knew he had that in him...
Welcome to the greatest club on earth, Enner, but woe betide if you make a mistake!
Karl Masters
36
Posted 15/09/2016 at 01:51:30
Kevin - a work colleague has been three times to the Larndon Stadium.
Reports views generally excellent, but some serious issues. Most of it centres around the fact that hardcore fans behind the goal at Upton Park used to stand up throughout the whole match. (I can recall having to do the same in the away end or else you couldn't see much.) They are now insisting on doing this at the new Stadium.
The problems are that they are now scattered all over the stadium and stand up getting other fans behind them very irate. So much so that they were fighting with each other at the Watford match! Until they sit down, Newham Council have pegged the capacity at 57,000, leaving 3,000 empty seats. The Club have issued appeals with no success and fans have been standing, facing the Directors Box and singing, 'We're West Ham – we'll stand if we want to!' in defiance.
West Ham have another problem in that stewards are provided by the Stadium and not the Club. Therefore, there are hardly any of them to save money. They are ineffective and blatantly ignored. Similarly there have been few Police visible or seemingly present around the stadium.
Thus far there has been 'trouble' with the notoriously violent away fans of Bournemouth and Watford! West Ham season ticket holders use the same entrance as away fans! There is no proper segregation inside the stadium. No fences between rival fans, just the gangway!! It seems nobody has considered this at all. Just wait till they play Spurs, Chelsea and indeed old enemies like ourselves and Man Utd. God forbid they draw Millwall in the Cup.
And finally, their ticketing is a shambles as well according to my Hammers friend.
No doubt it will get sorted eventually, but in answer to your original question, the opinion is that the atmosphere could be very good, but will never be the same as Upton Park, so added to the woes above means they aren't at all happy so far!
Jamie Crowley
37
Posted 15/09/2016 at 02:20:25
There's no down side to bringing this kid on. If he works out? Great! If not? Ship him back.
This boy's only crime is that he was "door number 2" on TDD.
We need to get behind this kid. The upside is good, the down side is no skin off the nose.
No-brainer.
C'mon, Enner show your worth and rise to the challenge!
Paul Kossoff
38
Posted 15/09/2016 at 04:08:29
Jamie 37, the downside is if Lukaku gets injured, we have another failed striker added to the other two useless over paid prats at the club, being paid 㿨,000 a week to sit on their arses.
If we have to play Valencia and he's as poor as he is at West Ham then without Lukaku's goals we will be up shit creek without a paddle, that's the downside of Everton doing transfers on the cheap.
Paul Kossoff
39
Posted 15/09/2016 at 05:35:09
Ian 8, 'One thing I like so far is we are getting players in that are proven in the EPL.'?
Our new keeper, fifth choice at Fulham in the Championship; Gana, relegated with Aston Villa; Valencia, two failed season's at West Ham.
Williams, okay centre-half. Holgate from Barnsley... hardly EPL proven.
Brian Porter
40
Posted 15/09/2016 at 07:07:27
Give the lad a chance! Everyone is keen to put him down but he was one of the stars of the last World Cup, signed for WHU, who he probably had never heard of, and was promptly played not as a striker but as a winger. No wonder his confidence waned over two seasons with one of London's 'smaller' Premier Leaague clubs. Could be a great signing for us. Give him a chance!
On another subject, hope Sissoko enjoyed his first taste of Champion's League football with Spurs last night. Hope that bench he sat on wasn't too hard for his expensive overpriced butt. The fact they lost was just the icing on the cake!
Kim Vivian
41
Posted 15/09/2016 at 07:09:27
Not that it has mattered a jot, Paul @39
Dave Griffiths
42
Posted 15/09/2016 at 07:22:11
Paul (#39), first-time posting.
Not only have we had the best start for ages, the players we have bought have been instant winners and you're complaining? Jesus!
I live in Australia and they call me a whinging pommie, thank god they don't listen to you and your negative comments.
Cheer up, stop bagging everything, support your TEAM NBTB
Derek Turner
43
Posted 15/09/2016 at 07:28:27
Paul (#38) and (#39). Cheer up, mate, it might never happen. Let's give the boy a few games before he becomes an overpaid failure like Gana and Stek, chowing our wage bill with their Championship talents. COYB.
Kerry Frahm
44
Posted 15/09/2016 at 07:48:00
Wow Paul, 38 & 39. The season has started you know. It's okay to be positive.
We are sitting in a pretty good position with our new keeper, who was fifth choice (really? fifth? Do many clubs have a fifth choice keeper?) at Fulham in the Championship; Gana, relegated with Aston Villa (one player doesn't keep a team up do they?); Williams, okay centre half? (National team and club captain at Swansea wasn't he?); and Holegate (Holgate!) from Barnsley.
Based on recruiting to date, I'm looking forward to seeing Valencia hit the field. Wouldn't it be great if he did a Pogba or Mustafi? Released from an earlier club only to go on and make a name for himself at a new club!
Laurie Hartley
45
Posted 15/09/2016 at 07:49:29
I am looking forward to seeing this lad play in a blue shirt.
Koeman knows what he wants in a player and seems to have gotten it spot on so far with Stekelenburg, Gueye, Bolasie, and Williams.
None of them were what you would call glamour buys but what an impact each and every one of them has had on the team in such a short space of time.
My guess is that this lad will be hungry for game time and will make the most of it when he gets his chance.
Welcome to Everton, Enner Valencia.
Steven Jones
46
Posted 15/09/2016 at 08:11:18
Paul K - Nonesense. My tuppenethworth...
He is very fast, runs the channels, can do amazing things on occasion. Seems to fit the Koeman pressing and breaking at pace themes. He knows where the goal is (unless played on the wing by Big Sam).
Looking at the way he dribbles and runs at defences, I think he could be a much better upgrade on Kone coming on in the 65th minute when space opens up and Premier League games become more end to end.
With Koeman's tactical changes it could be earlier in the game like at WBA and Sunderland – putting him and Rom together would be very interesting for periods of a game when the opposition are not expecting. Nice move by Koeman on the last day and he is on loan with an agenda to prove himself.
Also note his comment about trying being harder and better which will help a striker get sharp, fitter and more confident in his own ability – which appears to have been an issue at the Hammers.
This is a no-loose signing!!!
Thomas Surgenor
47
Posted 15/09/2016 at 08:44:20
My only concern is that he ISN'T what Koeman wanted. Koeman knew we needed an extra body in and with time running out he was the only person available.
I don't expect anywhere near the same impact as Stek, Yannick or Gana. Those were players Koeman wanted in.
I'll support the lad while he is here but don't expect much. I also won't consider him a Koeman failing if it goes wrong as I appreciate he was probably the only available body at the end of the window.
As mentioned above, I expect him to fall into the Gardner, Senderos, Vellios, Nash or Mucha categories.
Adam Luszniak
48
Posted 15/09/2016 at 08:59:07
Paul Kosoff, all the signings you mention (barring Valencia as he hasn't played) have improved our team, regardless of where they came from.
It seems to me like some people just want Everton to blast loads of cash for the sake of it so we can boast a big net spend. Can't see the point myself.
Look at Gana. ٥.1m looks like the best business done in the transfer window by nearly any club.
Steven Jones
49
Posted 15/09/2016 at 09:46:40
Thomas, agreed – I think it is a given... especially when Koeman stated that it will take 2 years to get the squad he wants.
As you say a body in the reserve striker department. Definitively an upgrade on Kone and lots of upside with loan context and being 26 years of age.
Brian Furey
50
Posted 15/09/2016 at 10:29:04
The fact that the lad has pace could be his saving grace during his time at Everton. It looks like Koeman seems to want to have all his attacking players to play with pace and so, if we can play to the lads' strengths, then maybe he will be a good option.
It's good to see so many on here getting behind him early on and hopefully we can be as patient with him on the pitch. I see in 2014 he scored 18 goals for Mexican side Pachua in only 23 appearances and won the Golden Boot which shows the lad has potential if we can just make him believe in himself again.
William Cartwright
51
Posted 15/09/2016 at 10:44:40
Paul Kossof (39 and various other numbers) . . . . . . .
Lighten up for God's sake. The performances to date of the new boys have been superb, individually and collectively. Stek, Bolasie, Williams, Gana, Holgate, and we haven't even drawn breath on the other Finch Farm potentials, have all contributed to an excellent start to the season.
If we win our next bath of winnable games the match with City could be a top of the table affair. Who would have imagined that after last season's capitulation to Sunderland?
Get with the program Paul and COYB.
Kim Vivian
52
Posted 15/09/2016 at 10:53:08
That string of responses? - That's called saturation bombing, Paul K.
As the saying goes - I bet Xmas is a ball round at your gaff.
John Daley
53
Posted 15/09/2016 at 11:13:20
"My only concern is that he ISNT what RK wanted."
Maybe not initially, for Everton at least. However, Southampton were very strongly linked with him at the tail end of last season while Koeman was still in charge of that colossus of a club.
Joe Clitherow
54
Posted 15/09/2016 at 11:29:19
"Who cares if the lad looks fantastic, puts in man of the match performances, has pundits raving about his performances and articles in the Daily Mail saying what a steal he was, and actually when we look back at his performances he crept under the radar of everyone apart, apparently, from Steve Walsh and actually he was the only one to perform in a really bad team last year? Gana was relegated with Aston Villa and that's good enough for me to spout shite whatever the pesky inconvenient facts say otherwise".
In a back catalogue of posts where it didn't appear to me that the content of utter shite could be surpassed, I take my hat off to the superlative dismissal "Gana, relegated at Aston Villa". What actually goes through the head of someone posting that as – ostensibly – a means to sway people to an opinion? It can only possibly be a deliberate wind-up.
Idrissa Gana Gueye, you've been found out, stand in the corner.
Step forward and Tikaboo Paul K, henceforth known as "Yer actual Paul K" now that Alf Garnett has shuffled off this mortal coil.
Richard Reeves
55
Posted 15/09/2016 at 12:17:44
On the counter attack we've got someone who will fit in well, I just hope he can get back to scoring and that the fans stay off his back if he's not.

I would like to see him play behind Lukaku at times, they could strike up a good partnership, and with Gueye behind him, Bolasie on one wing and Mirallas/Deulofeu on the other we've got some speed there. And that's not mentioning the wing backs who can get forward, particularly Holgate.
William Cartwright
56
Posted 15/09/2016 at 12:44:51
A mix of youth and experience is often considered as one of the best models for a team to be selected. I was considering this point in looking at Everton's defence.
It's really just dawned on me that we have, all being well for this season and possibly the next, the experience of Stekelenburg between the sticks. A swansong season beckons, where he has already got back into the Dutch squad.
We have the Captain of Ireland, the Captain of Wales, could have been / should have been Captain of England as the club captain and Leighton Baines as our back 4. I mean seriously guys, can there be a better back line in the Premier League at this point in time?
Marry that with Gana and 'old man' Barry, who has carried on from where he left off last season and who for my money has been our player of the season so far. His defensive cover and forward support for Gana (at 26 the peak of his career) has been majestic.
Up front we have Rom, older than his years, and Mirallas, Bolasie (I love that guys style), both late 20s. Geri and Ross whilst not being quite the youngsters any more, may wake up wise up to what is expected under Koeman's guidance.. . Suddenly that looks like a Championship quality side to me.
Now I am blue through and through, and biased to boot, but seriously, if Ronald can work his magic there is suddenly massive potential that could have slipped under the media's radar big time.
The supporting cast of Funes Mori, Cleverley, McCarthy, Robles, Dowell, Pennington, Davies, Valencia (could be another surprise package), Kenny, Holgate, et al – bugger me, we could be on the cusp of something really good. (Hope Paul Kossof doen't read this... !)

Franny Porter
57
Posted 15/09/2016 at 13:39:14
I'm prepared to give the lad a chance.
Remember when Martinez went through a phase of playing Lukaku out wide? It worked once against Arsenal but he kept predictably doing again.
Koeman also included him in a list of players we have that can 'press' effectively the other day, so I don't think he's as much of a panic buy as it seems.
Sam Hoare
58
Posted 15/09/2016 at 14:17:47
I'm not surprised by the success of Gana but I will be if Valencia does anywhere near as well.
A change of scenery can work wonders for a player, though, so best of luck to him.
Ernie Baywood
60
Posted 15/09/2016 at 14:42:18
About the best I can hope for here is that he makes a good impact sub. Seems like the sort who we'll love watching when the team is full of confidence but struggle with when the team is flat.
Right now we're feeling pretty buoyant so let's see what he can do.
Tony J Williams
61
Posted 15/09/2016 at 15:22:21
Didn't we get Baines and Jags from relegated sides?
Not too shabby them two!
Alan J Thompson
62
Posted 15/09/2016 at 15:59:32
Sorry, which game for us was it that he had a stinker?
Brian Furey
63
Posted 15/09/2016 at 16:14:55
I agree, WC@56. The first thing Koeman needed to do with this squad was make them hard to beat and so tighten up the defence. Bringing in Williams and Gueye has really helped in that regard as both are no nonsense type players who make tackles and go attack the ball.
I like Funes Mori but too often for me he seems to be hesitant. I think our new keeper feels more confident now behind this defence whereas last year both Robles and Howard didn't trust the men in front of them.
With big Rom up front, you are always going to create chances and especially now as nearly all our attacking players have pace to burn. I'd love to see Geri become the player he really could be as I feel he always takes too much out of the ball. I'd love to see him shoot much more early as he often waits until the defender gets back at him to make a block.

Paul Kossoff
64
Posted 15/09/2016 at 20:14:46
How can you lot defend the lies Kenwright has obviously told Koeman as far as this mythical project goes?
If Koeman's first choice of strikers was "for some unknown reason," Valencia, and he had said he was, then at least we could say "Oh he must see something in him West Ham doesn't." Valencia was a last-minute panic loan, bought in on the cheap, the same reason Kone and Gibson are still here, the cheaper option. That's the way this club operates, on the cheap, and will continue to do so while Billy and his mates are in charge.
Don't get me wrong, I want us to be successful, I pray for it. I want our team to be the best, but bringing in cheaper options is not going to do it.
William 56, 😁

Dave Abrahams
65
Posted 15/09/2016 at 20:26:46
William (#56) – you left Lennon off your list; wasn't on purpose, was it?
Paul Kossoff
66
Posted 15/09/2016 at 20:28:19
Kim (#52), I have and always will have a fantastic Christmas, celebrating the memory of Jesus, and opening lovely pressies, and I hereby reserve the right to 'Hok a chanik,'

Brent Stephens
67
Posted 15/09/2016 at 21:06:15
Paul "bringing in cheaper options is not going to do it."
Get shut of Gana, then? £7M too cheap?
Stan Schofield
68
Posted 15/09/2016 at 23:39:02
Paul @64: It strikes me that cut-price spending is not a problem provided you have the right expertise to identify and sign the right players. Seems to me we've actually done that with Stekelenburg, Williams, Gana and Bolasie.
When Gana was signed there were posts on TW basically saying "what a load of shite, only ٥M, and from a team that was relegated". Comparable negatives were expressed about Stek (couldn't even get in the Fulham 1st team) and Williams (too old). Apparently, Bolasie was too expensive.
I've seen Pogba a few times, and quite frankly am wondering why he's 㿼M. He wasn't cheap, was he?
Spending dosh is not the prime consideration here. Having our supposed new era means first of all that we don't need to sell, hence being able to keep Lukaku. It also means having a top quality manager who can identify real and effective needs rather than splashing cash like a lottery winner with holes in their pockets.
I've been supporting Everton for 55 years, and regard the last 20 or so years as abnormal, having previously seen 8 major trophies and a number of truly great players and teams. So for me there's nothing really unexpected in a genuine new era, it simply meets my expectations.
I 'feel' this is a new era, the vibes seem right, and we're making progress under a manager who seems to know what he's doing and is free of bullshit. I could of course be wrong but, if I am, I'll jump that hurdle of disappointment when I come to it. But for now, I'm rather hopeful and positive. I've no real evidence to make me otherwise.
David Midgley
69
Posted 15/09/2016 at 00:11:53
Paul, Take no notice!!!
If you're feeling a bit low or put-upon, you can come round to ours and have a nice cup of tea and a Garibaldi.
Paul Kossoff
70
Posted 16/09/2016 at 03:02:29
Brent (#67),
No, I wouldn't get rid of Gana, but he's a diamond in a pile of coal.
It's all opinions, lads, it brings debate, that's what we are here for – opinions, not cat-calling. I don't buy into this so-called 'project' that's being bandied about; with Kenwright involved, we will be lied to.
How many of you were doing hand stands over Valencia? Not many, I bet, who's happy Kone, Gibson, Niasse and McGeady (temporarily on loan) are still Everton players?
Yes, I hope Valencia scores 20+ goals for us and puts us in the Champions League, but be honest, West Ham's failed striker, 10 goals in two seasons, and if he was any good, why was he being put on the wing? Just like our own failed striker, Kone.
Paul Kossoff
71
Posted 16/09/2016 at 03:04:44
David 69, a sheynem dank Dave, but believe it or not I'm quite happy despite being an eternal pessimistic blue, 😇
Stan Schofield
72
Posted 16/09/2016 at 09:42:09
Whether any of us were doing handstands over Valencia seems to me to be irrelevant. The point is, surely, that Koeman and Walsh are happy with him, in which case so am I, because as I said above they do seem to know what they're doing.
Another thing about Koeman, which makes him a bit different from some of the other 'elite' managers, the prima donna types like Maureen and Klopp who seem to want to be centre of attention like a spoilt child. Koeman is down to Earth, and deals in detail, in which the devil always lies. He wants to win every game, no matter whom against. If we're in a cup, he wants to win it, full stop. Compare Maureen's comments yesterday, basically saying the Europa League wasn't really worth playing in. What a terrible attitude, not one that bodes well for a fighting team spirit. Well Koeman isn't like that, and that's why, amongst other things, he gets the respect from players. And also from the media, it may be worth noting.
All of these kinds of things combined are what give me the confidence that this is indeed a genuine new era, a project. Actually, according to Ryazantsev, bigger than a project.
David Midgley
73
Posted 16/09/2016 at 11:30:09
Paul (#71).
Coal turns to diamonds under extreme pressure.
Let's see how, before the next window, the first team squad and the others shape up under Dutch pressure.
Diamonds or paste?

William Cartwright
74
Posted 16/09/2016 at 14:39:26
Dave @ 65, No, it wasn't anything sinister, just pure forgetfulness, an oversight.
However, I do think that Lennon and others such as Cleverley, Robles and even Gibson, are all players with Premier League quality who can have inspiring moments, who can and should all be able to compete in keeping the pressure on the first 11, to say nothing of providing good cover during injuries. If during their time on the pitch they provide any inspiration and retain their place then that's good news to me. It is a squad game at the end of the day...
Dave Abrahams
75
Posted 16/09/2016 at 15:34:10
William (#74), the reason I asked was that quite a lot of Everton fans seem to have written off the likes of Aarron Lennon, Tom Cleverley and Joel Robles when, as you have just pointed out, they are going to be needed as the season progresses. They will not let the team down, and will enhance the team's performances, and there a few more who will do the same: Kenny, Davies and Valencia, if given the chance.
Barry Jones
76
Posted 16/09/2016 at 18:34:27
I saw Valencia play several times for West Ham and in my humble opinion he is a genuine talent that can offer a lot. I am unsure as to why the wheels fell off at West Ham but he has bags of quality, and I am confident our management can resurrect that.
Lev Vellene
79
Posted 16/09/2016 at 21:07:05
I think the reason so many of us are at a loss whether to welcome him, or dismiss him, is that we have this (by now) old EFC 'truth' about playing only one striker. Lukaku has been played as a lone striker before this season to mostly abysmal results! I have no confidence in Kone, right or wrong, to replace him...
But what could Koeman do with this Valencia feller and Lukaku as a pair up top? What would be the options behind them? I have no idea, I trust Koeman knows. But he has a certain positivity that just says he didn't get Valencia just to be a sub for Lukaku if he happens to get injured...
So I hope we finally have one adaption that opens for an x-x-x-2 (or whatever) up top, for when that is needed. Or as a basis if it fits any of Koeman's general tactics that we haven't seen yet...
Ian Cowhig
80
Posted 17/09/2016 at 09:27:11
Paul Kossof,
If I remember correctly, we had accepted bids for two strikers Koeman wanted. We were gazzumped by Champions League on one; and the other team wouldn't let him go without a replacement. Brahimi became a moving target price wise.
Would have been interesting to see your comments if Everton had bought Marhrez, Kante & Vardy when they were less well known and cheap buys. It is not about what we spend. It is about trying to get a player that fits how the manager wants the team to play.
Peter Jansson
81
Posted 17/09/2016 at 20:45:38
Well, Koeman did his homework in this transfers window. Getting players is not just burning a lot of money. The thing is to get in the right players.
I think Enner Valencia is a great signing. He did not cost about anything and he could turn out to be a success. He is a pretty sharp and very, very quick player. I was thinking when West Ham signed him, why we could not sign players like that?
Idrissa Gueye, seriously the warp of this whole window. No-one else noticed how good he was at Villa? I did not notice. Very impressive signing.
Williams and Bolasie – well I am just sitting here smiling.
We can certainly say that this team is much stronger than last season. :-).
I hope that Enner can get on a good roll now as well.
Add Your Comments
In order to post a comment, you need to be logged in as a registered user of the site.
Or Sign up as a ToffeeWeb Member — it's free, takes just a few minutes and will allow you to post your comments on articles and Talking Points submissions across the site.