Koeman salutes 'amazing' Barry's longevity

42 Comments [Jump to last]
15 September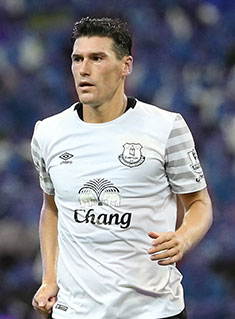 Ronald Koeman has paid tribute to his evergreen midfield general Gareth Barry who will make his 600th Premier League appearance when Everton face Middlesbrough on Saturday.
The manager was asked about Barry's longevity in his press conference at Finch Farm this afternoon and he confirmed with a smile that the 35-year-old would be in the team when the newly-promoted side come to Goodison Park for the late-afternoon kick-off.
"It's amazing," Koeman remarked. "I think he's the third player behind [Ryan] Giggs and Frank Lampard to play 600 Premier League games. I think it's 19 seasons in a row… that's fantastic.
"And still he is an important player for us because he is a clever player and clever players, even at his age, can be important for the team.
"Of course you have to minimise the intensity of the training sessions a little bit over the whole week to keep the player fit.
Asked if there had been any thoughts about extending his contract beyond next summer, Koeman said that would be a discussion for another time.
"We will speak about that not today, not next week but of course if he's still a player that we need then we will start talking about next season."
---
Reader Comments (42)
Note: the following content is not moderated or vetted by the site owners at the time of submission. Comments are the responsibility of the poster. Disclaimer
Martin Mason
1
Posted 15/09/2016 at 18:03:50
Massive respect for Barry and to Koeman for his public praise of him. He's really been one of our best buys ever and could well launch us to success under the new regime as Peter Reid once did. Some of his tackling on Monday night was amazing.
Tony Rio
2
Posted 15/09/2016 at 18:31:02
Barry has become the player I admire most over the last couple of years. It wasn't widely publicised but he was carrying injuries the season before last and some wrongly thought it was a slight dip in form. But even then he was still one of our most consistent performers.
He is an absolute legend as a professional, the way he reads the game, consistency, intelligence (clever bookings!), role model, team player you know what, sorry Kanchelskis and Bracewell, you're binned, I think Barry is my new life long bromance!
Tony Hill
3
Posted 15/09/2016 at 18:43:47
I used to dread seeing his name on the teamsheet in 14-15 and cursed the extension of his contract. Full credit to Martinez on this one; Barry seems to get better if anything and he is now consistently excellent.
Gerry Quinn
4
Posted 15/09/2016 at 18:51:17
Brilliant performer - and it makes me sick to keep hearing that he is the most booked player in the EPL. What they never tell you is that he gets a booking every plus 410 minutes on average - and that there are 35 players with worse records than him - some that get bookings at a rate of every 200 odd minutes.
Stan Schofield
5
Posted 15/09/2016 at 19:03:53
Gerry @4: Don't worry about it. Alan Ball used to get booked all the time, and suspended, and it was always well publicised, but that didn't stop him being a great player.
John Daley
6
Posted 15/09/2016 at 19:08:11
"..it makes me sick to keep hearing that he is the most booked player in the EPL"
I don't know. Might be wrong of me, but I kind of like that fact.
600 games in the top flight is some achievement. Season before last, I thought he looked like he was either on his last legs, or had been hopelessly overplayed, and would soon settle into the role of squad player. He's been the model of consistency since then and seems to cover more ground than ever, so shows what I know.
Jon Cox
7
Posted 15/09/2016 at 19:30:02
A superb professional.
Tony (2)
Didn't clever bookings play for West Ham once upon a time?
Garry Corgan
8
Posted 15/09/2016 at 19:36:13
He's been fantastic and just seems to get better. If you really watch him during the game, you do have to wonder why England persist with the likes of Jordan Henderson and Jonjo Shelvey because our Gaz knocks their spots off consistently.
Ajay Gopal
9
Posted 15/09/2016 at 19:40:29
Our own Pirlo. Massively under-utilised by England due to not being a media darling unlike Stevie-G and Lampard.
Paul Conway
10
Posted 15/09/2016 at 19:41:23
Martinez made a statement about Barry last season that seemed well over the top at the time. But Barry keeps on going and confounding us, that he may yet still make Martinez's statement true.
He is certainly an amazing veteran who plays with the gusto and enthusiasm of a 20-year-old.

Des Farren
11
Posted 15/09/2016 at 19:48:26
Tony @ 3. Martinez might get some credit here... also for Lukaku and Deulofeu – but don't bet on it.
Joe Foster
12
Posted 15/09/2016 at 20:08:28
High praise indeed and well deserved.
Julian Wait
13
Posted 15/09/2016 at 20:13:01
I think we'd want him on the coaching staff after he's done. He's a fabulous player and I think someone many younger players would do well to emulate his achievements, both before and with Everton (hint hint).

Thomas Surgenor
14
Posted 15/09/2016 at 20:16:02
Was very underwhelmed when he signed. Thought we signed an over the hill merc here for one last pay day. Like Nigel Martyn, he has very much made me eat humble pie. There's times on the pitch he just looks so calm and classy in what he does. Proof of how much my opinion has changed came when, during the Sunderland game, I found myself thinking "who is gonna replace this guy? Why can't he be 10 years younger".
Going off topic, it was also interesting to hear RK say that Tom Cleverly was fit last week but didn't make the 18. This means RK has young Tom Davies ahead of Cleverly in the picking order, such a thing would never have happened under our last few managers.
I'm almost thinking things are a little too good to be true at the minute. Performances on the pitch, progress off it, straight talking manager, faith in youth and prompt subs when things aren't going our way. Surely this can't last! ... Can it?!
Barry McNally
15
Posted 15/09/2016 at 20:23:58
I'd say he's won more Ken Buckley MOTMs than anyone over the time he's been here - a class act.
Winston Williamson
16
Posted 15/09/2016 at 21:13:35
Really like the guy's professionalism and dedication. 600 games is a great achievement!
What I like is his calm approach and solid manner. He's essential to our midfield and will be difficult to replace.
Dave Abrahams
17
Posted 15/09/2016 at 21:22:48
He's always been a top class player and age hasn't stopped his very professional performances.
I was made up when Liverpool failed to sign him. Benitez wanted him badly, would have completed his line-up, they would have gone very close to winning the league if they had signed him. Liverpool's loss was Man City's gain... and eventually ours.
Ernie Baywood
18
Posted 15/09/2016 at 21:48:08
The player that Steven Gerrard could have become if he had the brains.
How long can Barry go?
Liam Reilly
19
Posted 15/09/2016 at 21:50:42
Like Jags, but Barry should be the captain.
Don Alexander
20
Posted 15/09/2016 at 22:32:26
A class player indeed. Reminds me of the great impact another owd 'un named Paul Power had with us in '86. Is the title on for GB this season?😉
John Raftery
21
Posted 15/09/2016 at 22:40:58
When Gareth Barry was with Aston Villa and Man City, I must admit I thought he was a decent player, a very good professional but nothing special. Wrong. He has proved to be outstanding for us, a very clever player, the heartbeat of the team and signing him up for three years after his initial season on loan was a superb piece of business. I really hope he can be persuaded to take up a coaching role with us. If nothing else, he could coach our central midfield players how to play the pivotal holding role.
As regards the captaincy, I think he is one of those professionals, like Ray Wilson, Colin Harvey and Peter Reid, who have such a high standing within the squad that they can influence performances around them without holding the title of captain. In any event, shouting the odds has never been part of his makeup. If we have needed that sort of captain in the past couple of seasons, he would probably not have been suitable for the role.
Phil Sammon
22
Posted 16/09/2016 at 00:46:30
One of Martinez's best signings, without doubt.
Much like John, above, I always thought he was decent at other clubs. I had the 'Ozil incident' imprinted on my brain when we signed him and worried he was past it.
Couldn't have been more wrong. He's a terrific player and someone every manager would love. From the moment he pulled on a Blue shirt, he always seemed to have more time on the ball than anyone else. That's a trait synonymous with a fine player.
I think he only had one serious dip in form. And, for once, I think Martinez did the right thing by sticking by him. Sure enough, experience and hard work turned it around for Barry.
My lasting hope is that McCarthy can learn from him. Barry's nous with McCarthy's lungs, would be some player.
Andrew Keatley
23
Posted 16/09/2016 at 01:15:55
The record for Premier League performances is held by Giggs at 632. An injury-free season, while maintaining his current form, could see Barry take the record this season on the final day if he is an ever-present. Hope it happens.
Jamie Crowley
24
Posted 16/09/2016 at 01:57:15
I'm with John Daly @6 - I don't think all those yellows are necessarily a bad thing.
In all the time watching him in a royal blue jersey, I think I could count on one hand the number of "stupid" yellows he's taken.
On the contrary, most of his cards are engaging in a tough, tough tackle, or supremely "intelligent" fouls to stop counter-attacks or danger.
I think he may be one of the most underrated, intelligent footballers I've seen in my admittedly short decade of viewing.
BBS sure got this one right. And as time passes and we can get over all the "phenomenal" press conferences, we might have a much rosier view of Martinez.
Delo, Rom, Barry, Holgate (I think, right?), Besic who I believe will still come good once over injury, and McCarthy who was outstanding for us for a year or two depending on who you ask. Did he sign Galloway as well? Can't remember. And I know he was a flop, but when Eto'o came to us I was thrilled we signed such a big name - even if it was a bit past his prime. All of this without "Money Moshri" backing...
Sure, there were some busts, but that's a decent list of players.
I digress...
Barry is gold.
Jamie Crowley
25
Posted 16/09/2016 at 02:04:39
And this from Koeman:
If he's still a player that we need then we will start talking about next season
No one can sit back and put it on cruise control under him. He's ruthless. No romantic notions of hanging on to players past their prime who won't contribute to the cause.
Perform, or there will be no need for you.
Love it.
Paul Kelly
26
Posted 16/09/2016 at 04:53:14
Echo your thoughts there Jamie, that was the stand out comment (for me) in that piece.
William Cartwright
27
Posted 16/09/2016 at 08:23:27
Excellent comments Jamie. Like most Evertonians, my love for the club could have blinded me to the good things that BBS did while he was around, because of the parallel damage.
Barry was not the most exciting signing at the time. I was more enthused by McCarthy and in fairness during his first season McCarthy was amazing. However Barry has grown on me so to speak, and BBS's adulation has been more than justified.
I also loved the way he stood toe tot toe with that bruiser Costa. OK it was a sending off to follow but he gave him a simple message; just don't fuck with me... And in fairness to Costa, I think he respected that.
Yes, Gareth Barry is one of a rare breed, pure class.
Nick Armitage
28
Posted 16/09/2016 at 08:32:46
Another bonus is that the RedShite wanted him for years and he jibbed them off.
Matt Traynor
29
Posted 16/09/2016 at 08:38:28
Nick #28, I'm not sure that's how I recall it. Villa wouldn't sell him, but he wanted to make the move.
Plus the Reds were up in arms as it was Rafa wanting to get rid of Xabi Alonso, who they really rated (I think they were about to sell him to Juve for around 㾶m or so, which was nuts when you consider he joined Madrid for 㿊m the following season). I'm pretty sure they booed Barry at Anfield when he played for Villa for that reason.
Bit daft like, but what can you expect?
James Welford
30
Posted 16/09/2016 at 09:05:52
I remember from watching the quarter final on TV last year that the Chelsea fans all engaged in a long and very audible chant of "Gareth Barry is a cunt".
You've got to love having a player on our side that gets under the skin of opposition fans that much, especially that lot.
Hope GB stays at the club after he hangs up his boots. I reckon he'll be a great coach.
Peter Roberts
31
Posted 16/09/2016 at 11:13:22
Fantastic professional – a credit to the game. Enjoy your 600th game Gareth.
David Donnellan
32
Posted 16/09/2016 at 13:40:35
My Villa mates used to rave about him when he was there; personally I couldn't see the fuss. How wrong I was, an excellent professional & a clever footballer who sets the example for his team mates to follow. I think he is one of these players that unless they play for your club, you don't really realise how good they actually are.
He was excellent last season in an under performing team & so far he & Gueye have been top drawer in the centre of our midfield & long may it continue. I can't honestly see McCarthy getting back in there unless heaven forbid something happens to one of them.
William Cartwright
34
Posted 16/09/2016 at 13:59:24
Could be that Gana's presence is giving Barry an 2nd wind following his new lease of life last season. If so then great. Combined they were one of the main supporting acts in the 2nd half demolition of Sunderland. COYB
Anto Byrne
36
Posted 16/09/2016 at 14:16:23
I don't see a future for Besic or McCarthy. I don't see them being the type of player Koeman would want long-term.
Paul Hughes
38
Posted 16/09/2016 at 16:29:14
And according to the sports news on Radio 4 this morning, he's also been selected to tour Bangladesh with the England cricket team!
At least he was until the reporter corrected it to Gareth Batty.
Simon Jones
39
Posted 16/09/2016 at 17:40:23
Consistently shows the need for a few old heads in the squad. Looks like he could go on a season or two more yet.
Harvey Miller
41
Posted 16/09/2016 at 21:50:50
I used to hate to see him playing against us, he wasn't very mobile even in his younger days, but he was always there where he should be. Great understanding of the game, great vision.
Since he came to Everton , he's been our best player in so many matches. The thing is, are the the other players/young ones watching and can they learn?
I think Barry will be a very good coach/manager when he retires so let's hope he will be at Everton for a long while.
Victor Jones
42
Posted 16/09/2016 at 23:21:05
Never thought that Barry was going to ever be praised in this way. I never really rated him but I was wrong. I hold my hands up...and admit that I was wrong. It was all to do with Martinez always playing two DMFs. I never liked that set up. My preference was for one DMF McCarthy but Barry is great at what he does. I now rate him very highly. Just wish he was only 26. Although then the big money teams would come a calling.
Oliver Molloy
43
Posted 17/09/2016 at 00:41:31
Ajay @ 9
"Our very own Pirlo" – you're having a laugh I hope!
Brian Porter
44
Posted 17/09/2016 at 06:55:50
If 'Woy' had shown a bit of courage and originality and taken Barry to the Euros, who knows what England might have achieved? Our powder-puff midfield would have had a but of the spine that was missing in every game, but today's England setup isn't about picking the best players at the time, but panders to the media and whoever happens to be the manager; that will continue as we saw with Big Sam's first squad selection.
Leaving Barr for a moment, just watched Chelski vs RS and please can anybody explain how bloody Gary Cahill gets picked ahead of Jags for England? He was useless last night, caught out of position any number of times, beaten to the ball consistently and literally gifted Liverpool their first goal.
Laurie Hartley
45
Posted 17/09/2016 at 07:38:40
One of my all time favourite Everton footballers. I put him in the same category as Tony Kay and John Morrissey. A man of steel with a brain and a true professional.
Damian Wilde
46
Posted 17/09/2016 at 11:53:13
What a player, absokutely fantastic. Must continue to start. Well done, Gareth!
Add Your Comments
In order to post a comment, you need to be logged in as a registered user of the site.
Or Sign up as a ToffeeWeb Member — it's free, takes just a few minutes and will allow you to post your comments on articles and Talking Points submissions across the site.