Barry admits standards were allowed to slip last season

76 Comments [Jump to last]
17 September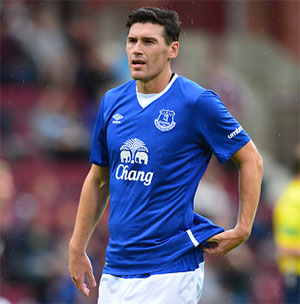 Gareth Barry has attributed a general lapse in standards as being a contributing factor to Everton's poor performances last season and has outlined the contrasts in approach between Ronald Koeman and his predecessor.
Set to make his 600th Premier League appearance today when Everton take on Middlesbrough at Goodison Park, the 35-year-old is enjoying a new lease on life in the Blues' midfield alongside new signing Idrissa Gueye.
Everton are enjoying a solid start to the new season under their new manager with an unbeaten sequence of results that seemed unthinkable just a few months ago.
The veteran has acknowledged that the level of discipline and regimentation had dipped both on the field and off it by last season under Roberto Martinez and that had a predictable effect on results as the team struggled and eventually failed to finish back in the top half of the table.
"The standards of the players were, for me, slightly slipping last season, on and off the pitch," Barry told the media yesterday. "If standards are slipping off the pitch it can impact on your form on the pitch and the whole team was losing that level that is expected to compete at the top end of the Premier League.
"It was things like time-keeping, dress codes, training; everything, really. The confidence and everything had gone last season and things were maybe going away from what was expected. Confidence had gone on the pitch, results weren't going the right way and there was a lot of unrest with the fans.
"It is easy for players sometimes to get dragged along with that and all of a sudden they are being dragged along and the standards are slipping. I think you could tell from some of the performances last season that was creeping in."
"The [new] manager doesn't want to come across as some sort of headmaster but he has been quite keen to let anybody know if they go underneath the standards expected. That is good for everyone."
---
Reader Comments (76)
Note: the following content is not moderated or vetted by the site owners at the time of submission. Comments are the responsibility of the poster. Disclaimer
Colin Glassar
1
Posted 17/09/2016 at 07:33:42
Rebellion on the farm? Losing faith in the manager is one thing but if these multi-millionaire players can't even be bothered to turn up on time for training, or dress decently, then they should be ashamed of themselves.
It must be difficult for a consummate pro like Barry to keep up his high standards in such difficult circumstances. When the Chelsea players did the same to Mourinho ie lay down their tools, it was also embarrassing, and shameful, to watch.
Duncan McDine
2
Posted 17/09/2016 at 07:34:04
A strict headmaster is exactly what was required following 3 years of the 'substitute teacher' trying to figure out how the VHS player works.
Phil Sammon
3
Posted 17/09/2016 at 07:36:45
Very frank and revealing comments there from Barry. It sounds like things were every bit as bad as it looked from the outside.
You could read this as a dig at Martinez, but it also reflects very badly on the players. It sounds like Koeman has brought a much more professional attitude to the club and demands the same from the squad.
Would never happen, but it would be interesting for Barry to have named names.
Colin Glassar
4
Posted 17/09/2016 at 07:50:18
I'll give it a go Phil. Baines, Coleman, Stones, Lukaku, Mirallas to name a few.
Danny Broderick
5
Posted 17/09/2016 at 08:12:51
In fairness to Barry, his standards never dropped.
Steve Bingham
6
Posted 17/09/2016 at 08:16:36
It's totally irrelevant who were the most guilty protagonists in last season's debacle and Gareth did exactly the right thing by keeping the topic collective and aiming his comments at the entire team.
The most important thing now is that the new boss has made it crystal clear to everyone that he is in charge and what he says goes .
Phil Sammon
7
Posted 17/09/2016 at 08:18:12
Colin,
Baines & Coleman? Both seem professional to me. I could see them speaking out against Martinez but turning up late etc doesn't seem their style.
The other three... no argument.
Craig Fletcher
8
Posted 17/09/2016 at 08:37:40
Bit harsh to name names when in all actuality we have no idea what may have gone on behind the scenes. We might have to wait for Gaz Baz's or Bainsey's autobiography.
Liam Reilly
9
Posted 17/09/2016 at 08:39:54
Agree, Phil.
I can't see Baines or Coleman acting unprofessionally, by turning up late, suddenly wearing baggy jeans and backward facing baseball caps to training and saying things like 'Word!'
This is poor from the players though and shows Martinez and Captain Jags did lose at least some of the dressing room.
Colin Glassar
10
Posted 17/09/2016 at 08:40:16
Their standards, on the pitch, dropped dramatically last season Phil. Sometimes it looked like they were just going through the motions. Now, they look like they are getting back to their best, thankfully.
Trevor Peers
11
Posted 17/09/2016 at 09:00:43
This news doesn't surprise all those supporters who wanted rid of Roberto for the past two years. Lack of discipline is a classic sign of weak leadership, the list of bad habits, on and off the pitch, under our former manager is as long as your arm; thankfully he's been sacked.
The worrying feeling that morale when Martinez was in charge was always close to mutiny, is borne out. The players must take some responsibility of course. But it's all in the past now, and we can move forward under Koeman.
Denis Richardson
12
Posted 17/09/2016 at 09:07:48
Still amazed how Martinez managed to bullshit his way into the Belgium job. Surely people in football circles talk and a minute amount of due diligence would have revealed Martinez for the crap manager he was at Everton.
Anyway, thank god we have someone who's seen it and done it and doesn't bullshit about. If you're not pulling your weight you're not in the team, as opposed to blowing hot air up players' arses regardless of how they performed.
Onwards and upwards and I'll gladly eat humble pie for wanting Barry replaced. He is getting on and can't go on forever but having someone like Gana next to him seems to have allowed him to add a few more miles on the clock. McCarthy just isn't in the same league as Gana.
Tony Hill
13
Posted 17/09/2016 at 09:48:23
Barry has made some calm and sensible comments about Barkley too, very useful to have someone of this experience in the team. Nice stuff as well from Gueye in a couple of newspaper articles about his time at the club so far.
Stan Schofield
14
Posted 17/09/2016 at 09:48:38
Baines effectively said the equivalent thing when it was happening, but he was shouted down by Martinez. Would have good if other players had come out and supported him. Bit late in the day now for any player to be stating what was obvious.
John Mckay
16
Posted 17/09/2016 at 09:54:01
It's a shame we didn't get Barry a few seasons earlier he probably would have been our club captain. Nothing against Jags he has always been an amazing player for us, but Barry has always been a true professional and even though he is getting on a bit his standards on the pitch have always remained the same.
Possibly one of the best signing we have ever made really at least in the Premier League era. It's amazing looking back how well Moyes actually did with our football club to think back to the Walter Smith days and now it's a complete transformation.
Dave Pritchard
17
Posted 17/09/2016 at 09:59:56
If Koeman still wants Jags as captain that is fine by me. Barry and Williams will also have influence in the dressing room and on the pitch whoever holds the captain's title.
Teddy Bertin
18
Posted 17/09/2016 at 10:03:31
I've got to say the last few seasons I've fallen out of love with the club a bit and it's been down partly to poor results and a minority of fans really getting on the backs of our young players but mainly down to the players in the squad.
I love Barry, Jags, Besic and a few others (delighted we've got Williams too) but there are too many mercenaries in the squad who lack the heart to really throw their all into the club. I'm not surprised to hear from Barry that certain players were turning up late and pushing what they could get away with. Mirallas, Lukaku, Deulofeu, Cleverley to name a few (but there are more) are all young men who are picking up their wages with one eye on moving to a bigger team. They need guidance and discipline and they need to be fired up to play for the club. I've seen glimpses of passion from all of them and we know how talented they are as players but the reality is that playing for Everton isn't quite what they were hoping to be doing at this stage of their careers.
I hope Koeman can bring a bit of passion and discipline back because, even with the results going well, I just don't find half of our squad very likeable. And when I say likeable I don't mean 'nice guys' I mean players that I love to watch stepping out for our club.
When Rom got his hat-trick I was delighted with the result but not particularly excited for him. Probably because he spouts off every other week about wanting to leave so I just see him as a player doing his job, which is scoring goals, before he goes off for his 'dream move' next season.
Duncan McDine (#2) your post cheered me up at least.
John Mckay
19
Posted 17/09/2016 at 10:30:17
Agree with the above a lot of players are mercenaries but you get them at every club unfortunately.
We need to try and lure Lukaku to a new contract even if we have to offer him a lot more wages. If we sell him even for –60-70M I don't know who we'd replace him with? We could waste 㿞-70M on two good strikers with no guarantee they would get the goals he does.
He is frustrating at times but, boy, does he know where the net is! We haven't had a striker as prolific as him since I've been following football – and I'm 32 now!
Karl Parsons
20
Posted 17/09/2016 at 10:39:59
We all knew Martinez was a fraud. This only proves it more, and the beaut walks off with ten big ones. FFS
Colin Glassar
21
Posted 17/09/2016 at 10:40:24
You obviously never saw BT in his prime John. He ran like Forrest Gump, pirouetted like Nureyev and struck the ball like Diana Ross. Now he was a player.
John Mckay
22
Posted 17/09/2016 at 10:53:19
BT Colin?

John Raftery
23
Posted 17/09/2016 at 10:57:32
Teddy (18) You think Deulofeu and Cleverley have one eye on moving to a bigger club! Which club would that be then?
Roger Helm
24
Posted 17/09/2016 at 11:04:12
Teddy, virtually all players, and managers and directors too, are mercenaries. We can't expect them to feel about the club in the same way that we fans do. We are the club, not them. In 20 years time, they will be all gone, to other clubs or to a prosperous retirement, but we will be still be Everton.
As for professionalism, many do have it, but it is not surprising that a young man, not very bright and poorly educated, who has been praised, adulated and cosseted from the age of about seven, and is now earning a king's ransom every week whether he is selected or not, is not as self-starting as say an athlete or a tennis player.
Rob Halligan
25
Posted 17/09/2016 at 11:10:21
Was it all a cunning plan by Martinez to ruin our club??
Roberto had a dream
To ruin our football team
He had no money so signed shit players on loan
He Fucked up the back
Then Ross in attack
Then Mosher saw sense
And gave him the sack!!
Highly unlikely though!!
Colin Glassar
26
Posted 17/09/2016 at 11:15:48
Ok, Beattie then.
Jim Harrison
27
Posted 17/09/2016 at 11:25:26
I have to say Colin, you posts are usually moderate and considered, but I cant agree with you on Baines. He was injured for a big chunk of the season, and playing carrying an injury the previous season. He didn't look the player we know he can be, but the manager was not playing to his strengths.
From previous interviews, he has also struck me as a dedicated pro who trains well. Always states that he enjoys training being hard. Baines has been pretty much the model pro throughout his time at the club. He was the one player to really come out and say what was wrong last season and got publicly chastened for his honestly whilst Rom spouted his crap repeatedly and RM just continued to praise him
Coleman? Not so sure, again wasn't full yfit at times, and didn't reach his previous standards. Not sure about whether he would be included in those Barry is talking about.
Almost certainly the Belgian duo, Deulofeu probably Gibson, McGeady... maybe even Stones
The players themselves should be ashamed, but just like any job, if the manager isn't managing employees effectively, then it is to be expected that standards slip. Most of the players are still young men, Barry is seen as some kind of veteran, but he is younger than me and I still have trouble sorting myself out!
Damian Wilde
28
Posted 17/09/2016 at 11:45:15
Attitude is all round much better now, good to see and very much looking forward to the match later.
18 - Teddy, Cleverley eyeing a move to a bigger club, you're joking, yeah? He's not even good enough for Everton's bench. Struth.
John Mckay
29
Posted 17/09/2016 at 11:48:18
Haha Colin, yes a do remember Beattie, remember him banging in loads of goals for Southampton then moving to us so be our new donkey!
Had high hopes for Beattie, when we signed him. This is what I'm saying, pal, we haven't had a prolific striker like Lukaku since I can ever remember, was too young to remember Lineker.
Best player that I can remember when I was growing up was Kanchelskis, and I always admired Duncan Ferguson but he was never prolific. Kevin Campbell was on fire for us for them last 6 games of the season when he kept us up but wasn't the best the seasons after.
Everyone slags Lukaku off and I agree sometimes he looks lazy and not interested and his first touch leaves a lot to be desired. However, he is a goal scorer and when he gets the service you know 9 times out of 10 it's going to be a goal; not saying his conversion rate is 90% but you know what I mean. :-). He gets paid to score goals and that's what he does.
Anto Byrne
30
Posted 17/09/2016 at 11:50:09
Roberto did some good things in his defense – not that he knew about defending. I like the carpet football and possession up to a point.
The fact that he persisted with Stones and Barkley and gave Geri a chance. He got Lukaku and brought in Funes Mori and Besic. He also moved heaven and earth for Barry given several clubs wanted him.
It's just a pity that the club itself didn't react to the decline in standards and the playing philosophy a lot earlier. He may be the manager but he is answerable to the board.
"Roberto, this ain't working, so make the changes. Sort the defending and playing style or fuck off."
I can't believe he wasn't on a performance-based contract.
Colin Glassar
31
Posted 17/09/2016 at 11:55:39
Jim, consciously or subconsciously, if players aren't happy that can affect their form. You are right, Bainsey and Seamus were injured for times last season but their body language seemed to show they weren't 100% convinced of what they were being asked to do.
Maybe Roberto deserved this lack of effort towards the end of the season, I'm not sure. But the fact that so many of our players seemed to give up from around the end of January, apart from the FA Cup, appears to back me up.
Like I said, they seem to be back to their best and enjoying their football. Long may it continue.
David Hallwood
32
Posted 17/09/2016 at 12:41:57
Good article. If you want to read the whole article it's in today's Guardian, which has a lot more about Koeman.
Must admit I've never subscribed to the 'managers must be former players' because of the overwhelming evidence against it, but there's little doubt his achievements as a player must have some impact on the players.
Jim Harrison
33
Posted 17/09/2016 at 13:00:34
Colin, have you ever heard the sound clips form the FA Semi-Final? Baines calling it as it is, a guy who knows whats going wrong
I agree they weren't playing well, but if they are being sent out with mixed messages of what they are supposed do? During the Semi the players seemed to make a change, and played how they thought they should rather than how they were being told to play. The difference was noticeable.
I don't see it as them not putting in the effort. I see it as a manager with a muddled mind sending out a team who didn't know what to do. By acting on their own they would actually be acting unprofessionally, disobeying instructions.
When Kev took the ball off Baines for the pen against West Brom, what do you think was running through Leighton's head? How would he expect the manager to react afterwards? I pretty much guarantee he wasn't thinking "It's cool, I'm not fussed either way."
I know where you are coming from, these blokes are handsomely paid to do a job we all would kill to be able to do, so they should just get on with it. But that's too simplistic. They are people, and just because they are well paid it shouldn't be assumed that they will react differently when they are despondent.
My real point though, is that I agree with you concerning the others, but where Baines is concerned I think he let himself or his team down, but was a victim of a manager who had lost the plot. The others you mention (again I am not convinced with Coleman), looked like they downed tools and just lived the life of well paid young men with no responsibility for their own actions.
And agreed again, long may their newly found form continue.
Stan Schofield
34
Posted 17/09/2016 at 13:02:27
David @32: Yes, generally they don't need to be former top internationals, but if they are, and are also natural leaders of men (charismatic and disciplined), then they can lead by example, which can be inspiring to young players.
That's what we have in Koeman, and in my opinion he's top notch as a manager, potentially the best in the world. The way he can identify what changes are needed during a game is impressive (based on what we've seen so far).
Jim Hardin
35
Posted 17/09/2016 at 13:10:54
Read the Guardian article and just wondering where Colin and Teddy and Jim get the names of players from? Colin states his as a guess, which is a disservice to those named. Worse, Teddy then states it as fact (no preface of a guess). Jim Harrison then states it as an almost certainty with the Belgians. This is a bigger disservice and outright disrespectful.
Interesting that Teddy singled out three foreign players and a new transfer instead of the player who actually wanted away. Maybe the "foreign" and new players were following the lead of good solid English lads like Jags, Baines, Barry, and Stones? Oops, hope not, might be too much for some on here.
Ridiculous to name names as if you know. The point was the whole team was affected. Leave it at that and hope Koeman puts it back in order.
Raymond Fox
36
Posted 17/09/2016 at 13:29:36
The way that Martinez wanted to put attack as the number one priority was bound to put the strain on the defence. I have thought for a season or so that, if I was a defender for Everton, I wouldn't be too pleased about the tactics.
All our defenders were criticised, Jags, Stones, Baines and Coleman, in fact Jags and Baines lost their England places because of it. I would imagine this is where the unrest started, plus we were scoring plenty of goals and still not winning games, so I suppose the goal scorers were not well pleased with the defence or tactics.
Martinez also stressed he wanted the squad to be team players and form a strong unit. It sounds like he was too lenient with them, trusted them too much to be good professionals and some of them let him down.
My take on last season was that Roberto wanted to play like Barcelona without Barcelona's players which was always going to end in tears, and obviously the players were coming in for plenty of criticism which in turn led to unrest among the players and fans.
Jim Harrison
37
Posted 17/09/2016 at 13:47:15
Jim Hardin, apologies, I forgot to pretext the players mentioned with "in my opinion", as that is all I base my assertions on, based on the performances I saw, not from any media or other source. But I am not sure what you are getting at with my reference to the "Belgians". It was simply quicker to type than their names and not meant to indicate anything more.
Not sure how you try to put some kind of "Foreigners" slant on this either. Of the four English players you mention, three still seemed to be putting in effort, even if their efforts amounted to not a great deal;the other has gone and we will never know how he would have turned out with a different coach.
The fact that Rom looked uninterested for the latter stages of the season, Kev looked plain shite and Del boy looked out of shape (a young player who after two seasons playing top level football did not seem fit enough to play 90 minutes). That is why we highlighted these players.
And as for naming players as if we know well, this is a discussion board, where people come to offer opinions. Many differ, and that's why we continue to contribute offering our thoughts.
Your penultimate sentence is true, but only up to a point. The whole team were affected, but that's not to say the whole team acted in the same way. Our suggestion is that a group of players (and just to reiterate, the players that have been named are purely those we perceive from our limited knowledge to be particularly culpable), did not put in sufficient efforts.
Even within this group the reasons and motivations would differ: Kev, couldn't get a sniff at the first team, even when fit; Rom wants out; Del boy... I couldn't say; Stones? See Rom.
Eddie Dunn
38
Posted 17/09/2016 at 13:51:17
How can anyone know which players were late for training or taking it easy? Only someone inside the club could tell us that. To name Cleverley or anyone else, is pure conjecture, unless you are privy to something the rest of us don't know. Stick to the facts please.
Jim Harrison
39
Posted 17/09/2016 at 13:51:36
Raymond, What about the season before?
Colin Glassar
40
Posted 17/09/2016 at 13:57:40
It's a game of opinions and perceptions. I gave an "educated" guess at some of the players who I thought were underperforming last season. Some will differ, some will agree. But I don't think it's unfair to name players.
Ian Cowhig
41
Posted 17/09/2016 at 13:57:44
Barry is definitely attributing the blame to the former management team here. A laissez fare attitude to discipline, dress code, fitness and trying to improve in areas that the team were struggling with, eg, Crosses into our box. Blowing smoke up the backside of certain individuals, whilst chastising others for speaking out about obvious issues. When their only reason for doing so was a passion for the club.
All of this builds up resentment and unfortunately though they should be professional. It is human nature to react the way they did. I was told by a good friend of Duncan Ferguson that he had told Marinez that there were cliques in the dressing room, that were destroying morale. And Martinez said that the players needed to sort it themselves. Would you follow a leader over the trenches who has that attitude?
I believe that there was also a comment on TW saying Martinez banned Ferguson from the dressing room at half-time. Says it all, if true. Duncan Ferguson must have been upsetting the prima donnas who needed more of the smoke.
Stan Schofield
42
Posted 17/09/2016 at 14:06:15
Often, bad managers, especially 'toxic' managers, like to divide and rule, in any profession. They can't command respect through ability. Once there are divisions, it's almost impossible to do anything about it without changing the manager, regardless of the best intentions of the 'workers'.
Young men in their twenties are no exception to being affected by this, no matter how much they get paid. At least our new regime looks to be built on real expertise rather than the bullshit that characterises bad managers.
Colin Glassar
43
Posted 17/09/2016 at 14:22:31
Big Dunc always looked slightly cheesed off (to say the least) on the bench last season, Ian. Arms crossed and scowling. Now he looks animated and the Koeman bros seem to talk and listen to him. Last season, he looked like a forgotten man.
Frank Crewe
44
Posted 17/09/2016 at 14:29:26
"A laissez faire attitude to discipline, dress code"
Considering some of the clobber Martinez used to wear, I'm not surprised.
Ian Cowhig
45
Posted 17/09/2016 at 14:38:59
Yes Frank.
Brown Shoes and blue trousers. .
When something isn't right. It just isn't.
But instead we made up a song about it.
Us Evertonians really should have known better
John Daley
46
Posted 17/09/2016 at 14:39:44
"I don't think it's unfair to name players."
Of course it's unfair to name players when you don't have any idea at all who Barry is really referring to.
There's a world of difference between an actual eye witness to events 'naming names' and someone well and truly on the outside plucking a few out of the ether and throwing them into the ring based on nothing more than ropey guesswork and tittle tattle.
You might be able to get away with that sort of thing when playing at 'transfer scoops', but it's a bit much utilising the same methodology to cast aspersions about a players conduct and professionalism.
Baines may not have been in good form, Lukaku might well have been crying himself to sleep every night at the thought of having to stick around another season, but there's absolutely no indication at all that either one of them ever turned up late to training, with their shirt untucked and a tampon string stuck between their teeth, before flat out refusing to take off their crocs because 'it's only a fucking kick about'. None at all.
Ian Cowhig
47
Posted 17/09/2016 at 14:47:26
I agree Colin. I don't know how good Ferguson is as a coach. But his passion for the club is clear.
Remember the look on his face at the Anfield derby. With Martinez in the technical area, not saying anything as we were getting overrun. Dunc was drilling holes in the back of Martinez's head. With arms folded probably to stop him punching someone.
Colin Glassar
48
Posted 17/09/2016 at 14:47:42
No I don't know who Barry is referring to, maybe he will come out now and say he was misquoted or misunderstood. The fact is he inferred that some players let their standards slip which will lead to speculation, like it or not.
John Daley
49
Posted 17/09/2016 at 14:56:55
Colin,
He's clearly speaking about the team as a collective, not looking to lay blame at a core of anonymous bad apples.
"The standards of the players"
"..the whole team was losing that level that is expected to compete at the top end of the Premier League"
Raymond Fox
50
Posted 17/09/2016 at 15:11:52
Jim (#39), the second season we were playing in the Europa which I think its fair to say it cost us 2 or 3 places in the League, you may or may not agree with that.
There was no excuse for last season.
Paul Tran
51
Posted 17/09/2016 at 15:28:53
Raymond, our worst period that season was that long period without Europa League games.
The players deserve a clear slap for a clear drop in application. Ultimately the buck stopped with Martinez, who appeared to have no idea of how to arrest the slide in form and application of the team.
Hopefully, Koeman's mix of fitness, organisation and increased physicality will put that dreadful period behind us.
Nigel Gregson
52
Posted 17/09/2016 at 15:44:44
Really disappointed in Barry – what exactly was he doing back then while making these observations? As a senior member of the squad, shouldn't he and other senior players also be expected to demand standards from their teammates?
Unless of course it was the other senior players whose standards were dropping (Jagsielka, Baines, Coleman, Howard?). Now Barry is berating them in public?
These comments here are worse than Stones's recent gibberish. Yes it was all Martinez's fault, yawn. A team with such a collective mentality of pushing away accountability will never succeed and perhaps therein lay the problem last year.
Glad we have screamers like Ashley Williams now and hoping that he becomes the guy who gives the bollocking before Koeman needs to.
Raymond Fox
53
Posted 17/09/2016 at 15:46:59
Paul, it's best to draw a line under it I think.
Koeman seems to be a no-nonsense manager and has made a good start, his signings I like very much, they are a definite improvement in their positions.
Let's see where we finish this season, it's very early days yet and we couldn't have wished for an easier 8 games to start, with the exception of the Tottenham game.
Don Alexander
54
Posted 17/09/2016 at 15:58:15
Martinez, like any manager in the Premier League was paid a fortune to take full accountability for the results, end of. If he fails he gets the bullet and in his case 㾶m courtesy of our "What A Chairman?" BPB.
The players have to be fully accountable for doing what the manager dictates before and during a match, period. Even if they think it's pants. If they don't they don't get selected and their future career and earnings are compromised.
That's generally their cue to call to their agents, in league with any other discontents amongst the players. That divides the squad, all day every day, and second to shite results that's the second most serious failure of a manager and chairman.
Well said Gareth Barry and Leighton Baines, and any others who spoke up during the past two seasons in a bid to arrest the horrible damage inflicted on our club by those who filled their pockets by failing to meet their bog standard responsibilities.
Stan Schofield
55
Posted 17/09/2016 at 16:29:35
Nigel @52: I don't think folks are saying it was ALL Martinez's fault. The way I see it, yes, the players have a responsibility, and if they're not putting a shift in then there's an 'immediate problem' that they could control, by deciding to put a shift in and doing so.
That said, when there's bad management, that's an 'underlying problem', beyond the control of the players. If you solve the underlying problem, you tend to solve (or go some way towards solving) the immediate problem.
Both players and manager have responsibilities, but the underlying problem needed sorting, and it was done, hence Koeman. But that doesn't change the fact that players failed in their duty to be professional, to put a shift in.
Joe Clitherow
56
Posted 17/09/2016 at 16:55:49
Stan
I'll bite then and say that ultimately it was all Martinez's fault, and with a simple reason.
Because ultimately he had the responsibility for them. If their standards dipped he had the responsibility to turn them around. If he either couldn't, or they wouldn't, then he had both the power and the duty to ultimately replace them. You do this on the micro level, i.e. game to game, subbing and dropping them, or on the macro level by sacking/selling them. This was what he was paid for. We have already seen Koeman doing this where there was dereliction of duty.
This is not managerial rocket science. Over a three-year period, the buck clearly stopped with the manager for football matters.
Stan Schofield
58
Posted 17/09/2016 at 17:16:53
Joe, totally agree with you mate that Martinez had a major responsibility, especially given what he was being paid. But, to me, even if he was utter shite, and totally disorganised, the players themselves also had a responsibility, because they're professionals paid to put some effort in (even when there's mismanagement).
That said, even if they had made all reasonable efforts to put a shift in, the management problem would still have been there. So the main thing was to change the management (ie, get rid of the underlying problem) which was done, thankfully. The main focus should always be on the underlying problem (the root cause), so we're not a million miles off agreeing.
Stan Schofield
59
Posted 17/09/2016 at 17:30:41
Joe, also, as far as I'm concerned, Martinez should have been sacked as soon as Baines said there was bad chemistry. Martinez shouted him down, which was an open display of just how bad a manager he was for us.
I would argue that there was a bigger underlying problem, higher than Martinez, apparent because he wasn't sacked sooner. The 'new era' with Moshiri in charge, removes this bigger underlying problem.
Ian Riley
60
Posted 17/09/2016 at 23:13:43
The players saw the slide but as a player you are powerless. Only losing matches and the manager leaving does the reasons come to the surface. Lack of discipline implemented by the management.
Players get off likely by not putting in a shift. No excuses for hard work and desire whoever the manager is. You are, I suppose, professionals.
Ernie Baywood
61
Posted 18/09/2016 at 04:53:39
Disappointing that people seem to want to lay blame at individuals. Barry is clearly talking about a general drop in standards. It happens in all walks of life, in all teams. Every organisation sees it as a risk and the opposite as an opportunity.
I take a lot of pride in my work but I know my performance has slipped at times. That might be down to needing a new challenge or something else not being right around me. It happens and you need to do something to arrest the slide.
We saw it at the time. Good players under-performing terribly. The club had a sickness last season and desperately needed change.
Joe Clitherow
62
Posted 18/09/2016 at 09:36:24
Stan,
There is a very simple logical reason why I disagree with your first response and why I stressed the word "ultimately", which is that the mess was caused by Martinez's poor management in the first place, and if he had not caused a problem and/or addressed it sooner then the players would not have "been responsible" for fixing anything. These were players who were for the most part model professionals with no fitness or other issues before he took over.
I don't know what you do but I have done a lot of management recovery of failed situations and there are generally two scenarios in 95% of cases: poor management and poor staff; poor management and good staff who have slipped their standards and become demoralised, or who possibly are actually *still* good staff as they follow the management direction they are given... until it is too late. It is the last scenario I think we saw with Martinez. Early dissenters who called it as they saw were isolated as pariahs. Rank bad management for that alone. Is Distin them a poor professional for calling out Martinez and his clowns as incompetent straight away, as some of us did here?
I have never seen the other logical permutation of management/staff causing a business to fail which is good management hampered by poor staff since, by definition, goof management sorts out the poor staff in the ways I describe in my post before they become a problem. I can only think of one scenario where this last situation could arise which is lack of backing from the management layer above, and Martinez was backed to the hilt from Everton with more funds than any other manager. Even if he wasn't, a good manager recognises that scenario early too and would resign in an untenable position. Martinez held on like a fucking limpet refusing to recognise anything was wrong, and when the pressure was on, started to blame his staff. The most despicable thing I found about him.
So yeah, I lay all the blame at his feet and thankfully Moshiri probably saw the things I did and got rid of him as soon as he could.
Don Alexander
63
Posted 18/09/2016 at 12:52:17
Spot on, Joe Clitherow.
Stan Schofield
64
Posted 18/09/2016 at 18:42:14
Joe @62: In answer to your question, I'm a manager in the oil & gas industry, having worked my way up from doing the detailed 'shop floor' stuff, and have experience of handling situations that need correcting. These days, I'm a contractor, and am happy to be paid depending on success or failure. I've always been paid, thanked and recommended for other stuff, so (although I would never claim to really know very much, I'll leave that to others to recommend me or not), I assume I must be doing something right occasionally. Also, I've always tried to lead by example, hopefully somewhat like Koeman, although I've never been paid as much as he gets! OK, so that's my self-advertising over, but it's just to answer your initial question.
Now, I'm not saying that the workers were BAD as such. Just 'normal' workers in a mismanaged situation. The situation is beyond their control, and needs fixing. But at the same time, they are (highly-paid) professionals, and I believe have a duty to perform as best they can GIVEN the conditions under which they are working. It looks like at least some of them didn't do that, so in my mind they abrogated responsibility.
The priority was to solve the mismanagement, which then solves the other problems, because we now have a new situation in which the players perform more naturally under more favourable conditions. That's great. But I would say to any professional, being paid, that you have a responsibility to do your best even when the conditions you're working under are not ideal.
Every individual has a responsibility to do their best. Managers have the greatest responsibility, I have been in situations, when I was younger, where I stood up to bad management, at risk of my job (although I never lost a job because of it).
Stan Schofield
65
Posted 18/09/2016 at 18:55:53
Joe: Where we do agree was that Martinez was despicable. When good managers are presented with valid issues where remedial action is needed, they respond constructively, acknowledging the problem and their own part in it, and do something about it. In contrast, bad managers respond defensively, acting as though there's either no problem or it's not their problem, and do nothing about it, apart from criticise or damage innocent parties including (and often especially) those raising the issues.
Martinez clamped down on Baines when Baines raised the issues openly, a classic sign of the toxic manager. Yes, despicable. It would have been nice at the time if other players had come out and openly supported Baines.
Joe Clitherow
66
Posted 18/09/2016 at 19:55:24
I take your point on board, Stan, but I just don't agree with it.
The original question was whether we blame Martinez completely and the answer from me is a resounding Yes. The thing you are not taking on board in my opinion is that the players were not underperforming before Martinez. Therefore underperformance is directly traceable to him. Saying that the players could perform better is just too trite for me, sorry.
Apart from anything else, it discounts the effect of morale suffering badly which is an entirely human factor; you can't just dismiss that. Somehow, you seem to expect players who are supposed to be coached for match fitness and fully prepared in the daytime and are under orders to play a certain way to then go and work on, for instance, fitness off their own bat in their own time? When their day job should be a complete programme which turns them out match fit and ready and for which the coaching staff were paid many many millions? Their only job after training should be not to ruin that by keeping their bodies in tune with the aforementioned training, not doing additional stuff.
Sorry, I just don't buy it at all. If you want further evidence, the same players are evidently now starting to perform at the required level once the poor management is removed.
Everything down to Martinez and his incompetent lieutenants, Jones and Lawrence – the rot is undeniably traceable back to them.
Stan Schofield
67
Posted 18/09/2016 at 20:06:05
Joe, you don't have to buy anything mate. Nothing you've said there seems to contradict anything I've said. I think we're saying the same thing in different ways, unless you deny that every adult individual carries personal responsibility for actions that are under their control.
Joe Clitherow
68
Posted 18/09/2016 at 20:10:31
No not at all Stan. I'm just answering the exam question with a resounding Yes, Martinez takes all the blame - ultimately.
Geoff Evans
69
Posted 18/09/2016 at 20:20:41
Professional footballers should set themselves the highest standards and stick to them no matter what. The buck starts and stops with them, no-one else.

Stan Schofield
70
Posted 18/09/2016 at 20:53:26
Anyway Joe, interesting discussion. I imagine we're probably in total agreement that we now have an absolutely cracking manager, who does nothing of the kind of shit that we've been talking about.
Joe Clitherow
71
Posted 18/09/2016 at 23:20:38
Geoff – absolute rubbish. On that basis we don't need managers at all, nor does it end with footballers.
"Professional (insert profession here) should blah blah blah."
Rubbish.
Brent Stephens
72
Posted 18/09/2016 at 23:27:36
Joe, you know we have a few professional bullshitters on here and they don't need any manager!
ps: I have no manager – professional bullshitter!
Brian Cleveland
73
Posted 18/09/2016 at 23:41:37
Interesting to see comments along the same lines coming out from Coleman too (on the Sky website) and about the new regime being stricter and demanding more.
Stan Schofield
74
Posted 18/09/2016 at 23:53:55
Joe, we've got you saying it's only the manager who takes responsibility, and we've got Geoff saying it's only the players who take responsibility.
You've agreed that every adult carries personal responsibility for actions that are under their control. The manager takes responsibility for actions that are under his control. Players take responsibility for actions that are under their control . If you read my posts again, you'll see that this is the essence of what I've said, and that we aim to identify and sort out root causes of a problem.
The world is littered with people trying to claim something wasn't their responsibility when it was.

Anthony Dwyer
75
Posted 19/09/2016 at 01:30:05
Interesting insight to the workings of our previous manager, and equally interesting to hear who people presume to be the main culprits.
I've stated on here before that someone at the club has stated previously that Kevin Mirallas is one of the most professional players at the club when it comes to training, and he's often first to training and last one out.
Colin blasted Baines and Coleman, who granted didn't keep up there exceptional standards last term, but imo they both seem like good pros.
Rom and Stones are also mentioned, but one joined the biggest club in the land, while the other is clearly our most valuable asset.
I could imagine both of the above to have believed they were winding down last season, ready to move on, but they performed better than most last season.
I'd imagine it was an overall drop in standards, by most players, little things creeping in week by week over a few months.
Koeman is more Moyes-like in his policy in that I couldn't imagine him allowing drops in his high standards.
Whatever Koemanis up to seems to be working atm anyways, long may it continue.
Joe Clitherow
76
Posted 19/09/2016 at 08:00:29
Stan
You're drifting off topic. You made a statement that said you didn't think anyone was blaming Martinez for everything that went wrong. I answered that - ultimately - I did.
Taking the hypothesis to ridiculous but logical lengths here, then Martinez could have recruited 100% self starters, sat back and watched them train themselves. He had responsibility and empowerment to take care of that, but he didn't. The fact that there are no such professional footballers anywhere on the planet who are capable of this is a minor irrelevance (but not apparently to Geoff who seems to think this is what should happen). Individuals can take responsibility for themselves, sure, but I don't know how that ever fits in a team game like football where the collective is what is important. The fact that we never looked like a team under Martinez but a group of individuals casts more evidence of further dereliction of managerial duty in my opinion.
I agree people should take responsibility in a work situation but only once this responsibility and the expectations of them is clearly explained to them, and that these are realistic and achievable. Footballers are not noted for being independent thinkers. It is an unfair, and frankly ridiculous, expectation to expect kids just out of their teens to know exactly what they should and to take responsibility for that. You can clearly see the difference in Ross Barkley after less than a week of clear instruction of what is wanted and expected of him from Koeman versus three years of being left to his own devices by the idiot we had before him.
This bollocks about "should do this, should do that" bears no relation to the reality of what actually needs to be done in the real world, and any manager who works on he principle of what staff "should" do (according to an opinion) against an assessment of the real situation and what actually "needs" to be done is a poor one. Assessing the situation in the real world and changing it versus applying a set of "should" rules is the essence of what the manager is paid for.
Stan Schofield
77
Posted 19/09/2016 at 08:52:25
Joe, you've already had the 5-minute argument. At my age, I haven't got the stamina for the 10-minute argument.
Anthony Dwyer
78
Posted 19/09/2016 at 09:28:15
😂😂😂😂😂😂
---
Add Your Comments
In order to post a comment, you need to be logged in as a registered user of the site.
Or Sign up as a ToffeeWeb Member — it's free, takes just a few minutes and will allow you to post your comments on articles and Talking Points submissions across the site.