Raiola: Lukaku could sign new deal with Everton

67 Comments [Jump to last]
19 September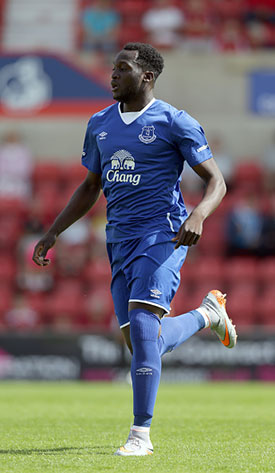 Romelu Lukaku's agent says that he and his client are in talks with Everton over a new contract as has praised the club's "amazing" Chairman, Bill Kenwright.
Lukaku, who sustained a minor injury against Middlesbrough on Saturday, has been the subject of months of speculation over his future after he signalled his desire to sign for a Champions League club towards the end of last season.
Following a middling Euro2016 and a dearth of clubs willing to pay Everton's asking price, the 23-year-old returned after his summer break saying he would he stay with the Blues for another year.
No doubt influenced by the team having made an excellent start to the new season, it now appears as though he could extend the terms he signed two years ago, however, following Mino Raiola's latest comments in the press.
"We are talking," the 'super agent' is quoted as saying. "Yes, it is possible that he could stay."
"This year the message was clear he was not for sale and he is really happy there at the moment. We are happy with what the club is doing now, we will see how the season goes.
"I spoke with him after his hat-trick against Sunderland. I said you were rubbish, you should have scored six!"
To listen to Lukaku prior to the European Championships, it seemed as though he had his heart set on a move away from Goodison Park and he even went as far as to claim he had a good idea of where he would end up.
Having made it clear that they didn't want to lose him, Everton didn't receive any bids for him and he came to terms with the fact that he would be spending the next year at least on Merseyside.
With Ronald Koeman turning the team's fortunes back around again, that might turn out to have been an ideal turn of events for the striker..
"There was talk of Juventus but no one can afford him in Italy," Raiola explained. "Outside of England, realistically the only clubs that can afford him are Paris Saint Germain, Bayern Munich, Barcelona and Real Madrid.
"The beauty for Everton is the chairman Bill Kenwright. This man is one of the most amazing men I have met in my 35 years in football.
"I would like to have as owner of my football club. He knows what players really need I believe, he is a great character who loves his club. It is a great strength." Read more: http://www.dailymail.co.uk/sport/article-3795620/Mino-Raiola-Romelu-Lukaku-Outside-Premier-League-PSG-Bayern-Munich-Barcelona-Real-Madrid-afford-Everton-star.html#ixzz4KgIptpnb Follow us: @MailOnline on Twitter | DailyMail on Facebook
---
Reader Comments (67)
Note: the following content is not moderated or vetted by the site owners at the time of submission. Comments are the responsibility of the poster. Disclaimer
Patrick Murphy
1
Posted 19/09/2016 at 00:37:19
Well, if he does go on to be one of the best strikers in the world, let's hope he does it with the Toffees. Rom's agent Mino Raiola interviewed by the Mail says that a new contract is being discussed and that Rom could well stay beyond next summer. The caveat being "we'll see how this season goes!".
Mino also said that he told Rom he should have had six and not three goals from the game with Sunderland, but admits that no Italian club could realistically afford him and only Europe's top clubs, PSG, Bayern and Real Madrid would be able to match the player's valuation.
Standby for some interesting stuff on our Chairman who Mino says "The beauty for Everton is the chairman Bill Kenwright. This man is one of the most amazing men I have met in my 35 years in football.
'I would like to have as owner of my football club. He knows what players really need I believe, he is a great character who loves his club. It is a great strength.'
That last bit about Bill may or may not be accurate, however, let's hope the contract offer isn't so generous as to alienate the rest of Rom's team-mates, if the Belgian decides to sign up to the Everton "project".
Colin Glassar
2
Posted 19/09/2016 at 07:47:34
This is like a never-ending soap opera with this guy and his client.
Tim Locke
3
Posted 19/09/2016 at 07:59:42
Raiola went onto explain there is a list of clubs "Outside of England, who realistically have no interest in signing him: Paris Saint Germain, Bayern Munich, Barcelona and Real Madrid."
Steve Bingham
4
Posted 19/09/2016 at 08:01:50
Yawn yawn... I couldn't care less when this Womble opens his mouth as next week he could be screaming from the roof tops that his client is going to leave us in January.
Ian Jones
5
Posted 19/09/2016 at 08:07:22
This could be a really interesting thread.
I am glad the agent is happy with the way things are now. Perhaps we could sign him up to partner Rom upfront.
Andy McNabb
6
Posted 19/09/2016 at 08:15:00
Call me naive but shouldn't we save the extra money in wages and just leave him on his current contract? We all know when it comes to retaining players who want away, they are not worth the paper they are written on.
In a month's time, new contract or not, Rom and his gutter agent will be mouthing off about a move to a 'bigger club' and we will get frustrated all over again. I would rather be frustrated knowing he was getting 㿭,000 a week or whatever obscene amount he 'earns', rather than upping it to 𧴜,000 a week. Surely I am not alone here?
John Malone
7
Posted 19/09/2016 at 08:16:24
Believe it when I see it!
Even Raiola's been sucked by Bill's BS!
Colin Glassar
8
Posted 19/09/2016 at 08:19:53
Maybe the club want to insert a buy-out clause, Andy, to cover their backs.
Anthony Dwyer
9
Posted 19/09/2016 at 08:25:08
If Rom wants his pay hike then I'd tell him to whistle if he asked for a buy-out clause.
That said, getting Rom to sign a new deal would be huge for us.
Lastly, if Juventus wanted Rom, they could have afforded him, the Higuin fee would have easily secured Rom's signature.
Phil Sammon
10
Posted 19/09/2016 at 08:28:22
It's all very well signing new contracts. How about actually honouring one?
This Riola character is a real piece of work. Him and his ilk will be the very reason I eventually give up on football.
Ste Wallace
11
Posted 19/09/2016 at 08:58:43
I agree with Andy (#5) – leave him on his original salary... he will be gone in 12 months unless we reach the Champions League.
David Donnellan
12
Posted 19/09/2016 at 09:27:38
Football is full of parasites like this bloke sadly. He has made an absolute fortune on the back of Lukaku and others. Good work if you can get it.
Mike Green
13
Posted 19/09/2016 at 09:31:56
I'd be happy to offer him a new, extended, improved contract providing it was for sensible money with a large buy out clause.
Reading between the lines this sounds like it could be good news simply as a barometer of where we are going as a club though – within a matter of months the tide appears to be turning. Have we gone from pariahs to "players"...?
Maybe the options away from Goodison Park aren't that plentiful, or attractive as they once were after all. Long may it continue.
Fran Mitchell
15
Posted 19/09/2016 at 09:47:07
Andy, it is in the club's interest to keep players on longer contracts. At the end of this year he will have just 2 years left to run. Thus our position on the bargaining table would be much weaker.
I don't get the clamour for a buy-out clause. If he has a buy-out clause of say 㿲 million, that means putting a maximum sale price, not a minimum one. In Spain it is a legal necessity, not here. No benefit for the club.
Jamie Sweet
16
Posted 19/09/2016 at 10:05:18
I can't help but read that final quote about Bill Kenwright and assume that the entire interview was said in an overly sarcastic tone.
Mike Green
17
Posted 19/09/2016 at 10:06:29
Fran (#14) – fair comment about buy-out clause, you are of course correct.
John Pickles
18
Posted 19/09/2016 at 10:08:48
Or to put it another way.....
As I am unable to get a big fat agent fee for getting Rom a transfer, I will now work on getting a big fat agent fee for getting him a new contract at Everton.
Liam Reilly
19
Posted 19/09/2016 at 10:23:23
Riola knows that Everton will not let Lukaku go in January and with 2 years remaining on his contract; the club will still want upwards of 㿨 million next summer, which combined with wages, few clubs can afford. Therefore the obvious answer is to renegotiate with Everton and get his client a sizable salary increase and earn himself a nice little wedge in the process.
Regardless, I'd see it as plus for Everton, because if Rom is happy and stays fit, he could break the 30-goal barrier and propel the club towards top 6 or hopefully top 4.
Phil Sammon
20
Posted 19/09/2016 at 10:23:52
Fran
Exactly...well, kind of.
The fee, say £70M, is the stipulated amount at which Everton would HAVE TO accept a transfer. Nobody would offer higher, obviously. But we wouldn't ever have to accept any lower.
It will be Rom and his agent that want the buy-out clause. Everton's job is to make sure that figure is as high as possible. £90M would do for me if he really wants that £100k per week and another bumper signing on fee.
David Ellis
21
Posted 19/09/2016 at 10:39:53
This article is good for us. It makes us sound like a player and moving in the right direction. There are very few clubs that could pay more than we do on wages and frankly they mostly already employ better strikers, which is why Rom is still at L4.
If this transfer window has taught us anything its that we better hang on to Rom if we can because regardless of the money it is very hard to replace him with similar ability because without CL football they just don't want to come to us. Hopefully that will soon change...but we need a top 4 finish to get that momentum really rolling.
John Mckay
22
Posted 19/09/2016 at 10:55:10
We need to get him tied down on a new contract. Reckon he'll get about 𧴰k a week. Which is a lot. But when he does the job of a couple of strikers with his goal return it's not bad business.
Also he could run his contract down and we've wasted at least the initial 㿈m we spent on him.
Makes sense for us to tie him down, he might be better off not signing and keeping his options open we'd be forced to sell him next summer anyway for lower than his true value.
Brent Stephens
23
Posted 19/09/2016 at 11:06:46
Mike Green (#13) – "Reading between the lines this sounds like it could be good news simply as a barometer of where we are going as a club though – within a matter of months the tide appears to be turning."
Yes, that for me is the more interesting part of this (as opposed to is he or isn't he poo, a knob, has a knob agent, etc etc) – it's maybe an indication of where we've got to already under Ronald Koeman.
Brian Williams
24
Posted 19/09/2016 at 11:32:37
Tie him down to a long-term contract by all means. Good sense all round BUT keep up this momentum, stay in the top 4 and hopefully in January concentrate on bringing in another striker. Our position, should we maintain it, will help in that respect.
Jakob Herd
25
Posted 19/09/2016 at 11:53:57
I really don't understand some people, "honouring contracts" can I just mention Koeman, Walsh, Gana et al.
Rom is a 20+ goal a season centre forward in the mould of Bob Latchford (oh Bob didn't honour his contract with Birmingham either or for Everton for that matter) who wants top level football. He's a rarity and is getting better, why do people want to knock him FFS.
If we can keep him great, if we can't we will get good money for him.
Just enjoy him while he's here, many others wish they had him.
Paul Mackie
26
Posted 19/09/2016 at 12:06:32
We finished bottom half for two seasons running and Lukaku understandably wanted away. He's since had a chance to work with Koeman and now wants to stay. Regardless of your opinion on Lukaku, this is excellent news. Potential transfer targets will look at this and think 'that Koeman must be pretty good to work for'.
John Mckay
27
Posted 19/09/2016 at 12:16:33
Jakob 24.
I agree with you, we are lucky to have him. It's not the money he is after that's why he signed for us and not stayed at Chelsea.
We've finished 11th the last two seasons and last season was not his fault, no surprise he wanted away to better himself.
Hopefully we'll continue to do well so that he stays, he is rare player IMO.
Martin Mason
28
Posted 19/09/2016 at 12:23:16
Great to see him praising the Dear Leader so highly.
Danny Broderick
29
Posted 19/09/2016 at 12:24:13
Contracts are a 2-way thing. The player gets rewarded, but we also protect the transfer value. The way I see it, we either renew his contract this summer, or sell him with 2 years left on his contract.
I don't mind having a buy-out clause, but in light of the escalation of recent transfer fees, I would hope the buy out would be £100 million, no less. In a few years, I am sure that would be a realistic price for him, simply because the mad world of football is unlike any other.
I think that, sometimes, these buyout fees can clarify the situation for all parties. It's basically 'put up or shut up' for any interested parties.
Garry Corgan
30
Posted 19/09/2016 at 12:28:19
In other words, "My client is determined to get out of Everton but is stuck there for at least another season. I'm trying to get him a better wage and, if he wants to leave at the end of the season, he'll kick and scream and talk shit to the Belgian press to force a move."
Can't see the benefit to us of giving him a new contract tbh. Get rid at the end of the season.
Chris Wright
31
Posted 19/09/2016 at 12:37:50
I suspect he is angling after a new contract with a release clause. I think this maybe the world we live in now. He'll happily sign a new deal if he's getting a huge wage hike and then a release if certain criteria aren't met like Champions League football etc. It would guarantee EFC a good chunk of cash.
If he doesn't sign a new one, Everton won't get as much next summer with 2 years left. Say 㿞 mill rather than 㿲 mill. And if he doesn't go then it could well be 㿀 mill season after. If we're lucky.
Steve Ferns
32
Posted 19/09/2016 at 12:38:48
Exactly, Fran (#14), so many on here fail to understand buy-out clauses. In Spain it is essential, you have to have them. In England you do not, so they are rare.
Imagine we put one in for Stones when we signed him. A 㿀m or 㿅m buy out clause would seem reasonable when we bought him!
So no, do not insert any buy-out clause in for Rom... or if you do, account for the ridiculous levels of inflation and make that clause 𧶀m.
Erik Dols
33
Posted 19/09/2016 at 13:00:55
Three thoughts:
1) With the ridiculous inflation on transfer prices, nobody knows how far it will go in a few years time. It would be unwise to put a minimum release clause in his contract. It could very well be that 𧴜m is the going rate for a mid-table striker in two years time. If Lukaku scores 30 a season by that time, we will be kicking ourselves.
2) Same goes for salaries. Give him 𧴜k a week now for two or three extra years on his contract, could prove to be the bargain of the century in a couple of years time. Wouldn't surprise me with the way the market is going, that a mid-table striker fetches 𧶀k a week in a few years time.
3) Why am I taking the words of that clown Raiola seriously?
Michael Lynch
34
Posted 19/09/2016 at 13:10:43
I think we should sell Lukaku and play Kenwright up front. After all, he's one of the most amazing men this bellend has met, and with 35 years of football knowledge behind him, Raiola clearly knows what he's talking about.
Frank Wade
35
Posted 19/09/2016 at 13:20:42
Raiola picked up 20% of the Pogba fee (㿀m) as he had it in the Juventus contract. I assume the objective of his luvvy duvvy Bill talk is to ensure something similar in Lukaku's new contract. Raiola and Lukaku will also pick up a signing-on fee for the new contract and these also run into millions. This new contract will cost serious money.
Reminds me of BK offering Martinez a contract after one good season. Are we to offer Lukaku a new contract after a hat-trick against a struggling team? He did not look a 𧴰k-a-week player on Saturday.
Hilarious that the Fantasy Football people effectively gave him the MotM bonus points. Maybe Raiola has a hand in there as well. I don't know the answer to this conundrum, but would like to see a few more goals before we renegotiate, especially with a player who tends to blow hot and cold.
I have been reading Colin Harvey's book and he speaks of the high number of written transfer requests from Bob Latchford that Billy Bingham used to wrap his cigars in and burn. Bob also stopped the Club Secretary in his car in traffic and posted a request in the window when it was rolled down.
Stan Schofield
36
Posted 19/09/2016 at 13:20:46
Erik @32: I think the answer to your question is, because too many folks take too many media reports too seriously, including on TW.
Regardless of the usual nonesense from the media, if Lukaku does renew his contract I'll be more than chuffed. He's a rarity. And his job is to score goals, not to be the world's leading diplomat just to please some Evertonians.
Teddy Bertin
37
Posted 19/09/2016 at 13:24:39
Win, win for Rom. New deal won't affect his appeal to other clubs but higher wages will mean that the next club will have to go even higher to entice him away... plus a longer contract will mean a bigger fees for agent and player plus.
While we're doing well, I wouldn't be surprised to see this deal happen. It certainly won't mean that he'll definitely be staying.
Rob Baker
38
Posted 19/09/2016 at 13:35:24
What a chairman!
Don Alexander
39
Posted 19/09/2016 at 13:36:18
He doesn't have to be the "World's leading diplomat" but he and everyone else at EFC are required as professionals to please ALL Evertonians ALL the time. If they do they'll get ALL the rewards they seek.
Alan J Thompson
40
Posted 19/09/2016 at 13:42:49
And how long will this contract last, until the next Belgium international?
After the Martinez contract fiasco I'm surprised they let Bill anywhere near but then, it is his fax machine.
I'd like to see Lukaku stay but someone has to explain the rule book to him and does this help Mr Koeman sort out dressing room differences?
As Bill rides off into the Boys Pen, we never even got to say thank you.
Stan Schofield
41
Posted 19/09/2016 at 13:51:08
Don @38: In 55 years of supporting Everton, I can't recall being pleased ALL the time. I'm just pleased if Lukaku scores goals. He can tell everyone that Stan Schofield is a twat for all I care, so long as he scores goals.
John Daley
42
Posted 19/09/2016 at 13:54:34
Some super agent.
Eighteen months of bluster about a big move being just around the corner for his boy and the best he can deliver is looking like a new contract with the same club he claimed he would never have countenanced his client signing for if he had been in charge of his career sooner. 
What's his super power? The ability to scoff shitloads of humble pie without heaving? 
"Stand back citizen!! Super Agent is here to save...err..face."

Ernie Baywood
43
Posted 19/09/2016 at 14:03:48
This feels like a gangster praising a judge. It's no praise at all.
James Stewart
45
Posted 19/09/2016 at 14:40:22
Or, quite equally, Everton could qualify for the Champions League and sign a better striker! Think on that, Rom and his parasite blathering agent...
Dave Abrahams
46
Posted 19/09/2016 at 15:13:01
Ernie, gangsters don't praise judges – they pay them.
Paul Holmes
47
Posted 19/09/2016 at 15:18:00
Let's be honest, after watching the first 5 games, the standard for good strikers is poor in the Premier League. Lukaku might divide opinion on here, but looking at the rest of the teams, apart from Aguero, we have the next best striker so we need to keep him if we want to get in the Champions League. He will get you 20+ goals every season.
Eddie Dunn
48
Posted 19/09/2016 at 15:46:22
Rom is by far the best striker on our books. Our failure to land a "Slimani" means that Rom's fitness is of paramount importance to us. Despite his annoying agent, we are dependent on him and, looking back to our mid-table finishes over the last 2 seasons, we would have all been shitting bricks in the relegation dogfight if it wasn't for him.
Extend his contract, pay him more and ensure a handsome return if he moves.

Don Alexander
49
Posted 19/09/2016 at 15:47:18
Stan, you and I must be about the same age. We've certainly been Toffees for the same length of time and I too have not been happy for very many seasons. That said, I'm excited by what's now developing and am in a rare moment of genuine optimism for the foreseeable.
Leeches like Payola or whatever his name is deserve less respect than a dog turd on the street in my opinion and, young or not, all the players in the club need to buy into the desire to bust a gut every day in a bid to win matches and then the even greater rewards they and their leeches seek.
Naïve, maybe... but the notion of just having to swallow "professional" shit because that's just how the world is won't do for me. I mean you no offence in any way at all by the way. COYB!
Dave Roberts
50
Posted 19/09/2016 at 15:58:56
Like it or not.... like HIM or not, Lukaku is the best striker we've had in decades. His agent may be a sucking parasite but aren't they all and it's something football now has to live with because all players have 'em.
It's not so long ago we were signing crocks like Saha as our main striker and we wouldn't have dreamed for one minute of having somebody like Lukaku sign for us. Now it seems he wants to stay but instead of rejoicing at that and the way the club has turned a corner to make that possible, Depressives Anonymous takes to the stage! If we won the fucking treble this year and signed Messi and Ronaldo in time to win the Champions League next year, Depressives Anonymous would still be out in force using TW to vent their petty grievances.
As for Kenwright, yeah we know he leaves a lot to be desired as a chairman of a business, but as chairman of a football club he aint done so bad as he? He loves this club just as much as any of us do and he promised us one thing.He would seek investment to grow the club but not at any price. He would never put the club at risk and he has kept his promise. He could have sold the club to the Venkeys or some other prats but he kept his promise and eventually it bore fruit. It may have taken longer than we hoped but he got us there.
If Raiola or anybody else likes him, just leave it at that, because I quite like him myself although I appreciate his weaknesses. Give the man a fucking break. Smile FFS we're 2nd in the league, playing good stuff and it's only going to get better!
Stan Schofield
51
Posted 19/09/2016 at 16:16:23
Don@ 48: I actually agree with you mate. I'm 62 by the way. Middle men generally are not the most admirable individuals, and I try to avoid them if I can. I imagine football agents are particularly 'unadmirable'.
But I can't get worked up be media reports or the occasional thing that Lukaku says about his ambitions. I certainly tend to completely ignore the ramblings of middle men (and pundits on the telly).
In the big scheme of things, the occasional spot of shit in the media, relating to Lukaku or anyone else, is trivial compared with he can bring to us as a club. He is rare, and he could be a lot worse in terms of showing any arrogance, and by God there have been plenty of Prima donnas like that in football. So really, I just want him to score goals.
Yes, there are limits to shit you can take, but we're far off that, so I'm just looking forward to events unfolding. They're not all gentlemen like Brian Labone, Howard Kendall or Gareth Barry, but I can live with that.
Stan Schofield
52
Posted 19/09/2016 at 16:19:45
Dave @49: Well said mate.
Peter Murray
53
Posted 19/09/2016 at 16:59:24
At last, Bill Kenwright is getting some of the credit he deserves for the years of his devoted service to Everton Football Club.
Denis Richardson
54
Posted 19/09/2016 at 17:09:53
Does Rom not have THREE years left on his contract?
No-one was willing to cough up £65m+ which is why he's still with us. If we don't finish top 4 next year he'll be on about 'proving himself at the top level' again.
His agent and others like him should be banned from the game. He pocketed £25m from the Pogba deal! Money that's gone straight out of the game and into his Monaco bank account, tax free!
Alan J Thompson
55
Posted 19/09/2016 at 17:18:10
Dave (#49); you make it sound like it has nothing to do with Lukaku, it's all his Agent's work? He goes on the record saying he wants away to what he considers better clubs who are playing in the Champions League and he gets a pay rise for it.
How would this make Jagielka and Baines feel? Both of whom turned down moves to Arsenal and Man Utd and probably a bigger pay cheque or do you think that's a case of more fool them?
I think we are better off with Lukaku but should we reward his attitude, his performance on the pitch or just honour his contract and offer him another at the due time.
Raymond Fox
56
Posted 19/09/2016 at 17:39:30
Give Rom a new contract quick, it protects the clubs interests, if we don't he can walk away on a free in 2 years time. He's in a strong position to screw us even now, it will be even stronger next year.
It's no use berating agents, the players want agents, so were stuck with them. It's the crazy finances of football that's the culprit, god knows how high transfer fees and wages are going to reach.
Mark Morrissey
57
Posted 19/09/2016 at 18:33:26
We all want Everton to be one of the elite clubs in England, a Champions League regular. We therefore have to learn to put with the shit that it brings. That means dealing with the worst of the agents, distracting advertising deals within a players contracts, marketing deals and all the guff that goes with employing egotistical narcissists.
As clubs go, we are doing okay. Our prima donnas are few and far between. Just wait until we are Champions League regulars. We'll have to put up with all sorts of shite. We need to get used to it.
Lets embrace being on the up. It's going to be a bumpy ride but let's not let the crap get to us. We need to enjoy Lukaku for his football and try to not let the agent's wheeling and dealings and all the other crap get us down.
Brett Jonathan
58
Posted 19/09/2016 at 18:45:47
Let me guess. All of those huge clubs that were to bid for Lukaku in the transfer window and didn't materialize, means he and his agent loves Everton again!
Until of course, the next window, when all those huge clubs who apparently weren't interested enough to make an offer are spruiked by his agent once more.
Martin Mason
59
Posted 19/09/2016 at 18:50:39
It could also have been as simple as clubs being aware that Everton weren't going to sell and that his agent has also accepted that reality and is looking for the best deal that he can.
EPL is a very dirty business and the players and their agents are, in the main, unashamed mercenaries but we who want success just have to accept it. These aren't the days of the 㿀 a week maximum wage; the boot used to be firmly on the foot of the clubs, though.
Clive Mitchell
60
Posted 19/09/2016 at 19:04:20
Steve, 4 - nailed it.
Peter Roberts
61
Posted 19/09/2016 at 19:13:54
Get him to sign a new contract put a clause in it stating that he must cover at least 7 km a game and keep his trap shut – oh, and learn how to control a ball.
Darren Hind
62
Posted 19/09/2016 at 19:45:35
Pay him what he wants.
Anybody who can score without getting into the same postcode as the ball has to have special qualities.
Andy Meighan
63
Posted 19/09/2016 at 19:48:25
Pleased with the great start to the season. What great start to the season. We've played no one, no one at all. Well, alright, Spurs but they won't do nothing this season. Well, that's what I've been subjected to in the workplace today. And to think they call us bitter.

Now, I'm not getting carried away myself but you can only beat what's put in front of you and we've won 4 out of 5. Happy days. Winning breeds confidence, so keep this run up and who knows where we could end up.

As for Lukaku, maybe he's coming to his senses and realising that Everton is as good as it gets for him. I've stated many times there was to be no bidding war for him so maybe the penny has dropped.

Please don't forget though, guys and gals, we've played no one The same goes for Man City and they are the only team above us as far as I can see.
Frank Thomas
64
Posted 19/09/2016 at 20:10:16
Do we offer him a new contract? We should remember Martinez and make all future contracts watertight on our behalf.
Before offering Rom a new contract I would ask Steve Walsh to imagine that Rom plays for someone else, would Steve advise us to buy him and for how much? Just remember two things, first Steve suggested buying Gana, Kante, Vardy, Mahrez and recently Slimani all have impressive skills so his evaluation of Rom would be very interesting for the manager.
Secondly we have bought game changing players just for the price of the John Stones transfer money imagine who we could buy for even 㿭M.
Bill Gienapp
65
Posted 19/09/2016 at 20:16:30
I think Rom and Raiola are starting to realize that they actually have fewer options than they originally thought. Real Madrid and Barcelona are never going to sign him. In spite of what Rom's father was spouting, I never thought Bayern Munich seemed like a logical fit. Juventus would have been a possibility... until they went and splashed 㿷-million on Higuain.
Over here in the Premier League, Manchester City already has the best striker in the league (IMO), Manchester United has more pressing areas of need and while Arsenal could desperately use him, they'll never come close to our asking price.
That basically leaves PSG and Chelsea. And, deep down, I don't think Rom actually wants to return to Chelsea unless they get rid of Costa and agree to make him "the man" (which is honestly why I think he backed off the transfer talk this summer – once it became clear Costa was staying put and he'd be fighting for goals/minutes).
So exploring a new deal with Everton makes sense for now, especially now that he's gotten a taste of the Koeman regime and the notion that the club might be on the cusp of something special doesn't seem quite so far-fetched.
Francis Gibson
66
Posted 20/09/2016 at 02:53:03
It's comforting to see some of you up there are as cynical and fatigued by this player and his coterie as I am.
I'm constantly asking myself: How can I be so indifferent about a player I really should be so proud to have in my beloved club? But then I see yet another thing like this, and it's just... ughh. It's so fucking draining.
Dave Abrahams
67
Posted 20/09/2016 at 13:55:08
Dave (#50), just one little piece from your post regarding Kenwright: "He loves this club as much as any of us do."
If you've got time, Dave, please read "RIP Freddie Armstong" on one of the other threads – that's how you love this club.
Dave, you like Kenwright and that's fine... but please do not put him anywhere as close to people like Freddie, and there are hundreds of fans like Freddie.
Dave Roberts
68
Posted 20/09/2016 at 17:39:21
Dave, I'd love to read about Freddie but I have no idea where to look. Perhaps if you could direct me to the particular thread. I'm sure he was a great bloke or you wouldn't mention him and I'm sure for the same reason he loved the club in his own way.
But that's the point isn't it? We all love the club in our own way and our own way often depends upon circumstances, such as what your overriding priorities are and the priorities of a chairman may not be quite the same as a fan's.
My uncle Peter, my dad's older brother, collapsed and died in County Road after a match in 1962 because he would not follow the advice of a St John's Ambulanceman and leave Goodison in an ambulance before the game had finished. He was having a heart attack which caught up with him around the corner. That's how much he loved the club.
Would I do that? I don't know but as a kid I would sometimes walk to Goodison from Aigburth Road if all I had was the 1/9 admission money. Maybe that was my way of loving the club.
Kenwright's way of loving the club may just have been rescuing it from his predecessor and handing it on to someone who would keep it safe for all of us to love and for those who will follow us to love.
Let's not get into the 'holier than thou' business, we all do things and express our affections in different ways. Vive la difference.
Dave Roberts
69
Posted 20/09/2016 at 17:48:45
I found the thread about Freddie. Googled his name and it came up. Sounds like a great fella and a really true Blue although I didn't know him personally.
RIP Freddie.
Add Your Comments
In order to post a comment, you need to be logged in as a registered user of the site.
Or Sign up as a ToffeeWeb Member — it's free, takes just a few minutes and will allow you to post your comments on articles and Talking Points submissions across the site.