US architectural firm linked with Everton stadium design

150 Comments [Jump to last]
19 September
Speculation that an announcement could soon be made regarding a new stadium for Everton has been mounting in recent weeks, with a Sports Business Journal article only adding fuel to the rumours.
Talk of Everton finally putting together a viable plan to move from Goodison Park, their home since 1892, has strengthened since Farhad Moshiri took a 49.9% stake in the club in February and the local media have reported that two brownfield sites have been under serious consideration over the past few months.
Vacant land at Stonebridge Cross off the East Lancs road in Croxteth is one location that has long been mooted as a potential area for a new Everton ground while Liverpool's north docks emerged as a tantalising option earlier this year, one that offers the Blues an opportunity to realise the dream of a waterfront stadium more than a decade after the Kings Dock proposal died.
Liverpool Mayor Joe Anderson has made public his belief that an announcement regarding Everton's new home could be made within the next two months while there were further rumours on Twitter over the weekend that a £25m land purchase deal for a 16-acre site at Bramley-Moore Dock has already been concluded with Peel Group.
And it would appear that preliminary work is already underway on the potential design of the structure with the apparent revelation on social media that Meis Architects have been commissioned to do the work.
Dan Meis, who runs the small independent architect studio in Venice Beach, California, watched the Toffees' Premier League win over Middlesbrough with the Southern California branch of the EvertonUSA supporters network on Saturday
Meanwhile, Young, Meis's principal and lead designer, was profiled by BizWomen last Friday after being honoured as a Game Changer at the eponymous annual conference in which it was revealed that she is working on designing two football stadia.
One of them is for AS Roma whose new 52,000-seater stadium is projected to open in 2019 and the other is for Everton. Meis Architects' portfolio also includes renovation work at Staples Center in Los Angeles and Paul Brown Stadium in Cincinnati, Ohio, as well as proposals for a new $850m NFL stadium in LA at Grand Crossing.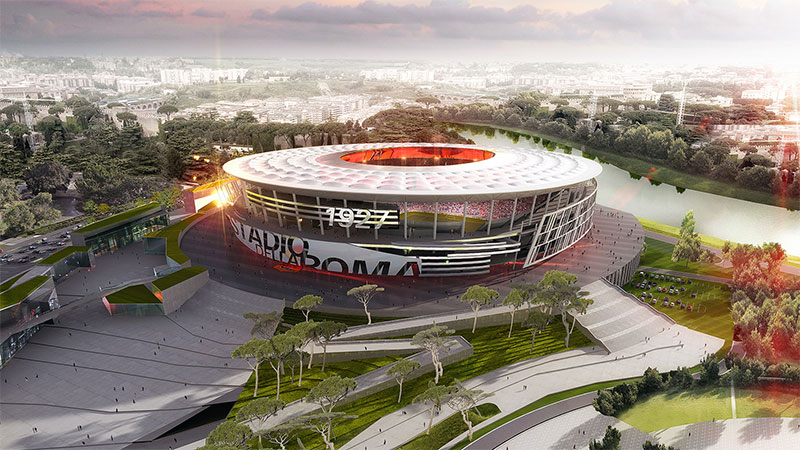 Meis Architects' proposed design for Stadio dello Roma, scheduled to open in 2019 (© Meis Architects)
These latest suggestions come in the wake of earlier rumours that Everton have already come to agreement with Peel to purchase land on the city's derelict docklands and that the club plan to fill in Bramley-Moore dock to create the footprint required for the new ground.
As such, that location would require significantly more preparatory work than Stonebridge Cross but there is an over-whelming sense among supporters and the club's hierarchy that a waterside stadium is a much more attractive option and is, therefore, worth the extra effort and expense.
---
Reader Comments (150)
Note: the following content is not moderated or vetted by the site owners at the time of submission. Comments are the responsibility of the poster. Disclaimer
Marcus Leigh
1
Posted 19/09/2016 at 19:53:32
Another one like this would do nicely, Ms Young:
http://www.meisstudio.com/paul-brown-stadium/
Andy Meighan
2
Posted 19/09/2016 at 19:56:29
Imagine something like that on the dock, lit up of a night... Absolutely superb.
Obviously I'll believe it when I see it... but hey, I can dream. Knowing my luck I'll probably fall off the perch the day before the first home game. I know I am one miserable git.
Geoffrey Hall
3
Posted 19/09/2016 at 19:57:58
I really hope so – it would really push the club on make it big so the RS can see it.
Colin Glassar
4
Posted 19/09/2016 at 20:00:13
Bloody hell, is this really happening?
Ian Hanes
5
Posted 19/09/2016 at 20:04:56
Am I dreaming Colin?? Sounds very legitimate.
Joe O'Brien
6
Posted 19/09/2016 at 20:06:43
It has to be happening. The rumours are gathering pace. It's a unbelievable time to be a blue. I've never been so optimistic as I do now.
Mike Green
7
Posted 19/09/2016 at 20:10:47
Has anyone got Jim White's number..?
Dave Weston
8
Posted 19/09/2016 at 20:13:05
Is this really going to happen?
Gerry Quinn
9
Posted 19/09/2016 at 20:13:33
Ian, it IS definitely legitimate – the only IF is WHERE the stadium will be built.
Oscar Huglin
10
Posted 19/09/2016 at 20:17:07
O_O
Martin Mason
11
Posted 19/09/2016 at 20:18:08
These are amazing days to be associated with the Everton project and we may be able to say, "I was there".

It's like the mid '80s when we had bad transfer windows, bought old rubbish and yet started to play brilliantly. I'm pinching myself and while I know there'll be bad patches I'm hoping that our time has come.
Scott Mongomery
12
Posted 19/09/2016 at 20:20:01
In the process of not spending silly money during the transfer window, we have saved 㿨-80 million toward the cost of the stadium. Every cloud, silver linings and all that...
Colin Glassar
13
Posted 19/09/2016 at 20:24:51
Scott, I don't know if I'm in cloud cuckoo land or on cloud nine. These are heady days indeed.
Julian Wait
14
Posted 19/09/2016 at 20:27:53
Anyone else got that uneasy "fuck, this might be the real thing" tingle going on? Maybe time to book one last trip back from some games any the Old Lady and to let my youngest experience it... and leave enough time to save for the trip back for the new one as well...

Gerry Quinn
15
Posted 19/09/2016 at 20:29:00
Impressive stadiums in Doha, Qatar – all shaped like bowls to protect the fans from from wind and sand. Shouldn't we have that if we are near Crosby beach?
Gerry Quinn
16
Posted 19/09/2016 at 20:29:55
Protect us from the hot air from across the park...
Colin Glassar
17
Posted 19/09/2016 at 20:30:14
The article states quite clearly they are working on a stadium design for Everton FC.
Tony Hill
18
Posted 19/09/2016 at 20:33:44
Perhaps someone from the Southern California branch can tell us what Mr Meis said about this, if anything? The article about Xan Young states explicitly that she's working on our design (among others).
Patrick Murphy
19
Posted 19/09/2016 at 20:37:26
Perhaps it's for the Chilean Everton rather than the Merseyside Everton?
Colin Glassar
20
Posted 19/09/2016 at 20:39:36
I can't get onto their website.
Ed Wallis
21
Posted 19/09/2016 at 20:41:17
Mixed feelings... if true that looks likely... wow fantastic... really exciting times ahead. Time to challenge again to compete with the Sky Sports 4.
But I love Goodison Park; it will be a really sad day when we leave, but glad all my kids have experienced the place.
It's a great time to be an Evertonian.. possibly made the feeling better after the shite for the 3 Martinez years.
Colin Glassar
22
Posted 19/09/2016 at 20:42:32
It's official!!! It's on Wikipedia.
Liam Reilly
23
Posted 19/09/2016 at 20:42:33
Some cracking designs on that site. Fingers xd...
Brent Stephens
24
Posted 19/09/2016 at 21:23:37
Link
Lists EFC as one of Dan Meis' sports projects.
Tony Draper
25
Posted 19/09/2016 at 21:43:29
I do NOT want:
A generic "Astrobowl".
Some smartchitect's CV-defining "innovation".
Symmetry, that's just crass.
I want:
"God's New Acre" to feel like "The Grand Old Lady".
Leitch~ian criss crosses.
Four sides.
Four sides rammed right n tight up alongside the pitch.
Acoustics that frighten the fuckin bajasus out of visiting victi...... erm teams.
Basically, transport Goodison through space and time.
Oh, and The Mersey to appear Royal Blue on match days.
(I have, reluctantly, stopped short of a gallows overlooking the banks of aforesaid "Royal Blue Mersey".).
Kim Vivian
26
Posted 19/09/2016 at 21:48:44
Man... Really like the look of that Stadio Della in Rome. Gorgeous. Could see that on the waterfront.
Damn, that would be something. If you've not already done so, have a look on the link.
Ray Said
27
Posted 19/09/2016 at 21:57:00
Like Tony (25) I don't want a bowl. I also want a four sided traditional stadium holding at least 60k and I want one huge end (cue jokes) for our supporters-like the yellow wall at Dortmund.
I want two massive towers that we have to pass through to get into the ground-like something out of Lord of The Rings. I want a walk of champions with gladiatorial statues of Dean, Labone, Ball Harvey and Kendall, Big Nev and I want nine big 10-foot high replicas of the league trophy, same for the cups with space reserved for the next ones to come.
I want a place that inspires our supporters and makes theirs have a knee tremble and head for the toilets. I don't think that's a lot to ask for.
Tony Draper
28
Posted 19/09/2016 at 22:20:15
Ray, YES to:
60K.
A fearsome "Major End".
But, for the the "Alternative end" also to be for Toffees.
Then, furthermore.
Tuck the "Aways" in some "Tower of Goodison" dungeon.
Where their misbegotten appearance, onanistic tendencies and catterwalling is least likely to give offence to "The Chosen" (this applies most especially to opposition followed by those of the "pro-whaling" persuasion).
Peter Murray
29
Posted 19/09/2016 at 22:21:01
If this deal does come off, we do not want, particularly on such a unique site, yet another identikit circular stadium. It would just look like a bigger version of the Echo Arena down the road.
Colin Glassar
30
Posted 19/09/2016 at 22:25:00
Same here Ray, I also want a giant (300ft at least) middle finger above the stadium pointing towards Valhalla. Something you could see from the space station.
Ray Roche
31
Posted 19/09/2016 at 22:33:20
Like Ray and Tony I'd rather have a more traditional stadium. Just like we are a more traditional club, with old fashioned values and a sense of self respect, and I'd want the fans up against the pitch and a stadium acoustically designed to make our voices heard.
WHU are apparently not too happy in their Council House where they need binoculars to see the players. And NO fuckin' poxy music played whenever we score a goal!!!
Tony Draper
32
Posted 19/09/2016 at 22:34:29
Thinking more upon Ray & Colin's "monumentalism".
Surely, an intense beam of pure Royal Blue light, emanating from the heavens and bathing "The Home of The Toffs" from a geostationary sattelite is not beyond reason?
On further thoughts ...........
Julian W.
33
Posted 19/09/2016 at 22:40:30
Square-ish sides. Monumental acoustics. A giant glass "Rupert's Tower" in one corner as a nod to the Church in the current one (for corporate hospitality?) ...
Tony Draper
34
Posted 19/09/2016 at 22:42:08
Ray @31.
Dear sweet baby Judas, just bloody imagine if every time we scored some fuckin' reconditioned fairground machine fired out "Everton Toffees" to the faithful?
**Shudders uncontrollably**
Stan Schofield
35
Posted 19/09/2016 at 22:48:01
A stadium designed in the US, an Iranian owner, a former KGB assassin on the board, and a Dutch football grand-master as manager. We're a multinational superpower!
Julian Wait
36
Posted 19/09/2016 at 22:48:47
Is it just me that wants to think that – like the Anderson comments before, Twitter this weekend – this is part of a deliberate communication, drip drip into the public sphere, to create a sense of intrigue and excitement?
It's working in my world. I am officially excited by the prospect of a new stadium by the docks. And the fact that we're playing pretty well and getting good results at the same time is just cranking it up a few more notches.
Laurie Hartley
37
Posted 19/09/2016 at 22:52:17
I want them to plagiarise the Lucas Oil Stadium.
Four sides a roof and a big window at one end for looking down the river at the Liver birds.
Tony Draper
38
Posted 19/09/2016 at 22:54:57
Julian @36.
TBH mate, I've experienced false dawns before. But, as always, I'll enjoy the moment and not over invest in the kind of total delusion we annually witness from "The Hermit Crabs".
Jamie Crowley
39
Posted 19/09/2016 at 22:55:19
Julian @ 14 -
Yes! I'm getting quite nervous...
I've never been to Goodison (pox on me) as I have a terrible fear of flying. Crossing an ocean via boat takes too long...
I have the feeling I'm going to have to stomach the financial hit (with a kid in college and 4 more coming behind him) and spend the thousands to get over there soon. We'd probably come seven Crowley's strong – wife, five sons, me.
Anybody got about $10 grand they could do without?
Really hope this is coming to fruition as a new stadium is desperately needed. Moshri would be a canonized Saint in the High Church of Everton if he pulled this one off.
Dennis Stevens
40
Posted 19/09/2016 at 22:57:15
I'd be sad to leave Goodison Park, & I do believe is could be spectacularly redeveloped for far less money, however, if we must move then to the Docks it must be. I'm sure these are great designs but they just don't do it for me. Anything resembling the ubiquitous bowl smacks of the same old thing we see everywhere else.
A football stadium should have four discernible sides, imo. They should be close to the pitch & the seating at a suitable angle to help create the intense atmosphere. A design that incorporates safe standing would also be an excellent idea.
I hope the design can be that perfect mix of the traditional & the innovative that would stand Everton in good stead for many years to come.
Andy Finigan
41
Posted 19/09/2016 at 23:08:34
If we had a home end stand capable of holding say 15,000 and have the away end with a lot of corporate boxes which then holds 5,000 away supporters, would this be a better motivation for us to all want to sing like in the good old days?
Seeing and hearing the other fans I think would stir your emotions. It would be even better if a section in the middle of our end was standing,and would be very popular.
Also if we have a 60,000 stadium would it not be good to try and entice away supporters to our ground with the Everton experience – good grub, beer, seating, all at low cost? Surely a good atmosphere comes from both sets off supporters at the game, just as long as we are louder though.
Kieran Kinsella
42
Posted 19/09/2016 at 23:09:06
I just wonder if it's all publicity to market the club to a bigger buyer. Lukaku might stay, we might sign some big name players if Jimmy Mac doesn't get hurt feelings, we may get a stadium. Show me the money.
Laurie Hartley
43
Posted 19/09/2016 at 23:13:10
Oh yeah and I want one of those beams like in the batman movies that can be switched on for night games that says "EFC".
Julian Wait
44
Posted 19/09/2016 at 23:28:50
Home and Away ends with safe standing would be a statement.
Come on, feel the noise!
Steve Jones
45
Posted 19/09/2016 at 00:01:38
It's got to fit the rest of the riverfront skyline which will be curvy and modern. I'd be prepared for some variation of a bowl.
Provided it's quality, has all the facilities and isn't landed with some stupid fucking name, I'll be made up!
Brian Hennessy
46
Posted 19/09/2016 at 00:03:01
It seems about 90% of Evertonians want the same thing, a four-sided stadium on the docks with fans as close to the pitch as possible.
Let's not waste too much time and just give us a blue version of Dortmund's Westfalenstadion. Just like this:
Nicholas Ryan
47
Posted 20/09/2016 at 00:10:44
If this happens, the words: Nil Satis Nisi Optimum will never again be greeted by hollow laughter!!!
Tony Stanley
48
Posted 20/09/2016 at 00:19:21
If we must move from Goodison, then let it be on the banks of the Mersey and please please let it not be another bowl, we deserve better than that.
Rob Henderson
49
Posted 20/09/2016 at 00:49:55
Must admit, whilst exciting I know of another architect more locally who mentioned they had been approached to look at sketches for the docks site.
Last I heard, they were even considering some really big schemes that didn't include filling the dock.
The proposals for the tobacco factory and the huge mixed-use scheme between the Titanic and city centre also seem to be falling into line and will form part of the complete regeneration of the entire quarter, a la east Manchester and the area around The Ethiad
Exciting times.
Derek Thomas
50
Posted 20/09/2016 at 01:36:54
I'm with Laurie @37 & 43, Ray & Tony @27 & 28. Oblatelty Spheroid-ish (square but not angular). 55-60K. Tight and close to the action. I could live with the Lucas Oil type thing... and If I could live long enough to actually see it that would be good too.
NO FUCKING RUNNING TRACK...(and, with all due respect to the worthy citizens therein abiding; not in Crocky either).
Also let the rs get sucked into the Commonwealth Games diversion thing, because that's all it is, a jealous rs faction of the council's vain attempt to divert us. But as we all know... We shall not be moved.
What if it's all just a ploy for Moshiri to double his money, you know what?
I
DON'T
GIVE
A FUCK.
Everyone's a winner.
Julian W.
51
Posted 20/09/2016 at 02:00:27
I think this is for Moshiri to play with but wouldn't be surprised if his Arsenal mate was involved somehow in the broader project.
Jim Hardin
52
Posted 20/09/2016 at 02:38:50
Ray #27,
Did you want a moat, drawbridge, and murder slits in entryways the visitors must use also?
Marcus #1,
Been to Paul Brown Stadium about 4 times a year since it was built, mostly to watch concerts, college football, and NFL games (When the Steelers are in town). It is well designed and laid out. No bad seats. The design of the curved upper decks actually means the upper-end sections are not too far from the field. The ends are open although the field is lower but fans at PBS are not dealing with sand or ocean/sea winds either.
I am also not sure how a roof would work with the design since it really is an altered exploded bowl design.
Ernie Baywood
53
Posted 20/09/2016 at 02:56:28
When it comes to stadium discussions, I generally feel pissed off.
This seems so real and so close that I'm now a mix of excited and sad. The leaving of Goodison will be one of the toughest things I'll experience.
Peter Lee
54
Posted 20/09/2016 at 04:18:12
Second from top, rumours of a stadium = loads of blues salivating at the prospect, praise for Mr Moshiri.
Bottom half of the table, rumours of stadium = loads of blues foaming at the mouth over being "lied to again" as a distraction by Mr Kenwright.
Discuss.
Steve Bingham
55
Posted 20/09/2016 at 04:24:55
Well... I have read every comment carefully and can most definitely verify that there has been some huge and major thought gone into this new stadium!! Ye gods, people, why not have lions coming out of the floor (a la gladiator) every time the opposition get a corner!
Sky would never be away after Harry Kane gets his left leg thoroughly gnawed down to the bone! I'm off now for a lie down in a darkened room.
Kim Vivian
56
Posted 20/09/2016 at 07:17:46
Andy Finigan. Good comments.
Tony Draper
57
Posted 20/09/2016 at 07:43:23
Thanks to everyone who has posted links of alternatives in this thread. They really bring home just how different the final result could be. That's both exciting and scary.
As many of us have said, Four Sides... NOT a bowl. So fa,r if I was choosing, I'd be very happy indeed with, as Brian @46 recommended, a Royal Blue version of
Borussia Dortmund's Westphalenstadion".
Sorry to disagree Marcus @1, but the Paul Brown Stadium looks precisely like what I would want for us not to have.
What truly scares me about the PBS, is that EFC seem to have appointed these same architects for our project.
Despite my tomfoolery regarding some extravagant features, what I really want is for Goodison II to "feel just like Goodison", yet modern. Classy, not flashy, just clean simple lines. Maybe the Leitch criss-crosses used externally?
Stay at a revitalised "Grand Old Lady"? In a single heart beat. (Just don't create a bollox by grafting a BLOODY BIG STAND onto it, that would just look shite!)
Build a new empire on the Royal Blue Mersey? I'm really very tempted. IF the finished product isn't a complete disappointment.
Stonebridge Cross? Just fuck that right off.
Matt Traynor
58
Posted 20/09/2016 at 07:56:43
Everyone has their opinions about what they want. There's many good examples.
If you've ever been to Brighton's new stadium, because of it's location (Falmer, outside Brighton), they try to provide a range of F&B options for home and visiting supporters – the local Police prefer not to have away fans drinking in the town. One of the things they do for away fans is to use lighting to change the area to the colours of their team, and the bars will sell real ales from breweries local to them too. The feedback is usually overwhelmingly positive, and of course the club benefits from additional income.
If it was a dock site, then the club should really lay on a range of F&B options to encourage fans to get there early, and benefit from the additional spend. Similarly after the game, the bars could be left open as well to allow fans to disperse at their leisure, and so easy the load on the public transport network.
Ray Roche
59
Posted 20/09/2016 at 08:00:01
Brian Hennessy
#46
Nailed it in one.
Willliam Bruce
60
Posted 20/09/2016 at 08:04:14
Form an orderly queue with your shovels gentlemen and lets get started.
I also want a 30ft high 3-dimensional bronze Everton logo that when positioned correctly, will cast a huge EFC shadow onto the pitch of Anfield at 3pm on a Saturday.
Colin Glassar
61
Posted 20/09/2016 at 08:29:05
Naming rights are going to be interesting. How about 'The Biggest Lidl Stadium in The World'?
Denis Richardson
62
Posted 20/09/2016 at 08:31:12
WOW - this is actually happening!
Also with us 'only' spending the Stones money this window, that should mean we have most of the £100M Sky money to pump into this, certainly no debt is needed in the next 12 months as we have enough to cover the site purchase, planing and preliminary work. Another slug of Sky money next summer will provide more dosh.
Exciting to think we could have a 55,000-seater stadium and playing in the Champions League with Koeman leading the team out as Premier League Champions, in just 3 years' time.

Alan McGuffog
63
Posted 20/09/2016 at 08:40:19
Naming rights.... mmmmm. Let's think... What will we call our 40,000 Lego style home in Gillmoss? How about the Rooney Stadium in honour of it's most famous son?
Sorry, fellas, this is Everton and, as long as Bill Kenwright is around, we will always take the wrong / cheapo option.
Philip Bunting
64
Posted 20/09/2016 at 08:49:40
Some great opinions from the fans which could make an exciting project come to life. Just hope the American architects understand our connection and heritage with Goodison to be abe to create something special and not something resembling a spaceship.
Would be good if the club could engage the fans even on a poll. Surly that's where all good designs start... at the grassroots. COYB
Sam Barrett
65
Posted 20/09/2016 at 08:56:24
Haha, Alan 63, just as I was starting to dream, you bring me back down to earth!
David Waugh
66
Posted 20/09/2016 at 09:21:48
Positive speculation. Why not put a ferry landing stage there too for Wirral and North Wales supporters? Solves some of the match day capacity problems and would look great. We could even rename the ferry Boaty McBluenose for the day.
Laurie Hartley
67
Posted 20/09/2016 at 09:21:58
Jim (#52) – I would be interested to know if you or any of our American blues have been in this one:
I am in awe of this stadium.
David Waugh
68
Posted 20/09/2016 at 09:33:29
William Bruce #60 - brilliant idea. I was thinking of a giant wall, but your idea is the dogs doodas.
John Raftery
69
Posted 20/09/2016 at 09:35:01
Peter (#54),
As regards the different perspectives, when anything positive happens to our club, in the minds of many on this site it demonstrates Moshiri is now firmly in charge and wholly responsible for the perceived change of direction.
On the other hand, when anything negative happens, it demonstrates Bill is still in charge and that nothing will change until he has gone. In other words, Moshiri gets all the credit and Bill gets all the blame!
Scott Hamilton
70
Posted 20/09/2016 at 09:36:44
David Waugh (66) - Good idea. A royal blue ferry that goes straight to 'The Dixie Dean Bar & Diner' which is right next door to our gob-smackingly, pant-wettingly spectacular stadium!
Tony Waring
71
Posted 20/09/2016 at 09:42:07
Laurie (67) – wow what a stadium. I could live with a duplicate on the dock site. Might even emigrate to Indianapolis!
Paul Mackie
72
Posted 20/09/2016 at 09:42:42
I don't particularly care whether the stadium is a bowl or '4 sides', just as long as the seats are close to the pitch and arranged fairly steeply to give a wall of sound. Howard Webb said on Saturday that Goodison was the hardest place to referee and opposition teams hate playing there. We need to recreate that wherever we move.
Phil Martin
73
Posted 20/09/2016 at 10:05:07
@John, 69.
What do you expect? Bill has overseen 15 years of stagnation, lies, and failure (at every level at this club). His legacy is written. Quite simply he could have and should have brought someone like Moshiri to the table sooner.
Steve Woods
74
Posted 20/09/2016 at 10:25:19
Paul Mackie @ 72 I whole heartedly agree with you. I really hope that any architect's brief to replace Goodison Park will have the wall of sound and intimidation factor as an absolute priority and a "must be done" factor of the design.
The joy and novelty of the new home will eventually wear off but an intimidating wall of sound in a hard-to-play-at stadium will be there for its lifetime and will help to give us an added advantage (and points) over the years.
Brent Stephens
75
Posted 20/09/2016 at 10:29:13
Peter Lee (#54) – your exam question needs no answer. Nice one.
Andrew Clare
76
Posted 20/09/2016 at 10:31:33
I can remember going to Goodison in the sixties with a mate of mine who was a Stoke supporter. He couldn't believe what an impressive stadium we had and the incredible atmosphere the crowd produced.
Now, I want people to have the same impression when they come to our new stadium. I hope it will be unique and stand out from the rest. Very exciting times.
Dennis Stevens
77
Posted 20/09/2016 at 10:39:26
Paul (#72) – I just don't think you'll get what's needed from a bowl design. It's got to be four-sided.
Paul Burns
78
Posted 20/09/2016 at 10:41:43
I've said it before, key "Juventus Stadium" into Google Images. This is what we want, massively steep stands right down to the pitch. The Lyon stadium is similar, probably better because it's bigger.
Away fans should be hidden well out the way so they can't influence decisions in any way. We want a wall of people on all sides, no gaps or areas of cladding or too many boxes. The main stand at Goodison looks like a shanty town.
Paul Smith
79
Posted 20/09/2016 at 10:59:12
Couldn't give a monkey's if it's shaped like a hollowed-out coconut, as long as it's new, holds shitloads of screaming Evertonians, and has them lot talking about us and not them.
Rob Halligan
80
Posted 20/09/2016 at 11:04:19
Meis architects have designed this stadium in Abu Dhabi. It's a four sided stadium and appears to have steep stands, which is what most on here want. Think it's my favourite out of all the ones shown on the link in the OP. Few more thousand seats required, obviously .
http://www.meisstudio.com/confidential-middle-east-stadium
Col Wills
81
Posted 20/09/2016 at 11:20:52
tell you what, it'll be fuckin' freezing down there on a windy night by the way, especially if it's four-sided with gaps between stands.
Maybe a compromise of rotating the stadium 90 degrees so that there is one goal with its back to the Mersey and the other goal is adjacent to Regent Road would be better protection from the elements. Make the stadium a 3 sided bowl with a separate 'home' stand behind the goal looking back over the River.
They will have to be careful with the selection of materials as the sea air will attack any steelwork there. Brick would be the preferred material to blend in with the current landscape.
Parking? I guess there will be plenty of empty warehouses available down the docks and access into the city centre via Sandhills would be okay, however a direct link (tram? underground extension?) to Lime Street and James Street Stations would be excellent.
The ferry idea is really good for the Wirral and North Wales support, park over the water and jump a direct ferry adjacent to the stadium.

Love the idea of a giant glazed turrets in the corner of the stadium providing views over the city and having use for corporate hospitality.
Naming rights? Must start with 'Goodison', not bothered after that, the Goodison Tesco Stadium, the Goodison Ryanair Stadium, the Goodison Tony Hibbert stadium – anything as long as its pre-fixed.
A giant inflatable two fingers to Mordor would complete the branding.

Laurie Hartley
82
Posted 20/09/2016 at 11:37:17
Col # 81 -"tell you what, it'll be fuckin' freezing down there on a windy night by the way," – we'll just close the roof over and shut the window (see link #67).
Ernie Baywood
83
Posted 20/09/2016 at 11:41:11
Col, I might be on my own here, but the name "Goodison" is probably the one bit of tradition I wouldn't expect to be incorporated. New era, new stadium name.
Plenty of nods to our heritage should be there, including reference to Goodison Park - such as a signpost showing the direction and distance along with a bronze plaque regarding the stadium's history.
As with almost everyone. Rectangular, steep, close to the pitch.
I do wonder whether the club will engage with the fans on this. After the badge debacle we've probably had enough of experts?
David Ellis
84
Posted 20/09/2016 at 11:42:43
I want proper overhanging tiers, it creates noise and atmosphere underneath the low roof and it allows the upper tiers to be closer to the pitch. At the new Wembley the seats are just too far from the pitch as compared to say the Top Balcony at Goodison.
Wembley is essentially single tier all the way back – the old Wembley was not like that. The same is true of the new National Stadium in Singapore which also has a running track which completely kills the atmosphere.
Tony Sullivan
85
Posted 20/09/2016 at 11:49:15
A Goodison Mk 2 on the banks of the Royal Blue Mersey for me. My first game at GP was Sept 1952 (v Doncaster Rovers, 5-1 win – Eggo scored all 5). I am now 71 so just get it done, or I will miss it!!!
Col Wills
86
Posted 20/09/2016 at 12:02:15
Laurie, I doubt we would need or could afford a stadium with a roof, I reckon the Echo Arena has now filled that gap in putting concerts etc on in the Liverpool region so why waste money on a roof? It would be nice to have tho.
Dave, I agree on the multi-tiers solution, although one end being a single tier seems to generate a good atmosphere in other stadiums.
Ernie, I'd be very disappointed if Goodison didn't form part of the name, pal, keeps our identity. I agree, plenty of our heritage would need to be transferred from Goodison to make it our home. Branding-wise, we would definitely need to incorporate the Leitch cris-crosses although structurally these days, they wouldn't be required. And a nod to the church in some way would be good.
I'd also like names for the stands, can't abide 'North' 'South' etc – shows no imagination. Much better to have something completely unique to Everton.
Ernie Baywood
87
Posted 20/09/2016 at 12:03:11
Laurie (#82) Just opened your link. I wouldn't be wanting that exact stadium but it meets a few of the things on my mind. Incorporate local heritage, deal with the responsibility of contributing to the waterfront, and have something that is unique; that anyone in the world would recognise as our stadium.
A big jazzy bowl is something you stick in an industrial estate in the middle of nowhere.
Col, would be interesting to see what others think about the name – like I said, I might be out on my own with this. I'd like plenty of nods to the Old Lady. Maybe we could even name a road. I just think you leave the name – Goodison is what it is.
John Raftery
88
Posted 20/09/2016 at 12:23:34
If we are building a stadium to see the club through the next 50 years, as I hope we are, it must have a roof.
Paul (#78) I have been to the Lyon stadium and agree with you. It is the best stadium I have visited. All the seats are close to the pitch, it holds nearly 60,000 and with the addition of a roof it would be perfect for us.
Roger Helm
89
Posted 20/09/2016 at 12:29:04
It has to be on the river and the name has to include the words Royal Blue. Statues of Everton legends to pass on the way in. It has to have four steep sides and terrifying acoustics. Opposing teams have to be intimidated.
The fan experience has to be better; parking (somewhere) for all the new fans we will attract, and good public transport access. Proper catering like they have in US stadiums, not queuing in a mob for junk food and crap beer. Toilets fit for human beings.
With money being so cheap and so plentiful, at least in our game, there is no excuse for it not being significantly better than Anfield.
Ernie Baywood
90
Posted 20/09/2016 at 12:32:28
Paul Smith
91
Posted 20/09/2016 at 12:37:44
That's it – I read somewhere above 'a roof'...
The FIRST team to play a Premier League match 'indoors'... another to add to our very impressive FIRST TO list. :D
David Waugh
92
Posted 20/09/2016 at 12:50:49
Might be worth sending the architects a link to this page as it contains some great ideas and thoughts of the fans????
Alan Brown
93
Posted 20/09/2016 at 12:54:55
#90 that gets my vote:
http://interpol-studios.com/#!/architecture/start/draft_suprastadium_2012
James Marshall
94
Posted 20/09/2016 at 13:07:26
Modern. Stuffy old Everton has to go – I want an ultra-modern stadium. Check out the one in Doha on the architect's page. Something mental like that, please.
It has to be future-proofed, not a stuffy old box like Goodison (Gawd love her) so that we're seen as progressive, forward thinking, and as ever, ground-breaking.
We've been the first to do most things historically, so why not be the first to do something with our stadium? I don't want a boring 'box' stadium with 4 stands, I want a mega-futuristic, state-of-the-art stadium that makes all the old designs look dull as dishwater, a la Mordor.
Dave Abrahams
95
Posted 20/09/2016 at 13:13:31
Tony (85) Tony Eggo scored five, I think the score was 7-2, with John Willie Parker scoring one or maybe two,
Col Wills
96
Posted 20/09/2016 at 13:15:15
Roger, I would suggest that modern stadium design addresses most if not all of the issues you have raised there.
Now that Suprastadio design looks very impressive, Ernie. Close to the action for everyone. We must learn from West Ham's mistake and make sure no-one is seated too far away from the pitch. Which brings us nicely to the commonwealth link.
Ernie Baywood
97
Posted 20/09/2016 at 13:28:51
James, it doesn't have to look ultra modern to be ultra modern. Check out the
example
that Laurie provided earlier in the thread.
A space age stadium just wouldn't look right on the waterfront to me. And it doesn't need to look futuristic to be future proofed. We're Everton... got a bit of class haven't we?
Brian Murray
98
Posted 20/09/2016 at 13:33:10
Anyone know what will happen to Goodison Park if we do move to a new stadium?
James Marshall
99
Posted 20/09/2016 at 13:35:58
Ernie - I had a good look at the Lucas Oil stadium a month or so ago when this all started and I really like it. Great design and yes, very modern despite looking like a traditional building – that though is my point: the Lucas Oil looks like an old building, and gives a traditional impression, a tag that I feel holds us back in many ways.
I would much prefer us to catapult ourselves into the 21st century, with an eye on the future – the LOS is a great design, I genuinely like it... but it's too old school for my thinking these days.
Goodison is a relic, a much loved one, but still a relic – I want our stadium to look, feel and exude modernity in every way!
Rob Hooton
100
Posted 20/09/2016 at 13:41:00
I like the Superstadio idea but, as someone who is not a fan of heights, I would be bricking it on the top tier.
In keeping with the Goodison theme and taking something to our new home, a few massive big pillars in the away end would be ideal!
Steavey Buckley
101
Posted 20/09/2016 at 13:51:55
Any new Everton stadium should keep the effects of adverse weather conditions to the bare minimum. There is no point in Everton wanting to play good football in a stadium that lets in the major effects of a howling wind and rain storm.
Jim Hardin
102
Posted 20/09/2016 at 14:07:03
Laurie (#82),
Yes, I have been there several times. The inside is quite impressive. It can get loud due to the roof. I have watched football games in December there with snow on the ground outside but 65 degree temperatures inside. Quite an experience, until of course you have to put the cold weather gear back on to go back outside to get to your car. It definitely dominates the approach to downtown Indy.
Some of the seats would be farther away from the field than some might like. I think the tiers would have to be moved and adjusted in order to move the upper levels closer to the field.
Tony Sullivan
103
Posted 20/09/2016 at 14:17:07
Dave (#95), Thanks, memory must be failing me!
I do remember I should have gone in the Boys Pen, but I ended up in the Gwladys Street. I was passed to the front and sat on a stanchion from where I had a great spec.
Happy days.
ps: Were you there?
Col Wills
104
Posted 20/09/2016 at 14:20:41
Rob, I like the idea of retaining some stanchions to block the view of the pitch (just in the away section, like), We could also keep the wooden seats in that area too.
Don't forget the Goodison granites would need to be re-located, as well as the Everton Giants tablets, the Dixie Gates and Statue, the Kenwright car park, Goodison Supper bar, Nr 9 Goodison Road, Goodison timeline, Top Balcony escalators, Royal Oak, Spellow, Winslow, the Island outside the church, The Brick...
I 'd personally also like to retain the heritage of the Buckingham bingo car park!
Steve Smith
105
Posted 20/09/2016 at 14:25:07
From Meis website on how they go about designing a new stadium.
"We begin each project with a "deep dive" into the history and geography of a project's location, the culture of the club's fans, unique aspects of the fan experience and behaviour, and the business model and vision of our clients. This research forms the basis of exploration that very quickly results in illustrative reference imagery, sketches, and study models – both physical and digital –that engages the client in an extremely collaborative back and forth as we develop a design specifically tailored to their needs and goals."
I've sent them Steve Binghams #55 Lions suggestion and told them we all feel the same :-)
Richard Reeves
106
Posted 20/09/2016 at 14:35:23
I agree with what James Marshall is saying and I've mentioned it in a previous thread. The design needs to be more than state-of-the-art but something curvy and futuristic. It's also got to be dome-like. The four sided stadiums generate a good atmosphere but they look outdated and messy.
There are stadiums that are in my opinion dome-like and not to far away from the pitch, like The Alianz and Lyon's stadium, but with some clever design the tiers could be steeper and overlap to be closer to the pitch to create a more enclosed and intimidating atmosphere. And there's also the Superstadio design.
Dave Abrahams
107
Posted 20/09/2016 at 14:36:23
Tony, yes, I was there, in the Boys Pen. A lovely sunny day and a great result.
Julian Wait
108
Posted 20/09/2016 at 14:39:47
Anyone else watched the recent Men in Blazers take on the "PL lions graphic effect". Pretty funny.
Bill Gall
109
Posted 20/09/2016 at 14:40:00
Was getting all exited reading this article and wanted to put in my views of what many other supporters have written about, what the stadium should look like. Wife came in and asked what I was looking at, and I told her... brought me back down to earth when she said, "Remember, this is Everton you are talking about."
Talk about ruining your day.... I will get my own back and refuse to eat my supper.
Brian Wilkinson
110
Posted 20/09/2016 at 15:11:51
Have trap doors fitted in the away end so that when those arrogant Man Utd fans ignore the please remain seated transmissions, they get a yellow card, then after that, trap door opens and the winding slides fitted run into the Mersey.
Have a big massive Everton crest on the stadium, with 'This is the People's Club' in neon lights.
Only worry I have though is where are the Vikings going to dock on the shite's home games, if we take that space up.
Joking aside, happy times ahead, decent side, players battling for places, and a great set of youth as backup, what could possibly go wrong? It would not be the life of an Evertonian if something didn't crop up.
I think our time has finally come... Jesus, we've had some false dawns, and more than enough of the wrong end of injustices, we deserve this moment. Please do it before I kick my clogs.
Bobby Thomas
111
Posted 20/09/2016 at 15:31:11
To those saying they want a four-sided stadium, it's hopefully going to be on the riverfront.
Wind. Rain. There will be lots of both. Very bad idea for the design, I'd say. Playing and watching would be a nightmare. It would be a £300 million Stoke ground.
Chris Burns
112
Posted 20/09/2016 at 15:33:18
Very interesting to read all comments but I haven't seen any mention of the disabled supporters, those using wheelchairs and scooters.
At Goodison, all bays for disabled are at the front and exposed to the weather. It gets extremely cold and wet during autumn, winter and spring at the front and I think disabled seating should be higher up in the stands, with a better view. I tried using an umbrella once, at the Park End, but you wouldn't believe the abuse I got from the people sitting in the front row behind me.
At present there are about 100 EDSA members and a lot less spaces available. The disabled spaces could be all around the stadium with access via lift or ramps. Ample tickets available for every disabled supporter who wants to go to the game.

Col Wills
113
Posted 20/09/2016 at 15:51:31
Bill, get your supper, mate – don't let it get in the way of a good meal.
Tony Waring
114
Posted 20/09/2016 at 15:58:35
Tony (#85), I was there that day but I seem to recall the final result was 7-1 and Eggo got five of them. Maybe someone can correct or confirm?
Ray Robinson
115
Posted 20/09/2016 at 16:09:14
According to Everton – The Official Complete Record, it was indeed 7-1 Tony and Tony and the scorers were Eglington 5 and JW Parker 2. About 9 years before I started following the Blues, I might add.
Anthony Dwyer
116
Posted 20/09/2016 at 16:22:01
Howard Webb's recent comments about Goodison Park being the hardest place in the country to referee, describing it as a bear pit, is the exact reason why any design for a new ground should be made as a football stadium, and not a sporting arena.
Big sparkley bowl-shaped stadiums look superb on the eye, but we need to create a big four-sided football stadium, one that is steep and overlooking the playing surface, and touching distance from fan to player.
The corners on a new stadium can still connect, whether it's to do so as a ground or whether it's as corporate areas, fan shops, media rooms or hotel usage.
When designing our new ground, we need to think bear pit. 👊
Ray Roche
117
Posted 20/09/2016 at 16:38:56
Rob Halligan (#80),
Looks like they have a drainage problem there, Rob.
Peter Lee
118
Posted 20/09/2016 at 16:38:58
Okay, if it does eventually get built on a riverside site how about
"The (space for sponsor's name) Blue Atlantic Stadium"
On the main stand we have a massive laser that illuminates and projects the badge and player images from our history onto Prince Rupert's Tower. I reckon there would be a line of sight. In fact, I think we should do that anyway, why wait.
I still don't reckon a riverside site though. I suggested that the William Collins' playing fields, bounded by Great Mersey St, Vauxhall Rd, Lambeth Rd and Stanley Rd would be a cheaper build/ better quality stadium for same money with better access. Any stand built into the hillside, accessed from Stanley Road could give multi-level access to wheelchair users and the less mobile. Probably the first and only ground in the country to do that.
It's a hillside site too which could give some creative design options, including underground car parking and extended facilities space. Right next to Sandhills ,it could also prove a more sellable events venue.
Didn't get any comments last time. Any takers?
ps: The original Wembley was just a big bowl and was not multi-tiered unless you count the seats they built in under the roof late on in its life. (Response to earlier post.)
Tony Sullivan
119
Posted 20/09/2016 at 16:44:02
Dave (#107) We must have been in the Boys Pen with BPB. That was his era as well.
Little did we know who we may have been rubbing shoulders with!!!
Ray Roche
120
Posted 20/09/2016 at 16:54:34
David Waugh #92

I was thinking something similar; if these architects say that they consider the fans opinion, then maybe a raft of e-mails describing our dream ground, four sides, close to the pitch, sprinkler system over the away fans etc. might give them an insight into how we view our next home.
Any one got their e-mail address?
Rob Halligan
121
Posted 20/09/2016 at 17:03:47
Ha, Ray, 117. Yeah, I think we'll skip having Sefton Park lake incorporated into the stadium.
Mark Daley
122
Posted 20/09/2016 at 17:17:10
How about a floating stadium? We can avoid paying business rates to Liverpool Council and then Tranmere can rent it when we are away and we just tow it over to Birkenhead. Job done.
Mark Morrissey
123
Posted 20/09/2016 at 17:49:39
I want to arrive in a Yellow Submarine underneath the stadium. Then take the lifts that will be in the shape of Rupert's Tower with Johnny Todd (Z-Cars) playing on a loop as I travel up to ground level.
To get to the bars, I want to be able to step onto one of those travelators that you get at airports. I want to be met and served at the bars by holograms of all the ex-Everton players. I could go on but I'll pass out with excitement...
It will be a very sad day when we leave Goodison but it's well overdue. I just hope I can get in for the final game. I also hope we do better than West Ham rather than having to watch the likes of Big Nev and Duncan driving onto the pitch in taxis FFS.
I'm sure Bill K will enjoy planning the last hurrah. On the night, he'll shout "break a leg" and Gibson will be out for a month.
Ray Said
124
Posted 20/09/2016 at 18:36:20
Great thread. I love Colin's (30) giant finger, Tony (28) dungeons, Tony (32) an intense beam of pure Royal Blue light, Jim (52) and the drawbridge. Bin the designers and let's have us design the thing.
Brent Stephens
125
Posted 20/09/2016 at 19:09:31
Mark #123. Cracker at the end of that post! Now that is funny.
Colin Glassar
126
Posted 20/09/2016 at 19:20:54
4-sided stadium or arena? Red brick or steel and glass? Some big decisions to be made cos once we've decided there's no going back.
Personally, due to location ie strong winds, I'd go for a glass and steel arena (ultra modern) otherwise playing football there would be a lottery. I've also seen the Peel plans for the waterfront and it's all skyscrapers and glass.
Nigel Munford
127
Posted 20/09/2016 at 19:39:25
Could we not have a rotating stadium to make it fair on all fans and players on a windy night, or am I over-thinking this??
Brent Stephens
128
Posted 20/09/2016 at 19:41:24
Nigel. Over-thinking it. Change the fans around instead.
Ron Sear
129
Posted 20/09/2016 at 19:50:04
They should rebuild the away team's dressing room exactly as it is now, just for tradition's sake.
Don Alexander
130
Posted 20/09/2016 at 20:20:24
The best traditional stadium I've visited in the UK is Celtic's. I'd hope someone of today's generation of architects could use and improve what they have up there. When it's full it bounces.
Dan Davies
131
Posted 20/09/2016 at 23:01:08
Just build the thing, four sides, bowl, roof no roof, whatever. Get it on the docks with a great atmosphere to match Goodison and I don't care whether it looks like a spaceship or not. Lucas Oil, however, does look interesting.
Laurie Hartley
132
Posted 20/09/2016 at 23:30:05
Jim (#102) – thanks for the feed back. Sounds like the weather on the waterfront wouldn't be an issue with that design. I thought it might get noisy in there – so a tick for the bear pit factor.
I was surprised about your comment about the distance of some of the seats from the pitch.
If we do get a stadium on the waterfront the architect is going to have to jump through some design hoops based on this documents:
https://www.architectsjournal.co.uk/Journals/1/Files/2011/5/20/Liverpool%20Waters%20-%20OUV%20Assessment%20-%20FINAL%20REPORT.pdf
Some light reading for those of us who have a spare few hours on our hands.
Jim Hardin
133
Posted 21/09/2016 at 03:06:51
Laurie,
You're welcome. It is exciting to think Everton could have a new stadium in a brilliant spot if a redo of Goodison Park is not in the cards.
My hometown club, FC Cincinnati, if all goes well, may be looking to build a new stadium (30,000 or less) in a few years, so I am looking forward to watching both EFC and FCC in new grounds.
Once we get the kids out of the house, Liverpool and Cork are my first two destinations, in that order.
Tony Draper
134
Posted 21/09/2016 at 18:29:17
Why can we not have a ground with four stands (or indeed terraces) right slam bang up to the bloody touch lines, but with an enclosing external skin?
Just because it has four stands and a rectangular footprint, where does that dictate four corners open to the wild, unrelenting breeze from the Royal Blue Mersey?
Paul Kossoff
135
Posted 21/09/2016 at 18:38:44
So plans for Stonebridge Croxteth on the table? Please God Kenwright doesn't go with the cheaper option, I wouldn't trust blue Bill as far as I could throw him.
I would rather stay at a crumbling Goodison if we cant get the docks, or wipe the smiles off Liverpool council by putting in a plan for Stanley Park.
I'm an eternal pessimist and believe that some politician will come up with the old 'heritage site' excuse to stop us getting a dockside stadium.
Dave Speed
136
Posted 21/09/2016 at 18:51:02
What a refreshing thread! Great ideas, mostly sensible comments and I don't think any pea-brained RS in sight! I don't want to be cynical but it's Everton, more false dawns than stars in the sky we sometimes think. I will not give up hope though.
Tony Draper
137
Posted 21/09/2016 at 18:55:48
"I'm an eternal pessimist" = Paul Kossof has been an Evertonian for some considerable time.
"I'm an eternal pessimist" = Paul Kossof has looked into the mouths of numerous gift horses.
"I'm an eternal pessimist " = Paul Kossof has witnessed many flickerings of light on the eastern horizon, none of which was a true precursor to a new day.
"I'm an eternal pessimist" = Paul Kossof is a thoroughbred Evertonian!
Col Wills
138
Posted 22/09/2016 at 12:26:54
Tony @ 134- don't worry, we'll just plant palm trees in the corners, that'll sort it
Craig Harrison
139
Posted 22/09/2016 at 15:16:58
Story in the media today concerning a possible takover of Arsenal by an African Billionare. Wondering if this will free up Usmanov to take a share of us? Possibly tied in with a new stadium?
Colin Glassar
140
Posted 23/09/2016 at 00:03:12
I heard it might be Robert Mugabe, Craig.
Patrick Murphy
141
Posted 23/09/2016 at 00:05:46
Colin (140) According to the Daily Mail, it is the richest person in Africa, a Nigerian by the name of Aliko Dangote, he says he would like to buy the Gunners in the next three or four years – the caveat being he wants Kronke and Usmanov to send him their bank details first.
Paul Kossoff
142
Posted 23/09/2016 at 03:27:34
Tony 137, Thanks, um... I think, actually I was born in Everton so I suppose I am a true thoroughbred Evertonian. 😇
Ray Roche
143
Posted 23/09/2016 at 09:09:00
Patrick Murphy, it must be that very nice chap, a Nigerian Prince I believe, who has offered to look after all my money. AND, not charge me a penny! What a jolly decent egg he must be.
Dave Truman
144
Posted 23/09/2016 at 13:00:39
Personally, I think bowls are best fitted for defecation and vomit. I'd prefer something based on tradition. We could do worse than take our cues from Boca Juniors' ground in Buenos Aires, said to be one of the world's most intimidating grounds for a visiting team.
Okay, it might be a little pinchy, with a capacity of only 49,000, but otherwise it has it all with its superb riverside location. Even its nickname – with a little linguistic licence – is perfect. La Bombonera, although my Lunfardo is a little rusty, can be translated as 'The Toffee Lady'. Funes Mori might not appreciate the suggestion, though. Link
Rick Tarleton
145
Posted 23/09/2016 at 18:52:45
Great news.I think 49,000 is mean, but presumably there's room for expansion when we are in the Champions' League.

Col Wills
146
Posted 27/09/2016 at 09:08:06
Try these two videos to see what Bilbao have achieved and how they did it:-
http://www.bilbaostadium.com/#mejor-estadio-mundo
http://www.bilbaostadium.com/#datos-del-proceso

Lenny Kingman
147
Posted 28/09/2016 at 10:37:10
Thanks #146 for the link to that, a magnificent stadium befitting of such an iconic football team and its fanatic Basque support.
Visited the old ground in the 1980's and was lucky enough to have been there for a pre season game against Southampton. It felt like a European cup semi final such is the passion of the Bilbao hordes.
Great city to visit as I'm sure some off here have done. Haven't been back since the time described, but maybe one day I'll wing my way back to sample once again its earthy delights.
A similar stadium built alongside the famed river of legend would be most acceptable. The future is bright, the future is royal blue.

Dennis Stevens
148
Posted 28/09/2016 at 12:17:43
Very nice, Col. However, from the pics, it looks as though the lowest tier is at rather a shallow rake – a bit like Arsenal's ground. I'd prefer something a bit steeper.
Also, the design doesn't look to me as though it provides for safe-standing areas – an essential requirement for a new stadium so as to avoid unnecessary additional expense in the future when they are approved.
Brian Hennessy
149
Posted 28/09/2016 at 12:56:34
A visit to the Barca v Atletico Madrid match at Camp Nou last week has only enforced by opinion that we need a four-sided stadium and not a bowl.
Despite 90,000 spectators on the night, the atmosphere didn't compare to what Goodison can produce on a good day.
I really hope the designers take note of the fans' opinion on this, we have waited too long for another disappointment, fingers crossed...
Eugene Ruane
150
Posted 28/09/2016 at 13:13:29
Brian (149) - Agree re Camp Nou, they might get worked up when Real are in town, but I saw them play Espanyol there and it was like a bleedin' morgue (even though it looked full).
Apart from the odd whistle, they just sat there eating them little seed things and flicking the shells on the deck.
I remember thinking a particularly narked (somewhat bevvied) 35,000 in Goodison would put the shites up this lot.
Add Your Comments
In order to post a comment, you need to be logged in as a registered user of the site.
Or Sign up as a ToffeeWeb Member — it's free, takes just a few minutes and will allow you to post your comments on articles and Talking Points submissions across the site.