Bournemouth vs Everton

50 Comments [Jump to last]
23 September
Match Preview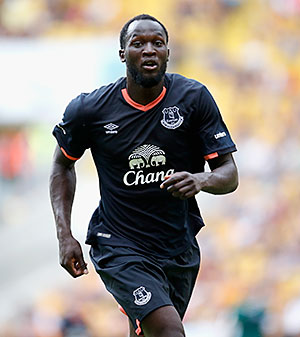 Ronald Koeman was hopeful on Thursday that Romelu Lukaku will be passed fit to play after recovering from a toe injury
If you believe in such things, perhaps there is a parallel universe somewhere in which Everton held on to 3-2 leads at Dean Court, Stamford Bridge and the Eithad Stadium last season and went on to finish in the top six, lift the League Cup, and preserve Roberto Martinez's status as Everton manager and the club's new messiah.
Given the deep flaws in the Catalan's stewardship of the team that were exposed by those psyche-scarring results and the manner in which 2015-16 eventually unravelled, you somehow doubt it… unless, of course, Bobby Brown Shoes is an entirely different coach in this other dimension.
If you discount the warning signs that were flashing prominently the season before, you can probably trace the collapse of Martinez's tenure to Everton's trip to Bournemouth in late November last year. Having come out of a gruelling start to the campaign, in which they faced the top eight teams from 2014-15 in their first 10 games, sitting ninth, the Blues came from behind in the League Cup to edge past Norwich on penalties, thumped Sunderland 6-2, despatched Aston Villa 4-0 and were eyeing a relatively modest run of fixtures until the end of the year in which they could hopefully kick on towards the top four.
The reality was much harsher. The defensive concerns that underpinned the Cherries' recovery from 2-0 down in that fateful game on the south coast might have been brushed under the carpet somewhat had Ross Barkley's stoppage time "winner" not been wiped out by Junior Stanislas's header even deeper into added minutes. Instead, they were brought front and centre, as they would be time and again thereafter until the Board finally bowed to the inevitable in May.
Evertonians travelling south on Saturday would already have had that shock to the system playing on their minds regardless of how well the Blues have started in the Premier League under Ronald Koeman, so they could have done without Tuesday's defeat in their League Cup reunion with Norwich. It's allowed to creep back in some of that nagging doubt that four wins from the first five under the Dutchman had helped push to the edges of our collective consciousness and put a little bit more pressure on the players' shoulders.
Koeman, however, has already demonstrated his capacity to turn around a disadvantageous situation as Everton boss and as he (hopefully) welcomes back the starting XI that beat Middlesbrough last weekend, supporters should be confident that he will have instilled in his charges the need for a strong response and reattain his high standards.
Though it is away from home, it's the right sort of fixture in which to get back to winning ways as well, something they will have every chance of doing if they play the way they did at West Bromwich Albion and Sunderland. With Phil Jagielka and Leighton Baines expected to return to a rearguard that has only let in three and Gareth Barry set to retake his place alongside Idrissa Gueye in midfield, Everton will offer stern opposition for a Cherries side battling for goals and points.
Bournemouth have just four points from their first five games — their only win since the sides last met in April was over West Brom two weeks ago — and have struggled for goals, scoring just three times while shipping nine at the other end in the process. They will have the potent Callum Wilson up front and he will require particular attention from Koeman's centre-halves, while Jack Wilshere will be hoping to get his first win on the board since moving south on loan from Arsenal but more of the solidity that has characterised Everton's strong start should provide the Toffees with the platform to win the game.
The presence of Romelu Lukaku will be crucial in that regard, however. Pulled off against Boro with a toe injury, the striker is expected to recover in time to play this weekend but the team's performance against Norwich illustrated how difficult the task will be if he doesn't make it.
The return of Yannick Bolasie and Kevin Mirallas would partially mitigate the striker's absence but it would be a big ask of either Enner Valencia or Arouna Koné to fill the Belgian's shoes. It was comforting, therefore, to see Koeman relaxed about Lukaku's prognosis in an otherwise brusque pre-match press conference.
Kick-off: 3pm, Saturday 24 September, 2016
Referee: Robert Madley
Last time: Bournemouth 3 - 3 Everton
Predicted Line-up: Stekelenburg, Coleman, Jagielka, Williams, Baines, Barry, Gueye, Barkley, Bolasie, Mirallas, Lukaku
Full details: ToffeeWeb match page
---
Reader Comments (50)
Note: the following content is not moderated or vetted by the site owners at the time of submission. Comments are the responsibility of the poster. Disclaimer
Gordon White
1
Posted 22/09/2016 at 22:45:15
Wouldn't pay too much attention to the Norwich result. 6 changes and Valencia up front on his own. Hmm.
I just hope Ross can find his confidence and his touch. I agree that Lukaku is so important, regardless of whether he scores or not. I think Valencia would benefit from playing alongside him.
Olalekan Taofik
2
Posted 22/09/2016 at 23:21:56
It's up to the players to raise their game and forget the loss to Norwich.
Remember, high flying Liverpool were hammered by Bournemouth this season.
Marc Taylor
3
Posted 22/09/2016 at 23:35:11
You mean Valencia
needs
to play alongside the likes of Lukaku. He can't be a lone striker as he isn't capable (otherwise described as incapable – far too lightweight.)
Some (very few) of Lukaku's credentials can be picked at, fundamentally he is a top top striker, who knows where the onion bag is and has enough about him to work in a decent team.
Granted, sometimes his on-pitch, arm throwing antics and off-pitch agent comments are less than amiable but there can be little doubt that he is of decent (better than decent) pedigree.
Regrettably Valencia is not a Premier League striker quality. Most teams play 1 up front and I don't think he can deliver in that role. He does have a work ethic which is promising but this isn't enough.
Maybe when we have a top 'top' back 4 and midfield to run the show there is room for Valencia but I suspect the time is not now.
David Ellis
4
Posted 23/09/2016 at 03:17:20
We didn't lose this game last season – it was a last second equaliser from Bournemouth after we had taken back the lead at what we all thought was the end of the game. Or are we talking about an even worse alternative universe?
We need to win this one to keep confidence levels high.
Mike Mulhall
5
Posted 23/09/2016 at 07:23:36
David, it was as good as a loss in the Sunday League manner we threw it away. But if we win, doesn't that put us 8 points up on last season against teams we played in Premier League? A massive improvement.
Paul Smith
6
Posted 23/09/2016 at 07:57:12
Got a ticket for this, one of the lucky 1,400. I expect to be buzzing at 16:50 tomorrow evening with a grin from ear to ear. Nothing but the best will do – which translates into 3 points and a blinding performance from the boys.
Kunal Desai
7
Posted 23/09/2016 at 08:08:29
If there is to be a last-minute winner by us then please don't waste time by celebrating with the players for over a minute. Don't give these refs any room to an add additional time at the end of the 90.
Neil Wood
8
Posted 23/09/2016 at 09:00:35
Albeit against what some would regard as a lower Premier League outfit, I feel that this game is a massively important fixture and could set the season up. We will still have the hangover feelings from last seasons debacle hanging over some players and build into that a home defeat to Norwich City.
This is a pivotal game that can really push us on. If we can win this comfortably (which I think we will 0-3) then take 3 points at home to Palace We all know who is up next and having that momentum and winning mentality will stand us in good stead against them.
Man City are far and away the best attacking threat we will face and probably the best team. But they can be got at and, with that momentum behind us, then I would be wagering a few quid on us upsetting the apple cart!!!
We need to keep this going until Christmas then go all out for a striker (we will hopefully be a more attractive proposition by then). Edison Cavani, anyone?
Terry Underwood
9
Posted 23/09/2016 at 09:57:14
Wow! Just cannot believe it. I am EXPECTING A WIN. Am I dreaming? Will I wake up and realise I am an Everton fan? How dare I expect a win?
Alec Smith
10
Posted 23/09/2016 at 10:02:16
AGREE with Kunal #7
If any player comes over to you to celebrate, tell them to feck off and get back on the pitch!!!!!!!
Gareth Clark
12
Posted 23/09/2016 at 12:24:24
I'd go with the same team.
If I had to change anything, I'd replace Barkley with Valencia. But I'd still go with Barkley.
Oliver Molloy
13
Posted 23/09/2016 at 12:35:13
Hope I'm wrong, but I can't see us winning. Bournemouth under pressure and have been unlucky.
Draw written all over this for me.
Craig Walker
14
Posted 23/09/2016 at 14:09:02
Didn't we beat them last season 0-2 in the FA cup at Dean Court as well?
One characteristic of Martinez's only good season was that the team bounced back well after a defeat. I hope Koeman gets us back to winning ways tomorrow. We need to turn winnable games into points and maintain our excellent start.
Gary Creaney
15
Posted 23/09/2016 at 14:39:30
I can only assume the posts above regarding injury time celebrations with the players are piss takes??
I was as distraught as the next man when Bournemouth equalised last year to make it 3-3 but always thought it truly laughable when some ToffeeWeb posters attached blame to the travelling support who were simply ecstatic after what appeared to be a dying seconds winner.
There are no easy games in this league, only some which are easier than others, which is why I'm impressed we've won 4 league games on the bounce. Let's make it 5 lads.
Max Murphy
16
Posted 23/09/2016 at 14:46:53
I agree Oliver. It's gonna be a draw.
Alec Smith
17
Posted 23/09/2016 at 15:03:38
Gary, to be clear, I for one do not put any blame on any away fan for the celebrations last season. But given what happened and the fact the Ref can be a total knob.
I'd stick by my advice, if any player comes over to celebrate a goal, give em a quick pat on the back, "well done lad!". and then tell them "Now get your arse back on the pitch and get this game won!"
Plenty of time to celebrate after we've actually won the game. You can go party mental then!
Don Alexander
18
Posted 23/09/2016 at 15:10:25
Their last-last minute equaliser last season was a Martinez classic as Deulofeu had a gentle stroll towards the guy that lashed it into our net. Hopefully he and rest of them are getting that sort of inadequate pressing out of their system by now.
Nigel Munford
19
Posted 23/09/2016 at 15:15:57
I'd like to think Koeman is using some of last season's videos of matches to press his point on hard work and pressing.
Neil Wood
20
Posted 23/09/2016 at 16:01:06
Slightly off point but this shows Sky up for what they are Biased to the extreme. This is the Sky Sports News app football stories in order:
Stories
Headline: Man Utd
Man Utd and Arsenal
Chelsea and Arsenal
City
Man Utd
Man Utd
Man Utd
Merson
Premier League round up
Man Utd
Spurs
Liverpool
Spurs
Transfers
Man Utd
Man Utd
Finally... Newcastle
Brian Furey
21
Posted 23/09/2016 at 16:15:06
I'd like to see Geri getting back to his best, whipping in crosses for Lukaku. He went through a stage last year where he was providing a lot of assists for Rom but then that fell away. He showed there were times he didn't even need to beat his man but could get the cross in from all angles. I'd hope Koeman can challenge him to up his workrate the way he has with Mirallas.
I could see Barkley losing his place this Saturday to Davies. We've only conceded 3 goals in the league so far so it would be nice to continue with that. Another MotM for Gueye would do nicely.
Mick Davies
22
Posted 23/09/2016 at 16:23:04
Neil @ 20, they should be braised for that: 2nd in the league yet behind Newcastle in their list of importance! It can't even be put down to Southern bias as Newcastle are further away than us.
Neil Wood
23
Posted 23/09/2016 at 16:32:57
It's the same old story Mick and is a sad indicator of where their bias lays. I looked all last season and it was the same, week-in and week-out, despite both them and Chelsea being in the lower reaches of the league.
It's appalling really. The media has a massive impact on clubs and profiles of clubs.
Michael Coury
24
Posted 23/09/2016 at 17:18:25
This bias is not an England thing. The US site ESPN FC is just as bad – its all Man Utd and Barca.
In American sports, there is something called the "East Coast Bias" where the sporting world falls all over itself for the Yankees, the Red Socks, The Patriots, Celtics, etc This is, in part, because ESPN is Headquartered in New England... Ugh... as a Detroiter – its infuriating.
The only way to break this bias is to win and win often... not a horrible plan IMHO.
If this team is not SOE (Same Old Everton) then they will win outright tomorrow. I have faith. :)
Jack Convery
25
Posted 23/09/2016 at 17:35:28
When Sky come calling because they can't ignore us anymore – tell them to do one!! Give them the worst possible media seats / position in the ground and whoever made the tea for Stallone should be given the task of providing their catering needs.
Oh and make sure the toilet is locked so the shit they are full of goes back South with them.
Mark Morrissey
26
Posted 23/09/2016 at 17:38:37
0-4 Lukaku brace, Bolasie and Baines penner.
I have had every score right so far this season except Sunderland when I expected a 0-4 win.
I said Week One we would be top of the league table after the Boro game. Well I'm one game off that prediction and that's not bad going. I'll need Man City to slip up but we'll see what happens to them. For us it's 0-4.
Terry White
27
Posted 23/09/2016 at 17:49:24
Don (#18), this must be an age thing for either you or me. The way I remember Bournemouth's 2nd equalizer was that Lennon failed to close down the cross and a small guy in the middle headed it into the goal. I don't see Deulofeu anywhere in my picture.
Mick Davies
28
Posted 23/09/2016 at 19:16:17
Jack @ 25, "whoever made the tea for Stallone should be given the task of providing their catering needs" . . that is a TW classic, nearly pissed meself
Denis Richardson
29
Posted 23/09/2016 at 19:42:35
It will be a tough game but I'm hopeful if we go back to our strongest 11, Lukaku should be fit to play, hopefully he's 100% and we're not playing him carrying a slight injury. A win would really start to put some daylight between us and the pack.
Re the OP, would disagree that Martinez's 'reign' started to unravel in November 2015, he was found out back in Xmas 2014 when we lost 4 on the bounce.
Marcus Leigh
30
Posted 23/09/2016 at 20:07:17
Mick #20. The BBC Sports website is the worst. How they manage to find so many stories about Klopp and the RS squad to publish every day, but only one every now and again about RK and the club currenlty lying second in the EPL, is beyond me. If most of the people behind that site aren't RS supporters, I'd be amazed.
The bias is there for the world and his wife to see on a daily basis. Having said which, we are second in the EPL, the RS aren't. Must stick in their craw every time they look at the table! COYB
David Booth
31
Posted 23/09/2016 at 20:40:09
Best win this one handsomely after the disgraceful surrender the other night.
Surprised at our manager being so casual about the League Cup. Wouldn't have thought that was his style.
Net result: pressure on tomorrow – so it's actually made things harder, not easier...
Baffling logic this 'resting players' for the sake of it nonsense. Does it EVER work or produce any tangible benefit?
Nevertheless, as always: Koeman you Blues!

Peter Cummings
32
Posted 23/09/2016 at 20:42:50
I think like many TWebbers that the media are a biased bunch of arseholes when it comes to us.
I am an avid daily reader of the UK press on the Internet and Everton hardly figure at all in any sports pages, but then again it took many months for them to recognise that Leicester were becoming a real threat to their luvvies, they still can't believe that the Foxes outfoxed the so-called 'Elite'.
Unfortunately at present we are not in the same envious position as Leicester were, as second in the table or not, we are hardly able to emulate the outstanding challenge they produced last season unless we can make pigs fly.
Starting tomorrow, we can at least make the said arsholes and pundits start to take notice by taking the three points 'Dahn Sahf'. Let's Go Blues.
Chris Gould
33
Posted 23/09/2016 at 20:48:30
David, I don't think it's simply about resting players. It's also taking the opportunity to give others game time and keep their match fitness up. Barry needs to be rested midweek as his fitness needs to be managed. Lukaku was injured.
The other changes should have still been enough to cope against a Norwich team who had made 10 changes themselves.
It was just one of those games that happen in football and I don't think Koeman was at fault. Nobody has a crystal ball, maybe we would have lost regardless of the changes?
Time to move on and focus on the next match.
Ian Cowhig
34
Posted 23/09/2016 at 21:04:07
Agreed, Chris. It was poor quality on Tuesday. Especially the composure when chances came our way.
But nowhere close to anything that could be described as 'disgraceful surrender'.
Paul Kossoff
35
Posted 23/09/2016 at 21:11:36
Draw... not a disaster; win... brilliant.
Cup games are one-offs, we can't judge the squad depth on the Norwich game alone but, like it or not, we have to make do with what we have until January.
Three points and Man City slipping up and we are top of the tree, nice. I'm sure the team will give 100% to get the win and the travelling faithful will be unbelievable again.
Hope Rom's up for it and Ross has a blinder, Coyb.

Rob Halligan
36
Posted 23/09/2016 at 21:26:38
Early start tomorrow morning down to Bournemouth. Let's hope all those on the live forum don't have the temerity to pull the travelling fans apart should we score "the winner" again in time added on.
Peter Murray
37
Posted 23/09/2016 at 22:04:52
It would be welcome in the now anonymous match previews if the anti-Martinez sneering could stop. After all, under new stewardship, we are now already out of the the "League Cup".

Nothing to do with Ronald of course. All down to that "Bobby Brown Shoes".
Lyndon Lloyd
Editorial Team
38
Posted 23/09/2016 at 22:41:27
Peter (37), I actually hadn't realised that the byline was no longer displaying the author name on these news articles so thanks for pointing that out, even if that wasn't the intent behind your post!
Regarding the references to Martinez, there is an undeniable historical context to this weekend's fixture and the harbinger of Martinez's doom it represented. I'm not sure how me pointing out that there were obvious flaws "in his stewardship" of the team – a statement of fact based on results and performances – is "sneering".
And, yes, we may be out of the League Cup already but I think we can all agree that a) it was under very different circumstances and b) it's far too early judge Koeman's tenure either way.
Gordon Roberts
42
Posted 23/09/2016 at 23:59:46
I did post on another thread about the inconsistent approach Koeman made in regard to team selection for the Norwich game. In the previous round, he made minimal changes and remarked prior to playing Yoevil that he wasn't a great believer in tinkering too much with the team for domestic Cup matches.
Cleverley proved to be a disaster last season when he was chosen in the holding midfield role; let's hope that Koeman displays a different approach to Martinez.
Lev Vellene
43
Posted 24/09/2016 at 00:14:17
I was gnashing teeth about RK not even making changes by the start of the 2nd half. Or at 60 mins...
Still, I could understand that. I didn't break down crying at our losing the game. There were swearing afterwards, though...
I still hope/think our first 11 will sweep the opposition off the floor. And I think Barkley will still be in there! RK told him off, he then did good, we did a cup game with 6 new players, he looked lost for passing opportunities...
I will NOT keep the cup game against Barkley, at the beginning it looked like he was looking for known things/positions, and they never showed up. And he, like all our players, stopped to 'think'... RB did not really look as lost as I first cursed, the people he expected never showed up!
Patrick Carty
44
Posted 24/09/2016 at 00:17:08
Safe journey to all the travelling support going to the match tomorrow, I predict a 2-0 win.
This is a massive game and one we should be winning. Let's give Sky and the BBC something to think about.
Lewis Barclay
45
Posted 24/09/2016 at 05:32:46
As with the last three or four seasons: We need to be more ruthless infront of goal. Lukaku, Bolasie, Mirallas, Barkley and Deulefeo all need to score more goals.
Denis Richardson
46
Posted 24/09/2016 at 07:51:06
Bournemouth made 11 changes to their team for their mid week cup game, also lost. Although seems they were a bit unlucky having lead 2-1 till 5 mins from the end. Then lost 3-2 in extra time.
So both teams rested a load of players, both out of the league cup, no tiredness excuses for today.
Hope for a win but expect minimum a draw to keep the unbeaten league run going.
Steve Hartwell
47
Posted 24/09/2016 at 09:53:33
There's one thing for sure, when we lose we get a full two page write up in the rags.
Ernie Baywood
48
Posted 24/09/2016 at 12:53:42
Cheers Ste. You can see what we're thinking with Lavery up front - physically he's like a clone of Rooney! Don't know if he's any good mind, he's done alright.
Mike Mulhall
49
Posted 24/09/2016 at 12:59:40
Is everyone ready to go top of the tree??
Andy Meighan
50
Posted 24/09/2016 at 13:36:14
As Marcus (#30) said, the BBC website is well worst. According to them, Spurs, Liverpool and Man City are kicking off at 3 today. Looks like the team that's lying in 2nd... well. it looks like their game has been postponed.
Funny that I've just checked the weather on the south coast and there doesn't seem to be nothing adverse. Oh well, at least the Liverpool, Man City and Spurs games have survived.
Steve Woods
51
Posted 24/09/2016 at 13:45:16
Speaking of injuries rumours are growing that Baines is out for this one and for a few more weeks. If so, will Funes Mori be played again as left-back today?
Ian McDowell
52
Posted 24/09/2016 at 13:49:31
Not heard that, Steve. I was expecting only Gibson, McCarthy and Besic to be unavailable.
Steve Woods
54
Posted 24/09/2016 at 14:00:40
Ian @61. Rumour started at the beginning of the week over on NSNO and is firming up today unfortunately. That might explain why RoKo wanted to have a look at Mori as LB, perhaps he isn't convinced by Bryan's fitness or aptitude? We shall find out very shortly when the team is announced!
Ian McDowell
55
Posted 24/09/2016 at 14:01:31
Stekelenburg, Oviedo, Jagielka (c), Williams, Coleman, Gueye, Barry, Bolasie, Barkley, Mirallas, Lukaku
Looks like you were right Steve
Add Your Comments
In order to post a comment, you need to be logged in as a registered user of the site.
Or Sign up as a ToffeeWeb Member — it's free, takes just a few minutes and will allow you to post your comments on articles and Talking Points submissions across the site.