Koeman resolute over Niasse

146 Comments [Jump to last]
22 September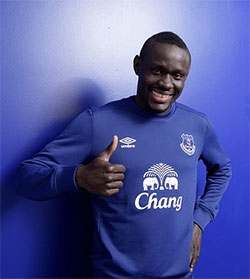 Oumar Niasse's scoring bow for the Under-23s earlier this week has not changed the manager's mind about the Senegalese's first-team prospects.
Niasse was Everton's third-most expensive signing when he arrived as a deadline-day acquisition from Lokomotiv Moscow in February but he had tasted just 150 minutes of football as a Blues player until he was selected by David Unsworth for the second string's 5-0 drubbing of Arsenal last Monday .
The striker scored one of the five goals and has generally impressed the U23 coaching staff according to reports but Koeman's latest comments in the Liverpool Echo underline that the 26-year-old still won't be part of the Dutchman's team.
"I mentioned before the season started that he's a player who will not be in my plans. But he's still under contract and he needs game-time [in case] there is interest from other clubs.
"Normally, we have enough strikers and different strikers to what he is. I prefer these people and not Niasse in the team."
Niasse was linked strongly with a move to Galatasaray during the summer transfer window and appeared to have the option of returning to Lokomotiv on loan but rumours suggested his wife did not want to return to Russia.
"There was some interest in him," Koeman said, "but not the interest that he liked to have."
"It is all up to the player whether he doesn't leave."
Full quotes available at the Liverpool Echo
---
Reader Comments (146)
Note: the following content is not moderated or vetted by the site owners at the time of submission. Comments are the responsibility of the poster. Disclaimer
Denver Daniels
1
Posted 22/09/2016 at 23:13:08
Not sure how this is a benefit to anyone by saying such things.

Kase Chow
2
Posted 22/09/2016 at 23:14:04
Given our paucity of strikers behind Lukaku, Niasse must be absolute garbage to be worthy of these comments.
And assuming that's the case, our scouting team need a serious reprimand to authorise such a large signing. Very disappointing.
Clive Lewis
3
Posted 22/09/2016 at 23:26:33
Is this just mind games? Just watching some goals he has scored and he does have some talent. I know he has been generally gash for us though. It must be that Roberto was given a video of the goals he scored but did not ever watch his ball control. It appeared playing in the Russian league he was given an age on the ball to score. Shame.
Koeman speaks about better strikers... Who are these? Because I can only count one.
Jim Hardin
4
Posted 22/09/2016 at 23:38:56
Ouch!
I know it is RK's team and all, but did he really need to say this? Seems the player has taken the first decision by RK and has tried to excel and prove his worth. Coming off scoring a goal and generally good reviews, I wonder why this was necessary by the coach? Perhaps to instill fear in others and to show who is boss but does the lad deserve it? Feel sorry for him as none of this is his fault.
Andy Ormrod
5
Posted 22/09/2016 at 23:39:56
Surely comments like this just depreciate his value further, maybe that's the ingenious plan so more teams can afford him next window. Or alternatively RK just honestly answered a question, as he tends to.
Phil Sammon
6
Posted 22/09/2016 at 23:42:33
So basically Niasse could have left but chose not to. I initially thought Koeman's comments were very harsh... but if Niasse really has chosen to stay at a team where he isn't wanted, then Koeman is right to reiterate it. At the end of the day, this one really isn't Koeman's problem.
Patrick Murphy
7
Posted 22/09/2016 at 23:55:42
There has to be a lot more to the Niasse situation than we are privvy to, even the most hard-hearted, disciplinarian of managers would allow any player to try and earn a place back in the first team fold - it can't be the lad's attitude alone as only this week David Unsworth said his attitude was first-rate or something akin to that anyway.
It's either that Niasse really isn't a Premier League quality player or there is something in his personal life that prevents Koeman from entertaining him as one of his main strikers – very strange affair all round and highly unusual for Everton FC.
Pete Edwards
8
Posted 22/09/2016 at 23:55:47
Haha, Koeman is savage!! Love it!!!
Anthony Dwyer
9
Posted 22/09/2016 at 23:57:18
This really does seem nuts from Koeman; why tell any player they have no future at the club? It's not like we are Man Utd, Man City or Chelsea, our squad is thin and, other than Rom, our strikers are average at best.
With Kone and Valencia as back-up, surely anyone else should at least be considered.
Nuts.
Ernie Baywood
10
Posted 22/09/2016 at 23:58:02
Well it's certainly not Niasse's problem. He gets to stay fit and earn good money until he goes to a team that he decides upon with no great time pressure on him to choose.
His pay is going to go down. He's had this disastrous move that has damaged his reputation. And a manager who is seemingly happy to further damage his reputation. It's Niasse's right to look after himself.
In the meantime he's taking a young player's place in the U23s and wasting our money.
In this impasse - we're losing.
Don Alexander
12
Posted 23/09/2016 at 00:20:07
I've no problem with RK on this.
In buying Niasse, Martinez reminds me of the bloke who boasted of buying an allegedly top-notch coat in a charity shop by saying that two of the sleeves were a perfect fit for him!
Steve Ashcroft
13
Posted 23/09/2016 at 00:29:16
I agree with Ernie above. Oumar came to our Club in good faith. Put yourself in his shoes and you'd pull a Slaven Bilic. I hate to think what his wages are but I'd get a good Solicitor/Agent and play U23 Football until the Club offer me a sweet deal to buy out my contract. His career is short so 'make hay while the sun shines'.
The Club should be ashamed by the signing & someone should be held to account.. Alas, let's just blame it on the Belgium Manager who's Compo deal was the sweetest of all!
Mark Wilson
14
Posted 23/09/2016 at 01:29:15
Patrick #7 spot on. It's just too strange this one. I cannot comprehend how the player I've seen scoring well taken goals in a half decent Russian league is, apparently, some kind of fraud? He's never had anything approaching a reasonable chance as many others get. No run of games. So what's going on?
Yep he's been shite in a fair bit of the few mins he played... at least I think I recall him being Shite but truth is I can't honestly say as I need more than 40 minutes or so to judge.
There's got to be something bad going on with Niasse in his private life, or he's got a grade A crap attitude in training or done something terrible to someone we aren't aware of...or fomenting else!!
Koeman has now virtually reduced his value to nil. But he's also totally ruled out the slim, very slim, chance of a fairytale here... ie, that he does come on from the bench and do the business in the most unexpected way when injuries before Christmas see us desperate for goals. All very weird really... and yes, I do know Koeman is a fine judge so I guess we trust him and say goodbye to 㾹.5m
Mike Dolan
15
Posted 23/09/2016 at 02:50:30
Just reading between the lines but it seems likely the club set up a loan move for Niasse which probably would have been the best option all around but the player knocks them back and now you have a complete impasse.
Niasse has absolutely no ball control; he's just gangling and awkward. He didn't score a lot of goals even in the Russian League. It sounds like we were really conned on this one, some middleman ran off with a nice bag of cash.
Kudos to Koeman; this player is a massive embarrassment to the club and he couldn't make it clearer that he is just not welcome here. He can't play so he won't play; we have higher standards now and we can't feel sorry for the player in this instance because he had his chance to leave and chose to continue stealing money doing nothing.

David Ellis
16
Posted 23/09/2016 at 03:01:26
I think this is just Koeman being honest. He would do better to talk up Niasse to other clubs, but that would not be honest... so he just says the truth.
I don't think we need to think about why Niasse's not in the team (conjecture on personal life etc). He obviously does not look good enough in training. No player has a right to "game time" to prove their worth – they need to be the best option from our playing staff to get to that point... and Niasse obviously isn't... even though he's in a position where we have no depth at all.
Mark Andersson
17
Posted 23/09/2016 at 03:11:28
Koeman is getting back at the board for cocking up the transfer window and selling him the lie of building his own team.
Koeman now finds himself in the same situation as his time at Southampton. The board selling promising players while sanctioning cheap but steady players.
Good on Koeman and Naiss for their stance against an inept and immature board.
John Daley
18
Posted 23/09/2016 at 03:24:53
Oh, come on. Can't you change the picture of Niasse to one of him looking pissed off or Koeman looking all stern, because that beaming smile, big thumbs up, full of hope for the future thingamebob up top is fucking heartbreaking.
Surely, it would have been more beneficial for all parties to simply say something like "The ball is in the players court. Currently he's not in contention but if he carries on working hard and regularly puts in performances that make it hard for me to ignore, then maybe we'll reassess the situation".
It offers the player a slight glimmer of hope, provides motivation for him to not to just give up and start mooching about the place like the worlds most seriously rewarded slacker, and would cast Koeman in a good light as one prepared to offer an olive branch if there's a chance it could be good for the club. This way just seems like cutting off your nose to spite your face, unless it's intended as another shove towards the exit, except with the words 'did you not hear me the first time?' added for extra effect?
The 'we have enough forwards normally' line is nonsensical as well. Beyond Valencia, who could go either way, we've got nobody who can offer more than a little bit of basic link up play.
I've mentioned before I'd seen Niasse play a few times before we signed him (and made myself look a right cock by claiming he could add some much needed unpredictability, closing down and direct running to our forward line, even if overpriced) and the player I saw seemed to have at least enough about him to have the likes of Arouna fucking Kone looking over their shoulder worried about him leapfrogging over them as back up or an impact sub.
I'm 98.7% sure I wasn't shitfaced when I watched those games (a couple in the Europa League as well, so the Russian league being ropey isn't an all encompassing get out card for me either) so I couldn't have imagined it. I'm also not one unwilling to admit when they were totally wrong but, surely to god, there's no way a guy whose feet, on closer examination, seem to consist of a couple of Cornish pastie shoved in some socks, could have pulled the wool over my eyes to such an extent. Could there?

Ian Hollingworth
19
Posted 23/09/2016 at 04:14:00
I agree this is not Koeman's problem.
However what role did our marvellous chairman play in this transfer? I am sure he wallowed in the recent gushing comments from Lukaku's agent so the spotlight should rightly shine on him for this major cock-up.
Ernie Baywood
20
Posted 23/09/2016 at 05:20:04
Mike Dolan (#15), I don't think phrases like "Stealing money doing nothing" are fair at all.
We bought him how we saw him (paraphrasing Brad Pitt in Snatch). He's no good, but that shouldn't have been a surprise if we'd done our research. It's not like he misrepresented himself.
He's a footballer – all we had to do was watch him and judge his ability. We signed him up to a contract and the bloke is here on the payroll, playing football.
If it were me, I'd expect to keep on getting paid.
Jay Harris
21
Posted 23/09/2016 at 05:34:04
From what I understand the club went balls out to get him fixed up with another club but his girlfriend who lives in Manchester told him to stay put. That is what Koeman is upset about and why he has no plans to give him a chance.
I know the initial move was not of the lads making but, if he had good opportunities to go play football, surely he should have taken them.
Jackie Barry
22
Posted 23/09/2016 at 05:49:15
How does it reduce his value if his value is virtually nil anyway? If he was worth something, teams would have been bidding for him; right now they are scared to take the risk. He simply isn't going to get a game right now so how is he going to prove his worth?
The player should have agreed to go on loan. Koeman is plainly stating "I don't care how much you cost, you're not getting a game because you're not good enough..." Who is responsible? Martinez.
Ernie Baywood
23
Posted 23/09/2016 at 06:10:35
If I had a 㿣k-a-week contract for another 4 years, I'd be in no rush to prove myself. The guy's won the lottery here!
Andy Meighan
24
Posted 23/09/2016 at 06:58:09
Koeman has been asked a question and answered it honestly. A breath of fresh air to be honest and not something we've become used to over the past 3 seasons from one Roberto Martinez
And while I'm on the subject of OFM, I wouldn't be surprised if he was up to his neck in this deal because something's not right in all this This reeks of agent, player and coach lining their pockets because one thing's certain – the lad is certainly no top-notch player.
Read the comments above – they'll tell you everything.
Joe Clitherow
25
Posted 23/09/2016 at 07:30:45
"Koeman is getting back at the board for cocking up the transfer window and selling him the lie of building his own team."
Ah, there's nothing quite like covering up with some conspiracy shite and speaking with absolute certainty when you know absolutely nothing about a situation, just because that fits in with what you want to believe, and want to convince others of "the truth" as well.
A TW classic, well done!!
Liam Reilly
26
Posted 23/09/2016 at 07:35:52
Speculating, but I'd imagine this is down to the players refusal to go out on loan during the window. It sounds like he had some suitors but chose not to go. One would suspect Koeman is not the forgiving type.
Still, I recall a similar situation with Beckham at Madrid when; I think it was Capello froze him out only for the lad to get his head down, stay quiet, work hard and eventually got back in the team.
Obviously Beckham was of superior quality but both Managers were of similar ilk.
Ben Dyke
27
Posted 23/09/2016 at 07:42:06
It's not the player's fault that he now gets to live with his wife, provides an exceptional standard of living for them, and gets to play a sport, albeit at a low-profile level, to keep all this.
What is disappointing to Koeman is to have a player on his books, taking money out the squad who has chosen the above instead of playing first team football somewhere. That's the reality of the mess Martinez left by giving this guy a 5-year contract with a Premier League wage. That must also be frustrating to Koeman, being left a mess and reminder of his predecessor and his mistakes.
The situation will only change in the short term if he gets an offer on a similar salary at a club his wife will move to. Otherwise it's U23 football for years at Everton.
Bill Gienapp
28
Posted 23/09/2016 at 07:57:57
Thank you, Joe (25) – getting really tired of the conspiracy rhetoric around here.
Tony McNulty
29
Posted 23/09/2016 at 08:13:54
John Daley (18)
We all make errors of judgement. In his early days, I thought Roberto was a good appointment.
I have not seen enough of Niasse to make any kind of judgement (few of us have). But I am curious. Apart from the fact that he was clearly warm with a pulse, what was it you thought you saw in Niasse?
Dan Egerton
30
Posted 23/09/2016 at 08:13:56
"Even the most hard-hearted, disciplinarian of managers would allow any player to try and earn a place back in the first team fold"
I agree. I don't agree with Koeman doing this.
This is now the second time I've queried his comments. He told the press before the Norwich game that our team won't finish well in the season. What a way to motivate a team on a high? Did it cause our loss?
Peter Mills
31
Posted 23/09/2016 at 08:25:47
There have been some very dubious contracts over the past few years – the Martinez "fail and you get 㾶mill"; Kone's renewals, Niasse, Traore who got injured then had his contract extended until the end of the season. The fault lies with those who issue them.
Any of the recipients is made for life, and I certainly cannot blame Niasse for checking in to Finch Farm every day, keeping fit, having the occasional match with the young lads, then nipping back home to Manchester to count his ٠.5m a year. I've had managers telling me they don't rate me for much less than that.
Kevin O'Regan
32
Posted 23/09/2016 at 08:59:41
We must have some excellent Scouts in Russia. Or is it maybe cause YouTube is censored over there that the scouts have to guess about these guys ?
Seriously though I'm going to start a campaign now for Julian Green and keep mentioning him until he comes. Would be a great addition.
Barry McNally
33
Posted 23/09/2016 at 09:06:03
Would the real Oumar Niasse please stand up, please stand up!!! Whoever bought him should be shot with a ball of their own shite.
Mike Keating
34
Posted 23/09/2016 at 09:11:58
When's Koeman going to say what he thinks of Kone and Valencia?
That could make for very depressing reading.
Lewis Barclay
35
Posted 23/09/2016 at 09:16:54
Didn't he get arrested on suspicion of assault? Could this all be more to do with that than his lack of ability? It sounds like, even if he suddenly showed Messi-like abilities, Koeman wouldn't consider him.
Anto Byrne
36
Posted 23/09/2016 at 09:27:18
The kid has some ability from these snippets.
https://www.youtube.com/watch?v=kQToxDTzi_M
https://www.youtube.com/watch?v=csr5dCCzgtA

If he keeps scoring for the Under-23s, maybe uncle Ron will have another look.
Brian Harrison
37
Posted 23/09/2016 at 09:28:33
As always, Koeman was very honest with the lad and told him weeks before the transfer window closed that, if he wanted to play football, then he should find himself another club.
I read of numerous occasions were a manager has come in and was honest enough to tell a player he won't figure in his plans. Most players I hear being interviewed much preferred that approach to the manager saying nothing to the player but refusing to play them.
I think you should ask Martinez the questions, not Koeman; after all, he bought him and he even refused to play him, so for me no blame can be laid at Koeman's door over this. When you think back to Martinez not playing him, you have to wonder: Did he buy him or did someone else at the club buy him? I can't think of to many managers who bought players and didn't play them. Mind, nothing that Martinez did surprised me.
Terry Underwood
38
Posted 23/09/2016 at 09:51:10
I'm a little disappointed with Koeman over this. Love or hate him, Niasse is an Everton player. For the manager to make this kind of statement is unnecessary and pointless. Better to have kept quiet and not mentioned the player at all.
CJ Gibson
39
Posted 23/09/2016 at 09:55:58
Completely agree with Denver. I see absolutely no reason for such comments.
The RedShite broke even on Benteke by reiterating how good a striker he is and that he simply didn't fit Klopp's system. Why wouldn't we do likewise? He was highly-rated before we signed him and supposedly wanted by other clubs, so why not try and perpetuate that image? It would encourage demand for him, not deter it, and help protect value.
Are we so nouveau rich that resale value on a failed signing is trivial. Every comment like this must simultaneously make it sound like a firesale and alert would-be buyers that he's a wrong'un. Neither are helpful for shipping out an unwanted player for anything approaching the purchase price.
Niasse clearly knows he's unwanted and for his own reasons has turned down moves regardless, so reiterating his non grata status publicly is also unnecessary if trying to send the message to him. I'm sure he and his agent get it, and have their own strategy.
He might well be an abject failure; rubbish and a wrong'un off the pitch. But from a club point of view, I totally disagree with this continued rubbishing of the third most expensive player in our history.
We should be aiming to sell him to Sunderland (scouting connections), Russia or Turkey for ~٧m ie. ٣m in old money.
James Stewart
40
Posted 23/09/2016 at 10:05:16
We have 1 good striker and 3 others who don't make a decent alternative between them.
I'd have no problem with playing Ross as a striker in Rom's absence. At least he has the strength and power to do it.
Ajay Gopal
41
Posted 23/09/2016 at 10:14:11
"Oumar has helped me settle in, told me I needed to be in at a certain time, the importance of being punctual. He's shown me around the city and where to eat" – Idrissa Gueye (quoted from the Daily Express article: http://www.express.co.uk/sport/football/711293/Everton-Idrissa-Gueye-N-Golo-Kante-Premier-League-Ronald-Koeman).
Sounds like a decent bloke, Niasse... not a trouble-maker to me. I think Koeman has been naive in this matter, very poor man-management in my opinion. Even if Niasse is shit as a player, you've got to remember that you are dealing with a human being here. Yes, he is on high wages and earning in a year more than what many of us make in a lifetime, but if it was that easy, why aren't all of us professional footballers?
Suddenly, my opinion of Koeman has come down 2-3 notches. He may have been a great player, but he hasn't won anything (significant) yet as a manager.
Raymond Fox
42
Posted 23/09/2016 at 10:15:03
Going public with statements Koeman has made about Niasse, is stupid in the extreme. It devalues the player and also publicly humiliates him.
He was Player of the Year in Russia, as we all know. Is he so bad now? All very confusing, I have to say; who scouted him, who authorised the sale?
Brian Williams
43
Posted 23/09/2016 at 10:15:40
Pay me a guaranteed £30k-£50k a week for the next five years and you could call me anything you want, thankyou very much!
Mohammed Horoub
44
Posted 23/09/2016 at 10:39:18
I'm with Koeman on this one. He made it clear to Niasse in pre-season that he didn't have a future at the club. Martinez didn't even use him if we needed any more proof of his lack of quality.
Niasse would still have received his full salary this year even if he was on loan. The club he goes to tells Everton how much they can afford and Everton pay the balance. He rejected all the loan moves because his partner wanted to stay in Manchester.
He hurt the club because a loan move was the only way to recover some market value for him. Koeman shouldn't back down, they have done everything they can and he has chosen reserve football and to stop his career or what's left of it.
He might be a good person but I trust our manager's assessment in this case... And to think we sold Naismith to finance this deal just makes me even more angry...
If I'm Koeman I would refuse to answer questions about him going forward. Let the press go speak to Unsworth who's managing him on a day-to-day basis.
Brian Harrison
45
Posted 23/09/2016 at 10:43:58
I can't believe some of our fans... the man who bought him didn't play him. Klopp told Ballotelli there wasn't a place for him; Koeman has done the same to Niasse.
Yes, he might be a nice guy showing Gueye around Liverpool, but let's not forget somebody authorized the purchase of a player for 㾹.5 million. For those who suggest that Koeman should say nothing, well don't you think at some point the press will ask why he isn't in the squad?
So he was told weeks before the window closed, "Find yourself another club." Maybe the fact that he or his agent didn't tells you all you need to know about the player.
Surely anyone with anything about them would have gone anywhere to try and prove Koeman was wrong. But he chose to stay to pick up money that no other club would pay, rather than have any self-esteem. So, if anyone should be embarrassed about this situation, it's Martinez and Niasse – not Koeman.
Frank Wade
46
Posted 23/09/2016 at 10:44:47
If I was manager, the last think I would want to do at the moment is speak badly of or piss off Idrissa's mate.
According to the Football Manager game, his salary if 㿣 per week. I would expect Mrs Niasse was delighted to come home from Russia and settle in Manchester and not want to emigrate to Turkey so soon after.
I have to admit, like John Daley, I thought his YouTube exploits showed me a decent player. Must watch that again.
I agree with others and don't think Koeman, or any manager in any walk of life, should be making these blunt statements. We need more positivity... like that new Belgian manager 'whatshisname'!
Les Martin
47
Posted 23/09/2016 at 10:47:09
I feel a little sorry for the player; he was brought in via incompetent scouting, and in good faith on his part; the fact that he is not up to the mark is what it is.
I am pleased also that the Manager has let him know in no uncertain terms that he has to leave, so it is also in the player's interest to move on.
Frank Banterwaite
48
Posted 23/09/2016 at 10:47:34
Surely the key line is:
"There was some interest in him," Koeman said, "but not the interest that he liked to have."
... ie, Niasse could have left but decided not to, probably for financial reasons, and this has obviously peeved RoKo.
I get the feeling he is another Winston Bogarde.
Alan J Thompson
49
Posted 23/09/2016 at 10:48:12
I think everyone above has stated the case. You can't blame Niasse for accepting a very good offer that also fits in with his married life.
I don't mind a hard, honest, straight-speaking manager but this borders on the hateful and it wasn't necessary to say it in public. Not wanting the man is no reason to not give him a chance.
Mr Koeman's first misplaced step for me.
Brian Furey
50
Posted 23/09/2016 at 10:55:27
I am surprised how many of you are feeling bad for this guy or feel it was not his fault. I think you need to trust a lot more in Koeman and his judgement and understand there could be a lot going on behind the scenes that none of us know about.
It's well known now that the Russian Player of the Year thing was rigged and it stinks of them promoting the lad via his agent to get a huge payday. It sounds to me as if the player is not in the right frame of mind to play and he must be truly awful to be so far behind Kone and now Valencia yet he wants to stay and take high wages.
Wake up, lads and realise this was just a terrible signing and we got stung. I'd guess he wants to stay near his wife in Manchester more than anything and that's why he doesn't want to move away on loan.
Alan J Thompson
51
Posted 23/09/2016 at 10:58:49
As an after thought, I seem to remember another hard Everton manager, Harry Catterick, telling Gerry Humphreys(?) that he didn't have a future at Everton but, rather than portray him as a limited player, it was agreed that Harry would say that he had had a falling out with the player in order to interest other clubs which, I think, turned out to be Crewe Alexander.
As an old friend of mine used to say; "There are easier ways of killing a cat than sucking its brains out through its arse."
David Ellis
52
Posted 23/09/2016 at 11:06:48
Maybe the club can fix him up with a new girlfriend ...who lives in Russia or Turkey??
Patrick Murphy
53
Posted 23/09/2016 at 11:12:17
Dave Prentice, in his column for the Echo, reminds us that we have got previous experience of this at Goodison although the club didn't spend quite as much on the player as Oumar:-
A midfielder, signed by his predecessor, Howard Kendall didn't fancy the spiky little scuffler and told how he planned to offload him. There was one snag. Milligan had left Oldham Town for his big chance in the top flight at Everton, and when asked "But what if he doesn't want to leave Everton?" Howard quipped: "When he's playing for the 'A' team on a Friday night at Morecambe, he'll want to leave."
Howard never had to make good on his threat. Milligan duly rejoined his old club after just 17 Everton appearances.
Colin Glassar
54
Posted 23/09/2016 at 11:20:07
Our Ronnie doesn't pull any punches does he? I'm not sure I like managers publicly criticising their own players. It's his prerogative I suppose.
Alan McGuffog
55
Posted 23/09/2016 at 11:21:24
Alan... and that would have been after Gerry scored probably the greatest goal I have ever seen scored by an Everton player, against Wednesday, in about 1968?

Gordon Crawford
56
Posted 23/09/2016 at 12:04:36
Niasse might not be up to scratch, but he doesn't deserve to be publicly humiliated, and that's what Koeman is doing to him.
I feel for the lad.
John Daley
57
Posted 23/09/2016 at 12:08:59
Tony @29,
In the games I saw (admittedly, we're only talking low numbers here, five or so) he just seemed to make things happen and, if I recall correctly, he either scored or created a goal for someone else in every one.
He looked full of enthusiasm and energy and was constantly harassing defenders, closing them down and not giving them time on the ball. When he was in possession himself he was always prepared to run straight at the opposition and more often than not seemed to find a way through, whether that was by design, determination or doltish defending, I don't know.
I just thought he looked a tricky, unorthodox bastard for defenders to deal with. He certainly didn't appear a total incompetent who couldn't even control a ball, play a simple pass with accuracy or run without teetering about like Kurt Russel dressed as a tart in Tango & Cash and constantly on the verge of ending up on his arse.
It was around this time he was supposedly being scouted by Man Utd, Chelsea, Spurs and Aston Villa believe it or not, so there was repeated mention of the fact he could find himself in the Premier League before too long. No mention of Everton anywhere strangely enough. 
Not saying he looked a world beater or I was waiting on tenterhooks hoping we would sign him. Never even thought anything about him until it was announced we'd bought him.
Back then, we were a team who allowed the opposition to have as much time on the ball as they wanted, letting them carry it out of their own half unopposed and at their leisure. I thought maybe Martinez, looking to mix things up, had seen in this lad someone who was constantly on the move, got in defenders faces and would run all day long and thus signed him as something totally different to what we had. By 'totally different', I don't mean the Senagalese Frank Spencer on invisible roller skates, out of control and careening all over the place, screaming"Oooooohh Bobbbbbbbyyy" instead of "Oooooohh Bettttyyyyy" either.
Maybe he just had a fleeting period of shit hot form and simply reverted back to his true under 6 level (although Martinez did claim he was someone they'd been watching "for a while")? Maybe the move to a different country, club and environment left him a footballing eunuch? Maybe he's just someone who needed time to acclimatise and to feel he had the confidence of the people at the club who told him to 'come play for us in the Premier League, it'll be fucking great, lad' before he was written off and told he wasn't really wanted after all?

Joe Foster
58
Posted 23/09/2016 at 12:13:50
I think in that picture he is thinking... "Suckers!"
Roger Sunde
59
Posted 23/09/2016 at 12:36:58
This whole thing is very weird, maybe we'll get an answer one day when Martinez writes his autobiography.
Oliver Molloy
60
Posted 23/09/2016 at 12:59:17
Koeman is not the be-all and end-all of managers, people.
He is better than what we have had for the last two seasons but needs to prove he can be better than Martinez's first season with us, in my eyes.
Ultimately, this is why he is at Everton– to get us challenging for the Champions League. Time will tell if he's good enough (with the backing of Moshiri's £100 million, of course).
Tony McNulty
61
Posted 23/09/2016 at 13:31:13
Thanks John (57),
Interesting. That actually reads like a rather good scouting report. And the fact that you were suggesting how he could fit in with the then pattern at Everton makes it sound even more convincing. Nonetheless it seems he will go down in history as rating pretty highly on the Nyarko scale.
Even the great Colin Harvey got some wrong – remember Milligan as "the final piece in the jigsaw"?
On reflection, we should circulate your comments almost word for word to some overseas clubs (although "Oo Betty", and one or two of the other esoteric references would require some degree of cultural adaptation) and suggest they make a bid.
We might get a few more quid for him that way. RK's current approach of sticking him in the "Home for the Bewildered" isn't going to get us any money back.

Joe Clitherow
62
Posted 23/09/2016 at 14:05:27
Alan, sorry but "but this borders on the hateful and it wasn't necessary to say it in public" is, with all due respect, complete rubbish.
This is business and business for a lot of money carried out in the public eye.
I'm sure it isn't personal at all except so far as Koeman is more than a bit peeved that a player he doesn't rate at all is sucking wages out of the club that could be used for other players. If you're looking to find sympathy here then I suggest that is better placed towards the honest fans whose hard earned cash is funding this player who seems understandably reluctant to go and work for his pay elsewhere.
Alex Ferguson would not have thought twice about making similar statement to Koeman and I'm glad we finally have a manager with a similar focus and single-mindedness.
Martin Mason
63
Posted 23/09/2016 at 14:32:38
But he is still sucking money out of the club and we've reduced his move-on value to nothing. I personally think it was particularly naive of Koeman to take such a fixed position.
Chris Gould
64
Posted 23/09/2016 at 14:32:49
He's already shown that, if he's asked a question then he'll give you his honest, no bullshit, answer. At least this way everyone knows where they stand with him.
Why should he pander to someone who he has already told to leave? He wouldn't air this view in public unless he had been specifically asked the question. Are people honestly saying that they would prefer him to not tell the truth because the truth hurts?
If Niasse has no chance of playing for him, then it isn't in anyone's interest to give the lad false hope. He was told to leave and he chose not to. Koeman isn't going to then extend an olive branch.
How can people criticise a man who actually answers a question with total honesty? He doesn't see anything in Niasse. What have any of you seen that makes you question him?
Nigel Munford
65
Posted 23/09/2016 at 14:53:59
Totally agree with you Chris, why back-peddle when he'd already made it clear about the players future?
Koerman is now renowned for straight talking, something all on here seem to like a lot after the last manager, as all he did was waffle about nothing and build players up in the media when they clearly were not very good.
Bit of a strange one with all this support for a guy who clearly seems to be well below what we are looking for in a striker.
Brian Wilkinson
66
Posted 23/09/2016 at 14:54:49
Say it how it is, Ronnie.
Jesus, for the first time in years, we have a manager who will go over to Anfield, with a big pair of bollocks and anti-tank gun, and not roll over. This guy takes no shit.
Brian Furey
67
Posted 23/09/2016 at 15:09:04
Did anyone on here actually see the full U23 match. I saw very brief highlights of the goals and Niasse's one was a tap in from 1 yard out.
Maybe Koeman would think differently if the lad was busting his ass in training getting fitter and doing extra work to change his mind but the impression I am getting is that he doesn't even want to play football but just live with his girlfriend and enjoy his crazy salary for doing very little.
If that is the case then can you not see why that is so frustrating for Koeman who is all into hard work and improve yourself. Has anyone any more details on his arrest for assault?
John Daley
68
Posted 23/09/2016 at 15:28:09
His original words on the matter didn't work though, did they? Niasse wasn't prompted by them to pack his bags pronto and seemingly nobody wanted to come pick him up either.
The situation has changed since the transfer window shut because Niasse leaving is no longer an option, at least for the forseeable. Why shouldn't Koeman now take that into consideration?
The player is still here, at Everton, being paid a large salary by Everton, at a time when Everton are (despite the claim to the contrary by the manager) short of striking options. If his attitude is spot on as Unsworth said recently, surely it makes more sense, in the here and now, to see if there is anything there at all that might be harnessed? To see if the club can get at least something (anything) in return for their investment, rather than just another face about the place being paid for fuck all?
To basically state a player is never going to get a look in, no matter how hard he works, or what he does in training or on the pitch for sides other than the first team, is beneficial to nobody. It not only slams the door shut on the player but also on any hope of being able to move him on, for anything approaching a half-decent fee, when the transfer window opens once more.
Fair enough, if the club are just willing to say 'fuck it, write off his fee entirely and we'll flog him for absolute buttons or give him away if we have to', but if that's not the case then where's the benefit in publically saying the boy's about as likely to come good as a jaffa's bollocks?
'Line up, line up. Form an orderly queue for a player who is so shit we've had to shove him in quarantine'?
Not exactly a sound sales pitch, is it?
Stan Schofield
69
Posted 23/09/2016 at 15:38:44
Pretty much everyone on TW thinks he's no good, and apparently, and more importantly, Koeman does as well. I can't see the point of him beating around the bush, he didn't bring this guy in, and he's not responsible for his career, or is he? The guy is here and not contributing, and getting paid per week more than most people get in a year.
Kristian Boyce
70
Posted 23/09/2016 at 15:43:00
Koeman's stance might seem a little tough but I get it. The whole world knows that he's available, which has had a ding on his transfer value. But by playing him in the U23s, he's basically playing against kids which makes him look good.
If he was a first team player, and putting in the dire performances that he's done already, his value would drop even more.
John Daley
72
Posted 23/09/2016 at 16:10:48
"The guy is here and not contributing, and getting paid per week more than most people get in a year"
Correct. He is.
So, how does Koeman's stance go anyway toward helping alleviate this drain on the clubs coffers?
By unequivocally writing him off once more, the only message he's sending out to other clubs is 'here's a player not even worthy of consideration'. If anything, it's likely to increase the length of time he has to remain here, rather than hastening his exit.

Chris Gould
73
Posted 23/09/2016 at 16:15:14
John, if he's not good enough then it doesn't matter how much we are paying him or how much effort he puts in. We have more chance of getting rid of him if nobody actually sees him play!
He's a dud. We were mugged. Koeman isn't having any part of it. Even Martinez barely played him and that says everything. I think people are clinging on to the hope that surely we weren't so daft to have spent £13.5 million without actually watching the lad. Surely there's a player there... somewhere?
We were that daft, and there isn't.
James Hughes
74
Posted 23/09/2016 at 16:34:42
John D. It makes little difference what Koeman says about Niasse. The facts are he signed a contract with us.
In the a event a club comes calling and wants to buy him, unless he puts in a transfer request, we will pay his contract value or at least most of it.
John Daley
75
Posted 23/09/2016 at 16:35:07
"We have more chance of getting rid of him if nobody actually sees him play"
Yeah, because not seeing him play has led so many to hold sway on deciding he's utter shite up to now.
Regardless, of course Koeman doesn't have to play him if he thinks he's simply not up to it, but nor does he have to publicly state he's never going to play him because he's simply not up to it.
It obviously never worked the first time the manager tried it, when the transfer window was still open. Reinforcing the 'he's a meff' message isn't going to do jack shit to speed things along whilst it's jammed shut.
All it's going to do is mark him out further as a lost cause to any clubs who might have been considering taking a look/chance in January or the summer and make it more likely he has no viable option other than to sit on his arse and wait out the entire length of his contract (which he's of course legally entitled to do when all is said and done).
If the club want him off the books they need a buyer willing to take him. You're less likely to buy something if the seller is repeatedly warning you beforehand 'it's right shite by the way'.
William Cartwright
76
Posted 23/09/2016 at 16:42:39
Very strange scenario, and I am sure that among all the comments the truth sits somewhere... It could be any one, or a combination of the different circumstances.
I think Ronald's approach is as simple and consistent with his general attitude; honest. The whole Niasse deal stinks like a rotten fish and no-one's been brought to account so far. He wants to distance himself from the whole affair and (possibly / probably) rightly so.
If there is a scandal or black mark waiting to emerge then Ronald remains squeaky clean. What must really be pissing him off is the potential negatives behind the scene, plus the fact that the sheer waste of money (and here I don't blame Niasse) being poured down the drain. If footy wasn't such a cash rich business then as in most other walks of life the responsibility issues would have surfaced and been addressed by now.
Yes, the waste is scandalous but it is just another account ledger item in Moshiri's grand plan, and I think he will respect Ronald for staying clear. I can't imagine a repeat of this fiasco under the stewardship of Ronald and hopefully the collateral damage behind the scenes will be minimal. However, if the £10m payout to Roberto is anything to go by, then who knows.
James Hughes
77
Posted 23/09/2016 at 16:53:24
John. it really doesn't matter who comes calling. Until he puts a in a transfer request ,we will still have to honour his contract AND pay all monies due to him regardless of where he plays.
I am of the opinion Ronald is just putting out there that Niasse is available for basically no cost.
Mike Green
78
Posted 23/09/2016 at 17:17:38
Totally agree John Daley. However, illogical as it all is I think (whether intentional or not) Koeman's trying to illustrate that he's not one for compromising; ie, he's not going to compromise his opinion in order to sell a player, not going to compromise his standards by considering him for the first team etc. and he doesn't really care whether it costs us money because he knows someone, somewhere will take Niasse - its just up to the player to a) either accept something or b) chuck his career away.
Koeman's view will probably be it's not his career (which as a player is pretty gold plated and as a manager isn't going too badly either) so why should he care? It's Niasse's life, not his.
I think, in a nutshell, it's Koeman's way of playing hardball and sending a message out to anyone who wants a sniff of the first team what his standards are, which might come at a price, but not at the cost of the standards he's trying to enforce.
Hywel Owen
80
Posted 23/09/2016 at 17:28:15
Is Koeman as good as we think he is?? He threw away a potential cup run and the attached revenue on Tuesday by mucking about with the team and now this nonsense about Niasse.
Joe Clitherow
81
Posted 23/09/2016 at 17:31:11
Martin 63 and others,
We don't live in an Everton bubble, you know, where "sssshhhhh, don't mention that Niasse is shit because someone might not know and pay what we got for him".
No, Everyone knows what the opinion of this guy is at Everton and Koeman – whether you agree with this or not – is not wasting any of his time on him. That's what he has decided clearly. Given that fact, then far from being naive, Koeman has effectively announced a fire sale on him where any and all takers are invited.
It's just that he is hanging on like a limpet. It may well be that he has decided he has no future with any other club nearly as good as what he is on now.
I'd expect the next move to be negotiations on contract termination and pay off, which is a pretty rare thing in football these days.
Incidentally, although we all quote the fee as 㾹.5M, Transfermarkt lists his transfer fee as 㾻.5M which rings a bell and makes the situation even worse. On the upside, I think a while ago they rated him at ٥.5M which makes me think they have been watching the same vids as John D.
Mark Morrissey
82
Posted 23/09/2016 at 17:31:12
I don't think anyone else has asked this question so I'll go ahead and ask it. There has to be someone connected to the club who either reads or contributes to ToffeeWeb. Why can't somebody just tell us how we came about buying him. What was the process, who was it?
I can pretty much tell you the provenance of all of our players but he is the exception. Can anyone shed any light on this?
I'm not interested in Koeman's take on him. I know what that is because thankfully we have a a manager who is straight talking.
How did we come to buy him and what did that person see in him to persuade the board to part with an astronomical amount of money? I'm not out to lambast that person. I'm just interested. I find it fascinating but I suspect the answer is probably less than fascinating.
Jeff Armstrong
83
Posted 23/09/2016 at 17:47:11
The only way he'll be leaving this club after Koeman's, "He's shit, I would never recommend him to anybody, in fact, if asked, I'd say don't buy him" comments... is if we pay up his contract and show him the door.
Ronald, you've played a blinder there mate. Pay the lad off now and let's write off 㿅 million fee and wages.
Any other scenario is pointless. What is the point of the guy being around Finch Farm?
He may as well be used as a motivational tool to everyone else. This is what will happen if you piss off "The Ronald". At least there's a bit of value there!
Nigel Munford
84
Posted 23/09/2016 at 18:08:07
So this is a similar situation to Bastian Schweinsteiger at Man Utd; Mourinho has said he doesn't fit in with his plans and he won't play him. Wonder if the Man Utd supporters are having similar discussions on their forums.
I really do not know why a manager cannot be honest and simply say "Player X does not fit my plans, he has no future at this club", that's all Mourinho and Koeman are doing.
We haven't a hope of getting our money back on this guy, the damage had already been done long before Koeman arrived, the blame for this lies firmly at the feet of whoever sanctioned the transfer, so it makes no odds what Koeman says, he's building 'his' team now and Niasse has no part in it.
Colin Glassar
85
Posted 23/09/2016 at 18:19:38
£55k p/w as well, Nigel, which is a criminal waste of money in my opinion. Can't we just come to an agreement with him and rescind his contract?
John Daley
86
Posted 23/09/2016 at 18:25:06
"..makes me think they have been watching the same vids as John D."
re: 'hanging on like a limpet'. The story I read somewhere about a month back was that Crystal Palace, Hull and West Brom were supposedly interested in him. Everton's preferred option was for him to join Crystal Palace as part of the Bolasie deal, but with Benteke on the brink of becoming their record signing, Niasse didn't want to make that move and maybe end up in a similar situation he found himself in at Everton; not getting first team games.
What happened with Hull and West Brom who were said to have enquired about taking him on loan, I have no idea.
Roger Helm
87
Posted 23/09/2016 at 18:34:05
His wages will be £11.4 million pounds over the course of the contract. Football, bloody hell.
Chris Gould
88
Posted 23/09/2016 at 18:37:35
John, I think it's fair to assume, given Koeman's comments, that Niasse refused those moves.
Seeing as he'd only been here a few months and was back living with his wife, I guess his refusal to move is understandable. I think we take for granted the upheaval and stress of moving home, simply because they play football for loads of money.
Regardless, he isn't in Koeman's plans and that was made clear very early. That doesn't change simply because he's refused a move and got his head down in the U23s.
As Joe said, everyone knows that Koeman doesn't rate him. Everybody will have heard the rumours that the old regime didn't even rate him. Koeman is simply being honest and consistent. No way will he, or should he, backtrack on this issue.
Martin Mason
89
Posted 23/09/2016 at 18:41:31
But surely there's no need to make it public? How does that give any advantage over just notifying clubs that he's available and allowing him to leave with some dignity?
It's not his fault that we made a terrible mistake in buying him. When we say that he has no value for us then he effectively ceases to have any value full stop.
Mourinho has acted like that with Schweinsteiger but Mourinho has no class at all, he was an ignorant bully in his last job.
Martin Mason
90
Posted 23/09/2016 at 18:51:29
Sorry, if he refused the moves so he can stay with his partner in Manchester then I can see a point but that is conjecture at the moment.
Frank Crewe
91
Posted 23/09/2016 at 18:56:42
"Stay with his partner" £50k a week for the next three years. Stay with his money more like.
Nigel Munford
92
Posted 23/09/2016 at 19:00:58
It's this disposable world we live in, Colin.
Washer breaks down, you go buy a new one; phone doesn't work, you throw it away and get another; striker's pants, you let him sit and fester.
Not my view of how the world should be, but it's the way it is. A new manager comes in and has his own ideas, certain players not in his plans... at least McGeady took the hint.
Paul Conway
93
Posted 23/09/2016 at 19:02:45
Koeman is the king of diplomacy with zero bullshit.
He has a lovely roundabout way of saying Niasse is shite!
Denver Daniels
94
Posted 23/09/2016 at 19:19:51
Maybe the club tried to pay him out and he refused. Or maybe he's refused a move elsewhere so now we are stuck with him. That's why Koeman seems like he's got it in for him by shutting the door firmly on any return to the first team.
Otherwise, I can't really understand this attitude towards the player.
Daniel A Johnson
95
Posted 23/09/2016 at 19:20:17
There are a number of scenarios which can sum this up.
1. Despite willing effort in training, he's been deemed to be just not good enough.
2. He may have a bad attitude in training, full stop.
3. Koeman just doesn't rate or like the bloke.
Look at Schweinsteiger at Man Utd – a World Cup winner completely frozen out by Mourinho.
By letting Niasse know he's not wanted, he's putting the ball firmly in his court with the expectation that, if an offer comes in, he should take it.
Kim Vivian
96
Posted 23/09/2016 at 19:29:46
Mark Morrissey. Yes indeed. I was going to post saying someone knows the answers – why can't they just come out and tell us? But you seem to have done it for me.
What about all these so-called insiders / ITKs who have uncles, mates, sisters, aunts – whatever, who are groundsmen, cleaners, cooks etc who always seem to have a bit of gen?
Patrick Murphy
97
Posted 23/09/2016 at 19:54:43
According to my best mate's mother's friend who works at a well known bookies, her mates husband's brothers lad says that it could be something to do with this: - Koeman has estimated the players have lost around 8lbs on last season, although that may also be due to fitness coach Kluitenberg banning the homemade lemon drizzle cake that was favourite in the canteen.
Oumar has apparently been caught sneaking in said Drizzle cake by the bootload and this is the reason for his ostricisation, nothing more nothing less! Well that's what the lad says anyway.
Dave Williams
98
Posted 23/09/2016 at 21:51:18
Maybe Ronald thinks he is so poor that no other club would pay a fee for him whatever, so he decided to give vent to his feelings in the hope that Niasse will decide to go to get away from what cannot be a nice working environment for him.
Koeman is not infallible – he ballsed up the Norwich game making the same mistake as so many do by meddling too much with the team and he may be dealing with this correctly or badly. We don't know and I agree with Patrick at the start of this debate that there may well be stuff going on behind the scenes which has displeased him.
Early days still with the manager. I like what I have seen and what is for certain is he doesn't suffer fools. I did like the post earlier which referred to going to Anfield properly tooled-up this season. I can't see this guy having any fear!
Matt Garen
99
Posted 23/09/2016 at 21:53:49
The way I interpret that, it puts Koeman firmly at odds with Rhino. Not particularly helpful that I can see.
Ernie Baywood
100
Posted 23/09/2016 at 22:28:22
I reckon Koeman's stance is fairly simple. If he just didn't play him then the press and fans would be looking for answers, just as we all were last season. Well we've got the answer – nothing untoward, he just doesn't feature in Koeman's plans.
Niasse's stance is understandable. £55k a week for the next 4 years takes him to age 30. He'll take his time and only move if it works for him.
The guy who signed him got the sack, which in any other career would be a bad thing. £10M and a job managing Belgium probably feels more like reward than punishment.
For the club, it's a very expensive mistake. But all transfers carry an element of risk or reward. If we can do more Stones and Lukaku type deals than Niasse type deals then we probably accept the bad along with the good.
Steve Stobie
101
Posted 23/09/2016 at 22:57:20
As per Anto's links at 36, you can see from the YouTube clips that he is raw, but you can also see that there is some talent, determination, a penchant for a finish – albeit with power rather than any real finesse – and a willingness to be a team player, rather than just being out for himself.
He did not set his transfer fee, Everton were willing to pay what was asked, but it wasn't (as far as we know) a demand made from Niasse himself, his club set the fee and we paid it. We then offered him a contract and he has every right to sign it and then see it out.
I happen to like Koeman's straight talking. I didn't see the interview, but I'm sure he was probably asked a direct question about Niasse and he answered it. I personally wouldn't want a manager any other way, and him being the manager, he of course has his opinion, I just think (with all of my sofa acquired knowledge ;o) ) that he has got it wrong in relation to Niasse.
Other than Lukaku, we don't really have anybody else who can lead the line at Everton. I liked the idea of Kone when we first signed him, but he has shown little to suggest he is anything more than a failure.
Valencia stated that he was a striker and was simply played out of position on the wing by West Ham, but then from accounts I have read he promptly played a peripheral part in his first game – on the wing; and then we have a few youngsters: Duffus, Henen, Calvert Lewin and the lad we signed from Coventry (sorry chap forgotten your name); who are apparently not yet ready for first team football; so why then write-off Niasse so brazenly?
As others have pointed out, by all means suggest that he is not in your 1st team plans at present, but when you look at the paucity of talent that we have up front (apologies to the youngsters if you are any good, I haven't seen any youth team games or highlights to know any better) why freeze him out altogether?
You could acknowledge his goal the night before and suggest that if he continues to work and train hard, and if his performances continue to improve, then the door to the 1st team would always be left open for him; and then bang! you have a motivated player and one who will strive for better, rather than a player who will now potentially be even more inclined to just sit back and pick up his tab without making a great deal of effort at all!
Just saying, like, Mr Koeman.
Steve Hartwell
102
Posted 23/09/2016 at 23:12:13
I just want this one to go away. I'd almost forgotten he existed until this reminded me. Grrrrrr
Mark Rimmer
103
Posted 23/09/2016 at 23:15:53
The top leagues round the world are littered with players happy to never play and just pick up their wages. By saying a player has no chance of playing first team football, basically takes away their get-out line of "I'm going to stay at this great club and fight for my place in the team".
Koeman has publicly said this to put pressure on the player to leave, as we all now know if he stays here it's nothing to do with the football and all about picking up the wages. He's obviously turning down moves to clubs and I expect it's pissing a few people off.
Raymond Fox
104
Posted 23/09/2016 at 23:22:44
Who could blame Niasse if he said "Stuff you, Koeman, one good turn deserves another, I isn't going anywhere – you can like it or lump it."
If I was in charge of the club, I would have Ronald in for a chat, and point out that he has handled the situation like a prat!
Conor Skelly
105
Posted 23/09/2016 at 23:48:03
Niasse is a head-ache Koeman doesn't want. He is 100% sure he is not up to the standard required and doesn't want to lead him up any garden path regarding his future at the club.
By closing the door completely on the boy's Everton career, it will encourage / force Niasse to take an offer when it comes in January – whether his wife likes it or not.
Nobody wants to stay somewhere they are CLEARLY not wanted. In this case, the message needs to be clear and all hope Niasse may have had of breaking into the side needs to be put to bed.
Matt Garen
106
Posted 23/09/2016 at 23:52:35
Apart from the fact he's not good enough, which is plain to see, I just can't see the benefit of the statement.
Martin Mason
107
Posted 24/09/2016 at 00:07:19
He was part of a team that destroyed Arsenal and he scored. Compare that to our team that lost to Norwich.
He's entitled to sit there and take his contract wage for the duration of his contract and that is the Club's problem – not his. Negotiating a settlement is what is needed – not belittling the lad.
Joe Clitherow
108
Posted 23/09/2016 at 00:09:00
Genius, Raymond (#104),
Get Koeman in for a bollocking which no doubt pisses him off – all for the sake of a dead loss of a player who everyone knows we don't rate at the club. It was Joe Royle who let the cat out of the bag when someone asked him why Niasse was not playing and his candid answer was "He's fucking shit".
But yeah, piss off and completely undermine a manager who is making real positive change for an effective no-mark whose reputation is already destroyed and is not improved by apparently turning down moves to pick up his wedge every week.
Brilliant, that.
Andy Mack
109
Posted 23/09/2016 at 00:17:34
He's not in the plans, but the window is shut, he can't go anywhere and we are paying him regardless. So why put that barrier up now?
And if we're paying Martinez £10mil in compensation, why didn't we do the same to him, stick him managing the U18s for four years and tell him to find a new club if he wants to manage again.
Everton, I love you – but you are a mystery sometimes.
Anthony Dwyer
110
Posted 24/09/2016 at 00:18:11
Another worry for me is if Rom was to become injured and Valencia and Kone didn't do the job, then what?
If Niasse was playing week-in & week-out for the U23 squad, bagging hat-trick after hat-trick, would Koeman eat his own words or would he remain stubborn over Niasse?
Really mad situation...
Barry Jones
111
Posted 24/09/2016 at 00:31:35
Guys, if he was any good, do you think the manager would limit his options like this. Honestly, wake up and smell the coffee. He has been evaluated by a top manager and the result is that he will not cut the mustard at this level.
Even Martinez wouldn't play him when he had the chance. It was a bad purchase and we have to live with it.
Jim Burns
112
Posted 24/09/2016 at 01:45:36
Patrick @ 7 - nailed it for me . Something beyond this guy's football capability or lack of it . Lewis @ 35 - maybe.
Habib Erkan Jr.
113
Posted 24/09/2016 at 02:04:04
If he does not play, is there any chance he looses his work permit?
And, should he loose his work permit, could Everton terminate his contract?
David Midgley
114
Posted 24/09/2016 at 03:17:14
There are so many comments and they are all relevant. All of them in their own way are right. When Ronald retires he will never be asked to join the diplomatic corps.
The fact that you don't rate someone as a footballer is one thing, but to publicly humiliate them is another. The words against Niasse were very strong, and I think hurtful both to the player and EFC. Is this the same club that is wonderful in the community? Praised for its compassion and its thoughtfulness for other supporters but can publicly lambaste one of its own players?
Niasse didn't ask to come here he was head hunted. How many TW'S in good jobs have been poached? How would you feel afterwards if you were told "I'm sorry, we've made a mistake"?
Many comments re.– "I like our manager's brutal honesty." That's life.! You go to the hospital. You or your partner are told "Sorry , there's nothing we can do..." Okay – 'Next!' That's life.
Would you not expect some compassion, sympathy an explanation? Maybe the possibility of some hope? I think perhaps you would.
Perhaps my post is a little extreme. I don't mean it to be. I've been a Bluenose for over 60 years. I, like every Evertonian, care about the club. This is my opinion. Rightly or wrongly.
Many posters have a high regard for Unsy. If he thinks that Niasse is has something, how does that compare to Koeman's philosophy? Oumar will stay a lot fitter for a lot longer and will also be available for a far greater number of games than Gibson, who is also on good money. Nobody is telling him to leave. I don't know what the outcome will be but he is a player for EFC. He is a man, with feelings. Being abusive is not nice for him and not good for us. I don't think this reflects well on EFC or RK.
Matt Traynor
115
Posted 24/09/2016 at 06:18:15
Wasn't there a story going around that his girlfriend at the time was living in Manchester?
Since then they obviously got married.
And now apparently she doesn't (understandably) want to return to Russia.
We got suckered. Won't be the first club to have a player get a move and sit on his contract. But given the dynamic of all this, let's hope the Daily Mail doesn't get wind of the story.
Ciarán McGlone
116
Posted 24/09/2016 at 07:49:24
So Ronald is back to shooting from the hip, after his day off last week.
I have no idea why he keeps answering questions about this player. It's now getting beyond parody.
Jimmy Sørheim
117
Posted 24/09/2016 at 07:59:19
This is a language problem, sometimes people outside England have slight trouble communicating their exact meaning.
Everybody calm down, take it from me as Norwegian, there is no ill will in his comment.
He is simply re-stating he does not figure in his plans, and that Koeman tried to sell him, but he refused.
Please let it go, Koeman did nothing wrong here in this interview!!!
Loko Sanchez
119
Posted 24/09/2016 at 08:16:27
Well Unsworth did say "there's a player in there" about Niasse. He also mentioned Niasse's attitude, praising him. Glad to see an Everton legend helping the lad. Hope he goes to another team and does a Naysmith on us.
Michael Penley
120
Posted 24/09/2016 at 08:24:54
I don't see what his girlfriend has to do with it. He turned down Crystal Palace. You'd think she'd jump at the chance to move down to London to spend every day deciding which shoes and fur coats to buy with her boyfriend's massive paychecks.
Pete Edwards
121
Posted 24/09/2016 at 08:31:01
Ciaran, what's he meant to do when asked... sit there all broody and say nothing, or answer a question honestly?
It's refreshing that he does talk honestly after hearing the shite peddled by Martinez day-in & day-out.
Colin Grierson
122
Posted 24/09/2016 at 08:47:24
It's hard to feel sorry for someone who is not in the manager's plans but is handsomely rewarded and still gets to play footy (probably at a level that he is more suited to).
I've never even been signed for the club and I have to 'pay' ٣ a week to have a game of 5-a-side. Its me you should be feeling sorry for. (And I'm one of us!)
If Koeman thinks he's not good enough, then that's all I need to know. If he keeps getting asked the same question by the journos, no doubt he will keep giving the same answer, only a tad more irritated each time.
Ciarán McGlone
123
Posted 24/09/2016 at 09:44:24
Simple really...
"I've already answered that questions on many occasions"
James Newcombe
124
Posted 24/09/2016 at 09:57:36
Too late, Matt (#115):
http://www.dailymail.co.uk/sport/football/article-3803912/Oumar-Niasse-13-5m-flop-Everton-does-rank-Goodison-Park-s-biggest-flops-Premier-League-era.html
Denis Richardson
125
Posted 24/09/2016 at 11:29:12
Wasn't Niasse's fault for being offered a massive contract but it is his fault he isn't playing competitive football. A career is short and he's obviously happy to take his wages and not play, otherwise he'd be back in Turkey or Moscow. That's pretty sad considering he's 26, supposedly in his prime.
Can fully understand Koeman being pissed off. Obviously doesn't rate him and Manchester is hardly a step up from Istanbul (never been to Moscow so can't comment). On £2.5m a year it's not like him and his wife would have been slumming it in either city. Also would only be for a short time given how short a career is and he's already 26.
Looks looks like we have a Winston Bogarde on our hands and unfortunately he still has about 4 years left on his contract.
Denis Richardson
126
Posted 24/09/2016 at 11:34:50
David (#114), think you're forgetting that Niasse had the chance to go to a couple of clubs, albeit on loan, but chose to sit tight.
The manager made it pretty clear he has no chance of playing in the first team, so why stay if you care about playing?
Chris Gould
127
Posted 24/09/2016 at 12:02:21
Ciaran, the media don't tend to like or accept that answer. They tend to just repeat the question over and over.
Why shouldn't Ron answer it honestly? He's a straight talker. He has nothing to hide. Why be all surly with the press? It makes much more sense to keep them onside.
Besides, it was a fair question as circumstances have changed since Ron made it clear that he should leave in the window. So no reason for Ron to refuse to answer it.
John Daley
128
Posted 24/09/2016 at 12:50:48
"And now apparently she [his wife] doesn't (understandably) want to return to Russia."
She wouldn't be "returning". His wife is from Gambia and has lived in Manchester for over a decade.
Alan J Thompson
129
Posted 24/09/2016 at 13:20:35
I don't care if you are on a couple of million or on the dole, nobody deserves to be treated this way so publicly particularly as it is a situation of the employers making.
I hope Mr Koeman's straight talking no punches pulled honesty is to the fore when at his next press conference he is asked who, in his opinion, is responsible for initiating this transfer and secondly, for authorizing it.
Business may be business but there is no reason it can't be carried out in a polite, civilized and confidential manner or does that only apply to other clubs.
Ciarán McGlone
130
Posted 24/09/2016 at 13:33:27
Chris,
At this stage he looks like a bit of a twat and spiteful.
Sometimes it's best to say nothing.
Gary Russell
131
Posted 24/09/2016 at 13:39:18
The transfer stinks of incompetence. Bill, Roberto and whoever made this happen in the first place, well what to say. The man now in charge doesn't think the player is up to it OR knows something we all don't, and maybe we should give him the benefit of the doubt to his opinion seeing as he's now the manager and doing well... so far.
I like Mr Keoman's toughness and honesty and have complete trust in him. No, its not the players fault but our manager wants success and doesnt see him as someone who can play a part... Being nice gets you no where and he tells it how he see it. If he is not good enough for Ron's team then that's good enough for me. Koeman... Kewl man.
Andy Crooks
132
Posted 24/09/2016 at 13:42:45
Koeman's comments achieved absolutely nothing bar making him look like a toy tough guy.
Raymond Fox
133
Posted 24/09/2016 at 13:44:31
Joe 108, so you think Koeman has handled the problem in a good way for the club?
He's inherited Niasse; getting the players back up isn't a clever option in my book. He's devalued the player going public with his views on Niasse, plus in the meantime we are also paying him a substantial wage every week.
If you think that's the best option, Joe, I don't think much of your judgement.
Gary Russell
134
Posted 24/09/2016 at 13:45:10
I am surprised to say the least by a lot of comments. No one knows what goes on. Ron doesnt fancy the lad and has said so. End of
Jay Wood
135
Posted 24/09/2016 at 13:53:52
On the face of it, RK's repeated comments on Niasse do seem counter intuitive.
Fair enough, the manager doesn't rate him, doesn't see a future for him at Everton and wants rid. It happens at every club.
However, given the financial outlay for the player, plus the continued expense of his salary, RK's continued disdain and dismissal of the player is not so much warning potential suitors Caveat emptor - buyer beware - but rather saying "you'd be barmy to touch him with the pooey end of a poo stick."
That is hardly likely to accelerate his departure from the club as RK evidently desires.
As others allude to, is Niasse a useful vehicle and convenient lamb to be sacrificed by RK by which the manager is sending a less-than-tacit message to all players and their agents: don't fook with me...?
John Daley
136
Posted 24/09/2016 at 14:53:38
Matt @99,
"The way I interpret that, it puts Koeman firmly at odds with Rhino. Not particularly helpful that I can see."
& David @114,
"Many posters have a high regard for Unsy. If he
thinks that Niasse is has something, how does that
compare to RK's philosophy ?"
--------
Again, it's something that just seems strange to me. To immediately and publicly slap a player back down mere days after the first positive words about him anyone at the club has piped up with in months.
This is what Unsworth had to say:
"I thought Oumar was outstanding. His work-rate since he has been with us for the last few weeks has been incredible. He's had a disappointment - that's football - but he has shown tonight that there is a player there. 

I was absolutely delighted that he got his goal and it was thoroughly deserved because it was a great individual performance

."
So, what if Unsworth's reports back to his boss end up being like this every single week (they might not, of course)? Koeman would be right to continue to simply ignore them, on principle, whilst overseeing a squad with a severe shortage of striking options? How would that be in anyone's best interests?
Let's say Lukaku were to get injured for a lengthy spell and Kone and Valencia prove unable to buy a goal between them. Meanwhile (miraculously), Niasse has started looking like he actually might have something about him under Unsworth. By publicly stating he's got the lurgy and stinks of wee, Koeman has needlessly cut off the option of ever being able to call on him in a crisis.
Despite all the comments on this thread, I still can't see the need for a manager to take such a definitive stance with a (non-disruptive, as far as we know) player who remains an employee of the club, or at least, I can't see there was any need whatsoever for him to have voiced it.
Chris Corn
137
Posted 24/09/2016 at 14:57:56
Just sounds like the usual suspects loading up some ammo to start slagging Koeman off after Tuesday. Who gives a fuck about Niasse? He is up there with the Brett Angell's and Rod Belfitt's of transfer hell and a footballing legend thinks he's shit. Suddenly there is a big ethical debate going on.
Let's hope we don't drop points today, Ron, cos they will be down with burning torches and pitchforks looking for you.
Andy Crooks
138
Posted 24/09/2016 at 15:43:45
Nonsense, Chris. I admire Koeman, defended him after Norwich and think he is doing a top job. However, in my view, his comments about Niasse are crass and feeble.
To me, it doesn't make him sound tough or pragmatic, which I suspect is how he wanted to sound. It makes him sound stubborn and unimaginative.
Julian Exshaw
139
Posted 24/09/2016 at 16:03:55
I have to say I think RK has made a mistake here. Yes, I am all for honest managers saying it like it is but this was unnecessary, to say the least. We don't know anything about Niasse really, who knows what he's like behind the scenes but these comments don't appear to help anyone.
Are we supposed to be reading between the lines that he is only here to see out his contract and earn millions by doing so? Or is it a radical attempt to spur the lad on?
In any event, Niasse, like all those who wear the blue shirt, deserves respect and a chance to improve.
Jimmy Sørheim
140
Posted 24/09/2016 at 16:15:34
I stand behind Koeman on the Niasse issue, he looked terrible last season, and even on YouTube he looks average as that is the Russian league.
Niasse played for Brann, Bergen in Norway and he did not impress there either.
You people going after Koeman on this Niasse issue are grasping at straws, give it a freaking rest please, seems like you are all angry about his handling of Barkley which I can understand, but Niasse is NOT the player you should support.
This seems to me to be misguided anger,as I thought Koeman made a mistake making Barkley a scapegoat, when Mirallas has been just as average so far.
Ronald Koeman is far from perfect, I think he is bitter and frustrated he did not get the players he wanted in the transfer window. That could be clouding his judgement, as bitterness and anger is not helpful when making judgement calls.
I am bitter and frustrated too, but I try not to focus on it until January, which if we do not get in real quality up top by then I will go apeshit and blame someone.
Until then, let Koeman run the club his way, he will learn more about the squad as time goes by and I think he is already planning to introduce Niasse if Lukaku is injured, or Valencia does not perform IF he impresses regularly in the U-23.
Loko Sanchez
141
Posted 24/09/2016 at 18:34:56
Everton fans appreciate the underdog story. Niasse is an underdog here. That's why he is getting support from true Everton fans. Heck, even Unsworth seems to encourage the lad.
Andy Mack
142
Posted 24/09/2016 at 20:24:09
Valencia must have about as many minutes of Everton time as Niasse has after today, he's also crap.
It's hard to feel sorry for Oumar but I do, he has no hope of playing, even if he becomes the Henry of the U23s, this is not what I think of as the Everton way.
I'm not a Ronnie fan, and it's childish but I hope he does that thumbs-up smile (pictured above) at the Koeman brothers every morning on his way to Unsie's training sessions.
Ian Riley
143
Posted 24/09/2016 at 23:44:37
If he sticks 20 goals for the U23 team then he must be given a chance. May have offered something different today. At present, not in the manager's plans.
Kim Vivian
144
Posted 25/09/2016 at 10:30:31
I don't know what comparable level Niasse is at. He has done nothing to justify the stick he gets on here except saying "Thank you very much" to the winning lottery ticket he was offered when he came here. He may prove to be utter rubbish but deserves whatever chance we can give him to show us what he can do – not in the first team but surely a run with the U23s or whoever.
People will say that he has that chance in training and does not produce... but I assume Ross (for example) is a diamond in training and then can become a bit headless on the main stage. So some proper game time may be a better indicator.
I work in Essex and a good number of our workforce are Hammers. To a man, they consider Valencia to be a total bag of shite so it will be interesting to see what develops with us. If that had been Niasse yesterday impersonating a rag doll before falling over after missing a knock in, he would be getting lambasted on here.
I am not a Niasse fan (not had the chance really) but do think he is being publicly humiliated a bit unfairly. Okay – the compensation is a sweetener but all the same he is, on the face of it, a fairly likeable lad, and a human being. (I know little about the 'assault' thing and granted, that may be quite serious or innocuous.)
Unless something has transpired that we are not privy to, I think he could be shown a little more respect.
Patrick Murphy
145
Posted 11/10/2016 at 16:03:09
Disturbing that the lad doesn't even have a locker in the dressing room, the whole situation doesn't sit right with me and I suspect a few other Blues - I suppose we'll find out what really happened with this player in a few years time.
Given up trying to link the Guardian story by David Hytner
Patrick Murphy
146
Posted 11/10/2016 at 16:11:14
https://www.theguardian.com/football/2016/oct/11/Everton-oumar-niasse-ronald-koeman-Roberto-Martinez?CMP=share_btn_tw
Brent Stephens
147
Posted 11/10/2016 at 16:24:27
"I'm in the dressing-room with the under-23s but I don't have a locker" Niasse says. "The other players have where they put their stuff but I don't. I come with my bag and I just have a place that I know. I put my bag down, I train and after, I put everything in my car and go home."
If that's true, I'm less than impressed with the club. Smells of constructive dismissal. If a bollock has been dropped in signing him, that's the fault of the club not the player. If he's broken some rule since signing, he should be sanctioned in the usual way(s). But not this. Maybe a simple explanation?
Matt Butlin
148
Posted 11/10/2016 at 17:42:07
Agree with Brent. IF (<-- capital letters) this is true, then it stinks.
John Harrop
149
Posted 11/10/2016 at 18:30:56
If this is true, then I don't see why Oumar should be bullied by Koeman into leaving for a club that he has no wish to join. We don't do things that way at Everton (or at least we didn't).
Martin Mason
150
Posted 11/10/2016 at 18:34:28
Oumar should just keep taking the money and do nothing, it wasn't his fault that we f*cked up and we have to pay for it. Koeman is a total asshole for not treating the lad with some respect. We all have our pride, he should have kept his mouth shut because he jeopardised any chance of a sale by his stupid statements.
Add Your Comments
In order to post a comment, you need to be logged in as a registered user of the site.
Or Sign up as a ToffeeWeb Member — it's free, takes just a few minutes and will allow you to post your comments on articles and Talking Points submissions across the site.