Kenny signs new three-year deal

18 Comments [Jump to last]
29 September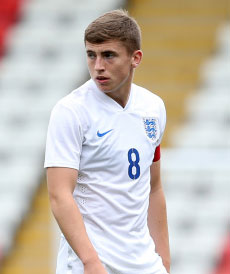 Jonjoe Kenny is the latest promising Academy product to pen to paper on a new contract, signing a three-year deal.
The fullback made his first-team bow as a substitute against Norwich City on the final day of last season after a successful loan spells with Wigan Athletic and Oxford United and now has resumed his integral role with Everton's second string this season, captaining the U23s in recent games as they have ascended to the top of Premier League 2.
"It means the world to me," the England U19 international told evertontv. "I've been here since I was a kid and now, being 19, getting another three years, it's another stepping stone and time to kick on.
"I loved [playing first-team football], it really helped me kick on. Playing for Everton's first team was a big plus at the end of the season and it was a dream come true.
"I just want to get more of that and keep kicking on."
Kenny cited his family and the youth coaching staff for helping him get as far as he could and his current manager, David Unsworth, only has good things to say about him.
"He's been outstanding ever since I've got back into the building," Unsworth said. "Jonjoe was one of the first players who caught my eye with his performances and with his real desire to play for this football club.
"He's a proper, Everton footballer, he loves the club and he plays with an amazing enthusiasm, which I love. He's got great qualities in numerous positions.
"For the last three seasons, he's been outstanding. He's had a couple of loan moves that have been great.
"He's grown in his stature, he's a great listener, he applies himself so well in training and he's an absolute pleasure to coach and have around the place."
---
Reader Comments (18)
Note: the following content is not moderated or vetted by the site owners at the time of submission. Comments are the responsibility of the poster. Disclaimer
Jeff Armstrong
1
Posted 29/09/2016 at 18:54:49
Played really well when he came on against Norwich, put in 2 or 3 excellent tackles and had an assist in one of the goals, he would be my preferred deputy to Coleman.

As well as Holgate has done, he looks to me like a centre half filling in at right back. Kenny is small, terrier-like and is much better suited to the full back position.

Great news he has signed a new contract as I think he could be pushing Coleman sooner rather than later after his rinsing by Ibe last Saturday.
Barry Pearce
2
Posted 29/09/2016 at 19:33:16
Great news... I love Jonjoe's attitude.
Dave Abrahams
3
Posted 29/09/2016 at 19:45:28
I thought Jonjoe signed this contract a couple of weeks ago, good luck lad anyway, a lad who loves Everton and playing for the club, hope you are here for a long time.
Paul Conway
4
Posted 29/09/2016 at 21:41:55
He seems like an outstanding prospect and from his comments he comes over as a very mature and respectful young man, who seems to have his head firmly on his shoulders.

All these attributes combined with his football skill, knowledge and awareness can only help to hone him into the type of player that we can rely on in every situation.

I wish the lad well for the future.
Tony Hill
5
Posted 29/09/2016 at 21:59:58
I think this lad is a prospect and I'm glad the club does too – he was well liked at Oxford and did very well against Norwich last season. There have been some worries about his pace but he looks good to me in the small amount I've seen of him.
Jimmy Sørheim
6
Posted 30/09/2016 at 01:03:39
The one area where Koeman has not focused as far as I can tell is following up on who is the best youngsters and who is next in line.
The Norwich game was a perfect chance for Koeman to play 2-3 of the in-form youngsters, and I was sad to see that he overlooked the whole youth team for the Norwich game.
Liam Reilly
7
Posted 30/09/2016 at 11:05:45
Jimmy #6
Whilst I would like to see the younger lads get game time too, I think Koeman had to play the first team fringe players against Norwich to see what they can do if called upon.
Cleverley, Lennon, Valencia et al are the players that will be called upon during injuries and suspensions and so they need to play where possible.
Other than Holgate, I suspect these younger lads will only see brief cameos this season (if at all).
Les Martin
8
Posted 30/09/2016 at 16:29:44
Obviously they think he has a chance of first team football in the future, I really hope so, well done Jonjoe.
I hope he goes out on loan shortly to aid his progress, I am a massive believer in this for a players future development.
Frank Crewe
9
Posted 02/10/2016 at 12:58:50
Consider the odds. He'll never make it. Average physique and not particularly quick. This is a "just in case" contract. Most of the younger players are kept on because they are relatively cheap and one or two of them might make it or at least be worth selling on.
If I was advising young players, the first thing I would tell them is, if you want the best chance of a career in professional football, don't sign for a Premier League club. You have almost zero chance of 1st team football and the club will buy before using their own young players, which will stunt your progress.
Sign for a lower-division club, work hard and make a name for yourself. Then, the Premier League clubs will come to you.
Dave Abrahams
10
Posted 02/10/2016 at 13:59:33
Frank, just in case, if it was just in case, it would have been less than three years. This lad will get a very good living out of football because he has a genuine talent. I hope it is with Everton. Lads like Kenny need people to have confidence in their ability, not knocking them before they have even started.
Frank Crewe
11
Posted 02/10/2016 at 16:17:04
Dave, I'm not knocking him at all. I'm just being realistic. Only a tiny fraction of youth players at Premier League ever make it to the first team. How many young players have we heard about that we thought were going to make it into the 1st team over the years? Yet how many actually did?
We tend to have a liking for the "local lad made good" story. Just look at Barkley. Yet, even if he does, by some miracle, become a 1st team player, what makes you think he will stay at Everton? Rooney didn't and he was supposed to be a dyed in the wool blue.
Dave Abrahams
12
Posted 02/10/2016 at 16:31:25
Frank, Jonjoe is 19, he's had a good loan spell at Wigan who wanted to keep him for an extended period but he was called back to Everton, then loaned out to a lower league club and did very well there. He came on as a sub in the last Premier League match last season v Norwich, did well, laying on a goal.
He is captain of the U23s and is having a good season. He is committed to football has his feet well grounded. He has done well, hard work doesn't worry him, he knows there is plenty of more hard work in the future, that will not bother him.
The reason he will stay at Everton? He is a committed Evertonian, Rooney was a different story and we could argue the rights and wrongs of that case and never really know the true story. I believe him going saved Everton financially; there is a lot more to that story – Rooney was made out to be the baddie but, as I say, you will never get to the bottom of that story.
Back to Jonjoe, I think he has a very good chance of making it at Everton; if he does, he will stay here.
Frank Crewe
13
Posted 02/10/2016 at 18:07:20
Never bought this Rooney cash saved Everton nonsense since it implies that by total fluke luck we happened to have a 㿅 million quid 16yo in our youth team just when we needed one. Are you saying no Rooney would have meant the end of Everton? I mean what are the odds on that? More like they simply made a big fat bid for an exceptional talent and he was offered wages and a chance to win stuff we couldn't possibly compete with.
If Kenny was doing so good at Wigan why was he called back only to be loaned out again? How many times did McEleny get loaned out? Wasn't he the next big thing? Hows Henen working out?
I hope you're right. He makes it into the 1st team and becomes a star player ..but I seriously doubt it.
Peter Gorman
14
Posted 02/10/2016 at 18:35:57
Frank, you may well be right as the odds against any player making it from the academy are slim (and this is not really for lack of talent or Forshaw wouldn't be playing against us for Boro) but why succumb to such pessimism? Can't you just wish him the best, he is one of the most talented youngsters at the club so I'd hate to see your opinions on the lesser talents.
Also, you are sceptical that Rooney's sale saved the club because it is too coincidental we had such an asset? That makes no sense mate, we were lucky to have such an asset or we would have been in a dire situation. The club was rotten to the core (some argue we still are) and we were flogging assets. Maybe not cease to exist but doubt we'd have stayed in the top league.
But back to Kenny; Unsworth has great faith in him and even gave him a cameo after the much belated sacking of Martinez. If it were up to him, we'd see more of Kenny and I personally would back him not to disappoint. Thing is it is Koeman's decision and I wouldn't be surprised to see him line the squad with his own players before long.
Dave Abrahams
15
Posted 02/10/2016 at 19:30:43
Frank, you would have to ask Martinez why Jonjoe was called back from Wigan, after just one month; he then went to Oxford and played in a cup final at Wembley for them and was very highly rated by them.
As I said with Rooney, we will never find out the truth of what happened: yes, I fully believe Everton would have been in serious danger money-wise if Rooney hadn't have been sold. Did Everton offer Rooney a big deal to stay? You can believe what you want regards to that... in fact, do you have a version of what you think happened?
Alan J Thompson
16
Posted 03/10/2016 at 05:41:43
I've said on another link that I (like others here) would like to know why the "saviour" of Everton who initiated the sale of Rooney has never stepped forward.
However, that is not the main purpose of this post. The question is: When are young players considered good enough for the 1st XI?
Too often we hear that they don't have the experience but, other than send them on loan to lower league clubs, how else would they get that (necessary?) experience? Obvious talents like Colin Harvey, Wayne Rooney and George Best stand out but it seems the likes of Beckham, Scholes et al at Man Utd were thrown into the deep end.
It is not that long ago in a much more physical First Division that Everton threw in the likes of Royle, Hurst, Husband etc.
Kevin Turner
17
Posted 04/10/2016 at 10:26:57
It's only being so happy that keeps some people going, isn't it? FC (#9)

Alan J Thompson
18
Posted 04/10/2016 at 14:48:46
I was just looking at my own post #16 and realized that "not long ago" was more like 50 years. Time flies. One of the names I left out was Tommy Wright, average physique, not that quick but a bloody good full back.
May be size isn't that important after all.
Add Your Comments
In order to post a comment, you need to be logged in as a registered user of the site.
Or Sign up as a ToffeeWeb Member — it's free, takes just a few minutes and will allow you to post your comments on articles and Talking Points submissions across the site.