Everton vs Crystal Palace

57 Comments [Jump to last]
30 September
Match Preview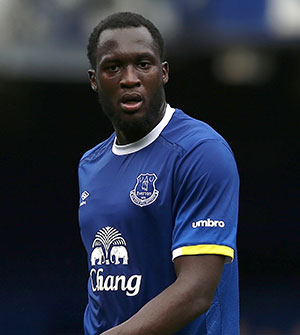 Lukaku starts despite his toe injury looking to add to his tally of three goals from his last four games against Palace
Sky Sports' cameras descend on Goodison Park for the first time this season as Everton face Crystal Palace in the first match of the weekend's top-flight programme.
Sky's decision to open up Friday nights to Premier League football has not been welcomed in all quarters, with critics concerned that there is a risk of saturation with top-class football now on every day of the week, not to mention the usual difficulties posed for some supporters by evening matches.
(It's not the first time Everton have played a league game on a Friday, of course; more than once Boxing Day fixtures have fallen on Fridays — most recently, a 1-0 defeat to Stoke City in December 2014 — but they tend to get forgotten because they're public holidays.)
Tonight's meeting with Palace does, however, offer an opportunity for Evertonians to assemble under Goodison Park's magical lights and provide a special atmosphere to spur the Blues on to a much-needed victory.
Successive defeats, the first of Ronald Koeman's fledgeling tenure, have allowed some apprehension creep into discussions among Blues who feel a little uneasy that, after such a promising start, there is actually pressure on the players to put in a top-level performance so soon in the season.
Koeman was typically phlegmatic in his pre-match press conference and put last weekend's disappointment against Bournemouth as a collective bad day at the office but, with two barren weeks over the international break to ponder any bad result, you do feel that there's a lot more riding on this match than normal. Certainly, there is a need and desire to re-establish that early momentum that the Dutchman had established with four wins on the bounce.
It probably doesn't help that the visitors are Palace who will arrive with their tails up thanks to a three-match winning streak of their own and who have been something of a bogey side for us at Goodison since they returned to the Premier League in 2013. Two 3-2 wins — one effectively ended the Toffees' Champions League hopes in Roberto Martinez's first season; the other, coming on the heels of the 6-3 defeat to Chelsea, offered an early sign that 2014-15 was not going to see the team build on the fifth-place finish of the preceding campaign — and last season's 1-1 draw ensured that an Everton side hasn't beaten the Eagles at home since April 2005 on their way to finishing in fourth place.
Having endured some awful runs of form under Alan Pardew in recent times, Palace look to be a different proposition now that they've finally acquired a striker who can pose a reliable aerial threat and offer the promise of regular goals in Christian Benteke. Never what you could call prolific in his time at Liverpool, the Belgian hasn't looked like the same player since a ruptured Achilles disrupted his time at Aston Villa but he will still pose enough of a problem that Phil Jagielka and Ashley Williams will have to pay close attention to him.
It was his headed goal in stoppage time that completed Palace's recovery from a 2-0 deficit at Sunderland last Saturday to win 3-2 and they will almost certainly look to serve him with crosses and at set-pieces.
Everton, of course, have their own Belgian target man in Romelu Lukaku, who has 11 more Premier League goals than his compatriot and is two years younger. He won't be operating at 100%, however, with pain from the toe he injured against Middlesbrough still bothering him according to his manager. Koeman insisted in his pre-match press conference that Lukaku will start, though, and Evertonians will be hoping it won't affect him too much.
With Leighton Baines also out, there is the possibility that Koeman could name an unchanged side from last weekend, which would mean Bryan Oviedo continuing at left back in his absence. Gareth Barry could be a lingering concern after he was forced off at the Vitality Stadium with an ankle problem but his condition was not addressed during the manager's "presser" yesterday so it's not known if he is a doubt.
Koeman hinted that he is never averse to making personnel changes to suit the kind of game promised by a given opponent but it remains to be seen if he will, particularly as last weekend illustrated the paucity of game-changing options on the bench.
Whatever team he opts for, Everton will likely need a top-drawer performance at both ends of the park. Koeman's summer business has certainly beefed the side up in terms of being able to match more physical outfits like Palace and if they can put in the work rate to match while rediscovering the potency they displayed against the likes of Sunderland, then they should win and put a bounce back into the step to take into the international break.
A hopefully fired-up Yannick Bolasie playing against his old team, a more polished, confident Ross Barkley display and more influence from Kevin Mirallas would create the conditions in which Lukaku can thrive and improve upon his tally of three goals from his last four against the South Londoners.
Kick-off: 8pm, Friday 30 September, 2016
Referee: Mark Clattenburg
Last Time: Everton 1 - 1 Crystal Palace
Predicted Line-up: Stekelenburg, Coleman, Jagielka, Williams, Oviedo, Barry, Gueye, Barkley, Bolasie, Mirallas, Lukaku
Quotes sourced from ToffeeWeb match page
---
Reader Comments (57)
Note: the following content is not moderated or vetted by the site owners at the time of submission. Comments are the responsibility of the poster. Disclaimer
Kieran Kinsella
1
Posted 30/09/2016 at 04:22:31
Pretty sure we played on Good Friday when Amokachi scored after an inch-perfect outside-of-the-foot 50-yard pass from Limpar. Was against Sheff Wed? Maybe Newcastle or Blackburn?
Didn't we play one of those on Good Friday also when we had Arteta? Point being, that Friday football has worked for us in the past.
As for Palace, last time I saw them play when I was in person at the game we won 3-1 at their place with I think Bilic, Cadamarteri and Ferguson scoring? Or maybe Materazzi instead of Bilic.
Anyway, this whole bogey team thing is as relevant today as that game I saw because we've a different manager, different style and some different players. So I believe we will win 2-1.
Kieran Kinsella
2
Posted 30/09/2016 at 04:36:34
Well, Bollocks.... it was Ferguson, Barmby & Madar that scored v Palace but I was confusing Cadamarteri as I saw him score at the same ground a few months later v Wimbledon. Also looks like we've had a few Friday games losing to Man Utd, drawing with RS, beating Spurs & Fulham in relatively recent years.
Anthony Hughes
3
Posted 30/09/2016 at 07:26:46
Oviedo at left back worries me.

Craig Fletcher
4
Posted 30/09/2016 at 07:39:36
Me too actually Anthony. I think Funes Mori may be better suited as a left-back fill-in for this game. He's taller, stronger and better in the air, ideal to cope with Palace pinging balls into the box to Benteke. I know he's not that quick, but then again neither is Oviedo. And Ramiro will provide a set-piece goal threat for us at the other end.
Ciarán McGlone
5
Posted 30/09/2016 at 07:40:15
Bolasie on the left... PLAY BOLASIE ON THE LEFT!
Alexander O'Brien
6
Posted 30/09/2016 at 07:54:09
Kieran, I remember that game well against Sheff Wed. Amokachi's world class first touch with the studs of his boot and confident finish. Wonderful goal and I hope for a repeat score line...
Kim Vivian
7
Posted 30/09/2016 at 08:00:01
Didn't Rom have a 'toe' problem last season? Was it the same problem/same toe?
Or is that just coincidence?
Mike Galley
8
Posted 30/09/2016 at 08:08:15
Didn't we beat Spurs 3-0 on a Friday night under David Moyes? Didn't we beat Newcastle on the Friday after the Spurs semi-final at Leeds? Also, wasn't the Hutchinson derby game a Friday? Please tell me at least one of these is correct! I'm worried I've lost my marbles and the pre-game drinks have not even started yet!!!
Geoff Evans
9
Posted 30/09/2016 at 08:12:13
Big response needed after Bournemouth. COYB.

Chris Gould
10
Posted 30/09/2016 at 08:42:10
3 out of the 4 goals we've conceded in the league have come from crosses. Palace will be whipping them in every chance they get. We'll need Stek to command his area decisively.
Jags and Williams are fantastic at cutting out danger and blocking shots. Unfortunately, neither of them are particularly tall and dominant in the air. If Benteke steals half a yard, he's a real threat.
Andrew Presly
11
Posted 30/09/2016 at 08:48:00
Amokachi's double was against Newcastle following the Spurs semi in '95. As stated above, the first a beautiful Limpar through-ball Amo took down and flicked in past ex RS goalie Mike Hooper, the second a scrambled second-half header from close range.
Great seeing Barry Venison's stupid face after rolling them over. The momentum going into the Cup Final was really starting to build by that point. Fond memory.
Guy Hastings
12
Posted 30/09/2016 at 09:03:28
My older lad's preview of the game from an Eagles' perspective for Palace fanzine Five Year Plan:
Link
James Peter
14
Posted 30/09/2016 at 09:24:37
Guy (#12) – and what a thoroughly decent summary of where we are at the minute!
I think with injury concerns to Baines and Barry I'd compensate with a reshuffle and go 3-5-2. Bring Funes Mori into the three.
Spencer Ramsay
15
Posted 30/09/2016 at 09:34:46
It's going to be a tough game. I suspect there won't be much in it. A sneaky 1-0 win would do. My heart sank when I saw who the ref was, though, the useless clown!!
Dave Pritchard
16
Posted 30/09/2016 at 09:37:26
Spencer, in spite of that match, Clattenberg is nowadays one of the best refs in the Premier League, in my opinion.
Ajay Gopal
17
Posted 30/09/2016 at 09:48:52
James (14), I like that setup, but Foeman will probably go 4-4-1-1
Stekelenburg
Coleman, Jagielka, Williams, Funes Mori
Lennon, Gana, Cleverley, Bolasie
Barkley
Lukaku
Subs: Robles, Oviedo, Deulofeu, Mirallas, Kone, Davies, Valencia
I would like to see Lennon given a go in place of Mirallas and Funes Mori in place of Oviedo.
Brian Harrison
18
Posted 30/09/2016 at 09:56:38
Interesting to read Koeman's comments in today's paper, he says that some players are not doing the pressing game that he is trying to implement. He says it's a mental issue, not a fitness issue. He also says our striker is having difficulty playing this pressing game. He doesn't name the striker.
He went on to say that he has had open discussions with the players to see how they believe they can improve the pressing style he wants us to play.
I like the fact that he is open to hear the players opinions, he says they have specially worked on this part of the game this week and he is looking to see if it has improved us. I like everything I hear from Koeman's confidence in his own ability to listen to the players.
Rick Tarleton
19
Posted 30/09/2016 at 10:05:27
Bolasie will view this as a big game. I hope he doesn't get too anxious and overdo his runs. Palace's comeback last week was good stuff albeit against Sunderland, they should be very confident, especially after our lacklustre display against Bournemouth.
An interesting one, I hope we get a convincing win, but to be honest I'll settle for a squeaky one-nil.
Martin Mason
20
Posted 30/09/2016 at 10:09:26
Pressing is the key thing now, Celtic bamboozled City with it the other night and we seem to have few answers to teams that do it to us. There's been another step change in how the game is played and it means that the smaller clubs can give the very best a game but we seem to have too much inertia to change our ways. I believe that the damage done by Martinez was deep and that we could easily have been relegated this season.
Recovering is the thing now and it needs all of us associated with the club to get behind them and stop this ridiculous whingeing when we have a couple of bad games.
Mark Wilson
22
Posted 30/09/2016 at 10:34:18
This is a far bigger game than it would normally have been. Win and hopefully win well and we can go some way towards putting aside a very poor week with two awful defeats. Lose and there will be pressure, lots of it, because apart from being a genuinely very winnable game, a defeat will re-enforce concerns about the squad and whether there's a decent bit of progress in us this season – not to mention the fact that the fixture list is a lot more daunting in the weeks ahead.
I'm really hoping to see three at the back with Funes Mori covering the left side, Williams centre and Jags right. It is balanced and I'm concerned about Palace's threat in the air. Losing Baines is a big blow, bigger than it should have been as we let good left-sided players out on loan and cover is limited when it shouldn't have been. Oviedo can handle left wing back and Coleman the right side.
Much hinges on Barry being fit and able to resume his strong partnership with Gueye in front of those three central defenders. Up front it's about the wing back service and width, but personally I'd love to see Bolasie close to Rom, with Mirallas behind them, but in a freer role.
That leaves no place for Ross in my line up of course. I honestly think he needs some time out of what has built into a pressure cooker situation where he tries too hard and headless chicken re-emerges. He'd offer much as an option later on the game from the bench at present. I don't think it will happen, I think he will play and my three at the back probably won't materialise. Should be a competitive game and I do expect a few goals. COYB!!
Gary Edwards
23
Posted 30/09/2016 at 10:37:31
What are the odds on a Bolasie own goal? He usually scores in this fixture.
Stan Schofield
24
Posted 30/09/2016 at 10:58:44
Brian @18: Koeman also mentioned Liverpool's pressing game. I've said this before on TW, that I don't particularly want to talk about Liverpool, but looking at them is relevant to us. When Klopp took over last year he had a similar problem with getting his players to do more of the pressing game, and he said it would take time, and they would get there because the players are young professional footballers.
It looks like he's getting there, if not already there, but he took over a year ago. Klopp did similar at Dortmund. I believe we have the same problem. It's almost a change of culture, but we'll get there.
Brian Porter
25
Posted 30/09/2016 at 11:28:58
Craig (#4), agree with you. Funes Mori, as some people here on TW tend to forget, is a first-choice starter for Argentina, ranked #2 in the world so must have something to offer. In his last appearance for Argentina, he kept Saurez quiet for the full 90 minutes.
He just needs utilising correctly and he does give us a good aerial threat at set pieces. He has better pace and younger legs than both Jags and Williams which could be important against Palace's quick counter-attacks.
If Barry is fit, he must start and please, let's start with Bolasie on the left! Like one or two others, I'd like to see Lennon given a start on the right with Mirallas or Deulofeu maybe introduced as fresh legs in the second half.
I can't make my mind up over Barkley. Does Koeman give him one more chance to redeem himself? It's a vital game tonight. Anything less than a win will really burst our early season bubble of hope and expectation so maybe start Geri at #10 and leave Ross on the bench?
Brian Furey
26
Posted 30/09/2016 at 12:04:41
I'm feeling confident about tonight as it sounds like Koeman has been working hard with the squad since last week's tame performance to increase the work rate and now talk of this pressing from the front.
I think it will be a tough job to get players like Geri, Rom, Ross and Kev to continually press and close down high up the pitch. It's hard enough to get them to work hard at making forward runs. I'd love to see Yan and Geri start to whip in crosses much earlier and use Rom more for 1-2s. Yan seems to do this a bit but when it the last time you see Geri pass and go for a return?
One other point on Ram. I just noticed he's 6'-3'' whereas Jags is 6 foot and is definitely more of a threat when attacking corners.
Don Alexander
27
Posted 30/09/2016 at 12:10:37
The comments in today's papers by Koeman ring true of the shambles he inherited off Martinez. Three years of laziness in training and boneheaded tactics are going to take more than a month or three to eradicate.
It'll cost some players, even those on top lolly, their place at the club in due course, that course being, according to Koeman, three or four windows long. If I was in our squad, I'd be doing exactly what he says right now, starting tonight.
Eddie Dunn
28
Posted 30/09/2016 at 12:21:16
Brian Porter. I think Funes Mori is bound to get more game time as the season wears on. Although Williams had a very good record with injuries for the Swans, he and Jags will do well to avoid injury for the rest of the campaign. Indeed, Jags has had quite a few injuries over the years.
Our problem is our predictability. If the wingers don't spark, we seem to have no idea how to open teams up through the middle.
Lukaku has had poor service in the last two outings and the midfield needs to show more desire to get up and support him. Barkley really needs a good game. The cameras will be on him, and Southgate is about to name his squad.
We could go second in the rankings. Does he need any more motivation?
I think we will win tonight, 3-1, with Bolasie on the scoresheet.
Matthew Williams
29
Posted 30/09/2016 at 12:47:39
Same team as last time out...sigh, unless we change it, we won't win...
2-2 draw, good game for the neutral but another chance gone for us to steal a march at the top methinks.
Prove me wrong Blue Boys!
George Cumiskey
30
Posted 30/09/2016 at 12:52:28
Dave @16 – if he's the best ref in EPL we are in big trouble!
Kevin Tully
31
Posted 30/09/2016 at 12:54:36
Clattenburg has been replaced by John Moss as ref for tonight's game. Moss is an an awful referee, who seems to guess the big decisions.
I would have preferred posing bollocks, at least he's consistent.
George Cumiskey
32
Posted 30/09/2016 at 13:01:27
I'm afraid Ross's time might be up; you can't keep waiting for him to come good while the team is starting to flounder a bit.
Craig Walker
33
Posted 30/09/2016 at 13:06:36
Pretty sure we battered Fulham under Chris Coleman on a Good Friday once at Goodison when Moyes was the manager. Maybe 2007?
I'd drop Barkley for today's game. I just don't think his head is right. Really hoping that Goodison is rocking tonight. If the fans start getting on the players' backs then you can see it affect their performance one-by-one. Really need 3 points tonight with City up next.
COYB
Jack Convery
34
Posted 30/09/2016 at 13:18:13
If Moss is the ref, get ready for a frustrating night with ridiculous decions and non-decisions. Good luck Blues!
Eddie Dunn
35
Posted 30/09/2016 at 13:19:55
Moss is inept, seems to misinterpret situations – reminds me of someone from Dad's Army!
Gareth Clark
36
Posted 30/09/2016 at 13:20:17
Either Funes Mori or Holgate at LB... they are big and strong, and much better defenders than Oviedo.
Andrew Clare
37
Posted 30/09/2016 at 13:48:04
If our players get with the program and play the intense high pressing game, we will win.
The trouble is.,, I doubt whether some of them are up to it.
Phil Roberts
38
Posted 30/09/2016 at 14:36:05
Back in 1984, fresh from winning the FA Cup, we started the season with a 4-1 thumping at home by Spurs. Still without a win, we were the first of a new feature on the tele – live Friday Night Football! We went to Stamford Bridge and played in an awful all-grey kit but came away 1-0 winners thanks to a Kevin Richardson goal. We won quite a few more games that year!
So live televised Friday night football is technically not new – except of course it is because it was before 1992 and football only started in 1992.
Colin Glassar
40
Posted 30/09/2016 at 14:53:50
John Moss? Probably the worst ref in the prem right now. We are going to have to be on our toes with him tonight.
Jay Harris
41
Posted 30/09/2016 at 15:18:23
It's a toss up the bias of Clattenburg v the incompetence of Moss. As long as the incomptencebworks for us I'll be happy. I can never forgive Clattenburg for that derby.
As regards the team, I would give Barkley a rest and try 3 at the back with Holgate and Coleman on the right and Bolasie and Mirallas on the left. Two up front choice between Valencia (yet to come good) Kone (will he ever come good?) or Deulofeu (for his unpredictability and pace).
That should give us a strong defence and attacking options left right and centre.
Max Murphy
42
Posted 30/09/2016 at 15:26:11
Paddy Power offering 40/1 on Palace beating Everton 3-1 tonight.
Mark Boulle
43
Posted 30/09/2016 at 15:26:55
No Scott Dann for Palace I think – that is good news as he always seems to score headers against us from set plays.
John Malone
44
Posted 30/09/2016 at 15:27:11
I definitely like the idea of Delboy playing up front as a second striker he is not strong enough or a good enough finisher to play up top on his own but his speed and intelligent movement can definitely cause Palace's big lump's at the back a problem!
Michael Polley
45
Posted 30/09/2016 at 15:36:00
A wee bit weary of Palace, but I hope that the Old Lady under the lights will up our game and we get a convincing 3 pts tonight. COYB
Dave Pritchard
46
Posted 30/09/2016 at 15:49:04
Bad news about Moss as I think he is one of the poorest refs. I knew I'd be in a minority (of one?) by saying Clattenberg is one of the best refs in the Premier League.... Am I bovvered?
Mick Davies
47
Posted 30/09/2016 at 16:21:17
If my memory serves me right, I think Clattenburg's PL debut was... Palace v Everton and we won 3-1. I'm sure Carsley scored a belter and Bent got one too. I remember thinking how good a ref he was, and possibly the best since Paul Durkin and our friend Mark Halsey.
So, with all his shenanigans that followed, that led me to believe one thing: that he is seriously corrupt, and his shady personal business dealings only confirmed this. I'd prefer a bungling inept Moss to a blatantly anti-Everton Clattenberk.
Dave Abrahams
48
Posted 30/09/2016 at 16:23:34
Dave I don't think you are in a minority of one, I'd say that Clattenberg is the best referee in the Premier League at the moment, it's just impossible to forget that Derby game and the most one sided cheating performance I've ever seen by a referee and that includes the pompous egotistical Welsh fella.
Kunal Desai
49
Posted 30/09/2016 at 16:39:00
Not sure if it has already been mentioned but both sides have played the same opposition in the first 6 games. Key match seems to be we beat WBA and they lost at home to them.
Tom Evans
50
Posted 30/09/2016 at 17:20:25
Let's hope Pardew has his thoughts on the England job.
Palace always give me the jitters.
Tom Bowers
51
Posted 30/09/2016 at 17:26:25
Have to admit every time I see referee Moss, I cringe. He is poor but the standard overall is poor given the prestige of this league. Obviously we don't want games decided by incompetency but some are and we hope Everton's are kept to a minimum.
Nuff said about that side of things so let's concentrate on what we need to do to get the three points. The first thing is for the team to show up from the start and not allow the opposition to gain confidence from any early jitters in defence.
We know Palace have some speedy guys so Everton have to be careful not to give ball away by silly passes. I would love to see a really stellar game from Barkley for once.
Tony Abrahams
52
Posted 30/09/2016 at 18:28:05
Koeman, talks about forward players being able to press, so I expect Lennon to start. Anyone from Barkley, Mirallas and Deulofeu to push in behind Lukaku but, whoever it is, I would expect them to be replaced by one of the others around the hour mark!
Let's hope we have a good go tonight, and then the crowd will get right behind the team.
Darren Hind
53
Posted 30/09/2016 at 18:39:52
Not sure Tony.
I thought Lennon was right up Koeman's street, but there's obviously something he doesn't like.
We need to put last week behind us. A win and we can view it as a blip, a defeat would represent a minor slump in the view of many.
I'm quietly confident, but very nervous...
Dave Lynch
54
Posted 30/09/2016 at 19:01:22
Mirallas out, Cleverley in.
Otherwise unchanged...
Thomas Surgenor
56
Posted 30/09/2016 at 19:06:25
Del injured or just dropped from squad?
Kunal Desai
57
Posted 30/09/2016 at 19:13:57
Strange team that. Why is Barkley starting again. Davies should be in the side along with Holgate. Palace will pinch this.
Steavey Buckley
58
Posted 30/09/2016 at 19:16:25
http://www.bbc.com/sport/live/football/37296710
Reminds me of a Martinez team, no left hand side, but plenty of midfielders. I hope Bolasie and Lukaku are on top of their game, because where are the goals going to come from?
Chris Gould
59
Posted 30/09/2016 at 19:16:46
Surprising lineup, but have to assume Koeman has a plan. Don't be so quick to judge, Kunal.
Karl Jones
62
Posted 30/09/2016 at 19:22:44
Bloody awful side. Unbalanced, little creativity and the midfield lacks pace. We've watched this sort of side struggle for the last two years, Koeman will learn what we've been putting up with tonight. Another bad weekend ahead...
Ciarán McGlone
63
Posted 30/09/2016 at 19:29:56
Our last two managers had a habit of playing people out of position... I hope it's not something Koeman intends doing as well.
Add Your Comments
In order to post a comment, you need to be logged in as a registered user of the site.
Or Sign up as a ToffeeWeb Member — it's free, takes just a few minutes and will allow you to post your comments on articles and Talking Points submissions across the site.