Walsh immersing himself at Everton

30 Comments [Jump to last]
Tuesday 4 October 2016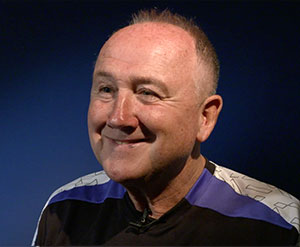 Now in his third month in his role as the Blues's Director of Football, Steve Walsh has been laying out his initial plans at Everton as he familiarises himself with the club and, specifically, manager Ronald Koeman.
Walsh was tempted back to his native northwest of England by Everton in July as the second significant personnel hire of the summer after Koeman's move from Southampton the previous month. Widely credited with recruiting the star players who underpinned Leicester City's stunning march to the Premier League title last season, the acquisition of the sexagenarian was seen as a significant move by new major shareholder Farhad Moshiri.
Given his track record in player recruitment, much is expected of Walsh and expectations of his ability to transform Everton's squad in just six weeks between his appointment and the end of the summer 2016 transfer window were perhaps a little too high. Many supporters were left frustrated that key positions in the team — most notably a creative midfielder and another reliable striker — were not significantly strengthened before the deadline but, as he himself says, it is going to take time for him to get onto the same wavelength with Koeman.
"I'm getting to know Ronald," Walsh says in the latest edition of Everton Magazine. "He's very driven, he's very positive and he has high standards. He's been a great player and understands what he wants. He knows systems and structures of play and knows how to get the best out of players.
"It's forming that relationship and getting into his way of thinking in terms of what he wants in a player. It's got to be a joint venture — there's no point in me bringing players to him and then he's not going to play them. I've got to make sure we are on common ground. And so far, so good.
"How I see it is to get involved first of all with first-team recruitment and make sure that area is good. Once I get an opportunity, we will look at what's further down with the Under-23s and the Academy.
"Because most of my expertise is in recruitment, that's taken up all my time," Walsh continues. "I've got to get that right and make sure we have got a squad that is fit and capable to go forward.
"Obviously, I'm here for the long haul, I'm here to lay foundations but my initial business is actually making sure we've got the right people in place. I intend to immerse myself gradually."
Attempts to sign the likes of Rachid Ghezzal — seen as very much a Walsh-identified target and dubbed in some quarters the new Riyad Mahrez as a result — Manolo Gabbiadini, Lucas Perez and Moussa Sissoko all fell through in the closing days of the window but Walsh's ability to spot a player was illustrated when Everton zeroed in on a cut-price deal with Aston Villa for Idrissa Gueye.
Arguably the Toffee's most impressive player in the early weeks of the 2016-17 season, Gueye was snapped up for just £7.1m and, if comparisons with former Leicester and current Chelsea midfielder N'Golo Kanté are any judge, he could be one of the most significant acquisitions the club has made for many years.
The Senegalese midfielder has been a revelation in central midfield alongside the veteran Gareth Barry and he already looks to have been the bargain signing of the summer.
"I told the manager to have a look at this lad (Gueye) because I think he can do all the things we want him to do," Walsh explains. "We earmarked the fact that we were looking for a bit more energy from that part of the field. He moves the ball quickly and runs with the ball. He is good at pressing and good at intercepting. 
"Don't put too much on his shoulders but he is a little bit like Kanté. You'll see that when he presses. He just needs now to show a little bit more discipline and he'll be a really good player for us, we believe."
With his settling-in period over, Walsh is busily planning for the January transfer window, one that is already being viewed as crucial to the team's prospects of qualifying for Europe and/or finally landing silverware this season.
"Once the window closes, it's information-gathering time again," he says. "You are out and about. I'll be at all our games but I have to go where my job dictates.
"If I have to miss a game because we have got to make a crucial move on a player, I'll do that. Otherwise, I'd like to be at our games, getting a feel for how we play."
The October edition of the Everton Magazine hits shelves in the week commencing Monday 10 October. Grab your copy, priced at £3.95, from Everton One, Everton Two, your local Merseyside newsagent or around the ground on matchday. Alternatively, buy online by clicking here or subscribe for 12 months here.
---
Reader Comments (30)
Note: the following content is not moderated or vetted by the site owners at the time of submission. Comments are the responsibility of the poster. Disclaimer
Brian Williams
1
Posted 04/10/2016 at 19:25:18
Hope he's fully "immersed" by January to make at least three major transfers in happen.
Paul Kossoff
2
Posted 04/10/2016 at 19:54:26
He will be 'immersed' in something unpleasant if he dosn't come up with some gems in January's transfer window.
I would have liked to see an ex Everton player in this role.
What exactly are the qualifications for Walsh's job? Crossing the right palms with silver maybe, or greasing some wheels.
Can't wait to see who Walsh 'discovers' next, let's hope it's some hidden treasure for a couple of million and not an over-rated Newcastle mercenary off to the highest bidder.
Mark Morrissey
3
Posted 04/10/2016 at 20:24:22
Whoever you find Steve, keep your gob shut. Happy for you to lay a few false trails of breadcrumbs across Stanley Park. Stick a false tash on Niasse and call him Omah Class, see if they buy it.
Brian Harrison
4
Posted 04/10/2016 at 20:50:43
Well his first bit of business was exceptional Gana Gueye what a buy, Walsh has already paid back his first years salary with this one alone.
I heard a journalist the other day saying that Arsenal had scouted Perez and discounted him, but as soon as Wenger heard Walsh was interested he had another look and signed him. Now I don't know if this is true but if it is it just shows what high regard he is held.
Paul, I don't know why you attach any importance to wanting an ex-player in this role, surely we want the best that there is for this position. His record at Leicester and Chelsea tells us that Moshiri has pulled off a coup getting Walsh.
Dave Pritchard
5
Posted 04/10/2016 at 21:02:10
Brian, it remains to be seen whether Perez will be any good in the Premier League.
Brian Harrison
6
Posted 04/10/2016 at 21:06:29
Dave, totally agree he might be bang average but the fact that Wenger only had another look because he knew Walsh wanted him for Everton, just shows how people at the top like really rate him.
Ryan O'Hanlon
7
Posted 04/10/2016 at 21:27:50
Whilst he did a great job at Leicester, he didn't do it overnight and, more importantly, he was not going to do it with us in the summer.
The top players that everybody seems to think we will automatically get because we have millions to spend, will look at the fact we have no European football to offer them and for the past couple of seasons we've been mid-table rubbish (see Sissoko). He'd rather get to know Koeman, his system and what he's looking for before rushing in buying a player who is decent on YouTube or Championship Manager.
As Brian says, he is respected in the industry and we must trust in him to do good work.
Michael Penley
8
Posted 04/10/2016 at 21:36:49
"How I see it is to get involved first of all with first-team recruitment and make sure that area is good. Once I get an opportunity, we will look at what's further down with the Under-23s and the Academy."
Does this mean they haven't looked at the younger players? Holgate and Davies have had a run so the quote doesn't quite make much sense.
Ray Roche
9
Posted 04/10/2016 at 22:53:21
Michael, it was stated last week that Walsh is a regular watching our Under-23 side as well as the younger lads.
Unfortunately, Koeman was reluctant to give the younger players a look in at Southampton. And the youth team and Academy set up at Southampton is pretty damn good. I hope he gives some of our younger players a look-in; Davies would have improved our side last week for sure.
Ernie Baywood
10
Posted 04/10/2016 at 23:09:01
Michael, I would assume he means that we may need to recruit specific young player types so we're playing the same style throughout the ranks.
I found this article interesting. When we started looking at a DoF, I'd hoped it wouldn't just be a glorified scout. I thought we might have gone for someone who actually shaped our long-term footballing strategy that a manager would work to (given managers are typically short term).
When we appointed Walsh, it obviously looked like we'd gone somewhat down the route of a chief shout, and this article seems to finally confirm that.
So who sets the style? Bobby had free reign. Is it now Ronald? Are we going to fundamentally change our club every time we change manager? Will Barkley turn into a grock under Martinez, then a marathon runner under Ron, and then to something else under the next guy?
Personally, I'm disappointed. We had scouts before, so what's new? This seems like it's just a new job title and not quite the step change in our club that we needed. All hope rests on Ronald now, for as long as he's here.
Paul Holmes
11
Posted 04/10/2016 at 23:26:33
Give Walsh a chance, FFS! He's only been here five minutes and has recruited our Man of the Match in nearly every game!
Koeman has only been here slightly longer and even though we have not played anyone the table still looks good going into the international break.
We still have the £30 million Sissoko money to spend in January so, apart from the African Cup of Nations, we have a lot to look forward to.
Chris Hockenhull
12
Posted 05/10/2016 at 03:46:29
The negativity to all this sums up all that is wrong about the mentality all around this club that has held us back for far too long. Here we have someone saying positive comments etc only for all this negativity.
As Bob Dylan said "All these experts out there... they seem to know how to do it... Let's see them all go out there for 50 years night after night and keep it going."
What's so wrong with us having/ hearing some positive spin for once, FFS???

Laurie Hartley
13
Posted 05/10/2016 at 06:52:41
Ernie (#10), I think Koeman
is
the man charged with determining the club's long-term footballing strategy by Farhad Moshiri.
Walsh said something that I thought was very interesting when commenting in the past week about what Bolasie brings to the team. He said words to the effect that he helps us get the ball up the pitch quickly and this helps the team as a whole to move further up the pitch.
I remember Sir Alec Ferguson commenting after a game against us that Everton move the ball out of defence and up the pitch very quickly.
This was the style of play of our great teams of the '60s and '80s and is the traditional style of the club. When we get it right, it is almost unbeatable. It appears that this is the Koeman style.
So Paul (#2) – What exactly are the qualifications for Walsh's job?
Pure speculation on my part but, in the light of the above, I would say:
Have a high degree of understanding of the technical aspects and skills of football / footballers;
Have the ability to set up an effective network of scouts;
Have the ability to identify the type of player the manager is looking for / wants to add to the team..
Like many of us, I would like instant results but, after having sat back and taken stock of things so far under the Koeman - Walsh team I feel we are definitely on the right track on the football pitch.
That being the case, the backroom boys can leave that side of things in capable hands and get on with the business of getting us a new waterside stadium.
All will be well.
Ray Roche
14
Posted 05/10/2016 at 08:21:52
The trouble is is that, after Koeman's and Moshiri's arrival, some fans' expectations went through the roof, despite the admission that it would be a two-year project.
Apparently, by now, we should have got the Premier League sown up, Champions League in the bag, the FA Cup, Grand National and Eurovision Song Contest (well, we ARE terrorising Europe) and Miss World Contest under our belt and all the players have come back from Rio with Olympic Gold medals, or in Gibson's case, Paralympic Gold medals.
Have some bloody patience for Christ's sake!
Eddie Dunn
15
Posted 05/10/2016 at 09:08:04
We are all victims of the new information age. We get cranky when we have to wait for the next match. We want to buy something and can't wait a couple of days for it to arrive.
Changes have been made at the club, and things are happening. We just have to give the new people some time, have a little patience and see what happens.
January is still quite a long way off, but I am sure Walsh isn't sitting in his office typing on ToffeeWeb! I'd better get going!
Peter Roberts
16
Posted 05/10/2016 at 09:17:17
First off – his catalogue of scouting picks at Leicester will have been left as some sort of agreement on his severance (first pick etc).
Essentially to expect the fella to have picked a few players in the 6 weeks of non-playing football is daft. I guess he will be watching virtually every European game, every French game etc from the start of the season. The only issue is the inflated market in January. Either way, we need to move in it given the fact that Gueye and Bolasie will be at AFCON.
I believe we will do the following:-
1. Get a striker in to replace Lukaku before we actually sell him. Selling Lukaku before signing someone will be insane – the price will go through the roof.
2. Get a Number 10. I don't think Ross is a Number 10. He will be better deeper – next to an experienced mentor like Barry.
Stan Schofield
17
Posted 05/10/2016 at 10:28:21
Peter @16: I'm obviously not keeping abreast of official statements from Everton FC. I didn't realise we were selling Lukaku.
Brian Furey
18
Posted 05/10/2016 at 12:01:01
Fans need to realise that it's never an easy job bringing in new players. A few years ago, so many of us were begging Bill to break the bank to bring in Deulofeu but, let's face it, he has disappointed more than he has excited us. Gueye came in with very low expectations and we've all been hugely pleased with that £7M spent.
Bolasie is one which still remains to be seen. At the moment, I think he's the best of all our wingers despite his lack of goals but I can already see a good understanding between him and Rom and he appears to work harder than Mirallas or Deulofeu and is good in the air.
I think we need to accept that we will have to pay over the odds for our targets like we did with Bolasie and I hope a striker in is No 1 on their list as well for January as, if Rom is out, we are in trouble.
Trevor Lynes
19
Posted 05/10/2016 at 12:39:04
What we really need from Mr Walsh is a player like Mahrez who must be the buy of the decade. If he could get a player like him to sign for Leicester then it should be far easier to get one for us!
This lad has everything; top ball control, dribbling and passing plus goals as a bonus! He would lift every Everton fan off their seats and galvanise the likes of Bolasie and Lukaku.
He is exactly the type of player I would love to watch in an Everton shirt.
Peter Roberts
20
Posted 05/10/2016 at 13:19:51
Stan – that's why I said "I believe"...
why do I believe? Because we never issued a hands off warning. We stayed quiet and Lukaku and his agent awaited offers that never came...
Lukaku knows he needs to earn his move – of which he will likely try as he usually does till January... he hasn't been offered or signed a new contract as far as I know.
I believe he has been told to "earn your move whilst we look for a replacement".
I could be wrong...
Les Martin
21
Posted 05/10/2016 at 13:58:16
Come January we will see who has been identified in the interim, also whether any previous targets (that haven't signed longer or new contracts) are revisited.
I am certain there will be some business, as Ronald will want to push on and get us into Europe; that, as we all know, then helps attract better players and aids our progress.
Jim Knightley
22
Posted 05/10/2016 at 14:29:12
Brian (#4) – the truer story was that Perez had been identified by the Arsenal hierarchy much earlier, but they had spent the summer trying to get Reus in. The deal was in the balance for two months, and he was seen as the ideal player because he could play through the middle and in the wide areas, and had been on Arsene's radar for sometime. When the deal no longer seemed likely, Arsenal returned to Perez who is more of a striker but can also play wide.
Expecting three major signings in January is lunacy, Brian (#1). The January market is a bad market and we are not going to get teams to relinquish a major asset half-way through the season. How many major transfers, relatively speaking, have happened in January in recent years?
We will need to wait until the summer, and we need patience. Koeman and Walsh cannot reconstitute our structure and direction in months – it will be a lengthy process requiring patience on both sides. With no major tournament in the summer, players won't be jostling to the same extent to leave their clubs for first-team football either, and an African Cup of Nations will diminish squads across Europe.
Our best bet will be to take on loan, or on permanent transfer, a player sidelined by a major club who can satisfy our need for creativity in midfield. I dreamt about Mata, and still hope that Mkhitaryan's return to fitness will relegate him to the peripheries. But I expect that a transfer back to Spain may be more likely, in an attempt to penetrate that wonderful Spanish midfield ahead of the summer 2018 World Cup.
Stan Schofield
23
Posted 05/10/2016 at 15:04:15
Peter @20: It could be argued that a "hands off" warning was effectively issued by setting a 㿷M price tag, one that was apparently widely viewed as too much.
There seems to be a common assumption on TW that Lukaku will be sold fairly soon, perhaps circa end of this season. But I've seen no evidence that he will, beyond assumptions stemming from media reports whose reliability might be questioned.
Brian Harrison
24
Posted 05/10/2016 at 15:17:36
Jim,
The version I heard from a journalist on the radio was what I said in an earlier post. Now you may have more knowledge of what happened than the journalist I was only repeating his story.
Also, I never mentioned about 3 signings in January... I don't know where you got that from.
What we do know is that Walsh recommended to Koeman that we sign Gueye. I think, come the summer, it might be harder to keep hold of him than Lukaku. The boy has everything; what a gem for Walsh to find.
Brian Furey
25
Posted 05/10/2016 at 15:54:44
Just looking at Mahrez on Wiki there. He's 24 now and he (like Leicester) was exceptional last season, scoring 18 goals in total. Previous seasons he was playing in the Championship and French league 2 and was only scoring 3 or 4 goals a season.
Algeria seem to be the new Belgium with so many great players coming through. I wonder will we hear from Yacine Brahimi again? It looks like he's not getting his start at Porto now.
Paul Kossoff
26
Posted 05/10/2016 at 16:17:05
Walsh says he advised Koeman to sign Guaye from Villa but Koeman tried to sign him in June 2015 from Lille for Southampton for 㾶 million, I'm sure Walsh wasn't advising Koeman while at Leicester, so Koeman already had Gueye in his sights, I don't see how Walsh can take the credit for this one.
Brian Harrison
27
Posted 05/10/2016 at 17:15:20
Paul
There is a good piece in the Liverpool Echo were Walsh lists the transfers he has been involved in and, which ever way you look at it, the list is impressive. The list includes Drogba to Chelsea, then there was Mahrez, Vardy, Kante plus Huth and Simpson to Leicester.
Peter Gorman
28
Posted 05/10/2016 at 17:19:24
Brian,
Even if he says so himself.
Also, would love to hear about the ones that didn't work out (wonder if any were Niasse-like).
But, overall I like the cut of his jib. Given time we can judge. As we stand, I don't think too many players inherited from Martinez are good enough mentally so would like to see what Walsh and Koeman bring in, hopefully not to the detriment of the exceptional bunch of kids Unsy is bringing along very well indeed.
Eugene Kearney
29
Posted 05/10/2016 at 19:51:45
Chris #12 - Well said sir. That's why I look in to ToffeeWeb less and less.
Paul Kossoff
30
Posted 05/10/2016 at 20:23:07
Points taken Brian, I'm not saying he's all mouth, Walsh is obviously good at his job, let's hope his well dosn't run dry and he does the business for us.
---
Add Your Comments
In order to post a comment, you need to be logged in as a registered user of the site.
Or Sign up as a ToffeeWeb Member — it's free, takes just a few minutes and will allow you to post your comments on articles and Talking Points submissions across the site.