Koeman hails Blues' resilience following battling draw

61 Comments [Jump to last]
Saturday 15 October 2016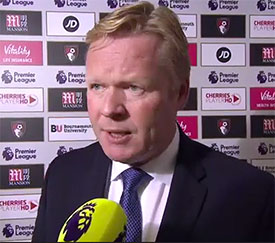 Ronald Koeman hailed Maarten Stekelenburg and the tireless efforts of his team as Everton became the first team to take points off league leaders Manchester City at the Etihad Stadium this season.
His compatriot pulled off two excellent one-handed saves and stopped two penalties to give the Toffees the platform on which to take the lead before City's attacking prowess eventually proved too much to resist.
In that context, Koeman was pleased with the draw, more evidence of just how difficult a proposition Everton have become for even the best teams under his stewardship.
Asked if he was satisfied with the result, the Dutchman was unambiguous. "Yes, of course," he said. "Not many teams will get one point from this stadium because in front [of us] was a fantastic football team in every aspect of football and you need to maybe get a little bit lucky and to have a goalkeeper who played maybe his best match of his life. And you need at least a work-rate that is very high.
"A big compliment to the team because we fought and we did everything to get a good result. And, of course, they were the better team, they had more ball possession, they had the better chances, and they missed two penalties but finally it's 1-1 and it's a great result for us.
"I'm very happy [with the way the team is evolving]. We know we are very hard to beat and it was the best team, for sure, football-wise we've played against this season.
Koeman was also fulsome in his praise of goalscorer Romelu Lukaku who notched his sixth Premier League goal of the season with a brilliant opener in the 64th minute before Nolito canceled it out with a close-range header eight minutes later.
"[Romelu] gets half a chance and it's a goal and that's his big quality: he doesn't need a lot of chances to score. He's the target man. He worked very hard today like everybody in the team and that productivity in the team is important — that's goals, that's points and that's what we need."
---
Reader Comments (61)
Note: the following content is not moderated or vetted by the site owners at the time of submission. Comments are the responsibility of the poster. Disclaimer
Kase Chow
1
Posted 15/10/2016 at 19:25:19
Well done, chaps. From the very weak platform Koeman inherited, we are progressing.
Peter Mills
2
Posted 15/10/2016 at 19:50:40
I was going to post about the match, then read Mr Koeman's summary and he's said it all. Excellent result, some obvious flaws, but great battling and resilience. 8 games into the regime, I will take that point all day long.
Laura Round
3
Posted 15/10/2016 at 19:55:56
Thrilled when we took the lead, I would've loved a win but I would take a draw all day long! Happy with that... credit to Stekelenburg!
Don Alexander
4
Posted 15/10/2016 at 19:56:58
Any team in the league, any time this season, will be delighted to get a point at the Etihad.
To in any way denigrate the achievement of the team today by saying we were lucky or whatever is out of order. Enough of them applied themselves in full to earn the point.
I'm more than happy to leave it to Koeman to sort out any player he deemed could have done more. I ain't clever enough to do that, so well done lads, keep developing, and we WILL win something for the record books.
Ed Fitzgerald
5
Posted 15/10/2016 at 20:04:27
A great result and a battling performance; however, if we had won the game, it would not have been deserved.
Laura Round
6
Posted 15/10/2016 at 20:15:41
Anyone know where Baines was?!?
James Byrne
7
Posted 15/10/2016 at 20:42:07
I've predicted all week we would take points off City today; the timing was right with most if not all of City's key players being on international duty, so it was a decent time to play them.
Stekelenburg was outstanding and I'm keen to know who the last goalkeeper was who went to either Man City ground and saved two penalties in a game.
We fought well today and every player rose to the challenge. Some stupid tackles by the captain to gift the penalties but I'll praise Lukaku for a world class goal. Well done, work in progress, and I'm right behind this manager.
Patrick Murphy
8
Posted 15/10/2016 at 20:45:20
James (#7),
According to the Echo "Maarten Stekelenburg made history in Everton's 1-1 draw at Manchester City by becoming the first Blues keeper to save two penalties in a match in 95 years. The Dutch international saved from Kevin de Bruyne and Sergio Aguero either side of half time as Ronald Koeman's side ended City's 100% home record this season. It is a feat that had not been achieved by an Everton keeper since Tommy Fern saved two penalties in Everton's 2-1 win at Sunderland on Boxing Day 1921."
I don't know how often two penalties have been saved down the years but apparently:
"Watford goalkeeper Heurelho Gomes set a new Premier League record by becoming the first person to save two penalties in two different games. The 35-year-old saved two spot-kicks from Saido Berahino in Watford's 1-0 victory over West Brom, while in April 2010, the Brazilian stopped two penalties from Darren Bent in Tottenham's 3-1 defeat to Sunderland."
James Byrne
9
Posted 15/10/2016 at 20:47:06
Ed (#5);
What a strange comment to make?
If we had won the game, I would have said it was very much deserved. There won't be many teams going to City and coming away with a goalkeeper performance as good as that.
Lukaku's goal on it's own was worthy of the three points. I'm afraid you're stuck in last season mode!
James Byrne
10
Posted 15/10/2016 at 20:48:09
Thanks, Patrick (#8), fantastic stuff.
Joseph Mullarkey
11
Posted 15/10/2016 at 21:25:34
I was really nervous all through the 95 minutes but, thanks to the team sticking together and some fantastic performances, we got through it.
With the exception of two tackles, sensible decisions were made all day in high pressure situations.
Koeman got his tactics spot on.
Someone on the coaching staff needs to explain the offside rule to Deulofeu
Rick Tarleton
12
Posted 15/10/2016 at 21:36:08
A point at the Etihad is a great result, especially as they were awarded two penalties. No moans.
Jon Clark
13
Posted 15/10/2016 at 21:38:59
I was about to say didn't Paul Gerard save two against Bradford City in 2000 at Goodison Park?
But I am a answering my own question – he saved one from Carbonne and then he hits it over the crossbar for the second so technically not two penalties saves. Then Hibbert failed to clear and Watson got tied up with Carbonne, giving away a penalty that Robbie Blake steps up to take... which Paul Gerrad saves BRILLIANTLY!!!!
Alexandersson became a hero too as he put Everton in front with a great shot after 70 mins.
Then unbelievably, just 60 seconds later, a second penalty is awarded to Bradford – this time for handball! Carbonne steps up to take it this time... and fires it OVER THE BAR!!!
Dave Williams
14
Posted 15/10/2016 at 21:46:20
Tremendous result by a team in the very early stage of development against one which has been established for years with money no object.
I would guess that, by the time Ron has finished acquiring the players he wants who will be comfortable playing his style of football, no more than 5 of the starting team today would stand a chance of being in it and he has done a remarkable job in a short space of time to get the defence solid.
Next step is to sort the midfield as we have too many players there who either aren't good enough for the very top or are way too inconsistent and must therefore be moved on.
Stekelenburg and my namesake were outstanding today – and our grit and team spirit managed to make up for a number of ineffective performers.
Many on the live forum were critical of how we played but Ron cannot turn this around overnight – he needs a couple of seasons and his job is to be difficult to beat first and add the finesse and pretty stuff later and he appears to have achieved the first bit now.
Peter Murray
15
Posted 15/10/2016 at 21:58:57
Dave (#14),
"...be difficult to beat first and add the finesse and the pretty stuff later..."
Sounds like an extract from the David Moyes manual. To be fair to the man, he did exactly that and got us into the Champions League.
Dan Davies
16
Posted 15/10/2016 at 21:59:26
I'll take draws away from home as long as we win our home games. Stekelenburg was outstanding today and we were worth a point. I'd agree with Koeman's point of view.
Mark Morrissey
17
Posted 15/10/2016 at 22:15:49
To lose so much possession, give away two penalties and come away with a point is a great result against any team. To do it against Man City is a relief.
I think we will learn from this and moving forward it should give confidence. I feel for Ross and I'm worried for him. I want him in our team but I'm not sure Koeman does. A great result, let's do Burnley.
Peter Jansson
19
Posted 15/10/2016 at 22:38:20
The very good thing here is that it seems like the team belive in Ronald Koeman. That is very good!
I think City got some cheap penalties. City should have had a yellow card or two for diving.
Anyway, very good fighting spirit today.
Joe O'Brien
20
Posted 15/10/2016 at 22:42:19
All positive posts lads! Unreal stuff altogether, doesn't happen a lot in TWO.
I agree totally, a well deserved point. Not many teams are going to get anything from that ground. City played well and will blow away most other teams when they're on that form.
I would have taken being only 4 points off the top after only being managed by Koeman for 8 matches at the start of the season all day long. Well done, Blues.
Tom Flower
21
Posted 15/10/2016 at 22:47:38
I was at the the match today, in the East Stand with some mates who support Man City. I was delighted with a point.
We were right under the cosh second half but I could not help but notice how poor Deulofeu was. He was shocking. His lack of commitment and determination in his defensive game deservedly got him the hook in the 2nd half. He is a fraud and he does not kid anyone with his defending shadows and space. He did not win a tackle all day.
Bob Parrington
22
Posted 15/10/2016 at 22:56:37
Point made! Point won! Well done lads!
Martin Nicholls
23
Posted 15/10/2016 at 23:05:07
Off topic but well done to True Blue Tony Bellew tonight. 3rd round KO for the Blue Bomber!!
Ray Roche
24
Posted 15/10/2016 at 23:06:02
We looked really solid defensively against possibly the most expensively assembled squad in world football. If Bellendino was still in charge we'd have conceded six. Williams was immense.
Ernie Baywood
25
Posted 15/10/2016 at 23:34:38
So are we now accepting that Lukaku is right up there with the best strikers? This season he's scored headers, free kicks, one on ones, and now individual runs.
Infuriating, but his highlights reel shows what he can do.
Paul Holmes
26
Posted 15/10/2016 at 23:38:09
It was a good point but, with a so-called 㿷 million-centre forward, a 㿊 million winger, Wales captain, Republic of Ireland captain, I thought we should have showed more quality in possession with the players we have.
It was like the Alamo for most of the match against a team without Aguero and that had lost to Spurs and drew with a Championship team in Celtic. Unfortunately I don't share the same optimism as most of the posters on here.
Don't forget, they missed two penalties and a wonder save stopped it being four. Let's see how the teams we are competing with for the top places get on when they play them!
John Raftery
27
Posted 15/10/2016 at 23:53:52
Ernie (#25), For me there was never any doubt Lukaku is one of the best strikers around. Today he was also winning headers from long balls but we had nobody alongside him reading the play.
Graeme Sharp had a succession of top class forwards to help him; Adrian Heath, Andy Gray and Gary Lineker. If Lukaku had a high quality partner up front he and we would create and score even more goals.
Tom (#21), I agree Deulofeu was very poor. While he was on the pitch it looked like we were playing with ten men. How he can be preferred to Mirallas or Lennon is beyond explanation.
Brian Wilkinson
28
Posted 16/10/2016 at 00:48:11
Fantastic result. On a plus note for all his critics, McCarthy coming back from injury a big plus... more so with a decent playmaker alongside him in Gaye. Once up to speed, some steel in the midfield.
Gary Russell
29
Posted 16/10/2016 at 05:09:08
The BBC headline for the game reads Man City Miss Two Penalties in Everton Draw. They didn't miss and the headline should read Stekelenburg Saves Two Penalties at the Etihad.
John Pierce
30
Posted 16/10/2016 at 05:54:11
Was the big loser in this game Ross Barkley? The word 'resilience' is used a lot in today's performance; would Ross have weakened that performance were he in the side today?
I have to say Yes; we defended for most if not all the game. I cannot see a time when Koeman puts up with a player who cannot do both unless they offer something outrageously good in return; this puts Ross closer to the door in my mind.
As his attacking output has dried up, his inability to defend becomes a burden, to the extent Cleverley and McCarthy might well have edged in front of him in the pecking order – certainly for games against big sides, and possibly for the foreseeable future.
Can Ross get his act together?
Jonathan Miller
31
Posted 16/10/2016 at 08:40:24
Stek looks huge in that goal and I felt for some very strange reason he would save both penalties. Sitting with the away fans yesterday, two blues next to me could not contain themselves when we scored and were promptly ejected.
Those tactics required huge concentration and we deserved our point. Williams was fantastic. Koeman's hooking of Deulofeu, pushing Bolasie up the middle, made a big difference and shows once again talented management. The one real disappointment for me this season has been Deulofeu; I expected so much more as I really rate him.
Geoff Williams
32
Posted 16/10/2016 at 09:18:01
John (#30), Barkley would have been a huge improvement on Deulofeu.
Mike Allen
33
Posted 16/10/2016 at 10:10:25
The only way Deulofeu should get near the team sheet is by hanging it up for the boss. It's one thing being out of form but lack of effort and commitment is unacceptable. Far too many similar performances from him to warrant selection.
What a fantastic effort from the boys. Whatever luck we had was well deserved... as they say, "you make your own luck".
Dave Williams
34
Posted 16/10/2016 at 11:26:12
John (#30), I am sorry but I have to agree with what you say about Ross. If he cannot or will not work and cover as part of the team, then we have a problem. His saving grace would then be if he dominated midfield and dictated a game once he was given the ball.
Sheedy was a bit like that... albeit way above Ross in ability. I recall Howard Kendall saying to Reid and Bracewell "Just win the ball and give it to him – he will do the rest" – but I don't recall Ross ever doing that either. His best moments are when he gets space so he can run at defences but teams know this and so close him down and without that space he becomes a bit redundant.
A ToffeeWebber – can't recall his name – suggested a while ago that he be tried as a striker and I can understand that as he can hold and shield the ball, has a good shot, and would lay the ball off, rather than look for through balls to play high, which he tends to delay and they are generally cut out.
I like him and find it painful to see him struggle but this to me is Ron's biggest challenge – can he sort out what could be a huge talent before he peters out completely???
As for Deulofeu, I can't see him surviving long with Ron – again, he has huge talent but his application, work rate and pure guts are all sadly lacking which no doubt explains his failure to impress in Spain. Is there potential for him to develop these aspects of his game? He would be a smashing player if he could... but he's leaving it rather late!
Brent Stephens
35
Posted 16/10/2016 at 11:57:14
I feel for Ross. I think he's one of the more grounded lads, not up his own backside. And a true blue. He has great skill at times. I suspect his lack of tackling is a hangover from his serious injury and I just fear that Koeman won't accept that unless his attacking / creative side is consistently top notch.
Come on Ross, at least put that shift in to keep goal-side of an attacking player, to keep jockeying. And we've seen you put in a few tackles this season – brace yourself and build the confidence to tackle more often. I wonder if there could be some sort of aversion therapy re his fear of tackling, if fear is the factor.
Brian Harrison
36
Posted 16/10/2016 at 12:05:37
I think yesterday showed Koeman has improved us defensively, I don't believe we would have got anything out of this game if Martinez had been in charge. Just the signings of Stekelenburg and Williams have made a big difference to our defence, he has made us a difficult team to beat. Lukaku again proved what a clinical finisher he is, a great individual goal.
I am sure the biggest headache for Koeman is the lack of goals apart from Lukaku. The rest of the forwards (Mirallas, Barkley, Deulofeu, Lennon, Valencia) just lack goals and at some point we have to find an alternative for when Lukaku doesn't score. I didn't mention Bolaise as when Koeman signed him, he said that he would have to greatly improve his goalscoring record. Before joining, he had only scored 9 goals in 3 seasons.
The only other forward is Kone but, apart from coming on as sub against Yeovil and scoring twice, he hasn't been involved. And obviously Koeman has already told Niasse that he has no future here. Again, in midfield there is a distinct lack of goals as Gana, Barry, Cleverley and McCarthy contribute very little to the goal tally.
But I am sure that Koeman will rectify these problems over time; he has started well by making our defence look really solid. Even though Man City dominated possession, Everton did really well in restricting them to only a couple of half-chances during the game.
James Byrne
37
Posted 16/10/2016 at 13:33:10
Did anyone notice after Nolito scored for Man City, the Ref appeared to play the advantage by holding his both arms out.
I'm wondering if he was about to give another penalty to City if they hadn't've scored! It looks like Barry has his arms over the shoulders of an advancing City player?
Gary Russell
38
Posted 16/10/2016 at 13:46:39
Watching MotD today I noticed Bolasie tracked back and made a good tackle to win the ball but his clearance was shocking putting us under pressure, then 2 seconds later Jags gives away the first penalty.
John Pierce
39
Posted 16/10/2016 at 14:16:22
James (#37). Absolutely, I saw the two arms held aloft as if Oliver was promoting the advantage. I'm an official myself and you cannot play advantage for a penalty. Had Nolito missed etc. having played an advantage you cannot go back and give a team a second chance through the penalty.
There is no in-between here. Very ropey ground. And if to enhance the point, Barry should have been booked for it too.
Michael Polley
40
Posted 16/10/2016 at 14:25:10
Good point.
Well done, boys.
Peter Mills
41
Posted 16/10/2016 at 15:19:32
Lennon's end product from the wing is pretty poor but, given his hard working attitude and ability to score a goal, I'm surprised he isn't getting more of a look-in alongside Lukaku.
Dave Abrahams
42
Posted 16/10/2016 at 16:02:10
Patrick (#8), in the mid-fifties, Manchester City were awarded three penalties versus Everton. Ken Barnes, the City right-half put the three of them away in a 6-2 win for City. This was the game in which Davie Hickson was sent off.
Allegedly, Don Donavon, the Everton captain, was complaining that the referee should bring a white ball because the daylight was getting dimmer. Davie said to his captain, "It's not a white ball he needs, it's a white stick." Davie was immediately sent off.
Brent Stephens
43
Posted 16/10/2016 at 16:09:00
Lovely story, Dave (#42).
Anto Byrne
44
Posted 16/10/2016 at 16:50:38
Deulofeu put in a shift tracked back and ran his guts off. He also brought a world class save from Bravo. I can't fault the kid playing against this very good side.
Still only 21? We seem to be critical of players yet they had Sterling who wasn't any better. We also had a decent spell in the second half that shows what our potential is. Against the lesser teams like Liverpool and Arsenal we will hold our own.
Clive Rogers
45
Posted 16/10/2016 at 18:52:07
Peter (#41),
Although Lennon chipped in with 5 goals last season, he is not generally a goalscorer. He got 26 goals in 267 games for Spurs.
Peter Mills
46
Posted 16/10/2016 at 19:44:15
Cheers Clive, l can't argue that his goalscoring record is very good, but he has generally played on the wing. I was just watching that first half yesterday thinking how much we needed a nuisance up front, someone who would plague the defenders.
I remember being at the Etihad a few years ago when we had no forwards and Tim Cahill played up front on his own – what a pain he was that day. Check out his latest goal if you haven't seen it yet!
Mark Morrissey
47
Posted 16/10/2016 at 20:00:54
Pete Mills @ 41 you are so correct. Lennon is a much better footballer than Gerard Deulofeu and has a footballing brain. Doesn't get enough time and the same happened when he was at Spurs. He's a good player. I like Deulofeu but he is absent in defence.
Dave Abrahams
48
Posted 16/10/2016 at 20:53:27
Peter (#46) and Mark (#47), I agree about Aaron Lennon, over the course of a season I think he is much better value than either Deulofeu or Mirallas who play in fits and starts.
The Spanish kid has time to change, although I don't think he will ever become more robust than he is.
Mirallis seems to be set in his ways.
Anthony Hughes
49
Posted 16/10/2016 at 21:50:29
I agree regarding Lennon. Mirallas won't change, he is what he is. Lennon's no world beater but you get more bang for your buck with him. Gerard is so frustrating, so much obvious talent but without seemingly being able to consistently apply it.
And then we have Bolasie who seems to be a mix of all three of them.
Geoff Evans
50
Posted 17/10/2016 at 10:18:11
Great TEAM performance, compare the resilience of this team as opposed to the team that used to surrender after an hour last season.
We've still got a long way to go but all the signs are there. Koeman is a top class manager who knows the game inside-out, has been there, done that and has the T-shirt to prove it. At last, we can start looking forward with definite confidence rather than just clinging to hope.
The future's bright, the future's Blue (led by a man in orange).

Don Alexander
51
Posted 17/10/2016 at 12:03:31
Slightly off topic but Mirallas is mentioned as remaining, erm, a conundrum in the goalscoring stakes and I admit to being confused by him ever since he arrived. He's nearly always been played out wide and rarely as the second striker due to our limitations in midfield ever since he arrived. That must frustrate the hell out him given that he became an international second striker pre-Everton.
As if that's not bad enough, he now has you-knno-who in charge of his national team. I suspect therefore that he's lost a lot of heart and, while I have little sympathy given his massive salary, I hope Koeman can re-program into a consistently useful goalscoring striker.
Martin Nicholls
52
Posted 17/10/2016 at 12:21:21
A few critics on various threads of team selection, formation tactics etc. Any of you care to enlighten me (and maybe educate Koeman in the unlikely event he reads TW) what your selection, formation, tactics etc would have been?
In the results-driven business that is the Premier League, I would obviously expect the end result to at least equal that which was achieved! Any takers?
Eddie Dunn
53
Posted 17/10/2016 at 13:03:36
Martin, it is an unfair question because no-one can predict what may happen compared to what we know actually happened. In reality, we got a point, but the game could have been lost due to the incessant pressure, from which we couldn't escape. The two penalties were the result of this building up. If we had been beaten 4-1 with this line-up, we could have had few complaints.
Hindsight is a wonderful thing, so all I could suggest is that McCarthy should have started instead of Deulofeu. Our midfield was finding it tough before he came on to help.
Matthew Mackey
54
Posted 17/10/2016 at 13:07:02
For the first time in 12 months, I have actually started to feel a buzz and a confidence in our team that was missing for so long under Martinez. Big Ron has instilled a huge degree of stability and grit into this squad and, although we have had some good results already this season, this is the one that sends a message out to all the others that Everton mean business.
Well done to the manager, well done to the team for a thoroughly outstanding performance – and of course a BIG BIG well done to Maarten Stekelenburg in goal who was simply awesome! The love affair with Everton is now back on!!!!!!!!
Neil Sagar
55
Posted 17/10/2016 at 13:15:41
Considering we gave a masterclass in resilience which is the first objective achieved, I believe that, if we can somehow manage to buy two quality additions for the No 10 role and right-wing position in January, then we could possibly push a top four placement.
Of course we would need some luck with regard to keeping key players fit but I'm certainly optimistic that the foundation is in place.
Craig Walker
56
Posted 17/10/2016 at 13:39:30
Deulofeu needs to practise his one-on-ones. He goes to pieces every time. He had the chance to put us 2 up at the Etihad in the semi-final and blew it. I think at best, he is a good option coming off the bench against tired full backs. He's never the same player when he starts.
I also cannot stand the way he throws his arms in the air appealing decisions. Track back and win the ball back.
John Daley
57
Posted 17/10/2016 at 14:05:45
"Any of you care to enlighten me (and maybe educate Koeman in the unlikely event he reads TW) what your selection, formation, tactics etc would have been? In the results-driven business that is the Premier League, I would obviously expect the end result to at least equal that which was achieved! Any takers?"
My team would have been Stekelenburg, Coleman, Jagielka, Williams, Michael Caine (making his much overdue comeback in the role of John Colby from Escape To Victory), Barry, Gueye, Koeman (R), Barkley, Lennon, Lukaku.
Tactics would have been 'make it up as you go along' and 'remember to stick tight to that bastard who was given loads of room to score their goal in the real world' and we would have defo won 2-1. Guaranteed, without a shadow of a doubt.
However, Jagielka would have clumsily conceded a third penalty that Stek would have stopped dead in mid air by merely lifting his hand, like Keanu Reeves in The Matrix, so the ball just hovered there, possibly rotating for a little while, before plopping straight down onto the pitch. "EEES MISSED IT! MAN CITY 'AVE MISSED FROM THE SPOT!! AGAIN!!!!", Carragher would have excitedly screeched before belatedly mumbling something about 'dat bloke in de goal' maybe having had an itty bitty part to play in things. Maybe.
Geoff Evans
58
Posted 17/10/2016 at 14:16:34
John (#57): Don't expect too much from that world-renowned expert on all things football... Carragher, you'll only be disappointed. He is what he always was.

Shane Corcoran
59
Posted 17/10/2016 at 14:34:18
Geoff, "what he always was"?
Wasn't he a Blue?
Best pundit out there by a mile in my opinion.
Matthew Mackey
60
Posted 17/10/2016 at 15:02:54
Shane (#59) – agree. Carragher IS one of the best pundits around at the moment. Still can't forgive him though for his treatment of Lescott in that infamous "Clattenberg" derby nearly 10 years ago! I've never been one to hold a grudge but...
Brian Furey
61
Posted 17/10/2016 at 17:54:40
I watched the 20 mins highlights on the official website and enjoyed it as already knew the score but probably would have been on edge watching it live.
Great touch by Bolasie to send Rom away and how many players over the last 10/20 years could do what Lukaku does like that quite well, yet many on here want rid of him.
Anyway, my real issue here is with Deulofeu. We all want him to do so well as the lad has so much talent but you can tell a lot by his body language. The lad is 22 now and is captain of the Spanish U21 team which you would imagine means he shows leadership, commitment and a while to win.
I'm sorry, folks, but if you watch him off the ball or when he loses it, his attitude stinks. I saw on Saturday he often throws his arms up or shrugs when he loses the ball or points to someone else to tackle back for him. He rarely does the simple pass or go for a one-two, which with his pace he should be using so much more. I know it sounds too simple but surely a quick pass to Rom to feet and run in behind could bring the lad a lot more chances to score.
His workrate for a fit young talented player is atrocious and I think Koeman has really tried to be patient with him and fit him in. Now I can see why he was targeting more wide players in the transfer window.
Like many have said here, I cannot understand why he hasn't given Lennon more of a chance as he will work much harder than Deulofeu or Mirallas and get good balls into Rom.
Deulofeu looked so pissed off when subbed on Saturday, as if to say why me again? That was his big chance to perform but, besides the one great shot that he hit, did he do anything else all game?
If I was not getting many matches, week-in, week-out, and then I got a start, I'd bust my ass to at least work hard and cut out the childish attitude. You can see now why he didn't do so well on loan in Spain and it is going to take a huge attitude change from him if he wants to succeed.
On another note, Bolasie has got 3 assists now and it should be more considering some of the misses we have had like Barkley's header a few weeks back.
John Pierce
62
Posted 18/10/2016 at 14:46:34
Put simply ,the result at Man City on Saturday is often the lead for a club to be galvanised and give validation to the current manager's thinking and tactics.
We should now be a very confident bunch and in many ways a very hard game was what we needed. Spurs was too early and we have not played anyone near the calibre of Man City.
We should be able to claim 6/6 points in the next two games, not unrealistic. One slight doubt is our ability to break sides down. We will have the ball on Saturday – can we score with it?
COYB
Add Your Comments
In order to post a comment, you need to be logged in as a registered user of the site.
Or Sign up as a ToffeeWeb Member — it's free, takes just a few minutes and will allow you to post your comments on articles and Talking Points submissions across the site.