Koeman unmoved by Niasse's U23s form

32 Comments [Jump to last]
Friday 21 October 2016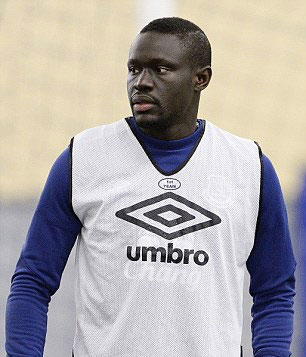 Ronald Koeman says that he hopes Oumar Niasse keeps up his scoring form for Everton's second string but suggests he's unlikely to change his mind on the Senegalese's long-term future.
A £13.5m signing from Lokomotiv Moscow, Niasse has failed to impress during the few first-team outings he was given under former Blues boss Roberto Martinez and during pre-season under Koeman and was made available for transfer over the summer.
Rumoured to have rejected a loan move back to Russia so that he could stay in England with his wife and infant son, Niasse was demoted to the Under-23s this season, with Koeman saying that he saw no role for the striker in the first team.
Since then, the 26-year-old has found his feet somewhat in Premier League 2 where he has scored five times in seven games, including a recent hat-trick in a 6-3 win over Reading.
Koeman was asked about the possibility of Niasse playing his way back into first-team contention but the Dutchman indicated that it was unlikely he would reconsider his stance, even if he left the door slightly ajar.
"I hope he scores a hat-trick every week in the under-23s," Koeman said in his pre-match press conference ahead of tomorrow's trip to Burnley.
"I never say never in football but the decision I took is not to change and it's between us."
---
Reader Comments (32)
Note: the following content is not moderated or vetted by the site owners at the time of submission. Comments are the responsibility of the poster. Disclaimer
Thomas Lennon
1
Posted 22/10/2016 at 08:11:19
There is something basic wrong with this young man's game that Koeman doesn't think will change. Attitude, ability to control and keep ball, defending from the front?
Phil Sammon
2
Posted 22/10/2016 at 08:39:53
I think it has very little to do with Niasse's footballing ability, or lack of.
There is something much more sinister about this one. A very odd affair.
David Midgley
3
Posted 22/10/2016 at 08:42:20
I wish people would stop questioning Koeman about Niasse. It obviously annoys him. Let the player continue what he's doing. If Koeman wanted to freeze him out completely, he wouldn't be playing for Unsy's team.
Just let things settle down. Wait and see. I'm far from saying he will be a first team player but remember the old Latin phrase your mother used. 'Deus nobis haec otis fecit' – If you keep picking, it will never get better.
Paul Conway
4
Posted 22/10/2016 at 09:47:28
It would be nice if the Niasse nightmare in our first team was a result of him suffering the football equivalent of 'Dartitis'. Maybe he has got rid of it and normal business has resumed!!
Chris Gould
5
Posted 22/10/2016 at 10:01:47
Koeman doesn't rate him and doesn't want him. Nothing sinister about it.
Niasse didn't want to go back to Russia and stayed to be with his family. Certainly can't blame him for that. He'd been away from them for long enough and was finally reunited. I'd have done the same thing.
Hopefully an offer will come in for him that allows him to stay with his family and play elsewhere. The problem is finding a team that will pay the wage he is on. Why would he leave for less?
John Raftery
6
Posted 22/10/2016 at 10:02:27
Having looked at him in pre-season, Koeman decided he was not up to the standard required. Anyone who saw him perform in the pre-season friendlies would have reached the same conclusion.
Such is the gap between Under-23 level and the Premier League, it would require a major injury crisis before he would be considered. If he keeps scoring goals, perhaps a club will take a punt on him in January.
Eric Myles
7
Posted 22/10/2016 at 10:19:56
Thomas (#1), were you describing Lukaku then?
Brian Williams
8
Posted 22/10/2016 at 10:37:34
There just MIGHT be something other then Niasse's lack of ability, whether that be a disciplinary thing or something to do with something outside football.
We'll probably never know, though, and we do need to get rid of him.
John Wilson
10
Posted 22/10/2016 at 12:39:40
David (at #3), what's the Latin for 'beggars can't be choosers'? Niasse has simply not had the development of his football at earlier times in his youth such as Lukaku, and to some extent, Enner Valencia.
Everton, to our detriment, are analogous to a relatively small boat (relative to the ocean anyway), with an engine (Lukaku) vulnerable to the elements.
Brian Hennessy
11
Posted 22/10/2016 at 13:05:34
Phil @2. I agree, there must be something going on off the field with this lad.
Kim Vivian
12
Posted 22/10/2016 at 13:14:03
Picking up on many of the comments on the hat-trick thread I, like Julian Exshaw, am finding it hard to fathom all this with Niasse. There is definitely a bad smell around this situation.
I don't dislike the guy, only seen a couple of pantomime performance highlights so can't really comment about his football ability, and without knowing the ins and outs, I actually feel a bit sorry for him (notwithstanding all the 㿔k a week sweetener and so on).
If he does keep banging in the goals and still gets the cold shoulder, you have to start wondering if that is all he has or quite what has gone on. The silence is deafening on this one and I guess something will surface sooner or later.
In the meantime, we have to keep our eyes and ears open for that Rom support/backup because a quick look at the all-season goals clips on YouTube, right now, shows how indispensable he is, particularly when you look at our current so-called back-up.
Tom Hadley
13
Posted 22/10/2016 at 13:28:32
I'm sure we didn't pay 㾹.5M upfront for Niasse, we all know deals have more complex payment structures than that these days. Rather than this being outright sinister, isn't it more likely that playing a certain number of games might trigger another payment that the club wants to avoid if Koeman doesn't see him as part of the long-term plan?
West Ham recently had a similar situation with Simone Zaza where they have to pay an installment after a certain number of games but he's been benched because he hasn't exactly hit the ground running. And of course we all remember what happened to Michael Ball at Rangers under similar circumstances...
Ian McDowell
14
Posted 22/10/2016 at 13:31:21
Maybe it goes to show the vast difference between the EPL and the U23 league and why some many players seem to struggle to make the step up.
Eddie Dunn
15
Posted 22/10/2016 at 14:30:40
Something smells.
Ernie Baywood
16
Posted 22/10/2016 at 14:34:08
I've no gripe with Niasse himself, but I watched every minute of our pre season and I'm with Ronald... Niasse will never be a Premier League player.
Hopefully he can fluke a few more in the U23s and get a move where we recoup some kind of fee.
Phil Sammon
17
Posted 22/10/2016 at 14:46:04
I don't get it. How can anyone think this is a footballing issue after Koeman's comments.
'I hope he scores a hat-trick every week in the under-23s...but the decision I took is not to change and it's between us.'
Isn't he admitting that any amount of footballing improvement will never be enough?

David Barks
18
Posted 22/10/2016 at 17:27:15
Terrible management. In what other line of work would it be an acceptable stance to say "I don't care how well you do, I won't change my mind about you". Honestly, that's pathetic.
If a player says he's going to do all he can, work hard, is performing well, but the manager says there is absolutely no chance his mind will be changed, what example does that set for every other player?
I'm beginning to understand the concerns that were raised before he was hired, going back to his days at Valencia.
Kase Chow
19
Posted 22/10/2016 at 18:36:42
Poor attitude from Koeman (on the face of it).
Ian McDowell
20
Posted 22/10/2016 at 18:44:25
He must be watching that today thinking, "How can I not get 15 minutes in that team?"
Michael Williams
21
Posted 22/10/2016 at 19:23:29
He's played around 290 minutes.
Ian McDowell
22
Posted 22/10/2016 at 19:28:37
Well, Michael, that's enough then. 290 minutes in a new league and a new language.
Karl Masters
23
Posted 22/10/2016 at 23:12:46
It's bleedin obvious there's something going on here.
Koeman watched him play 45 mins on an Austrian hillside in a pre-pre-season kickabout (admittedly he was rubbish, but all of them were ring rusty and just looking for fitness) and wrote him off forever!
Someone had a word in his ear about Niasse. I still say there's mileage in him being a ringer and the Club don't want another 'George Weah's cousin' debacle that Southampton and Souness have never lived down. Either that or he's done something terrible off the pitch and somebody up top wants him gone.
You don't spend that sort of money on transfer and wages and then never play them! It's absurd.
Something definitely going on...
Anthony Dwyer
24
Posted 22/10/2016 at 23:58:28
"The decision is not to change, and it's between us."
Strange choice of words!
Maybe there is a lot more to the assault charge against his wife than meets the eye.
John Pickles
25
Posted 22/10/2016 at 00:05:09
Well, with the 1st team scoring so many each game, why disrupt it with a player who's only knocking in hat-tricks in the 2nd team!
Gordon Crawford
26
Posted 23/10/2016 at 00:22:02
Something stinks and it's not my feet. Starting to question the manager on his attitude. Could we have another stubborn manager on our hands? I'm starting to think so.
Brian Wilkinson
27
Posted 23/10/2016 at 00:25:47
He must have found the Arteta money, spent it at the casino, slept with Koeman's Mrs and turned up at training with a Red Shite top on, then pissed outside Finch Farm on a director's car.
Whatever the reason, it needs addressing with the way our supporting players to Lukaku are failing.
Dick Fearon
28
Posted 23/10/2016 at 05:28:03
How long is it since an Everton player over the age of 18 scored a hat-trick?
Could we have fared worse this season had Oumar been in the team?
Other than Lukaku, what other Everton player has earned goalscoring glory?

Brian Wilkinson
29
Posted 23/10/2016 at 07:51:05
We have Valancia who is getting legged off the pitch in his hometown but still gets on the bench, yet for whatever reason Niasse will not be an option.
It cannot be for one pre-season performance, to say he's not a part of his plans when, other than Lukaku, we are struggling for goals and a striker.
Whatever it is, it is not football-related – that's for sure.
Nick Armitage
30
Posted 23/10/2016 at 11:38:45
Niasse is a ringer and we need to sign another top drawer striker.
The only person who knows why he joined Everton is Martinez.
Mike Allen
31
Posted 24/10/2016 at 11:59:04
Right from the off, something must have happened. Daft reasons from Martinez as to why he wasn't selected and so it's dragged on. It can't be football reasons but not bad enough to terminate his contract. It's being handled very poorly.
Michael Williams
32
Posted 25/10/2016 at 19:17:18
Ian (#22). Sorry. I meant he's scored 5 goals for the U-23s in only 290 minutes of playing time.

Brian Porter
33
Posted 27/10/2016 at 09:22:59
Dick Fearon, #28. Dare I say it? Steven Naismith's glorious hat trick against Chelsea, which was soon followed by him being frozen out of Martinez's plans, and then being sold so he could buy erm Oumar Niasse! What a manager!!!
Add Your Comments
In order to post a comment, you need to be logged in as a registered user of the site.
Or Sign up as a ToffeeWeb Member — it's free, takes just a few minutes and will allow you to post your comments on articles and Talking Points submissions across the site.