Everton vs West Ham United

83 Comments [Jump to last]
Saturday 29 October 2016
Match Preview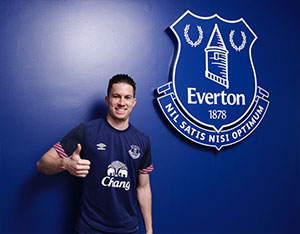 With Baines out injured, Oviedo looks set to continue at left back if Koeman retains a back four formation
Everton are back at Goodison Park for a Sunday lunchtime kick-off after successive away games that yielded just one point since the 1-1 draw with Crystal Palace at the end of last month.
Winless in the Premier League since beating Middlesbrough in mid-September, Ronald Koeman's is a side in need of momentum as his honeymoon start has faded in the interim.
Last weekend's defeat at Burnley was harsh on the balance of play and Everton's control of the contest overall but it was rooted in off-days by individuals at the back combined with a general lack of guile in the attacking third.
A home game against West Ham, themselves battling through chequered form, offers the Blues a chance to get back to winning ways and ensure that the gap that is opening up between the themselves and many of the teams predicted to vie for the top four and the title. Though the likes of reigning champions Leicester, Chelsea, Manchester United and Tottenham have failed to really hit their stride consistently, Everton will kick off this weekend eight points off top spot and five off fifth place. Just 11 games in, they are already in a position where three points tomorrow won't result in them moving up any further in the table.
Koeman has been relaxed about his team's fortunes and was still looking forwards rather than backwards in his comments to the media this week but he will know how important the visit of West Ham is to his team's immediate prospects, particularly with a trip to Chelsea on the horizon next Saturday.
Last season's defeat in this fixture might have ended a run of impressive results against West Ham and solidified in many supporters' minds that Roberto Martinez's tenure would never return to the heights of his first term in charge but the Hammers remain Romelu Lukaku's favourite opposition.
Just as well, because Everton have had an unhealthy reliance on the Belgian's goals this season. Yannick Bolasie's first goal in royal blue at Turf Moor was the first time someone other than Lukaku had scored since that win over Boro, highlighting the glaring need for someone else to step up and shoulder more of the responsibility in that department.
In the meantime, Lukaku will be looking for a ninth goal in as many games against West Ham tomorrow and that good luck charm against this opposition can only help in what could be an awkward foe, depending on which Hammers side shows up.
Slaven Bilic's men came into the season on the crest of a wave after qualifying for Europe and moving into their new ground but have had a rocky time of it early in the campaign, bombing out of the Europa League and struggling to settle in their new surroundings.
Since losing 3-0 at home to Southampton, however, they're unbeaten in four in all competitions and have won their last three, including a win at Crystal Palace and an EFL Cup triumph over Chelsea. There is a danger that, buoyed by those results, Everton could face a Hammers side more akin to the one that did so well last year but if Koeman can get the team clicking again up front then they could prove too strong regardless.
The Dutchman will again be without Leighton Baines, however, whose hamstring strain continues to be a problem, while James McCarthy is ruled out with a similar, albeit worse, injury. Enner Valencia, on loan from the London Stadium, is ineligible to face to his parent club, not that he was likely to be involved much anyway if the recent weeks since his arrival are any indication. Dominic Calvert-Lewin looks to have been the beneficiary of the Ecuadorian's absence if a report today suggesting he has been called into the senior squad is true.
Kick-off: 1.30pm, Sunday 30 October, 2016
Referee: Anthony Taylor
Predicted Line-up: Stekelenburg, Coleman, Jagielka, Williams, Oviedo, Barry, Gueye, Barkley, Mirallas, Bolasie, Lukaku
Last Time: Everton 2 - 3 West Ham United
Full coverage: ToffeeWeb match page
---
Reader Comments (83)
Note: the following content is not moderated or vetted by the site owners at the time of submission. Comments are the responsibility of the poster. Disclaimer
Mick Davies
1
Posted 30/10/2016 at 00:09:24
Lukaku always scores against West Ham. This is looking like a 'must win' if we're not going to slide down the table, especially with difficult games coming up.
Chris Gould
2
Posted 30/10/2016 at 00:10:50
The Mail Online are reporting that Koeman has called up Dominic Calvert-Lewin to the squad for today's match. Intriguing.

Laura Round
3
Posted 30/10/2016 at 00:20:55
I'm always excited and optimistic... which makes it really hurt after! Must win. Coyb 💙
Neil Wood
4
Posted 30/10/2016 at 00:30:23
Laura – Snap!
Must-win game tomorrow!
Danny O'Neill
5
Posted 30/10/2016 at 01:44:34
Wimbledon, May 1994 – on the last day of the season, to stay up was a "must win".
Likewise, Coventry 1998.
Tomorrow is not a "must win". I want us to win, just like I want us to win every game of football Everton play; however, tomorrow is not a "must win". Our season does not hang on tomorrow.
Mark Andersson
6
Posted 30/10/2016 at 02:18:29
Recent results show the real extent to what Koeman inherited. A team devoid of any real fight and a will to win. The doom and gloom merchants don't help with their negative vibes.
The Premier League is as unpredictable as my wife's mood swings. Get behind the boys on the pitch hopefully we will get a win...
Laura Round
7
Posted 30/10/2016 at 02:24:14
Well excuse us ''Danny!'' I meant a win is important to get back some momentum. The players need a win and they need to earn it.
At what point does our season hang in the balance and we are allowed to desperate? To my kids, every game is a final. So yeah... ''must win'' please.
Mick Davies
8
Posted 30/10/2016 at 02:51:00
Danny @ 5, so if we'd have lost that day against Wimbledon, would that game have been the reason we'd have been relegated? No, it was the games we should have won before that, which had us in that position.
We are in a bad rut and have some really tough games coming up: Chelsea, Southampton, Man Utd, Liverpool and Leicester in the next 8 after Sunday. If we can't beat West Ham at home then we could find ourselves in big trouble, because once the confidence and momentum disappear, it's very difficult to recover.
So yes, in my opinion, it's one of our must-win games (like Bournemouth and Burnley were).
Darryl Ritchie
9
Posted 30/10/2016 at 03:17:25
We need Mirallas and Bolasie (or whoever plays wide) to target Lukaku; or Lukaku to move to where the crosses are hit, because having Rom stand and watch any ball that is not 'accurate' enough fly over his head, is frustrating as hell.
Barkley is past due to put in a star performance. We need him to make a difference. If we can spread them wide, it might open up the centre for Ross and Gana.
I'm fairly confident in the back line. Our main problems are up front. Get that sorted and we have a better than even chance at three points.
Loko Sanchez
10
Posted 30/10/2016 at 06:29:27
You can't blame the old regime forever. The manager delayed signing for Everton and went on holiday, in contrast to Jose Mourinho, who started planning even before he took the job at United.
All this talk about Martinez is getting old. Almost all the first-team players are internationals, if you can't train them, then it's on the current manager.
Darren Hind
11
Posted 30/10/2016 at 07:08:49
Cut out the stepovers, the lolipops, the drag backs, tell them the first person who drops his hands by his side to show how brilliant he is, he will be hauled off instantly. Stop this childish schoolyard showboating.
I'm confident we will edge a good contest IF we just get on with the game.
Brian Porter
12
Posted 30/10/2016 at 07:10:46
Jagielka needs resting. He's been a liability recently. Time for Funes Mori and Williams to start building a partnership for the future. If Jags plays, I can see him giving another penalty away. His speed and awareness is suddenly sadly lacking.
Neil Wood
13
Posted 30/10/2016 at 07:14:51
Danny @ 5,
Get a grip, pal, it's just a saying and like some have nicely pointed out, it is games like these that are the must-wins if you want to achieve things.
But actually commenting and trying to belittle someone's posts for no real reason. We are Everton fans just like you and whilst I love to hear differences of opinion over team selection, matches, who we should and shouldn't buy etc, to be cantankerous for the sake of it is quite frankly daft.
So Come on today, boys – Must win! ;-)
David Midgley
14
Posted 30/10/2016 at 08:12:03
They're all must-win. If not, why bother playing?
Lee Wareham
15
Posted 30/10/2016 at 08:18:08
Could this be the game for youth? I would bring in young Mason Holgate to the defense replacing Jags who, I'am afraid to say, is starting to lose his legs. Shame... a great servant to the club but age catches up with us all.
I see Calvert-Lewin has been added to the squad because Valencia can't play against his parent club; give the boy a run about so he can take in the Goodison atmosphere, boys like him are the future of our club.
Love to see the win, but our season doesn't hang on it – that is easy for me to say as I don't live in Liverpool, I'm afraid to say, even though I've supported the Blues scince 1974. I live across the Irish Sea in Dublin.
Ian Bennett
16
Posted 30/10/2016 at 08:19:48
Big question marks over some. Keeper hit or miss, Oviedo is a weak link, Jags on the slide, and the support 3 inconsistent. 3 points and clean sheet please!
Stekelenburg
Coleman
Oviedo
Jagielka (errors have to stop or give Holgate his chance)
Williams
Gueye
Barry
Lennon
Mirallas (behind Lukaku)
Bolasie (on the left)
Lukaku
Mike Barrett
17
Posted 30/10/2016 at 08:32:58
Hey Danny, that "must-win" Coventry game in '98.... we drew 1-1.
Laura Round
18
Posted 30/10/2016 at 08:39:58
Exactly, David (#14). While we all know it would be delusional to expect our team to win every game, I watch every game expecting a win. If you don't believe, what's the point? Waste of time and money... like attending church just in case. Coyb!
Chris Gould
19
Posted 30/10/2016 at 08:55:25
So... anybody else find Calvert-Lewin's inclusion intriguing / exciting?
I would really like to see him on the bench. I have absolutely no idea if he's up to it (as I've never seen him play), but the prospect of him coming on is more exciting than some of our other attacking options. Hopefully he could bring pace and youthful exuberance.
Laura Round
20
Posted 30/10/2016 at 09:00:14
Yes, Chris (#19)! Always exciting to see some new talent. I feel Koeman has been trying to field experience so far and this was reflected in his summer purchases.
The defence has definitely been more stable. Maybe now he is ready to try a few youngsters while his thoughts turn to January. See what we have / need. I hope he plays, scores the lot!
Neil Wood
21
Posted 30/10/2016 at 09:00:21
Chris I've just been reading it. It's clearly because Valencia can't play (loan rules) and Kone is injured.
I do hope though that, if we are winning 2-0 with 20 minutes to go, he gives him a run out. Not just a 2-minute pointless substitution.
Peter Barry
22
Posted 30/10/2016 at 09:01:04
I'm with Dave Midgley (#14) – every game should be a 'must-win' mentally for the players. If you go into a game thinking otherwise, you have already lost.
Dave Abrahams
23
Posted 30/10/2016 at 09:07:53
Danny (#5), well said. I don't think Danny was having a go at anyone, just trying to release any tension that is starting to build up; it is unnecessary at this stage of the season.
If it is possible, let the team go out and enjoy the game. We are on the right track, just need patience. I know it is hard but let's get behind the team instead of getting het-up and putting pressure on the side.
Laura, I understand you completely; try and relax, I hope you and your boys have a good day; wishing you a safe journey to Goodison and home again. You and your boys are better supporters than me, I only live 10 minutes from the ground. You have to make long trips, best of luck today for you, me and Everton.
Laura Round
25
Posted 30/10/2016 at 09:13:34
Thank you, Dave (#23), we always do. I also realise the important life lessons... it's the taking part etc. Always proud of the club, win or lose. It's is just a game after all. Right?
Dave Abrahams
26
Posted 30/10/2016 at 09:21:18
Laura, yes we all get upset at times but it is only a game. Shankly was completely wrong with his statement "Football is more important than life and death" but we know that Skankly was a very emotional man. Enjoy the game.
Lyndon Lloyd
27
Posted 30/10/2016 at 09:21:18
Mark (#6): "A team devoid of any real fight and a will to win"
Not sure I agree with that, to be honest. There was plenty of will to win on display at Burnley, particularly in the first half, but they lacked invention and ability to complete the job.
Koeman is still searching for his most effective combination up front and we're still missing a key ingredient in attacking central midfield while Barkley continues trying to find his way.
Laura Round
28
Posted 30/10/2016 at 09:25:07
Dave (#26) normally as a lady I would be outrageously sexist and say I have the monopoly on emotions. However, that's the great thing about the game, isn't it... can make a grown man cry like a baby. :)
Tony Abrahams
29
Posted 30/10/2016 at 09:39:56
As Darren says, we will win if we just get on with it. Also, I think we have to either play with two upfront, or three at the back. Possibly both but, either way, we have got to get more bodies in and around and also ahead of Lukaku.
Paul Kennedy
30
Posted 30/10/2016 at 09:43:05
A good solid performance and 3 points... not much to ask for really?
Damian Wilde
31
Posted 30/10/2016 at 10:03:09
Laura, we're all human, so all have every emotion!
We desperately need a win, haven't won for a while.
I really hope Barkley does not start.
Laura Round
32
Posted 30/10/2016 at 10:05:46
I know, Damian. I was just messing. 💙
Robert Workman
35
Posted 30/10/2016 at 10:09:11
Looking forward to the game after witnessing last week's surprising result at first hand. My first game at Goodison since same fixture last season – ruined by Martinez and Niasse! I'm hoping for goals from Bolasie and Lukaku. I would like to see Lennon start.
I hope to fly home tomorrow with a smile on my face while looking at our continuing promising position in the Premier League table. I remember Koeman saying that, after 10 games, you get the first real indication of how the season might pan out.
Joseph Mullarkey
36
Posted 30/10/2016 at 10:15:15
We need to see less touches in our build-up play and the ball being moved a bit quicker with give and go.
We had lots of possession against Burnley but they had time to get bodies behind the ball and packed the box.
COYB
Andrew Clare
37
Posted 30/10/2016 at 10:18:57
If we don't win this one, thing's will just get tougher. I just hope that one day someone will get us out of this mediocre mid-table hell that we have been in for the past 25+ years give or take 2 or 3 good seasons. It's just too long. I would like to enjoy watching a game for a change.
Tony Hill
38
Posted 30/10/2016 at 10:24:13
Lyndon (#27), I am not convinced that all of our players do have the necessary will and conviction. I suspect Koeman was saying as much when he talked about our bigger personalities now having to show the way. I'm not sure, either, which personalities he had in mind. Williams, possibly, because no others spring to mind.
This isn't a must-win game, but we could well do without another performance like the Palace one and we need to break out of our recent run of results.
Tim Locke
39
Posted 30/10/2016 at 10:29:10
Morning ToffeeWebers.
Dave is spot-on: Wimbledon was a must-win to stay up. Today is not a must-win for anything; if we lose, it's not going to determine our season – the remaining 28 games will.
Very excited about the game, back in the old lady, and big Rom to bag the first. Expecting 3+ win today... high expectations. COYB
Ray Smith
40
Posted 30/10/2016 at 10:39:24
I havn't posted since the Martinez era!!
I have read most threads, and now feel it's a good time to restart.
Koeman is a wise sage. Today's game is a must-win game. Not the result, but the future of certain players who have not come up to scratch in Koeman's eyes.
With January just around the corner, a poor performance today may see the exit for some individuals who feel safe.
Laura Round
41
Posted 30/10/2016 at 10:43:16
Tim firstly hoping we all have a great day. I just can't understand though how all the games aren't equally important.. all the points add up?! No extra points for the last few games of season. Plus I do believe a lose will have a knock on affect. Exceptions are cup games, knock out game. That's a just a different level of ''must.''
Neil Wood
42
Posted 30/10/2016 at 10:50:53
Hear, hear! What she said!
Dave Williams
43
Posted 30/10/2016 at 10:51:51
Neil (#21),
I was nodding my head in agreement then realised that is what Martinez did against them last season: 2-0 up with 20 to go and he gave a run out to an untried striker and we lost!
Hopefully this team would not cave in like we did last season as I saw that game as the one when the rot really and truly set in with a vengeance.
I am keen for Ron to try a few youngsters as they can't be held back for too long and lose momentum – hopefully this lad will see some minutes in a good win!
Neil Wood
44
Posted 30/10/2016 at 11:11:41
Dave,
Yeah, I can see your point but likewise, I feel this team wouldn't do the same.
I remember the game very well as I was relying on that for my accumulator to bring me home 𧹈!!! I was spitting feathers!
Tim Barford
45
Posted 30/10/2016 at 11:13:03
As long as Everton display as much fight and tenacity as some of the male fragility on show today, it'll be a walkover.
Bang on, Laura, every game is a must-win and your kids have the right idea, every game is a final. I wish every Everton player played with that in mind and we might win something again. COYB
David Morgan
46
Posted 30/10/2016 at 11:33:23
I would like to to see Deulofeu given a chance in the Number 10 role behind Lukaku. Maybe try Barkley on the right wing like Moyes had him at first, Bolasie down the left. I think that might work, anyone else? Or am I getting desperate?
John Graham
47
Posted 30/10/2016 at 11:40:42
Come on, BarKley – we need a big game from you.
I think if he plays well, the team will click. Let's hope for a great game.
COYB
Brian Harrison
48
Posted 30/10/2016 at 11:46:05
David,
I would like to see Deulofeu given a few games in the Number 10 role. Early season, he did feed Lukaku with plenty of early balls from the centre of the pitch.
I think the big frustration for Koeman and fans alike is that both Deulofeu and Mirallas look like they could be the answer. But fail to produce the goods in the way of goals. Seems like they are more interested in creating chances than taking them.
I watched the other lot last night and both their central defenders scored from corners. I was trying to remember a game when both of our central defenders had headers on target in the same game.
Jeff Armstrong
49
Posted 30/10/2016 at 11:46:55
David, yes you're getting desperate – no way on this earth is Barkley a winger. TBH, I'm sorry to say it but I've just about given up on Ross ever being the player we all wanted him to be.
Same with Deulofeu too – 5 years since his pro debut and still not sure what his strengths are. I think Lennon deserves a start before those two today.
Dave Williams
51
Posted 30/10/2016 at 12:02:23
I'll join those wanting Geri at No 10. He does see the through-ball and I don't currently think he will get too many games out wide so try him just behind Rom. He doesn't tackle, but neither does Ross to any significant extent, so worth a try?
Chris Gould
52
Posted 30/10/2016 at 12:05:18
Dave Abrahams (#23): lovely reasoned post.
I think it's easy to start getting overly anxious, but we are a work in progress, and after the last two seasons of misery, it's nice to try and enjoy the matches.
Personally, for what little it's worth, I see this season as a battle for 6th place with 2-3 other teams and don't see this as a ''must-win" match. However, we certainly should be gunning for all 3 points today.
Laura Round
54
Posted 30/10/2016 at 12:21:43
Chris, even for 6th place, today is a must-win! Top four already starting to break away. I just had a cheeky message off my only red 'friend' asking Who's beating us today? Yep, 'must-win'.
Paul Kelly
55
Posted 30/10/2016 at 12:24:19
As for Geri and Kev, seems like they're over-trying? If there is such a thing – "If the sublime fails, all is lost" attitude.
Years ago, while captain of our five-a-side team (national champions, by the way), one of our skillfuller (real word?) players done some sublime manoeuvre, then hit a shot against the bar, then I bollocked him something woeful... why? Because he had his hands on his head, disheartened about his said shot, stood there motionless.
After the game he said he's never been bollocked so much for playing football, ever. I told him it was because he had neglected his defensive duties as the game doesn't stop if the ball hits the bar, team game and all that, but not so polite.
The point being, we have not many players prepared to tell them straight; our captain isn't very vocal (the Mirallas penalty incident wouldn't happen if your captain has authority). Wingers in particular seem to need more talking to than most, in my experience, but so does everyone else too.
Point being, they need to fucking liven up!
Tom Bowers
56
Posted 30/10/2016 at 12:25:02
Hope the Hammers dominate today and Everton win 1-0.
Seriously though, any win, anyway, would be welcome. We're in a bit of a rut which they have to get out of soon and hopefully with a bang.
Hammers played well against Chelski in the EFL Mickey Mouse cup but this is the Premier League and Everton have to be up for it.
I am hoping for a good game offensively but nothing like last week.
Laura Round
57
Posted 30/10/2016 at 12:25:19
Haha, Paul (#50). Not new – just not got any real-life Evertonian friends to talk too! Even hubby isn't bothered! Plus up all hours with small kids etc...
Andrew Clare
58
Posted 30/10/2016 at 12:26:54
Surely every game should be looked at as a 'must-win' game? Isn't it the problem that the players don't have that approach when they play?
How can anybody say they expect 3+ goals today after the way we have been playing? I'm confident that Koeman will get it right but I think this season is going to be frustrating at times.
Jon Withey
59
Posted 30/10/2016 at 12:27:53
If we can't put on a decent show today then I'm going to start losing interest in this season and a lot of this squad. A draw or a narrow loss seems most likely unless we have more turn-up and can get a win.
Colin Glassar
60
Posted 30/10/2016 at 12:31:12
WHU are in a bit of turmoil right now, eg, crap stadium, dodgy owners, average manager, lots of injuries etc...
3-0 home win.
Shane Corcoran
61
Posted 30/10/2016 at 12:31:48
Stek out
Shane Corcoran
62
Posted 30/10/2016 at 12:32:05
And Jags.
Ian McDowell
63
Posted 30/10/2016 at 12:33:26
Robles makes me very nervous...
Michael Lynch
64
Posted 30/10/2016 at 12:36:08
Koeman doesn't mess about does he? Jags dropped, captain or no captain.
Colin Glassar
65
Posted 30/10/2016 at 12:37:06
No sentimentality with Koeman. Capt Jags dropped.
John Wilson
66
Posted 30/10/2016 at 12:37:14
If West Ham were to score against Everton first, Everton could lose confidence, especially in the first half after a long period of no goals scored initially. They (Everton) seem to lose it, be that the necessary concentration, sharpness, reactions, (1) after the other side scores a goal or, (2) after Everton have scored a goal but the opposition scores straight after (ie, they can't retain the lead). They just seem to fall apart ever so easily.
For these reasons, West Ham may have the edge, psychology-wise. Everton seem to be so fragile in that all teams Everton played lately have at least provided a significant challenge, in some but not every aspect of their football, with even Burnley being no exception. Koeman needs to do better instead of saying, "Well it's Everton, we can't expect to win every game."
Everton simply lose concentration or cannot react fast enough to what should be foreseeable threats, it's almost as if their (Everton's) game is just too predictable that their play is foreseeable for seemingly any opponent. Everton just do not have the intelligence individually or collectively, seemingly anyway, to read the game without being on the defence too often. Except for Lukaku's obvious scoring ability, he cannot stay on the ball for his size and frame; the same applies to Barkley, who for the size of him his contribution is simply poor.
Mark Tanton
68
Posted 30/10/2016 at 12:38:54
Howard wouldn't have lasted long would he?!
Paul Kelly
69
Posted 30/10/2016 at 12:39:35
Laura, same here, living miles away from the Old Lady you need the conversation.
Hubby, who does he support?
Terry Davies
70
Posted 30/10/2016 at 12:43:22
What's the team?
Nigel Gregson
71
Posted 30/10/2016 at 12:44:21
Live forum link: http://toffeeweb.com/comment/live/
Thomas Surgenor
72
Posted 30/10/2016 at 12:47:05
Terry (#70),
Someone will probably beat me to it as I type but:
Robles
Coleman
Williams
Funes Mori
Oviedo
Barry
Gueye
Bolasie
Barkley
Mirallas
Lukaku
Geoff Evans
73
Posted 30/10/2016 at 12:57:27
With potential Barkley and sulking Kev in the team, every game is an uphill battle.

Damian Wilde
74
Posted 30/10/2016 at 13:01:17
On the way to the match, COYB.
Damian Wilde
75
Posted 30/10/2016 at 13:02:58
Barkley starting 😬😬 grrrr.
Tim Kells
76
Posted 30/10/2016 at 13:03:56
Rubbish coverage on Sky. 2 RS pundits in the studio, West Ham covered first and finally after half an hour they are going to talk about the home team. COYB
Laura Round
77
Posted 30/10/2016 at 13:05:09
Paul (#69), no-one... he come sometimes to game but he ain't fussed! Where do you live?
Dermot Byrne
78
Posted 30/10/2016 at 13:05:53
Is our goalie injured?
Brian Furey
79
Posted 30/10/2016 at 13:06:44
What's wrong with Stek?
Ajay Gopal
80
Posted 30/10/2016 at 13:09:07
Not sure of the wisdom of dropping Jags when you have a new goal-keeper in the side.
Geoff Evans
81
Posted 30/10/2016 at 13:15:47
We're looking weak; Bilic will fancy this... expect them to start strong.

Laura Round
82
Posted 30/10/2016 at 15:31:32
Must and did!
Danny O'Neill
83
Posted 30/10/2016 at 18:30:52
Hey Laura, hope you had a great day. Excellent result but still not a must win!!
Dave Abrahans, thank you - that was exactly my sentiment. I would never intentionally belittle a fellow Evertonian's opinion because after all we're all entitled to a view and see things differently.
So Neil, thank you for your observation but I do not need to "get a grip".
"Barkley starting Grrrrr" hey Damian!!! Isn't football great; unpredictable and so unscientific.
Table looking good right now, even though it means little at this stage; nicely consolidated in the top 8 and even have some breathing space emerging in top 6.
Good win (as they always are) but wasn't a must win!!!
Enjoy the rest of your weekend fellow blues.
Neil Wood
84
Posted 30/10/2016 at 19:03:05
Danny – Touché! That's the spirit, pal!
Laura Round
85
Posted 30/10/2016 at 22:44:31
Haha... still all must-wins to me, Danny. I won't be swayed. Points is points.. I'm sure we're all going to bed happy and that's what matters.
Only just removed my shirt... I normally like to sleep in it after a win.
Neil Wood
86
Posted 30/10/2016 at 23:27:34
Blimey, Laura, that's like soft porn on here!
Glad you enjoyed your day and hopefully your young blues did too.
Looking forward to next week... A must-win against Chelski. ;-)
Mick Davies
87
Posted 31/10/2016 at 01:46:09
Damian @ 75 Barkley starting 😬😬 grrrr.
Laura Round
88
Posted 31/10/2016 at 07:13:55
Haha! Sorry, Neil. Yeah, deffo must-win!
Laura Round
89
Posted 31/10/2016 at 10:56:07
Just catching up on MotD2 and Barry describes the game as ''must-win'' – haha.
Add Your Comments
In order to post a comment, you need to be logged in as a registered user of the site.
Or Sign up as a ToffeeWeb Member — it's free, takes just a few minutes and will allow you to post your comments on articles and Talking Points submissions across the site.