Koeman hails better second-half display in win over Hammers

13 Comments [Jump to last]
Monday 31 October 2016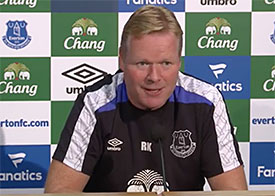 Ronald Koeman blamed a touch of self-doubt among his players for their slow start to yesterday's 2-0 win over West Ham.
The Blues ended up worthy winners with a clean sheet and victory that consolidates their position into the top six of the Premier League but it took them a while to get going as the Hammers carried the greater threat in the first quarter of the game.
Michail Antonio, Pedro Obiyang and Dmitri Payet had all either spurned good chances or been denied by stand-in goalkeeper Joel Robles before Mark Noble appeared to get away with blocking Yannick Bolasie's shot in the 16th minute, while and Manuel Lanzini flashed an off-target shot across goal five minutes later when he might have done better.
Everton finished the half the stronger side, however, and took the lead early in the second half through Romelu Lukaku before Ross Barkley converted the second with 15 minutes left.
"I think the key was what we didn't do well in the first half, we did well in the second half," Koeman explained. I think were struggling a little bit maybe after the last few results and [there was] a little bit of doubt in [our] game, in our pressing.
"We looked a little bit nervous and, OK, the second half was different. I think from the start of the second half there was a higher tempo, we did better pressing and really we deserved the win.
"And, of course, the first fast goal at 1-0 gives us the confidence that you need to play good football and that was an important moment.
"I asked the players [at half-time] why they were doubting [themselves]. 'We are playing at home. Of course, we know they are on a good run, they are a strong team but believe and have have more confidence — show it and go for it,' and that was really the difference in the second half."
---
Reader Comments (13)
Note: the following content is not moderated or vetted by the site owners at the time of submission. Comments are the responsibility of the poster. Disclaimer
Bob Parrington
1
Posted 31/10/2016 at 06:11:46
Too many very very poor passes straight to the opposition. We looked lazy off the ball compared to a good number of the EPL teams. I cite having watched Spurs vs Leicester as an example.
We took the goals well, though and rode our luck early on. Great save high to his left by Joel.
Things can only get better!
Peter Murray
2
Posted 31/10/2016 at 09:20:36
The manager's analysis is a fair summary of the game. A welcome return to form from Ross.
Dave Abrahams
3
Posted 31/10/2016 at 09:23:54
First half was poor with wasteful passes and the lack of movement upfront was abysmal, no improvement there. Second half was a lot better, a hard-fought victory that was deserved in the end.
I am glad they won so I can have a rant about the referee Anthony Taylor who continues to give little to Everton. The last minute refusal of a penalty adds to the many poor and important decisions he has ruled against Everton gives me reason to believe he should never referee any future Everton games. A look at his running of Everton games will show his bias against the Blues.
I might add that the linesman with the yellow flag was equally very poor... as was his eyesight.
Clive Rogers
4
Posted 31/10/2016 at 10:57:39
We still give the ball away too easily, and Bolasie is a culprit. Mirallas was poor yet again and should be replaced in January. Otherwise, a solid performance.
Scott Robinson
5
Posted 31/10/2016 at 11:51:28
Why do we always have to put up with one half of inept football? This seems to be the defining characteristic of the early Koeman era.
Richard Lyons
6
Posted 31/10/2016 at 13:03:30
"Pass to a player wearing claret & blue" might have been the instruction for the first 20 minutes or so... But we sharpened up after that.
Gueye had a bit of a shocker, but I thought Oviedo was great, Barkley's work rate was tremendous.
As for the ref, is it me, or did he seem to have the notion that in any 50/50 collision, the player left standing is the one to be penalised, regardless of anything else?
Steavey Buckley
7
Posted 31/10/2016 at 13:09:32
The team selection and tactics have a lot to do with why Everton lack a balanced approach to any game this season.
For a start, Mirallas is not a left winger. He does not aim towards the bye-line with the ball and deliver a cross, that a winger would like to do. Instead, he wants to cut inside and try a shot.
Bolasie is more of a left winger yet he plays on the right on his weaker side.
Barkley is still isolated from the midfield pairing of Barry and Gueye, who still play too deep in the Everton half, as Barkley forages foreward by himself. The isolation of Barkley is one reason why he is not playing as well as he should be this season.
Lukaku still not getting the wing service he deserves has given up on expecting, so creates his own scoring chances with decisive runs towards the penalty area.
Richard Dodd
8
Posted 31/10/2016 at 13:19:04
Just like our last manager, Koeman puts square pegs in round holes. It makes these tactical geniuses feel good about their cleverness!
Clive Rogers
9
Posted 31/10/2016 at 13:47:29
Steavey,
Mirallas is just not a team player wherever he plays.
Peter Murray
10
Posted 31/10/2016 at 14:27:58
If yesterday's first-half performance was one of a high intensity by players in blue – then please get us different, more competitive players in the January window!!!
We lack totally a desire to keep the ball, that was completely remedied in the second-half display – but why does this one-half display consistently get repeated, week-in & week-out? Makes MotD horrendous to watch, other teams being completely competitive, even when losing!!
We deserve MORE – especially when at home, & consistently blaming a referee, missing the main point, even if he was pathetic – just play to the whistle, regardless!
Surely any honeymoon period is well over – many players in blue are just completely inadequate. Other than actually scoring, what does this centre forward actually contribute to our team effort? Poor control, effort, attitude zero & body language pathetic – always offside... strolling around???
Here for a season, what a fantastic decision made!!!
COYB
Matthew Williams
11
Posted 31/10/2016 at 16:27:37
Great home win, three more points but will we win at Chelsea? No chance. Maybe a point but I doubt we'll even get that.
Unless there's a major new mindset, we will not win away from home verses the Prem big boys!
Danny O'Neill
12
Posted 01/11/2016 at 01:29:53
"Creates his own scoring chances with decisive runs towards the penalty area".
Isn't that what you want forwards to do Steavey? Gamble, be decisive and make the run into the box to anticipate the delivery, not resort to running the channels as many a Moyes striker ended up doing. If the delivery doesn't come, the forward has done his job so you can't blame him.
Yesterday, he did – with explosive awareness from Bolasie on the right side to beat 2 players to a loose ball he had no right to beat them to, and get a right-footed cross (from the right), to set up Lukaku who had made a decisive run into the box to make the chance (like I would expect a good forward to do) and create a goalscoring opportunity. If he hadn't, we'd have been calling him a lazy shit for not being instinctive enough to be on the end of it.
I think Bolasie can play both sides, which is a great attribute.
With you on Mirallas. Personally think he should have played supporting striker more (or number 10 as they now call it). Seems his pace makes many think of him as a winger but agree with you, not one in the traditional sense.
Clive Rogers
13
Posted 01/11/2016 at 11:22:02
Mirallas has had 4 years under 3 managers to establish himself and hasn't done it under any of them. He's 29 now and is fast running out of time to prove himself. Koeman will be looking to replace him in January.
Add Your Comments
In order to post a comment, you need to be logged in as a registered user of the site.
Or Sign up as a ToffeeWeb Member — it's free, takes just a few minutes and will allow you to post your comments on articles and Talking Points submissions across the site.