Stekelenburg fit to face Chelsea

23 Comments [Jump to last]
Thursday 3 November 2016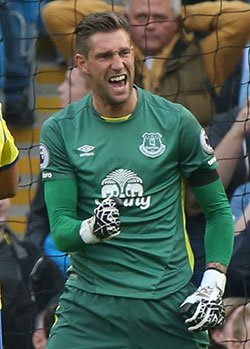 Maarten Stekelenburg has recovered from the foot injury that kept him out of last weekend's home win over West Ham and will be in the squad that travels to Stamford Bridge on Saturday.
The Dutch keeper missed his first game of the season last weekend after picking up the knock in training, and Joel Robles kept a clean sheet in what was an impressive performance deputising for him in the 2-0 victory over the Hammers
The Spaniard took his opportunity to shine by pulling off a couple of important saves to keep Slaven Bilic's men at bay.
Manager Ronald Koeman has been clear that his compatriot is his first choice, however, and Stekelenburg is expected to return to the starting XI to face Chelsea.
Leighton Baines will not be in the side this weekend though; the fullback needs more time to fully recuperate from a troublesome hamstring strain and is being pencilled in to return against Swansea City after the upcoming international break.
---
Reader Comments (23)
Note: the following content is not moderated or vetted by the site owners at the time of submission. Comments are the responsibility of the poster. Disclaimer
Peter Laing
1
Posted 03/11/2016 at 14:48:39
I think Robles did enough to retain his place, Stekelenburg has been fairly immense so far this season but was at fault for the first goal against Burnley. Very difficult but I'm of the persuasion that you shouldn't change a winning side, same rule should also apply to Funes Mori and Jags.
Liam Reilly
2
Posted 03/11/2016 at 14:54:19
Koeman sees them both in training regularly and his opinion is that Stekelenburg is #1.
Robles did well when deputising and really that's all he can hope for this season. I suspect we'll have a new keeper in the Summer also and Stek moved to a supporting role.
Doesn't bode well for Robles.

Victor Jones
3
Posted 03/11/2016 at 16:00:17
All keepers can make mistakes. It's the ones who make the least who get the first team nod. (Well apart from in Martinez's thinking). It's Stekelenburg for me. Although TBH I also don't have any problem with Robles. His cameo role a few seasons back started off a wee mini run of good form. It ended a bad run from the team. Virtually put us safe in the league. Then Martinez reinstated Howard. Anyhow I think that we now have two steady enough keepers. Beats having a dodgy has been and a young nervous untried keeper. But IMO the Stek gets the nod. But hopefully Robles gets the odd game.
Jimmy Sørheim
4
Posted 03/11/2016 at 17:02:45
I have to say I think Stek has dipped lately form wise and Robles made that tiger spring which looked very impressive to me in the last game.
Maybe he is not as tall as Stek, but Robles has improved a lot since pre-season in my view.
I vote for keeping him in, keep the winning side alive!
Don Alexander
5
Posted 03/11/2016 at 17:25:47
If the two of them continue as they are for the rest of the season we've little to worry about. The last time I recall us having two reliable keepers at the club was way back with West and Rankin, and up to now the two of them have been at least reliable if not very good indeed.
Eddie Dunn
6
Posted 03/11/2016 at 18:35:11
I would like the meritocracy to continue. For me Funes Mori should keep his place. If Stekelenburg was dropped due to injury, then he should regain his place, as generally, he has been excellent.
The interesting selection will be the midfield. With Gueye suspended and McCarthy not deemed fit enough, I expect to see Cleverley shoe-horned in somewhere. I would hope to see Lennon in the squad as his tenacity will be handy down at the Bridge.
Incidentally, we were robbed of an epic win there last season, so I hope the boys have a look at the video and realise that the game is not over until the 98th minute.
Nigel Munford
7
Posted 03/11/2016 at 18:36:52
Have to agree Don, it's a good position to be in with two keepers showing very good form. Peter, as for the first Burnley goal, is that probably the first real mistake he's made this season??
He made immense saves against Man City that kept us in that match. No keeper is perfect, and we happen right now, to have two good keepers.
Stan Schofield
8
Posted 03/11/2016 at 18:49:32
Both are definitely good keepers, and their good form is probably influenced by having a more solid defence in front of them, plus no doubt good overall team spirit which gives confidence.
Andrew Presly
9
Posted 03/11/2016 at 23:23:15
I used to enjoy a Jason Kearton cameo during the late autumn of Big Nev's never-to-be-bettered tenure.
It would be great to keep the players on their toes, Robles & Funes Mori continue knowing they have to perform or else. That's the way it should be and obviously wasn't under the last two managers. Ideally we have 18 or so players worthy of starting and the ones on form do the honours.
James Stewart
10
Posted 03/11/2016 at 23:36:10
Funes Mori will keep his place because we will be playing a back 3 at Chelsea.
Robles should not though. He played well, granted, and saved everything you would expect him to... but, Stekelenburg is better and Koeman's No 1.
Alex Kociuba
11
Posted 03/11/2016 at 23:39:49
Might be controversial but I'd rather see Oviedo play than Baines. Oviedo gets better each game and provides a genuine attacking threat in the opponent's half. Baines went off the boil about two years ago.
Kieran Kinsella
12
Posted 04/11/2016 at 01:42:39
Alex,
I think Oviedo benefited from having a young, quickish left-footer inside him v WHU versus the old lads.

Koeman doesn't seem to be one for surprises so I imagine Stekelenburg will be back since he's been the first choice thus far.
Mick Davies
13
Posted 04/11/2016 at 02:05:49
Robles, Funes Mori and Oviedo. Players shouldn't be dropped if they're playing well.
Also Don @ 5, Southall and Mimms were two top keepers in my opinion. The worst two must have been Lawson and Davies
Steve Carter
14
Posted 04/11/2016 at 02:48:46
Wright, Simonsen and Gerrard weren't much chop either in 2002-03, Mick. Thankfully, Nigel Martyn turned up.
Zahid Ibrahim
15
Posted 04/11/2016 at 07:54:12
Stekelenburg should keep his place based on overall performances so far. Moreover, the opposition is as strong as Chelsea. Need all the consistency and experience in such games. Robles not yet proven to be reliable over successive games.
Alan J Thompson
16
Posted 04/11/2016 at 10:14:17
If the incumbent has played well then he deserves to keep his place. If you are in-form then you are in the team; results matter.
Alan J Thompson
17
Posted 04/11/2016 at 10:16:42
Andrew (#9);
Wasn't Aussie Jason Kearton a long time before Southall?
It could be you are thinking of Bobby Mimms.
Andrew Presly
18
Posted 04/11/2016 at 10:47:22
Mimms went to Spurs in '87. Kearton would've been circa '88-'95, was even on the bench for the FA Cup Final. He went to Crewe when that summer Royle signed Paul Gerrard who ultimately replaced Nev in 1996.
He was basically a glorified training partner for Southall but was a likeable guy in a "just happy to be here" way. Our first Aussie too unless I've missed someone!
Victor Jones
19
Posted 04/11/2016 at 15:13:21
Did we not sign Pat Jennings as cover for Southall at one stage? Now that was some combination. Or was Jennings cover for Mimms? I'm not sure. And yes I know that big Pat was claiming his pension when he signed for us, that's Everton for you.Please remind me, who was back-up keeper to George Wood? Me old memory has deserted me. It wasn't Dai Davies, was it? And who was back up to Nigel Martyn?
Andrew Presly
20
Posted 04/11/2016 at 17:54:16
Richard "Do Not Warm Up Here" Wright was usually back up for Martyn, wasn't he? Ridiculously he was on Man City's books until last season?!
There was also the odd cameo, most were very odd, from the likes of Espen Baardsen (now a successful City trader) and Stefan Wessels (God knows).
Robles gets better and better every time I think back to some of these lads.
Richard Pike
21
Posted 04/11/2016 at 18:10:36
Andrew (#20): Wright was signed a year before Martyn, IIRC. He fell out of his loft putting suitcases away, or something equally unfortunate, we (finally) signed Martyn and that was more or less that.
Add in that warm-up incident and you begin to form a picture of a player who could have been exceptional if he weren't so accident-prone. Sad, because he was an immensely talented keeper.
Alan J Thompson
22
Posted 05/11/2016 at 12:20:12
Andrew (#18); Some time before, there was Dennis Jaeger, '60s I think, and while I do not remember him playing for Everton 1st X1, it is said that Aboriginal activist Charlie Perkins played for the Central League team.
Kearton, I think, later returned to Oz and played for Brisbane.
A 15-year-old named Da Silva(?) spent a year at the Academy in Moyes's time before returning to Perth Glory and later joining Juventus while still a junior.
Ray Roche
23
Posted 05/11/2016 at 13:41:20
Victor, didn't Martin Hodge play as back up to Woods for a time? I think Wright was Martyn's understudy, he never replaced Martyn after he (Wright) returned from injury.
Add Your Comments
In order to post a comment, you need to be logged in as a registered user of the site.
Or Sign up as a ToffeeWeb Member — it's free, takes just a few minutes and will allow you to post your comments on articles and Talking Points submissions across the site.