Chelsea vs Everton

73 Comments [Jump to last]
Friday 4 November 2016
Premier League Preview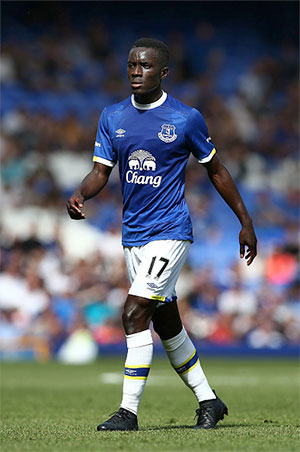 Idrissa Gueye's absence through suspension will no doubt be keenly felt
One of the highlights of Roberto Martinez's three-year reign was the destruction of a hoodoo that had haunted Everton FC for 21 years until Bryan Oviedo scored his most important goal to date to beat Manchester United at Old Trafford.
It gave rise to hopes that, under the expansive game that the Catalan had instituted in 2013-14, more of the kinds of results away from home against the old "Sky Four" that eluded David Moyes for 11 years would follow.
Unfortunately, Martinez was unable to conquer any of Arsenal, Chelsea and Liverpool on their own turf before his ignominious dismissal last May, although he came agonisingly close at Stamford Bridge in January with that infamous 3-3 draw.
It means then that three of the Toffees' longest and most frustrating winless away runs against the five other ever-presents of the Premier League era still persist in 2016-17... and the one against Chelsea goes back further even than the much-lamented trophy drought that has plagued Everton for the past 21 years. Not since Paul Rideout's solitary goal handed Joe Royle a second successive win to start his tenure in November 1994 has an Everton side triumphed at Stamford Bridge in a League game.
For that reason alone, a win this weekend on Ronald Koeman's first visit there as Blues manager would taste so sweet but it would also be something of a statement in the context of the current season and given that his team aren't favoured in the betting odds from SmartBets for this Premier League game. Everton come into the weekend in sixth place, four points behind Chelsea who are in fourth and have seemingly moved past their erratic form in September when they failed to win any of their three League games.
At the time, early question marks were raised regarding their latest manager, Antonio Conte but the Londoners' form has been fairly ominous since. They won all four of their Premier League fixtures in October, scoring 11 goals without reply, culminating in a routine-looking win at Southampton last time out. With Eden Hazard back in good form and Diego Costa on fire, this will be a sterner test for Everton than it might have been when they were ahead of tomorrow's opponents in the early table.
If the task weren't already difficult enough, Koeman will have to do without his practically indispensable defensive midfielder, Idrissa Gueye, who serves a one-match ban for accumulating five yellow cards. With James McCarthy ruled out with a hamstring tear, Muhamed Bešić on the long-term injury-list and Darron Gibson presumably not fit, it leaves Tom Cleverley and Tom Davies as the most natural choices to partner Gareth Barry.
Despite an impressive pre-season and his mature showing against Norwich on the final day of last season, Koeman has tended to use Davies only sparingly as a late substitute so it would be a surprise if the 18-year-old was preferred to his more experienced team-mate. Regardless of who plays, Gueye's energy and ability to break up opposition attacks will be hugely missed — he is exactly the kind of player you'd want in there to combat Chelsea's enterprising midfield.
At the back, Maarten Stekelenburg is fit again and likely to start but Leighton Baines won't be risked as he continues his recovery from a hamstring problem of his own. With Koeman ascribing Phil Jagielka's absence from the starting line-up against West Ham last Sunday to the need to protect him in terms of fitness, the captain could be recalled for this one, most likely at the expense of Ramiro Funes Mori, a goalscorer on this ground 11 months ago.
Up front, few — if any — changes are expected, with Romelu Lukaku returning to Stamford Bridge for a third time since signing for Everton on a permanent basis and looking for his first goal at his old stomping ground. Yannick Bolasie and Kevin Mirallas are the likely starters beside him and Ross Barkley could be handed a deeper-lying brief to start with while Koeman assesses the pattern of the contest.
Boasting the second-meanest defence in the top flight after 10 matches, Everton are well equipped to handle Chelsea's free-scoring attack but they will need to be on their mettle to a greater degree than they have been in the last two or three games. Both Ashley Williams and Phil Jagielka have been guilty of uncharacteristic errors recently and they can ill-afford such slip-ups this weekend.
At the other end of the pitch, of course, the Toffees have shown that they can be very dangerous when they're firing on all cylinders themselves. As Lukaku demonstrated against the same opposition in the FA Cup at Goodison Park in March, when he is motivated he can beat Chelsea on his own but it would be unrealistic to expect him to repeat the same feat this time around.
Just as they did at Manchester City last month, Everton will no doubt need to try to contain Conte's side and then use their ability to explode on the counter-attack and capitalise on a defence that can be prone to errors.
Despite that long, 22-year stretch with no Everton win in the league at Stamford Bridge and the fact that four of their last five trips there have ended in defeat, the Blues usually compete well in this fixture. Each of the last three editions have seen Chelsea score very late goals to either win the match in cruel fashion or, as was the case last time, deny the visitors a famous win. That, the recent draw at the Etihad Stadium and the fact that Koeman won 3-1 at Chelsea with Southampton last season, all bode well.
Kick-off: 5.30pm, 5th November, 2016
Referee: Robert Madley
Last time: Chelsea 3-3 Everton
Predicted Line-up: Stekelenburg, Coleman, Jagielka, Williams, Oviedo, Barry, Cleverley, Barkley, Mirallas, Bolasie, Lukaku
---
Reader Comments (73)
Note: the following content is not moderated or vetted by the site owners at the time of submission. Comments are the responsibility of the poster. Disclaimer
Duncan McDine
1
Posted 04/11/2016 at 07:05:42
I also expect to see that line-up Lyndon, but would probably rather see Tom Davies partner Barry. Cleverly should replace Mirallas (who's been given lots of game time but failed to impress). It'll be my first visit to Stamford Bridge, so an unlikely 'smash-n-grab' would be sweet. COYB
Lee Wareham
2
Posted 04/11/2016 at 07:33:28
I would like to see Tom Davies as Barry's defensive midfield partner and would drop Mirallas to the bench giving Lennon a try. Robles won't be at Everton much longer, what does he have to do to get a game? First Howard... now Stekelenburg always seem to be above him; when he leaves I will wish him luck.
Liam Reilly
3
Posted 04/11/2016 at 07:42:04
Personally I think Mirallas has been putting in some good defensive shifts that are going unnoticed because its impacting his offensive game.
I suspect it will be the same team with Cleverley in for Canada and Stek reinstated.
I think it'd be harsh on FM to be dropped.
David Hallwood
4
Posted 04/11/2016 at 07:42:37
Excellent summery Lyndon, Better than any of the newspapers. I think Koeman may go for 3 at the back in the absence of Gana.
I'm with you in that I'd like to see Davies given the shirt but it's highly unlikely. Tough, tough game and after last season will we ever get a result at the bridge.
Chris Gould
5
Posted 04/11/2016 at 08:05:02
A real pity we won't get to see Gueye vs Kante.
I'm going to be there tomorrow, stealthily sitting amongst the home fans.
Tony Hill
6
Posted 04/11/2016 at 08:39:27
Our midfield looks thin without Gueye, and neither Barry nor (particularly) Cleverley has the pace or strength to match what will be very strong opposition.
Chelsea are my tip for the title if Hazard stays interested and I'm afraid I expect nothing from this game apart from a fully committed effort.
Mark Daley
7
Posted 04/11/2016 at 08:48:51
Given that we don't have Naismith any more, I'm not sure who is going to give the fully-committed effort.
Ajay Gopal
8
Posted 04/11/2016 at 09:11:09
I would go 3-4-3:
Stekelenburg;
Jagielka, Williams, Funes Mori;
Coleman, Cleverley, Barry, Oviedo;
Bolasie, Lukaku, Barkley.
Subs: Robles, Holgate, Davies, Deulofeu, Mirallas, Lennon, Valencia.
We will probably be up against:
Courtois;
Luiz, Cahill, Azpilicueta;
Moses, Kante, Matic, Willian;
Hazard, Costa, Pedro.
Formidable line-up, but I have a feeling about this one, we got robbed last year, now it is our turn.
Lenny Kingman
9
Posted 04/11/2016 at 09:19:58
I was present at a Stamford Bridge win against the Pensioners well before the so called Premier League era. It was the first game of the 1978-79 season and was more infamous than famous as we spent most of the sunny August afternoon attempting to repel Chelsea Headhunter types from our section. Much more lumber around the Kings Road after and on the Tube.
Oh, and the result, a tough 1-0 win with a goal from Andy King if my memory serves me well.
Geoff Evans
10
Posted 04/11/2016 at 09:42:42
These are the games that tell you more about so-called top players' appetite for a scrap than home games against mid-table teams.
The best players perform against the best teams, the rest hide and make excuses.

Chris Gould
11
Posted 04/11/2016 at 09:48:32
I think it will be a tight game, with both teams looking to score on the counter.
They have hit a good patch of form allowing the opposition the lion share of possession and then countering. It will be interesting to see how Koeman sets us up to deal with that.
Steavey Buckley
12
Posted 04/11/2016 at 11:03:42
Everton have been beaten away by Burnley and Bournemouth, two sides Everton would normally be expected to beat if they have any chance of climbing the table further; therefore it looks like they will come away from Chelsea without any points. The Everton team at present are not good enough to beat any of the top teams away.
For a start, the three Everton midfield players consisting normally of Barry, Gueye (Cleverley) and Barkley don't play together as a solid unit, as attackers and defenders, wherever the ball is played, but more awkwardly, with Barry and Gueye protecting the back four and Barkley expected to surge forward by himself with little or no support from the other two.
The great midfield of the past, Kendall, Ball and Harvey (the reason why Everton were so inspiring in the middle to late 1960s) played together as a solid unit and usually not that far from each other on the pitch.
Dave Abrahams
13
Posted 04/11/2016 at 11:18:15
Steavey (#12), good points about the midfield, but they can't do it on their own; if the front players press the Chelsea defence, like they did last week for most of the second half, they will take a lot of pressure off the midfield and our own defence.
I think Cleverley is a lot better in centre midfield than on the wing. I would love to see Tom Davies given a game but it is a big job for them lads to do in such a big game, maybe the last 20 minutes when Cleverley or Barry are tiring.
Steavey Buckley
15
Posted 04/11/2016 at 11:59:07
Dave: In any game, played by any team from anywhere, the midfield (best, if it consists of three) is the key to win any game. As they are so important protecting the back four and supporting the forward three, as well as chipping in with goals.
Yet, how many Everton games have you watched when Barry and Gueye are actually in the penalty box in open play? I have not seen them doing that very much. Yet, Barkley is expected to be everywhere.
Although Gueye was unfortunate not to get a penalty against West Ham, when he popped up unexpectedly in their penalty area.
Tony Abrahams
16
Posted 04/11/2016 at 12:17:07
I think the pitch is too wide for just three midfielders these days, Steavey, unless two of the more forward players keep getting round or tucking in.
I thought we started doing this in the second half last week but then, when we got the ball back, we were then to narrow.
I think we are on the right track, but I'm not sure the players are that comfortable with how the manager wants us to play just yet. The manager spoke about us being about 70% fit at the start of the season... and I think the team is around 70% sure of what the manager is trying to implement right now. Stamford Bridge would be a great place to improve things!
Brian Harrison
17
Posted 04/11/2016 at 12:24:36
A lot goes into the make up of a football team and quite often, until you can change the personnel, you may have to adapt a system that suits the current crop of players. I know our defense has been applauded for the lack of goals we have conceded, but is that because we have been playing with two very good defensive midfield players in front of them?
I know he is ineligible to play tomorrow but I would like Gueye to be given a more attacking role, and especially at home. When you see Man City or the other lot, they seem always to have plenty of men in and around the box to give them options. Were sometimes with us we have two or three at most in the opponents box. So maybe a 4-1-4-1 system may help us in the attacking third.
I heard Klopp the other week being asked what system he played. He said, "We don't have a set structure; we have 4 defenders and 6 attackers." I think he is more definite than that when he talks to his players, but I get the idea that he is more fluid than most with his players. But I am equally sure that they are told exactly what he expects of the front six when they lose the ball.
But Klopp has had a full season to change things; Koeman has had only a few months. I know some will say well Guardiola has only had a few weeks longer at Man City, but he took over a team that was full of quality and who had won the league twice in the last few seasons.
Steavey Buckley
18
Posted 04/11/2016 at 12:26:17
Tony, Everton do play with three in midfield but not together, that is the problem. The size of the pitch has not greatly changed since the 1960s: 105 by 68 metres (115 by 74 yards). Until Everton can dominate the midfield and get forward, Everton will struggle breaking down the opposition.
George Cumiskey
19
Posted 04/11/2016 at 12:37:23
How anyone can want Cleverley in the team is beyond me, he brings nothing to the table. Don't the people on TW see that? He just runs round without actually doing anything – which is a talent in itself I suppose!
Max Murphy
20
Posted 04/11/2016 at 12:56:41
Forget the past – and let's get 3 points!
Steavey, I agree with your comments about our midfield. They do not play as a solid unit – until that gets sorted, we'll always struggle.
On another matter, I think Robles should be given an extended run. Despite his penalty saves, I'm not convinced by Stekelenburg. Some very soft goals he's conceded.
Stan Schofield
22
Posted 04/11/2016 at 13:00:47
Steavey, I agree completely about the midfield needing to work together – Ball, Harvey and Kendall being the supreme example. That said, when I think back to games then, the whole team worked together (when we played well, which was more often than not), and the forwards pressed constantly.
Nowadays, managers go on about a pressing game but, as far as I can see, it's just a new term for what good teams have always done. Alex Young, Jimmy Husband, Johnny Morrissey, Joe Royle, et al used to work their bollocks off tracking back to help the defence and midfield, as well as putting the opposition defence under pressure. I think that's all Koeman is trying to get us to do now.
Victor Jones
23
Posted 04/11/2016 at 13:08:27
George, Half the team can at times run around without actually doing that much. Let's give Cleverley a chance. Let's wait and see how he preforms tomorrow before the assassination begins. He might surprise a few people. And by saying that half our team can run around and not actually do much... I mean Barkley, Mirallas, Del, Bolasie, McCarthy... take your pick from all our fringe players... Lennon., etc.And Lukaku has been known to often go missing in action (and he doesn't even have to run that much). Just point to the heavens, that will help the cause.
My point is we don't really have that much better than Cleverley. So let's just see how he does. People saying to throw Davies into the fray. Not for me. Not this game. And Barry could just as easily be over run in midfield , even more so than Cleverley . Who knows? This is going to be tough tomorrow. Last seasons result means nothing. We need to be on our A game. And being honest , I don't think that we have even hit our B game yet. But ever the optimist ... We might just scrape this..
........
Stan (22), and we also had John Hurst. Always busting a gut to help our attack back in those days. Covering every blade on the pitch (if my memory is right) - an unsung player. Every team needs a John Hurst.Every player back then knew their job. We now have players playing to similar a role, mainly our midfield. All just like for like. Take one out slot another one in... spot the difference. Anyhow, Cleverley will slot in. Do a job and I doubt if Gueye will even be missed. Like for like. If Ball., Harvey or Kendall were out in came Tommy Jackson. Our trinity were all individual geniuses.. They were hard to replace..Our current midfield is predictable, slow and mainly devoid of attacking prowess. All like for like. Let's hope that Koeman and Walsh rectify that in future transfer windows
Steavey Buckley
24
Posted 04/11/2016 at 13:20:36
Koeman is not re-inventing the game of football; Everton fans know when Everton were at their best, but not at the moment. The game of football has basically not changed: when the ball is lost, the team win it back again and then start another attack.
Russell Smith
25
Posted 04/11/2016 at 13:24:16
Unfortunately, and without being disrespectful, but Barry, Barkley and Gueye (or Cleverley) could not hold a candle to Ball, Harvey and Kendall, either individually or collectively. But, then again, how many midfield trios either then or since could?
Brent Stephens
26
Posted 04/11/2016 at 13:24:36
Odds were against us for this game even with Gana available. Without him, I'll watch the game without any real hope.
Come on Rom! There's always a chance! More of the same, lad!
Peter Lee
28
Posted 04/11/2016 at 14:03:57
I suspect that playing Funes Mori at CB last week was about checking him out at CB rather than the ludicrous decision to play him at full-back. This with tomorrow's game in mind.
I wouldn't be surprised to see us line up as 5-4-1. Koeman has form for this in the first couple of games of the season, at least part of them anyway.
In some respects I don't think that the formation matters as much as the team playing more compactly with the back four/five and midfield in much closer contact with the forward players to enable a more effective pressing game. Remember when we used to call that closing-down the opposition? The '80s side did it en masse.
When under pressure, we need to hit the corners for our wide players to chase, pulling their centre-backs out from their narrow three and making their full-backs turn and chase. We were set up to do that against Man City but they closed us down so high up that we were unable to launch balls over the half-way line with enough distance or accuracy to give Deulofeu or Bolasie any chance of getting and retaining possession.
When we finally managed this, it had taken so much time that City pushed up and caught Deulofeu offside five or six times, I seem to recall. Whilst I have issues about his general demeanour I can understand his frustrations in that first half.
Sorry to harp on about it, but such an approach is made for Aaron Lennon surely.
Alan Bodell
29
Posted 04/11/2016 at 14:22:47
Got to stop them playing but, without our two best energetic midfielders, it's gonna be hard.
I'd sacrifice the wings and flood the middle with Cleverley (zero skill but can bust things up) and Tom Davies who I really think has it all (box-to-box, side-to-side, with a good touch and awareness) but it's a big ask to do this tomorrow.
So it's three at the back, two back-wings, four centre midfield and Lukaku up front and that'll confuse Chelsea more than it confused me to think of it... so 3 points then.
Dean Cooper
30
Posted 04/11/2016 at 14:28:40
If Chelsea line up in a 3-4-3 again tomorrow, I am salivating at the prospect of Bolasie isolating one of their centre backs!
Tony Abrahams
31
Posted 04/11/2016 at 15:06:03
The pitch, is still the same size Steavey, but football has changed drastically, because of the speed at which the game is now played.
Three in midfield, is not enough anymore, especially since most teams tend to flood this area. Agree we don't play as a unit, but think this could change massively if Lukaku, could just get hold of the ball a lot more.
I look at the other crowd, and think they play better as a unit when Firmino, is playing rather than Sturridge, simply because he gets hold of the ball and constantly brings other players into the game.
I have said for a long time that Everton, don't get enough people forward, with no-one ever really breaking their neck to get into the oppositions box, but this should never really be a problem, with Barkley, Mirallas, Lukaku and Bolasie all on the same team. Perhaps when McCarthy returns, his energy could also release Gana, but Lukaku, really getting hold of the ball, could be the best thing to happen to this team.
Drew O'Neall
32
Posted 04/11/2016 at 15:44:02
Chris Gould - 5
Be careful to sit on your hands, mate. My girlfriend works at Chelski and she's already seen one fan get a hiding this season after celebrating an away goal in the home end.
I'm sure this is as likely to happen anywhere, and indeed unlikely to happen elsewhere in the same stadium but I'd hate to see that happen to one of ours.
Brian Furey
33
Posted 04/11/2016 at 16:02:05
At least we're going into this game knowing that we will still be 6th even should we lose or draw. You would imagine RK will send them out to play very defensively like they did v Man City and hope to use Bolasie and Lukaku's pace on the break again. Chelsea have been scoring for fun recently and I would fear our defence will get the toughest test they've had so far this year yet. Their 4-0 trouncing of Utd will give them great confidence but hopefully we can frustrate them and the crowd start getting on their back. Would be a nice game for Geri to wake up from his slumber.
David Hallwood
34
Posted 04/11/2016 at 16:17:17
Drew (#32) & Chris (#5), I was at Stamford bridge the last time we won the league and we thought that it would be okay cos we were in the stands but soon realised that we were surrounded by Neanderthals.
We did really well till Alan Harper hit a 30-yarder to make it 2-1 (which was the result) and we jumped up. Gerrin! What a goal!! Only to realise the 500 pair of eyes looking at us. Our next word was RUN!! Which we did followed by several hundred excitable cockneys.
Mind you I could run in those days. Happy days (I think)!
James Hughes
35
Posted 04/11/2016 at 16:35:42
David, they are not cockneys, they are Neanderthals.
My huge lump of B-I-L changes into a homicidal maniac every time they play. My missus after a couple of incidents realised it wasn't good family bonding to watch the game together as she had previously organised .
Steavey Buckley
36
Posted 04/11/2016 at 17:27:29
Thanks for your comments Tony. 4-3-3 is always the best formation because of attacking options. Once the ball is won in a defensive position, there should be two wide players as an option for one of the three midfield players to pass to, for one of them to play a cross to Lukaku, instead of him trying to create his own scoring chances. Simply, Lukaku would score more goals if he could get a constant supply of crosses.
If you are concerned about not enough players defending, there are already four defenders at the back, whose primary job is to defend. Not for the full-backs to be considered wing backs. And if the back four can't defend properly, it's because they are not good enough.
But already Ashley Williams has shown this season what a great defender he is, but I am not sure about the other two, Jagielka and Funes Mori. Or even Oviedo, Coleman and Baines, who are not the best defenders around. Yet, are good at getting forward.
Harvey Miller
37
Posted 04/11/2016 at 17:53:19
Holgate needs a chance, he's fast mobile and tall.
Peter Cummings
38
Posted 04/11/2016 at 19:00:33
Watch for Hazard and Costa diving in the area as soon as they are touched. I can see a pen given in this one, even a red.
Andy Meighan
39
Posted 04/11/2016 at 19:09:51
Why is it everyone of our threads is littered with references of the 69-70 side and 80s side? I was just about lucky and old enough to remember the 69-70 side and old enough to go out and celebrate our 80s successful sides. And while I'll never ever forget those great times... they've gone. The game has moved on and changed beyond belief since then What with the advent of the Premier League and all the foreign players who grace our game, it's a totally different animal.
It doesn't give me any pleasure saying this. But I'll be massively shocked if we won tomorrow in fact my gut feeling is we ll get well beaten Our recent history at these so-called big 4 is nothing short of appalling and I've seen nothing this season that makes me think it'll change tomorrow. Unfortunately we've caught these when their tails are up and they'll be full of confidence
Predict any formation you like – it won't make a blind bit of difference I don't know why but our mentality going into these games stinks. Yes, you could argue we were really hard done to last season but they were a different kettle of fish altogether. Please just make me eat my words tomorrow
Gareth Clark
41
Posted 04/11/2016 at 19:23:24
I'd go three at the back for this one to make up for Gana being suspended:
Steklenburg;
Holgate, Williams, Funes Mori;
Coleman, Cleverley, Barry, Oviedo;
Bolasie, Barkley,
Lukaku.
Subs: Robles, Jagielka, Davies, Lennon, Deulofeu, Mirallas, Valencia.
In a similar formation to Chelsea – with Bolasie and Barkley playing more centrally.
Holgate offers more pace on defense, and Jags has been struggling lately. Holgate deserves a chance.
Other than that – I'd go with:
Steklenburg;
Holgate, Williams, Funes Mori;
Coleman, Barry, Barkley, Oviedo;
Lennon, Lukaku, Bolasie.
As Lennon offers a lot of energy & tracking back.
John Malone
42
Posted 04/11/2016 at 19:38:40
It will be a really hard game tomorrow. If we give away the chances we did against West Ham, we'll be three-nil down at half-time!
The forward's really do need to keep the ball better as no doubt there will be limited attacking licence gifted to both fullbacks to prevent leaving space for the likes of Hazard and Co.
I watched Southampton last night and they really did keep and move the ball well and create plenty of chances, it reminded me of us under Moyes when we were a good team and everyone could be trusted with the ball and to make the right decisions with it!
If we don't keep and use the ball well tomorrow, it will be relentless pressure which will know doubt lead to goals for Chelsea!
I'd take a draw right now, expect to get beat by two but would love Barkley and Rom to stun them and us to take the glory! COYB! FTRS!
Darren Hind
43
Posted 04/11/2016 at 20:05:52
I'm worried...
As Lyndon points out, we have individuals who can turn this in our favour, but too many stars need to be aligned for Bolasie and Mirallas for my liking.
We won't go three at the back; Koeman quite likes it, but he won't chance it tomorrow. not without the necessary preparation.
I'm worried about Jags, He is vulnerable to quick feet these day and Chelsea have that in abundance. I'm even more worried about Oviedo, I don't buy this "He's improving with every game." Not until he improves against teams who actually attack us. I fear he will be murdered tomorrow – please God I'm wrong...
Everything has to go for us tomorrow, but everything goes for some team every week... 'bout time it was our turn.
You will struggle to even get 6/1 now. (I just took 11/2). Fair odds which IMO reflect our chances.
Mick Davies
44
Posted 04/11/2016 at 20:29:11
Lenny @ 9, I was at the game too, but it was Latchford who scored. 1st game of the season, lovely warm afternoon in West London, and I was dreaming that this was the season when we were going back to the top. Sadly it took another 5 years... let's hope we're nearer now
Darryl Ritchie
45
Posted 04/11/2016 at 20:59:13
Koeman is going to park the bus, and try and steal a point.
Peter Lee
46
Posted 04/11/2016 at 21:37:13
Andy,
Football hasn't changed that much. It's a battle to win and control the ball, move it towards your opponents goal and stick it in the onion bag.
Whilst that's going on you make sure that your opponents don't get in a position to do the same and you aim to turn over possession.
All the posturing about formations is an unnecessary, but understandable, response to the need for teams to play as a unit. You attack as a unit, you defend as a unit. Winners are able to move from one to the other as a team.
References to past teams are entirely relevant in this respect. Our best teams, and those of other clubs, were able to move from defence to attack quickly, smoothly and together.
We are not there yet.
Patrick Murphy
47
Posted 04/11/2016 at 21:43:01
Lads – I haven't read through all the posts, so apologies if it has already been pointed out, but it was Andy King who scored the winning goal on the first day of the 1978-79 season at Stamford Bridge.
Tony Dove
48
Posted 04/11/2016 at 21:46:13
Darryl @45, I'm afraid you could be right. If so, we will soon be known as the bus depot.
Paul Tran
49
Posted 04/11/2016 at 21:48:05
If we're going to get anything from this game, I think we'll be pinching it. A big test.
Hard to think of anything else in sport after hearing the news about Freddy Tylicki.
Chris Gould
50
Posted 04/11/2016 at 23:32:05
Drew (#32) & David (#34),
Thanks for the concern and advice. I'll be wearing my Everton wooly hat inside out (badge on the inside) and my shirt will be worn with pride – under several outer layers! They'll never know I'm among them.
If we score, I will silently fist clench and watch with delight the delirious away support. If they score, my muffled expletives will be drowned out hopefully.
If I'm rumbled, I will simply run onto the pitch and streak. That guarantees a police escort to safety. Pretty much got it covered.
Tony Abrahams
51
Posted 04/11/2016 at 23:38:12
Thanks for your comments, Steavey, you make 4-3-3 sound so simple. I saw at least half a dozen crosses get headed away at the near post against West Ham, because our centre-forward never gets across the first defender. Maybe if he had a strike partner, this might change, like Everton did, when Andy Gray went to play alongside Sharp!
Football is played out on the pitch and not in the classroom, and although you have your own opinions, don't you think Everton would be a better team if Lukaku could get hold of the ball?
Ray Smith
52
Posted 04/11/2016 at 23:38:41
Park the bus? Yes.
Take a point now? Yes.
How many teams will come away from Stamford Bridge with anything?
I will take a point now. 😀
Koeman knows what he is doing. Lukaku hasn't anything to prove and may well take what little comes his way to prove his doubters wrong.
0-0?
Tony Abrahams
53
Posted 04/11/2016 at 23:43:02
Going to Aintree tomorrow, Darren, and whatever money I'm up (I hope) will be put on Everton, now you have just told me they are 6/1!
Bill Gienapp
54
Posted 04/11/2016 at 00:05:41
Definitely a daunting task, but honestly, most of what I'm reading are the exact same things that were being said before the Man City game a few weeks ago. In fact, coming on the back of the Bournemouth & Crystal Palace performances, a lot of people on here were claiming we'd be lucky not to get trounced 8-0.
Aside from that 6-3 clusterfuck at Goodison, we've played Chelsea extremely tough the past few seasons and our defensive record this season has been legit – ten matches into the season and we've only allowed multiple goals once. We may not come away with a win, but I doubt we'll make it easy on them.
Eugene Ruane
55
Posted 05/11/2016 at 00:24:14
Patrick (47) you beat me to it, was Andy King.
Was at the game and remember the day well.
Hitched from Fontwell in West Sussex (where I was working at the time) and got a lift from a feller who had the worst stammer I've ever heard.
Got there dead early and back then it was a dead scary place to go.
I wandered around for ages looking in antique shop windows, pretending to be riveted by Chippendale pottery and/or ming clocks or..something.
When I eventually saw 'friendly' faces, including two mad bastards who later ran the Hillside in Huyton, I felt a little braver (one was like Giant Haystacks, EVERYONE gave him a wide berth).
A few pints ("woss a braaahn an bi'ah?") and calm was restored.
After the game I was exactly where all the worst trouble took place (at South Kensington) but I missed it all by (it seems) a matter of seconds and never saw a punch thrown or got a scratch.
On the Saturday night, l stayed with cousins in Crawley then back to Fontwell the day after.
It was only on my next trip home that I heard about all the carnage.
'Appy diiiize! (looks misty eyed).
Jack Cross
56
Posted 05/11/2016 at 00:50:43
Andy (#39),
I couldn't agree more mate, 69-70 and the 80s were great times, but there the past. And the problem with this club, we live in the past.
Any Premier League team is beatable. But to be truthful, Chelsea seem to have gotten through their sticky patch and have had some very good wins recently.
After saying that, I think we can beat them. It really depends what Blues team turns up on the day.
Everton 1-2. And Arsenal for the Premier League title.
Mick Davies
57
Posted 05/11/2016 at 01:43:33
Eugene @ 55, I hitched there with a girlfriend, spent the morning sleeping in St James Park, then caught a bus to the ground. Ended up in the Chelsea end being pelted with missiles from the adjoining Everton section. When Everton scored, she jumped up and down, while a hundred or more angry hooligans turned around, and I knew how an antelope felt surrounded by Lions.
I just looked at her, then back at them with a sort of 'she doesn't even know who's who' stare. They must have thought we were cockneys. I could have sworn it was Latch but obviously I'm wrong. As for the trouble; we walked right into it. Never seen a tube train without windows before, so we about turned and walked miles to the next station (West Brompton I think). Scary times at away games then...
Darren Hind
58
Posted 05/11/2016 at 03:44:01
Tony
Good luck. You just reminded me of one of my best days ever.
Came out of the Fulham workies club and found an Ayrton on the path way leading to it. I couldn't believe my luck. Decided to put half of it on a horse at Aintree (a big bet for me back then).
Stamford Bridge was a proper shithole back then and we got absolutely soaked, but there was no complaints from Evertonians that day, we won and Alan Harper scored a fucking screamer.
I stuck my head in the door of the betting shop on the way back and to my absolute joy saw my horse (Maori Venture) had pissed the Grand National at 28/1.
Halcyon days, We were kings and I backed winners
Darren Hind
59
Posted 05/11/2016 at 03:52:51
Paul T
I didn't know. I'm getting some well paid work at nights so the world is kinda passing me by because I'm sleeping during the day.
Just googled it when I saw your post. Awful news, absolutely devastating for the boy.
Joe Green
60
Posted 05/11/2016 at 07:19:08
Patrick (#47) ... but I was sure I was at a game around that time when we won 1-0 from a Latch header.
I checked out that results site and sure enough we won 1-0 at Stamford Bridge in December 1977 and 1-0 again only 8 months later in August 1978 on the opening day of the following season.
Damian Wilde
61
Posted 05/11/2016 at 07:35:53
The last time I went to Stamford Bridge, we won in the FA Cup, went bananas in the away end when Baines netted at the end, great day.
Looking forward to going to the game and making a weekend of it in London catching up with friends. I would love it if we won.
I can see this being a hard game. We're not playing great, but hopefully we'll have a bit more confidence 'cause of last week's win.
If Lukaku can turn it on (with good service for him) and the defence stay solid, we may have a chance.
I predicted 0-1 on the Premier League Predictor... hope I'm right!!!
COYB.
Laurie Hartley
62
Posted 05/11/2016 at 08:31:46
Strange as it may seem, I am looking to this game without the trepidation I have in the past against the "top teams".
As mentioned above, we certainly have the fire power to give Chelsea problems (Mirallas is due a goal). If those three are on blob, Chelsea's defence won't be able to handle them.
We will miss Gueye big time but I give Cleverley credit for being a true professional (in the Barry mould) and I am of the opinion that, if he starts as a defensive midfielder, he will do the job Koeman asks him to.
The back four is solid enough – Costa and his mates won't get it all their own way against – perm any two from Jagielka, Williams & Funes Mori – Coleman, and Oviedo.
What we need more than anything else is a big game from Barkley. This is a game that, if he can bring his not inconsiderable, strength, height, skill, and shooting power to the party, and stamp it on the game, we can come away from this with a result.
Koeman is as at least as smart as Conte – he can come up with a winning game plan. As Steavey Buckley states above, games are won in midfield.
What Koeman needs is for the team to be able to morph between 4-3-3 when attacking and 4-4-2 when defending – that, in my view, makes Barkley the key man. Come on Ross!!
Up the Blues!!!!
John Wilson
64
Posted 05/11/2016 at 10:47:35
Is Barkley back, as it were, or is this just circumstantial?
By that, I mean is Barkley's 'relatively improved form' set to stay, or is it just wishful thinking? They don't call him a confidence player for nothing...
Ray Smith
65
Posted 05/11/2016 at 11:38:40
John (#64),
If Koeman parks the bus, Ross will be on the bench!
If he is thinking of playing a pressing game, Ross will start!
Other than last season when Terry scored the 3-3 equaliser, I can't remember when we have won at Stamford Bridge! Over celebrating and a Martinez approach to defending cost us that day. It felt like a defeat!!
Anybody recall when we last won there?
Kim Vivian
66
Posted 05/11/2016 at 11:50:24
Haven't read through this thread so do not know what everyone is thinking but for me a point would be very nice, thank you; a win – ecstatic. So I plan to watch and enjoy as best as poss, see how things are evolving, and hope we make a damn good show of ourselves.
But it's a funny old season this one. We just may be happy bunnies tonight.
John Wilson
67
Posted 05/11/2016 at 12:13:30
Ray (at 65), for a team like Chelsea, Koeman needs to press from the kick-off and keep up the pressure. We need to put in a good defence for the first half, and where possible to score where opportunities present.
Given Chelsea's relatively recent form (not immediate form, granted), a defensive Everton could break Chelsea down and bring back to them (Chelsea) their terrible form. Of course, we need to score and not lose confidence if they score. If Barkley can retain his confidence, he is simply a threat, he's a young man-mountain!
Ray Smith
68
Posted 05/11/2016 at 12:26:50
John 67
Quite agree.
The line-up will speak for itself.
I would take a point now... 😀
Jon Withey
70
Posted 05/11/2016 at 13:03:30
Expect a similar performance to the City one I guess – hope to nick a point or three – we aren't going to outplay them.
James Morgan
71
Posted 05/11/2016 at 13:23:43
Part of me would like to see Barkley go where Gueye plays and Deulofeu to go behind Rom. Chelsea wouldn't expect it and we could frighten the life out of them if they're all on it.
James Hughes
72
Posted 05/11/2016 at 14:20:20
We need to target Luiz and Moses and we will get a result this evening.
Conor McGregor
73
Posted 05/11/2016 at 14:51:25
I would agree with James (#71) about Ross in beside Barry, but I would put Cleverley in a five in midfield.
I would definitely start Funes Mori instead of Jagielka. Funes Mori scored at Chelsea last season, so hopefully will get one today. Nothing to fear, we got robbed there last season, due to a dodgy linesman. I would start Lennon instead of Mirallas. Let Coleman bomb forward, Lennon will work back for him unlike Kevin.
I love a good 4-5-1; my team would be:
Robles;
Coleman, Williams, Funes Mori, Ovideo;
Lennon, Barry, Barkley, Cleverley, Bolaise;
Lukaku
Chris Gould
74
Posted 05/11/2016 at 15:39:18
Anichebe has just smashed one in the top corner for Sunderland. Good on him.
Mick Davies
75
Posted 05/11/2016 at 15:40:54
Former Everton players scoring today so far: Agard, Anichebe, Gosling, Hope. Just hope our present striker(s) can do it too. If we can stop Costa and grab a goal ourselves, I'll be confident we could hold on.
Everyone's raving about Hazard but (and I hope I don't jinx us here) watching him this season, he's been more miss than hit. I'd be happy with a draw but hope we can cause an upset
Mike Powell
76
Posted 05/11/2016 at 15:50:14
I was at that game we got ambushed at Kensington High Street, scary day... I went to school on Monday with two black eyes. Today, I would take a draw now but, to get a draw, we will need to score because I can't see us keeping a clean sheet.
Steavey Buckley
77
Posted 05/11/2016 at 16:01:55
The Everton starting line up, whatever it will be, will not be good enough to beat Chelsea. There is just no consistency from any Everton team this season, and with players out of position or not good all, the team is disjointed, that is encouraging the misplacement of passes.
Alan Bodell
78
Posted 05/11/2016 at 16:12:38
Seen Chelsea on tv a few times this season and they are a bunch of diving, cheating bastards surrounding the ref. at every tackle so don't be surprised if we get fucked over here.
Laurie Hartley
80
Posted 05/11/2016 at 20:27:50
I know nothing about football...
#62: "the back four is solid enough"
Add Your Comments
In order to post a comment, you need to be logged in as a registered user of the site.
Or Sign up as a ToffeeWeb Member — it's free, takes just a few minutes and will allow you to post your comments on articles and Talking Points submissions across the site.