Jagielka sets club record for England caps in draw with Spain

26 Comments [Jump to last]
Wednesday 15 November 2016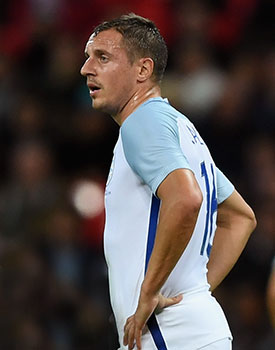 Phil Jagielka became the most capped Everton player by England when he came on as a second-half substitute in this evening's 2-2 draw with Spain.
The club's skipper surpassed Alan Ball's 39 England appearances as a Toffees player when he was introduced at half time for Gary Cahill with the score at 1-0. However, while Jamie Vardy's goal doubled the Three Lions' lead and put them on course for a victory to close out 2016, Spain levelled the scores with two very late goals.
Adam Lallana had put Gareth Southgate's men on their way with a first-half penalty and Vardy's diving header made it 2-0 but Iago Aspas curled in a brilliant effort in the 89th minute which spurred the Spaniards on to a grandstand finish.
That was provided by Isco who beat Tom Heaton with a close-range finish in the sixth minute of stoppage time.
Meanwhile, in World Cup qualifying, Enner Valencia and Ramiro Funes Mori were in action as Argentina won for the first time in four games when they beat Colombia 3-0 and Ecuador beat Paraguay in convincing fashion.
Valencia scored the third goal in what was also a 3-0 win while Bryan Oviedo watched from the bench as Costa Rica hammered the United States 4-0, seriously denting the chances of Jurgen Klinsmann's men making it to Russia 2018.
Elsewhere, Gerard Deulofeu featured for Spain U21s as they squeaked into next year's European Championship finals on the away goals rule following what was, by all accounts, a lacklustre display against Austria.
---
Reader Comments (26)
Note: the following content is not moderated or vetted by the site owners at the time of submission. Comments are the responsibility of the poster. Disclaimer
Phil Sammon
3
Posted 16/11/2016 at 06:58:51
He's been a very good player for us for a number of years.
Peter McHugh
4
Posted 16/11/2016 at 06:59:38
Good player and great pro. A really good signing and servant for us for years. Well done to Jags.
Bobby Thomas
5
Posted 16/11/2016 at 07:38:08
Jags has been tremendous for us over the years. It was a shame he got that bad knee injury, although as the years roll by centre-backs tend to get compromised by injury and need to adapt. Just a little bit below top class for me, as some of his international performances showed, however he has been an excellent Premier League centre-half for a decade. His partnership with Lescott, unfortunately broken up way too soon, was superb. Man City actually took the wrong player.
He receives unbelievable stick, such as an absurd early doors comment on another thread today, and a measure of how derided/unappreciated he can be is that I've seen him referred to as "slow" on countless occasions, when in fact he has been one of the quickest players in the Premier League, even after a cruciate. However people tend to make their minds up and state their opinions accordingly, and that happens with Jagielka.
He's entering the "needs less games, not more" stage of his career now. If we manage him right, we will continue to get the best of him for a couple of seasons more after this. Long term, though, we need someone in. Same with Bainsey actually.
Anthony Dwyer
6
Posted 16/11/2016 at 09:10:59
Well done to Jags, a fantastic accolade for a fantastic servant to Everton Fc.
Jags has always been a top Premier League player, he deserves a lot of credit for his loyalty to the blues, remember Arsenal made it public knowledge they had approached us for him, he never once commented, just continued his job, as a professional should do.
He's often been pulled up for not being a typical captain style player too, but there are two types of captain: one is a loud commanding man who tells everyone how it is on the field of play; the other is a Jags, someone who leads by example, putting his body on the line, playing injured and leading by example.
I'd agree with Bobby (above @ 5) that he's at the stage in his career were he needs resting, he should be a bit-part player now, and ideally quit international football so as to use the international time as a hard-earned break.
Geoff Trenner
7
Posted 16/11/2016 at 09:42:11
Well done, Jags. He took a while to settle in at Everton probably because he was played defensive midfield at first. I saw him have a great game at right-back at Ewood Park a few years back. A truly versatile player who always gives 100%.
I'm really surprised that Bally only got 39 caps. Still got my white boots!
Phil Jeffries
9
Posted 16/11/2016 at 10:59:57
Well done, Jags.
Dave Abrahams
10
Posted 16/11/2016 at 11:03:27
Geoff (7),
That is only 39 caps while at Everton – he got many more than 39.
Liam Reilly
11
Posted 16/11/2016 at 11:50:08
I have a lot of respect for Jagielka, but clearly if you're English and a good footballer, you don't stick around long at Goodison Park.
Don Alexander
12
Posted 16/11/2016 at 11:53:30
The incomparable Bally won 72 caps in all but in his own way Jags is, like Williams now, the type of player who'd have won respect in any decade for his commitment and professionalism. He's not gonna be easy to replace. Congratulations Phil.
Paul Kelly
13
Posted 16/11/2016 at 12:08:32
Well done, enough said.
Gary Edwards
14
Posted 16/11/2016 at 12:14:22
Oviedo on Costa Rica's bench hmmmm ..
If Southgate's selections were based on current form then picking Jagielka is a sad indictment of the state of the national team (or Southgate's capability to be the England manager). Jagielka has been a great servant to the club but he's not reached anything like top form for at least the past 2.5 seasons.
Did Stones move to LCB when Jagielka came on?
Brian Furey
15
Posted 16/11/2016 at 12:35:22
Looks like it was a good international break for most of our lads who were away.
Bolasie scored this cracker to beat Guinea who are top of their group
I do hope he shoots more for Everton.
Rom scored two on Sunday to keep them top of their group.

Coleman played well in Ireland's win in Vienna to go top of their group.

Valencia scored again for his country. I'd like to see him get a run out against Swansea alongside Rom.
Geoff Trenner
16
Posted 16/11/2016 at 13:09:04
Dave (#10) thanks. Posted without thinking.
Trevor Lynes
17
Posted 16/11/2016 at 13:26:26
I rate Jagielka right up with the best centre backs I have seen in an Everton shirt. He and Distin must have been the quickest pair playing in the Premier league together. That defence of Hibbert/Coleman, Jagielka, Distin, Lescott/Baines absolutely carried the side for a few seasons.Jags is a model professional and must be one of the least ever booked during his time. Unlike Cahill and Shawcross he does not give away cheap free kicks in dangerous areas nor is he a grabber and grappler in the penalty area.Let's hope that he recaptures his best club form and continues to be a great representative of our club.
Peter Cummings
18
Posted 16/11/2016 at 15:20:26
Jay #8, As far as Jags is concerned only 'positive' feedbacks can do him justice, he has been a shining example of reliability modesty and skill for both us and England coupled with that rarest of assets these days completely loyal to the club and fans.
Obviously the years are catching up with him and his reactions, as with all of us, but he deserves every accolade earned for both club and country and will continue hopefully for at least a couple of seasons more, even for critics who tend to forget, Well Done Jags Lad.
Oliver Molloy
19
Posted 16/11/2016 at 15:25:09
Well done to Jags, good servant to the club but his position is there for the taking in my opinion.
What a goal by Bolasie - he just needs to that for Everton!
Dean Williams
20
Posted 16/11/2016 at 15:47:08
Well done, Jags, I wish we had more players of your ilk. No-nonsense defender, quick, never in the papers for the wrong reasons. His head must have been chocker playing with that tit Stones... getting dragged everywhere last night. More likely to put one in than keep one out.
I think Jags has made every center half he's played with look better than they are with his game-reading and pace. Lescott and Stones should be thanking him for their big money moves and fantastic contracts... all down to Jags.

Paul Kossoff
21
Posted 16/11/2016 at 16:16:07
Well done, Jags, one of my favorites. I would like him on the coaching staff but I think, as a first teamer, this is his last season; I don't think we have to buy to replace him.
Eddie Dunn
22
Posted 16/11/2016 at 17:30:19
Peter Cummings #18. You sum it up perfectly, what a player he has been for us, leading by example and always giving his all for the cause. Congratulations to Jags and I hope he has a couple of seasons in him yet.
Tom Bowers
23
Posted 16/11/2016 at 18:44:55
Well done, Jags.
The sad fact is however, that getting capped by England is not a great achievement any more. So many players have proven they are not world class material once they get the England shirt on. Sure they can shine against the minnows of world football as Moldova, Lichtenstein, San Marino and the like but when it comes down to the real class, England in particular have failed miserably.
I question Southgate's ability to be the man to improve England and I wonder why he wasn't preferred to Allardyce before Allardyce got the job if the FA is considering him now for the permanent position.
Phil Walling
24
Posted 16/11/2016 at 19:46:14
True, Jagielka's form this season has hardly merited another England cap but in no way should we begrudge it him.
As mentioned above his partnership with Distin made them as good as any in the Prem and I always thought it was broken up prematurely.
For the last two seasons he had to nurse the hopelessly over-hyped Stones through his apprenticeship whilst the occasional pairing with Funes Mori has often given him one and a half jobs to do.
Jags is no great age for a defender and despite his variable form this season, he still has plenty to give to the cause. Well done Skip and you haven't finished yet by a long way!
Paul O'Neill
25
Posted 16/11/2016 at 20:05:00
Well done, Jags. I love him and always have done. What a pro and athlete.
It's interesting that 40 England caps is an Everton record, though – when you look at how many caps some players manage at other clubs.
Andy Crooks
26
Posted 16/11/2016 at 21:08:12
I doubt that players read fan sites (I would if I was a player) but if Phil Jagielka could read this thread, I reckon it would make him feel good.
Lenny Kingman
27
Posted 16/11/2016 at 21:21:55
Hardly an inspiring captain though. He will leave his Everton career behind one of these days with nothing to show for all his efforts.
Possibly he has shown a lack of ambition to fight for the top honours at a contending club. Bit like his defensive comrade Leighton Baines.
Sad indictment of the lost and barren years at Everton.
Garry Corgan
28
Posted 16/11/2016 at 23:51:06
Well done Phil. Nine years' service, our most capped England international, club captain and a model professsional.
Kieran Kinsella
29
Posted 17/11/2016 at 04:32:22
No offense to Jags but it says a lot about southern bias that he's the most capped England player when you look at those who have played do us in the past
---
Add Your Comments
In order to post a comment, you need to be logged in as a registered user of the site.
Or Sign up as a ToffeeWeb Member — it's free, takes just a few minutes and will allow you to post your comments on articles and Talking Points submissions across the site.