Southampton vs Everton

98 Comments [Jump to last]
Saturday 26 November 2016
Premier League Preview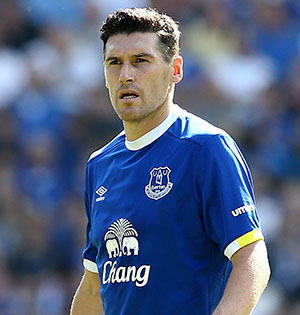 Gareth Barry should return to the starting line-up after serving a one-game ban last weekend
Everton make the trek to the south coast for the later televised game on Sky Sports 1 as they take on Southampton looking to kickstart their season back into life.
The Blues may not have won for seven games in the Premier League but somehow they remain in seventh place, level on points with Manchester United in sixth but five points adrift now of Tottenham who occupy the last guaranteed European qualification slot.
While Everton remain almost in touch with the top five, that disappointing recent sequence means that the cushion below them has diminished, to the point where defeat this weekend and wins for Watford and West Bromwich Albion would see the Blues drop to ninth.
Few Evertonians would argue that that would be representative of where there team is performance and results-wise, either, should things go "south" in the figurative sense when Ronald Koeman visits his old stomping ground at Southampton for the first time since he left St Mary's Stadium for Goodison Park in June.
The Dutchman was realistic in his assessment that both teams need the victory — the Saints to arrest a four-match winless run of their own in the League and potentially move into the top half; Everton to notch a sixth league win of the campaign and, hopefully, close that gap that has opened up above them to fifth spot. If Koeman's men are going to do it, however, they're going to need to show more guile and imagination than they did last weekend against Swansea, particularly if Southampton's extinguishing of Liverpool's goalscoring fire last Saturday is an indication of how well they're likely to defend.
Everton have only scored in five of their last eight in all competitions and only notched more than a single goal in one of those games, that was the 2-0 home won over West Ham. Apart from that, they've been fairly toothless up front and a far cry from the side that comfortably beat Middlesbrough 3-1 in September just days after hammering Sunderland 3-0 at the Stadium of Light.
A repeat of that latter scoreline — coincidentally the margin of the Blues' victory in this fixture last season — would go down a treat with the travelling Evertonians and go a long way to restoring confidence in Koeman's ability to manage his way out of the fallow period that followed his impressive start to life at Goodison Park.
Intriguingly in the context of his ongoing search for the best attacking combination and system, Koeman has his full complement of forward players available to him, as well as his first-choice defensive midfield axis now that both Gareth Barry and Idrissa Gueye have served one-match bans. Only Muhamed Besic and Matthew Pennington are on the injured list ahead of this weekend.
Who will get the nod to start is difficult to predict though. Aaron Lennon was handed a chance to impress last week but offered precious little wide on the right, while Kevin Mirallas was equally disappointing off the bench. Gerard Deulofeu was another player introduced in the second half as Everton chased a 1-0 deficit to Swansea and, while he didn't pull up any trees either, he may have done enough to earn a place in the starting XI this weekend. Either that or it's just his turn…
In defence, meanwhile, there are lingering questions regarding the form of captain Phil Jagielka who gave away his third penalty of the campaign with a clumsy challenge that gifted Gylfi Sigurdsson the opportunity to score the opening goal for the Swans last Saturday. Koeman dropped him following two poor displays against Manchester City and Burnley last month — he cited fatigue as being the reason but no one would be surprised if it was to give the veteran England international a chance to reset — but it remains to be seen if he moves back to the bench again tomorrow, perhaps in Ramiro Funes Mori's favour.
Southampton boss Claude Puel, meanwhile, looks set to be without one of his key attacking assets in Dusan Tadic. The winger has a broken nose and is rated as highly doubtful but the Frenchman expects Jose Font to shake off a foot injury and play.
He will be looking for what would be a fourth home win of the season following an emphatic 4-1 win over Crystal Palace in August, a narrow 1-0 success against Swansea in September and last month's 3-1 triumph over Burnley — three sides who Everton failed to beat, of course.
Such is the doubt creeping into a fanbase increasingly resigned to a long period of rebuilding and readjustment under Koeman that many Evertonians would be content with a victory point from this one. The fact that there is more talent in the Blues' ranks than their record thus far suggests, however, that as long as they're capable of victory, there is hope they can pull one off.
Kick-off: 4:30pm Sunday, 27th September, 2016
Referee: Craig Pawson
Last time: Southampton 0 - 3 Everton
Predicted Line-up: Stekelenburg, Coleman, Williams, Jagielka, Baines, Barry, Gueye, Deulofeu, Barkley, Bolasie, Lukaku
Full details: ToffeeWeb match page
---
Reader Comments (98)
Note: the following content is not moderated or vetted by the site owners at the time of submission. Comments are the responsibility of the poster. Disclaimer
Timothy Sebastian
2
Posted 26/11/2016 at 06:59:12
We have a fully fit squad, presumably all well rested, with Barry coming back from suspension. Southampton, on the other hand, will be tired from their midweek Europa exertions.
However, I've been supporting Everton long enough to know that we don't capitalise on such advantages. So I'll be satisfied with a draw, but hoping for a win.
Nev Renshaw
3
Posted 26/11/2016 at 07:36:45
It's purgatory being an Evertonian. We all have such high hopes and then boom, they let us down again. I just wish the players would put in a 100% effort every week instead of some of the performances they serve up.
Come on boys, make us proud to wear the Everton scarf. COYB.
Mike Allen
4
Posted 26/11/2016 at 09:38:56
Predicted line up is spot on, just rotating same old tried and trusted failures... Why have a squad if you just rotate the same old same old? Do something different! Everything is just predictable.
Gareth Clark
5
Posted 26/11/2016 at 10:08:10
Two points:
1) Jagielka has to be dropped, for either Holgate, or more likely, Funes Mori.
2) Deulofeu has to start! Mirallas has had his chance over a run of games. I don't think Lennon is a first choice starter in Koeman's mind (very useful squad player though).
Deulofeu needs to start, and play at least 60 minutes for the next 4 or 5 games.
I'd like to see Holgate start, but my predicted line-up is:
Stekelenburg;
Coleman, Williams, Funes Mori, Baines;
Idrissa, Barry (c);
Deulofeu, Barkley, Bolasie;
Lukaku.
Subs: Robles, Jagielka, Holgate, McCarthy, Cleverley, Mirallas, Valencia.
(I would love to see Davies in the team ahead of both Cleverley and McCarthy, but his time will come!)
Jon Withey
6
Posted 26/11/2016 at 10:09:06
Typo?
'many Evertonians would be content with a victory from this one.'
Surely, all of them!
I'm not wholly convinced by this 'talent in the Blues ranks' either – are we under a similar delusion to England's 'Golden Generation' ?
Still, there should be enough there to compete with Southampton if we turn up.
Rob Halligan
7
Posted 26/11/2016 at 10:13:17
"The Blues may not have won for seven games in the Premier League but somehow they remain in seventh place, level on points with Manchester United in sixth but five points adrift now of Tottenham who occupy the last guaranteed European qualification slot".
Think you will find that statement incorrect, Lyndon. We haven't won in the Premier League for only 2 games. We beat West Ham then lost to Chelsea and drew with Swansea.
John Davies
8
Posted 26/11/2016 at 10:26:36
Deulofeu is a match winner, Gareth. In my opinion, he hasn't got the stamina to play the wide positions. I would give him a free role behind Lukaku. Two defensive midfielders allow that.
Max Murphy
9
Posted 26/11/2016 at 11:14:01
I would like to see Robles in, and Jagielka put out to pasture.
Karl Jones
10
Posted 26/11/2016 at 11:27:56
At least with the game kicking off later on Sunday, they wont ruin our entire weekend as per usual. We can watch the games on Saturday and early Sunday with at least a smidgeon of hope, looking forward to the game before once again all our hopes are dashed!
Damian Wilde
11
Posted 26/11/2016 at 11:32:51
Gareth, Deulofeu was dreadful last week.
Koeman seriously needs to earn his coin, we're a shambles at the moment.
Martin Nicholls
12
Posted 26/11/2016 at 12:03:50
I'm with Gareth on all points with the possible exception of comments on Lennon.
Damian – agreed, Deulofeu wasn't great last week but he was far better than Lennon and, for that matter, Mirallas. As has been pointed out on other threads, he captains Spain U23s and has a one-in-two goal record over 32 games for them so he can't be that bad!
Ray Roche
13
Posted 26/11/2016 at 12:04:19
Damian, I don't agree about Deulofeu; he lifted the crowd, took his man on, had several shots at goal, and TRIED to find Lukaku with the ball. He showed energy and drive. He deserves at least a slot on the bench followed by 30 mins to run at Southampton.
Tom Bowers
14
Posted 26/11/2016 at 12:12:51
Any victory is welcome but, until Everton can get some semblance of a confident team to be feared again, I personally will worry about every outcome.
Koeman does need more time to be fair and it was never going to happen overnight but some recent performances seem to indicate they are going backwards.
Brian Furey
15
Posted 26/11/2016 at 12:54:56
Can someone tell me what the hell is wrong with Deulofeu that he can only play for such a short period.
Why is he always so unfit? Does he not do the same training as the others or can he just not be bothered?
I was very disappointing to see Lennon not perform last week and you have to worry why so many players are showing such a lack if effort and commitment.
Clive Rogers
16
Posted 26/11/2016 at 13:13:50
I will be hoping for a bit of a shake up with Funes Mori and Davies coming in.
Bringing in Lennon and McCarthy last week was a disaster. McCarthy had no idea how to go forward and got no tackles in, while Lennon didn't even try imo.
Jay Harris
17
Posted 26/11/2016 at 13:31:33
Agree with Brian about lack of motivation and commitment. I would rest Jags and give Funes Mori his chance if only for his enthusiasm and goal threat from corners.
This is a game where we will have to defend as well as attack so I would play Lennon in preference to Deulofeu or Mirallas.
Koeman needs to show his tactical and motivational skills soon and this would be a good game to start. I expect a goalless draw but hope for any sort of win for us.
John Wilson
18
Posted 26/11/2016 at 13:57:26
Koeman needs to fire up Everton from the first half's starting whistle, and not just roar at the players at half-time for playing dismal in the first half.
What good is it putting in a performance in the 2nd half but not in the first. Are the players so unfit that they can only perform for the half the game?
Clive Rogers
19
Posted 26/11/2016 at 14:01:53
Jay (#17),
Lennon won't be playing after last week, he was dreadful.
Richard Lyons
20
Posted 26/11/2016 at 14:07:34
Hmm, "Matthew Pennington on the injured list"... and how is this relevant? I think we've found out that Koeman doesn't do youth.
I'm not optimistic about this game. And I can't see it making much difference who gets picked between Mirallas, Lennon and Deulofeu – none of them are good enough for a team with the ambition its owner allegedly has. At least if we get a draw, it will leave us half way to 40 points, but I think it will be us scraping the draw.
And how demoralising to be reminded that we didn't beat Crystal Palace or Swansea or Burnley.
Now I'll go and take some more anti-depressants.
Damian Wilde
21
Posted 26/11/2016 at 14:33:02
I've always liked Deulofeu. At times he can be fantastic. I have often advocated his skills as I have with Mirallas. But lately Gerry hasn't shown much, same as Mirallas. I'm losing patience with these two and well, most of the team and the manager.
Amit Vithlani
22
Posted 26/11/2016 at 14:43:56
Barry back in place of McCarthy should give us a bit more control in the centre of the park.
Personally, I think the constant line-up rotation has done little to improve the team's form.
It might be better to keep the back 4 unchanged and yes that means retaining Jags. He has to start using his brain a lot more and take up better positions to avoid being exposed for pace.
Koeman has to drill the back 4 into a disciplined unit. We must keep clean sheets given how the attack has misfired in recent weeks.
Jon Cox
23
Posted 26/11/2016 at 15:58:52
Not a lot of expectations with this game, but you never know.
God knows we all deserve a lift.
Time to drop Jags for a while and a few others. Get the kids in for an energy injection.
It can't be much worse than what we have now.
Mike Powell
24
Posted 26/11/2016 at 17:43:52
I think we will get beat – we have been awful this season... I can't see it changing. What's with people saying "Start Deulofeu"? He as been woeful so far this season.

Anyway, here's hoping we start to play as a team.

COYBs!
Nigel Munford
25
Posted 26/11/2016 at 18:13:06
Damian, you can't make a silk purse out of a sow's ear, Koeman may be able to perform some miracles, but the impossible may just take a little longer with the players at his disposal.
John Malone
26
Posted 26/11/2016 at 18:36:10
I'd love to see a change of formation, the 4-2-3-1 just isn't working with the player's we have!
I'd also like to see Deulofeu gave another go up top like at the start of the season but up alongside Rom this time!
I suspect it will be a hard game tomorrow ;having watched Southampton a couple of times this season, they are a decent team and their captain Van Djik is top class. I'd love us to snatch him he is twice the player Stones is!
I predict a Desmond! 2-2!
Alan Bodell
27
Posted 26/11/2016 at 18:39:25
As the Cranberries song goes, 'It's the same old team since 1916' and that sums up what Koeman inherited, they were poor under Martinez and haven't surprised us under Koeman, probably even poorer due to them knowing their numbers are up so it's gonna be next season before we can see a big change as nothing much happens in the January window.
We have waited for so long that another transfer window or two and we may just get something special.
Damian Wilde
28
Posted 26/11/2016 at 19:10:14
Nigel, I hear what you're saying. They're an average group of players, so he can only do so much. But are they that poor that they shouldn't be besting Norwich, Bournemouth, Burnley, Palace, and Swansea? The side bottom of the league last week were in spells BETTER than us.
Koeman should be getting more out of them, even though it isn't the best of squads. He messes with line-ups. He never gives the kids a chance. Where is Holgate? What about Davies? He deserves a chance ahead of poor performers like Barkley.
I'm sorry, yes we have shit players, but the manager is also currently shit. This equals utter shit, which is what we've seen the past few months.
Dave Abrahams
29
Posted 26/11/2016 at 19:28:40
Clive Rogers, how do you rate Lennon?
Lev Vellene
30
Posted 26/11/2016 at 19:32:21
I just need ONE thing, and that is the will to die for our badge. Else they can faint, go to the loo, or whatever, they're still OUT...
No pride left at the end of success-not-happening...
Mark Burton
31
Posted 26/11/2016 at 19:32:49
With still 21 points required to 40, and looking down the table to the teams below us, it's hard to see any guaranteed wins with the squad we have.
Kevin Rowlands
32
Posted 26/11/2016 at 19:34:55
Mike (#24), I agree.
I don't know what posters are watching when they claim Deulofeu should start, the lad is an average show pony. Baines and Coleman must have fits when he starts as he's a complete defensive liability. He belongs in the Spanish B league. No chance he survives Koeman's cull in the next two windows.
BTW a lad we should have signed will be playing tomorrow, Nathan Redmond, smashing little player who is far better than anyone we have in that position.
Patrick Murphy
33
Posted 26/11/2016 at 19:38:30
Mark (31) That's because there are no guaranteed wins for any Premier League team.
Man City just about beat Burnley; Chelsea struggled at times to overcome Spurs... and so it goes on game after game week by week. The odds on Everton winning a game of football in their current form is pretty high, but that doesn't mean they won't celebrate a victory in the coming weeks.
Admittedly a poor performance and defeat tomorrow will have the alarm bells ringing because, if this current group can't raise themselves for their current manager against his former club, then something is deeply wrong. Even so, as supporters, we have to believe that a victory is on its way soon, otherwise we might as well just roll over and forget all about Everton FC.
he Echo, the last time an Everton manager returned to his former employees in the Premier League was Mike Walker and that night didn't end well for the Toffees as they lost 3-0 at Carrow Road. I might do some Christmas shopping between 4pm and 6pm tomorrow evening. Who's next? Man Utd at home!!!
Mark Burton
34
Posted 26/11/2016 at 19:57:36
Patrick (#33),
All I'm saying is that, in the form we are in, there are no clear-cut wins to look forward to. Sure, we will get to 40 or more but attitude and form has to change. Koeman seems to do exactly what Moyes would do and doesn't seem to want to change from the tried and trusted.
Patrick Murphy
35
Posted 26/11/2016 at 20:05:22
I understand what you mean Mark, but short of dismissing Ronald, there's not a lot we can do about it.
Koeman did say after Everton had beaten West Brom at the Hawthorns and drawn with Spurs at home, "I'm very happy with the work-rate of the team and how I like to improve and what we need to do" said the Blues boss.
"They are doing a lot of different things to last season and that's good. In my opinion, fresh air for everybody is good. I believe in that way and that philosophy.
"Of course you need time to get everybody involved in that structure. But it's better a question for the players because they need to change. I don't change."
Perhaps in hindsight that was a mistake by Ronald as it may have created a schism between him and his players; we'll find out in the next few weeks and months I suppose.

James Stewart
36
Posted 26/11/2016 at 20:20:21
4-2-3-1 does nothing for me. We don't have a Number 10 or anything resembling decent wide options so I would go 4-3-3.
Stekelenburg;
Coleman, Williams (c), Funes Mori, Baines;
Davies, Gana, Barry;
Barkley, Lukaku, Bolasie.

Colin Glassar
37
Posted 26/11/2016 at 20:21:06
All I want to see is a bit of fight, pride, desire, and team spirit. If they can show us this then the (positive) results will follow.
Rick Tarleton
38
Posted 26/11/2016 at 20:27:30
I like Deulofeu, watching him from the Lower Bullens , Gwladys Street end, last Saturday, I was impressed with how easy he found it to skip past his man. However, after that he never found a pass to one of our team. Bolasie for me is a hugely disappointing waste of money, so reluctantly I'd play Mirallas, but up the middle supporting Lukaku, and leave Deulofeu as the wide man.
Funes Mori has the advantage of being basically left-sided, and take your pick from Williams or Jagielka for the other defensive place. Robles would get my vote as keeper, Stekelenburg is either brilliant or terrible and I fear he's due one of the latter displays.
We need at least an honourable draw.

Phil Walling
39
Posted 26/11/2016 at 20:38:19
This thread goes a long way to convincing me that the task facing Koeman is immense and, accordingly, we should expect little or no glory from it!
It will be hard to accept such a season without comment – and, indeed, ToffeeWeb would die if criticism of the manager and his charges were to be outlawed – but I guess we can only show forbearance and just add it to the seemingly endless list of years in which the name of Everton will be found amongst 'the also-rans'!
Andy Meighan
40
Posted 26/11/2016 at 20:54:55
I've seen quite a few differing comments about Deulofeu on this thread and while, I'm no lover of him, I do think he's wasted on the wing. Personally – and I mentioned this last week before the game – I'd give him a run in the side just behind Lukaku.
When I've watched footage of him playing centrally, he seems to frighten defences with that raw pace Also, he has got an eye for that killer ball which we've seen on occasions.
So maybe Ronald can think this one through... because, let's face it, we've hardly been convincing of late. We looked static last week against Swansea so I hope we're at it from the first minute tomorrow. Yesterday, I predicted 1-1 or a 2-1 defeat. Tonight, I'm changing my mind 2-1 to us.
Paul Conway
42
Posted 26/11/2016 at 21:00:15
I really can't understand how some Everton supporters are still convinced that Deulofeu and Mirallas Can deliver.
There is a slight autograph mistake in Miracle's name, as that is how the predictive text on my tablet spells the name of Mirallas. I didn't bother changing the error, because Miracles makes me howl with laughter and is exactly what we need.
These players have hoodwinked the fans for far too long now.
They even have names on Everton Jerseys, that fans have bought in good faith. Yet, they haven't delivered over 90 minutes (because they can't last that long!), or even in the role as substitute.
IMHO, I think these jokers should reimburse the fans, who bought their jerseys as a sort of sanction, or be fined for underperforming.
Tomorrow, as sure as eggs are eggs, these dudes are going to substitute each other (intertwined with Barkley). As per usual. Enough, is enough. Cough up, or shape up!
Peter Cummings
43
Posted 26/11/2016 at 21:12:48
This one of those hard to predict games. Unlike some on TW, I don't see Saints being down after their European exit, in fact I think they will try all the harder to show their manager and fans they can still come good when it matters, plus they will want to embarrass their former boss,
I have always commented on our habit of not being able to put in a full 90-minute effort instead of two different 45s. When they finally did v Chelsea it was a full ninety of absolute shambolicism.
As unlikely as it seems, I think we will get a result at St Mary's, ether positive or negative; our fantastic away support deserves a whole lot better.
Patrick Murphy
44
Posted 26/11/2016 at 21:19:02
Peter (#43),
The Saints have their Europa League fate in their own hands as a goalless draw or a victory in their final fixture, will see them progress – so not out of Europe just yet.
Dick Fearon
45
Posted 26/11/2016 at 21:19:36
All I hope for is that, at the game's end, every player used his last drop of energy and commitment. No excuses and no midweek promises to do better next time.
For the money they receive, that's not much to expect, eh?

Phil Rouse
46
Posted 26/11/2016 at 21:24:47
We need to drop Jagielka immediately. He is now a liability and, in my opinion, a terrible leader.
What could Holgate have done so wrong? Maybe ran over Ronny's cat? I thought he was fantastic.
Andy Crooks
48
Posted 26/11/2016 at 21:42:00
This fixture, a couple of years ago, witnessed what was, in my view, the worst performance by an Everton coach that I have ever seen.
Tomorrow Koeman will return to a club where he is despised. I expect someting special from him. I expect our players to perform as though defeat means relegation. I expect them to be up for this more than any game this season. I expect a victory. I expect a bold ferocious show.
Tony Twist
49
Posted 26/11/2016 at 21:42:48
I think Koeman needs to wake up, he hasn't got a huge task to turn things around; he needs to add some youth to show up these lazy-arse first-teamers with their enthusiasm and energy. Holgate and Davies should be playing.
Geoff Evans
50
Posted 26/11/2016 at 22:16:58
On recent form I don't fancy our chances anywhere. Our best hope is that they haven't recovered from mid-week. They'll be happy they haven't got a bigger test to face.
Austin's effort, Redmond's speed and them wanting to put one over on Koeman could decide it.
Hoping for the best: 1-1; fearing the worst: 0-2.
Laurie Hartley
51
Posted 26/11/2016 at 22:18:56
Tony (#49),
One thing is for sure:– if he gave Holgate and Davies a start, they would play for him.
Zahir Jaffer
52
Posted 26/11/2016 at 22:38:54
The squad needs to walk on to the pitch with enthusiasm like this...
https://mobile.twitter.com/SportsVlness/status/802496917544452101/video/1
We need to find that passion hunger and confidence again
Steve Cotton
53
Posted 26/11/2016 at 22:49:34
Just watching Sigurdsson... everything in a player we haven't got. Great free-kicks, great corners, great shots, ran the edge of the box...
Joe O'Brien
54
Posted 26/11/2016 at 23:17:26
I don't think he'll play either Holgate or Davies tomorrow. Last Saturday was the match to play them and he didn't put either in.
I think Davies more so than Holgate. He played McCarthy instead of Davies when McCarthy was just coming back from injury.
No way will he play them tomorrow... I hope I'm wrong but I doubt it.
Adam Gilfillan
55
Posted 26/11/2016 at 23:40:05
Zahir (#52). Great post. I wish our manager had half the enthusiasm for his team as Conte does at Chelsea. Koeman (as well as the rest of team) don't even look like they are arsed.
Tony Farrell
56
Posted 26/11/2016 at 23:42:56
What really pisses me off is the majority of blues on ToffeeWeb are saying "Give him more time, he inherited a shit squad..." – both being true, of course. I fully go along with these sentiments but what I don't and can't forgive is the sides he sends out are not committed.
Yes, they aren't the best of talented Premier League players we would like to see at our beloved club but none of them are showing any pride in the shirt. The manager should drill into his players that they might be at Everton for a few seasons but we the supporters are here for life.
Pride is a big part of an Evertonian's life. When you get beat, as long as you've given everything – and I mean everything – then that is acceptable. When you don't, like the present squad are doing, it is totally unacceptable.
Okay, we're not blessed with the greatest crop of players but there's no excuse for not giving your all for the shirt... and that rests totally with Big Ron.
I would love to see him give the kids a run-out. Their enthusiasum and pride just might rub off on the seniors. We need freshening up. I would like to see a happier Goodison at the moment, it's like a chore watching the blues... Is there an Andy Gray and a Peter Reid out there?
Don Alexander
57
Posted 26/11/2016 at 23:57:47
Having just watched today's pub football defending at Swansea on MotD, I just wonder why our players can't be forced to watch it tomorrow before their wonder-brunch in their wonder-hotel.
I'd hope they'd feel as shite as those who paid to watch their shite last week and, if they have one ounce of integrity, come out tomorrow determined to put themselves on the line from the kick-off, no excuses, no cowardice, and no agenda other than to win three points for the fans and the club and themselves, in that order.

Max Murphy
58
Posted 27/11/2016 at 00:28:51
There's only one way we can win at Southampton. Go to Mass tomorrow morning and pray for a miracle, and hope your prayers will be answered.
Joe O'Brien
59
Posted 27/11/2016 at 01:16:18
I think maybe Max we've got a better chance than that. Start quick and put on a hard fought 90 mins and we'll beat them... 1-1 for me, then we nick it 2-1 late on in the game.
Phil Rouse
60
Posted 26/11/2016 at 02:54:48
I reckon we'll get done 2-1.
Brian Porter
61
Posted 27/11/2016 at 06:22:59
I totally agree with those calling for Jagielka to be dropped. His form is diabolical – it's as if, all of a sudden, his legs and his pace have gone. In short, he's becoming a defensive liability.
I totally disagree with the Echo's journos who are saying he should be allowed to play himself back into form. How many more penalties or defeats before they get real?
Funes Mori, a now regular Argentine international, deserves a chance to build an alternative centre-back partnership with Williams, who also lacks a bit of pace. We can't afford two ageing centre backs in the team at the same time.
Funes Mori can offer a natural left-sided balance and a goal threat too. I remember last season when people were chanting his name. Now many of them have turned against him despite his relative lack of game time this season.
I think he'd give us more stability than Jagielka at present and just needs a run of games to forge the partnership I mentioned earlier. It's worth mentioning that he was part of the defence that saw us through our unbeaten start to the season only to be dropped when Jagielka returned from injury, and look where that's got us!
Paul Setter
62
Posted 27/11/2016 at 08:27:06
Not entirely convinced by Koeman he says odd stuff and is set in his ways like the clown before him. After a promising start , I really don't see that many points over the next 7 games sadly and we will finish about 9th, with the exception of 1 or 2 individuals and one of those will be gone in the summer. We are the north west equivalent of West Brom.
Now Koeman may turn it round and we do regularly have better players either on the bench or youngsters in the background than what starts but his keenness to play the same 11, same clueless tactics and one good or okay half for each 90mins every game this season tells me he probably won't.Not confident at all about today's game.
Bob Parrington
63
Posted 27/11/2016 at 08:27:09
1 - 3 Everton win. Goal scorers Lukaku, Bolasie and Deulofeu. Fonte for Southampton.
Time to stop whinging and support the team and management. Full stop. I done with the crap!
Geoff Evans
64
Posted 27/11/2016 at 08:29:56
Pride and passion are the two words that keep appearing on here. Most things can be forgiven if the players can show this.
Just seen Klopp winding the shite supporters up. I thought the Germans didn't have passion, for fuck's sake.

Paul Kelly
65
Posted 27/11/2016 at 08:39:32
Tony @56.
I echo your sentiments, Premier League footballers are some of the fittest athletes we've got the mispleasure of watching at the moment, for them not to run, harry, chase people down and then generally look like they don't give a fuck either, is imho, unforgivable.
But where the route of the problem lies is anyone's guess, but to coin a phrase (I just made up), first rule of management – everything is down to you, Ronny.
I think he can turn it around, but with different players, don't know if that's a luxury we can afford. But, at this moment in time, with one win in eight, it's shit being a Blue.
Peter Barry
66
Posted 27/11/2016 at 08:46:15
Southampton and their supporters will be really up for this game; if we play the way we have been doing for the last few games, we will get slaughtered.
Dave Abrahams
67
Posted 27/11/2016 at 09:05:10
Tony (#56)
I'm a bit wary of playing too many youngsters at the same time; however, I have to agree with you – the team needs shaking up out of the lethargic state it is in, therefore I would take a chance on Kenny at right back and Davies in midfield, maybe Holgate could come in although I would play Funes Mori. Where some of the present players need a kick up the backside to get them going, and even that doesn't work in some cases, these young lads would be fighting to get on the pitch and have a go.
While I'm in this mood, I would also put Liam Walsh on the bench ready to come on for one of the under-achievers, this lad would have to be told to keep his exuberance under control, he would show a lot of the players up and in no way would he let the team down.
It will not happen, of course, unless Mr. Koeman has been on the road to Damascus this week, but something has to be done; the players are plainly not doing what the manager wants them to do.
Dave Abrahams
68
Posted 27/11/2016 at 09:10:57
Forgot to mention with Jonjoe Kenny at right back – I'd have Coleman outside right.
Geoff Evans
69
Posted 27/11/2016 at 09:23:20
We keep talking about under-achievers in the team. I don't think we have any. I believe most of them are playing to their full potential, unfortunately that's woefully short of even adequate.
The problem is they're on long and lucrative contracts and there lies the problem. They need to be got rid of before we can bring people in... any suggestions?
Peter Murray
70
Posted 27/11/2016 at 09:31:02
"...there is more talent in the Blues' ranks than their record thus far suggests."
Absolutely, Lyndon.
We do not have a team of poor players playing at their level. We have a team of able players underperforming.
Why???

Sandra Bowen
71
Posted 27/11/2016 at 09:33:03
McCarthy instead of Barkley, get him and Gana pressing high and getting the ball to Lukaku as often as possible. They both like to play simple passes so let them win it and give it simple to Bolasie, Lukaku and probably Deulofeu rather than the stagnation that Barkley is currently offering.
I think that their energy could be the infectious catalyst we need. Worth a go anyway.
Stan Schofield
72
Posted 27/11/2016 at 09:40:08
Geoff @64 and 69:
A year ago, the German was showing plenty of passion, mainly doing his nut with some dire performances and failure of players to follow his pressing style (Coutinho in particular, who was crap and couldn't last more than an hour). How times change though...
So let's see if our players (and they do have plenty if ability, in my opinion, at least as much as our neighbours) can adapt similarly to the pressing game.
Andrew Clare
73
Posted 27/11/2016 at 10:08:47
My heart hopes we win but my head says no. So far, there are no signs that indicate anything other than a defeat.
I am certain that things will change but it will take time. It's amazing how a group of players can appear to be so inept and then slowly things start to fall in place and they look formidable.
It just takes time for the manager's philosophy to work. It may be that the catalyst for change will be two key players in the transfer window. Koeman must now have a good idea of what's required.
We just have to be patient.
Eddie Dunn
74
Posted 27/11/2016 at 10:09:09
Jags should drop down to the bench. It isn't that he has suddenly lost his pace, it's his decision-making that has cost us the penalties.
Phil Walling
75
Posted 27/11/2016 at 10:17:49
Just taken a generous 13/2 about Everton winning with both teams to score. Here's to Saints 1 Everton 2. Toffee Apples all round if it come in!
Clive Rogers
76
Posted 27/11/2016 at 10:32:45
Dave (#29),
I think you've worked it out. I was fuming last Saturday, he wasn't trying. He's got a three-year contract that will see him out and doesn't care now.
Paul Kennedy
77
Posted 27/11/2016 at 10:51:05
Let's be realistic here: we are a mediocre team with a fan base full of expectation and desire to achieve success. That being the case, it is no surprise that we will not achieve anything in the short term because, quite simply, we have got a club full of players, bar a few exceptions, who are not good enough!
Goalkeeper — two so-so journey men; full backs — good; centre halves — poor; midfield —ponderous, old, negative, lacking ability, speed etc; forwards —abysmal; wingers — flatter to deceive; main striker — can't control a ball. We are a poor club side.
We don't give our youth a chance (I think as fans we are as much to blame — we want them to perform without error). Why do we take players who cannot even get into teams of a lesser level? Then we are linked with players well past their best because the clubs challenging no longer require them?
Not holding my breath today would love a win but am resigned to keeping the defeat low.
Daniel Joseph
78
Posted 27/11/2016 at 11:29:28
I had the Swansea - Palace game down for a 0-0 on my Super6 yesterday.
I'll go 0-0 on this too. You can thank me later. :-)
John Davies
79
Posted 27/11/2016 at 11:38:57
Got to be positive.
This negativity doesn't work for me.
Go out and give it out best shot.
I agree with Bob Parrington's post.
Max Murphy
80
Posted 27/11/2016 at 11:39:20
Nice one, Phil (#35).
Paddy Power only offering 6/1. Have gone for Everton winning 1-0 HT, and 2-1 full time. 35/1.
Everton mints for all – if it comes in!
Kim Vivian
81
Posted 27/11/2016 at 11:42:41
Very hard call, this one.
Absolutely no reason we shouldn't take 3 from this but likewise previous games. Potentially another bit of a "should 'ave...", "could 'ave...", "would 'ave...'' type match.
Hopefully it will be a "did it...!"
2-1 Everton my predictor this week.
Eric Paul
82
Posted 27/11/2016 at 12:03:51
Dave @67,
What does the manager actually want the players to do? Most of them are internationals so should be able to do the basics without being told – like closing space down when the opposition have the ball. We gave Swansea so much space and time, we made them look like Barcelona at times.
Does Lukaku give a fuck if we win lose or draw? He should take a look at the way Costa plays.
Paul Kelly
83
Posted 27/11/2016 at 12:10:21
As for giving the youngsters a go, if you're good enough, you're old enough, and seeing young Tom Davies's cameos, we've seen he had more movement (off the ball) than the rest of our players put together! That's how I remember it anyway.
Mark Gardiner
85
Posted 27/11/2016 at 12:22:22
To be honest, and this frightens me to say, but apart from Lukaku I wouldn't keep any of our so called attacking five: Deulofeu, Bolasie, Mirallas, Barkley and Lennon.
Those five get rotated in and out but we never see any change just the same old inept showings gong forward. They can all go as far as I'm concerned. It's scary to say that because those are all supposed to be our most creative players but I don't think that any of them make the grade.
I believe that the manager has a much bigger re-building job on his hands than any of us originally thought although the kind of players that we are being linked with doesn't give me a great deal of hope either.
I hope that I'm wrong I really really do.
Kunal Desai
86
Posted 27/11/2016 at 12:31:33
I feel like the players... can't be asked with this.
Colin Glassar
87
Posted 27/11/2016 at 12:33:24
Heart says win, head says draw. So that, probably, means we lose.
Mark, I still think Koeman is unsure about which is his best starting XI but I still hold out hope for Gerri and Ross. But he needs to give both of them a defined role in the team.
As for Bolasie, Lennon and Mirallas, they just aren't good enough to start. We paid way over the odds for Bolasie so I'm just glad we didn't blow another 㿊m on that prick, Sissoko...
Mark Gardiner
88
Posted 27/11/2016 at 12:59:23
Colin #87
I wonder if Geri and Ross will ever improve beyond what they are now to be honest. Both, more so Ross, have been in the first team for several seasons now but I honestly think that neither have improved since they began their respective Everton careers. Indeed, I think that Ross has actually gone backwards in his development.
I wonder how many more seasons we can keep watching them contribute little and continue to say that they need time, a regular place a defined role etc. I hope that you are right and I am wrong but I feel that that might not be the case.
Tom Bowers
89
Posted 27/11/2016 at 13:10:38
It's all about underachieving with some of the players and they have to stand up and be counted right now. Otherwise, Koeman has to start the young players who have the desire and determination to make the step up.
Dropping points is one thing but, in the manner they have been doing, is totally unacceptable.
Scott Hall
90
Posted 27/11/2016 at 13:25:01
If any of the players should read this before today's game (and I know it's unlikely) but it's very simple guys...
We don't demand a win, or even a draw. We just ask that you run, fight and give a shit. Run until your legs can't carry you anymore, fight for every ball and give nothing away cheaply, and give a shit about the fans, your manager, and your own performance. We ask for no more than that.
Mike Powell
91
Posted 27/11/2016 at 13:44:40
Just show some pride in the Blue shirt – that's not much to ask. Put a tackle in, don't let them just run right through you... get some decent crosses in.
Not asking for them to play like Barca – just show some pride COYBS
Paul Tran
92
Posted 27/11/2016 at 14:34:52
Got to disagree with you there, Colin. Bolasie creates chances and has the physical strength the others lack. I'd have loved us to have got Sissoko. Just the box-to-box player we need. He'd have more than done for us.
You've got to be really special to play every game for Spurs, they're stockpiling players for when they all get knackered at the end of the season (which will be Liverpool's shortcoming, by the way).
Martinez bought too many players who would be good if there were better players around them. Koeman is stuck with this and some of ageing players who look past their best.
The rebuild will be a long-term job. He still should be doing better with what he has now.
Alan Bodell
93
Posted 27/11/2016 at 15:15:20
Paul, you say we need a box-to-box player and yes we have got one: the name is Tom Davies but, even in this poor period, he doesn't get a game, fucking disgrace.
Dave Abrahams
94
Posted 27/11/2016 at 15:16:30
Clive (76) just gently winding you up, you've said the same thing five or six times about Lennon and it is still only an opinion you have.
Lennon's game last week was the first time he had started a league game this season, didn't have a good game, but ran out of steam, maybe because he hadn't played a full game for months But you are entitled to your opinion.
Paul Tran
95
Posted 27/11/2016 at 15:21:18
Alan, I haven't seen enough if Tom Davies to have a strong view. I'd certainly support the idea of giving him five straight games to prove himself.
Darren Hind
96
Posted 27/11/2016 at 15:37:45
Come home to watch this – Alehouse full of RAWS.
I was out early so I'm feeling no pain at the moment. In fact I'm even buying into the gospel according to Tully and Lloyd. I've decided to give Koeman more time. Hopefully that's not the ale talking...
Plenty in the fridge and after listening to Shite of the red variety for the past few hours I'm gonna need it.
After a week of indifference, I'm now well and truly up for this.
I'm on Bainsey to notch!
Alan Kevin Russell
97
Posted 27/11/2016 at 15:38:15
Why is Jags playing? He can't run any more. Koeman is testing my patience...
Ray Roche
98
Posted 27/11/2016 at 15:40:50
Only change is Barry for McCarthy. Davies not in squad. Disgrace.
Jon Cox
99
Posted 27/11/2016 at 15:42:10
Scott,
You forgot to tell them that they are allowed to shoot as well.
Gerard Carey
100
Posted 27/11/2016 at 15:47:32
Please, whatever eleven starts, just play like you care about Everton. Show the passion that your high wages demand. Fight for every ball, and you will see a reaction from the fans that will lift you.
Play as a team, support one another. Win lose or draw, if the effort is put in the fans will be right with you.
Paul Tran
101
Posted 27/11/2016 at 15:52:05
Darren, asking for patience after 12 games doesn't equate to unequivocal support for Koeman.
I'm uninspired so far, but we're 7th without playing well. What will happen when we do? What will happen when he strengthens the team? That's what I'm hanging on to for now.
In the meantime, for today my heart says a win, my money has said a draw. Hope I'm wrong in the right way.
Anto Byrne
102
Posted 27/11/2016 at 16:33:51
Thank your lucky stars we have a manager not a gutless ginger grey haired twat that thinks parking a double decker bus at Anfield is acceptable.
We have had glimpse of what's to come from Koeman so let's show a bit of restraint – not like we have won anything in 20 years now, is it?
Add Your Comments
In order to post a comment, you need to be logged in as a registered user of the site.
Or Sign up as a ToffeeWeb Member — it's free, takes just a few minutes and will allow you to post your comments on articles and Talking Points submissions across the site.