Report: Australia angling for Everton's Jones

25 Comments [Jump to last]
Wednesday 30 November 2016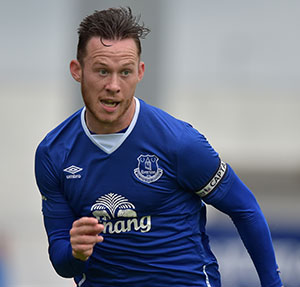 Australia apparently want Everton U23s defender Gethin Jones to represent them at senior international level.
The Liverpool Echo claim that the 21-year-old has been offered the chance to play for the Socceroos despite having represented Wales at U17, U19 and U21 levels.
Jones, an established member of David Unsworth's team at Finch Farm and often the captain of the Blues' second string, was born in Perth in Western Australia but is regarded by Wales as a player for the future, one they would be loathe to lose.
---
Reader Comments (25)
Note: the following content is not moderated or vetted by the site owners at the time of submission. Comments are the responsibility of the poster. Disclaimer
Liam Reilly
1
Posted 30/11/2016 at 18:14:00
Is this the best we've ever had with youth coming through, yet they can't get a look-in with the malfunctioning senior side?
My fear is that the club spends aggressively in the January and Summer transfer windows and these boys never get a chance.
Joe O'Brien
2
Posted 30/11/2016 at 18:47:58
That's my thinking also, Liam. Koeman doesn't seem to put faith in the youths. The likes of Davies, Walsh, Williams and JonJoe Kenny could be in for a frustrating time.
They look like they could all hold their own in the 1st team now never mind the bench, where none of them have appeared of late, no matter how bad the 1st team are playing.
Gerard Carey
3
Posted 30/11/2016 at 18:57:18
What's the point of having a youth system if they will never get a run in the first team?
What's wrong with blooding one or two in each game, even off the bench. They could not be any worse than some of the present first-teamers.
Dave Abrahams
4
Posted 30/11/2016 at 19:33:36
I said a couple of months ago that, with seven players allowed on the subs bench, where was the harm in putting at least one of them on the bench each week, just to get a feel of being around the first team.
I also said that if the team was 3-0 ahead with 20 minutes to go one of the players could use the 20 minutes; what fanciful thinking that turned out to be.
Nevertheless some of these young lads should be fully introduced into the first team squad sooner rather than later.
Colin Glassar
5
Posted 30/11/2016 at 19:58:52
Go for it lad, at least you'll get some sunshine on your back.
Kieran Kinsella
6
Posted 30/11/2016 at 20:15:22
I don't understand why we hold onto so many 18-23 year olds. Most never even get mentioned in the first team equation.
Do we run a back-to-work scheme in the evenings to teach them other trades for when their contracts finally expire?
As badly as our first team have played for the past three years – under both managers – if any of these jokers were good, they'd have had a look-in.
People say "they're not given a chance" but we heard how wonderful McAleny and Garbutt were for years... now they're 23-year-old wasters on lower league benches, just like Lundstram and Kissock before them.
Sam Hoare
7
Posted 30/11/2016 at 20:25:03
Because some of them might be more Dier and Mustafi than Kissock and Lundstram, Kieran.
The club wants to make sure it doesn't miss out on late developers. It's not like their wages make a dent compared to first teamers so why not give them some more time if they look like they might have something?
Ian McDowell
8
Posted 30/11/2016 at 20:40:00
Sam, England recently selected Antonio of West Ham over Barkley and Wilshere for England. That should tell you everything that's wrong with English football.
I don't rate the coaches, we don't have the facilities at grass roosts level of top European nations. and we appoint managers such as Hodgson, Fat Sam and now this failure in Southgate.
Damian Wilde
9
Posted 30/11/2016 at 21:06:58
Kieran, you mean like when we let go Jags & Baines?
Let's be honest – the youth could not do any worse than the current wasters, could they? Problem is, we have a crap manager who won't play them.
I'd be happy if Koeman left.
Gavin Johnson
10
Posted 30/11/2016 at 21:38:03
We're not going to know until some of these lads play. Up to now. Davies, Holgate and Galloway look like the ones who are 1st team ready. The three of them should be in the 1st team now ahead of Barry, Jags and Barry going off Sunday's showing. I really hope Galloway gets game time on his return.
That all said, I can understand caution on one level because there was a bit of a campaign on TW to get Garbutt in the 1st team, but the lad was over hyped and has found his level struggling in the Championship. The lad looks like he can hit a dead ball and pick a pass on the little I've seen. But he's weak defensively.
Maybe I'm unfair cos I think he's had a few niggling injuries that have scuppered his chances of a sustained run at Fulham, and now Wigan.
Tbh, I'm not that concerned that Galloway has been snubbed by Tony Pullis. He's a very conservative manager. My worry would be that Koeman is always going to be safety first and keep the 30-somethings in the side.
I'm not sure the other prospects like Dowell, Walsh and Kenny are ready for 1st team starts like the aforementioned prospects, but they should be getting the odd run out from the bench.
Kieran Kinsella
11
Posted 01/12/2016 at 02:56:03
Damian
We didn't let Baines "go" he had a trial as a tween and was passed up. Jags had been and gone by aged 15. Hardly comparable with a 23-year-old.
Sam Hoare,
Dier was never an Everton player he was bizarrely loaned to the academy as a Sporting Lisbon player even though it was said at the time there was not an option for a permanent deal.
Mustafi left as he couldn't displace the first choice pairing at the time. No one ever said he wasn't a good player.
There are plenty of clubs looking for good loanees and players and I don't see any sign that our U23 lot are in demand.
Ian Jones
12
Posted 01/12/2016 at 12:56:26
I looked up to see where Conor McAleny is now, and at 24 years of age, is now, according to his Twitter:
'Excited to be the franchise owner of @HelloGoodnessUK #RoseLane come down for healthy food, juices & smoothies'
Doesn't look as if he is currently playing at any level for Everton... although still down as being in the U23 squad on the Everton website.
Minik Hansen
13
Posted 01/12/2016 at 13:23:50
If we let go of about three-quarters of our players in January, add two quality players in, and it will leave a room for our youngsters.
Patrick Murphy
14
Posted 01/12/2016 at 13:25:26
I don't know what constitutes 'being on Everton's books' but the official site says this about Leighton:
"Having been on Everton's books as a teenager, Baines eventually joined Wigan's youth set-up and made his senior debut at the age of 17."
Phil Walling
15
Posted 01/12/2016 at 14:32:38
I somehow suspect that Koeman is not overly impressed with the present U23 'graduates'. Ossy does his best to talk them up but it's in his best interests to do so!
I never get to watch the kids but the likes of Davies, Holgate, Dowell, Garbutt and Galloway seemed to look useful on their appearances on public view via pre-season or rare Premier League outings.
Jones I've never heard of but, were I he, I think I'd opt for Aussie over Brentford!
Mike Gaynes
16
Posted 01/12/2016 at 15:33:06
Ian (#8), not sure about your point, but I'd say choosing Antonio over Wilshere and Barkley is an obvious and overdue choice for England. He's by far the superior player to either of those two.
Ian (#12), I'm curious about McAleny too. He looked the real deal in the glimpses we got after he came back from the broken leg, but you're right, he's not appearing at all now.
Kieran Kinsella
17
Posted 01/12/2016 at 16:59:11
Patrick
I read an actual interview with Baines in which he said he supported Everton as a kid, had a trial but wasn't picked. He then had a trial with Liverpool who liked him and seemed set on a deal. He was "devastated" they decided not to sign him up. He thought that was it for him but at 14 he was signed up by Wigan. I suspect the Only Everton site writers are just inept or muddying the waters.
Michael Kenrick
18
Posted 01/12/2016 at 17:00:04
Patrick (#14), last time I tried to research Leighton's early years, the topic of concern was "Is he a boyhood Red?"
I think he had trials for both Everton and Liverpool as a young teenager, but could not confirm that he ever joined the Everton Academy (ie, was "on Everton's books").
Anything you can find (perhaps at the Blue Correspondent?) could help us fill out his ToffeeWeb Profile. Thanks!

Ray Roche
19
Posted 01/12/2016 at 17:06:26
Michael, there's a good article on Baines in the Mail Online in which it refers to Everton as his "boyhood club". Worth reading. Decent bloke.
Shane Corcoran
20
Posted 01/12/2016 at 17:14:17
No idea on Baines's early playing days but, unless my mind has gone altogether, I'm pretty sure I remember an interview on BBC where he said he spent a lot of Saturdays hanging around Goodison trying to get in or trying to see the game from outside the ground.
Patrick Murphy
21
Posted 01/12/2016 at 17:43:07
Liverpool Echo, August 8 2007:
The Blues' new signing turned up to watch the warm-up match with the Germans, while still on Wigan Athletic's wage bill, alongside England Under-21 pal James Vaughan.
"I watched Everton's recent friendly with Werder Bremen with Vaughany" he admitted "hopefully there will be a lot more European games like that this season.
"Europe is always something you are looking for as a player, and something I am happy about because you need that European experience to help you progress on to the next level.
"Everton had a good season last time out, the lads did really well so hopefully we can build on that, get into Europe again and have a decent European campaign."
Baines, from Kirkby, was a childhood Evertonian and added: "I am very happy now it is all done and I am looking forward to getting on with it all here.
"People knew this was the place I wanted to come and I am glad now that it is all done.
"I am a local lad and all my family support Everton so it's good to be here at last."
Baines has now returned to a club who rejected him when he was just 12 and is the second player Everton have signed this summer who was shown the door as a youngster, following Phil Jagielka on a return ticket to Goodison.
Gavin Johnson
22
Posted 01/12/2016 at 18:22:57
I always thought Baines supported the RS as a kid, not that it really matters. I knew that he was an Everton youth player and he was released. So were Jags and Joey Barton.
Jimmy Salt
23
Posted 01/12/2016 at 23:25:45
Come on people you know the tune.
All we are saying,
Is give youth a chance.
[Repeat and fade.]
Adam Fenlon
24
Posted 02/12/2016 at 04:14:42
The story sounds a bit off? I know Australia aren't a top football nation, but they surely don't want to pick in the senior squad, a bloke who effectively hasn't played senior football anywhere? 6 games on loan to Plymouth only.
Best of luck to the lad though of course - as a Socceroo or otherwise.
Mark Stone
25
Posted 05/12/2016 at 20:40:54
Ian (#12),
McAleny is playing for Wigan Athletic on loan.
Add Your Comments
In order to post a comment, you need to be logged in as a registered user of the site.
Or Sign up as a ToffeeWeb Member — it's free, takes just a few minutes and will allow you to post your comments on articles and Talking Points submissions across the site.