Koeman happy with deserved point

29 Comments [Jump to last]
Monday 5 December 2016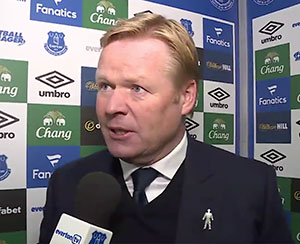 Ronald Koeman was pleased with the character his side showed in coming back from Maarten Stekelenburg's first-half howler to claw back a point against Manchester United yesterday.
Everton trailed at the break again after the Dutch goalkeeper charged into no-man's land outside his area to confront Zlatan Ibrahimovic but was lobbed by the veteran striker whose shot bounced onto the line off the crossbar and eventually spun over the goal line to give the visitors a 1-0 lead.
A spirited and increasingly effective second-half fightback — one aided in particular by substitutes Enner Valencia and Mason Holgate — finally paid dividends when Marouane Fellaini tripped Idrissa Gueye in the United box and Leighton Baines confidently dispatched the penalty with a minute of regulation time left on the clock.
"It was a good team performance," he told evertontv's Darren Griffiths after the match. "Very difficult. I think from the start of the game the team was well organised and made it difficult. [Manchester United] did not create any big chances.
"And, of course, a big mistake cost the 1-0 but I think in the second half we showed a lot of belief, a lot fight in the team to get a better result [which we did] finally by the penalty. We got one point that we deserved today.
"[The intensity] was very good. You see in some moments in the game maybe a lack of a little bit of confidence on the ball and then it's always difficult.
"At 1-0 down, they were defending well and we were defending well. Maybe they had one big chance to score the second goal but we pushed to the last second and we got what we deserved.
"It was really important [not to lose the game]. Of course you can have positive comments about the game about the fight, the atmosphere… I think the fans stayed behind the team until the last second and the team deserved at least one point for their hard work and some good football in the second half."
Koeman was asked about the performances of Valencia and Holgate who used the opportunities of their second-half introductions to press his claims for more regular action up front alongside Romelu Lukaku.
The Ecuadorian's presence after coming on in place of Yannick Bolasie added an extra dimension to the Blues' attack as they searched for the equaliser, while Holgate was very lively down the right flank deputising for Seamus Coleman who was withdrawn through injury following an incident with Ibrahimovic.
"Yeah, [Enner] was good, he was strong, he made it difficult. Really he was that support for Romelu that we needed after going 1-0 down. He had a big impact in the game and that's what you like from substitutes — that they will have that impact.
"Mason was very good; straight in the game and defending well and that was very good because it's always difficult for young players and he didn't really get [a full warm-up] to get in but he did fantastic."
---
Reader Comments (29)
Note: the following content is not moderated or vetted by the site owners at the time of submission. Comments are the responsibility of the poster. Disclaimer
Mark Morrissey
1
Posted 05/12/2016 at 17:34:11
Pleased for Holgate. When you watch him play, he gives you a ring of confidence.
Don Alexander
2
Posted 05/12/2016 at 17:39:45
Standard presser, and that's no criticism of him. Several look likely to be on their way soon or by next season at the latest and I for one am onside with him blooding the likes of Holgate, Davies and others at a time he sees fit, in a team being led to better habits, effort, play and results by senior players in an improving squad. Roll on January!
Alan Bodell
3
Posted 05/12/2016 at 17:42:05
Ha, that is clever, Mark... but the young forum members may not get it.
Colin Glassar
4
Posted 05/12/2016 at 17:53:56
Holgate yesterday and Davies against Chelsea are like shining lights amidst all the gloom.
Ian Brandes
8
Posted 05/12/2016 at 19:44:45
I am glad that Tweedledum , or is he Tweedledee, is happy because I am not.
There was a spell in this match where our team all looked frightened, scared stiff, of the ball. So awful for a club with such an illustrious history.
As for deserved, we were rank. And, if you look at replays of the penalty, we were very fortunate.
I think I am with Michael Kenrick on another thread. I loved the fact that we picked up the point. But you would have to wearing rose tinted glasses to say we deservedi it!
This manager will soon be another footnote in our history. NOT the right fit for the club we love.
Paul Conway
9
Posted 05/12/2016 at 19:58:55
Deserved or undeserved, let's not get carried away by our late rally. Although it was spirited, some people are looking at this as a possible beginning of a turnaround. How many times have we been thrown that one?
For me, a far more worrying trend is... Everton, Hull City, Crystal Palace, West Ham and Swansea have all conceded 5 goals or more in a game this Season and they are all showing signs of regression.
Mike Gaynes
10
Posted 05/12/2016 at 20:16:00
Disagree with you down the line, Ian. I never once saw anybody looking frightened. On the contrary, I saw a spirit and intensity I had yet to see this season, even when the results were good. We weren't very good technically, but the fire was definitely there. And on that basis alone, I think we earned the point.
As for the penalty being "fortunate"... not hardly, it was an obvious call on solid contact. But yes, we're fortunate that Fellaini was there with a particularly well-timed brain fart, since Gana was clearly not going to finish the chance.
Mike Gaynes
11
Posted 05/12/2016 at 20:17:30
And, oh yes, the Tweedledum comment is unnecessarily snotty.
Geoff Williams
12
Posted 05/12/2016 at 20:23:34
I wish Bolasie a speedy recovery but he really isn't a £30 million pound player and I don't think his absence will make much difference to the team.
As for yesterday's game having watched the match at Goodison and again in full this morning, I can't believe how poor the passing was. There is a huge difference in playing a long ball game and hoofing it up the field as we did. The team did work hard and kept a pretty decent shape but there was a lack of class on show.
I won't comment on the goalkeeper but I thought both centre backs were suspect. Cleverley ran his socks off but his overall performance was poor. Bolasie just doesn't seem to be in control of his feet. Deulofeu isn't going to make it and I can't see any point in persevering with him. On the other hand I thought Valencia did ok and deserves a start. Holgate shows promise and should be getting game time on a regular basis from here on.
I don't think the squad is as bad as people are making out but I agree that the performances to date have been very disappointing. I wouldn't go for major changes in January but a top goalie, a domineering centre-half and a striker would be a good start.
Ian Brandes
13
Posted 05/12/2016 at 20:26:49
Mike,
We must have been watching a different match, apart from maybe the last quarter when we did look more up for it.
As for the snotty bit, I will give you that. But I am feeling that way, especially when you look at the fighting spirit of AFC Bournemouth, compared to Everton under Mr Koeman.
Michael Lynch
14
Posted 05/12/2016 at 20:30:36
To be fair to Bolassie, if it's a choice between him and Geri, I think the lad will be missed. He might not be a £30m player but he's linked up well with Lukaku at times, which is more than any of our other forwards have this season.
Tony Hill
15
Posted 05/12/2016 at 20:38:30
One of the more mystifying collapses has been the form of Deulofeu who in the first quarter of last season was devastating at times; brilliant early crossing and wonderfully timed, defence-splitting passes for Rom. Then it all went wrong. Come back, Gerard, we need you.
If we could get him and Mirallas firing together then we would instantly become a serious proposition for any defence.
Mike Gaynes
16
Posted 05/12/2016 at 20:45:28
Ian, I'm an admirer of Bournemouth too, and I'm likewise grumpy when I don't see us playing that way.
But I'm also an admirer of Lyndon Lloyd. Good writer and class guy. Didn't deserve that one.
Mike Gaynes
17
Posted 05/12/2016 at 20:50:47
Tony (#15), not sure it's that much of a mystery. Geri's a one-trick pony. Opposing defenders have figured out the trick and anticipate it. He needs to expand his game.
Geri might get the start next weekend, but my hunch is that it's Valencia, more than Geri or Kev, who is eventually going to benefit most from Bolasie's absence.
Ian Brandes
18
Posted 05/12/2016 at 21:02:48
Mike,
No slight on Lyndon intended by me. A superb Evertonian.
I just took Michael's point of view as. I am entitled to do.
Must agree to disagree on that one.
Bob Parrington
19
Posted 05/12/2016 at 21:12:50
Mark (#1) and Alan (#3). Nice one. Holgate breathes fresh breath in to the team. I agree.
Mike Gaynes
20
Posted 05/12/2016 at 21:45:02
Mark (#1), Alan (#3), Bob (#19), I'm an old fart and I don't get it either. But dare I guess... old UK TV advert?
Mike the Yank
Max Murphy
21
Posted 05/12/2016 at 21:47:38
Happy with the deserved point? Enyoy it while it lasts, Ronald – I can't see us getting any more this year – and that includes at Watford, Leicester and Hull.
John Davies
22
Posted 05/12/2016 at 23:20:19
Not on his own but how bad was Tom Cleverley yesterday? Shocking!!
Does anyone know why Tom Davies wasn't in the squad?
Mick Davies
23
Posted 06/12/2016 at 01:46:34
Stekelenburg must never be first choice again after that... God knows how bad Robles must look at Finch Farmaggedon, but he has looked okay for most games I've seen him. And I can't see him doing something as ridiculous as THAT!!!
Peter Barry
24
Posted 06/12/2016 at 03:21:38
The way Everton played in the latter stages of the game was not down to shrewd management by Koeman but down to substitutions he was forced to make through injuries. Koeman Out!
Mike Gaynes
25
Posted 06/12/2016 at 04:33:14
Aww, Mick, no. Yes, it was a blunder. But Stekelenburg's been generally quite good... by my count he has saved us 6 points. He was absolutely transcendent against Man City, and preserved important results against Swansea City, Stoke City and Spurs with great saves late on. (Ask Charlie Austin.) We'd be 13th if those shots had gone in.
Nor do I believe he cost us a win yesterday. No way we'd have cranked up that kind of pressure in the second half unless we'd been down a goal. Unfortunately, that's our pattern.
Every keeper commits howlers, and I think Stekelenburg is entitled to one. Agreed that Robles looks okay but, for me, Stek keeps his place unless he pulls another one like that.
Mike Gaynes
26
Posted 06/12/2016 at 05:10:32
However, if other teams are as ruthless about banishing their keepers for howlers as you think we should be with Stekelenburg... Foster and Bravo will be available in January. They're better keepers than Stek who made worse mistakes this weekend.
John Davies
27
Posted 06/12/2016 at 10:41:41
No, no, no. Please don't anyone ever link us with talk about Clownio Bravo.
Alan Bodell
28
Posted 06/12/2016 at 10:42:52
Mike (#20), yeah, you got it.
Mark Melton
29
Posted 06/12/2016 at 14:43:08
Mike (#20), Try this link:
Mike Gaynes
30
Posted 06/12/2016 at 16:50:51
Mark, thanks so much... that cracked me up!
And now I can enjoy the byplay between Mark and Alan.
Hard to believe what the Internet can resurrect 50 years later.
Geoff Evans
31
Posted 07/12/2016 at 20:20:43
At last, and probably, for the first time this season, I saw intensity from an Everton team. The players actually looked as though they cared.
It's a shame that some so-called supporters had to have a go at Cleverley like they did. At least with him you get effort even if things don't always go his way.
There are players at this club whose commitment I question; Cleverley isn't one of them.
Mike McLoughlin
32
Posted 08/12/2016 at 11:23:48
Is it just me that thinks Koeman just doesn't come across as being a blue?
---
Add Your Comments
In order to post a comment, you need to be logged in as a registered user of the site.
Or Sign up as a ToffeeWeb Member — it's free, takes just a few minutes and will allow you to post your comments on articles and Talking Points submissions across the site.