Coleman shakes off injury sustained against United

19 Comments [Jump to last]
Thursday 8 December 2016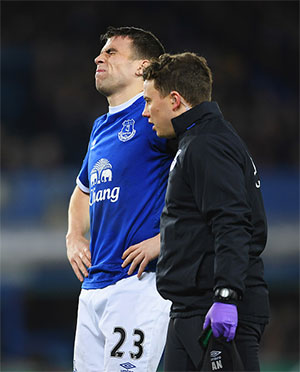 Laurence Griffiths/Getty Images
Seamus Coleman is expected to be in the squad that travels to Watford this weekend after recovering from the knock that forced him off against Manchester United last Sunday.
The Irishman had to come off midway through the second half against Jose Mourinho's men following an incident with Zlatan Ibrahimovic in which the Swede landed in top of him as the pair challenged for the ball.
Coleman also received what appeared to be a sly kick to the head from Ibrahomovic but it was pain in his torso, most likley his ribs, that prevented him from finishing the game.
"He's OK," Ronald Koeman told Sky Sports' Vinny O'Connor during his pre-match press conference at Finch Farm today. "He did a normal first training [session] today.
"Of course at the beginning of the week there was still some pain but it looks positive. He did the whole session and he is available for the weekend [as normal]."
Coleman was replaced to great effect by Mason Holgate in the United game and Koeman was asked about the 20-year-old's performance in light of the Dutchman's assessment last week that his up-and-coming young players aren't quite ready for regular first-team action.
He praised the former Barnsley man but hinted that he is unlikely to displace Coleman this Saturday when the Blues go in search for what would be just their second win in 10 Premier League games.
"[Mason] was really impressive in the 20-25 minutes that he was on the pitch. He did really well, defending well. Attacking-wise he had a good support to Gerard [Deulofeu] and that's what you expect from substitutes.
"But we know his situation. He started the season with some injuries. We played with three centre-backs and he did good job. He had maybe a bit of a dip but that's normally what you see from a young player but he showed again that he [can have] a really impact on this squad at the moment.
"We know how difficult it is for young players to play on a regular basis in the first team."
---
Reader Comments (19)
Note: the following content is not moderated or vetted by the site owners at the time of submission. Comments are the responsibility of the poster. Disclaimer
Mike Gaynes
1
Posted 08/12/2016 at 16:49:11
Great news having Seamus back... I feared a lengthier absence.
Holgate's chance will come. He proved again on Sunday what quality he has.
Martin Nicholls
2
Posted 08/12/2016 at 17:40:40
When did this dip (in form) occur? My recollection is that he deputised for Seamus really well and was only displaced because the senior man regained full fitness.
John Daley
3
Posted 08/12/2016 at 17:58:14
I found that a strange comment myself, Martin (@2). Almost like it's something managers feel they ought to say about young players even if it never actually occurred.
You are correct that Holgate performed admirably in the first couple of games this season and was then left out when others returned to fitness. So, unless his "little dip" in form occurred in training or for the Under-23s then it seems the manager is talking shite.
Even if the player did indeed drop below his normal standard, momentarily, in training or for the Under-23s, then (1) why even mention it publicly and (2) maybe it might have had something to do with being one of the teams best performers before being dropped as soon as a more senior name became available?
It just seems pointless to me, particularly coming hot on the heels of Holgate's own confident assertion:
"I know I am ready to go at that level – it's not something I haven't done before."

Liam Reilly
4
Posted 08/12/2016 at 18:02:00
Coleman should start when fit; one of the only players who doesn't hide, looks like he cares on the pitch and tells it like it is off the pitch.
Holgate's time will come; perhaps in the center of defence where we're not exactly hitting the heights.
Mike Allen
5
Posted 08/12/2016 at 18:38:37
This is yet another stupid statement regarding "younger" players. Holgate should not have been left out in the first place, he has held his form every time he has played – and you can't say that about any other player.

It will be an absolute bloody disgrace if he leaves him out of the next game because he is "a young player". Nonsense, bloody nonsense. Play Coleman in front of him. A far, far better option than playing Deulofeu or Lennon.

Darren Hind
6
Posted 08/12/2016 at 18:51:50
I worry for this club... I really do.
Kandid Koeman is taking Evertonians for mugs. He's trying to justify up his nonsensical refusal to promote younger players by telling us Holgate had a "dip in form"?
It's utter, utter bollocks. Does the truth teller think we were all born yesterday?
It will be crushing for any youngster when the boss homes in on an actual dip in form... What must Holgate feel like when this fool starts talking about a "dip" that didn't actually happen?
The longer he is here, the more tears there will be. A classic case of telling it like it isn't.
Patrick Murphy
7
Posted 08/12/2016 at 18:55:29
I want Coleman to be fit and available but I also want to see the kid Holgate in the team. Watford are a very physical team and we'll need to be up and at them if we hope to take anything on Saturday.
Surely both Coleman and Holgate can play on the same wing and could if necessary double up in defence or take it in turns to go forward. After all, our wingers are offering next to nothing of late are they? Plus if we come under the cosh, Holgate can switch to the Centre Back position.
Koeman had better be careful, because a couple of wrong moves in the next six weeks will see Goodison explode with rage if he carries on playing players who are so obviously out of form and treating the youngsters as little more than fodder.
Andy Meighan
8
Posted 08/12/2016 at 19:25:42
Patrick. It looks like Goodison is about to explode with rage then!!!
Gordon Crawford
9
Posted 08/12/2016 at 19:27:36
Coleman at right midfield and Holgate behind him.
Ricardo Gimpardsle
10
Posted 08/12/2016 at 19:44:59
When Koeman pulled the players to one side in the summer and told them that several of them would not be in his plans, he should have made sure their replacements were definite. His words seem to be rather careless, or more to the point he sounds more and more egotistical each time he speaks.
Maybe in January we will get the reinforcements and we will see a better team ethic.
Don Alexander
11
Posted 08/12/2016 at 19:54:02
Like I said of Stones before he did one, our current manager was one of the greatest centre-back/defensive midfielders in generations. So I just hope Mason (and his agent!) can take a deep breath because by the start of next season he may have received more Koeman polish that'll have a queue of richer clubs stretching round the ground in a bid to buy him.
That said, Seamus playing centre-right midfield in front of him at right back seems a good shout too.
Alan Bodell
12
Posted 08/12/2016 at 20:09:20
Great news that Seamus is okay, he is a tough boy and, like all of ours, doesn't feign it like most other players of nancy teams made up of imported pussies.
He really rattled that Swedish poof into a sly, vicious assault on his head and body, so hopefully our boys can get some back on the cocky twat next time we play.
Victor Jones
13
Posted 08/12/2016 at 20:23:35
So that's Holgate back on the bench. Or maybe dropped completely.
Everton really do know how to shoot themselves in the foot. Will any of our youngsters get a proper run of games. Or will they have to hang around until Unsworth gets the top job. We don't start winning a few games and that could just be soon than later.
Methinks that Koeman is becoming just as big a bullshitter that our wee Bobby ever was.
Tony Abrahams
15
Posted 08/12/2016 at 21:41:15
We know how difficult it is for young players to play on a regular basis in the first team? Even when they're good enough, or so it seems Ronald?
Joe O'Brien
16
Posted 08/12/2016 at 23:33:43
I would go with that Gordon @9... both players need to be in the team. Holgate was class at the start of the season and again showed his talent on sunday, but Colman also is very important. Seems to be one of the few at the moment who actually gives a shit...
Push Seamus up on the wing and Holgate fills in at right back. It could be like Bainesy and Pienaar all over again... but on the right
John Pierce
17
Posted 09/12/2016 at 01:54:48
Koeman must be very sure that a) the funds are there for transfers and b) the targets lined up are dead certs to sign.
Why otherwise would he be mouthing off again about Ross, not playing youngsters and transfers.
Having completely burnt his bridges with most of the squad what the fuck happens if we don't sign the players?
Koeman has played this all wrong, and any good will there might be has been completely eroded. For his sake, he'd better win games.
Peter Barry
18
Posted 09/12/2016 at 03:18:23
The more crap that Koeman spouts the more I am convinced he is just not up to it.
So, Don Alexander (#11) when is all this Koeman polish and brilliance going to be inculcated in to the Everton team, because it is sadly lacking at the moment as we all can see, and isn't that what good managers get paid film star wages for?
My definition of a good manager is a guy who moulds the players he is given in to a team greater than the sum of its parts and if he can only manage by buying in extra talent, then he is no Manager – just a bookkeeper,
Don Alexander
19
Posted 09/12/2016 at 13:55:26
Peter, I just think that there's multiple unacceptable issues in the attitude of the squad, except for the very few who most of us agree visibly give a shit. Football is obviously very different from the real world so I'm not sure management parallels are relevant. In Premier League football, it's even more different, with the signing of a regardless-of-results contract ensuring the signatory is made for life.
I have faith and hope in Koeman mainly because I want the club to succeed under him. Believe it or not I had some sort of desperate faith in that tosser Martinez despite being stunned that Kenwright didn't even travel as far as Preston for Moyes's replacement.
Koeman though has shown ability to achieve what we initially want, in each of the two seasons he was at Southampton, blending in a newly signed handful of first team players in each season to get into the Europa. That's the least we want.
Here though, courtesy of Martinez, he inherited a consistently worsening squad nowhere near as good as Southampton's and he needs way more than a handful of new players to fix it. Surely not even footballers (except some of ours admittedly) are so thick as not to realise he has the credentials based on solid achievement to make them – the club and himself – winners?
Martin Nicholls
20
Posted 09/12/2016 at 14:19:16
Koeman himself made his first team debut at at 17 and was a virtual ever-present almost immediately. Given this, his apparent aversion to young players is even more baffling.
Unless of course he genuinely believes that none of them are good/ready enough to replace the shysters masquerading as our first team.
---
Add Your Comments
In order to post a comment, you need to be logged in as a registered user of the site.
Or Sign up as a ToffeeWeb Member — it's free, takes just a few minutes and will allow you to post your comments on articles and Talking Points submissions across the site.