Everton vs Arsenal

108 Comments [Jump to last]
Tuesday 13 December 2016
Match Preview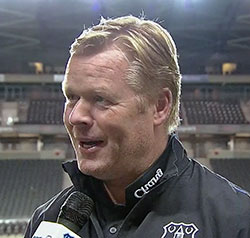 Facing mounting questions about his team's form, Ronald Koeman has asked for harder work from his charges
In a wretched run of form, Everton welcome second-place Arsenal to Goodison Park looking for some fortitude and inspiration to overcome the red-hot Gunners.
Serial under-performers in the Champions League, Arsene Wenger's team topped their group this year while at home, with Manchester City faltering badly, their 14-match unbeaten run in the Premier League that stretches back to the second game of the campaign makes them Chelsea's strongest competition in the chase for the title.
Ronald Koeman's Toffees, meanwhile, boast just one win in 11 games in all competitions and are approaching turmoil on a scale that rivals the chaos that engulfed the last months of Roberto Martinez's reign. The Dutchman is enduring his worst sequence of results since coming to England and, to most observers, doesn't appear as yet to have an immediate answer as to how he can rectify it.
In his first few weeks in the Goodison hotseat he appeared to have fulfilled his first remit by shoring up a leaky defence that couldn't stop conceding in the final few weeks under Martinez. In recent weeks, however, the Blues have been hammered 5-0 by Chelsea and they conceded three to Watford last Saturday, thereby digging themselves a hole they couldn't dig themselves out of despite another late push and a second goal for Romelu Lukaku.
The upshot is that the feeling pervading the Everton fanbase coming into this match is one of dread. Having witnessed how Koeman's side has toiled through much of the season thus far, it's hard to imagine how they can win this one. They have failed to put together anything that could be described as a full 90-minute performance so far this term and they're going to need to be on their game for the entire contest if they are to get anything against the Gunners.
To his credit, Martinez was responsible for one of the most memorable displays from an Everton side that the Grand Old Lady has witnessed over the past few years and it was accomplished thanks to a masterful tactical shift. That 3-0 win over Arsenal in 2014 lived long in the memory; a momentary glimmer that the Toffees were back and, perhaps, heading for the Champions League themselves.
Koeman arrived over the summer with a rich pedigree but apart from a couple of first-half savvy reshuffles when he identified that things weren't working, he has displayed a remarkably stubborn refusal to try anything new other than deploy the same system and rotate the same personnel.
Whether the visit of an Arsenal side that has scored 11 goals in their last three league games ands conceded just three is the kind of occasion where he will suddenly make a change in formation or approach remains to be seen but there is no doubt that Everton have, on the whole, looked better with two strikers on the field, albeit when they have been pouring forward chasing the game. Romelu Lukaku scored twice at Watford on Saturday and you find the best odds of him repeating the feat at bestbettingwebsites.org.uk
Koeman will almost certainly resist any pressure to field either of his two experienced youth players — his argument would be that this probably isn't the fixture to throw them into, even if all evidence so far shows that they aren't fazed by the big teams — but it's hard to know what, if any, changes he will ring from the side that started at Watford. He confirmed in his pre-match press conference that he has no new injury worries.
Wenger, meanwhile, will be forced into one change at least after Shkodran Mustafi damaged a hamstring and was ruled out for three weeks. The former Everton reserve defender has been in impressive form since signing for Arsenal from Valencia but for the Blues to really make the Gunners feel his absence, they are going to have to be a good deal more productive going forward than they have been for quite a while now.
This being the Premier League, anything is possible and if the Blues can find some resolve, some cohesion and give Goodison under the lights something to cheer, then you never know what might happen. Lord knows they need something and an unexpected win over Arsenal would be just the kind of lift the club could use.
Kick off: 7.45pm, 13 December, 2016
Referee: Mike Dean Mark Clattenburg
Last Time: Everton 0-2 Arsenal
Full details: ToffeeWeb match page
---
Reader Comments (108)
Note: the following content is not moderated or vetted by the site owners at the time of submission. Comments are the responsibility of the poster. Disclaimer
Keith Edmunds
1
Posted 13/12/2016 at 06:24:20
Can't remember the last unexpected Everton win. Still, I'll be up at 6:45am in hope (or dread).
Stan Schofield
2
Posted 13/12/2016 at 06:47:51
There has been a cunning plan by Koeman, to lower the expectations and defences of Arsenal and Liverpool, so we take them by surprise, just in time for Christmas. Thank you Koeman (aka Santa). I predict 3-0 to Everton.
Kunal Desai
3
Posted 13/12/2016 at 06:48:39
This is going to be tough. Just for once, I want to see 11 players putting in a shift, showing a bit of fight, determination and passion. I can take losing but not the way these players have performed over the last two months. I'm asking for some effort to be put in tonight.
Gareth Clark
4
Posted 13/12/2016 at 07:01:50
I'm hoping for 3 at the back and two up front.
Stekelenburg
Holgate, Williams, Funes Mori
Coleman, Idrissa, Barry, Baines
Barkley
Lukaku, Deulofeu
Robles, Jagielka, McCarthy, Davies, Lennon, Mirallas, Valencia
I was tempted to go with Deulofeu at CAM & Valencia up front.
John Keating
5
Posted 13/12/2016 at 07:43:21
I would have liked to see Davies play just behind the strikers but as he played last night for the U23s that's out the window. I would like to see Barry play just in front of the defence so my team would be 3-1-3-1-2:
Robles
Holgate, Jagielka, Funes Mori
Barry
Coleman, Gana, Baines
Barkley
Lukaku, Valencia
Lukaku needs support and we need to give the opposition a bit more to think about than playing not to lose.
Craig Fletcher
6
Posted 13/12/2016 at 07:43:29
Love the optimism, Stan.
I'll gladly settle right now for a draw and a gritty performance that gives hope for the derby.
Dick Fearon
7
Posted 13/12/2016 at 08:23:53
Stan, (2)
Compared to my listening time of 2:45 am, your 6:45 am is a bit of a lie-in.
Since Optus bought the Premier League television rights and me being locked in to Foxtel, I rely on pub trawling to see the games. There won't be any pubs around here that open at 2:45am. I will listen to a radio commentary on the Arsenal FC channel.
It is a sore point to me is why do Arsenal, Chelsea, Liverpool, Man United and Spurs have their own free-to-air Broadcast channels while our own miserable mob demands payment?
Brian Williams
8
Posted 13/12/2016 at 08:24:11
I'd opt for an 8-1-1 formation, which is probably how it'll end up anyway :-)
Colin Glassar
9
Posted 13/12/2016 at 08:33:35
Heart says 1-1 draw. Head says 6-1 Arsenal win.
Gerard Carey
10
Posted 13/12/2016 at 08:35:53
100% effort tonight and we might get something out of it. Anything less and we could be in for tough time. Please, Ron, try two up front.
Tony Hill
11
Posted 13/12/2016 at 08:39:07
The hope is that we revive ourselves and that Arsenal do what they have a record for doing: bottle it. On any rational assessment, we should be well beaten.
Ajay Gopal
12
Posted 13/12/2016 at 08:45:00
Stekelenburg, Coleman and Baines need to be replaced, they are mainly responsible for letting in far too many easy goals.
Robles
Holgate, Jagielka, Williams, Funes Mori
Cleverley, Gueye, Barry, Barkley
Deulofeu
Lukaku
Subs: Stekelenburg, Coleman, Baines, Mirallas, Valencia, McCarthy, Lennon<./p>
Mike Murphy
13
Posted 13/12/2016 at 08:54:36
Sorry, John and Gareth, but did you not see our three-at-the-back performance at Chelsea for feck's sake? Walcott, Sanchez and Ozil would tear us apart. Funes Mori, Jagielka and Williams looked lost at sea at Chelsse. We should go a 4-5-1:
Robles
Holgate, Williams, Funes Mori, Baines
Coleman, Gana, Barkley, Barry, Lennon
Lukaku.
I would've put Davies in there in the midfield instead of Barkley only he played last night. Also good to see Browning back as well... hopefully he'll be back in the first team soon.
Gerry Killen
14
Posted 13/12/2016 at 08:59:19
We just need a totally committed effort from everyone to get the crowd roaring again.. Believe in yourselves and we can WIN.
We have always played at our best against quality teams and tonight should be no differrent. All teams are beatable on the night and a full house of the best supporters in the land, getting behind every Blue shirt, will win it for us. COYB.
Liam Reilly
15
Posted 13/12/2016 at 09:07:38
The regularity of the injuries suffered by Baines over the pat couple of seasons have certainly taken something from his game but to suggest Coleman needs replacing is just nonsense.
The center back pairing needs surgery and we lack creativity in the center of the park. I'd like to see Barkley dropped deeper in an axis of three with Barry and Gana where he'll have more time to create and remove one of the two wingers.
So 4-3-2-1 with the ball and 4-5-1 without the ball.
Stan Schofield
16
Posted 13/12/2016 at 09:11:32
Dick #7: I'm in Lapland on holiday, so it was actually 08:45am for me, even more of a lie-in. I've asked Santa and his magic reindeer and elves to ensure the 3-0 win, so it should be fine.
Colin Glassar
17
Posted 13/12/2016 at 09:12:08
Arsenal have beaten Everton more than any other team in their Premier League history. I think Man Utd and Chelsea have the same record against us, probably the RS as well.
I've always said, if you're on a winless streak you want to play Everton. If your a striker in a dry patch you will score against Everton. If you're in a relegation battle there's no better club to play against than Everton, etc.
Peter Laing
18
Posted 13/12/2016 at 09:23:18
Dear Santa, can David Unsworth please come in and manage the team for the next 2 games?
Keith Edmunds
19
Posted 13/12/2016 at 09:36:07
Dick, Everton provide free radio commentary via their app. I've used it a few times this year. There's always dodgy internet which is what I'll be doing.
Liam Reilly
20
Posted 13/12/2016 at 09:45:19
Dick, Keith,
Download Mobdro onto any android device and BOOM – select pretty much any channel you can think of from Sky Sports to BT to ABS and NBC.
Brent Stephens
21
Posted 13/12/2016 at 09:45:31
Dick #7 have you tried, eg, eplsite.com for a live feed?
Adam Luszniak
22
Posted 13/12/2016 at 09:47:00
Dick, EFC doesn't demand payment to listen to listen to match commentary on their website. I was listening to an Everton game on my phone just the other day, not even sure you need an account to do it. IF you head to the link below and scroll to the bottom they give a description of how to listen for free:
http://www.Evertonfc.com/fixtures/2010-to-2019/2016-2017/english-premier-league/Everton-vs-arsenal
Andrew Clare
23
Posted 13/12/2016 at 10:01:15
It's crazy to think that, less than 30 years ago we were at least on a par with Arsenal, now look at us. They have a world class stadium and team playing attractive football, qualify for Europe every year without fail and are always challenging for honours.
Look at us over the same period of time, there's no need to tell you – we have been a disaster. I'm talking about by the standards of a big club historically here, not a perennial mid table outfit.
The owners of our great club have allowed us to fall from grace by allowing the acceptance of low standards and mediocrity, hiring average managers and persevering with one for far too long. For example, when Walter Smith was appointed my heart sank. How come I felt that way and I'm not even in the know yet our board hired him?
Then in amongst all the other bad appointments we kept faith in a manager who was taking us nowhere for so long, he'd still be here today if it was up to Kenwright; the same probably goes for Martinez. We are talking about one of the biggest clubs in England here...
That is why our record against Arsenal over that period is abysmal because it has coincided with it being the worst (nigh on) 30 years in our history and they along with Liverpool have been two of the most consistent teams over that time frame, coupled with Chelsea and Man Utd having the greatest era in their histories, it's no wonder our record against them is so bad.
Unfortunately, it will continue tonight.
Mark Morrissey
24
Posted 13/12/2016 at 10:07:58
Can't understand why anyone would pick Stekelenburg over Robles. I hope Robles is back; if so we might stand a chance.
A massive game looking ahead to the derby fixture. C'mon Koeman, engender some belief. I hope we try and show some nerve, otherwise we're doomed. They just need some belief.
Laura Round
25
Posted 13/12/2016 at 10:16:17
Echo reports Dominic Calvert-Lewin will start tonight. Left out of Under-23 match last night.
Neil Wood
26
Posted 13/12/2016 at 10:23:19
Laura are you taking the proverbial?!? Would be nice to see but I'd lay my mortgage on it he doesn't. He may well bring him into the squad but no way will he start him.
Although I do believe in fairytales!
Neil Wood
27
Posted 13/12/2016 at 10:28:23
Shane Corcoran
28
Posted 13/12/2016 at 10:43:58
Colin, there's only 6/7 teams that have been in the Premier League since its inception.
Considering Everton have never come close to winning it, the statistic you've provided is hardly worth mentioning.
Tony Dove
29
Posted 13/12/2016 at 10:44:04
Davies certainly wont be playing as he played the full 90 minutes for the Under-23s last night. His energy and enthusiasm would IÂ suggest provide a major boost but it ain't gonna happen any time soon.
Laura Round
30
Posted 13/12/2016 at 10:47:11
Just saying what I read, Neil!
Laura Round
31
Posted 13/12/2016 at 10:49:41
Sorry, to be fair, I should've put "He's in the squad." 😂 Interesting though...
Darren Hind
32
Posted 13/12/2016 at 10:56:13
This could be the turning point.
He'll go two up top tonight and he will be rewarded. Hopefully he will realise that fortune favours the brave and cowardly tactics get exactly what they deserve.
Funes Mori and Williams have got to stop surrendering possession with their mindless hoofball, if we keep giving them the ball they will kill us.
The only serious flaw with this Arsenal team is they don't like a fight. Our players have to find their balls tonight and fight them all over the park. The crowd need to be at their intimidating best too.
Where there is a collective will, there is a way and I fancy us to find it.
I can't wait.
Eddie Dunn
33
Posted 13/12/2016 at 10:58:03
Hang on to your hats folks – we will win tonight 2-0. Lukaku and Deulofeu. There is a Santa!
John Hammond
34
Posted 13/12/2016 at 10:58:22
I'd stick Mirallas up front with Rom as he's the only one who at least attempts to press and sit Gerry in behind them.
Please, no Barkley tonight – what we don't need is him losing the ball in the middle of the park as Arsenal will kill us.
Shane Corcoran
35
Posted 13/12/2016 at 11:23:05
Was Lennon's cameo on Saturday worth a start tonight?
I'm thinking Jags (arse-kicked) in for Williams (arse needs kicking).
Barry, McCarthy, Gana and Barkley in a diamond in midfield to put pressure on their three, although I'd nearly put Cleverley in there as Barry will get booked too early.
Lukaku and Valencia up front.
Simple.
Craig Walker
36
Posted 13/12/2016 at 11:28:44
I've known some depressing times as an Evertonian but this is up there with the worst of them given the pre-season optimism and the way we started the season. I see nothing but two home defeats over the next two games.
Oh for a Duncan Ferguson in Royle's first game in charge moment. Who, in our squad can deliver when it matters or even stand up and be counted?
I'm not exaggerating but I would get rid of every single player apart from Idrissa Gueye and maybe Coleman and start again. This current crop of players believe the hyperbole that Martinez bestowed on them whilst being amongst the worst players to ever pull on a blue shirt. At least players like Kilbane and Pembridge put a shift in.
David Midgley
37
Posted 13/12/2016 at 11:31:37
Eddie (#33).
Like Santa, you'll get the sack on Boxing Day.
Neil Wood
38
Posted 13/12/2016 at 11:31:44
I know, Laura. But very interesting he's in the squad again. That says to me he's playing two up top with a third striker on the bench (Calvert-Lewin).
Ian McDowell
39
Posted 13/12/2016 at 11:50:58
Arsenal were very impressive in their destruction of West Ham last week. Saying that, West Ham went to Anfield and got a point that no-one expected them to get.
Funny old game, football. Only certainty tonight is that Giroud scores a header.
Hugh Diamond
40
Posted 13/12/2016 at 12:03:43
Anyone else think that it's time to stop having a go at the players and look at the manager?
Martinez finished 5th with roughly the same squad that we have now. He did that because he coached the Moyes defensive squad into a very effective attacking team. They finished 5th because they still had the Moyes defensive mentality in them but were now better at attacking.
It all went wrong because Martinez eventually coached all of their defensive capabilities out of them, which is why he will do well at international level.
So, with roughly the same squad, why is Koeman not doing any better? I really hope we can get something this week but I'm actually thinking we won't.

Laura Round
41
Posted 13/12/2016 at 12:06:50
https://instagram.com/p/BN9ItjdBYX0/ Predictions in.
Laura Round
42
Posted 13/12/2016 at 12:13:57
Must have caught up with TW on that long trip back from Watford Neil, decided to give it a go.
Dave Pritchard
43
Posted 13/12/2016 at 12:20:12
Does anyone know what the (Arouna) Kone situation is? Is he injured or has Koeman done a Niasse on him? Not saying he is the answer to our problems, far from it, just wondering if he is available for selection or not.
Christy Ring
44
Posted 13/12/2016 at 12:23:23
Team for tonight:
Robles
Coleman, Jagielka, Holgate, Funes Mori
Lennon, Gueye, McCarthy, Deulofeu
Barkley
Lukaku.
Graham Coldron
45
Posted 13/12/2016 at 12:27:43
Deep down, we all know what is going to happen. After a burst of enthusiasm and maybe with a real chance to score we will concede the first time Arsenal have an attack.
I would love to be positive and hope Arsenal bottle it before a baying Goodison but fear the worst tonight. Sincerely hope I am wrong though.
Brian Harrison
46
Posted 13/12/2016 at 12:54:44
Arsenal under Wenger have always struggled when the game turns into a physical battle. So tonight we must be at our most aggressive, I don't mean silly tackles to get you booked, but be in their faces right from the off – make the challenges hard but fair.
I would like us to have Valencia up alongside Lukaku with Mirallas and Lennon on the wings with Deulofeu just behind the front 2. Be positive from the start, not bring in these players when we are behind, as we have in the last 2 games.
Charles Brewer
48
Posted 13/12/2016 at 13:25:50
If Arsenal don't like hard tackling, they will be very happy tonight.
Dermot Byrne
50
Posted 13/12/2016 at 13:38:54
Night game. A lot of shit thrown at players and boss.
Maybe? Just maybe?
Neil Wood
53
Posted 13/12/2016 at 14:10:41
Loving the optimism in the prediction Laura!
I'm actually quite positive tonight but this would be my starting line-up:
Stekelenburg (not much in it to be fair)
Holgate, Jagielka, Funes Mori
Coleman, Baines
Gueye, Barry
Deulofeu
Lukaku, Valencia.
Laura Round
55
Posted 13/12/2016 at 14:17:50
Luckily Neil he will be fast asleep. Although, of my three boys he's the most likely to watch the full match. Lou aged 8 can take it pretty hard and sulk off to bed at half time.
David Booth
56
Posted 13/12/2016 at 14:20:33
Be warned, fellow Evertonians, any hopes we have of Koeman having the nous to make it two up front, and put some creativity into the middle of the park will, as usual, prove completely groundless.
My bet tonight is that he will stick with the same THREE defensive midfielders he chose at Watford and bring that useless puffer, Lennon, back in, AGAIN. Or god forbid, Cleverley!
I'm not a great one for picking teams on here, but I'd play Deulofeu behind Lukaku – as he did to great effect at Sunderland and latterly at the weekend – and bring in Valencia to give us the ability to occupy the Arsenal defenders, and Barkley to push on as those in front of him create the space for him to express himself.
To make way, I'd drop McCarthy, who was anonymous as ever, and Mirallas, who just cannot seem to get any traction whatsoever this season. That, surely, would at least give us the chance to pose Arsenal some problems.
Wenger, of all people, will have done his homework and If we stick to the brain-dead battleplan we have used in every game so far, his team will teach us a lesson of Chelsea proportions. Worse maybe...
If Koeman sticks to his default stubborn, failed, futile philosophy, I would be amazed if we got a point and would instead expect nothing less than a comprehensive 3-0 drubbing.
Neil Wood
57
Posted 13/12/2016 at 14:38:30
David, I concur. Thoughts of three defensive midfielders at home again causes me distress!
Cliche but attack is the best form of defence! Not always but against Arsenal, I think it is. Start negative and slowly get ripped apart.
Laura, that sounds like me at half time! My 5-year-old just shows no interest despite my constant pushing!!! Ha!
Thomas Surgenor
58
Posted 13/12/2016 at 14:55:43
What does Davies have to do to get a chance?
Koeman has nothing to loose as he is safe in the job. Give the fans what they want and the kids might repay you with the high-energy pressing the senior pros refuse to do.
James Stewart
60
Posted 13/12/2016 at 15:01:25
Calvert-Lewin on the bench suggests Valencia will start finally. Hopefully Koeman's masterplan isn't McCarthy at No 10 this week!
Robles
Holgate, Jagielka, Williams, Baines
McCarthy, Barry, Gana
Valencia, Lukaku, Barkley
Paul Kennedy
61
Posted 13/12/2016 at 15:17:21
We are going to be like a big turkey dinner and get stuffed I fear!
John Pierce
62
Posted 13/12/2016 at 15:28:28
We might get lucky in the Arsenal have Man City away up next. They might rotate a few.
No Mustafi for them, likely to be Gabriel, almost a carbon copy of Funes Mori. A weakish spot to exploit.
Goodison will be tense and an early Arsenal goal with prick the atmosphere a sag our little party balloon.
Little hope for tonight barring an aberration from the opposition and a helping hand from Clattenberg.
Leaving for NYC, hopefully the alcohol will numb the pain.
0-4 Gooners.
Gareth Clark
63
Posted 13/12/2016 at 15:32:46
Stekelenburg
Holgate, Williams, Funes Mori
Coleman, Idrissa, Barry, Baines
Deulofeu
Lukaku, Valencia
Subs: Robles, Jagielka, McCarthy, Barkley, Lennon, Mirallas, Calvert-Lewin
Ron Sear
64
Posted 13/12/2016 at 15:50:07
Blue - Dictionary definition apropos ToffeeWeb tonight.
informal
(of a person or mood) melancholy, sad, or depressed.
"he's feeling blue"
synonyms: depressed, down, sad, saddened, unhappy, melancholy, miserable, sorrowful, gloomy, dejected, downhearted, disheartened, despondent, dispirited, low, in low spirits, low-spirited, heavy-hearted, glum, morose, dismal, downcast, cast down, tearful...
Mark Morrissey
65
Posted 13/12/2016 at 15:53:44
C'mon Ronald, blood some youngsters, what have you got to lose?
Joe O'Brien
66
Posted 13/12/2016 at 16:05:47
If we start with the same team and tactics, and if Arsenal turn it on, it could very well be a repeat of the Chelsea scoreline... but at home!
Jimmy Salt
67
Posted 13/12/2016 at 16:13:42
I'm going for the first time this season (dam those free tickets) so let's hope some superstitious nonsense occurs and we pull one out the bag.
Dennis Heaton
68
Posted 13/12/2016 at 16:23:58
Lukaku needs help up front tonight and, with all the failed players, it's a pity the boss has not swallowed his pride and given Niasse a go. It cannot get any worse.
Tony Abrahams
69
Posted 13/12/2016 at 16:27:37
Darren, I felt that the last 25 minutes against Man Utd, would also be a turning point, so I hope you are right about tonight.
We have definitely got a team within the squad that is good enough to win tonight, but not the way we have been playing though.
Koeman, worries me, because he's been around football long enough to know how to get a lot more out of these present players, which tells me we either have big problems behind the scenes, or he's simply just not good enough?
It's simply not "OUR EVERTON" at the minute, which is a major worry, because we have finished both of our previous two matches, well on top.
Just pick a team (and formation) to get Goodison Park, on its feet tonight Ronald, and I'm sure the crowd will do the rest, especially since you're the one calling for a Man Utd, Everton!
Paul Conway
70
Posted 13/12/2016 at 16:37:05
Andrew Flare (#23),
We were a big Club, that was way back then. Try asking the average neutral how big we are. Especially the neutrals outside the UK, where a large amount of TV deal revenue comes from.
Let's not forget... Leeds Utd, Nottingham Forest, Aston Villa, Newcastle and Blackburn Rovers. You could even throw Bolton, Fulham.. Any of these former greats would probably put us to shame on the park with our current team.
Paul Kossoff
71
Posted 13/12/2016 at 16:43:41
Gareth (#63),
Stekelenburg
Holgate, Williams, Funes Mori
Coleman, Idrissa, Barry, Baines
Deulofeu
Lukaku, Valencia.
As the world famous philosopher, Albert Steptoe, once said, 'Gawd elp us!'
Paul Tran
72
Posted 13/12/2016 at 16:46:46
Darren, I hope you're right. Turning points tend to come out of the blue from nowhere, which is where we are right now. I fear that David Booth will prove more correct. I'll start the game from behind the sofa and hope to end up sitting on it, or even dancing round the living room.
Tim Greeley
73
Posted 13/12/2016 at 16:49:46
"The wrath of God lies sleeping. It was hid a million years before men were and only men have the power to wake it. Hell aint half full. Hear me. Ye carry war of a madman's making onto a foreign land. Ye'll wake more than the dogs."
Kieran Kinsella
74
Posted 13/12/2016 at 16:50:41
Koeman is going to quit. His conference reminds me of Gullit at Newcastle. Belligerent, basically "what can I do? The team is crap?" Then Gullit quit. Koeman has history of walking when going gets tough.
Liam Reilly
75
Posted 13/12/2016 at 17:12:38
Quit from £6 Million a year Kieran?
I doubt it; when by Christmas and a couple of good thrashings by the Gooners and Pool and he might be on thin ice and an attractive severance payment.
Personally, I'm still in the "Let's give him two transfer windows" camp as he hasn't had time to build his own team and I'd expect a fire-sale in the summer with these under performing charlatans.
Kim Vivian
76
Posted 13/12/2016 at 17:14:02
Heart says any win will do.
Gut says maybe 1-1
Head says...
... We'll lose.
Mark McParlan
77
Posted 13/12/2016 at 17:19:49
Honestly can't see us getting any sort of result tonight – especially as we're live on TV, and Arsenal always beat us. I'm starting to have doubts about the ability of Ashley Williams, and just because he is a 'no-nonsense' centre back does not necessarily mean he is solid. Don't understand people criticising Lukaku, he is the only player stopping us from sliding into the relegation zone.
Defeat or not, I really think we need to keep faith in Koeman for the entire season. A sacking will get us nowhere, and he deserves the January window at the very least, and probably needs a good summer to get us back on track next season.
Tom Bowers
78
Posted 13/12/2016 at 17:21:13
Well, I suppose things have to turn around eventually so why not today?
It will take a huge effort from this team no matter who starts. The Gunners have superior talent all around and play with confidence.
They do however fall asleep on defence at times and with injuries back there Everton could have a chance but obviously Everton shutting out Arsenal is a big ask on current form especially keeping Sanchez quiet.
Colin Metcalfe
79
Posted 13/12/2016 at 17:28:05
I think we will scrape a draw tonight, I expect a big reaction from the players but there is a gulf in class, just hope we can match them for effort.
If we get thrashing tonight and then go on to lose the derby I reckon big Ron is a gonna!
Rob Halligan
80
Posted 13/12/2016 at 17:28:53
Leicester have been on a poor run, and far lower down the league than us, before last Saturday that is. I bet everyone thought they'd get beaten by Man City.
This is definitely a game we can win. 2-1 to the Mighty Blues.
Soren Moyer
81
Posted 13/12/2016 at 17:37:22
We should only concentrate on deffence + offence. Forget about the midfield because we do not stand a chance there. We should try to defend well and hit them on the break.
And forget about playing Barkley tonight because he will loose position in the midfield and that will cost us.
James Hughes
82
Posted 13/12/2016 at 17:41:00
I agree with most of Liam's post but... Koeman may forget the money and just walk as we had to basically beg him to take over. He does need to sharpen up quite quickly for all of our collective sanity.
Hoping the earlier posts are correct and a much needed change of shape / formation actually happens. I have never been a fan of the 4-2-3-1 especially at home, unless one of the '2' is a play-maker with defence splitting passes and forward thinking intent.
But I have my usual couple of quid on us... COYMB
Kieran Kinsella
83
Posted 13/12/2016 at 17:43:25
Liam
You or I wouldn't quit but he's hardly in the poor house. He can walk away, rehab his career with an easy gig at Ajax then try and get a club he actually wants.
Victor Jones
84
Posted 13/12/2016 at 17:43:35
Our fortunes have to turn sometime. But I just get the feeling that things will get worse , before anything gets better. There have been no encouraging signs that this bunch of players and the manager are even close to turning anything around. So its wishful thinking all around.. Its a wee prayer before the game ( although I don't really believe in all that). And its hopefully damage limitation tonight. And maybe Arsenal won't turn up. Every now and again, Arsenal have a shocker. Maybe that's tonight. But then we also are prone to shockers. So I'm prepared for the worst tonight. And any kind of a performance or result would be a bonus. Why worry about this current bunch of Everton players ...they have all been a complete let down for years...
Anyhow ..let's hope that Koeman has some sort of a plan. But I doubt that very much. My plan is to take the dog for a walk .and hope that we are leading by three goals when I come in Well that's my plan. Because I'm finding this all, at present ,very hard to watch. And I'm going to a few games in the new year ...I don't know if I'm wise or foolish . COYBs..
Kieran Kinsella
85
Posted 13/12/2016 at 17:45:24
I think we will be 1-1 at half time, lose 4-1, one or two sent off, Valencia injured, big Duncan will head-butt the fourth official.
Frank Crewe
86
Posted 13/12/2016 at 17:46:50
4-4-2 for me.
Robles (Stekelenburg has become a liability)
Coleman, Holgate, Williams, Baines
Lennon, Gueye, Barkley, Mirallas
Lukaku, Deulofeu.
Subs: Stekelenburg, Barry, Valencia, Funes Mori, Cleverley.
I'd like to see Del up front because he'd give us some pace and movement in the box. Also he has an eye for a pass. I know that some would like to see Valencia up front with Rom but I think they would both chase the same ball. Also if Lukaku or Deulofeu isn't working, we can bring him on.
Gueye can sit in front of the back four and Barkley can support the attack.
4-4-2 is a simple uncomplicated system that can give us a decent blend of defense and offense and I think suits our players. Not to mention it gives Rom some support up front. 4-2-3-1 just isolates Rom and puts pressure on our leaky defense.
No doubt Koeman will go with 4-2-3-1. Like a lot of managers he appears to have an obsession with playing a particular way regardless if it suits the players or not.
Neil Wood
87
Posted 13/12/2016 at 17:49:30
In fairness to Ron he's in a bit of a no win situation at the moment because realistically if you was putting your money on anyone tonight it would be the Arse. So if he plays the same or similar team and we get stuffed he's to blame and if he plays a mixed bag and maybe changes things around he's to blame. It will take him time and a couple of Windows to develop his own team.
I do think he's made mistakes and I do think he's made some silly comments but whose to say any manager we appointed wouldn't of done.
I think until he can bring some players in this transfer window then he needs to be braver Me personally would rather lose 3-0 at home after going at them from the start than lose 3-0 trying to contain them with three defensive midfielders. We are capable of beating these and a win of this nature can potentially change the course of a season.
Play Del Boy in a floating number 10 role and basically tell him to get the ball, run at folk and do what the hell you like I think this would pay dividends and allow him to express his talents. I've said it before but you don't become Spanish U23 top scorer without having some pedigree. He just needs to be allowed to roam.
Derek Cowell
88
Posted 13/12/2016 at 17:53:41
After the performances of late and the comments made on here by regular TWers I cannot believe that there are people who think we will get a draw or even a win against Arsenal.
Arsenal and Liverpool are the two teams in this league that we can NEVER play against. We nearly always lose to both. Why will anything be any different this next week when we have a team as bad as anything we've seen for years with no spirit or fight or tactics? We are going to get two royal stuffings! That is not just pessimism, it's realism!
I also agree that I think Koeman will resign. We are in a right mess from the top down.
Eddie Dunn
89
Posted 13/12/2016 at 17:54:59
Koeman doesn't strike me as the kind of manager who would walk away ,as it is an admittance of failure. Surely both he, and the club will wait and see what can be done in this window. He seems to be single minded and determined to get his way, so I would expect something of a clear out in January, to start with and the big sale in the summer.
Too many of these clowns have been robbing a living at our club, and it is about time someone sent them packing. These guys can play a bit of football now and again, but lots of them have let us all down on so many occasions. remember the last 7 or so games of Roberto's record points season. We went to sleep for those, the defeat in Kiev, the Derby fiasco, and last season's semi-final fuck-up.
I look forward to watching players grafting hard, working as a unit, playing good football, and never giving up. I hope that Ronald finds us what we need.
Let's all hope for an encouraging performance tonight, as a draw will be seen as progress, and a win would bring the house down.
Kieran Kinsella
90
Posted 13/12/2016 at 17:56:30
After the game, Koeman will quit. Then we will find out Mosh has agreed to sell Lukaku for £18 million with the money being kept by Mosh who will put the club up for sale. A Peter Risdale and Tony Hibbert consortium will take over install Osman as boss and we will be relegated.
Next summer, sacked Sunderland boss Moyes will come in as director of football but he will quit when Risdale releases Jags and Baines to cut wages. Fast forward 15 years and Everton FC – a fan built club will come up against the renamed Wirral FC in the Northern Pontins league and win 1-0 with a goal from Kieran Dowell.
Jay Woods
91
Posted 13/12/2016 at 18:02:25
We're playing tonight? I had it in my head it wasn't until Thursday.
Anyway, I think I dreamt last night that Koeman resigned after our next game. If we lose tonight, I would be shocked if he walked away, but not too shocked.
Clive Rogers
92
Posted 13/12/2016 at 18:02:35
I would bring Holgate in and push Colman forward and pick Valencia up front with Luke, leaving out McCarthy and Mirallas.
David Booth
93
Posted 13/12/2016 at 18:04:19
Is Koeman the man for the job? Tonight (and Monday), will reveal if he has a chance of ever being up to it.
What is he going to do to try to stop the rot and give Arsenal a game this evening: will it be Cleverley, will it be Lennon or will it be McCarthy again? I simply cannot wait to find out...
Or will it penetrate his thick skin that his perpetual, come-what-may Plan A, is a shambles?
Surely, seriously, Valencia has got to start up front with Lukaku? Can he not see that on £6m a year?
We all can on a lot less!
For god's sake try something different. Take a risk. Shake things up. Be adventurous and go for it you Dutch dickhead.
What have we got to lose, when we're already set for a double thrashing at home within a week?
If he sticks to his knitting and loses both without a fight, I think he may well be gone: voluntarily or otherwise.
And as it stands right now - I think it would already be for the best. He/it is not working...
Andrew Keatley
94
Posted 13/12/2016 at 18:04:49
If Valencia does start then I hope it's alongside Lukaku in a 3-5-2 (or even 4-4-2; remember that formation...) rather than as a wide man.
James Hughes
95
Posted 13/12/2016 at 18:08:02
Kieran, just think a few short months ago we had our billionaire owner and we were on the way up. Ah well...
John Pierce
96
Posted 13/12/2016 at 18:11:54
I want Koeman gone. These 2 games should seal it, especially if we get mauled and or embarrassed by Liverpool.
He has I believed walked on 3 occasions in his managerial career.
I hope this might be the best way.
Andrew Keatley
97
Posted 13/12/2016 at 18:13:28
I'd be delighted but shocked if Koeman went for:
Stekelenburg
Holgate, Williams, Funes Mori
Coleman, Baines
Gana, Davies
Mirallas
Valencia, Lukaku
Let's have width predominantly from the wingbacks. I am a fan of Barry but think we need quicker, younger central midfielders against teams like Arsenal and Liverpool.
Kristian Boyce
98
Posted 13/12/2016 at 18:14:41
It's my birthday tomorrow and every year when the fixture list comes out I always look to the closest games to it. With Arsenal tonight and the RS up next, I wasn't really expecting any happy returns.
Raymond Fox
99
Posted 13/12/2016 at 18:30:35
Robles wont be picked, I think he should be and should have been a few matches ago. I can't see him changing much at all in fact.
One thing I think we'll see is plenty of effort from them, because they should be stoked up tonight after all the criticism and Koeman will surely send them out with a flea in their ear.
If Arsenal score first and early, I think it could turn into a nightmare. My head says they will have too much class for us, but we can live in hope.
The way things are set up though, Arsenal playing real good football and us the exact opposite, it feels like its one of those occasions when having a bet on a good thing on paper i.e. Arsenal, goes tits up and we win.
Having said all that, I'll be pretty surprised if we do get something out of the game.

Dave Lynch
100
Posted 13/12/2016 at 18:30:35
Just been to Tesco's and on the way back popped into the bookies.
They offered me 16/1 for an Arsenal 3-0 win.
Sorry lads couldn't resist it, will be very happy to lose me fiver though.
Dave Abrahams
101
Posted 13/12/2016 at 18:36:30
Whatever happens tonight can we see some SHOTS on goal???
Remember them... from 10 yards, 15 yards, from a distance, from anywhere,! The goalie will be that surprised Everton, yes Everton are having a shot on goal
He is likely to spill a couple... come on, for God's sake, have a go.
Joe Edwards
102
Posted 13/12/2016 at 18:39:20
It's difficult to identify what exactly what has gone so drastically wrong, it's all well and good pointing the finger at the manager but don't forget these are the same bastards who shut-up shop on Bobby Brown Shoes and got him fired so there is definitely a rotten core as they seem to be trying the same tactics with Koeman. This season is a transition Koeman told us it was a 3-year project not a 3-month one.
I am not expecting miracles in January as there will only be has been has-beens and mercenaries looking for a last payday on offer. I personally feel it's time to introduce some of the YOUNG blood on a regular basis it's an old squad with little or no balance to it and disheartened and unmotivated players at its core.
I agree with #87 that geriatric should be given a free role ahead of Barkley who is as consistent as Donald Trump at a United Nations conference. A draw will do me tonight but I really am expecting the worst with this pile of shite, and to think they were being touted as the best Everton team in a generation!!! Shame on the lot of them. Wankers to the last man the lot of them.

Dave Abrahams
103
Posted 13/12/2016 at 18:39:34
Dave (100), and may God forgive you, ' you dirty rat'.
Jonathan Tasker
105
Posted 13/12/2016 at 18:41:29
Koeman out.
Joe Clitherow
106
Posted 13/12/2016 at 18:45:16
Mike Dean is down to referee the Mersyside Derby as well as this game according to TW. Which is bizarre as I always thought he had declared Everton as his team.
Then again... maybe I should just keep schtumm!
Ian McDowell
107
Posted 13/12/2016 at 18:45:56
Valencia and Barkley in!
Dave Lynch
108
Posted 13/12/2016 at 18:47:15
£70 quid will ease the pain nicely Dave.
God knows I've spent enough on them over the years travelling all over the country and the odd foray into Europe.
Ian McDowell
109
Posted 13/12/2016 at 18:48:20
No Gareth Barry tonight.
Kunal Desai
110
Posted 13/12/2016 at 18:48:47
Jagielka, Barkley, Lennon and McCarthy start. I can only see one winner here. It's not the blue side.
David Hallwood
111
Posted 13/12/2016 at 18:51:28
Out of all the suggested line-ups, I like Frank Crewe's(#86) the best-but it won't happen – but it should, and here's why.
The best we've played is when we went 4-4-2 against the Mancs and we actually looked like a football team. Lukaku cannot play the lone striker, he isn't Costa or a Mark Hughes even, but looks a different player running onto balls.
Ross is a centre mid all day long, but because of the fashionable 4-2-3-1 he gets played, IMO out of position. People that say he doesn't track back enough, well neither did Arteta or Fabregas but it didn't stop them being an influence on games.
The 2 holders has passed its sell by date. If the idea is to protect the back 4; it hasn't done that with either Martinez or Koeman. Plus it has virtually nothing offer to when we're attacking.
That being said, I'm expecting to see Barry & Gana behind Mirallas, Deulofeu & Lennon and of course Lukaku-after all why change a winning formula.
Jonathan Tasker
112
Posted 13/12/2016 at 18:52:59
Ronald Koeman puts all the names in a hat...
And then draws out the names...
Clueless bastard.
Robert Workman
113
Posted 13/12/2016 at 19:01:28
Kristian (#98), my birthday is on the 18th. Everton have a happy knack of losing the game nearest to my birthday. I will say no more!
Lyndon Lloyd
114
Posted 13/12/2016 at 19:04:08
Sorry Joe (#106), another brain stutter from me. It's Clattenburg tonight and Dean on Monday.
Derek Cowell
116
Posted 14/12/2016 at 02:07:44
Speechless... I don't mind being made a twat of in these circumstances. I never saw that coming!!!!
---
Add Your Comments
In order to post a comment, you need to be logged in as a registered user of the site.
Or Sign up as a ToffeeWeb Member — it's free, takes just a few minutes and will allow you to post your comments on articles and Talking Points submissions across the site.