Leicester City vs Everton

33 Comments [Jump to last]
Monday 26 December 2016
Premier League Preview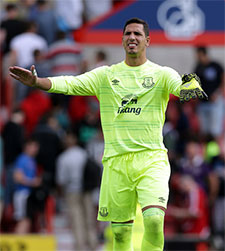 Joel Robles is likely to be in goal in place of Maarten Steklelenburg who has a dead leg.
The push for a mid-season winter break seems to be getting stronger by the year but there is something undeniably special about the Festive calendar and the closest game to Christmas in particular.
Boxing Day away; Evertonians in blue Santa hats; adapted Christmas carols; and, oh, what fun it would be to see Everton get something away! Not since the point they so impressively earned at the Etihad Stadium in mid-October have the Blues got anything from a match away from Goodison Park and it is three and a half months since they last won on their travels.
There is no doubt that the away form is a key area of concern for Ronald Koeman but while the defeat at Watford was another low point in a season full of them, the last two home performances, against Arsenal and Liverpool, have at least established a baseline for the effort, energy, pressing and spirit that is required if a top-six finish is going to remain a realistic goal.
Koeman will have to pick his charges up again from defeat, however, as he prepares to take Everton to Leicester City, the scene of a weak display earlier this year as the Blues rolled out the blue carpet ahead of the Foxes' coronation as Premier League Champions.
The unlikelihood of their title triumph has perhaps been underscored by their struggling defence of it so far this season. Leicester come into this game sitting in 15th place, three points off the relegation zone and 26 points behind the current leaders, Chelsea.
They have shown signs of life recently though with a 4-2 victory over Manchester City that relieved the pressure on Claudio Ranieri, albeit thanks to a hat-trick from Jamie Vardy. The England striker will be missing from their line-up, however, as he serves the first match of a three-game ban.
He will be joined in the stands by two more key members of the Foxes team — both Robert Huth and Christian Fuchs will also be suspended while Danny Drinkwater is a doubt through injury. All four are important members of Ranieri's side and will certainly force the Italian to dig deeper into his squad.
Koeman, meanwhile, will be forced into more changes to his starting XI after James McCarthy succumbed to another hamstring strain and Maarten Stekelenburg was forced out of the Merseyside derby with a dead leg. Gareth Barry replaced the Ireland international to limited effect against Liverpool last Monday but with Tom Cleverley out of favour and Koeman still reluctant to satisfy the growing clamour for Tom Davies' inclusion, the veteran will likely get the nod to partner Idrissa Gueye in central midfield.
Further forward, the extra dimension that Enner Valencia has brought in the last couple of games will likely see him keep his place and while Ross Barkley's erratic has become a topic of much conversation, a lack of alternatives will probably see him continue in his role behind Romelu Lukaku.
While there has been a feeling at the lowest points of the campaign under the new manager that little has changed from the team's struggles under Roberto Martinez, Koeman can go a long way to restoring the positive feeling of progress that he enjoyed at the start of the season by picking up a win at the King Power Stadium. His predecessor was a dead man walking by the time Everton were beaten convincingly 3-1 in early May but this trip to the Midlands offers the Dutchman the chance to engender some much-needed positivity again heading into the final game of the year.
Kick-off: 3pm, Monday 26th December, 2016
Referee: Stuart Atwell
Last Time: Leicester 3 - 1 Everton
Predicted Line-up: Robles, Coleman, Williams, Jagielka, Baines, Barry, Gueye, Lennon, Barkley, Valencia, Lukaku
Full details: ToffeeWeb match page
---
Reader Comments (33)
Note: the following content is not moderated or vetted by the site owners at the time of submission. Comments are the responsibility of the poster. Disclaimer
Ian Hollingworth
1
Posted 26/12/2016 at 08:45:00
Unless some of our players got new lungs and hearts for Christmas I can't see us winning today.
But as ever we hope COYB
John G Davies
3
Posted 26/12/2016 at 08:59:56
We must score in the first 20 minutes. We have been starting strong over the last few games but the confidence drains if we don't score.
We then need to play counter attack while not sitting too deep. No Vardy to run away from us.
Dick Fearon
5
Posted 26/12/2016 at 09:02:11
Should Koeman persist with Lukaku on his own up front he will confirm my growing opinion of him being unfit for the job.
Dave Lynch
6
Posted 26/12/2016 at 09:23:43
tough game but winnable.
Leicester are hot and clod but we must match them for work rate to stand a chance.
Craig Fletcher
7
Posted 26/12/2016 at 09:24:48
Missing Huth and Fuchs, Leicester's defence is going to be a bit green. Unlikely that RK would be so adventurous but I'd like to see Davies with Gueye in midfield, Lennon and Valencia on the flanks and Deulofeu given a go just behind Lukaku to have a crack at the relatively immobile Wes Morgan. I think Deulofeu's and Lukaku's pace on the counter could be crucial here. Wouldn't be a bad idea to take Barkley out of the firing line for this one and bring him back against Hull.
Gerard Carey
8
Posted 26/12/2016 at 10:04:54
Jimmy Mac will be a big loss, regardless of what a lot of people think of him. We won't be able to press and close down as well without him.
Phil Walling
9
Posted 26/12/2016 at 10:08:49
Leicester narrow favourites at 8/5 but have taken £ 20 to £10 about an Everton victory.
Barry and Claverley will likely start but will hardly provide additional energy to the manager's hoof ball tactics.
Two teams in decline, I fear !
Brian Porter
10
Posted 26/12/2016 at 10:21:25
Agree with most of your team selections,Lyndon, but I'd have Funes Mori in instead of Jagielka. Good servant he may have been but I feel this season has shown Jags is now a busted flush and has list the extra yard of pace needed to consistently deliver peak performances at the top level. It's time Funes Mori was given an extended run in the starting eleven, otherwise he'll never find the 'chemistry' that comes from playing in a settled team. We can't expect top performances from him if he only gets sporadic game time. Players like Ramiro are the future, Jags, sadly, should be consigned to the past.
Paul Tran
11
Posted 26/12/2016 at 10:23:45
1-1 draw at 7/1 will do me, Phil.
Hope my bet goes west and we win!
Tony Hill
12
Posted 26/12/2016 at 10:27:44
I fancy us to win today and agree with Brian #10 about Funes Mori.
Barry McNally
13
Posted 26/12/2016 at 10:38:35
On this day in 1963 Everton lost 2-0 to Leicester at Filbert Street. There were 66 goals in 10 games that day in Division One (before the invention of football in 1992 by Sky), do you think footballers drank on Christmas Day in the 60s!
Link
Charlie Lloyd
14
Posted 26/12/2016 at 10:55:27
Funes Mori.
Just doesn't look like an International defender really. If he was English probably wouldn't get a sniff of the squad but he's a regular starter for Argentina so obviously rated. He always looks like he has a mistake in him and appears a bit awkward. However I agree with most and think a run of games is what he needs to get some form. He was ok last season when he got a run.
Jagielka. Great servant but he is pretty much done. Possibly injuries taken a toll but his yard of pace and agility have dwindled. Still good for some games but not a regular starter anymore.
Gareth Clark
15
Posted 26/12/2016 at 11:04:03
Robles
Coleman Williams FunesMori Baines
Idrissa Barry
Deulofeu Barkley Valencia
Lukaku
Hewelt, Jags, Holgate, Davies, Lennon, Mirallas, Calvert-Lewin
Dermot Byrne
16
Posted 26/12/2016 at 11:11:30
Davies for Barry
Denis Richardson
17
Posted 26/12/2016 at 11:28:31
Not a lot of options for RK given the injuries we have. If Barry starts, I expect us to sit deep and play ropeadope, which means Valencia at least needs to start.
With the number of midfielders we have in the squad its amazing how few decent options we have there. Personally I'd try a back three and have Baines and Coleman push up a bit so we can switch from 532 to 352 depending on how things are going, Holgate next to Williams and Jagielka. Valencia and Lukaku up top.
Just hope whichever team is put out there runs their socks off and comes back with a result.
Tony Abrahams
19
Posted 26/12/2016 at 12:09:34
I can see us suffering a bad result today, just hope I'm wrong but think Leicester, will really be up for this and Everton's away record is dismal.
Sometimes a few injuries force a manager to change track, which is what Koeman, has got to try and do, if our fortunes are to change, instead of just waiting for the money?
David Hallwood
20
Posted 26/12/2016 at 12:16:41
Agree about the winter break. Good idea but there's nothing like the Boxing Day fixture; meeting up for a pint after the sproutfest, a packed house home or away.
That being said for the first time in my life I'm just not arsed; I'm pissed off with watching a stuttering side with, if we get lucky, TWO chances on goal. I'm pissed off seeing a team crying out to be 4-4-2, playing the same way until they 'get it' or he brings in players that do.
I'm listening to big Sam's first interview as the Palace manager, and he said he wants to get the system to fit the players- how simple is that, how non-rocket science is that.
Obviously I'm not calling for big Sam or anyone like that, but managers/coaches are sometimes too clever by half. Pre News Years resolution: a ban on square pegs in round holes, oh and 3 pts doday.

Tony Twist
21
Posted 26/12/2016 at 12:34:43
I think Mori is a must in a defensive three with Williams and Holgate. Davies should be playing and Delboy up front with Lukaku. So the team is Robles, Holgate, Williams, Funes Mori, Coleman, Gana, Barry, Davies, Baines, Lukaku, Delboy.
Stan Schofield
22
Posted 26/12/2016 at 12:50:11
David @20: I agree, no square pegs in round holes. Mind you, don't need big Sam to tell us that, it seems obvious. I'm not clear what system and tactics Koeman is using, aside from constantly going on about pressing. His job is to use the skills at his disposal, to create a system and tactics that make use of the existing players, and adapt that system as players leave and new players come in. I can't see that he's doing that. If he continues in that vein of square pegs in round holes today, I'll continue to be concerned, win or lose. Because even if we win today, his apparent inflexibility would give no confidence of a developing successful approach. But who am I to say, I'm just a supporter.
Kim Vivian
23
Posted 26/12/2016 at 13:16:18
Predicted a draw 1-1 as the most likely result originally but I actually think we will win today with their injuries and suspensions so I'm changing that to 2-1 to us. Hopefully with Valencia starting, also I think Davies. If Gazzer starts the Leicester midfield could run riot with their pace.
Up and at 'em you Blues - keep that Arsenal/early derby tempo going!
And Happy Boxmas everyone.
John Pierce
25
Posted 26/12/2016 at 13:45:27
You'd hope with three good players suspended for Leicester Ronald may at last play Davies, but knowing him I'd suggest Barry who have to play too.
Several players approaching their last performance for Everton. May well see some 'shop window' inclusions between now and Southampton.
Soundly beaten today. Koeman a grave disappointment.
Eddie Dunn
26
Posted 26/12/2016 at 14:01:31
So many people waiting for a bad performance and a poor result. The win against Arsenal and the first half against Liverpool should give the side some confidence against a Leicester team lacking Vardy(who would have caused us problems) ,Huth and Fuchs, with Drinkwater having a late test.
A point at the King Power will be a good return. I expect Koeman to play one up top and pack the midfield.
If we are still in the game with 20 minutes to go, then He might go for it.
1-1 for me.
John Pierce
27
Posted 26/12/2016 at 14:05:46
Eddie, 2/12 is reason so many are 'waiting' for a bad result.
It's not just feeling there's good statistical evidence for it.
The games against Arsenal n Liverpool were a free swing, not expected to win. The pressure returns today and for Hull n Southampton as they are winnable games.
True to form Koeman goes defensive with 5 at the back. Very few reasons to feel good about that side.
Armando Canaj
28
Posted 26/12/2016 at 14:06:22
Vardy is suspended. It will be a battle in the middle which we'll win. We'll manage their long balls.
We'll play well on the break and be 2 up by half time. Mirallas to start and get first goal. 3:0
Michael McCarthy
29
Posted 26/12/2016 at 14:06:33
Time for a change:
Robles
Coleman Holgate Williams Baines
Barry
Davies Barclay
Gueye
Valencia Lukaku
Holgate is ready, proved that earlier in the season and coming on recently. Same for Davies, both need to step up to the first team or they will be lost to mediocrity. Gueye to play behind the front two, his energy used further up the field. The front 2 and Barclay/ Davies to capitalise. Barry playing across the back 4. Lukaku and Valencia working closer together and in tandem drag their back four about, no standing about. Defend from the front. Because of the increased work rate of the front 2 Calvert-Lewin to come on. Lukaku who if he puts a proper shift will have scored 2 be knackered and replaced after 60 mins.

Dave Pritchard
30
Posted 26/12/2016 at 14:10:10
Back 3 or 5 today then. Valencia dropped to bench along with Barkley
Fran Mitchell
31
Posted 26/12/2016 at 14:12:57
3-4-3 ... Or 3-5-1.
A positive move in my opinion. Just hope Lukaku doesnt get isolated and that Davies gets his chance.
Eddie Dunn
32
Posted 26/12/2016 at 14:15:12
Seen the line -up John, it is defensive. However, if he went 4-4-2 and we got opened-up and lost 3-0, everyone would be up in arms. They are the Champions and we need to avoid defeat, so if it works and we get a point, Koeman will have got it right.
If we watch a shambolic display and get stuffed anyway, then Koeman should face the flak. Let's hope it works.
Michael McCarthy
33
Posted 26/12/2016 at 14:15:38
Can't say I agree with the team. Defensive!!! Must be going for 0-0.

Craig Harrison
34
Posted 26/12/2016 at 14:24:01
Is this being shown live anywhere ?
Don Alexander
35
Posted 26/12/2016 at 14:25:35
Pitcairn.
Colin Hughes
36
Posted 26/12/2016 at 14:30:24
The words defensive or shitting himself spring to mind looking at that line up. If ever a game has "low-scoring draw" stamped all over it, it is this one. No Vardy in their team and a couple of first choice centre-backs out and we still set up not to lose.
Why don't we ever get a manager who thinks we should be going out to win every game?
Joseph Elworthy
38
Posted 26/12/2016 at 14:46:01
Any links lads?
---
Add Your Comments
In order to post a comment, you need to be logged in as a registered user of the site.
Or Sign up as a ToffeeWeb Member — it's free, takes just a few minutes and will allow you to post your comments on articles and Talking Points submissions across the site.