Koeman discusses the upcoming transfer window

80 Comments [Jump to last]
Friday 30 December 2016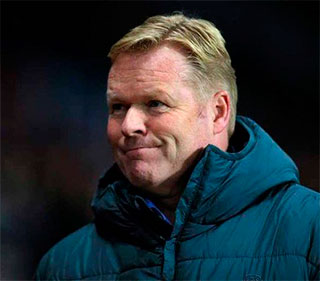 As the January window approaches, a month where Everton are both hoped and expected to be active, Ronald Koeman has spoken of his desire to strengthen his squad in terms of quality and competition for places.
The Toffees are no strangers to speculation and there has been a steady stream of links from the media regarding who Koeman and director of football Steve Walsh are interested in signing in recent weeks.
The likes of Morgan Schneiderlin, Memphis Depay and Charlton starlet Ademola Lookman have been mentioned regularly but while the Blues' boss hinted that some of the names bandied about are true, he has stopped short of naming them, except to acknowledge that the club has an interest in signing Lookman.
"[I]n the long term you want to make the squad stronger than it is now," Koeman explained in the Liverpool Echo. "It is all about performances from individual players. Finally you make choices about what will happen now and to the end of the season.
"But finally we like to improve and to make the teams stronger and then finally you go for the best players. If you have that quality in (already), then you keep that but in several aspects we need to improve and we will do that."
"First of all it is always difficult in January," the Dutchman continued. "More difficult than in the summer, for sure. But we aren't signing just to get new players in. We are signing players in positions where we need better quality or more competition. That's clear."
While incomings are expected, there are rumours of outgoing players as well this coming month, although, again, Koeman hasn't divulged any names. He was asked by the Echo about Gerard Deulofeu specifically — the Spaniard has been linked with a return to Spain while reports claim there is still interest in Oumar Niasse from Turkey — but he talked in general terms about any player who might be unsettled.
"There is no offer and we like to keep everybody in," he said. "But if there is a player who is not happy about his situation then we will talk to player and we will find a solution."
---
Reader Comments (80)
Note: the following content is not moderated or vetted by the site owners at the time of submission. Comments are the responsibility of the poster. Disclaimer
Thomas James
1
Posted 30/12/2016 at 07:48:50
Central midfield looks like it need an overhaul. From Barkley backwards..
Colin Glassar
2
Posted 30/12/2016 at 08:11:59
I'm actually starting to get a little excited about this window. I think we need 7 new players but will get at least 4. Lookman, Schneiderlin, Fonte and Depay.
Mike Mulhall
3
Posted 30/12/2016 at 08:16:29
I agree with Tom, midfield needs an overhaul... be interesting what happens there.
Gordon Roberts
4
Posted 30/12/2016 at 08:36:22
After this window and the summer transfers, I think the spine of the team will look very different compared to the one that Koeman inherited. If we do sign Schneiderlin, it will be interesting to see how Barkley performs.
John McGimpsey
5
Posted 30/12/2016 at 08:42:17
Don't hold you breath. If it ends up as a negative spend, like in the summer, questions need asking. While Blue Bill is about, I never expect a toss.
Kunal Desai
6
Posted 30/12/2016 at 08:46:19
At the very least, we need two players this window. Defensively we are okay but it's the lack of creativity and striker to help Rom out we desperately need just to maintain that 7th position.
Joe O'Brien
7
Posted 30/12/2016 at 09:00:31
All the players mentioned would undoubtedly improve the team but I'd like us to buy an out-and-out striker. Even though I know that's probably hard to do in the January window. We've got a lot of wingers/strikers... if Rom gets injured, we're going to be very light up front.
Ajay Gopal
8
Posted 30/12/2016 at 09:04:46
Colin (2) - not Fonte (just turned 33) and Depay (Royston Drenthe 2.0?) for me.
Central midfielder (Schneiderlin)
Winger (Lookman)
Forward (Berahino, although his attitude at WBA stinks)
This would do for me.
Paul Smith
9
Posted 30/12/2016 at 09:31:35
I'm all for getting Schneiderlin in as Barry replacement but I also want an out-and-out striker. The only problem may be convincing any decent striker to join us.
I also am not convinced about Depay as he looks like another winger only interested when he's got the ball. We also haven't got the best record signing young forward players recently, so for £10 million, this Lookman is a risk.
I believe we should give Davies and Holgate a run in the team to see if they are up to the task, which I think they are. The signings I would like to go for in an ideal world would be to convince Giroud to ditch his bit-part role at Arsenal. Then to target Schmeichel as our long-term keeper as I don't think the other two are good enough. The other position I would love is at centre-back; as much as I would love Van Dijk, I can't see that happening so Kone from Sunderland would do.
This could be the team till the end of season in a 3-5-2 system:
Schmeichel, Holgate, Williams, Kone, Coleman, Gueye, Schneiderlin, Davies, Baines, Giroud, Lukaku... which looks very strong to me.
Paul Burns
10
Posted 30/12/2016 at 09:39:06
Memphis Depay has done nothing to suggest he can be a decent player in this country... yet, because rumours have linked him to us, people on here stick him in lists of players they want us to sign – despite all of the evidence pointing to another failure.
Carl Rutherford
11
Posted 30/12/2016 at 09:40:50
The most pressing need is for Koeman to sort his chronology out:
Finally ...
But finally ...
Then finally ...
First of all ...

James Morgan
12
Posted 30/12/2016 at 09:45:06
I'd take Schneiderlin all day, Depay worth a go on loan. Don't know anything about Lookman but I'll trust Ronald and Walsh on him. We need a keeper, striker, a playmaker and competition for Seamus as well as the aforementioned. That's seven which will do me! If we get four I'll be happy depending who they are.
Brian Williams
13
Posted 30/12/2016 at 09:45:34
Young centre back+1: Van Dijk (I wish) or Keane from Burnley, as well as possibly the young lad from Ipswich with a view to the near future. Schneiderlin for the midfield, plus another midfield. A playmaker/No 10 call it what you will but has to be creative and not too lightweight. Lookman looks to be nailed on but you never know. Another striker: fast, mobile, tricky to play WITH Lukaku not as backup.
So ideally IMHO six please. Two centre backs, two midfielders, two forwards. Am I dreaming? You effing bet I am! Will the dream turn into a nightmare... let's wait and see!
Leave the keeper 'til the summer and make that the number one (get it?) priority then.
Jeff Armstrong
14
Posted 30/12/2016 at 09:54:59
Brian (#13),
Van Dijk was a good buy at £7 million from Celtic, but unfortunately we missed out on that one and got Funes Mori. He is now being touted at £50 million and if you saw his performance on Wednesday against Spurs you wouldn't pay the £7 million!
I've watched him a bit lately and he's not much better than our Argentine, straight swap... probably mega millions... not a chance.
Have a proper look on Monday.
Phil Jeffries
15
Posted 30/12/2016 at 10:02:39
We are crying out for a top quality midfielder that can link midfield and attack. Someone who can be a goal threat. A player in the Eriksson mold at Spurs would do the trick.
I can see Deulofeu being offloaded too. Koeman doesn't fancy him.
Will Mabon
16
Posted 30/12/2016 at 10:14:30
"Central midfield looks like it need an overhaul. From Barkley backwards.. "
Yeah, we could do with someone that can play fast, precise passes into the path of Lukaku and others, like, er... Barkley did against Leicester...
Alasdair Mackay
17
Posted 30/12/2016 at 10:16:34
So it appears that the medium term plan is 3-6-1, with 2 holding mids, 2 wing backs, a number 10 and a WF making up the 6.
If we want 2 for every position we have:
Stekelenburg and Robles
Holgate, Williams, Jagielka, Funes Mori, Galloway.
Jagielka is starting to show his age, so we need to think beyond him, while Koeman doesn't appear to fancy Galloway - so I think this area needs more surgery than people think.
Possibly 2 to come in over the next 2 windows.
Coleman +1
Baines and Oviedo
Who was the young RB that played against Norwich for Rhino - his name escapes me!? Also Holgate can play there, so I don't think this is urgent.
Gana, Barry, McCarthy, Davies, Besic, Cleverley and Gibson as our options for the holding mids.
Of those I would lean towards keeping Besic and obviously Gana and Davies; but the others are either not a long-term option, a square peg in a round hole or a crock - so we need to bring ar least one more in there.
Barkley + 1
This is urgent for me. Proper No. 10 options to fire a rocket up Ross.
Deulofeu, Mirallas, Bolasie, Lennon (+ Lookman and Dowell)
I think we need to ship some of these out. On paper Geri and Kev are perfect; but Koeman doesn't seem to think so. Bolasie and Lennon are wingers who cross for me.
Lukaku, Calvert-Lewin
Urgently require something here.
Niasse has to go and Valencia has to go back to West Ham, then we need a more oven-ready version to help out as Calvert-Lewin is not ready to compete with Lukaku yet.
Kim Vivian
18
Posted 30/12/2016 at 10:18:12
Depay, I believe, could really be a curve ball for us.
Every signing is a gamble to some extent but I do think this guy could really click with Everton. He's no way "a Royston Drenthe" - far, far superior, and may be just the provider we want.
Still only 22, the guy has massive potential and of all the names being bandied around this is the one I would be most disappointed to miss out on.
Martin Nicholls
19
Posted 30/12/2016 at 10:22:02
Colin (#2) – excited about Fonte? The same Fonte who celebrated his 33rd birthday last week? Along with Jags, Williams, Bainesy and Gaz Baz, he might form the basis of a good veterans team but not what we need in the Premier League!
Gerard Carey
20
Posted 30/12/2016 at 10:42:21
Six or seven in!!?? In January?? If we could get in one or two really good players (think Gana), then I would be happy.
There's not going to be much on offer in January so a decent playmaker and another striker and big business in summer would be the way to go.
John Audsley
21
Posted 30/12/2016 at 11:02:14
If Bill and Elstone are in charge of player negotiations it might be along window.
I'd be happy with the too lads from Man Utd and the Charlton kid.
This is the toughest time to do business and let's pray we aren't doing the usual deadline day deals.
Denis Richardson
22
Posted 30/12/2016 at 11:37:16
Schneiderlin and Depay both on loan with an option to buy would be good. Koeman already knows the former well so a perm move in Jan would also be ok I think. Lookman seems like a done deal so we'll see what he can offer.
I'd also like us to shift a few players out if possible. Whatever happens, Niasse is not going to play so may as well get him off the wage bill. We have a few others that are doing nothing that also need shifting; Gibson, Cleverley, Kone etc, all a waste of space and wages.
We have no squad depth whatsoever so badly need 3-4 quality players to be able to come in straight away, including a striker as back up if Lukaku gets injured. A top goalkeeper would also be good but that can wait till the summer imo as the ones we have now are ok, if not great.
Keeping fingers and toes firmly crossed...
Tom Carruthers
23
Posted 30/12/2016 at 12:11:56
One option who I have been chatting to my dad about is Ramsey from Arsenal. I know his season so far hasn't been stellar by any means, but I feel his effort and quality at the Euros deserves some merit. He has been struggling with injury, but even since coming back has struggled to get into a strong starting 11 for Arsenal.
Also, as I mentioned, he was quality in the Euros, which could have been due to his link-up play with Bale, which could likely be replicated with Lukaku. I'm not saying he is the definite answer to the problem, but maybe an option as that Number 10 we need.
Dave Carruthers
24
Posted 30/12/2016 at 12:24:26
This transfer window will be a sign of the new regime's commitment.
Ary Lima de Moraes
25
Posted 30/12/2016 at 12:28:00
Schneiderlin is a must. Lookman is a gamble but one I'd gladly take as Premier League players are massively overpriced (you wouldn't find any decent young player for less than 㾶m). Unsure about Depay. I'd take a loan but not a permanent.
Klaassen, Dolberg and Bazoer from Ajax are good options. Van Dijk would be fantastic but I doubt it will happen. Belotti would be great too but will never happen.
We should be signing a left-back, a cdm, a playmaker cm, one winger and one striker. Sign a keeper only if we can find a decent one, not some average keeper; otherwise, keep Joel Robles.

John Keating
26
Posted 30/12/2016 at 12:28:30
Unless we can get someone who is coming to the end of his contract and thus get him on the cheap, or a loan with an option to buy, I would be happy with a very quiet January.
We may have money to spend but why pay over the top prices on buying players just for the sake of it. I would sooner see this season out with what we have and give our own youngsters a chance. Might save us a fortune.
Brian Williams
27
Posted 30/12/2016 at 12:33:24
John. It might also see us finish so low in the league, we find it almost impossible to attract the type of players we need.
Procrastination never pays IMHO.
Ray Said
28
Posted 30/12/2016 at 12:38:33
Just saw this-gossip but interesting:
http://www.football-italia.net/96220/milan-set-sign-deulofeu
i would like to see him given a proper run as a No 10 before we look at shifting him.
Tony Twist
29
Posted 30/12/2016 at 12:55:34
I would like to see two central midfielders bought, I won't get it but I hope we buy, not loan, Sneiderlin. We need a striker, an out and out striker like Berahino and if Deulofeu is leaving it will have to be Depay I suppose. He is a trickster and looks good on YouTube, nice and direct but not that good as a team player, crosses not finding the man. Plays for himself rather than the team.
I would be happy with these for starters, brought in nice and early.
Minik Hansen
30
Posted 30/12/2016 at 13:43:50
Koeman being the manager, Depay may settle under him.
In training, Deulofeu must be helping challenging our defenders and keep the flow going up front – he is for keeps until at least the summer.
We might just get the players in January to not just add quality, but strengthen the team spirit; that way, players like Deulofeu might find their form and confidence again. When everybody's happy and motivated, it can only help the whole team.
Shane Corcoran
31
Posted 30/12/2016 at 13:52:24
Is Schneiderlin really that good? I remember John Giles (real analyst) showing clips of his first few months at Man Utd and he had about as much interest in the ball as McCarthy. He's also 27 which, although not old, is slightly older that I'd have liked.
Depay I'm not sure on either but he's younger and definitely worth a punt on loan.
We definitely need at least one player to play in the three behind Lukaku and some real back-up for him up front.
I think we're in a battle for seventh place this season at best. So I'd prefer some loans or investment in the future rather than getting a third-choice player.
Ian McDowell
32
Posted 30/12/2016 at 13:54:51
Hopefully Koeman and Walsh are intending to build a team of strong, powerful athletes. The EPL is a lot more physically demanding than the rest of Europe and this is the way we should go.
Aidy Dews
33
Posted 30/12/2016 at 13:59:08
Well Tbf we need a fair few players for the first team to improve it. We need a better No.1 but I can see us leaving that bit of business till the summer. We could do with a CB and van Dijk would be awesome but if it's genuine that both City & Chelsea want him then we've no chance. Fonte is good but he's another the wrong side of 30. We already have Williams & Jags that are 30 plus and personally I think we could do with a CB or 2 that are slightly younger. I'd still look at getting Kone in, although that might be another worth looking at in the summer as he'll be away at the AFCON next month. Stefan de Vrij is a very good CB and one that Koeman knows all about from managing him at Feyenoord, he's been brilliant for Lazio since coming back from injury and I wouldn't mind him!
Schneiderlin looks like it could be possible and in the long run he'll be a great addition as the box to box CM alongside Gueye. But I think we need a bit more creativity in CM and someone who can offer us a goal threat aswell. Can Barkley step up to the mark when in and around a better quality of player? I don't know, we need to see how he gets on but either way, I still feel we need another player in there. Could young Walsh step up to the plate? Been hearing he's very close to being involved with the first team and maybe he could give us an option long term. But I do think Koeman will sign someone for that position. We have been linked to Dzagoev recently and he'd be ideal. Someone like Adrien Silva is another, Klaasen of Ajax is a very good attacking CM.
We need better wide options that's for sure. Lennon isn't good enough, Mirallas as one or two good games every 20 which isn't good enough and Deulofeu is struggling to make an impact under Koeman and could possibly be moved on?! Young Lookman looks to be close to being complete and he'll be an option. Depay has been heavily linked and I think if given a good chance he'll do well. He'll come to us without the expectations he had on his shoulders that he had when he joined Utd after a brilliant season with PSV and Koeman will give him a chance and I think he would come good. Gabbiadini is another one. He'd be a good option down the right. He's got more of a strikers instinct about him and would come in off the line and look to play close to Lukaku and link with him. He'd also take away some of the burden of holding the ball up upfront and link the play. I've recently seen Quincy Promes linked aswell and he'd be another good signing, very explosive winger that creates and scores goals.
We also need another centre forward and I couldn't think who we could get next month. Maybe Berahino who we've been vaguely linked to?! He's a bit of a versatile forward and can play inbehind or wide so could be a good option. Would cost around £8-10m or more I'd imagine though. Even though his deal is running out, Pulis won't sell cheap in January as he knows he will get a good fee at tribunal in the summer when he does leave so he'll either hold out for a good fee next month or keep his powder dry till the summer knowing full well he'll get a good fee either way.
Then come the summer we can get shut of a few players and fine tune the squad, get some competition in for the likes of Coleman & Baines, get a quality No.1 in and take it from there...
Aidy Dews
34
Posted 30/12/2016 at 14:15:20
Shane #31, Schneiderlin as been poor at Utd but they made the mistake of bringing in Schneiderlin to be the long term replacement for Carrick at to be the holding midfielder who screened the back four and sprayed passes around and although Schneiderlin is a good passer of the ball, his game isn't to just sit deep and screen. He's a box to box CM that likes to get involved, defensively and attacking wise. At Southampton under Koeman he was brilliant as he was free to play box to box and he made Saints tick. Alongside a DM he was much better, Wanyama did all the screening and and allowed Schneiderlin to get involved yet Man Utd tried to make him into a "Wanyama" and that's not his game and his form suffered for it.
Along side Gueye I'm sure he'd be a great player for us and get back to his best.
Let's not forget with the likes of Schneiderlin & Depay, they've gone to a Utd team in transition and not doing so well after brilliant seasons at their former clubs and have gone in and struggled for whatever reasons, the roles their playing, struggling for form etc but a change of scene and no pressure/expectancy, being given a chance and played to their strengths could bring out the best of them?!
I can remember years ago when Depay was shit hot for PSV and Evertonians were crying out for Martinez to sign him yet he's gone to Utd and it's not worked out he's shite and not worth taking a chance on now?!
Look at Pienaar back in day, was a brilliant player at Ajax and went to a better league, the Bundesliga, with Dortmund and he flopped, struggled for games and in fairness that gave us at the time the chance to sign him because back in day when he was playing well for Ajax there was some big clubs after him and we'd of had no chance of signing him, but he didn't adapt and play well and we got the chance to sign him on loan and the rest is history! He was a class act for us.
So I wouldn't write Depay off just yet! If Koeman thinks he can improve us then we need to trust his judgement! .
James Macdonald
35
Posted 30/12/2016 at 14:53:01
Koeman has already annoyed Mourinho by talking about interest in Depay so that is clearly going to happen if the player wants to come. I would go for Wil Hughes or Jack Grealish with the former to my mind nailed on for greater things.
Most of all though, Koeman would do well to remember we finished 5th under Martinez with Barkley a key member of the team and Deulofeu a key squad player. Both are clearly good enough and I cannot fathom why Koeman is seemingly trying to off-load them both.
Minik Hansen
36
Posted 30/12/2016 at 15:57:24
James #35 I question Grealish' attitude, enough said.
Shane Corcoran
37
Posted 30/12/2016 at 16:10:50
Koeman does seem to be a great man for "I'm not talking about other clubs' players, apart from x, y and z who I openly admit to being interested in."
James Doran
38
Posted 30/12/2016 at 16:21:04
Ary @ 25,
I agree that we need to strengthen at left wing back; Bainesy hasn't got the legs to get up and down the pitch for 90 minutes and Oviedo hasn't got Premier League class.

James @ 35,
''Koeman has already annoyed Mourinho.. if the player wants to come.'' - I don't get your logic there mate.
I agree with you on Will Hughes but I would steer clear of signing Jack Grealish - I don't think the latter has the work ethic, plus he has a history of off-field demeanours. I would be happy with the additions of Will Smith and Schneiderlin in the midfield.
Is Koeman actually trying to off-load Barkley and Deulofeu? I'd like to see Deulofeu played in behind/alongside Lukaku; he did well playing there against Barnsley in the pre-season.

James Doran
39
Posted 30/12/2016 at 16:29:52
Re my post @ 38: On reflection, the addition of Will Smith to the midfield would not make me happy. On the other hand, the addition of Will Hughes would. :-)
Dennis Stevens
40
Posted 30/12/2016 at 16:43:57
Isn't Berbatov on a free??
James Doran
41
Posted 30/12/2016 at 17:08:39
Dennis,
5-7 years too late for us, I think mate.
Terry Riley
42
Posted 30/12/2016 at 19:00:39
Depay is a joke, the stories are legion here in Holland about what he gets up to and the company he keeps... should mean red flags allover the place!!!!
Brian Williams
43
Posted 30/12/2016 at 19:10:08
You do have to suspect anyone who turns up for a night of boxing wearing a Bolero jacket and a Panama hat ffs!
John Pickles
44
Posted 30/12/2016 at 22:59:56
The transfer window won't be complete without the obligatory Yarmolenko rumour.
Anthony Dwyer
45
Posted 30/12/2016 at 23:06:37
Barry and Jags have to be replaced this window, we can't allow them to continue to cost us points.
Also Williams is a bad buy, we should try to recoup the money and spend it on another player.
Holgate and Funes Mori should play if replacements aren't brought in soon enough.
Sam Hoare
46
Posted 31/12/2016 at 12:23:10
Ramsey from Arsenal is an interesting shout. Exactly what we need in my eyes. A super intelligent attacking midfielder who is always moving, can pick a pass, and will weigh in with a few goals. Him or a player of his ilk is sorely needed. Maybe Brahimi, Andre Silva, Coric etc.
Otherwise I'd be happy with Schneiderlin for £15-20m, Depay on loan and giving Holgate and Davies more time.
David Hallwood
47
Posted 31/12/2016 at 14:17:27
For me, the shouts for an out-and-out striker is a good one except that Koeman, like the majority of managers, like to play with one up top.
So at best he'll be signing a back-up for the service-starved Lukaku.
John Pierce
48
Posted 01/01/2017 at 04:05:48
Whilst the building blocks for the team must be addressed, I'm hoping Everton realise that no target should be ignored, however wishful. Players who are unsettled, injury prone but very good, and vulnerable because of their clubs plight should be targeted.
Sigurdsson of Swansea – goals and a two way game, good competition for Barkley. Swansea almost a drift and sinking fast.
Kompany – sure seems fanciful but unlikely to regain his spot back at Man City. 18 months even with a patchy injury record would be a step up for us.
Valenica in Spain struggled above the drop would be vulnerable to bids.
Dembele at Celtic at target for bigger clubs, but perhaps the swap with McCarthy might tempt them.
I would love to see Everton be that ambitious.
Peter McHugh
50
Posted 01/01/2017 at 06:27:54
Whilst I disagree with the targets, John, I agree with the sentiment. Could we get Martial for 㿊M, 㿔M, 㿞M? Is Snodgrass worth signing whose contract runs out in 6 months? Should we go for Hart now even if he stays on loan in Italy til next season?
I have been very disappointed with Koeman so far but he is right in that his team has had more time now to assess players and that a huge rebuilding job is needed.
Colin Glassar
51
Posted 01/01/2017 at 08:59:38
First and foremost, Happy New Year to one and all. I'd like to support JP's post regarding the signing of certain players.
Sigurdsson, Kompany and Dembele would be three great signings and wouldn't cost us the earth.
According to the rags, Van Dijk remains Ronald's top choice even if it means smashing the 㿞m mark.
Brian Williams
52
Posted 01/01/2017 at 09:08:19
Have we bought anyone yet????
Brian Williams
53
Posted 01/01/2017 at 09:11:27
Kompany?
It's January 1st – not April 1st, ffs.
Peter Fitzpatrick
54
Posted 01/01/2017 at 10:05:09
I'd go for Giovinco on loan for a couple of months, like Donovan or McBride, hopefully with an option to sign if he did well. He can take free kicks as well.
Gary Carter
55
Posted 01/01/2017 at 11:19:01
Out – Besic, Gibson, Cleverley, Deulofeu, Kone, Valencia, Robles, Oviedo, Lennon.
Any of the following In – Lookman, Schneiderlin, Van Dijk, Brahimi, Will Hughes, Dembele (Celtic), Foster (Southampton), Dzagoev, Keane, Smalling, Depay (only on loan as he sounds like another Shandy van der Meyde), Gabbiadini, Berahino, Hart...
Please stop mentioning Giroud, Ramsey, Kompany as this will never happen.
Dave Abrahams
56
Posted 01/01/2017 at 14:16:31
Brian (#52), not yet, but I bought three candles in church this morning, for a successful transfer window... do you want to go halves with me for the price of them?
John Pierce
57
Posted 01/01/2017 at 14:37:59
Giovinco is a good suggestion. I've seen him several times.
The question mark remains on his physical resilience but as stated in my original post Everton should be looking at players situations to help get a transfer done which shows ambition and little bit of unorthodoxy in approach.
Brian,
Chin up, April the first is derby day at Anfield. I'm sure Kompany will get the winner.
John Pierce
58
Posted 01/01/2017 at 15:01:07
Gary,
The targets you list you could find on the back of any cornflake packet, boring and old hat. Everton as a club need to be ambitious, that includes the whole club. Why limit yourself?
In the short term we need players to make a difference now. Stepping stones to finishing higher and creating an attractive environment for us to get much much better players.
Examining targets who would appear out of reach and trying something interesting to get them here might seem fruitless to you but would tell me we are being ambitious. If you want to be hard nosed about it, targeting out of reach players simply comes down to numbers. The more you pursue, the more likely you get lucky.
I like cornflakes, Gary, but do love a Variety Pack once in a while too.
Adam Scott
59
Posted 01/01/2017 at 15:02:06
Gary,
Besic has a long-term injury. I think he deserves a chance to establish himself on his return. I think getting rid of these players has to be a long term thing. I see no rush to push Lennon out of the door unless a team makes a good offer for him. We can't totally gut the team in January.
I would like to see the following core players out:
1) Gibson – Offers nothing. Period.
2) Cleverley – If we are going to bring a midfielder in, financially he probably has to go, at least on loan. Saleable too.
3) Niasse – Obviously has no future.
4) Oviedo – If Galloway comes back. I also imagine we could move him on somewhere..
The rest of them you mention, I don't think can simply be jettisoned at this point.
Adam Scott
60
Posted 01/01/2017 at 15:04:28
I think most people would see interest in Depay and Schneiderlin as fairly ambitious, John?
Eric Myles
62
Posted 01/01/2017 at 15:07:43
㿞 mill being mooted for Van Djik because Man City are interested in him now.
Let them have him at that price, he'll fit in well with their other 㿞 mill defender... Rocks, or something like that??
Brian Williams
63
Posted 01/01/2017 at 15:12:26
Dave (#56). Go on then. Long as I don't have to light 'em in the church. The lightning bolt from above might also harm those around me.
Dave Abrahams
64
Posted 01/01/2017 at 15:20:18
Fair enough, Brian, I got the large thick ones, they cost 㿀 each, but they last for ages. I'll see you outside the players entrance tomorrow. I'll be wearing a cromby overcoat and a trilby.
Brian Williams
65
Posted 01/01/2017 at 15:31:17
Haha Dave. I'll have sawn off horns and a red face!
Dave Abrahams
66
Posted 01/01/2017 at 16:14:13
Brian, I meant Goodison, not Anfield!!!!! Thanks for the laugh, still, if we didn't laugh we'd go crackers.
Brian Williams
68
Posted 01/01/2017 at 16:29:30
We would indeed mate. As we know we're chosen so we've all done something bad in a previous life.
Not that I'd change the fact that I was chosen mind!
John Hughes
69
Posted 01/01/2017 at 16:45:57
Dave (56) you could have got four candles and that would have really confused us all.

Brent Stephens
70
Posted 01/01/2017 at 16:50:14
John, plenty of "four candles" can be found with all the GP lawnmowers.
Brian Furey
71
Posted 01/01/2017 at 17:24:26
I always worry how some managers always buy players who they have a previous relationship with or are from their home country. Martinez took in a good few like Alcatraz and Kone.
I fear Depay could fall into this category where he stood out in Holland but has been poor in England. Yes, I think we probably need to pay big money and take some risks on attacking players but I fear he will not be the answer.

Colin Glassar
72
Posted 01/01/2017 at 17:36:49
Brian, Jose said that Memphis is a model pro, trains well and causes no problems on or off the field. He has fallen behind the likes of Martial, Rashford, Rooney and Zlatan but he's kept his head down and got on with it. Jose spoke very highly of him.
Mourinho also seems to have a problem with some of the players he inherited e.g. Schweinsteiger, Mata, Fellaini, Herrera, Rojo, Smalling etc . Some of them get the occasional game but it looks to me like he doesn't trust the LVG players.
Sometimes your face just doesn't fit and it seems that Depay has one of those. Remember, two seasons ago he was one of Europe's hottest properties.
Adam Scott
73
Posted 01/01/2017 at 18:09:49
It is hard to judge the wisdom in pursuing a deal for Depay without knowing the ins and outs of the deal. At the right price, I am sure it is a deal worth looking at. Not at any price for me though.
I do think he has the potential to be a top,top player. I am also concerned that there is a definite element of risk, especially as he has flattered to deceive in the United team for two years. He is the right age though, and I for one am fed up of people questioning his professionalism on the basis of 4/5 of fuck all.
Dave Abrahams
74
Posted 01/01/2017 at 18:15:41
John Hughes, Brent Stephens, don't you two start... we'll be here all night along with the two Ronnies.
Gary Carter
76
Posted 01/01/2017 at 18:23:26
Adam, whilst I agree with you that Lennon should only go if there is a good offer on the table, I can't agree on Besic.
I've never understood this cult hero image he has, he is not good enough, has been with us 3 seasons and managed just 35 appearances because, on the rare occasion he is not injured, he is simply not good enough.
Gary Carter
77
Posted 01/01/2017 at 18:28:46
John Pierce,
I understand what you''re saying but the targets I listed are no lore old hat or boring than the three unattainable ones I mentioned! We've been here before as well, pursuing players we have no chance of getting, signing no one and then having bully bullshit wax lyrical about how he made a great offer but they just didn't want to come!
If Arsenal were to sell Giroud do you really think he'd swap the bench there for the bench at Goodison? Because he won't get in ahead of Lukaku!
If Arsenal were to sell Ramsey, do you really think he'd sign for a side not even competing for a Uefa place? Or do you think he'd have a good pick of European sides in both England and Europe ?
Vincent Kompany!?!? I mean really!?!? There's ambition and there's just being delusional!!
David Booth
78
Posted 01/01/2017 at 20:20:19
Stop getting over-excited about the transfer window.
Quite apart from it being the inevitable, drawn-out, PR-spun, patronising, anti-climax it always is – we will only be spending what we earn.
Call me cynical, but Lukaku unexpectedly signing a contract extension recently sets us up nicely to legally obtain more for him?
The likes of Lennon, Cleverley, Gibson, Kone, McCarthy and Niasse, would only raise petty cash in today's transfer market. Even if any of them are moved out, it will probably be on loan anyway.
And selling Barkley, as has been mooted, will only generate enough to buy a flash-in-the-pan dud like Sissoko.
So unless we get 㿞m-ish for Romelu, we are not buying anyone of any use/significance.
Even if we did, we'd have to spend the bulk of that just replacing him. And with who?
So forget all talk of the likes of Van Dijk. This will be yet another window of loans, last-minute anti-climax, Russian league no-marks and "We've signed who? Never heard of him!"
Accompanied by the usual dose of bullshit right up until our traditional panic buy/s with half an hour to go!
Sorry to appear to be so pessimistic, but this IS Everton - and Carlsberg most definitely not do our transfer windows.
Laurie Hartley
79
Posted 02/01/2017 at 01:24:09
Smalling, Watmore, Traore would do me.
Peter Barry
80
Posted 02/01/2017 at 03:35:33
We have been a 'selling club' for many years now and competing for the scraps from the 'rich mans table' as recruits ourselves. Our current team is a testament to that.
The big question is: Has that situation now changed with the advent of Moshiri or will we still remain the same as before? This current Transfer window should reveal all.
Keith Gleave
82
Posted 02/01/2017 at 20:46:55
I think we all agree that we need a number of players in and the positions we require. Also we know, within reason the players we need to let go.
In reading the reports of what Koeman said, it worries me that the statement "I have asked the board for money in this transfer window." I would have thought that all the possible costings for the combination of players we could obtain along with salaries would have been worked out and agreed prior to the window opening.
I would always prefer to get players in quickly and early to bed in the team. As usual I am being a hopeful Evertonian but worry we may gain no more than in the summer.
Chris Williams
83
Posted 03/01/2017 at 04:29:16
I think this window is a real acid test for the new regime. The last one was a dud for all manner of reasons, but this time there has been plenty of time for a new management and recruitment set up to plan and prepare properly.
I doubt Koeman will tolerate another failed window this time around. I suspect he was majorly pissed off last time.
I only hope that lessons were learned and Kenwright and Elstone are not let within a mile of any dealings .
David Ellis
84
Posted 03/01/2017 at 10:19:41
I predict no more than 3 new players this window – with maybe one departure.
David Greenwood
85
Posted 03/01/2017 at 10:28:15
The following players could leave this month and it wouldn't affect our first team in the slightest:– Gibson, Cleverley, Deulofeu, Kone, Niasse.
None of these players require to even be replaced. Sorry Tom. You could also add in Jagielka and Oviedo.
There is an argument to say that our first team would be improved as the savings in wages could easily be used for the likes of Hart, Ramsey, Van Dijk and so on.
Great start to the year and it's pretty clear Koeman is expecting some activity. Good times ahead.

---
Add Your Comments
In order to post a comment, you need to be logged in as a registered user of the site.
Or Sign up as a ToffeeWeb Member — it's free, takes just a few minutes and will allow you to post your comments on articles and Talking Points submissions across the site.