Everton vs Southampton

91 Comments [Jump to last]
Sunday 1 January 2017
Premier League Preview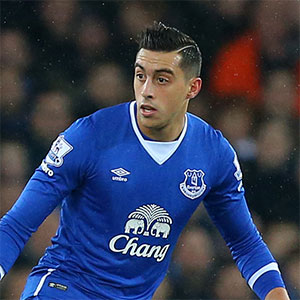 Ramiro Funes Mori could be the beneficiary if Ronald Koeman decides to pull Phil Jagielka from the starting XI again after his start against Hull just three days ago.
If Everton are on an upward curve under Ronald Koeman then 2017 promises to be a year of significant progress for the Blues.
Off the pitch, big things are hoped for in terms of moving the long-standing stadium issue forward but on it, the search for an avenue back into Europe is uppermost in the minds of everyone connected to the club.
The opening of the January transfer window provides a big opportunity to strengthen the squad to achieve that aim and a home game against Koeman's old club offers the prospect of kicking off the new year with a victory.
Friday night's 2-2 draw at Hull represented more evidence of Everton's powers of recovery after going behind but the two dropped points proved costly as the top six continue to pull away from the chasing pack. Of particular concern, Manchester United came from behind to beat Middlesbrough and Tottenham walloped Watford to increase the gap between themselves and the Blues.
Given that those clubs appear to have quickly restored the order almost guaranteed by their superior financial resources after Leicester upset the apple cart last season, it is becoming increasingly important for Everton to start turning draws into wins. Any side that can string a sequence of wins together can make progress in the top flight and capitalise on any slip-ups by the teams above them so while long-term progress is the key aim, retaining an interest in the battle to finish in the top six must remain the immediate aim.
The visit of the Saints affords Koeman's men the chance to make amends for arguably their worst display under his tenure when they lost on the south coast five weeks ago. Infamously, after conceding in only the first minute, Everton managed just one shot on target in 94 minutes of football and went down to a meek 1-0 defeat.
The Dutchman has assured his former team that the Blues are a different proposition now that they have found some resolve and attacking purpose in recent weeks, qualities that have seen them win two and draw two since their disappointment at the St Mary's, offsetting defeats against Watford and Liverpool. Koeman sees the progress being made and is hopeful that results will start to reflect that in the coming weeks.
"[A]way against Southampton was one of the worst performances of the team of this season," the manager said in the Liverpool. "The team is different now.
"I think we showed, after a real disappointment against Watford, in how we played against Arsenal, how we played against Liverpool and in two away games since, that we can take a lot of positives from recent performances."
Koeman also indicated that he will be making further changes to his starting XI in view of the fact that this will be the third game in the space of seven days, with the cup tie against Leicester looming on Saturday.
"It's a really tough period of games for everybody," he explained. [Y]ou need to do some changes in the team. It's all about the freshness of the players.
"The boys showed really good spirit against Hull and we will see now what is the best team to start against Southampton."
Where those changes are made in the team remains to be seen but the main contenders must surely be the elder statesmen in the side who came in for criticism after the Hull game. Gareth Barry was a surprise starter of his second match in four days and Phil Jagielka returned to the team in central defence alongside Ashley Williams but the pitfalls of having three over-30s in the spine of the lineup were exposed, first by the Tigers' strong start to the game and then the change in impetus after 18-year-old Tom Davies entered the fray for the last half hour.
On that basis, a recall for Ramiro Funes Mori and, perhaps, Mason Holgate if the manager opts for three centre-halves, and a long-awaited first start for Davies under Koeman would not be surprising. Nor, too, would be a return to the flank for Aaron Lennon in place of Enner Valencia who was busy but limited at the KCOM Stadium until he, too, was withdrawn in favour of Dominic Calvert-Lewin.
Recent injury casualties Maarten Stekelenburg and James McCarthy are unlikely to be involved but of the two, the Dutch 'keeper is the more likely to be passed fit.
Southampton have been something of a mixed bag since the last time the two clubs met, losing heavily at Crystal Palace, at home to Tottenham last Wednesday and falling to West Brom on New Year's Eve but beating Bournemouth away and Middlesbrough at home.
They have been weakened by the loss to injury of Charlie Austin — he scored that winner against the Blues in November — and are now lamenting their lack of firepower. Meanwhile, Virgil van Dijk's sending off against the Baggies means that Claude Puel will be without his best defender for his team's trip to Goodison Park.
Both absentees should be big boons for Everton and enhance the sense that the Blues really should win this game if they are to show evidence of the improvement Koeman says he is seeing.
Kick-off: 3pm, Monday, 2nd January, 2017
Referee: Kevin Friend
Last Time: Everton 1-1 Southampton
Predicted Line-up: Robles, Coleman, Williams, Funes Mori, Baines, Gueye, Davies, Lennon, Barkley, Mirallas, Lukaku
Full details: ToffeeWeb match page
---
Reader Comments (91)
Note: the following content is not moderated or vetted by the site owners at the time of submission. Comments are the responsibility of the poster. Disclaimer
Kelvin Thomas
1
Posted 01/01/2017 at 22:10:28
If he sticks to 4-2-3-1 I can see Barry starting again.
I think he'll go back to a 3-4-3.
Holgate, Williams, Funes Mori
Coleman, Gana, Davies, Baines
Lennon, Lukaku, Mirallas
Personally, I'd play Barkley ahead of either Lennon or Mirallas.
Andy Crooks
2
Posted 01/01/2017 at 22:21:14
I have a feeling that Valencia will be the making of our season. He has done well, in my view, considering his lack of match fitness and few games with Lukaku.
He needs a goal and a few games. I believe he can make a massive impact.
Kelvin Thomas
3
Posted 01/01/2017 at 22:22:10
Good shout. Would love a 4-4-2!
Chris Gould
4
Posted 01/01/2017 at 22:26:05
If we can muster a win against the Saints then that will be 10 points from a possible 15 over the Christmas period. Considering the 5 fixtures we've had, I think we can be happy with that tally.
I don't expect to see Davies in the starting line-up. Centre midfield is such a demanding position for an 18-year-old. Bringing him on with 30 minutes to go against a tiring team makes a lot of sense. He brings a lot of energy and tenacity onto the pitch, but it's a big ask for an 18-year-old to bring it from the start and sustain it.
Andy Wheeler
6
Posted 01/01/2017 at 22:36:24
I'm going with:
Stekelenburg;
Coleman, Williams, Funes Mori, Baines;
Valencia, Gueye, Davies, Mirallas;
Barkley;
Lukaku.
Jay Harris
8
Posted 01/01/2017 at 22:40:53
Kevin Mirallas looked our most threatening player in his last game and Ross Barkley scored and has appeared to have impressed Koeman if not me.
I think we have looked better with 3-4-3 so I would go:
Holgate, Williams, Funes Mori;
Coleman, Gueye, Davies, Baines;
Mirallas, Lukaku, Lennon.

But I expect Barkley will be in for Lennon.
Brian Williams
10
Posted 01/01/2017 at 22:44:41
Whatever the line-up we need to start fast and go at them right from the off. They're not doing great and they'll have at least four enforced changes.

It's about time we started a game confidently and gave the opposition no chance to build theirs. Get into them from the first whistle!!!!!!!!
Tony Farrell
11
Posted 01/01/2017 at 22:45:27
Andy 2, I am sorry mate I have to disagree with ya.
Everybody has their opinion, but in my humble opinion Valencia is not the answer. He constantly runs into players and loses the ball after being set up in good attacking positions, and then looks down at the ground without trying to retrieve the ball.

I am all for attacking players and appreciate they have to take chances going past defenders, but when they lose the ball, they should at least try and get it back. Valencia is a Championship player at best and IMO should not be in the Everton squad.
Victor Jones
12
Posted 01/01/2017 at 22:47:58
I'm going for an Everton win tomorrow. No surprise there. But I'm not basing that prediction on our great form. (What form?) I'm simply basing my prediction on the fact that Everton usually do manage to reverse results. Not with the top five or six. We rarely reverse results with those teams. But we usually go tit for tat with the teams in and around our own level... Southampton beat us at their place. We beat them at Goodison... Hopefully.
It's only rarely that we take six points of a team. When we can manage that .we are challenging the European spots. So I suppose what I am saying is that its all about consistency. But we are at present ,chalk and cheese.And this Premier League is dog eat dog.
Anyhow, is Koeman just learning what his best team is game by game? I think that he is. Let's see after the crazy Christmas fixtures if he manages to field a settled team (barring Gueye)... If he sticks with the same formation. Because right now you would need to be in Mensa to work out what he is trying to do... Its like the bloody krypton factor .trying to work out our tactics.
The predicted team looks good. Let's see how Gueye and Davies perform (hopefully). Albeit for only one game. And let's hope that Holgate and Calvert-Lewin can get their chance soon.
Off topic, but are Jags and Barry finished?I think that they are. They should now only have cameo rolls to play. We cannot base or build a team around players of their age.
I think of those two players ( plus a few others) like this. First are we going to ever win anything with them? Secondly ..how many teams above us would have them in their squads..
Baines is also on that list. Also all the deadwood .
Last comments: let's hope that we do reverse form with Southampton. We could do with the win. But this old supporter now realises ( after watching that performance against Hull ) that Koeman now needs at least two transfer windows. After that ...no excuses. COYBs
David Booth
13
Posted 01/01/2017 at 22:53:02
All those who are predicting our line-up, just do what Koeman does: put Barry's and Lukaku's names down, throw pieces of paper with the rest of the squad on up in the air, and fill in the other nine positions.
Wouldn't surprise me to see Cleverley winning a place in our first team lotto draw tomorrow.
Koeman doesn't know what he's doing.
And more worryingly, neither do the players!
Brent Stephens
14
Posted 01/01/2017 at 22:58:12
David, I'd say Coleman, Baines and Gana at least are also normally sure starts for Koeman.
David Booth
15
Posted 01/01/2017 at 23:03:06
True Brent.
Was just trying to keep it simple to emphasising the ridiculous number of places apparently up for grabs every game – regardless of any individual or team performance in the previous one!
Brent Stephens
16
Posted 01/01/2017 at 23:06:12
I see your point, David. Yes, it really is a pick and mix we've got this season. Perm any 11 from...
Colin Glassar
17
Posted 01/01/2017 at 23:06:59
Another win, 30 points and start getting those new players in sharpish. That would be a good start to the New Year.
Damian Wilde
18
Posted 01/01/2017 at 23:17:07
Andy (2), seriously? He has zero goals and can't get in the West Ham squad. A bit of effort seems to please some Blues.
Paul Hewitt
19
Posted 01/01/2017 at 23:18:00
An easy 3-0 win. Barkley, Rom 2
Tom Bowers
20
Posted 01/01/2017 at 23:25:20
We all hope this will be a better year for Everton and we long suffering fans. Tomorrow is another stage of the ''revival'' and Saints have gone off the boil somewhat after being decent in the early season games. Defensively they are suffering and Fonte was dropped for the last game but will probably be back tomorrow.
Koeman is becoming an enigma with his team selections and I do not like a back four without some aerial power which is what he started with on Friday. Some teams rely heavily on set pieces and Everton somehow seem to get stung by them too often.
Everton's midfield is still full of mistakes and allows even bottom feeders like Hull to dominate them. Soton will be smarting from their recent results so Everton need to be on their game right from the off.
Drew O'Neall
21
Posted 02/01/2017 at 00:45:11
If Koeman thinks we have turned a corner based on the last four games then he's been watching a different team to me.
Tony Draper
22
Posted 02/01/2017 at 00:46:38
"If Everton are on an upward curve under Ronald Koeman then 2017 promises to be a year of significant progress for the Blues."
I'm tired of hope & promise.
Actually, I'm sick and fuckin tired of looking at the positive. Bollocks.
I want silver.
I want SILVER.
Dick Turpin or Long John... IDGAF
Just win something.
Even a fucking argument.
Tony Hill
23
Posted 02/01/2017 at 00:50:24
Kevin Friend is another shit referee but let's not look for excuses... 3-0 based on precisely no faith or evidence.
Colin Hughes
24
Posted 02/01/2017 at 00:59:06
The Southampton game will be Koeman's 20th league game in charge and we have yet to score more than 3 in any of them. Not since Billy Bingham (first 34 games) in 1973 has any Everton manager gone as long at the beginning of his tenure as manager without hitting 4 in a game.
Ernie Baywood
25
Posted 02/01/2017 at 01:23:31
Tony (#11). I'd agree, Valencia is Championship level at best, but given were missing the most basic level of effort, a bloke playing for his career might be our best chance. Let's face it, Davies so far hasn't shown much beyond tenacity and most seem to want him in the side.
Maybe the efforts of Davies and Valencia can give the likes of Barkley, Mirallas and Lukaku the chance to show their quality.
Don Alexander
26
Posted 02/01/2017 at 01:58:09
No matter the performance, if there is one, or the score, the fact is that Moshiri should by now be very well aware that his "project" needs new signings now, plural.
To encourage other signings in the summer, a realistic bid for the FA Cup should be high on his agenda. We have Leicester in the 3rd round so I hope fingers are extracted from whatever orifice Kenwright and Elstone habitually insert them and that before kicking off against the Champions we have signed some top notch additions.
That will send a message of serious intent to the bizarre world of professional football in this country. Hey, it may even excite those... what are they called? Oh yes, home fans!
John Pierce
27
Posted 02/01/2017 at 01:59:17
Koeman has by accident hit a level of balance in the team, afforded to him through circumstances in the Arsenal game. Balance he has taken apart by changing formation with older players.
He cannot have both. The energy and two way game created by having Holgate, Valencia and Davies in the side. Not the best players but they give balance to the side. Both full backs are far more adventurous and sure footed with them in the side and preferably as a back 5.
Valencia, despite lacking the technical skills has created turnovers. Having Gana and Davies in the middle moves the midfield further up the field, closer to Rom n Ross. Playing the back 5 has Williams more anchored and less pulled out of position with a more mobile Funes Mori and Holgate in tow.
These small crumbs of comfort, need to be seized and developed. If Koeman continues meddle when he has a tiny window of opportunity then the fella is off his head. Stick to 5-3-2 or 3-5-2 or 3-4-3 to utilize the back three and stick to high energy players who go both ways.
Mick Davies
28
Posted 02/01/2017 at 02:45:02
Two-thrds of the earth is covered by water; the treatment room at Finch Farm seems to be covered by James McCarthy. If he doesn't get back before Gana goes to Africa, we need to immediately recruit a tenacious, hard tackling midfielder with pace, or we will have Barry playing a full 90 mins, alongside Cleverley (I personally think Tom Davies is ready for a run in the side but Ronnie K knows different).
That would mean disaster of Stamford Bridge proprtions, so fingers crossed for Mac and/or a new signing. I'd also like to see a cheeky bid for Fabregas who is a benchwarmer these days: if we've got the money to waste on Bolasie, Barry's new contract and a new (unnecessary) obscene wage increase for Rom, then surely it's worth a punt for one of the most creative midfielders in the game, and still under 30?
Maybe Barkley's departure could play a part; it would be beneficial to both parties, especially if the persistent rumours about his penchant for late night partying are true.
I can see us beating The Saints tomorrow, if only because they will be understrength and we (hopefully) won't have Jags and Barry playing – 2-0, Lukaku and Funes Mori.
Darryl Ritchie
29
Posted 02/01/2017 at 03:10:00
If everyone in a blue shirt puts in a shift from the opening whistle to the last, I believe we will be alright. Thus far, we haven't managed a full 90 of quality. A first half here, a second half there, fifteen minutes of sustained pressure... occasionally.
I'm aware that there are two teams on the pitch, and their purpose is to prevent us from doing what we intended, but it would be nice to be on the front foot from the start, for a change.
Laurie Hartley
30
Posted 02/01/2017 at 03:48:42
I hope we line up with your team, Lyndon. If we do, we will hammer Southampton and Barkley will play a blinder.
Up the Blues!
Andy McNabb
31
Posted 02/01/2017 at 04:29:23
Darryl (#29) – that is so blindingly simple a request and yet we appear unable to produce a performance like that.
Love some of your optimism guys and discussion re formations. I'm not knocking you for a moment but we could play 1-10 and I will still wake on Tuesday morning to a match report which says:
Once again, Everton didn't turn up in the first half and then early in the second, conceded a silly, avoidable goal to a side bereft of their main striker. In the absence of their £30 million pound rated defender, the Blues still couldn't manage a shot on the Southampton goal until the 79th minute and eventually scored a scrappy equaliser in the 87th, via a deflection.
There – that's saved Ken Buckley a job.

Paul Rimmer
32
Posted 02/01/2017 at 06:00:00
The predicted line-up above is probably our best at the moment although the back three with Holgate worked well.
Big changes needed in the playing staff though. Valencia is merely a trier – but how a club like ours is so bereft of different options to Lukaku is a mystery. Instead we rely on Kone, Valencia and (not ready yet) Calvert-Lewin.
We need goal scorers desperately. Baines misses a playmaker in front of him instead of Mirallas who I think we should look to get shut of in the summer. Cleverley, Gibson, Oviedo, and Jagielka can all go too.
Colin Glassar
33
Posted 02/01/2017 at 07:57:20
Mick Davies, what are these rumours regarding Barkley? I haven't heard or seen anything, I hope you just didn't make that up.
Anyway, his mum has him on a strict 10pm curfew from what I've heard.
Jonathan Tasker
34
Posted 02/01/2017 at 08:01:16
I just love it where you lot still think Moshiri is gonna put money in and buy players. Moshiri is and always will be only be there to extend Kenwright's stay... When are you going to get that?
Koeman is the new Martinez – happy to pick up his over-inflated salary and complicit in our demise.
Patrick Murphy
36
Posted 02/01/2017 at 08:45:19
Jonathon (#34),
You could of course be spot on with your view on how things will develop in the coming month, but I think that might lead to a parting of the ways between the club and the manager. According to the Mirror The Goodison boss has told the Iranian billionaire that the Dutch defender – who Koeman signed for Southampton when he was in charge on the south coast – is his No 1 target and he wants the deal done now.
If the new owner or the board don't back Koeman in this window, regardless of whether or not Van Dijk arrives, the signal will be, that Everton FC have failed to back their manager in the market; given the Dutchman's personality, I can't see him hanging about to continue the 'project' should that be the case. Whether a high value centre-half should be Everton's number one priority is debateable. But it's going to be very interesting to see what actually happens in the coming days and weeks.
John Malone
37
Posted 02/01/2017 at 09:02:14
I can't believe some of the shite that get's spouted on here!
The conspiracy theories and scaremongering is bordering on lunacy! The whole "Did he? Didn't he?" when Moshiri contacted Jim White after Sissoko deal fell through was laughable. Now, you've got a guy implying the new billionaire major shareholder is not going to spend money after paying over the odds for Koeman and employing a Director ofFootball aka talent spotter!! Unbelievable!!
Jonathan (#34), Moshiri is here to spend! He has what Kenwright never had, lots and lots of money!!! You're either very thick or just here on the wind-up!!
Paul Setter
38
Posted 02/01/2017 at 09:07:58
Everton v Southampton.... yippee –another really drab affair between two very average mid-table sides. I expect one half to be lethargic at very best and the other to be semi-excitable for around 15 mins with lots of long ball football, just like pretty much the rest of the season.
Geoff Williams
39
Posted 02/01/2017 at 09:14:05
Southampton are going through a tough time of late so it's a perfect time for them to play Everton and get their confidence back.
Eddie Dunn
41
Posted 02/01/2017 at 09:27:10
Wouldn't it be amazing if we started a game at full throttle and took an early lead, and then controlled the game scoring again? We would all be able to sit back and enjoy it. Imagine!
Christopher Timmins
42
Posted 02/01/2017 at 09:38:39
The manner in which our games were spread out over the Christmas period gives us a big advantage today, Southampton's second game since last Wednesday. I expect three points today.
With regards to the transfer window it is a real test of what our new owner is or is not going to do. The weaknesses are there for all to see, has he got the resolve and cash to help the manager to sort them out. The time for a statement of intent has arrived! Business done early like all the big clubs and no stories after midnight on the last day of the deadline of who we tried to sign.
Bobby Mallon
43
Posted 02/01/2017 at 09:53:12
Lyndon, can you tell me why Lennon even gets in your team?
Oh and have we signed anyone – it's 2nd January, we should have had at least two in. 😂
Tony Abrahams
44
Posted 02/01/2017 at 09:53:41
I hope you're like the national journalists, Lyndon, who always know the team before it's announced, especially considering that watching Everton is like watching England at the minute. It's fucking boring, because the manager generally goes for the same tried and tested bollocks, no matter how mediocre the players have been performing!
Being an Evertonian, we very rarely get what we really want, but surely it's not too much to ask for a bit of youth and energy, to shake us out of our current style, which just seems to be, "Let's turn up, and wait to see if anything good can happen."
Trevor Peers
45
Posted 02/01/2017 at 10:17:34
If Koeman chooses to play three at the back I think we'll win easily, if not, it will be the same slow start, inviting the opposition to score early, then the cavalry charge near the end to salvage a point.
We've become very predictable lately and, when Koeman names the team, we will know exactly what will follow. Let's hope he's brave and we go for the win.
Ray Roche
46
Posted 02/01/2017 at 10:25:02
Patrick Murphy (#36)
" According to the Mirror". Right away you're post loses some credence. The fact that this journalistic gem is peppered with "it is believed", "is likely to be", and even better, "making a direct plea", "has told the Iranian billionaire".
Since when did this Dickus Headus, so-called journalist John Richardson become a close confidant of Moshiri and Koeman? When did he get the nod to sit in during their face-to-face discussions regarding transfers? Or do you think he's padding out a non-story with some make-believe assumptions of his own?
When the squadron of Flying Pigs have landed, Virgil van Dijk might sign, but why he would sign for us over Champions League football next season with Chelsea, Man City, Liverpool, Man Utd in addition to a bigger salary? Ask Richardson that one.
Not having a pop at you, Patrick, just surprised that you have been sucked in by such ludicrous shite.
John G Davies
48
Posted 02/01/2017 at 10:38:08
Got to be 3 at the back today: Holgate, Williams, & Funes Mori.
Hopefully Tom Davies, Barkley and Gana with Coleman and Baines wide of them. Lukaku and Mirallas up front... Maybe go 3-4-3.
In that case, it would be Davies or Barkley to start with Gana. Mirallas, Lukaku Valencia or Lennon as front 3.
Tom Evans
49
Posted 02/01/2017 at 10:38:34
Tom Davies must start this game. His appearance on Friday gave the rest of the team the kick up the arse it needed. There are those that say bring him in gradually more in away games, far from the cauldron of criticism that is Goodison.
We need his energy and guile. Give him a start today, Ronald.
Patrick Murphy
50
Posted 02/01/2017 at 10:42:03
Fair enough, Ray, it probably wasn't the best example to give, but I do at least attempt to find some material that would help to dissuade the knee-jerkers from poo-pooing all things Everton. Sometimes, the sceptics have good reason to think that way; most times, it is only repetitive negativity to help satisfy some need to say "I told you so" – whether it be about the manager, the board, the team, or the fans.
I will be far more considerate in my choices in the future, time to get ready to go the game – let's hope we start the year off with a victory and a good performance.

Brian Williams
51
Posted 02/01/2017 at 10:42:28
Does anyone actually believe the fact that Koeman has pushed Moshiri on getting Van Dijk in NOW and to offer 㿞m for him "or else"???
The Mirror is the same paper that tried to destroy Rooney for having a few too many, admittedly a mistake, while trying to please members of the public who'd asked him to join their celebrations and then "allegedly" fucked him over by "allegedly" selling photos to the press.
The same paper that then prints a back page headline of "The Drinks are on me" when a player, recently arrested for drink driving, scores a goal.
So Rooney puts at risk his own liver, while the other player puts at risk members of the public and other drivers due to a total disrespect for the laws of the land and a total disregard for the safety of others.
The Mirror is no better, or worse for that matter, than any of the rags for inventing, and that's exactly what it is a lot of the time, any old shite to fill column inches.
The fact that some people fall for it still surprises me, and that's no disrespect to Patrick, honestly.
I can understand everyone, including me, is keen to make five or six signings this month that will make a huge difference to us, four would actually be a real coup in my eyes.
Will it happen? Rather than, like a few on here already, take a complete negative approach even to today's game.
Like investment blurbs say, past performance is no guarantee of future performance.
Let's wait and see.
Rob Halligan
52
Posted 02/01/2017 at 10:43:31
John (#48), exactly the same team I was going to post. I assume you also have Robles in goal?
Tony Dove
53
Posted 02/01/2017 at 10:45:35
Tom @49, Davies should have been starting months ago but better late than never. Holgate should also start alongside Williams in a back four.
Nigel Munford
54
Posted 02/01/2017 at 10:52:58
Bobby (#43) – I still see you're bashing Lennon then?
Charlie Lloyd
55
Posted 02/01/2017 at 10:54:06
Brian @ 51
Totally agree. Well said.
Charlie Lloyd
56
Posted 02/01/2017 at 11:00:54
Mirallas appears to have hit some form in the last couple of games. I would like to see him deployed more centrally as a foil for Lukaku, providing the midfielders with another target to hit. That would mean a 3 at the back and wing backs: 3-5-2.
Robles;
Holgate, Williams, Funes Mori;
Coleman, Gana, Barkley, Davies, Baines;
Lukaku, Mirallas.
Brian Williams
57
Posted 02/01/2017 at 11:05:38
Thanks Charlie.
Is Gana still available? I heard that players in the Premier League were being allowed to play on the 2nd and 3rd of January before going to AFCON but wasn't sure.
Rob Halligan
58
Posted 02/01/2017 at 11:12:20
Gueye leaves after today, Brian. The likes of Zaha, will join the Ivory Coast after Palace play tomorrow.
John G Davies
59
Posted 02/01/2017 at 11:27:53
Robles in goal, Rob.
Christy Ring
60
Posted 02/01/2017 at 11:31:36
He has to start Davies with Gana and Ross. I'd also start Holgate ahead of Williams, who was slow, and every bit as bad as Jagielka against Hull.
I would bring back Galloway, now that the window is open; Baines has been so poor, he stands off and allows so many crosses into the box.
Dave Pritchard
61
Posted 02/01/2017 at 11:39:47
Mirallas has been slightly better in the last couple of games but if that is him hitting form then I would be worried. However, the comment applies to all of our team.
Even Gueye was average against Hull. Like many others, I would like to see Davies and Holgate start.
Ray Roche
62
Posted 02/01/2017 at 11:47:55
Patrick (#50),
I began to think it was me being stupidly optimistic on occasion and taking to the blue rose-tinted glasses too often but the degree of negativity that's on this site nowadays, and increasingly so, just beggars belief. We've had some beauts on here calling for Koeman's head after 12 games and one difficult transfer window.
Right, time for an early lunch and off to the match, Happy Near Year to you, Patrick, and COYBB.
Mark Morrissey
63
Posted 02/01/2017 at 11:51:04
A win today and a slight knock for Gana Gueye in the 89th minute which sees him sit out the AFCON. Ha ha!! I don't mean that, I just don't want him to go and knacker himself out.
A good performance from the lads today is all I want. 90 minutes of cut and thrust
Ian Bennett
64
Posted 02/01/2017 at 12:02:54
My team:
Robles
Coleman
Baines
Williams
Holgate
Davies
Gueye
Barkley
Mirallas
Lukaku
Valencia
Kim Vivian
65
Posted 02/01/2017 at 12:13:36
I have not read any posts on this thread so am utterly uninfluenced.
I am predicting 3-0 today and a return to a nice warm feeling inside after our last banana skin.
Sam Hoare
66
Posted 02/01/2017 at 12:20:50
Holgate may well start if he goes for a back 3 (5) but I think he see's Davies as still being too raw. Which he may be.
We get very excited to see a new player and feed off their enthusiasm but that does not always mean it's the right choice. Having said that, I think we do need that energy in the middle and having more mobile players brings the best out of Ross and Romelu.
I'm going for:
Robles;
Holgate, Williams, Funes Mori;
Coleman, Davies, Gana, Barkley, Baines;
Lukaku, Mirallas.
Brian Harrison
68
Posted 02/01/2017 at 12:26:12
Let's hope we start more positively than we did against Hull, as our second-half performances are usually better than the first half.
Can we see the aggressive Lukaku today who can look really good when he is, rather than the arms pointing and sulking that we see too often?
Can we see Barkley getting into the box at every opportunity rather than waiting outside the box. Also he has a good shot in either foot but seems reluctant to shoot from outside the box why?
A win today will be a good return of 7 points out of our last 3 games and, considering 2 were away, that I think we be a good return. Well... time for lunch before heading for Goodison.
Gerard Carey
69
Posted 02/01/2017 at 12:27:24
2-0 today, New Year, clean slate, new signings coming in (fingers crossed), upwards and onwards.
Dave Williams
70
Posted 02/01/2017 at 12:30:53
Whilst I expect him to play Cleverley, it is the other Tom who should start alongside Gana and Ross in central midfield and see if this makes us play more quickly. In my view, this suits Ross as it makes him play by instinct rather than have too much time to think where to pass.
Holgate in the back 3 with full backs pushing up as those two are better than any of our so called wingers have been:
Robles
Coleman
Williams
Holgate
Funes Mori
Baines
Gana
Barkley
Davies
Mirallas
Lukaku
I would also have Dowell on the bench ready to come on for half-an-hour if we need creativity.
Ciarán McGlone
71
Posted 02/01/2017 at 12:36:37
Surely our manager can now see the gaps that starting Barry leaves in our midfield?
My only requirement for today is that Barry doesn't start. I think the rest will follow..
John Keating
72
Posted 02/01/2017 at 12:43:27
Dave (#70),
The right team, that. Somehow I think Koeman will revert to type – safety first and play 2 defensive midfielders – unfortunately.
Dave Abrahams
73
Posted 02/01/2017 at 12:44:35
I haven't a clue what team Koeman will pick but I hope Holgate is included. I like Williams and Funes Mori; Jagielka's best days are behind him unfortunately. Out of the four of them, Holgate is the only one really comfortable bringing the ball out of defence.
The other three don't want the responsibility of using the ball and either pass it to who is next to them or hoof it long, usually to the opposition. Holgate, as young as he is, is more steady and can carry the ball looking for an opportunity to pass to another player in blue.
Hoping for a win today, mostly to give the team and club some confidence going into the second half of the season; a good performance would be nice as well and is long overdue.
Bill Watson
74
Posted 02/01/2017 at 13:07:04
Barry slows the whole team down and this creates problems all over the park.
I'd like to see Davies and Holgate start: definitely not Cleverley or Jags.
Geoff Evans
75
Posted 02/01/2017 at 13:18:53
If Barkley and Barry play, no more than a point. Chance of 1-0 without them.

Jay Wood
76
Posted 02/01/2017 at 13:21:22
At exactly the midway point of the season, there are clearly three tiers established in the Premier League.
The top 6, from Chelsea down to Man Utd, are firmly established. Curiously, our record to date against teams in this tier this season is not totally forlorn, even factoring in the 5-0 trouncing at Chelsea:
P 6 W 1 D 3 L 2 F 5 A 10 Pts 6. In the form table of games between the top 7 only, we are ahead of both Arsenal and Spurs.
Against the bottom 7 clubs we have yet to lose, but it is easy to identify dropped points in draws at home to Palace and Swansea and away to Hull. Our record reads:
P 7 W 4 D 3 L 0 F 13 A 4 Pts 15
Curiously, it is the mid-table fixtures against teams from ourselves in 7th to Watford in 13th we have been poorest.
P 6 W 2 D 0 L 4 F 7 A 8 Pts 6
These are the fixtures in which we most need to improve our results in. Southampton is in this group. Let's hope today is the start of garnering more points from teams in this tier.

Stu Gore
77
Posted 02/01/2017 at 13:36:45
Davies and Calvert-Lewin to start!!!
Mark Gardiner
78
Posted 02/01/2017 at 13:42:23
What I'd like to see is Koeman pick what he thinks is his best team and stick with it for a few games. Constantly changing formation and players does nothing to help build the team. Why on earth he changed the winning team from the Leicester game is beyond me.
One game we have a back four then a back three then we have the attacking players coming in and out, then Jags plays then he gets dropped then he plays again. None of this is helping anybody at the club.
I'd like a back three of Williams, Funes Mori and Holgate, Jags is done now for me. With Baines and Coleman pushing on as attacking wing backs. Then stick with that and allow those players to become comfortable with the system and with each other. Once you have that part of the team settled, then you can work on the midfield.
I desperately want to see a striker playing up top with Lukaku but, let's face it, we have been screaming for that for three years under Martinez and now under Koeman and neither men seem intelligent enough to understand that Lukaku is best with the ball along his side or in front of him and not playing him alone so he has to have his back to goal and having to make the ball stick which is something he can't do. Having another player up front with him who can do that work and allowing Lukaku to just focus on scoring would transform our whole play. After all you don't score many goals with your back to it.
How many other managers in the Premier League play in a way that has their best scoring threat blunted by their own tactics?
Chris Gould
80
Posted 02/01/2017 at 13:49:39
Jay, that's an interesting breakdown and actually brings hope for the 2nd half of the season. It's not a big ask to improve against the teams in mid-table.
I am hopeful of a 10-point improvement on our 1st half of the season in the 2nd half of the season. That would give us a respectable 64 points.
Andrew Keatley
81
Posted 02/01/2017 at 14:02:17
Very interesting... Davies AND Calvert-Lewin start.
Steve Woods
82
Posted 02/01/2017 at 14:09:16
Robles
Baines
Funes Mori
Williams
Coleman
Gana
Davies
Lennon
Barkley
Calvert-Lewin
Lukaku
Steve Woods
83
Posted 02/01/2017 at 14:10:11
Subs: Hewelt, Jagielka, Mirallas, Cleverley, Barry, Valencia, Holgate
Paul Smith
84
Posted 02/01/2017 at 14:10:51
Now that Koeman has given youth a chance, what's the odds of him bringing on Barry to win it?
John Pierce
85
Posted 02/01/2017 at 14:11:18
Honestly first time this season, I've thought the side has energy. Something approaching excitement!
Already my patience has been soothed. They might stink the place out but Koeman gets a little credit.
A couple of players there should be thinking "This is my big chance." I hope they take it.
Eddie Dunn
87
Posted 02/01/2017 at 14:12:50
2-0 today. Calvert-Lewin to score.
Sam Hoare
88
Posted 02/01/2017 at 14:13:58
Interesting team. His boldest yet. Hope the youngsters take their chances. Looks like a high energy team.
Des Farren
89
Posted 02/01/2017 at 14:16:33
The last five words of your piece are the pertinent ones to me, Lyndon.
Steavey Buckley
90
Posted 02/01/2017 at 14:16:34
Everton should stick with the same formation (3-4-3) and basically the same team that beat Leicester until McCarthy is fit enough to return to a more decisive 4-3-3 formation.
Both Baines and Coleman are happier getting forward, while Mirallas is much better playing as a second striker. In the other positions, will Koeman go with Barry or Davies and Barkley or Lennon, Calvert-Lewin or Valencia?
Jon Cox
91
Posted 02/01/2017 at 14:18:49
At last... caution to the wind.
It's only taken 19 league games. Let's hope for a rip-roaring afternoon.
Mike Allen
92
Posted 02/01/2017 at 14:20:59
I just feel sorry for Holgate... the lad must gutted on match days.
Phil Walling
93
Posted 02/01/2017 at 14:21:32
Do you think Koeman has included the kids to prove his point they just aren't ready?
Gavin Fennessy
95
Posted 02/01/2017 at 14:23:10
Who is playing wide in this line up? Lennon and?
Jon Cox
96
Posted 02/01/2017 at 14:23:17
Phil, no,
More like he wants revenge for the St Mary's game.
Phil Walling
97
Posted 02/01/2017 at 14:28:43
My New Year's resolution is to no longer bet on Everton games. Henceforth I am concentrating on the ponies rather than the' show ponies'!
Brian Furey
99
Posted 02/01/2017 at 14:35:48
Delighted with that team, it gives me hope that RK does know what he's at. At least he picks the younger lads at home against a team who we are well capable of beating.
With Virgil out they could be weak at the back and it would be nice for Calvert-Lewin to kick on 2017 with his first goal.
I hope the team can reward Koeman for his brave line-up.
David Booth
100
Posted 02/01/2017 at 14:38:41
Let's hope he plays Calvert-Lewin in his proper position, ie: up top with Lukaku – not stranded out on the wing, only to be subbed after 65 minutes.
And Lennon – words fail me (apart from WTF?). How much longer are we going to persist with this backwards passing, no threat, has been?
Don't give me any 'hard-working, tracks back' bullshit. He's paid to get forward, get crosses in and get goals – none of which he ever looks remotely like doing in every game he plays.
Koeman should have kept faith with Mirallas – at least he has pace and knows where the goal is. Lennon is such a waste of space.
Delighted to see Davies in there with Barkley though. Let's see if they energise each other.
But it's always one step forwards, one step backwards with the Dutchman. The ultimate tinkerman... without a plan!

Roman Sidey
102
Posted 02/01/2017 at 14:52:37
Well, aside from no Holgate, it appears Koeman reads ToffeeWeb
Steven Telford
103
Posted 02/01/2017 at 14:56:34
Anyone have a stream?
---
Add Your Comments
In order to post a comment, you need to be logged in as a registered user of the site.
Or Sign up as a ToffeeWeb Member — it's free, takes just a few minutes and will allow you to post your comments on articles and Talking Points submissions across the site.