Lookman completes move from Charlton Athletic
Thursday 5 January 2017

82 Comments [Jump to last]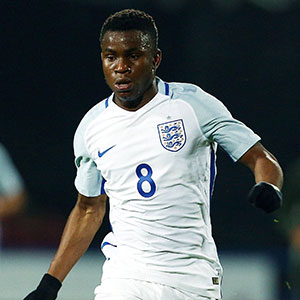 Everton have completed their first signing of the January transfer window with the acquisition of Ademola Lookmam from Charlton Athletic for an undisclosed fee.
The move for the exciting England U20 forward, reported to be worth around £7.5m up front and ultimately £11m if add-ons are triggered — a record fee for a League One player either way — has been on the cards for the past few weeks but with the final details resolved in the past few days, the 19-year-old underwent a medical yesterday. He put pen to paper on a 4½-year deal today and will wear the number 31 shirt.
Ronald Koeman expressed his satisfaction at landing Lookman saying, "Ademola is a big talent and, at 19 years old, he has a big future in the game. I'm really happy that we've been able to bring him here to the Club.
"This is part of the vision we have for the Club and it's important to give to young players the opportunity so that the team continues to evolve and improve.
"We believe in the player and in the development of the player which, of course, will take time but he will have a big part to play in the future of the Club."
Born in Wandsworth in London, Lookman was picked up by Charlton from Waterloo FC three years ago and, after his scoring exploits for the Addicks' academy teams earned him a promotion to the first team, he made his senior debut in November 2015.
He has emerged as one of the brightest prospects in the Football League in the ensuing 14 months, having played 45 times, scored 10 league goals for the South London club and been named the Championship's Apprentice of the Year last season.
Lookman's transfer to Goodison Park was thought to be in jeopardy over Charlton's desire to have the 19-year-old return to The Valley on loan for the remainder of the season and Everton's strong reluctance to it.
Ronald Koeman apparently sees him as a viable first-team option for the remainder of the season given that he will likely be without Yannick Bolasie for the rest of 2017.
His omission from Charlton's two most recent games was, however, an indication that a deal was imminent. Addicks boss Karl Robinson admitted over the weekend that he pulled Lookman from his team to "protect his dream".
"He could have left in the summer and he chose to stay," Robinson explained. "I had the same thing with Dele Alli. He turned down a few moves in one window and it got to Christmas and the kid was so scared of tackles.
"He became a marked man, I saw players purposely try to kick him. I can't watch a kid's dream go."
Blessed with great pace, balance and agility together with a desire to take players on as well as an ability to play anywhere across the forward line, Lookman promises to be an exciting addition to the Blues' squad.
Two-footed and with an eye for goal, it is no doubt hoped that as he develops in the coming years, he can provide a reliable source of creativity and goals in a team that has relied heavily on Romelu Lukaku's impressive strike rate.
Given Lookman's age and his comparatively diminutive frame for a forward — he is 5'-8½" — his biggest challenge as he prepares for the Premier League is likely to be his physique. Observers of him suggest that he will need to build up his strength to cope with the rigours of top flight football.
"It feels great to be an Everton player," the new signing said after the transfer was completed. "As soon as I heard about Everton's interest I knew this would be the right place for me."
More details at EvertonFC.com
---
Reader Comments (82)
Note: the following content is not moderated or vetted by the site owners at the time of submission. Comments are the responsibility of the poster. Disclaimer
James Marshall
1
Posted 05/01/2017 at 14:14:32
Just had my first look at this kid on YouTube (I know) and he looks decent. Nippy little player, two-footed, turns on a sixpence, can cross and finish with both feet. A handy addition.
James Morgan
2
Posted 05/01/2017 at 14:18:14
Hopefully this lad turns out to be something special, but we can't expect too much too soon. It'll likely be next season before we see what he's truly made of, unless he does a Dele Alli.
Brian Williams
3
Posted 05/01/2017 at 14:39:10
Welcome to Everton, Ademola, I hope you're the first of five during this window!
Danny Halsall
4
Posted 05/01/2017 at 14:45:36
Looks a good prospect, and it seems that Koeman is confident of him making some sort of contribution to the first team, similar to the way Calvert-Lewin and Davies have been used. However, if the price quoted is the correct one, it seems a little steep for an unproven 19-year-old who has never played top-flight football. Just goes to show once again that young, English talent comes at a premium.

Best of luck, Ademola, hopefully the first of many!
Brian Hennessy
5
Posted 05/01/2017 at 14:50:40
Very impressed that this signing was completed without the usual drawn-out process we are used to at Everton.
Fingers crossed he is the first of many in January.
Michael Lynch
6
Posted 05/01/2017 at 14:56:00
Contrary to the £11m reports on the BBC and elsewhere, Sky are reporting a fee of £7.5m plus add-ons if he makes it.
Welcome to the new Messi!
Phil Jeffries
8
Posted 05/01/2017 at 15:25:31
When you look at the other clubs sniffing around him, he must have something to offer. Liverpool and Man Utd were amongst others and at 19, it looks like Koeman is ready to hand him his chance. Let's just let him settle in and see what the kid can do.
Jon Withey
9
Posted 05/01/2017 at 15:26:39
Adios Deulofeu.
John Hughes
10
Posted 05/01/2017 at 15:38:53
Well it's a start!
Brent Stephens
11
Posted 05/01/2017 at 15:43:30
YouTube clips show him to favour his right foot but he looks to have a good shot with his left as well. Only 5'-8" and a smidgen, it seems.
David Chait
12
Posted 05/01/2017 at 15:47:17
Good to close out without the fuss! ٥.5m is a big punt for League 1 youngster but exactly the type of punt that I've wanted wanted to take for years. Only (mostly) way to get the next Bale, Walcott etc is to pay these prices at this age.
Good luck, lad!
Dermot Byrne
13
Posted 05/01/2017 at 15:51:39
Made for pussy-footed modern football.
Welcome
Joe Clitherow
14
Posted 05/01/2017 at 15:52:23
Excellent, that's how it should be done: announcement when it is all done and dusted and early in the window.
Next!
Craig McFarlane
15
Posted 05/01/2017 at 15:55:06
He's looked really good for Charlton (a team I go to see every now and again since they're on my doorstep); it's a big step up to the Premier League, but I think he'll be a good signing.
For those of you that haven't seen him play, he is quick, tricky and direct. Has a great right foot, but can hit them with his left also.
There are a few things he needs to get sorted though such as his final ball, decision making when he has time and is not just playing on instinct and also he needs to bulk up a bit to stop defenders pushing him off the ball, but he is young and has all the tools to succeed.
Welcome to paradise Ademola!
Jay Wood
16
Posted 05/01/2017 at 16:03:52
One down, how many more to go...?
Welcome aboard, lad.
Andy Sommer
18
Posted 05/01/2017 at 16:11:04
Cracker joke: This one came out of left (mid)field.
Taxi for one...
Conor Skelly
19
Posted 05/01/2017 at 16:15:41
Craig, your description for Lookman could be applied to one of our own. No prizes for guessing.
On a side note, Jose Fonte has just asked to leave Southampton.
James Kirrane
20
Posted 05/01/2017 at 16:18:32
Welcome to Everton, Mola. Wishing you the very best of luck. Hope you have a brilliant career.
Brian Furey
21
Posted 05/01/2017 at 16:21:36
From doing a little digging online, I came up with these facts & opinions.
Played 25 games for Charlton in League 1, scoring 7 goals this season as a striker/winger and is their 2nd top scorer. He has 2 assists, 20 shots on target and 3 yellow cards so far this season.
He only broke into their first team in November 2015 yet a few weeks ago he was handed the armband when his captain was substituted. He has been described by some as the best young kid outside the Premier League. Usually plays on the left and has good control and is strong on the ball with decent pace.
I've a good feeling about this young player as he looks very gifted with both feet. Considering we bought DCL for ٟ.5M and Holgate for ٠M you would imagine Walshe and Koeman have done their homework on young Lookman and rate him highly to be prepared to fork out ٥M upfront with 㾷M the total outlay. In today's inflated market you would imagine we will make money on him, even if he fails to step up to the level in the premier league but I have a feeling he has what it takes to go far.
From the brief YouTube footage I've seen, I like the way he's not too greedy and is able to beat a man and lay it off rather than do what Geri often does and take too much out of the ball. Of course it will be much tougher for him at this level but with us seeing Koeman giving chances to Holgate, Davies and DCL lately you would hope we will see him soon on the left wing, though I presume he's cup- tied.
Fonte would be interesting but he's 33 now so not sure is he what we need alongside Williams
Mark Andersson
22
Posted 05/01/2017 at 16:26:39
Welcome to Everton FC and good luck. I hope you have thick skin as we can be quite brutal if you don't put a shift in, don't live up to your price tag, or if you think you can use us to further your career with a bigger club.
Also... don't go out and buy a gold Bentley.
Eugene Ruane
23
Posted 05/01/2017 at 16:27:08
Hope he does brilliantly and in 5 years we get to look back and think '٦ million - it was an absolute steal'
Wish the lad all the luck in the world.
That said, right now I'd like to see a very different type of player brought in. A couple of real dog's arses who never smile and despise losing would be great. A pair who never shut the fuck up, who moan at refs and use fear to keep their own team-mates switched on.
Appreciate there's not many of this type around these days but maybe Walsh knows of a couple.
What I'm convinced of is that – unless we can get a few players in who can affect things in ways other than the occasional mazy run – there won't be any discernible change to what we've seen in recent months.
Peter Gorman
24
Posted 05/01/2017 at 16:32:41
Good lad – he comes across as painfully shy, hope he isn't on the pitch, no need to be.
Jim Harrison
25
Posted 05/01/2017 at 16:36:38
Eugene. Amen.
Jack Convery
26
Posted 05/01/2017 at 16:53:05
Snodgrass next please. Snarls / fights and hates to lose. Came back stronger after a real bad injury. The type we need. Anfield wouldn't phase him one bit in fact he would thrive I reckon. Great left foot too as we all know.
Mark Morrissey
27
Posted 05/01/2017 at 16:57:57
My Schneidy sense is tingling... we'll bag him before the weekend.
Brian Williams
28
Posted 05/01/2017 at 16:58:58
Peter (#24).
He's not shy on the pitch and actually has a bit of an edge to him, a fact we'll all be happy with.
Geoff Evans
29
Posted 05/01/2017 at 16:59:42
A new face at the start of the window. Welcome and all the very best to young Ademola.

Gary Edwards
30
Posted 05/01/2017 at 17:01:25
Lol @ Eugene .. "real dog's arses"... exactly what we need. Someone like the Red Shite's Lucas for example.
Impressed that we got this business done early in the window, one of Koeman's aides must have nipped out with the cheque book whilst Bill and Ben were pre-occupied with the smoke and mirrors at the AGM.
Just watched the Koeman interview re: Lookman: "We don't have anyone like him / that talented etc ... in the U23s". Downright insulting to some very talented lads... obstinate cloggie 'kwitt – when will the penny drop?
Tony Hill
31
Posted 05/01/2017 at 17:01:35
Welcome, an exciting prospect. I agree we need enforcers too, every successful side does.
Eddie Dunn
32
Posted 05/01/2017 at 17:10:18
Last night, Spurs had Wanyama and Dembele kicking ass, with Sissoko to come on for Dembele. Big, strong bruisers, who can also play. I would like Walsh to bring in someone like this.
Michael Lynch
33
Posted 05/01/2017 at 17:22:34
Agreed Eddie, Spurs looked powerful right across the team and I can see them pushing Chelsea and the RS hard. We could definitely do with some of that. But on the other hand, you can't beat a tricky little lad who can shoot with both feet, so I'm happy for the likes of Lookman to come in too. And he brings the age of the squad down a bit.
He's only 19, but he's already played nearly 50 games in the lower divisions, which is more than most of his contemporaries in the U23s will have got out on loan, so that's good too – and probably the reason we didn't loan him back to Charlton for the rest of the season.
Christopher Wallace
34
Posted 05/01/2017 at 17:23:23
Eddie,
Schneiderlin is one of the best tacklers in the league. Him, alongside Barry or Gana would be formidable, and would allow us to play that "luxury creative" player we all crave.
We just need to go and bloody find and sign one now.
As for Lookman – I like this signing and have big hope for him.
COYB
James Morgan
35
Posted 05/01/2017 at 17:23:57
Gary Edwards, maybe the stronger characters in the Under-23s will think "I will show him talent!"
The guy is being honest at least.

Stephen Williams
36
Posted 05/01/2017 at 17:28:01
I haven't seen him play live so would rather take the opinion of someone who has, rather than someone who's guessing. Even better, someone who's worked with him:
I heard Karl Robinson (RS, I know!) on Five Live's Monday night club before Christmas discussing Lookman and in summary:
- best young talent he's ever worked with (given he worked with Dele Alli, that's saying something),
- brilliant attitude (always first into training and last to leave),
- very humble and grounded,
- respectful and quiet away from football,
- always wants to learn,
- will be a star,
- without naming names, indicated that a deal had already been done with a good club (clearly now us),
- didn't want to stand in his way as he's ready for a step up in challenge.
So he'll do for me (particularly as ٥.5m is nothing in today's market – how mad does that sound?!) but I just hope that we are patient with him as he's still very young and will inevitably require nurturing properly and sensitively if he's to become the player that we (and he) hopes he'll be.
Richard Reeves
37
Posted 05/01/2017 at 17:29:48
Good luck to him. I hope he settles in well, gets on well with everyone but more importantly turns out to be a top signing.
If he had cost ٟ million or so, I would've probably writen him off as one of those to make up the numbers for the youth sides but this is one of those situations where a higher price tag is more encouraging as there's more chance of him playing for the first team, you would think.
Paul Thompson
38
Posted 05/01/2017 at 17:30:32
Gary (#30) – it may be insulting to lads in the U23s, but we really don't have any forward players who are as talented as this lad.
The learning curve will be to steep for him to start games (watch the clips; he loses the ball a lot), but he'll be a great impact sub for the rest of the season and hopefully score and/or create a few goals.
James Marshall
39
Posted 05/01/2017 at 17:40:02
He comes across as a good kid in his OS interview too – very young obviously, but it's a huge deal for him to up-sticks from the smoke at such a young age and be suddenly in the limelight of the Premier League with his name splashed all over Sky Sports.
He looks like he has some devil about him, and some balls, along with reported leadership abilities which bodes well. We've had too many talented players lacking the above in the past.
Liam Reilly
40
Posted 05/01/2017 at 17:54:51
What I can't understand is why Spurs didn't come in for him as usual!
Same age as a number of the U23s; just shows that these lads need to be applying their trade in the Championship as opposed to the U23s Premier League 2 as it will give them a far better grounding.
Mark McParlan
41
Posted 05/01/2017 at 18:06:43
٥.5-10mil for some kid who scored a couple goals in League One? I think this is too much money for unknown potential. The money could be better spent to improve the team right now on experienced individuals with PROVEN Premier League quality.
Gerry Quinn
42
Posted 05/01/2017 at 18:10:00
Jose Fonte has just handed in a transfer request at Southampton... too old for us at 33?
Chris Gould
43
Posted 05/01/2017 at 18:17:22
Mark, so you think you know better than Walsh and Koeman? Why are you wasting your talents on this site?
We have other targets that will probably fit your criteria. What's wrong with also bringing someone in for a relative small fee who may develop into an exceptional player? How can you say it's a lot of money when you (most likely) know very little about the kid?

Ray Roche
44
Posted 05/01/2017 at 18:25:24
Gerry. Yes.
Rob Halligan
45
Posted 05/01/2017 at 18:50:27
Mark McParlan (#41) – and where exactly are you going to find a proven experienced Premier League player for between ٥M to 㾶M?
Brent Stephens
47
Posted 05/01/2017 at 18:56:03
Mark (#41) – "unknown potential"?
Mark, how closely and how often have you watched the lad? I bet it's only YouTube. And we can get a experienced Premier League player with proven quality for the same amount?! Diego Costa maybe? Or Giroud? They wouldn't cost us much, suppose.

Brian Harrison
48
Posted 05/01/2017 at 19:01:44
Mark (#41),
We signed Gana Gueye for ٥ million with as far as I know no add ons. I guess most said why are we buying a central midfield player from Villa who had just been relegated; I think he also played nearly every game for Villa that season.
Now I don't know too many fans who aren't delighted with his contribution so far this season.
Alex Parr
49
Posted 05/01/2017 at 19:04:55
People keep mentioning him being too lightweight for the Premier League – I would've thought hes far more likely to get muscled off the ball by the archetypal brute of a League One centre back, who is more likely to kick him than try and tackle?
Seems a bit Raheem Sterling / Shite Mane type player, buzzing round the edge of the box.
Mike Berry
50
Posted 05/01/2017 at 19:08:15
This young man could be a star and a snip the way fees are going, but please give him time as he is 19 and stepping into the most competitive league in the world.
Darren Hind
51
Posted 05/01/2017 at 19:08:50
I've been looking out for him since it was first suggested that he was to be a target. I haven't seen him live, but he looks very much like a Shaun Wright-Philips type of player – before he fucked his progress up by electing to sit on Chelsea's bench rather than playing.
Got to agree with Eugene about signing some sore losers, but I'm excited about this signing too. At the moment, we are riddled with indecision, this kid hasn't had "going for the throat" coached out of him yet. Hopefully he never will...
Antony Matthews
52
Posted 05/01/2017 at 19:15:51
Gordon Roberts
53
Posted 05/01/2017 at 19:17:37
Gerry (#42). Jose Fonte was linked with Manchester United a few weeks ago; I'm sure if Mourinhio signed him, age would be irrelevant.
Mike Gaynes
54
Posted 05/01/2017 at 19:18:44
Alex Parr, the lad is listed at 172 pounds, a good 25 pounds bigger than Osman or Pienaar to name two.
Take a look at his video and you can see this is a very well-built young man. Don't think anybody will be knocking him off the ball once he adjusts to the Premier League's physicality.
Dave Abrahams
55
Posted 05/01/2017 at 19:18:59
Eugene (#23) I don't want to up this lad too much, but you have just described one of those dog's arses who is already on the books, Liam Walsh. Verbally he'd make Alan Ball look like he had taken a vow of silence, not bad with the ball either.
He got injured over a month ago and Everton haven't uttered one word about the injury. I think he will be worth waiting for.
Mike Green
56
Posted 05/01/2017 at 19:23:28
Mate of mine's a Charlton fan – says he's got bags of skill, ball sticks to him like shit on a blanket, knows where the net is, quick BUT lightweight at the moment and can sulk if not going his way...
All-in-all, I think it could be a really interesting / great signing...
I imagine most of us had never heard of him – so far from a boring, predictable signing too which is a little bit exciting.
I for one welcome him and wish him a great career with us. Good luck, Ademola!
James Marshall
57
Posted 05/01/2017 at 19:34:04
To anyone freaking out about the fee, look at it this way – the landscape has changed massively; Premier League clubs have a hugely increased budget with the TV money and the lower league clubs tend to read the papers and keep an eye on these things as well. Your idea of how much a 19-year-old League 1 player is worth is not the same as the valuation those clubs now put on said players
It's basic economics. Of course they're squeezing more money out of us and every other team in the top flight.
Peter Cummings
58
Posted 05/01/2017 at 19:40:19
Koeman,''It's Important to give young players the opportunity to evolve at the club'', so we shell out around £10 mill to bring an untried London-born kid while we have several young players already, and waiting, to do exactly that in our own academy???
Big question for me is why hasn't one of the London 'elite' snapped him up? They're no slouches when it comes to recognising real talent. We all recall the superlatives levelled at Rodwell and lately Ross; now it's Lookman who is Everton's and England's glittering future... we'll see.
Adam Scott
59
Posted 05/01/2017 at 19:40:34
Good signing. All reports of his character sound good to me. Did well at school; a down-to-earth lad; good family. Will take that.
In terms of football, he is green. Has played some games though at a lower level and has a decent goal-scoring record. Considering that we spunked 㾹m on bloody Niasse I am happy to have a punt on the lad. I for one am confident that he can make the step up from what I can see. It will take time but I am sure he will.
Not bothered about him being 5'-8½" either Not a problem for Sterling after all.
Colin Glassar
60
Posted 05/01/2017 at 19:50:01
Welcome aboard lad. Any news on Amazing, or Marvellous Nakamba?
Thomas Surgenor
61
Posted 05/01/2017 at 19:57:34
That's a huge fee. I haven't seen him play so won't pretend I know his game.
The YouTube clips are a little uninspiring considering the level he is playing at.
However, when watching them I kept thinking... "I know that dribbling style from somewhere"... then it clicked. He dribbles very like Sterling with the low centre of balance, tight control and the zigzagging runs.
Will be a snip if he can reach Sterling's levels or beyond. I hope someone else understands what I mean about the dribbling style/posture etc.
Brian Hennessy
62
Posted 05/01/2017 at 20:01:42
Glad to hear Koeman wasn't keen on Charlton's plea for us to loan him back for the rest of this season – looks like he could feature for us in the short term.
For anyone thinking we shouldn't be signing anyone from League 1, the Gunners have just signed a defender from Non League Hednesford Town!
Matthew Clarke
63
Posted 05/01/2017 at 20:22:51
Gary @ 30, sorry mate but I agree with the obstinate cloggie kwitt remarks about him being better than our current U23s. Who out of our U23s would command ٥.5m potentially rising to an 㾷m fee?
Dowell, ٟ - ٠m, Davies ٢ - ٣m, Calvert-Lewin probably the same as Davies, possibly the only one to come close to the ٥m in today's inflated market would be Holgate.
Lookman has 50 or so appearances in league one scored 10 goals in 45 appearances; technically good, can use both feet and can create. The lad has a mental robustness about him to be made captain, all within just over 12 months, seriously, how many of our U23s can boast that a senior level, alright league one but still at a senior level.
And let's not be too quick to underestimate the lads physical attributes and the questions being raised over strength. Let's be honest there are some right fucking yard dogs across the park in all of the teams in league one who aren't afraid of mixing it so, he must be able to handle himself a little.
Also why do we send our U23s out on loan to lower league clubs, to gain the exact same experience Lookman has to prepare for the hustle and bustle of the premier league and to be ready to come into the team and perform.
You may think the comments disrespectful to the U23s and, yes there are some very talented player's there but, why not turn it around a little? The U23s rather than being sensitive souls sulking in the corner – why not use those comments as motivation to prove your just as good.
It also demonstrates that Koeman is willing to start using youth, there is away into the senior team, it's about mental strength and determination also qualities needed to succeed at the very top of the game and the U23s need to display to progress into Koemans team, imho the comments are justified.

Paul Tran
64
Posted 05/01/2017 at 20:23:49
Eugene, I completely agree about a couple of dogs arse players. I think he had that in mind when he went for Sissoko. I hope at least one such player we be unveiled. We need some bigger players.
Brent Stephens
65
Posted 05/01/2017 at 20:34:26
Dave (#55) "One of those dog's arses who is already on the books, Liam Walsh, verbally he'd make Alan Ball look like he had taken a vow of silence".
Yes, one of my favourites. Maybe also because he's a short-arse like me.
Tony Hill
66
Posted 05/01/2017 at 20:57:26
I've just looked at the full, if fairly short, interview with this young man and I think he comes across very well indeed. He has a very promising air about him.
Dave Abrahams
67
Posted 05/01/2017 at 21:15:56
Brent (65), and your not backward in coming forward either Brent.I'm glad to say, I like a man who speaks his mind, as the fat man said in 'The Maltese Falcon'.
Tom Bowers
68
Posted 05/01/2017 at 21:30:07
Hope the lad really makes it. Sounds like a good investment if not for some late-season games then next season depending on is progress.
I don't think Fonte would be a good buy now. He was dropped for the game against Arsenal and maybe only came back for the Blues game when Van Dijk got suspended.
Eugene Ruane
69
Posted 05/01/2017 at 21:46:19
Yes he did come over well, and I was absolutely sure he'd arrive just like 'Dynamite Willie' -
Link
Just shows how wrong you can be.
Ed Fitzgerald
70
Posted 05/01/2017 at 22:15:12
Good luck to the kid – he will need it with Ronnie's dubious taste for the more mature. I note Lookman's creativity is being talked about , difficult to be creative when the ball is being launched up the pitch like an Exocet missile.
Perhaps Koeman is having a 'Road to Damascus' moment and we are now going to see plenty of Davies, Holgate, Walsh, Galloway et al from here on, I doubt it.
Chad Schofield
71
Posted 05/01/2017 at 22:36:23
Looks exciting... A more robust Deulofeu?
Not that I want Del Boy to go, but, an exciting buy.
Darryl Ritchie
72
Posted 05/01/2017 at 22:55:02
Just watched the his interview on the club site. I don't think he'll be spouting off to the media much. Kind of wide eyed, deer-in-the-headlights, right now. A bit overwhelmed, I think.
Hopefully, he will do his talking on the pitch
Peter Kowalski
73
Posted 05/01/2017 at 23:12:20
I found stats for Lookman Ademola:
http://www.fctables.com/england/league-1/charlton/ademola_lookman-199477/
Brian Cleveland
74
Posted 06/01/2017 at 00:13:46
Ed (#70). Weren't brushing your teeth when you wrote that, were you?
Gerry Killen
75
Posted 06/01/2017 at 01:22:42
It will be interesting to see the Man Utd line-up this weekend... will he play all the ones he wants rid of, so they will be cup-tied and not able to play against them in later stages of the FA Cup?
Just a thought... Good luck to the Blues on Saturday.
Jim Hardin
76
Posted 06/01/2017 at 01:42:57
Like him or not, it is a player move and a quickly done deal. The times they are a-changin'. Welcome to him and I cannot wait for him to show us what he can do.
Dan Egerton
77
Posted 06/01/2017 at 03:29:13
I've been delighted with Gana for around 75% of his games. A few games here and there he went missing in them, and we lost.
Dan Egerton
78
Posted 06/01/2017 at 03:33:12
"Good luck to the kid he will need it with Ronnie's dubious taste for the more mature." – Ed Fitzgerald.
Huh? Koeman brought through 6 players at Soton in only a couple of years. Moyes brought in ... um ... what 2 or 3 in over a decade? Ossie, Barkley and um maybe Hibbert? Not to mention that our youth coach publicly stated Moyes wanted very little to do with Everton's youth players.
On top of that Koeman started two of our youngsters in a 3-nil win, in our very last game and has publicly stated that Barry is too old and slow and can only be used sparingly.
David Ellis
79
Posted 06/01/2017 at 04:25:41
Dan@78...I agree with you with regards to Koeman - he does give youth a chance.
But to be fair Moyes also brought through Rooney, Anichebe, Vaughn and Rodwell, and also gave game time to many other who didn't really make it such as Chadwick (ended up in the lower leagues), Jose Baxter (Oldham), Goslling.
Can't say he didn't try! But most of these good kids just aren't going to make it.
Zahir Jaffer
80
Posted 06/01/2017 at 06:57:48
Moussa Dembele would have been a better option. This kid seems like a Niasse 2.0 so maybe now we get to offload Niasse. Hopefully he grows into a massive talent but by the looks of it he has a long way to go. If they bought him due to his attitude and determination, then I hope he prospers here.
Ian Horan
83
Posted 06/01/2017 at 15:19:25
I think Koeman's long-ball tactics are purely to get 40 points asap. Once that's achieved, I think he will then set out his game plans with newer players because the current ones often flatter to decide.
Gary Edwards
84
Posted 06/01/2017 at 15:28:10
Dan (# 78) which 6 U23 players did Koeman bring through @ Soton? He didn't know who Josh Sim was when interviewed after the 1-0 loss to them at their place. Soton fans have also been quite vocal in this regard, including the lads I worked with in Farnborough.
Matthew (# 63) It's difficult to value our U23 players as they remain unknown to most, including potential buyers. Matthew Pennington was loaned to Coventry in 2014-15 and voted their young player of the season, we were told at the time he should have won their player of the season. Any 19-year-old English CB, who has played >30 senior games, received such accolades, good physical specimen must surely be worth £5M ,... and he's rarely mentioned these days in discussions re: our top, young talent. We sold a 21-year-old English centre-back in the summer for £47.5M, Holgate for £7M would be a steal.
That we paid £7.5M for Lookman doesn't make the lad any better than our young talent. I am frustrated that Koeman does not give opportunities to Liam Walsh, Harry Charsley, Antonee Robinson and the other very promising talent in the U23 squad whom I hope are spurred on by Lookman's arrival, continue to excel and leave Koeman with no option than to be given their opportunities.
The named lads are more worthy of a place in the 1st team squad than the likes of Cleverley, Lennon (judged on his recent performances) and (sorry to say) some of the more senior players who simply no longer have the legs for the high-energy game that Koeman seemingly wants to play.
Final thought – who do you think would win in a match where Rom and Gana to play for the U23s vs the 1st team?
Steavey Buckley
85
Posted 06/01/2017 at 15:56:32
Youth football in the EPL went backwards when the FA introduced Under-21 and then Under-23 football. Before that, youth football was catered for by the Under-18s, who would like now, compete in the FA Youth Cup. Those who won this trophy usually had very exciting young players ready for the next level.
A step up for most players from the Everton youth team in the past was to play for the Everton Reserve side. That's where they learned to compete and play with seasoned and experienced pros. The likes of the greats such as Joe Royle and Colin Harvey came through this type of football, before embarking on fantastic careers with the Everton first team.
Guido Blumberg
86
Posted 06/01/2017 at 15:58:21
It's okay for young players to come in thinking about the future. But it's not the kind of players I expected to come to change the team present.
Besides, that money seems to me too much for a player who never played in the Premier League. I think they have stolen us in the face.
Finally, we started with Memphis Depay and Morgan Schneiderlin to finish with Ademola Lookman. Shameful.
Michael Kenrick
87
Posted 07/01/2017 at 22:08:49
Are you back on that bandwagon again, Steavey? Living in the past and making stuff up? This romantic notion about the Reserves as a breeding ground for future players, where they could learn to compete and play with seasoned and experienced pros... It's a myth. They were called "The Stiffs" for a reason.
If Joe Royle and Colin Harvey are your case-in-point examples from the last 50 years, what does that tell you?
---
Add Your Comments
In order to post a comment, you need to be logged in as a registered user of the site.
Or Sign up as a ToffeeWeb Member — it's free, takes just a few minutes and will allow you to post your comments on articles and Talking Points submissions across the site.