Injuries stymie loan bids for Deulofeu

32 Comments [Jump to last]
Friday 6 January 2017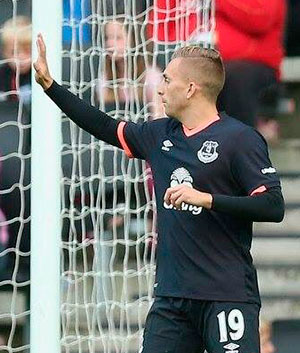 Ronald Koeman says that he wouldn't allow Gerard Deulofeu to leave Everton this month even if the club received offers for him.
The Spanish winger has been the subject of intensifying speculation from Italy regarding interest in taking him on from Roma and AC Milan but Koeman won't risk releasing him because of injuries to Yannick Bolasie and now Dominic Calvert-Lewin.
Some reports have gone as far as to suggest that Milan had faxed through an official offer to take Deulofeu on loan until the end of the season but Koeman rejected that claim in his comments to the media today when he was asked if the ex-Barcelona man would be allowed to leave.
"At the moment no, because with the injury of first Bolaise and second Dominic," said Koeman who also cited Aaron Lennon as a doubt for tomorrow's FA Cup tie with Leicester. "Then there is no possibility for Deulofeu at the moment. We have had no approaches."
New signing Ademola Lookman is a potential replacement for Deulofeu but his relative youth and inexperience at Premier League level would make Koeman reluctant to rely on him bedding in immediately.
The Dutchman is reportedly looking at a further addition in that position, with Memphis Depay still being linked with a switch from Old Trafford, which, if he is successful, might free Deulofeu to move if he is willing and there are suitors.
Lookman, meanwhile, is cup-tied this weekend and is unlikely to feature for the senior side until the manager and his coaching team have had the chance to run the rule over him in first-team training.
"He is 19," Koeman explained. "He will not play next week against City, but he will be involved in training and we will see how he improves on this level.
"It is good that we bring in the boy at this point of the season. That is the best for him first and second for us."
---
Reader Comments (32)
Note: the following content is not moderated or vetted by the site owners at the time of submission. Comments are the responsibility of the poster. Disclaimer
Pete Edwards
1
Posted 06/01/2017 at 19:34:13
A fax?!? Come off it.
Mike Gaynes
2
Posted 06/01/2017 at 19:38:07
The carrier pigeons were all booked up.
James Morgan
3
Posted 06/01/2017 at 19:38:59
He should be given a go behind Lukaku and let Barkley play along side the likes of Gueye, Barry, Davies or Schneiderlin if he comes.
Deulofeu can pick a pass and create space with his movement and we know how well he can link up with Lukaku.
Mike Gaynes
4
Posted 06/01/2017 at 20:00:18
Well, James, we know how well he linked up with Lukaku once upon a time... before the Premier League defenders figured him out.
I wouldn't have minded seeing him get a game or two in the #10 spot at some point, but it sure as hell ain't gonna happen now.
Andy Walker
5
Posted 06/01/2017 at 20:02:46
He's useless, get rid! One of Martinez's bad legacy buys.
David Pearl
6
Posted 06/01/2017 at 20:27:24
Hmm... well the team sheet will be interesting tomorrow. The strong arm tactics employed with Barkley should of also been used with Deulofeu. I hope he gets his chance to show what he can do. After all Koeman chose to start the season with him after assessing the squad during preseason. So he must of seen something.
Depay? Who knows how good he is, so far he hasn't looked great for Man Utd. How much do they really expect for him? We really do need a bit more class in our forwards. Someone for Ross to look up to. (Rooney!)
Eric Paul
7
Posted 06/01/2017 at 20:29:35
Andy @5
Barcelona don't put buy back clauses in for "useless" players; he will be a player with a coach who plays to strengths not weaknesses.
Peter Cummings
11
Posted 06/01/2017 at 21:25:45
Deulofeu is the only bit of real class we have, he has been ignored by Koeman for far too long and should be given more playing time. Okay he has his moments of form loss but I think a place should be found for him in every game, he links up with Lukaku brilliantly at times and provides excellent crosses and through balls.
As expected, we aren't exactly setting the January 'window' alight except for a couple of rumoured rejects from other Premier League clubs, Delboy must stay.
Seamus McCrudden
12
Posted 06/01/2017 at 21:34:11
Unfortunately Deulofeu just isn't physically up to the rigours of the Premier League. On his day, a 45-minute skill wonder that can't pick a pass, is too ball greedy, tries too hard & thinks he's Maradona.
File in the 'nearly' box. Pity because I liked him. Sniff.
Steavey Buckley
13
Posted 06/01/2017 at 21:55:30
I would like to see Gerard play alongside Lukaku, because he is unpredictable. Anyway, not too many attacking or midfield options tomorrow. Everton have an injury list Darren Gibson will be proud of.
Brian Hennessy
14
Posted 06/01/2017 at 22:25:18
I can think of at least 5 or 6 players to get rid of ahead of Del Boy. I still feel he is worth keeping faith with for quite a while yet.
Joseph Terrence
16
Posted 06/01/2017 at 22:30:46
Is it possible for Barca to essentially block a possible move? They still have a buyback at the end of the season and, if I recall correctly, they have a chance to match any offer received for him until that buyback clause expires. Please do correct me if I am wrong.
Paul Hewitt
17
Posted 06/01/2017 at 23:33:42
Let the lad go, he ain't got it.
Neil Wood
18
Posted 06/01/2017 at 23:38:08
Mental to sell him. Massively underused and needs game time. I promise you all, we will regret it if he goes.
Anthony Dwyer
20
Posted 07/01/2017 at 00:14:01
Hopefully Ronny is giving Geri a hard time so as he sorts out his shit. I for one think Geri can be a huge star, and have a fantastic career with us, he may just need a kick up the arse to get him there.
He's talented, but he's not fit, basically he's a lazy little shit. Hopefully Ronny will put him straight.
Seamus McCrudden
21
Posted 07/01/2017 at 00:40:27
So he's not fit and a lazy little shit. Midway through the season....
Just let that sink in, Anthony.
Don Alexander
22
Posted 07/01/2017 at 00:41:29
He's now on the verge of 23, with years of experience in top level clubs in Spain and here, but the bad news is that he never seems physically fit enough for the Premier League and he never seems to develop his talent in those increasingly length periods he spends doing nothing but training.
Like I recently said of another of our eternally promising but never consistently delivering 23-year-olds (and Dele Alli is only 20 by way of comparison) I don't know what Del needs; hypnotist, psychologist, kiss or boot up the arse, but he and he alone needs to get his head sorted now or just fuck off.
Anthony Dwyer
23
Posted 07/01/2017 at 01:04:16
Seamus @ 21.
It's sunk in mate as I wrote it!! I get what your saying, or rather what I'm saying, but to put the con's to the back and work off the pros I would look at the following points...
1. If we had lots of talented players if happily move on.
2. If we had not just spent 㿅m on a player in the same position Geri occupies who's just basically had a career ending injury then I'd be less bothered about him moving.
3. If we could afford a top talented wide man to replace him if be happy.
4. Geri plays for the best U21 team in world football (there or there about) and he's the stand out player.
5. Lennon, Cleverley and McGeady are fit and still can't really lace Geri's boots, yet we pay them a wage.
6. Gibson is on the wage bill.
7. Geri has potential to be worth massive money (㿀-40m) yet, if we sell him now, we will be extremely lucky to get anything like double figures.
He has to sort his shit out, no doubt about that, but for me talented players should be worked with as if not we will have another Mustafi, Deir situation on our hands were we get nothing for a player who is soon afterwards worth massive money.
If Usmanov jumps on board then cool, but if were still working on a shoestring, then I want to give talented players more chances than Gibson, McGeady and Cleverley.
John Daley
24
Posted 07/01/2017 at 01:06:35
He's started four games this season. Hardly time to play himself into form. Some players need a run of games instead of continual stopping and starting. He certainly did well enough in his last appearance and then found himself undeservedly dropped. Again.
That, in tandem with the comment that he wouldn't let him go "at the moment" suggests Koeman has made his mind up about him. Prematurely, in my opinion.
Anthony Dwyer
25
Posted 07/01/2017 at 01:20:08
Agreed, John.
Match fitness is only gained through matches....
Colin Glassar
26
Posted 07/01/2017 at 08:46:31
Brian (#14), spot on. I suppose when your face doesn't fit, you're finished – no matter how good you are, eg, Schneiderlin, Mata, Sakho etc...
Kevin Gillen
27
Posted 07/01/2017 at 08:52:46
Good to hear Koeman stating Geri is not available. He's magic, our best wide player, if the team was playing better he would be banging in assists and goals no doubt. Patience please, he'll get stronger.
Mark Murphy
28
Posted 07/01/2017 at 09:25:19
I think Geri is a great prospect but sadly, for someone else, probably in Spain. I just don't think he is happy here.
That's all.

Brian Harrison
30
Posted 07/01/2017 at 10:55:49
Why keep him when Koeman has decided that he is not part of the future? I think the kid has talent but he has to realize that there must be a reason that Barca let him go and he struggled at Sevilla and now the same is happening here.
I don't buy Koeman's reason for not letting him go at the moment is because of Gueye going to the ACON and injuries to Calvert Lewin. He has preferred to play Mirallas and Lennon and Valencia instead of Deulofeu, so will he play him today? I suspect not... and he wont play him next week either. So just let the lad go.
Ciarán McGlone
31
Posted 07/01/2017 at 13:14:52
The most creative player we have... and he doesn't even get a spot on the bench.
Yet, he's not allowed to leave. Baffling.
James Morgan
32
Posted 07/01/2017 at 16:25:33
Mike Gaynes, the Deulofeu-Lukaku axis I was referring to just put us one up against Leicester, and it's not been back in action long. 😉
Mike Gaynes
33
Posted 07/01/2017 at 17:05:01
That's great, James, but it's the first time in 13 appearances for Geri this season. It took him more than 500 minutes to make that first connection with Rom.
Geoff Williams
34
Posted 08/01/2017 at 14:04:31
He's simply not good enough. At his age you are no longer 'a good prospect', you have either made it or you one of the many who didn't fulfil your potential.
James Morgan
35
Posted 08/01/2017 at 14:11:35
Mike, I'm not saying he's a superstar in the making, but I do reckon, given a run in the side particularly behind Rom, he could be a good player.
Donald Neville
36
Posted 08/01/2017 at 20:18:42
James (#3):
I agree, I think Barkley should be dropped deeper. He isn't a creator, but he is an engine and a good box to box player, he proved it a few times last year. He still has a great boot and could hit them in from far kind of like Cabaye.
Let Deulofeu try a shot at playmaker behind Rom and see what happens. He can't do any worse then Barkley.
Bob Parrington
38
Posted 09/01/2017 at 23:48:01
These days it seems all forwards always have to be strongly defence minded and all defenders have to always be strongly attack minded. Do Deulofeu and Barkley fit this bill in a Koeman style side?
Mind you, before they go I'd like to see some of the deadwood go first. Preferred inbound would be a tall, strong and fast central defender to replace Jagielka and a quality defensive midfielder to replace Gareth (or why not play young Davies as a first choice?). If we can find the right one, an attacking partner (accent on "partner") to pair up with Rom would be a beaut!
Kieran Fitzgerald
39
Posted 11/01/2017 at 07:37:19
Paper talk today, the Daily Mail granted, Milan are still interested in DelBoy. As said above he doesn't fit Koeman's plans so get some cash in for him and use it to buy someone Koeman does want.
---
Add Your Comments
In order to post a comment, you need to be logged in as a registered user of the site.
Or Sign up as a ToffeeWeb Member — it's free, takes just a few minutes and will allow you to post your comments on articles and Talking Points submissions across the site.